Thursday September 6th was our third day at the parks and we wanted to dedicate the entire day to Disneyland. We had spent a full day at Disney's California Adventure on Tuesday and wanted the same experience at Disneyland.
When you purchase three or more days worth of Disneyland tickets you receive one morning for an extra magic hour at Disneyland. It's not available at Disney's California Adventure and only offered on certain days of the week. We used our magic hour morning on Thursday!
Love walking over Walt's star on the way into the park area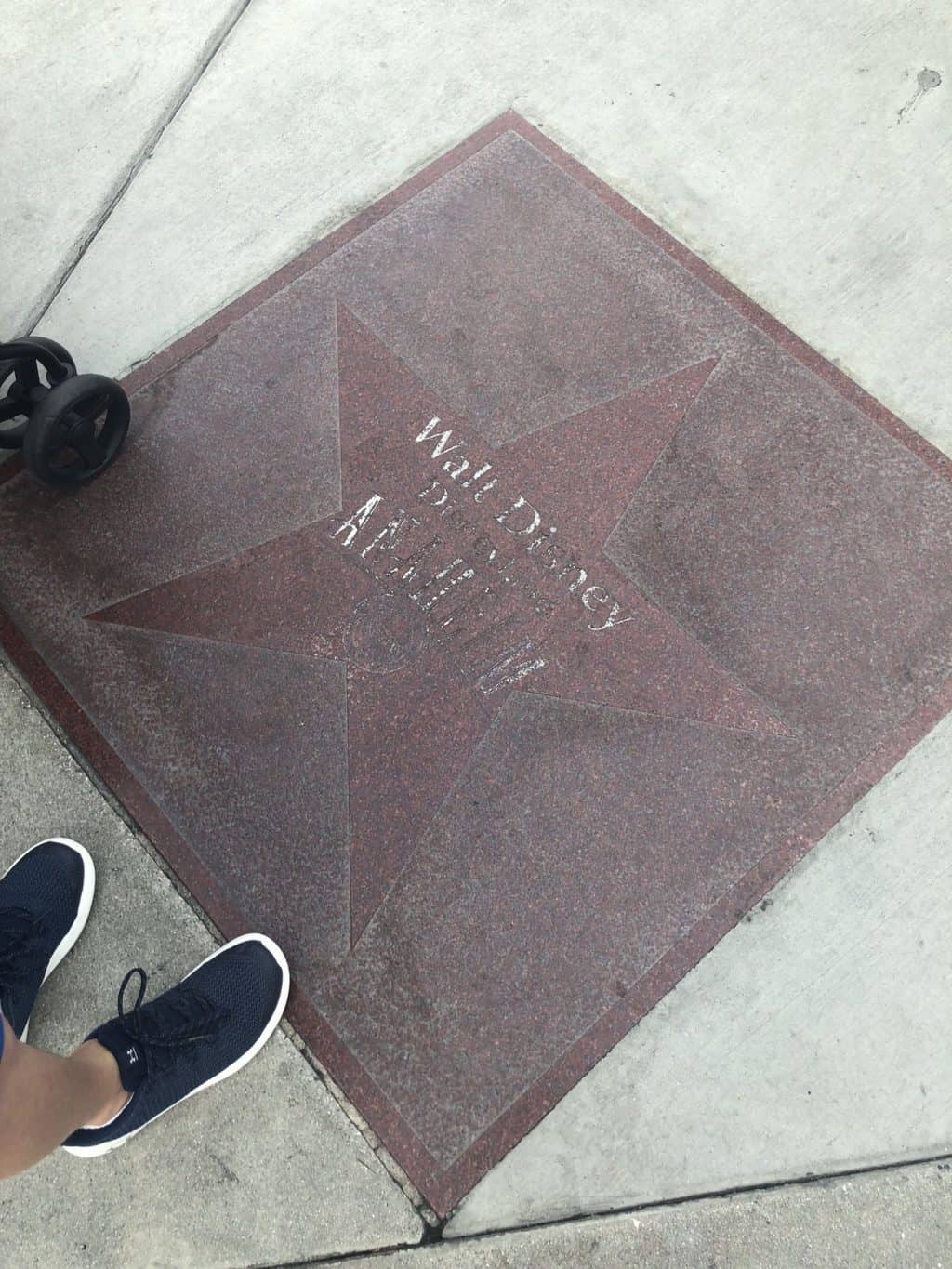 The parks had been transformed to Halloween! Halloween was officially kicking off at the parks the next day (Friday the 7th) but all the decor and such were in full swing!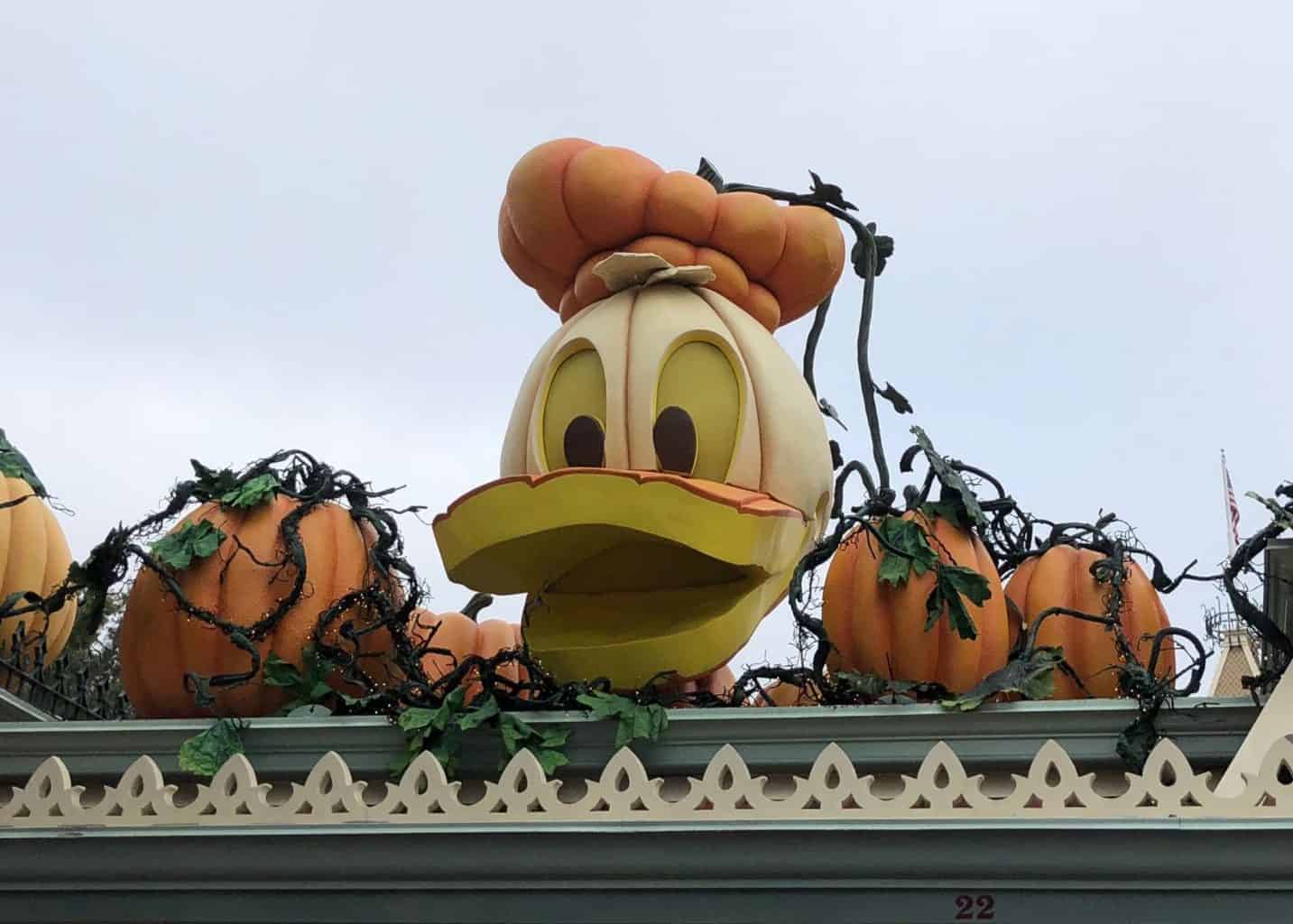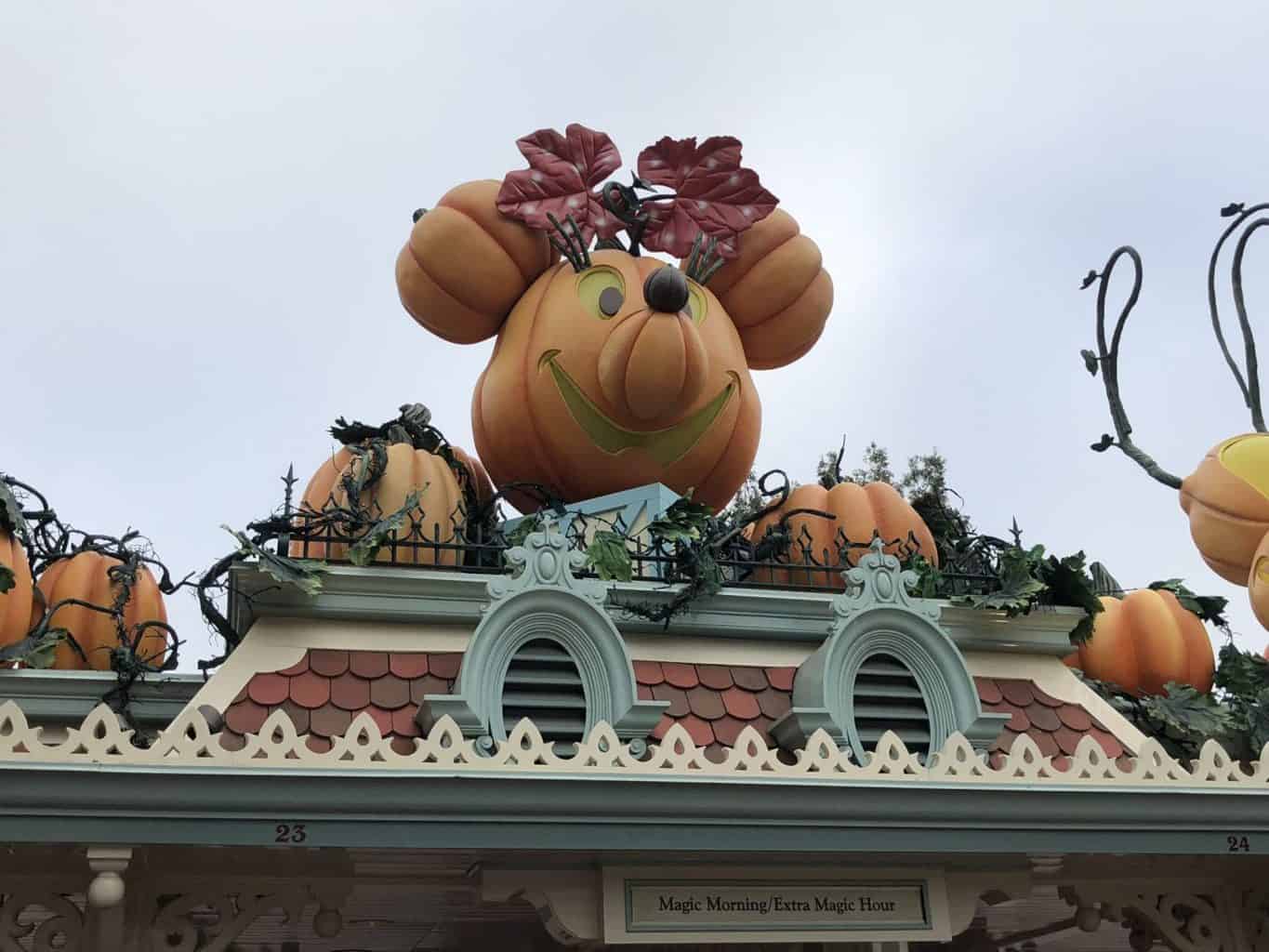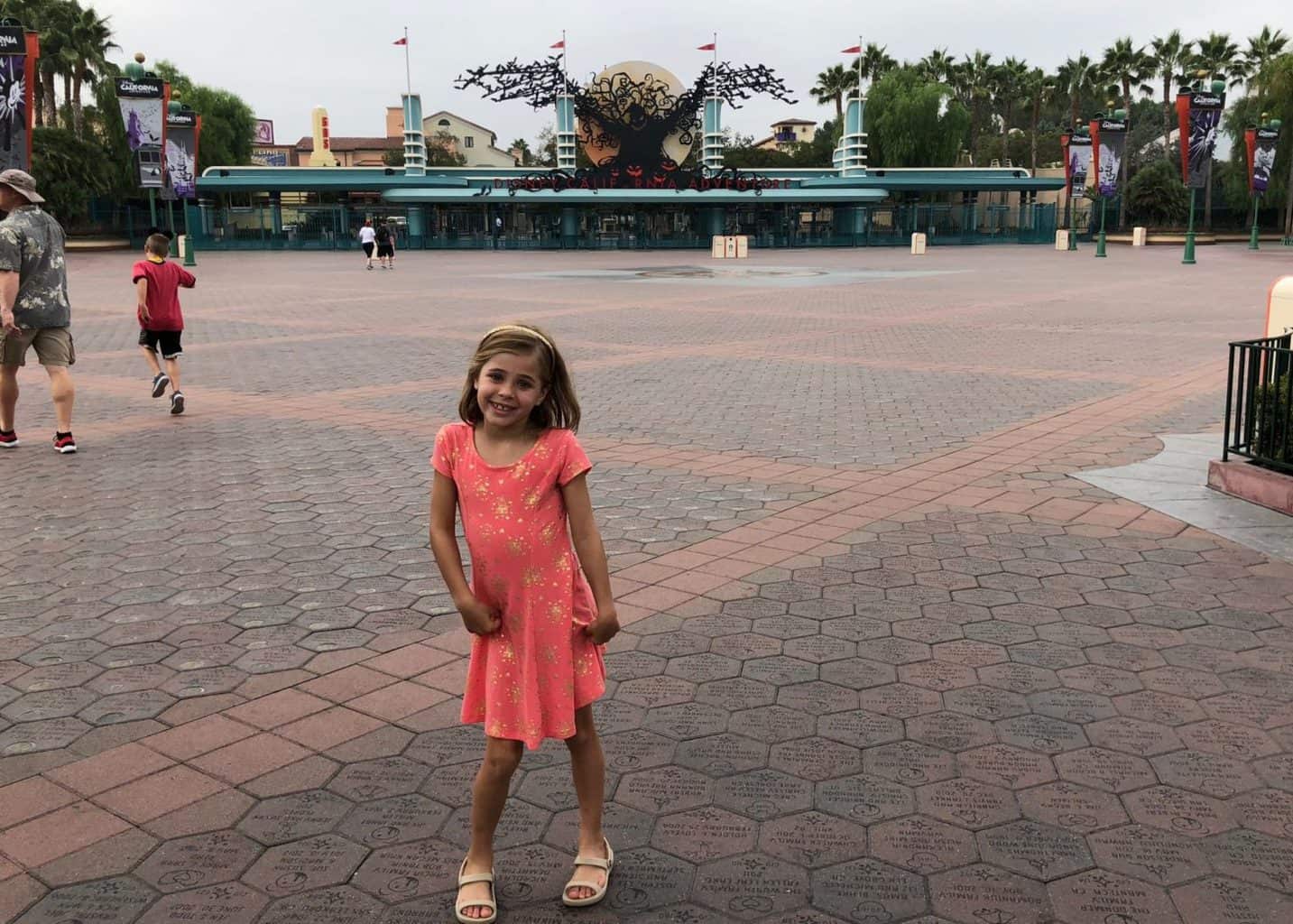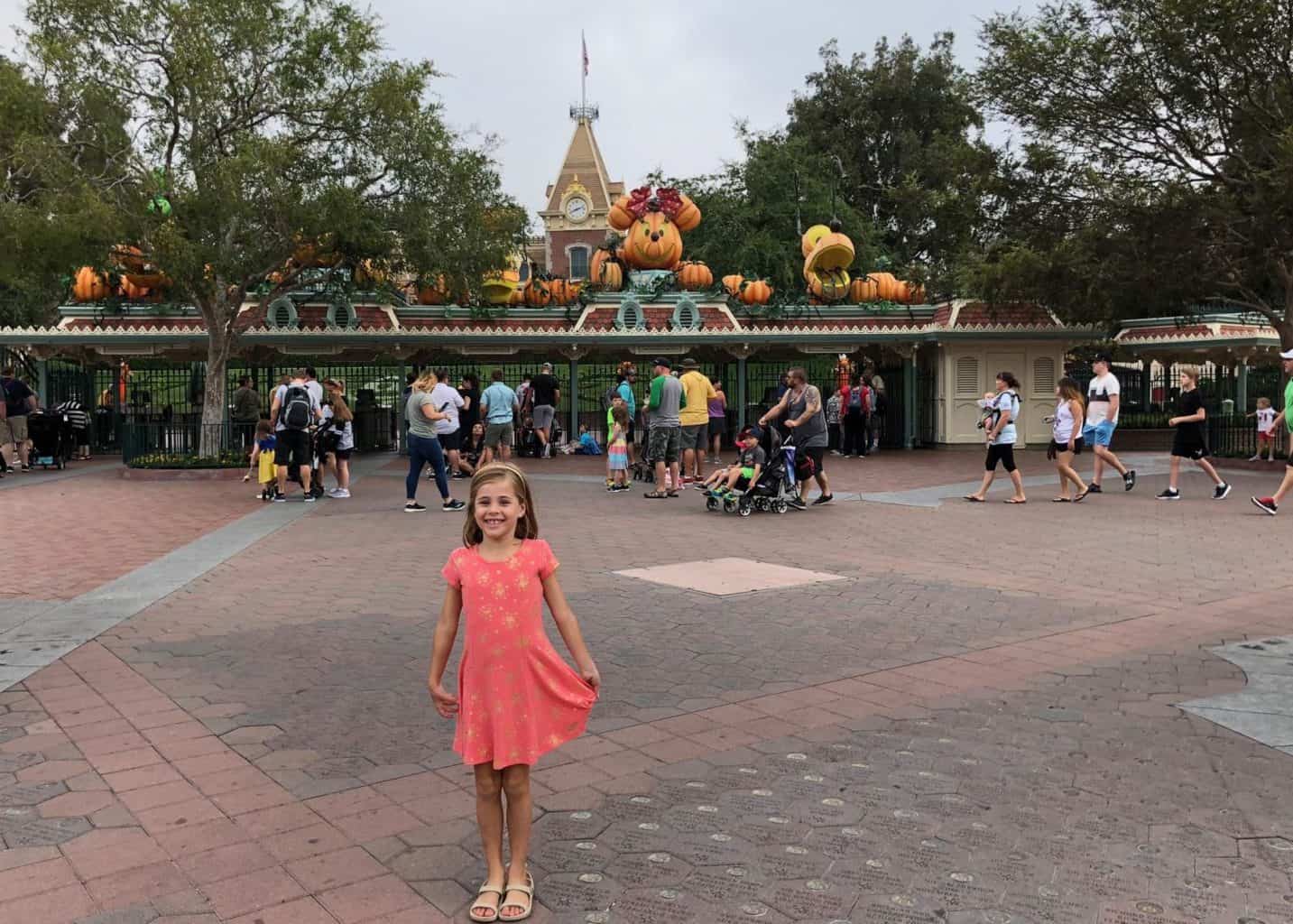 Each morning that we visited Disneyland we were in a bit of a rush so we never stopped and got photos in front of the park. This was as best as I could get 😉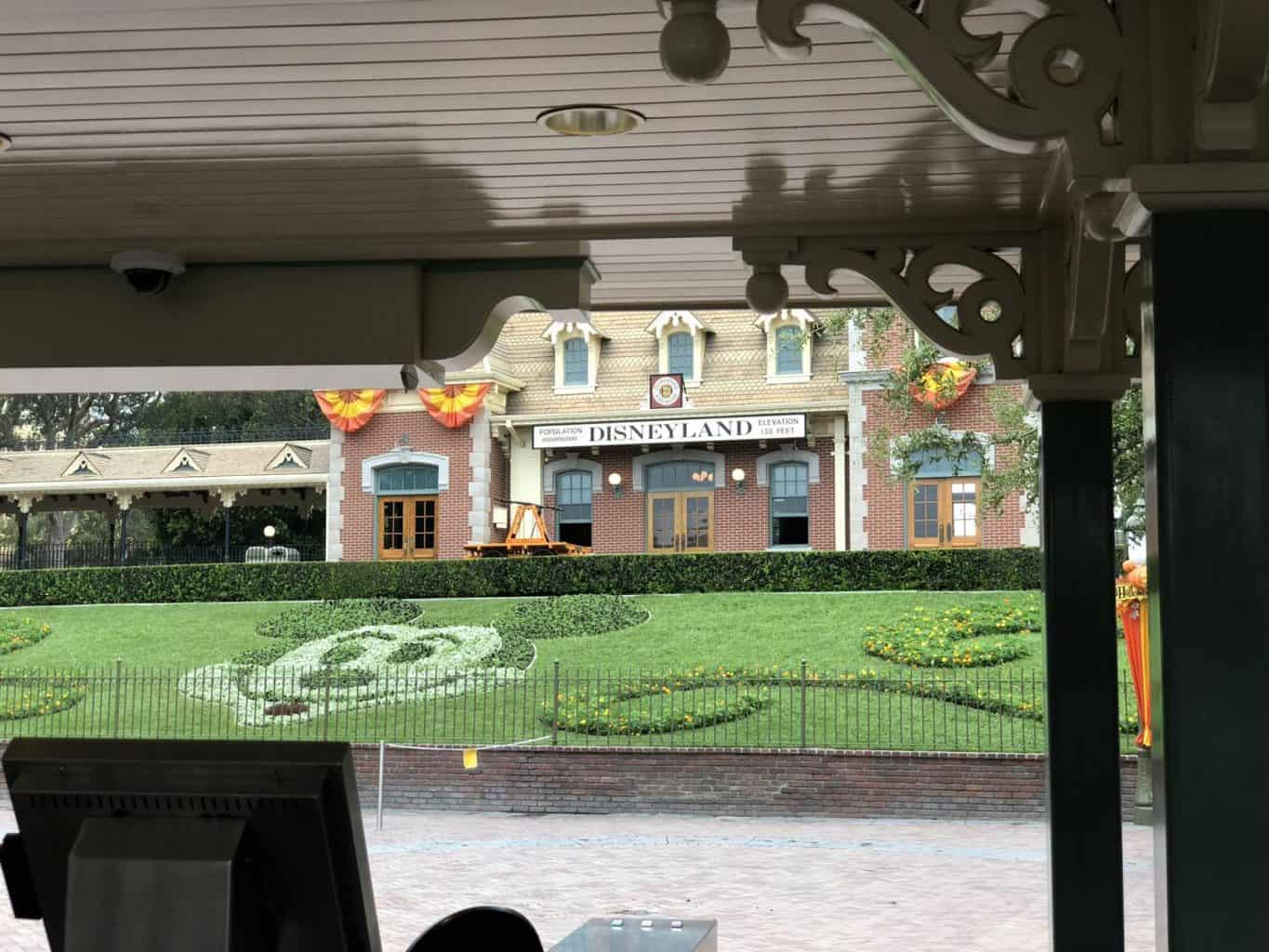 The park opening family…again which is just a family saying "the park is open!" no characters or music or fireworks etc.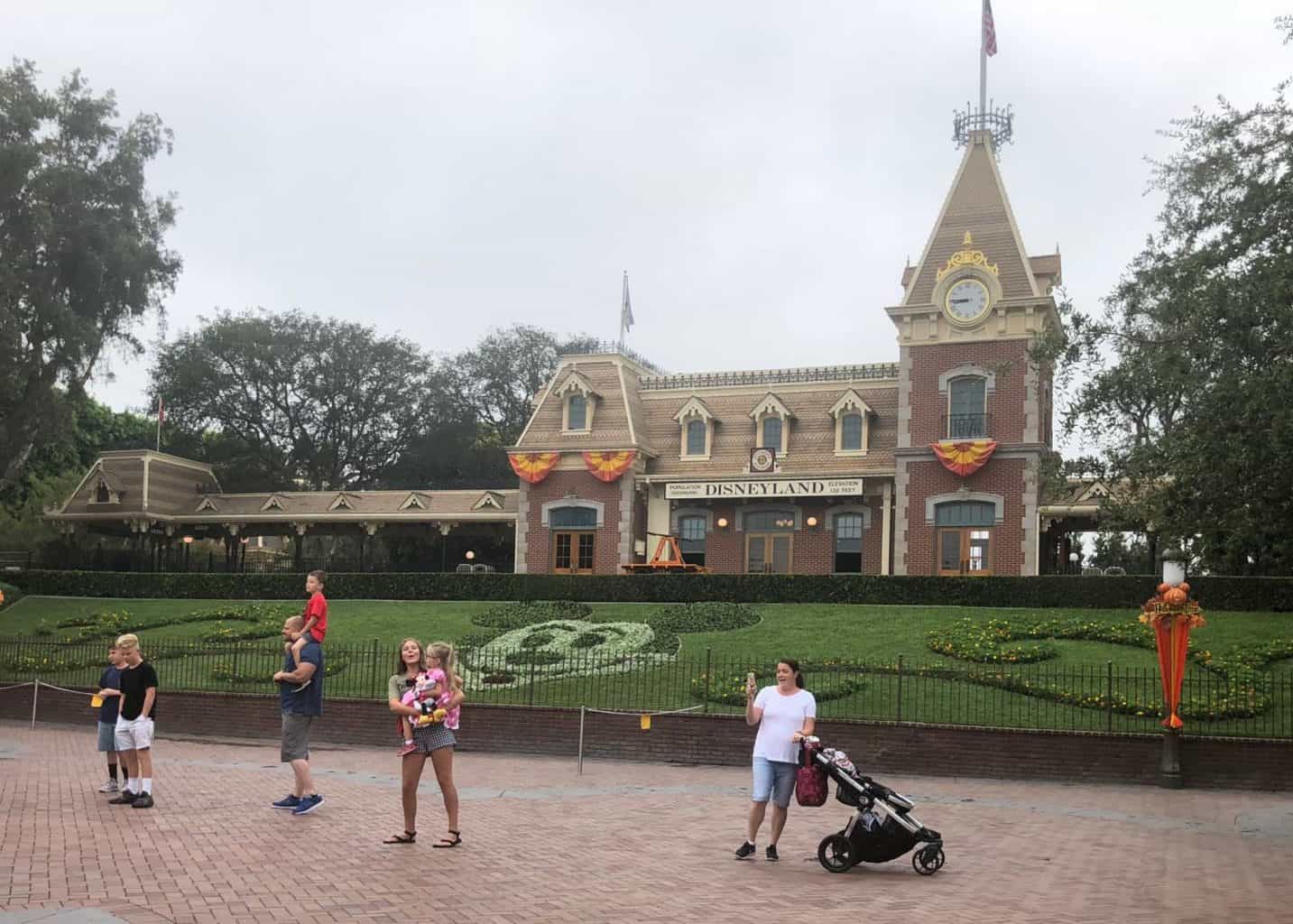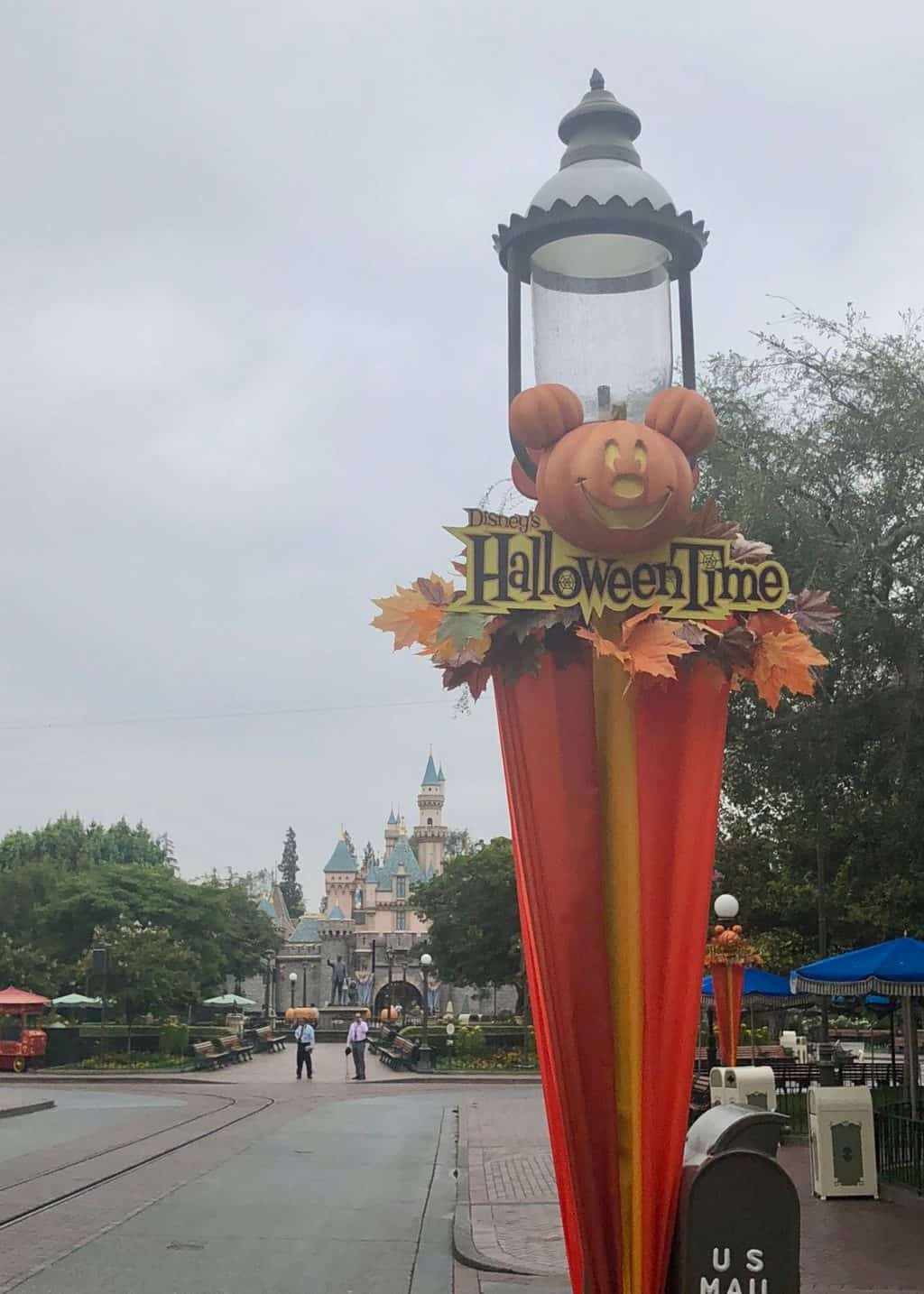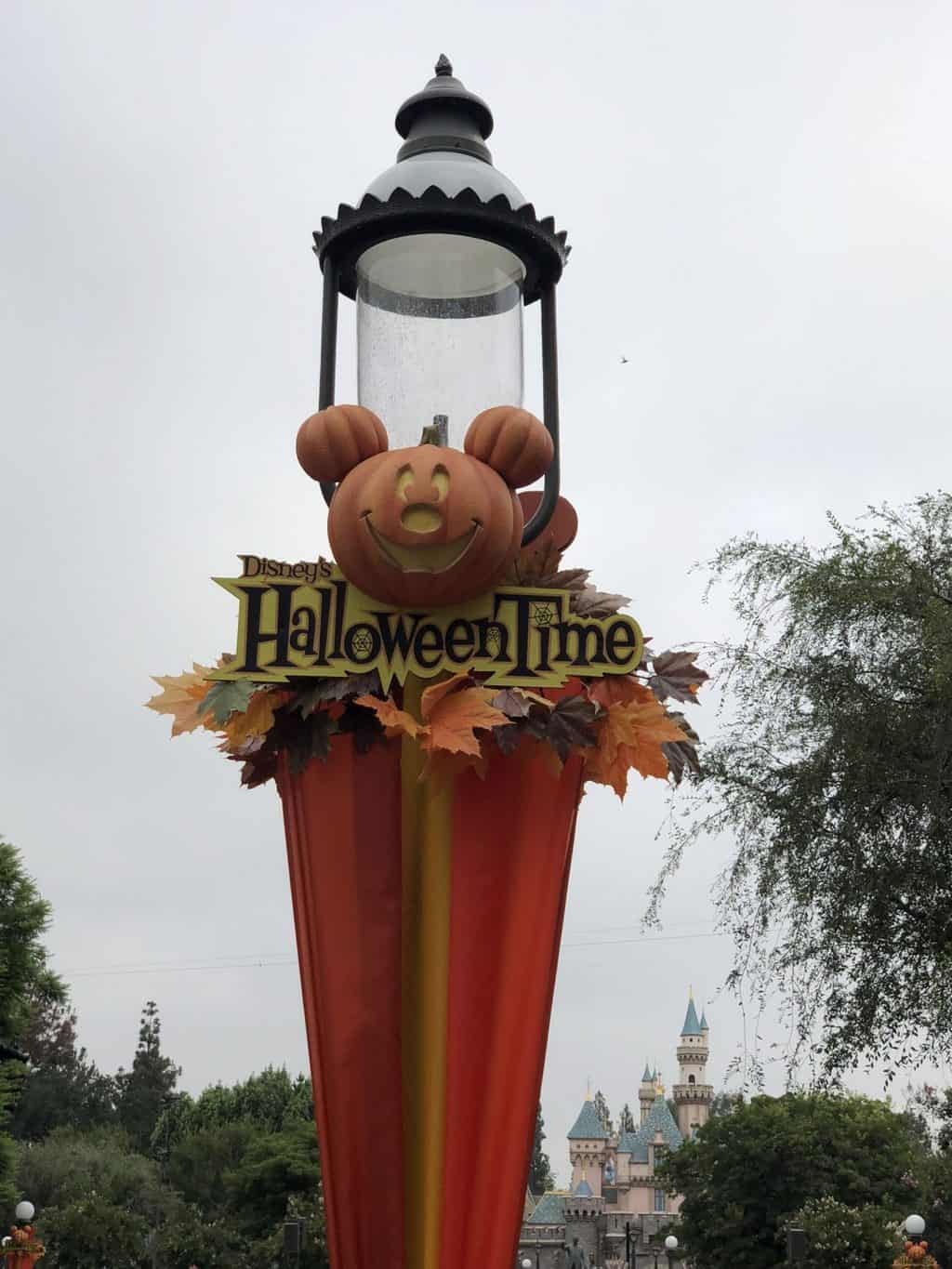 I did a LOT of research in planning this trip. And EVERYTHING I read said to use your magic hour morning for Fantasyland. I even had written down a specific order to ride each ride in that area to avoid lines and be able to knock it all out.
Seeing as everything you read says go to Fantasyland first…guess where EVERYONE went? Yup. Fantasyland.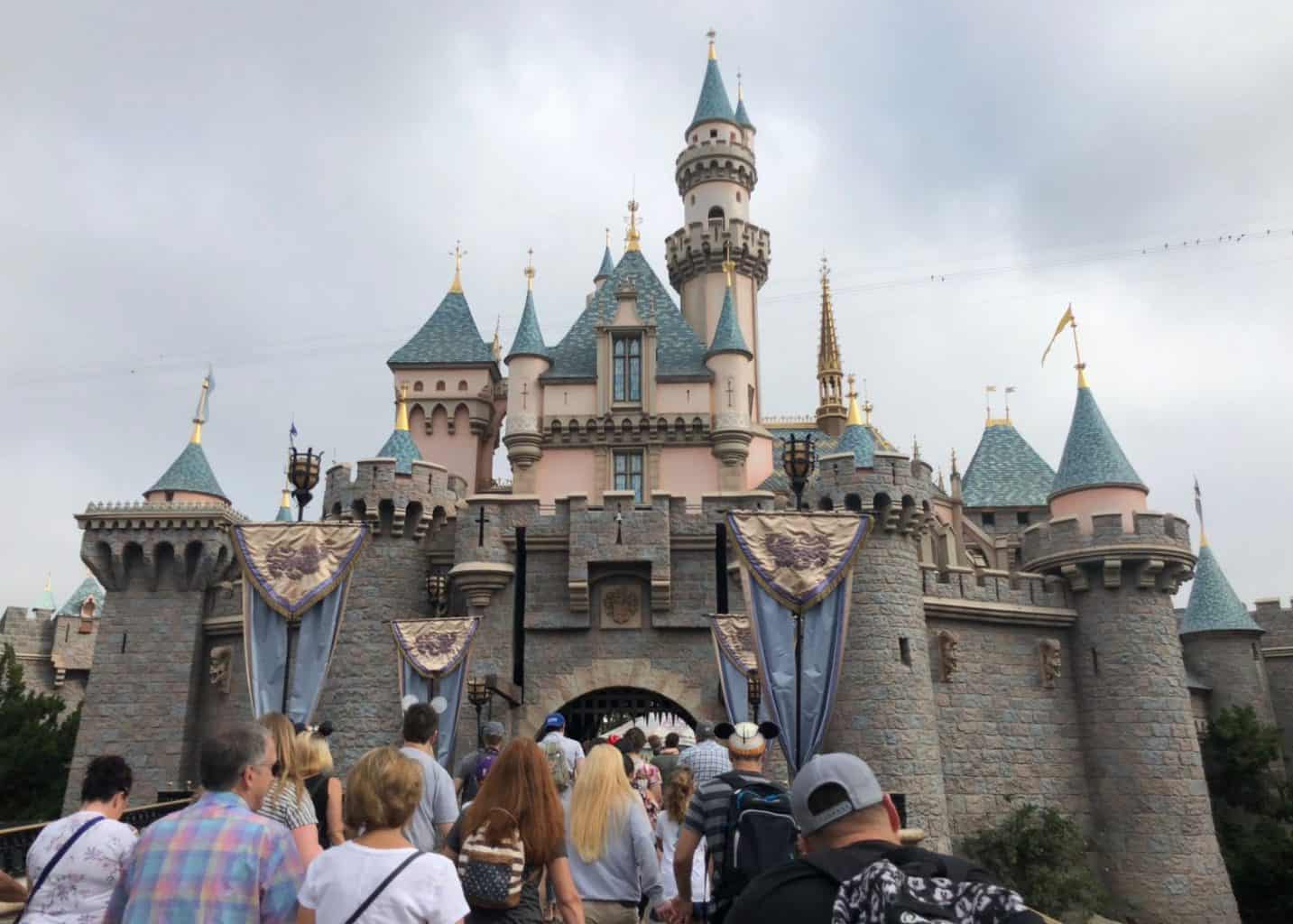 In many ways Disneyland trumps Disney World. But NOT in ride loading speed. Not by a long shot. Especially in Fantasyland. If you've ridden Peter Pan at Magic Kingdom and thought it took ages to load…you will be shocked to find out it loads even slower at Disneyland.
However, we all agreed we loved the Disneyland version of the ride! There was a really cool part that flew into stars that I especially loved!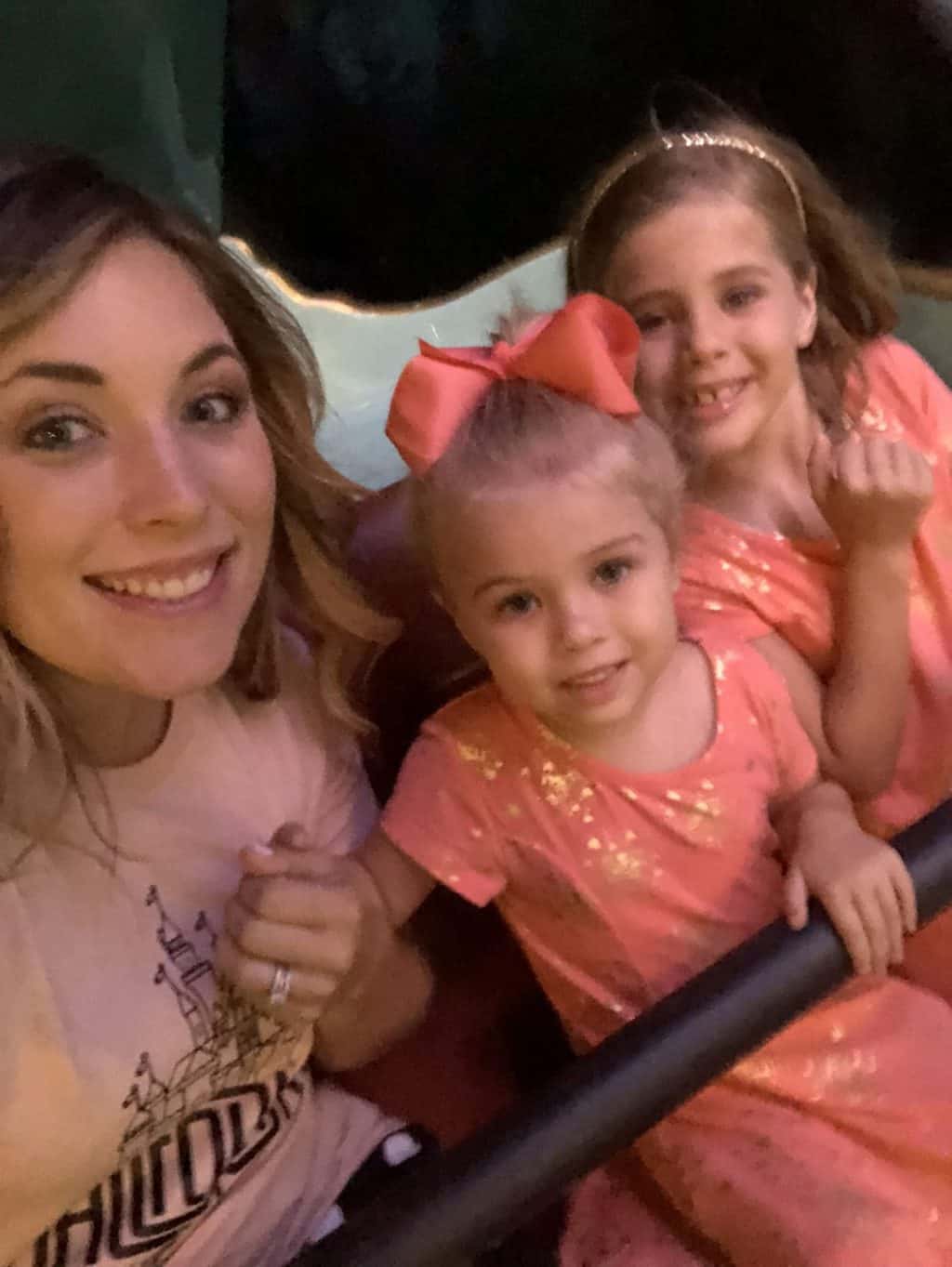 After Peter Pan we hopped in line for Alice in Wonderland and the kids and I peeked into a gift shop (Mad Hatter of course). Britt practiced for her future Disney wedding 😉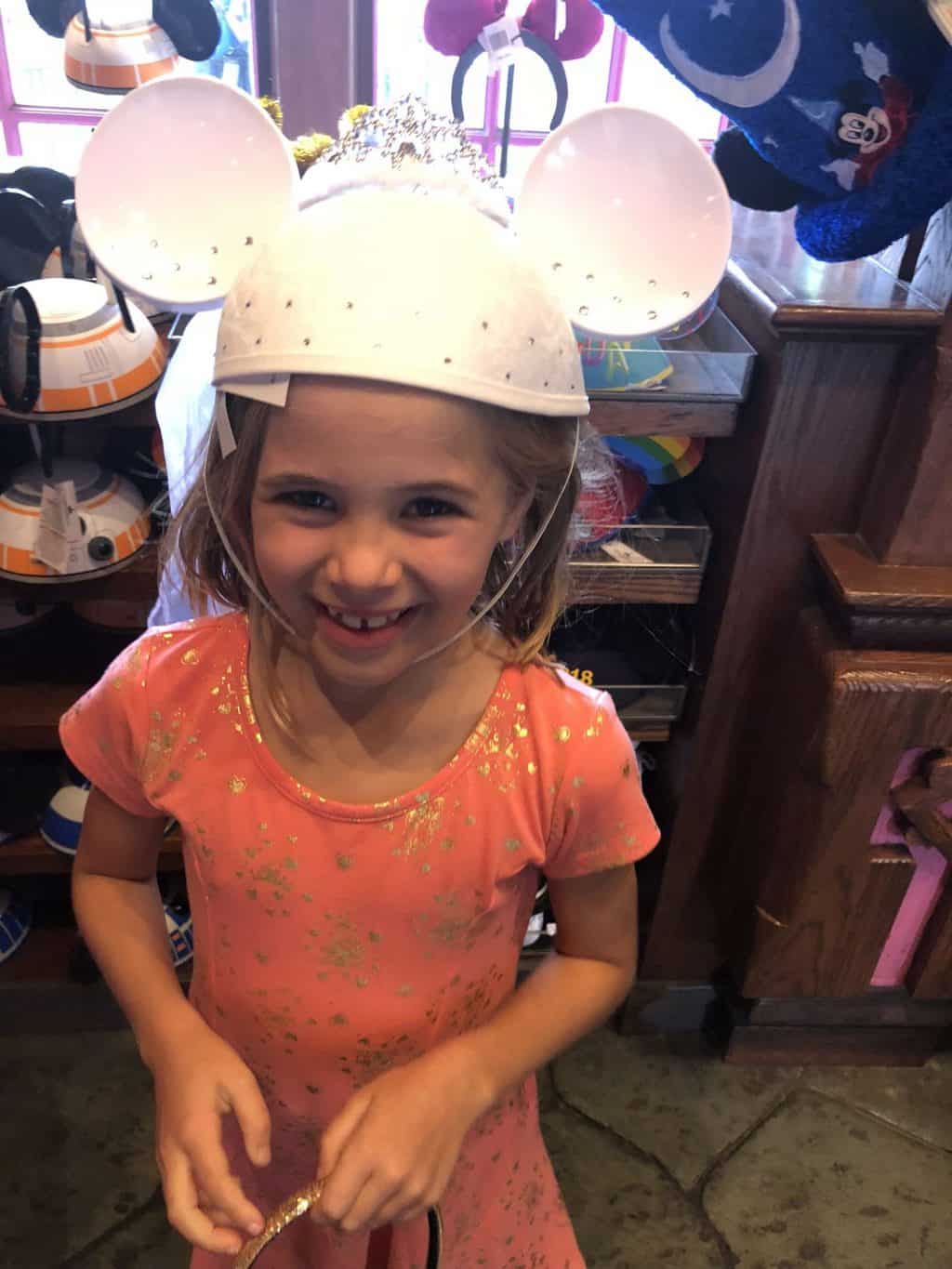 Alice in Wonderland was a ride that let us down in a BIG WAY when Zach and I visited. We had gotten all the way to the front of a LONG line only to be told the ride shut down and we had to exit the line. Not. Cool. We never went back to ride it so this was a first for us all!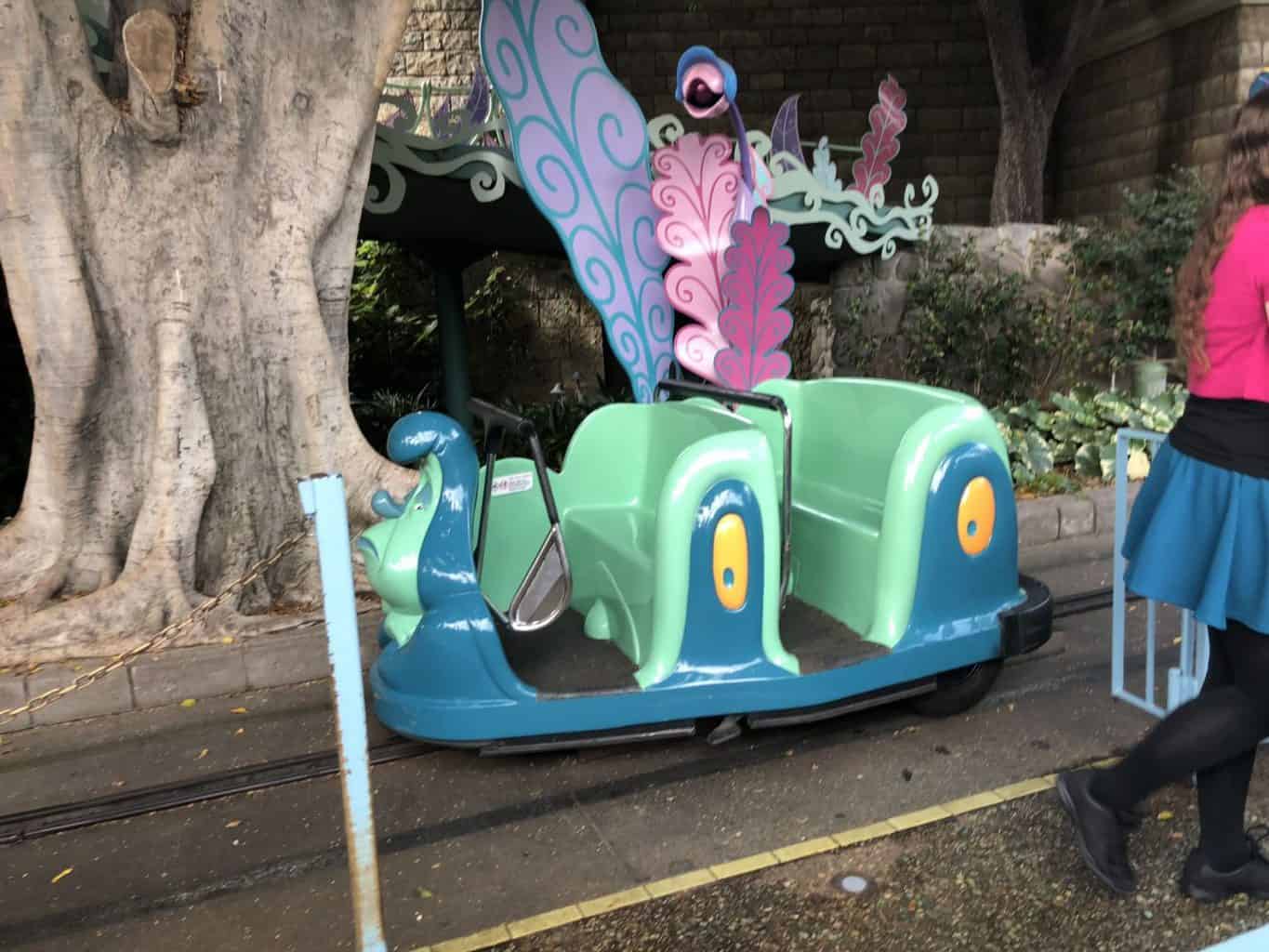 What Britt looks like in the mornings haha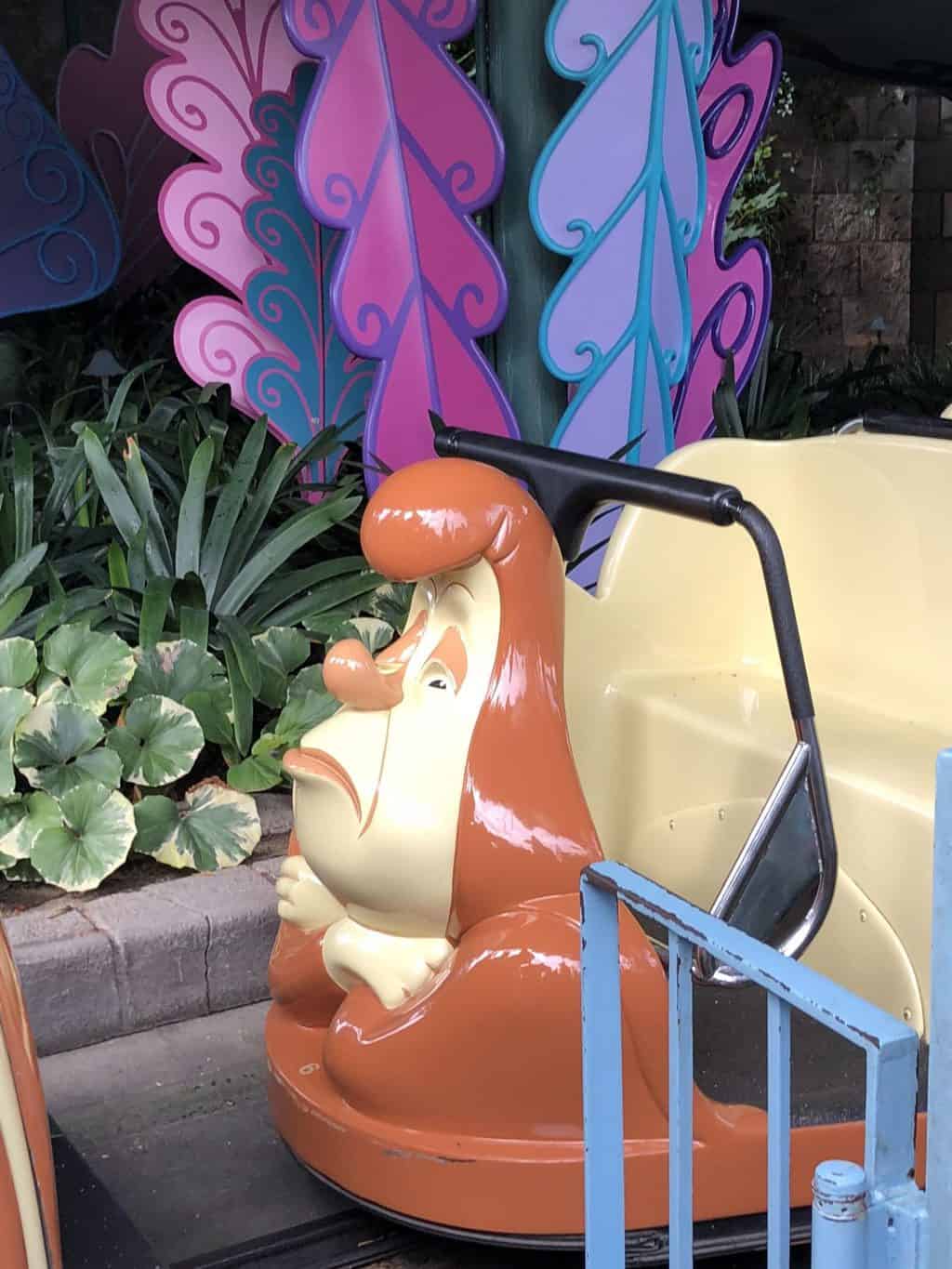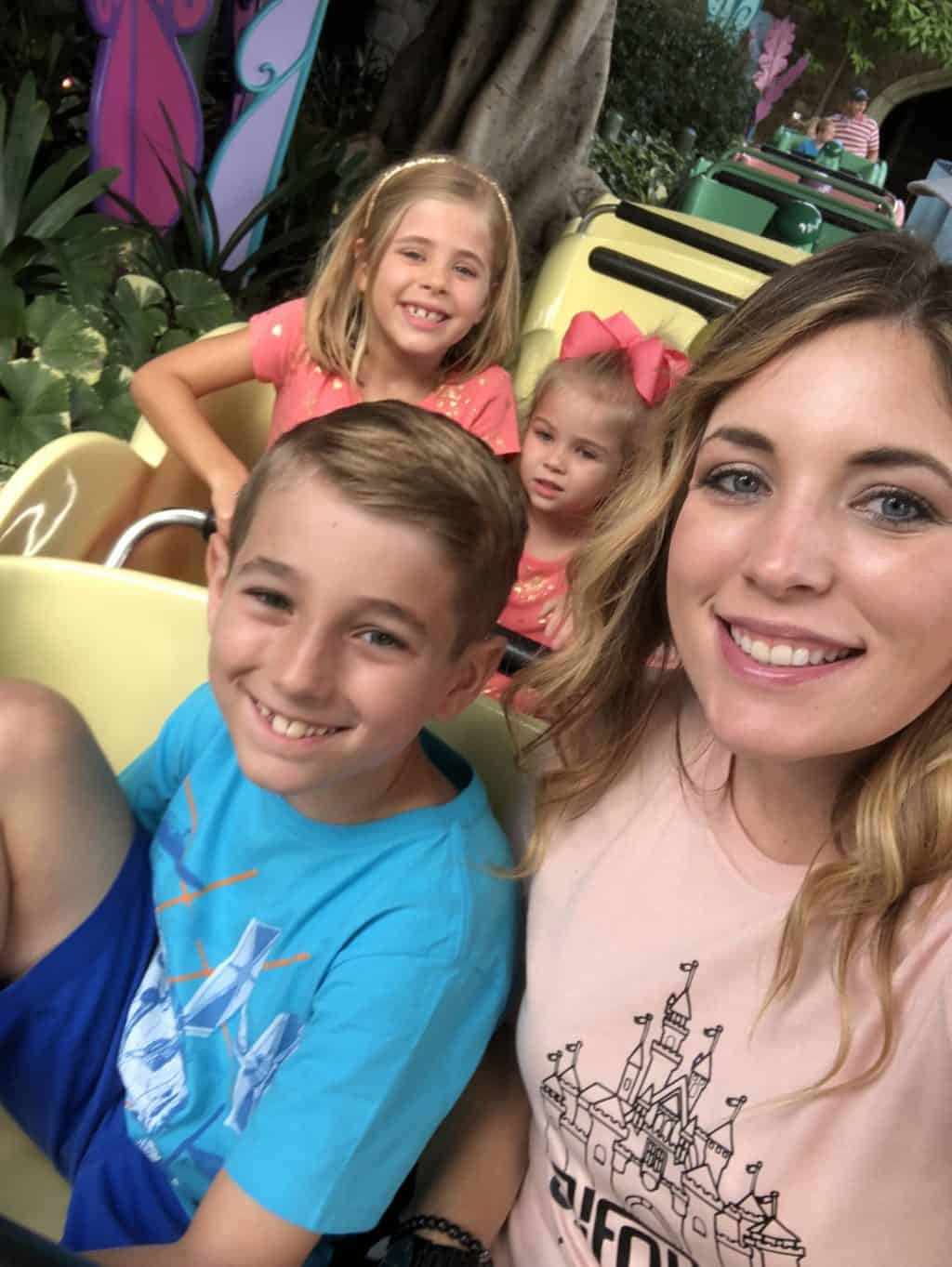 I love that she owns her grumpiness and tried to copy the snail's face haha!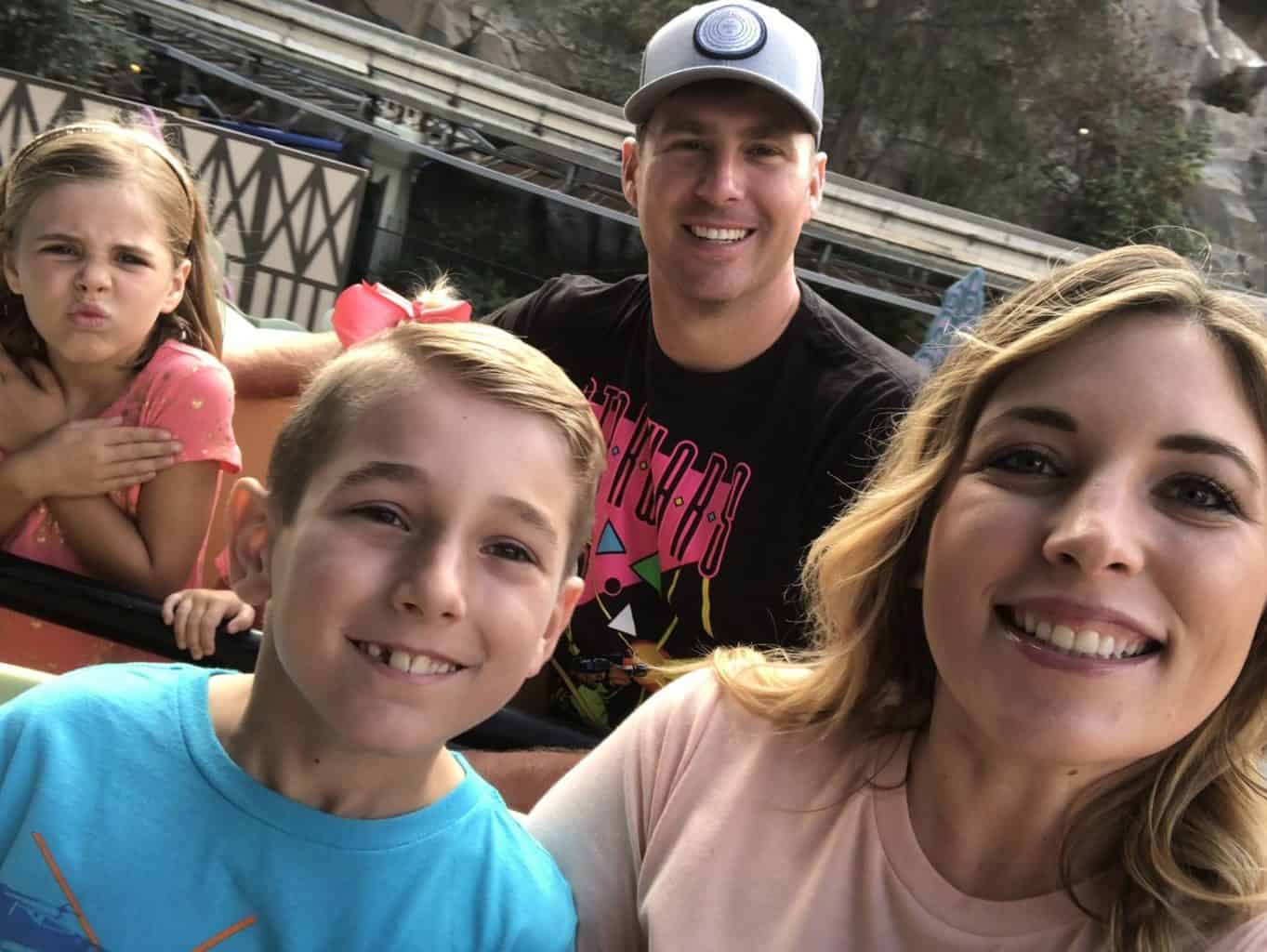 King Arthur's Carousel. We tried to find Jingles which is the horse that Walt gave to "Mary Poppins" and has bells all over it. We weren't able to ride him but we did see him!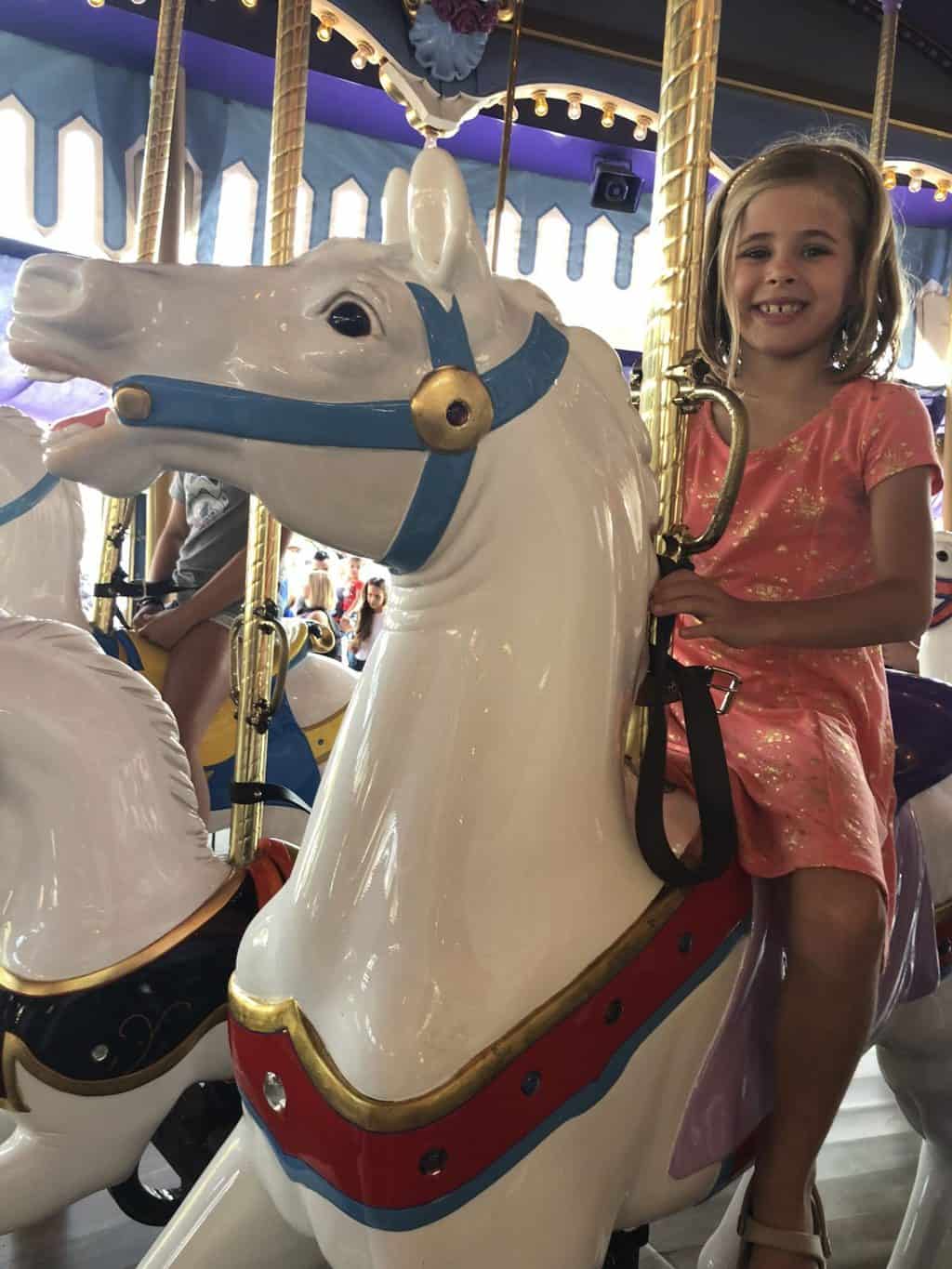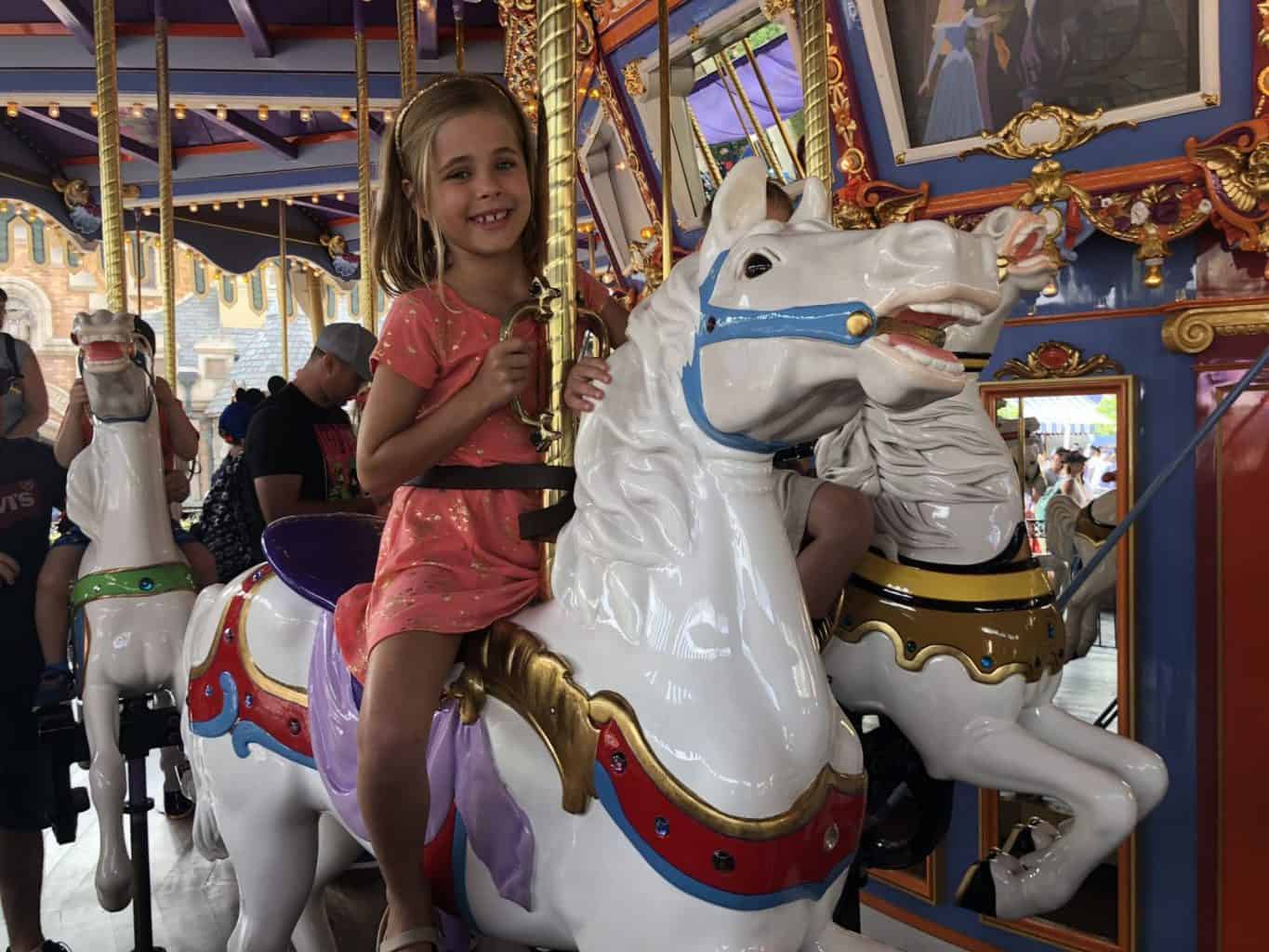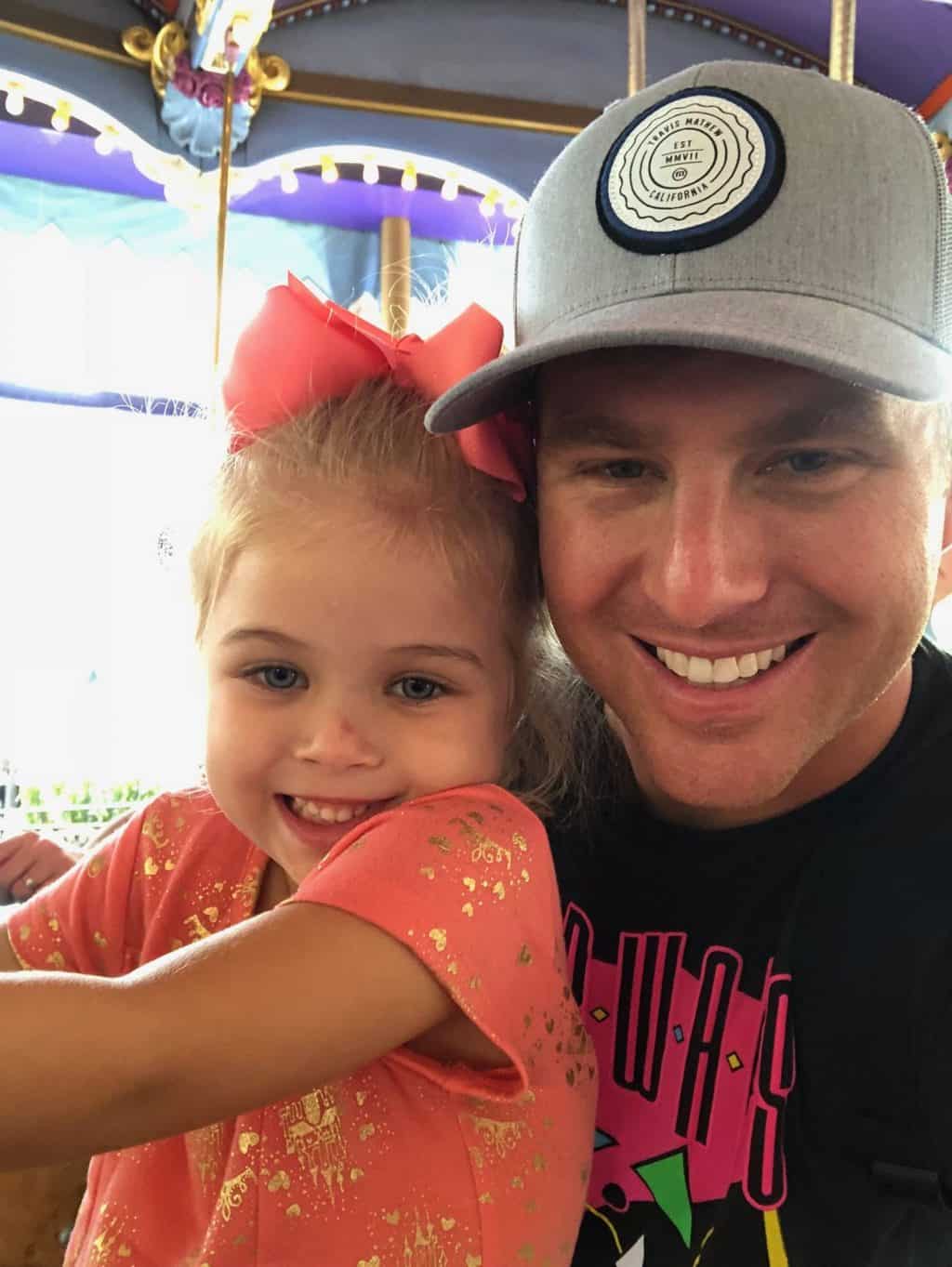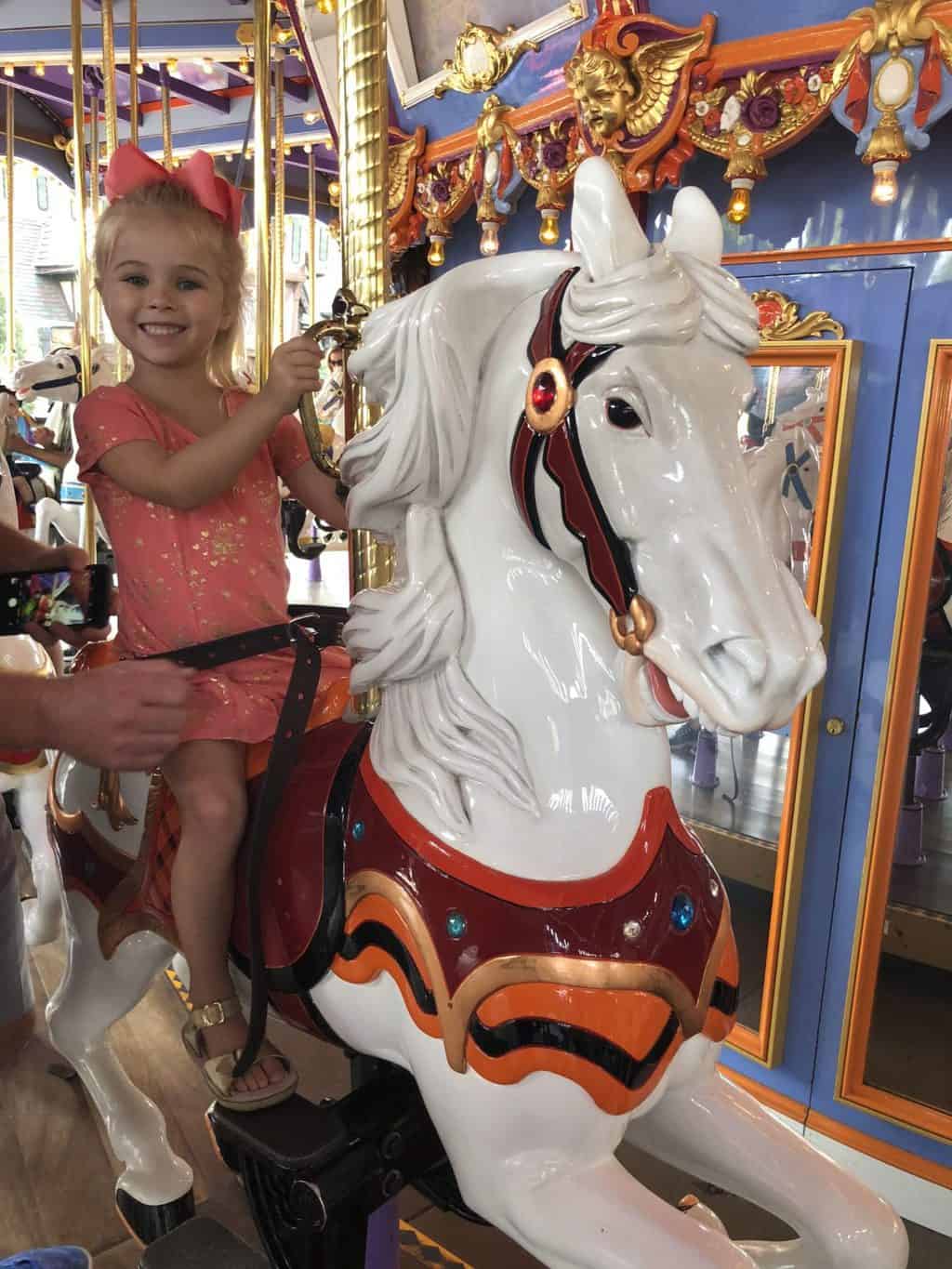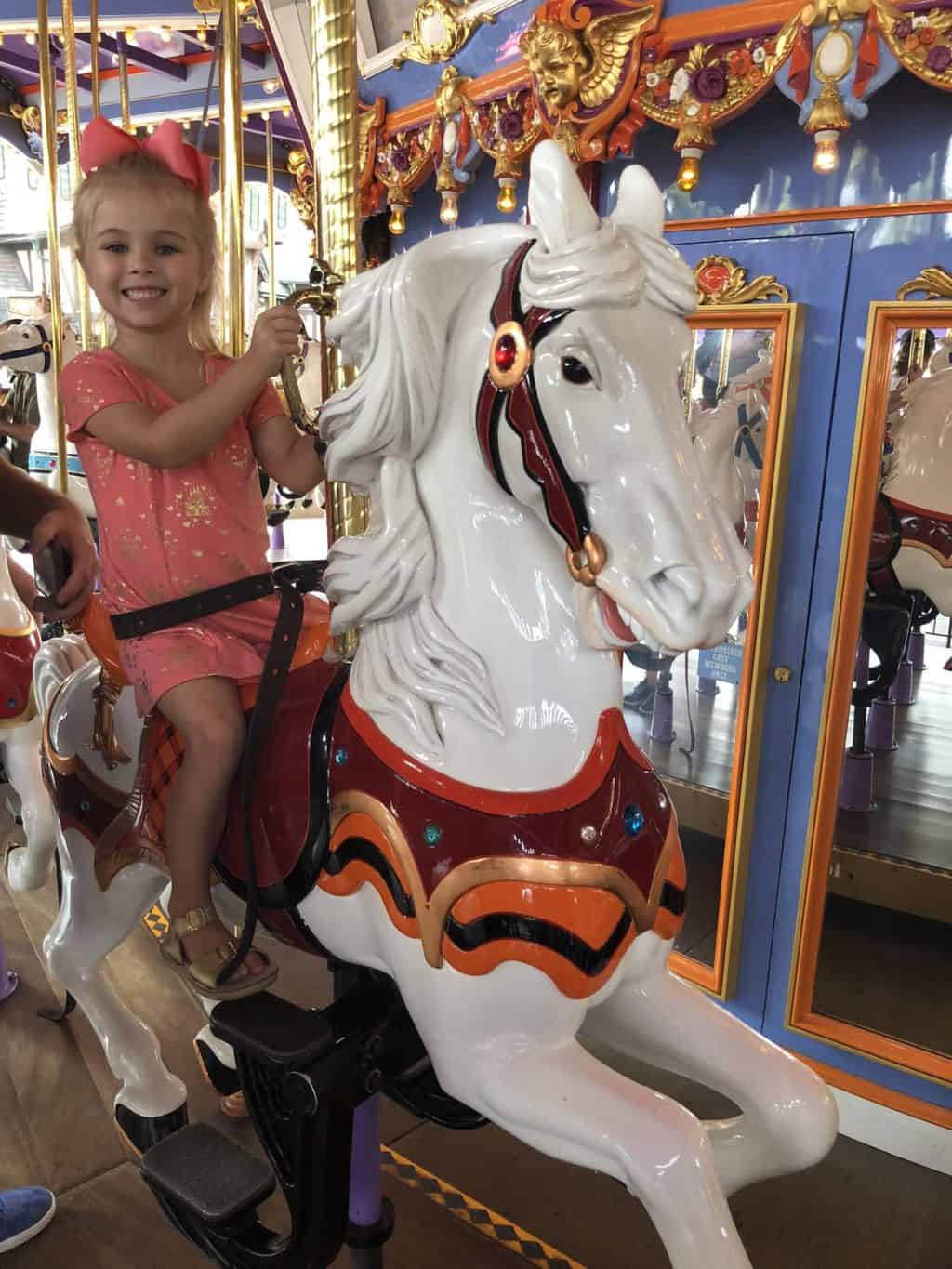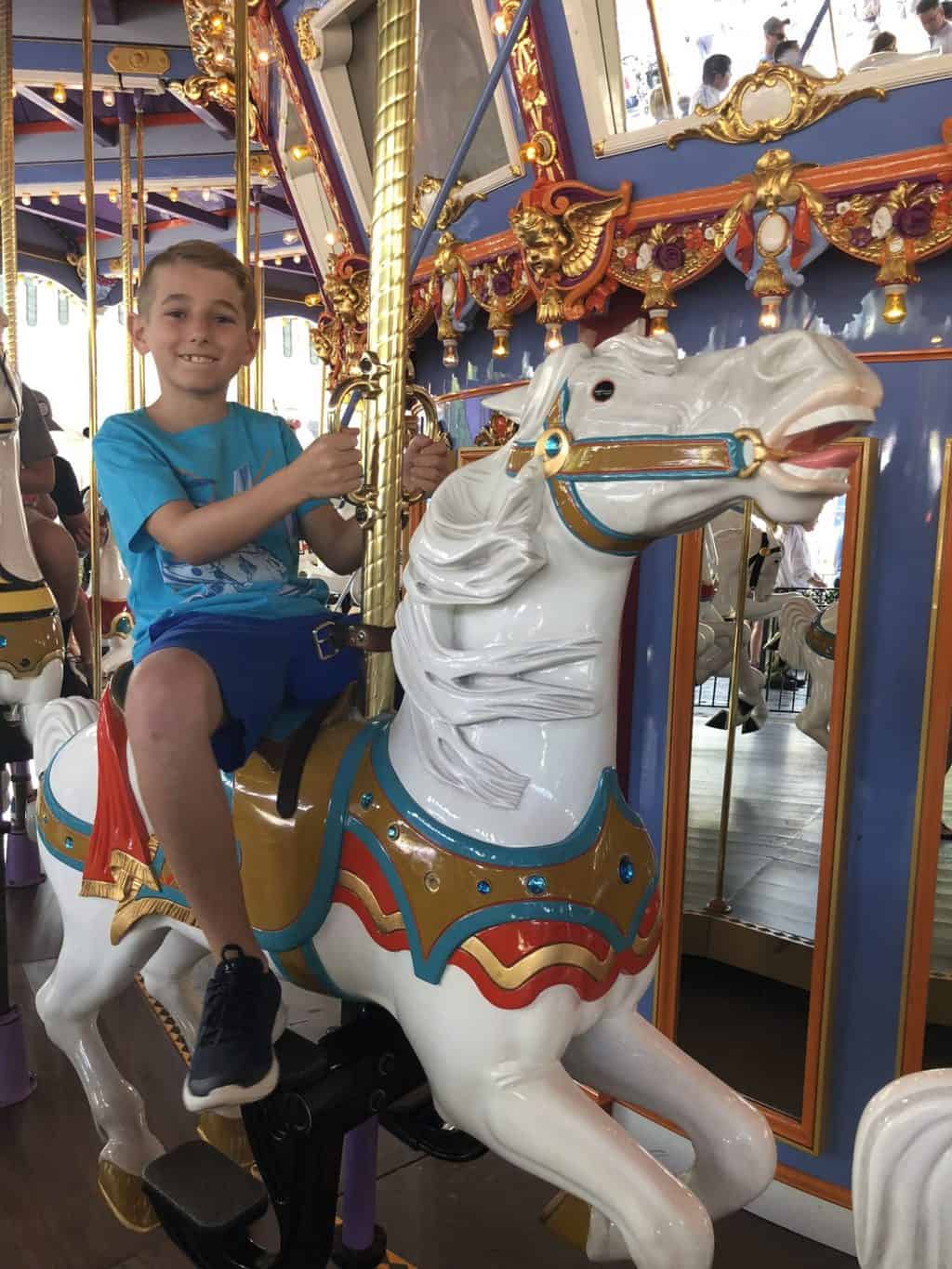 I love how into it all he still gets 😉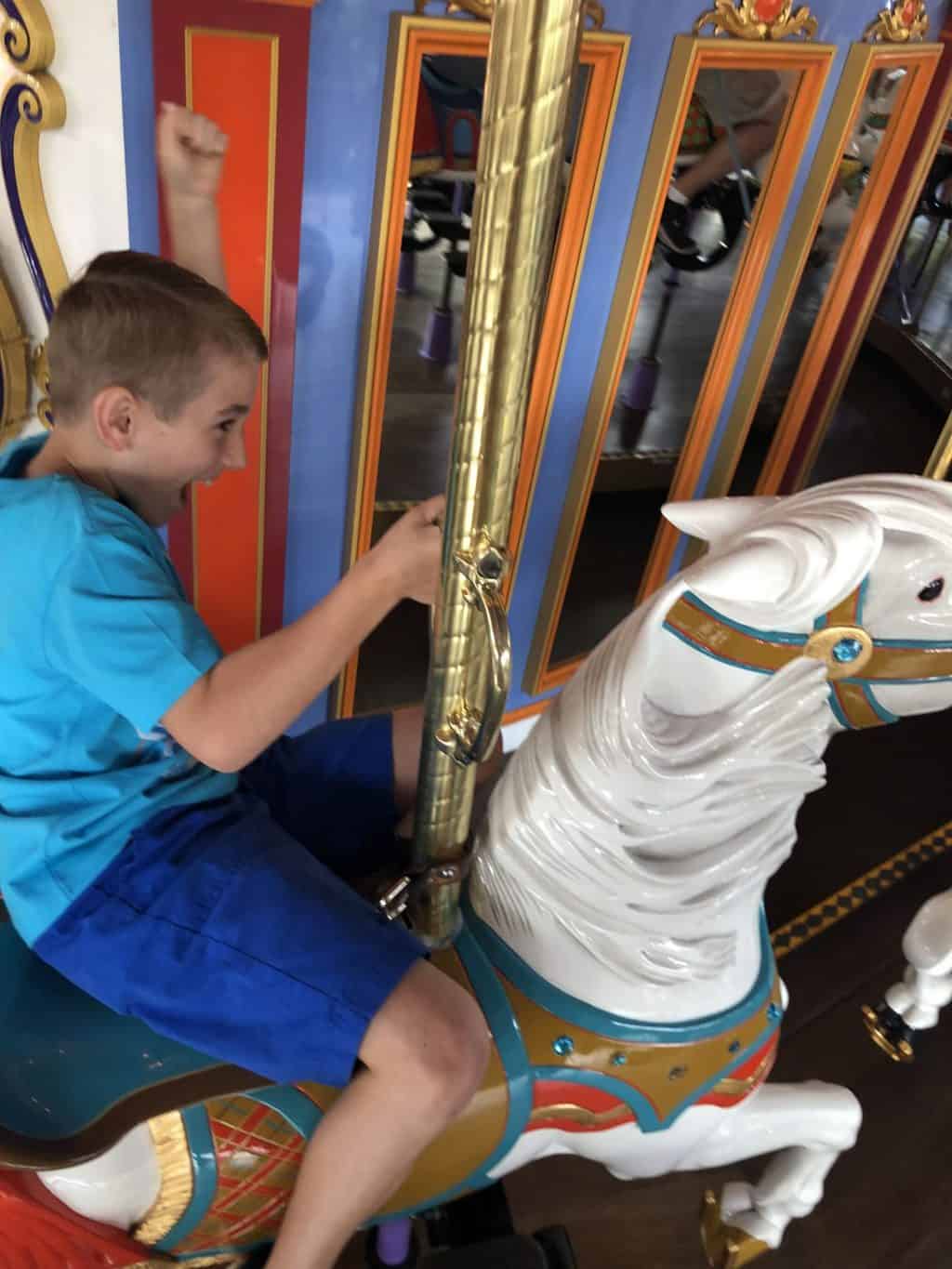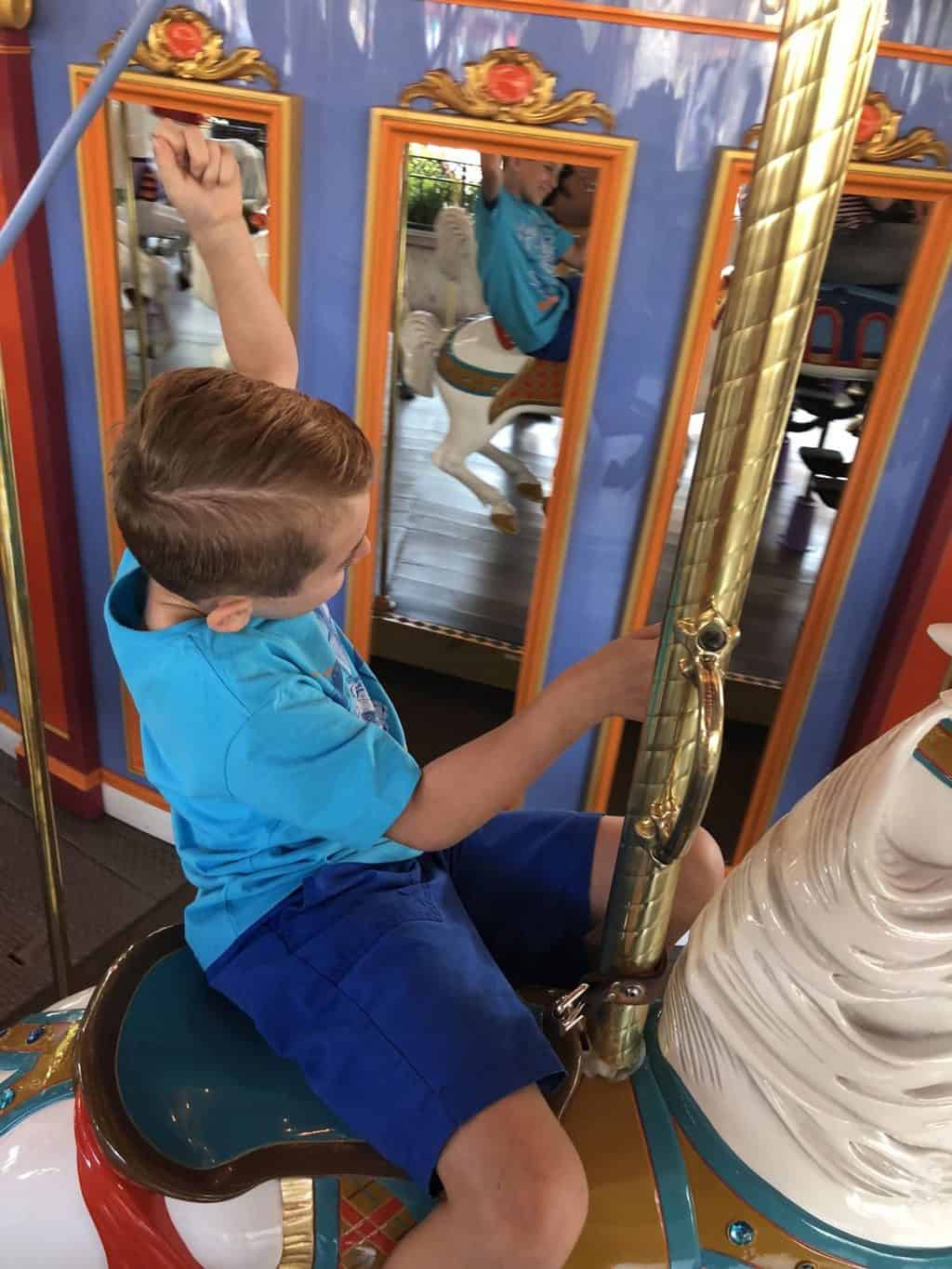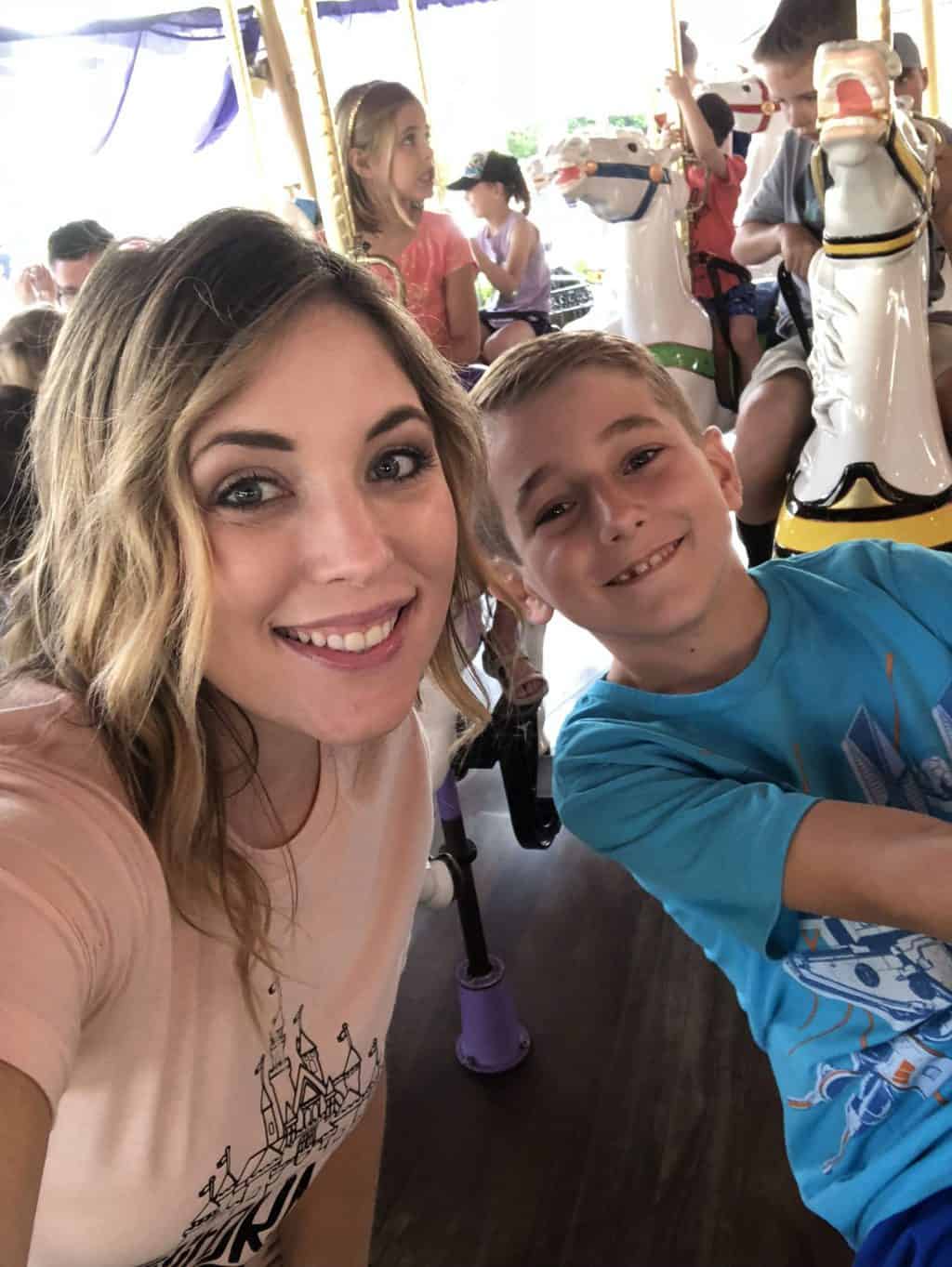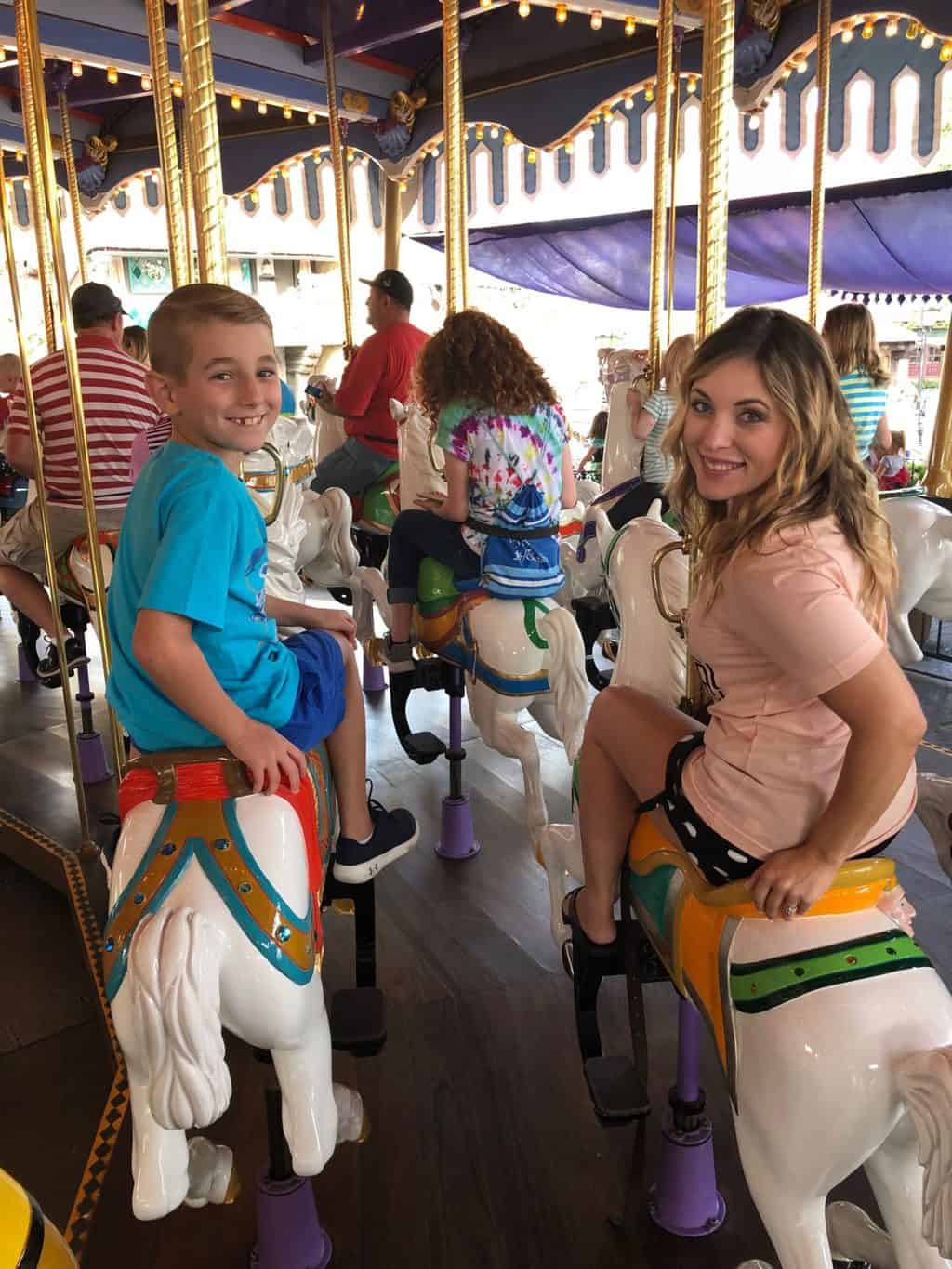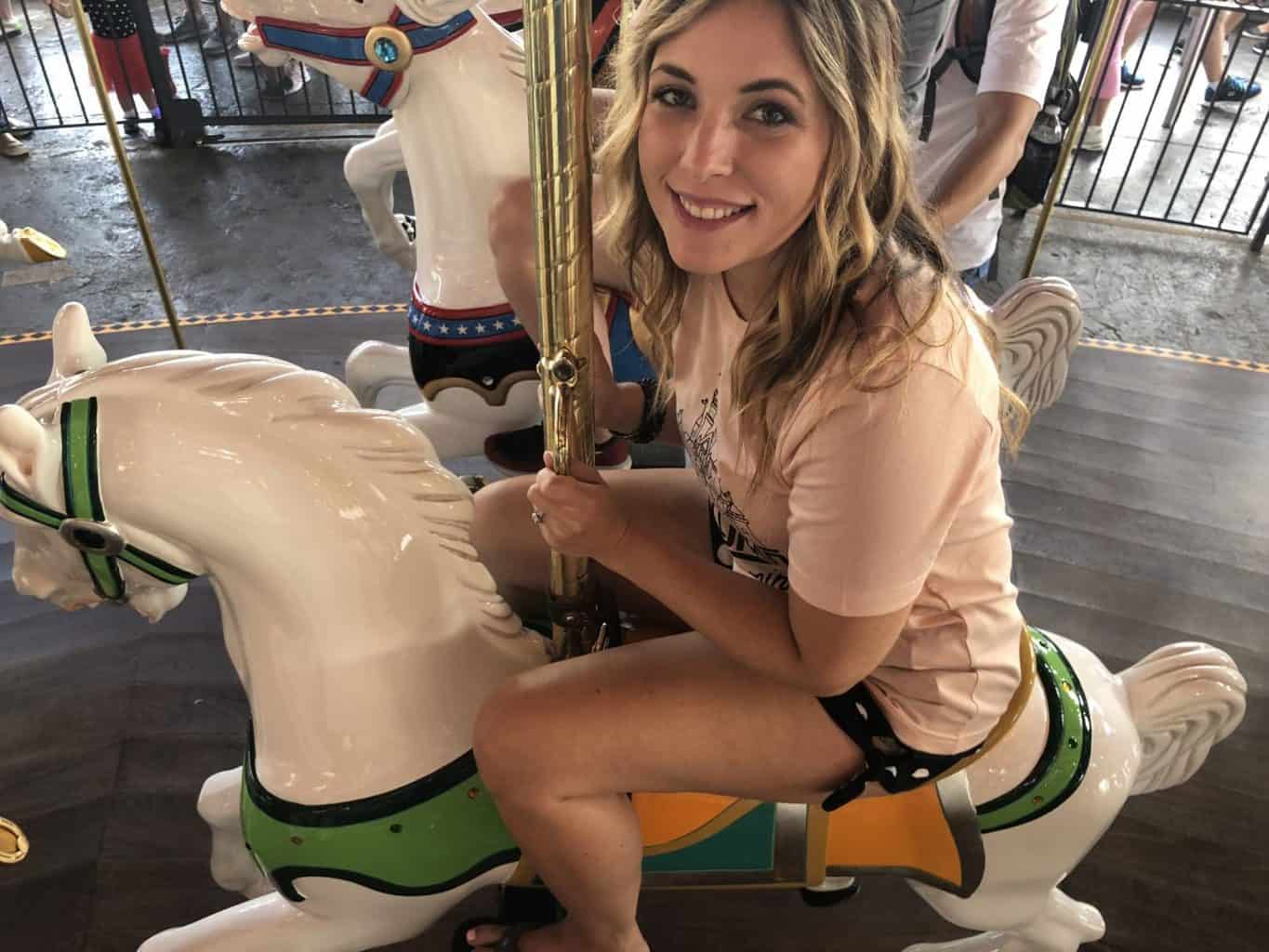 I really miss a lot of the classic rides in Fantasyland at Magic Kingdom from my childhood. One of the things I was MOST excited about on this trip was to show my children MY childhood. Mr Toads! Snow White! Toon Town!
I. Was. So. Pumped.
Another big negative with Disneyland…stuff seems to break down. Often. Frequently. I dare even say regularly. I'm thankful for the experience Zach and I had as we were not shocked when this occurred during our morning and we didn't let it phase us. We just hopped out of line, onto something else, and checked the app for reopening.
Mr. Toad's was a ride where we had to exit the line due to shut down!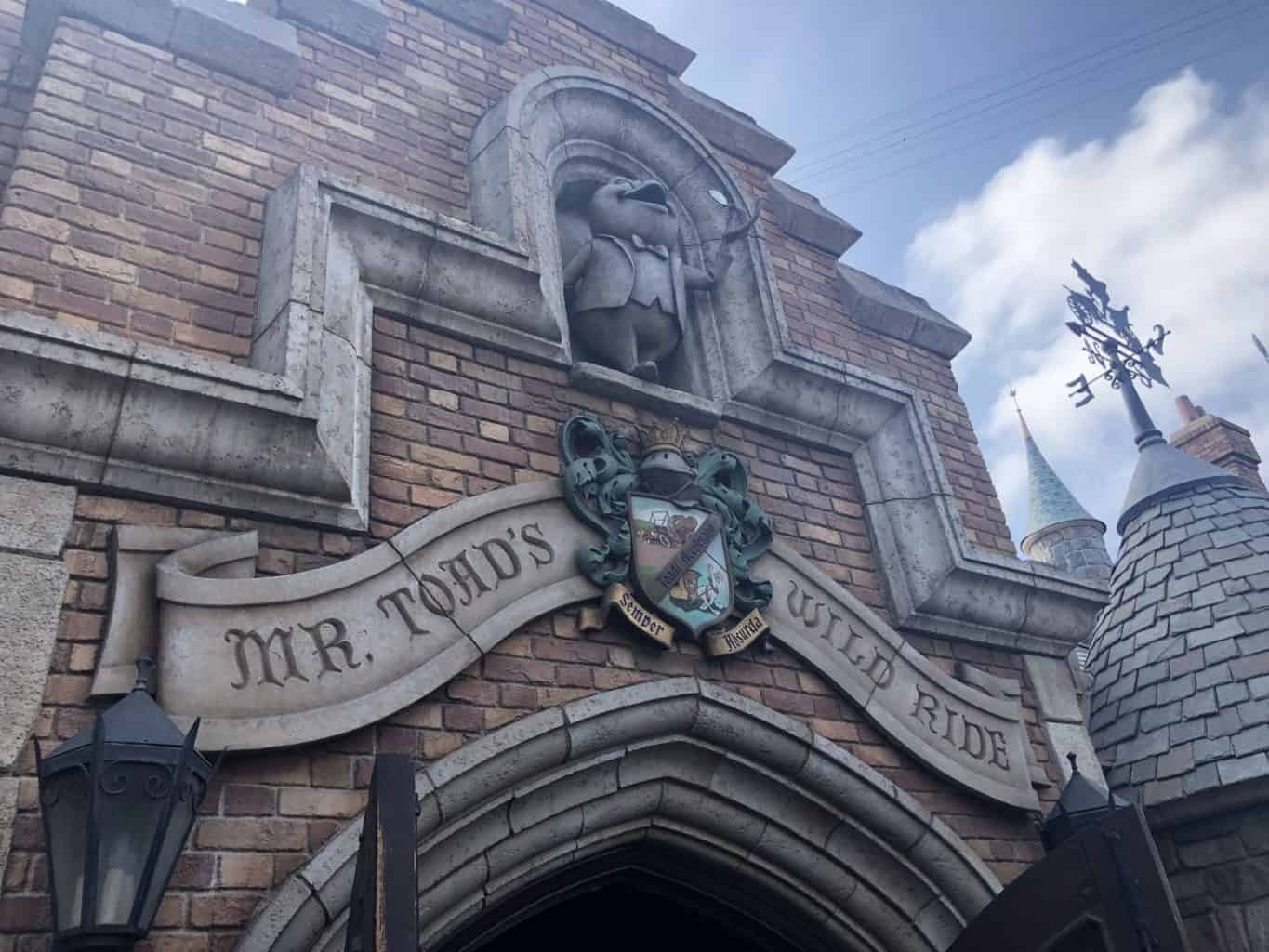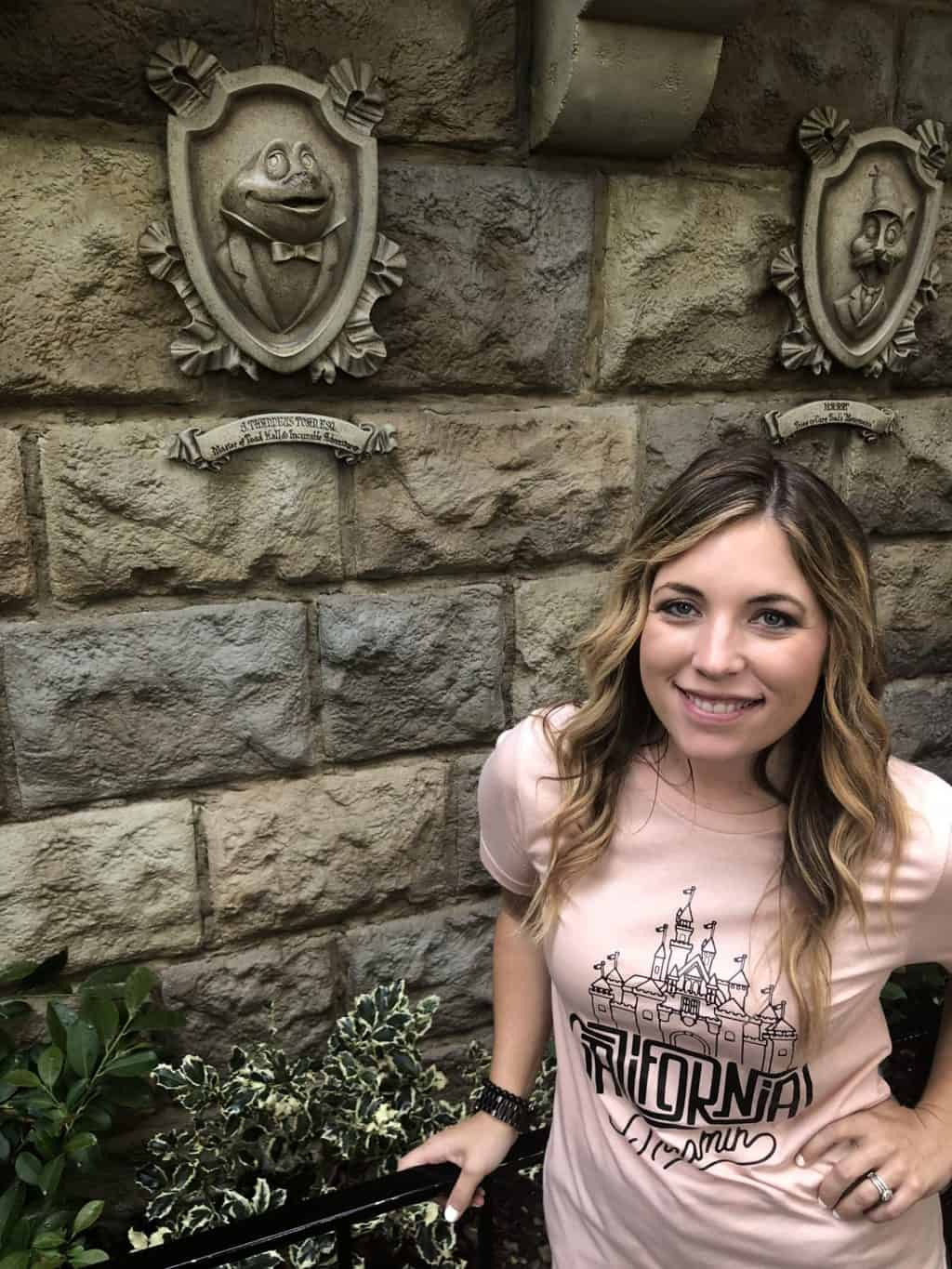 So we jumped over to Pinocchio 🙂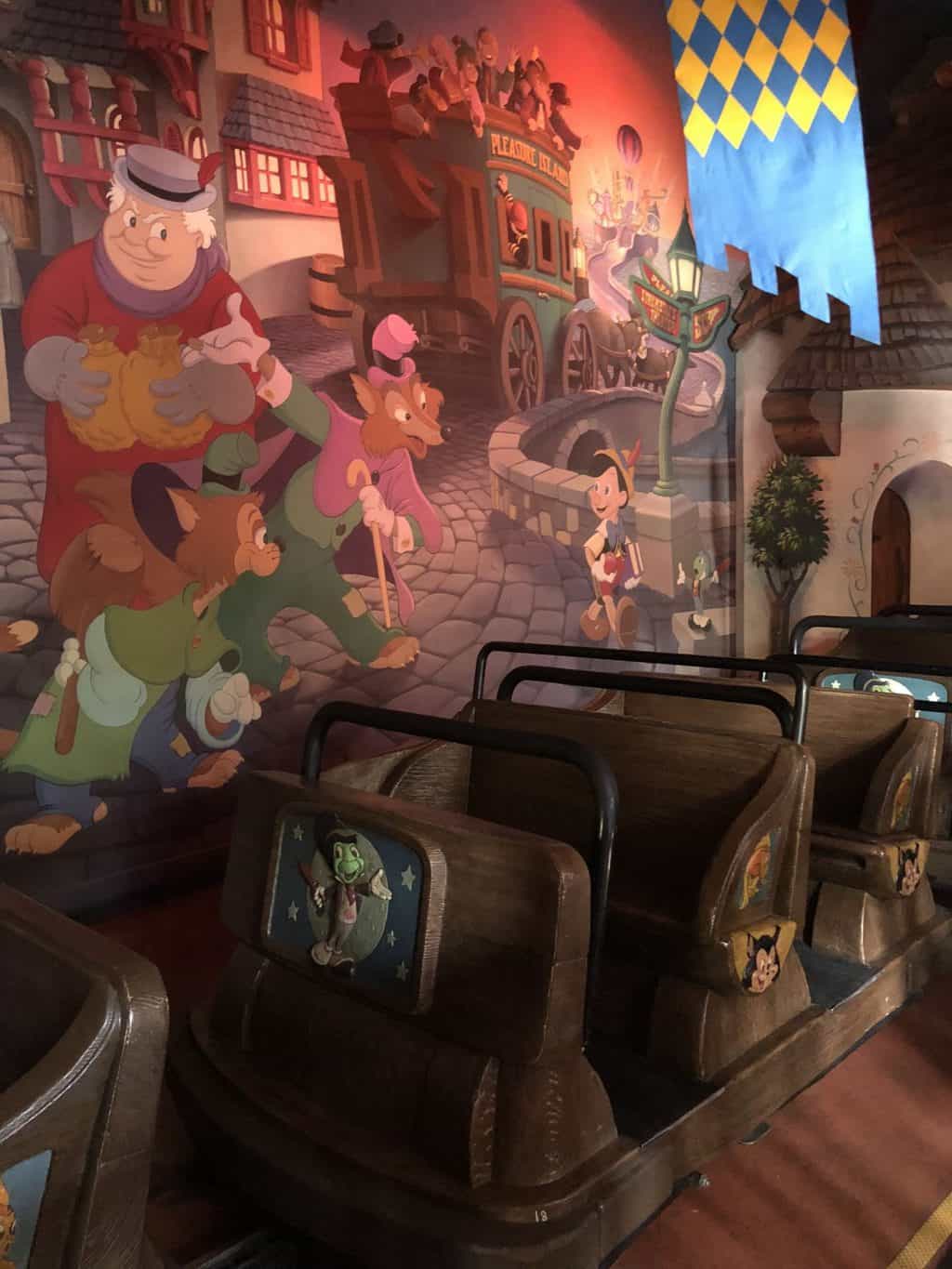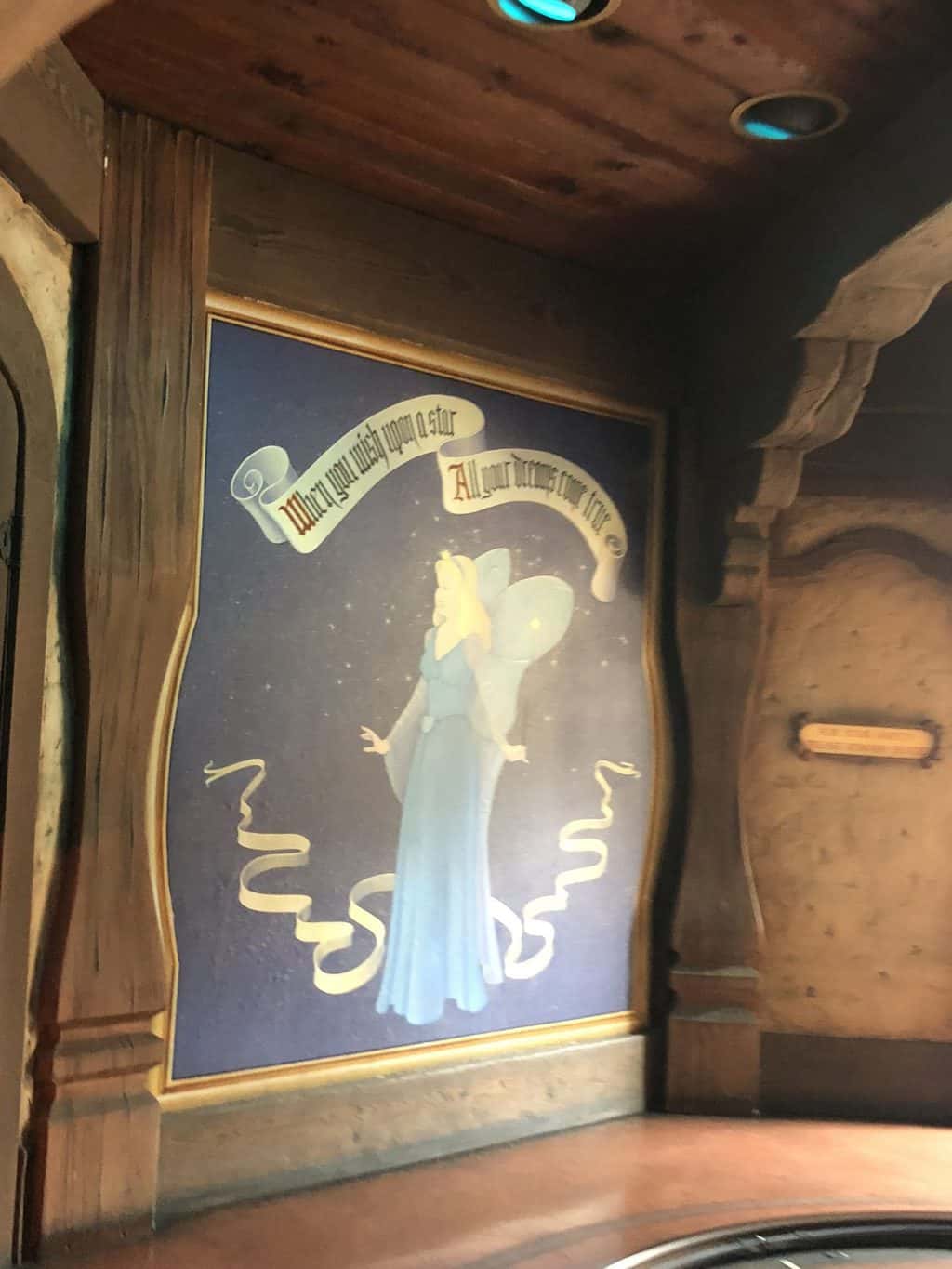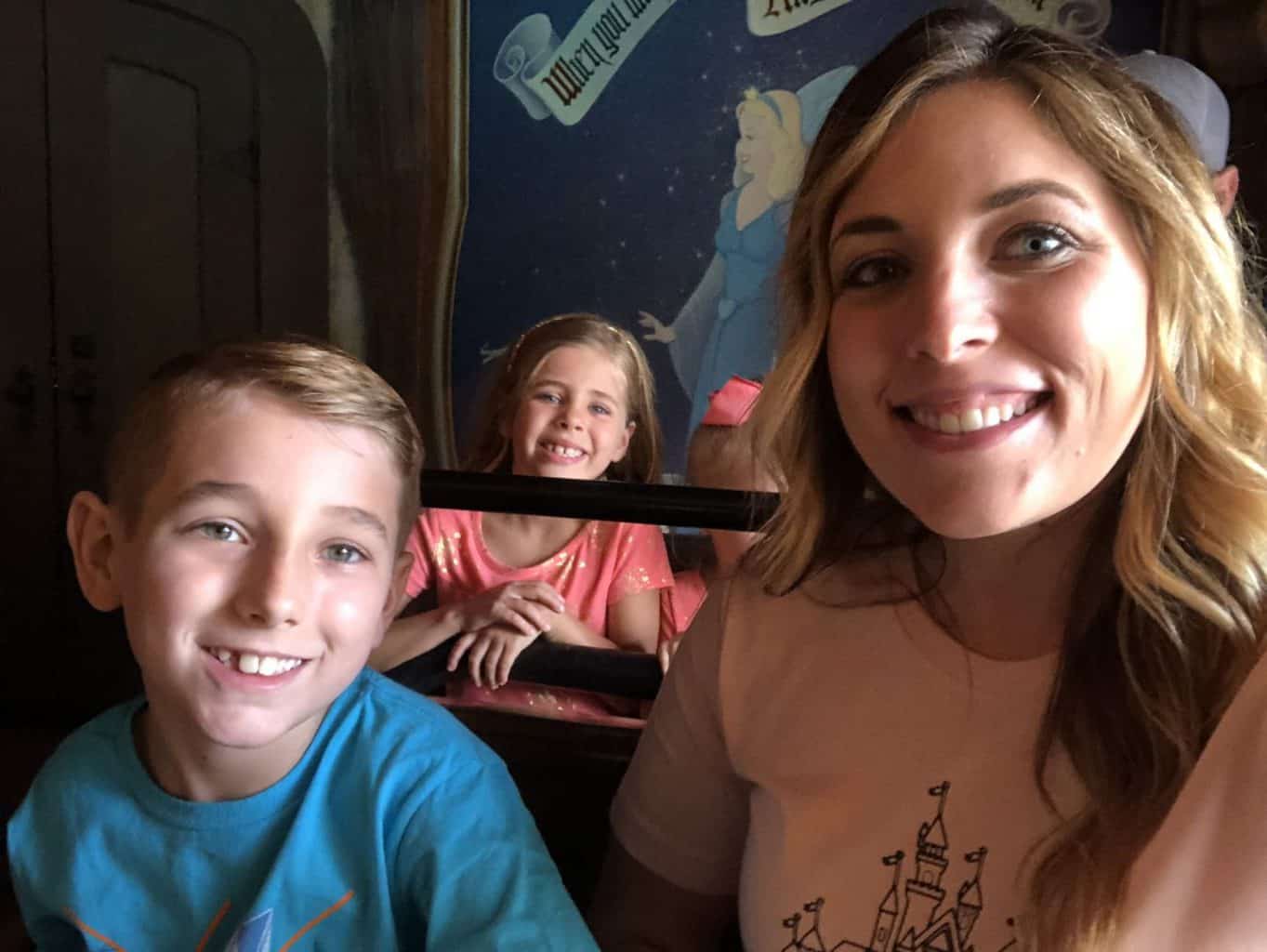 As a kid I remember being TERRIFIED of Snow White. But then I also always think of it as having the dark train scene in it. And it doesn't. That scene is actually from Mr Toad's Wild Ride. So I'm not sure if the train scene was what I was truly afraid of and I just mentally shifted it to the wrong ride, if I was terrified of both rides, or if something else in Snow White's ride scared me.
Either way you better bet I was gonna expose my kids to the nightmares of my childhood haha. I did mentally prepare them and told them I was very scared as a kid about these rides. But they all had a good laugh at childhood Mommy 😉 They LOVED them ALL!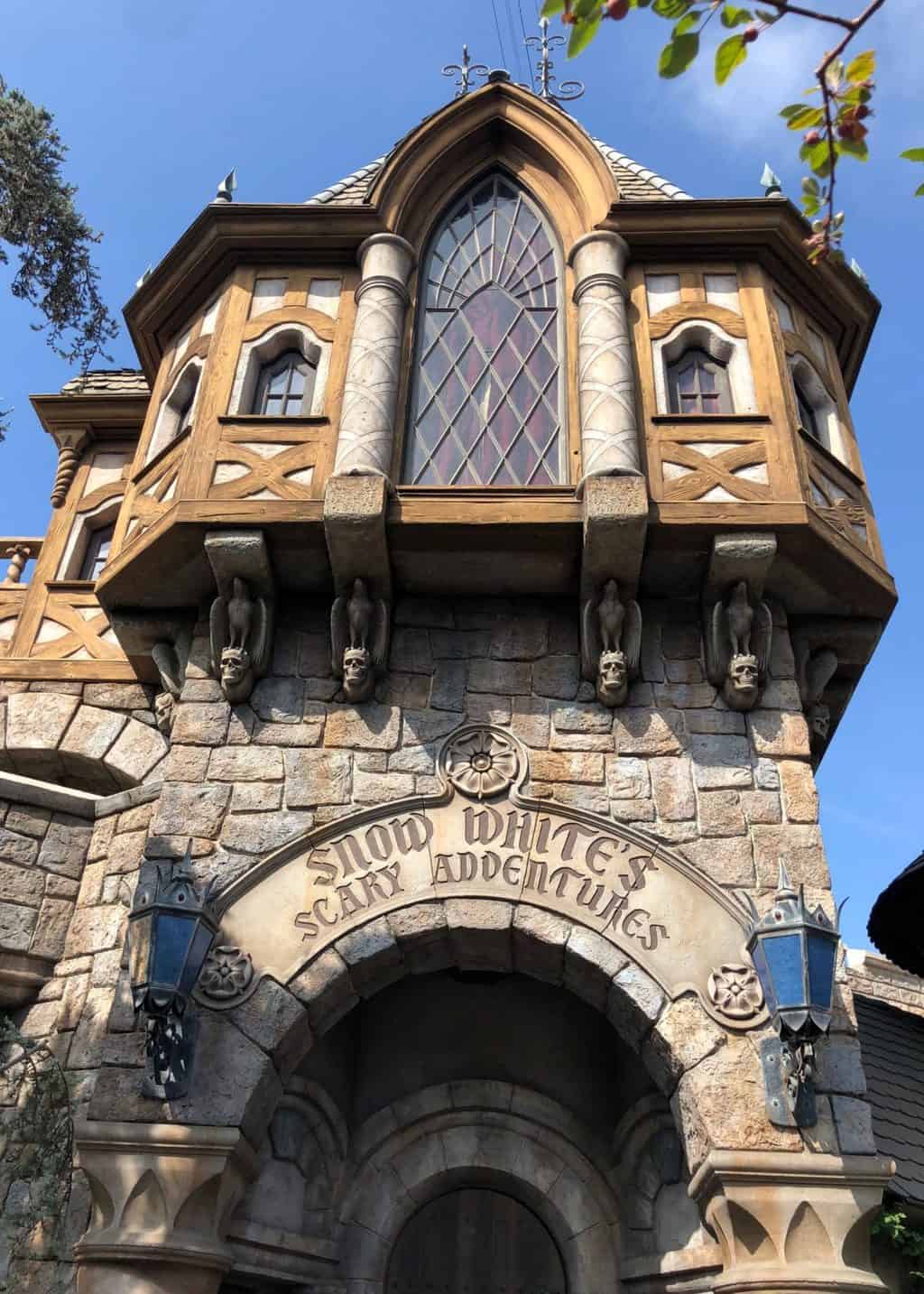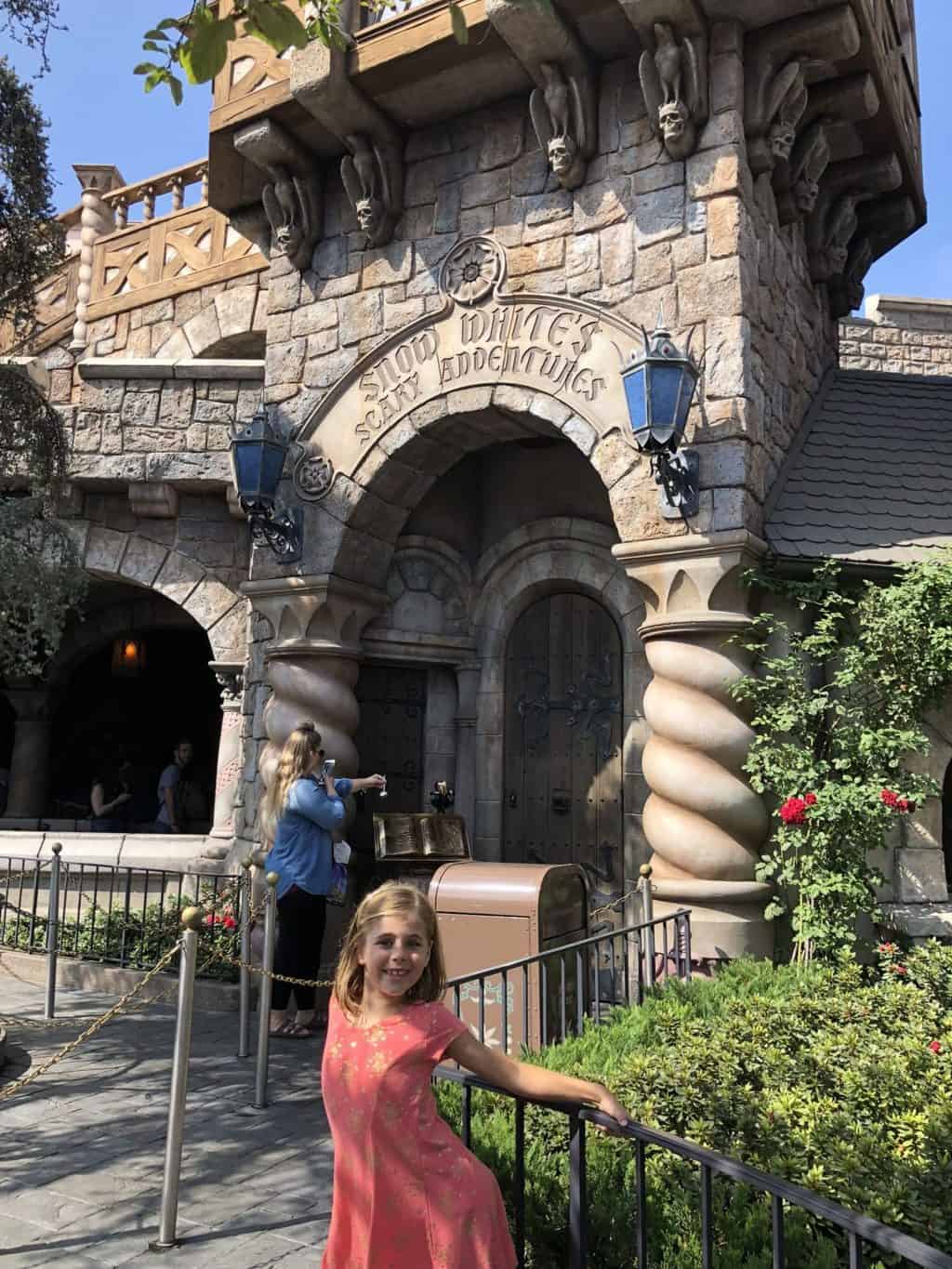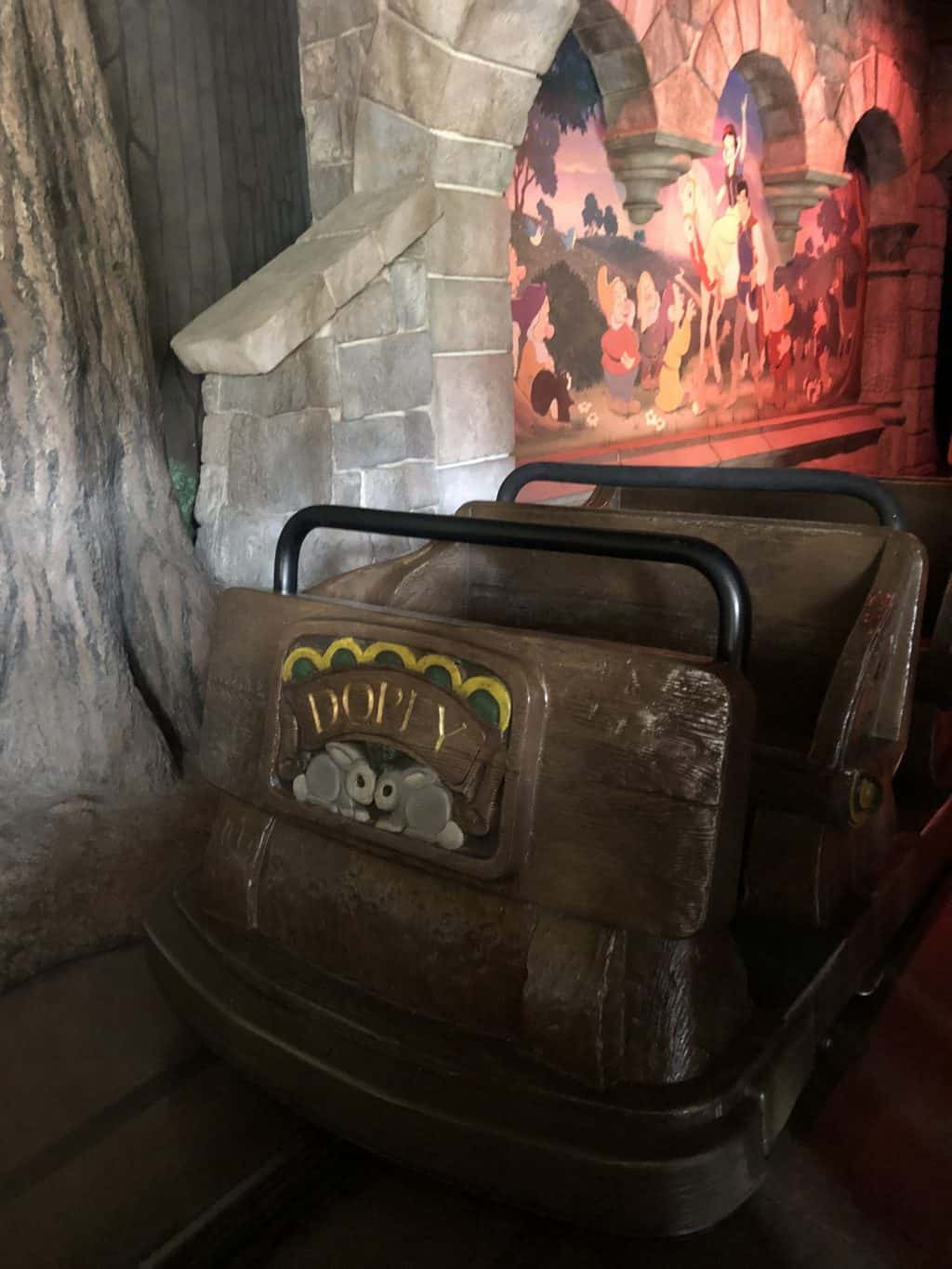 Our first day we weren't able to get good pics in front of the actual castle so we went ahead and got those taken again while the lines weren't too long. With a LOT less photo pass photographers available at Disneyland it's tougher to get good family photos.
We waited patiently in line and this family was SO RUDE. When it was finally our turn we slow rolled it. I was even like "let's get pics of just me and you Zach!" because I was not about to rush for some really rude people.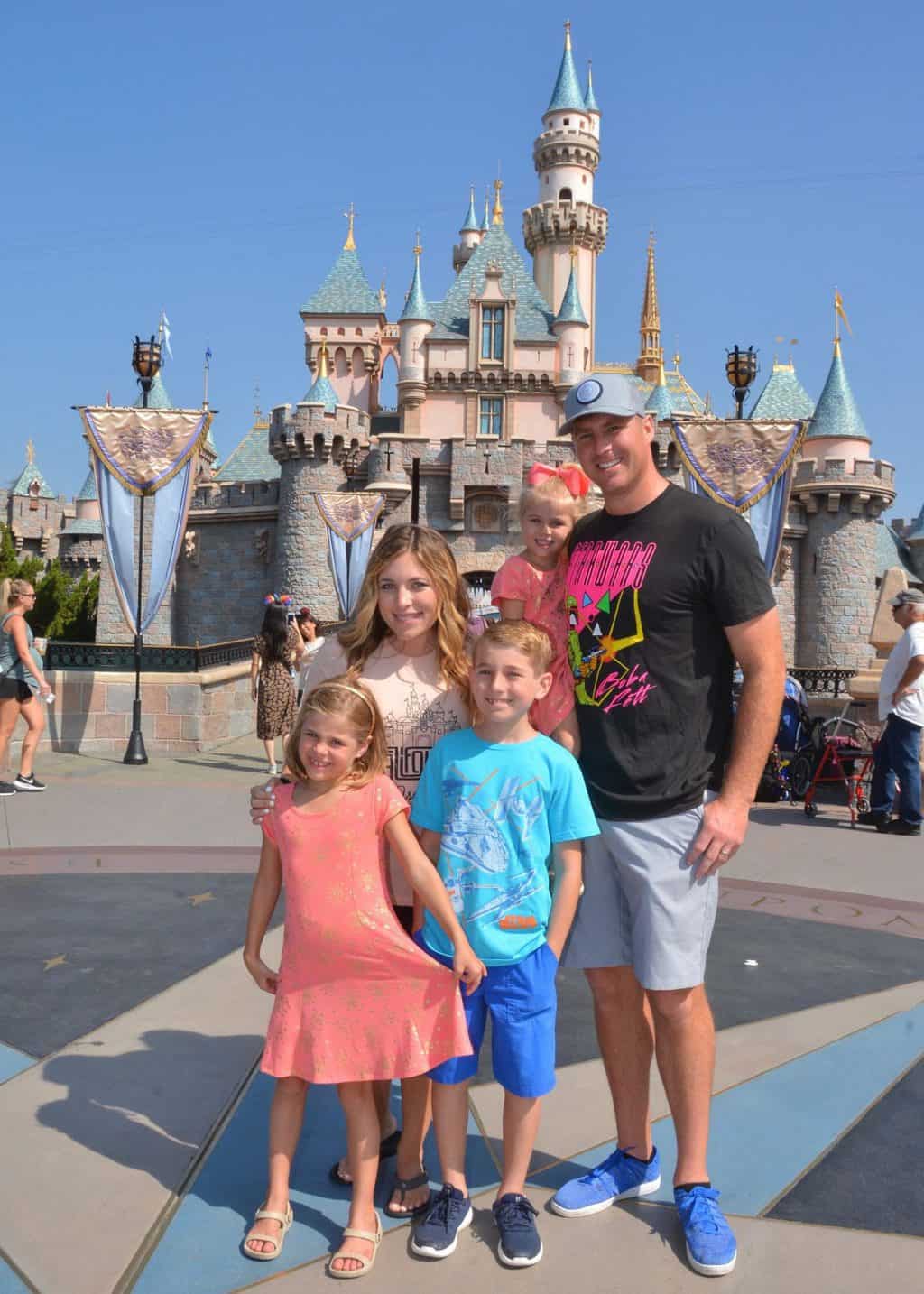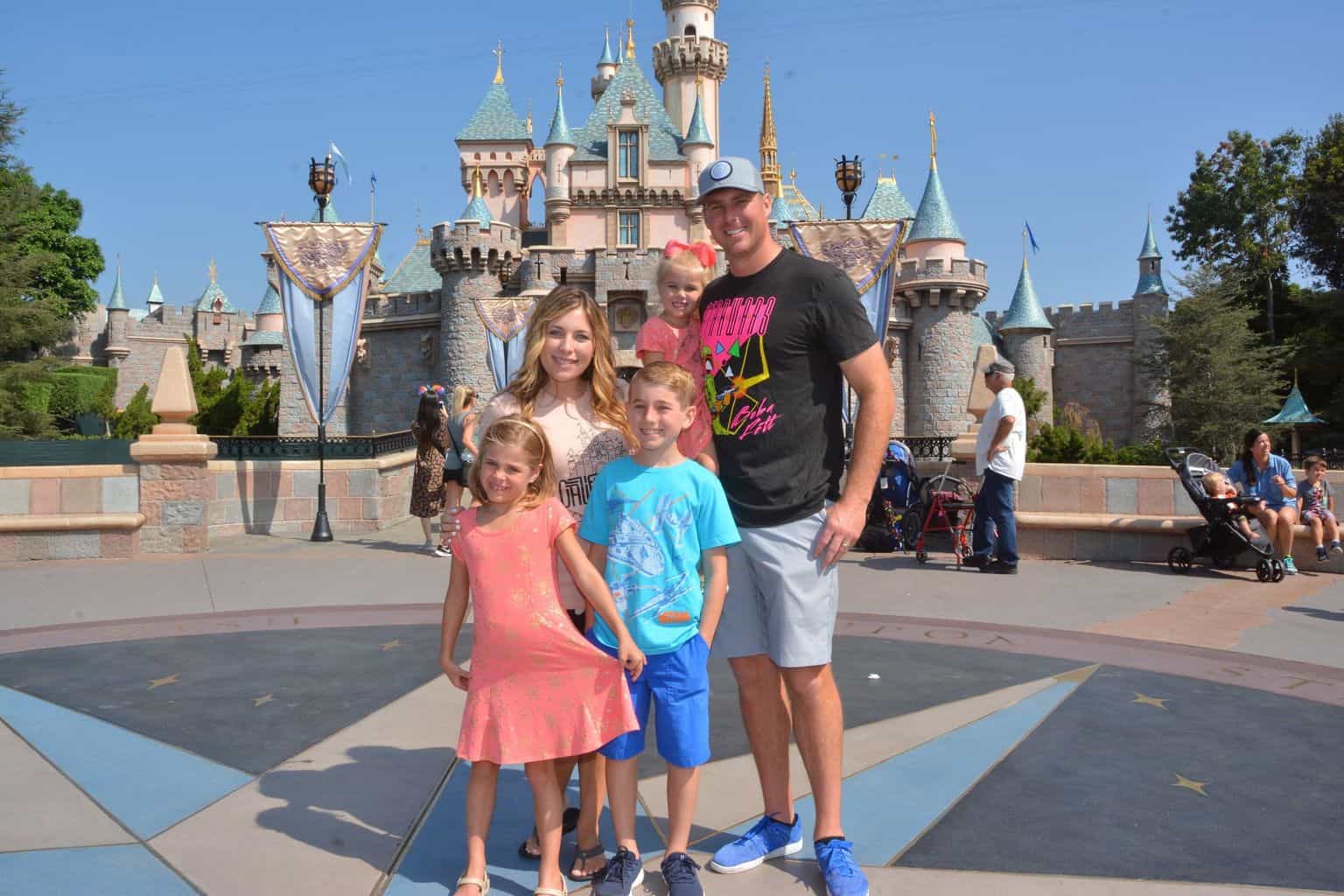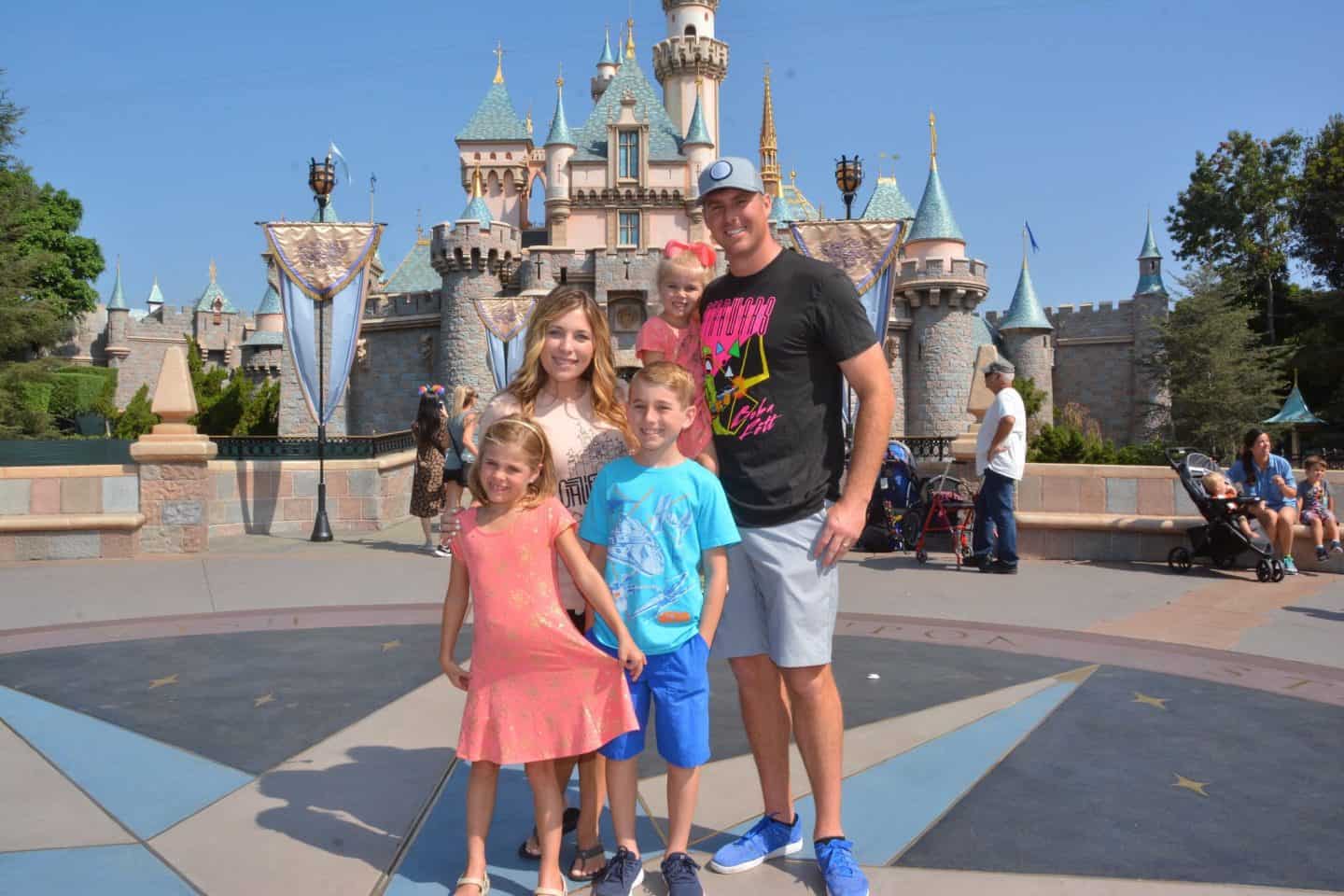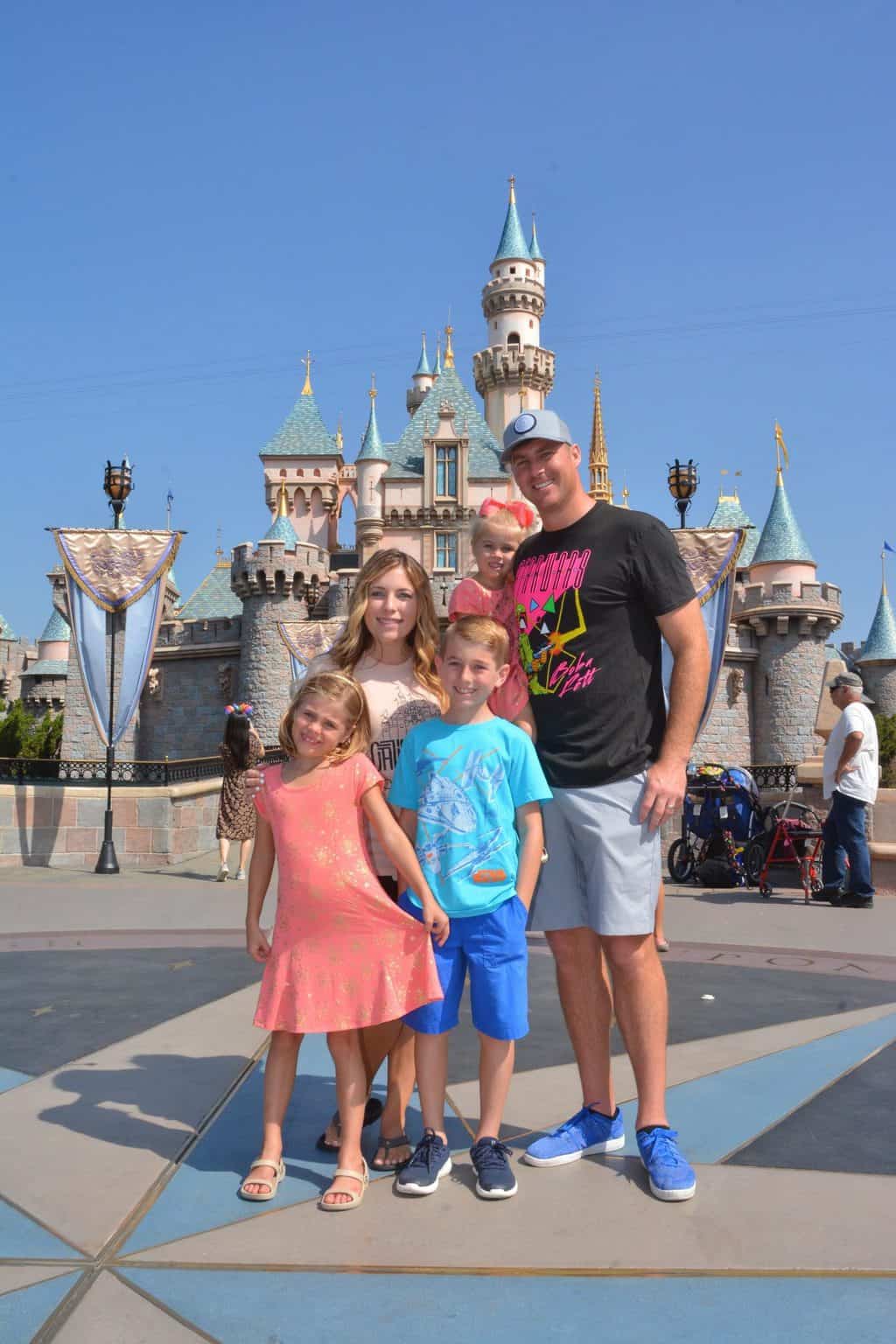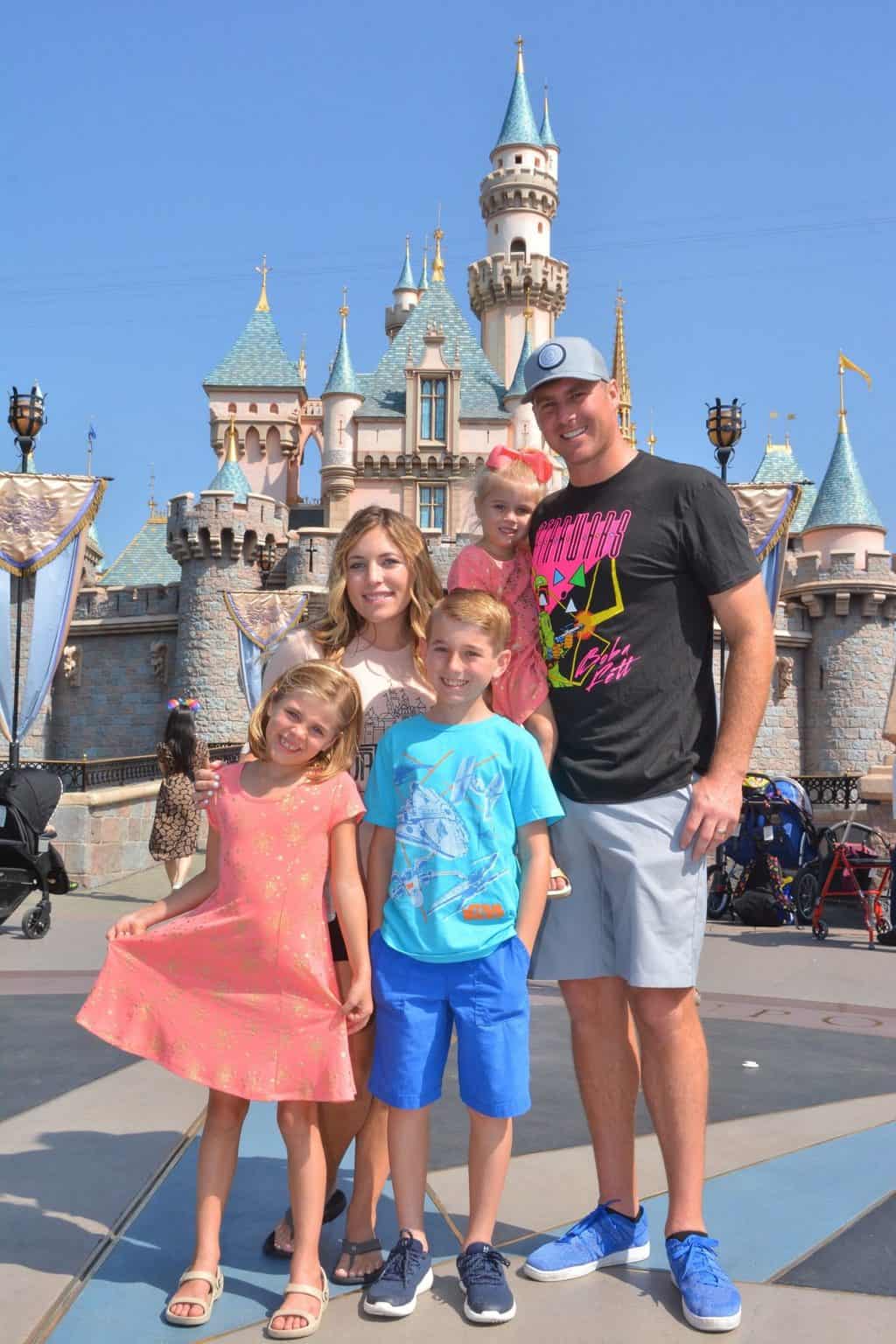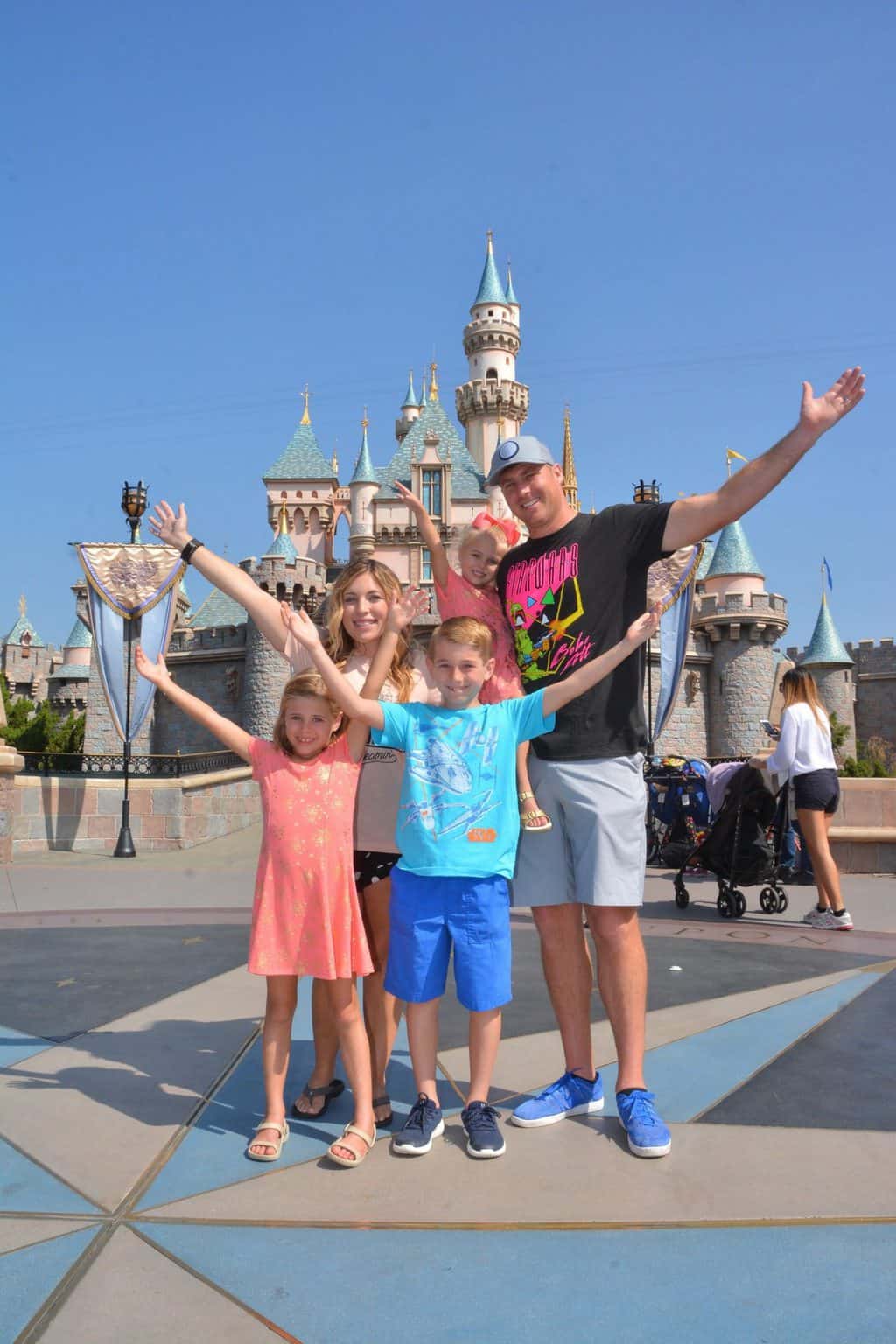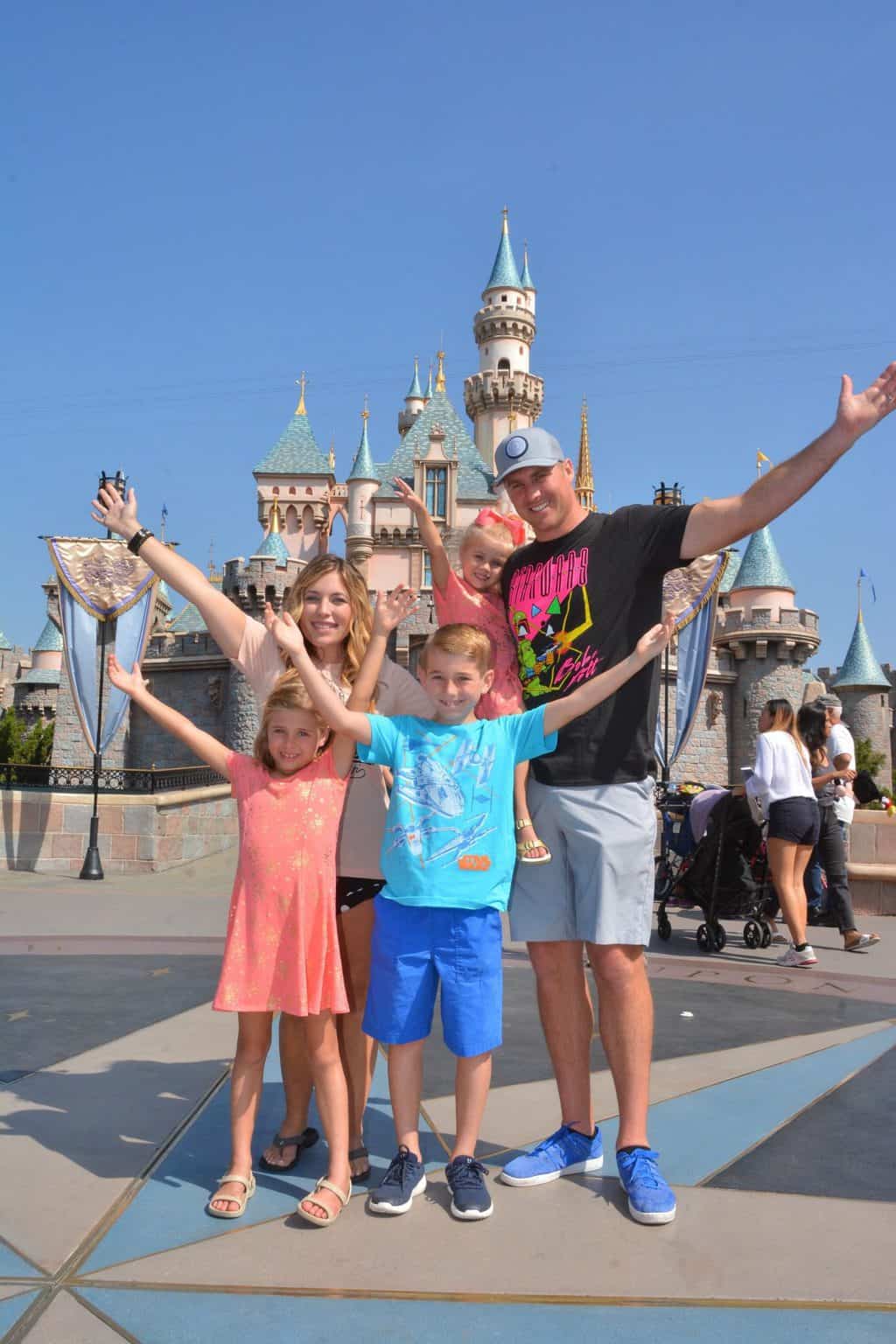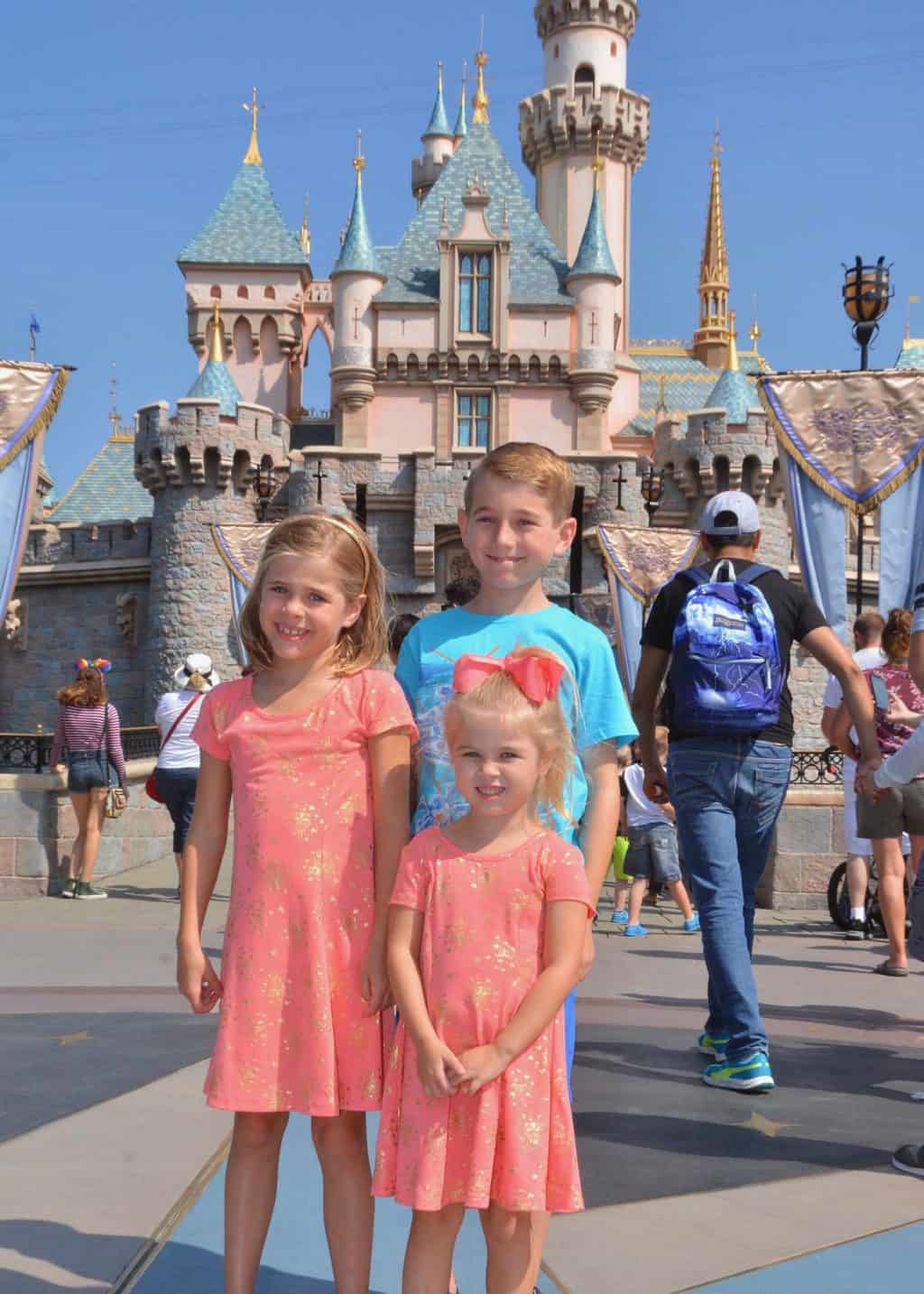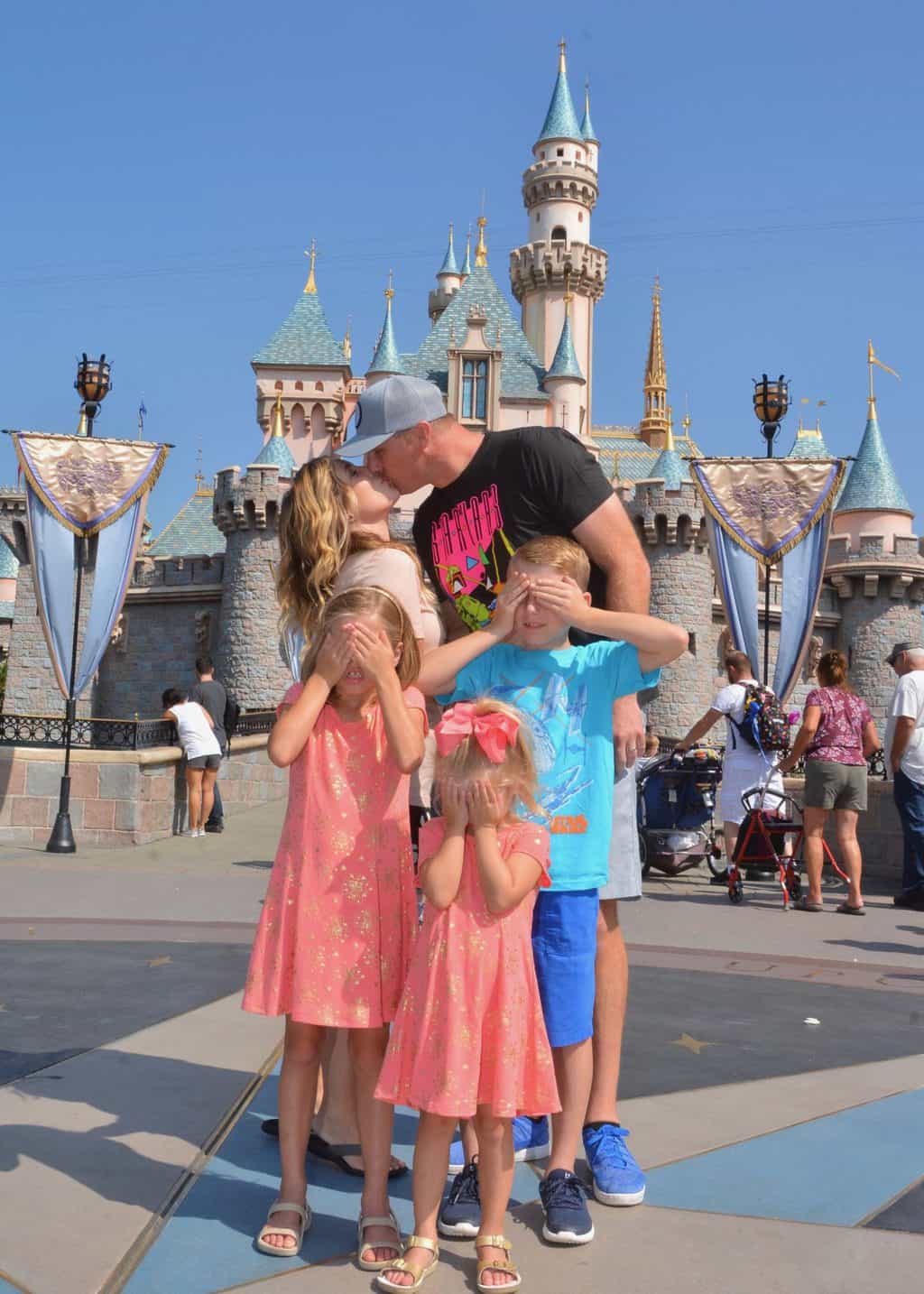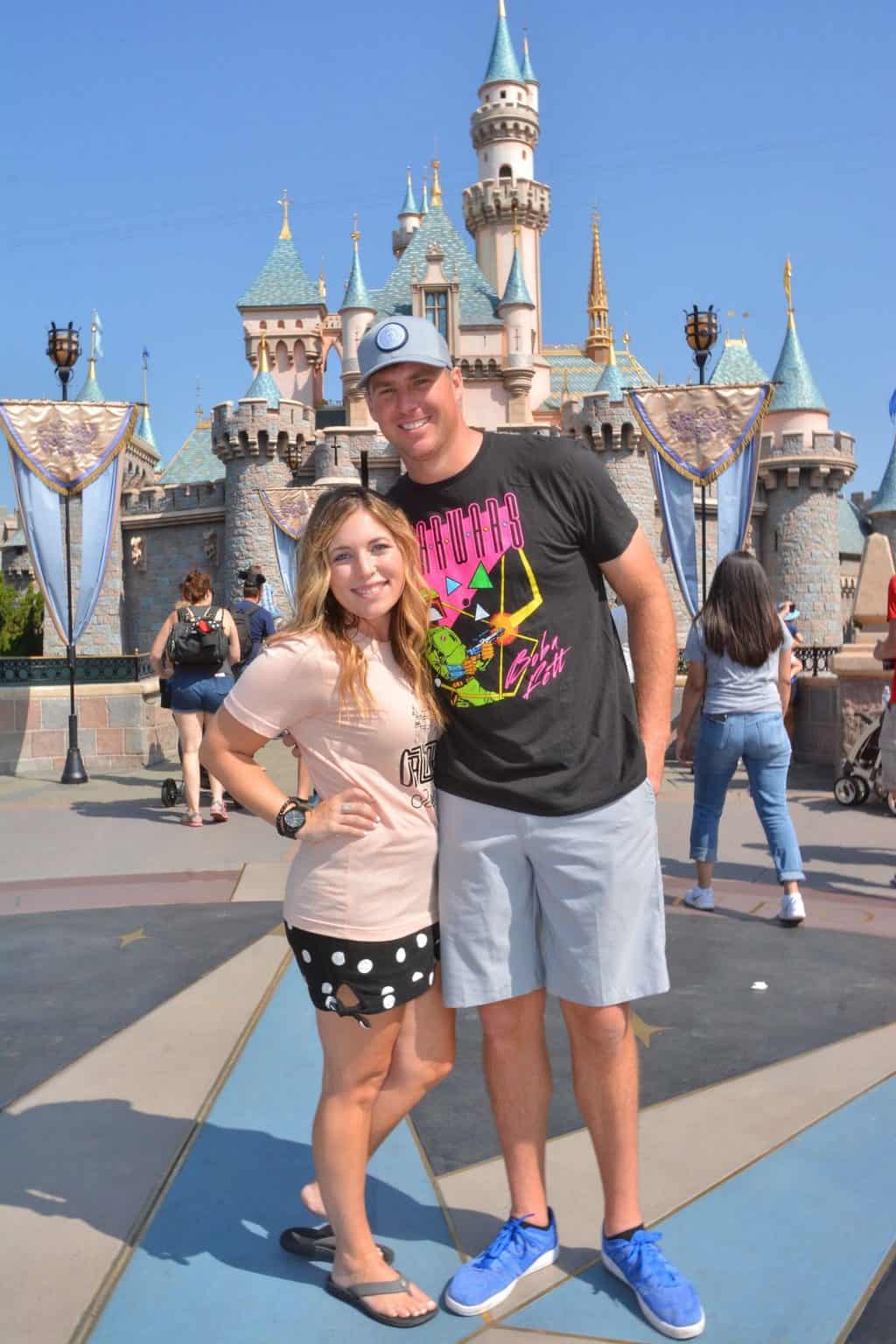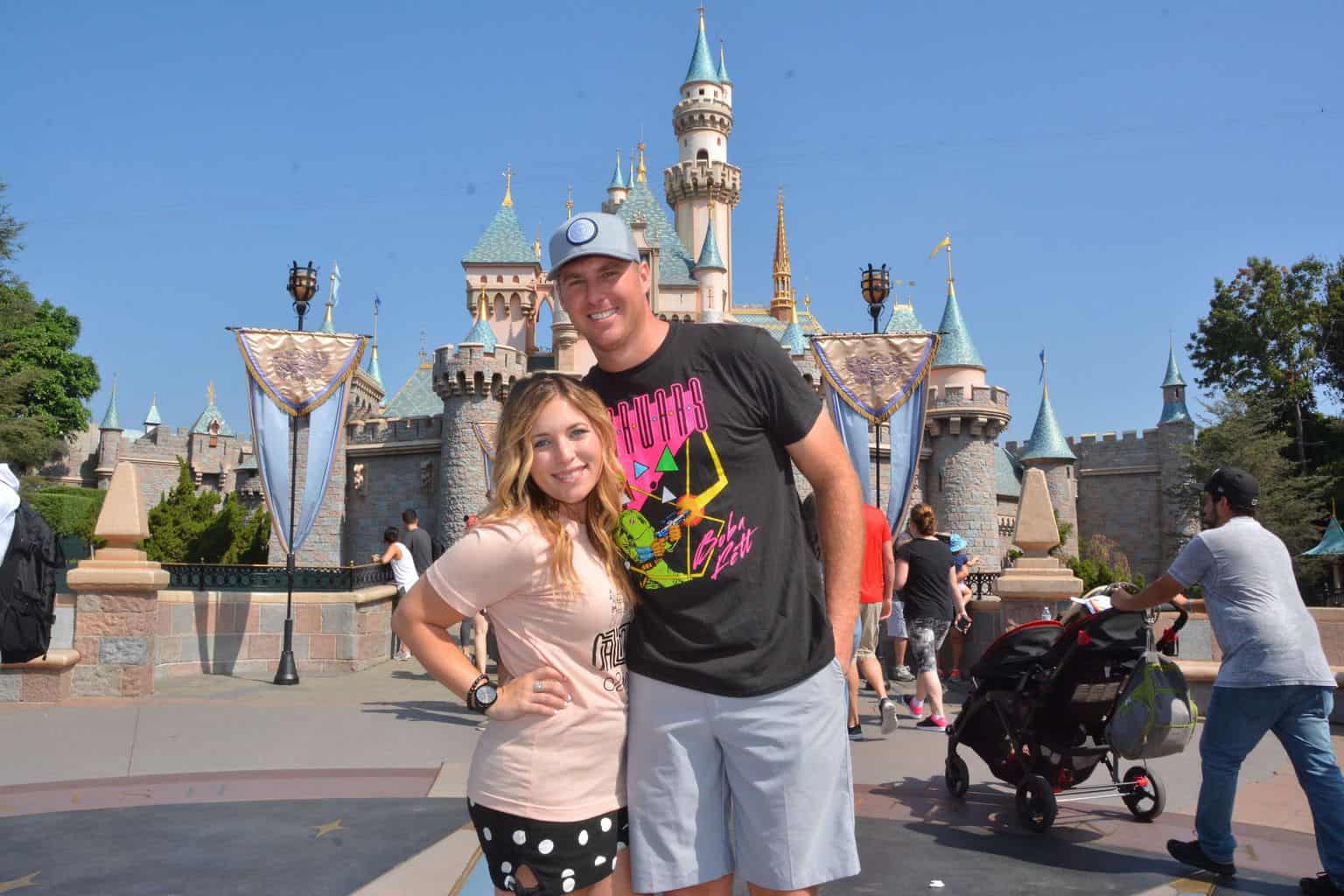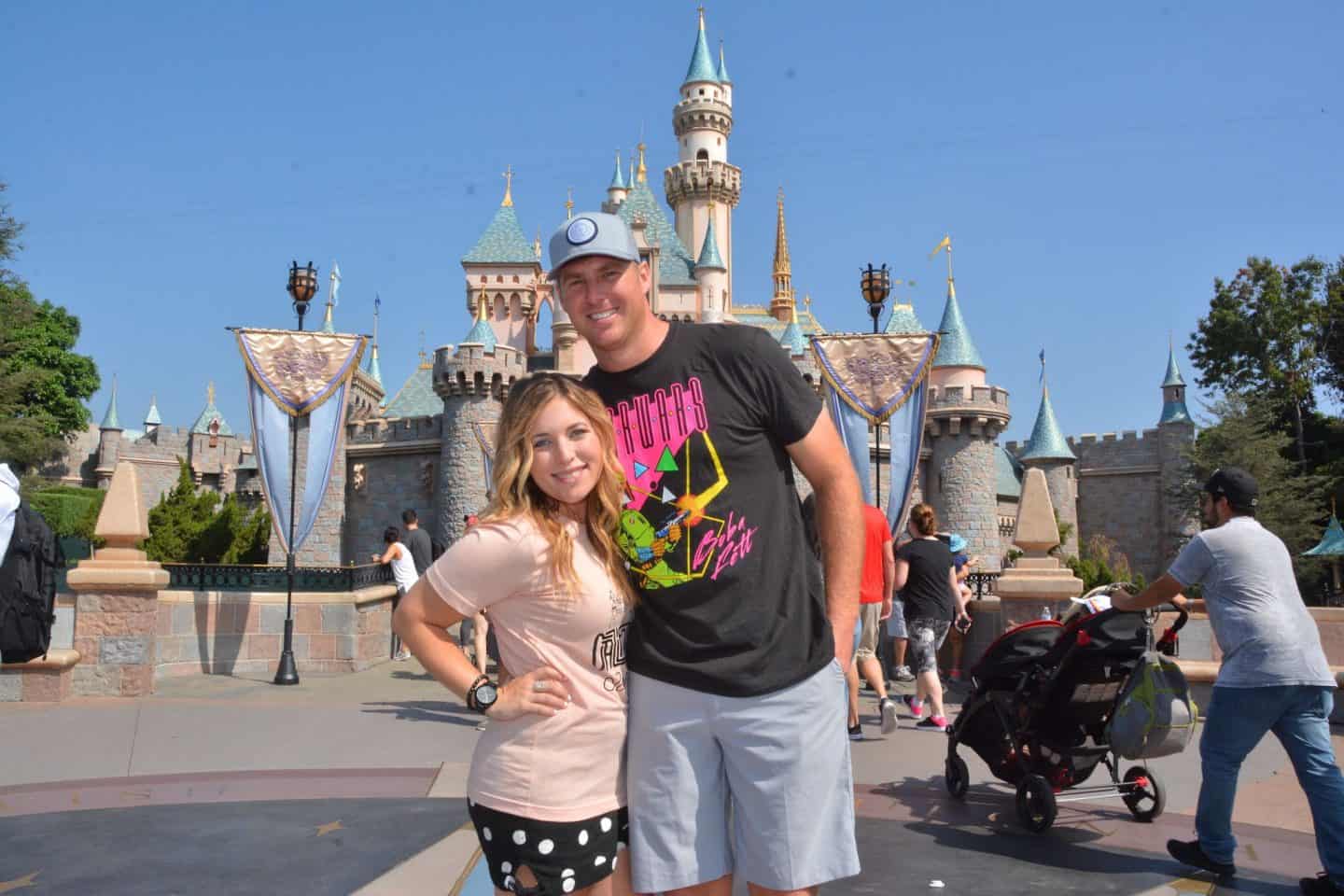 While Cinderella's castle is MUCH more grand…it's so cool that you're able to walk through Aurora's castle. The entire story of Sleeping Beauty can be seen throughout the castle. It takes under 15 minutes to walk through and there is never any sort of crowd or wait. Well worth the time! Super cool!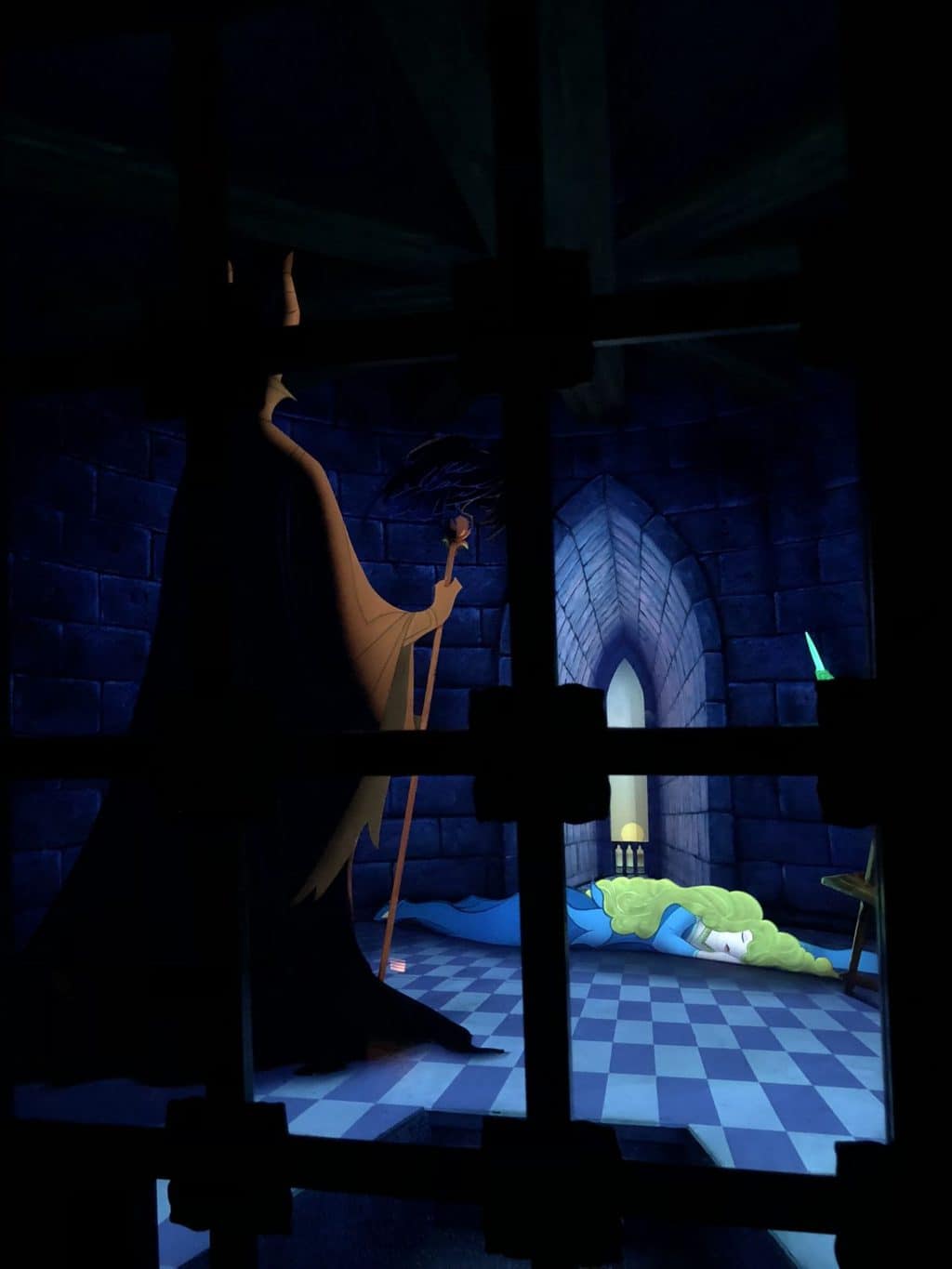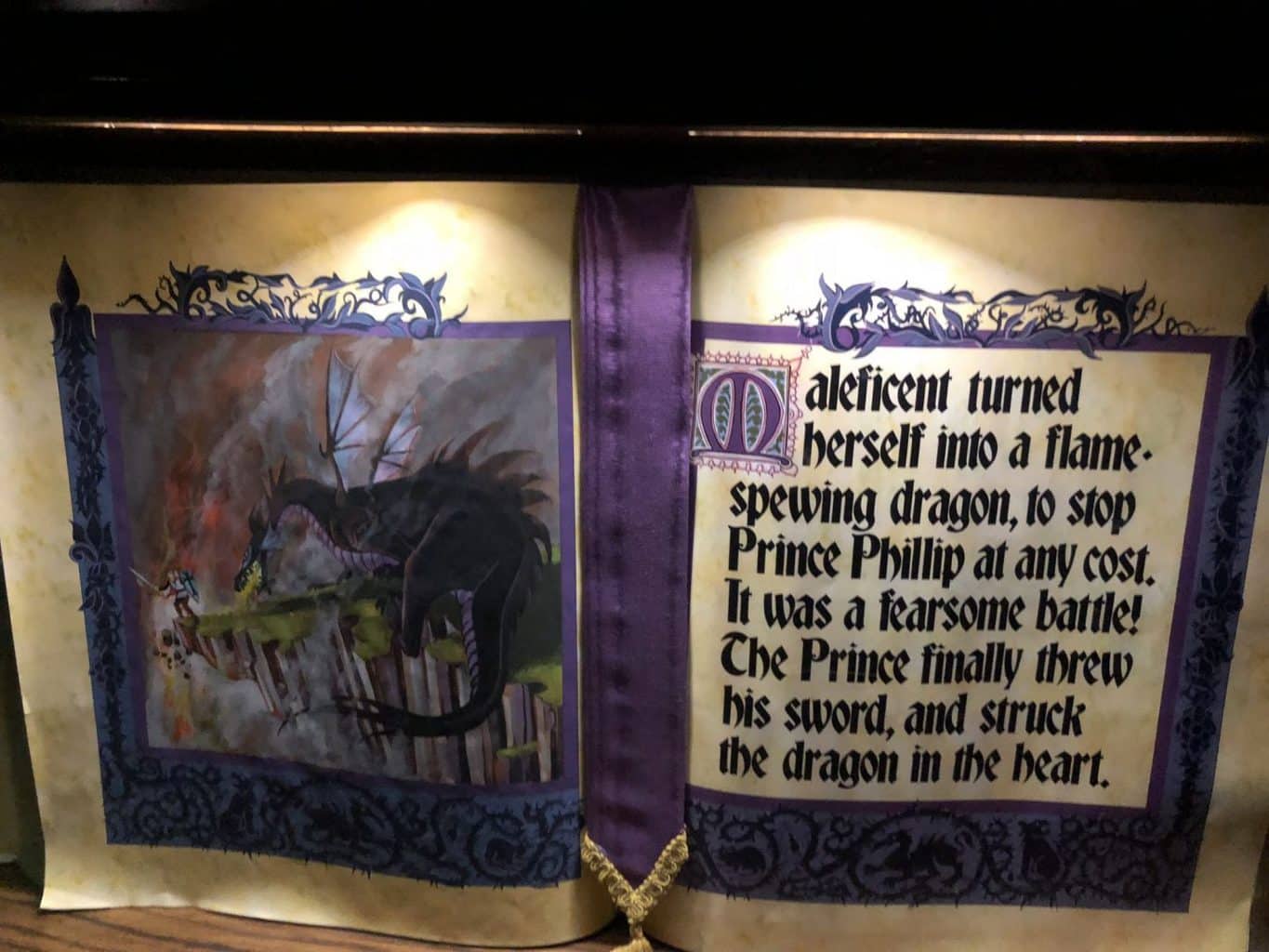 Hey there Peter!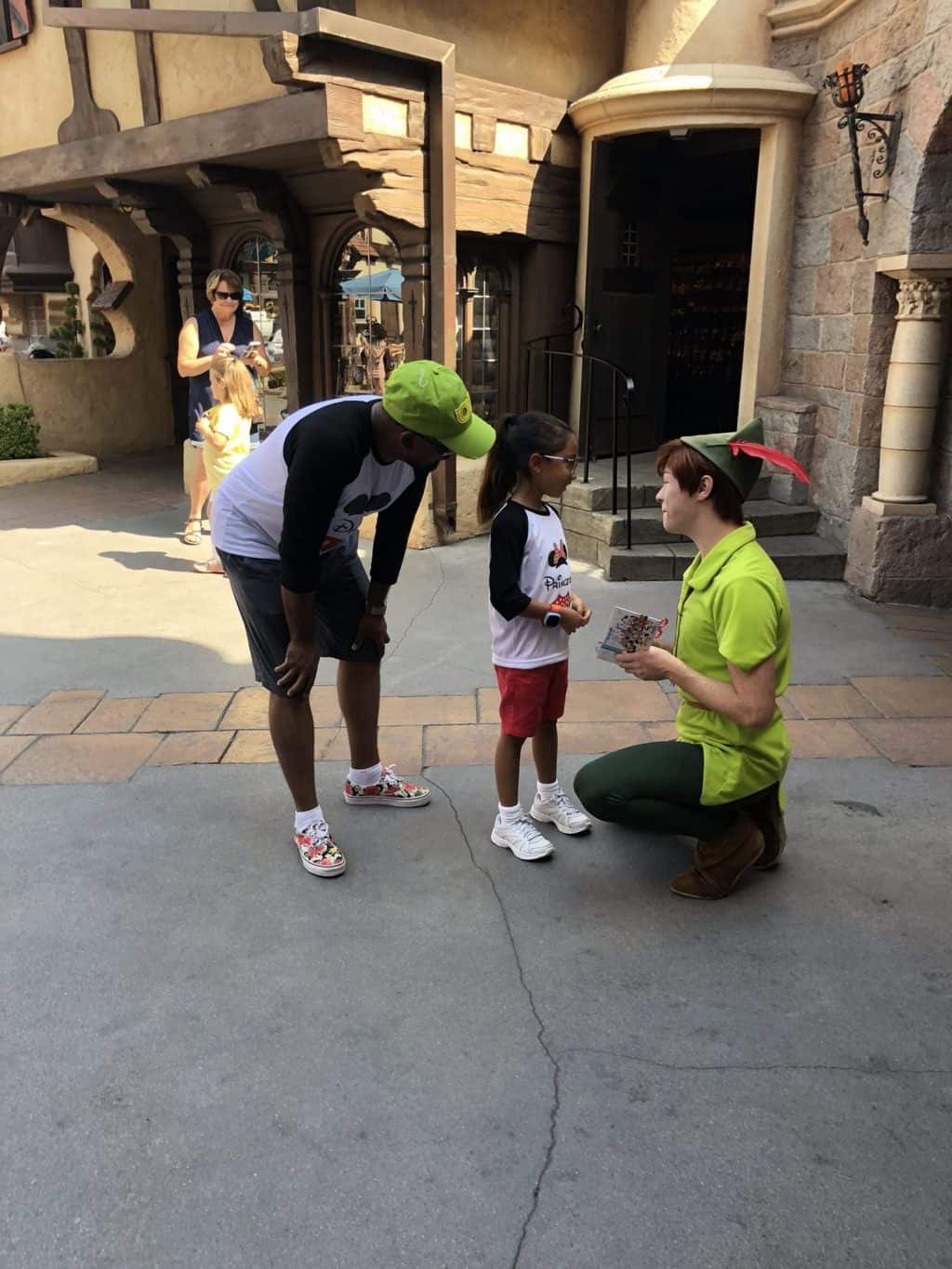 There is also a beautiful wishing well with Snow White and the Seven Dwarfs. Another area off the beaten path and not very crowded and worth exploring!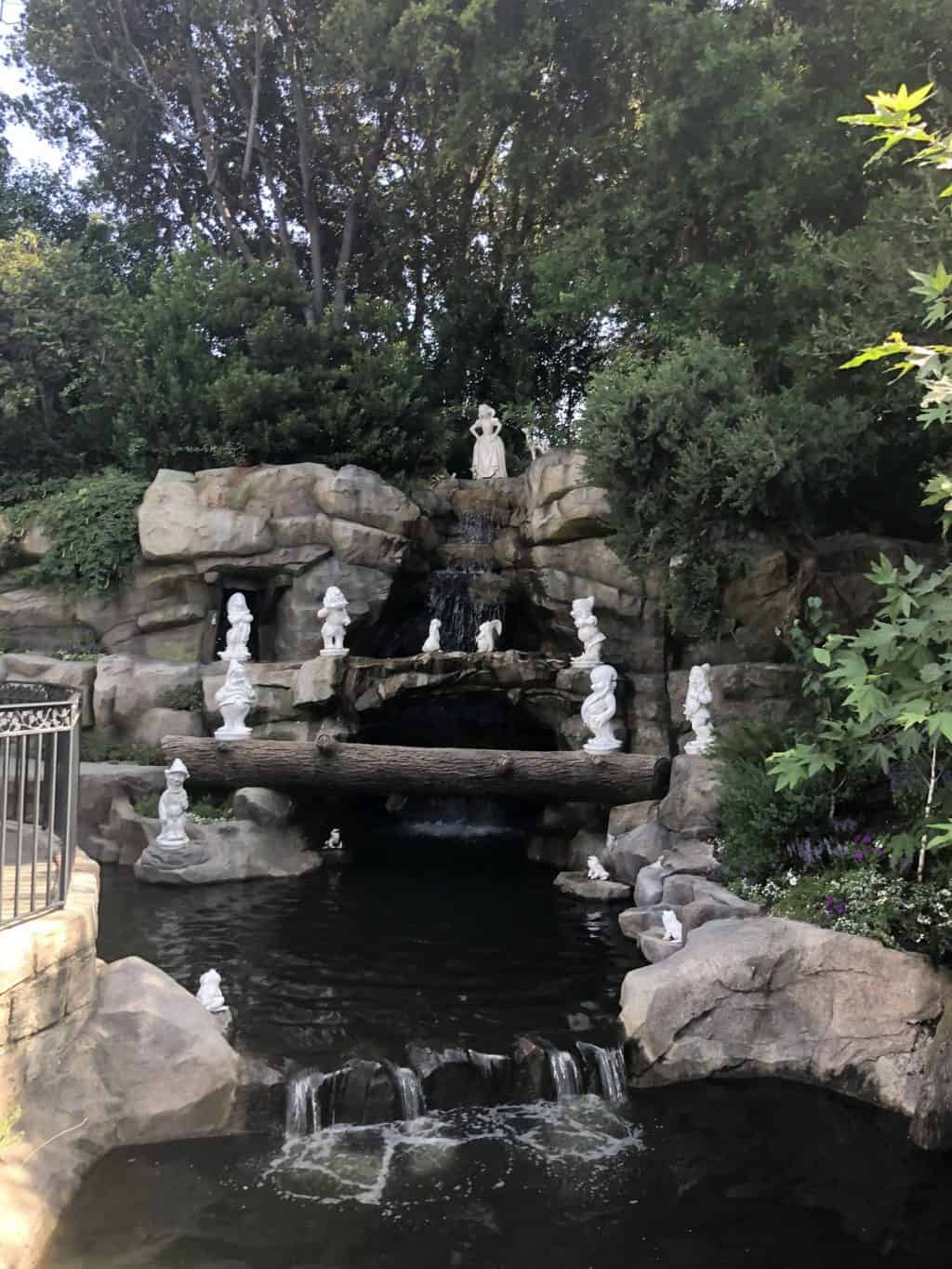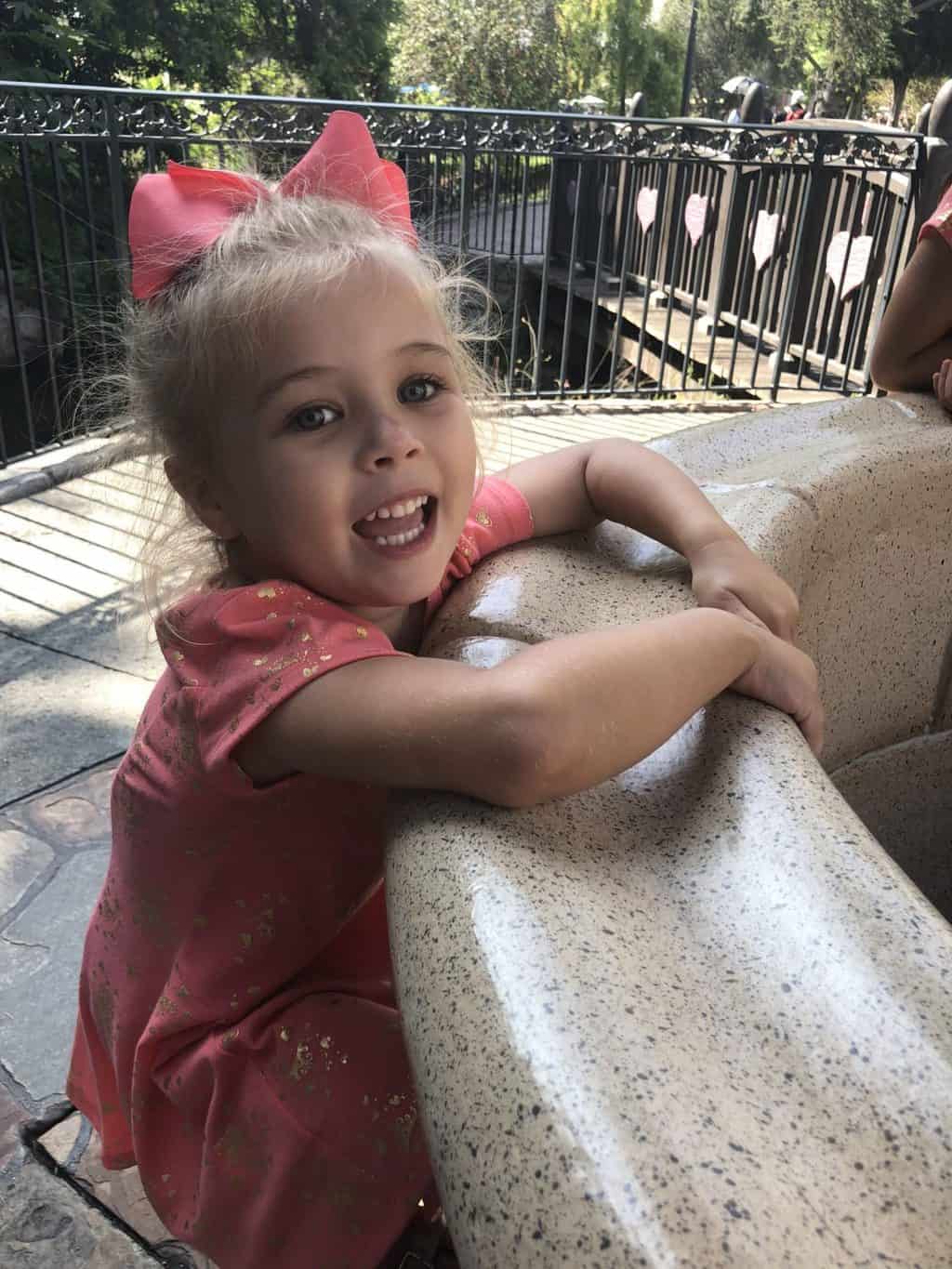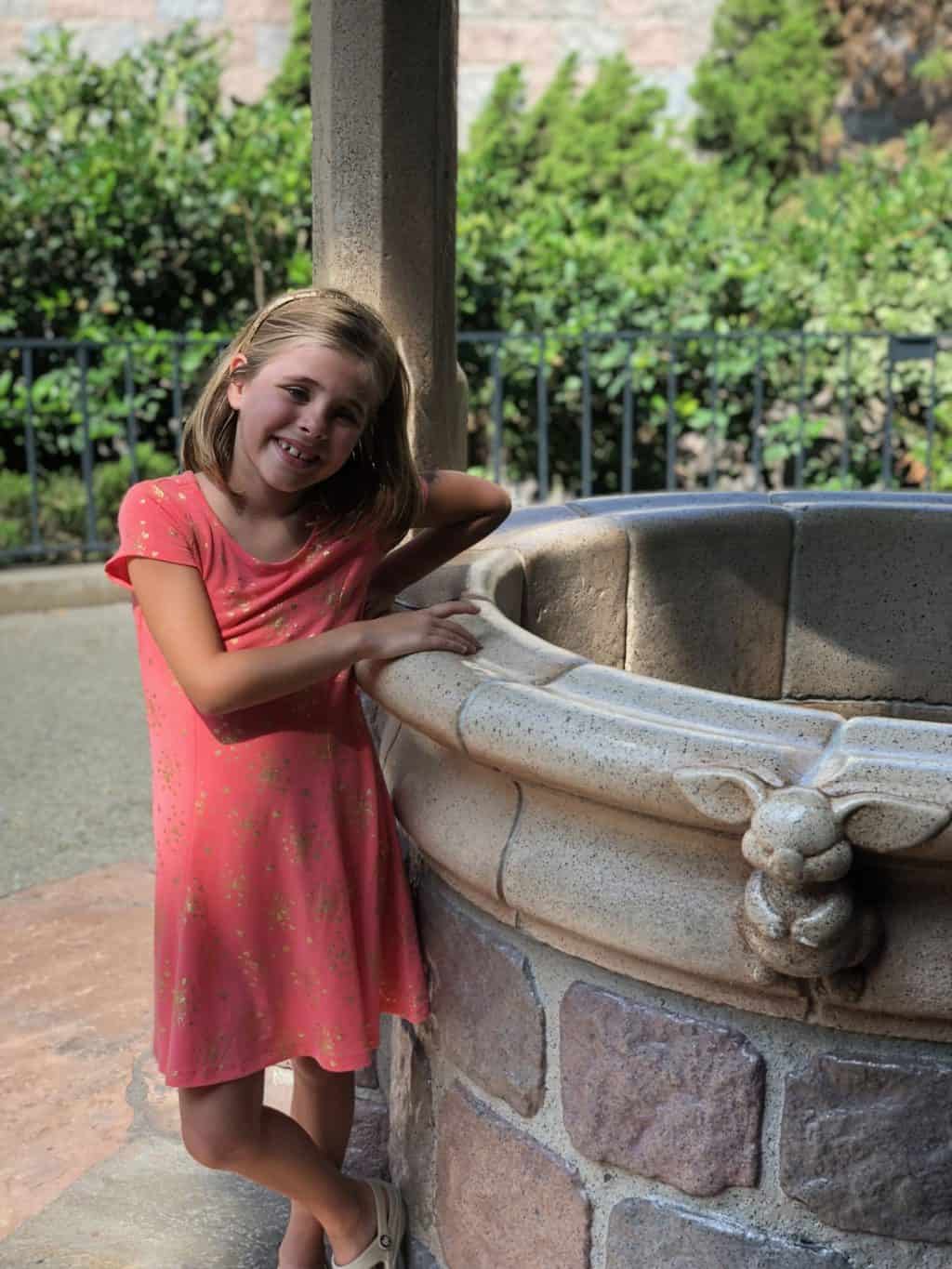 Do you spy anyone peeking at you?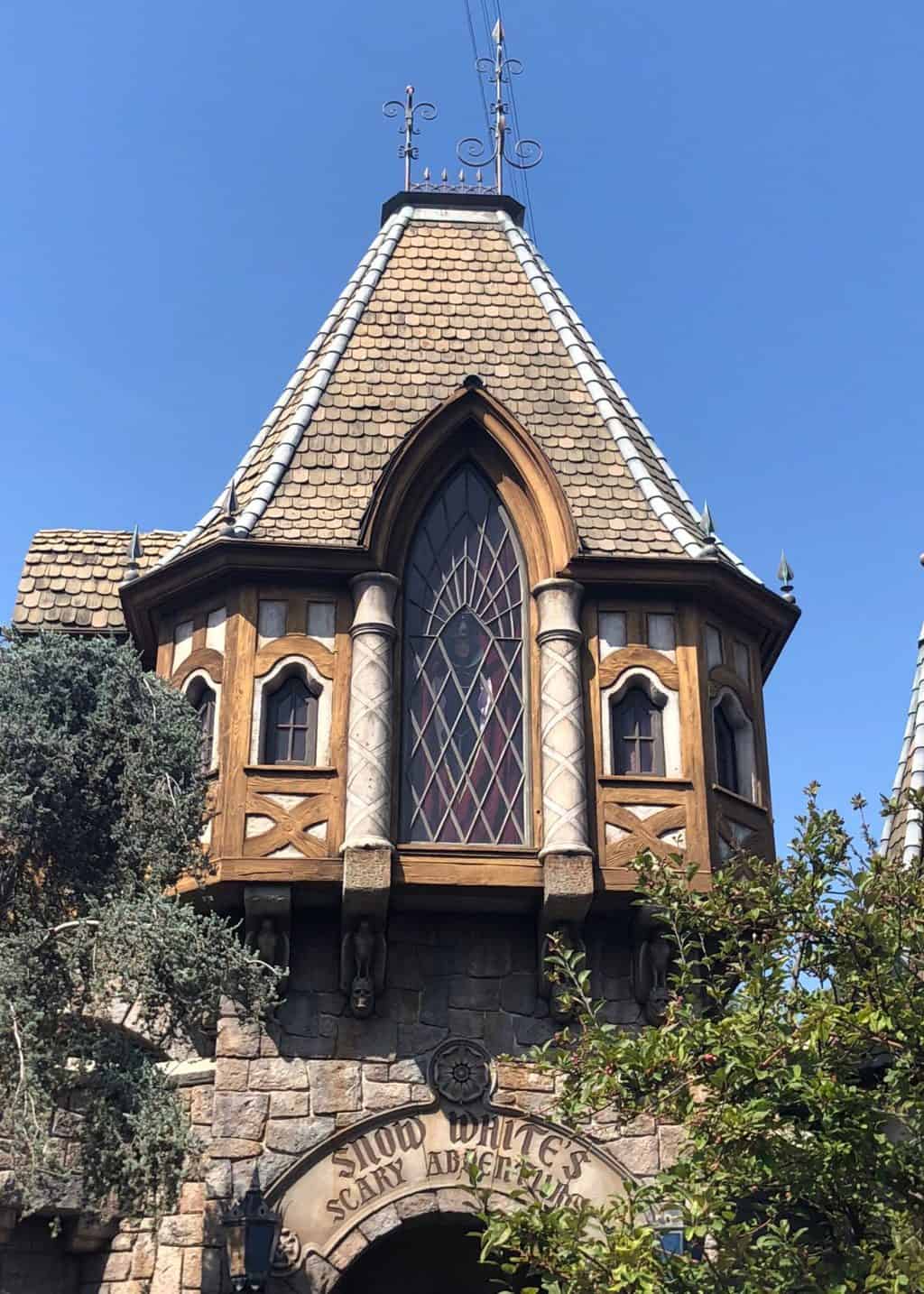 Belle and Beast riding the carousel!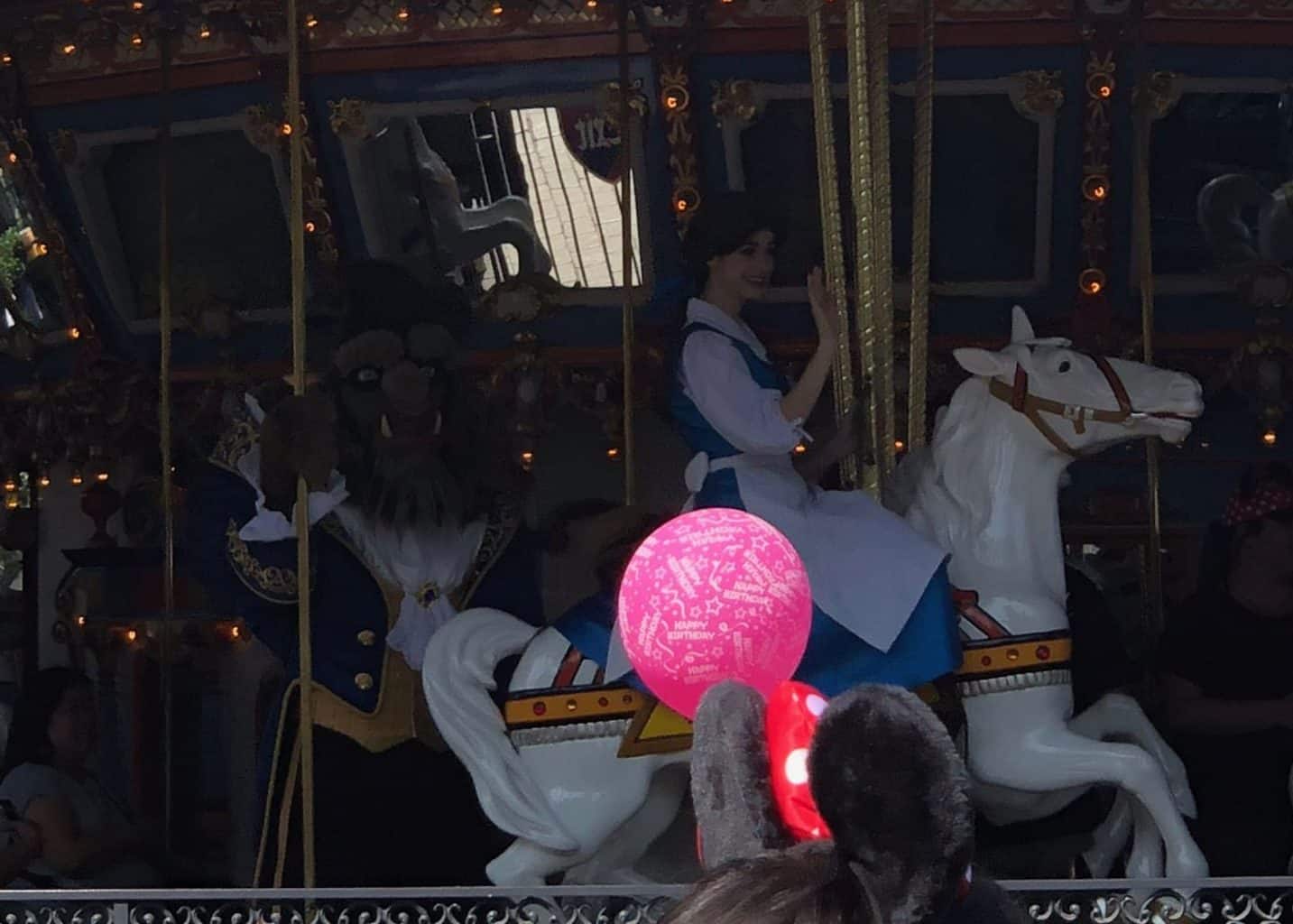 Zach went ahead and headed to Toontown to be ready for when they opened (that area opens later than the rest of the park) and the kids and I hit up Mr Toad's since it reopened! We had perfect timing and very short wait!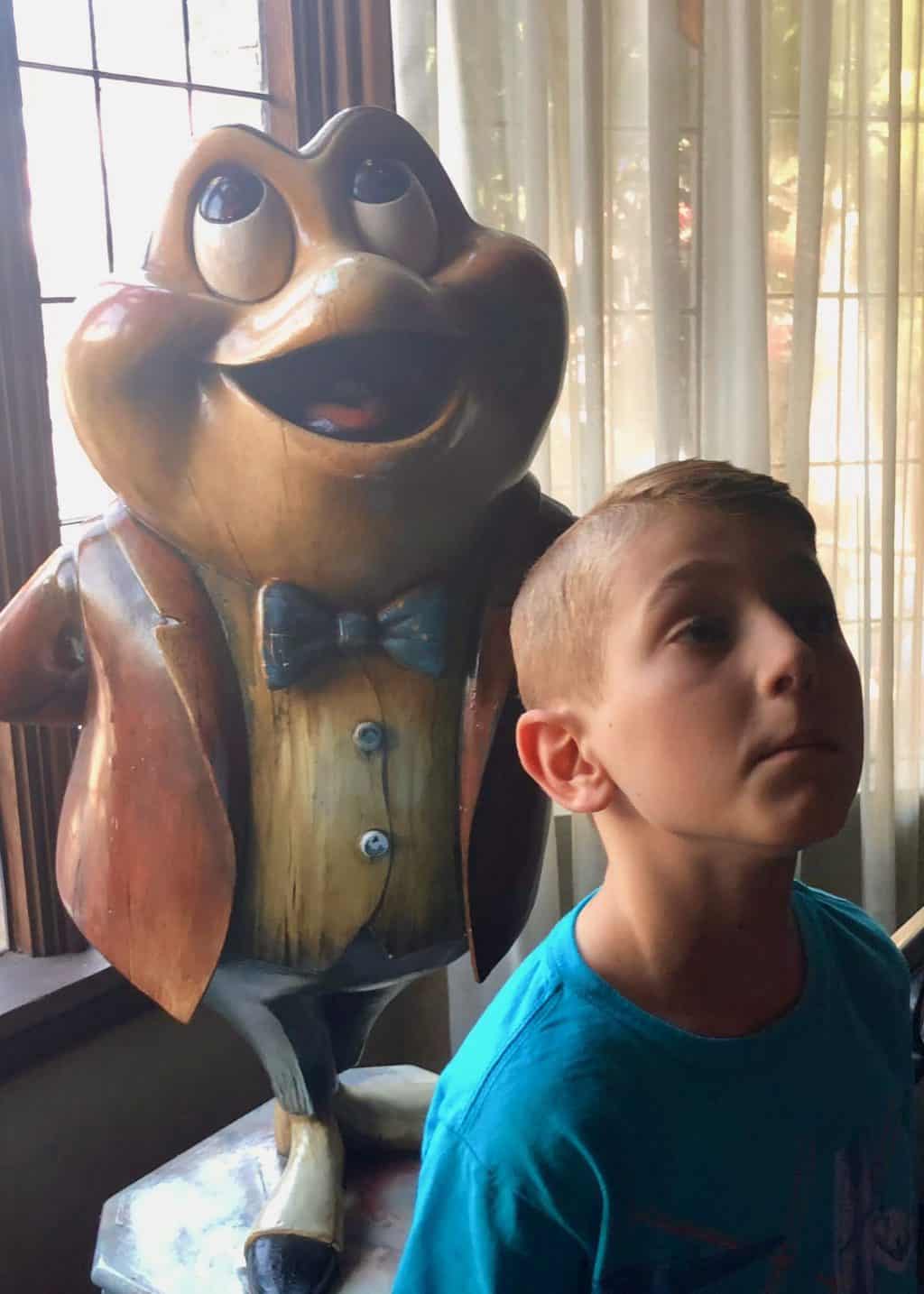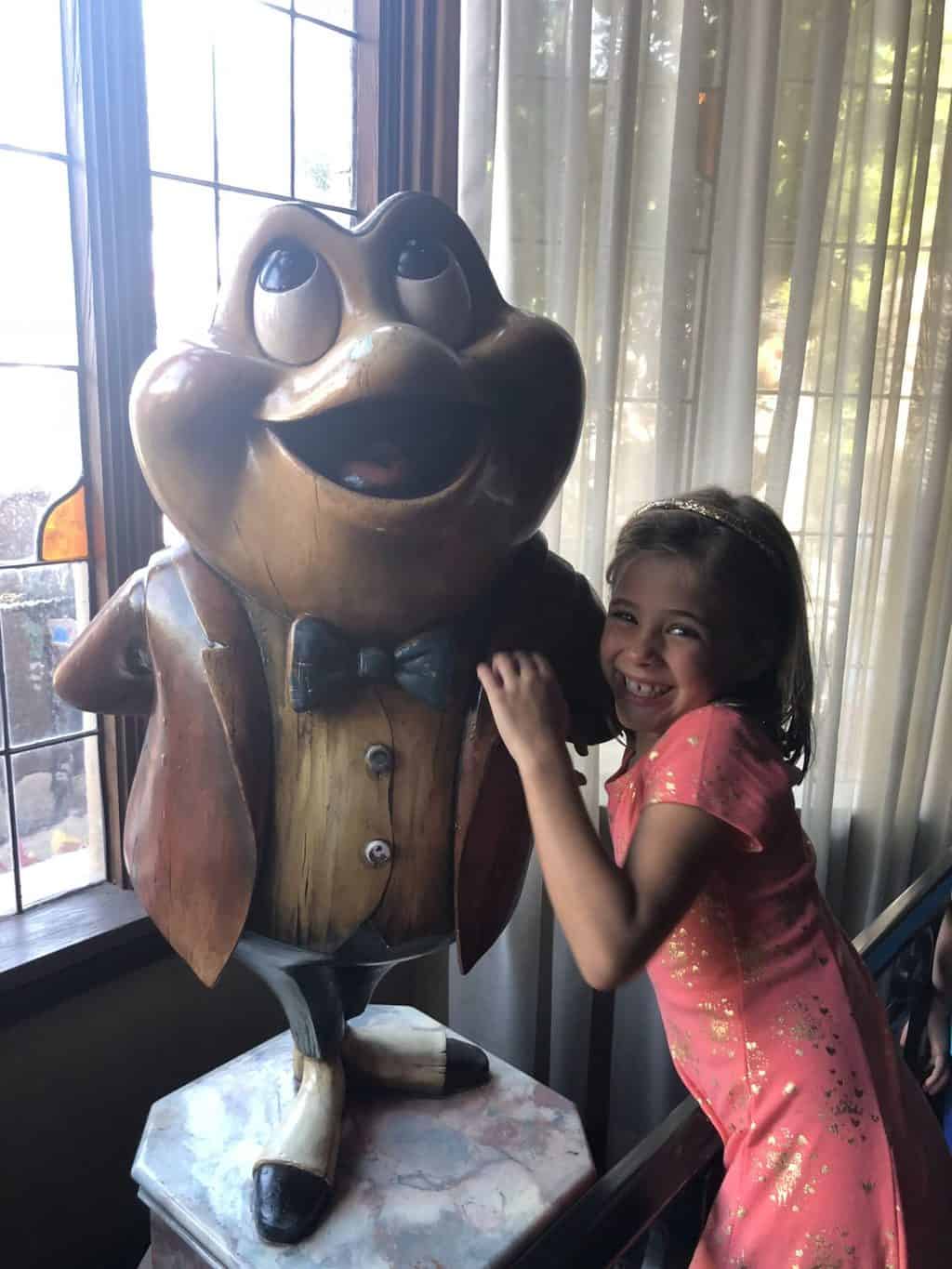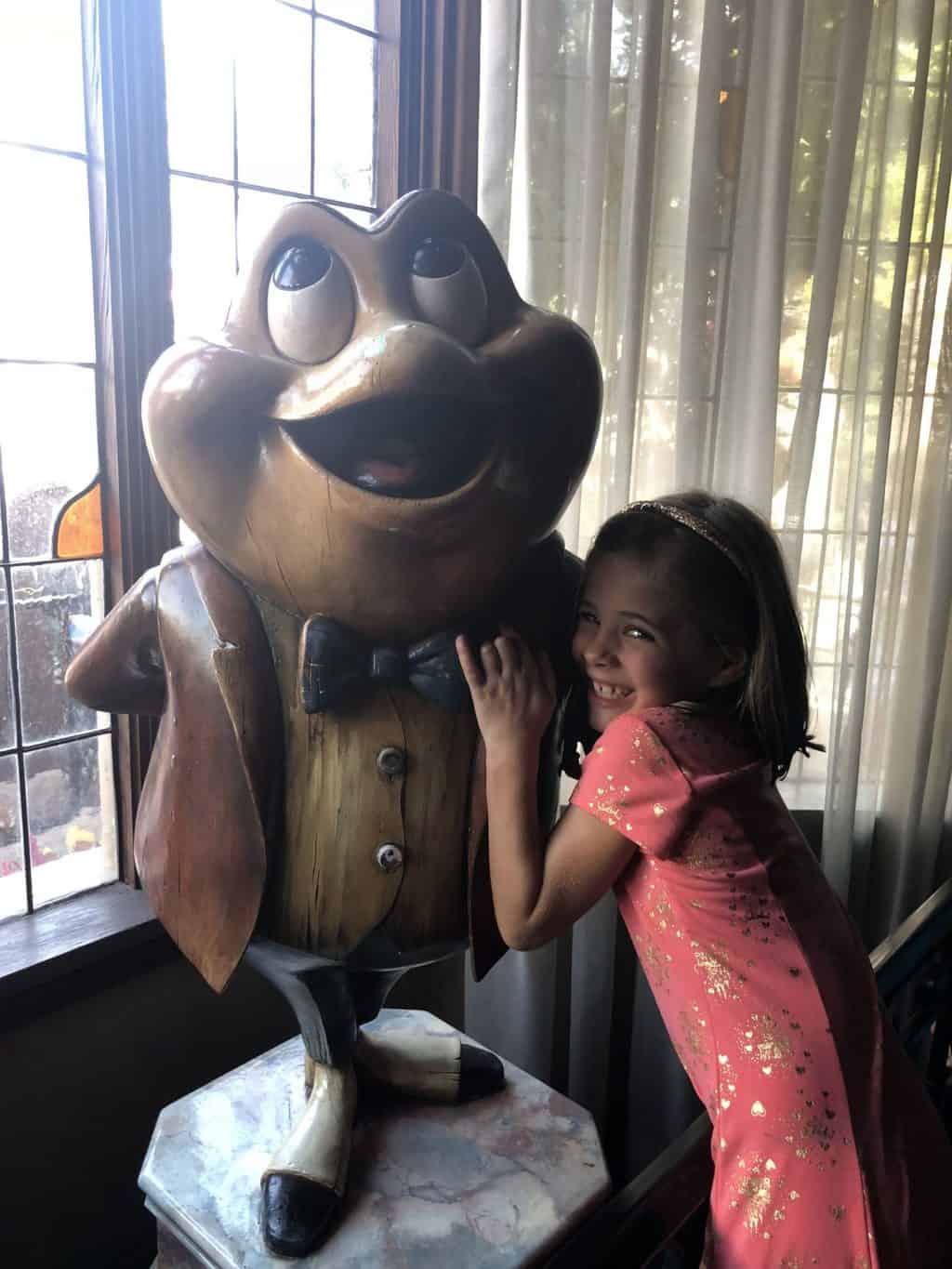 No one was scared of the train scene 😉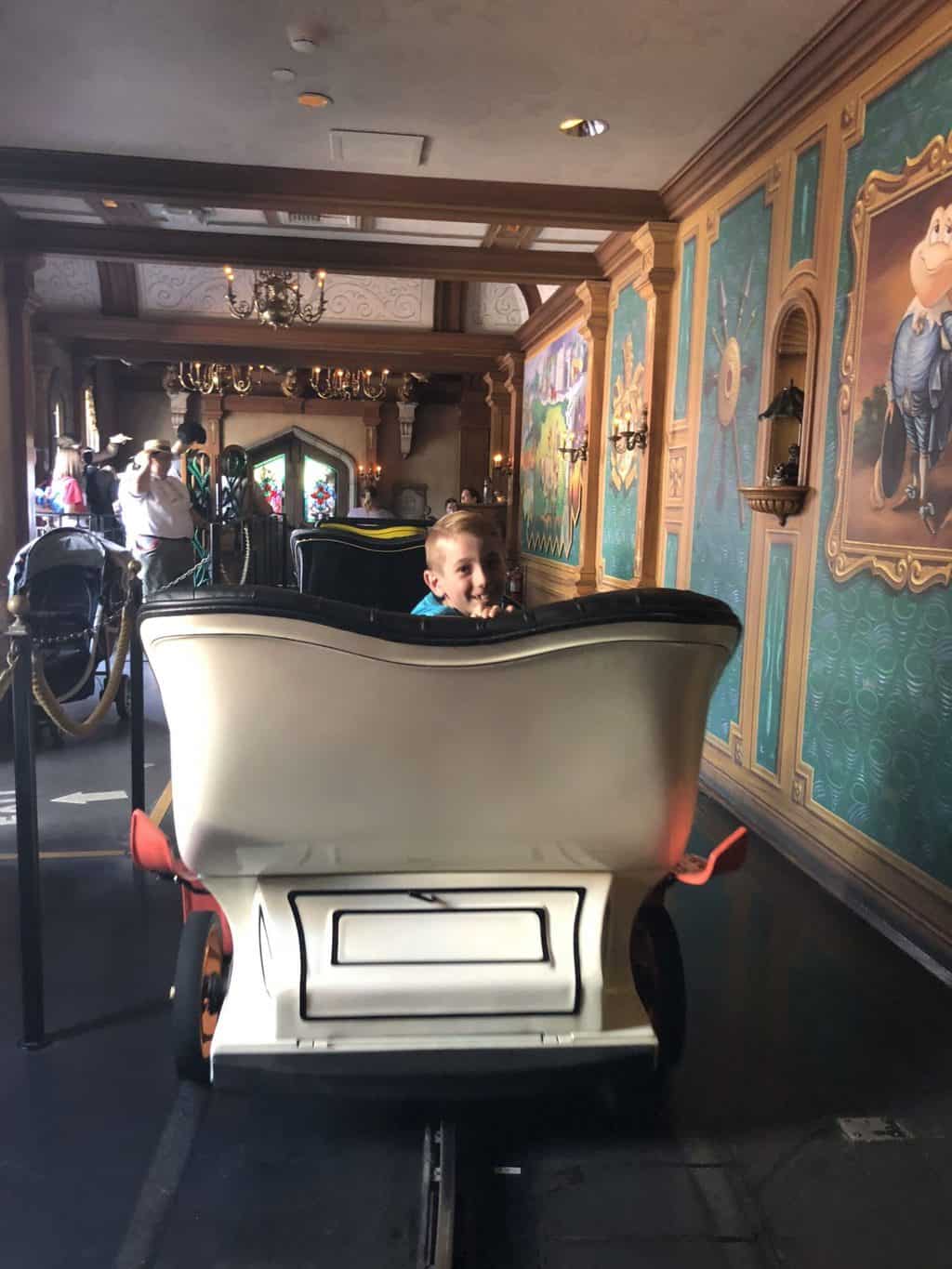 When I visited Disneyland as a kid (I believe I was 10ish?) I remember visiting Toontown and meeting Mickey. It was something I really wanted to do when I came back with Zach but it ended up not happening (we stood in line forever to meet him and then left the line when it was too long) so I was HARDCORE about meeting him this time!
We were at the front of the pack racing into Toontown when it opened and it paid off and we had a very minimal wait for Mickey! The line goes through his house so it's a fun line to wait in and there is also a movie theater line area where we were able to watch Mickey cartoons!
It was wonderful getting to meet Mickey. But I was VERY disappointed with his meet and greet area. Mostly just a plain yellow wall? It used to be his dressing room and had a super cool mirror and lots of neat details. So this was a bit of a letdown. But hey, it's still Mickey and he's always awesome!
Britt's obsession with kissing characters is always funny and a tad awkward haha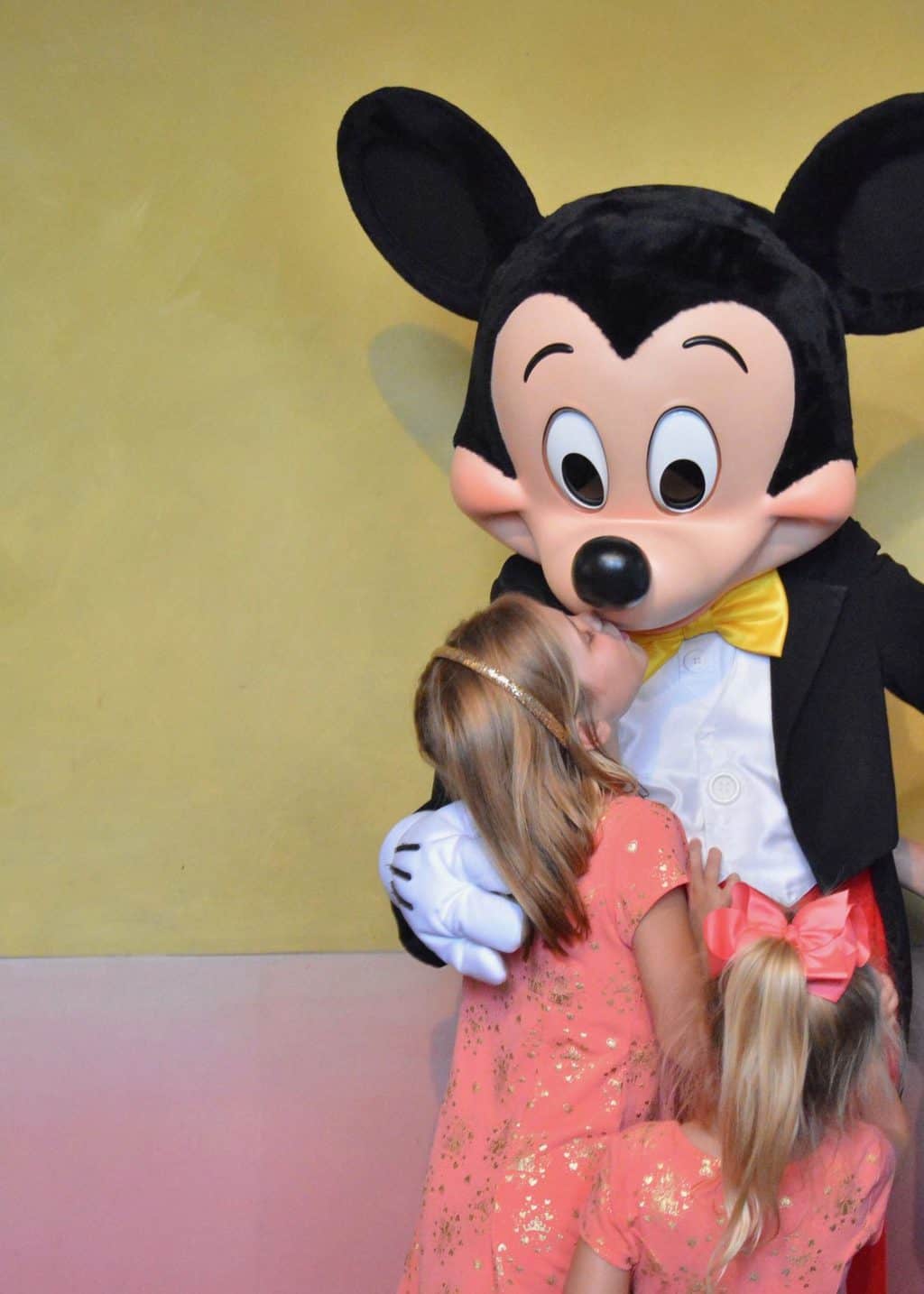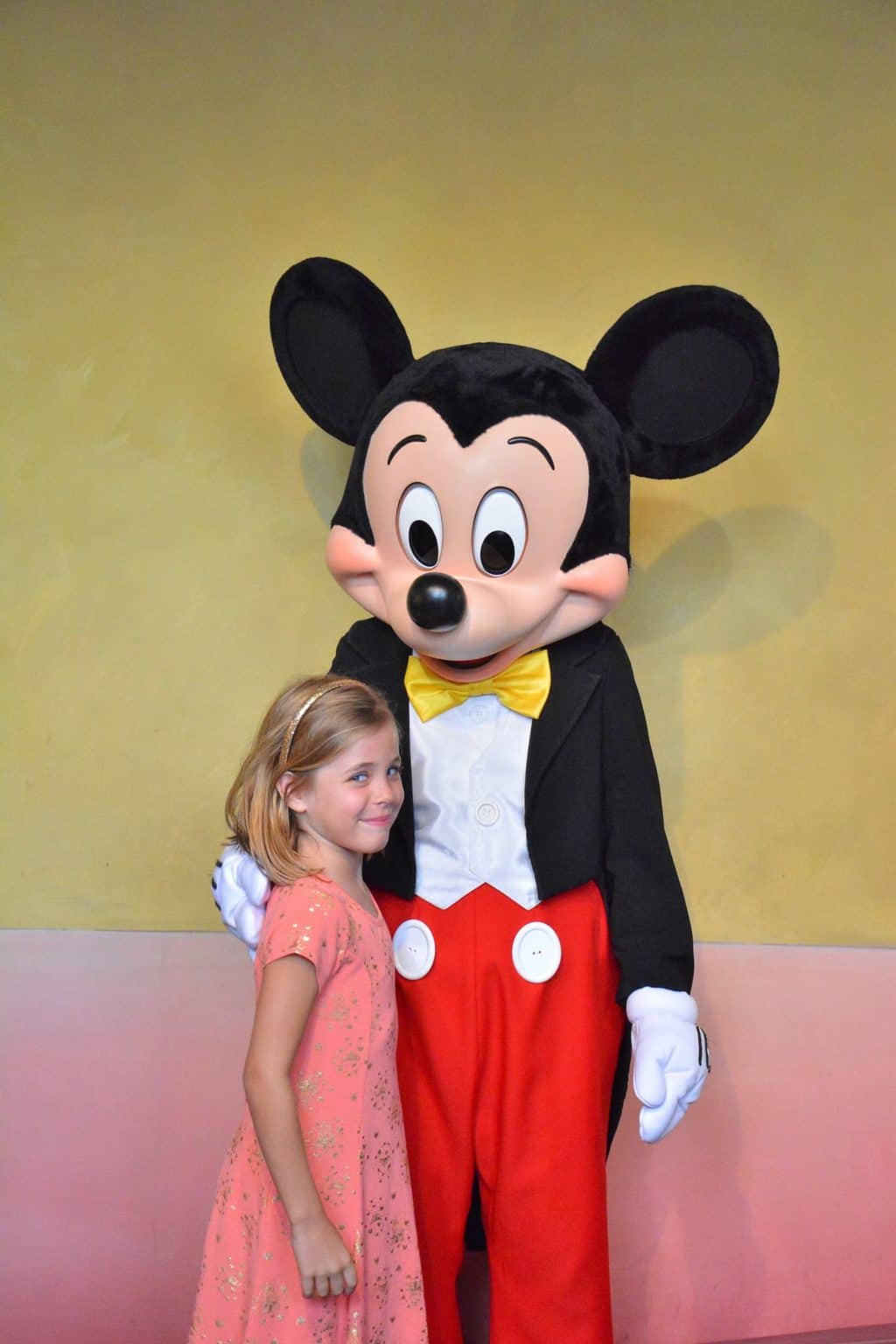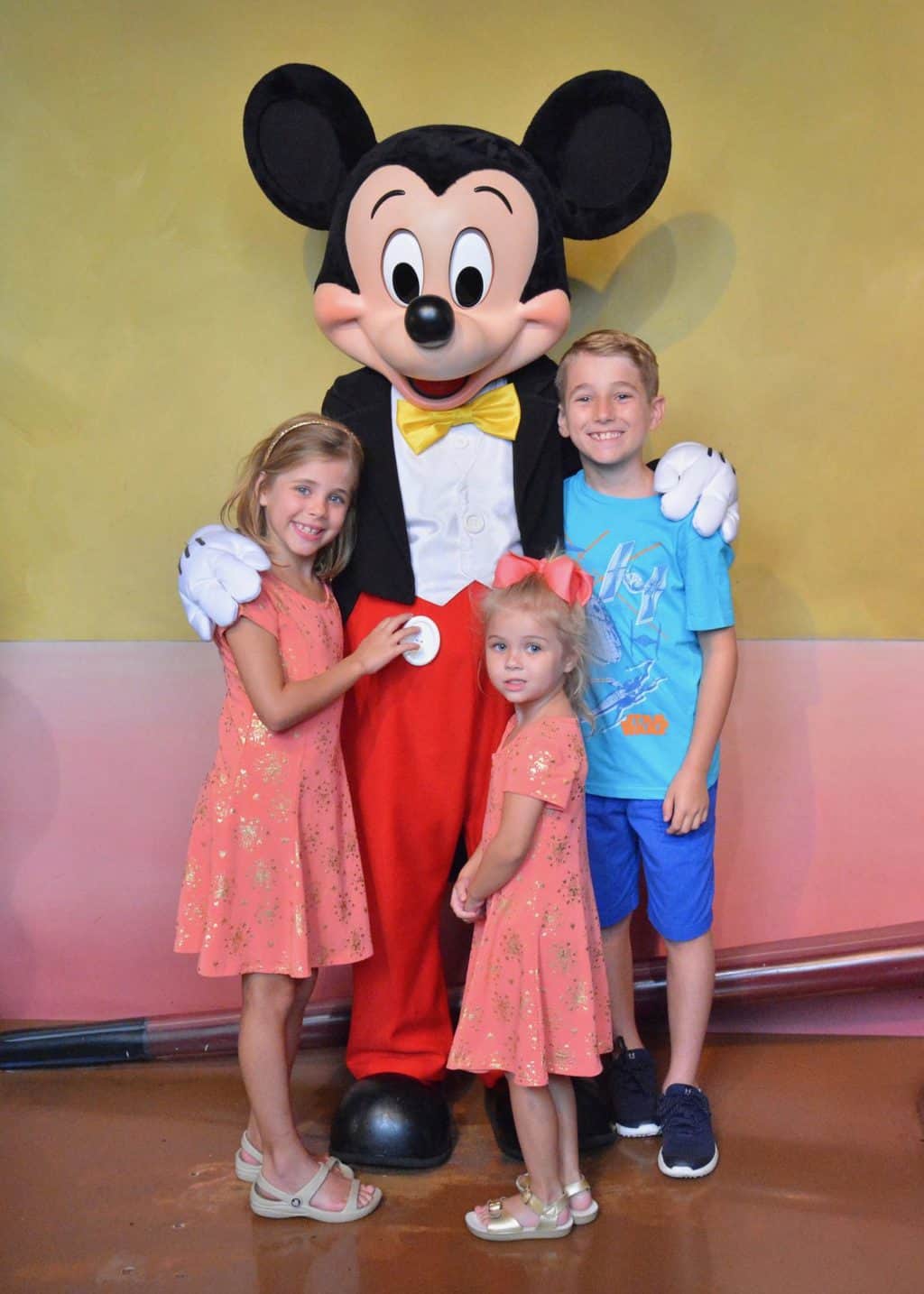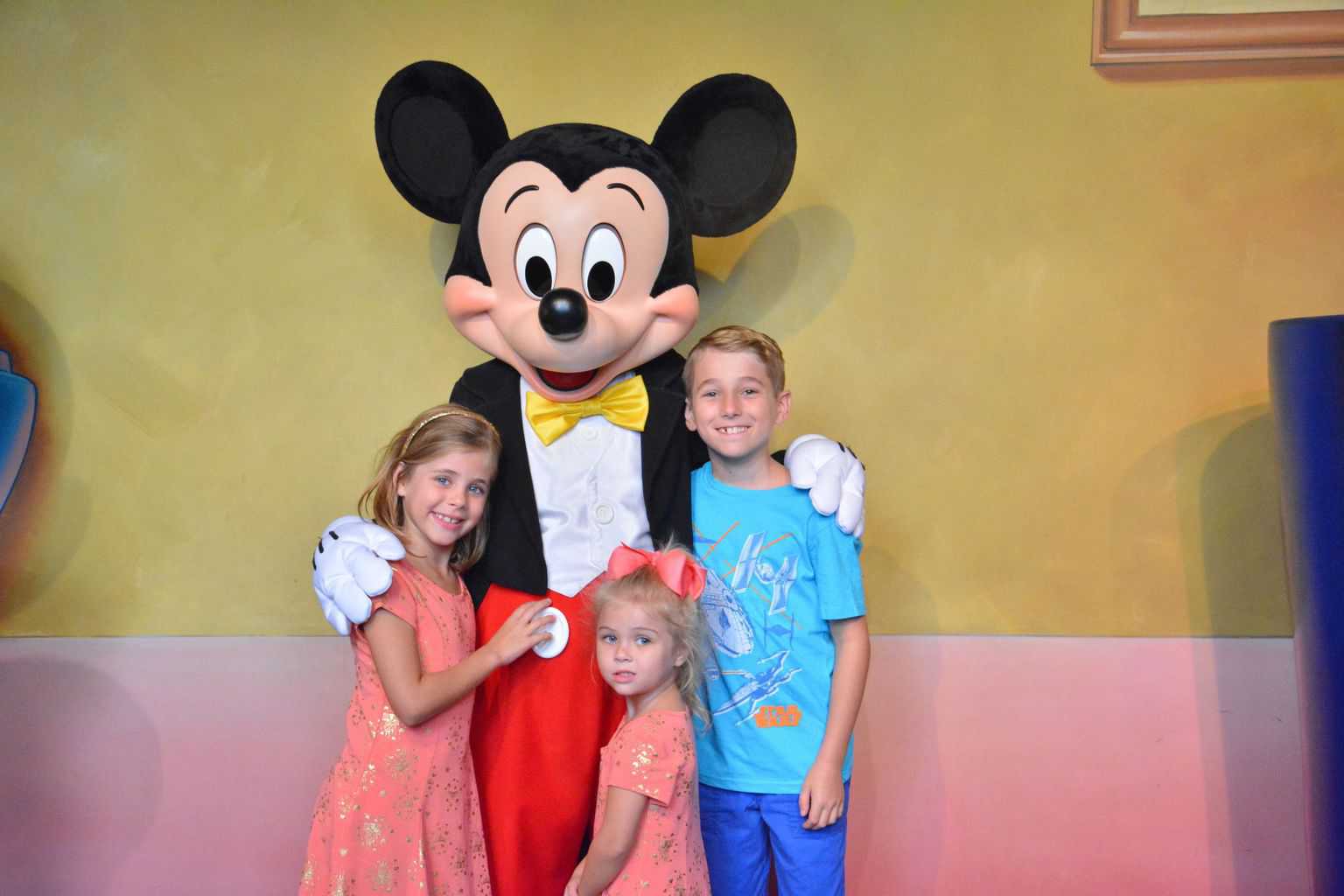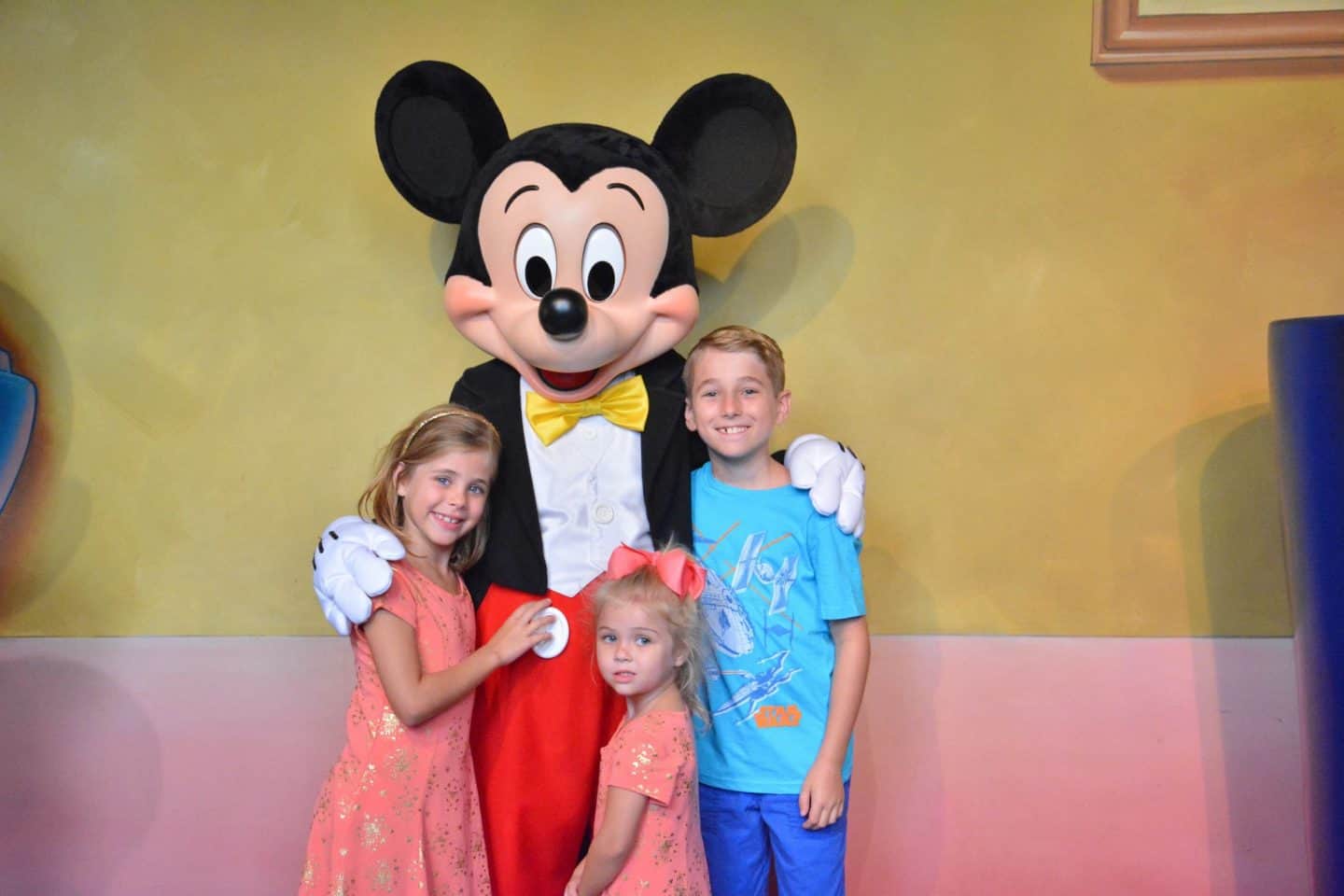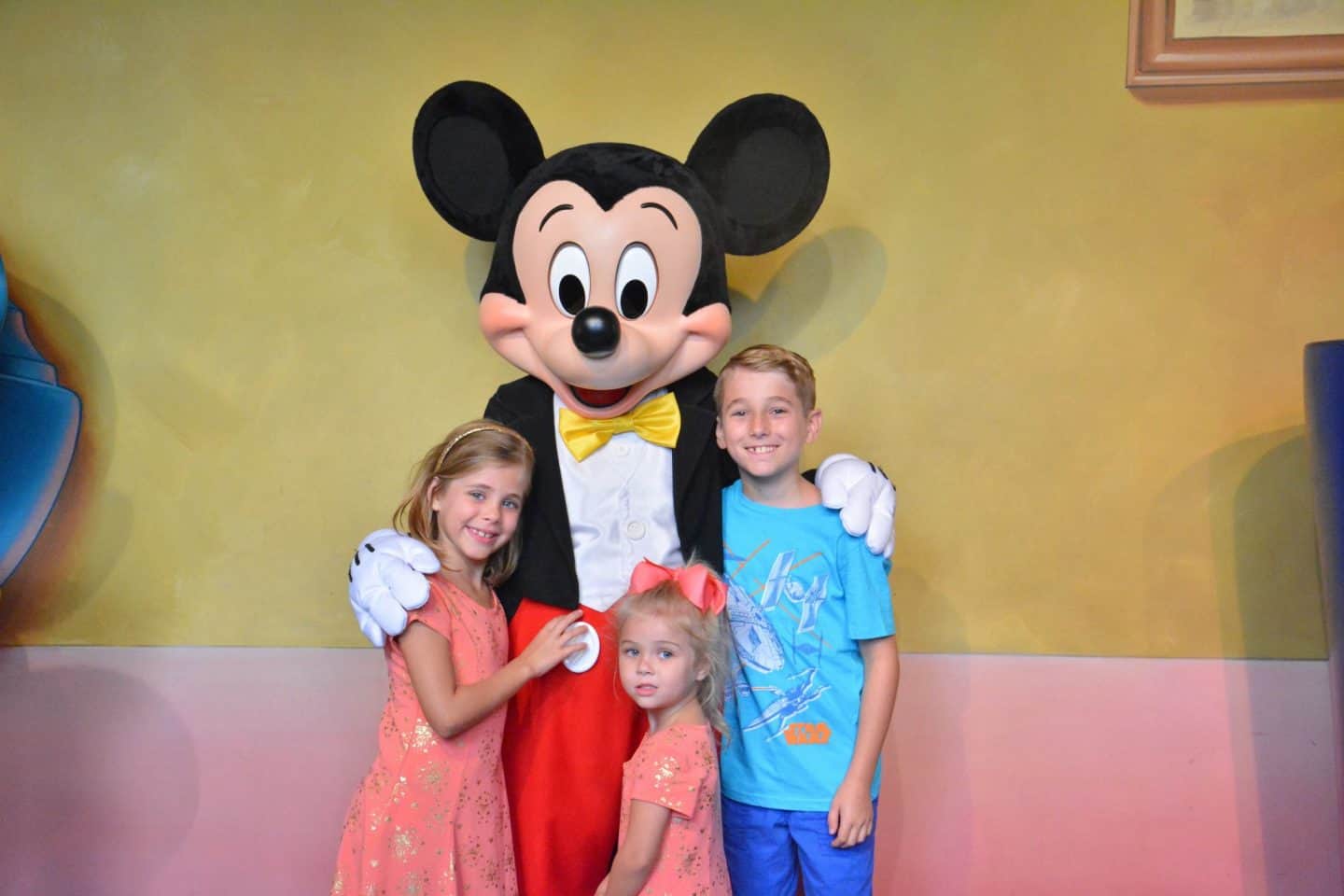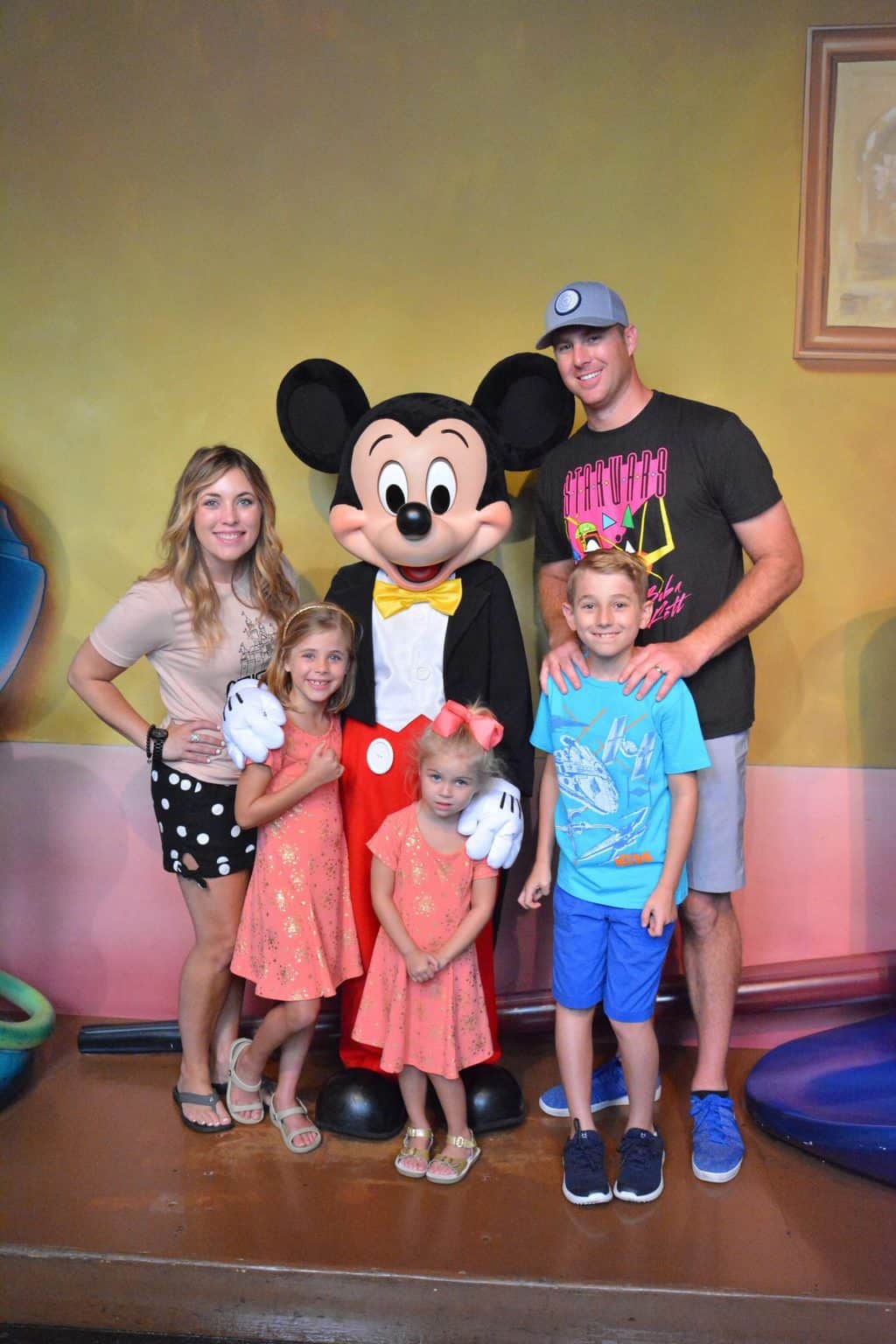 I don't really understand the massive phone and hat? It doesn't make sense to me!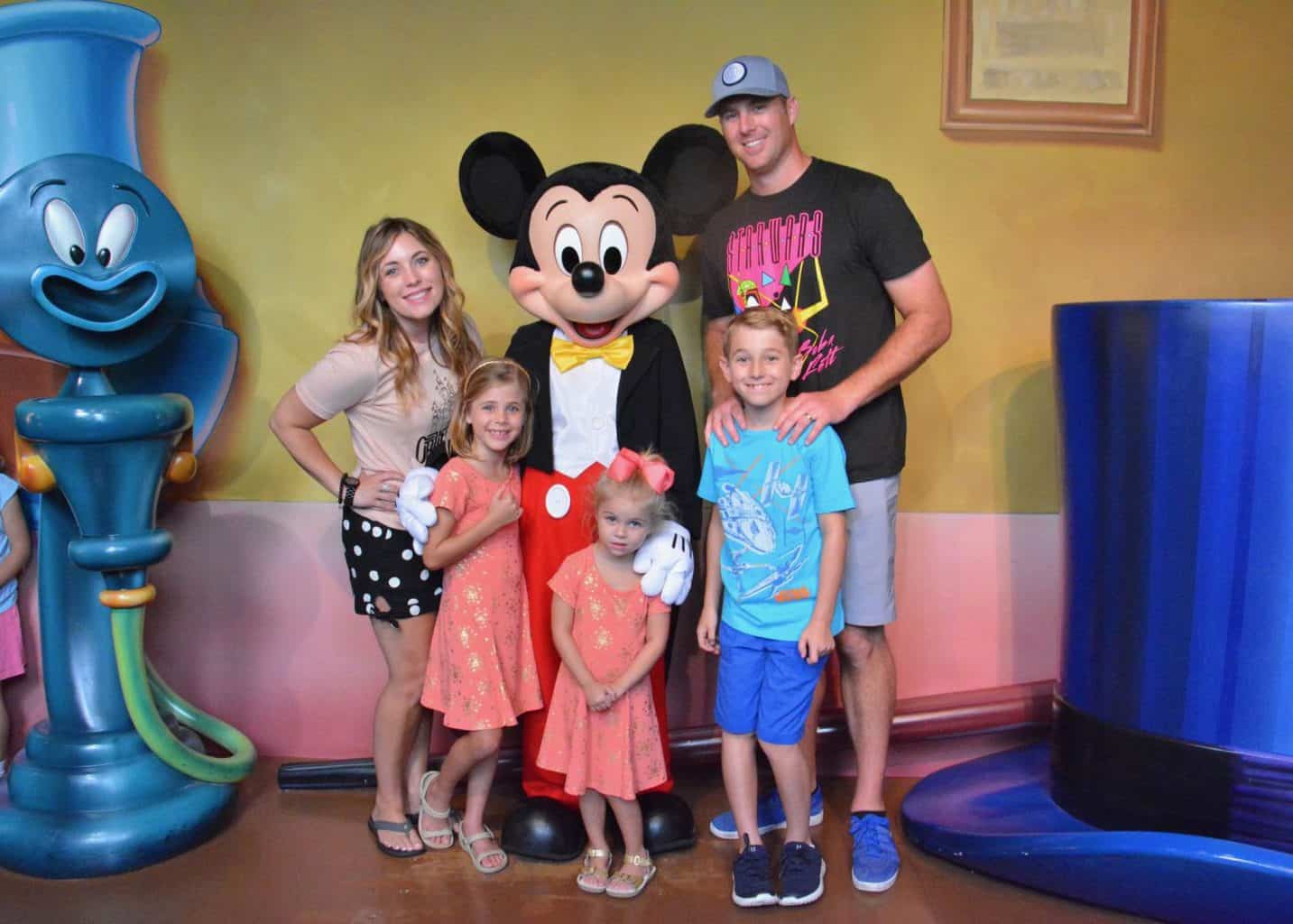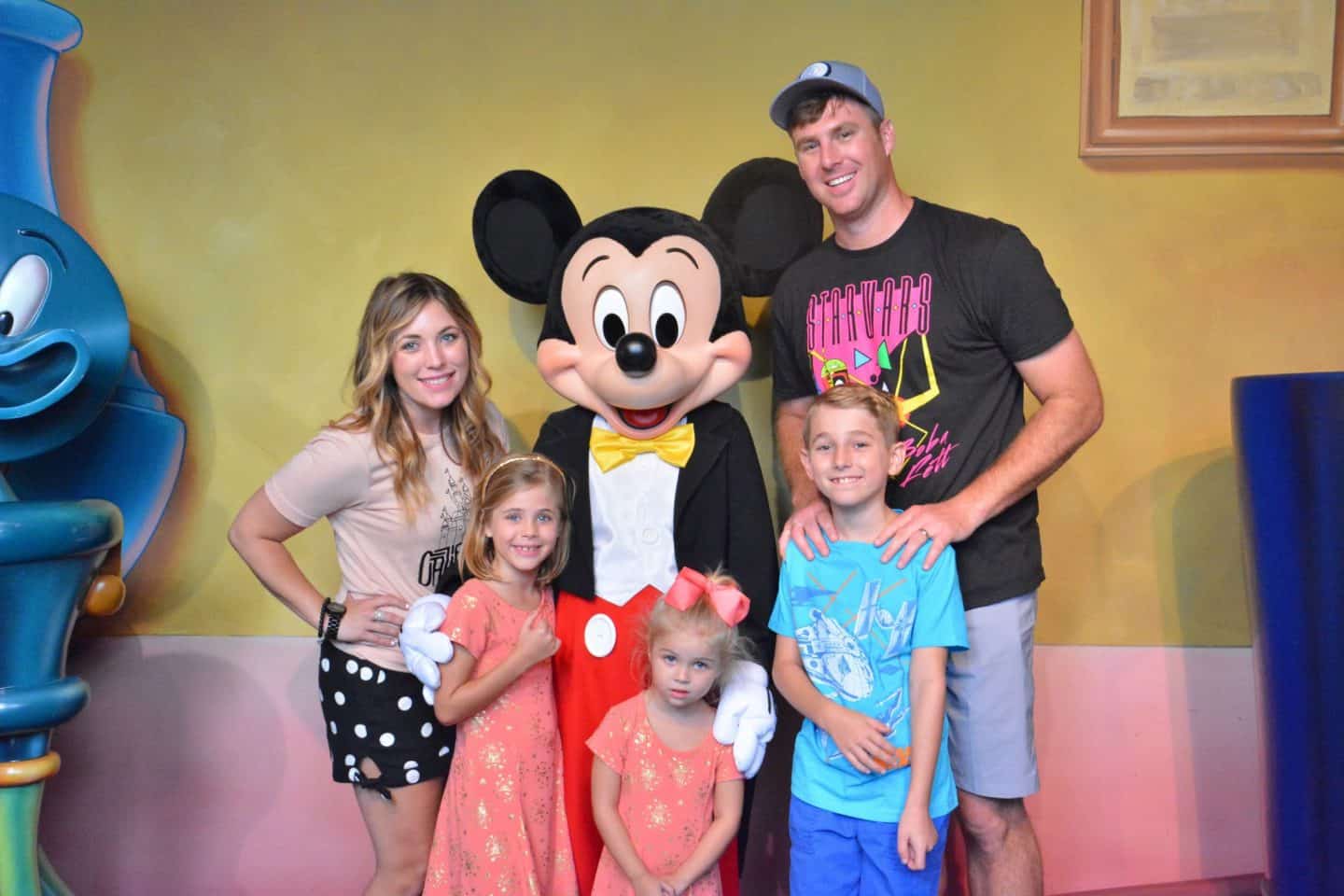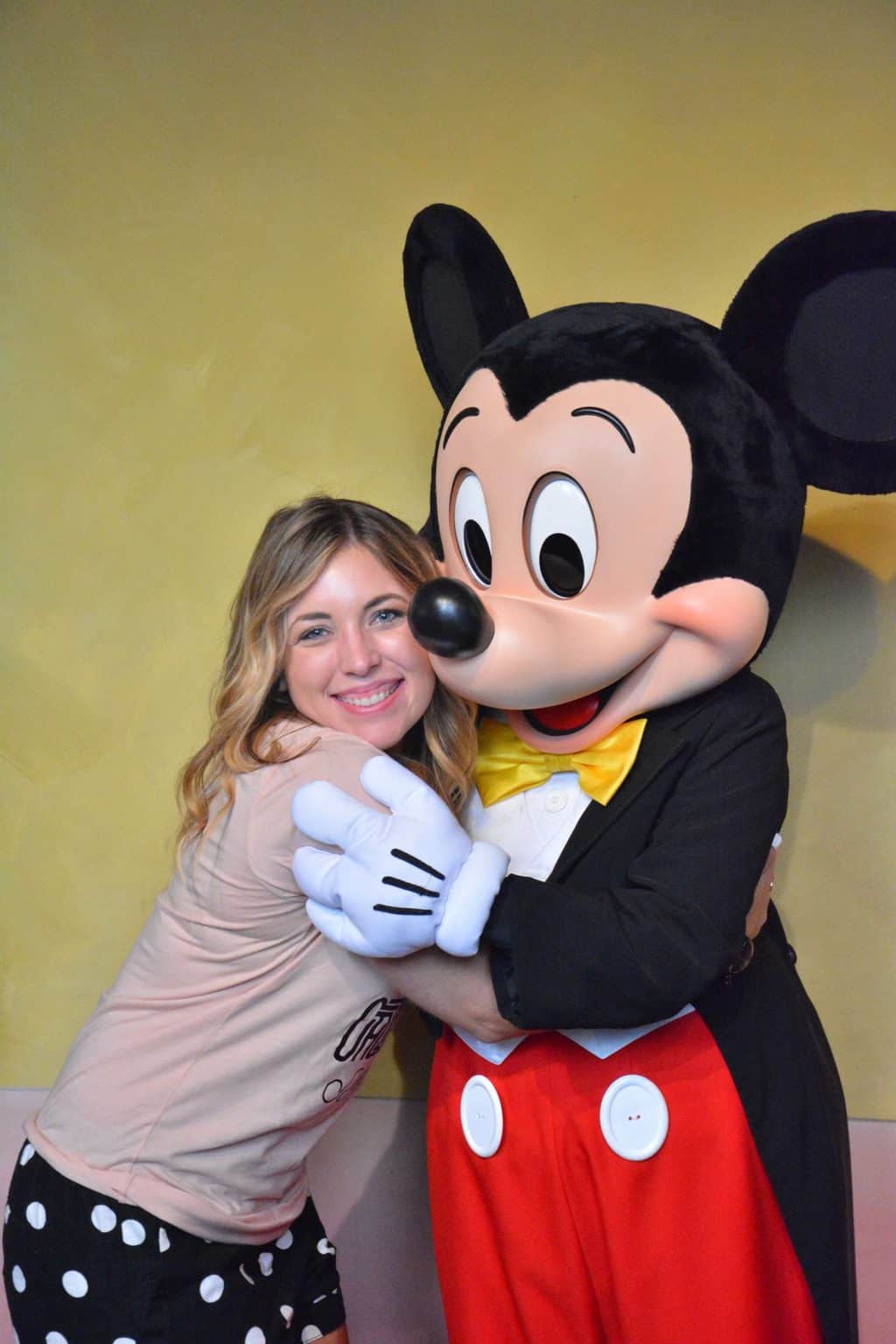 Toontown is AMAZING. We lived 45 minutes away from Disney for the first 3ish years of my life and still visited decently often as I grew up. I have SO many memories of Toontown and miss it at Magic Kingdom! It's just a FUN area with so many adorable details!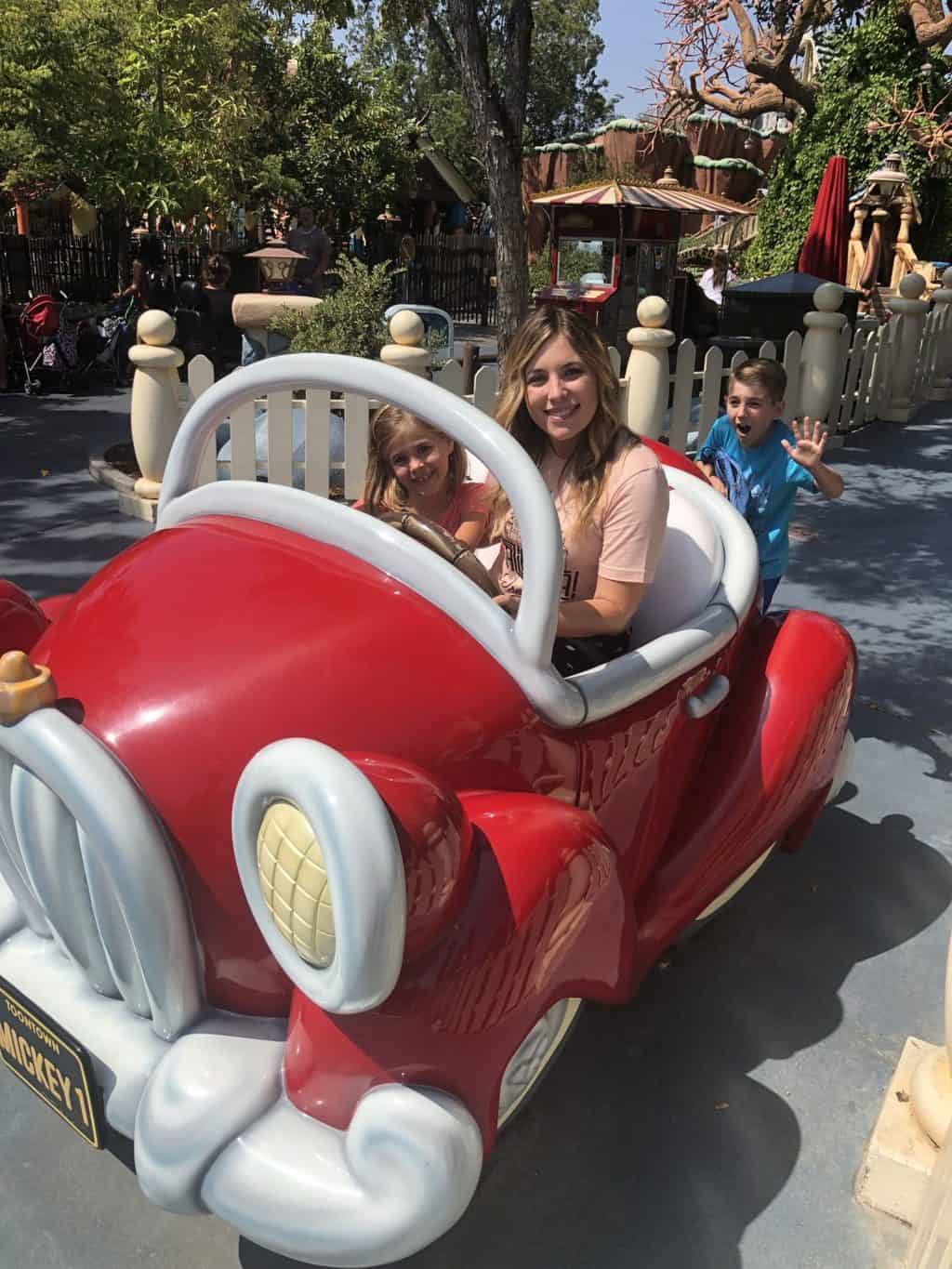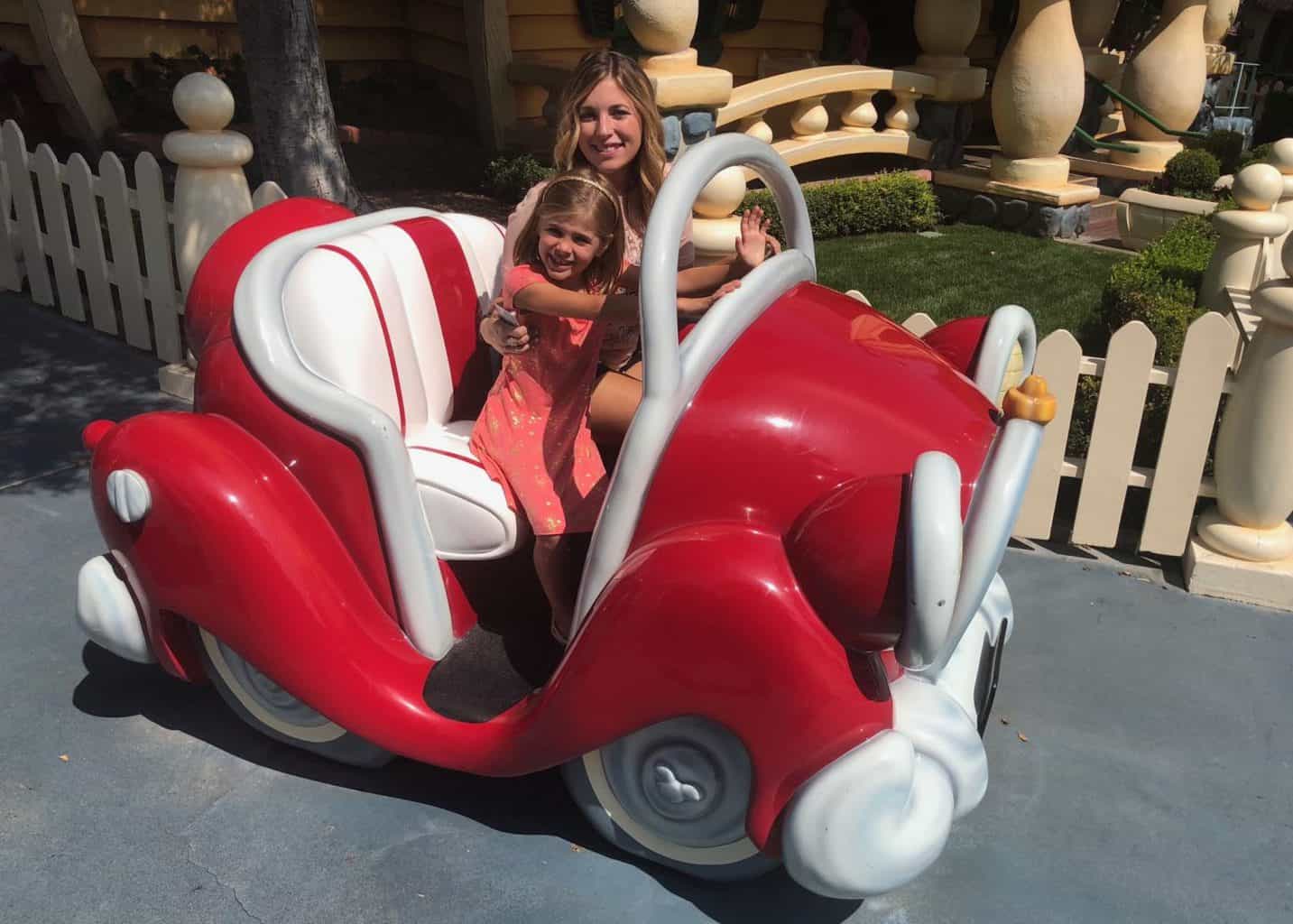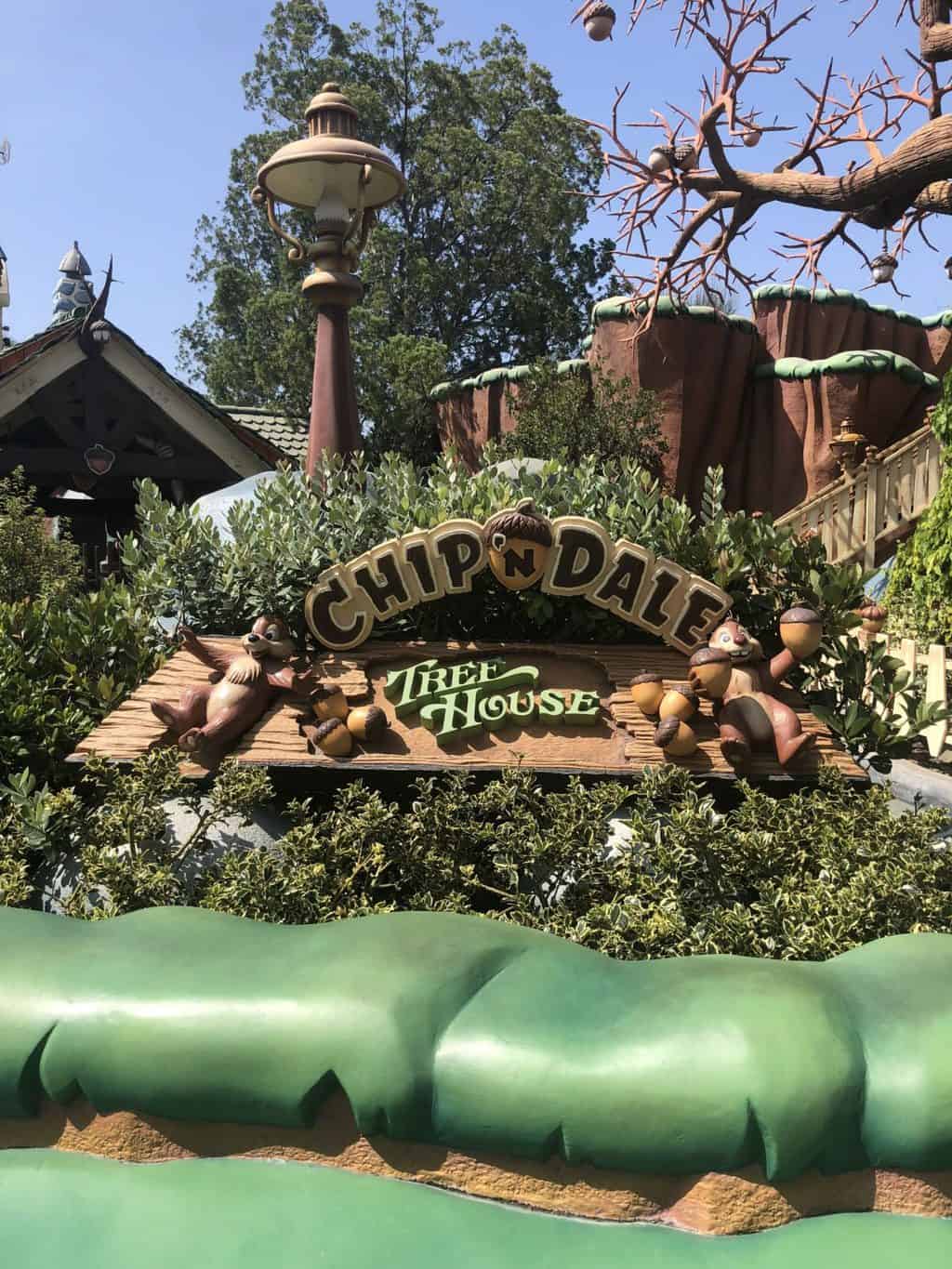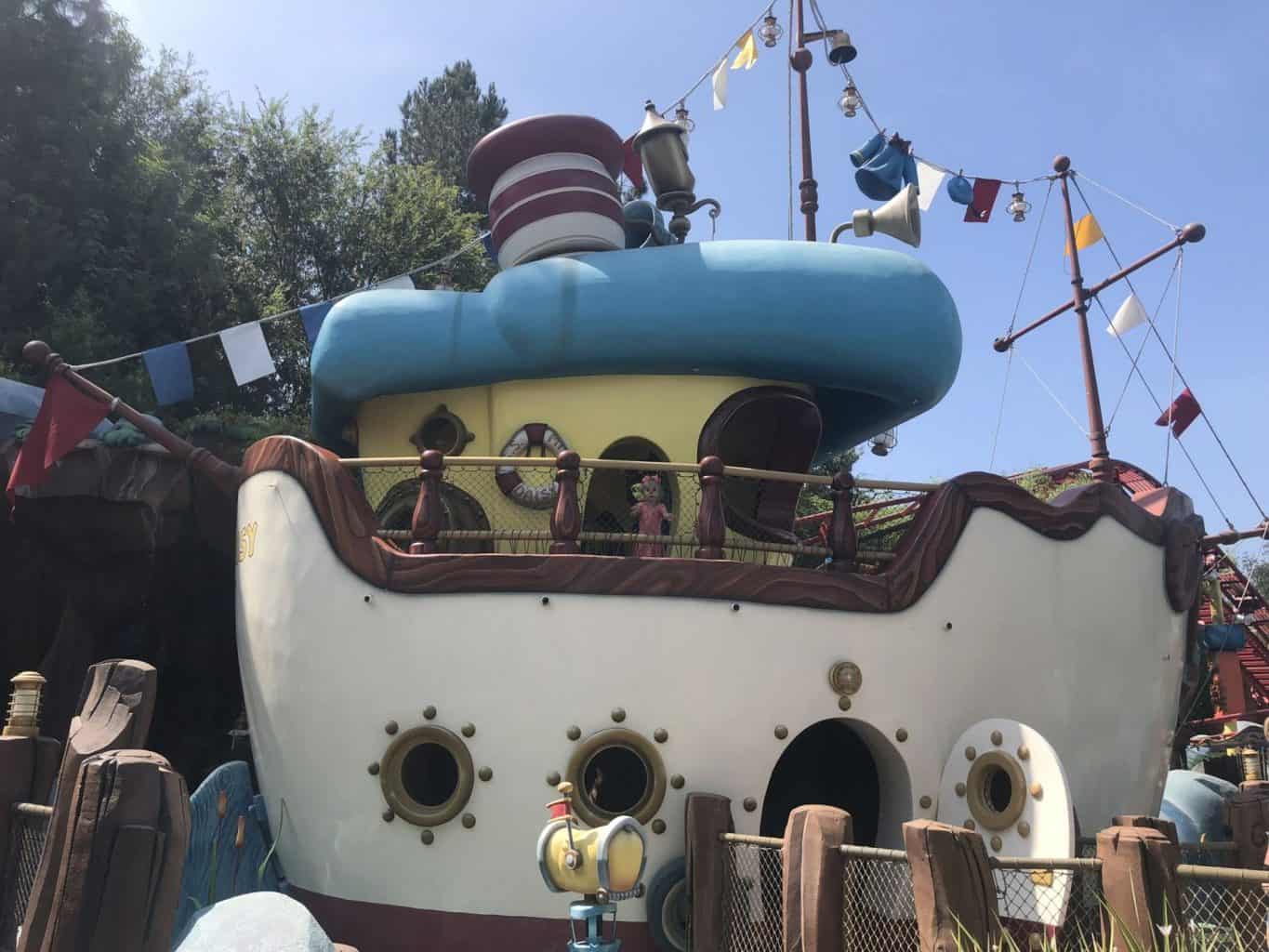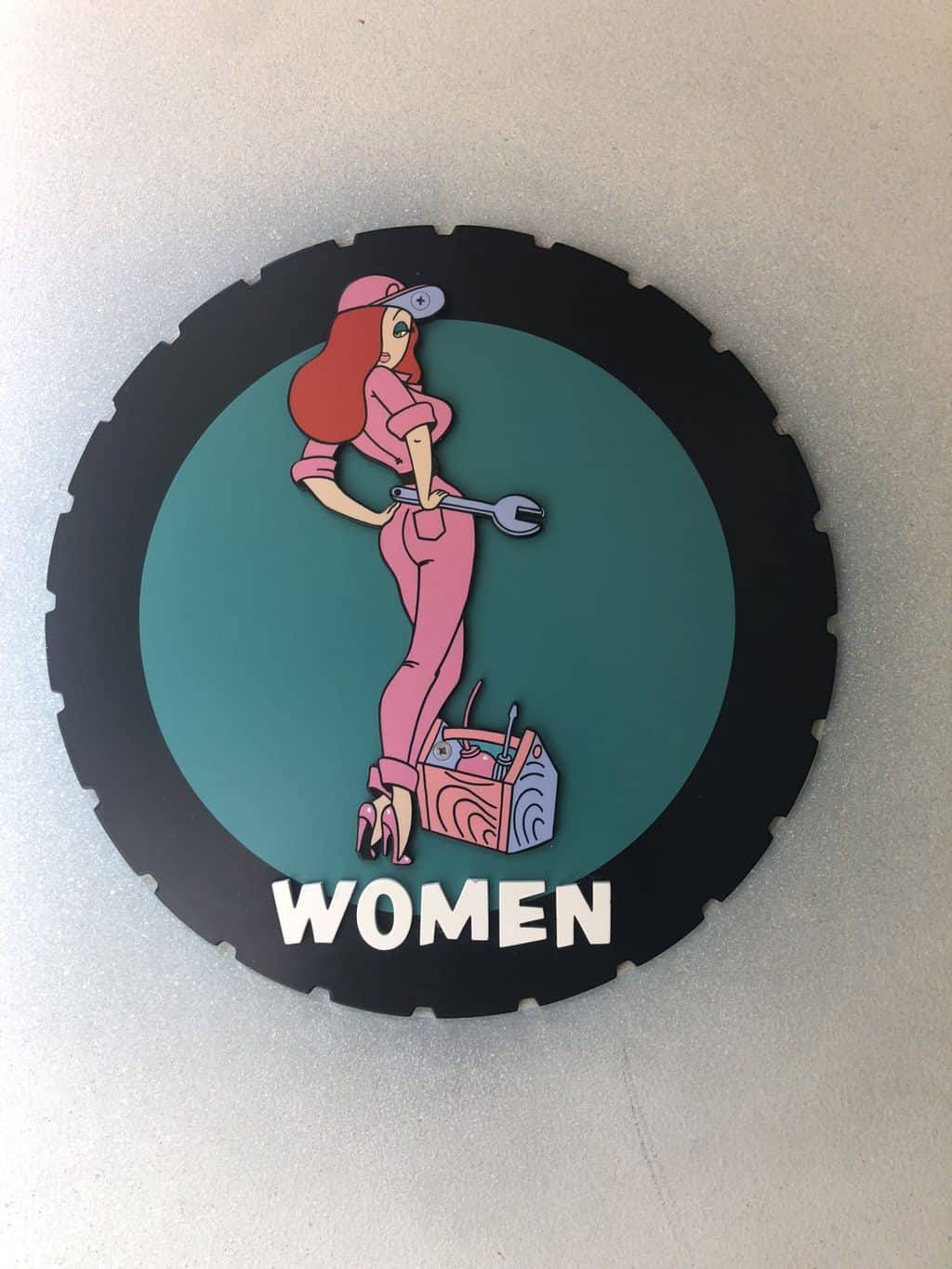 Britt's favorite's house!!!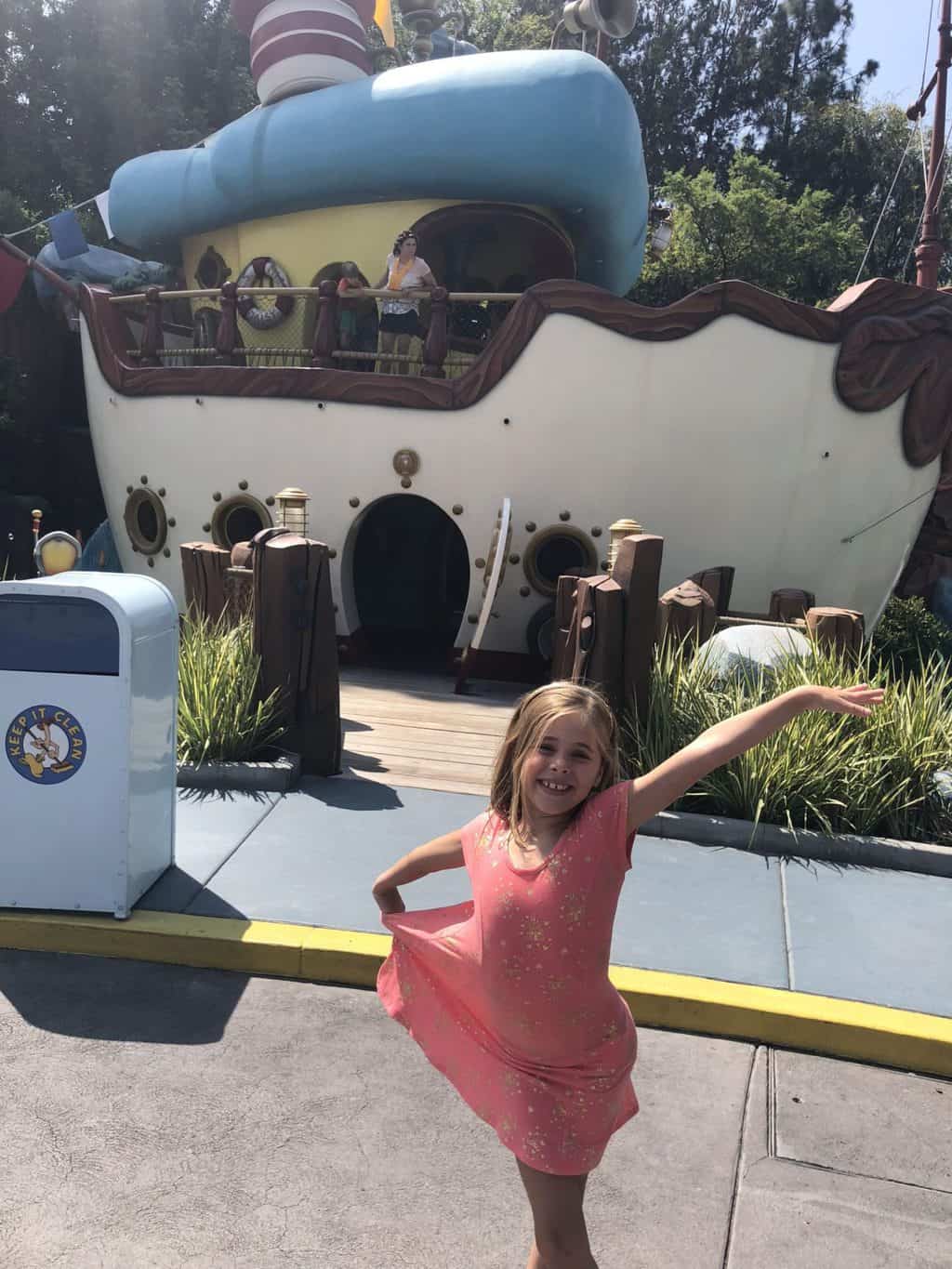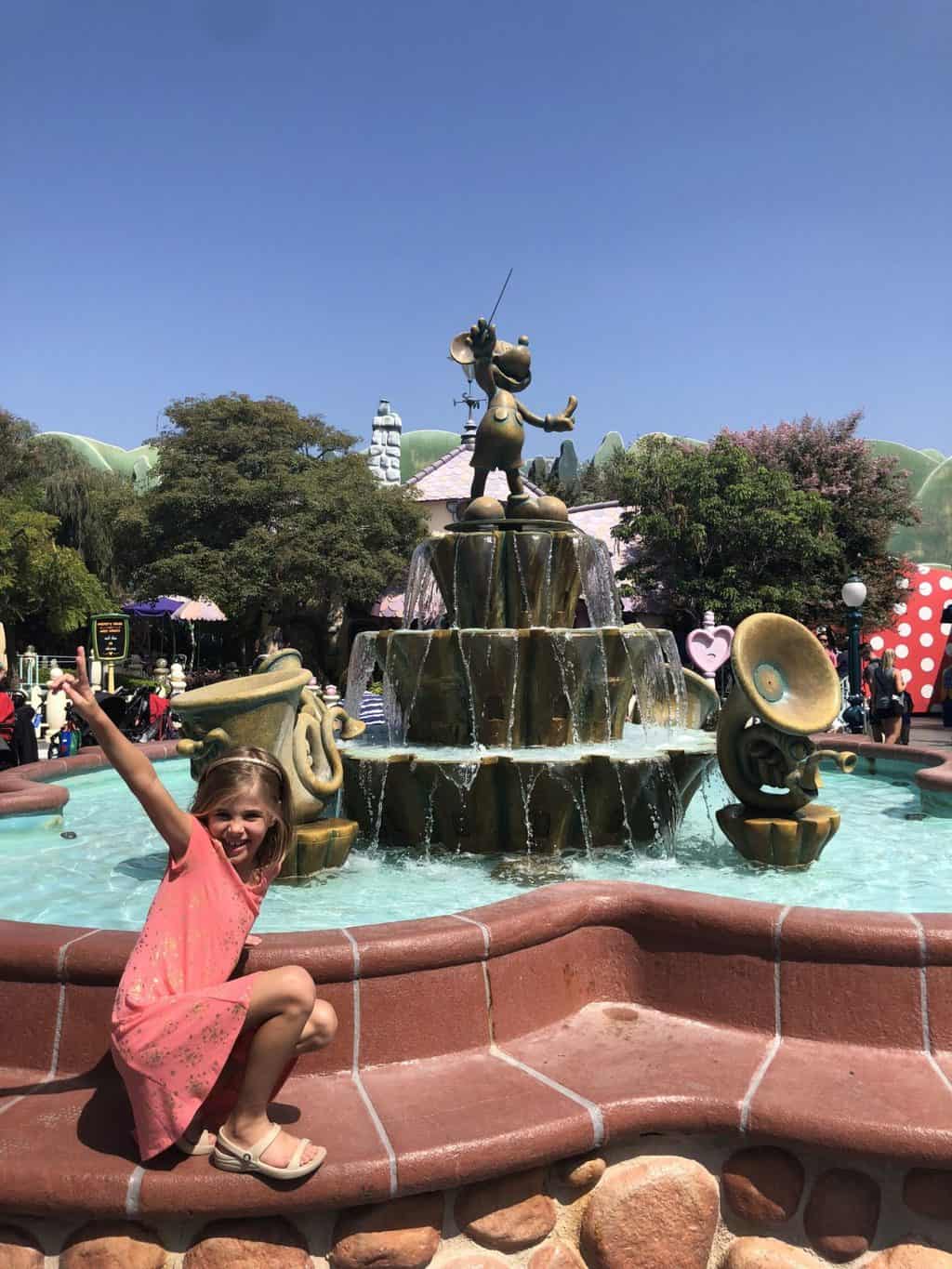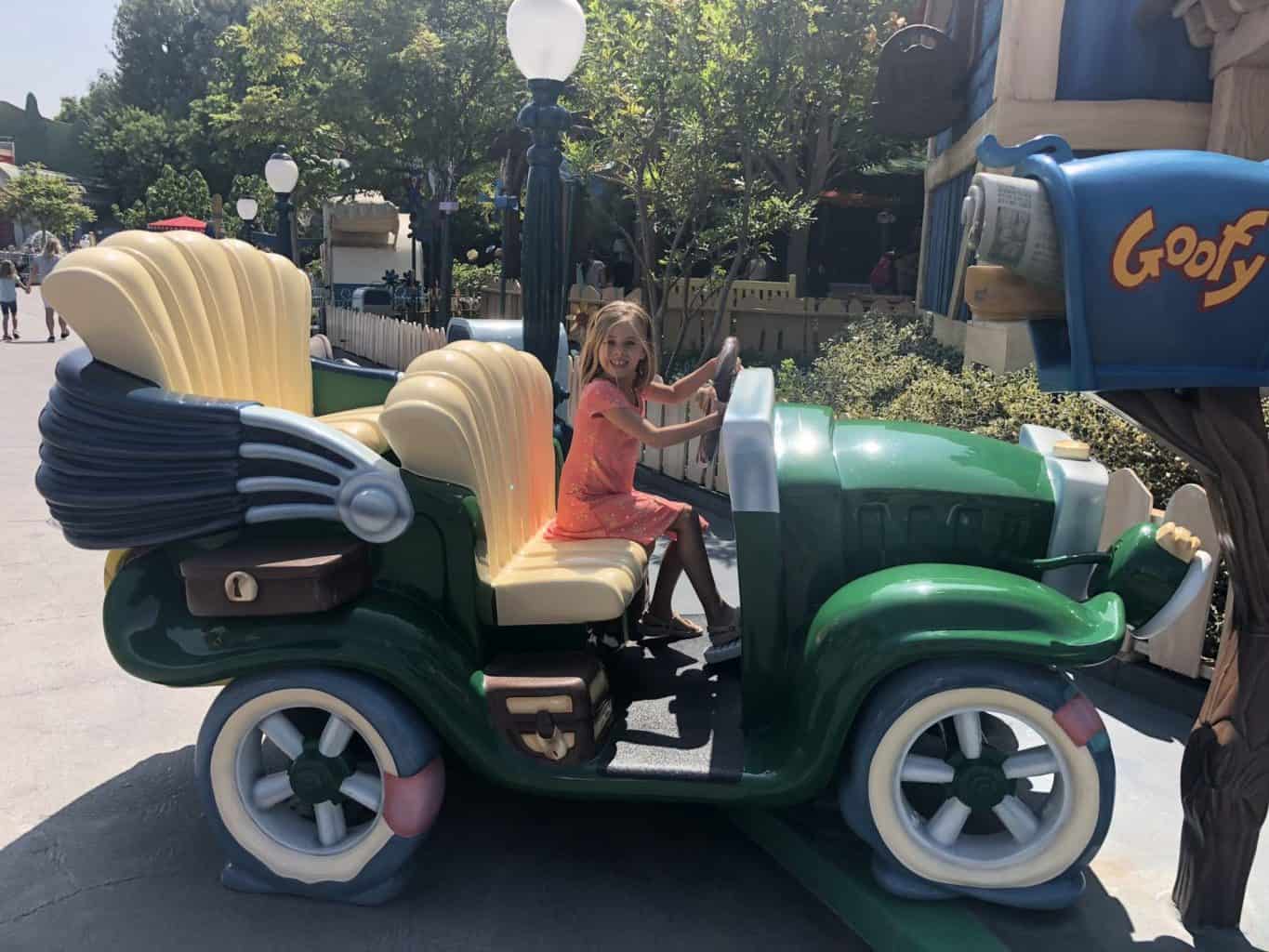 There are only two rides in the Toontown area and one is a roller coaster. Gadget's Go Coaster is similar to Goofy's Barnstormer at MK. All three kids wanted to ride and Zach called me from the line when he found out they'd have to trade off and needed an adult to stay with one kid and swap.
Brave girl!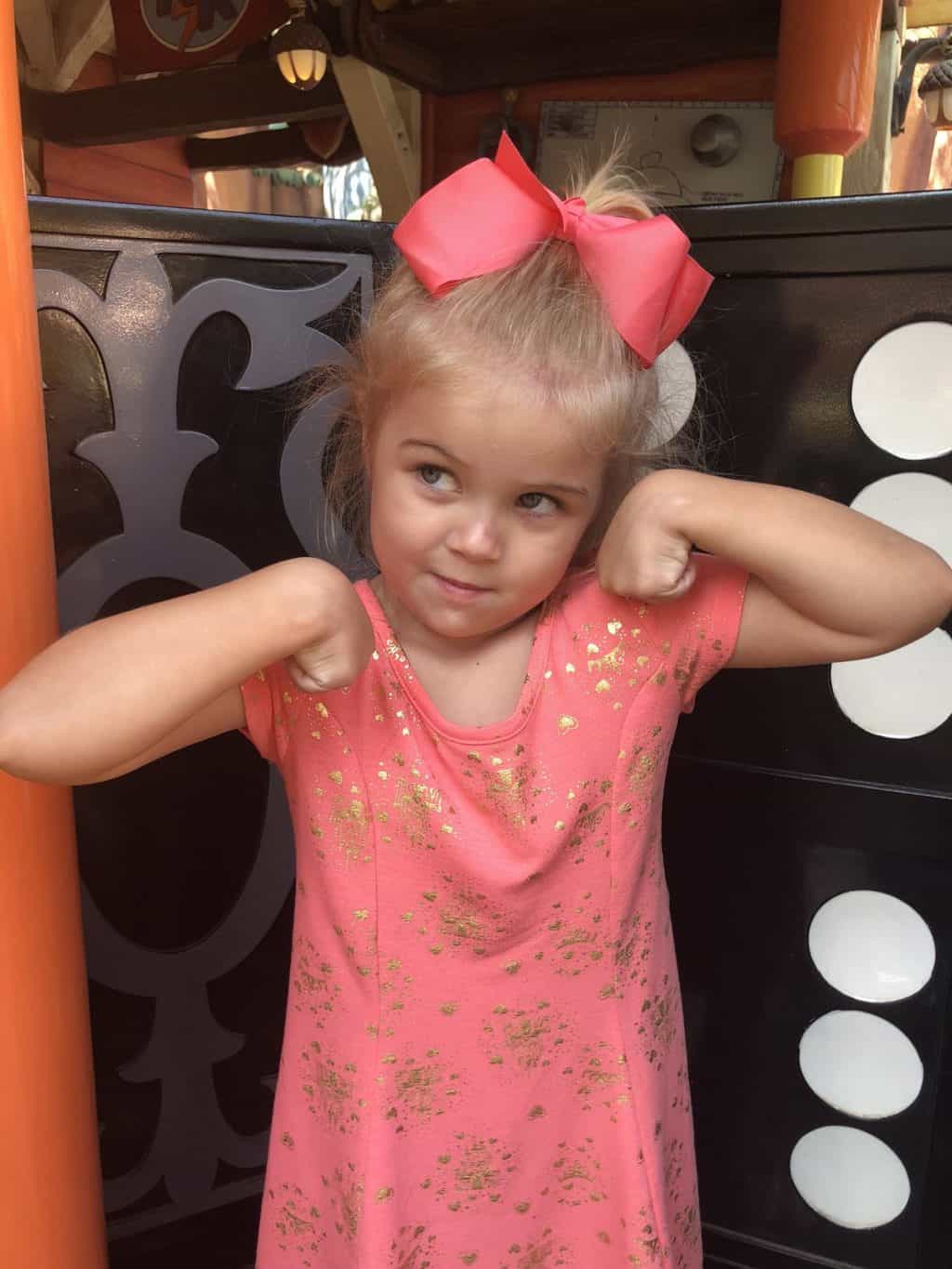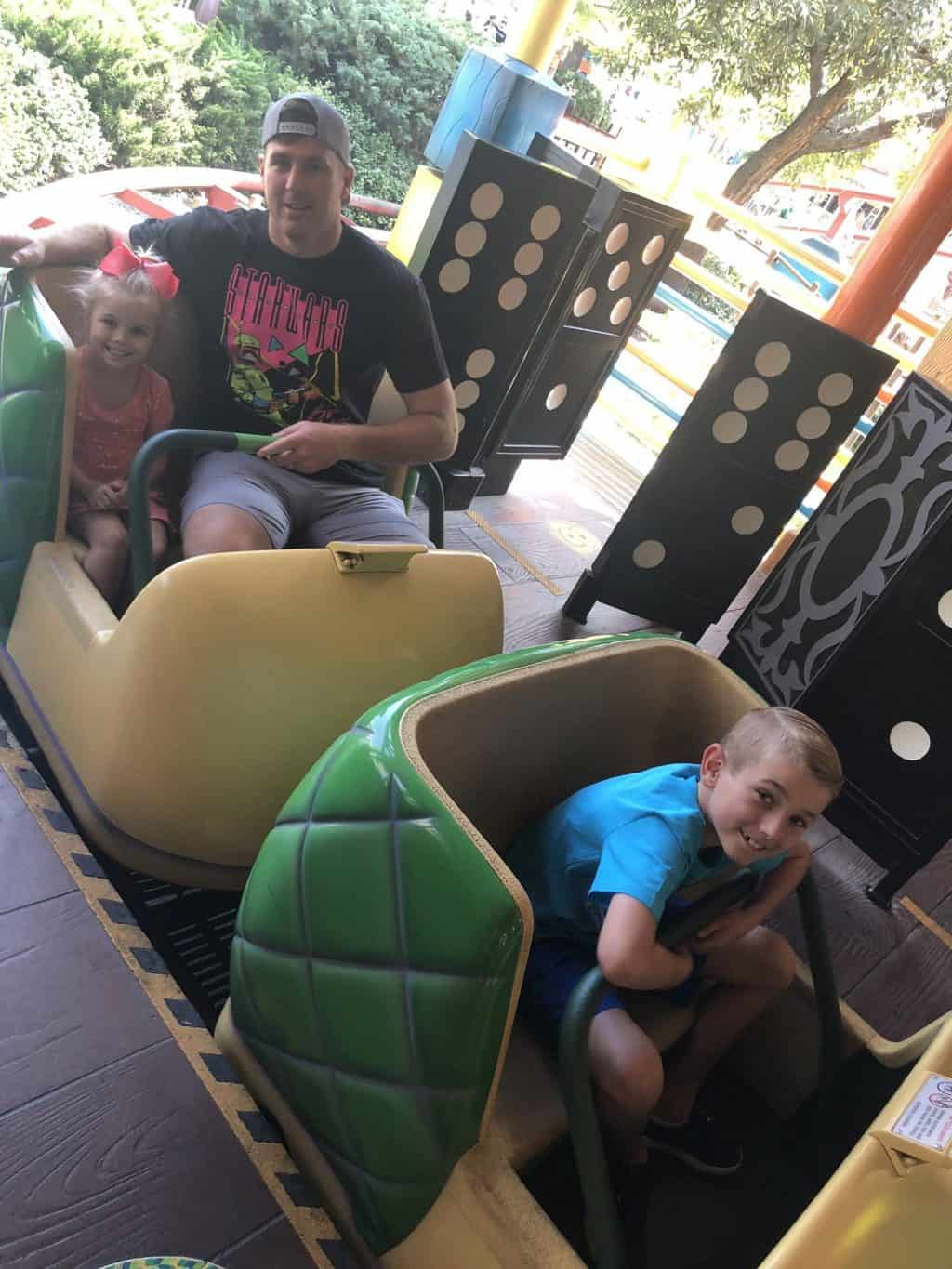 Mickey and Minnie have meet and greets through their houses but the other character's homes are all play places which is a nice area to give kids a chance to run around and play. While our crew explored Goofy's house Zach and I figured out our lunch and placed a mobile order 😉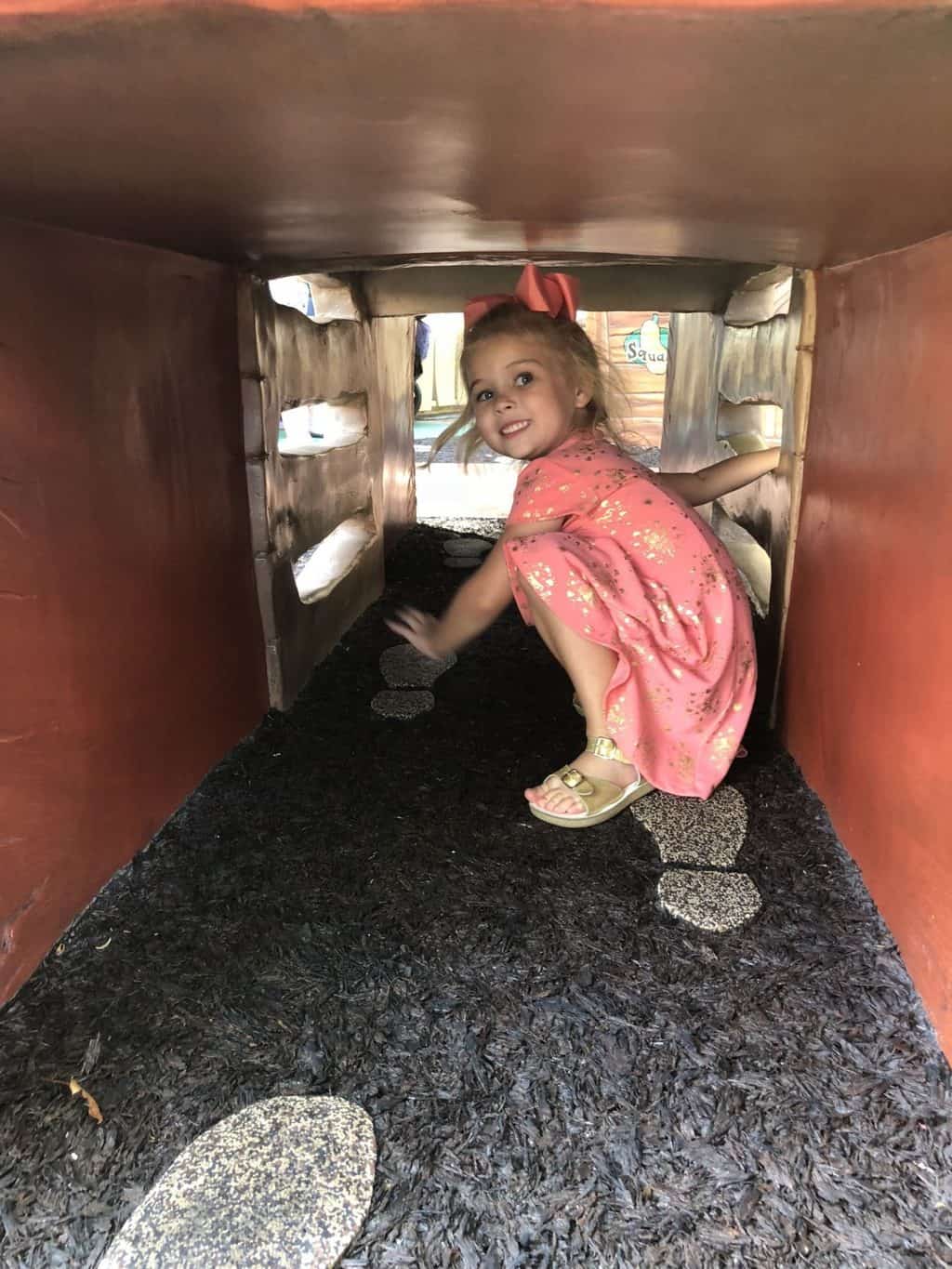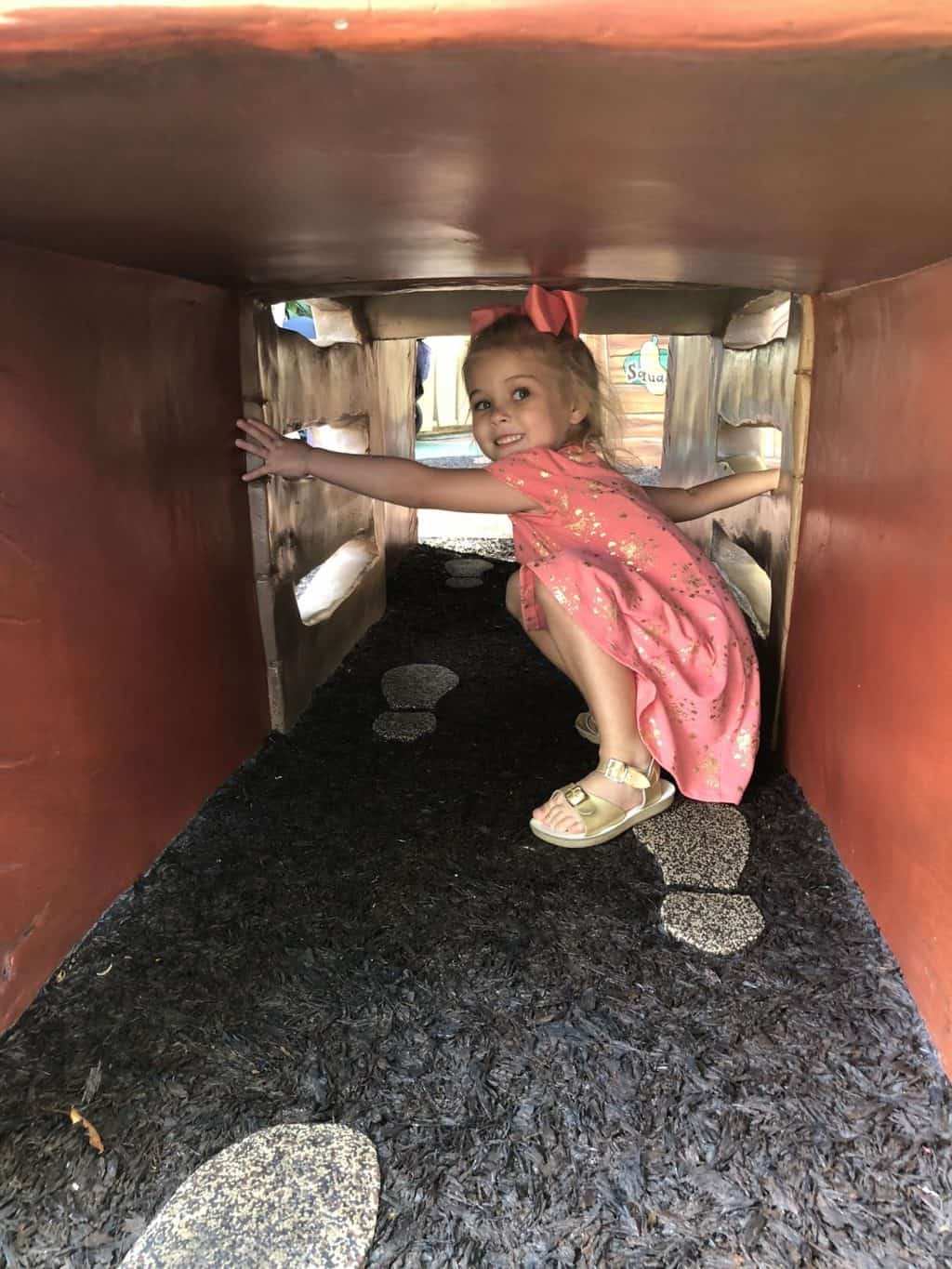 There is only one ride with a fast pass option in Toontown and it's Roger Rabbit! I literally had no clue that Roger Rabbit was a Disney Movie?!?! It's SO DARK AND SCARY. If Mr Toad's Wild Ride and Snow White gave me nightmares…then Roger Rabbit gave me night TERRORS.
I can still close my eyes and see that scene where the man gets run over by the truck and his eyes bulge out. Eck. No thanks. Def not a kid friendly movie AT ALL. But hey they ride is fun! Even if my kids had zero clue who the ride was based off of 😉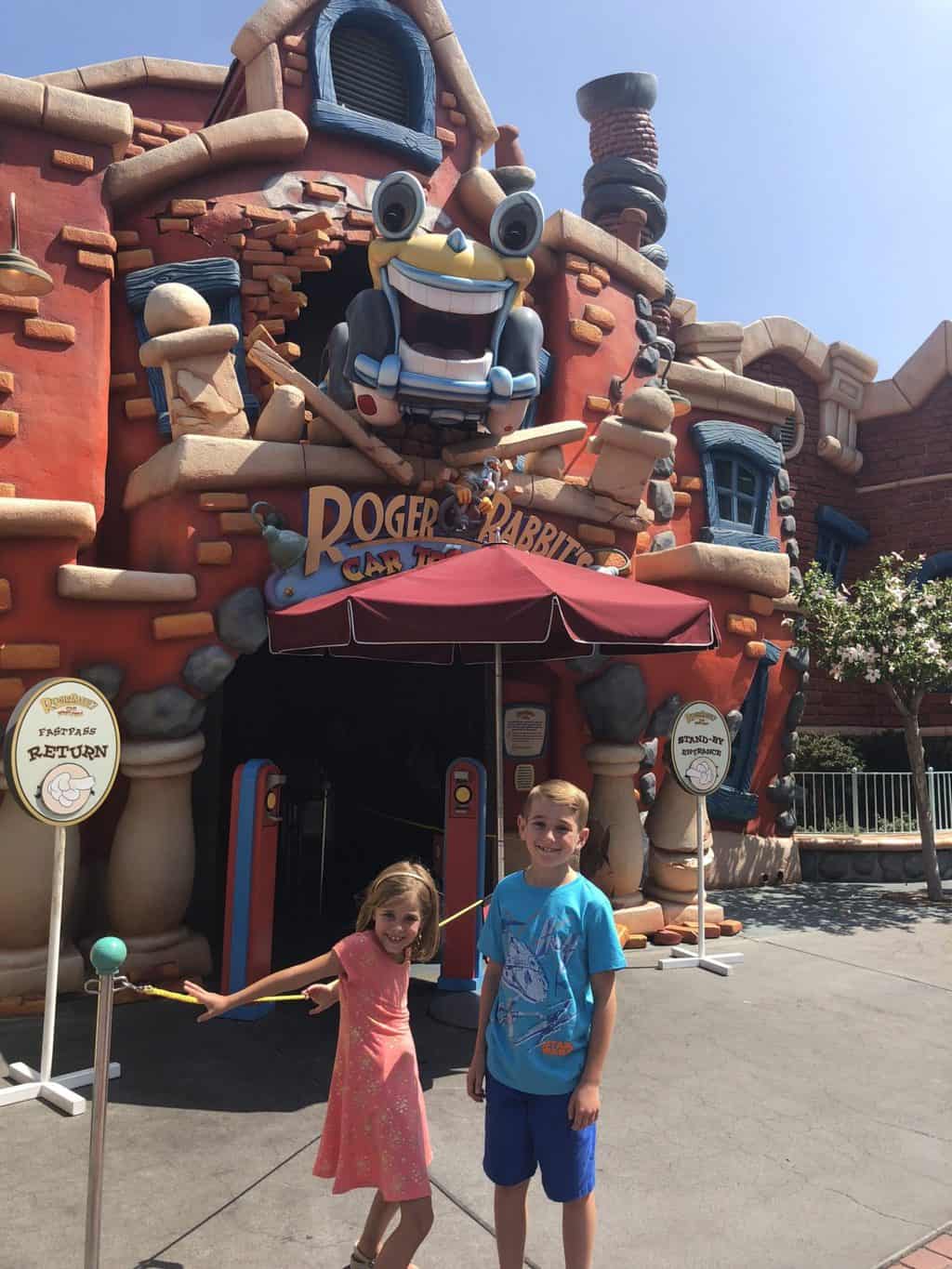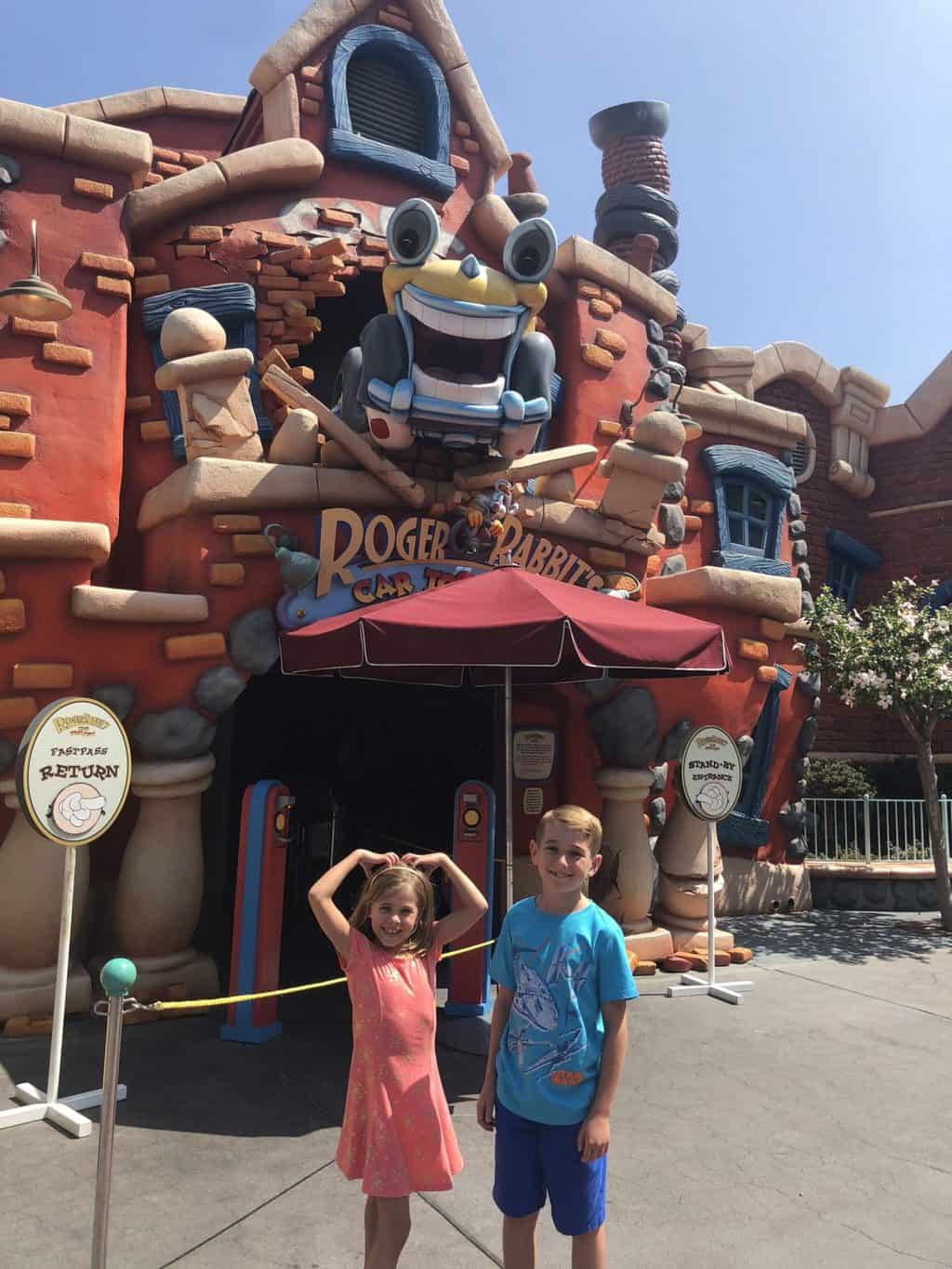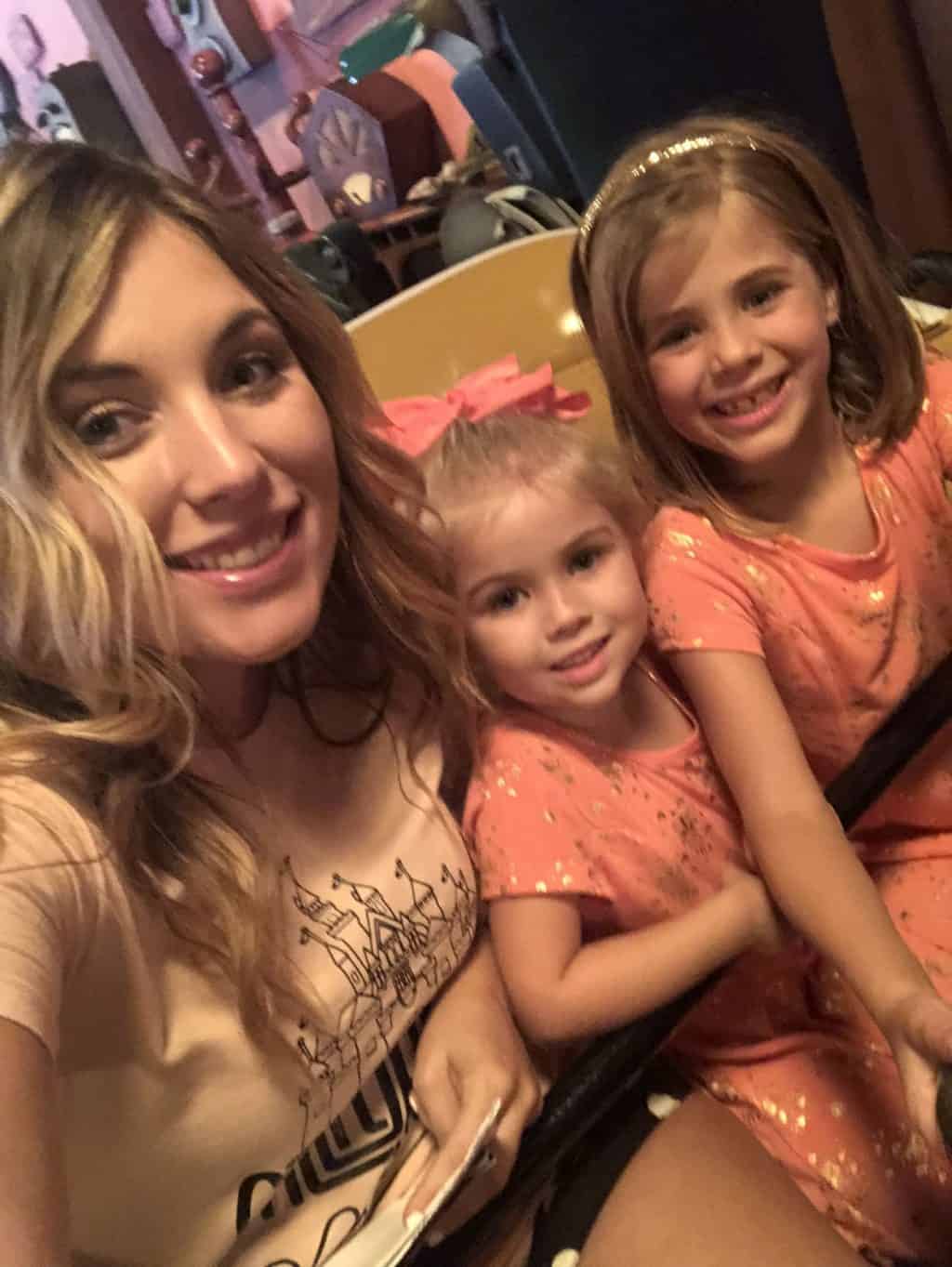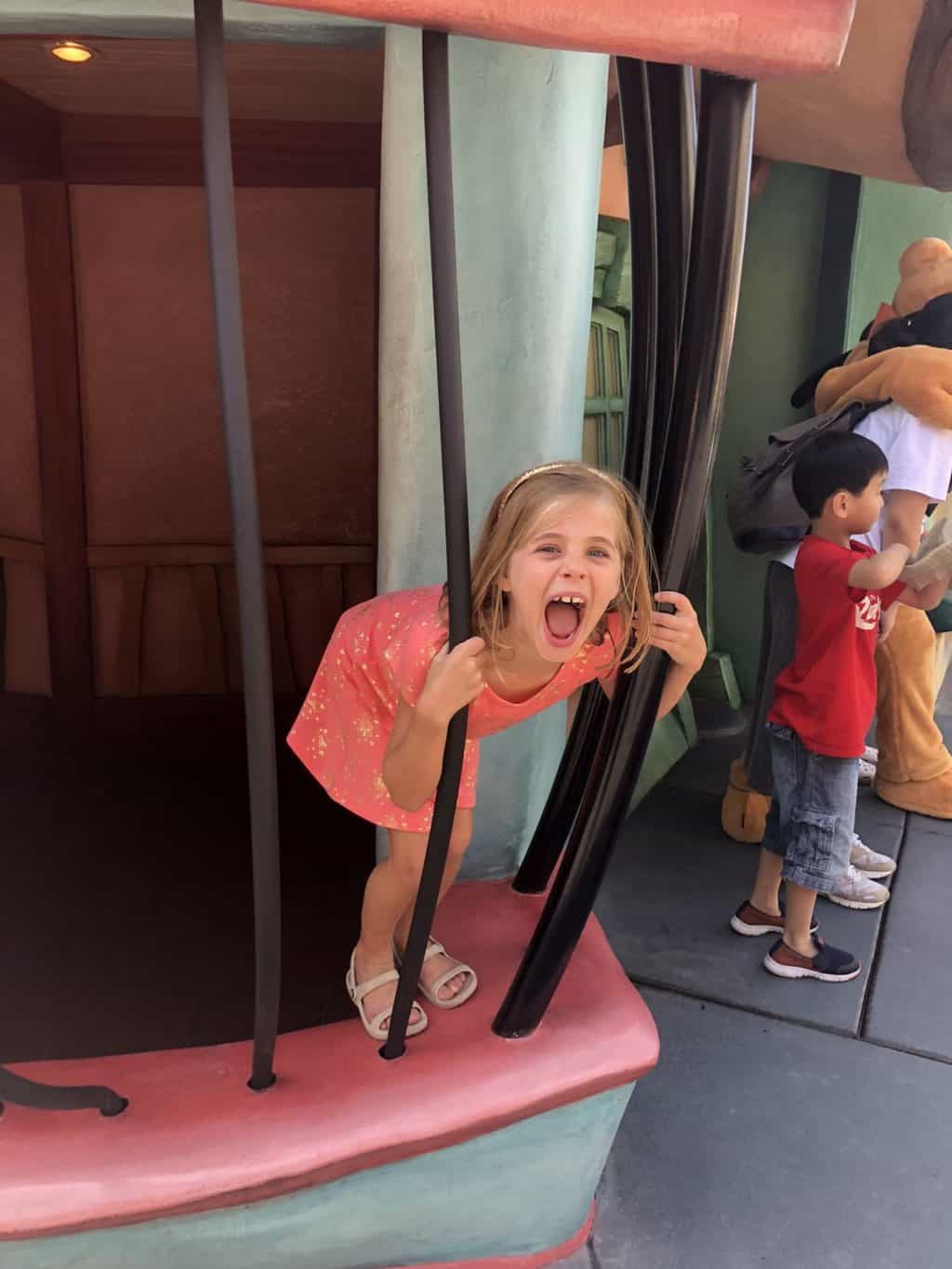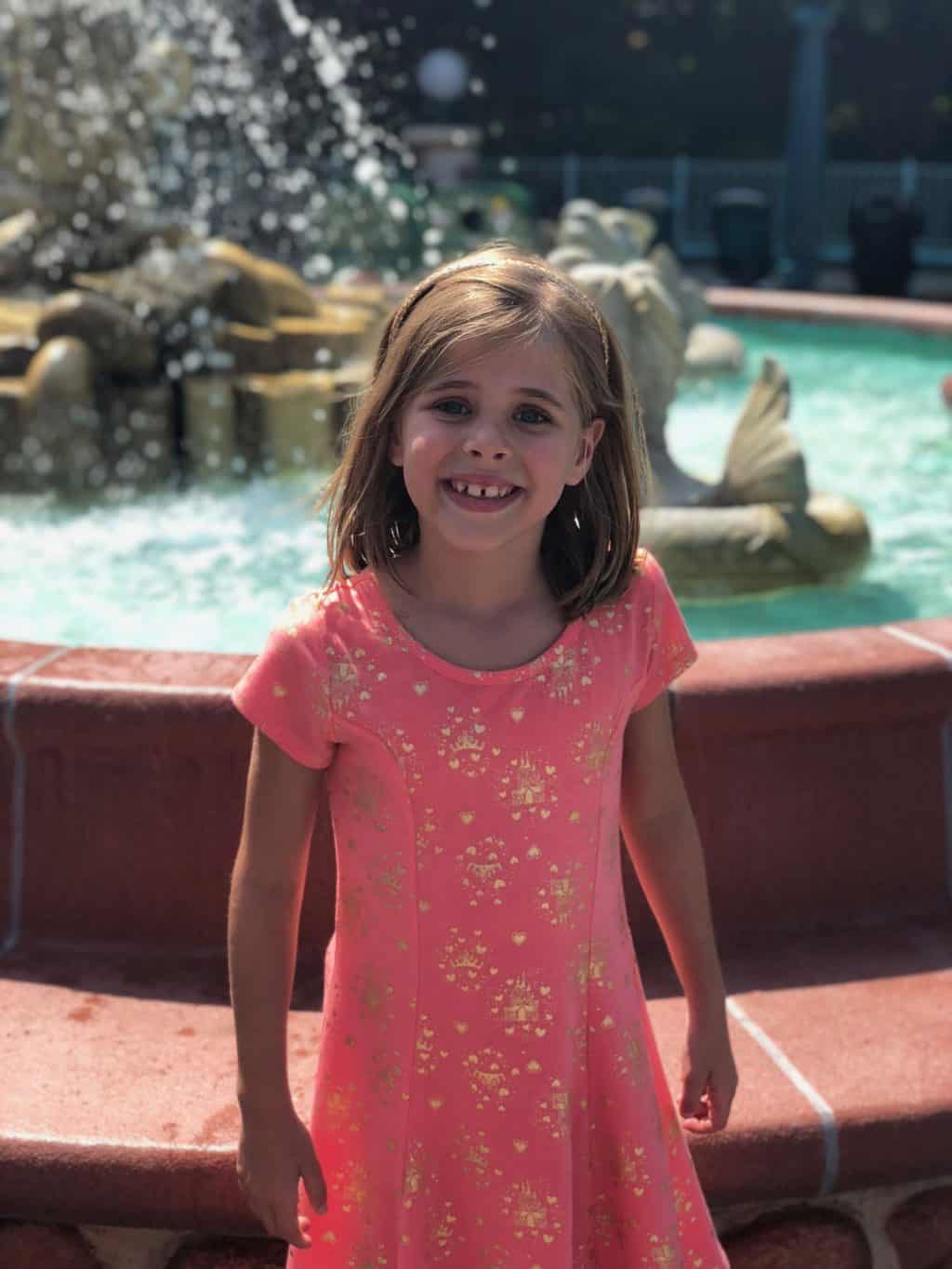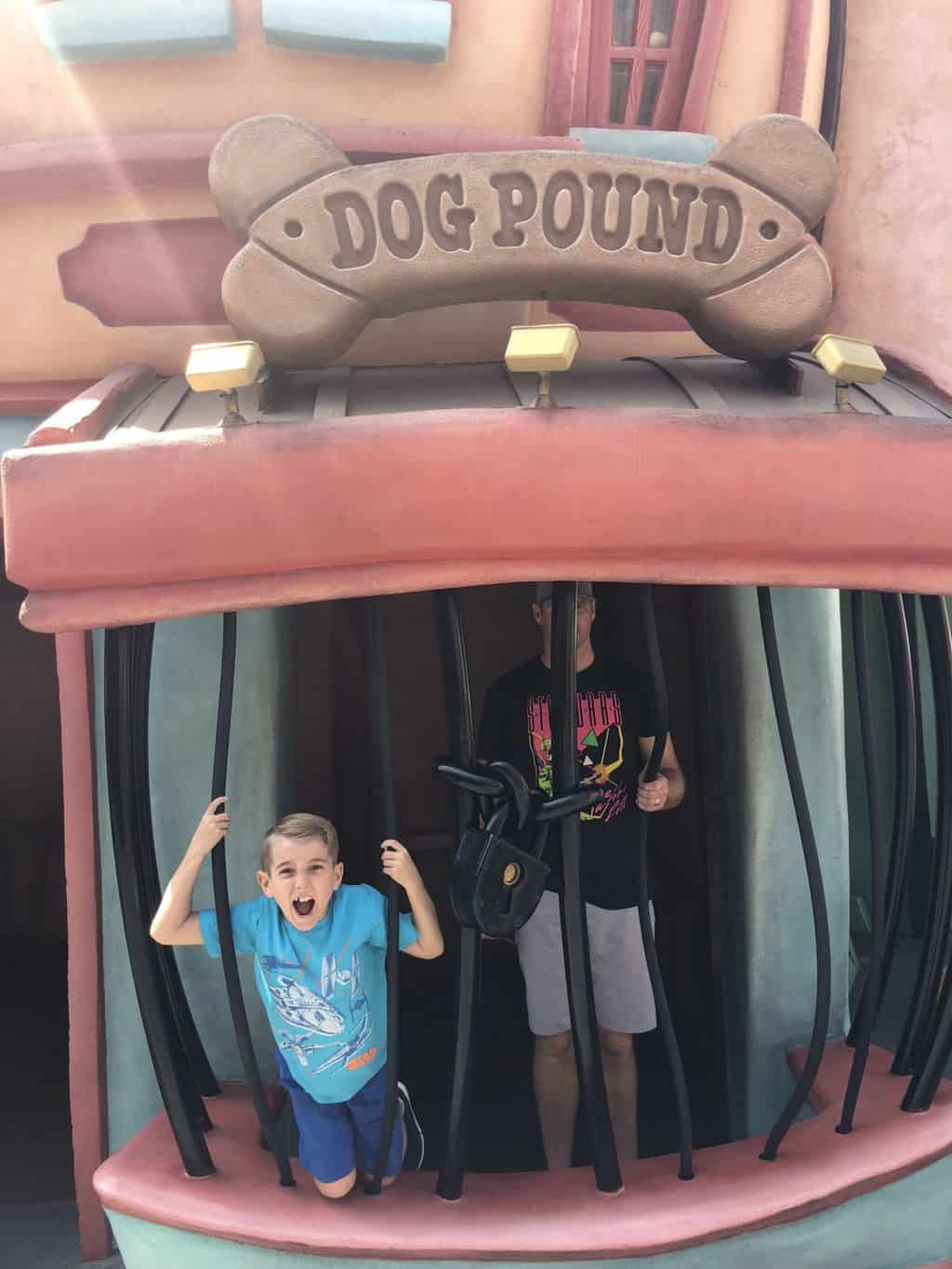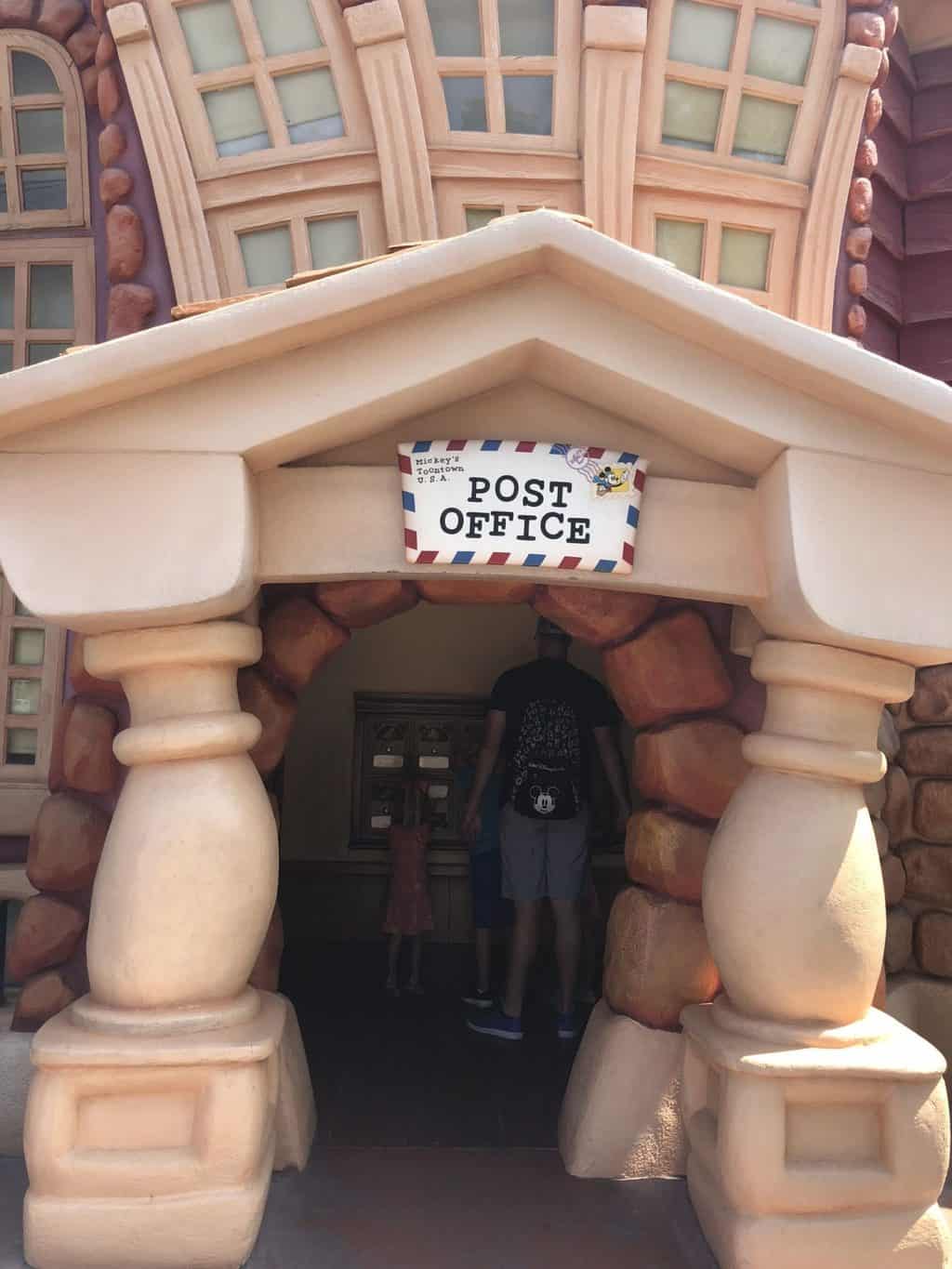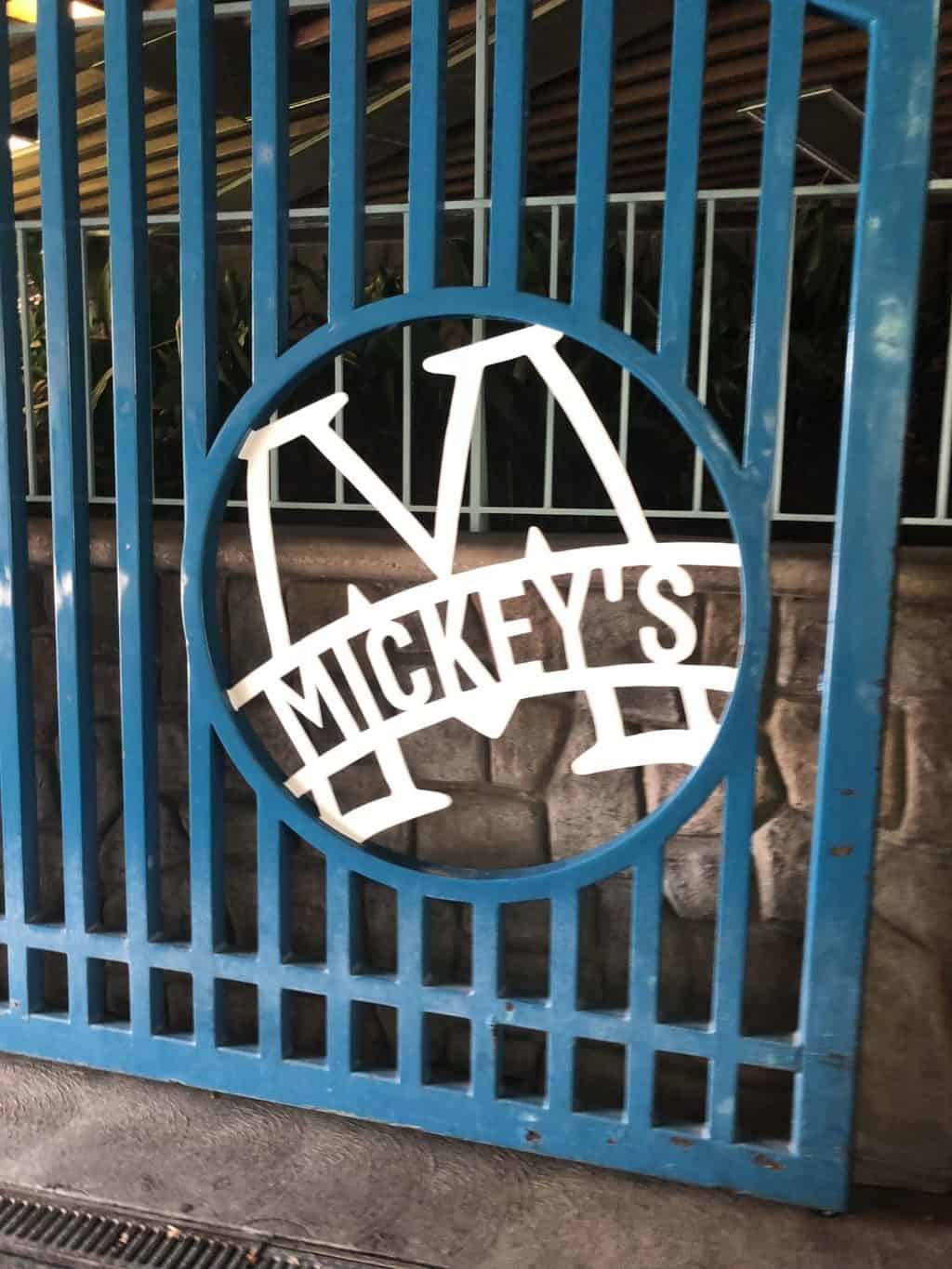 We spent two hours that morning (one of which was the extra magic hour) to knock out Fantasyland. Toontown opened at 11 and we were able to do everything there and have time to play a bit in the play area within an hour's time. Not a bad morning!
We were all snacky but didn't want to eat a full meal yet as we didn't have time to eat before our timed plans we had 😉
So we stopped at Jolly Holiday Bakery for some treats!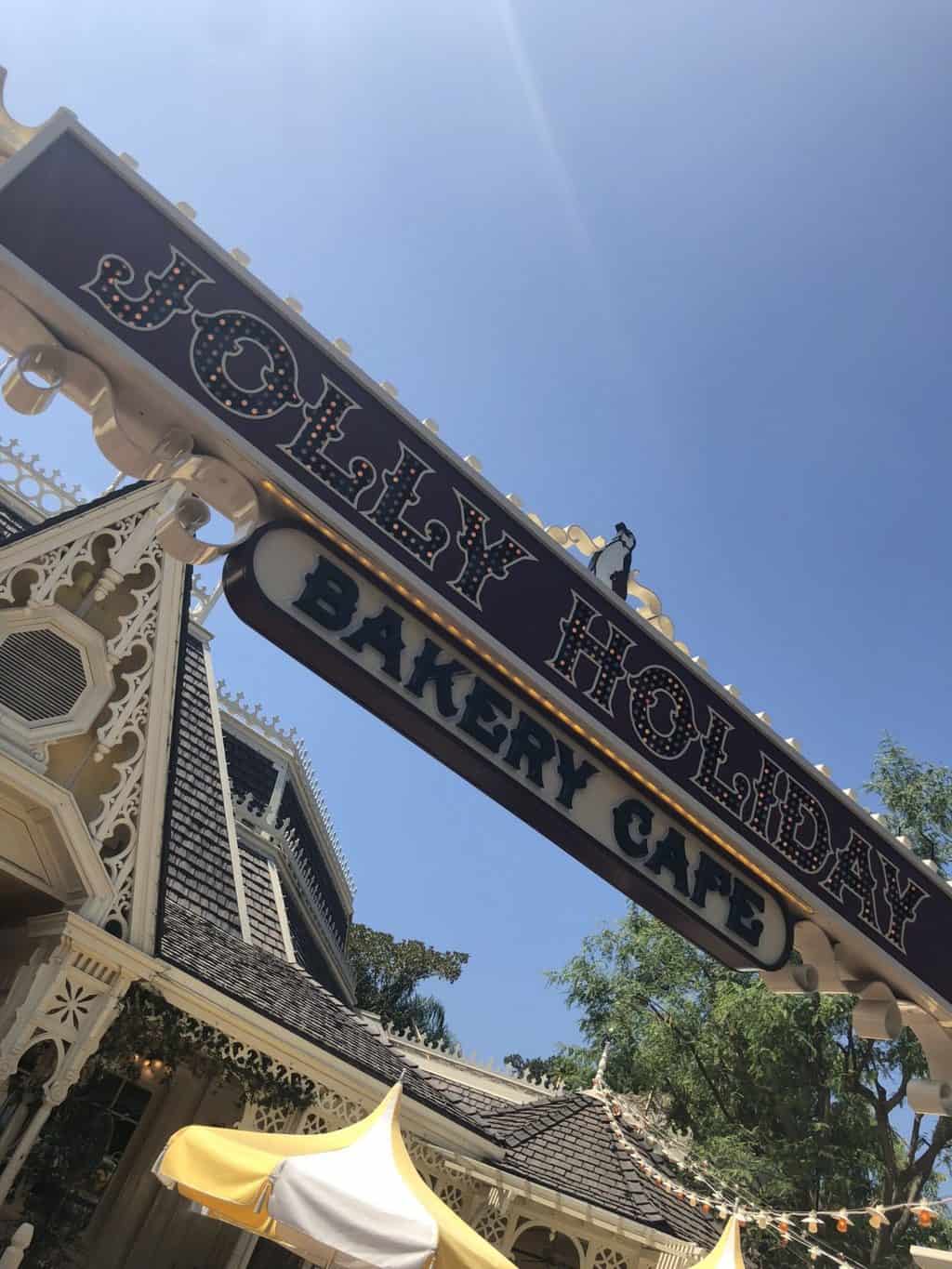 How adorable is the Unicorn Cupcake? Def cuter to look at than to eat I'm sure and surprisingly none of our crew wanted it!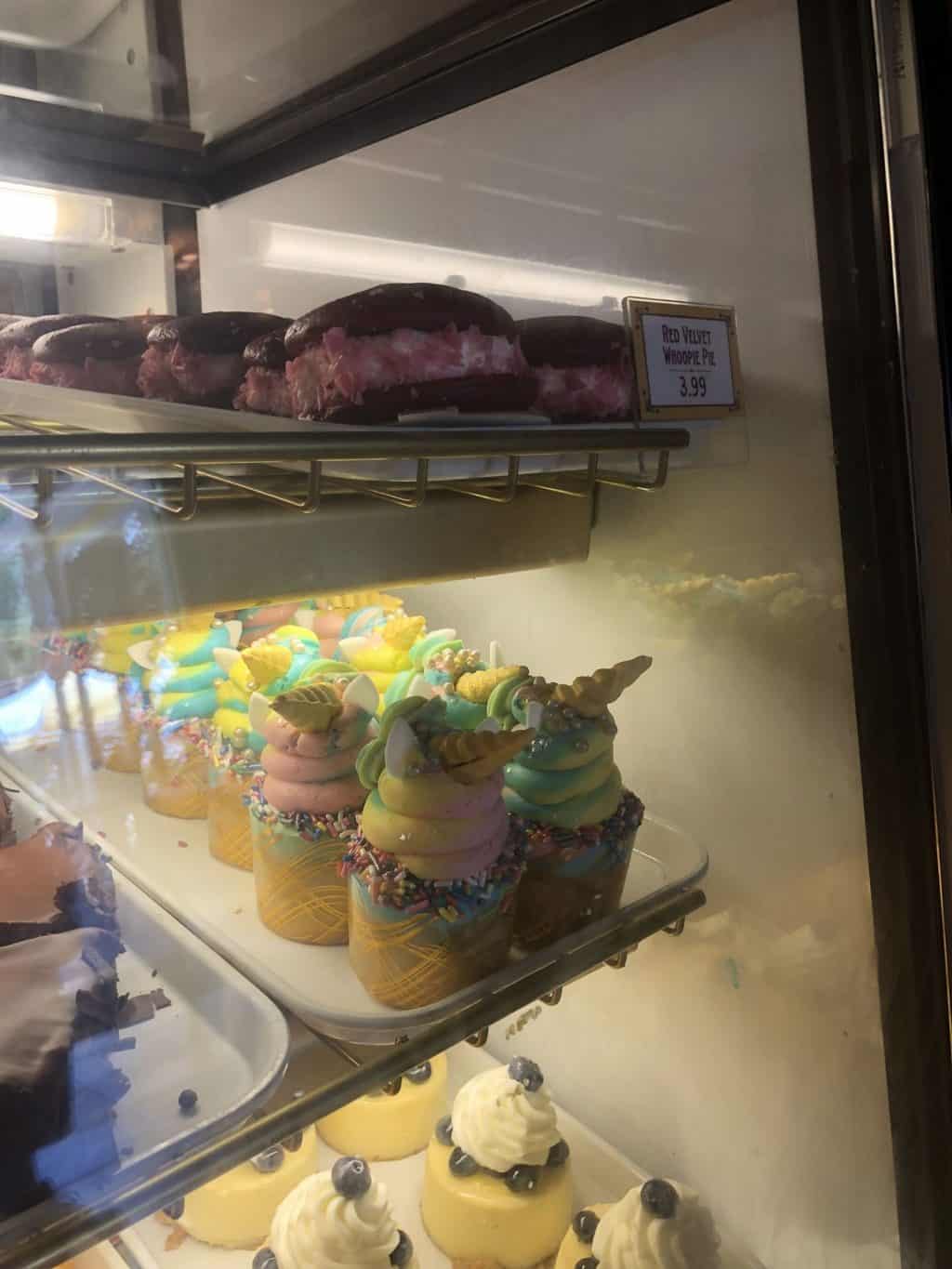 We all chose a few treats to share. The red velvet whoopee pie was the best. The chocolate Mickey cookie was the worst.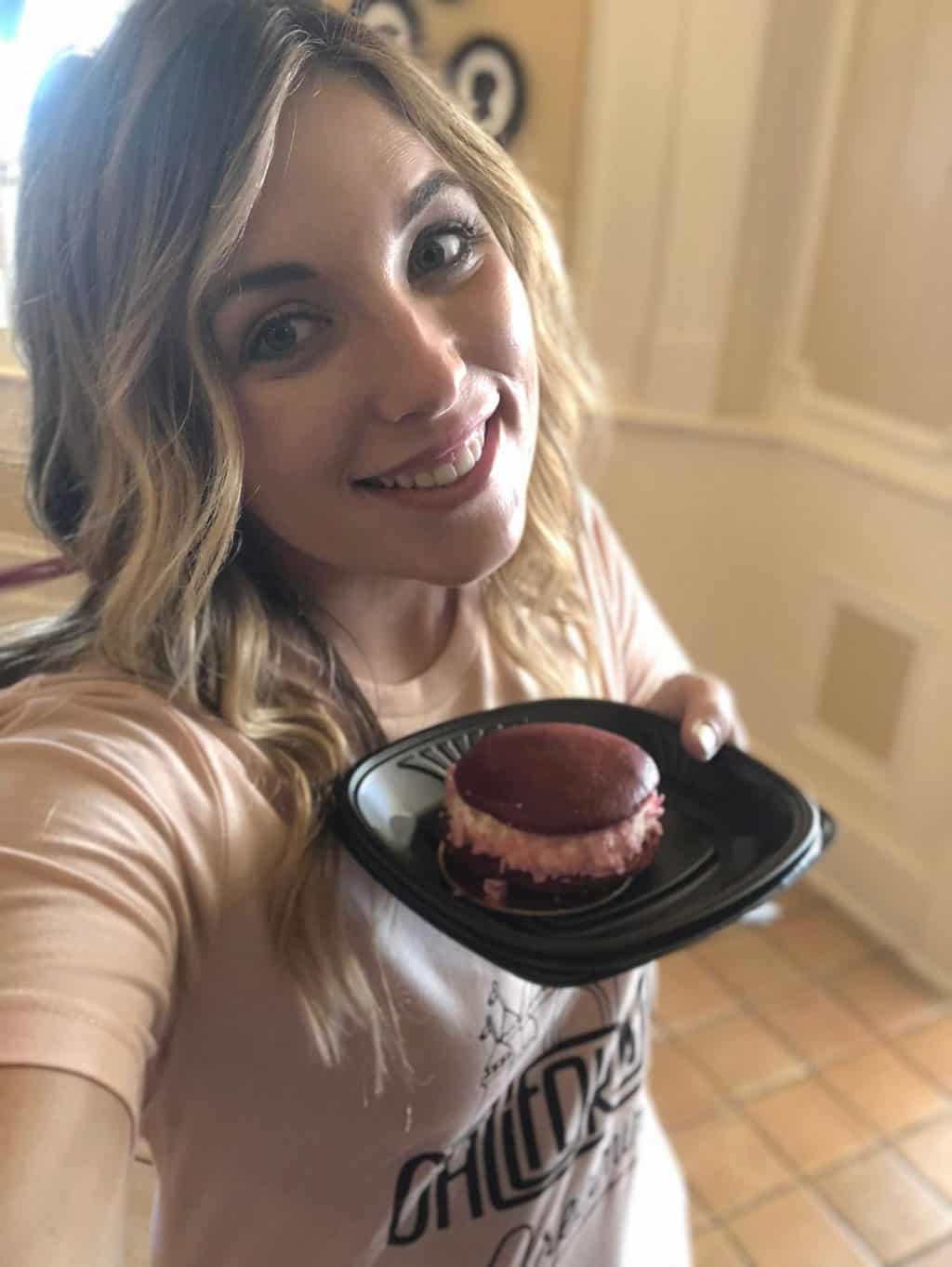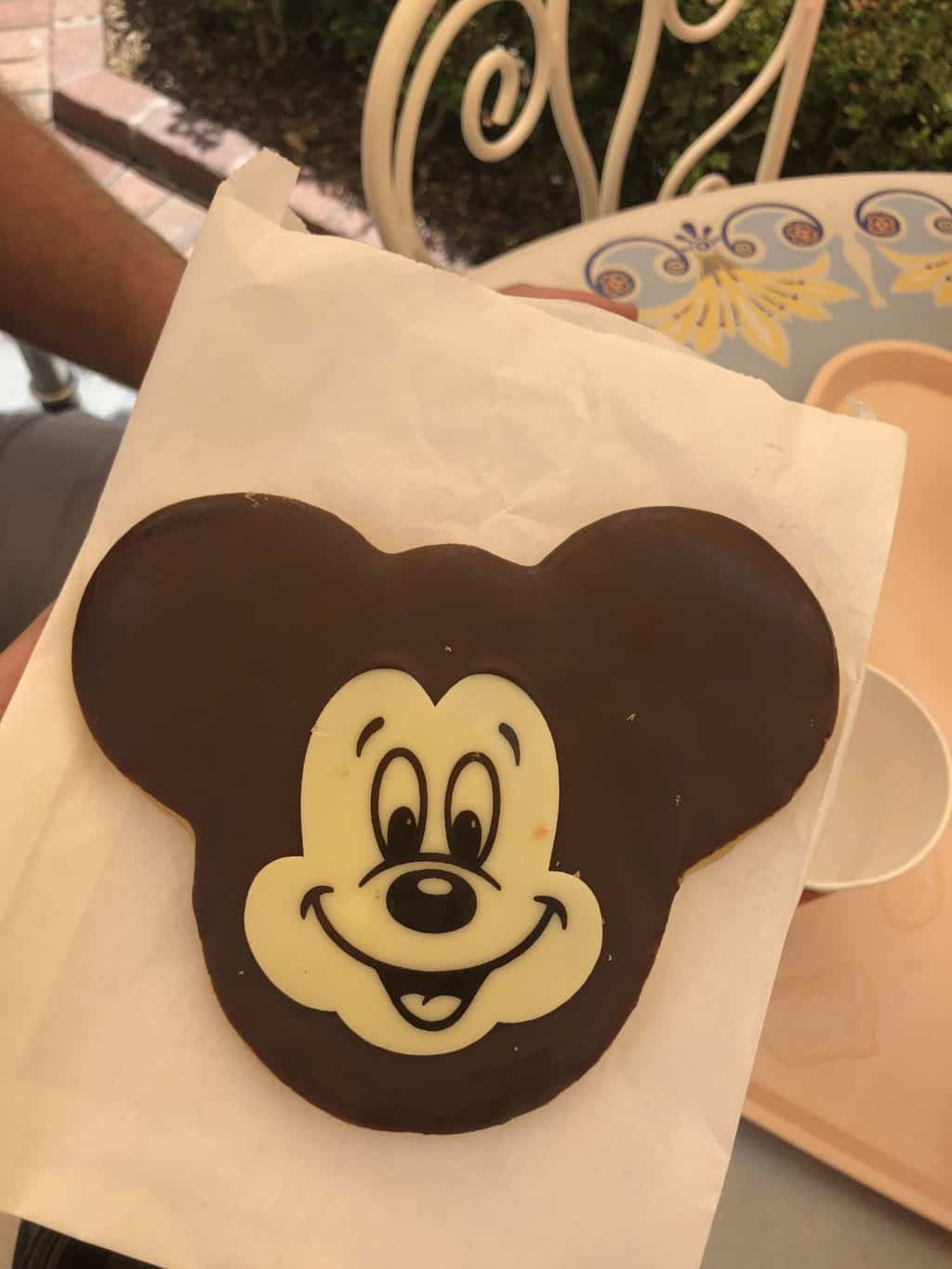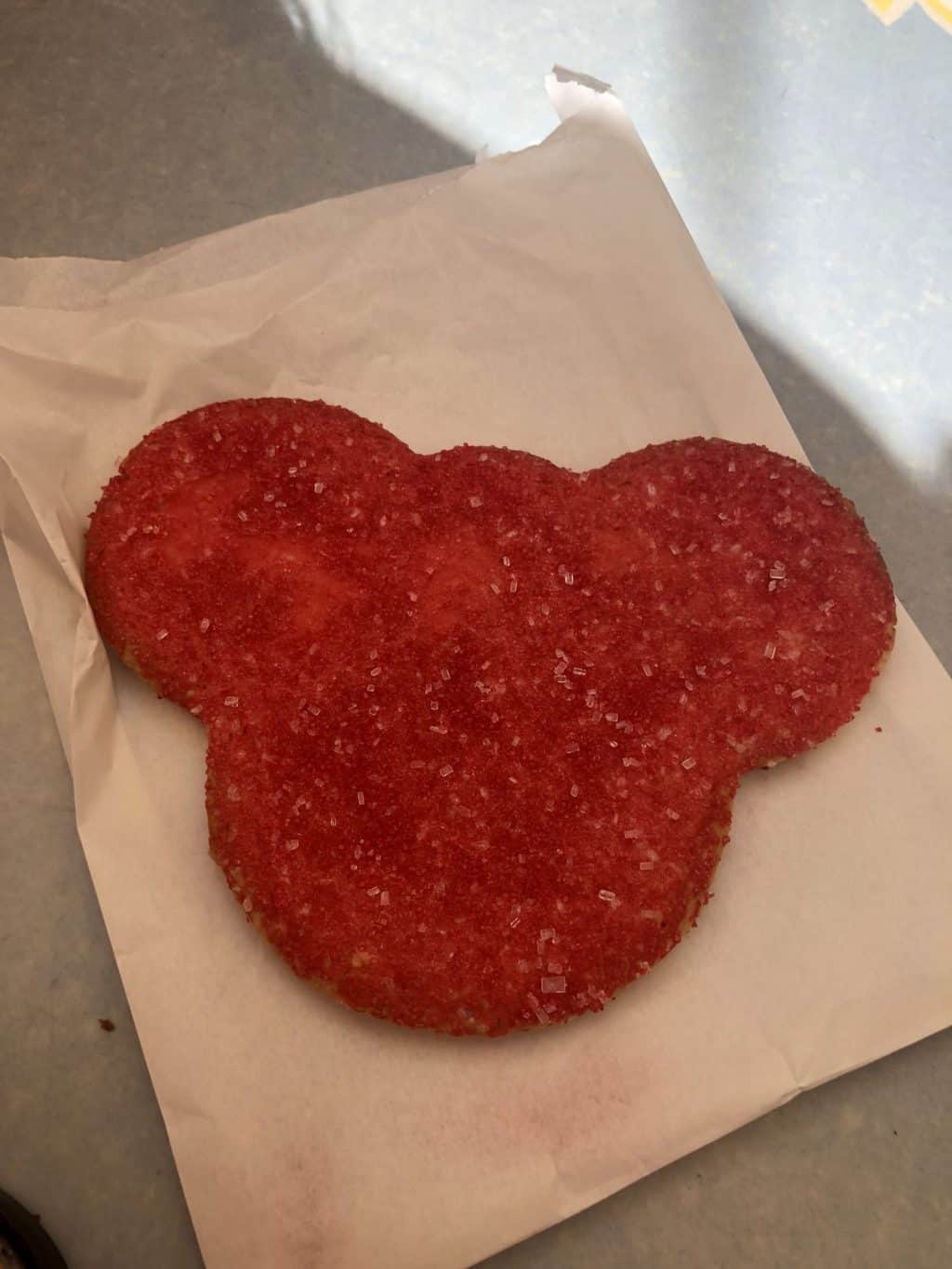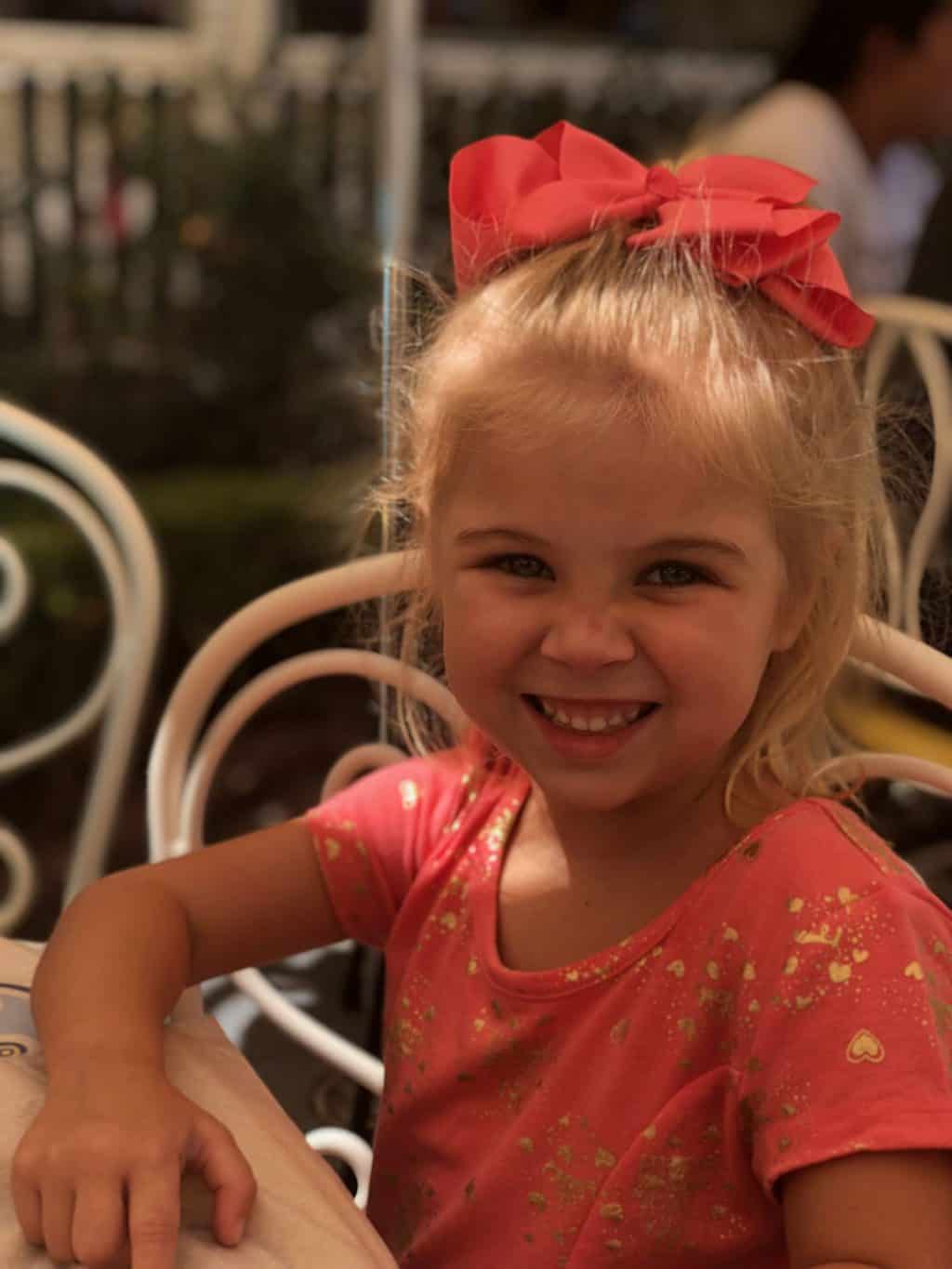 We had a fun-filled morning and the afternoon to come ended up being probably my most favorite part of our entire trip!