A big thing that has changed about me after living through the pandemic is that I've come to embrace and appreciate last minute plans and have gotten better at "going with the flow." I mean I'm still for sure a hardcore planner but I've had to embrace and accept that so often the last couple of years plans fall through and waiting to make plans until the last minute really is the way to go to ensure a fun time with minimum disappointments.
Katie, Tiffany and I had an AWESOME last-minute trip together last year in Orlando. It was SO great that I think we were all nervous to even ever attempt going on a trip together the three of us again because surely that smooth of a trip couldn't happen again.
We all happened to have a free weekend towards the end of April and I was really needing to have some fun, friend time. I usually do a trip with friends a couple times a year and I had SEVERAL that got canceled in 2020 and I just haven't made it a priority to make solid travel plans for some kid-free Mommy break time. My top priority has been re-working the trips that got canceled for the kids and the ones for myself have def taken a back seat.
I'm SO thankful this weekend worked out! We decided to keep it simple and go visit St Augustine. It's not far from home, it's an area we're all familiar with and truly it didn't matter where we went – we all just wanted some beach time and together time!
On the way down we stopped at Buc-ee's which is new to the area and something I'd heard of but hadn't yet visited. Let's be real – it's totally cheesy and totally over-hyped but both of those things are also things I can totally jump on board for 😉 I love a good theme and a fun time and fancy gas station bathrooms and silly beaver themed merch? I'm here for it!
We literally had absolutely nothing planned up until a couple days before the trip. We booked a stay at the same condos where our fam stays in the summer because I knew they are close to the beach and safe and it made the process easy to check in and such. It's funny as you get older you just like doing stuff that you've done before haha who wants to have to learn about somewhere new, right? 😉
Thankfully Katie came through in a big way with doing some research regarding where to eat! It's funny because the three of us are the type of people who TRULY DO NOT CARE. We are down for whatever.
It makes us all pretty easy people to travel with because if you have a strong opinion or something you really want to do, we'll go along for the ride and genuinely have a good time. I would naturally think that three people who are down for whatever wouldn't travel well together. Like we need someone to make a dang decision, right?!?! We need a leader haha.
But we all share a lot of the same natural interests and making decisions was actually really, really easy. We don't stress over making a decision because we know the others truly will enjoy whatever decision is made. I personally tend to feel a LOT of pressure around be the planner. I feel like people look to me to plan things and while I enjoy that role I also really, really stress over making sure everyone has a great time. It can really rob me of my own joy because I overthink and over-worry about that!
That was zero percent the case on this weekend! Katie had a solid list of places to eat that she'd looked into and Tiffany and I were basically like "YUP SOUNDS GOOD LET'S DO IT" We were all SO thankful that Katie did that leg work! It made the whole trip run sooooo smoothly and we just kinda based our timing and plans around our eating plans!
Lunch at The Floridian was great and the vibe was awesome. Outdoor seating was so beautiful. I can only imagine it'd be crazy hot in the summer but during this time of year it was perfect and there was plenty of shade and a nice breeze too.
We took our time going down and still had plenty of time to explore Old Town. Even though I visit Old Town every year I NEVER get to browse the shops and have actually never even visited the Oldest Wooden School House! Duh it had to happen!
Only $5 to enter (cash only) and it was well worth the cost. I mean Disney has some stiff competition for the animatronics. Plus we got a diploma at the end! If my fam ever actually walks far enough down St George Street we will def make a stop to visit as I think the kids would enjoy it (and Zach would too although I'm also sure he's probably done it before)
The shops in Old Town are very much the ones that you browse but don't buy a whole lot and that rang true for us although I did actually end up making a hat purchase. When a hat fits my big head I HAVE TO BUY IT. Of course we were also tempted to buy Zach the football mermaid too, appropriately named "Tight End" ha!
We checked into the condo and got dressed to head back to Old Town for the evening. We had several VERY random occurrences in a row.
On our way walking to dinner a totally random dude walked up and told Tiffany she was cute and he just had to come talk to her. It was HILARIOUS because it threw us all off and she totally froze and like literally couldn't speak. We were all cracking up so much that my ears hurt from laughing about it after. I'm sure the dude thought we were SO WEIRD after that interaction.
Then we got to the sushi restaurant (Thai House and Sushi Bar – it was excellent!) and it turned out it was more of a quick grab and go to go order type of spot. We were literally THE only people dining in. And while there we also witnessed a man who apparently was living in his car get taken by ambulance and the employees at the restaurant were all about the intel and the drama about the guy and the situation.
Very exciting evening for sure and just RANDOM which we all know the random moments make for the best memories! We had time to hit up some ice cream before our ghost tour!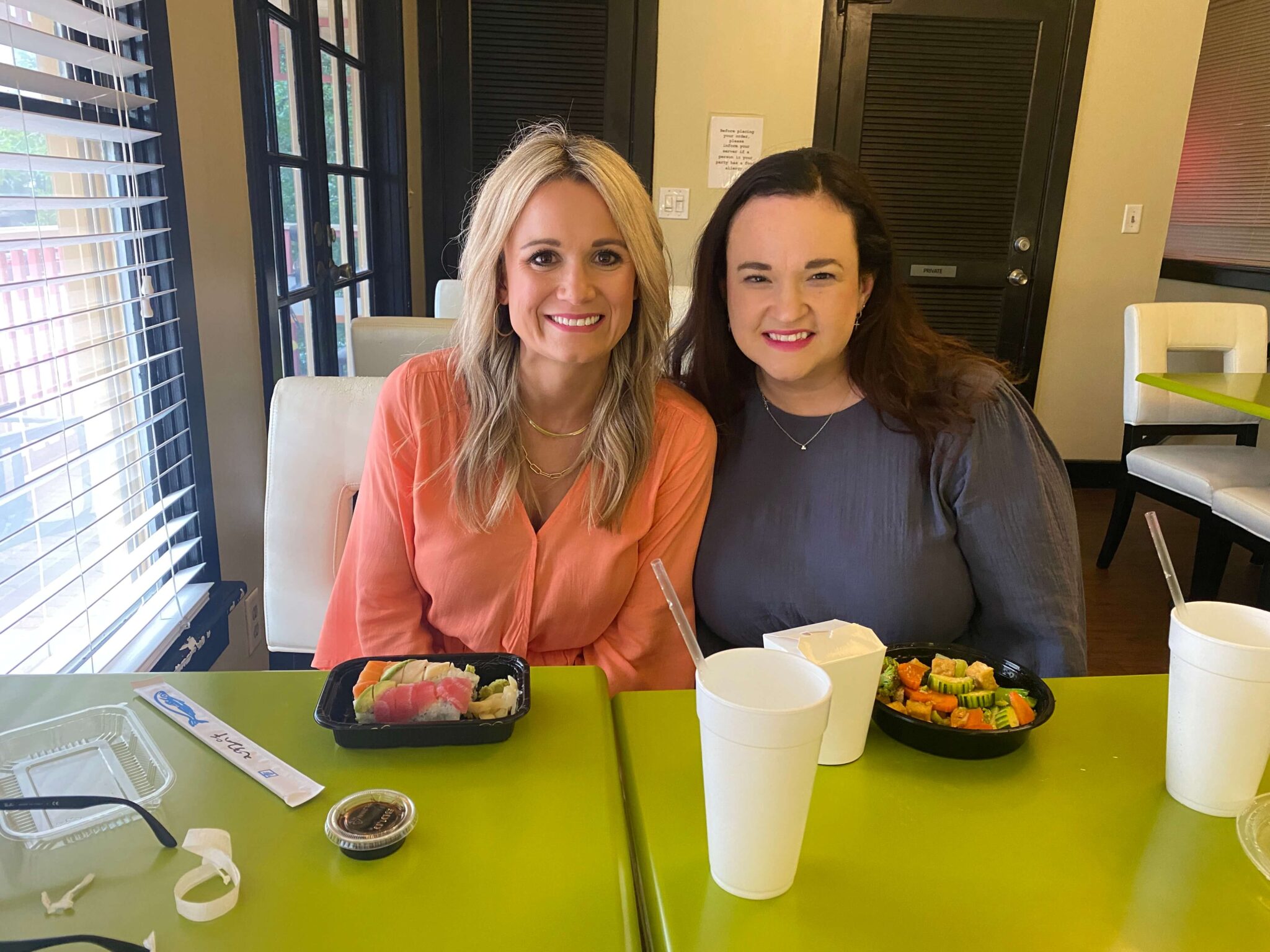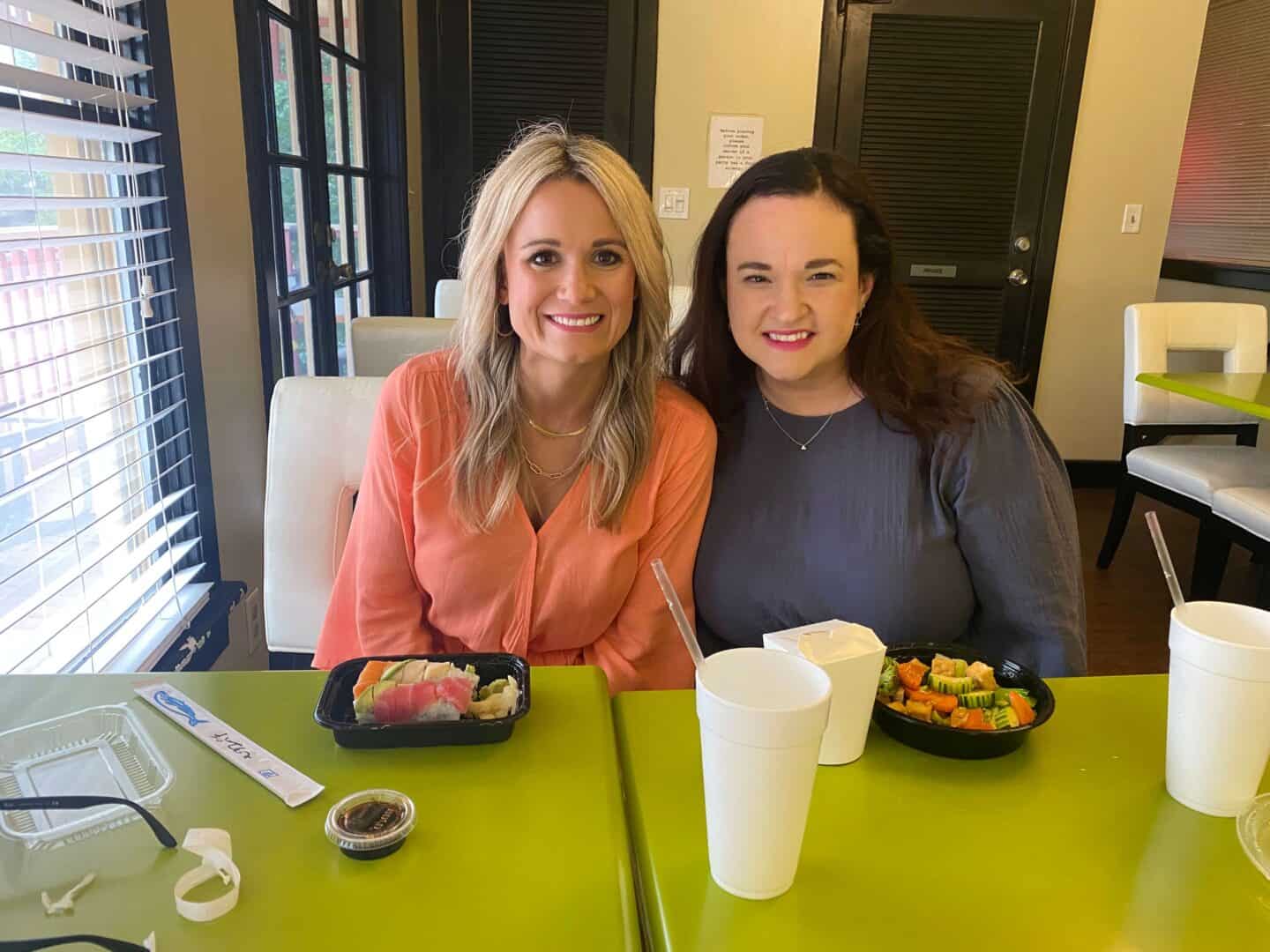 The ONLY thing we did attempt to hardcore research leading up to the trip was a ghost tour. Tiffany had never done a ghost tour before and Katie and I hadn't done one together since before Kye was born. The thing when it comes to ghost tours is that you really want someone who takes it seriously but is also FUN.
As soon as we saw The Sheriff's Ghost Tour we were SOLD. He was exactly what we were looking for and did NOT disappoint. He. Was. Epic.
He took his role very, very seriously but also had a lot of humor about it and he was all about a good quick-scare. Which he realized quickly I was a great target and he kept scaring the crap out of me. He was also very on brand for what you'd expect him to be which only added to the overall experience.
I knew it'd be amazing when I called to ask about how to book and he was the one who answered and didn't take down my name or anything and just told me we were good to go. His booth was also not really obvious and his little office was truly just him sitting at a table. Seriously perfection from start to finish and a memorable experience all around.
I want Zach to do his ghost tour because he'd LOVE it. Oh and the ghost stories were actually really great too and he told a lot of interesting facts as well as blended in his own personal experiences.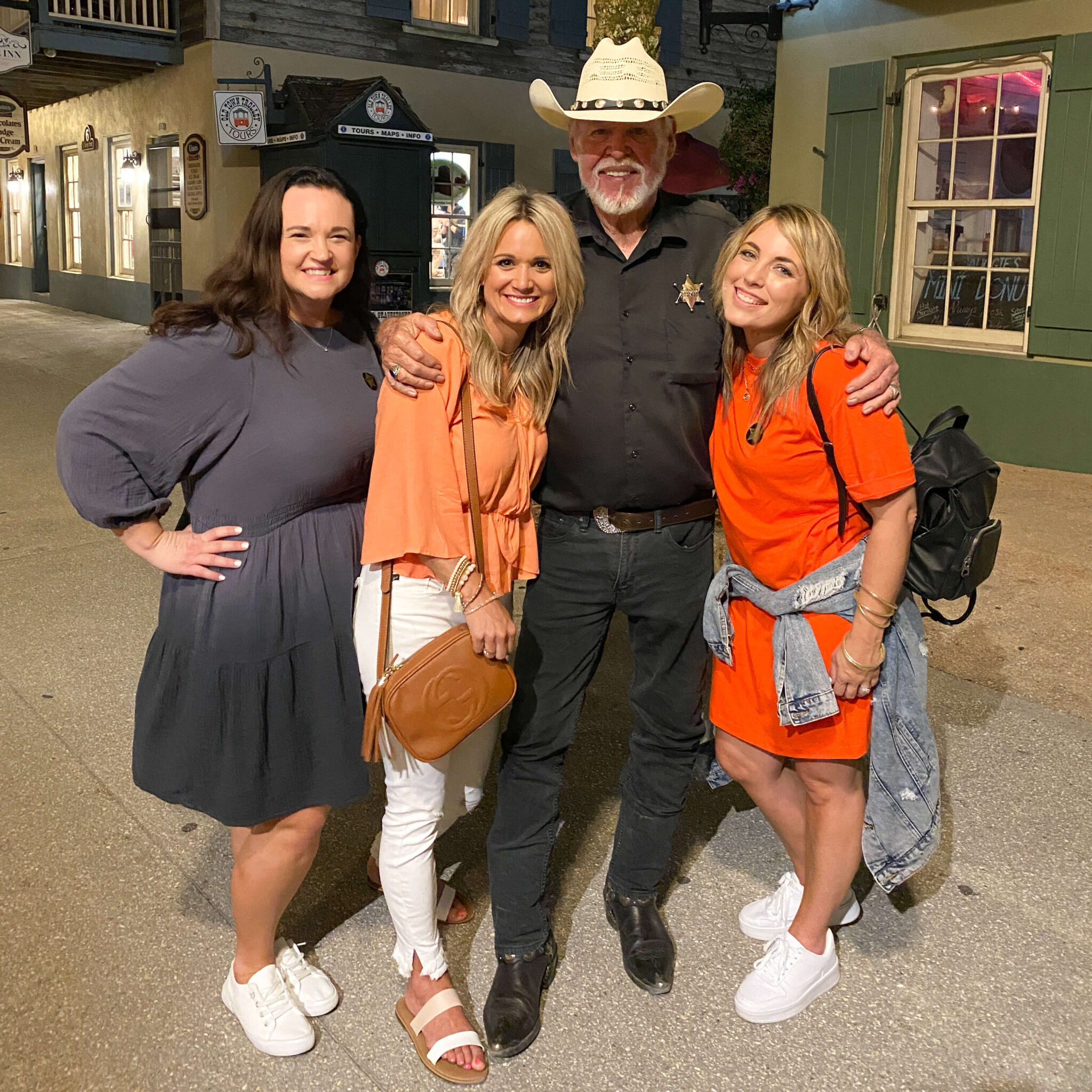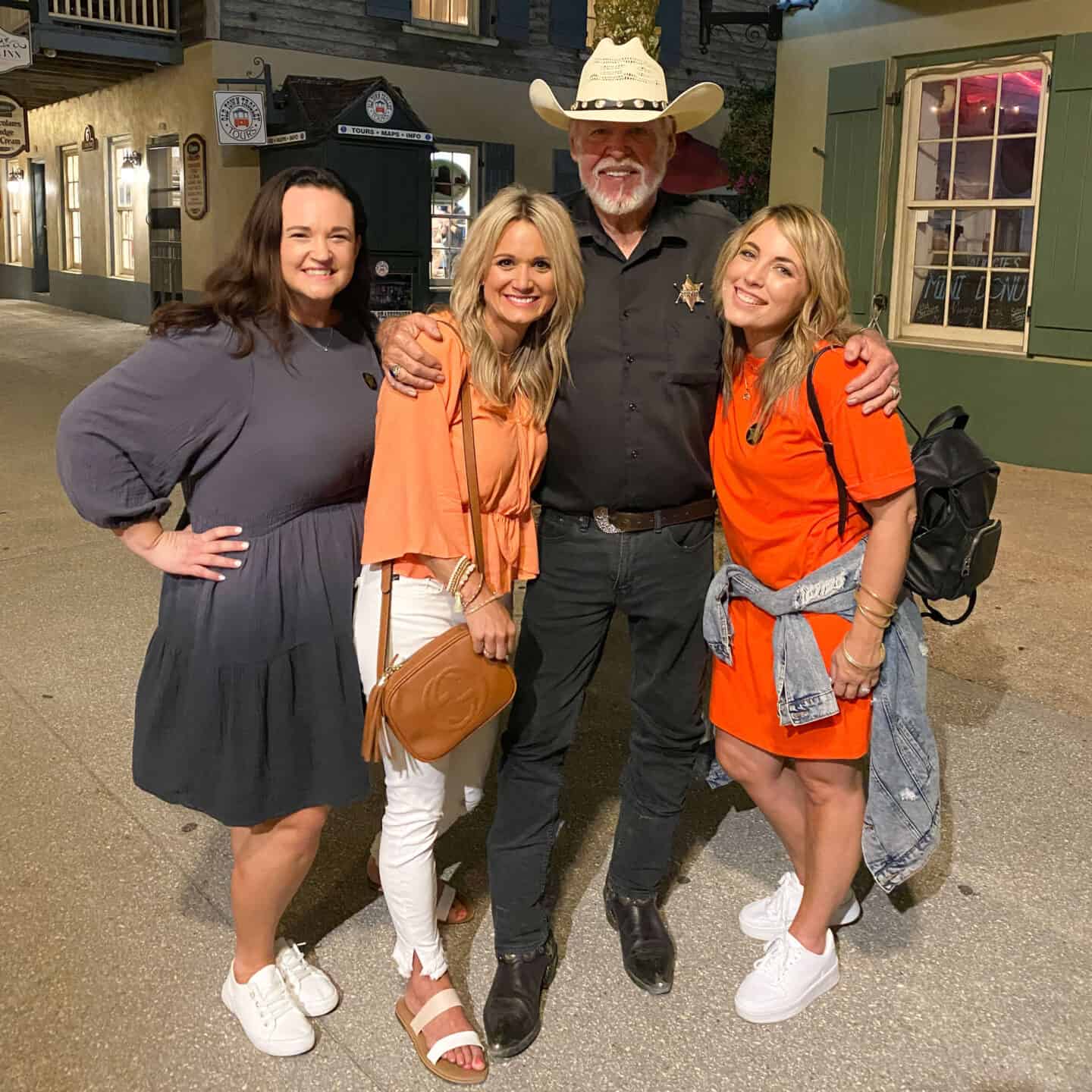 We all agreed that we'd go to bed at a reasonable hour so naturally we stayed up till like 1 am talking and laughing. We took our time heading out to the beach on Saturday as we only had ONE plan for the day and that was to soak up the sun and feel the sand in our toes!
My sweet husband made me some chicken salad to take with us and it was the perfect beach snack. I LOVE laying out on the beach. The breeze. The sand. The water. I do NOT love the beach with kids but I LOVE it solo or with just Z and I or with friends!
Over the last several years I've gone on a yearly friend trip to Disney for the Halloween Party and since that was something that got canceled too it was yet another thing that made me struggle to find a replacement "happy place" and since my solo beach trip proved to me that the beach is a GREAT replacement Disney happy place I knew it'd be the perfect thing for a friend trip too and, yup, they agreed (Plus neither Tiffany or Katie are Disney people so pretty sure they are glad for my switch from Disney to beach ha!).
We got showered and changed and dressed for dinner! We changed up the plans and decided not to deal with Old Town traffic and parking and instead go somewhere beach side. The first place we went was instantly disappointing when we looked at the menu soooo we left.
Which none of us EVER do but I also think the fact that we are all so genuinely easy going that it makes it EASIER to speak up when you DO want to change plans or aren't into something. We know the others will be on board!
We all ended up being SO GLAD we made the switch. We ended up at The Elkhouse Eatery and OMG it was SO GOOD. Like so, so good. Someday when Zach and I can do a date night we will for SURE be going there! Everything was delicious and the service was awesome and the portions were shockingly huge (I ordered two appetizers as my meal and didn't realize they were MASSIVE oops!) It was a good lesson for each of us to speak up and make a change when you feel like you should because something better is often waiting for you!
No surprise that we stayed up again talking again 😉 Thankful that I have friends who understand my love and need for SLEEP. They are both early risers so I slept in and then we all got ready to head out. Of course, there was a good bit of "hairy" drama that morning too (post to come but ifykyk) but we still managed to check out before we had to be out for the day!
Coffee was a must and then we hunted down a solid breakfast place. We all also agree…brunch is the JAM!!! Keke's is a chain (Zach and Kye ate there together after their Universal morning together actually) and I will for sure hit it up again when we see one! Super yummy!
When sharing our own stories about St Augustine Tiffany mentioned that she had a super fun experience at The Fountain of Youth. It's yet another must-do St Augustine attraction that I've never visited! I honestly always assumed it was some jacked up tourist prices to just drink some water. I was wrong!
First, they have adorable little shops and places to eat and such set up right by the fountain of youth area so you could spend a lot of time there and it's a place I for sure want to go back and revisit.
The park itself has a lot of history and exhibits and is very well done and set up in an easy to follow flow that would be great with kids! (I'll be updating my St Augustine Travel Guide with Kids soon to include it!)
Of course, our first stop was the fountain and it was a fun experience and not as bad tasting as I'd expected it to be!
We walked through several of the exhibits and stopped to chat with one of the guides for awhile. It is such interesting history but I didn't want to linger too much in those areas as I KNOW Zach and Kye will be ALL ABOUT IT.
Let's be real…we were mostly in it for the bird feeding haha. Which I know Zach will FOR SURE NOT be into so I wanted to have that full experience 😉
They sell feed for the birds and we could have stayed all day. Literally take our money.
Tiffany is the bird whisperer so she showed us the ropes. We originally thought we'd be all about the peacocks but they were pretty aggressive and mean so the pigeons were where it was at!
It was SO fun. I love a hands on experience with animals and having them land on me and eat from my hands was such an addictive thing. I didn't want them to stop!
We are fast learners and had other people watching us getting tips on how to get the birds to land on them too. The trick is to hold a ton of food in your hand and stand still 🙂
You'd think we were children rather than women in our mid 30s haha. But seriously, it's such a fun experience and one I for sure can't wait to revisit. And we took a bunch of videos too that I put together on this post if you're into watching adults get super pumped about pigeons haha!
The grounds are beautiful and we saw a wedding being set up which it was a gorgeous day and location for! We enjoyed walking around and seeing everything and just taking our time enjoying each other's company and getting a good feel for The Fountain of Youth.
It really had something for everyone and I loved the wide open spaces and kept picturing Spear running and playing with his tractors. I know the girls will love the animal encounters and Zach and Kye will love learning more about the history of the area. We will be back!
We ended the trip with another stop at Buc-ee's on the drive home. Katie and I started a tradition a few years ago where we buy hats on our trips together. It's our thing and we plan to have joint funerals with all of our hats on display and guests can wear them while they mourn us 😉
Buc-ee's was the perfect hat spot and Tiffany is officially in on the tradition too! We also all agreed that Buc-ee has a long lost twin…Spear haha! Totally should do it for Halloween 😉
It was SUCH a wonderful weekend. When I got home and Zach asked me how it all went and how the vibe was I described it in one word: EASY. It was EASY. We all get along so naturally and anytime we're all together the conversation flows easily and our plans come together easily and we all just have genuine fun. None of us got home worrying we said the wrong thing or had any regrets or anything about the trip but instead, we all left not wanting it to end and agreeing that we all just love being together! It was THE perfect girl's trip!!!
I've been so blessed in the friendship department and so thankful for this group and how full my heart always is anytime we're together. Super pumped for more epic memories together in the future!