Our second full day in California was on Monday September 3rd which also happened to be Labor Day. When planning the trip I felt like this would be the best day to have a non-arm day. I assumed it'd be more crowded being a school holiday at the parks and knew we'd need rest and relaxation after the super long night the night before.
Kye woke up to a visit from the Tooth Fairy for his tooth!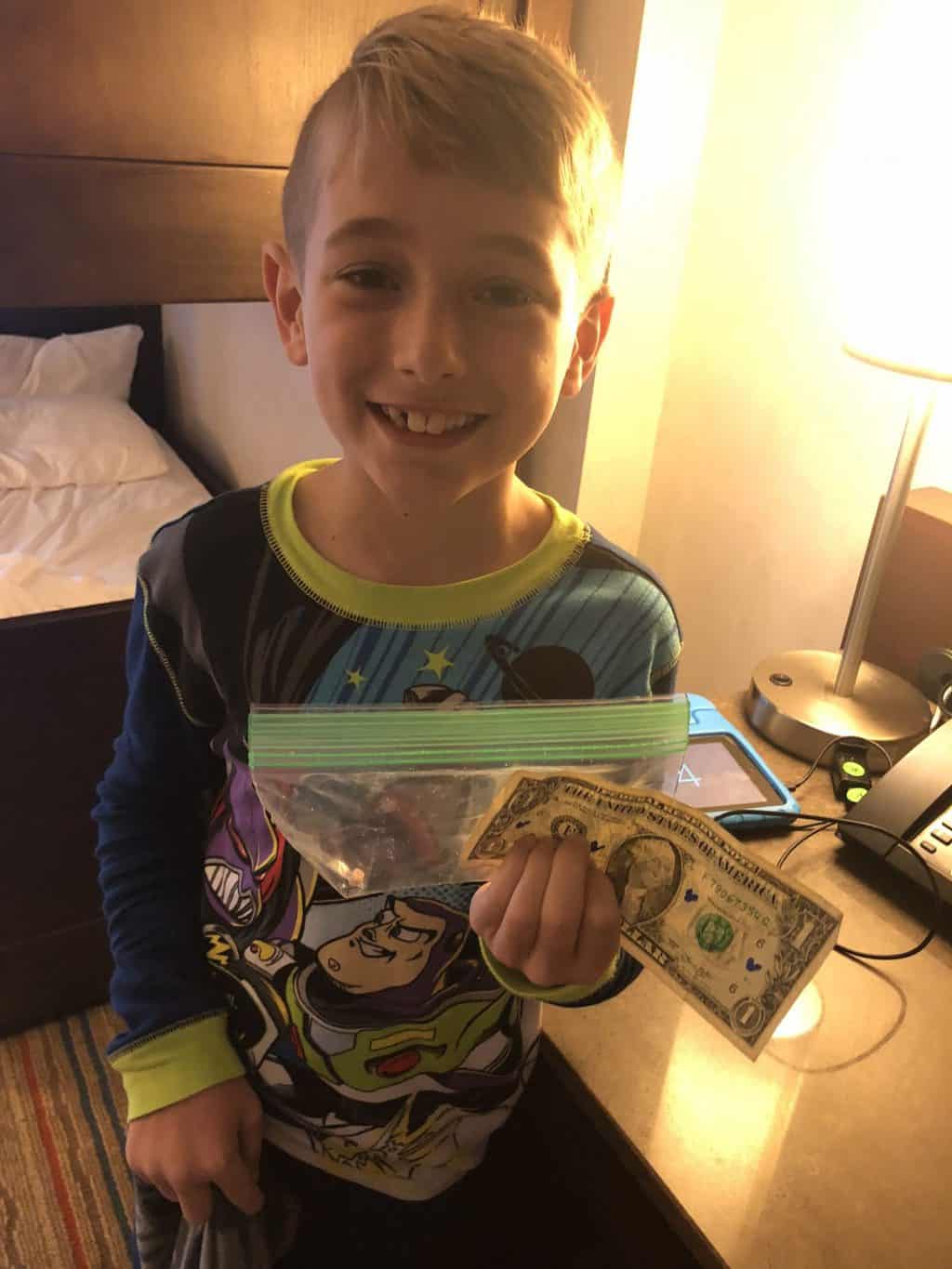 Morning wrestle session is always a great way to start the day!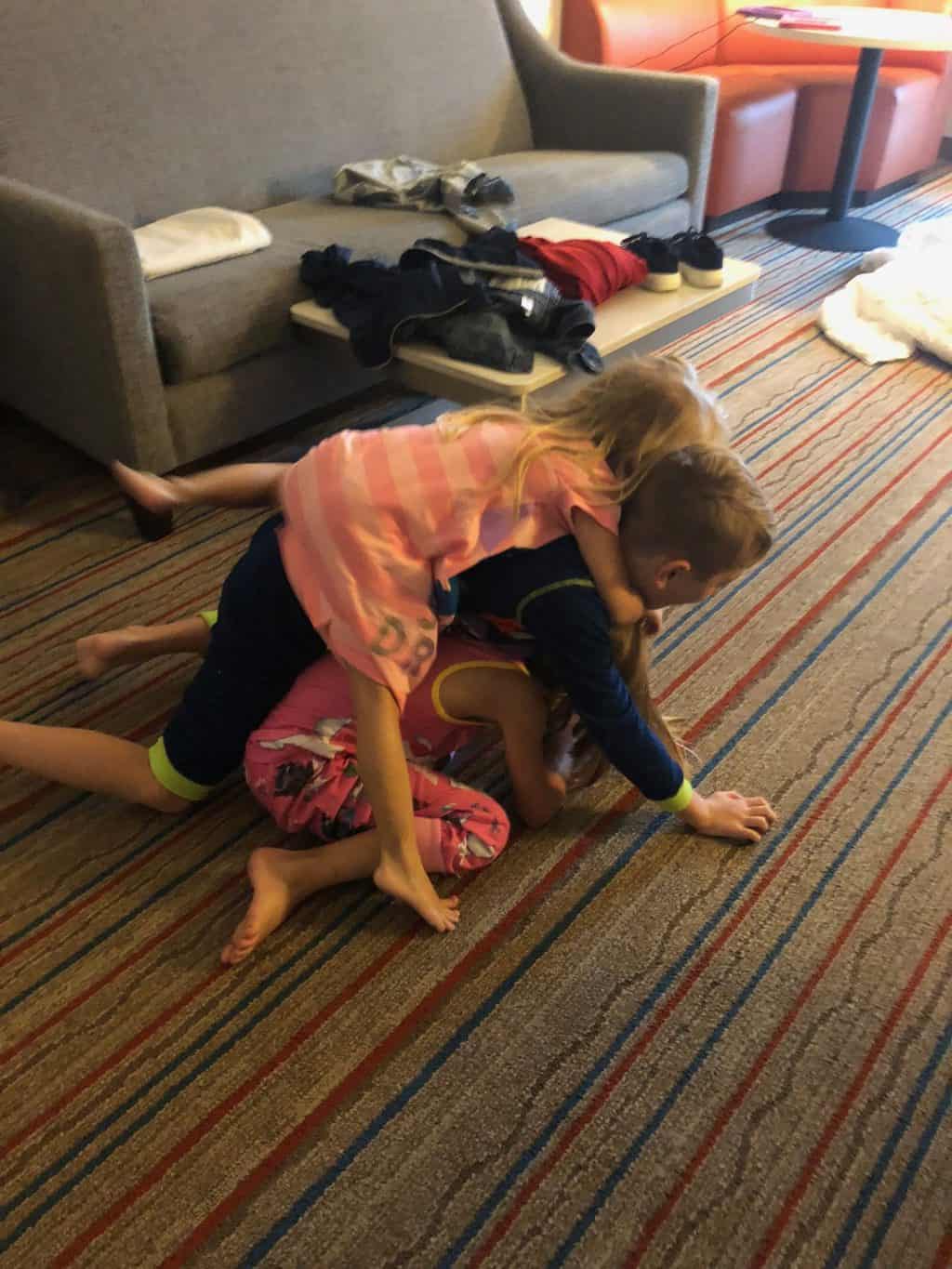 It's interesting to me that Disneyland has TWO different "1st Visit" pins. I wonder if they are phasing out one and that the other is the new one?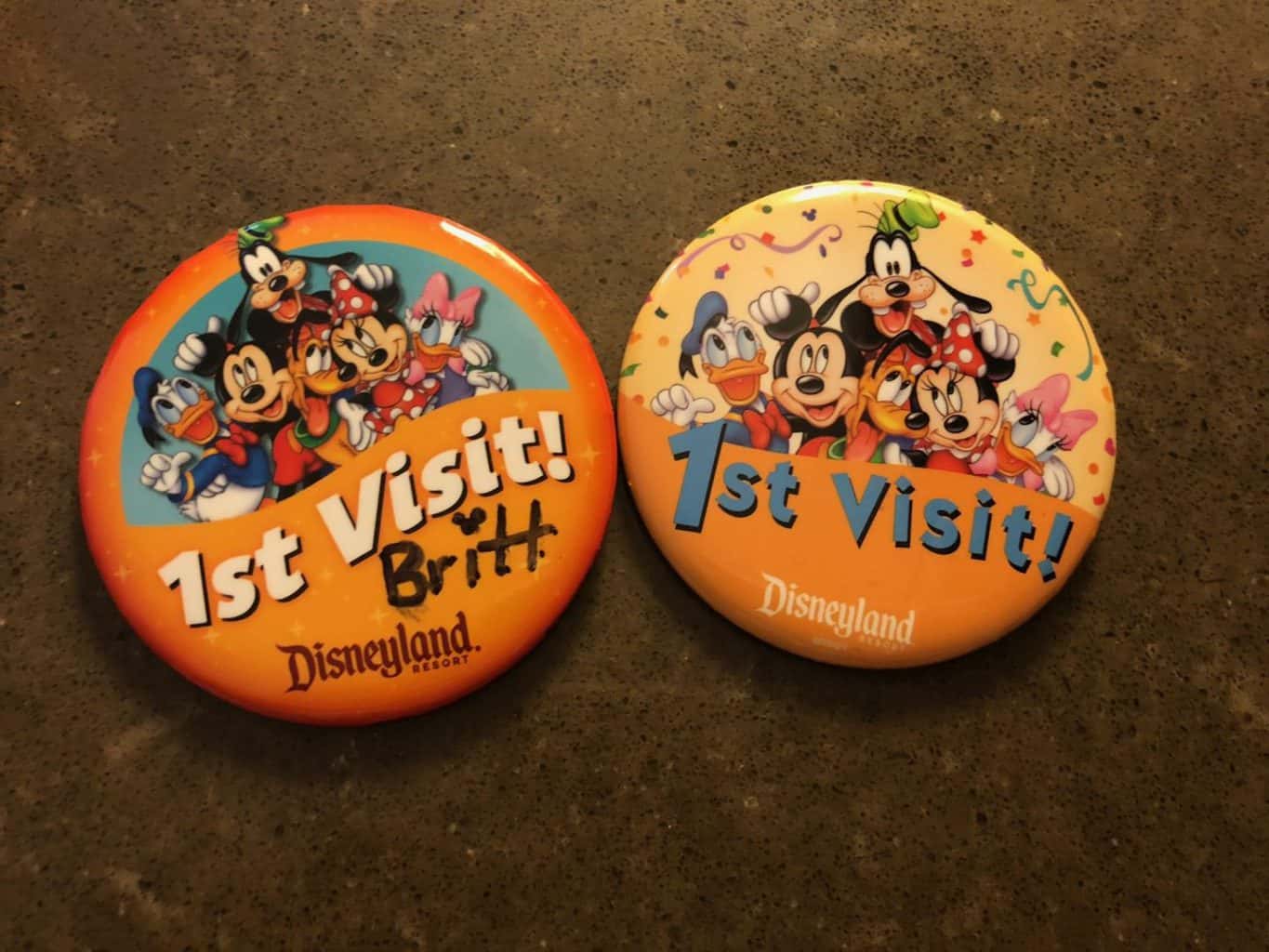 Disneyland does not have nearly as many on property resorts as Disney World. Walt had a lot of regret over not purchasing more land in Anaheim when he built Disneyland so he bought TONS of it when he started developing Disney World. The few hotels that are Disney owned near Disneyland are all within walking distance to the parks and have various character dining options.
I wanted to get to experience a bit of the resort while staying so close and decided to book our breakfast for the chill day at Paradise Pier to have breakfast with Donald and the gang at Donald Duck's Seaside Breakfast. I chose this over the other two character dining options for breakfast because I wanted the fun beachy vibe and I heard not-so-great reviews of Goofy's Kitchen.
We had planned to walk to the breakfast, assuming it was located super close to the parks and thus super close to our room. However, as we went to leave about 15 min before our reservation we realized it was actually located at the far other end of the Disneyland property. A 30 minute walk.
We decided to call an Uber. It was only a 2 mile drive and just a few minutes down the road. So we grabbed the BubbleBum seat for Tess and let Kye and Britt just sit without a booster. It wasn't an ideal car seat situation. But by law in California a 4 year old is okay in a booster and technically Kye and Britt don't have to have a booster legally speaking. It's not something I'd do on a regular basis, but for a few minute drive it was a valid option and I just made sure to explain to the kids to sit up and sit still.
You can see my full review of the BubbleBum seat in this post!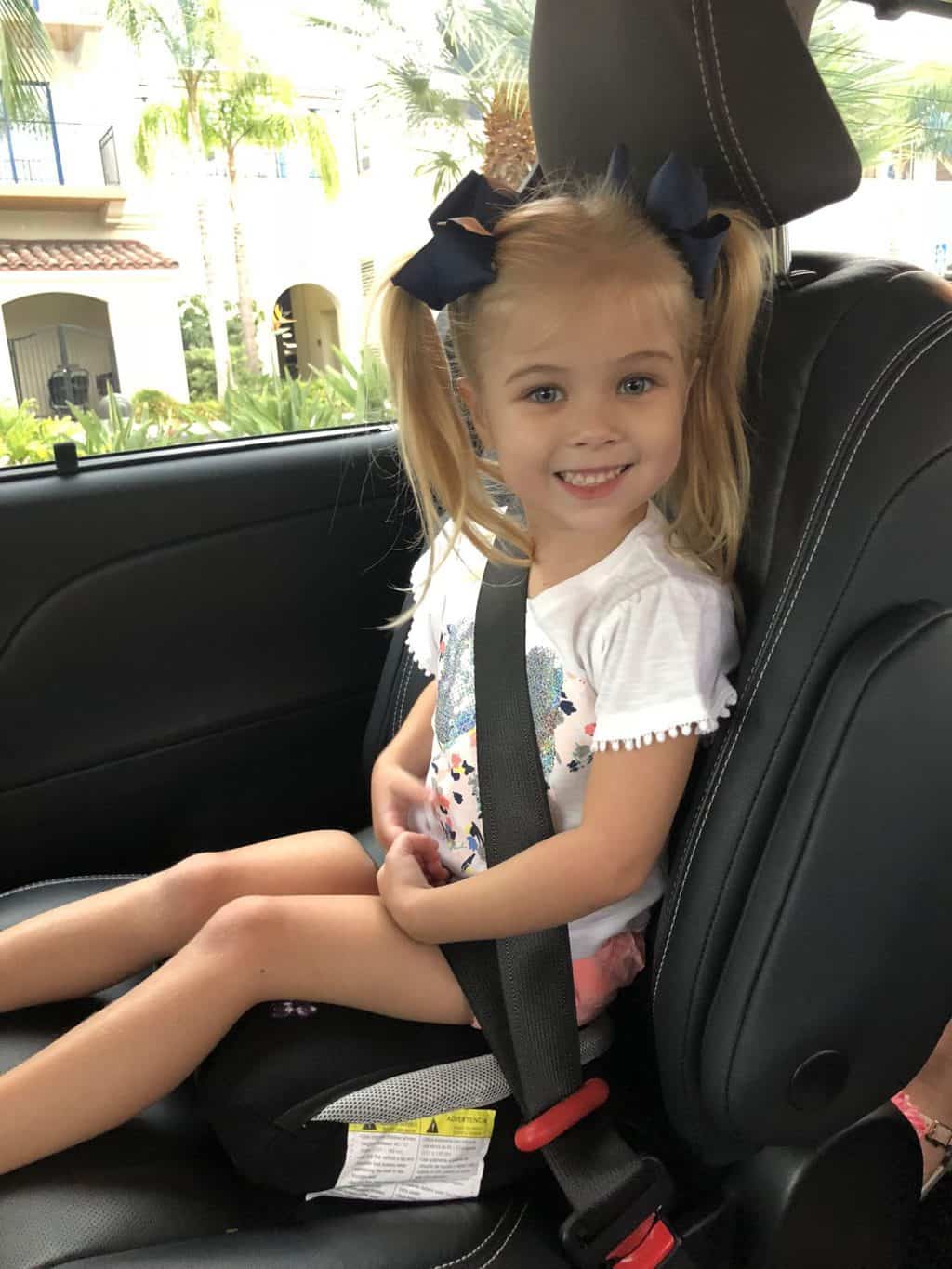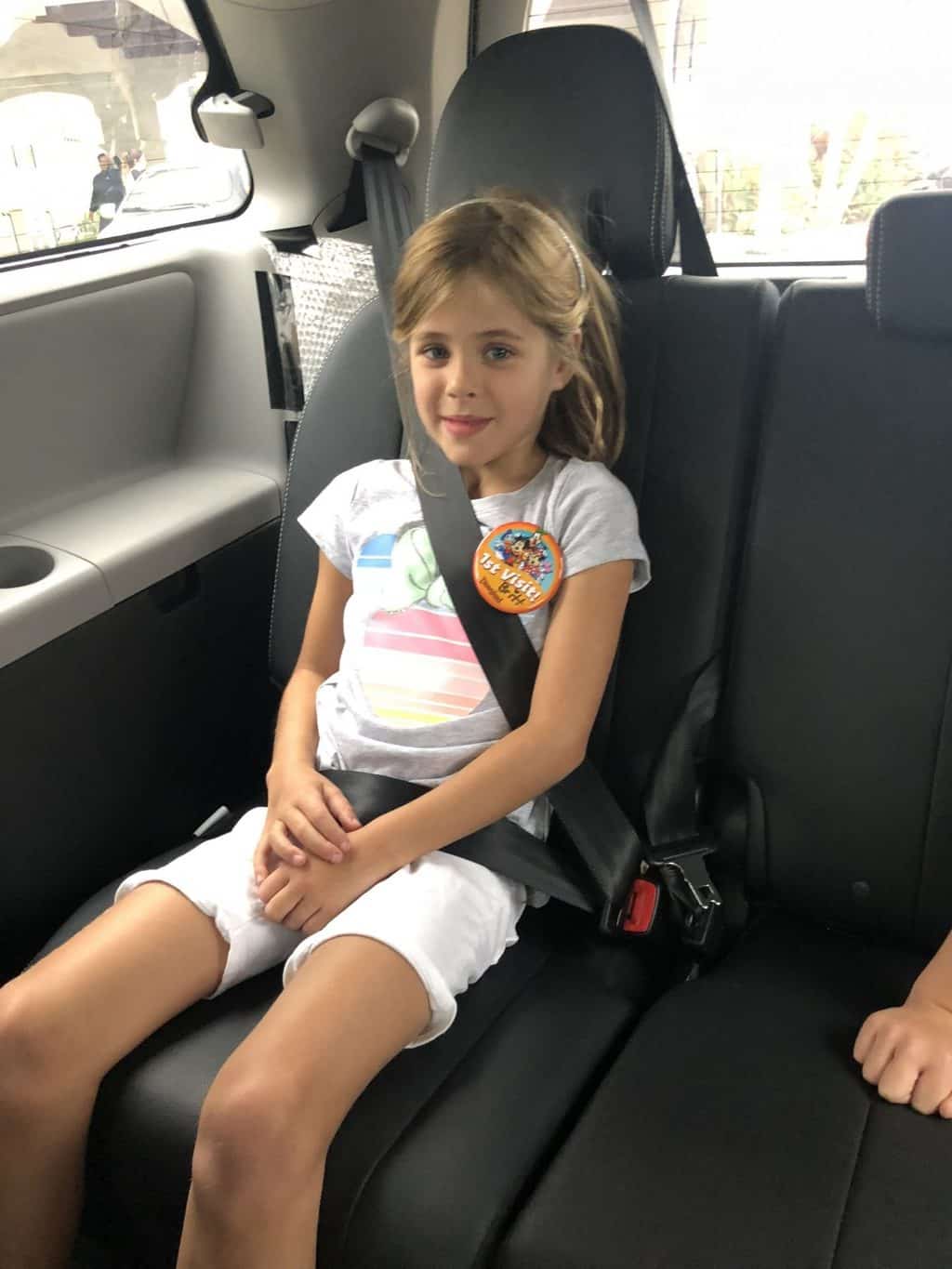 We did not visit Paradise Pier on our last visit so it was fun to check it out!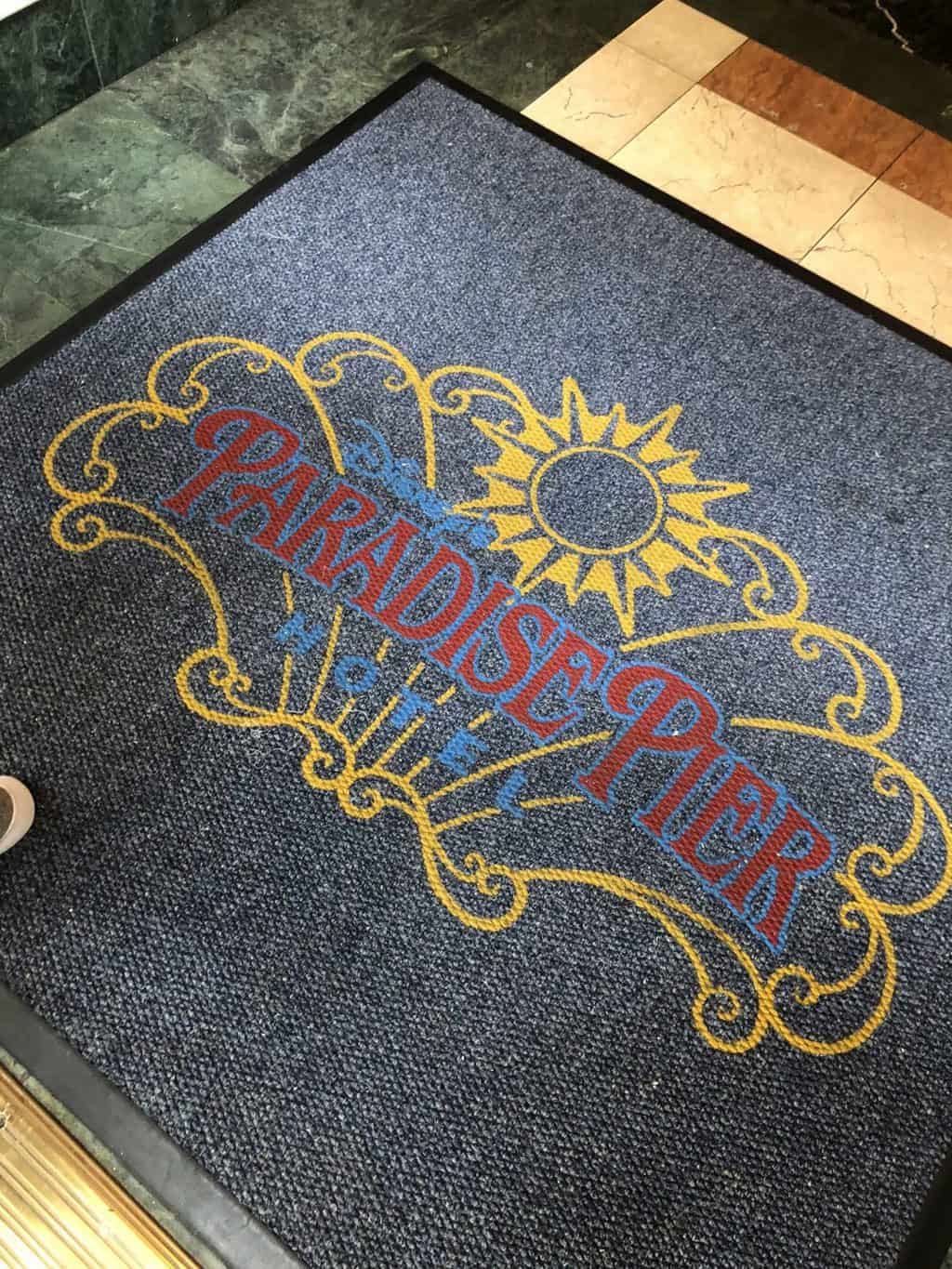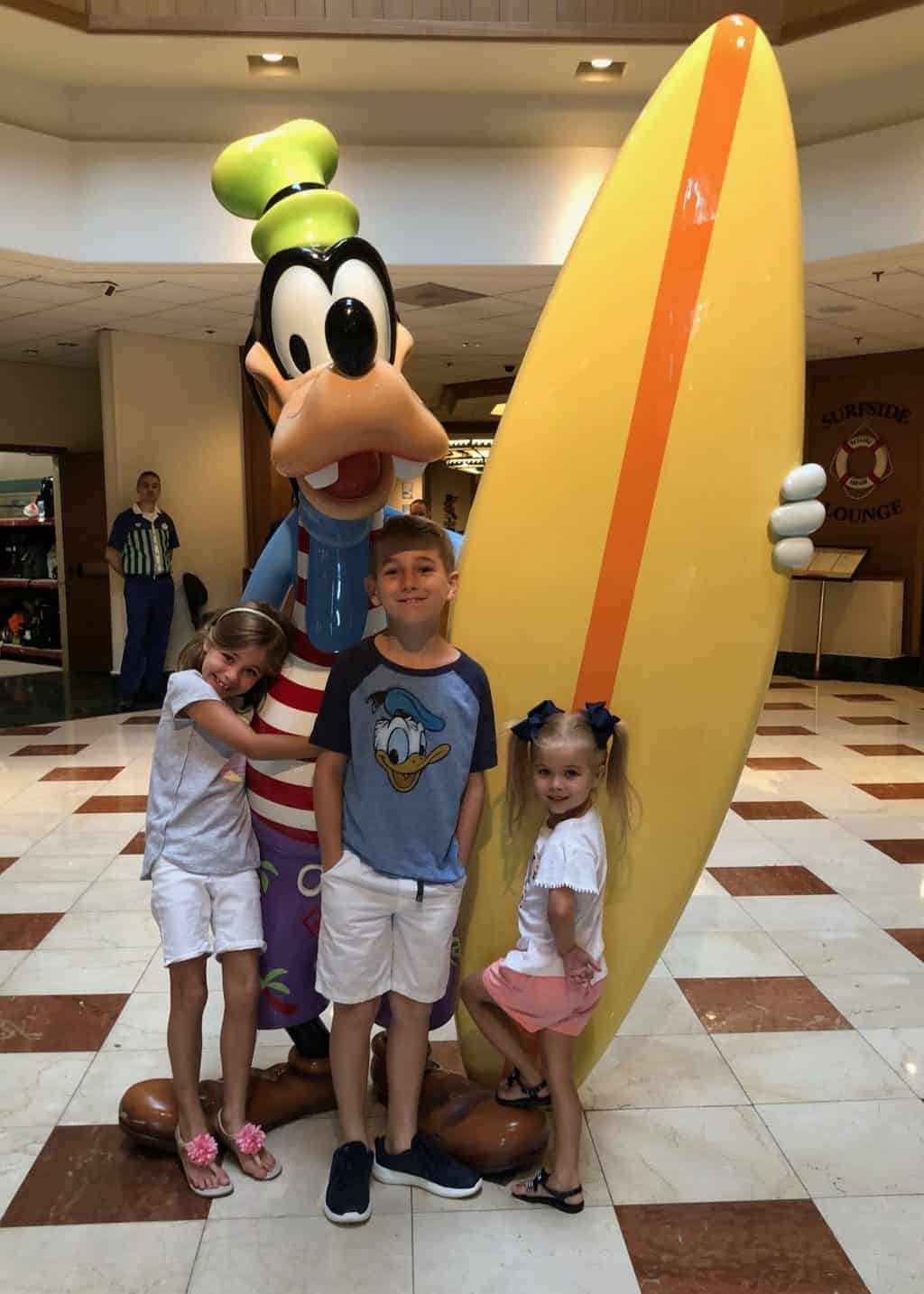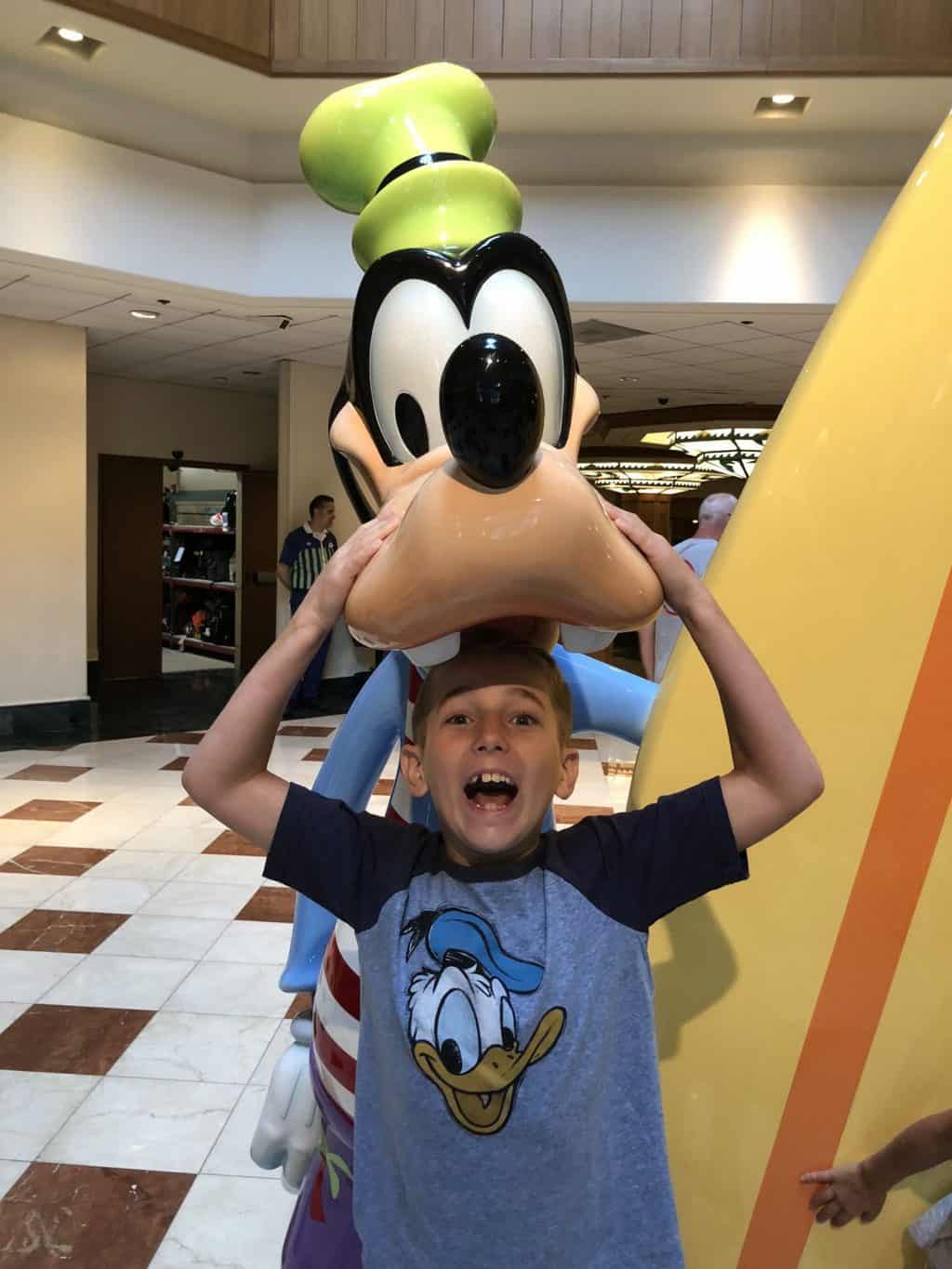 Much like many other restaurants with character dining we had to wait in line to meet Donald when we checked in. I wish he'd been roaming however he was MUCH more interactive than typical characters in these situations! Britt went on and on with him how he's her FAVORITE and he was not happy about her Minnie Mouse shirt. Where was Donald? Why wasn't he on her shirt? Of course she blamed Mommy haha!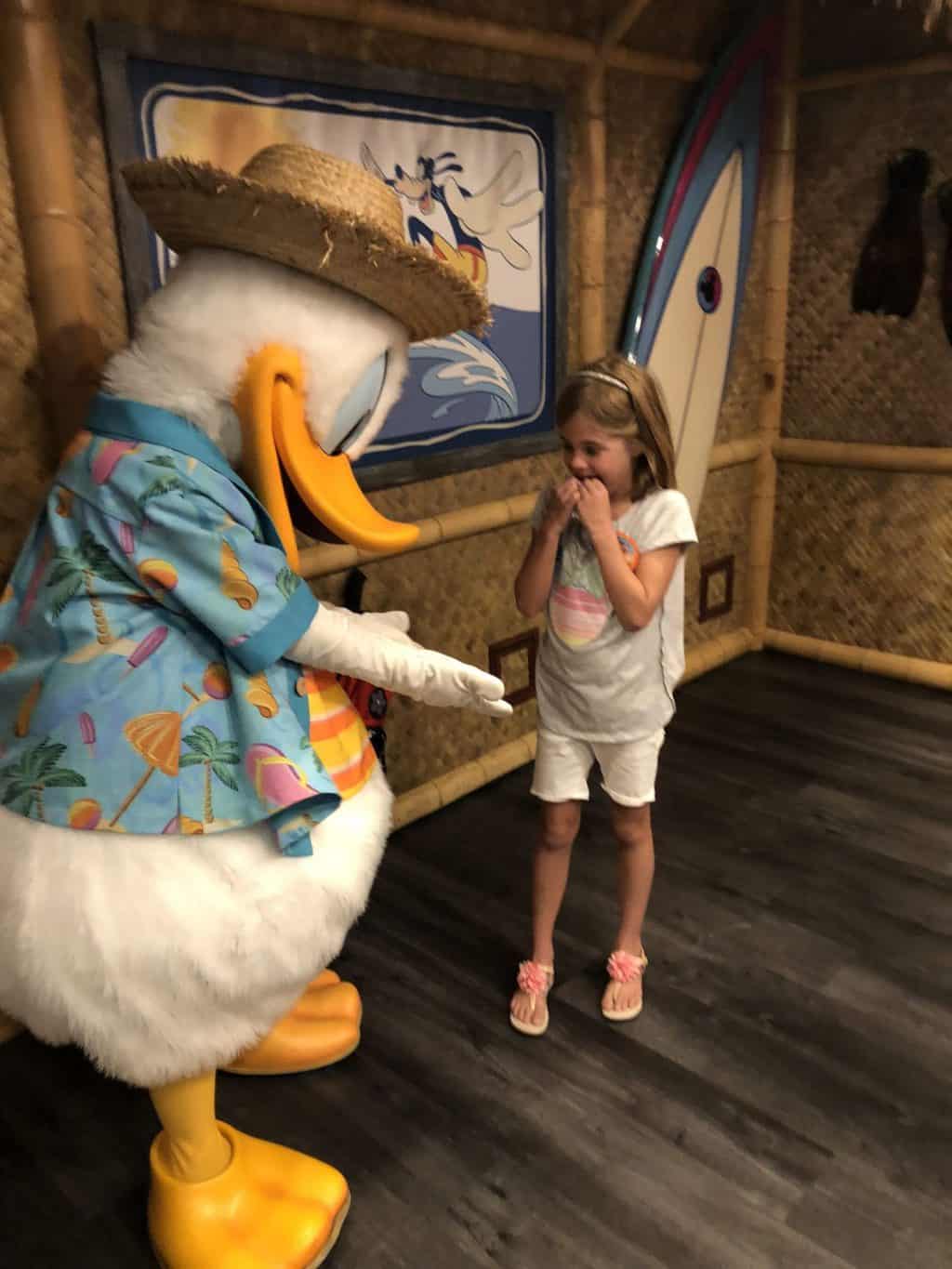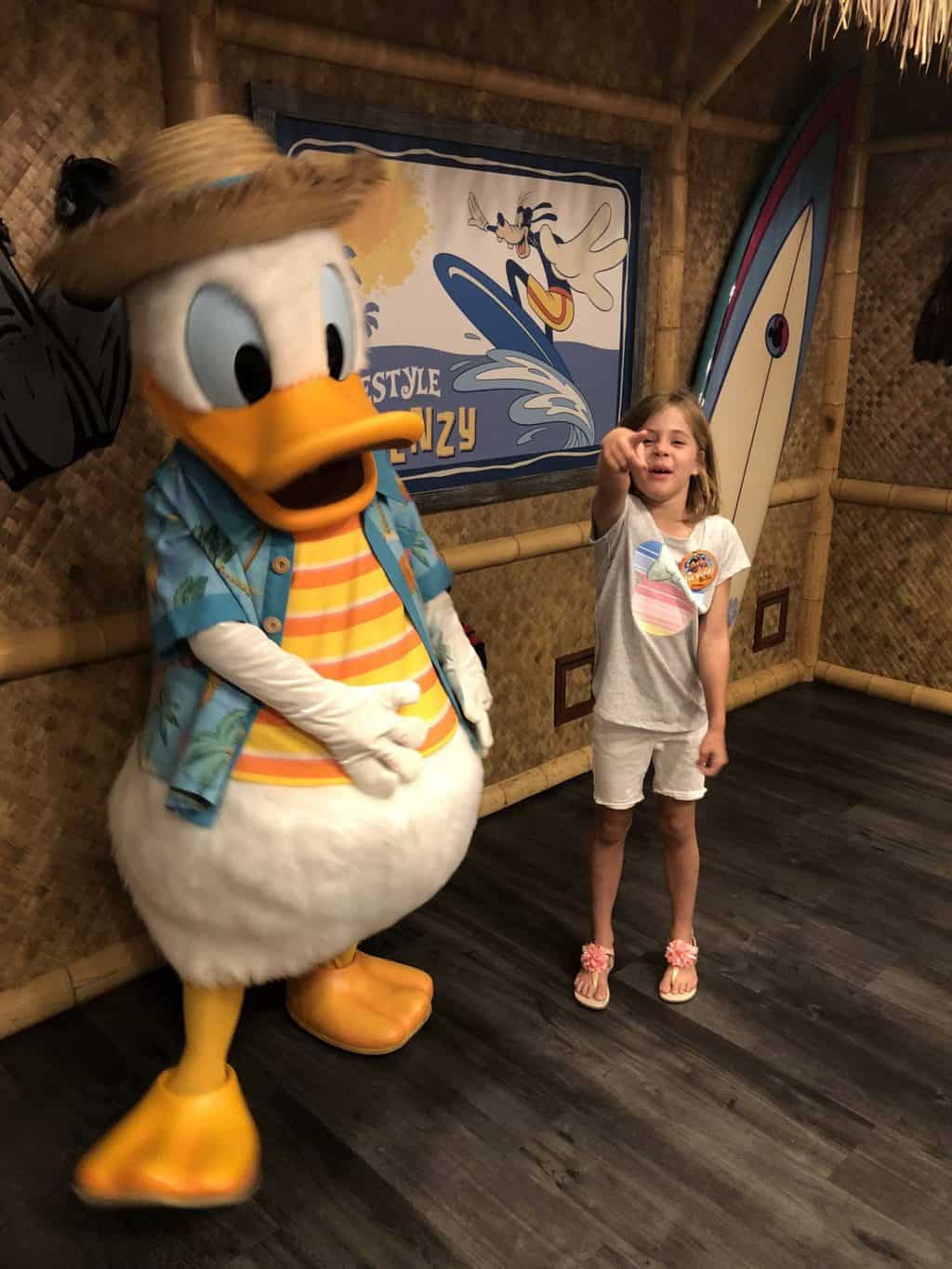 The photos taken by the photo pass photographer were also included in our purchase of MaxPass. It also took four full days for them to show up on my account!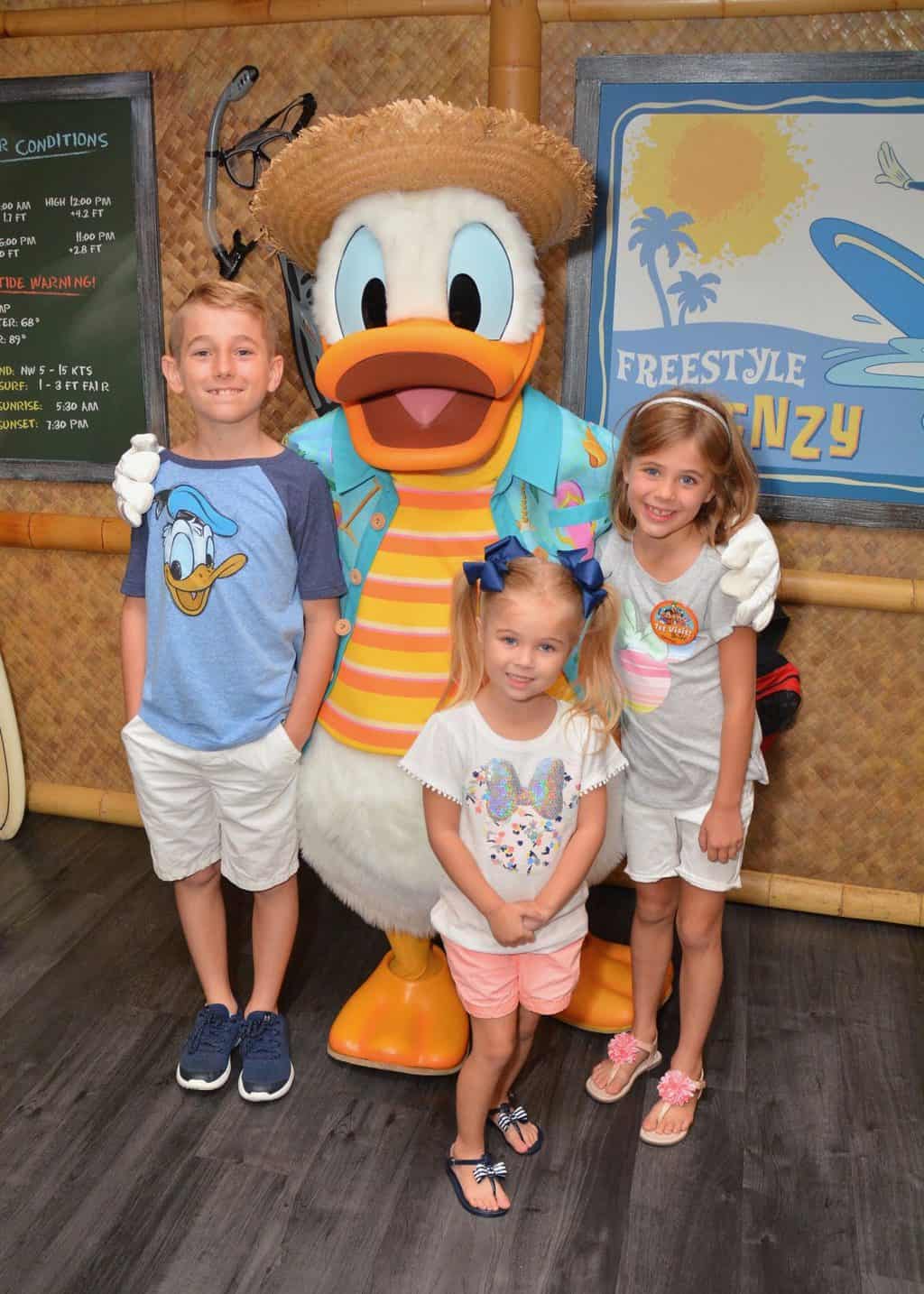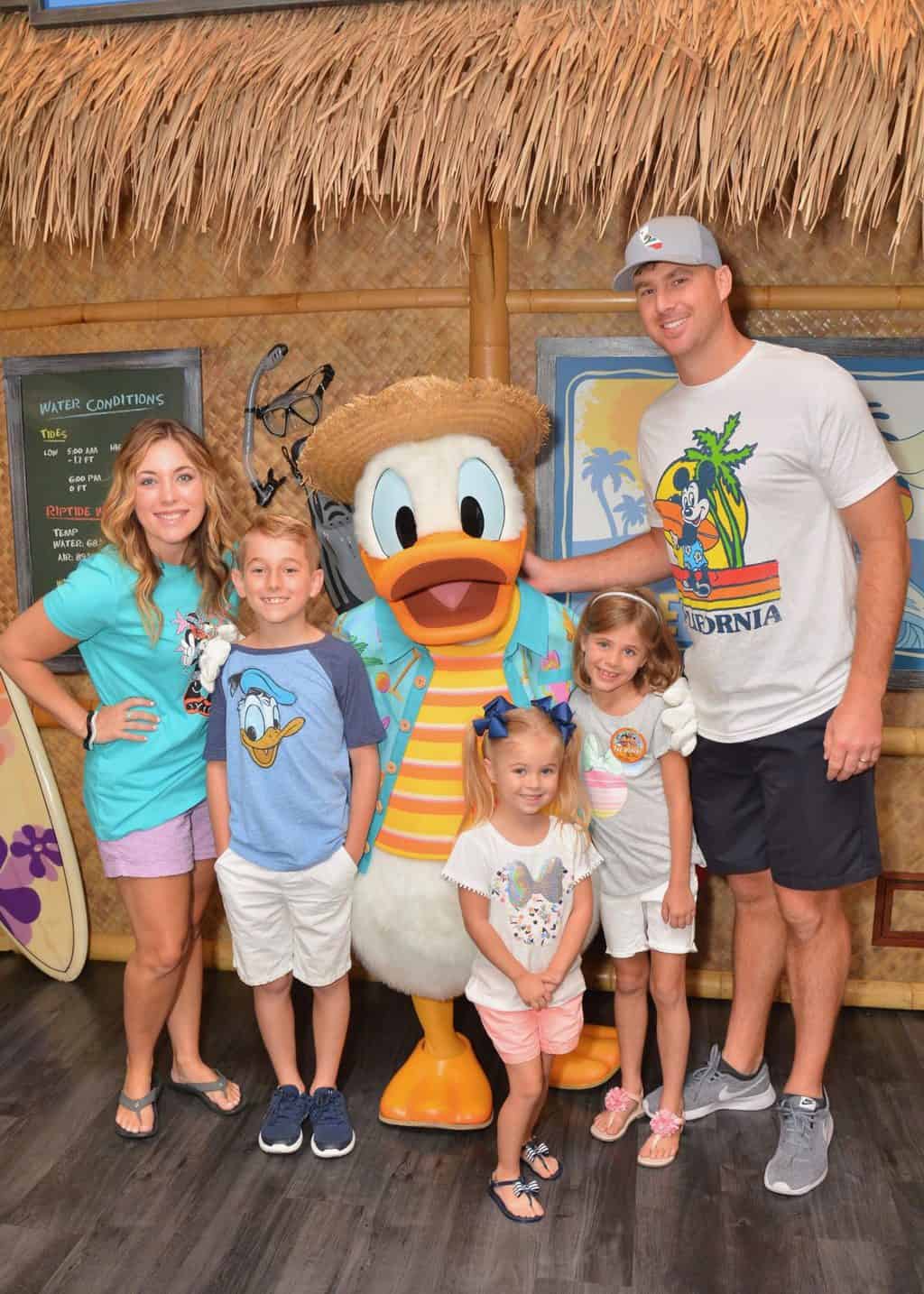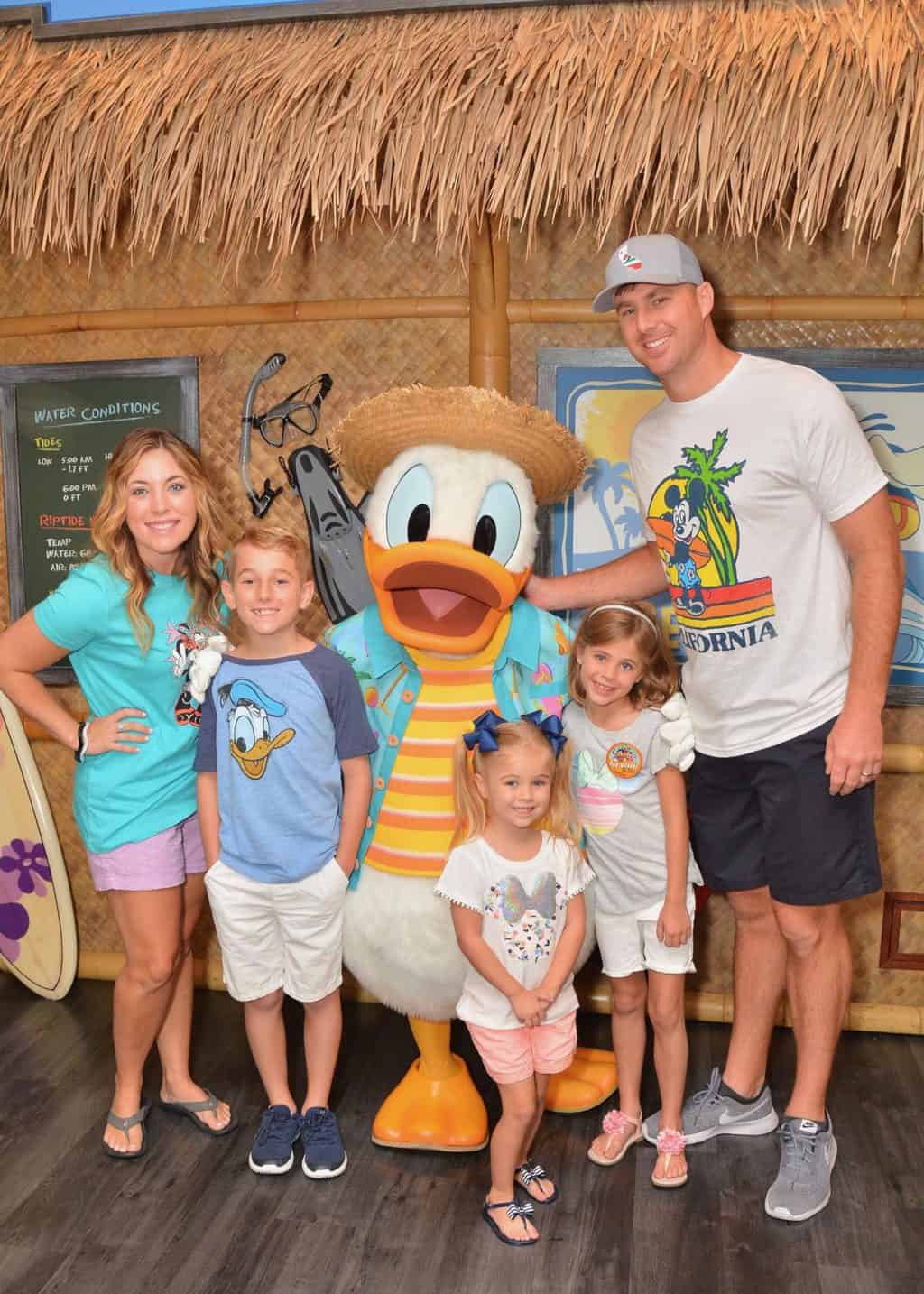 Getting our Surf On!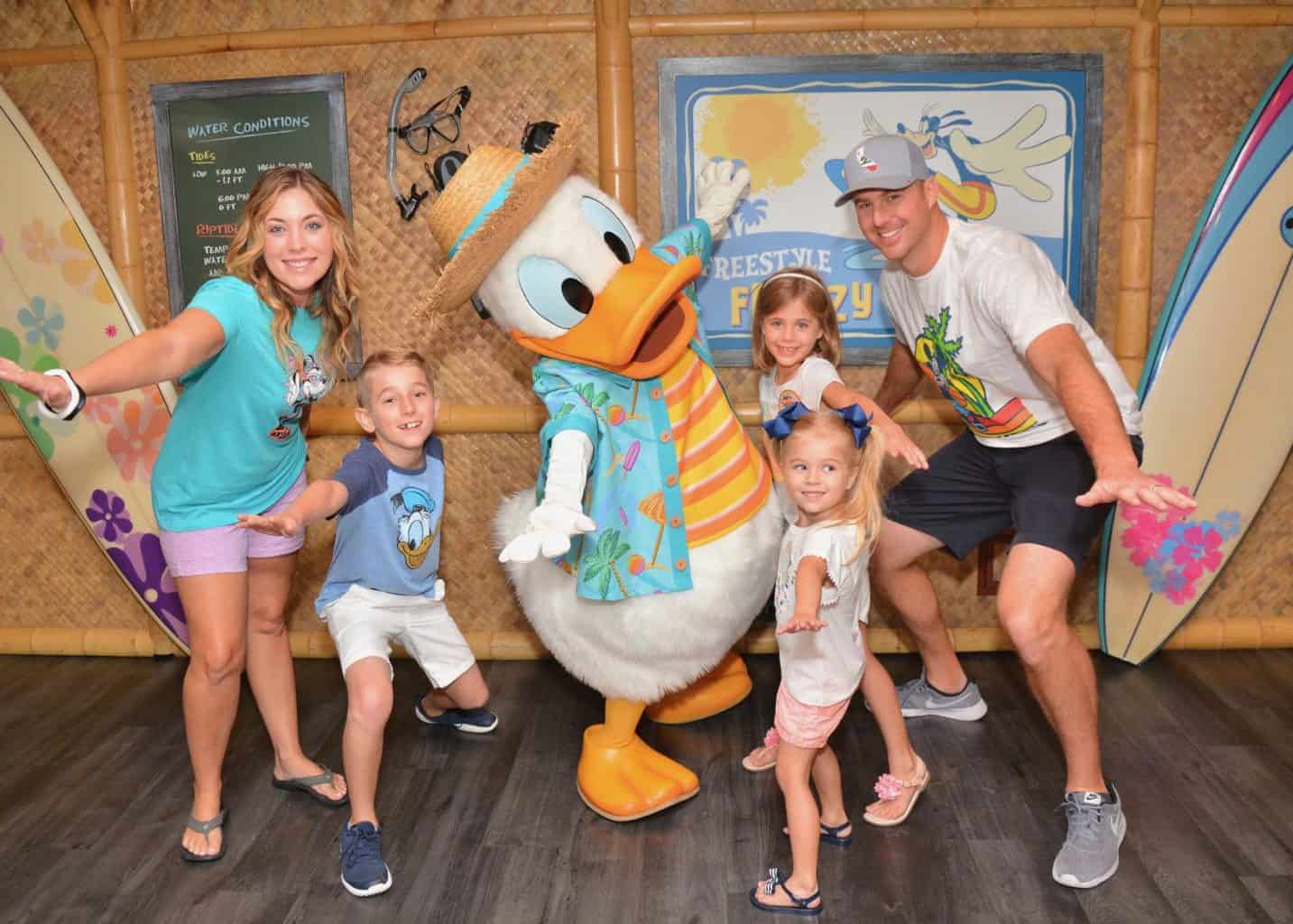 It was a true buffet style which we all preferred over The Plaza on our first morning. It was much more like the character dining experiences we have at Disney World. The kids LOVE the buffet and being able to just help themselves to whatever they want. This was the only meal that offered a discount for having a Disney Credit Card. We all agreed, we liked the experience better at The Plaza but the food better at Paradise Pier.
Napkin Bibs for the WIN!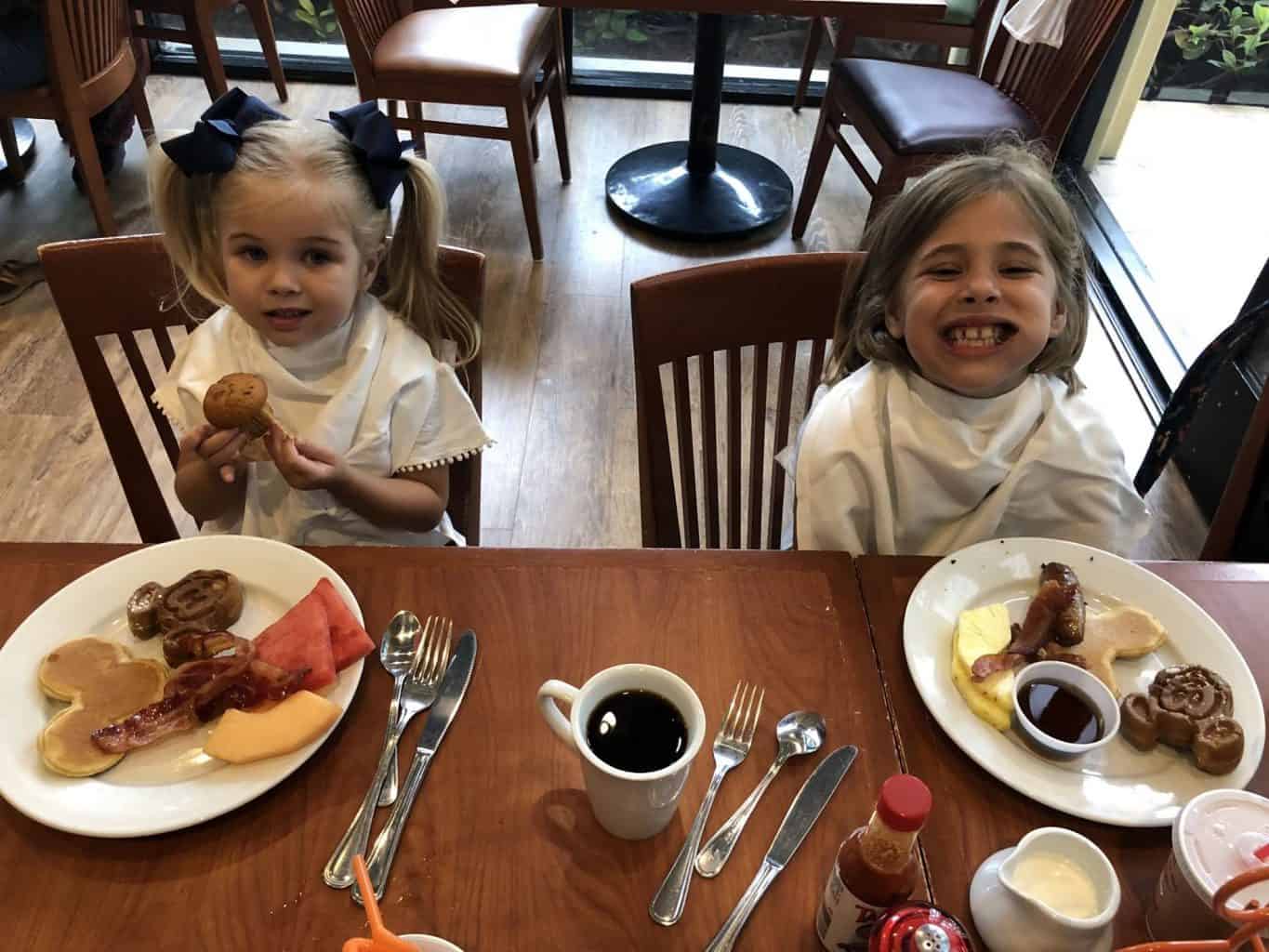 They had Mickey Waffles and Minnie Pancakes!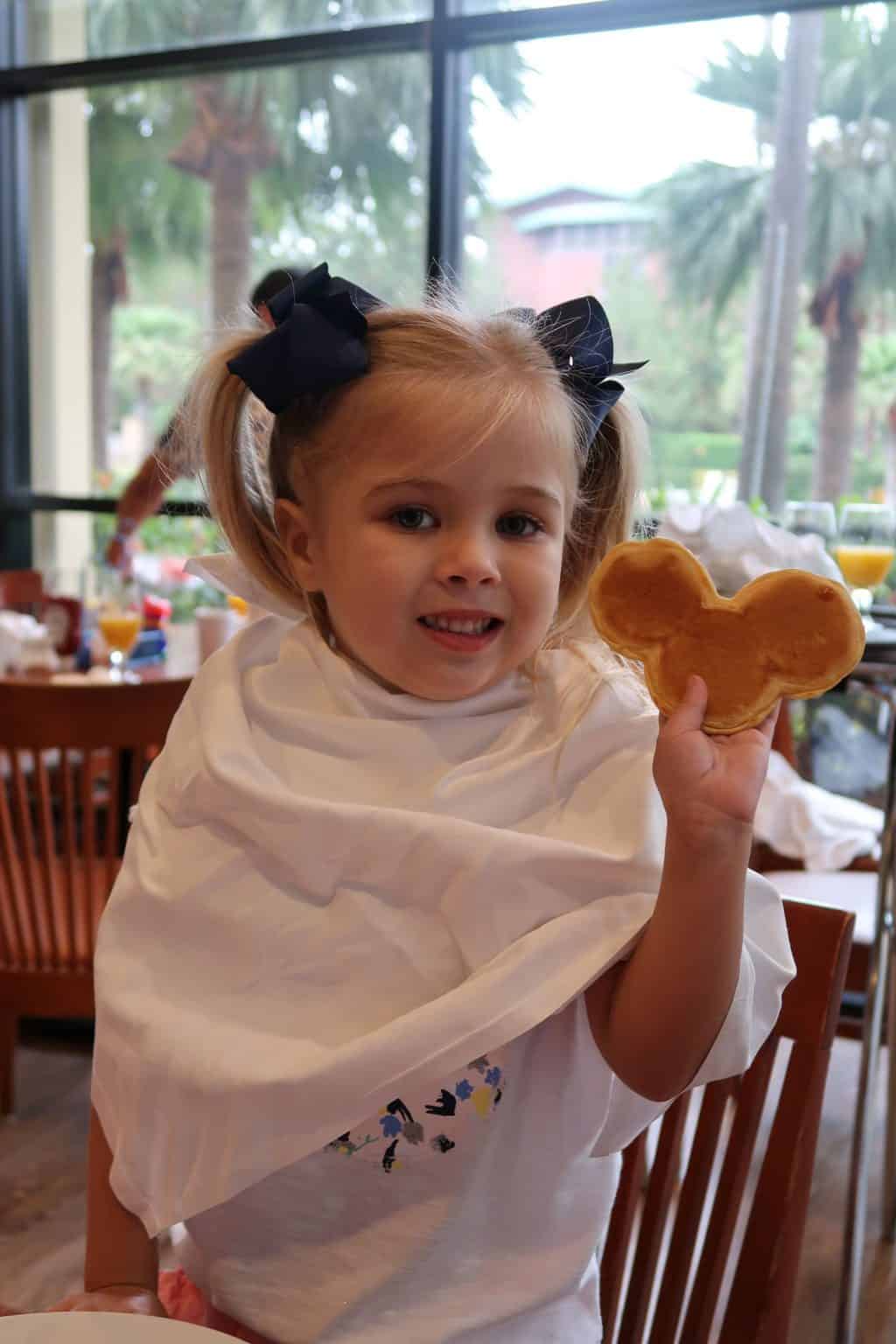 Tess had to go potty and ended up missing Minnie Mouse on her first round around the restaurant. So she came back later on in the meal to make sure to meet Tess too! Love her cute beach lifeguard attire!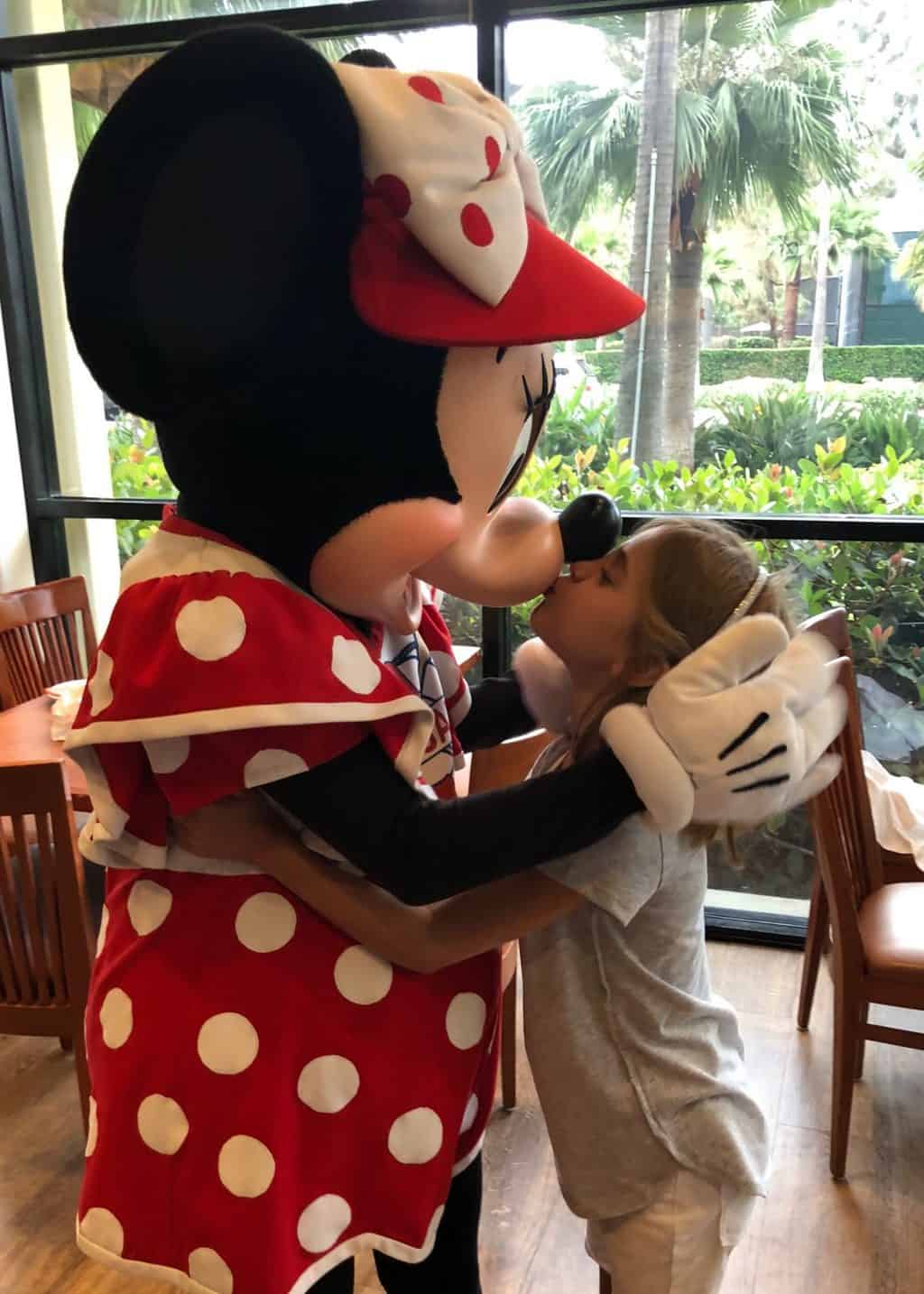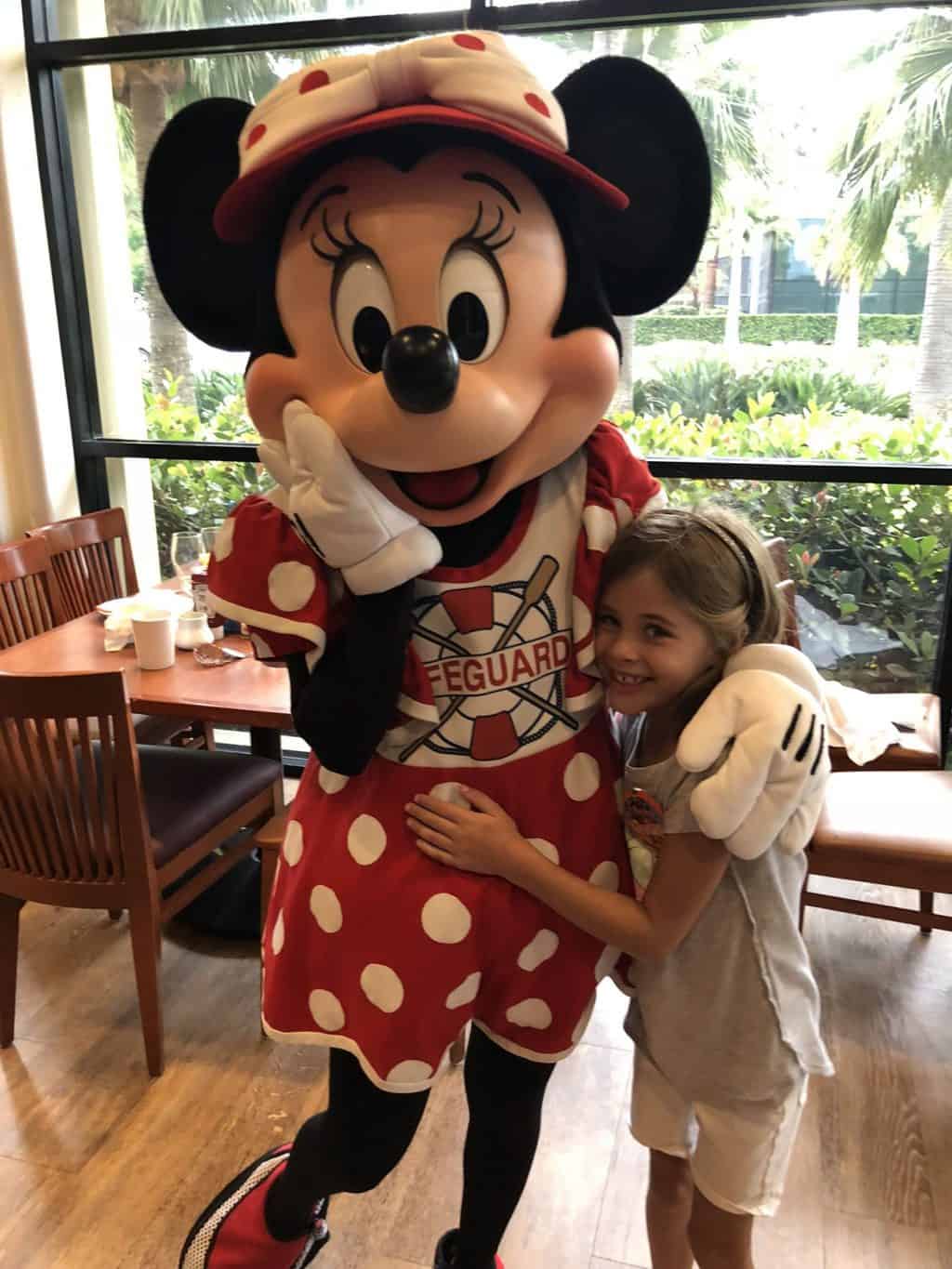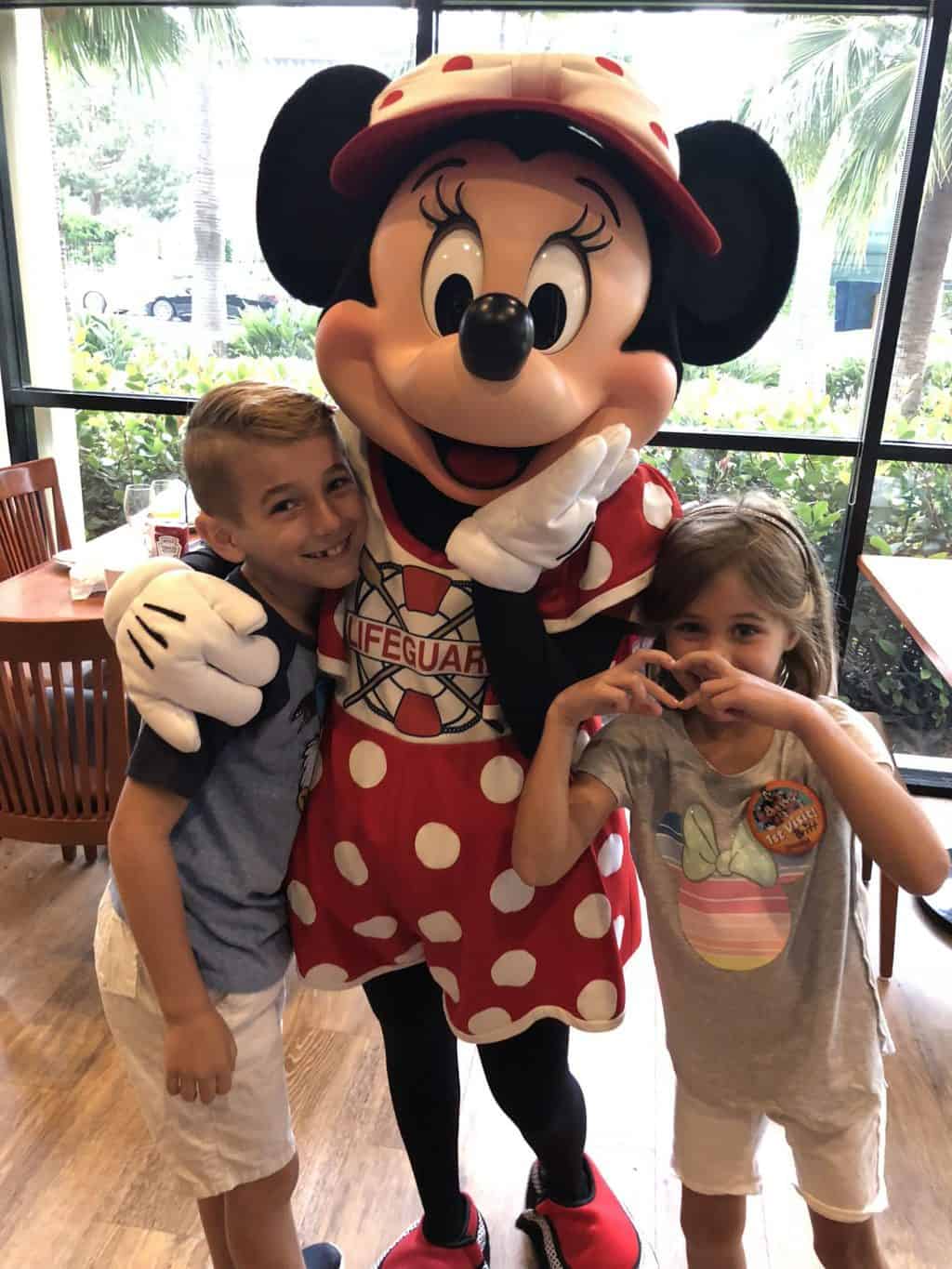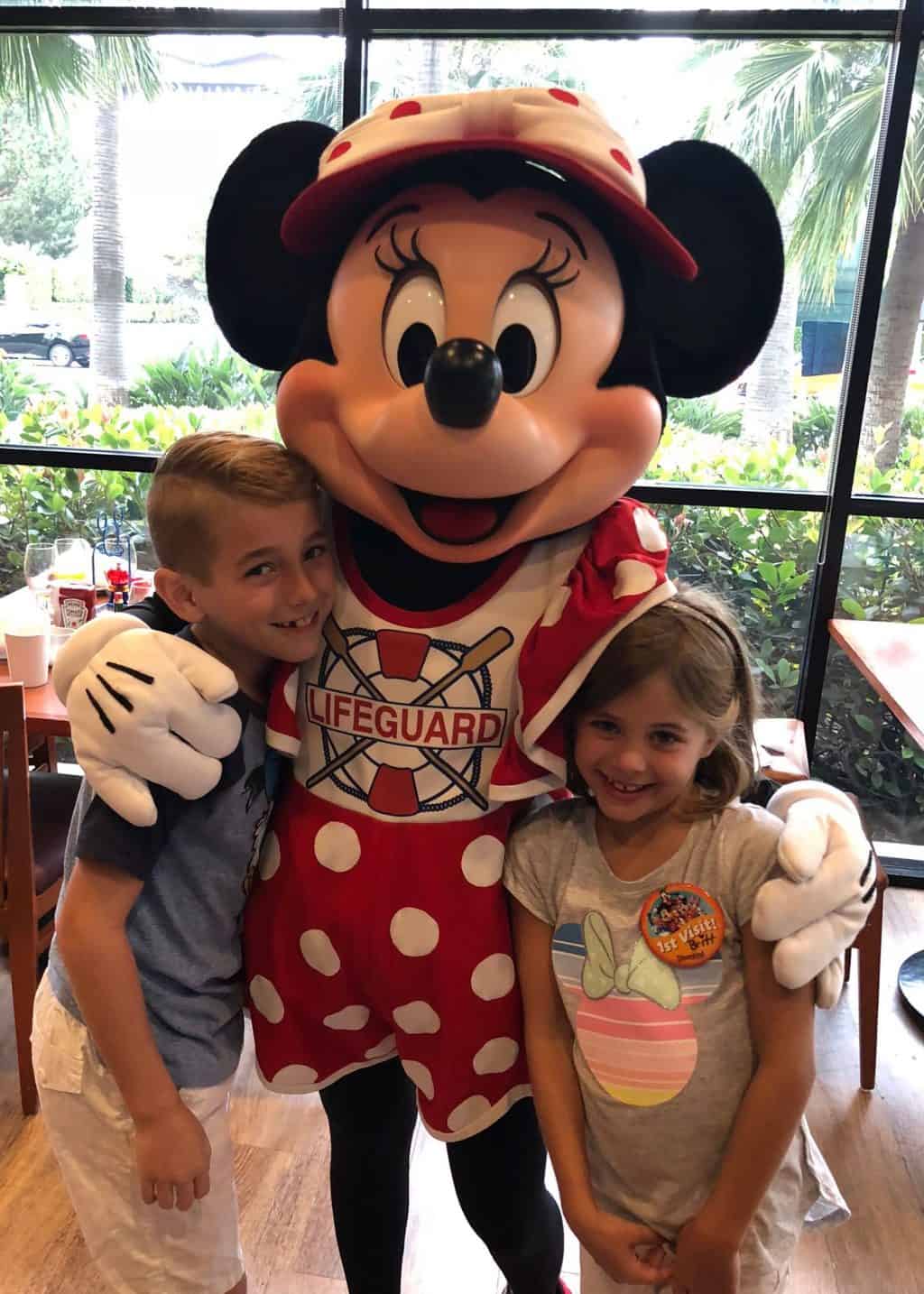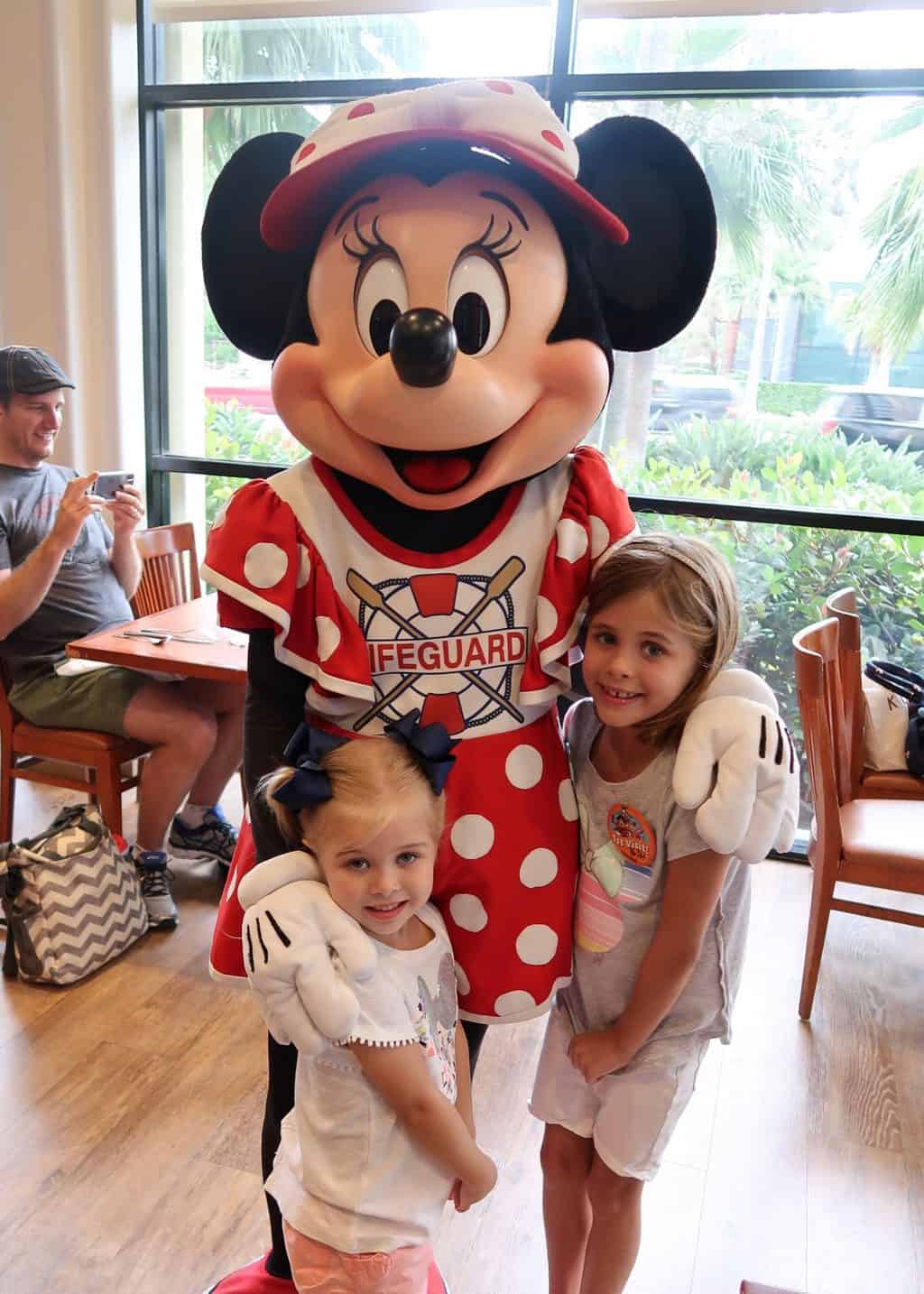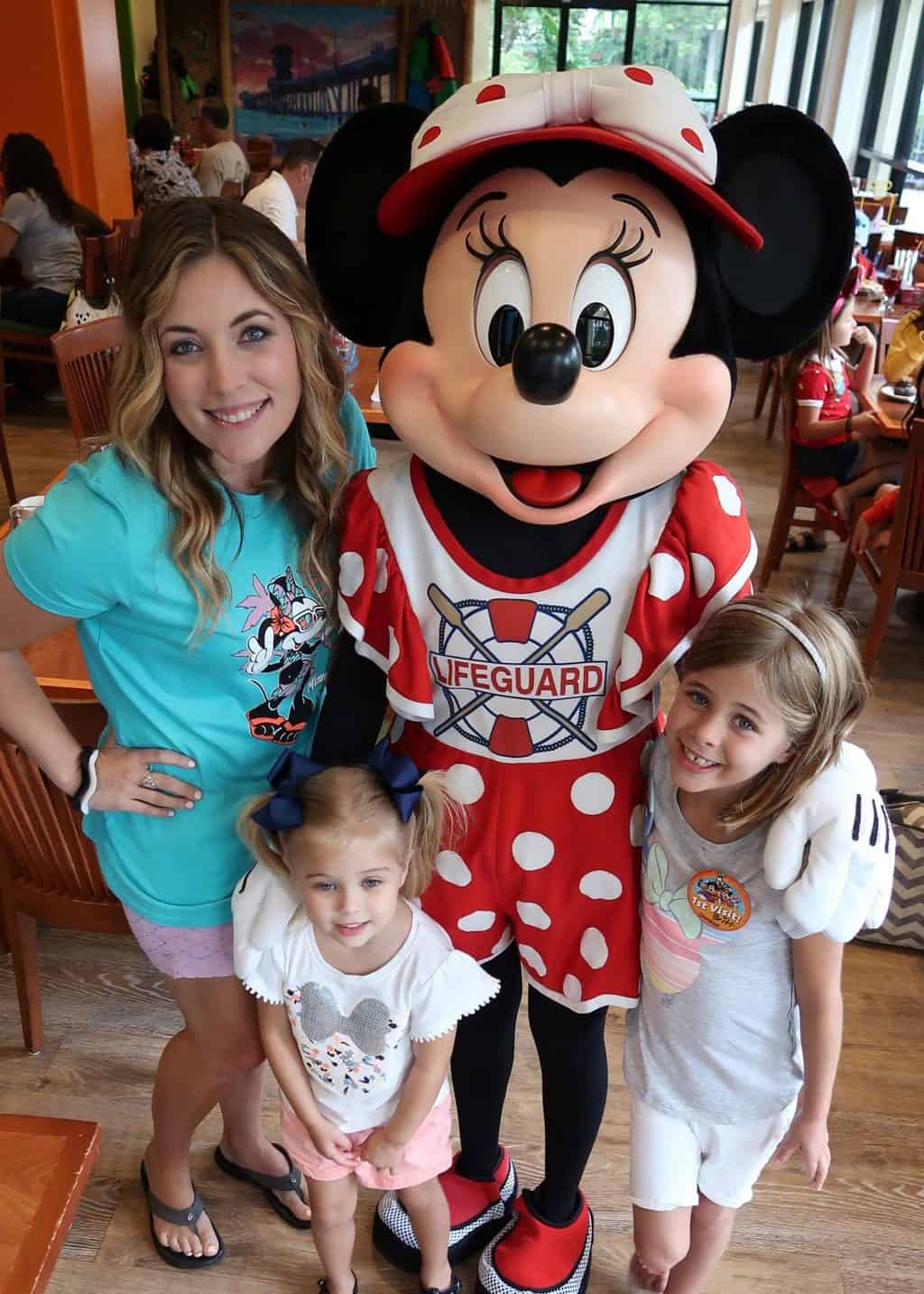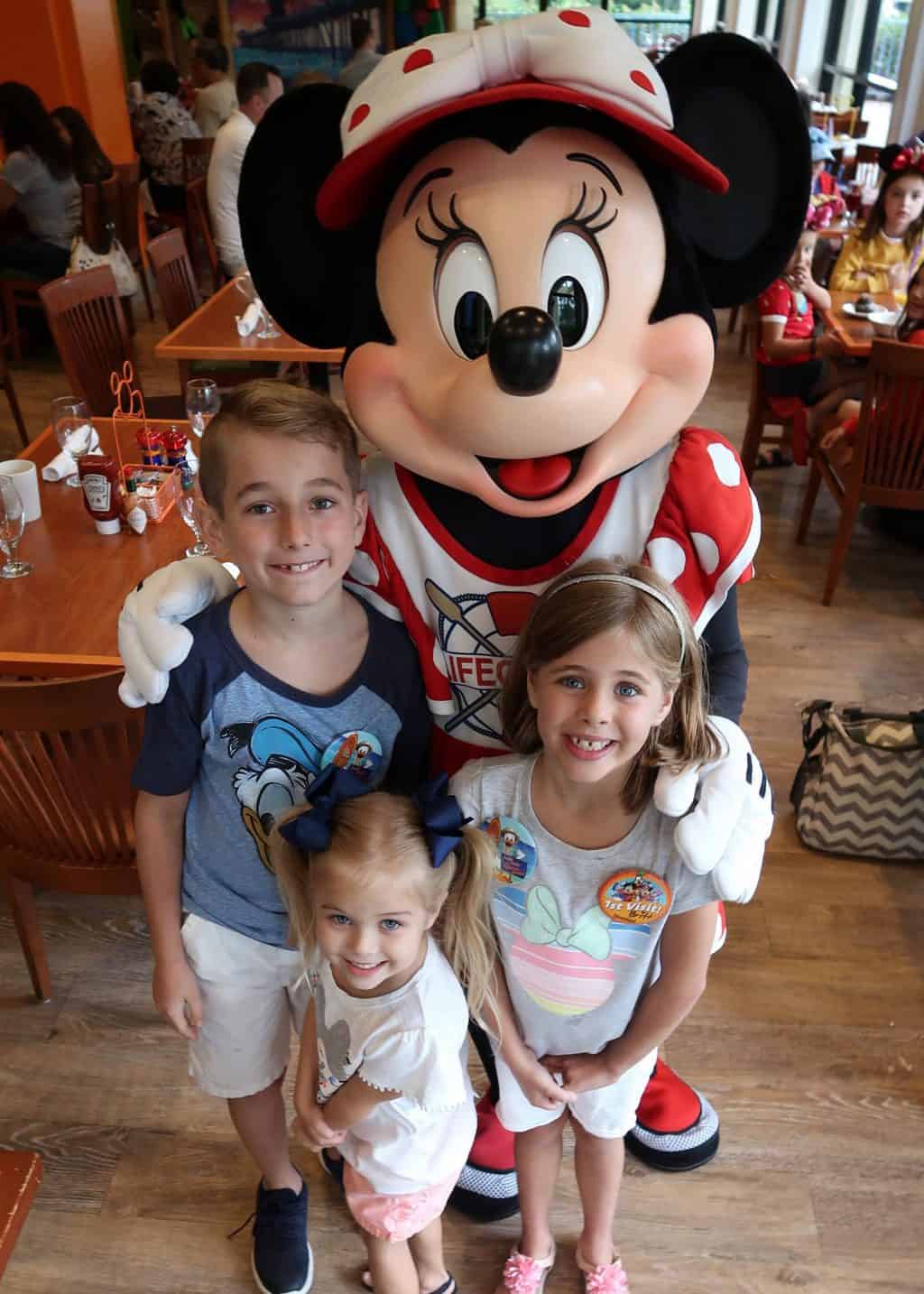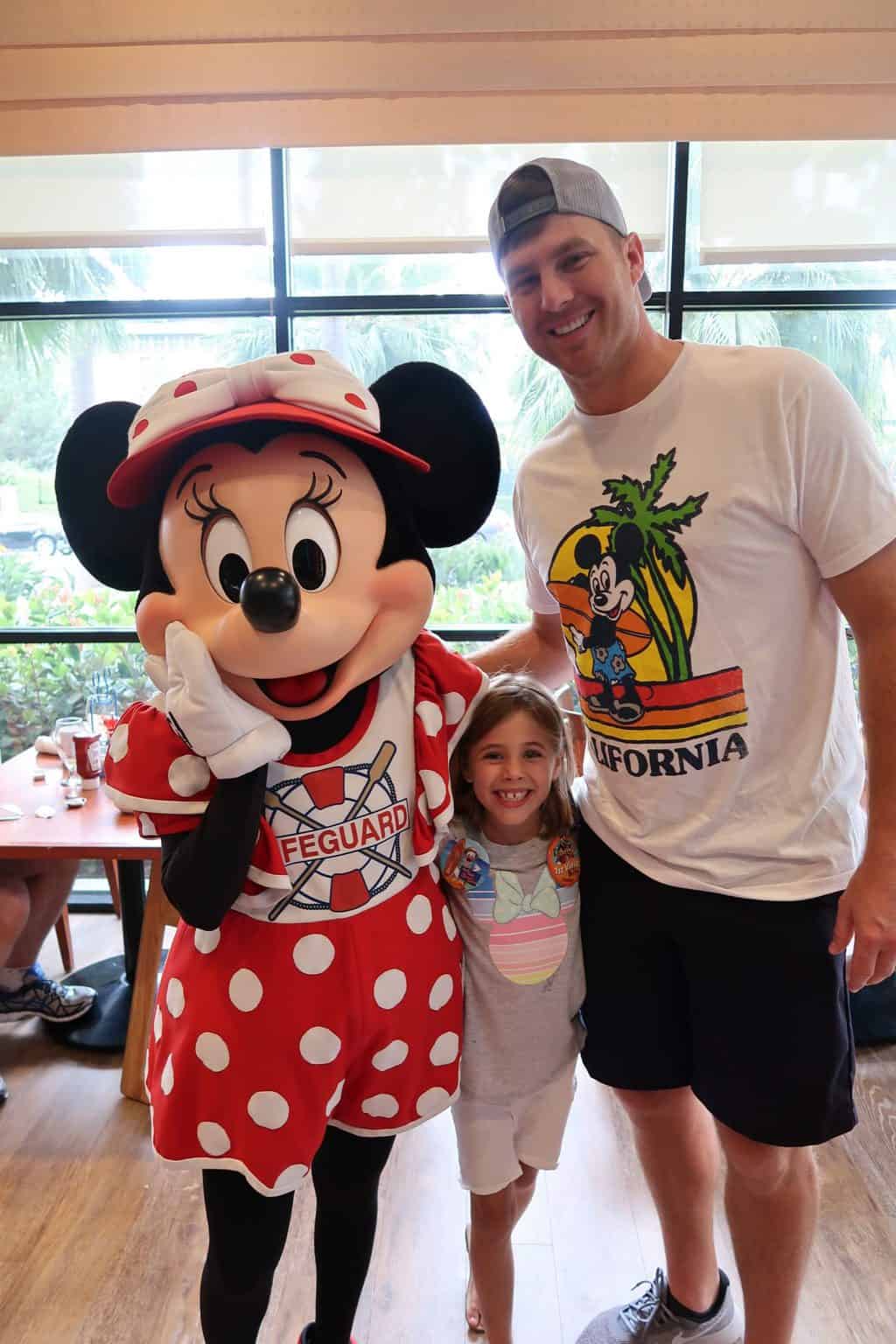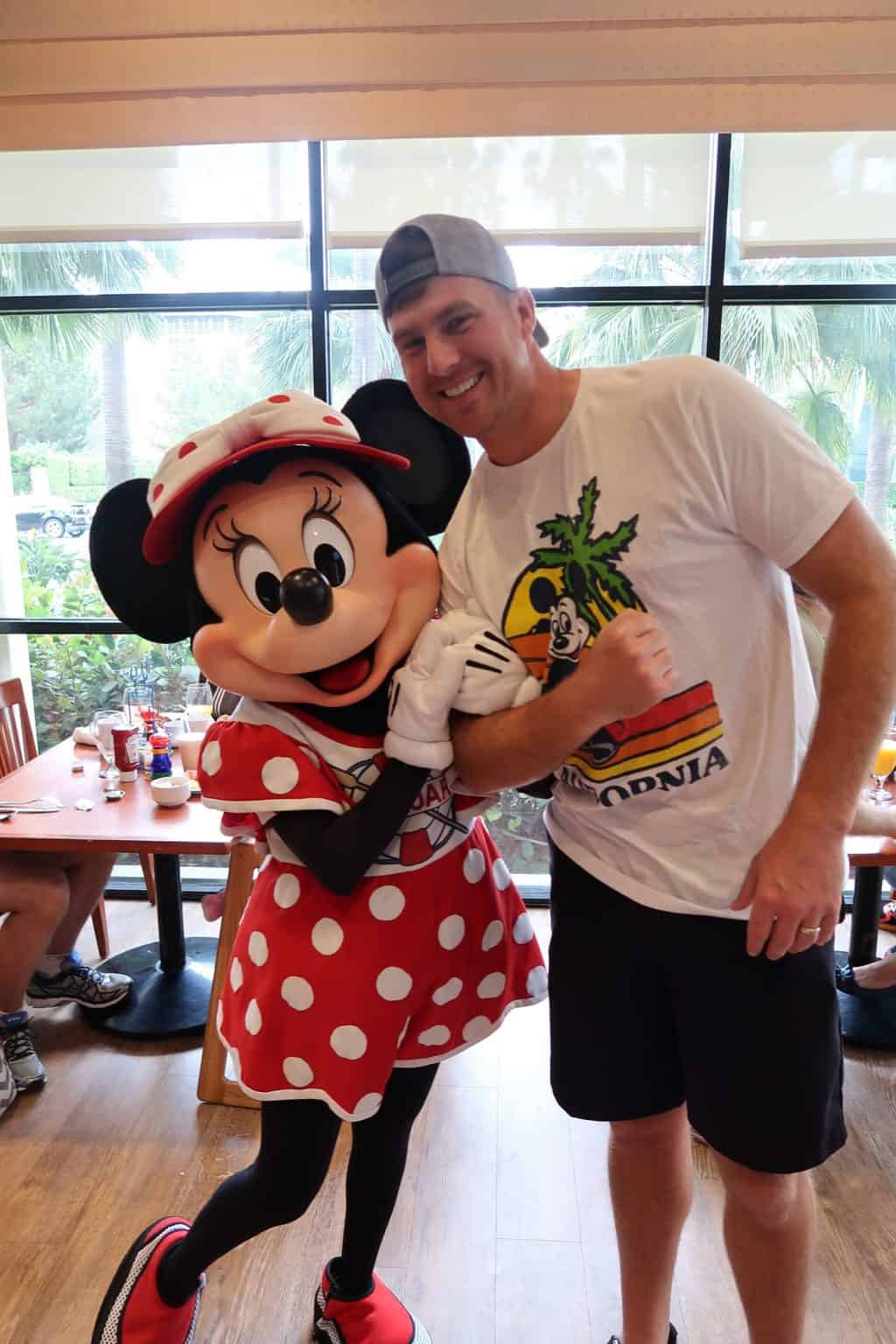 I really did pretty well during the trip not having too much "Mommy guilt" over Spear not being there with us except anytime we saw Stitch. Our little guy just ADORES Stitch and I felt so bad he wasn't there to get those snuggles!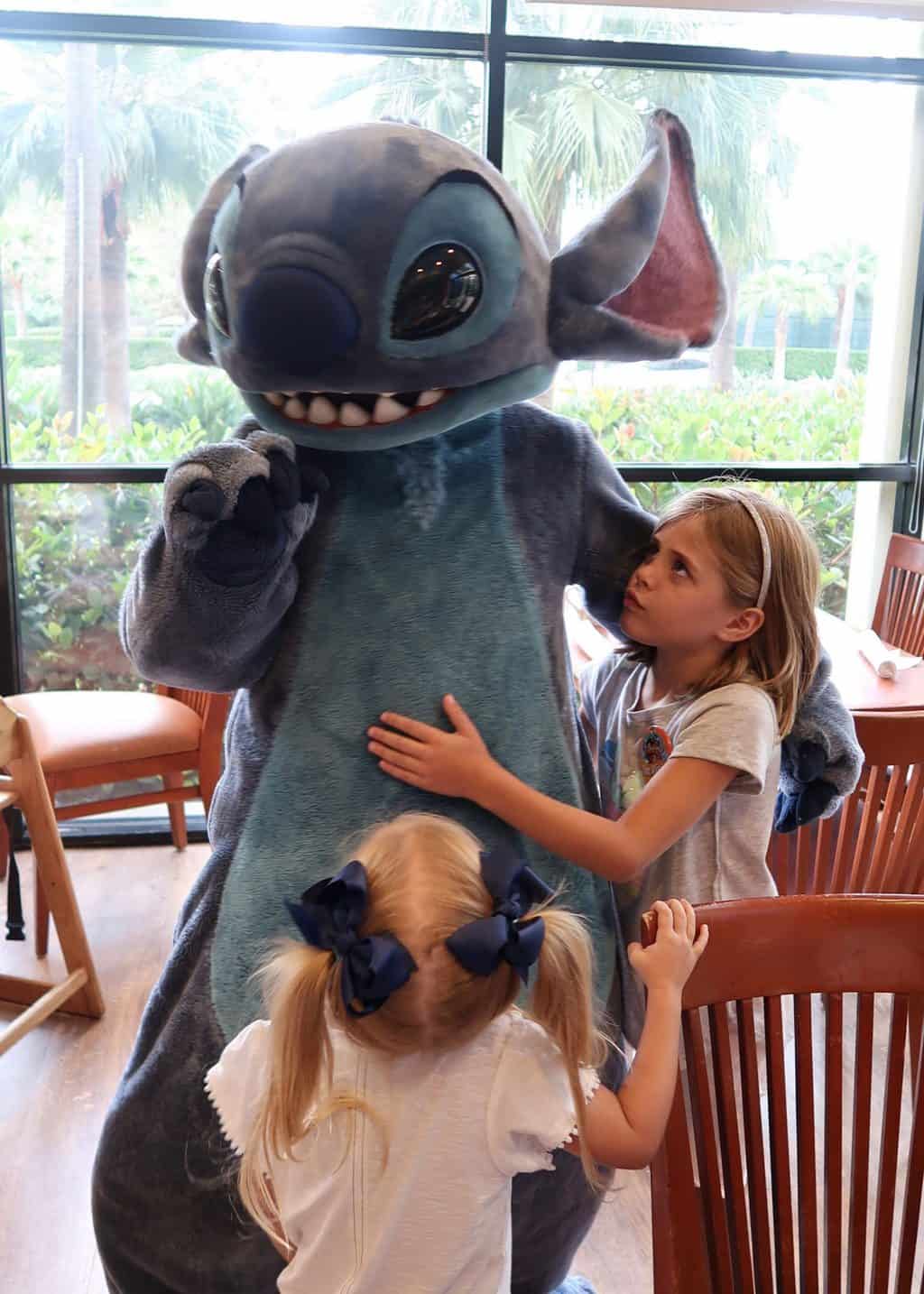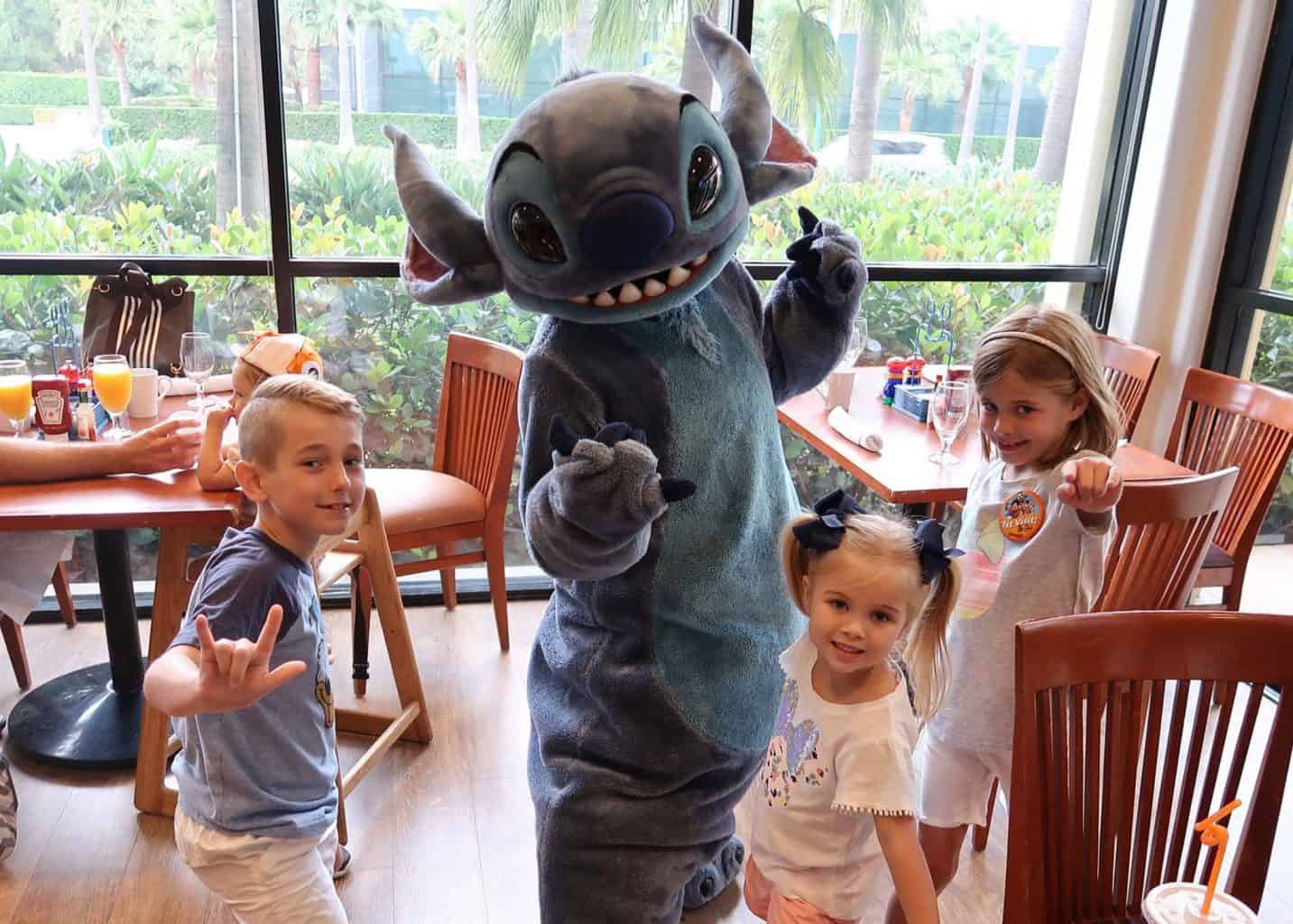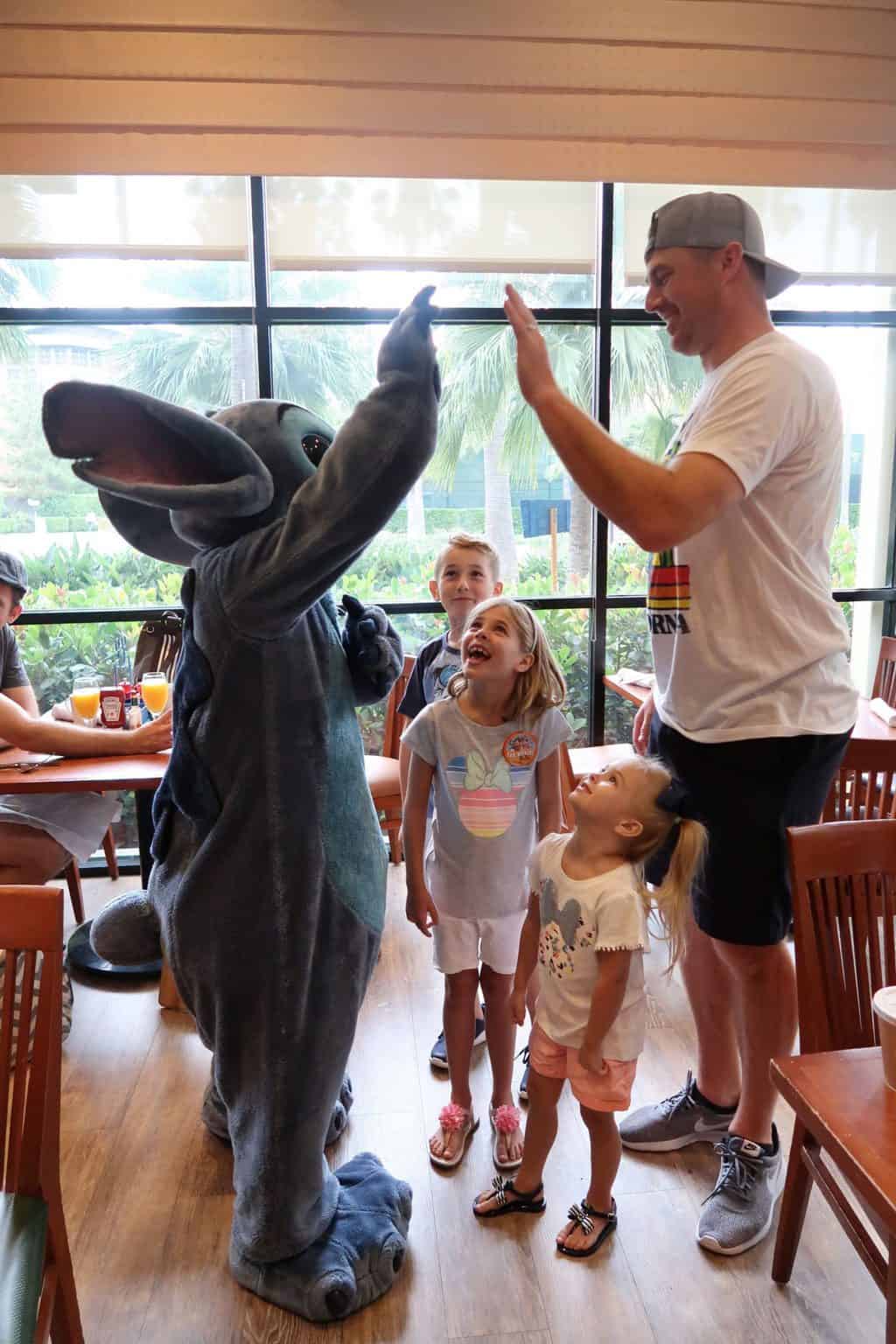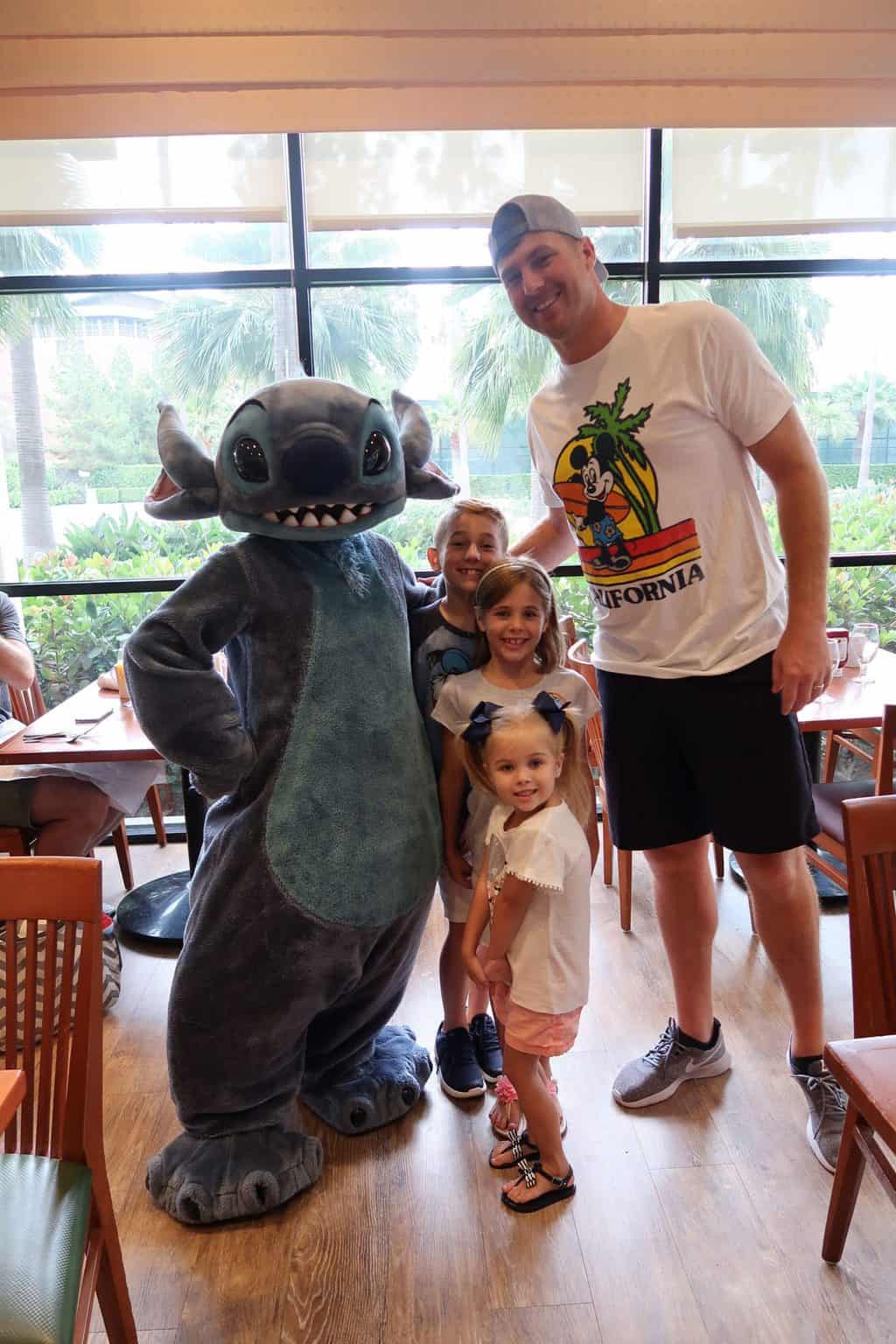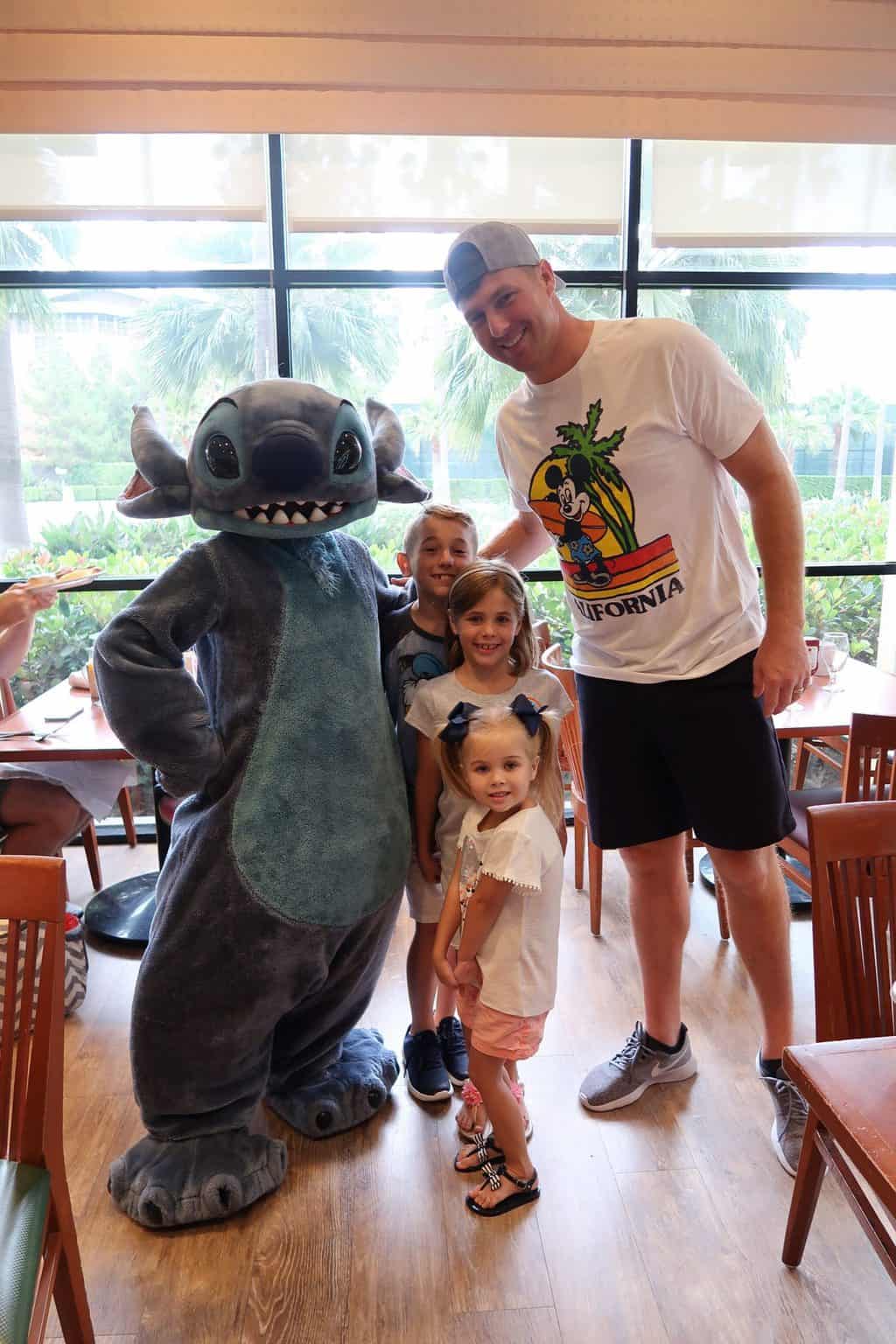 The Chef came out to present Kye with a special gift from Donald himself!!! Donald was so impressed with Kye's shirt that he had the Chef make a special Donald waffle for Kye! How COOL is that?!?! Kye was blown away excited and just seeing his joy in that moment was the best part of the whole morning!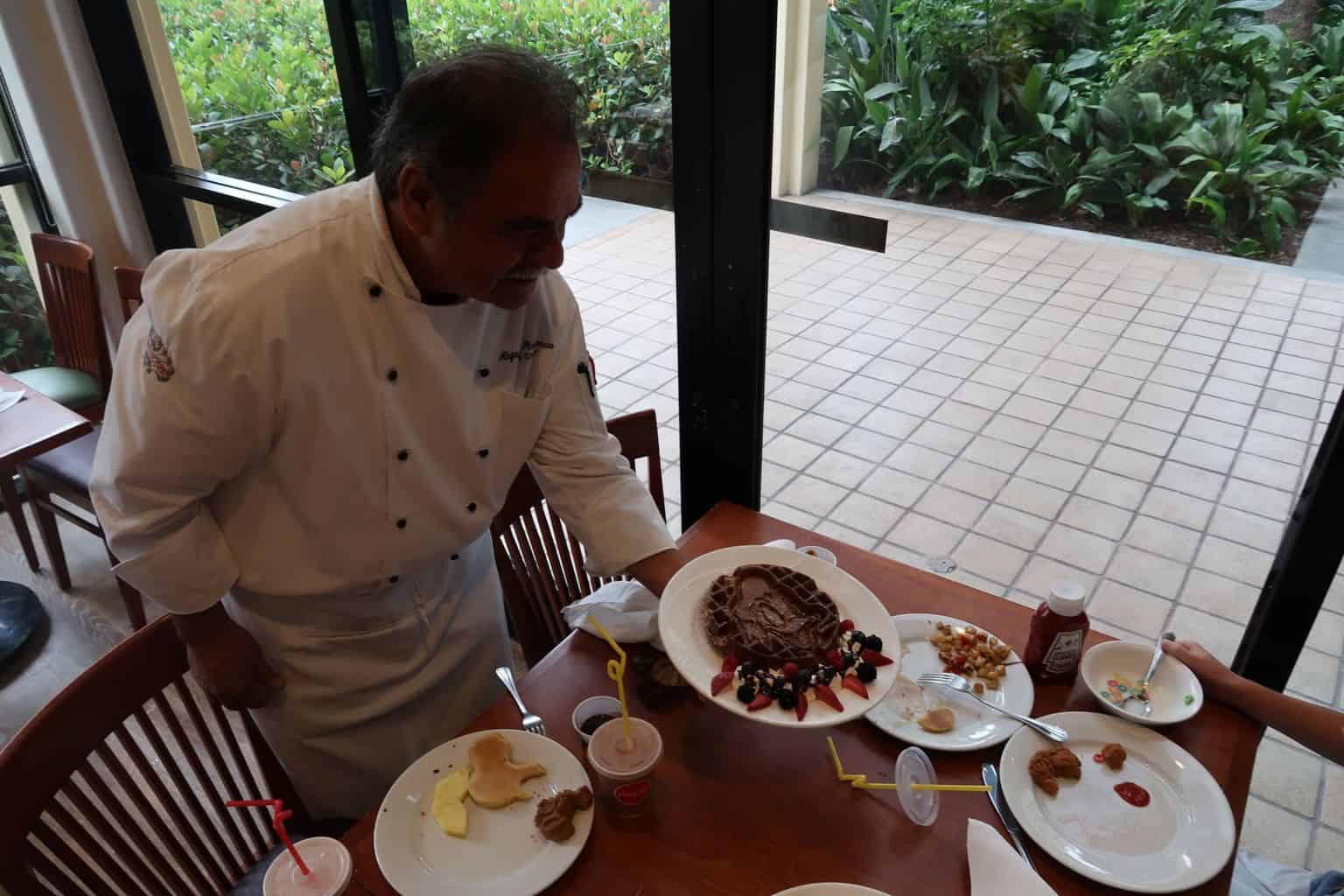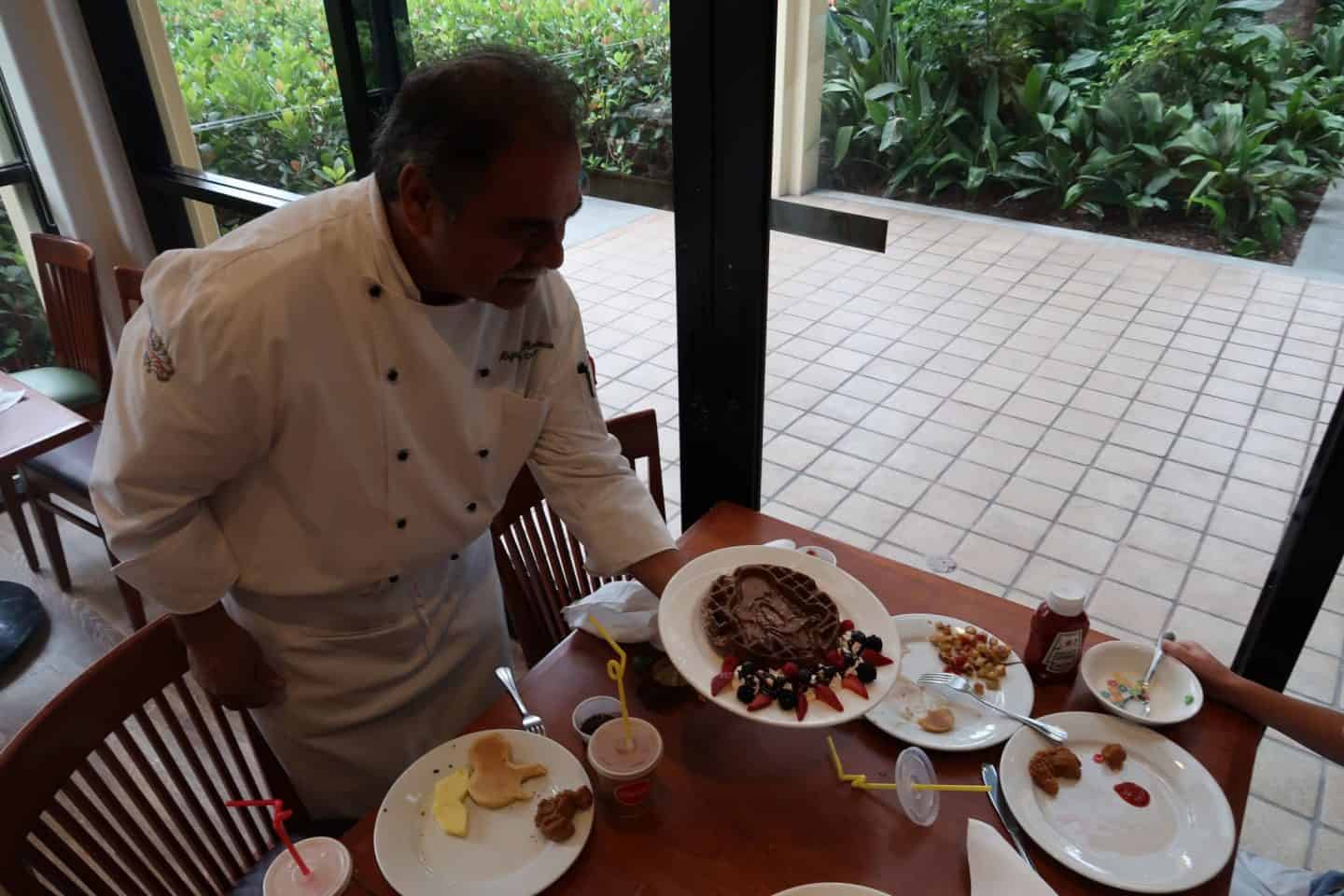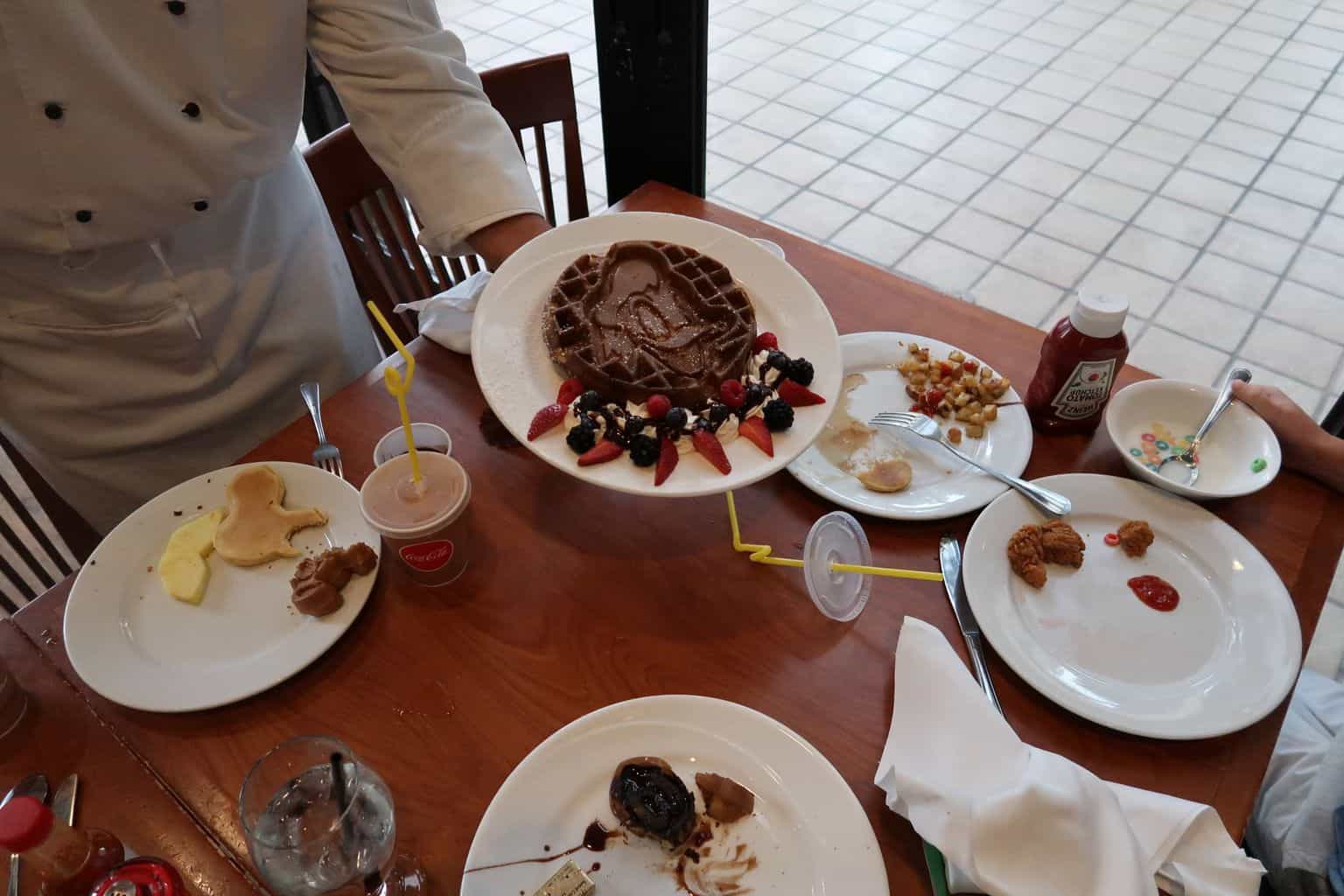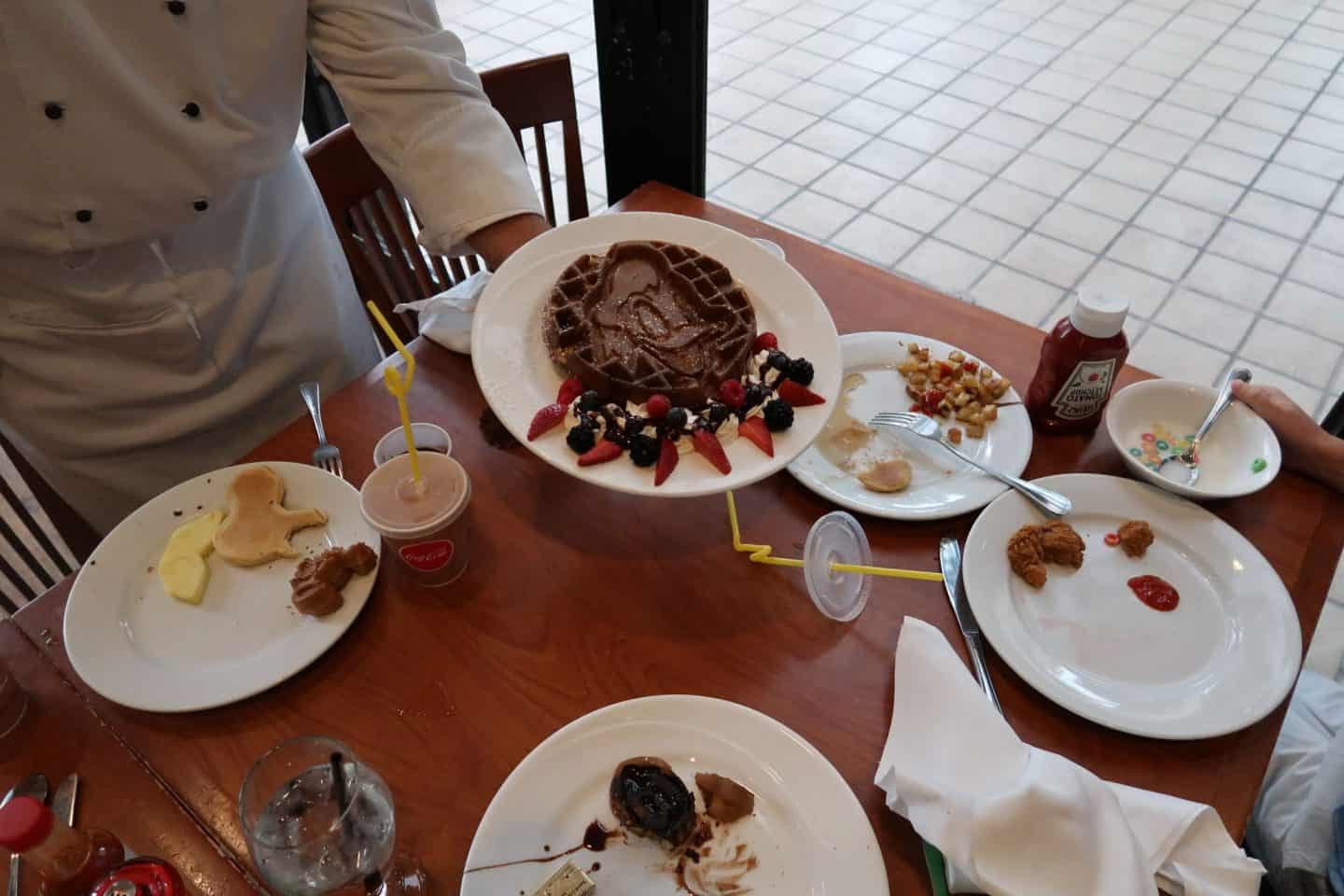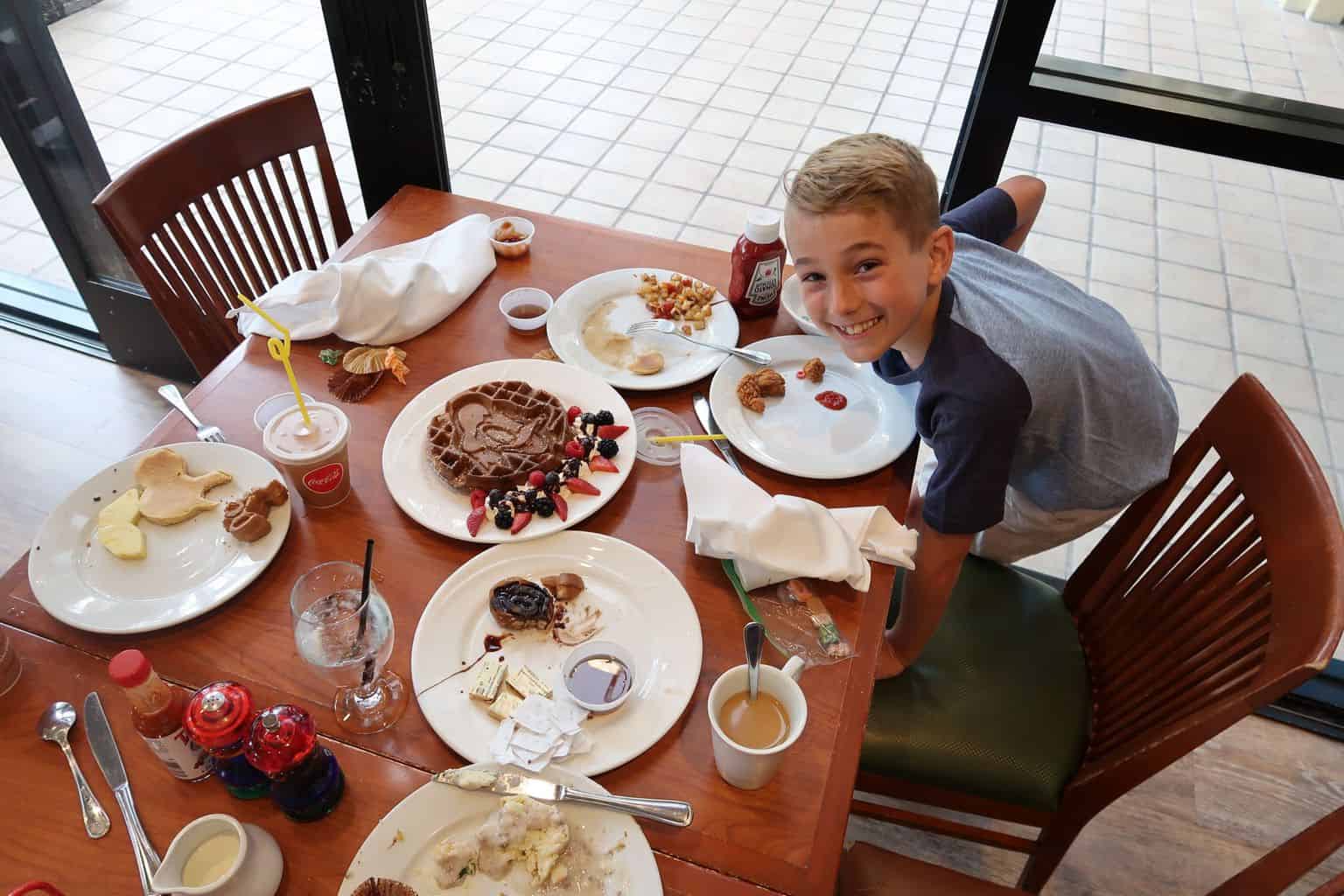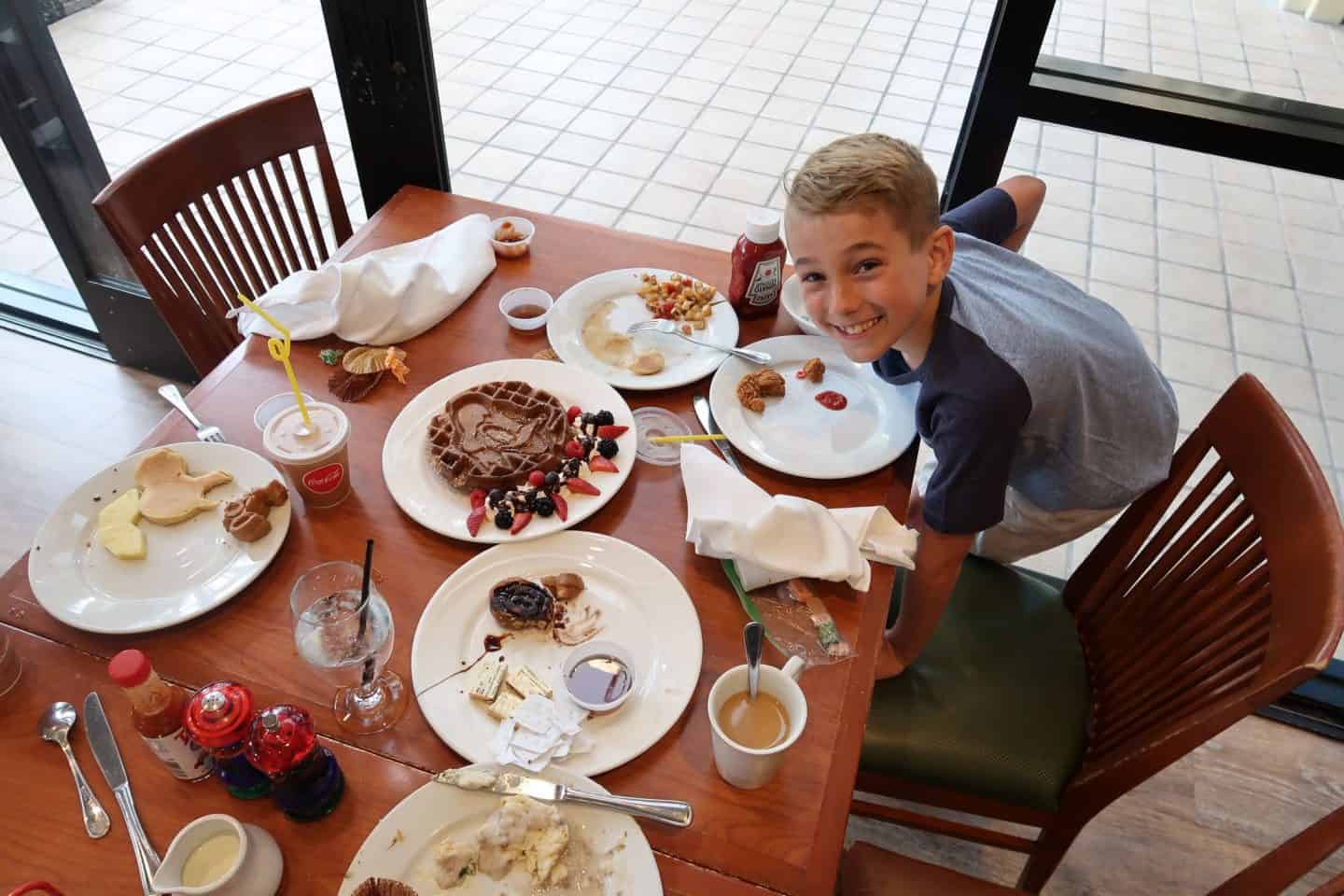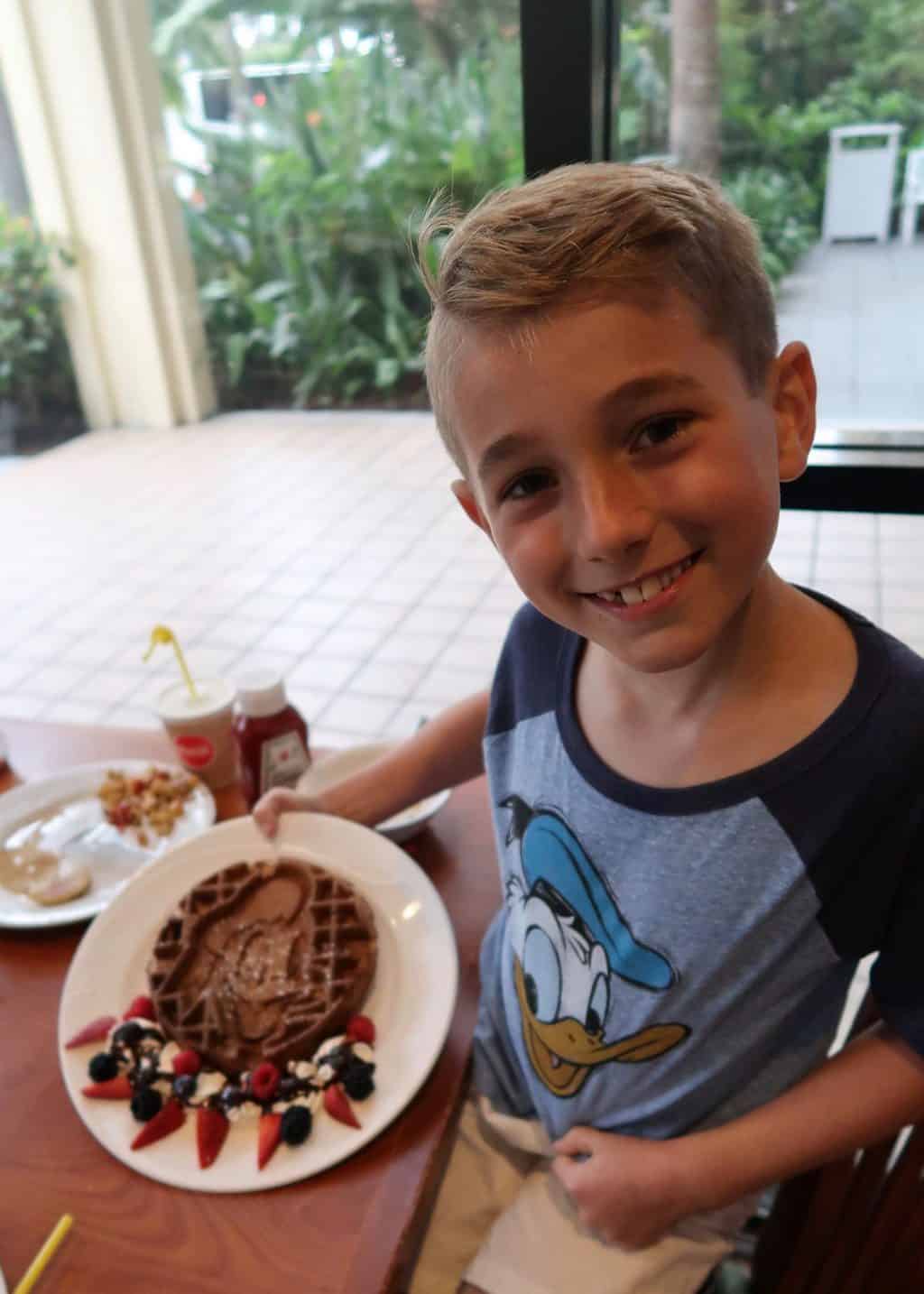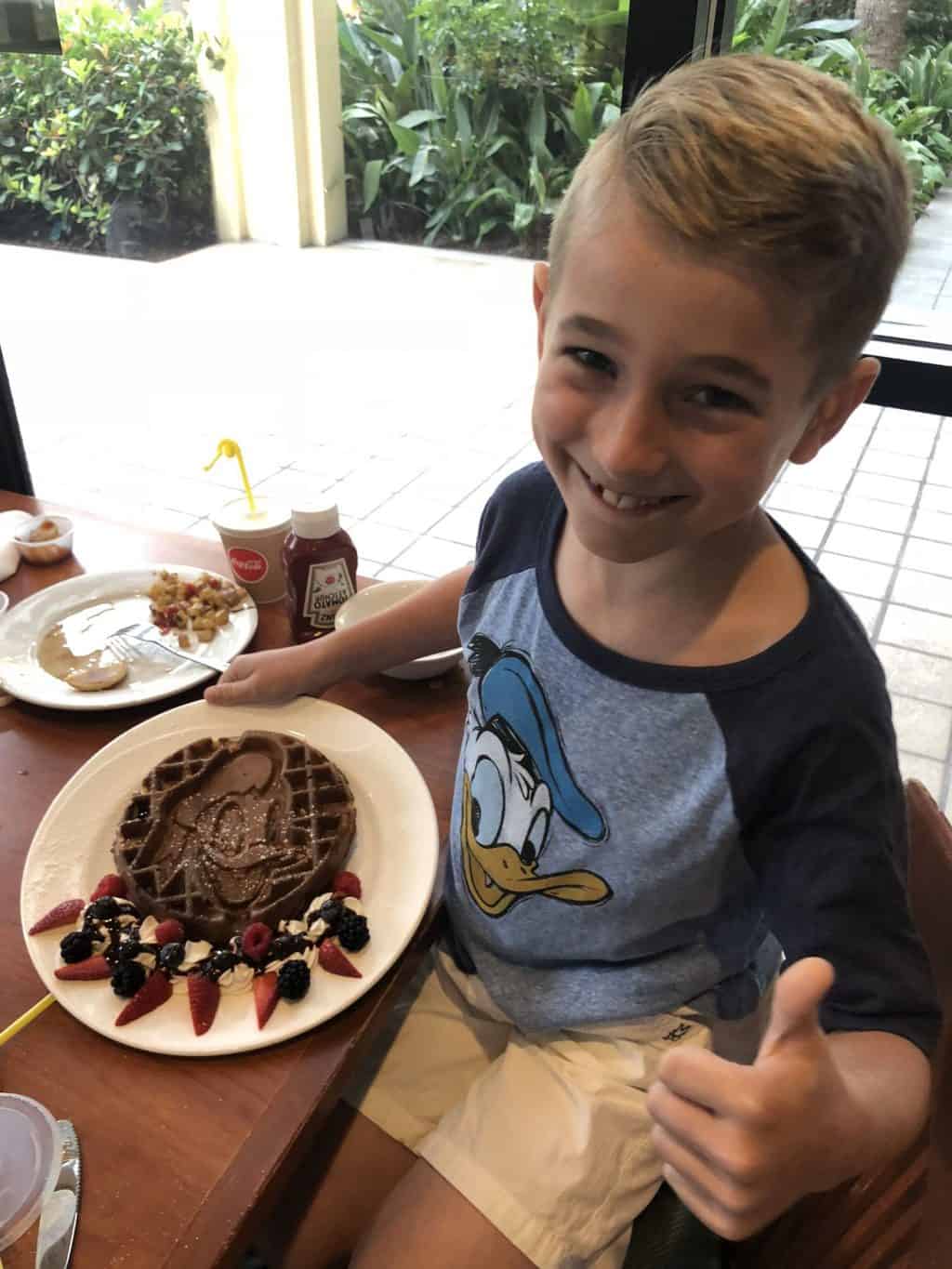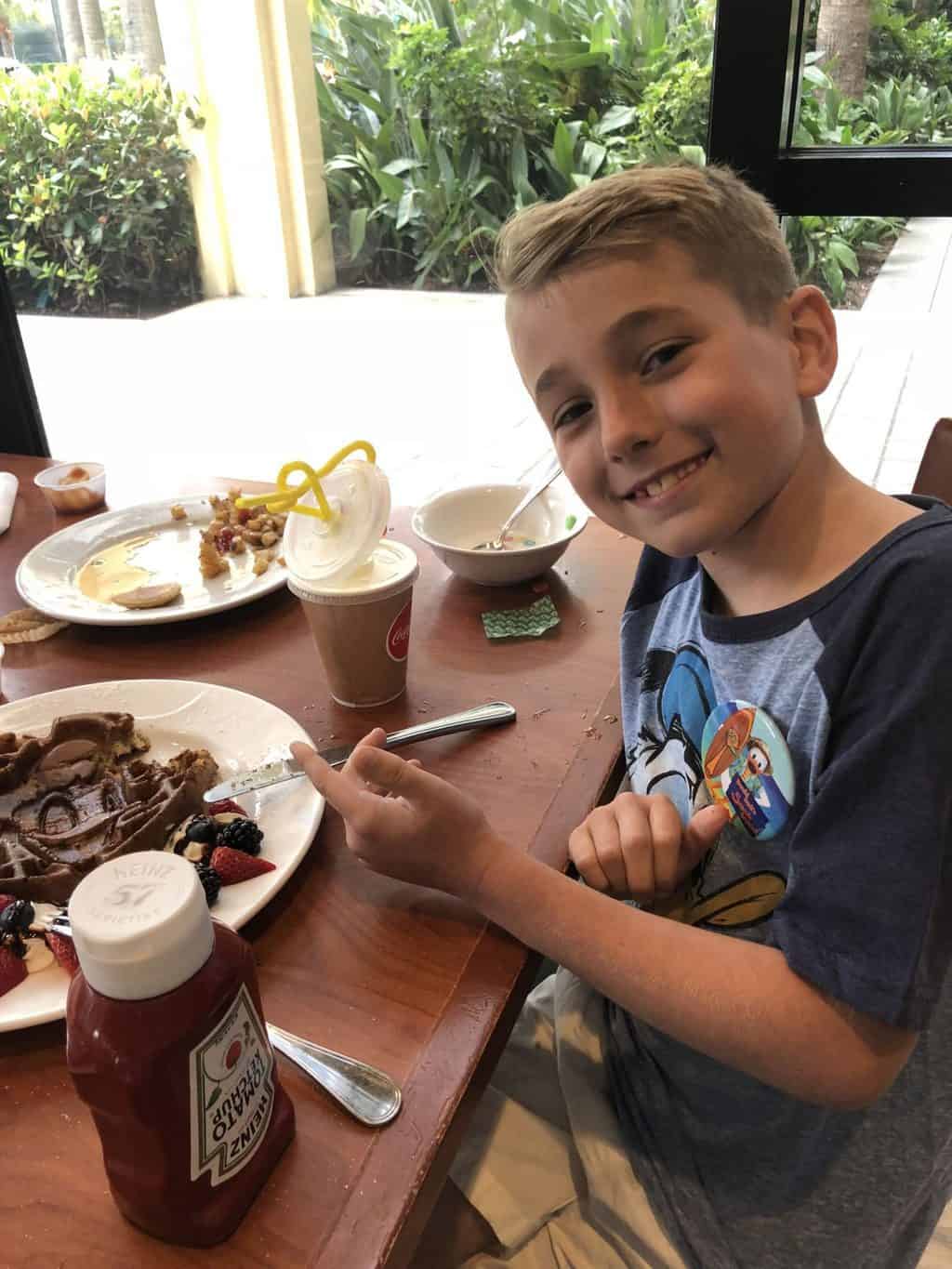 When Daisy came over she was shocked to see the waffle and was a bit jealous that her man didn't do something so sweet and thoughtful for her!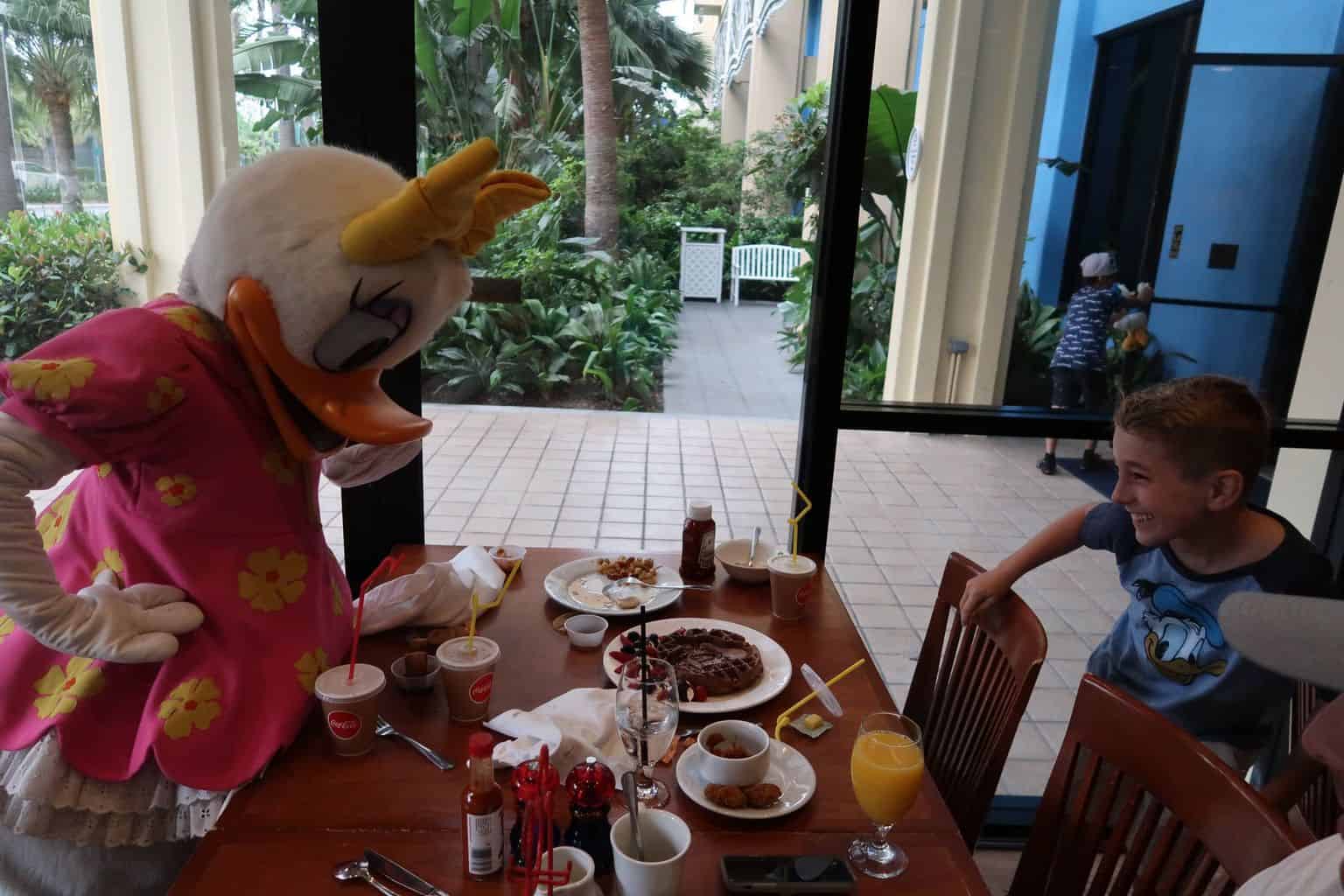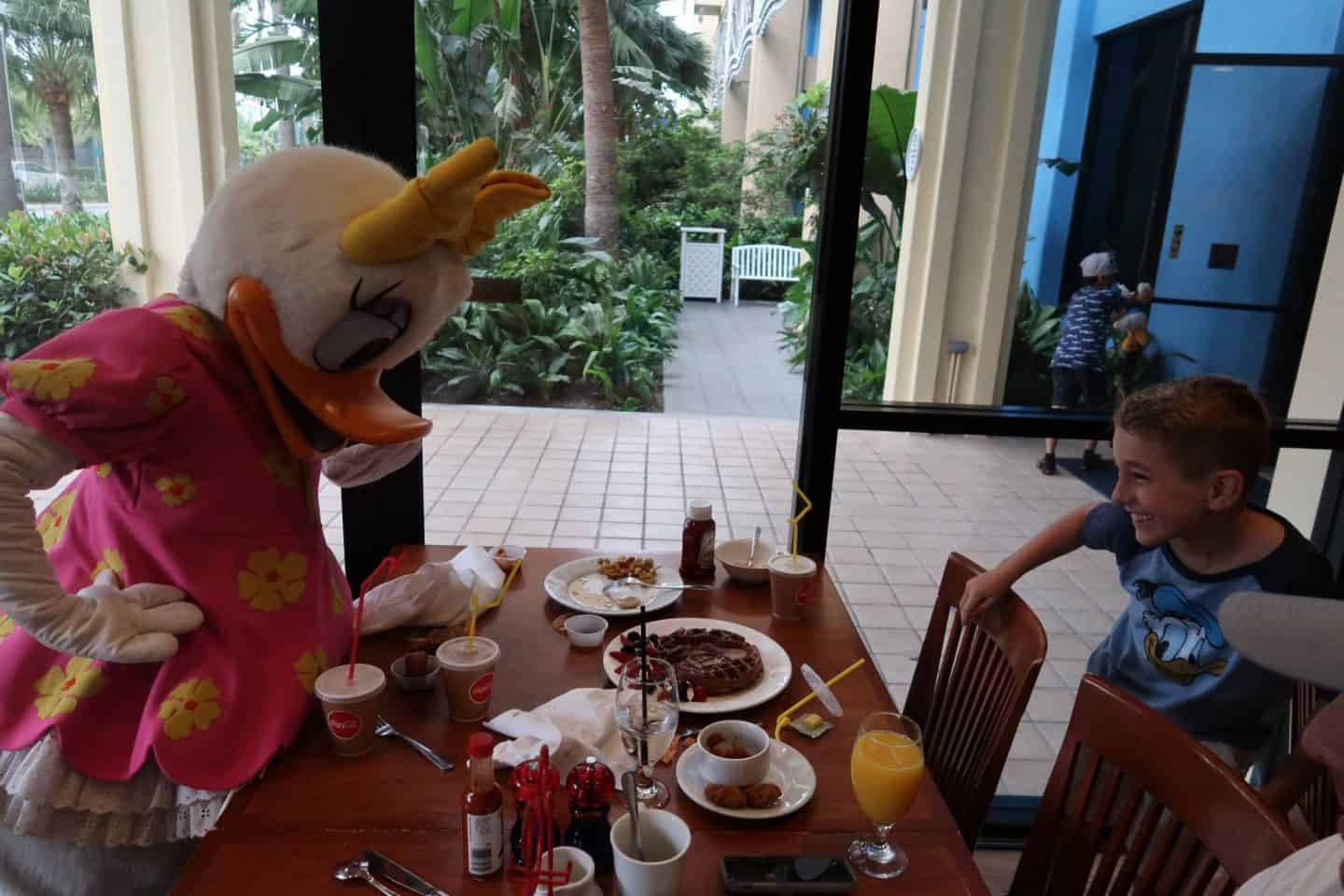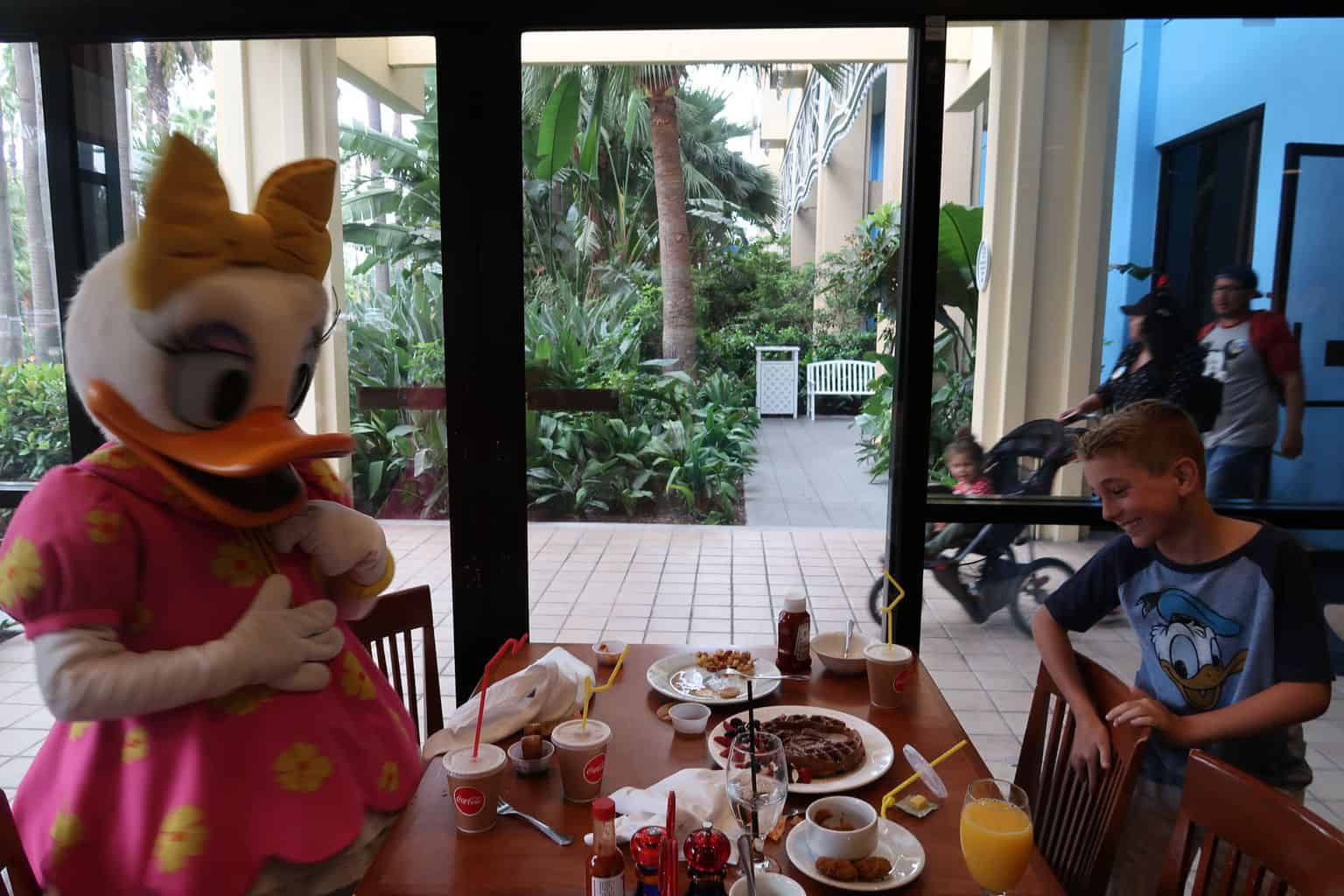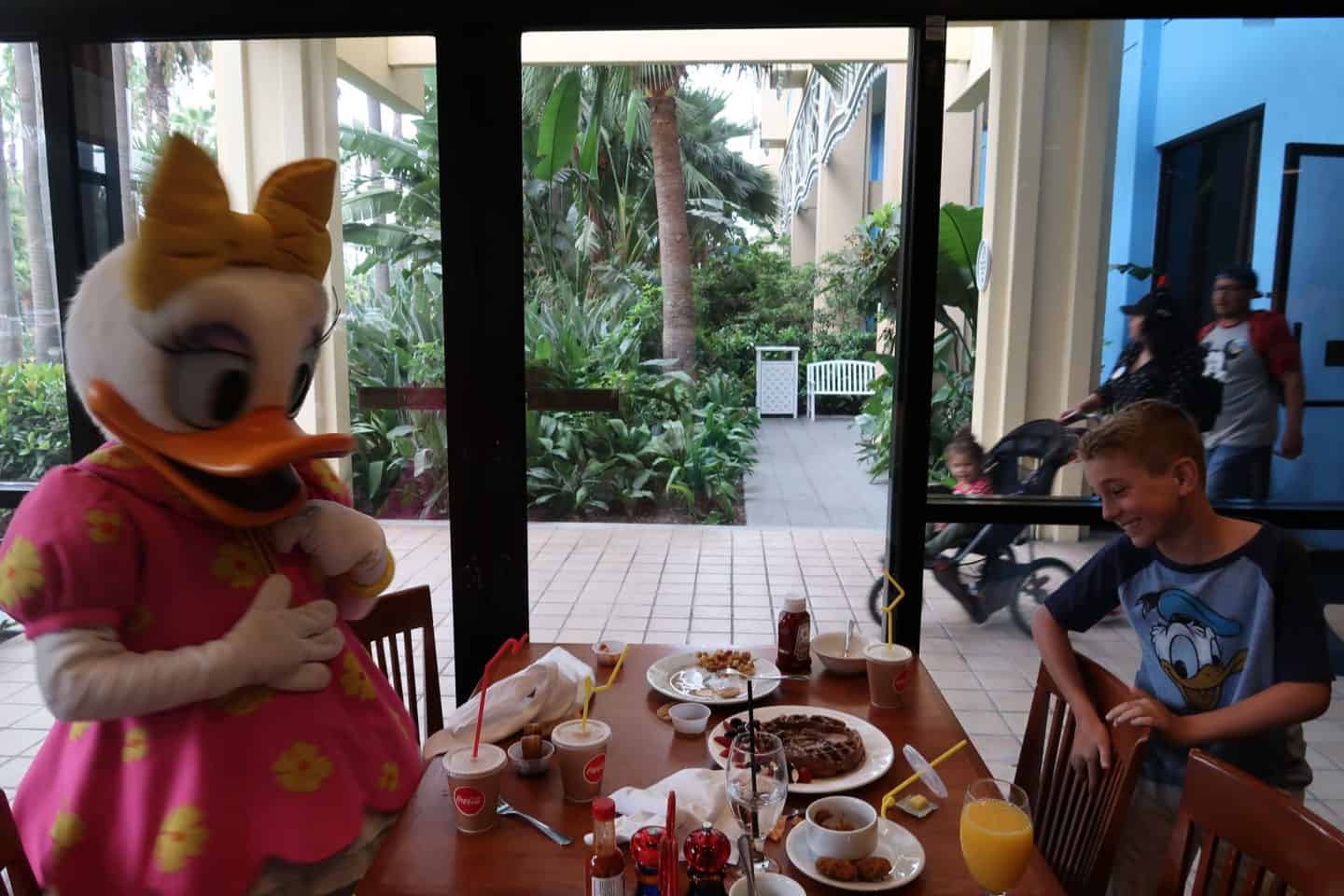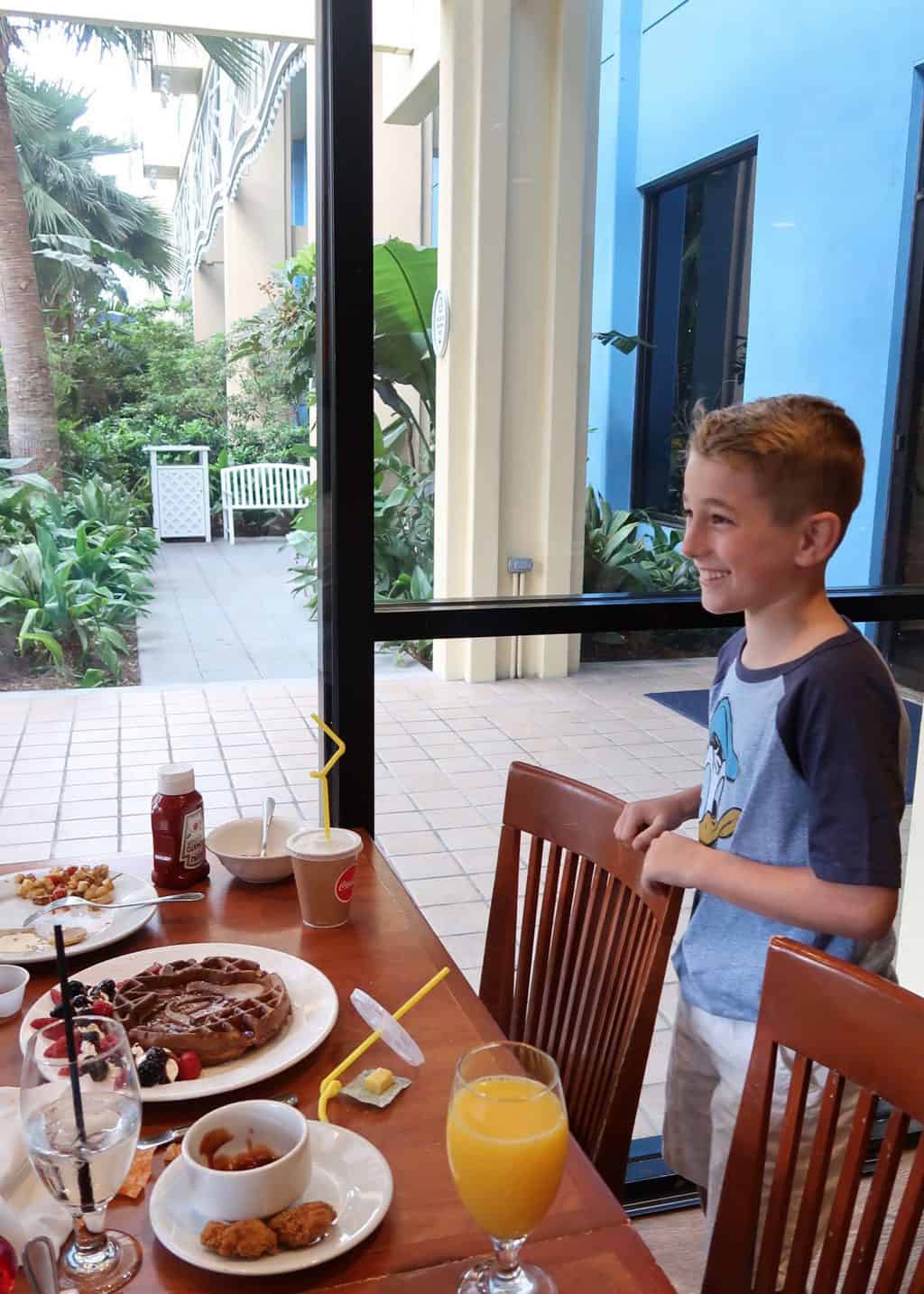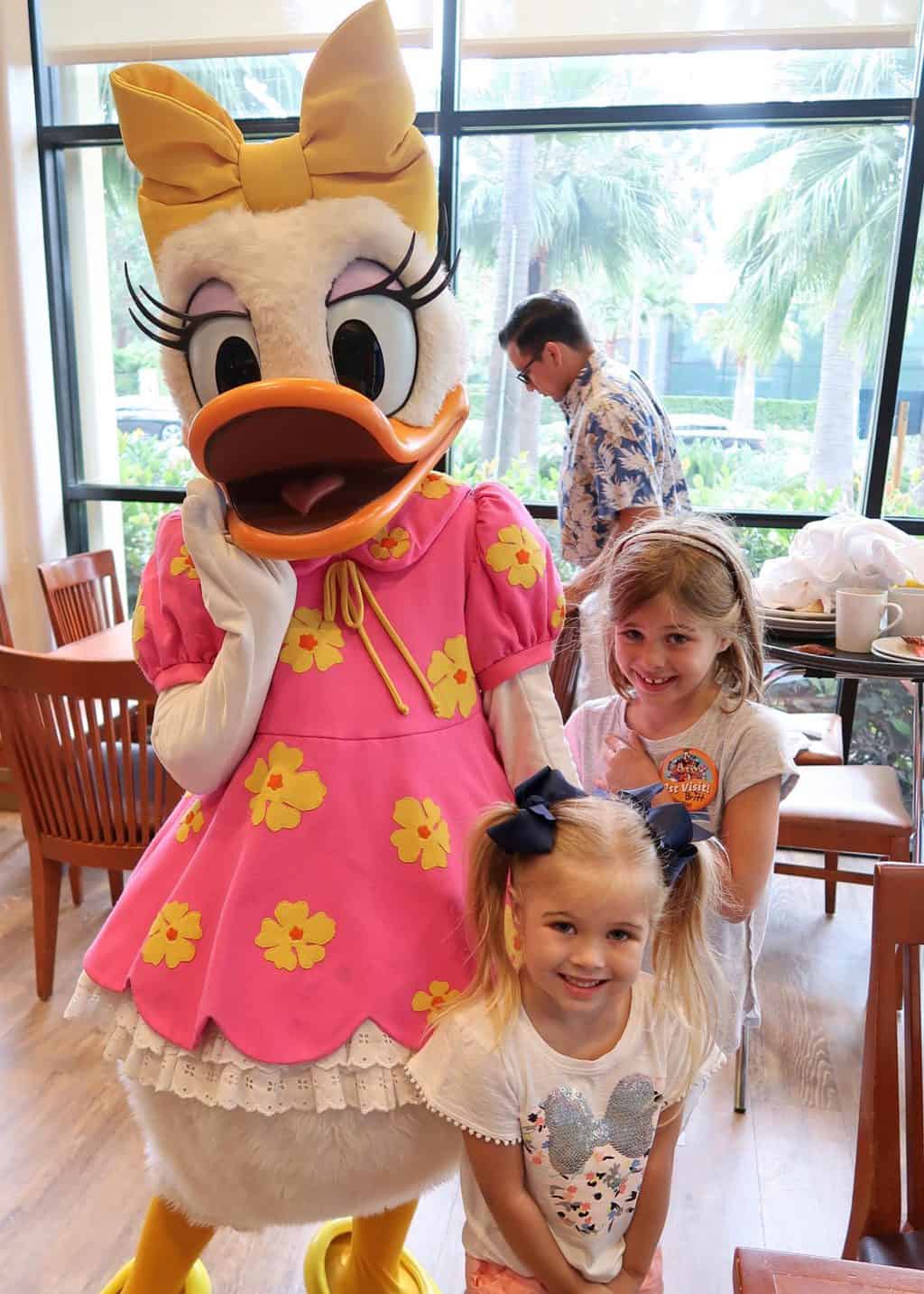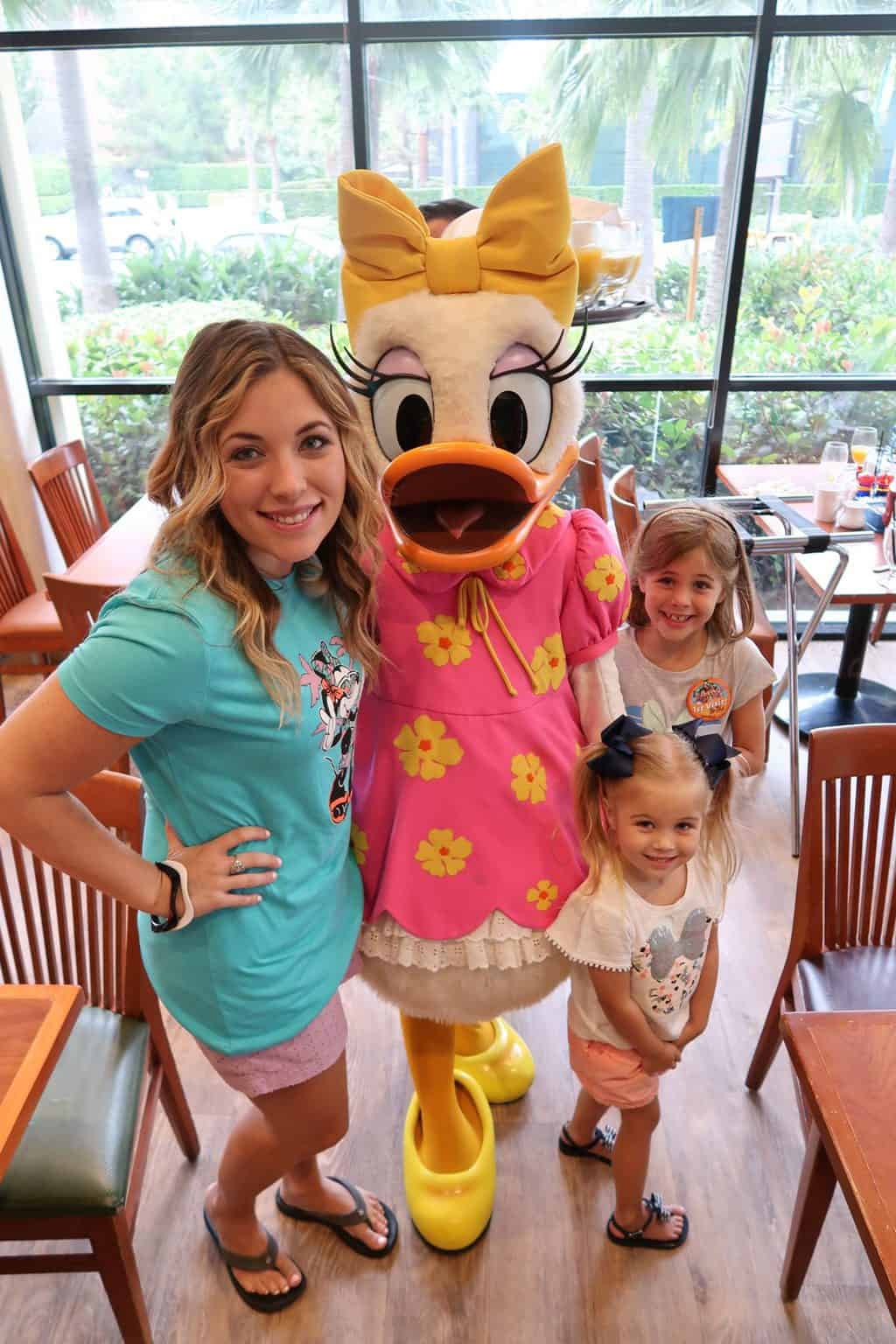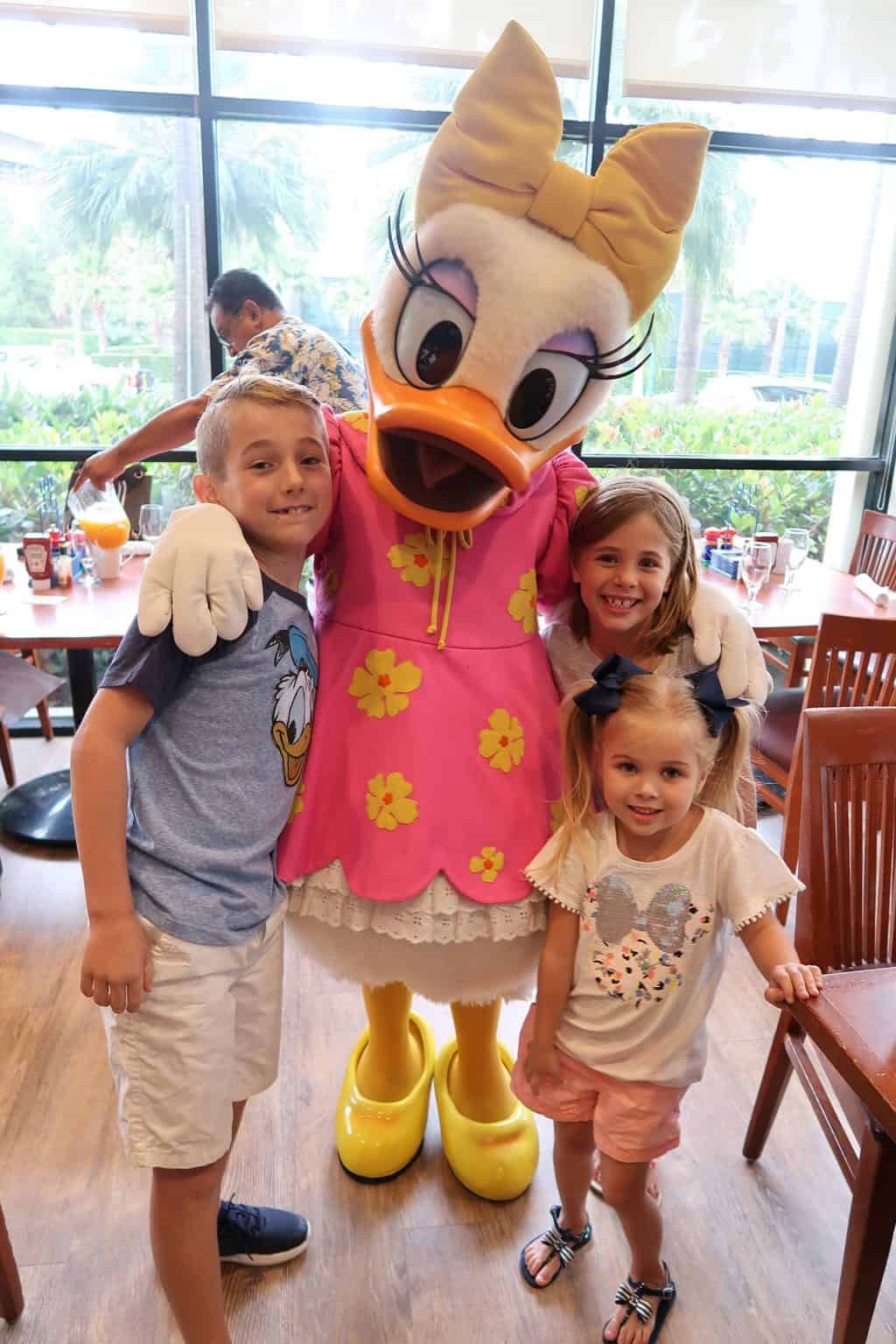 I love when character meals go above and beyond and this one certainly did! They had a dance party for all the guests and characters and the girls were ALL ABOUT IT.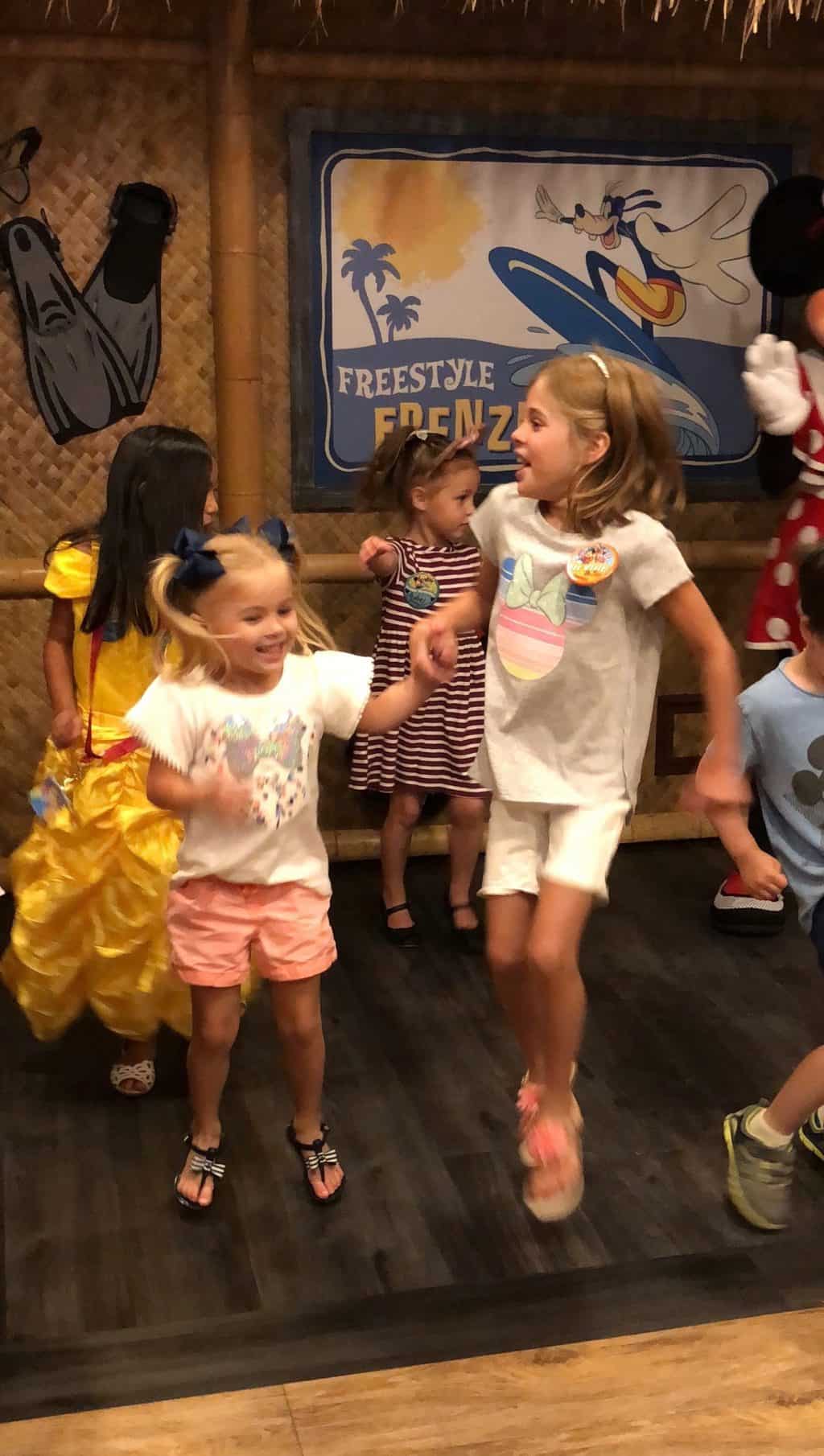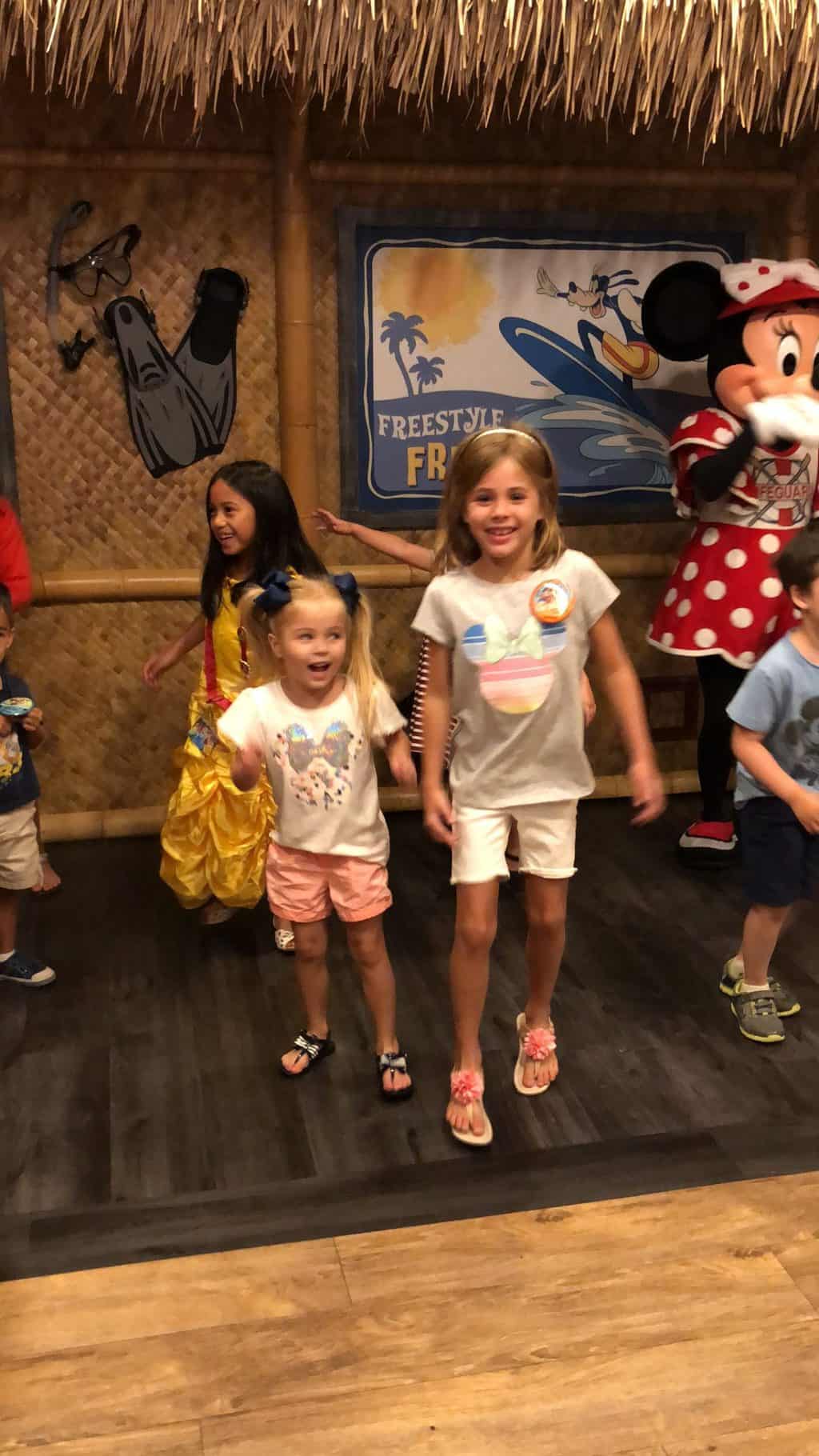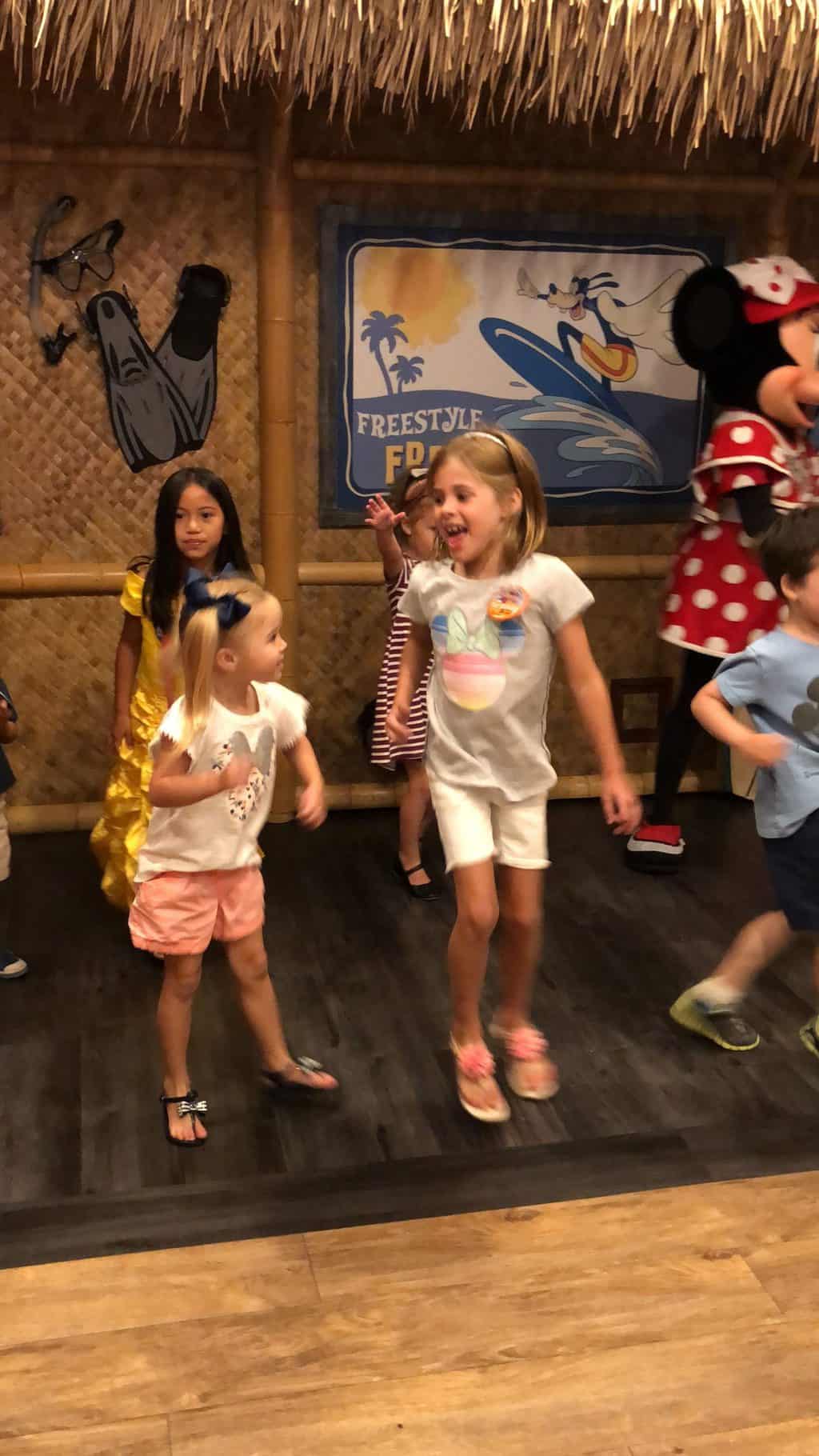 They also had really neat straws that were super bendy and fun!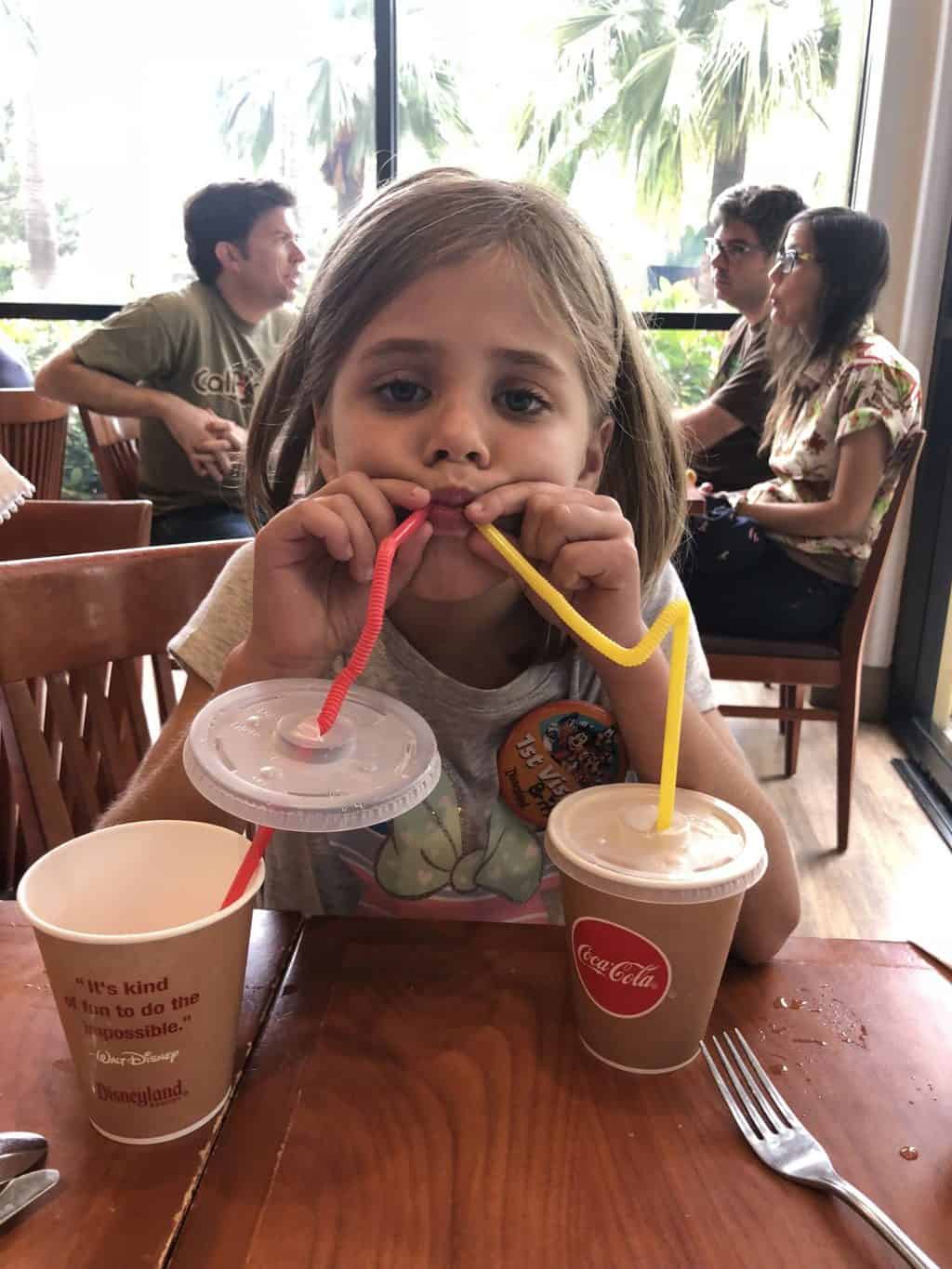 And just like at Plaza Inn they handed each of us a super cute pin!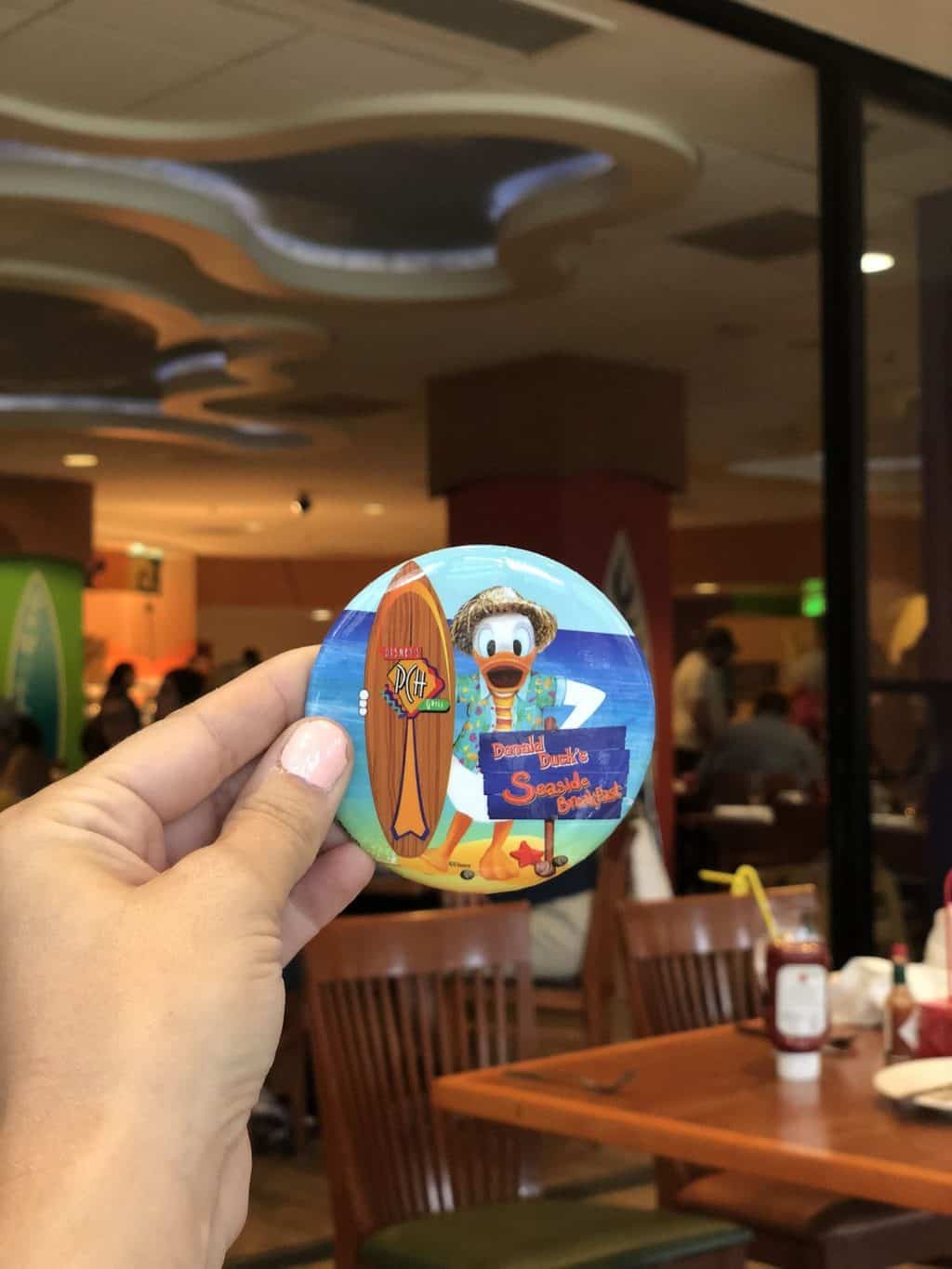 When Mommy and Daddy cut you off from putting on more pins haha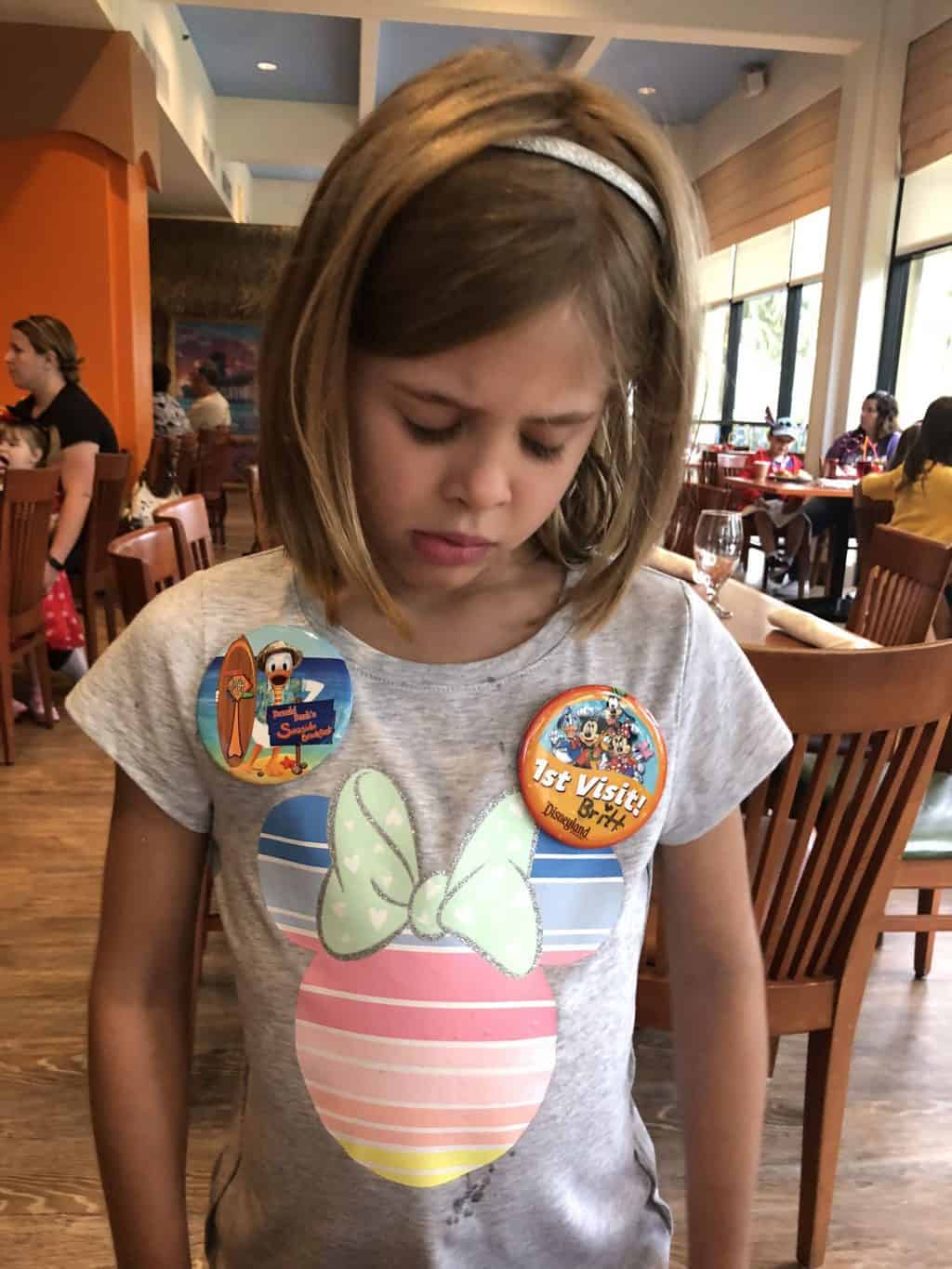 After breakfast we walked off all the calories by hitting up Downtown Disney on our way back to the hotel. If you're a Disney World family like we are then you know they changed the name of the shopping area near Disney from Downtown Disney to Disney Springs a few years ago. It took AGES for me to adjust to saying "Disney Springs." And man going to Disneyland and having the area be called Downtown Disney again totally threw us all completely off!
The Downtown Disney area is very sad when comparing to Disney Springs. There just isn't a whole lot there. But I kinda like that. I don't love Disney Springs and all the fancy stores. I wish it was more JUST Disney related stores and items. Downtown Disney doesn't have quite enough going on…but Disney Springs has simply too much going on.
We did love checking out the Lego Store! And seeing the different Lego displays than we are used to at Disney Springs!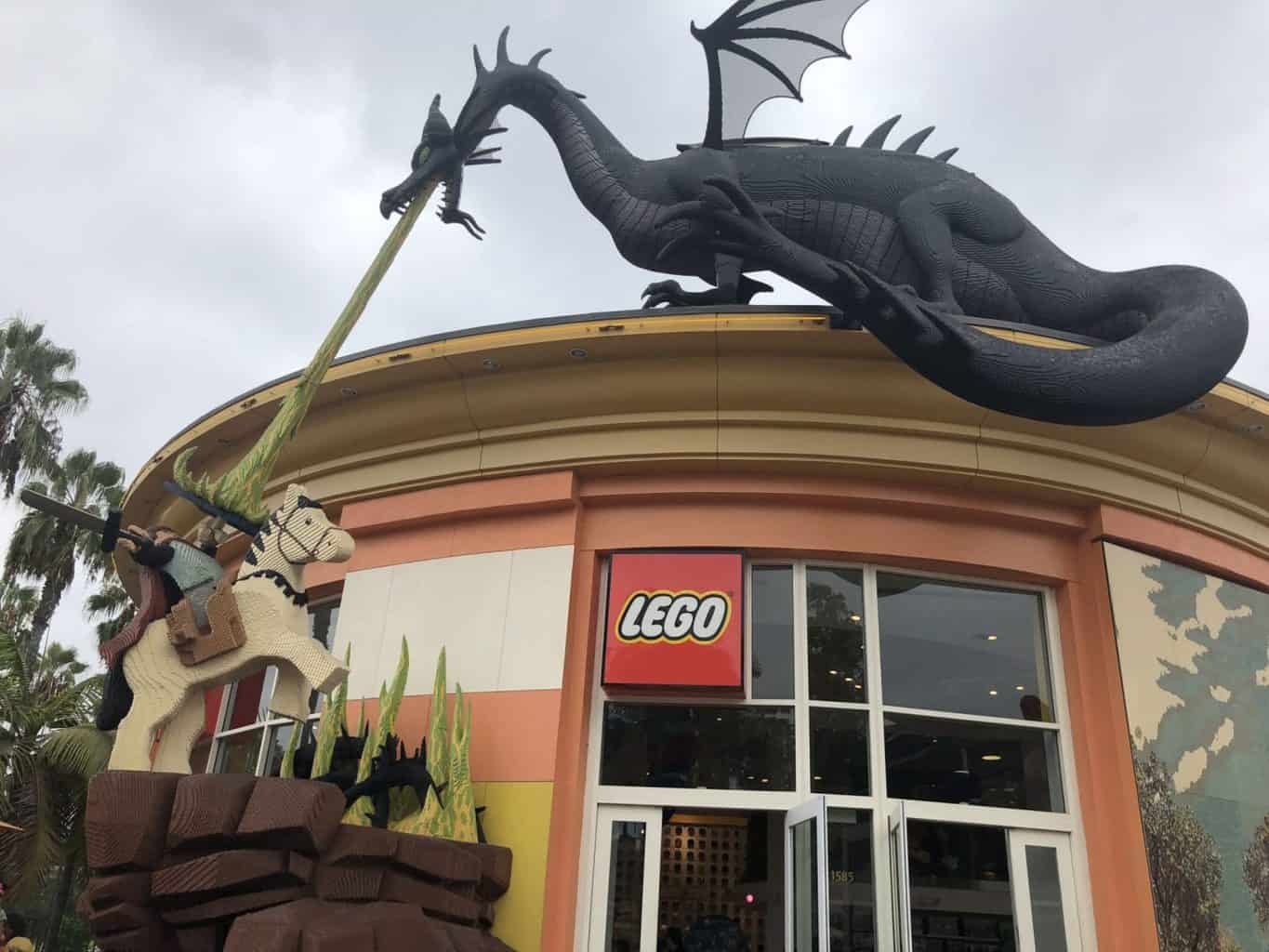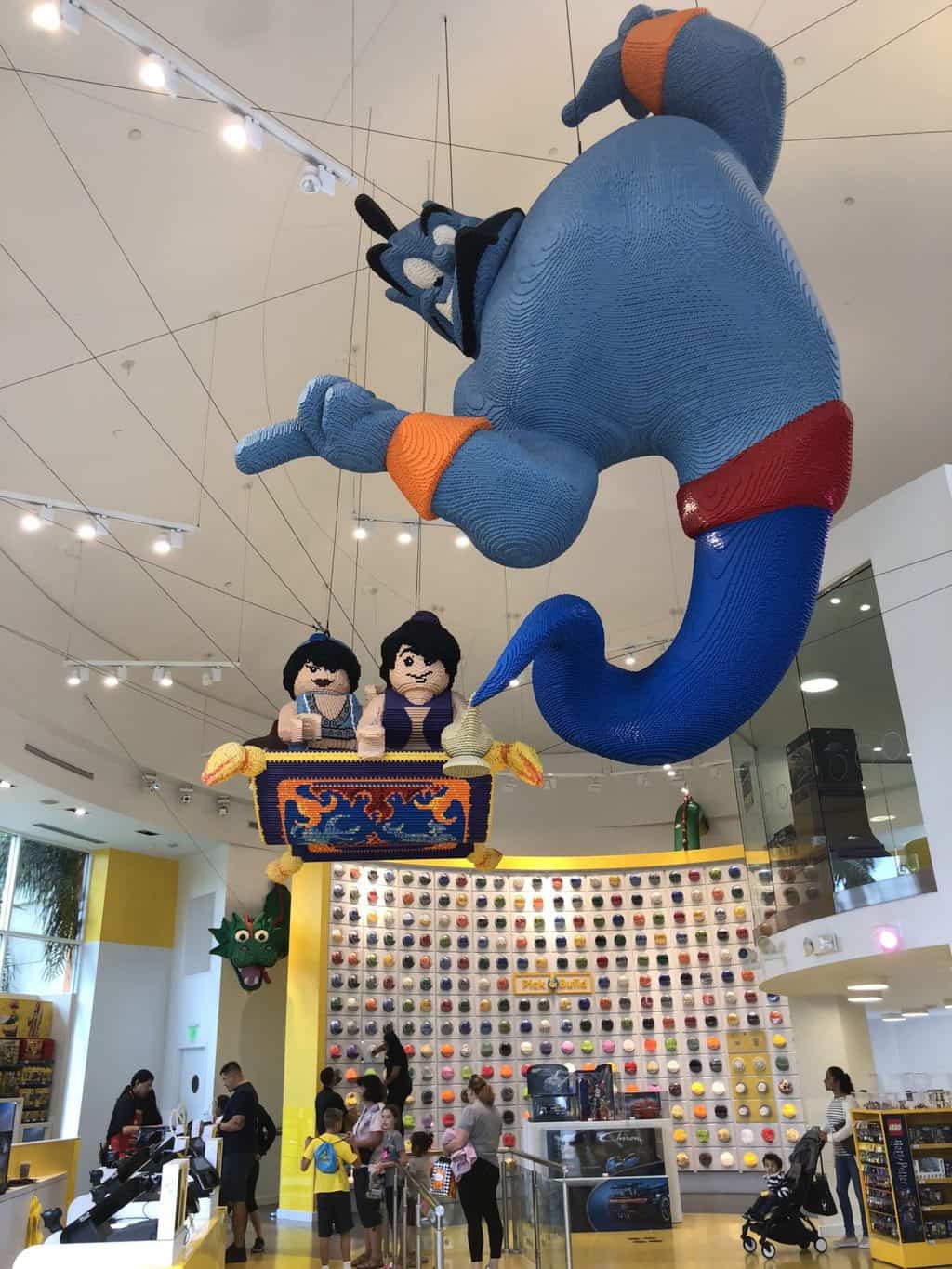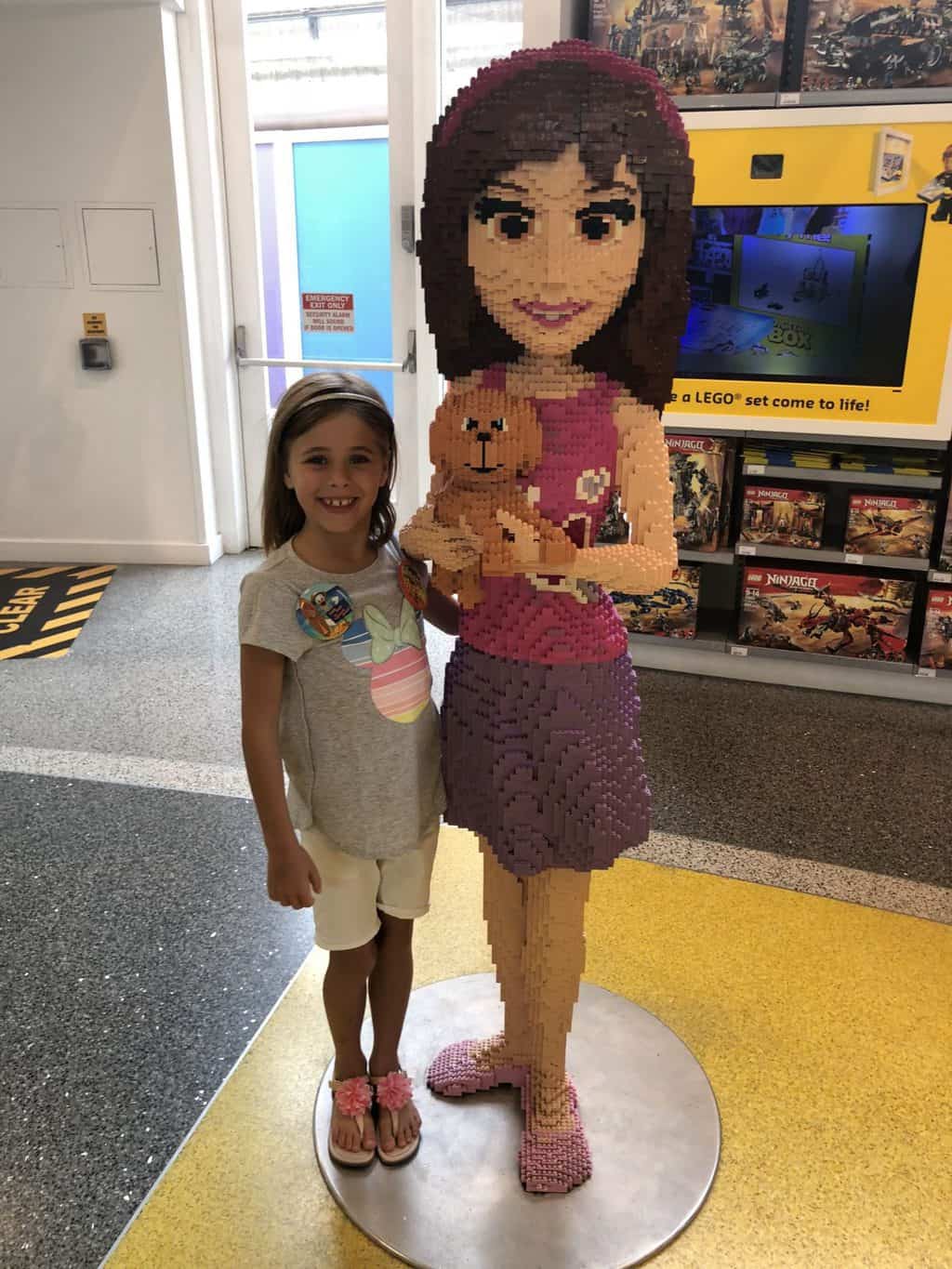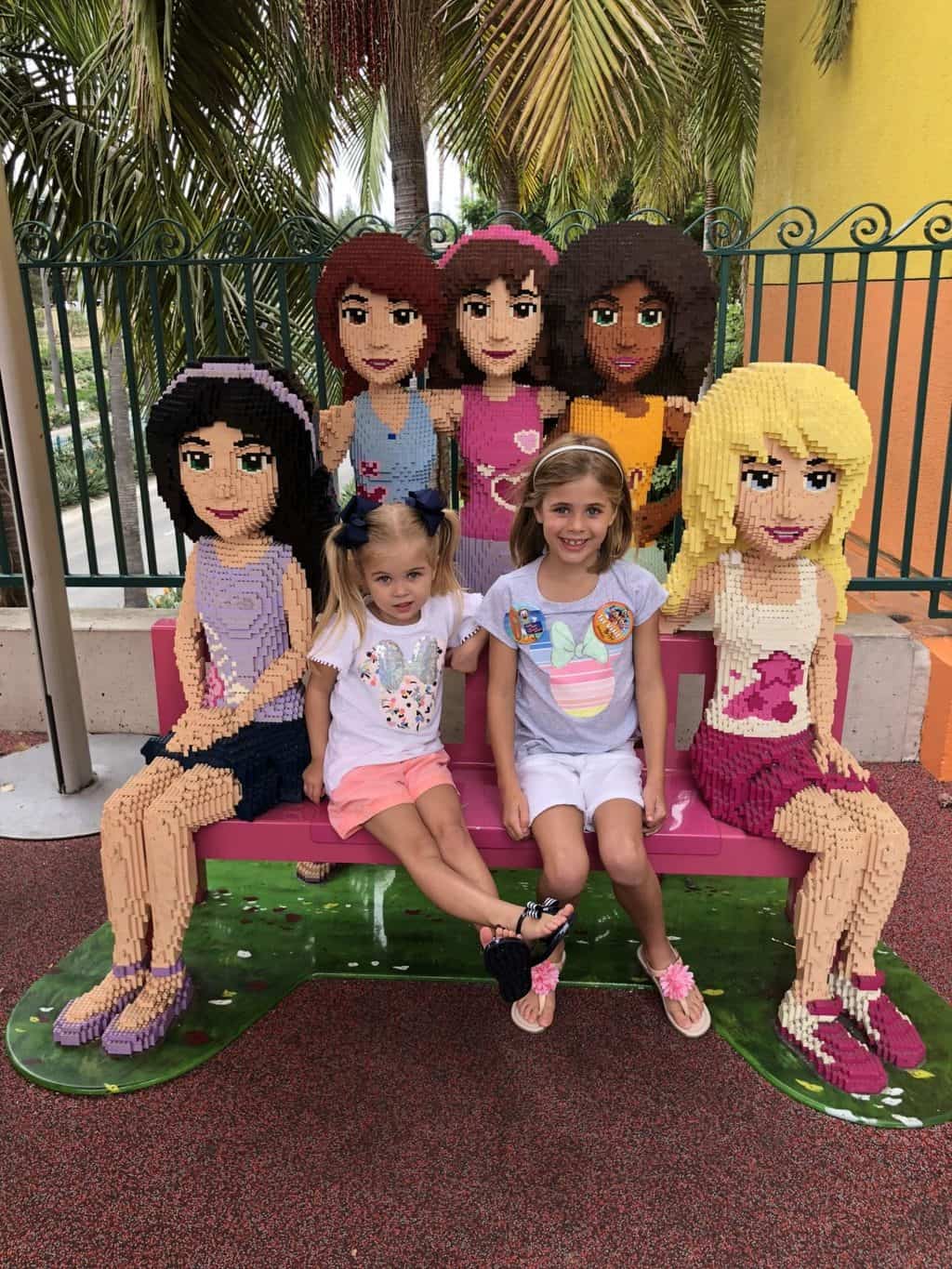 Kinda hidden around a corner…def EPIC.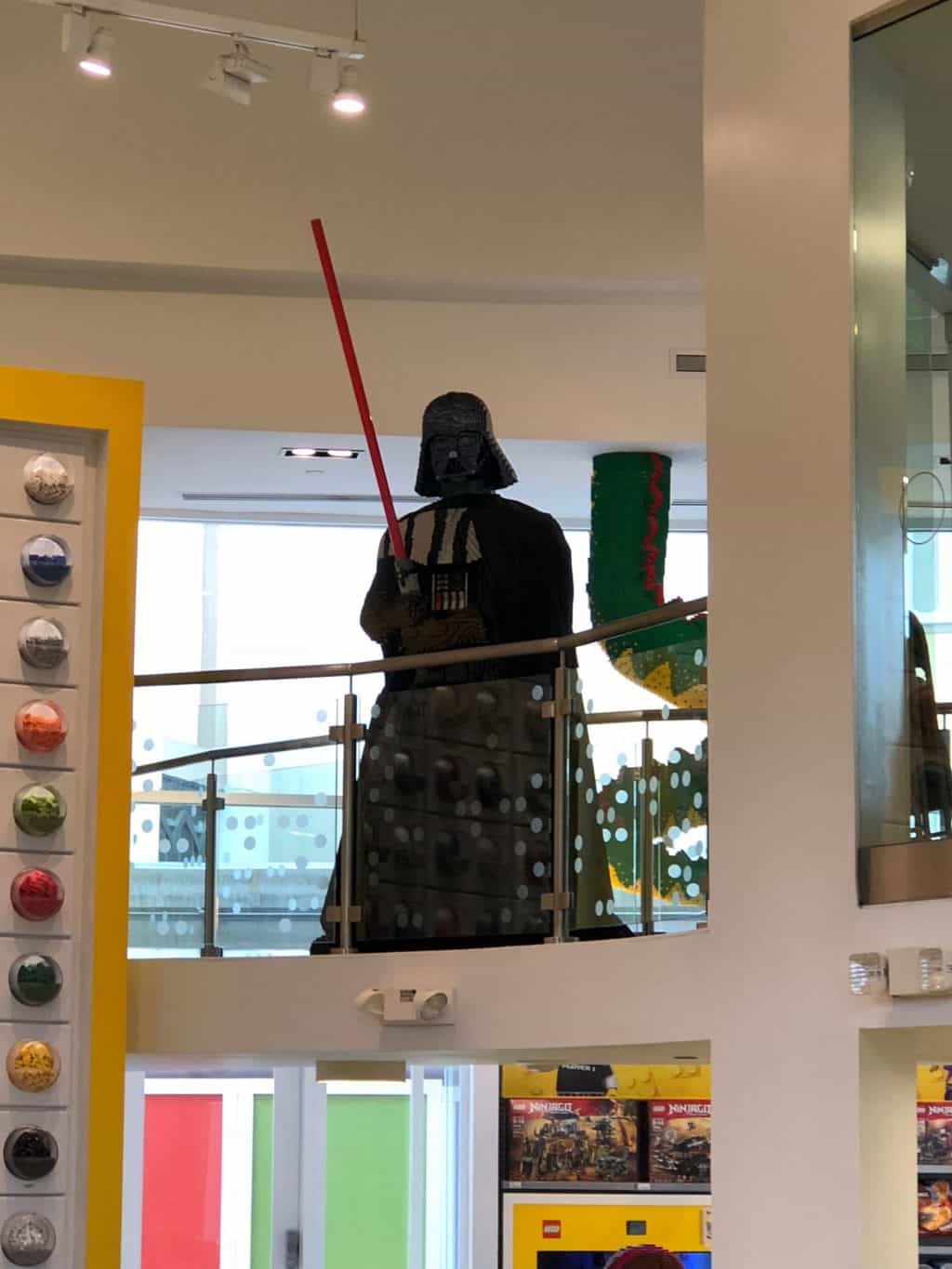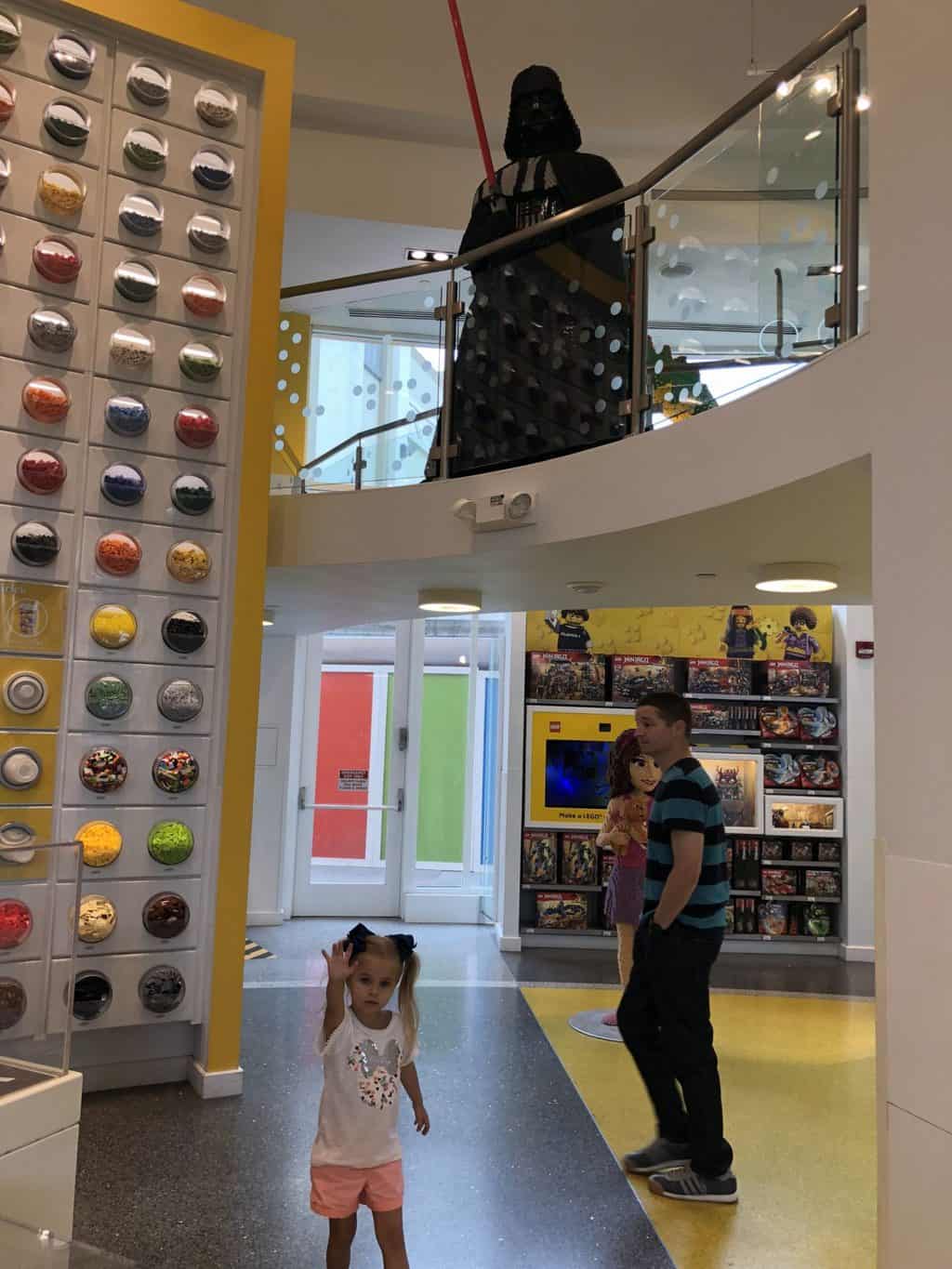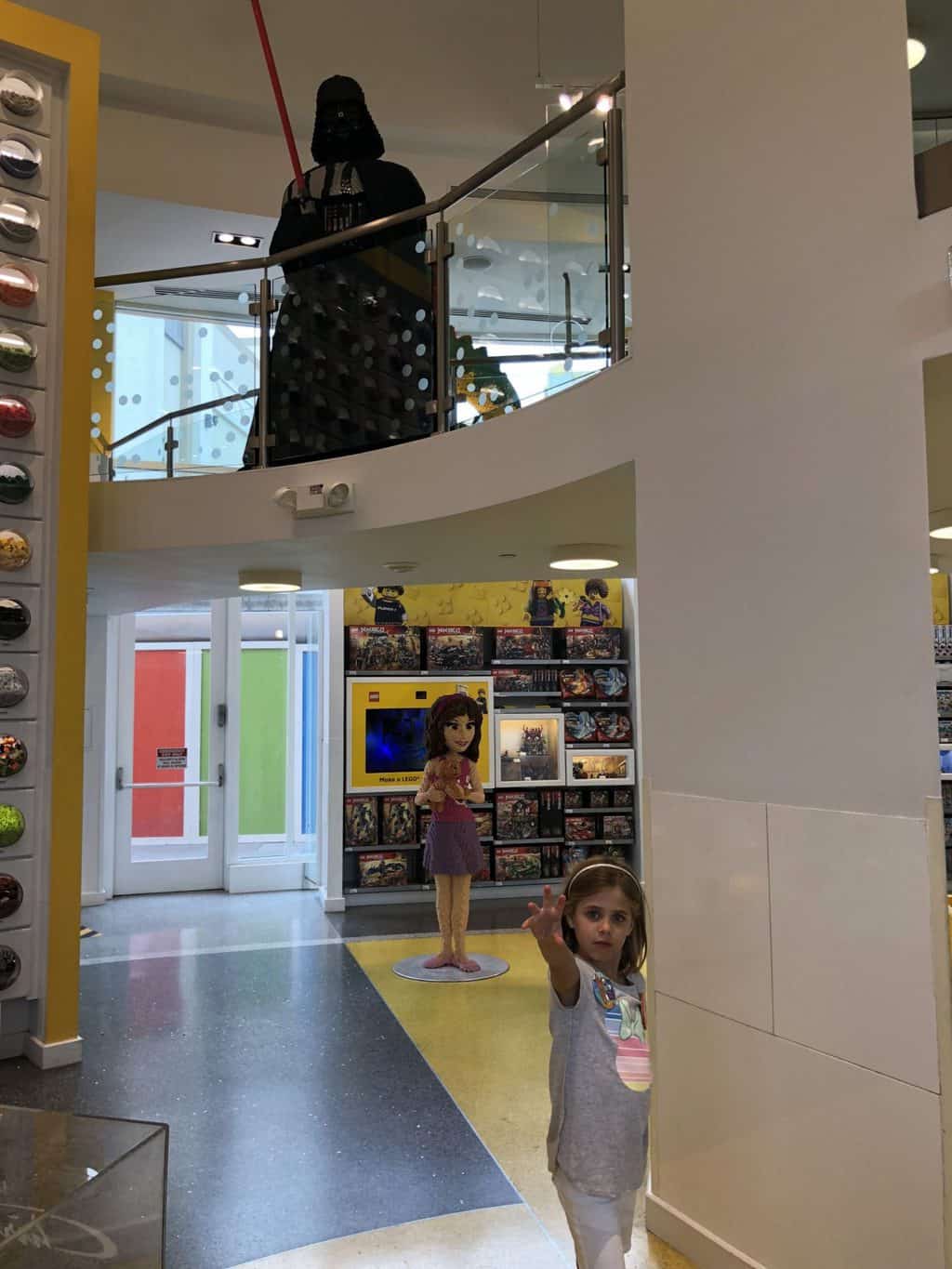 Through the area of Downtown Disney they had these decorative artistic pieces in all the flower beds. I mean I get the concept. And guessing the theme was cool but they were also kinda tacky right?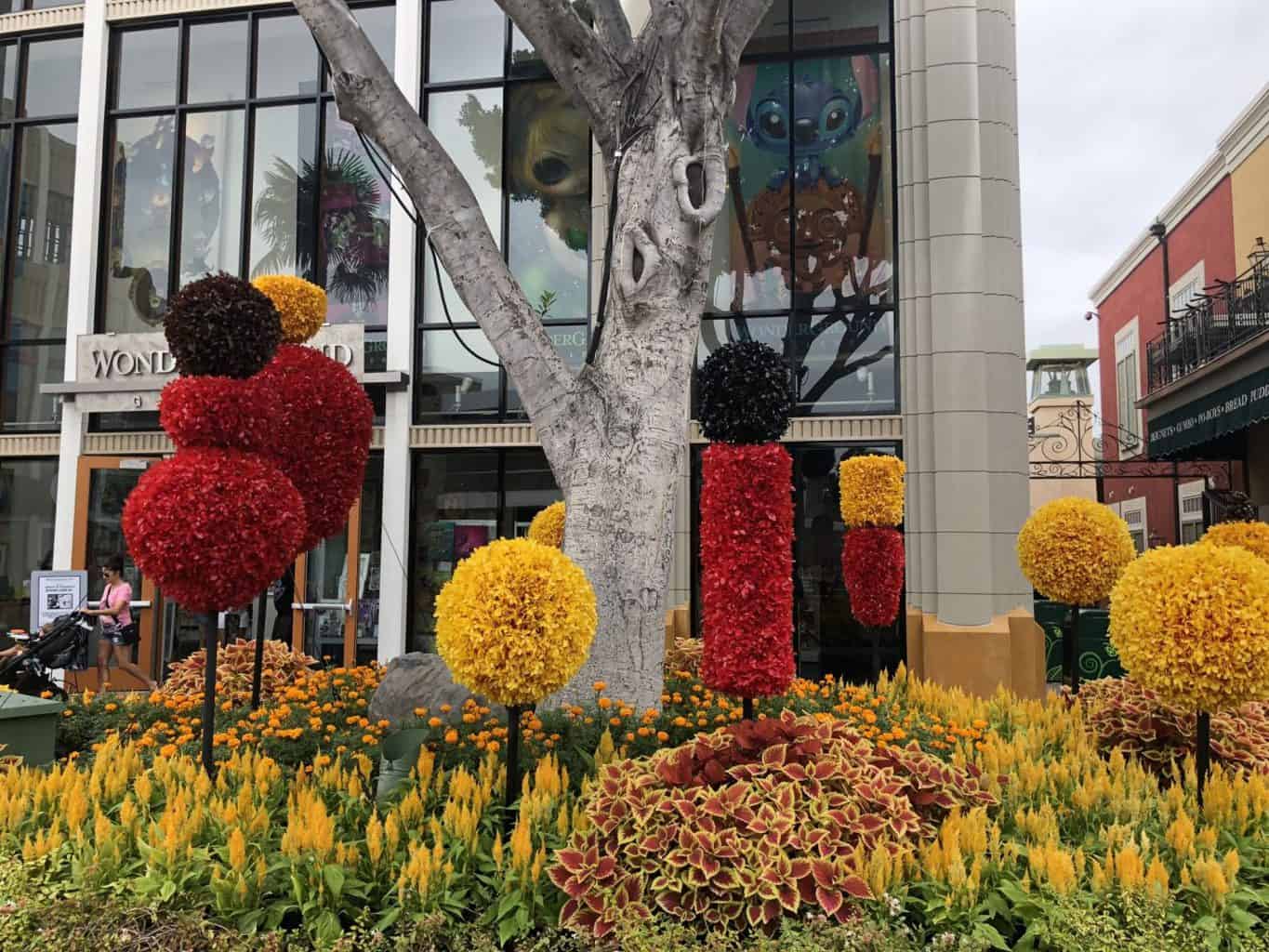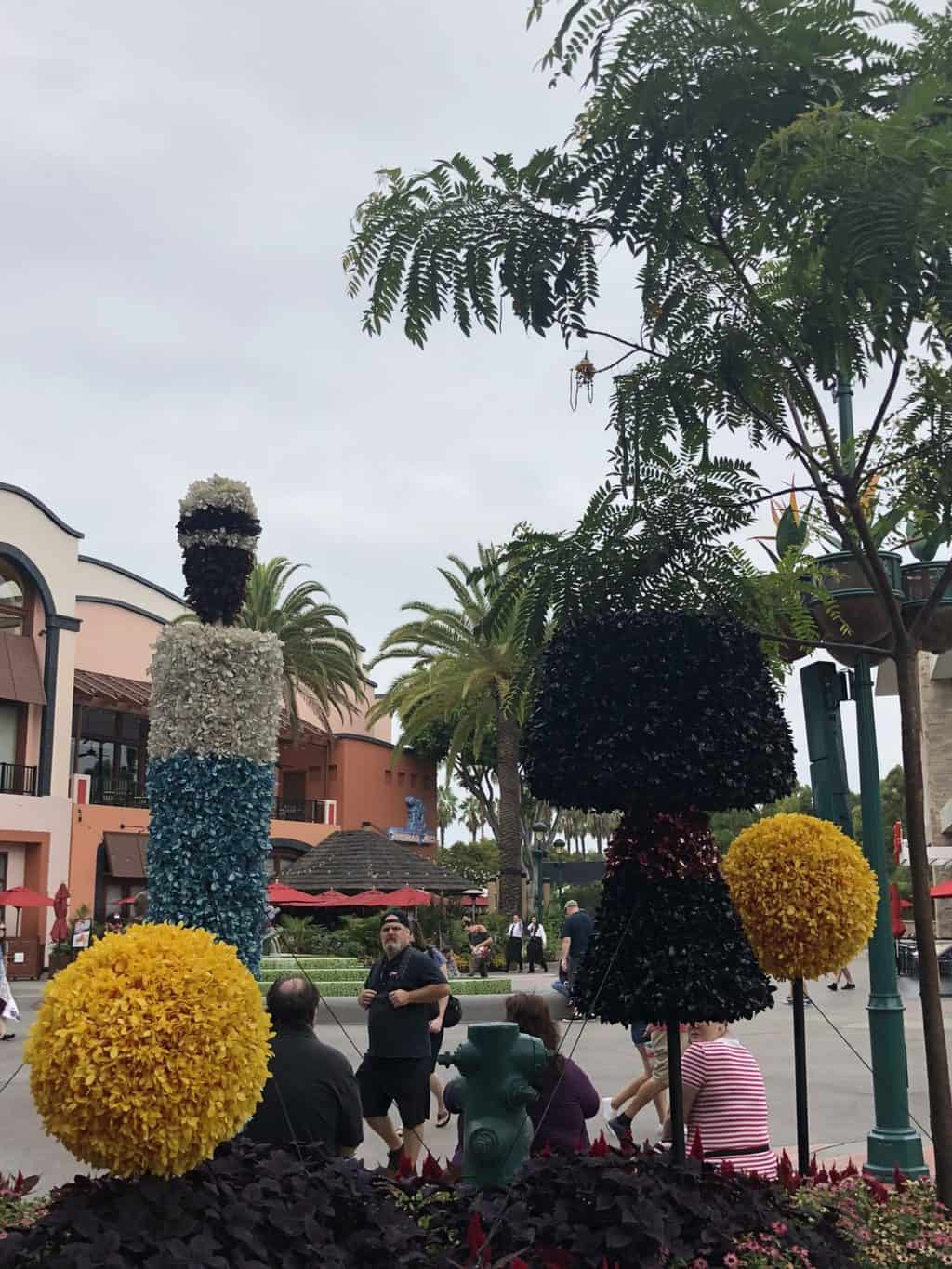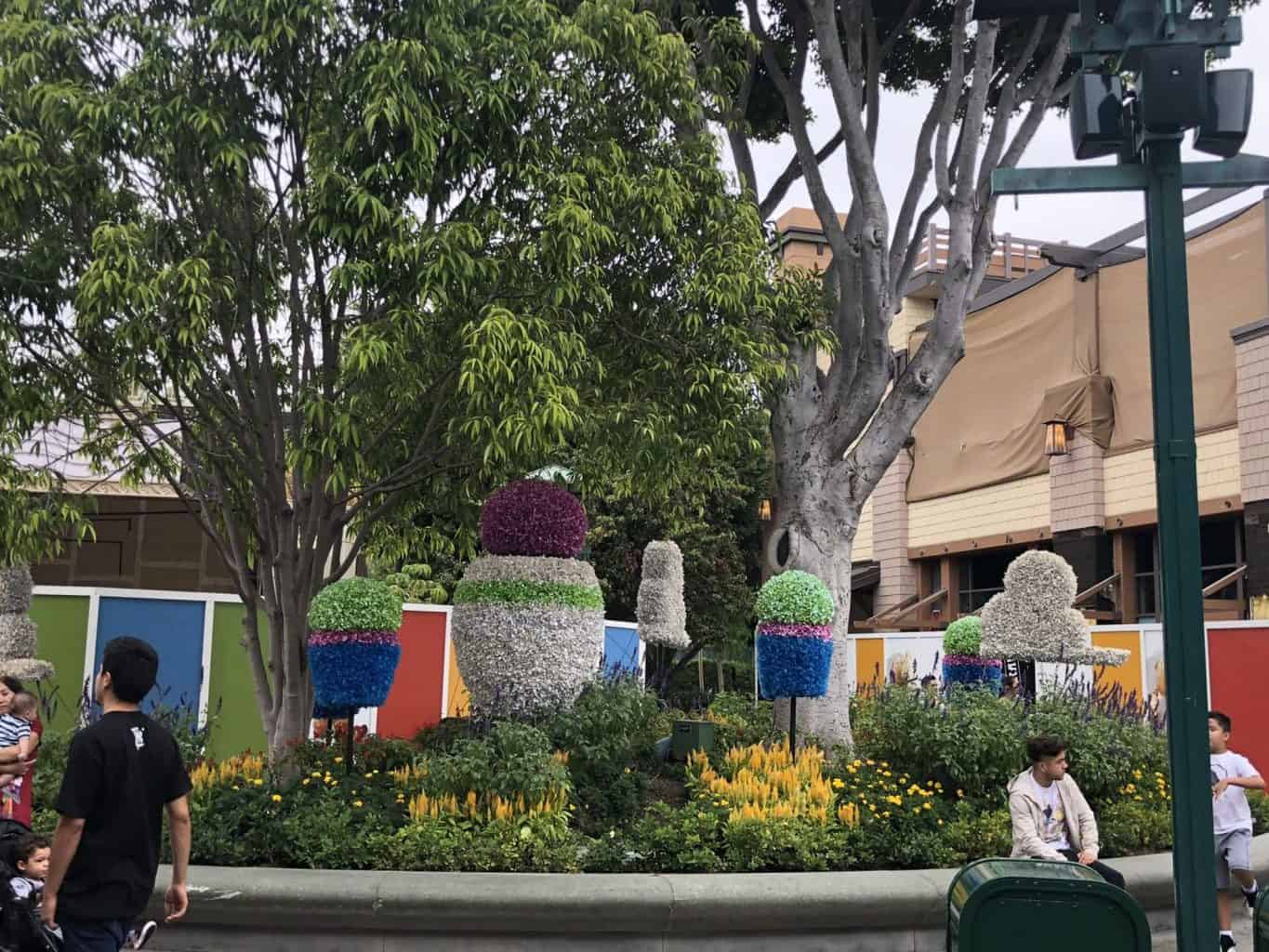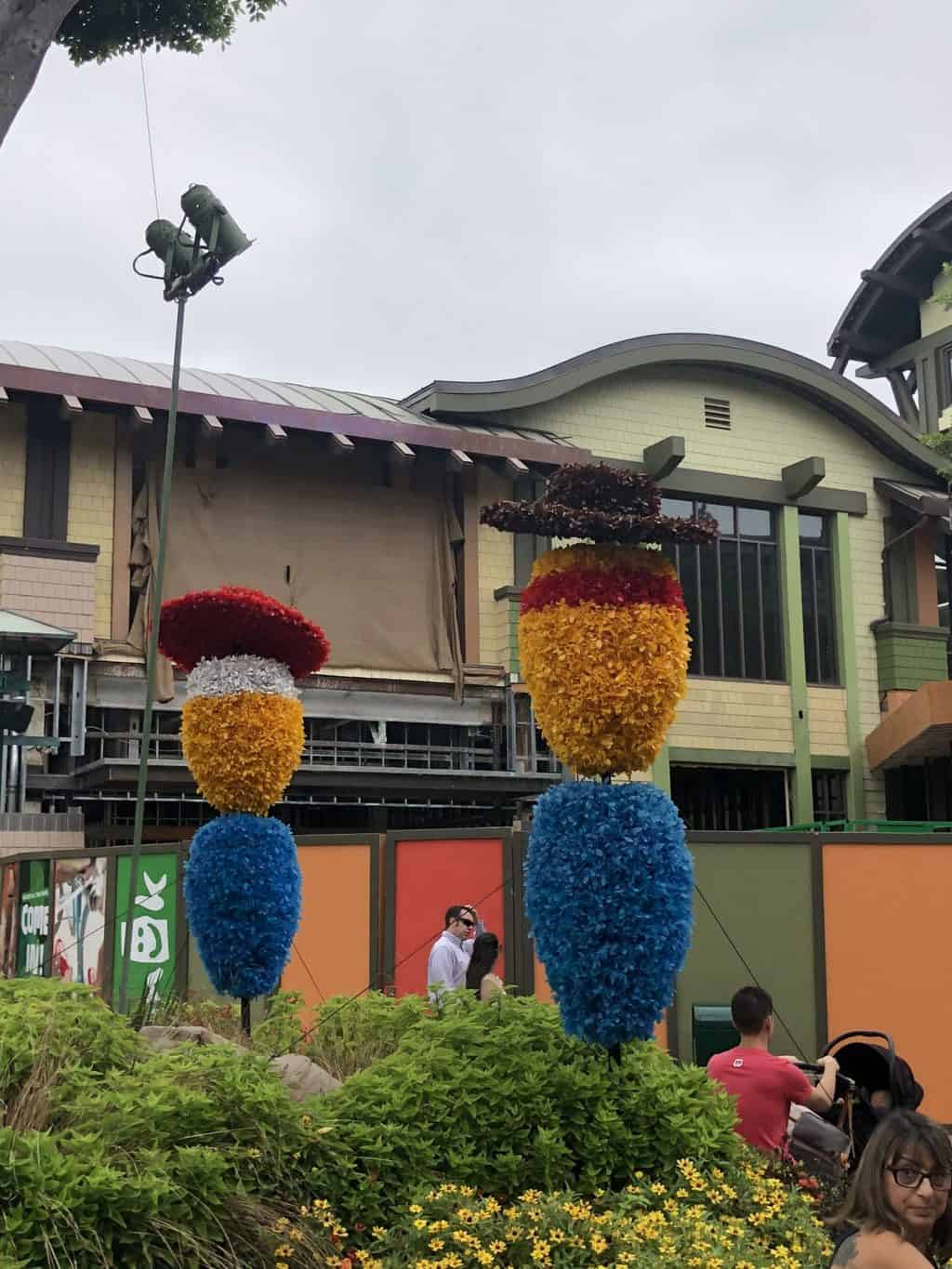 When you have a Disney Chase Visa you get a discount on merchandise when you purchase $50 or more. We don't get any sort of discounts at Disneyland for being Disney World Passholders (#inserteyerollhere). So we wanted to make sure to use the credit card discount. We went to the largest Disney Store in Downtown Disney and let the kids each choose ONE item to take home. The stipulation? It HAD to be DISNEYLAND specific. Not something you can buy at either park. They were also allowed to use their own money that we brought with us if they wanted to purchase something else!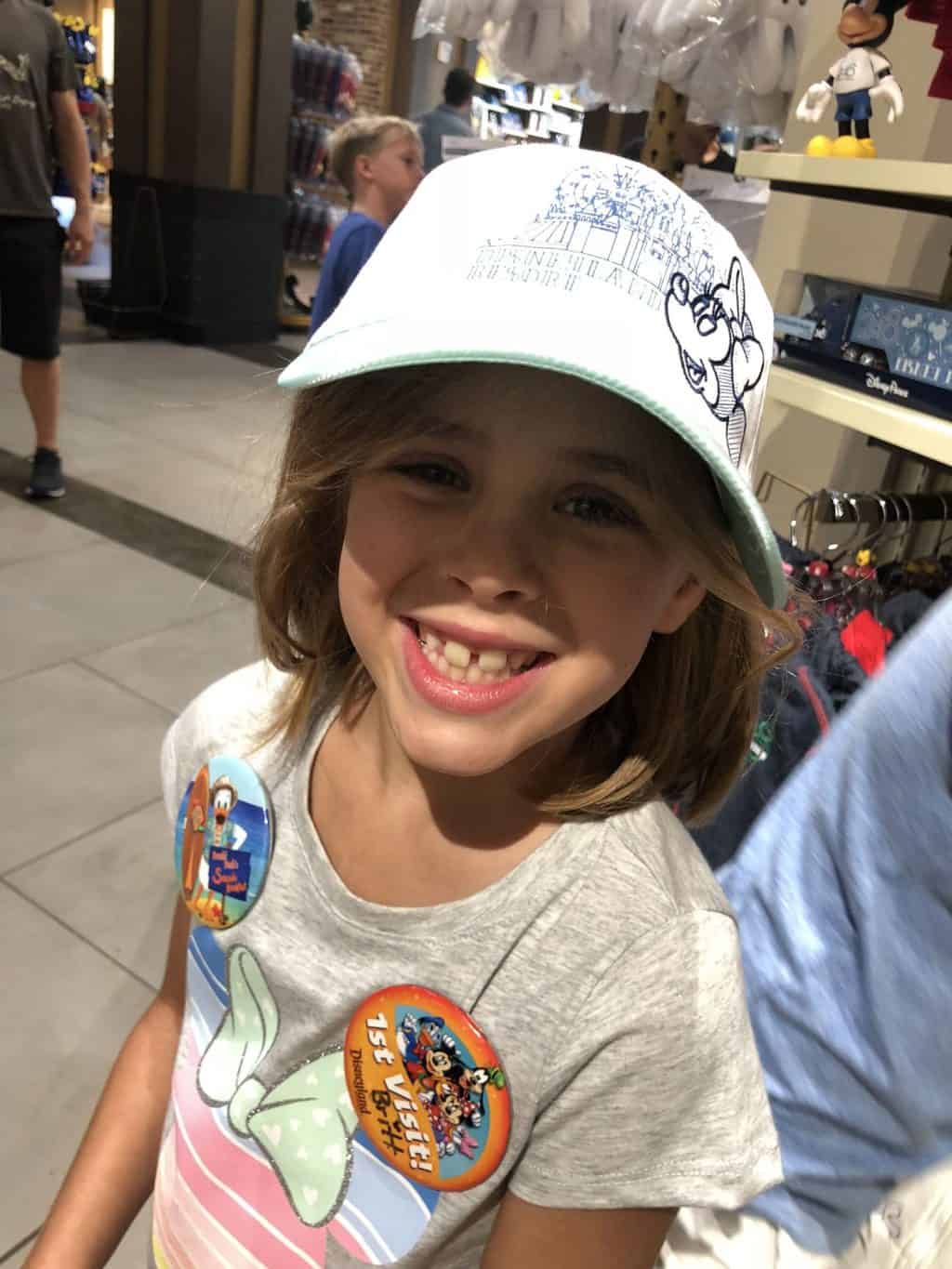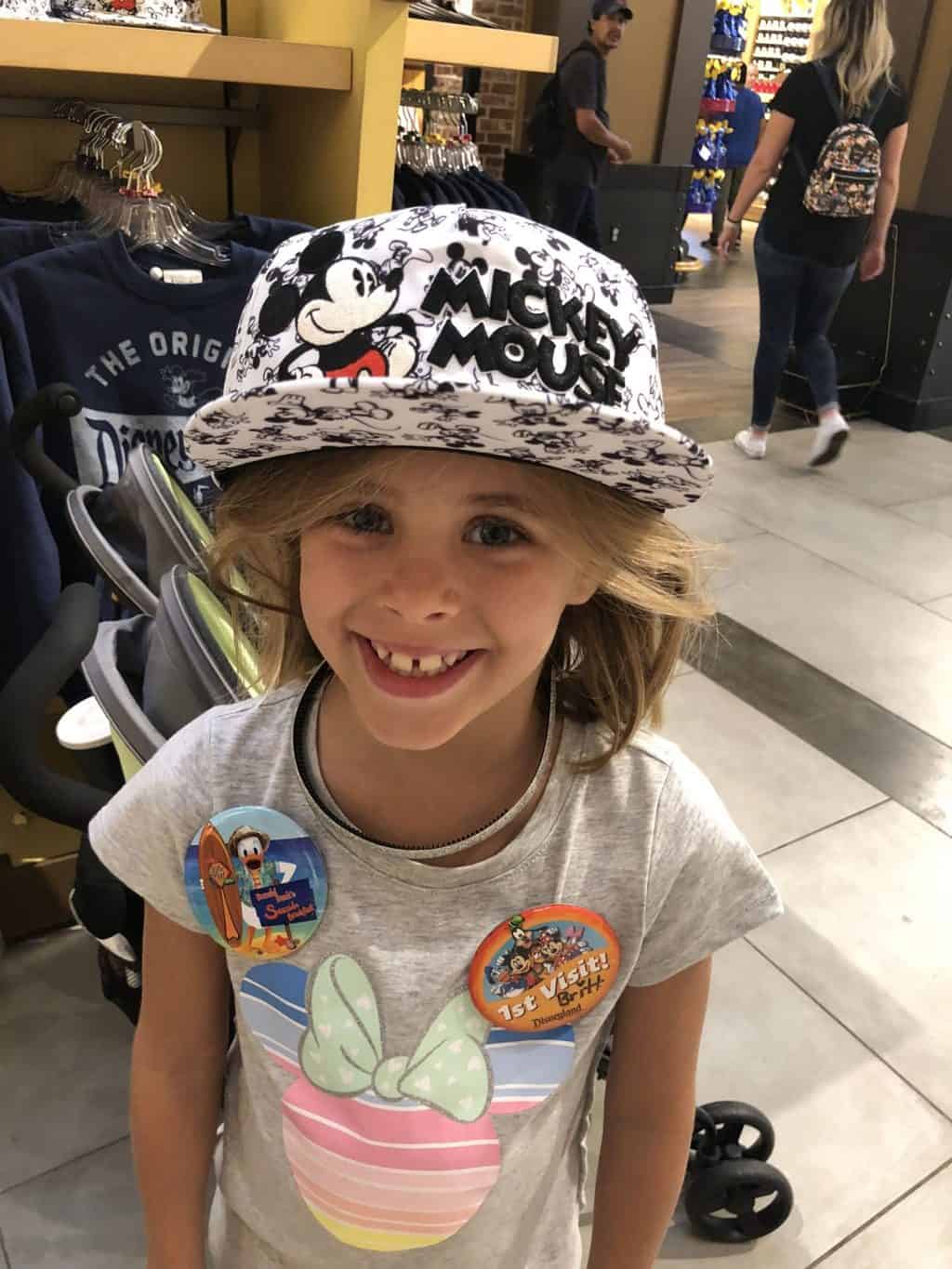 Now that Tess is four she has to use her own money on purchases and used her earnings to buy a BB8 (she hasn't seen Star Wars but loves being "in the know" with the big kids!)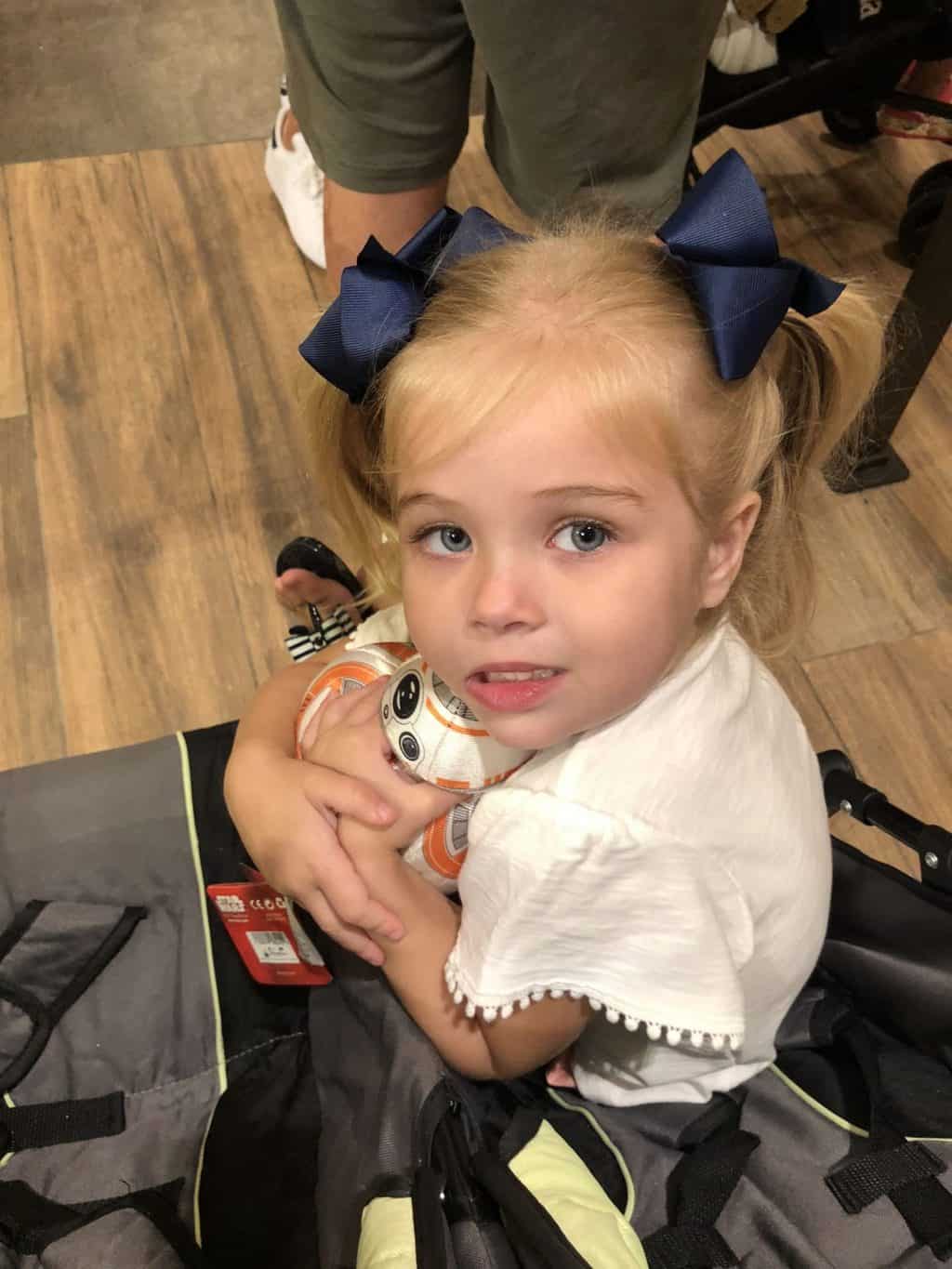 We may have been on a different coast but Britt's money got spent the same way: on another stuffed animal.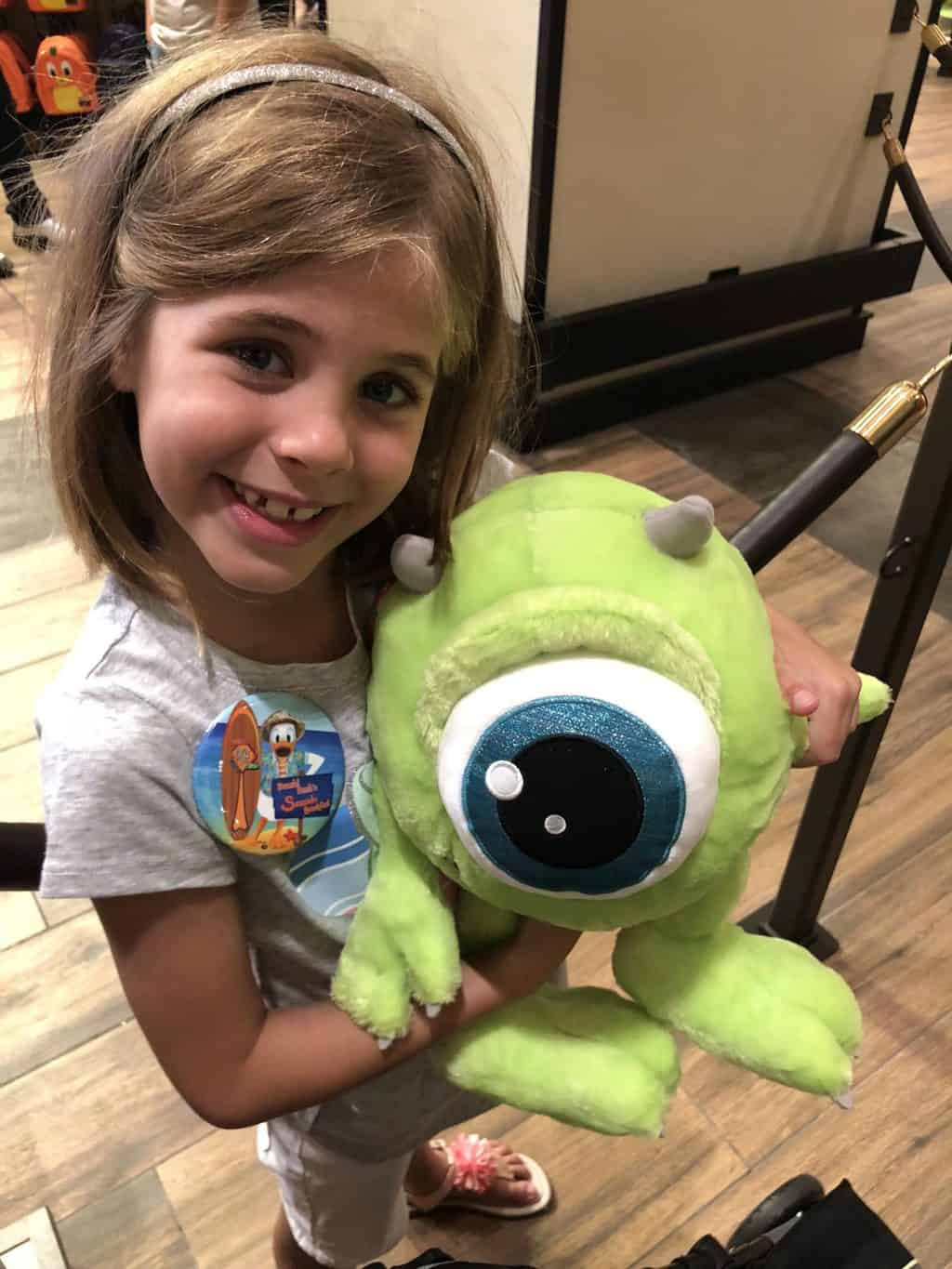 I knew the girls would be easy to find something Disneyland to take home but I was more nervous about Kye as he's at that preteen age where he's a bit more picky and boys are just kinda hard anyway. But he was SO excited when he saw this Disneyland book bag. He snatched it up right away and was eager to be able to carry it himself around the parks with his own stuff in it for park days.
He also asked me to take a picture of him carrying it and have it be "fuzzy around him" haha!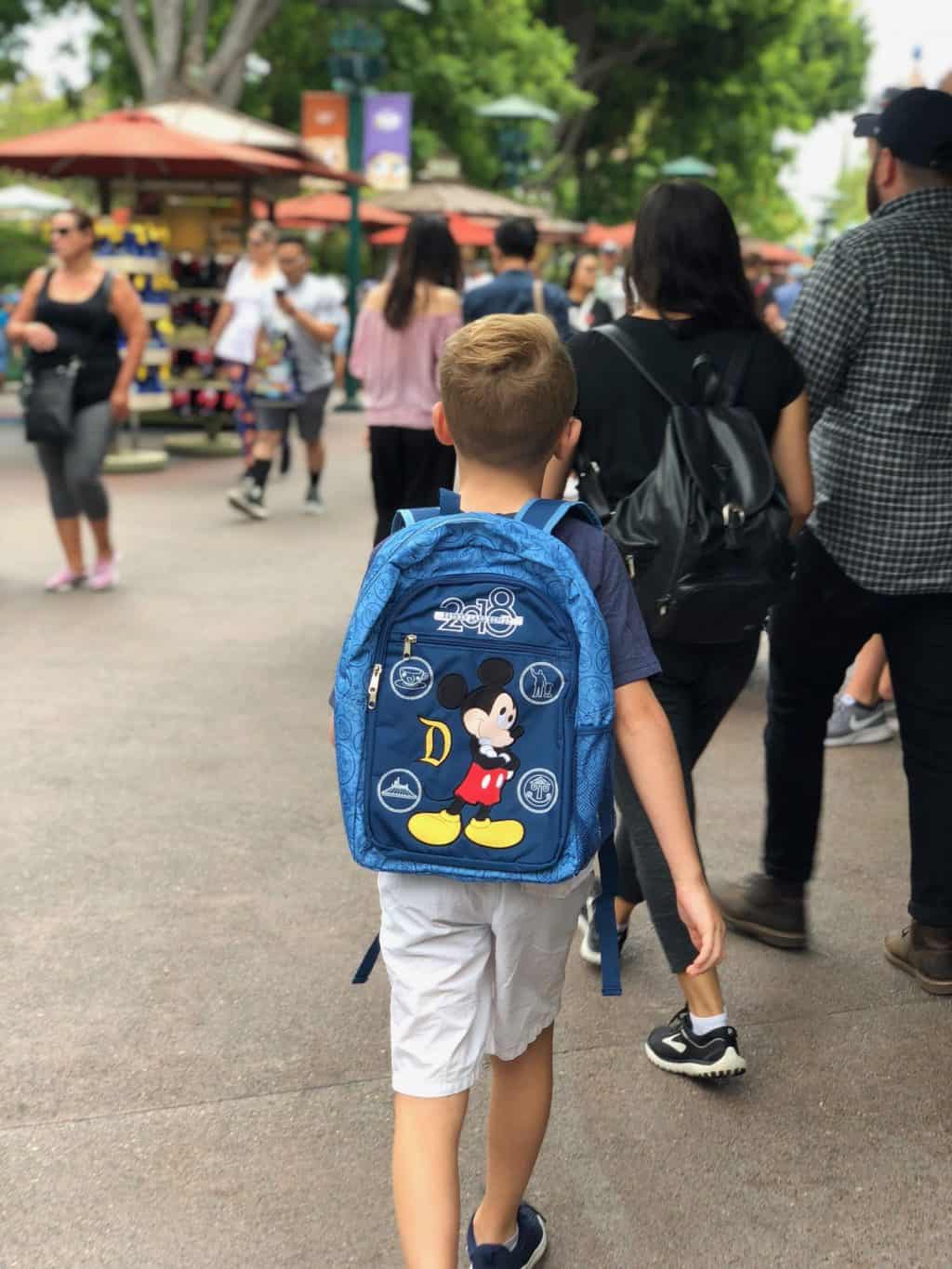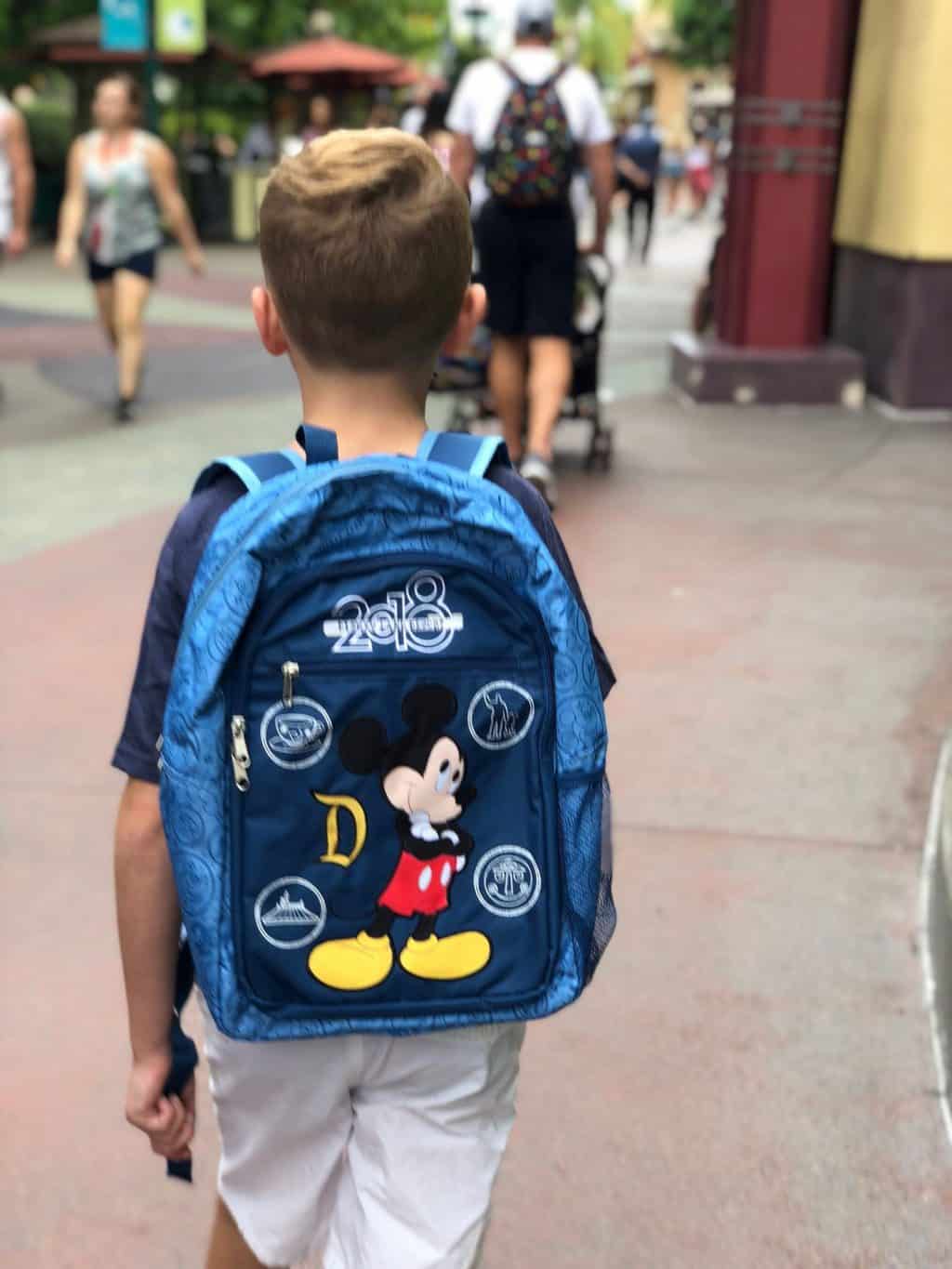 The Downtown Disney area is located in the same general area as the two park entrances. Unlike Disney Springs, they do bag check for Downtown Disney just as if you're entering the parks. I liked that precaution and it was nice to have such a small crowd of people roaming through the stores with us!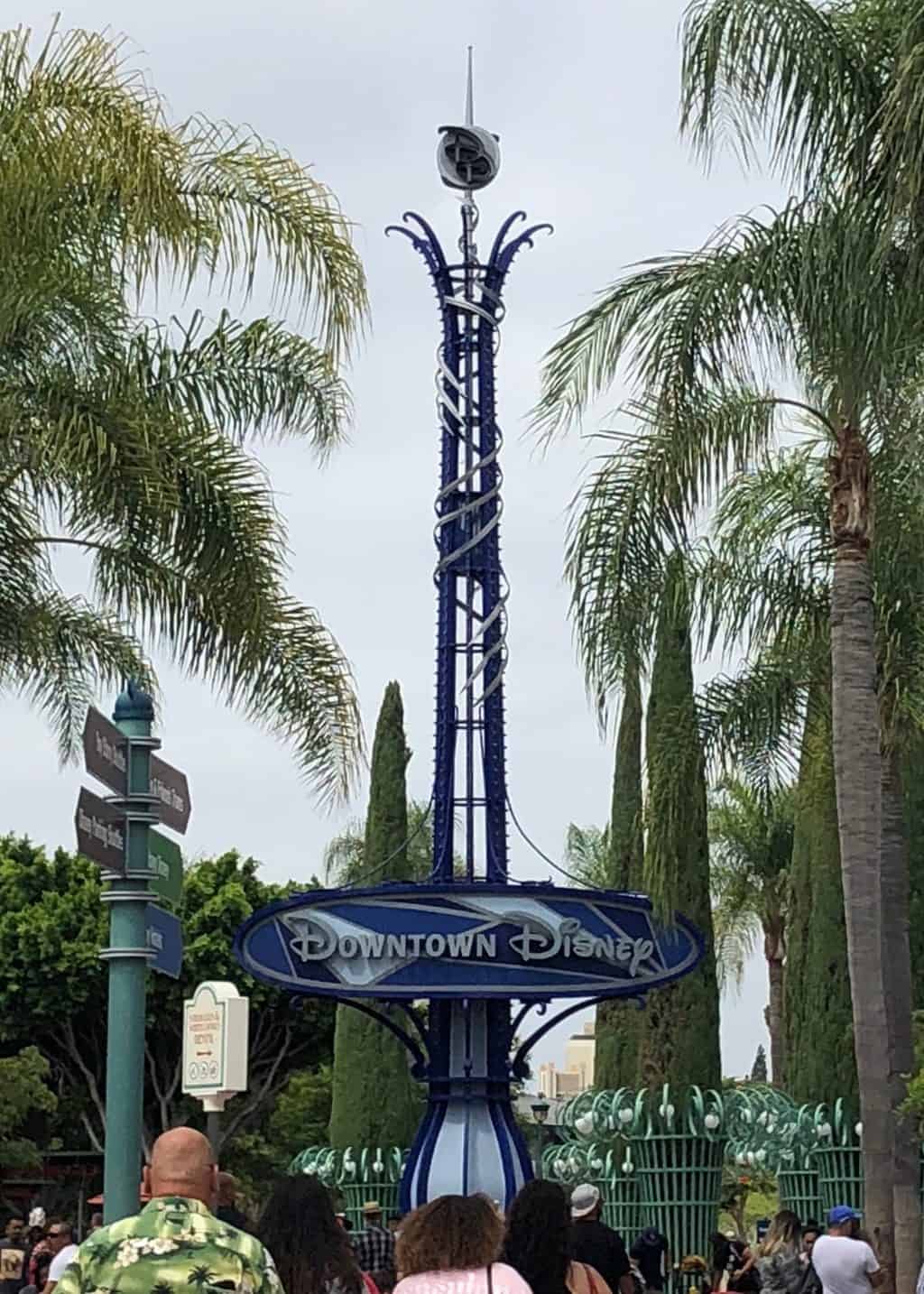 On the left is Disney's California Adventure. In the center is Downtown Disney. And on the right is Disneyland.


I loved all the flags and banners too and we were visiting during a fun time because we got to see the switch from Pixar Fest to Halloween!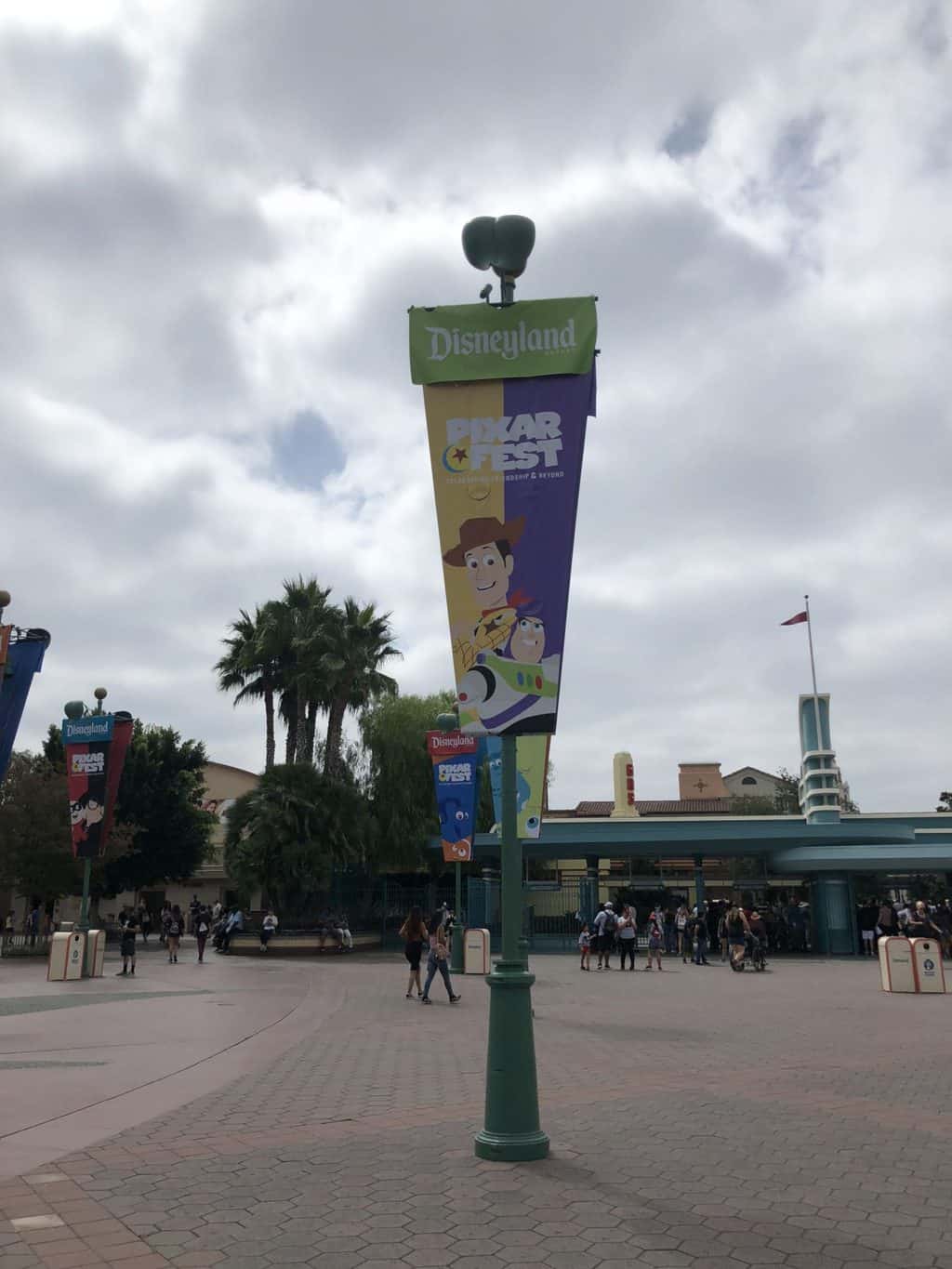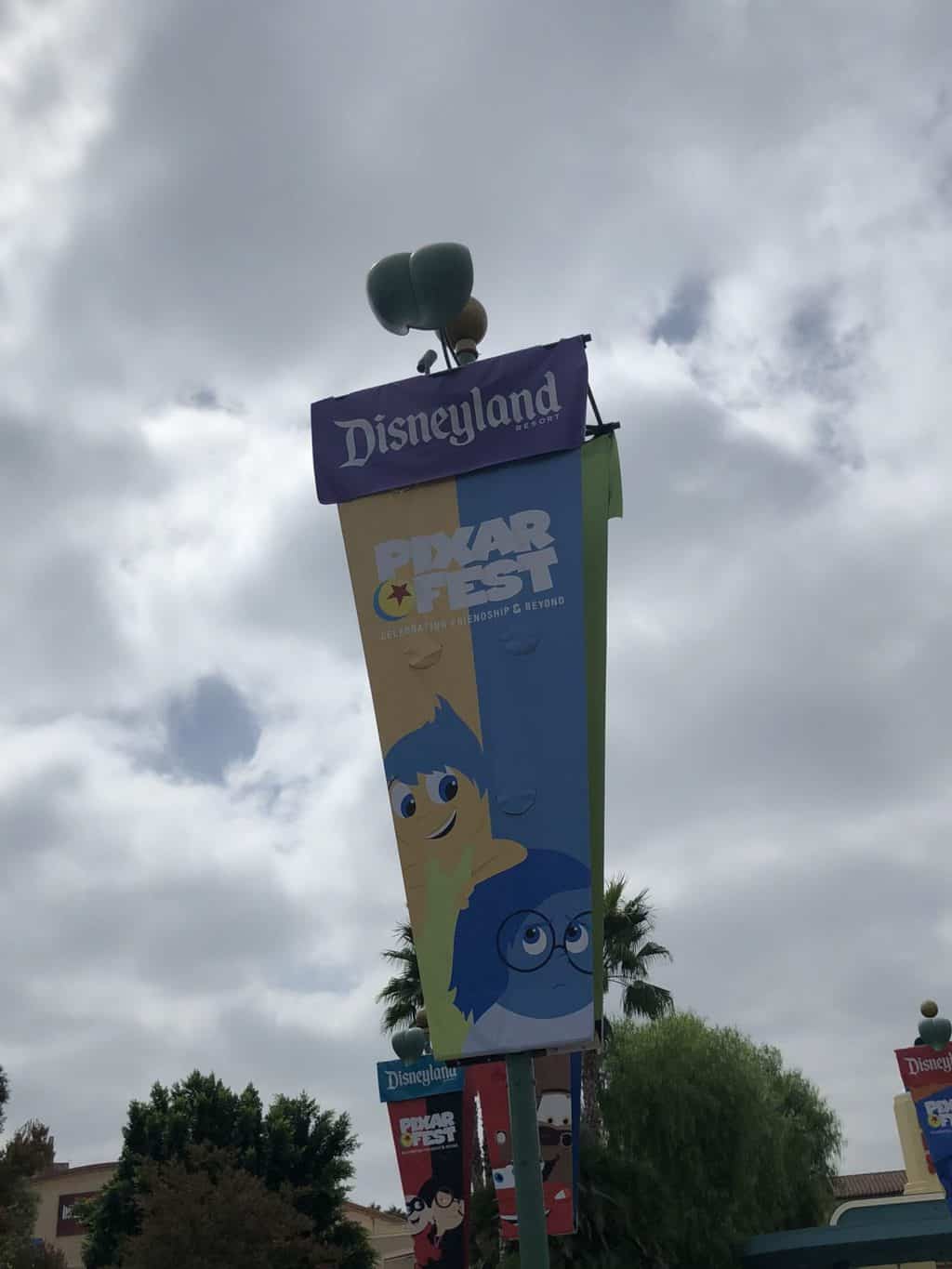 All the goodies we bought! We got Spear a Disneyland bus as his prize. I bought a Disneyland hat for myself. We got Mrs Charlotte a visor to wear at the parks. Britt chose a really cute charm bracelet as her item and we did get all the kids a Disneyland plane toy to share to remember our fun flight!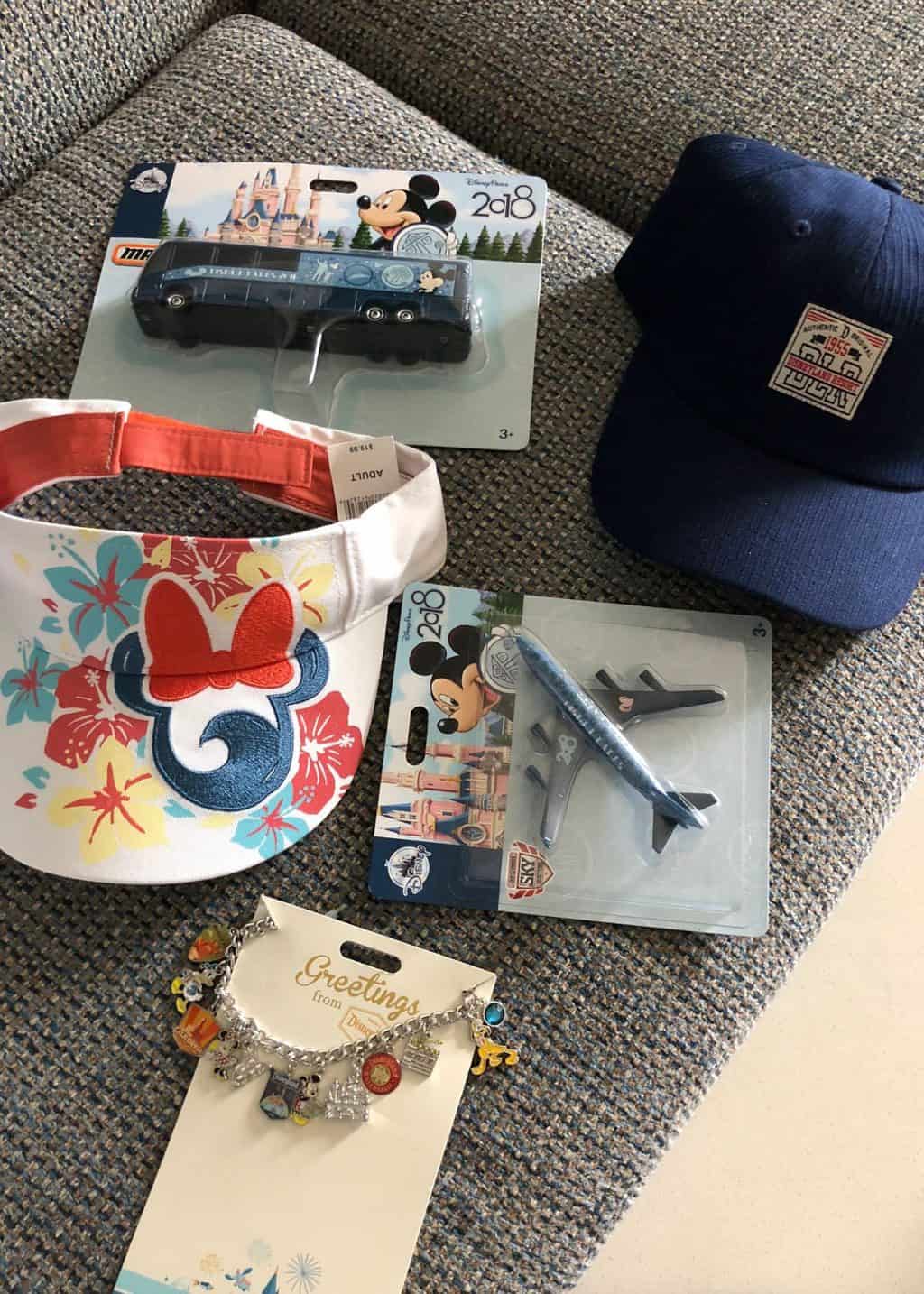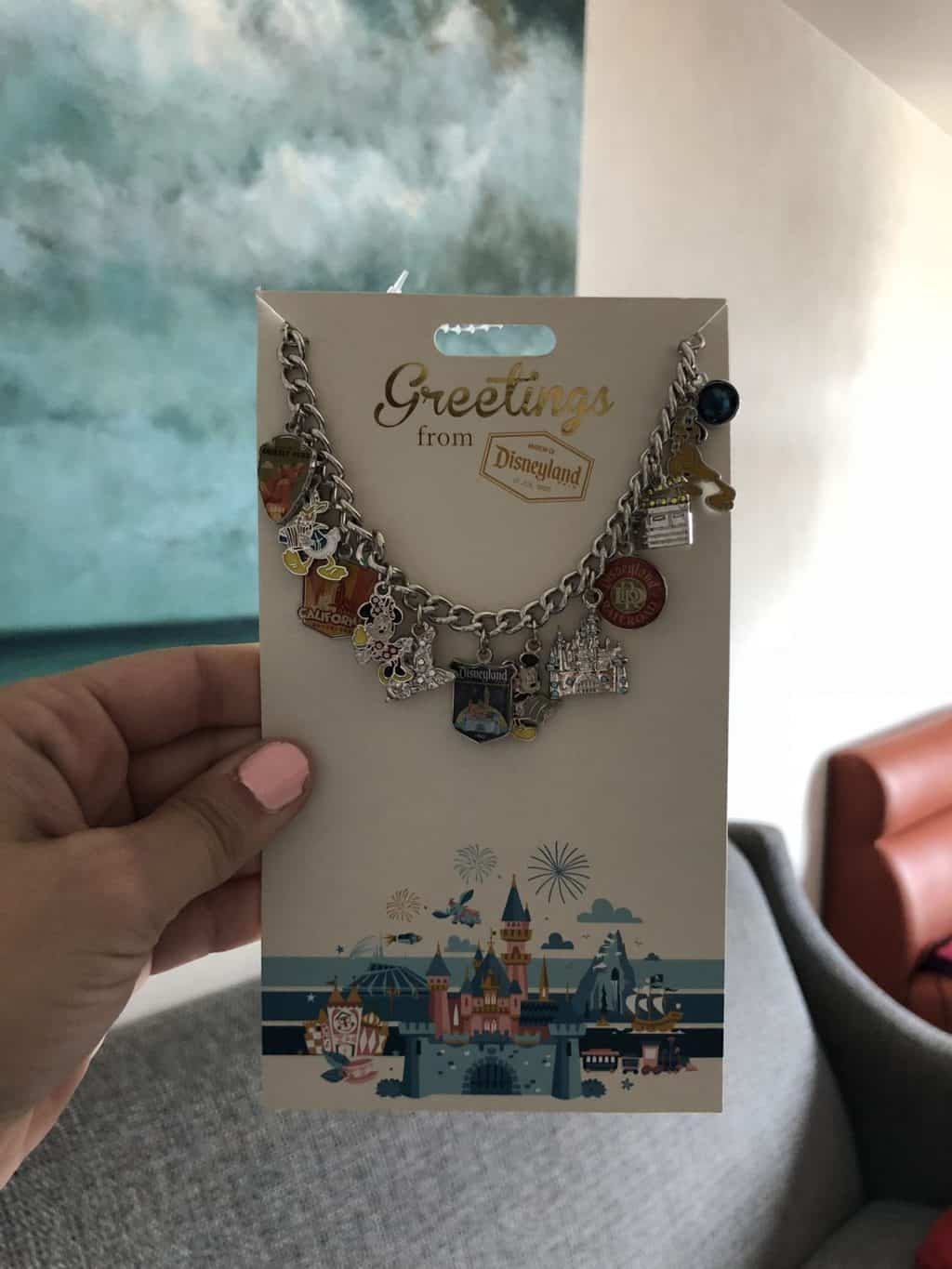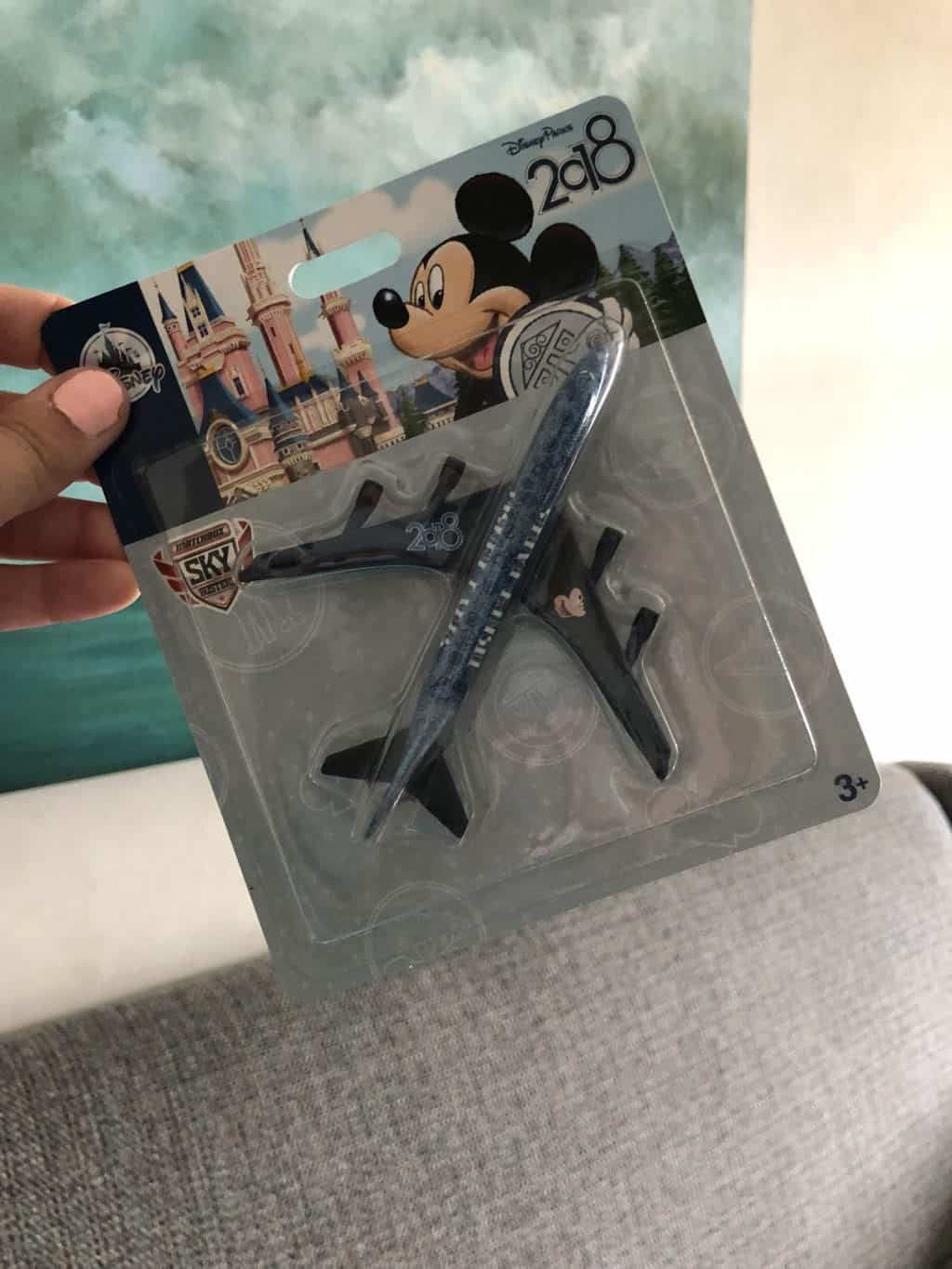 Also a better photo of the cushions we were given as part of our Fantasmic seating package the night prior!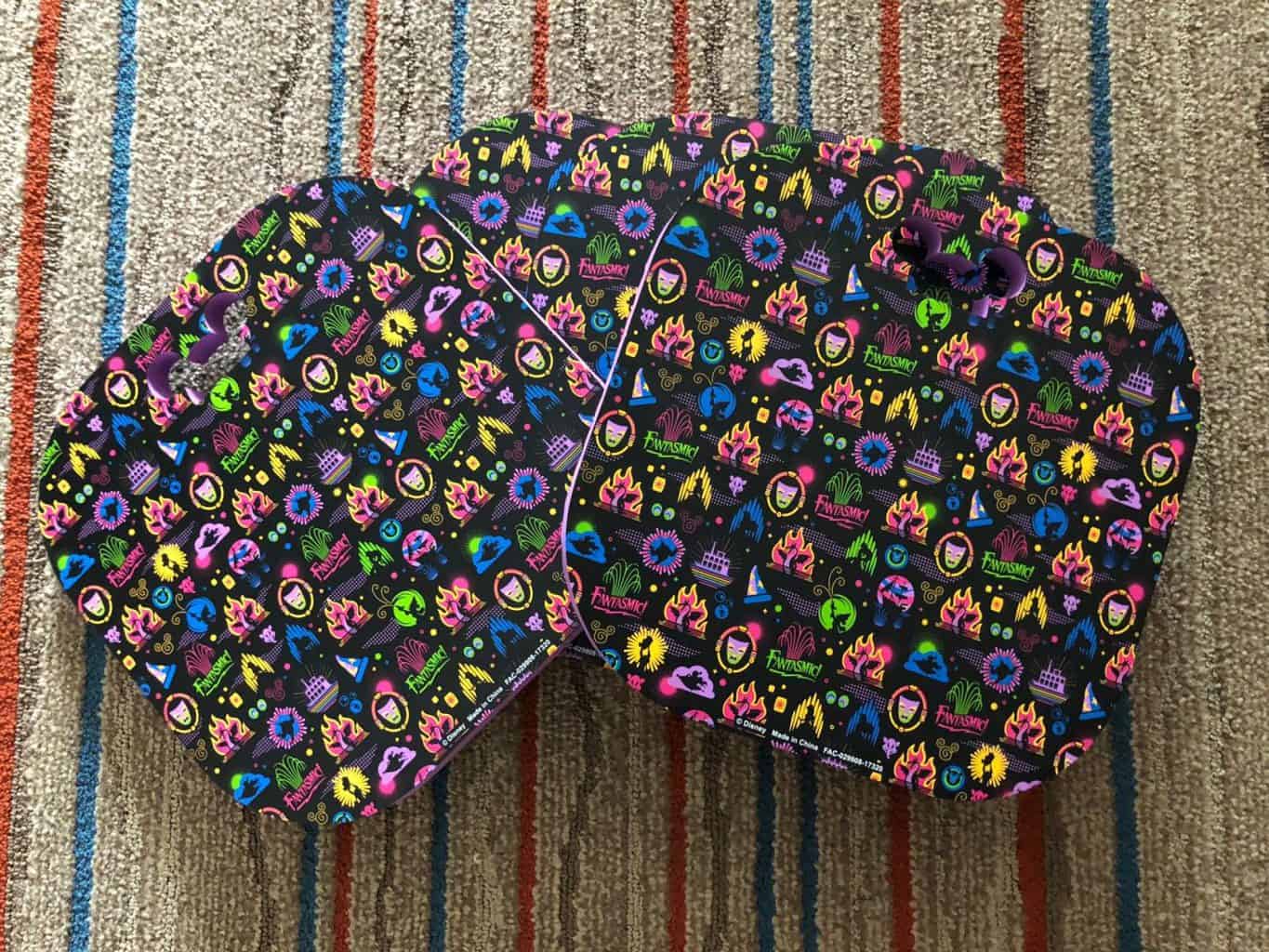 Tess LOVES cups and chose a cup for her prize!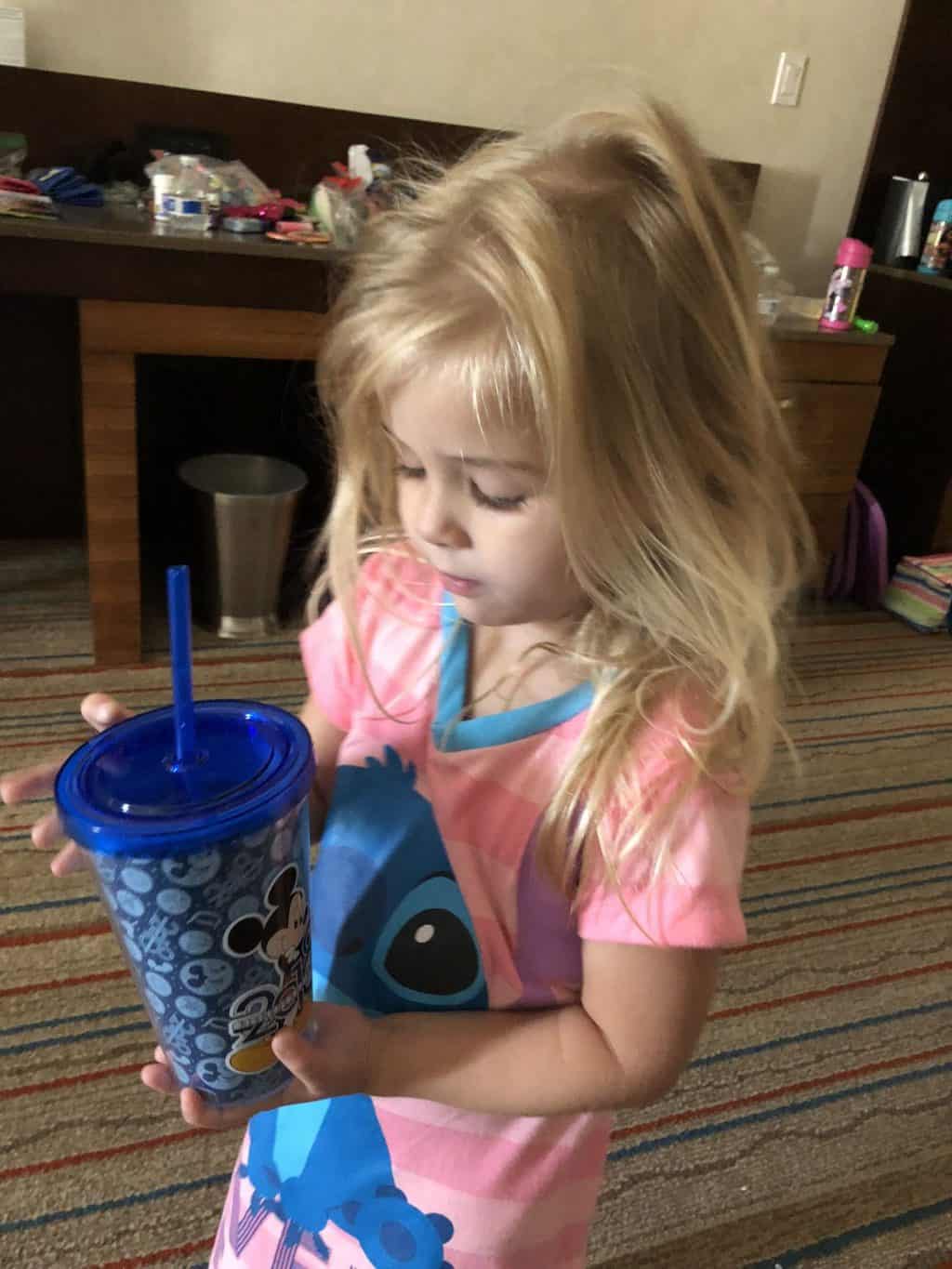 I didn't think to pack any meds from home which was not smart on my part and of course Tess developed a cough while we were on the trip. She never got a fever or was sick but the cough was enough to affect her sleep as well as annoy Kye and Britt. We ended up having to drop $17 on some cough medicine from the hotel gift shop!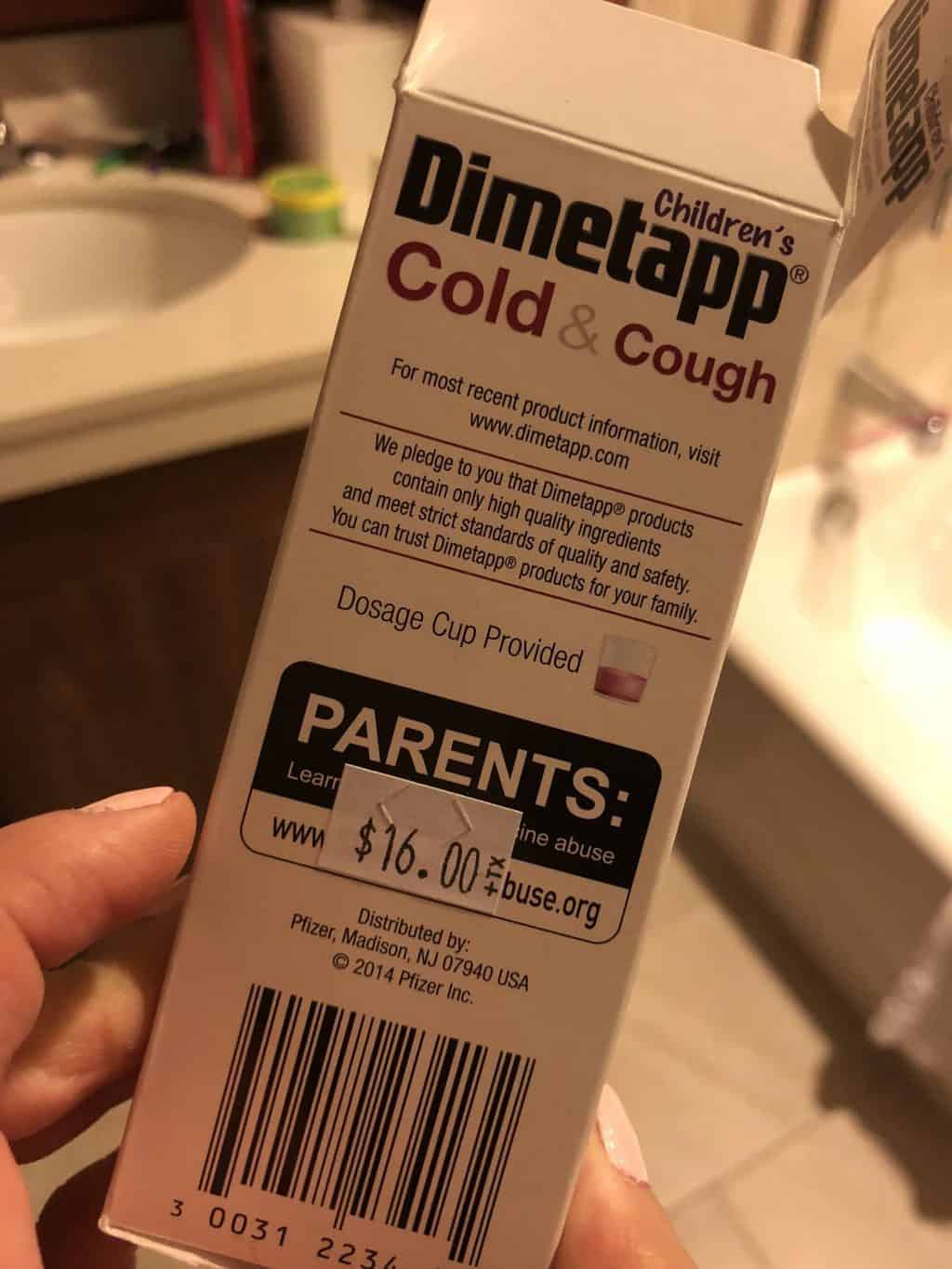 I received SO many sweet photos and inbox messages on social media about Spear. He stayed with G-Mama and Big Papa for the week and loved getting loved on from so many friends and family while we were away! I missed him like crazy but getting so many sweet comments about how much others were enjoying him made it easier to be away knowing he was getting SO much special attention!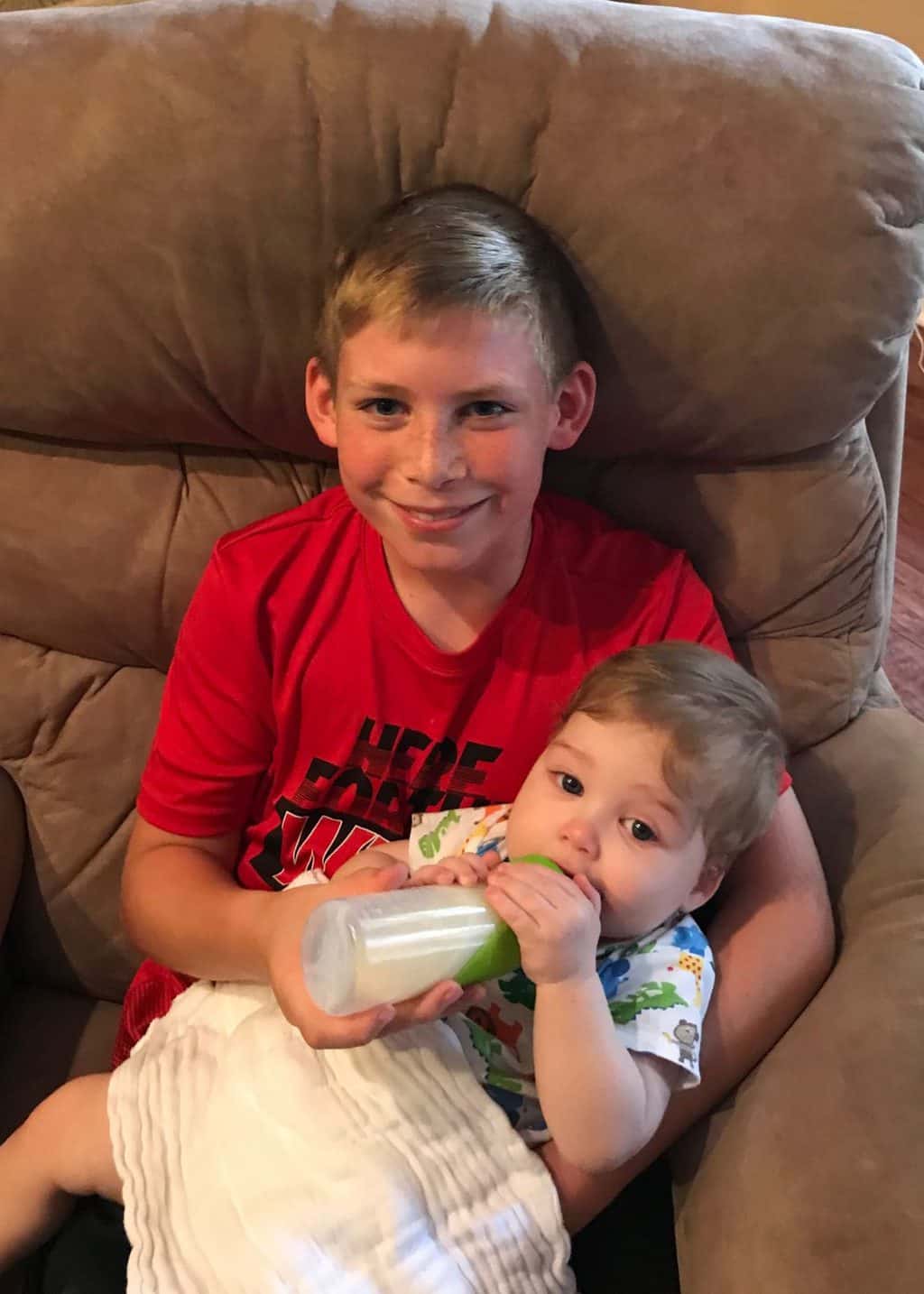 Tess woke early from naps and got some Mommy snuggle time in the bed as Zach and I were def napping too!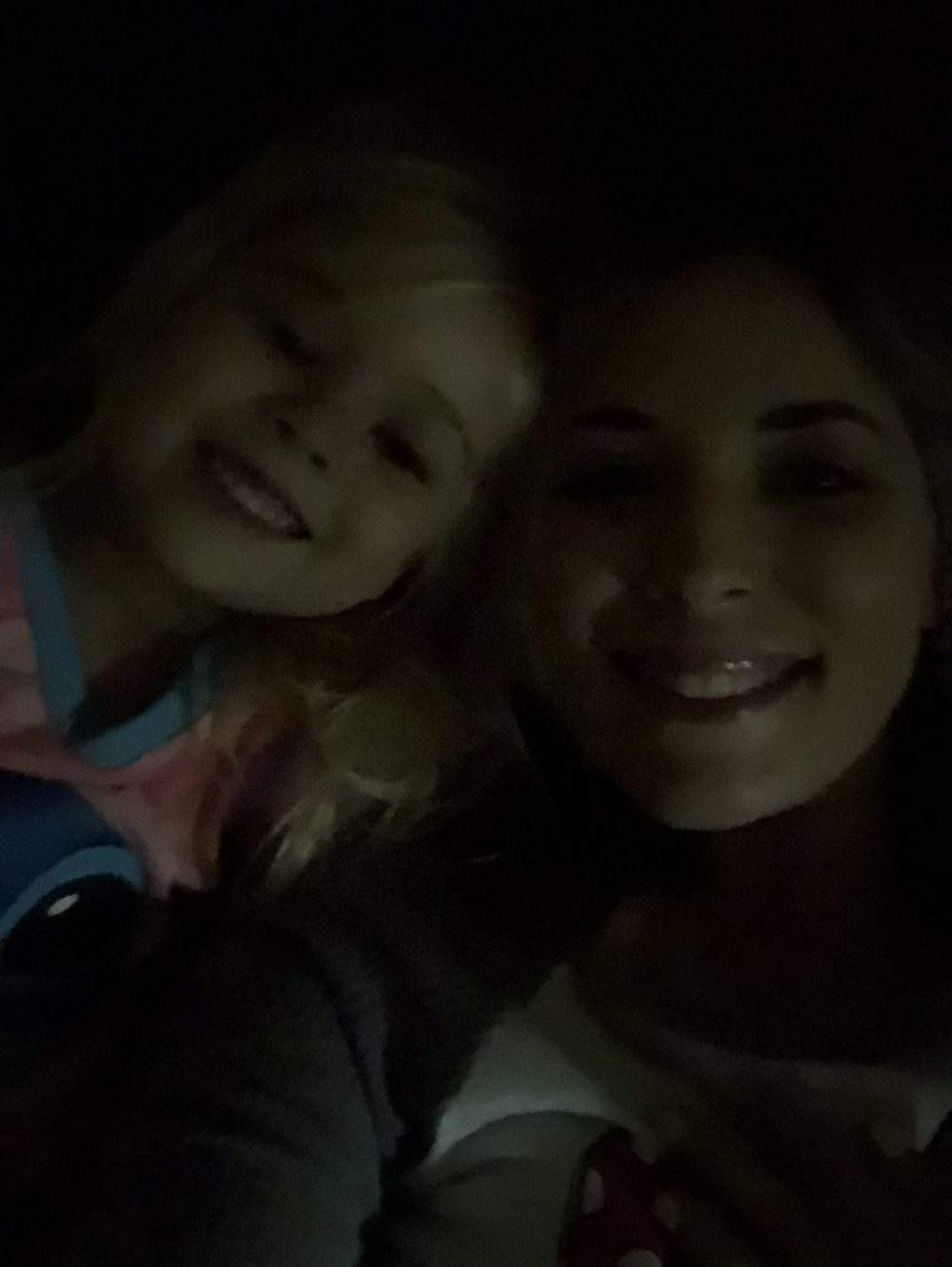 After naps we planned a chill afternoon. Florida State was playing their first game of the season (I know, I know we're not so great this year haha) so Zach planned to watch that and I figured the kids and I could go enjoy the water park some more! We had NO other time during the trip to get to enjoy it so I wanted to make sure they were able to live it up one more day!
You can tell in this photo just how close our hotel is to the parks…notice Space Mountain behind the water slides?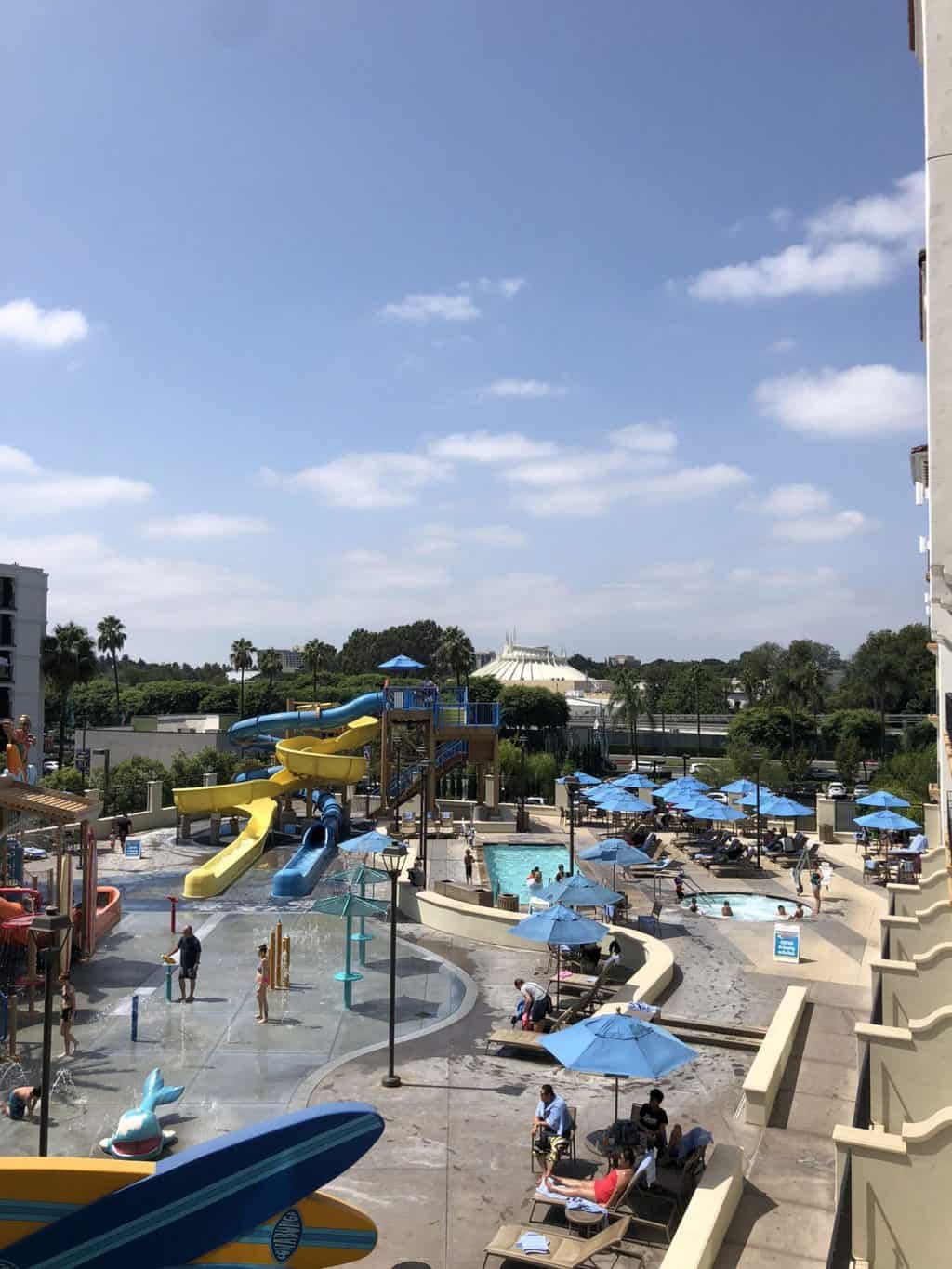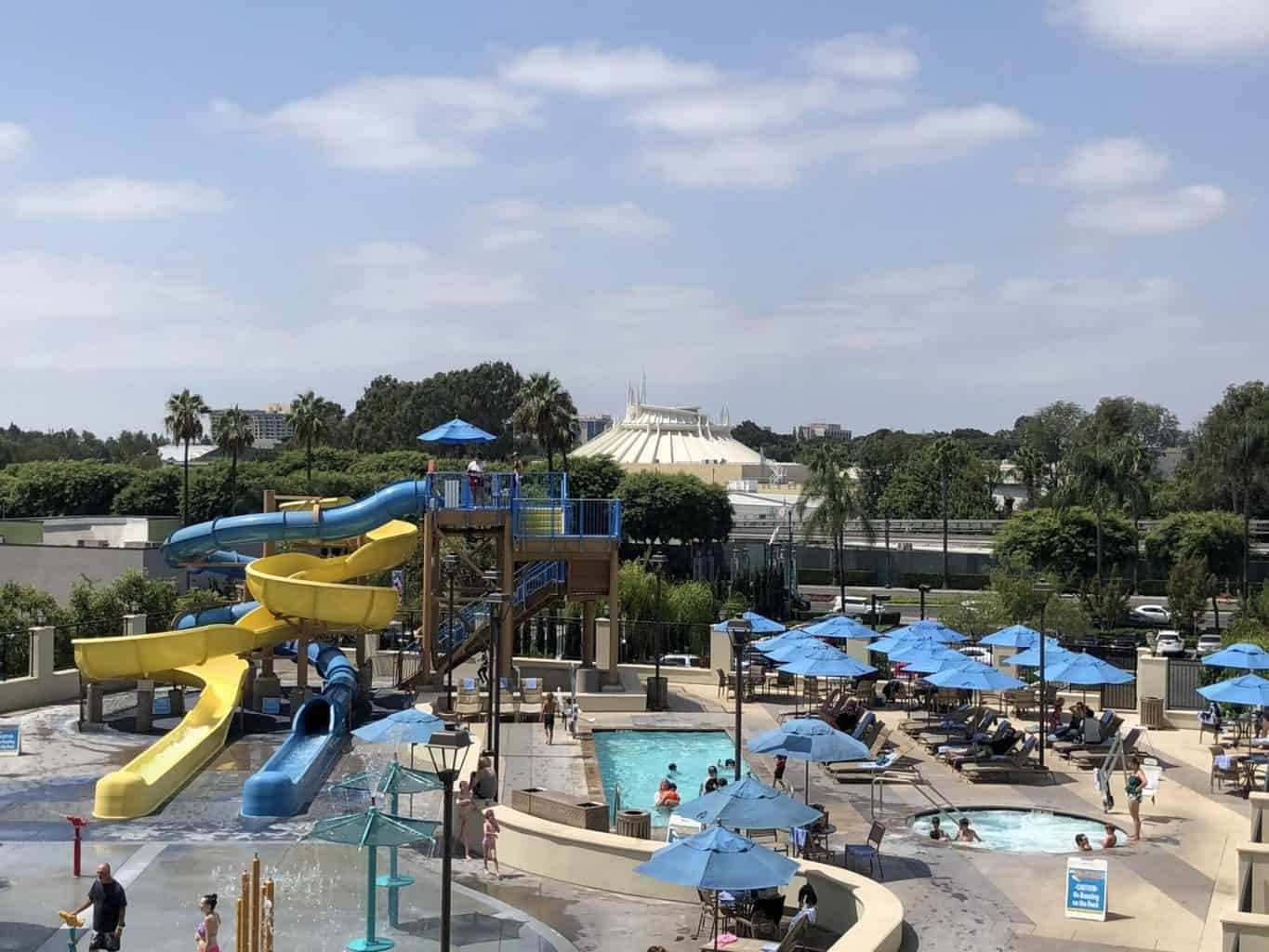 Kye struggled the most out of all of us to adjust to the different time zone. He was still pretty out of it after nap and just wanted more downtime before coming down to the water park so we had some girl time for a bit!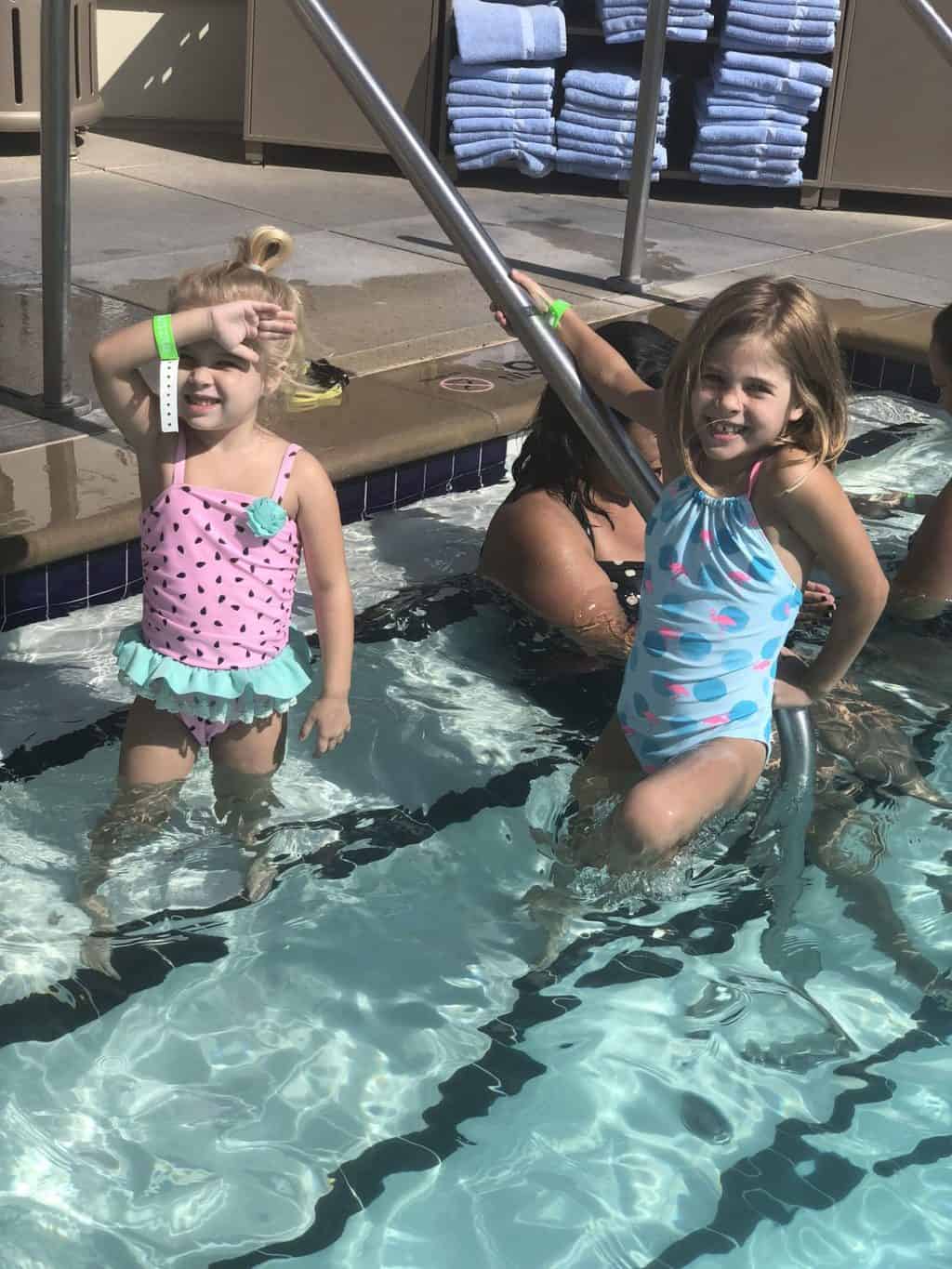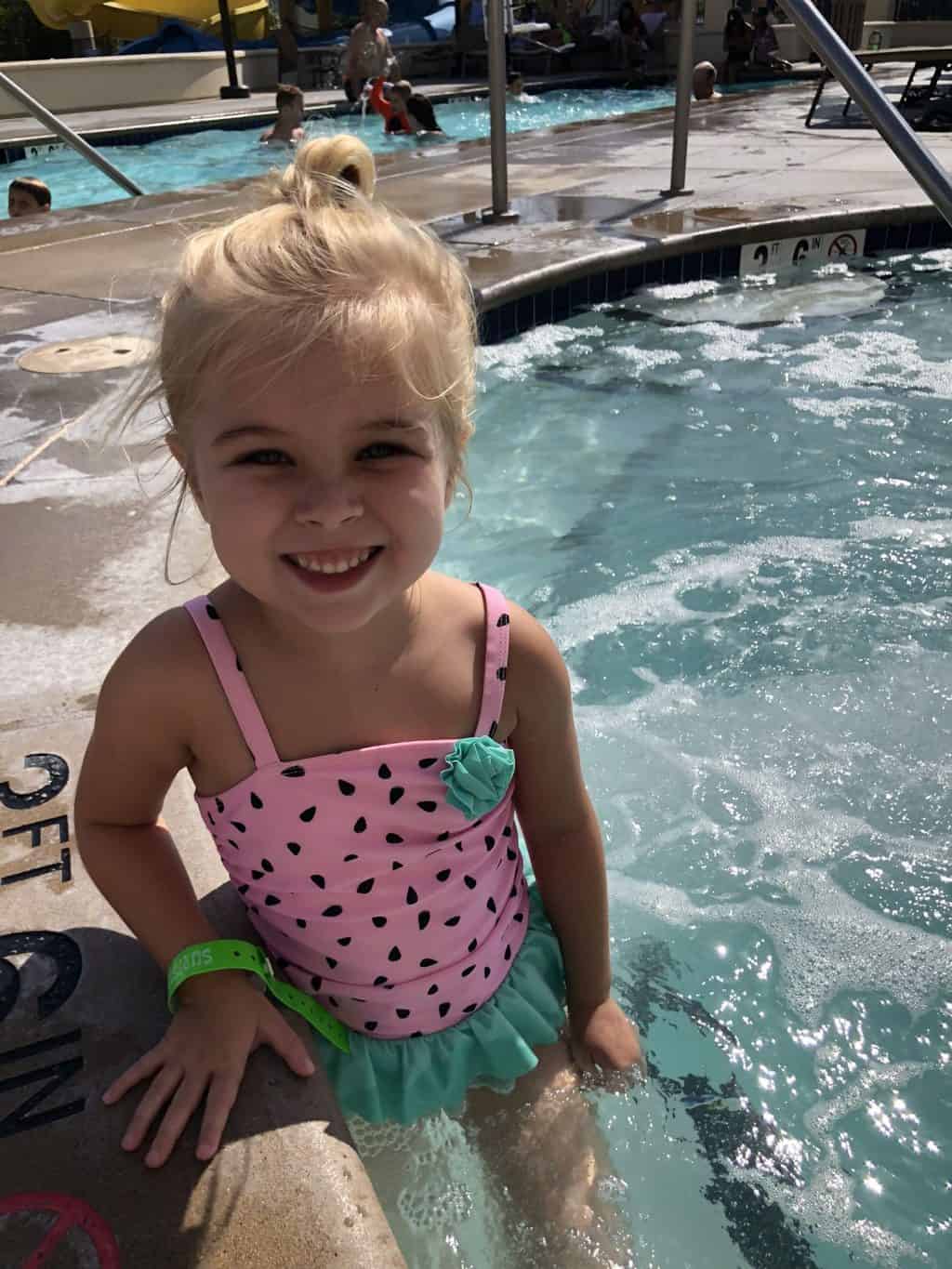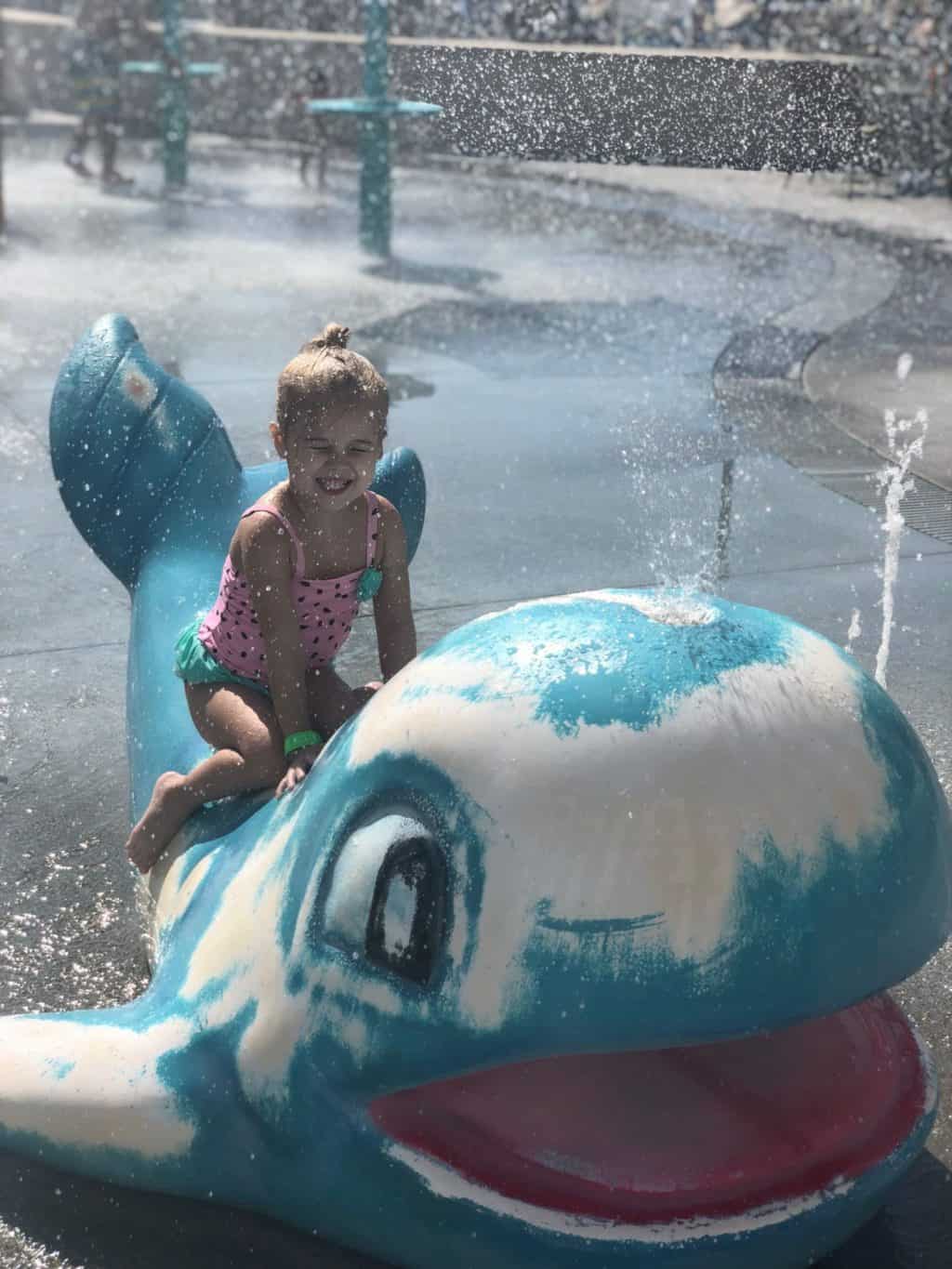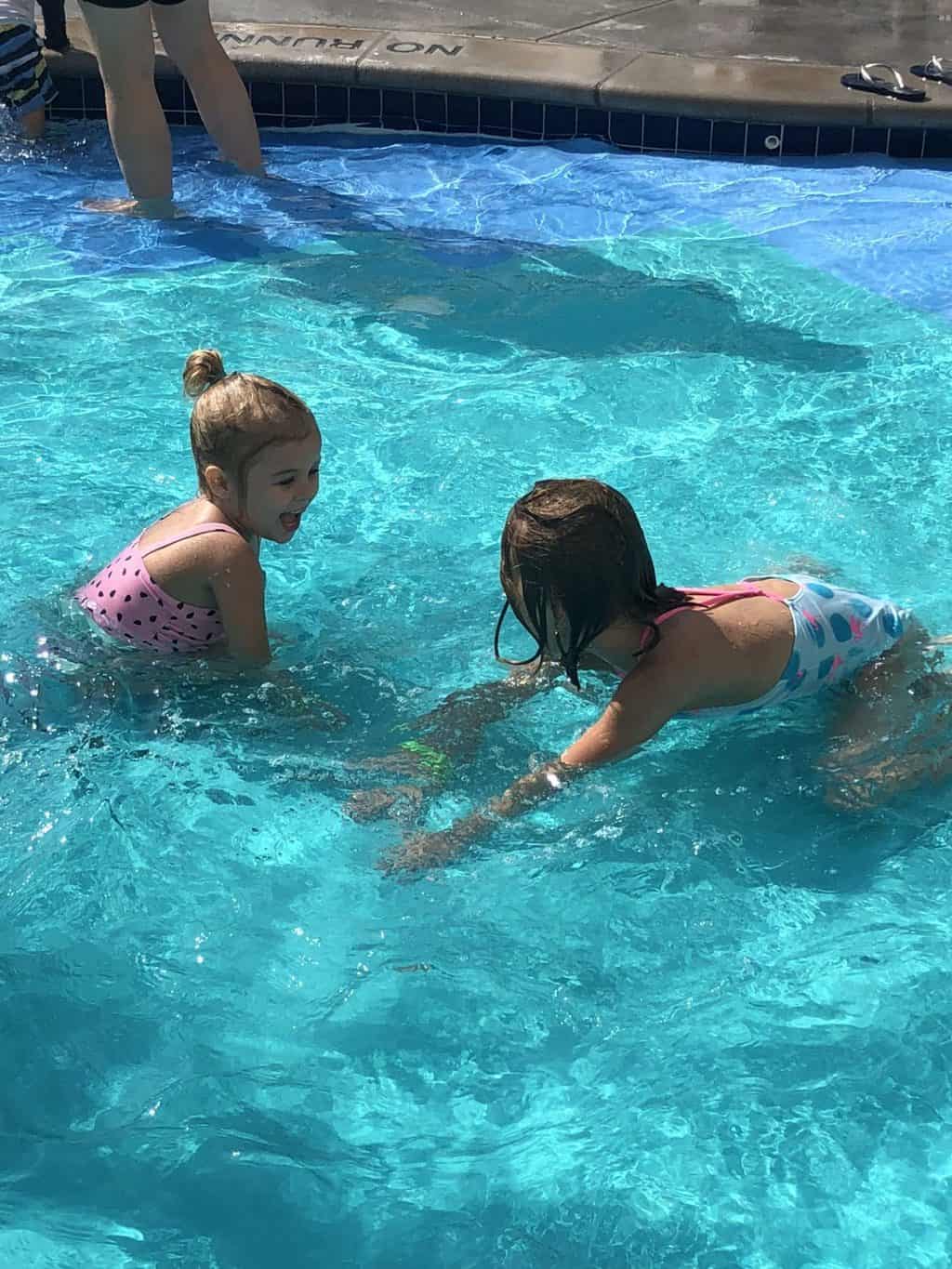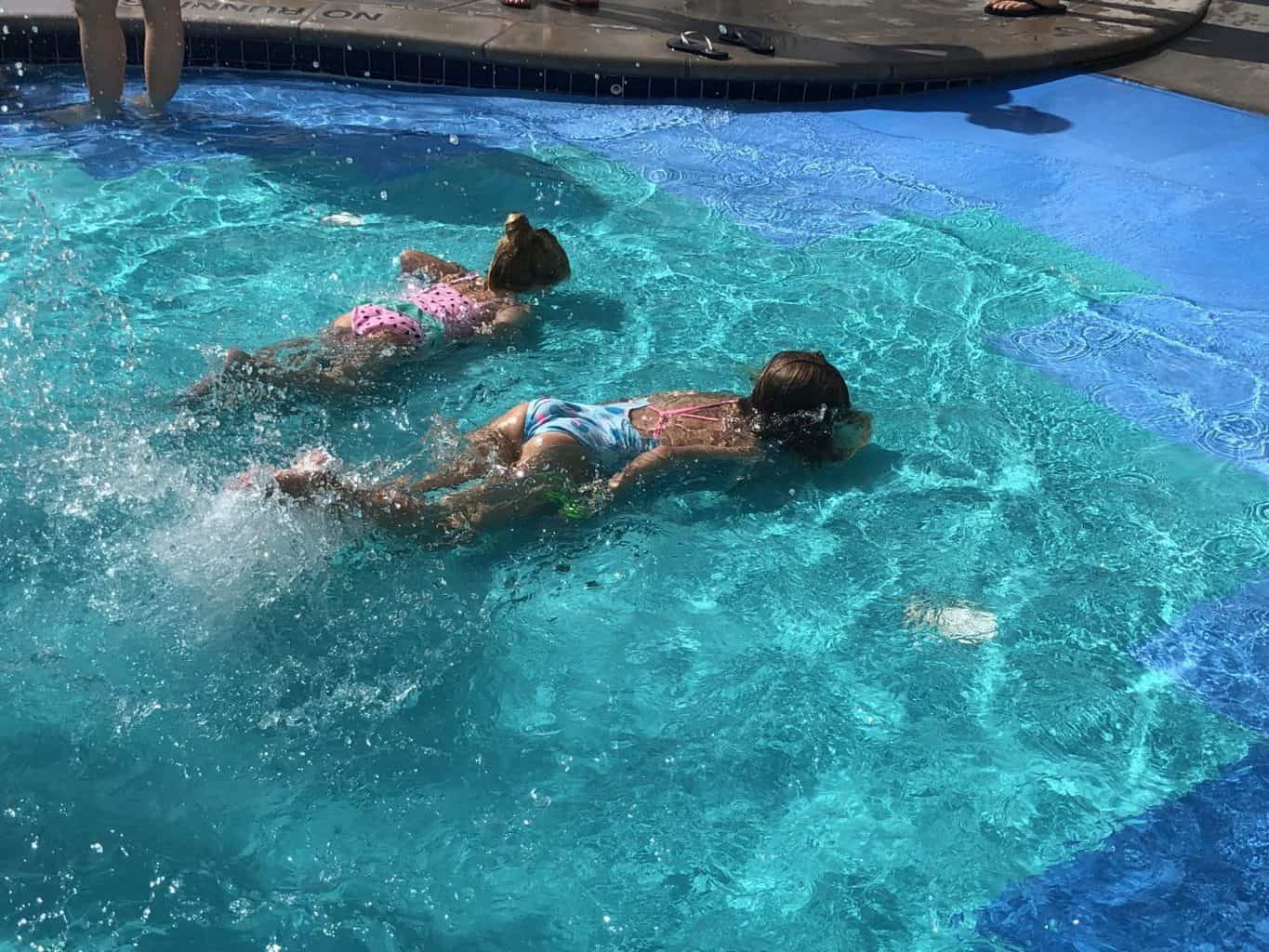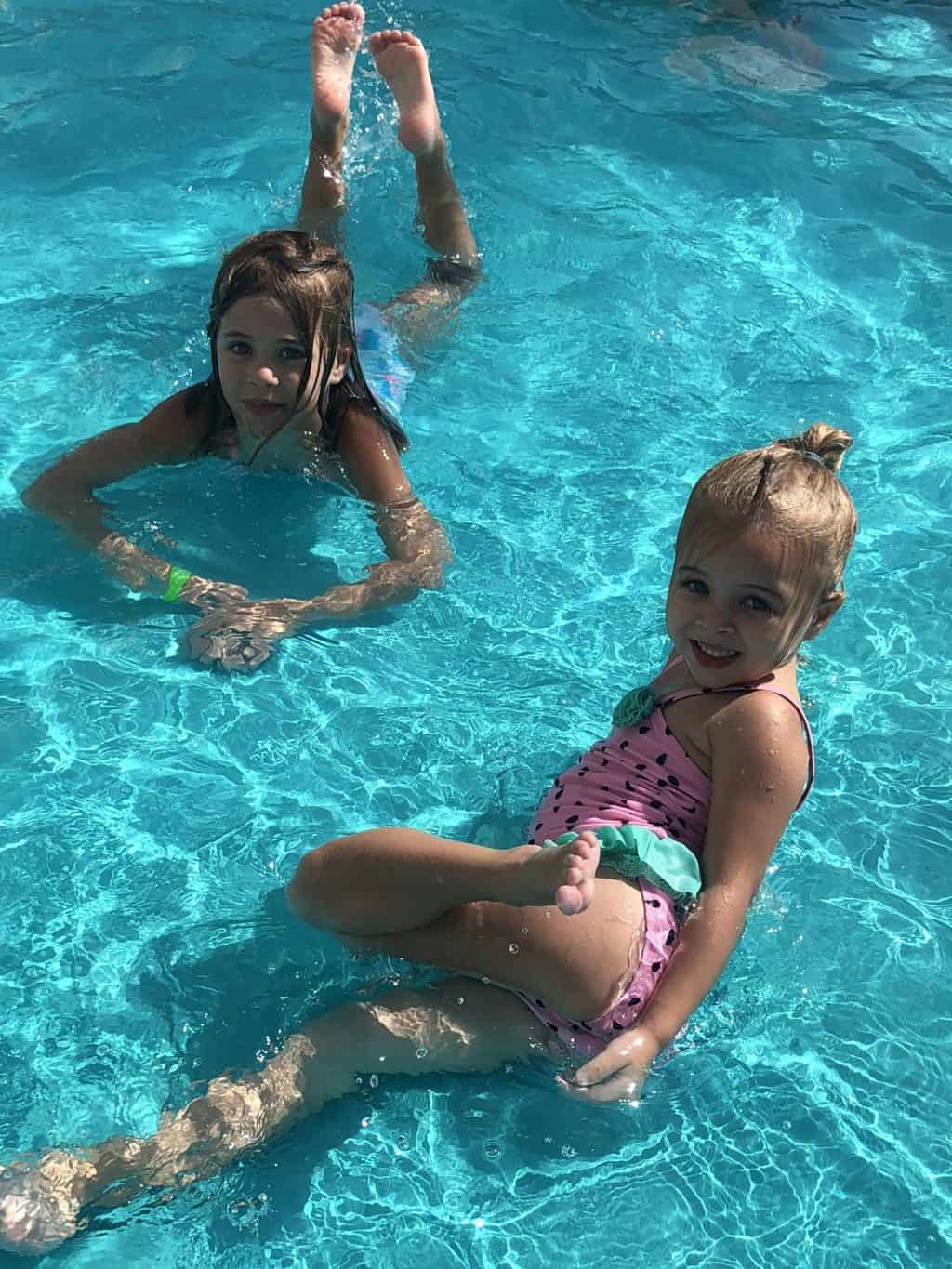 Britt and Tess made fast friends with several little girls and it was SO FUNNY because the girls could just NOT get over that Britt and Tess CAN SWIM. They kept telling Tess and Britt to swim and to show this friend of theirs or that friend of theirs how they could swim. They couldn't believe it and none of this group of girls could swim themselves. Britt was super cute trying to teach them. It was adorable!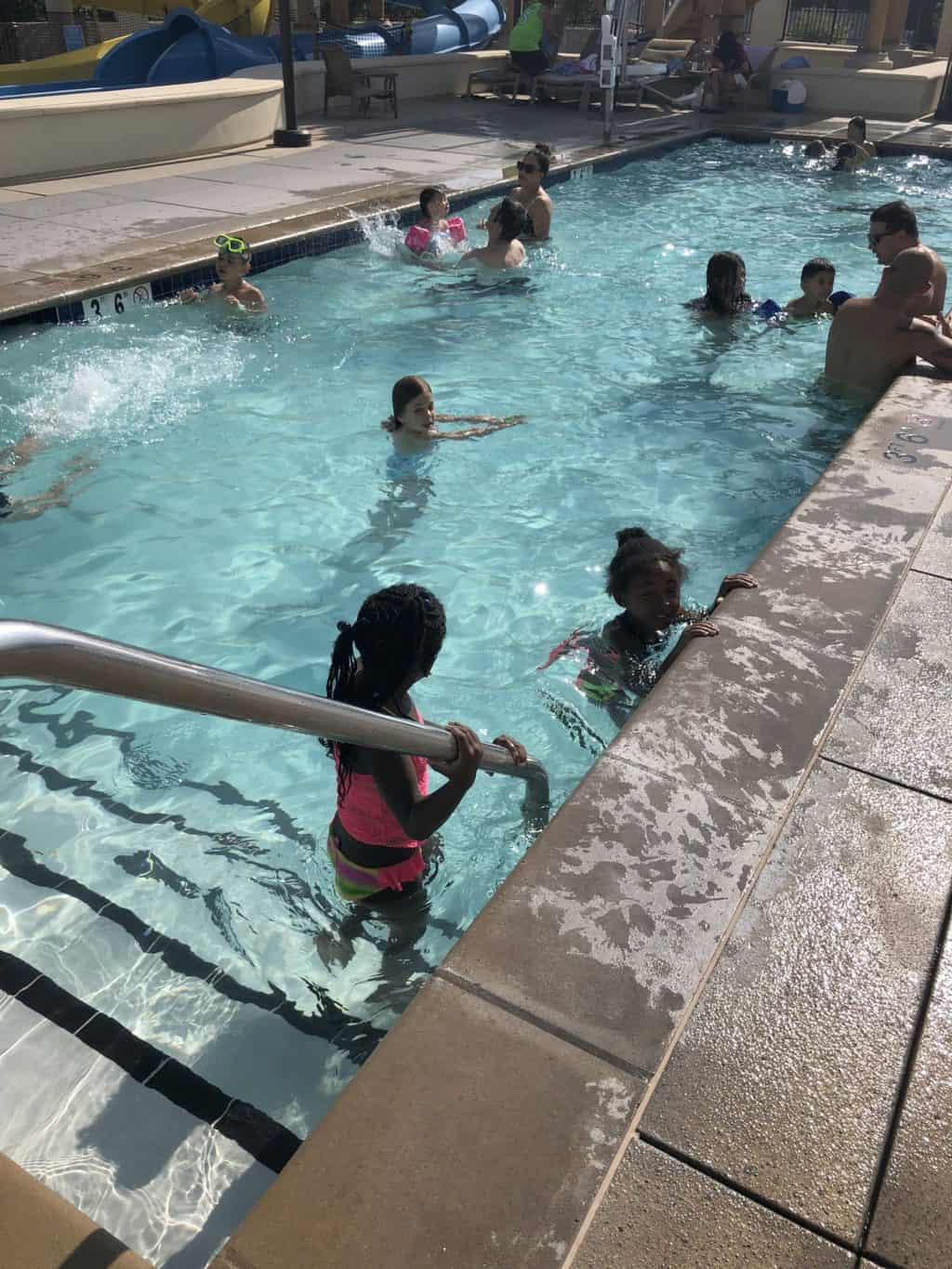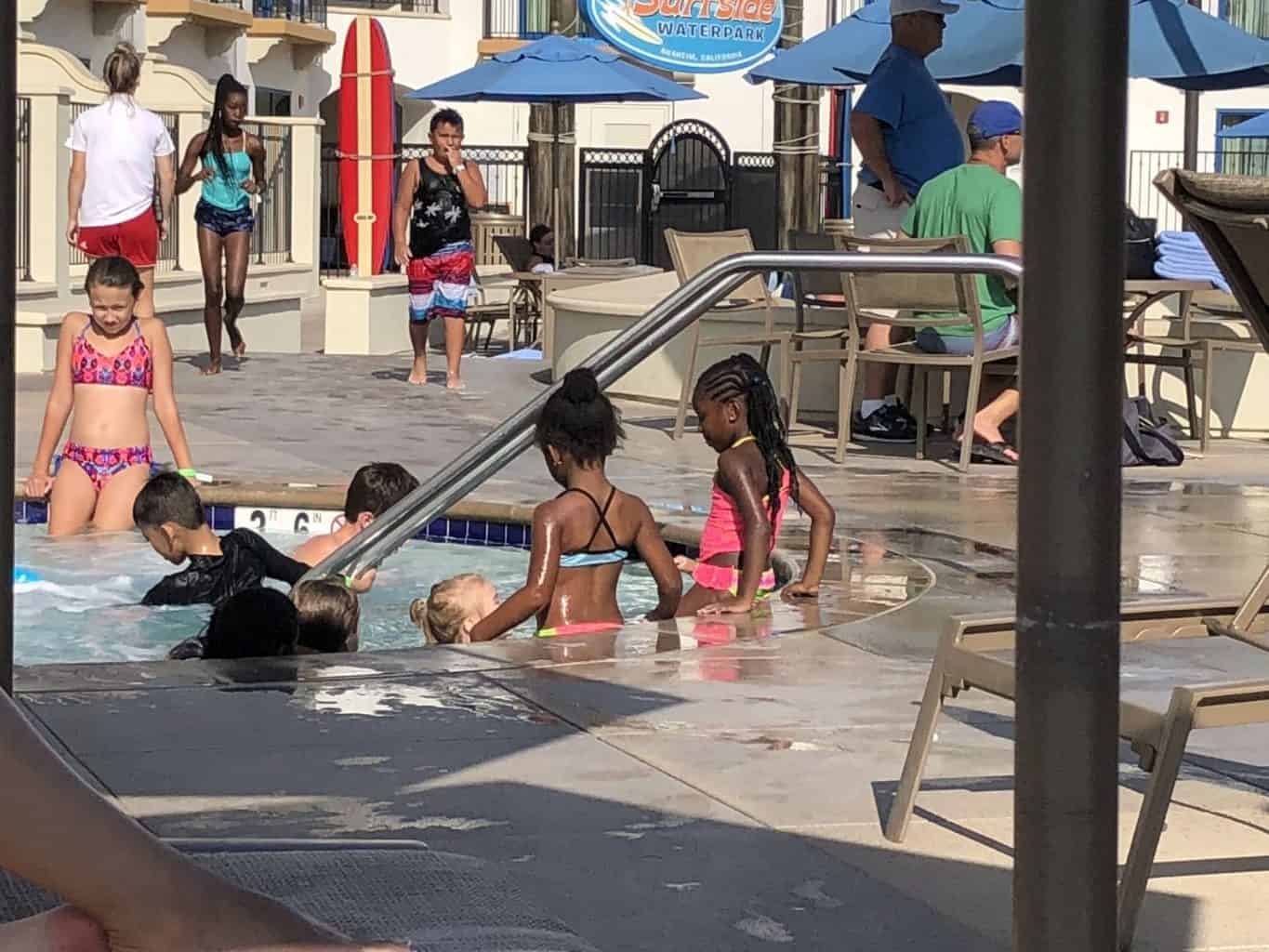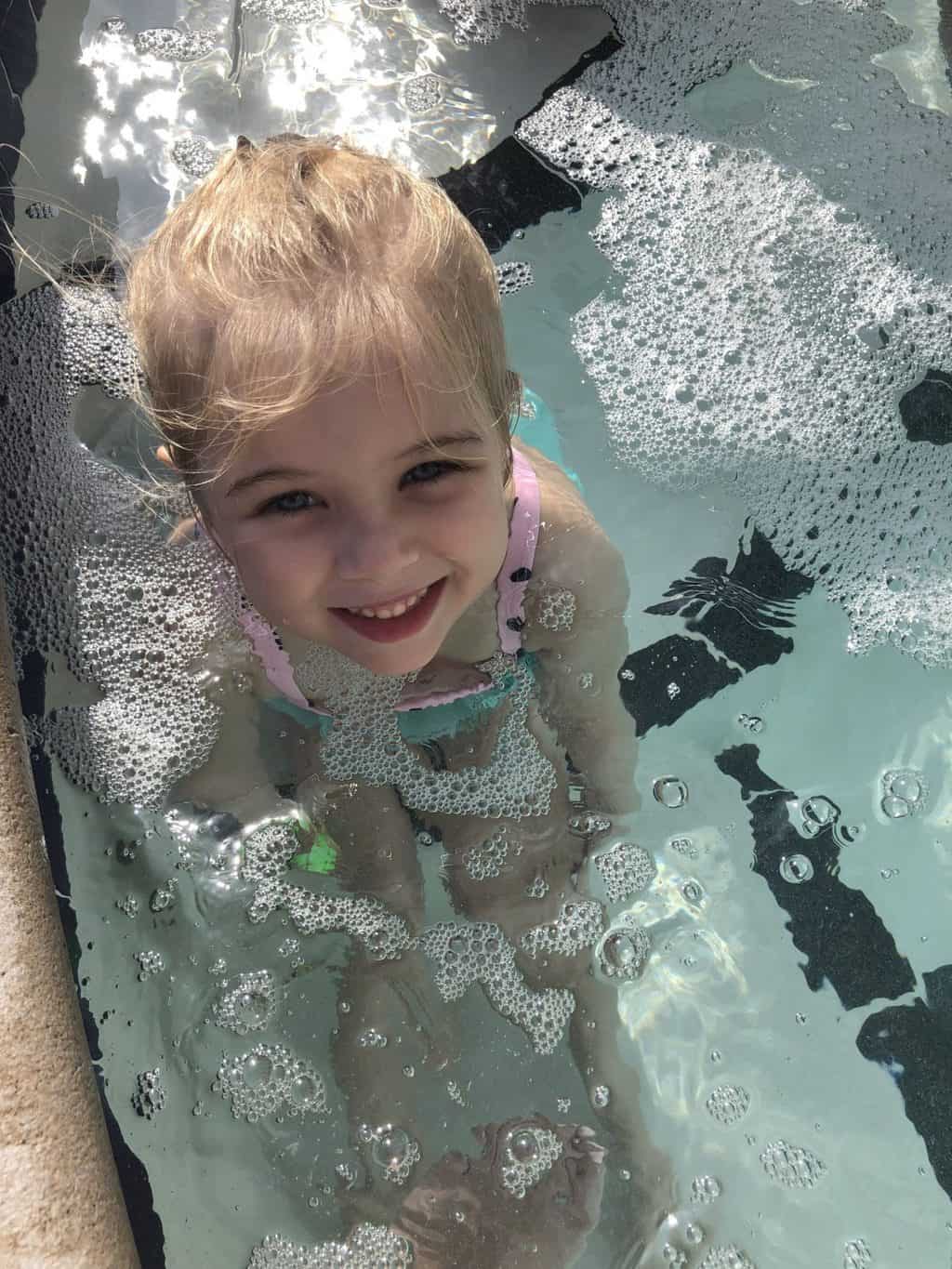 Even just two days into the trip I KNEW we made the right call in coming. A BIG reason we came when we did was for Kye. He's entering an age where the magic just isn't quite the same and we wanted to make sure to take this trip before it completely shifted over from a magic he experienced himself to one of an older sibling who experiences it for their younger ones. I'm SO glad we did it when we did as he was just having THE BEST time and seeing his SMILE so much and his TRUE JOY shine the way it did just made every bit of the trip worthwhile!!!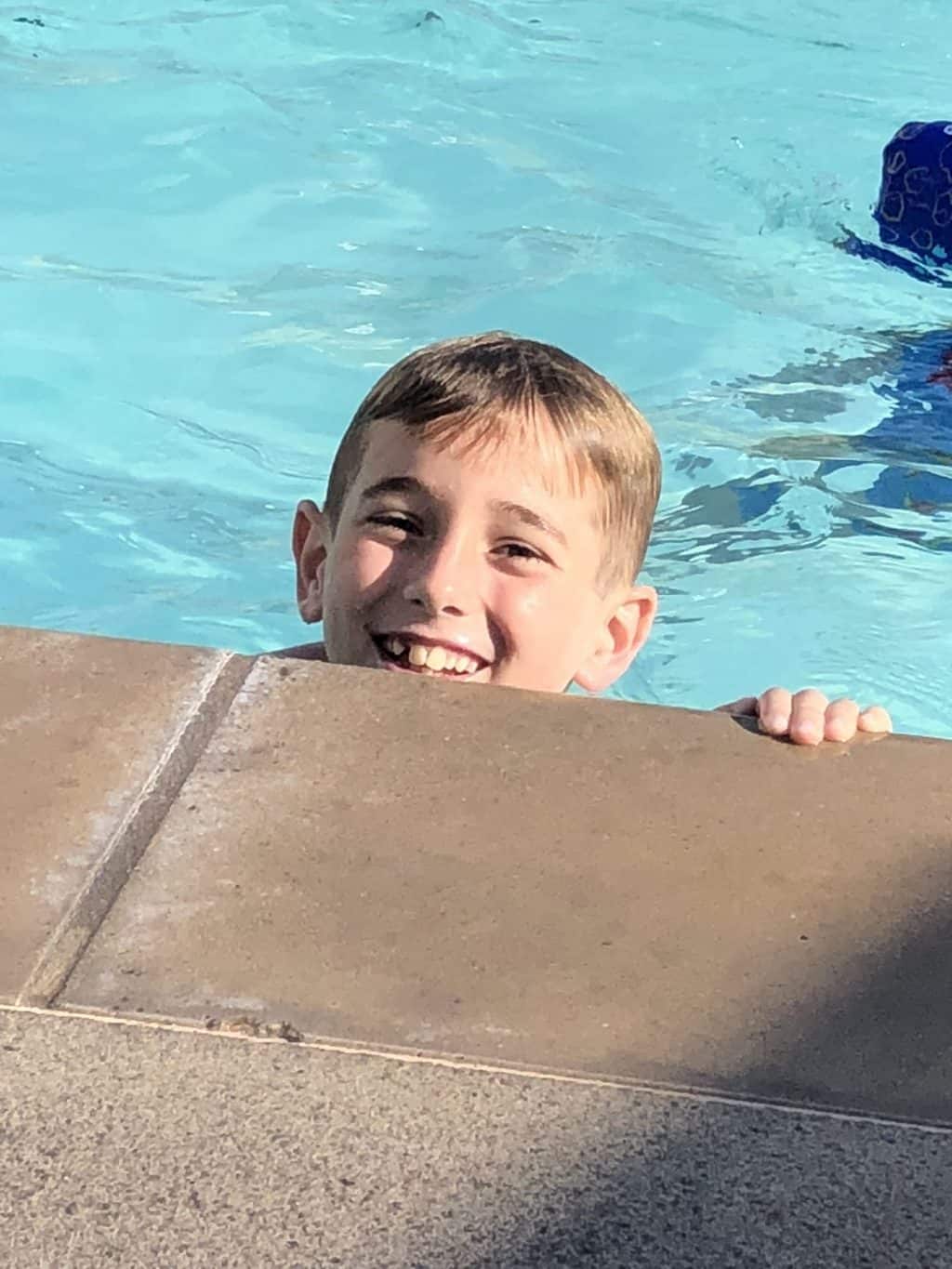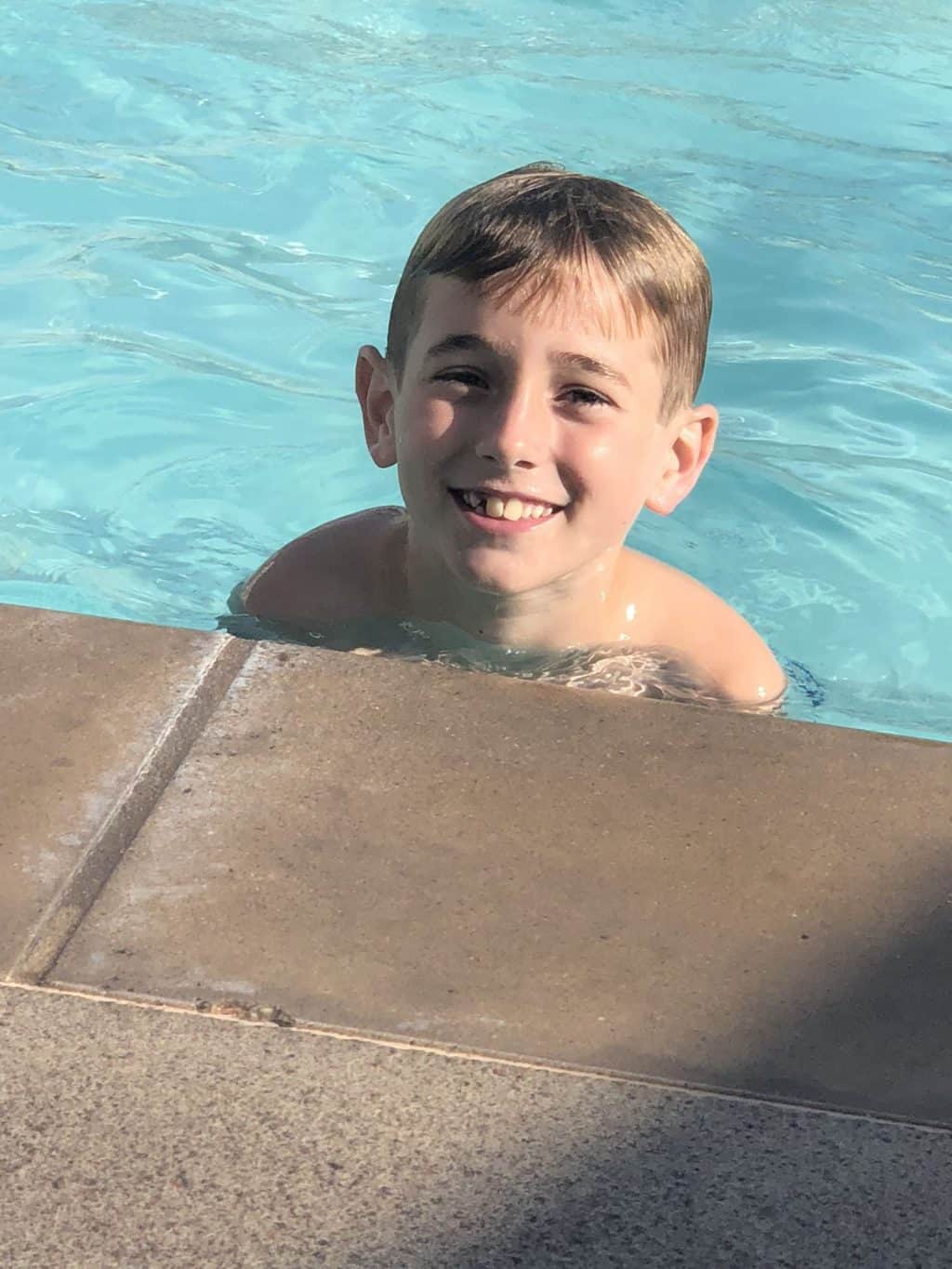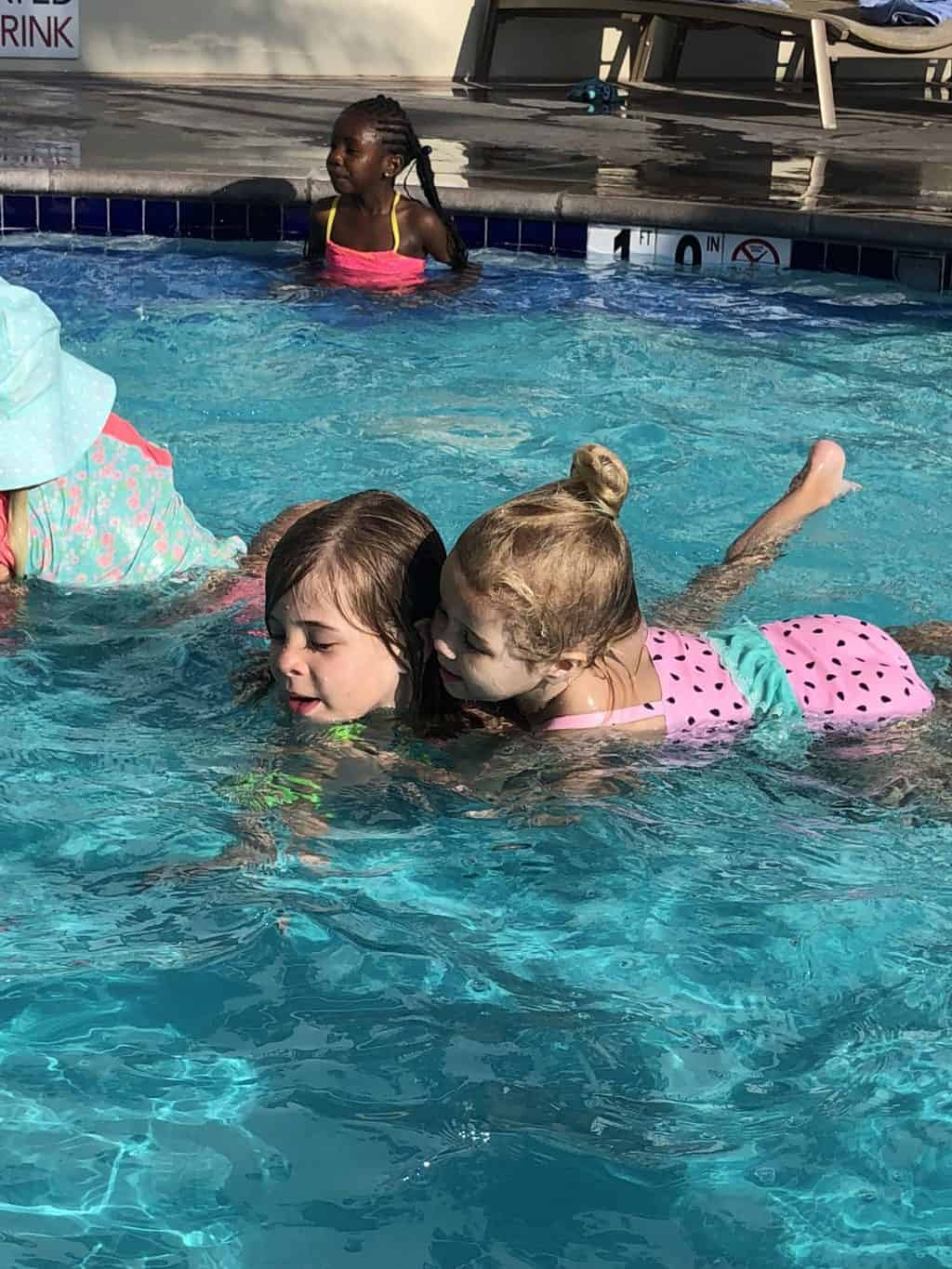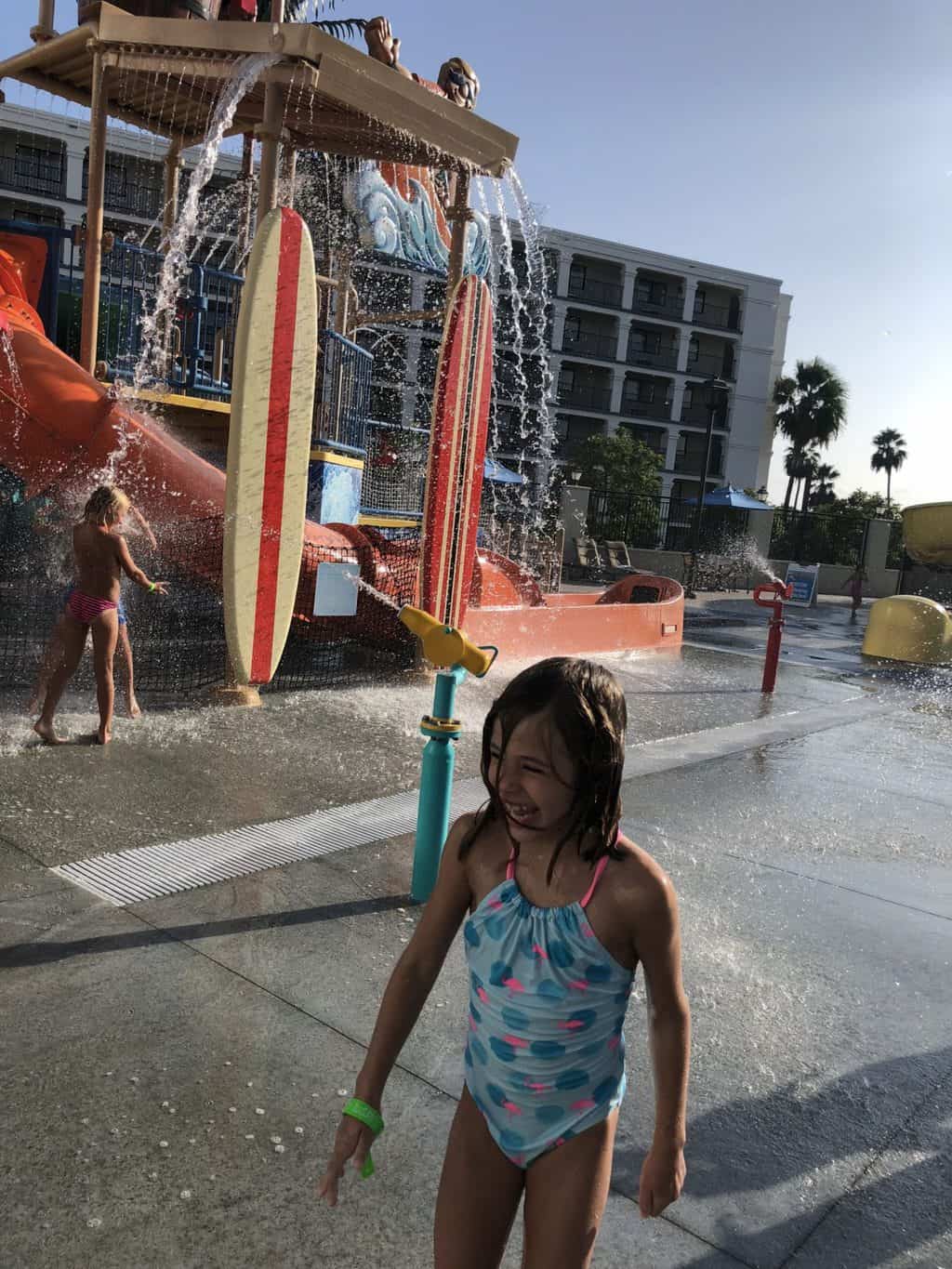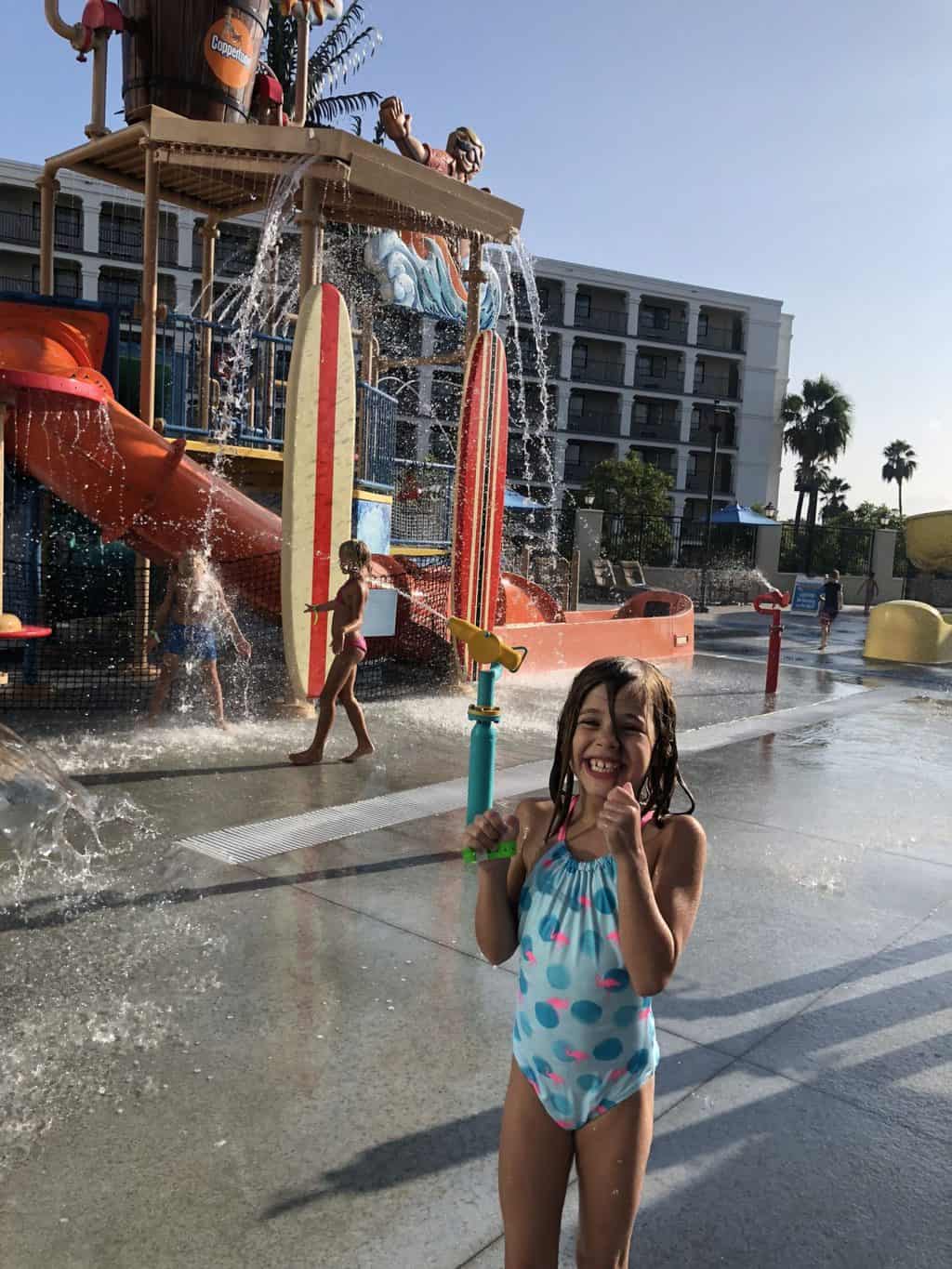 I enjoy watching my girls make new friends. This little girl was an interesting experience. The three of them started splashing each other. And apparently when this girl got splashed she was not happy about it. At first my girls apologized and tried to make amends with her but she was very rude about it and pouty and just kept crying an obviously fake cry and pitching her own little fit, clearly hoping someone would come and feel sorry for her.
I was proud of my girls in how they handled this. They were kind. They said they were sorry she was bothered by the splashing. They encouraged her to play with them. But then they also did not cave in when the girl was clearly over the top in her reaction. They ignored it. Kept playing with each other.
And guess what happened? The little girl stopped pitching the fit. And reached back out to play with them. And my girls? They dropped the whole issue. They didn't rehash it with her or be rude to her for how she'd acted. They just started playing again and moved on!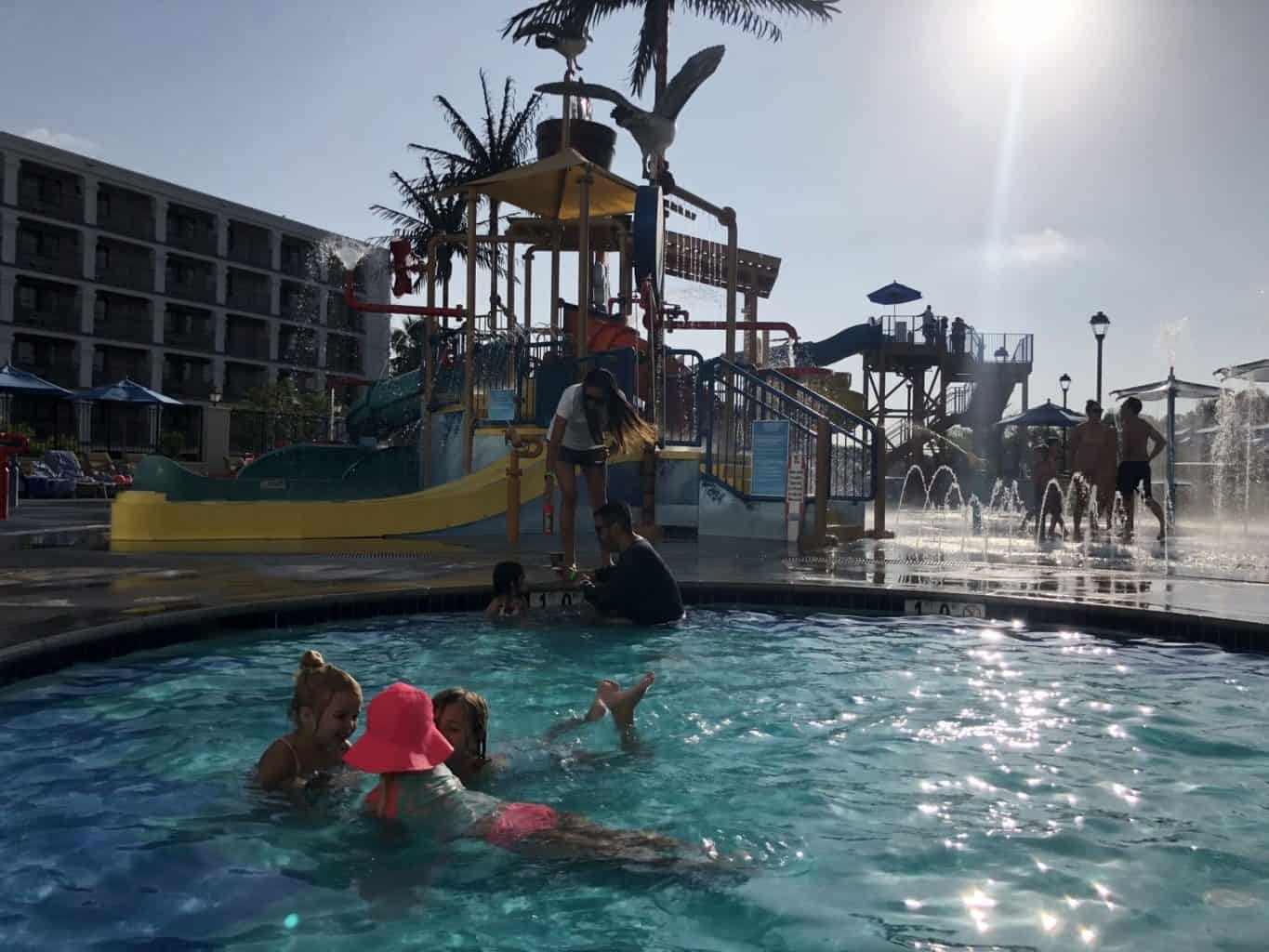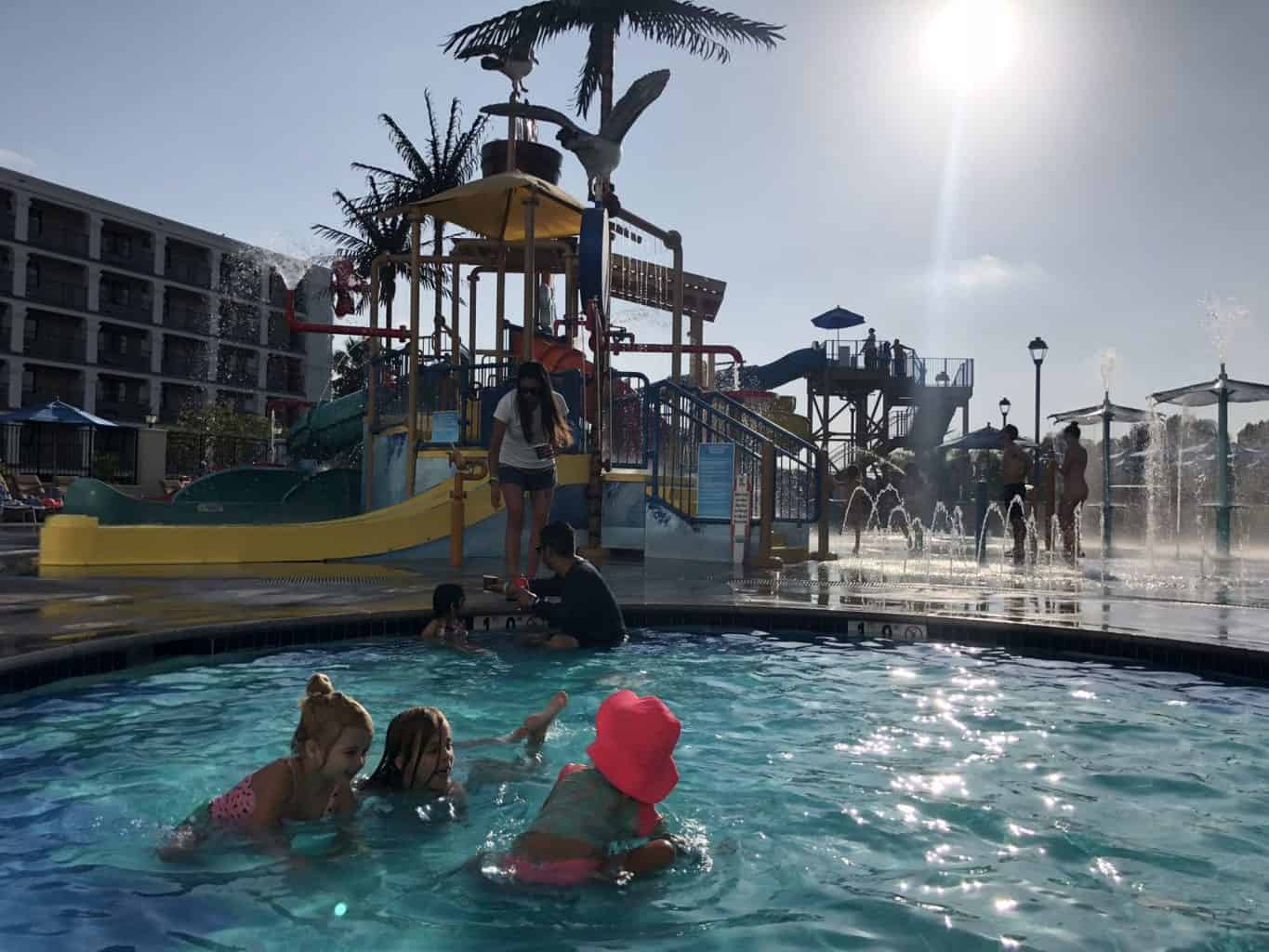 I've totally reached that age where I'm slathered up in sunscreen and always wearing a hat ha! Hello almost mid-30s!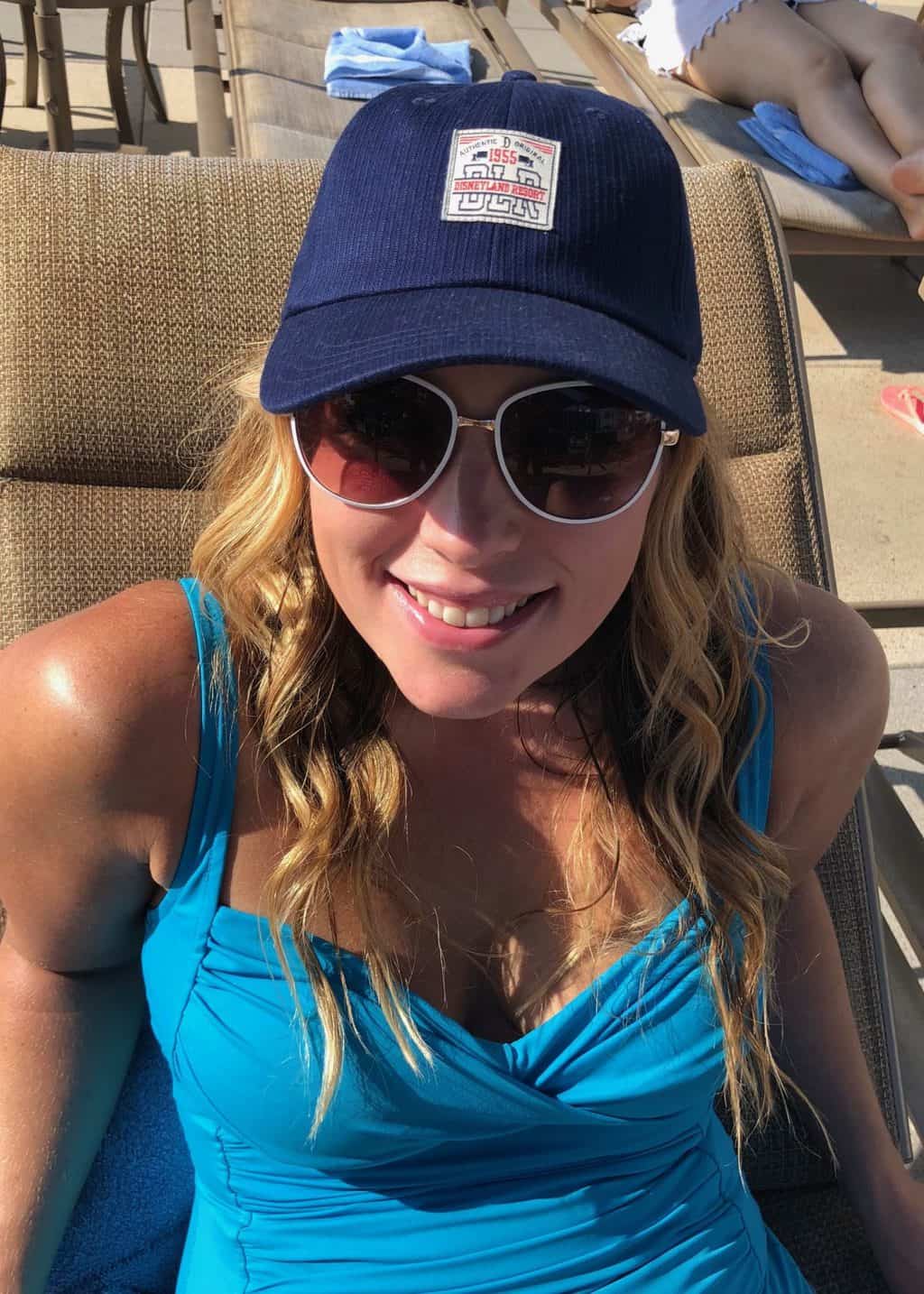 Even though I couldn't really relax because I had to keep watching the girls I brought out Girl Wash Your Face to read and when Zach came down and took over kid duty for a bit I loved getting a little "me time" by digging into it!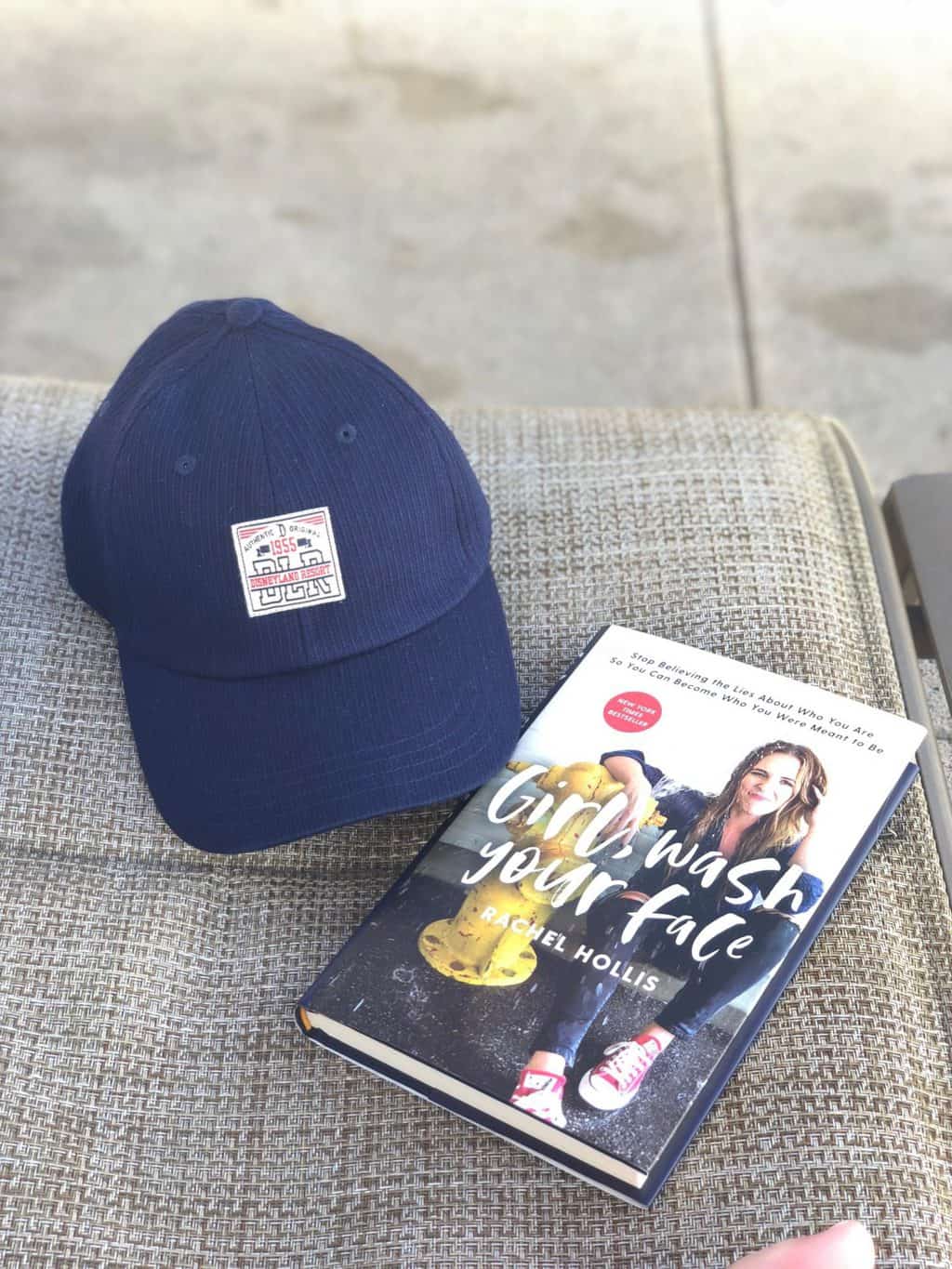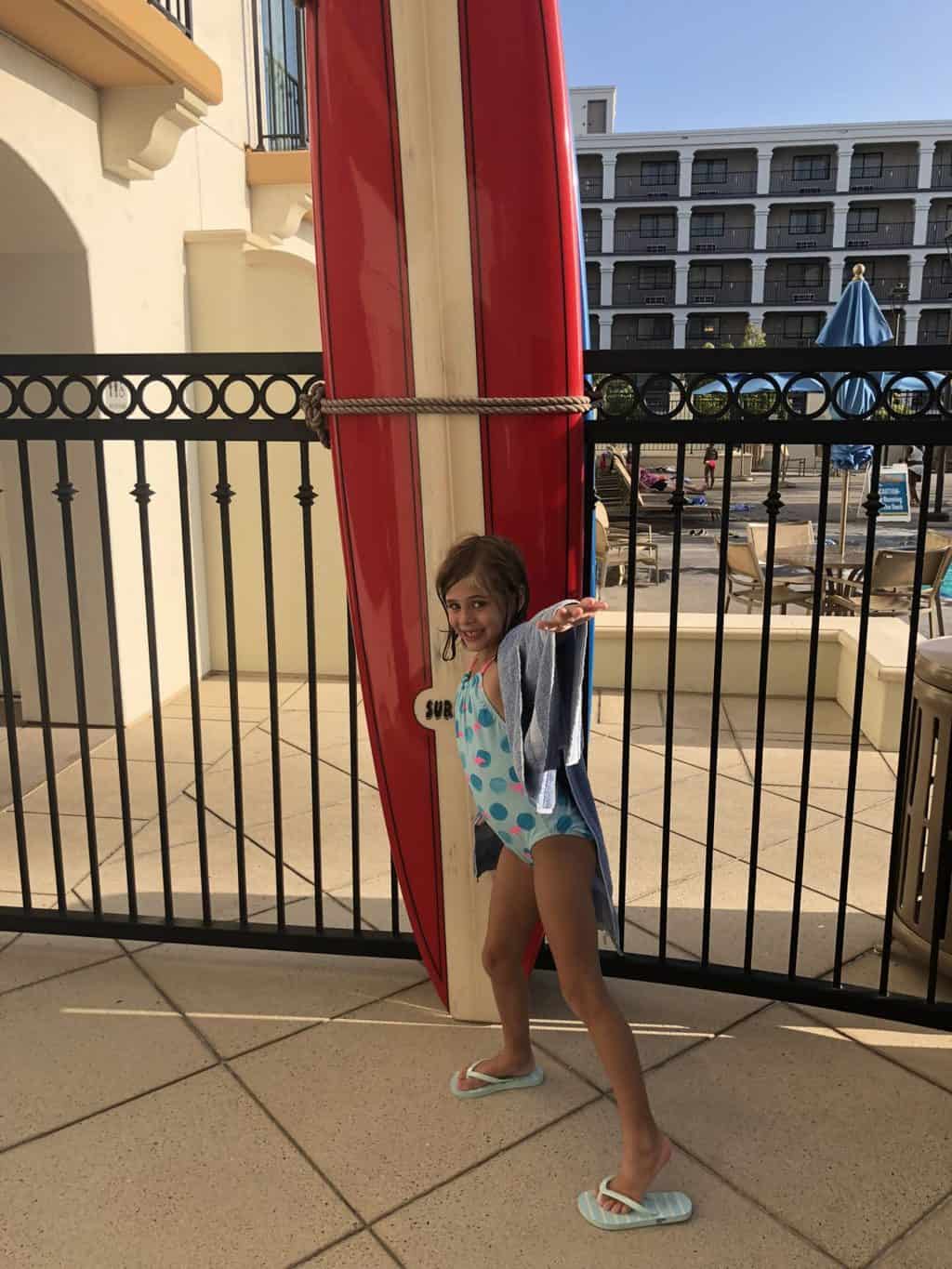 We decided to order pizza for dinner. Originally we'd planned to pick it up from Downtown Disney but I couldn't fathom making that walk while trying to balance a big pizza box in my arms and push a stroller ha! So we ordered in and got the kids ready for bed nice and early to get a good nights rest before another big park day to come!
Britt and Tess were so funny yelling down to people at the water park from our balcony! (video 1 and video 2)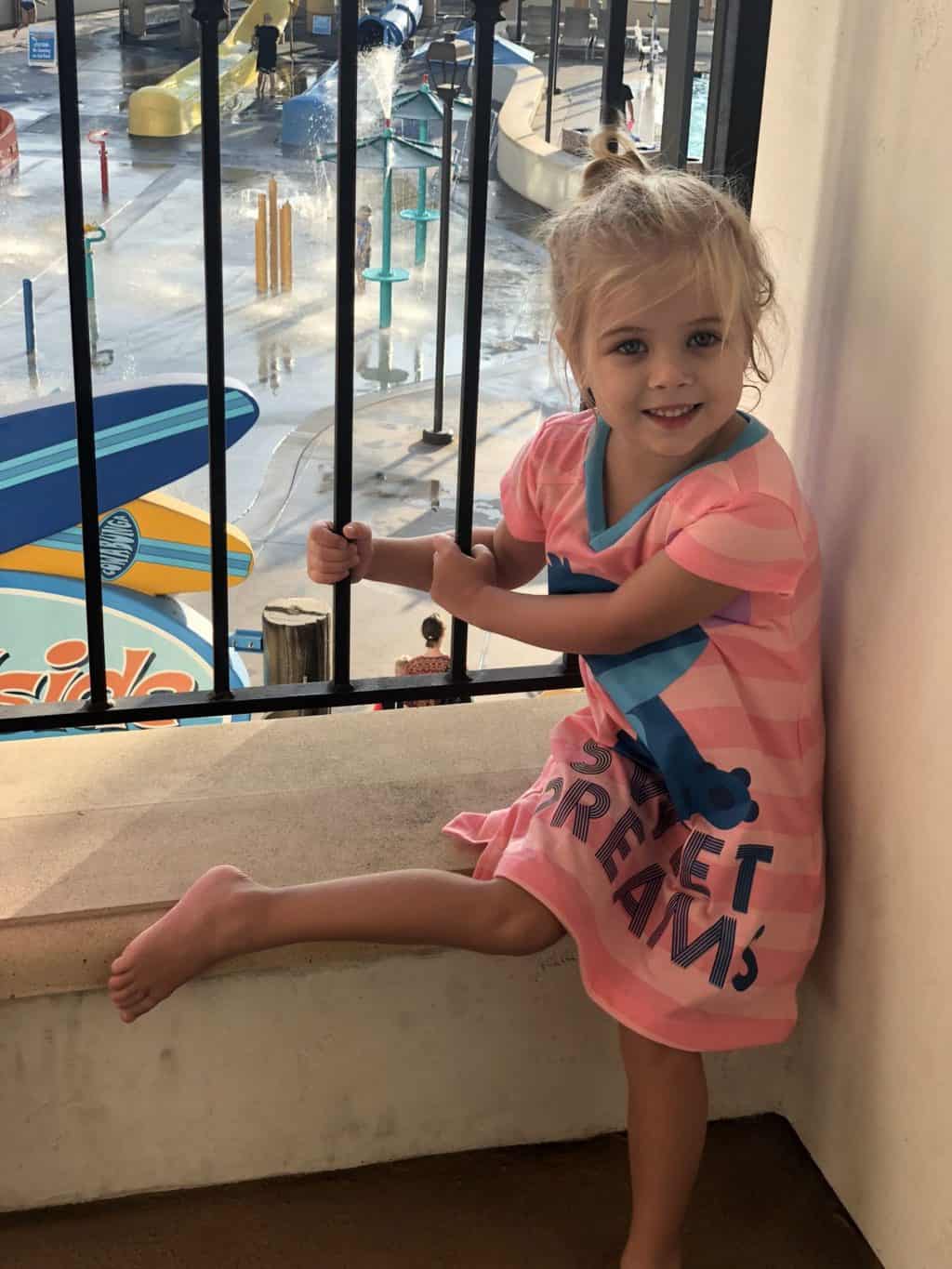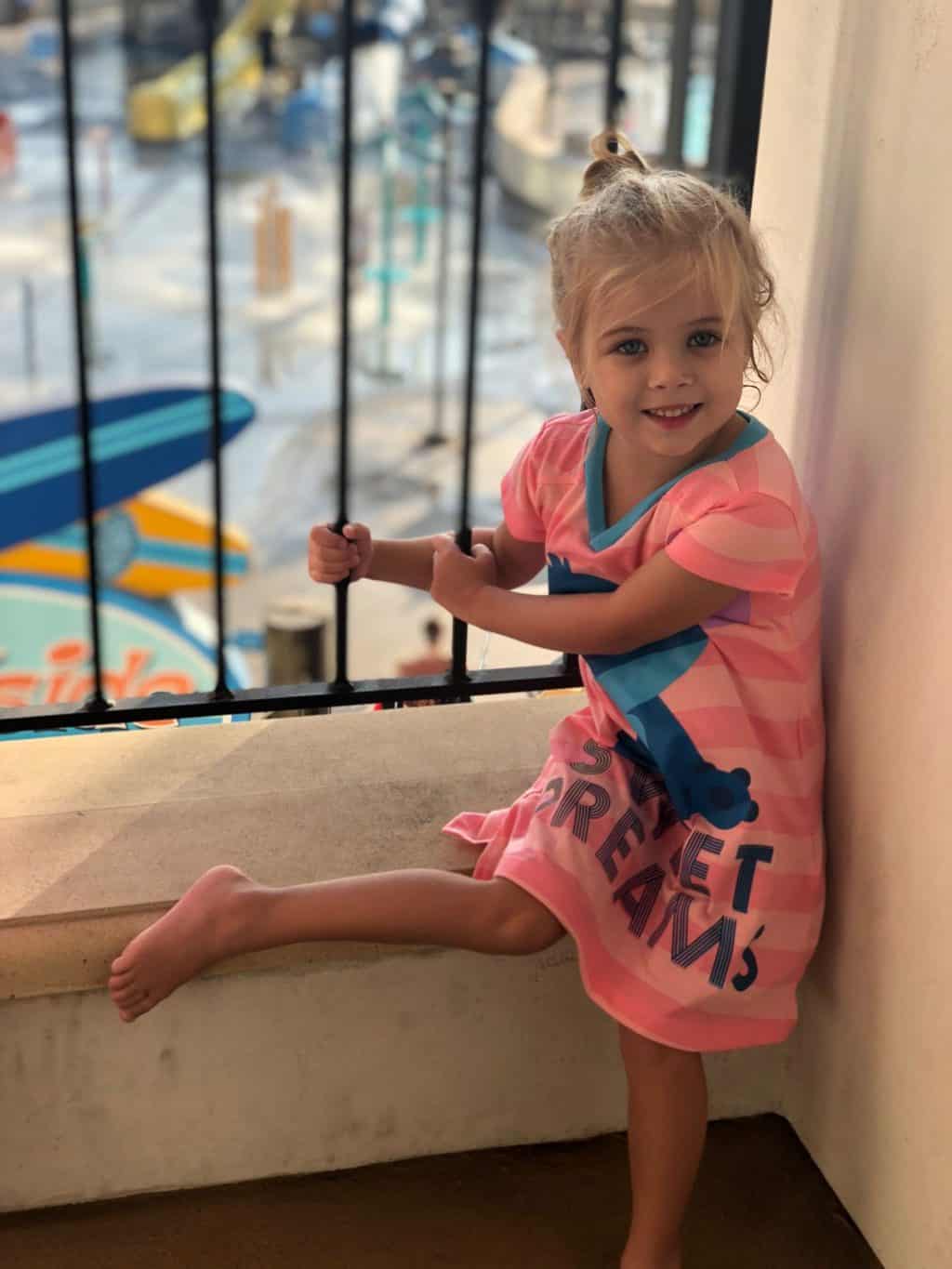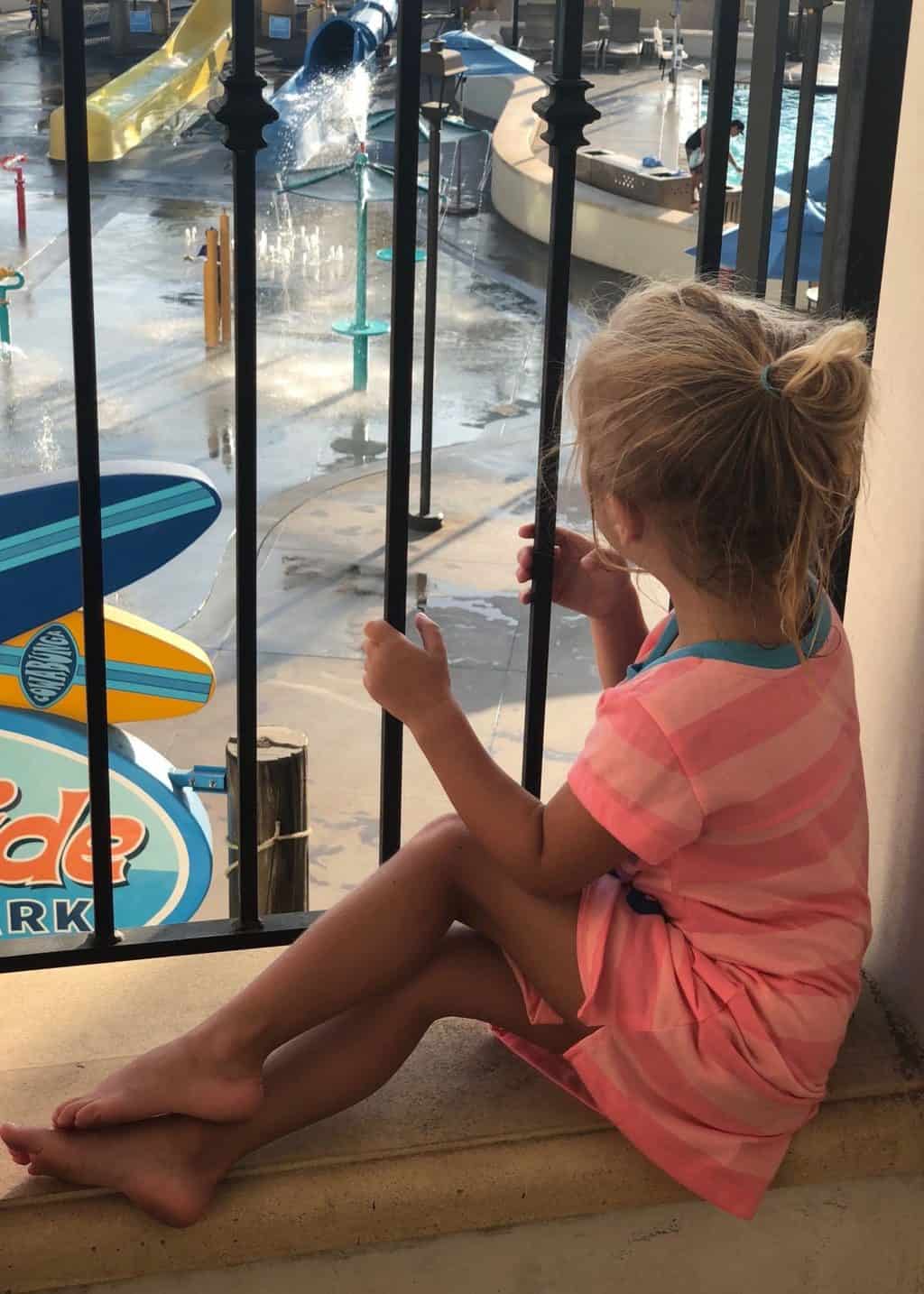 Watching some Finding Dory while we waited on the pizza!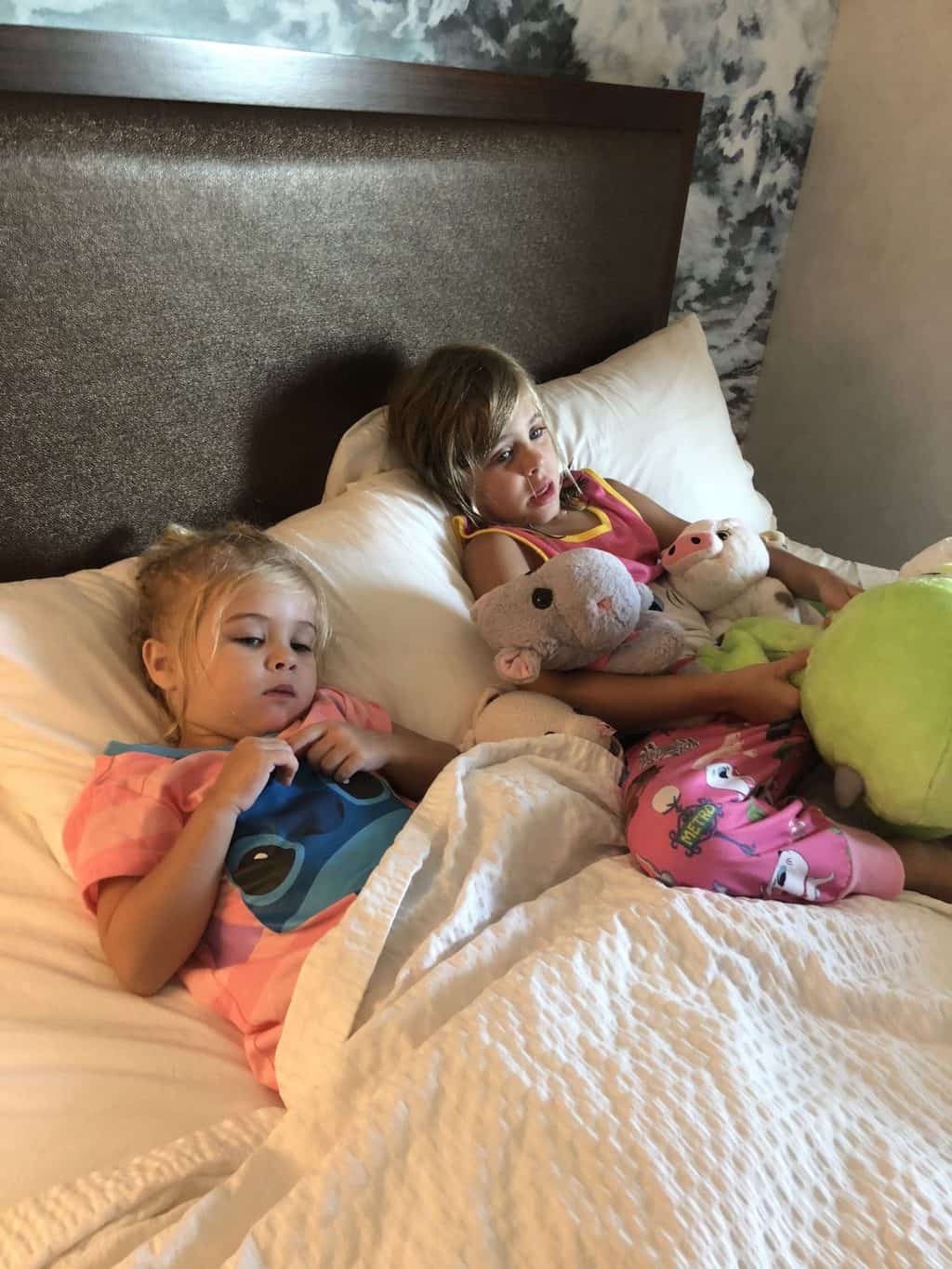 Go Noles!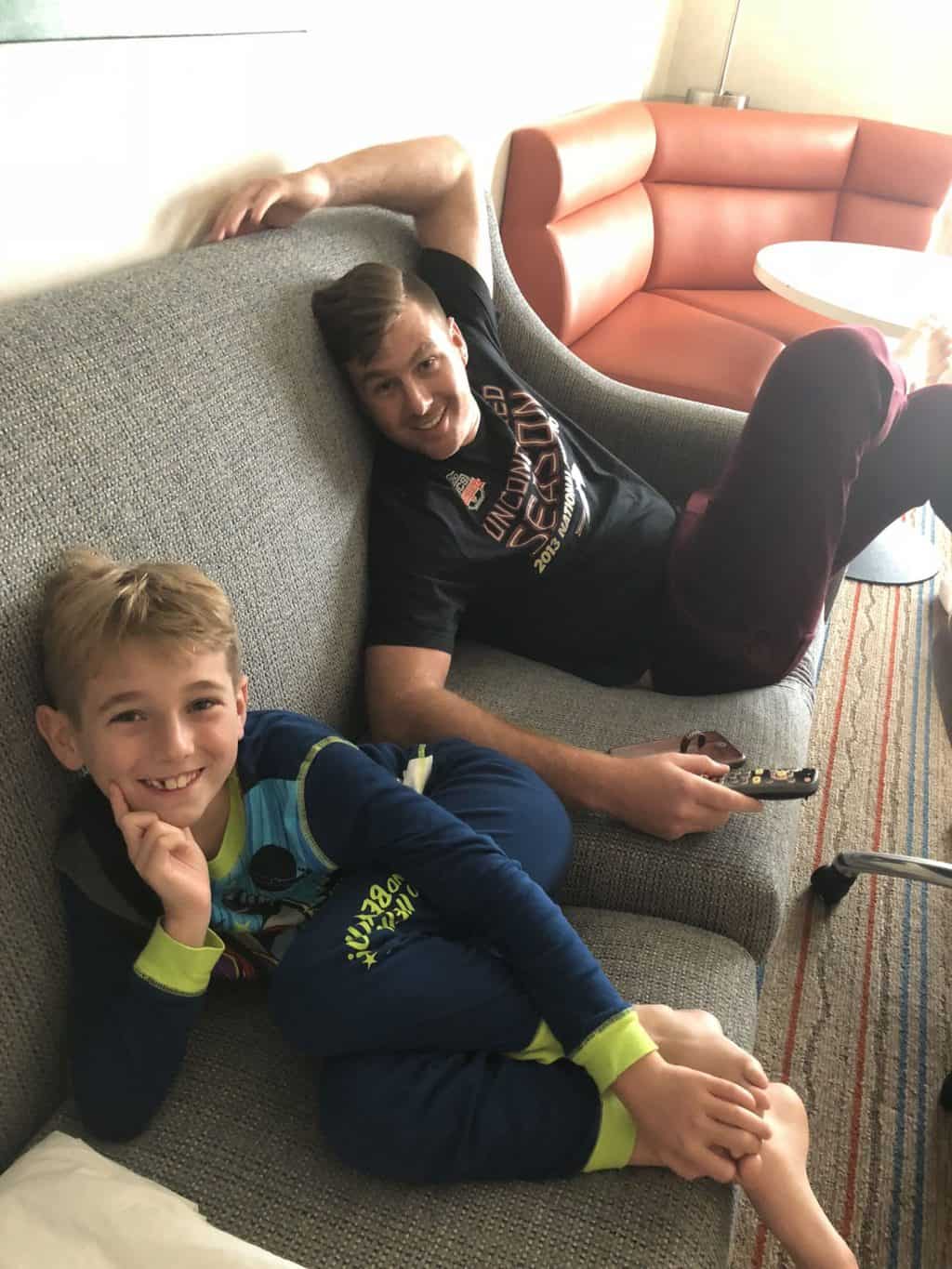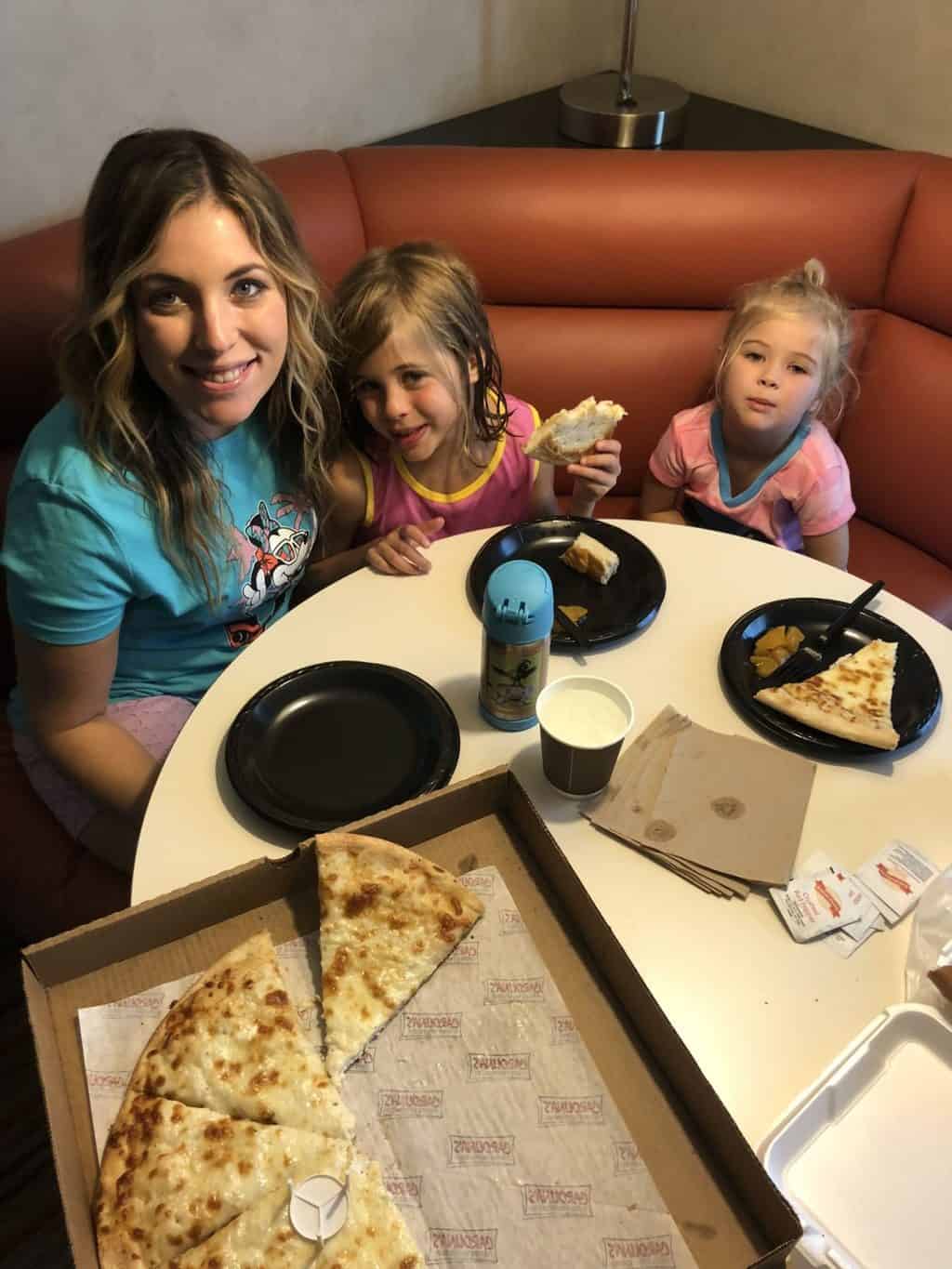 Prior to the trip I ordered each of the kids a blank journal to use as their travel journal to write all about our vacation. They LOVED it and took it SO seriously. I'm so glad I did this and it's something I'll do on future trips as well as it was a great relaxing activity, easy to pack, and something that each of them truly enjoyed.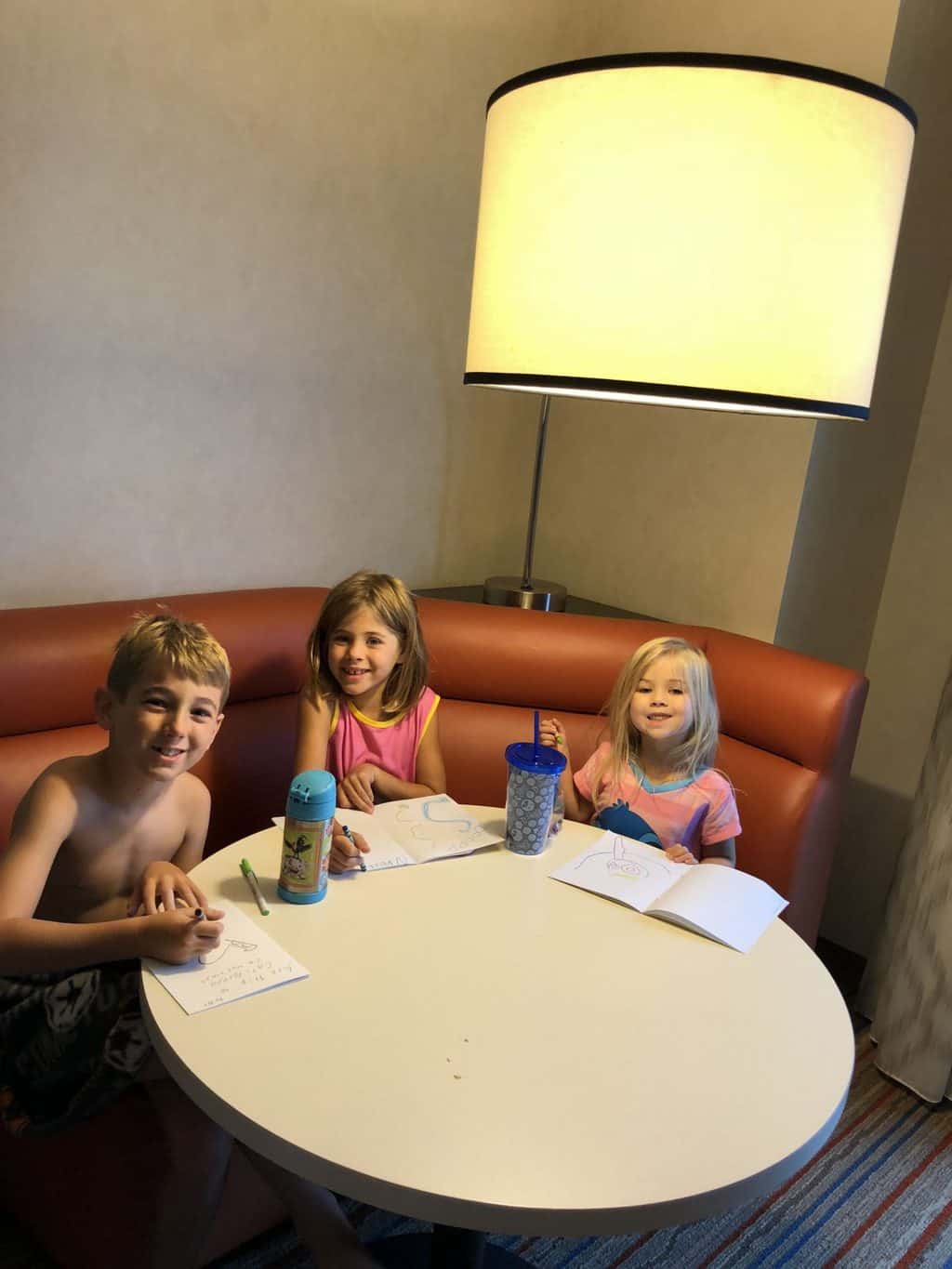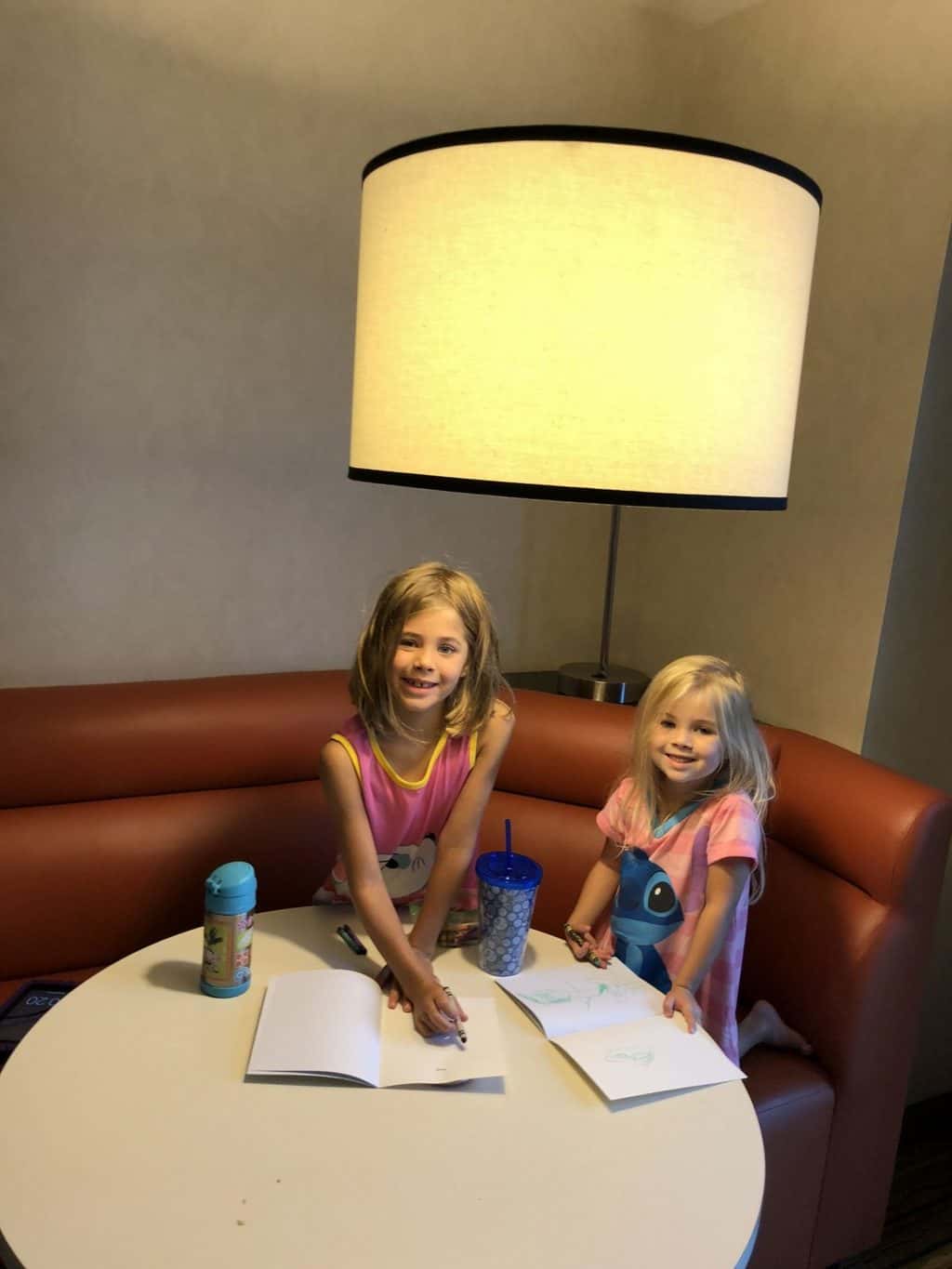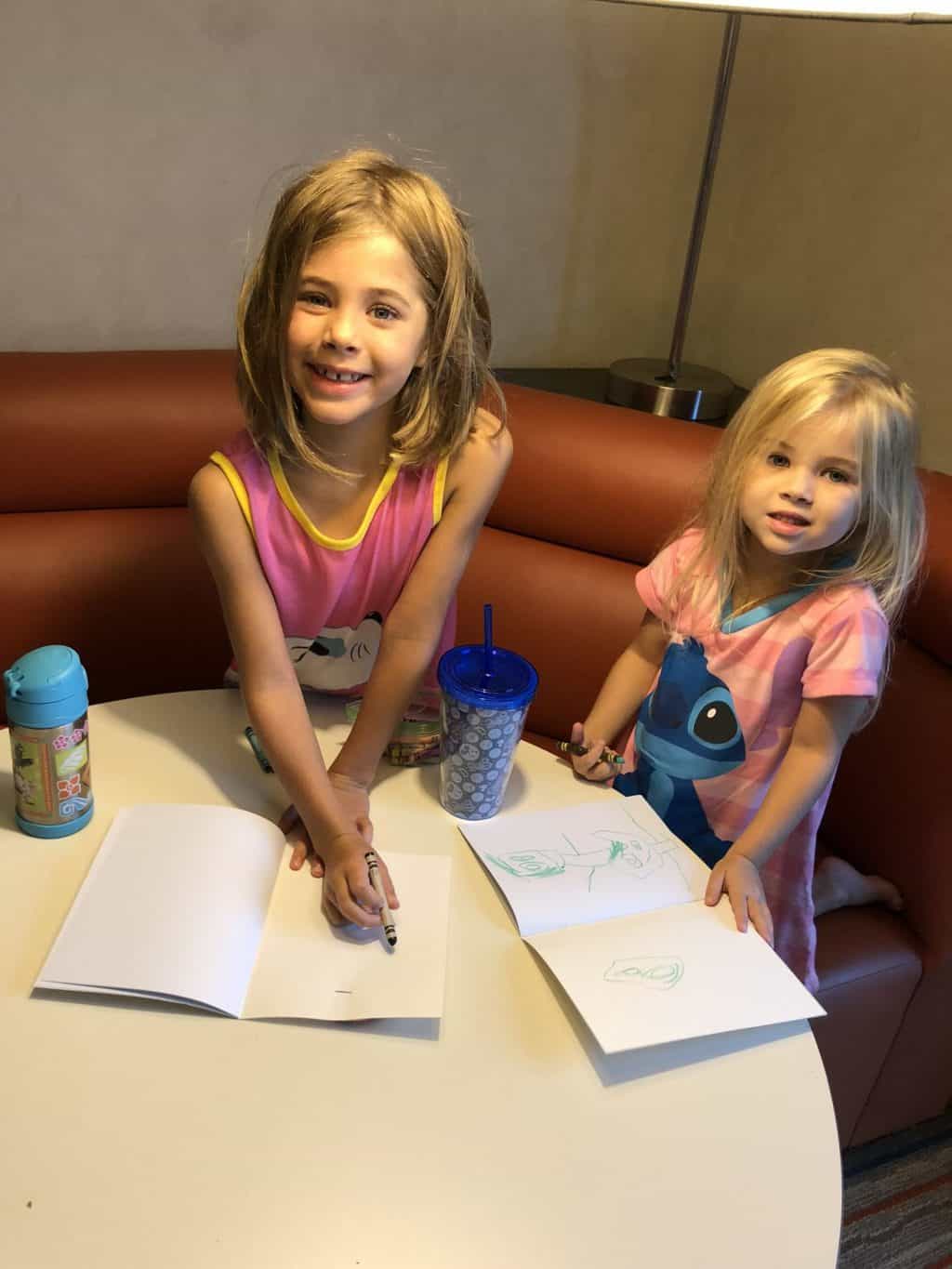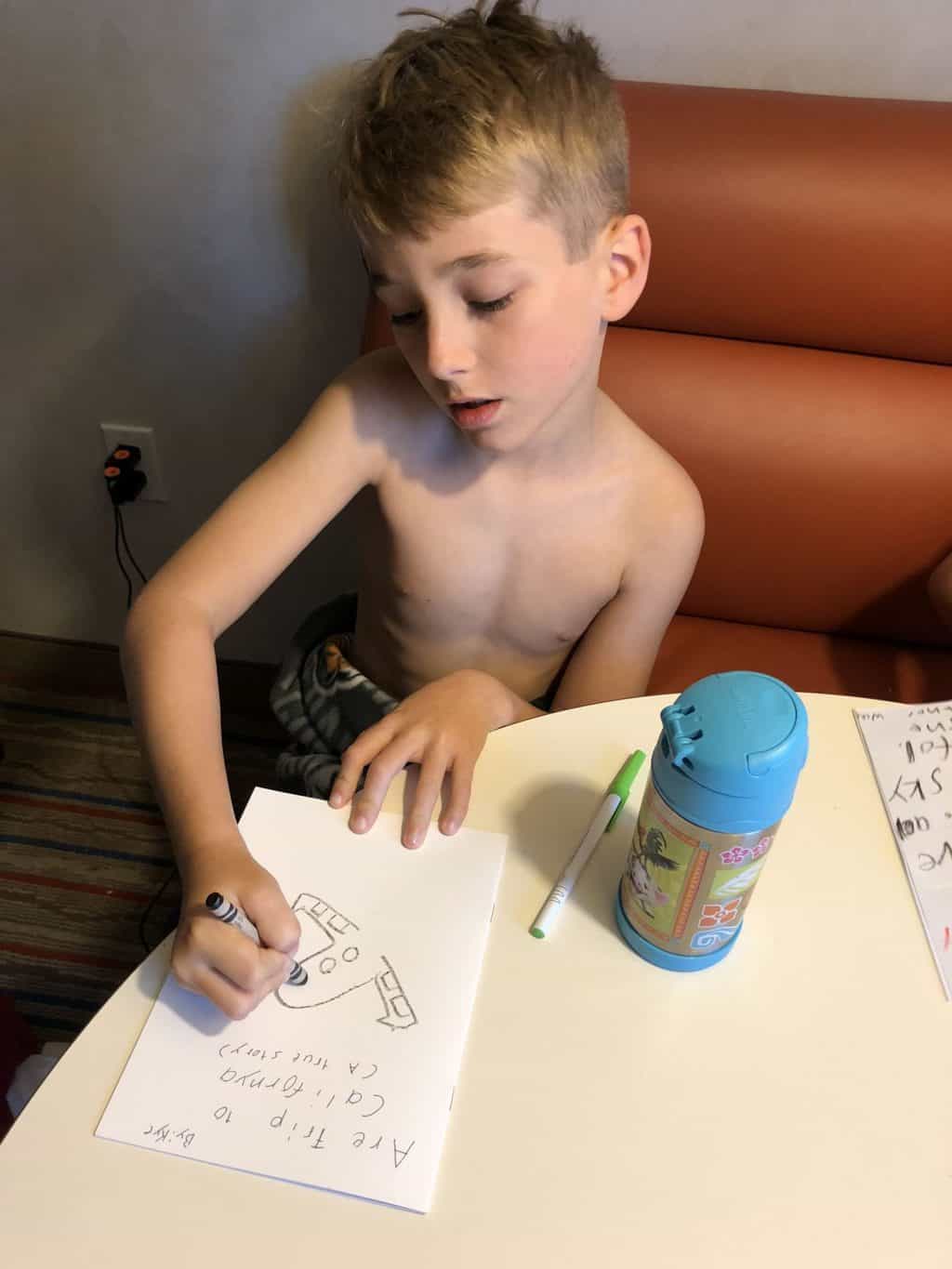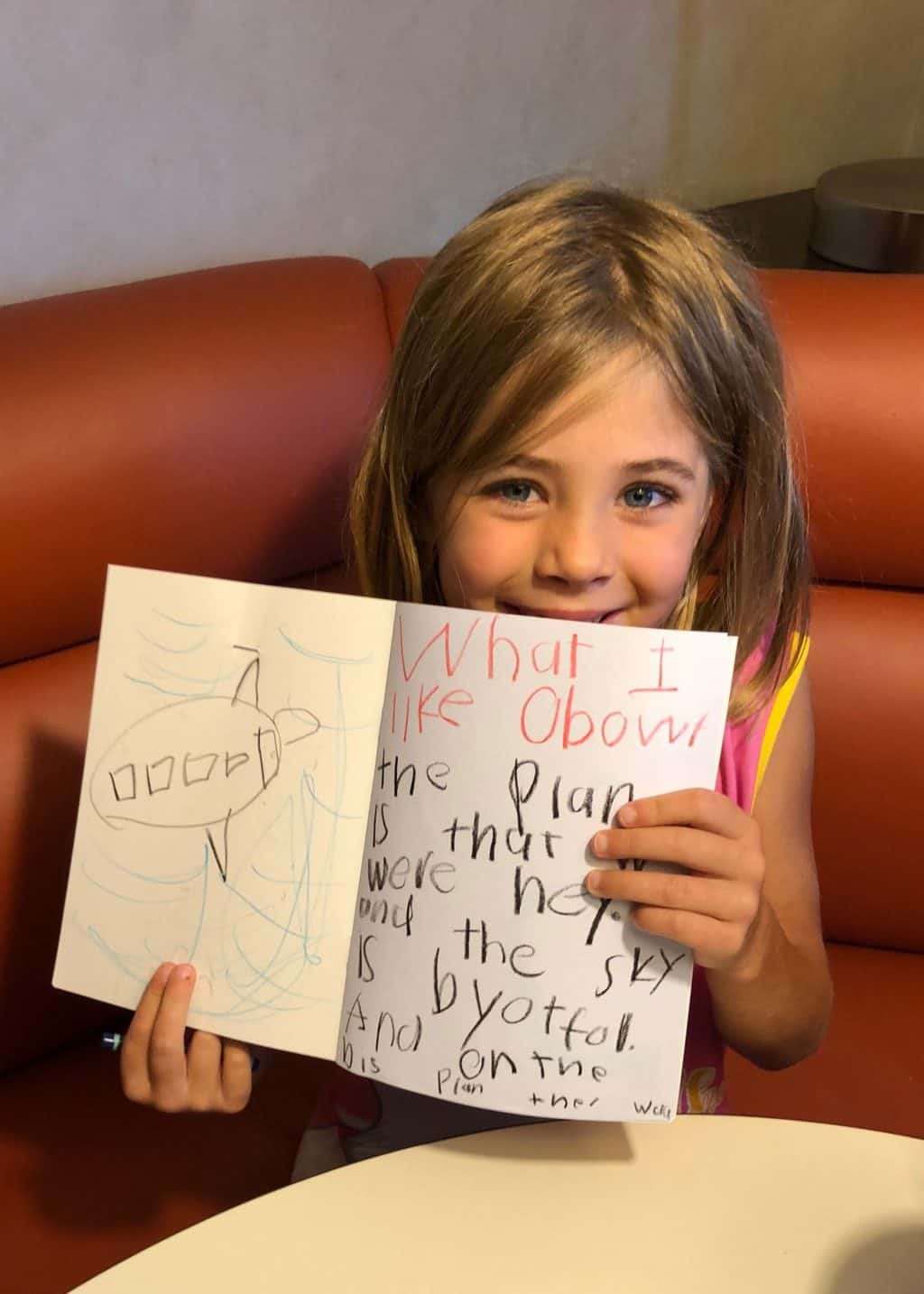 Tess's turn for top bunk rotation!!!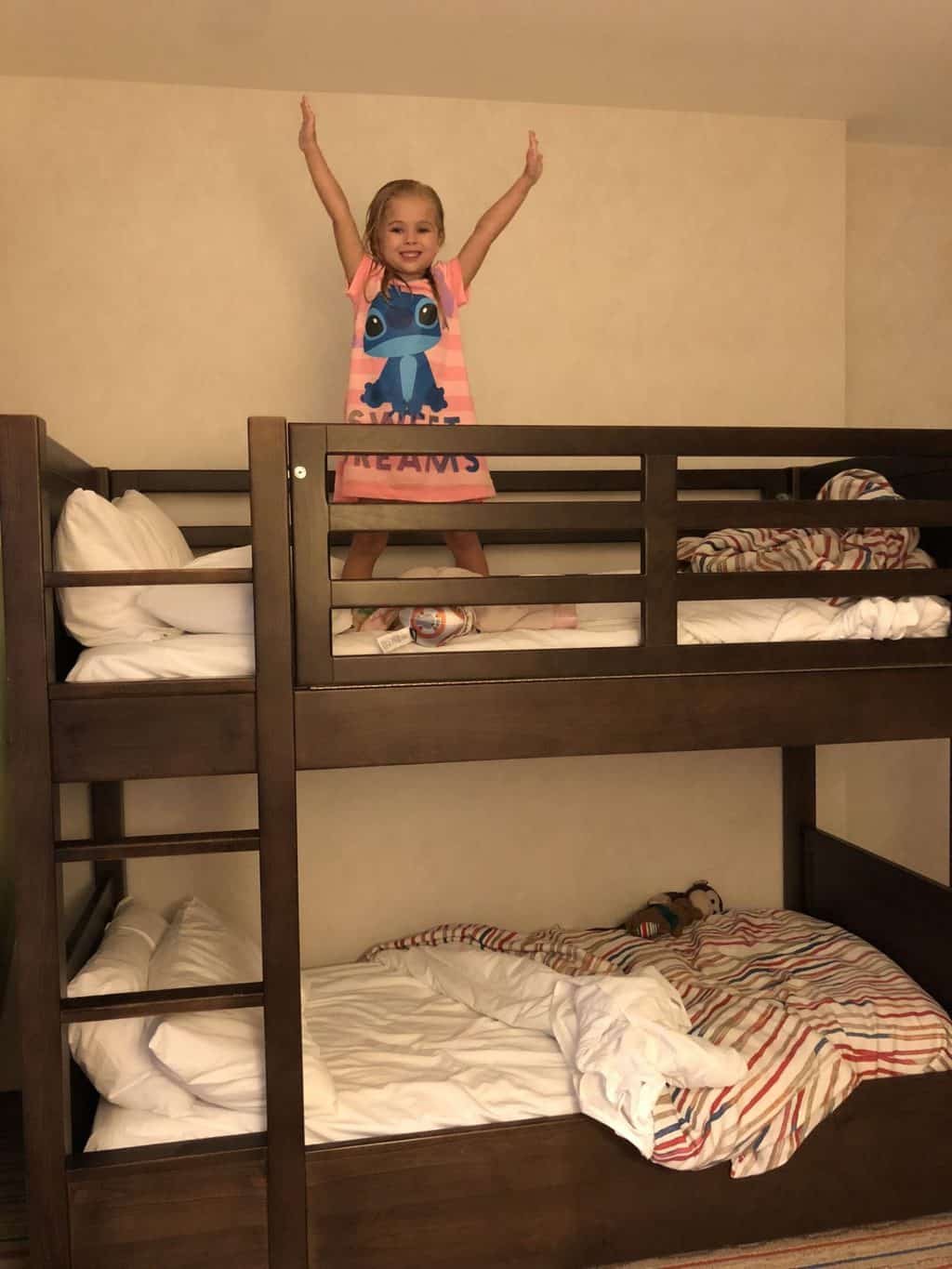 Britt opted to have the couch made up as a bed over sleeping on the air mattress and it worked out great!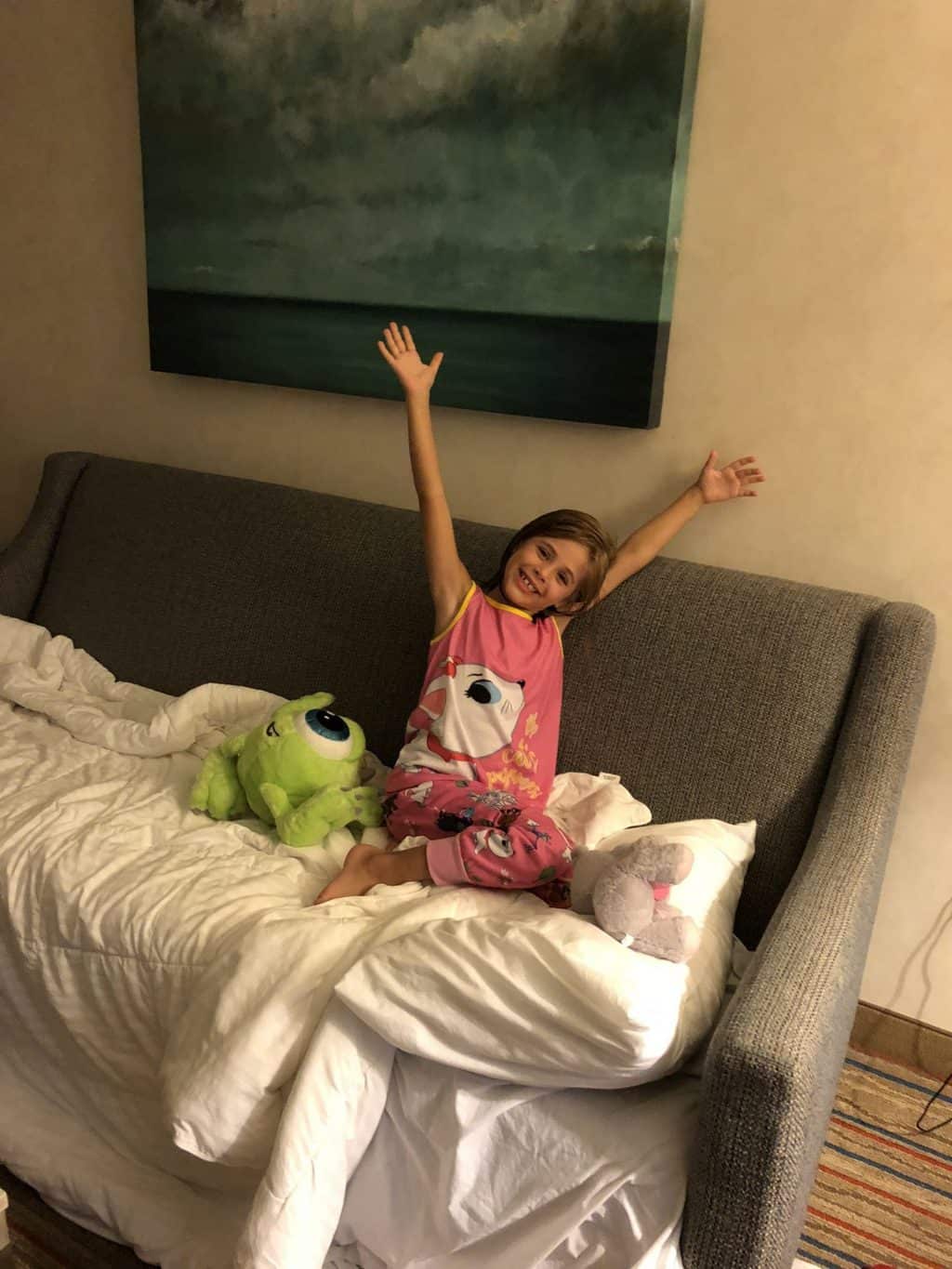 It was so, so nice to have a relaxing day together early on in our trip to help fully adjust to the new time zone and to be geared up and ready to go for a full park day to come!