We've had an annual Yes Day every summer for YEARS now. In fact, I have an entire post about how to set ground rules for Yes Day! I know the expectations surrounding Yes Day have evolved a bit since the release of the movie on Netflix…but our Yes Day has never been some super crazy outrageous say-yes-to-everything event and it never will be!
YES, Yes Day should be FUN. It should be saying about saying YES. I love the opportunity to allow my kids to plan their day and to be able to say YES when so often as a mom I am stuck saying NO.
But we've never done Yes Day as a family event. Zach has never taken part in it. It's always been during the summer and always has fit within our summer schedule timeframe. As the kids get older and I stop having a napping baby/toddler I'm sure our Yes Day will evolve some more and become even more EPIC.
However, we've always done it this way and it's always brought a lot of joy to the kids and has always been something they look forward to all year and is a FAVORITE day of the entire summer for them all, just as it is!
A big goal for me this summer was to be "Mom Guilt Free" and that goes for Yes Day too. It's not EPIC DAY. It's YES DAY. Saying YES to little things is enough. No need to go all out. No need to drive through a car wash with the windows down. Simple moments. Little joys. That's what it's about for us and I don't feel any guilt about that 🙂
The kids plan out their Yes Day in advance and always do a great job of working together to come up with their plan for the day. I love that element of Yes Day because I love ANY chance to encourage my kids to bond together!
First up: BREAKFAST at Chick-fil-a! I let them order whatever they wanted. After our birthday celebration for Tessie at CFA I knew that it brought them SO much joy to be able to place their own orders so we did the same thing for their breakfast and they were pumped! Kye: "Coke for breakfast?" Me: YES!
We were super thankful to be able to eat INSIDE at CFA. This day fell during the brief reopening of the dining room! No play place. And sadly no fries at breakfast (hence Tess's tears in her eyes because girl LOVES some fries).
I really want to do better at giving back and teaching the kids the importance of helping others. Tess has ALWAYS had a passion for the homeless and has prayed for the homeless to find homes since she was itty bitty. It's something that is always on her heart and was a natural choice of a way for us to give back to our community.
The kids and I visited Sam's earlier in the week and filled up a few carts full from a needs list at our local shelter (LAMP). We also really wanted to provide Bibles and yall I searched EVERYWHERE for Bibles! We went to three dollar stores and none had any. We ended up finding some at Walmart and clearing out their shelves to buy as many as we could.
When we made our plans for Yes Day I loved that the kids wanted to include a service project aspect to their day. We went to LAMP and delivered all of the items we'd purchased along with the Bibles and had CFA delivered as well!
We were able to tour the facility but the kids were a little bummed when we left because they had envisioned us getting to hand out the Bibles to individuals and help make them plates of the food (similar to when we'd volunteer at the Soup Kitchen in town).
It was a great learning lesson though that giving back isn't about what WE get out of it, it's about meeting the needs and we did that! I was proud though that Kye especially just didn't feel like he did enough. He didn't like that it was Mommy and Daddy's money buying everything and that all he did was help buy it and deliver it. He wanted to do more and I love that! We've been brainstorming ways he can bless others and he and Tess have both taken up a card ministry where they send cards to people who are sick or grieving.
I'm so glad we were able to get in contact with LAMP and the services they are providing and I look forward to connecting more with them in the future!
If you're looking to donate to your local homeless shelter some items they need but often don't receive are trash bags, shower curtain liners, and deodorant.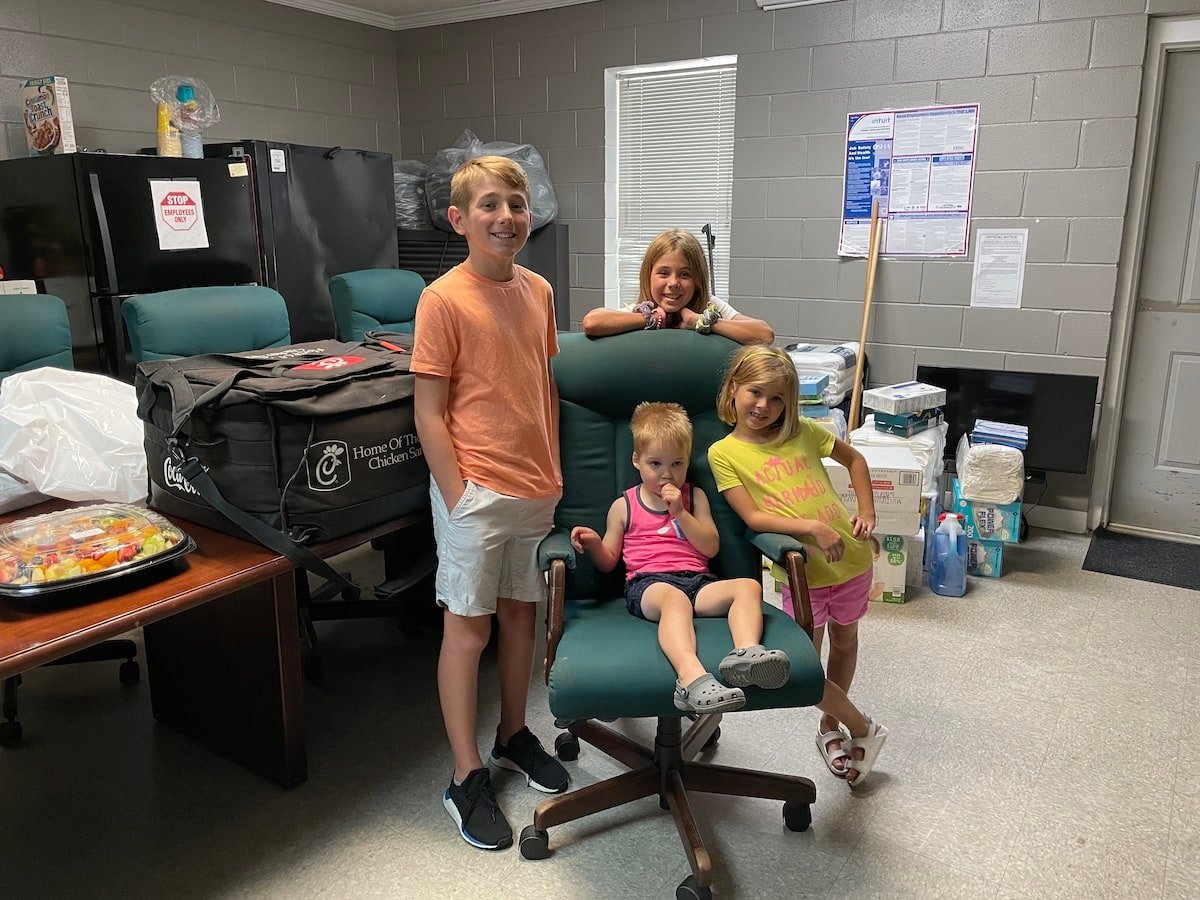 Another BIG perk of having a Yes Day is that it allows me to put all of the fun summer things into one day rather than spreading them out all summer. The kids LOVE going to Recoil (local trampoline park) and it was their must-do item for Yes Day!
Unfortunately all the dollar store stops that morning pushed Spear over his limit and his behavior at LAMP was notttt gooooood so he had to sit out a bit at the start of the jumping time but once he was allowed to play he loved it too!
ONE HOUR of jumping set me back $60. Hence why it's a YES DAY event and not a regular occurrence!!!
Another item on our summer bucket list was to get snow cones from Snopocalypse. Perfect Yes Day treat! We were also all so full from breakfast that it counted as lunch!
They did ask for the biggest size and we compromised on a medium size and letting them get them "stuffed" with ice cream!
It was THE funniest thing. When we pulled up in the parking lot we saw G-Mama's car so the kids ran out and ran over to her to say hey all excited. AND IT WASN'T G-MAMA. It was HILARIOUS.
So then we were sitting outside finishing our snow cones and we looked over and in the same parking spot that not-G-Mama's car had been parked was a car that looked just like Aunt Katie's. I joked around with the kids about it and the girls dared me to run up to that car like they did "G-Mama's"
Kye was MORTIFIED embarrassed so he ran inside the snow cone place as I ran across the parking lot and ran up to the car. THEN IT WAS ACTUALLY KATIE'S CAR.
I stood at her window until she saw me and I totally scared the crap out of her. We were all DYING LAUGHING. Kye refused to come outside because he didn't even believe me that it was actually her. Katie was STILL shook up from it afterwards too. CLASSIC.
On the way home the kids asked to blare the music with the windows down and I said YES and once we got in the neighborhood I let Britt put her arms out of the sunroof 😉
It was THE most appreciative Yes Day EVER. On our way home Kye randomly thanked me for everything I do. Not just for Yes Day, but just for the mom I am which melted my heart. And Britt was so sweet all day showing concern about spending!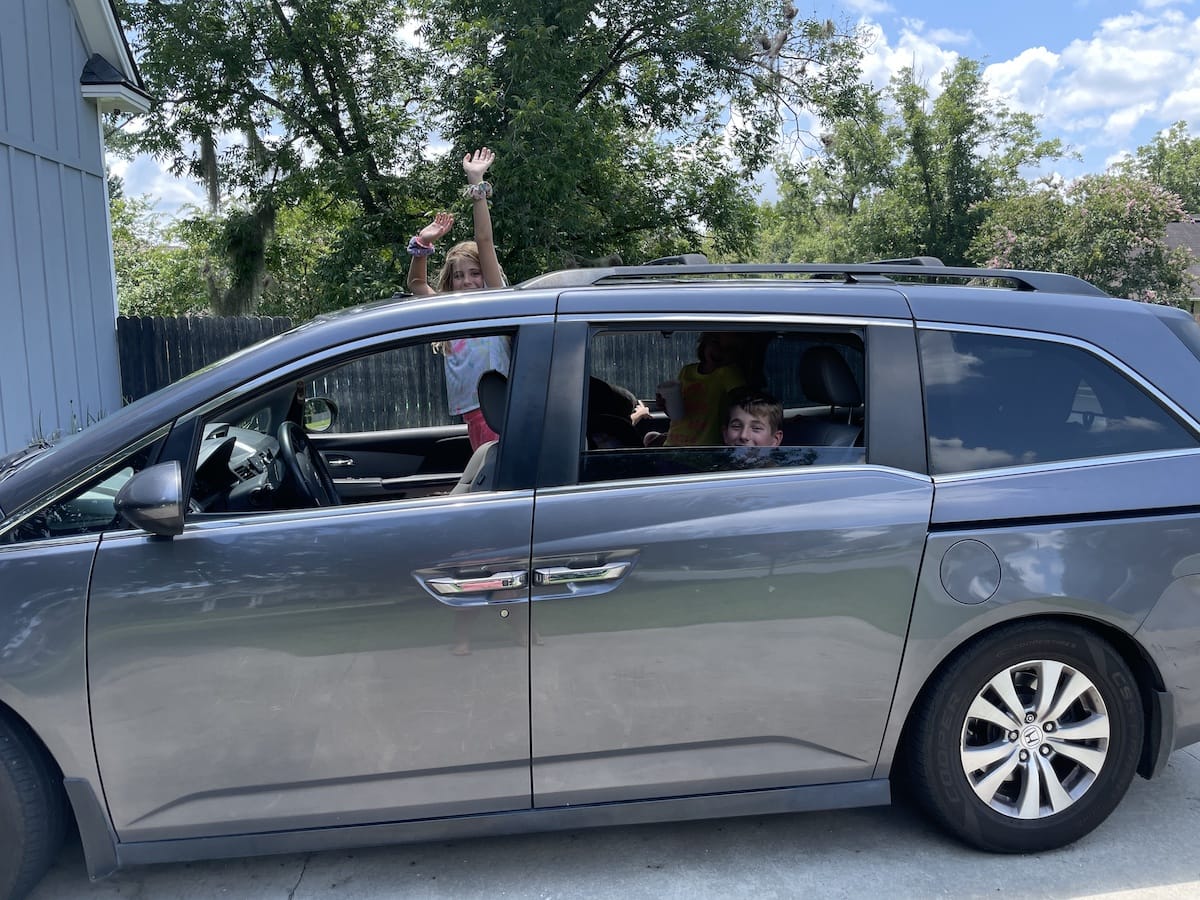 During Spear's nap the big kids watched Star Wars Rebels together and had screen time and split up doing different preplanned activities together. Britt wanted to play Harry Potter and Kye wanted a Nerf battle and they both agreed to do BOTH things for each other without any bickering 🙂
Spear even woke up in time for he and I to participate in the Nerf war too! I helped by hiding guns all over the house for them to find.
Spear asked to wear his Mickey pants and to get his water by himself – both were a YES. As was the answer when he asked me to help him clean up the spilt water too
For dinner they all asked to have a Sparkling Ice to drink and Zach picked up pizza (everyone's favorite) and we watched Monsters on the Job as a family (new cute cartoon on Disney +)
Once Spear was down for the night the next phase began! We had a heat wave that day and it was SO HOT. So we changed plans from making s'mores to making cookies instead. The kids went night swimming with glow sticks and I made my famous cocoa no bakes for them and then they ended the Yes Day with a sleepover in the treehouse!
I even let them stay up until the official end time of Yes Day – MIDNIGHT. First time EVER and they were SO PUMPED! I def got the cool mom points for this Yes Day 😉
It was also a great move on my part to wait and have Yes Day towards the END of the summer. It allowed us to use the day to achieve any summer bucket list items that we hadn't yet done 🙂 It was one very FULL and very FUN day and the kids had a BLAST!
Looking to plan your own Yes Day? Here are the guidelines we follow!