All of our family moments from December 2021 🙂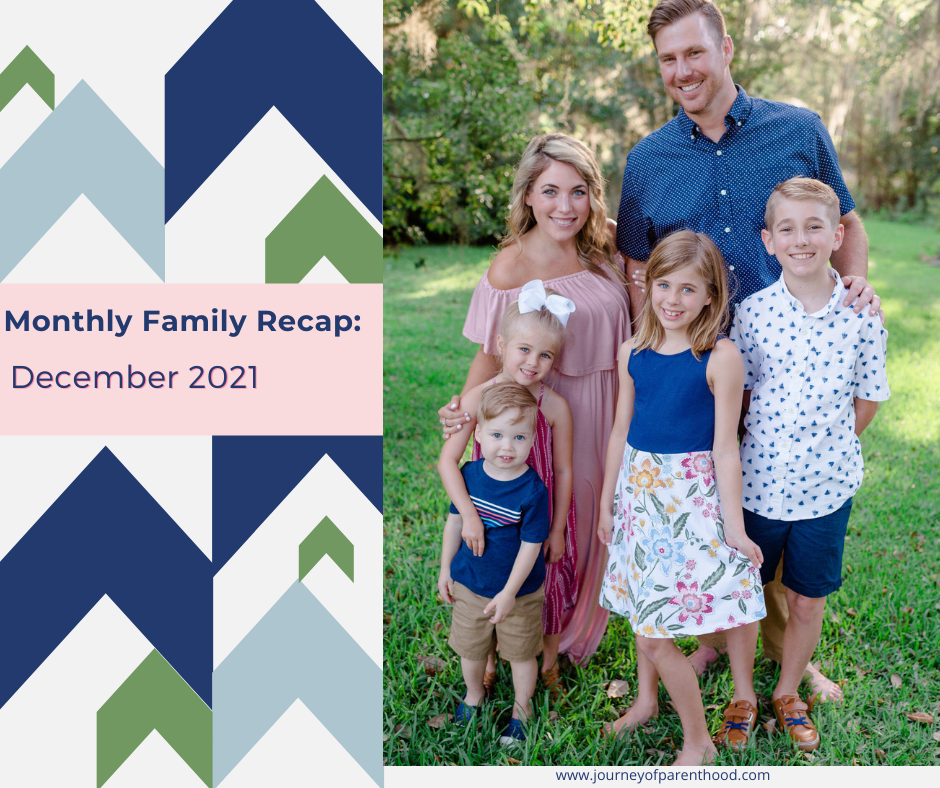 This month we finally attended a full VSU game as a family! Our first try got rained out and Zach had taken a few of the kids here and there but we were able to go as a full family unit for an entire game and we all loved cheering on our Blazers!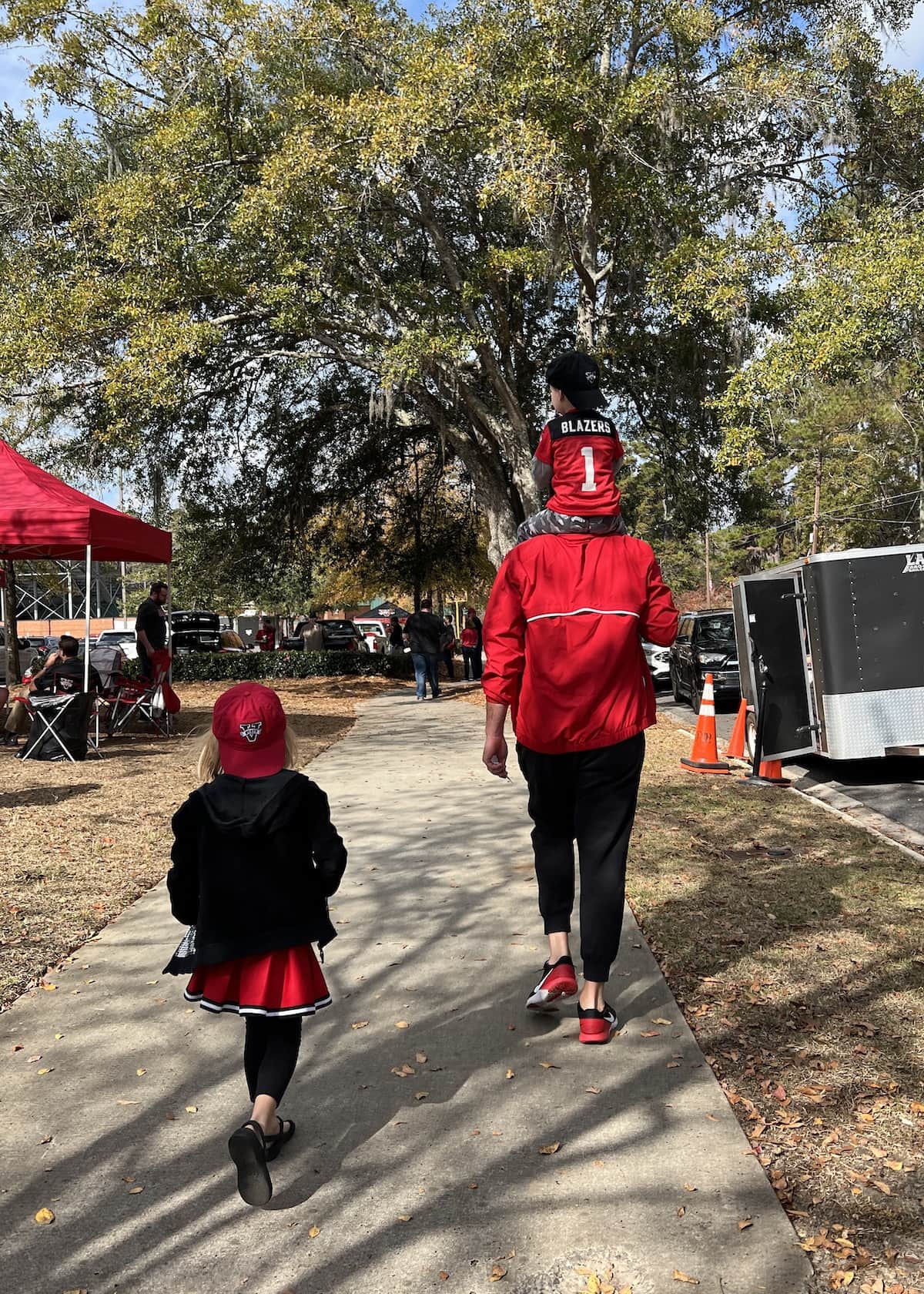 Out of all the kids, I think Britt is our biggest football fan. Kye loves it too but Britt is very into it and loves asking questions and learning all about Daddy's favorite sport! She kept trolling me the entire game about my "lack" of football knowledge but in reality she just was shocked at how much I actually know. I did spend 4 years at every game cheering on my man so I picked up a thing or two along the way 😉
A 1 PM kick off meant a TON of snacks to help keep Spear going through nap time. Britt has literally "stolen" all of my VSU gear but she looks super cute in it so who can be mad?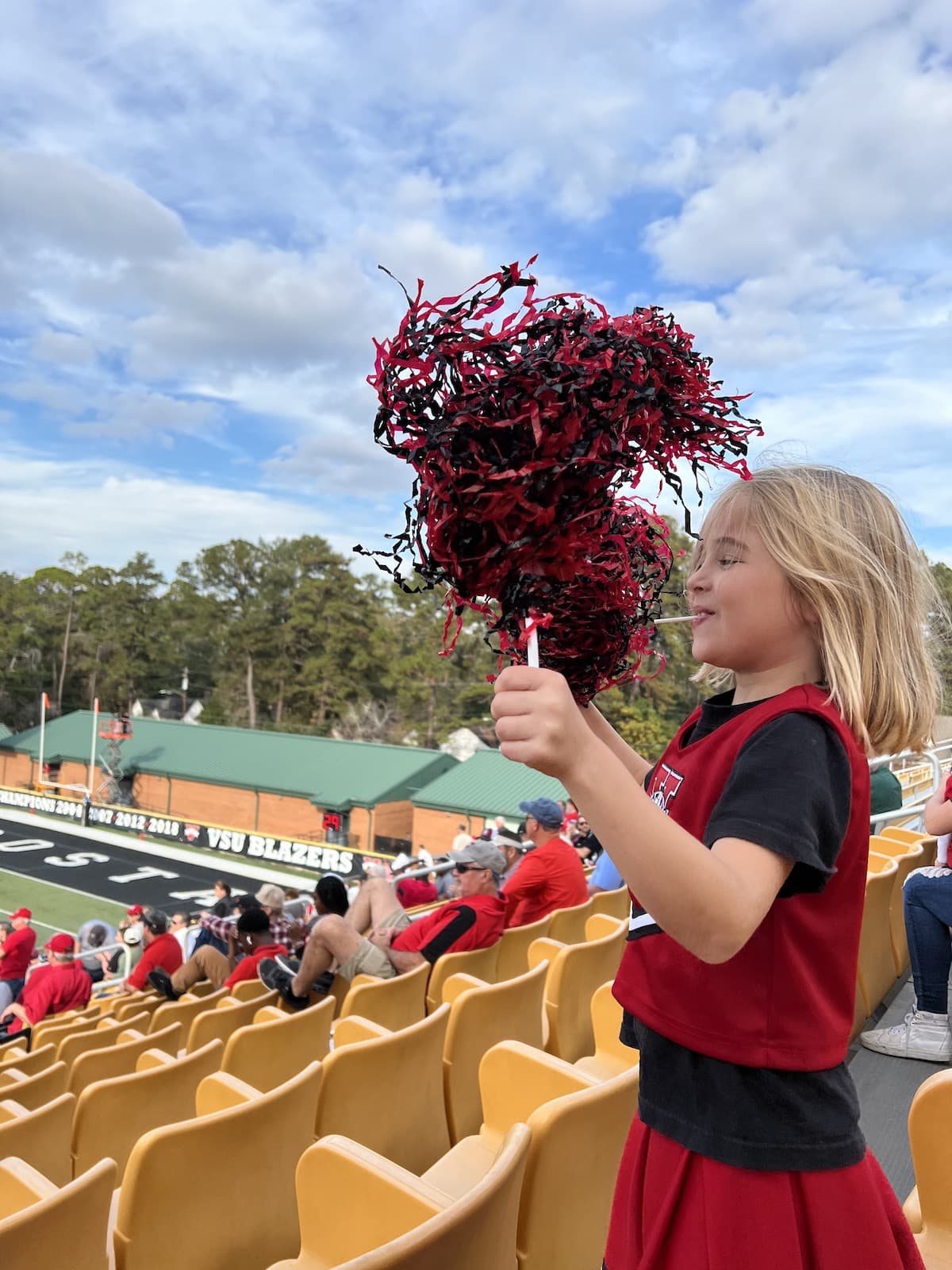 Over Christmas break we had a mega cousin sleepover! Cam had been asking for Spear to come spend the night at his house and Casey was daring enough to take Spear on so I offered to handle the remaining 8 cousins at our house. They all get along so well and did AMAZING! As did Spear and Cam! So well, in fact, that we let Spear sleep with the big boys on Christmas Eve this year 🙂
We are def planning on having more cousin sleep overs in the future…hopefully no more nerf gun bullet eye injuries though 🙂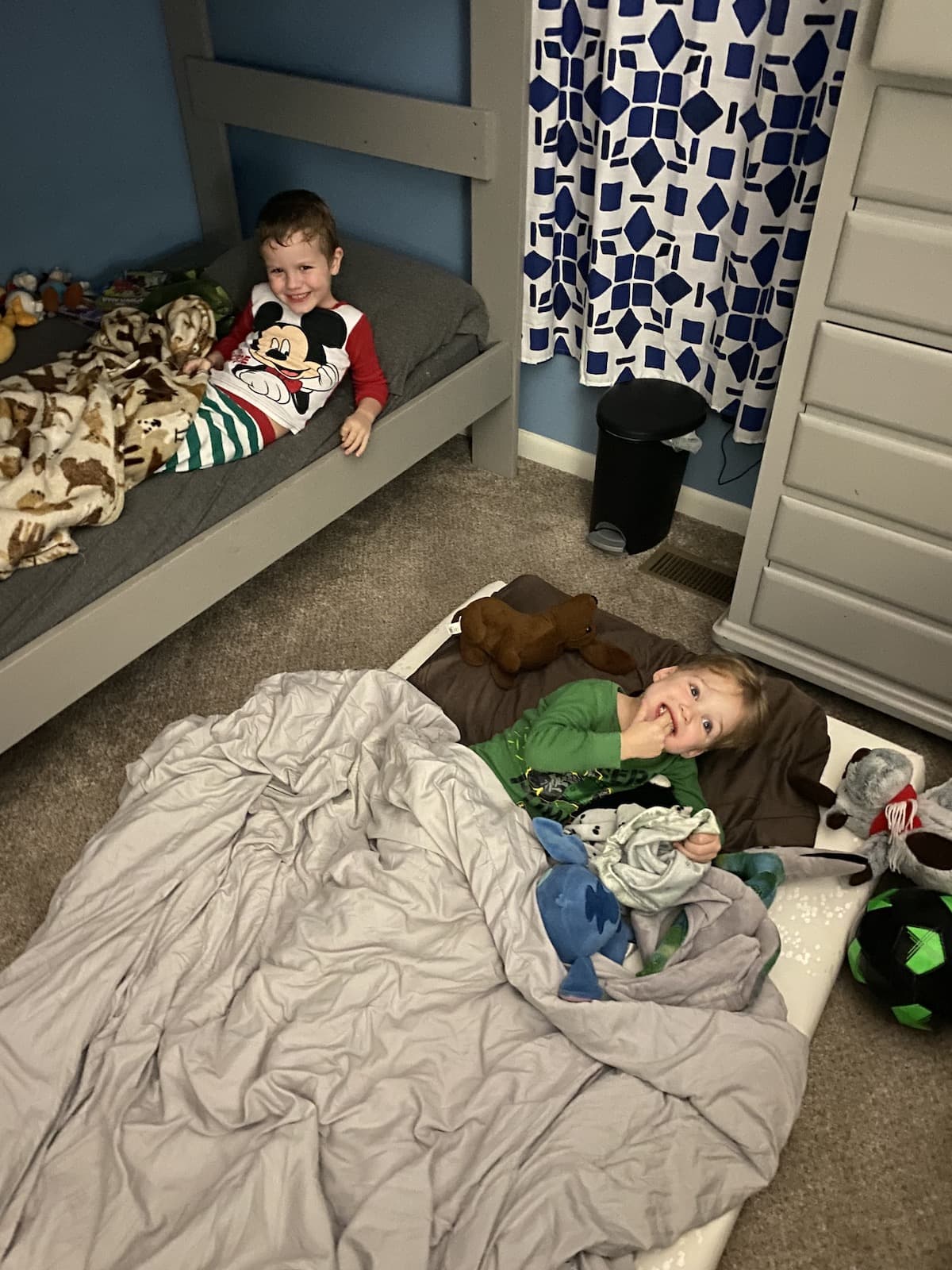 Kye had several archery flights leading up to the Archery Team being announced and again this year he made both the 3D as well as Bullseye teams! So proud of him and thankful he has a sport he loves and enjoys so much – we love watching!
He had a super fun opportunity to visit his elementary school to read to some of the little kids and I have never seen him so excited! He loved getting to see some of his former teachers but most of all he just loved getting to have that opportunity to read to the kids.
He also wrote a speech for TSA and was one of the students chosen to represent his school for regionals (spoiler alert: he ended up winning regionals and giving his speech at the state level and winning that too!).
Katie and I kicked off Oscar Season this month with our movie watching and there was even one on the list Kye was able to watch with us. His FIRST Oscar Season movie watching experience and man it'll be hard to compete with this one – we watched King Richard and it's a FANTASTIC movie!
As a middle schooler Kye was able to take part in Exposure Youth Event in Alabama over Christmas Break. We were super excited for him to attend and thankful that he was able to bond with the other guys from our church. It is tough being the "new kid" in such a tight group and he's a little younger than everyone and the only one who doesn't go to the same school they all go to. Having a chance to travel together really brings people together and we were eager for Kye to have that experience!
Unfortunately the poor kid got slammed with sickness while at the event and was pretty miserable and then decided to come home early. So basically he drove 9 hours, hung out for an evening, was sick all day, then road home 9 hours. Bless. I felt SO BAD for him. Even in his awful state of feeling horrible he still was so sweet to think of his siblings and pick them each up gifts from Buc-ees.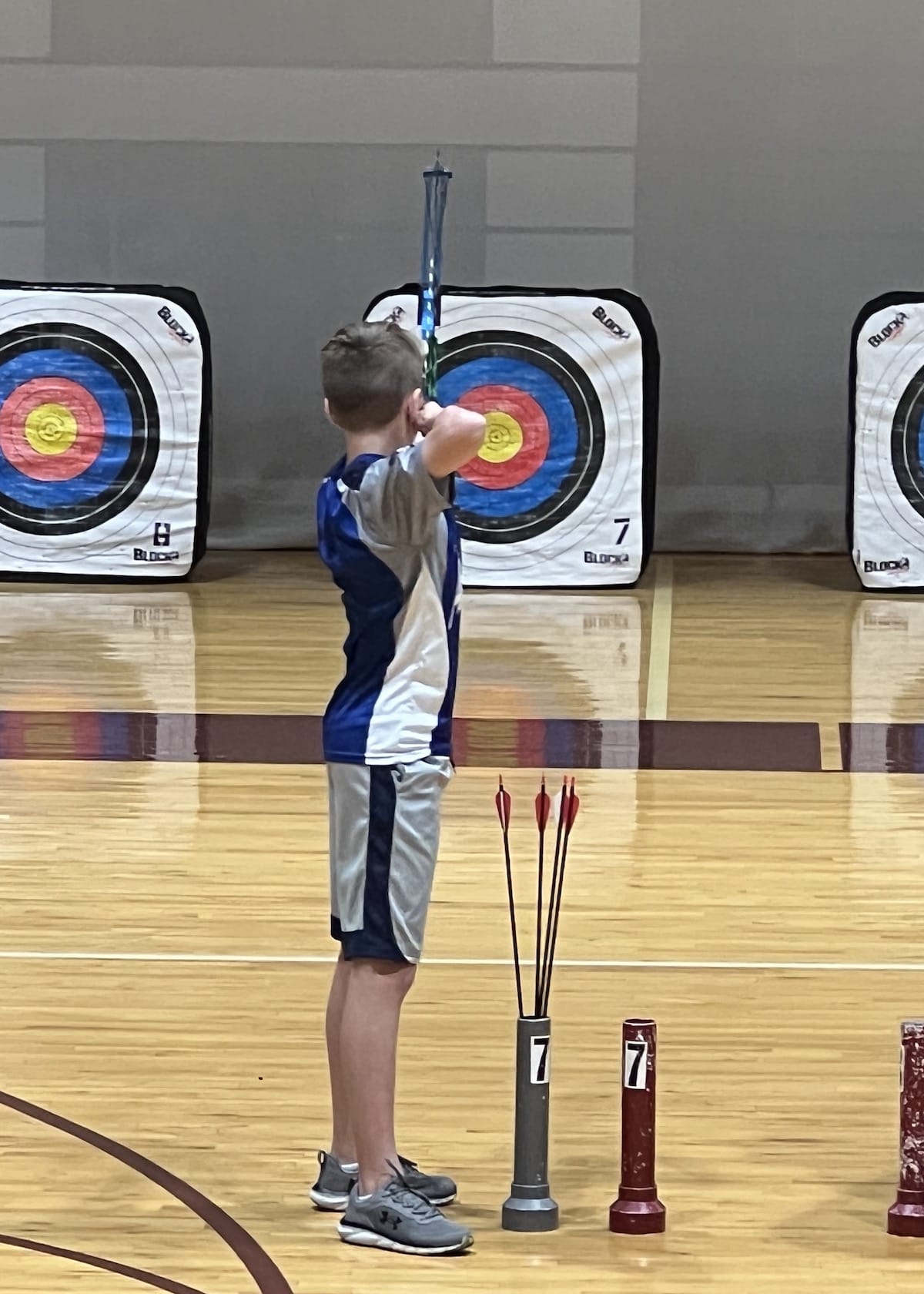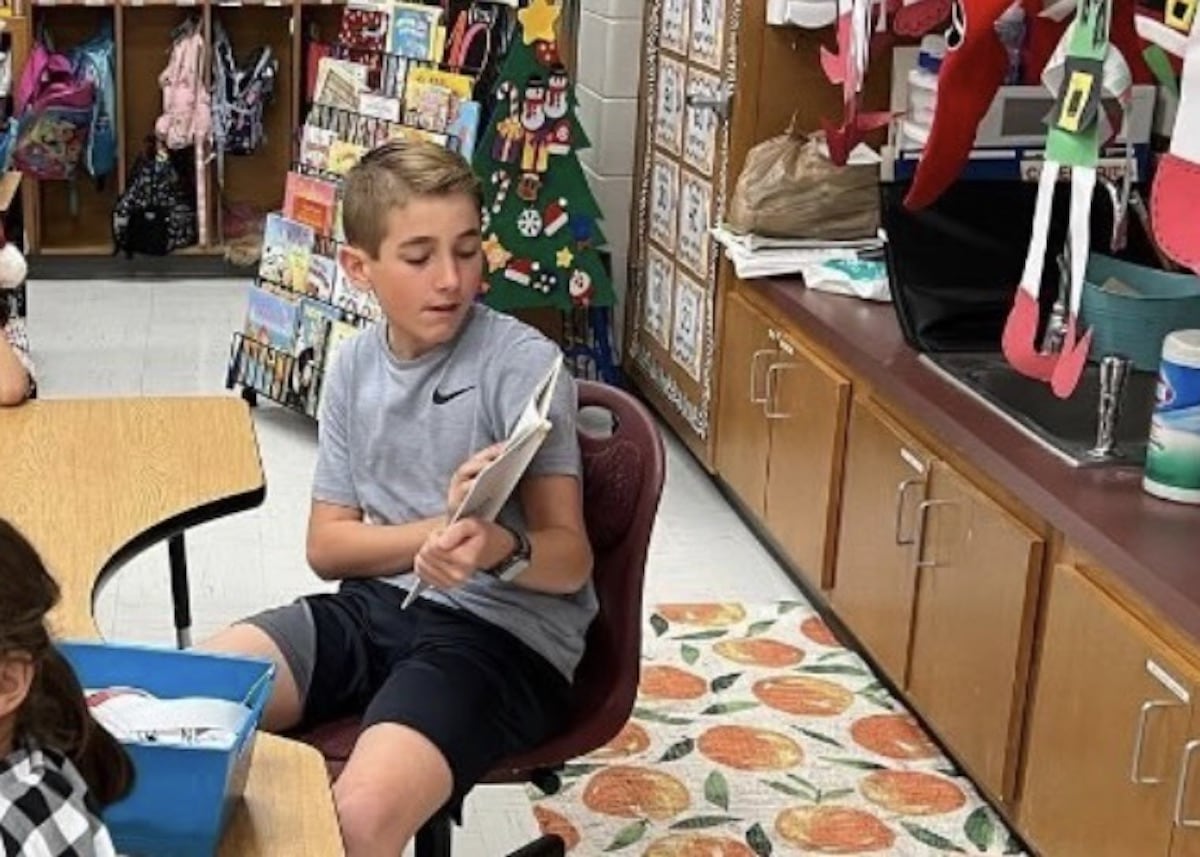 Britt wrote a letter and "mailed it" to Harry's address (as in Harry Potter) asking him to give the letter to Hermonie. I really struggled what to do about it and if I should have "Hermoine" respond or not. She checked the mail every day waiting for a letter back but I made the tough decision not to reply. I decided over Christmas break I'd have her watch the Harry Potter anniversary special they had on HBO when the cast reunited and talked about making the movies. It was a tough decision but I knew by her watching that special that she'd enjoy it but also it would help things click with her a bit on why Hermonie didn't reply to the letter. I always want my kids to believe in magical things, but I never want to set them up where they feel foolish and I felt like if Hermonie responded to her letters it would be a step too far in keeping the magic going.
Over the break Britt loved making breakfast for everyone – muffins are her specialty!
She also got some new Harry Potter apps on her iPad for our trip and took a test to find out her house and instead of being a Hufflepuff it said she's a Gryffindor! She loved the time at home from school and spent a lot of it jumping on the trampoline. We were SO thankful her eye didn't have permanent damage from the nerf bullet injury and that she was able to enjoy Christmas break!
Unfortunately all the kids got hit with pink eye RIGHT as we were leaving for our Ski Trip. Bless. It was a rough start for sure!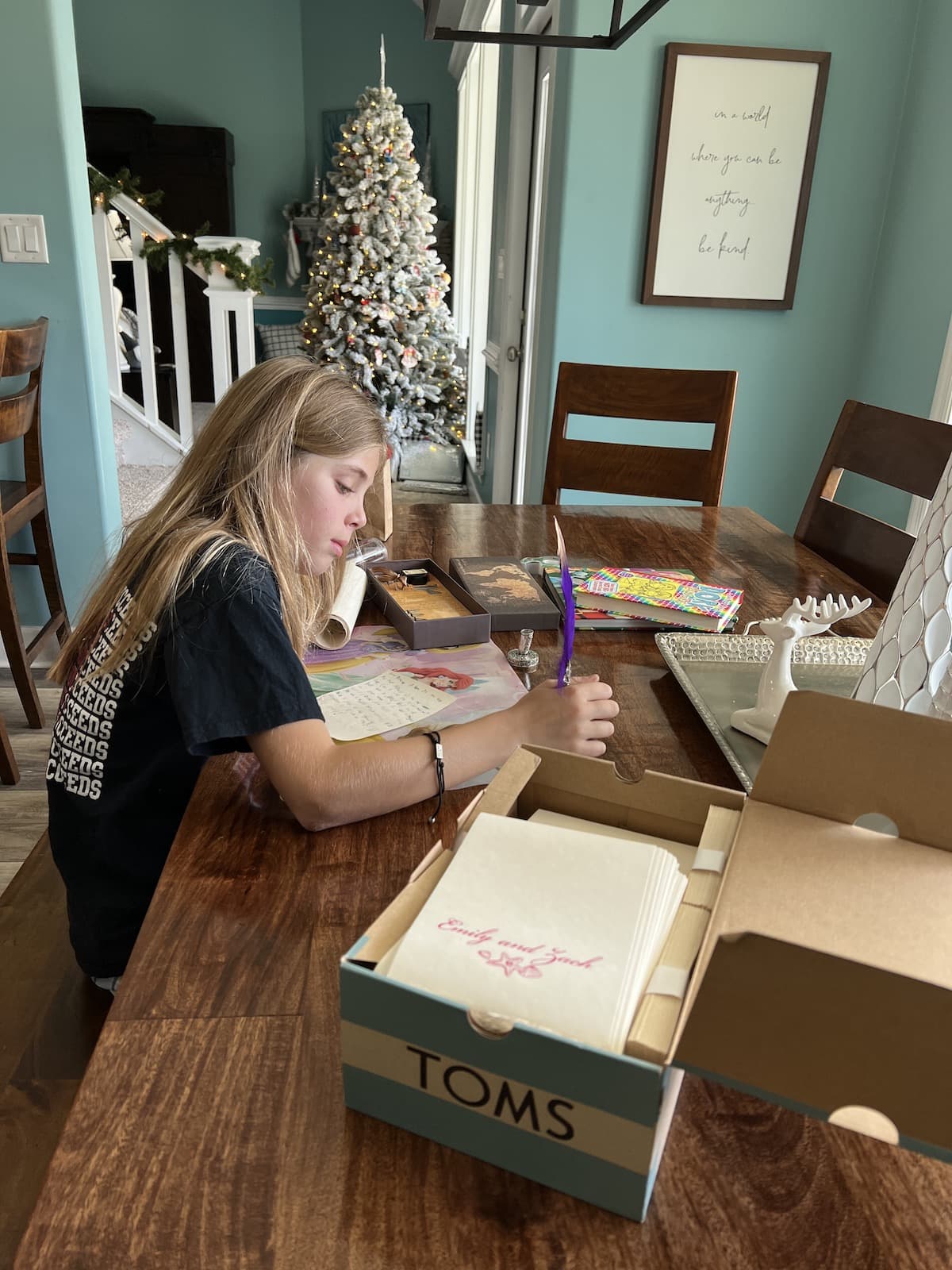 Tess really enjoyed all of the dress up days leading up to the holiday season. I love seeing what she comes up with to wear each day 😉 She's def got her own style!
I love that my girls always come visit me in the morning while I'm getting ready and I LOVE starting each day off with chats with my baby girls!
Tess has become the scooter queen and loves to ride her scooter around everywhere! She is also a little book worm, joke books might be her fav 😉 She is an awesome big sister and is just SO kind, even when no one is looking. She worked hard to create a fun train track for Spear and then on the day when it was time to clean it up she cleaned up the entire thing without anyone asking her to do it and without even mentioning that she did it to anyone either. She has such a giving heart!
She is very into playing teacher right now and loves playing school with her American Girl Dolls.
My FAV thing at Christmastime is to get the kids excited about their gifts and build anticipation through the little notes I write on the tags. They LOVE reading them over and over and trying to guess what's inside. Sometimes they are a little hint as to what is in the gift 😉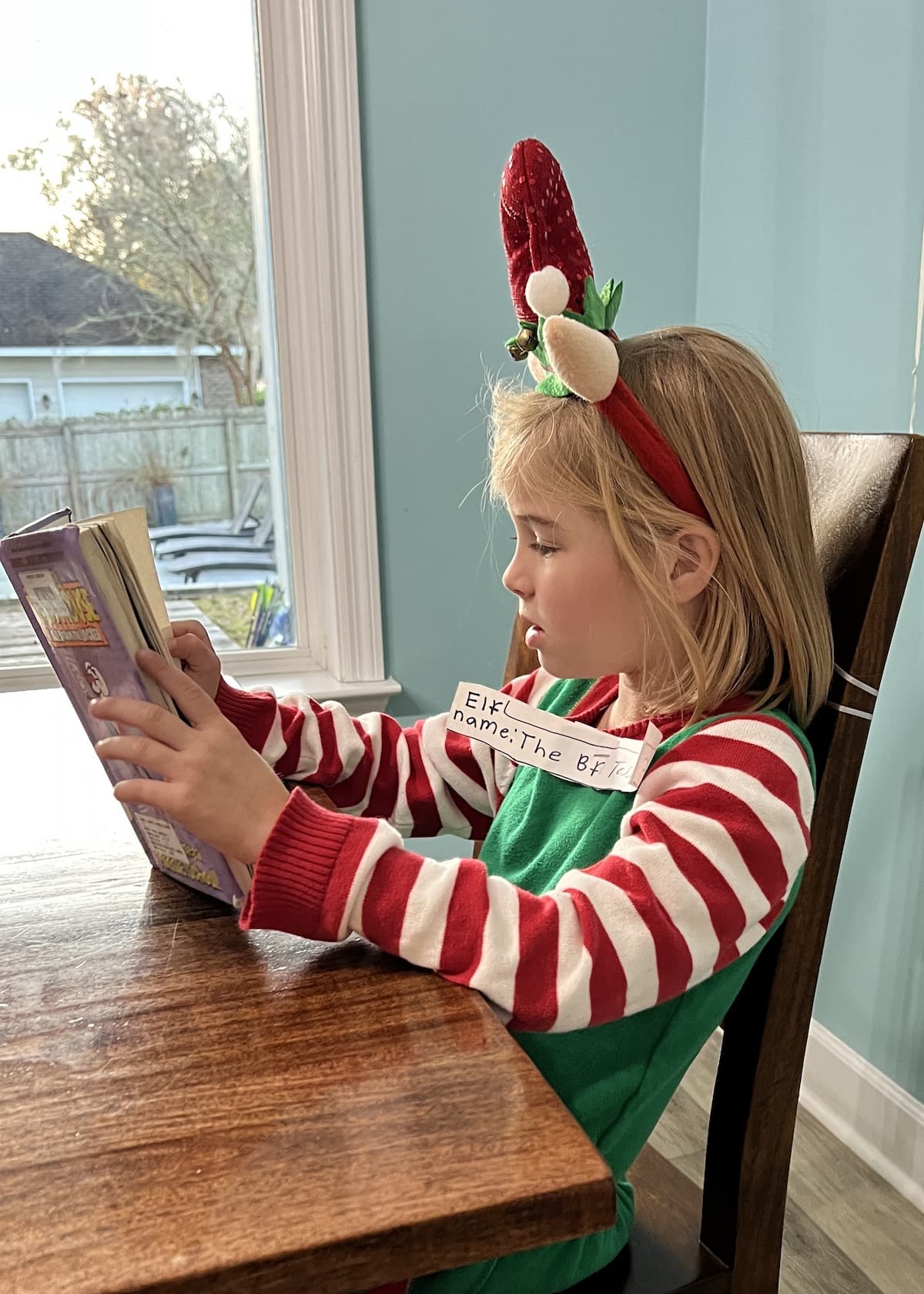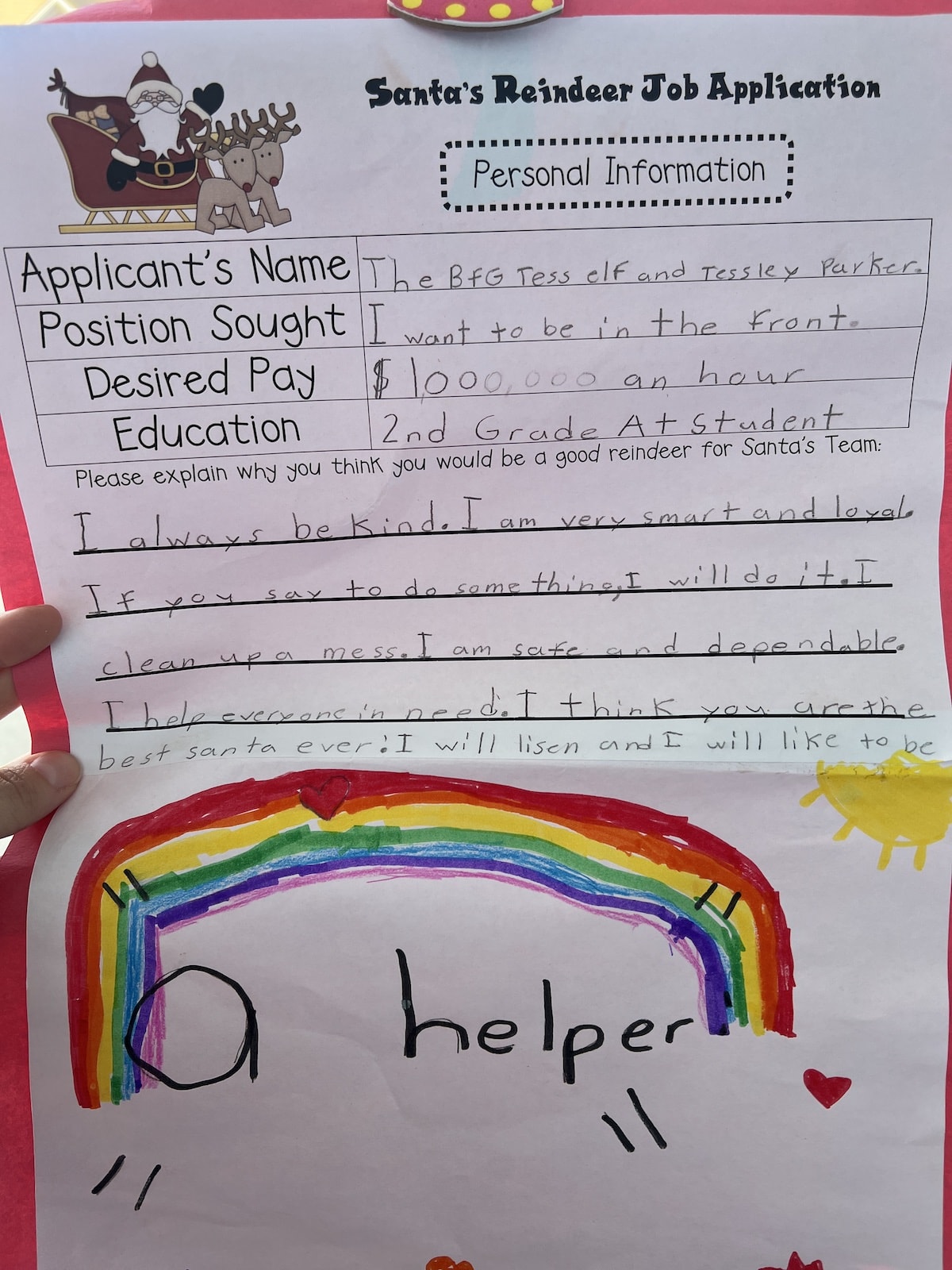 Our big boy had his first month as a four year old! He is VERY into playing dress up and loves to come downstairs wearing costumes, especially Captain America.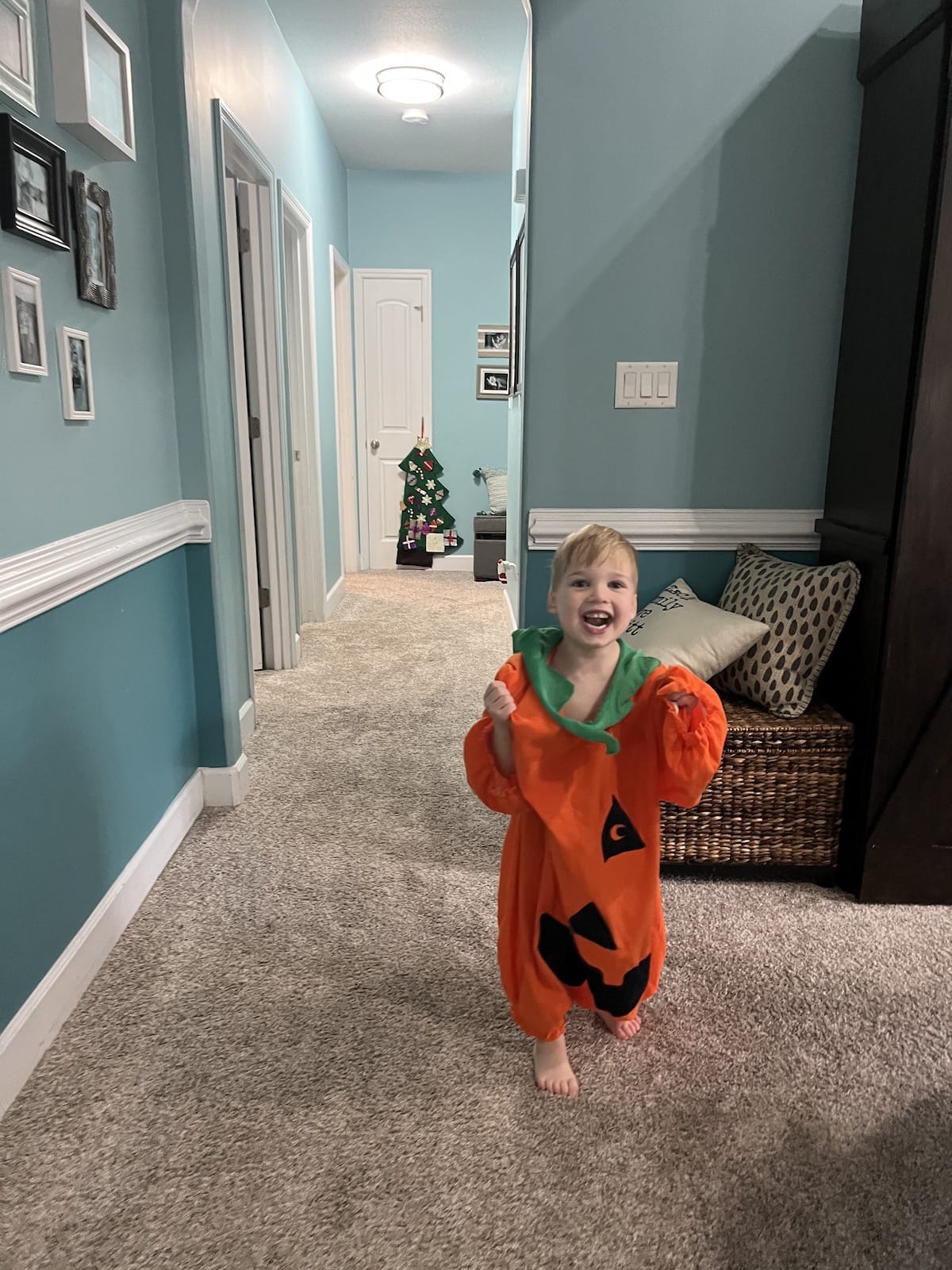 Every year as part of our adoption plan I send photos and a letter to Mama E. I also always buy a personalized ornament with photos of Spear for her to have too.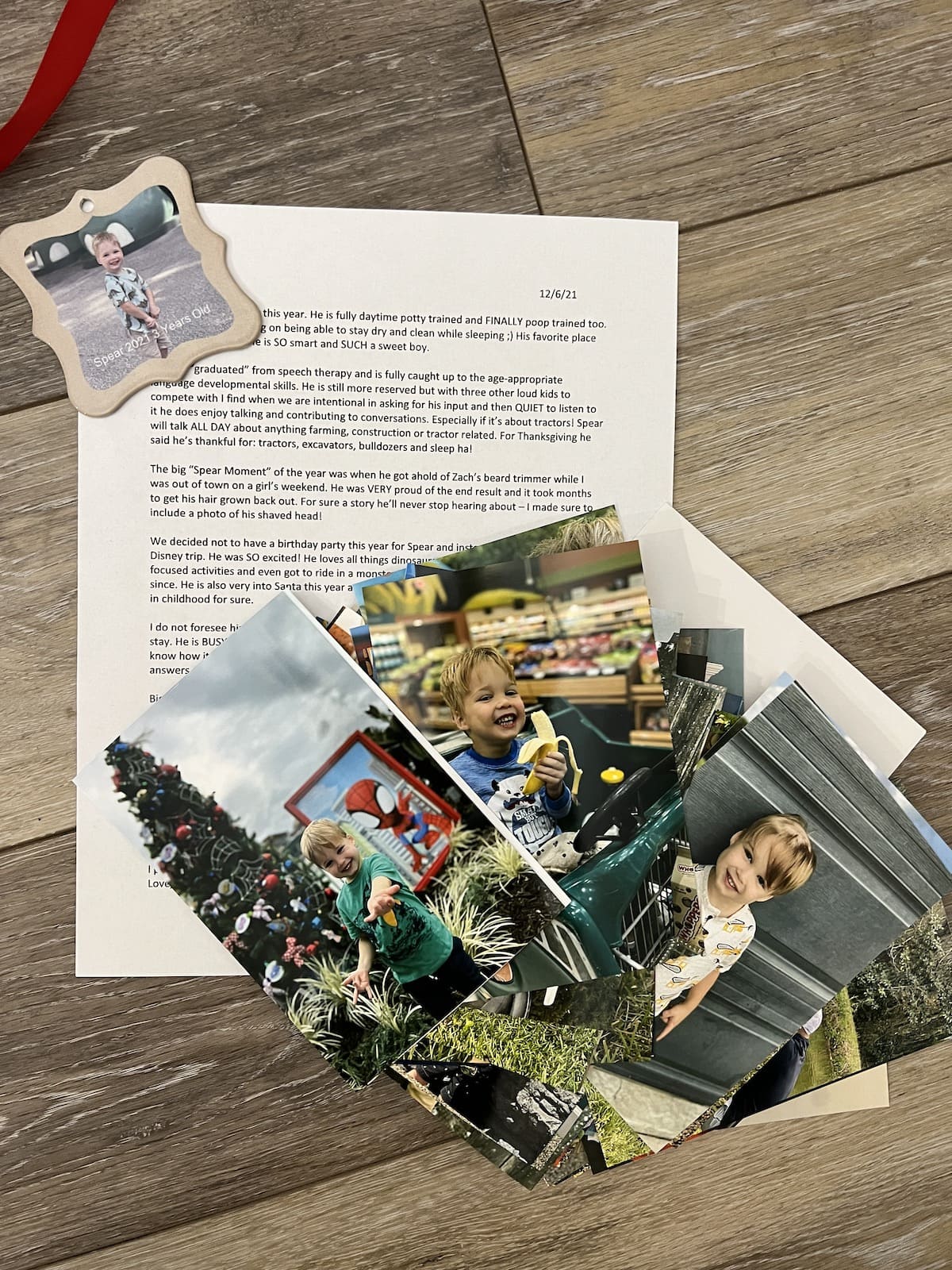 I love this sweet boy! He brings so much action and adventure to every single day! We finished up the first half of the school year with a publix run, errands are our "thing", and I know our special time together won't be there for long so I try to soak it up the best I can with him!
He was SO fun at Christmas this year! He is at such a fun age and enjoyed the magic of the holiday season. Bless he was the first one of the kids to get pink eye – which this type was more of a cold in the eye than the itchy type but it was still pitiful.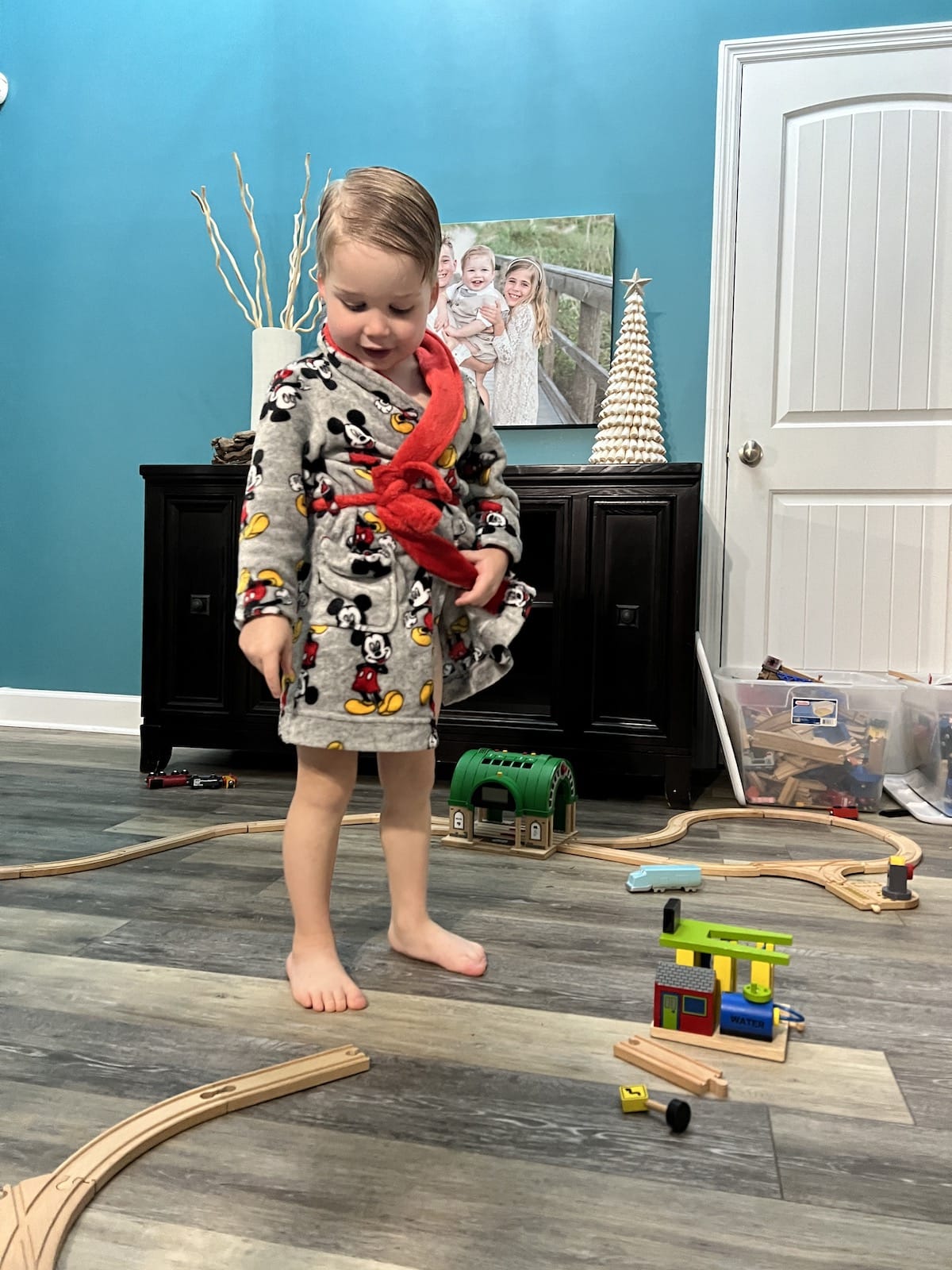 The kids all are so fun during holidays and school dress up days – even Kye will still participate and make it fun! The girls have a BLAST choosing their looks together, it'll be sad when they aren't at the same school together anymore.
This year I worked really hard at managing my plate in order to allow more white space and it was SO awesome to be able to help purchase several gifts for our local chapter of Called to Care. I had SO MUCH FUN fulfilling the wishlists and it was right up my ally and brought me so much joy picturing the faces of the sweet babies on Christmas morning. I'm praying it'll be a new tradition! The kids all helped me organize and label everything!
Tess recently asked to start sleeping WITH Britt. I struggled with what I should do and what the right call should be but so many friends who have sisters said to let them sleep together at night. That it's awesome for their bond and shows that Tess feels so safe with Britt which is precious. Of course I'm always all about anyway I can help my kids bond closer together so they've been sleeping together in Britt's TWIN bed almost nightly!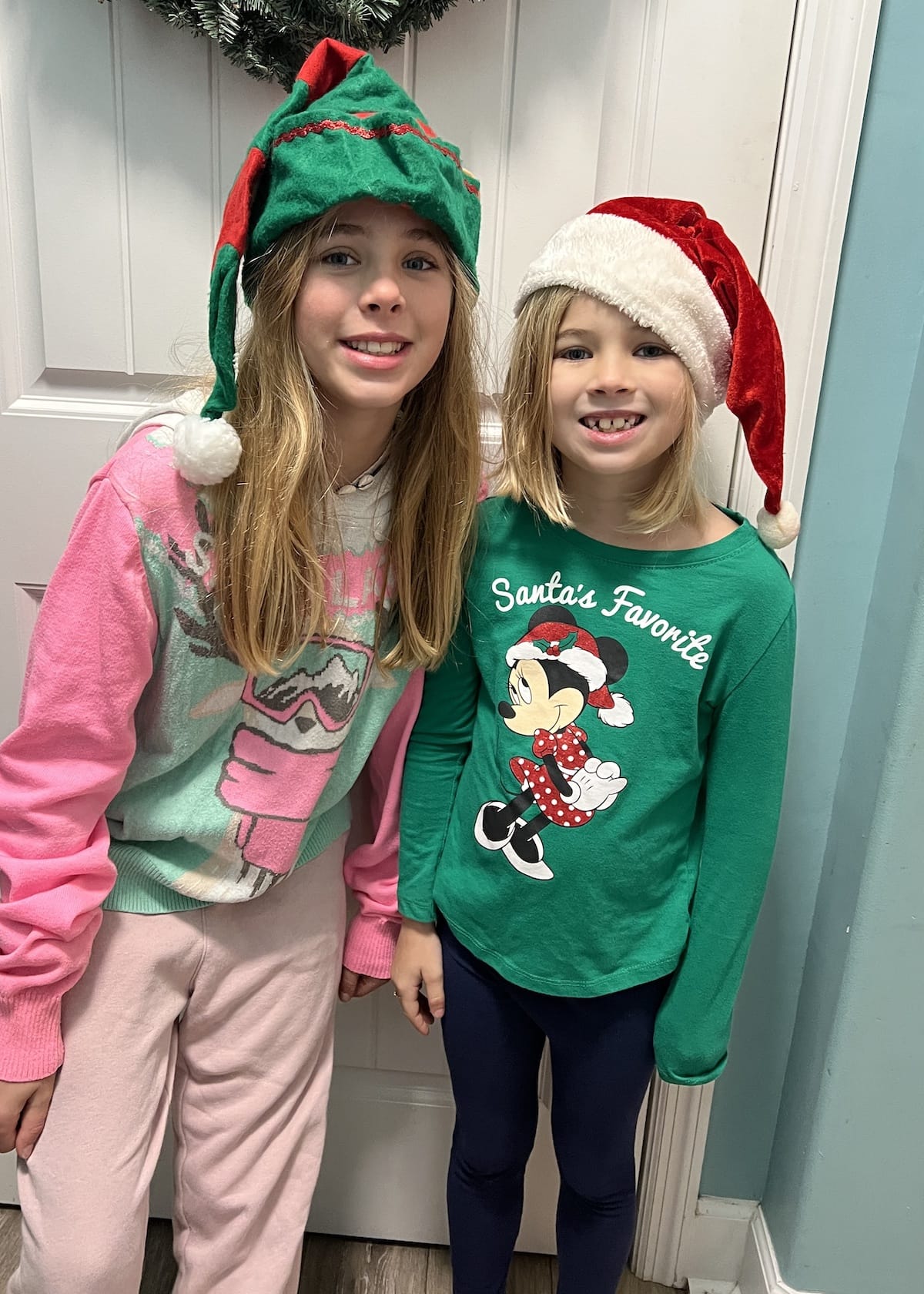 Of course we got some new games for Christmas – our crew loves a fun board game!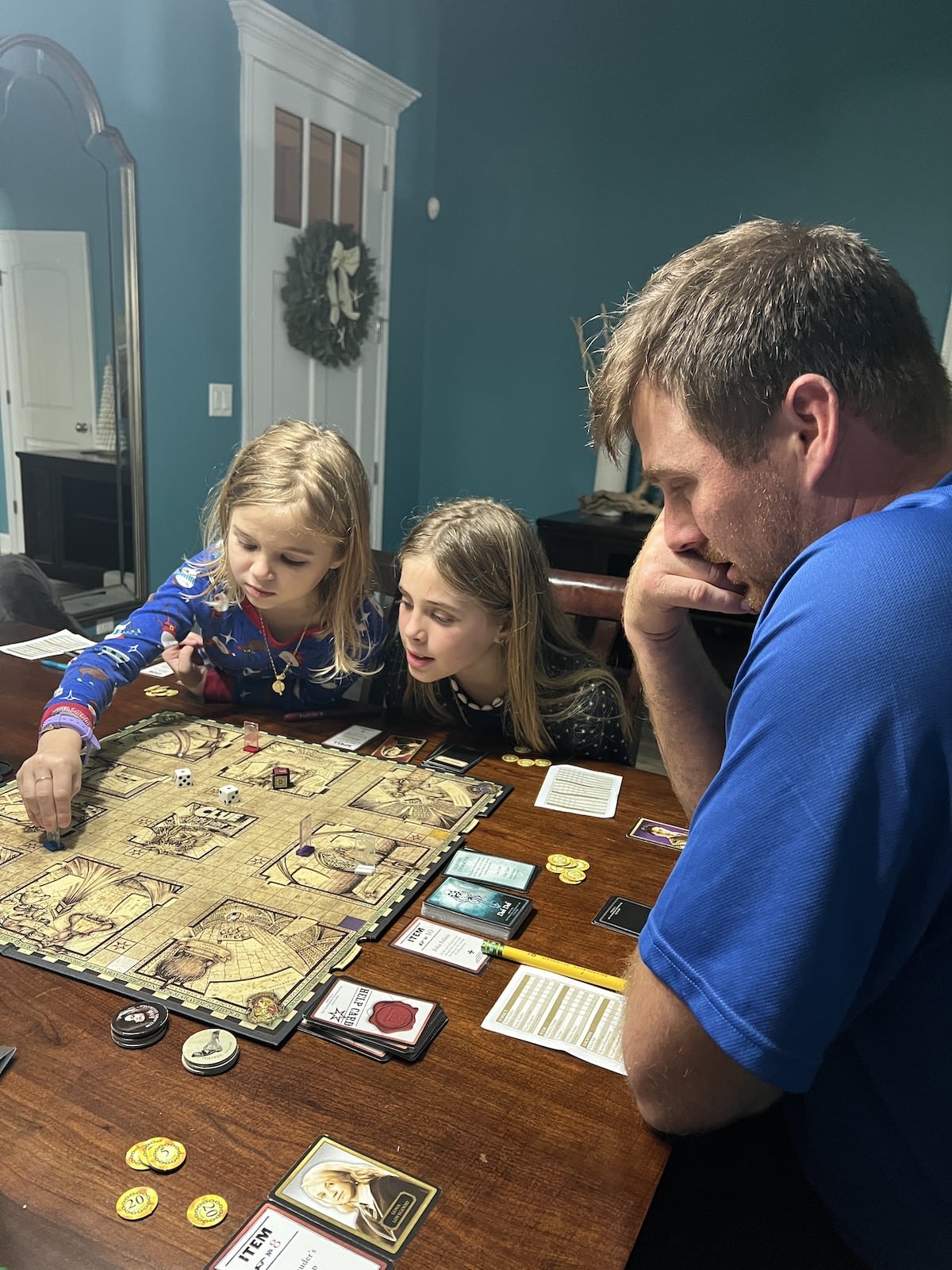 Every year we have a Feast Mode Beast Mode on Dec 27th and then have another big dinner celebration on Dec 31st. This year we were going to be in Colorado on the 31st so we had a combo Feast Mode Beast Mode AND NYE celebration on the 27th! We enjoyed yummy homemade pizza and shared our favorite moments and memories from the year as well as our goals for the year ahead 🙂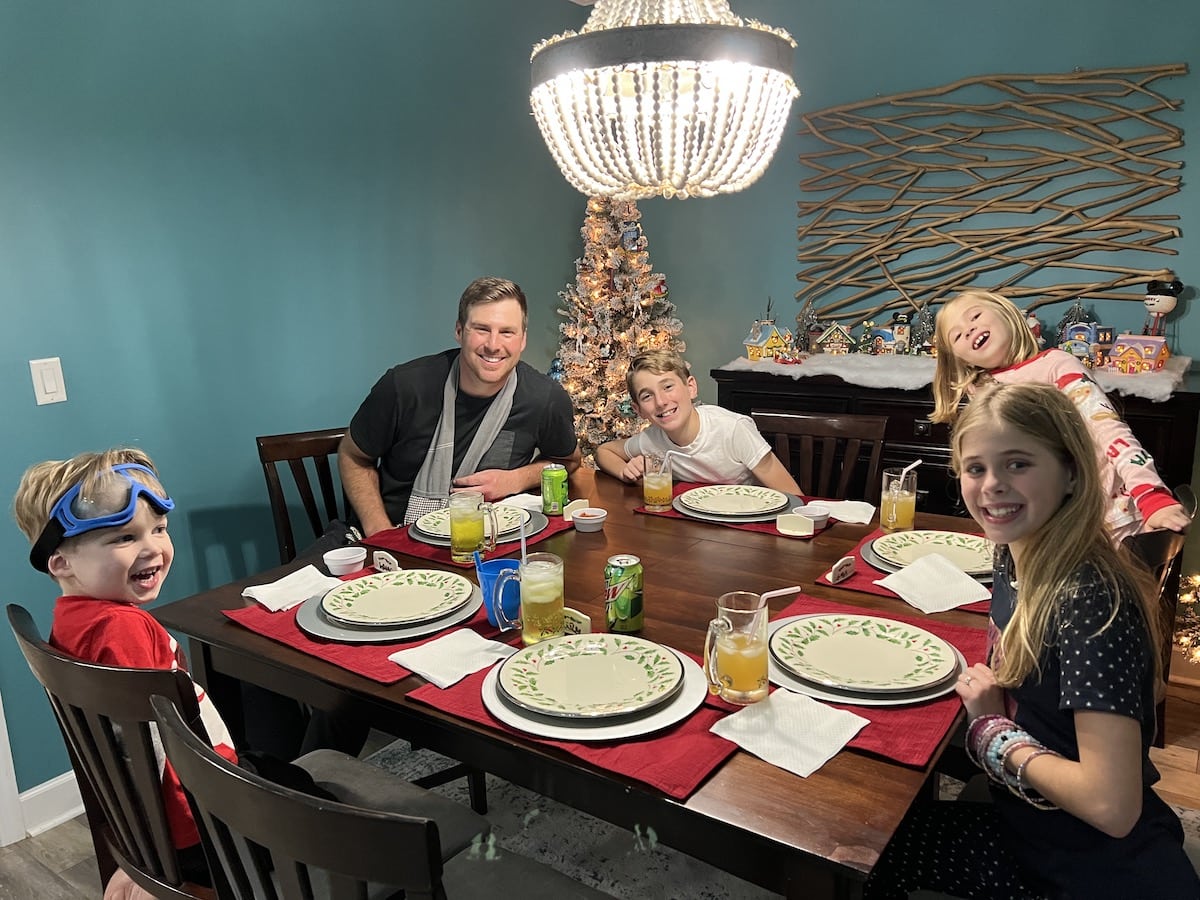 Lily got all of her shots and fixed this month and spend some time in recovery at the vet! We have very quickly grown to consider Lily part of the family and she is such a fun one at that 🙂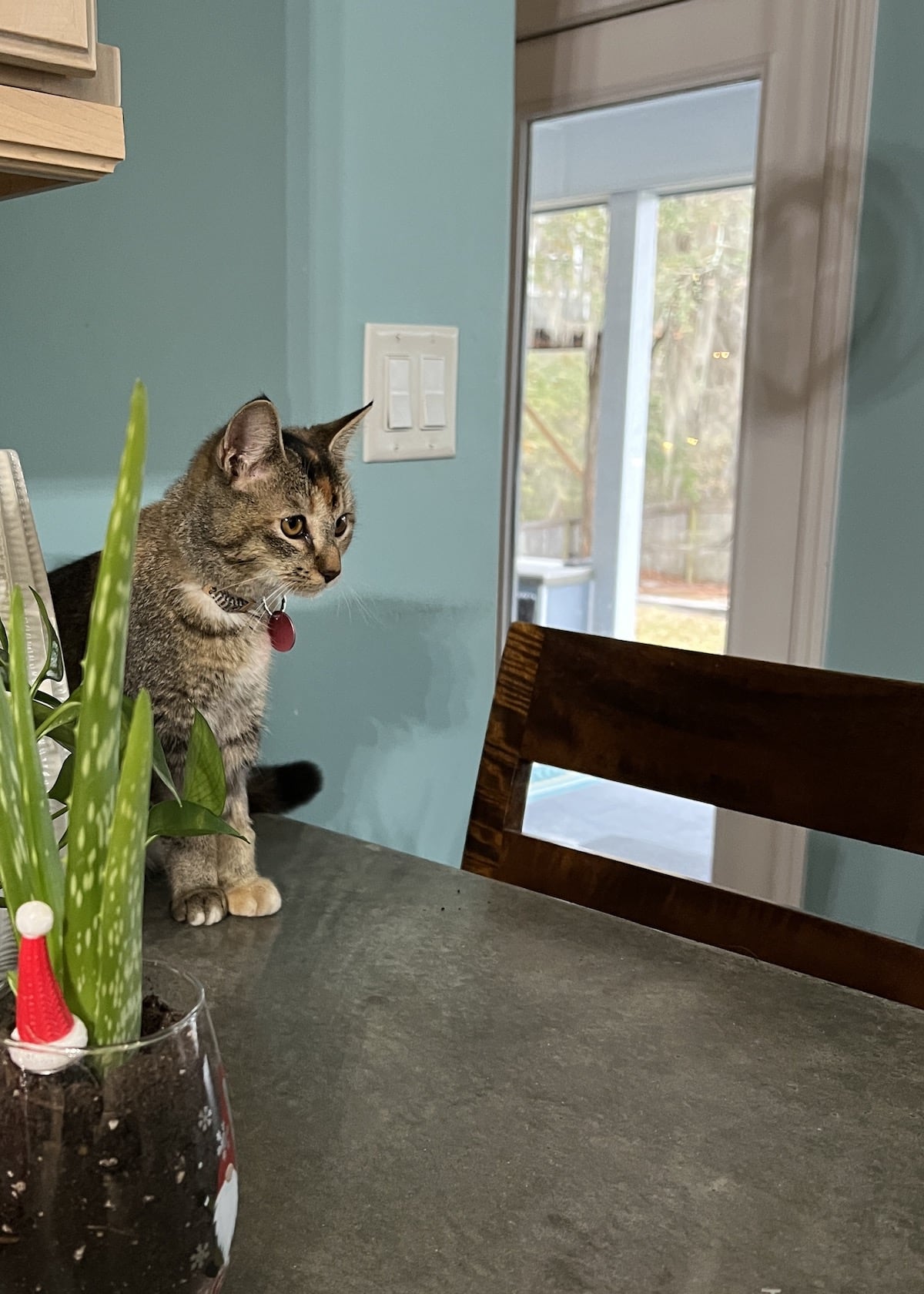 I had some great times with friends this month! I'm so thankful for friendship in this phase of life compared to the phases prior. Deeper bonds and connections while still plenty of fun moments too!
I have been teaching the teenager girl class on Sunday mornings at church and instantly felt a connection with one of the girls – she reminds me SO MUCH of ME. We were able to have our first "date night" to connect deeper and it's something I hope to do more often and with more of the girls as well! I know teenager ME wishes she could have had an adult version of me in her life so I pray I'm able to be there for the girls in the ways I wished I'd had someone there!
For my birthday Zach got a necklace made in Big Daddy's handwriting. It says "Love is Powerful" Very sweet! We also got our portraits of the kids hung from Disney and I LOVE passing them each day in the hall!
We had a great month and ended it with a BIG TRIP to Colorado! More to come!