Monthly Family Recap: August 2019.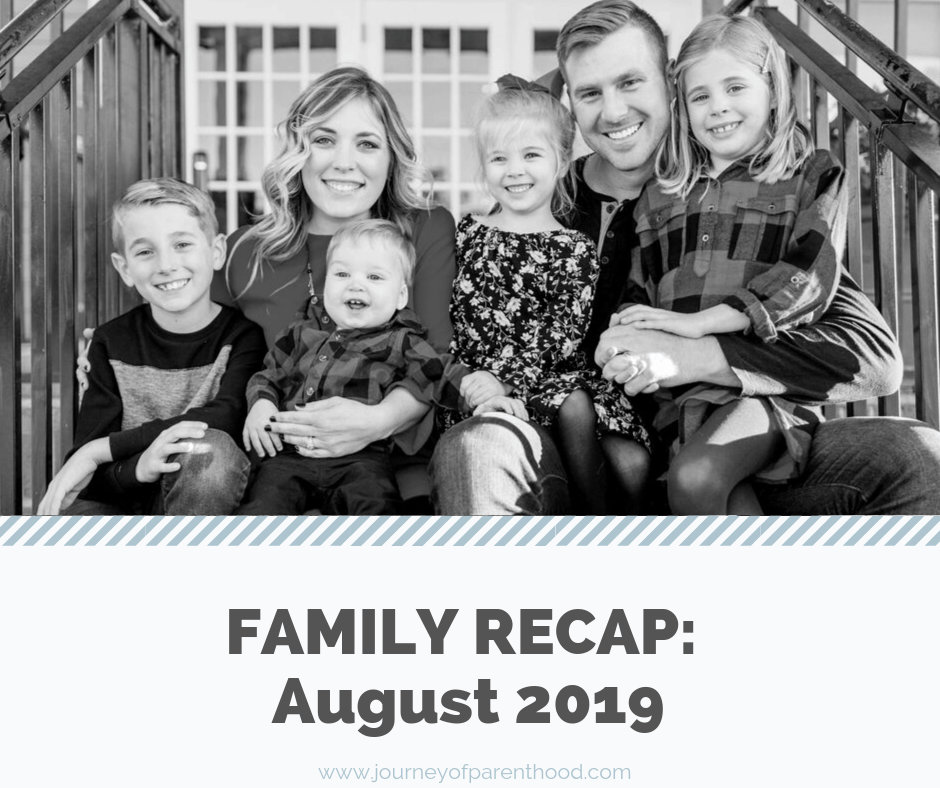 August was the end of summer and the beginning of the school year.
Zach's birthday is August 7th which is also always the fist day of school.
I typically do a stand along blog post for his birthday but this year he was SUCH AN ADULT and just wanted the most basic birthday and didn't even want any gifts b/c he's planning to buy new golf clubs.
So we kept it simple since that's what he wanted!
The weekend prior to his birthday we had the Parkers crew over for lunch after church and to swim in honor of Zach's birthday AND to celebrate Tess's birthday too!
Zach built a corn hole game prior to having everyone over and it was fun to watch how awesome Little Mama is – guess it's where they all got their athletic abilities from!
The kids had a blast swimming with their cousins and friends and Tess and Zach were both well celebrated!
For Zach's actual birthday he didn't even want to go out to dinner (so lame!) and instead wanted to just pick up something and eat as as family.
It was simple but it was also just what he wanted and we enjoyed the chance to celebrate him!
We soaked up the last bit of summer before school started back.
We had a fun day of breakfast at CFA, one last stop at the library and then Wild Adventures with friends!
Kye asked to sit next to me at breakfast and the girls CRIED REAL TEARS.
Literally. I'm not exaggerating. They cried and cried b/c Kye got to sit next to me instead of them. I love how fiercely they love their mama 😉
We had such a fun time at Wild Adventures and Spear was a little daredevil loving all the toddler slides!
To end summer we had one last sibling sleep over, did a bunch of swimming and had our traditional ice cream in a bag treat!
For a LONG TIME Zach hardcore wanted to put in a pizza oven in our backyard and I was hardcore against it.
But I can admit when I'm wrong and I was def wrong about this – the pizza Zach makes is simply AMAZING.
Like legit you've never had pizza this good.
We had friends over for a homemade pizza night and yall it was just so fun! I love that our families mesh so well and that all the kids just adore each other!
It's especially such a blessing for me to see Kye enjoying friendship time as friendships are tough for him to find and he adores the Hall boys 🙂
Zach is so in his element with hosting and it was great to sit back and just visit with Tiffany and let the dudes do the cooking!
We had planned to go away for Labor Day weekend to Disney but Hurricane Dorian came through that same weekend and we just decided it wasn't worth battling the traffic or risk it if the storm got bad so we had a super chill weekend at home.
We watched both Star Wars Episodes 3 and 6 and had a whole lot of family time together!
Including some pretty epic meals and the kids were so precious wanting to eat in the dining room and have a fancy meal. (We call them "Feast Mode Beast Mode Night")
They also wanted to serve US which was ADORABLE.
They wrote out menus and wore name badges and Britt even created her own dessert one of the nights. Kye also made fruit salad for the kids as a side. It was just all so sweet!
It was so fun!
That Saturday was the kick-off to football season and FSU offered general admission tickets for $10 for their game.
Zach, Kye and Mr Rusty all went down and had a BLAST. They had AMAZING seats and a great time together, even if the Noles lost.
Can I just say I'm super impressed at Zach for taking all of these pics? And think it's pretty dang GENIUS that Kye used the Bubble Bum Booster seat as a stadium seat too!
While the boys were away we had a fun girls and Spear day together with swimming and nail painting!
While Katie and I were away for our Reality Show Weekend Mrs. Charlotte grabbed the big kids and FINALLY took them to Fun Factory and they had a BLAST!
I also took the big three to our church's soup kitchen this month to volunteer and help serve.
Tess had a little bit of a tough time with it and I understand that – there are a LOT of people and it can be a bit uncomfortable.
But Kye and Britt set a great example and she got into it. I love how much joy it brings my kids to volunteer – we all know it feels GOOD to help others!
School was only back in session for like a week or so when they had Homecoming week which meant dress up days.
I'm so glad Kye and Britt are old enough to handle choosing things on their own.
Yall know I love me a good theme but ALL THE DRESS UP DAYS just wear me out and I just let the kids lead with it.
While Britt was at gymnastics we tried out grabbing dinner just Kye, Tess, Spear and I before picking her up…it would have been a genius move IF we hadn't picked Steak and Shake b/c they always take forrrreeevvvvvverrrrrrr
But, hey, at least the food is good!
Here are little individual updates for each big kid from this month:
Kye:
Whew. My mama heart was NOT ready for Kye to let me know he no longer wanted to sleep with his monkey or Smyrna anymore.
He's slept with monkey since he was an infant and Smyrna has been SO special for him for SO LONG.
He said it's just time to be done with them and I tried to keep it super casual. He does still want to sleep with his special Toy Story blanket (that Auntie Katie got him when he was 18 months old) and his small pillow from his nursery as a baby.
But Monkey and Smyrna got moved to the shelf. He did say he wanted to keep them on his shelf by his bed so he could still look at them. My baby isn't quite gone yet 😉
Speaking of growing up when I was tucking him in one night I looked at his arm pit b/c he was laying with his arm raised and I freaked out when I saw HAIR.
It was hilarious b/c I took pics of it so he could see it (b/c you can't see your own armpits haha) and we were so sure it was hair and then realized it was just some random black fuzz haha!
Kye also FINALLY transitioned from a high back booster to a regular booster seat. I'm hardcore about car seat safety and Kye has been in a high back booster for a long time but finally reached the height for it so at age 10 he's now in a regular booster seat.
Kye ran for office for Jr Beta and did a great job with his campaign poster and speech. He didn't end up getting an office role but he already has one with Student Council so I kinda assumed that's why and I think it's really good for him to learn to be able to accept not always getting roles we want too!
Kye also had a lot of questions about 9-11 this month and we pulled out the books I bought on my recent trip to NYC and the kids read through them together.
It's so funny to me that I have PRETEEN now and that I am totally embarrassing to him sometimes. Like I feel too young to be a mom this old haha
It's kinda awesome that I have that power to totally embarrass my child but I'm also SUPER mindful about it and respectful as I never want to be the cause of embarrassment for him, when I can help it. (You can read more about my thoughts on that in my post about the first day of school here)
Britt:
Britt had a goal for the summer to sleep in past 8:00 and she achieved it twice this summer…by the end of the summer she actually slept in until almost 8:30!
Girl LOVES some sleep!
She is also killing it in second grade. She loves her teacher and her class and is very dedicated to her school work.
I love doing her homework with her and am SO PROUD of her especially for her reading! She has a goal for attending the Accelerated Reader party and she's already gotten all the points she needs to attend 🙂
Tess:
This has been a BIG month for Tess! Her first month as a 5 year old and first month in all day school.
School has been a huge adjustment and I'm going to do a separate post on how we've worked to help her be more comfortable and happy at school.
Katie and I visited Tess before heading out of town for the weekend and she loved celebrating her birthday with us there with her class. It was so fun meeting all of her peers (kindergarteners are so stinking cute!).
Even with the tough adjustment period Tess always comes home HAPPY after school!
It is funny bc we lectured the older kids to make sure to sit with Tess on the bus. Well. She and Britt got off the bus on the 2nd day of school both in tears because Tess didn't WANT to sit with Britt, she wanted to sit with friends.
And then the next day the bus driver called me over to talk with her and told me that TESS and a little boy were KISSING on the bus. Whew it was some DRAMA.
Tess said it was her kissing him on the cheek. Kye said he told the boy he'd punch him in the face. Britt said the two of them were snagging. I about died haha
The little boy is in her class and I just think it is a sweet thing. She has ALWAYS had Carter (her bff cousin) in every single one of her classes with her so I think she's drawn to boy companions and just looks at this little boy the way she did Carter. She's always hugged Carter and shown him affection so, to her, that was the same thing with this boy.
We did tell her she's not allowed to kiss him anymore and she told me weeks later that she just loves him so much and WANTS to kiss him but doesn't b/c she's not supposed to.
The big thing that's helped has been having an after school snack and the big kids love taking advantage of that treat too!
With Tess entering kindergarten this year it means she's no longer able to nap each day.
They don't even have a nap time in kindergarten anymore! So sad!
I totally let her still nap all summer and have let her nap on the weekends when she's home. She is so sweet the way she loves napping.
She always reads a bit in bed (her new room will have shelves…girl sleeps with a library haha!) and then falls asleep and does NOT want to wake up.
Tessie is at the ultimate age for dress up and I LOVE IT. It's so stinking adorable!
I cracked up when someone on Insta compared her to ET and couldn't resist a comparison pic!
She constantly is coming downstairs with new outfits on and it's always so fun to see what she comes up with and she loves our reactions 🙂
After Levi's passing Tess took some time to adjust to NOT feeding him everyday as that was her job and she always loved giving him treats too.
This month Tess tried gum for the first time. I LOATHE gum but she enjoyed it (especially b/c her big brother likes it)
We had a wonderful month as a family together! A video should be featured in this post showing all the video moments from our month 🙂