Mid-Month Recap: June 2019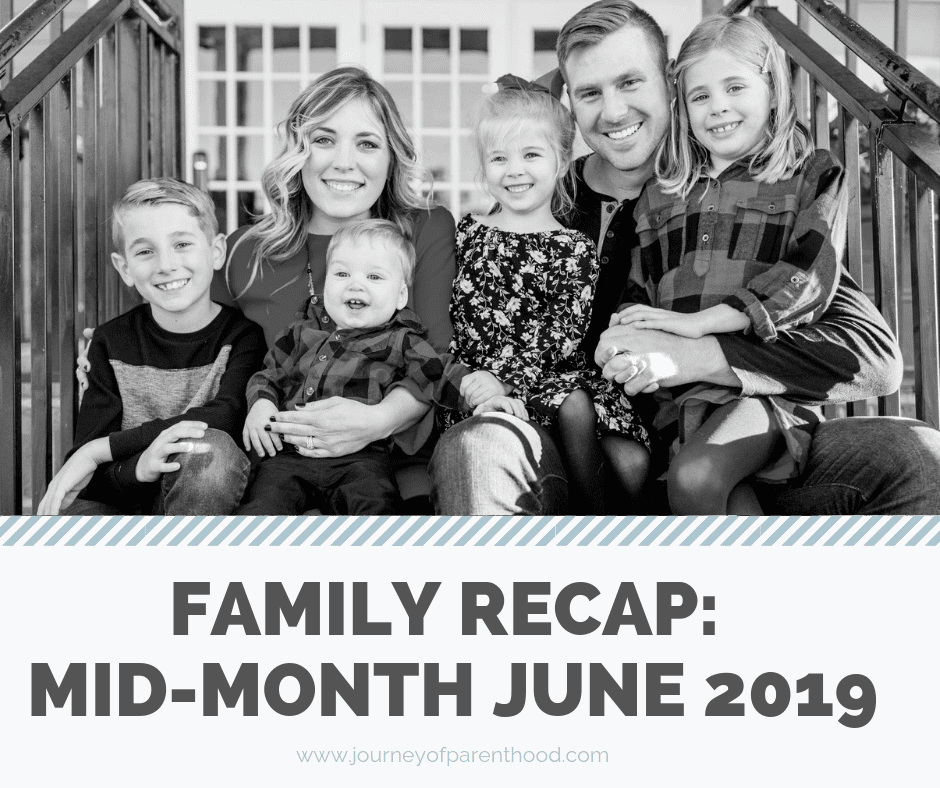 Typically in the summers I do weekly posts but this summer I really didn't want to deal with that as I had a pretty set game plan for our daily routine (you can read our summer schedule here!) and figured most of our days would be pretty much the same which means a boring, repetative weekly post!
Instead I planned to keep things monthly. But y'all. I have 252 pics from June. 252!!!
So here I am, splitting the month in half 😉 Here's the first half of our June!
We kicked off summer with Carter's 5th birthday! Casey rented a big water slide and the kids had a BLAST! Her backyard is so perfect for events like these.
Casey and I always both go overboard on food at parties – you can NEVER have too much food!
It's crazy that little baby Carter is FIVE. Love that these two have been best friends from the womb 🙂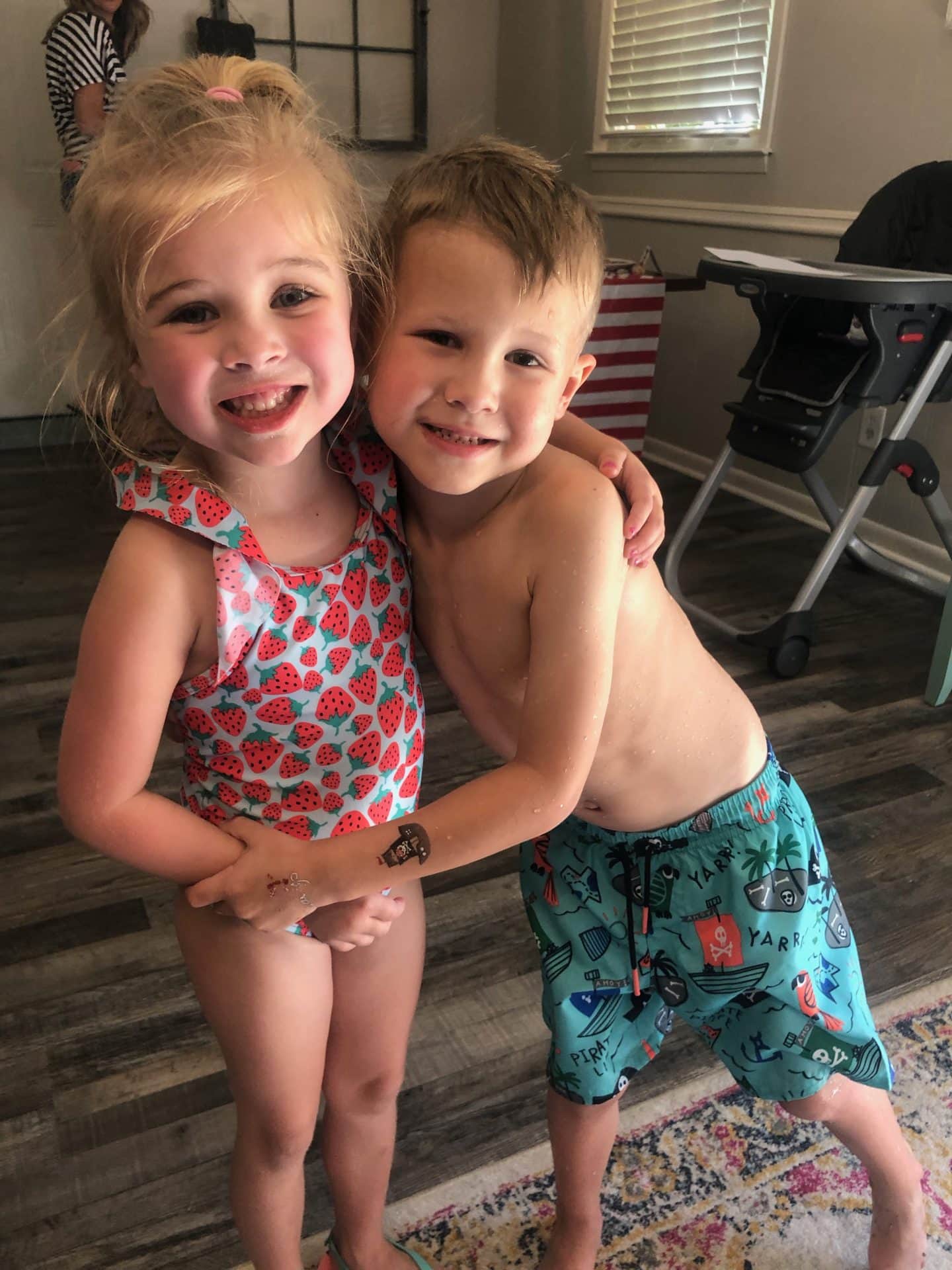 Since Spear had his lip tie procedure done I've been taking him to get CST (Craniosacral therapy) and with it being summer I just figured why not let all the kids have the experience!
It can't hurt and could help in some areas.
Ms. Judy is THE sweetest and she said she could tell right away with Kye that he carries a lot of tension which is def dead on with him. I felt like out of all the kids he'd benefit the most.
She also did some work with Britt, since she does gymnastics and all she also benefits from it.
She showed them some things we can do at home to help too with their bodies and alignment.
One move is doing their hips in like a hoola hoop motion and another is pointing their hands like a gun at the wall and "drawing" figure eights and following their hands with their bodies.
We're trying to do those daily as we remember! Kye really feels good when he does that too!
She is SO awesome and basically chases Spear around the room 😉
Zach's Aunt Cheryl got married this month and asked Tessie to be her flower girl!
Fun fact: I was in a TON of weddings around Tess's age. I was also SUPER shy and one of the weddings my DAD ended up walking down the aisle with me!
And another one my dad left my shoes on top of the car on the way to the wedding reception and the bridge and groom pulled over and found them on their way haha!
Along with Tess being in the wedding Aunt Cheryl also asked Kye to do a scripture reading and Britt to carry a "here comes the bride" sign down the aisle.
The rehearsal went great and the wedding went FABULOUS! The kids all did AWESOME!
Britt was nervous. It's so funny to me that she's my MOST outgoing kid at home but the most reserved in public settings. It was great we had the rehearsal to run through everything.
On the big day the girls loved getting to get dressed up and we actually brought a pack and play to the church and Spear napped through the whole ceremony 😉 SCORE. It was PERFECT so we were able to enjoy the older kids being part of everything (and Zach said a prayer during it too!).
A few more from the big day! Congrats to Cheryl and Terry!
The whole morning went SO perfectly and it was such an honor to have so much of our crew involved. If anyone else is getting married…my kids are pros 😉
Mrs. Charlotte found Tess's dress on clearance somewhere and Spear's suit was Kye's from when he was little and he'd never worn it!
Britt's dress was the only thing we had to buy and I LOVE what we found for her.
This dress is beautiful and GREAT quality. I did end up sizing up for it to be long enough (girl has some epic legs!) and she'll get tons of wear out of it 🙂
I took the kids to Walgreens to get Father's Day cards and needed to pick up some sunscreen so I left them on the card aisle to go grab sunscreen.
I told them to pick out cards for Big Papa for his birthday and Father's Day.
Y'all I DIED LAUGHING when I read the card they picked:
First they have NO CLUE what "adult language" is or that the word is not appropriate.
They also don't know that nudity is something sexualized.
They just thought a monkey with his bottom showing was HILARIOUS.
I explained that it wasn't appropriate and we picked a different card but it was SO FUNNY!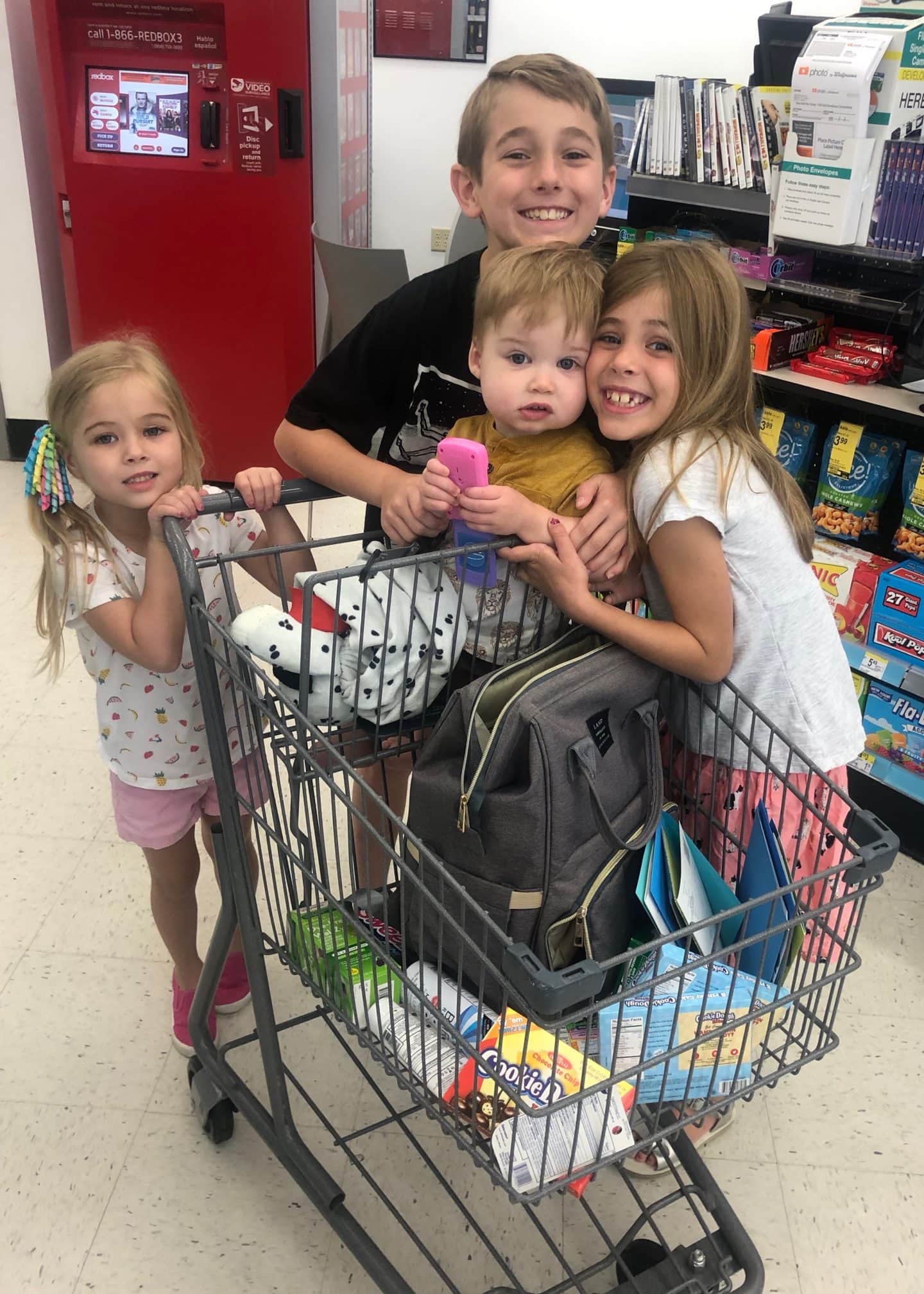 I knew going into summer that I didn't want to do and go too much. It's just tough at this age with Spear and having FOUR KIDS. Every outing takes SO LONG. And is SO MUCH WORK.
We did meet a friend for one of the kids movies at the movie theater.
I was pretty nervous about how Spear would do but I wasn't about to get childcare for it.
He was WILD.
I fed him every snack possible but whew I was EXHAUSTED by the end of the movie! Def not trying that again until next summer 😉
Kye had/has his first "girl friend" this school year and she came over to hang out one day this month.
It was our first time having that situation and I wanted to make sure I set the standard from the start.
I had them hang out in the living room. And I set up the baby monitor so I could monitor everything.
Yes I know they are TEN. And just truly friends. And NOTHING was going to happen.
But it's SUPER important to start as we mean to go on.
I talked to Zach and explained to him that we need to always be mindful of how we'd want someone to handle it for our daughters.
And I knew her mom would be appreciative of the way I handled it and that I'd appreciate the same!
I also interrupted them often to check in and brought cookies 😉 Cool mom…but also total helicopter haha!
Also they don't want people knowing their relationship status so I am not posting the pics I took of them where her face is shown 😉
Kye was SO pumped for Georgia Bible Camp again this year!
Britt isn't quite old enough yet (8 was the starting age) so she's eager to attend next year.
Kye was able to attend the same week as our church this year and Colt was able to go the same week with him which made it extra fun.
That was it for the bigger events of the first half of June…for the most part we stuck pretty solid to our daily routine!
The kids all do great with learning time!
These Brain Quest Summer Prep books have been a HUGE HIT as have these Ultimate Connect the Dots!
Swim time is prob the favorite time of the day!
The kids do SO great playing together while I work on Spear's survival swim with him (which he's doing AMAZING with!)
The played categories one day and Kye said the category was "favorite people in our family" (which is hilarious that our fam is big enough for that to be a category ha!) and Tess immediately said "SPEAR"
Britt's big goal for the summer is to do more baking. She wants to be a baker when she grows up and summer is the perfect time to practice the skill 🙂
We all enjoy the treats she's making!
Following our summer routine has been SO GREAT and my MAIN goal in having the set schedule was to avoid sibling fighting and bickering and it's working WONDERFULLY!!!!!
The kids have truly ENJOYED each other this summer and have played together so beautifully.
They've even had times where they decided to do one-on-one time where they split up and each have quality time with each other. I've really seen their bonds deepening which is such a blessing to me and lowers the mom-guilt over spending so much time at home this summer too!
Board games are where it's AT for our family. We love playing games together and it's always such great bonding time.
The girls and I played Guess Who together and it was Tess's first time not wanting me to be on her "team" and she WON.
It was also SO PRECIOUS that BOTH girls chose "Emily" as their person 🙂 They love their mama!
Speaking of Tess she is KILLING it with games.
We played The Game of Life for the first time and TESS WON.
Then she played Sorry for the first time on her own (no one helping her or on her "team") and SHE WON.
Zach loves some golf and apparently it's also a summertime sport 😉
Kye is enjoying golf more and more and summer is a great time to go play more often with Zach.
Zach also played in a tournament and won a huge prize pack for our local theme park (Wild Adventures) so we're planning a family fun day for later this summer!
When I was a kid my friends and I LOVED to make music videos! Now that Kye has an iPad he can make videos easily on it and I let them do some of their own videos.
They had a BLAST 🙂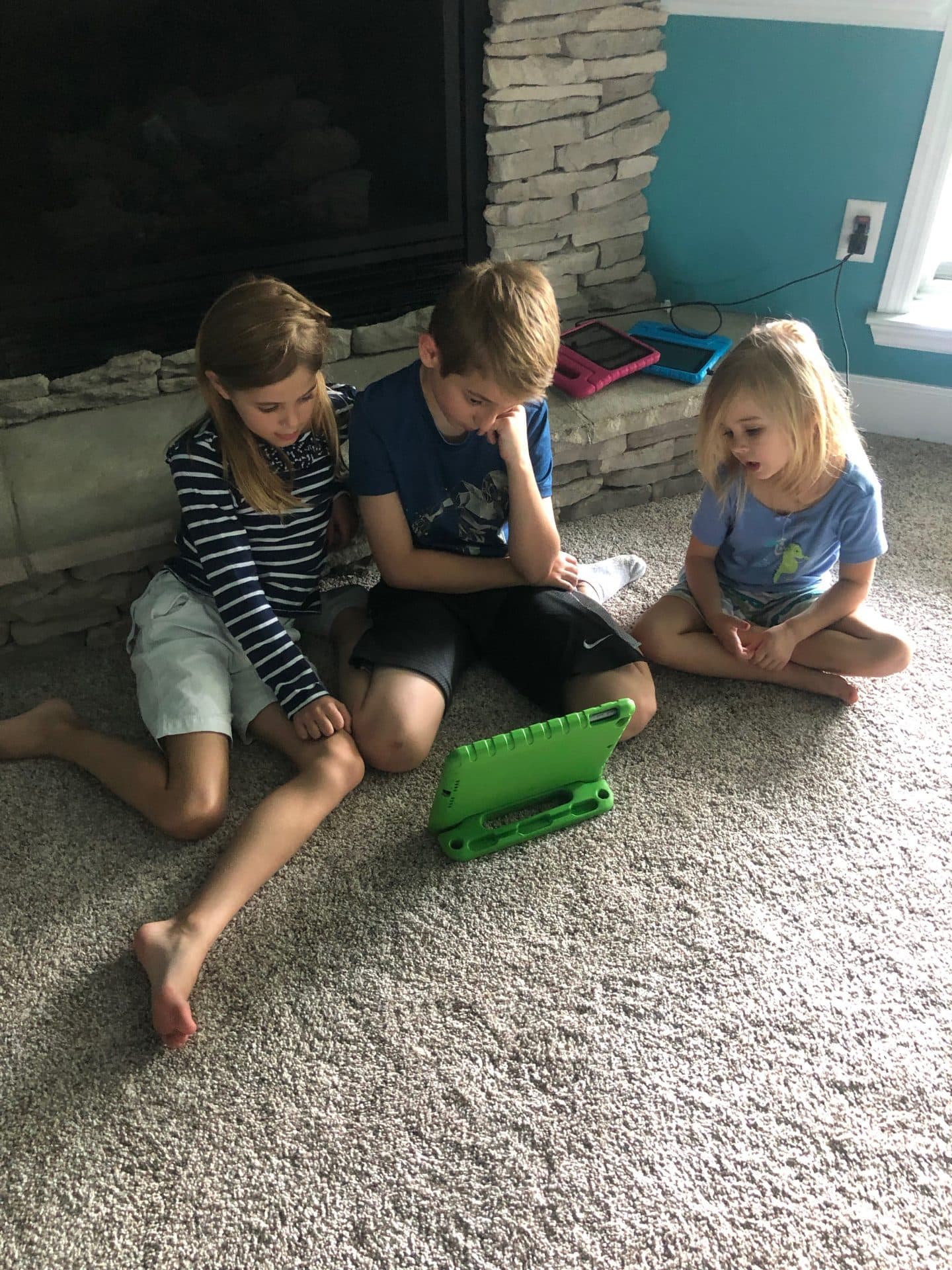 Tessie is getting so big kid and found a bottle of lipgloss and was ALL ABOUT it. I'm talking she put it on CONSTANTLY – even before bed!
A few other fun things from this month:
Tess is so funny about wearing this FLEECE jacket to play outside. It's totally a piece of clothing that I will pack up and keep forever 🙂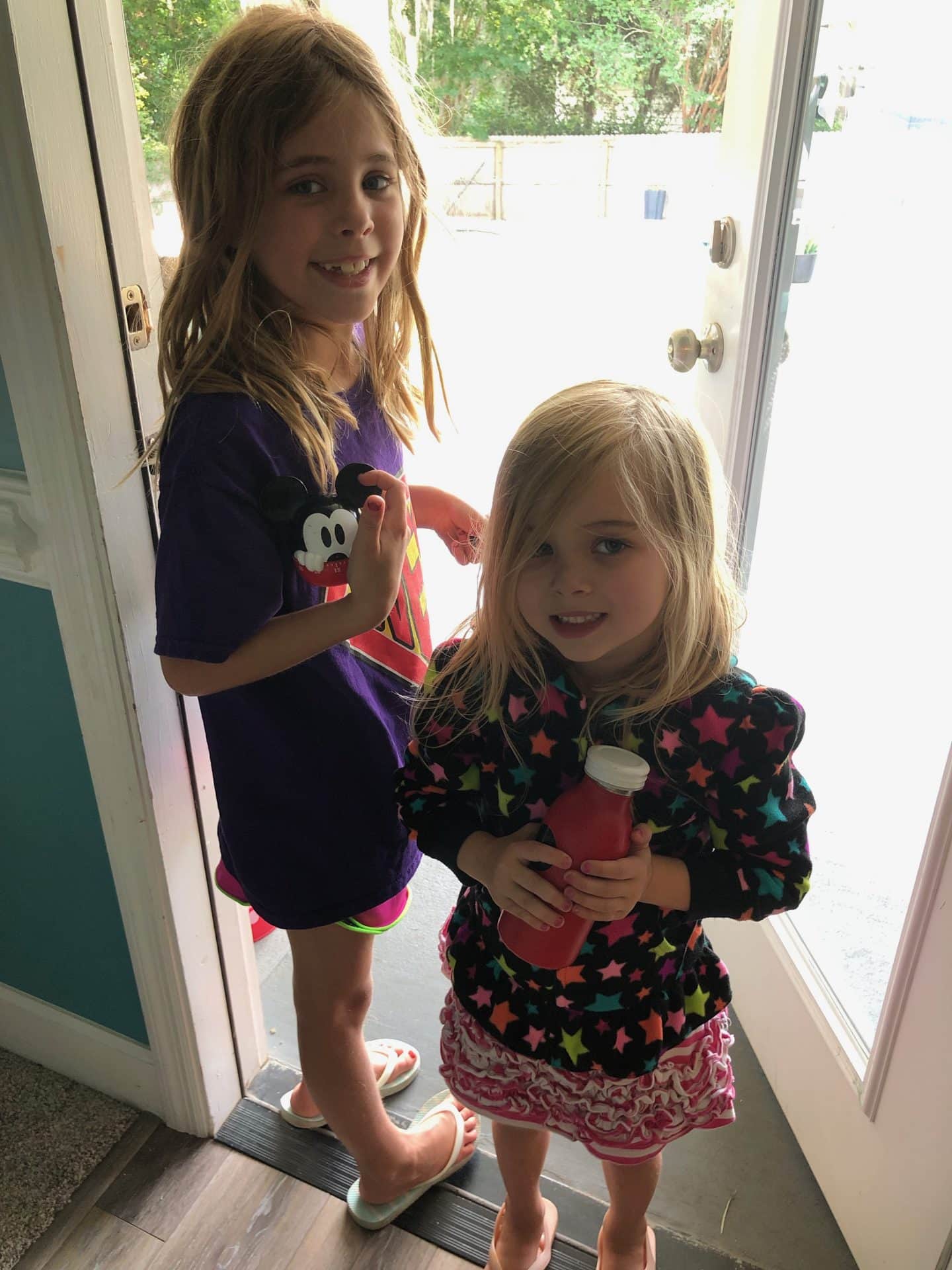 Britt loves having her hair curled. She slept in curlers and woke up the next morning and said "they hurt to sleep on them but they are worth it for the curls!" Welcome to womanhood 😉
Tessie doesn't nap every day but she loves to read in her bed and will often fall asleep while reading. It's SO cute seeing her Bible in her lap 🙂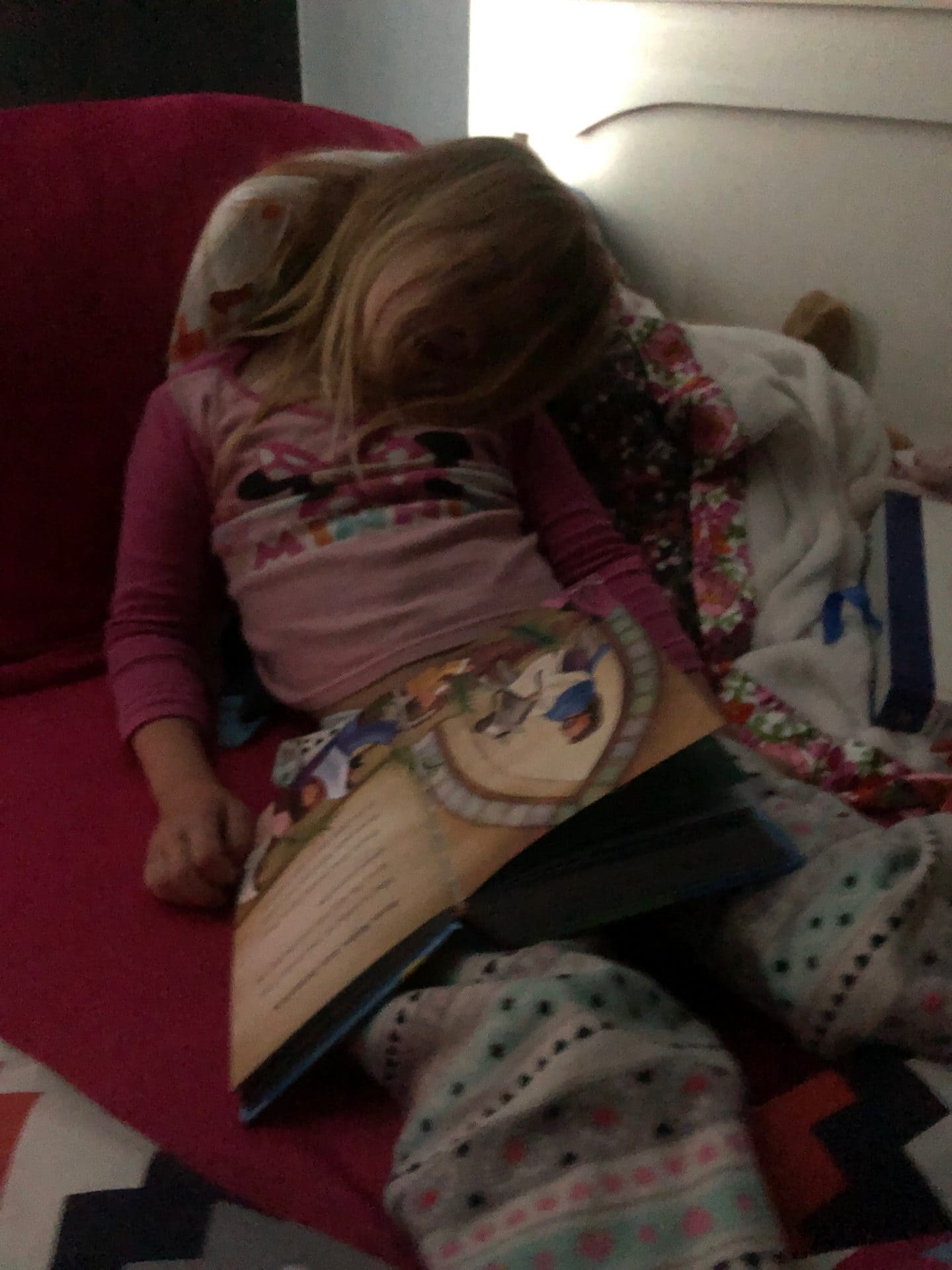 Here are some videos from this month so far:
And a few more cute pics too: