For Labor Day weekend we headed back to Disney! It's a pretty quick turnaround trip after having just gone for an entire week for Tess's birthday so we may switch things up next year and do something different for Labor Day – we'll see!
With Disney I have to prebook our rental house WAY in advance so it then becomes easier to just go there since we have the house blocked off as well as annual passes. Not mad about Disney being our go-to 😉
Zach had to work until pretty late so once he got home and the kids were off the bus we hit the road and made a pit stop to Blaze Pizza in Gainesville on the way down! SO. GOOD.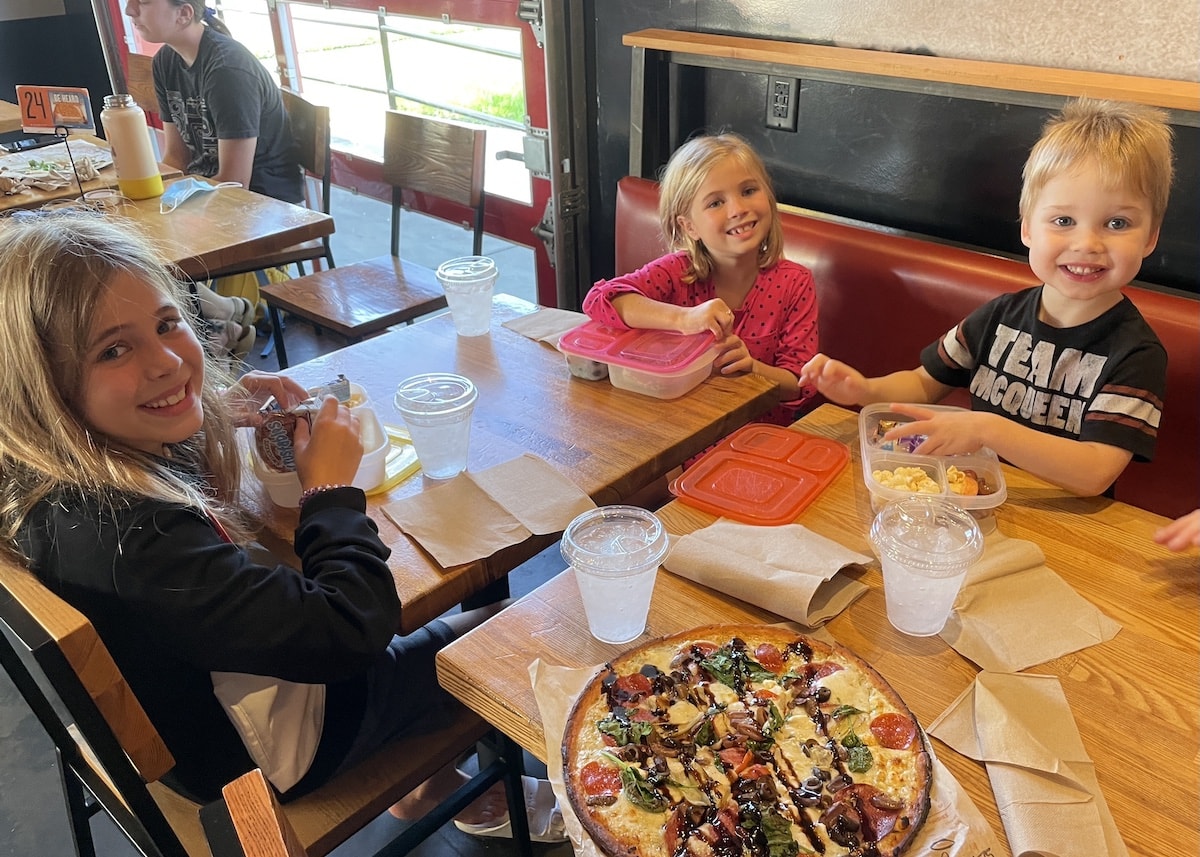 We kicked off Labor Day weekend with a day at Epcot!
Epcot is the latest park to open each morning and currently isn't opening until 11. Which is a bit frustrating when you're early morning park people with a toddler that reallllly benefits from nap time BUT is a nice perk when you hit super bad traffic on the way down and don't even arrive until after 9 PM!
We actually took the chill morning up a notch and decided to just hang at the house and sleep and enjoy an early lunch before heading to Epcot and arrived around noon!
Spear's absolute FAV at Epcot is Nemo and I love these pics of him – a rare looking at the camera and smiling moment 😉
Turtle Talk with Crush is back open and we were excited to have Spear experience it. It's really such a crowd pleaser!
Labor Day weekend is frequently decently low crowds and we saw VERY low wait times which made for a great morning too. I had a rare walk-with-Tess through the parks day as she's usually my stroller for life kid 😉
Soarin' was only a 15 min wait so, duh, we hopped on. And Tess RARELY speaks up and REALLY wants to do something but she asked about Living with the Land so that ended up being our longest wait of the day – about 25 min or so.
I always forget how relaxing and peaceful Living with the Land is. Plus SO many fun hidden Mickeys and, duh, Spear was allll about the farming aspect 😉 I even got an even rarer park moment getting to walk with him and hold his hand!
We rode Spaceship Earth and I loved getting some one on one Spear time together. It is SO frustrating having to wear masks again inside at Disney. We LOVED the break from masks in July and wish we didn't have to deal with them again. It's just such a hassle to have one extra thing to keep up with.
However, they are WAY less rude about it than they were previously. I think it's more of a Disney policy but not one that they have pushed hard onto the Cast Members. We rarely got asked about Spear wearing one which helped!
There is a cast member at the entrance of each building kindly reminding to put on masks and then one when getting onto and getting off of rides.
And other than the masks indoors sooooo much of the Disney magic is truly back to normal. Rides and experiences reopening. Even the play areas and touch areas being back working (Z and the big three were super pumped for Test Track to be normal!) It still felt like DISNEY.
We got to say hey to socially distanced Aurora which I hopeeeee that ends sooooon as I know we all miss character hugs!
The Passholder Preview for the new Remi's Ratatouille Adventure opened up and happened to have availability on the day we were already heading to Epcot so, of course, I grabbed us spots!
The downside is our time window was at 3:00 which was not ideal for Spear and missing a nap and being tired and cranky. In hindsight we should have driven two cars down and Zach and Spear could have left the park at naps as I don't think Zach really cared about the ride and Spear wouldn't have known the difference either way.
Our time slot allowed us an hour to explore the France expansion as well as ride the ride.
We didn't really do much exploring and just headed to the ride but I did sneak a peak around a bit on our way!
I knew NOTHING about the new attraction leading up to it. I will say my FAVORITE part are alllll the little details Disney does so beautifully. Little Remy's are hidden throughout the outdoor line area and the wallpaper inside the waiting area is AMAZING. Even hidden Mickey's !
The line takes you inside into an "outdoor" scene that is really cool and then into an artist area with moving pictures.
Even with the pass holder preview we still had a lengthy wait to ride the ride! I didn't know it was a 3d glasses experience until we were handed glasses!
Epcot needs more rides. Period. And this ride is much needed as well as being located in World Showcase. It fits well. The surrounding area was done nicely. But the ride itself, to me, was disappointing as it relies HEAVILY on the 3D elements.
It felt like a ride at Universal and NOT a Disney experience. The ride was also "too smooth." It didn't feel realistic. We didn't feel PART OF the experience which I think is what truly sets Disney apart from so many other theme parks – the immersion. I actually felt pretty sick afterward because the track is SO smooth that combined with the 3d elements it made me feel motion sickness.
It was cute. It was fun. I'm sure we'll ride it again. But it's not a top ride for any of us! I do though LOVE attractions where we ALL can ride. It seems like more and more often Disney is having height restrictions on rides and it was nice that this was everyone 🙂
We had just watched Luca (which Spear LOVED) and it was neat to see Vespa's outside of the attraction waiting for us!
Britt wasn't feeling great so she rode in the stroller with Spear and Tess, Kye and I walked together. We rode Frozen and then headed out and I loved getting to walk with Kye and Tess to the car.
That night Tess and Kye had a rare sleepover together and they were SO adorable about it! I love that each of my kids have such special bonds with each other. It's so important to me to foster those individual relationships 🙂