For our Magic Kingdom morning, we decided to slow roll a bit and arrived at the park about 30 min after opening. It was raining and we just figured there was no real rush to getting there an hour before opening. BUt man it's a TOTALLY different experience to arrive RIGHT at opening vs before. It was nuts and crowds like we just aren't used to seeing. We had an epically long line just to go through bag check!
The adventure seekers in our crew headed straight for Thunder Mountain. On the way they actually ran into one of my childhood friends, Claire, who was there with her fam. Love when that happens at Disney 🙂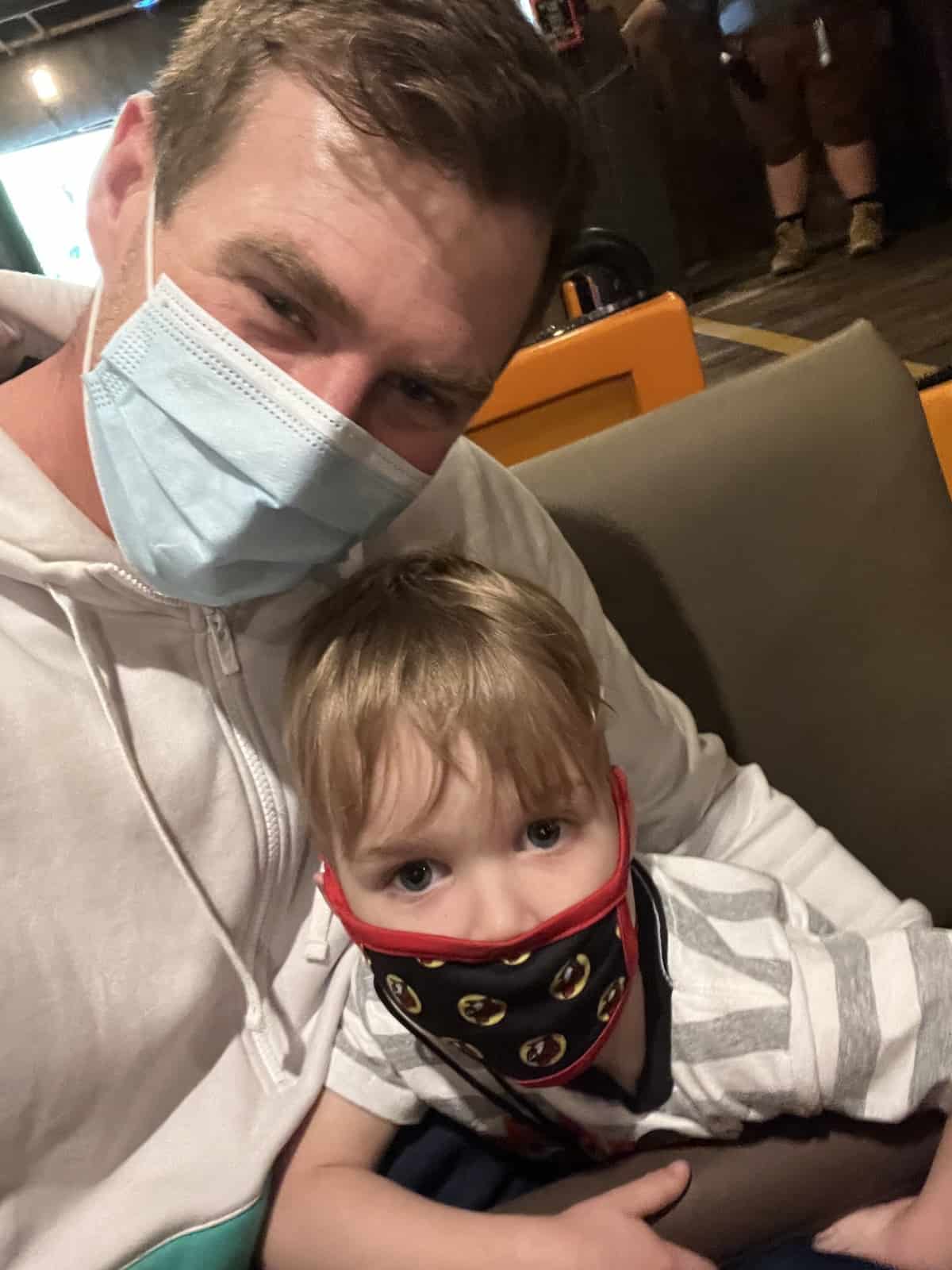 While everyone else raced to ride Thunder I was the only one who didn't plan to ride it and, therefore, had some downtime. Why rush when I didn't need to? Instead I opted to hang out in the hub and get lots of Photo Pass pics. My two favorite things are visiting with photo pass photographers who don't have a line (they always look SO BORED to me just standing there!) AND going up to random people and offering to take their photos for them.
When I see someone taking a selfie I just wanna help them get a MUCH better end result photo. It makes my DAY when someone looks at the pic after I take it and I can hear their excitement. I met a group of young teens who were SO pumped about the little mini shoot I did with them 😉 I literally just walked around and around in the hub approaching random people and asking if they'd like me to take their photo. I was told multiple times by cast members that Disney is currently hiring. Photopass would be my DREAM JOB for SURE!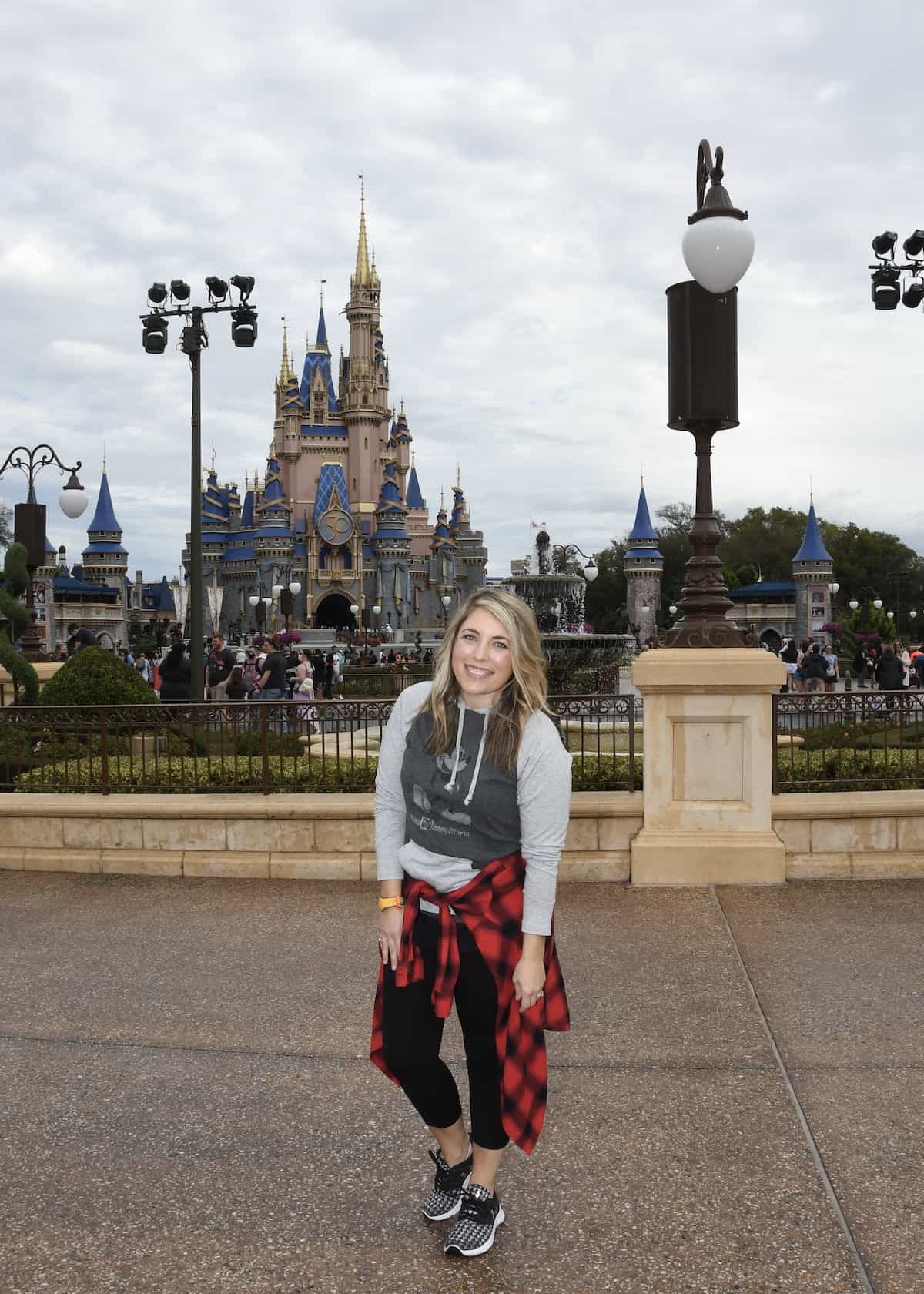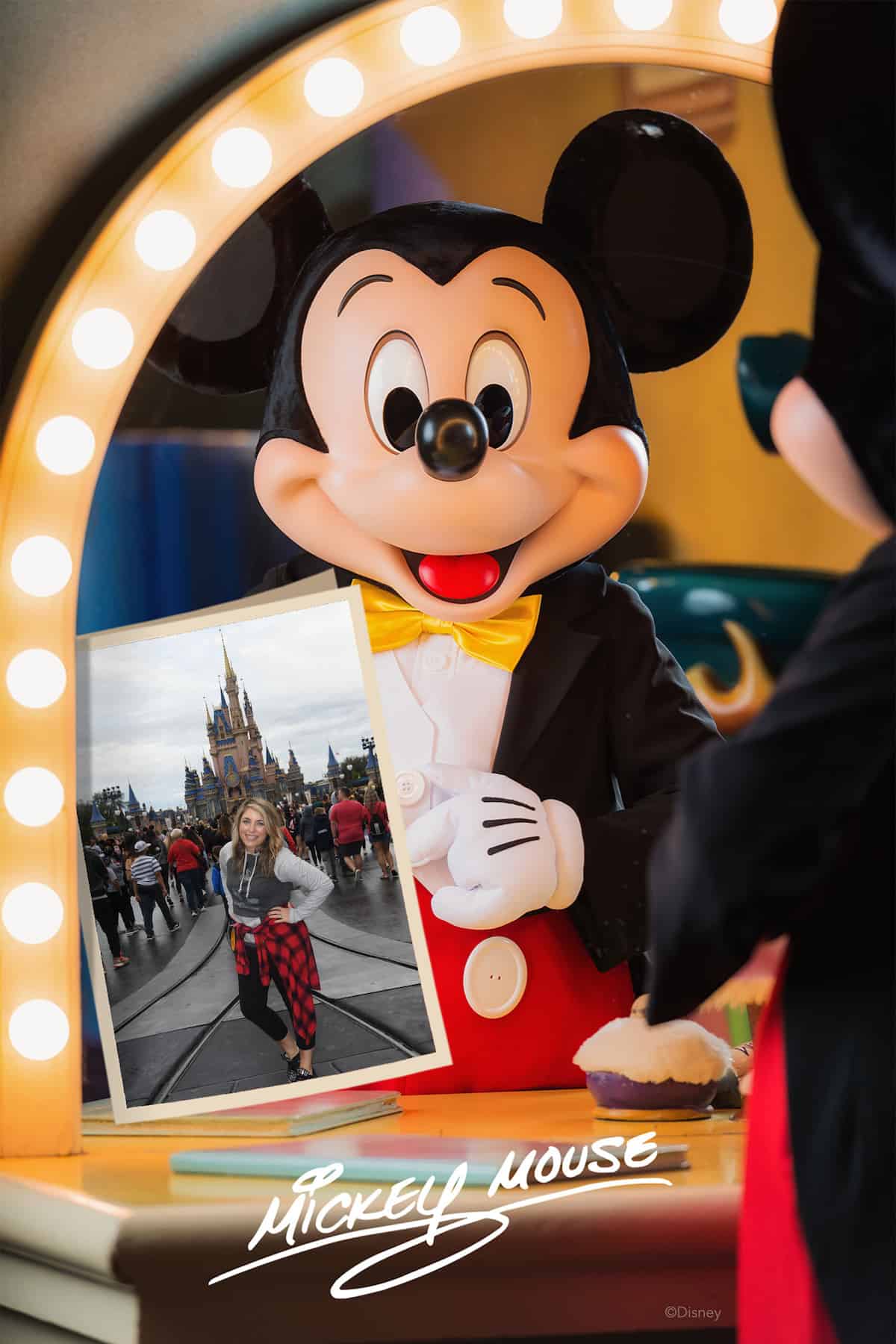 We met back up to ride Buzz. Zach, Kye and Britt all got top scores thanks to the ride pausing for awhile. Lots of Galactic Heroes!
Tess was so cute – she wanted to ride WITH Spear and said she'd steer out ship while Spear got to shoot. She spent the whole ride complimenting him on his shooting skills that she'd forget to steer.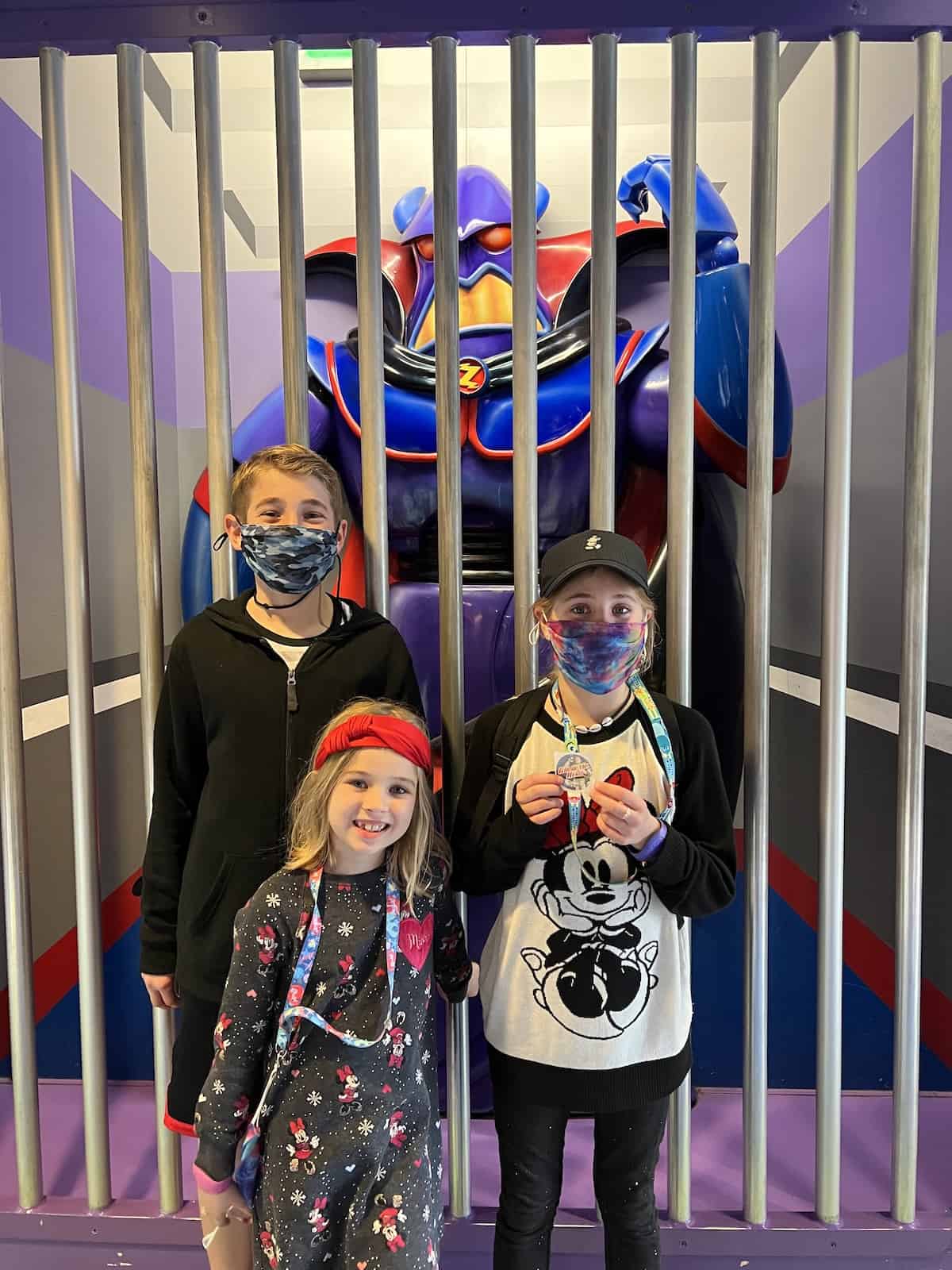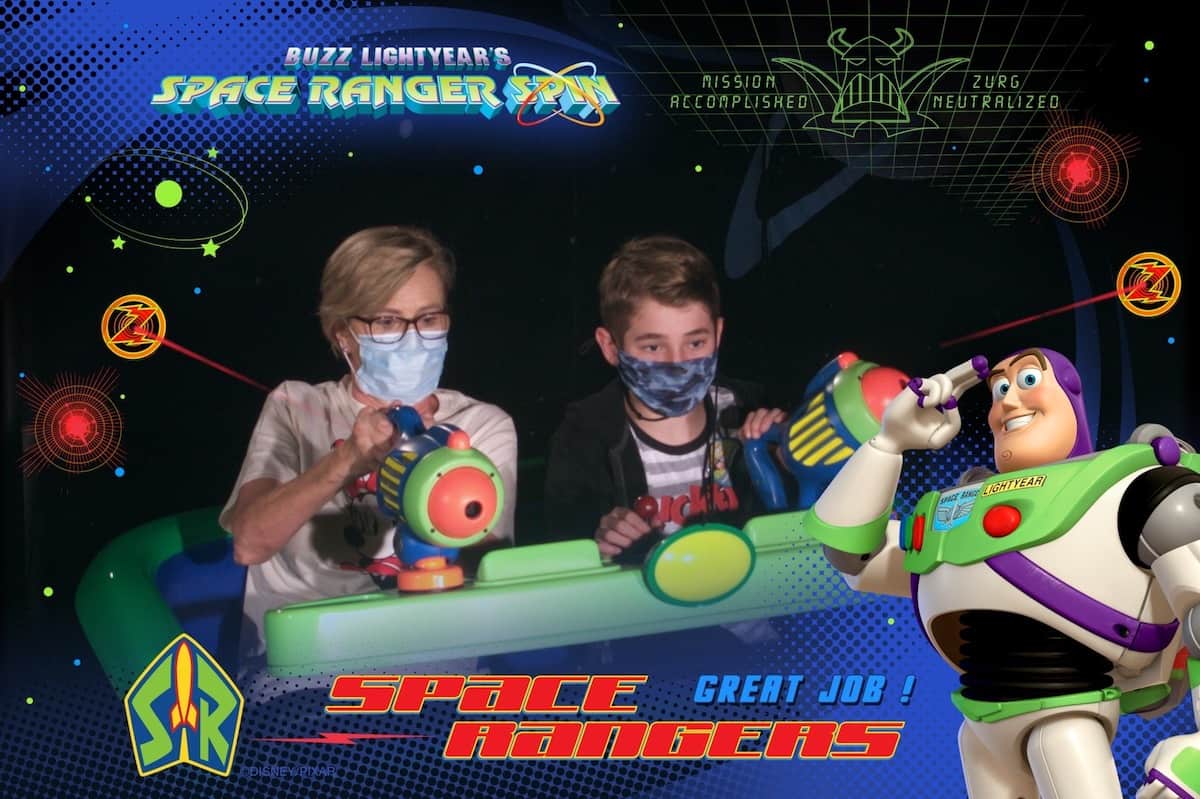 As part of their Valentine's Day gifts we told the kids they could each get a treat at Disney. Kye chose a coke float and wasn't super impressed with it. We were able to say hey to Stitch from afar and then were able to experience the Laugh Floor for the first time in AGES.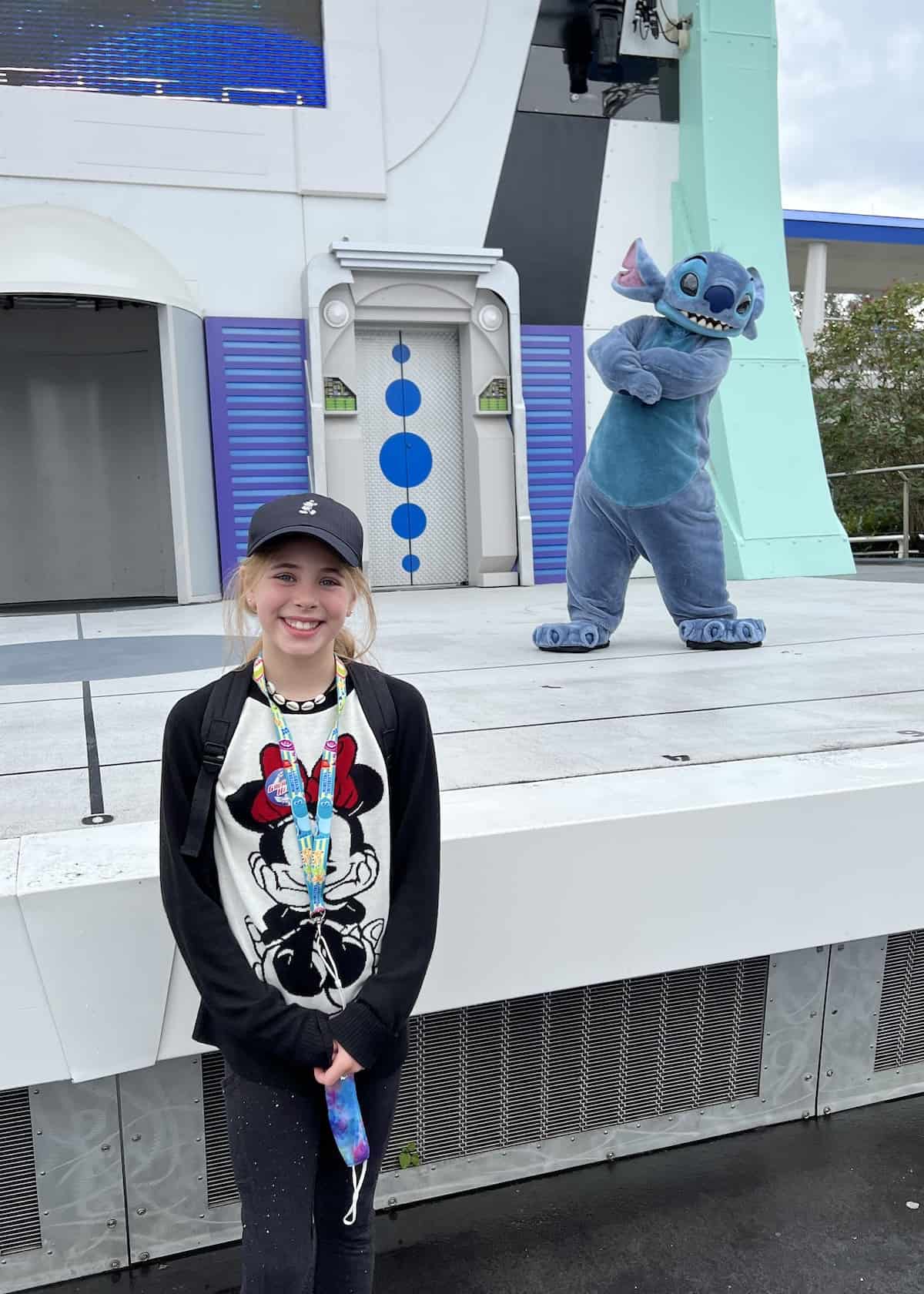 G-Mama's fav is Beauty and the Beast! It was also the first time for Kye and Britt to see the new Phillarmagic updates. It's been Britt's fav since she was little and the new enhancements only made it that much better too!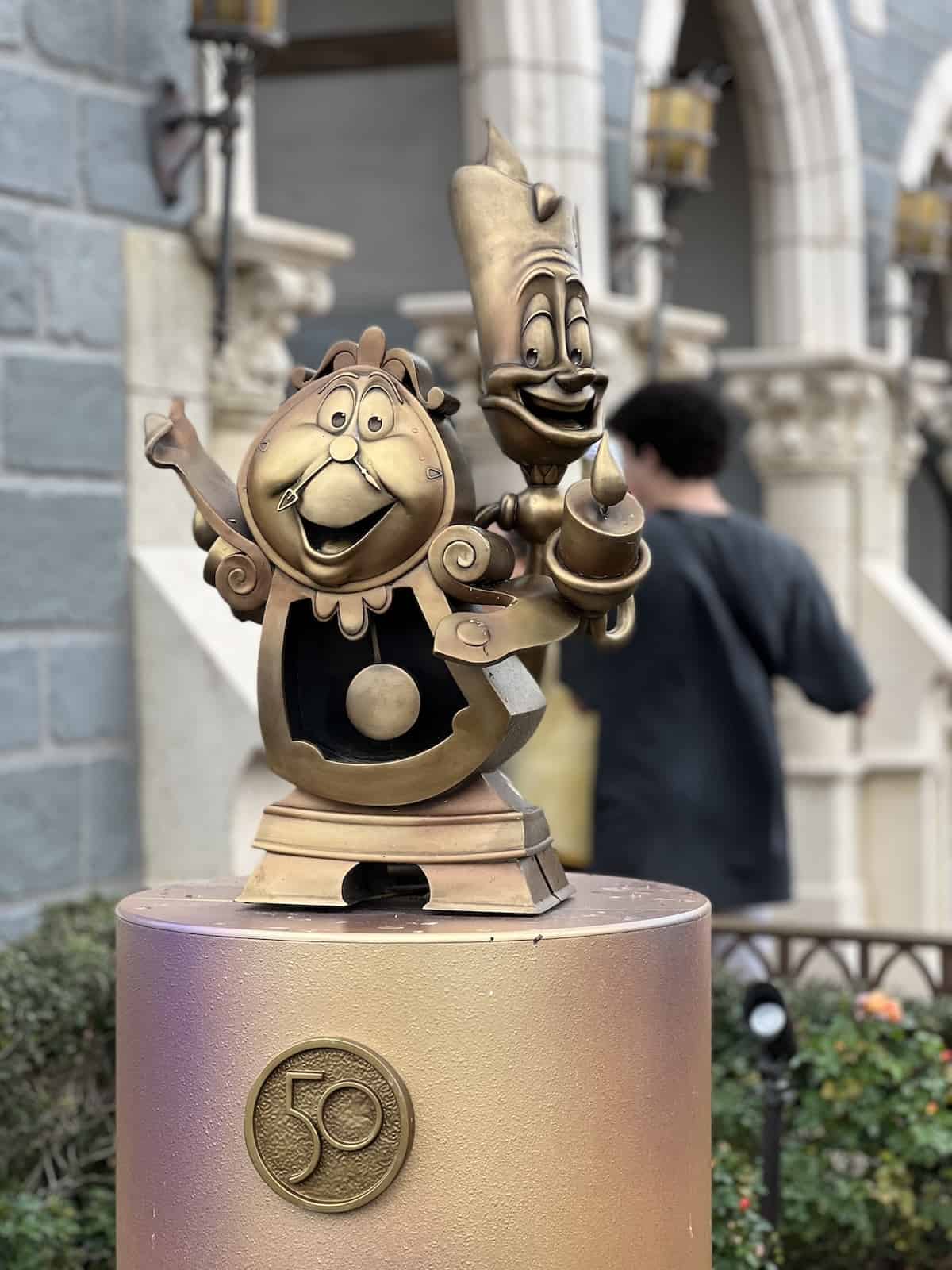 I always have the goal of getting one family pic per park day and the PhotoPass spot by Haunted Mansion had zero line – so it worked 🙂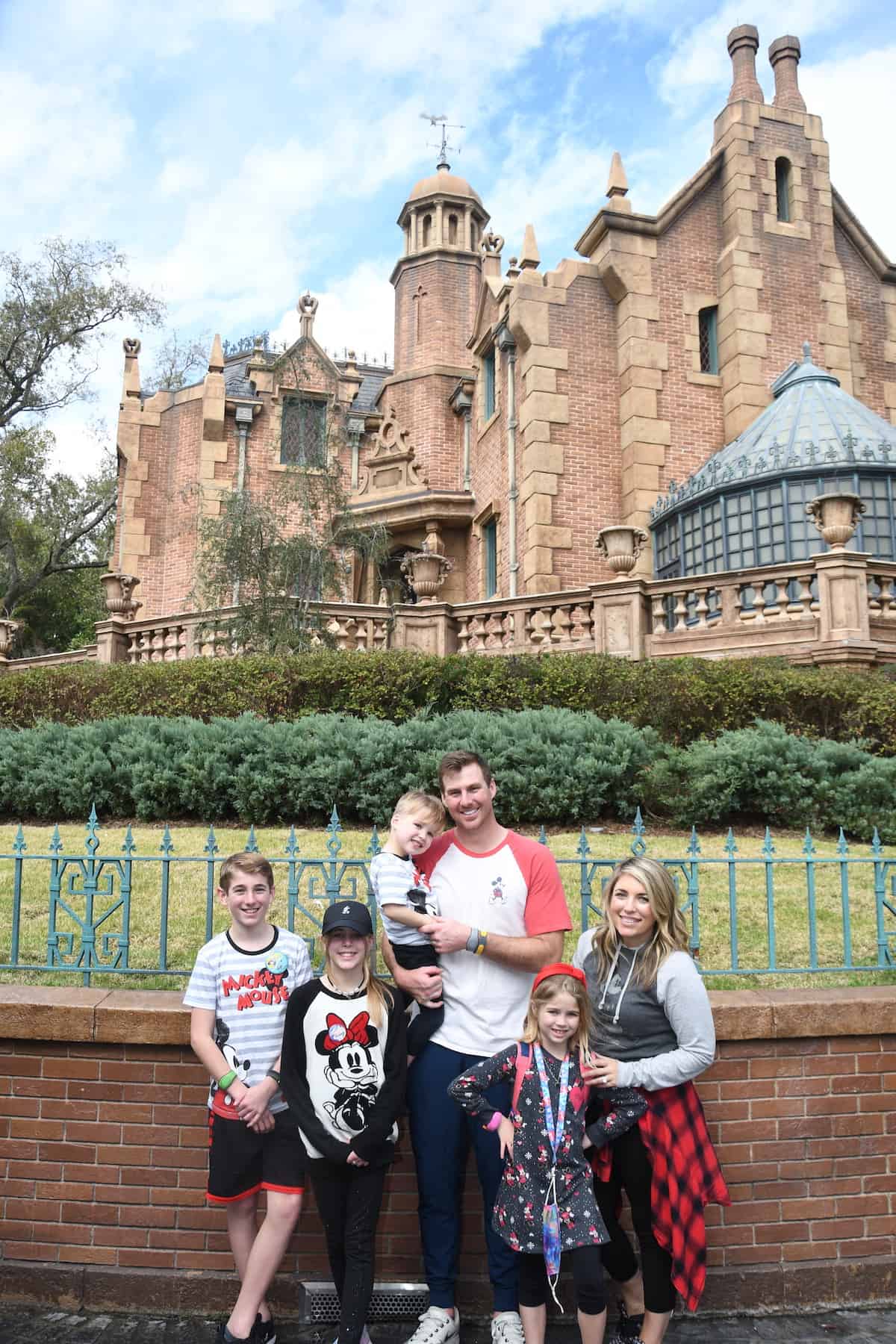 Love ANY chance for these two to match! Disney has def become more about the experiences for his siblings than it is about himself for Kye!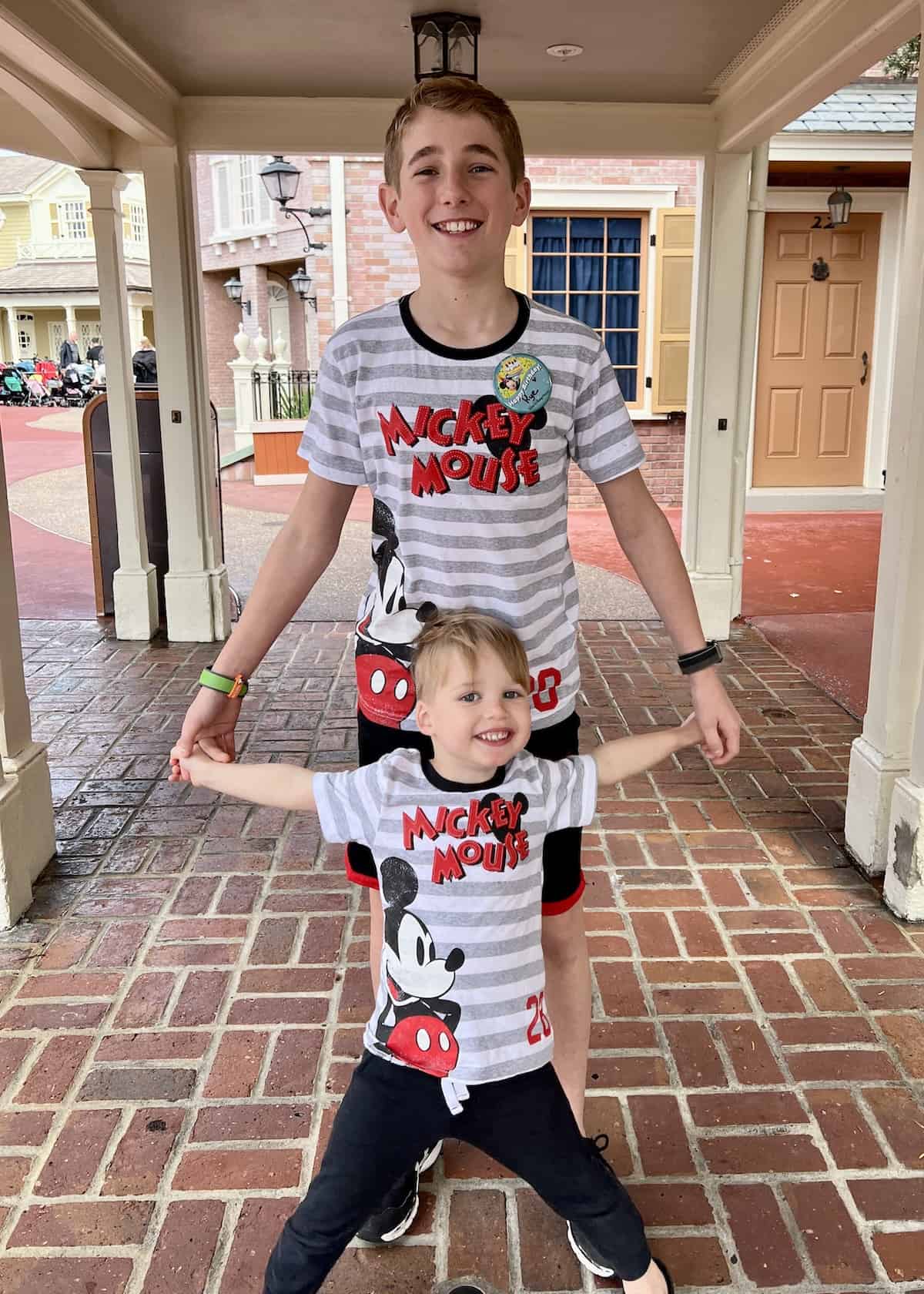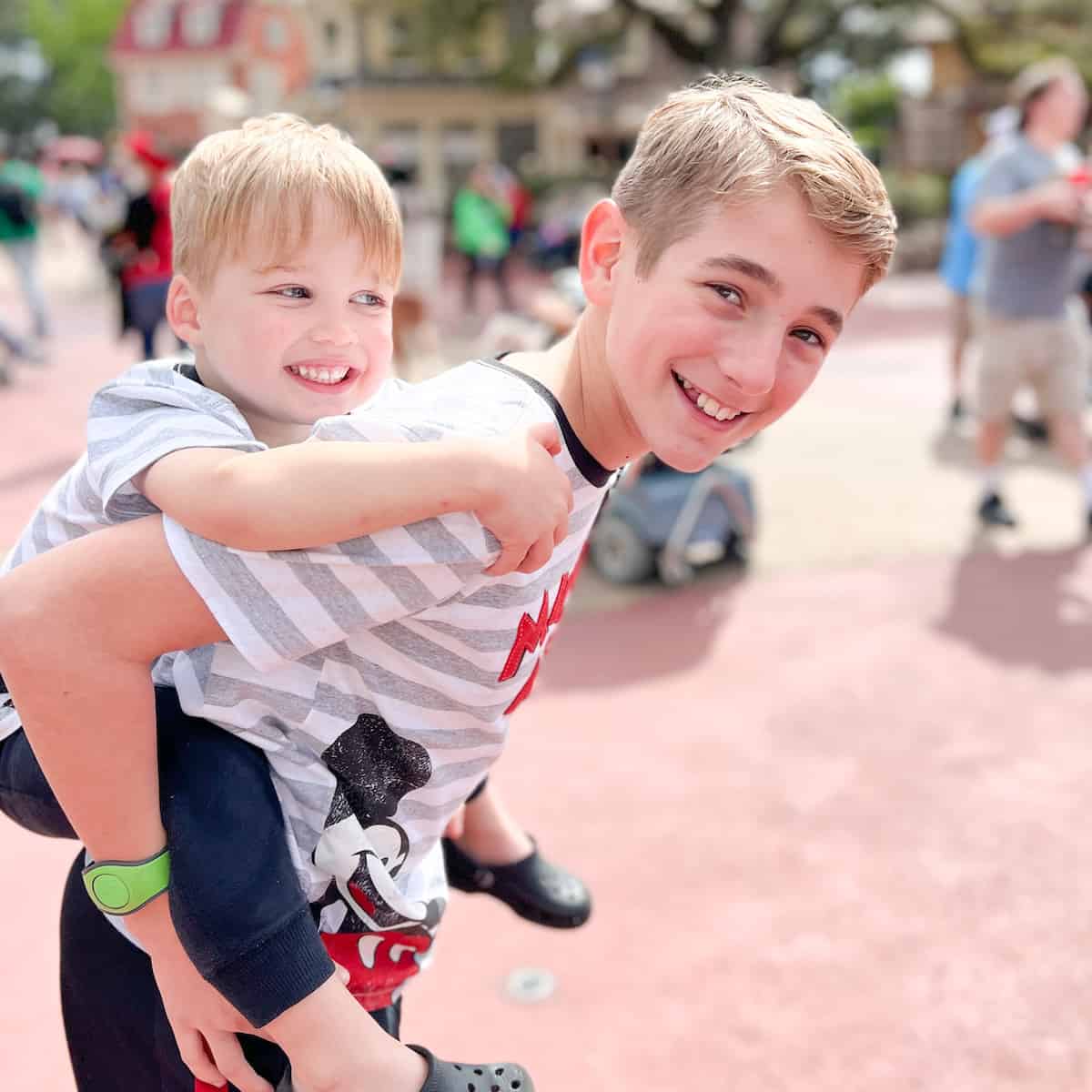 We headed back to the house for naps and had a birthday surprise for Kye – he and Zach were heading to Fogo De Chao for dinner! I LOVE his surprise reaction!!!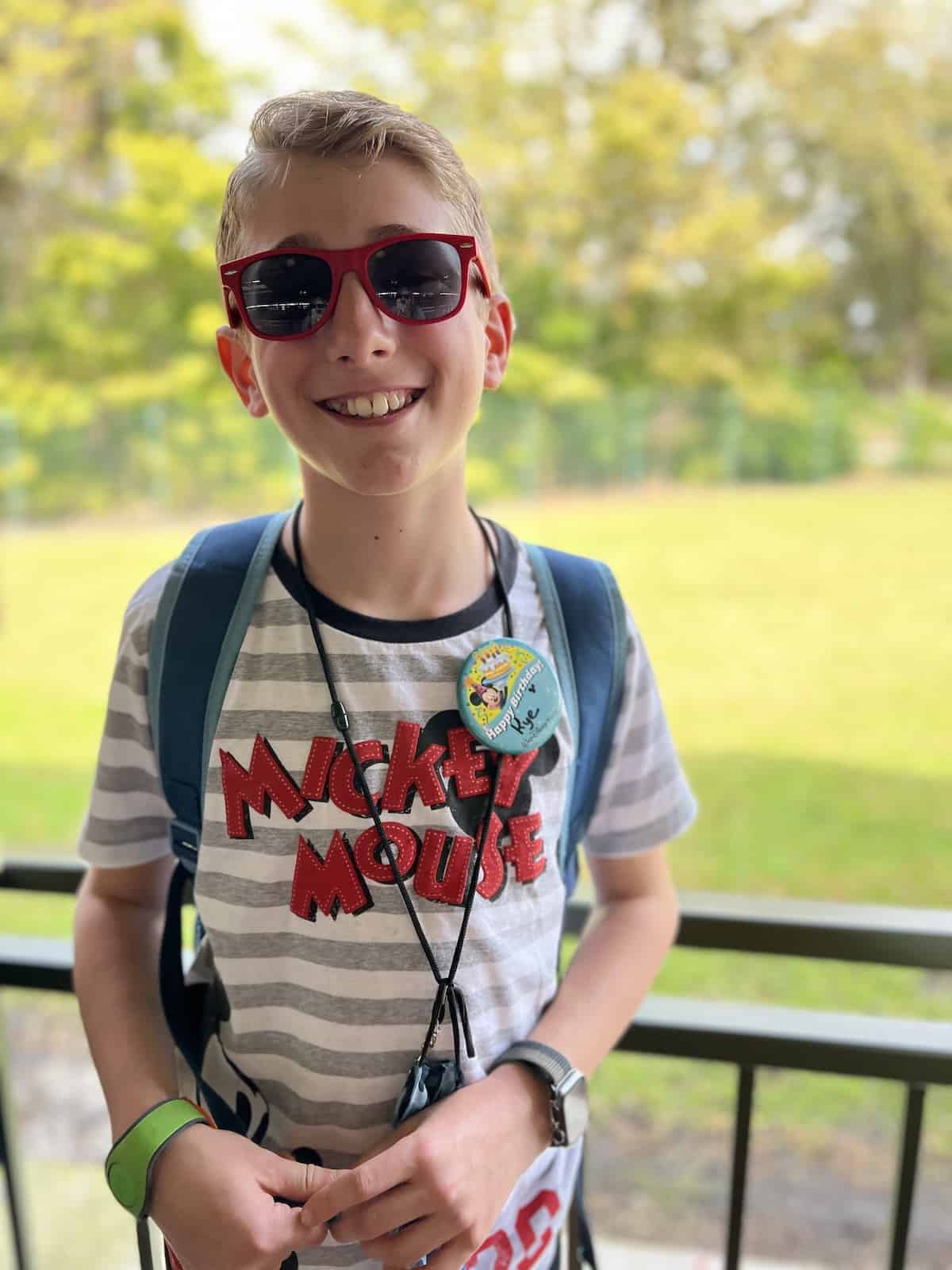 I took Zach to Fogo De Chao for his 30th birthday and he LOVED it. Kye is at an age where he is ALL about the FOOD. This ended up being his absolute favorite moment of his birthday trip. They had a blast and pigged out until they were STUFFED.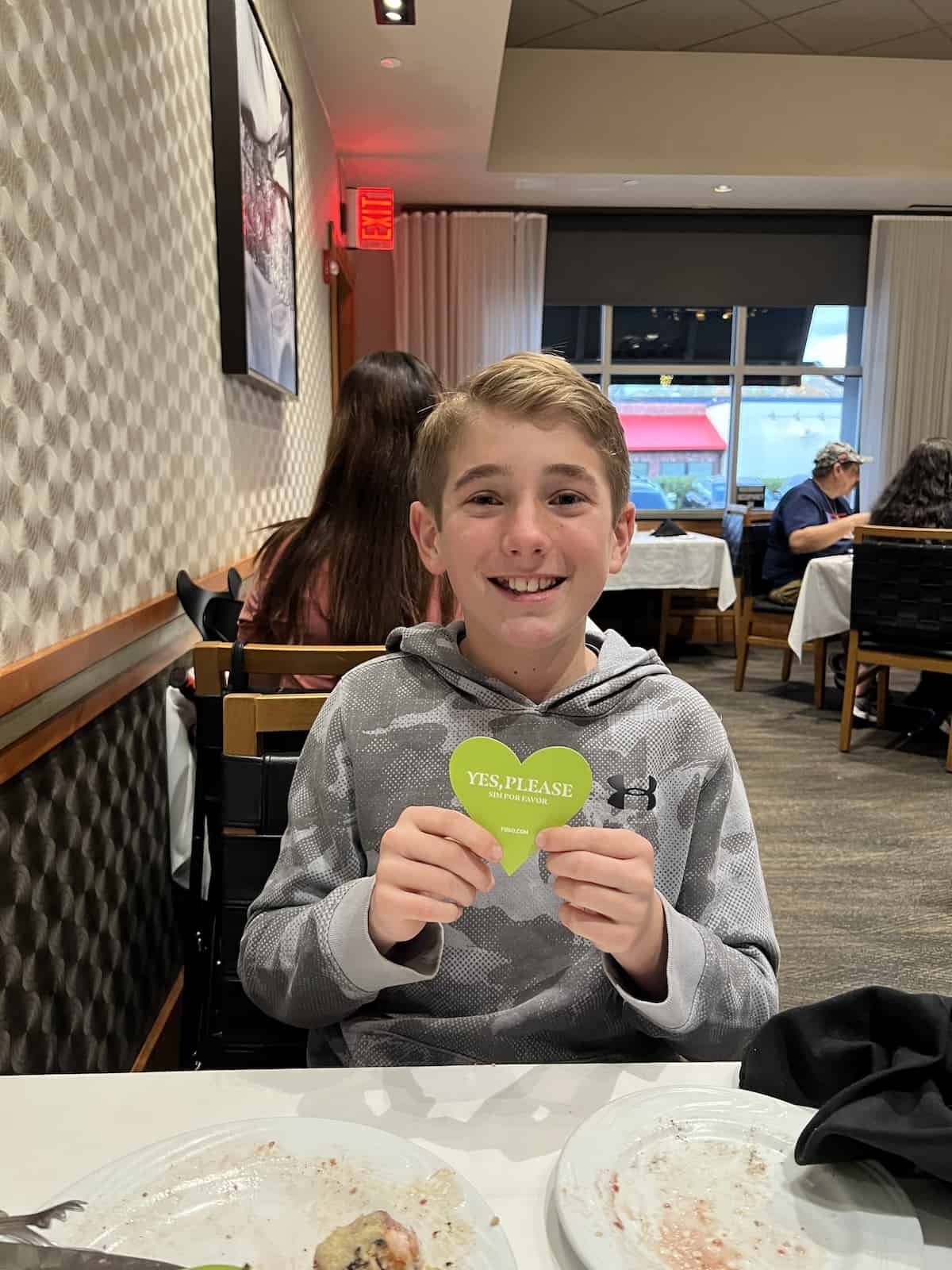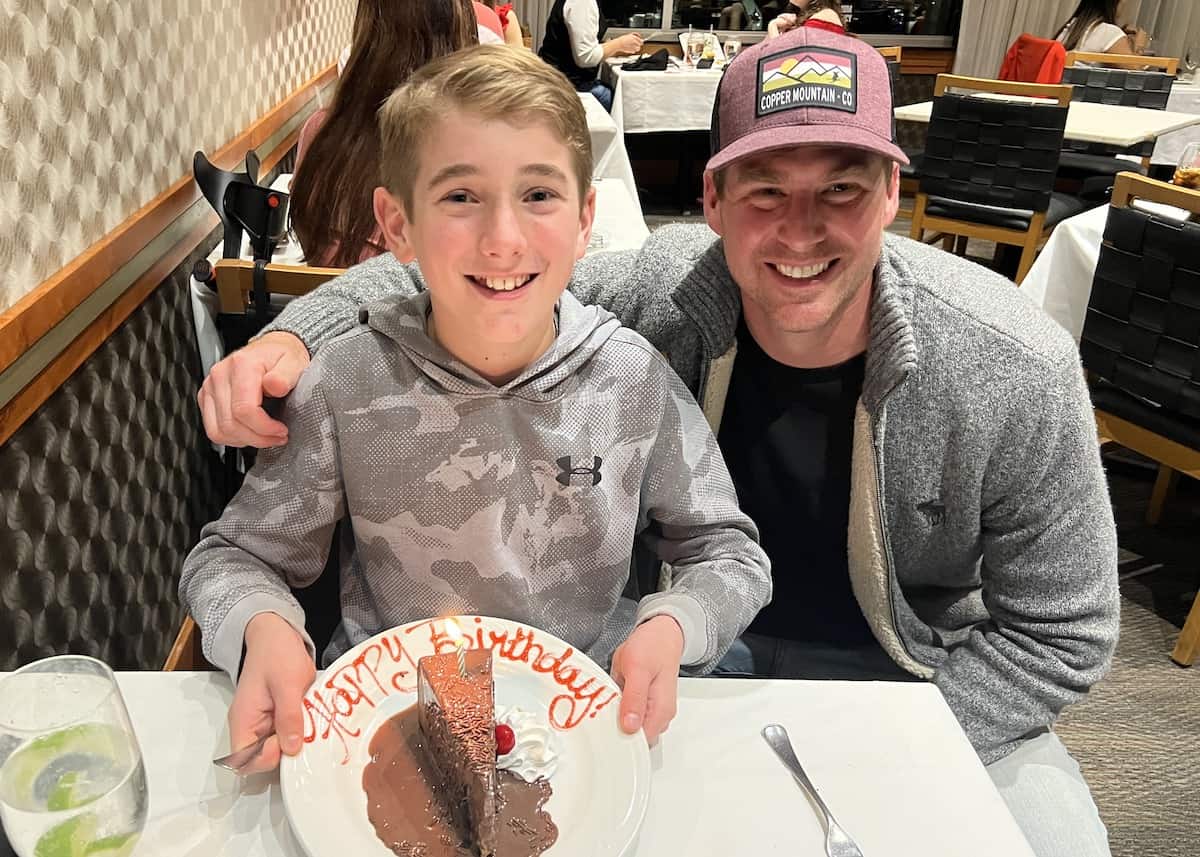 While the were gorging themselves the rest of us headed back to Magic Kingdom. It was the first time Spear was really "part of" a big kid night at the parks and he was excited! He and I had such a fun night at the Enchantment Fireworks Dessert Party that he was eager to get to have another night at Magic Kingdom.
We arrived just as the flag retreat was starting which was neat to watch and experience.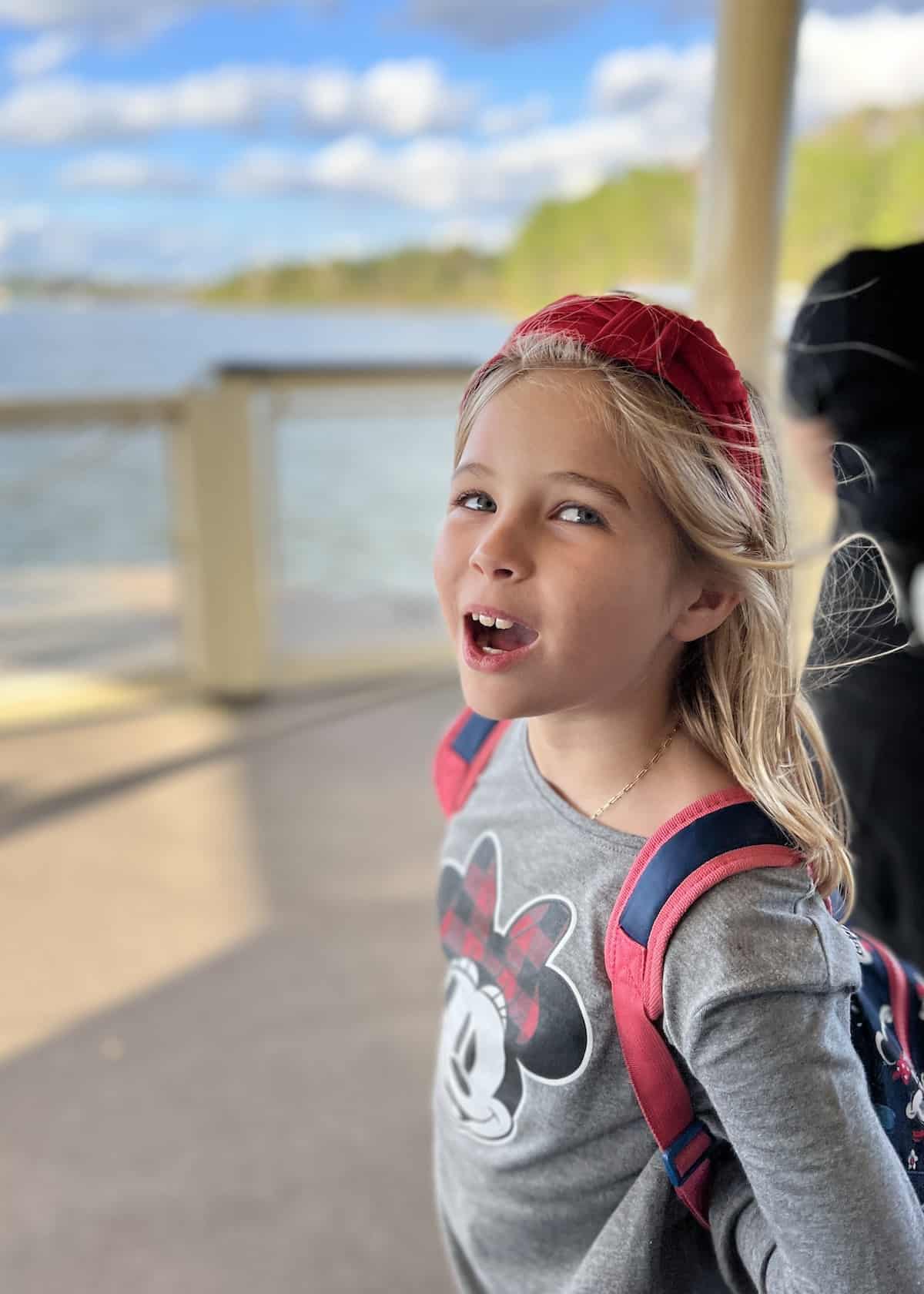 Tess LOVES DuckTales and loved the detail in line to meet Mickey. Even though it was from a distance and with masks I still wasn't going to pass up the chance to meet Mickey – especially for Spear.
I love how you can even see his smile behind the mask!!! And his little pose kills me 🙂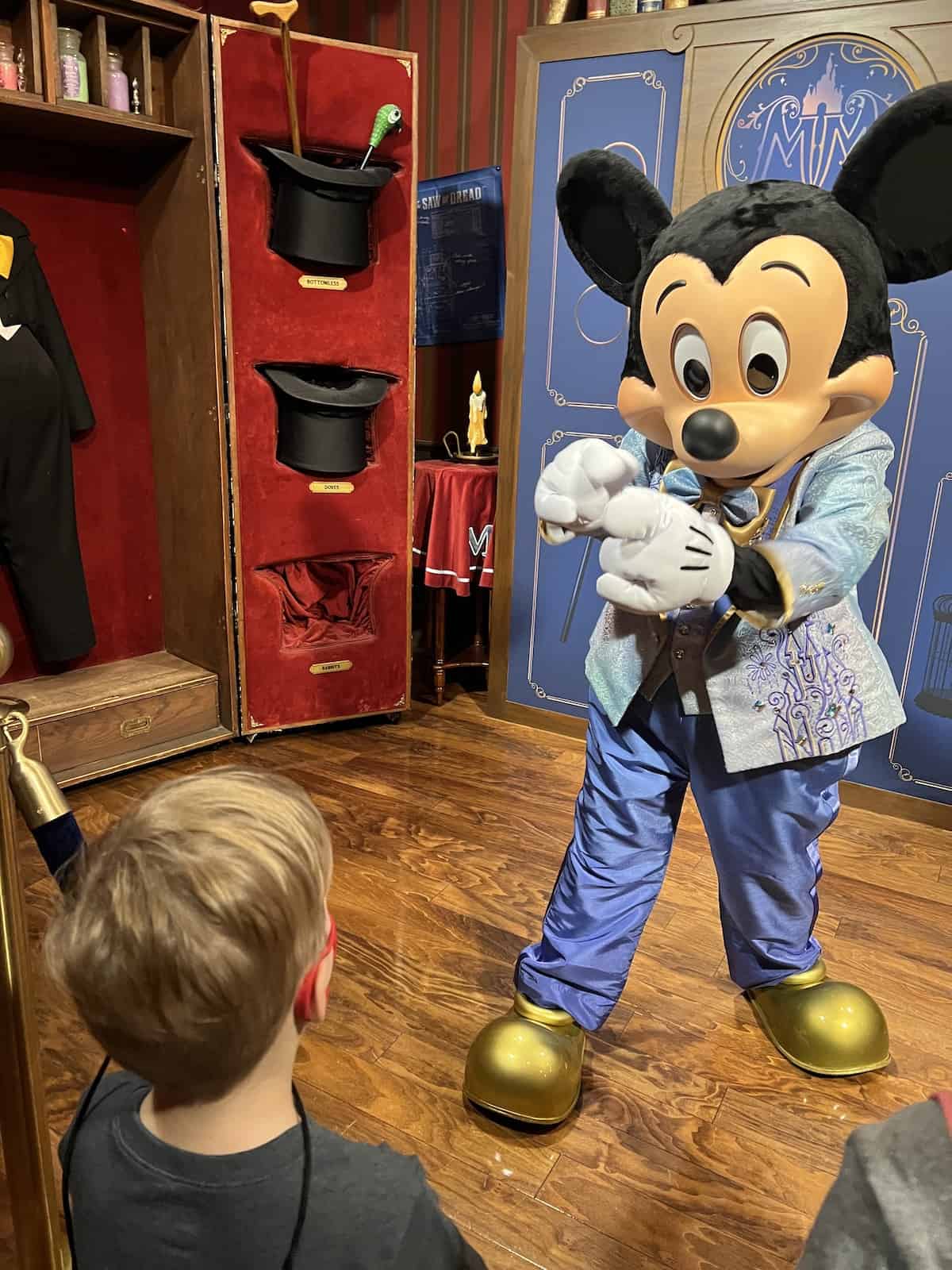 My girls LOVE to shop and it's so cute that Spear now loves it too. We just love to browse and look without any pressure to buy anything. The girls have gotten really into nuiMOs (anyone even knows how to pronounce it?!?!) and Spear found a monorail he LOVES. We decided to use it as a tool to encourage his night and Naptime potty training. If we can be rid of diapers for good, he can have that monorail!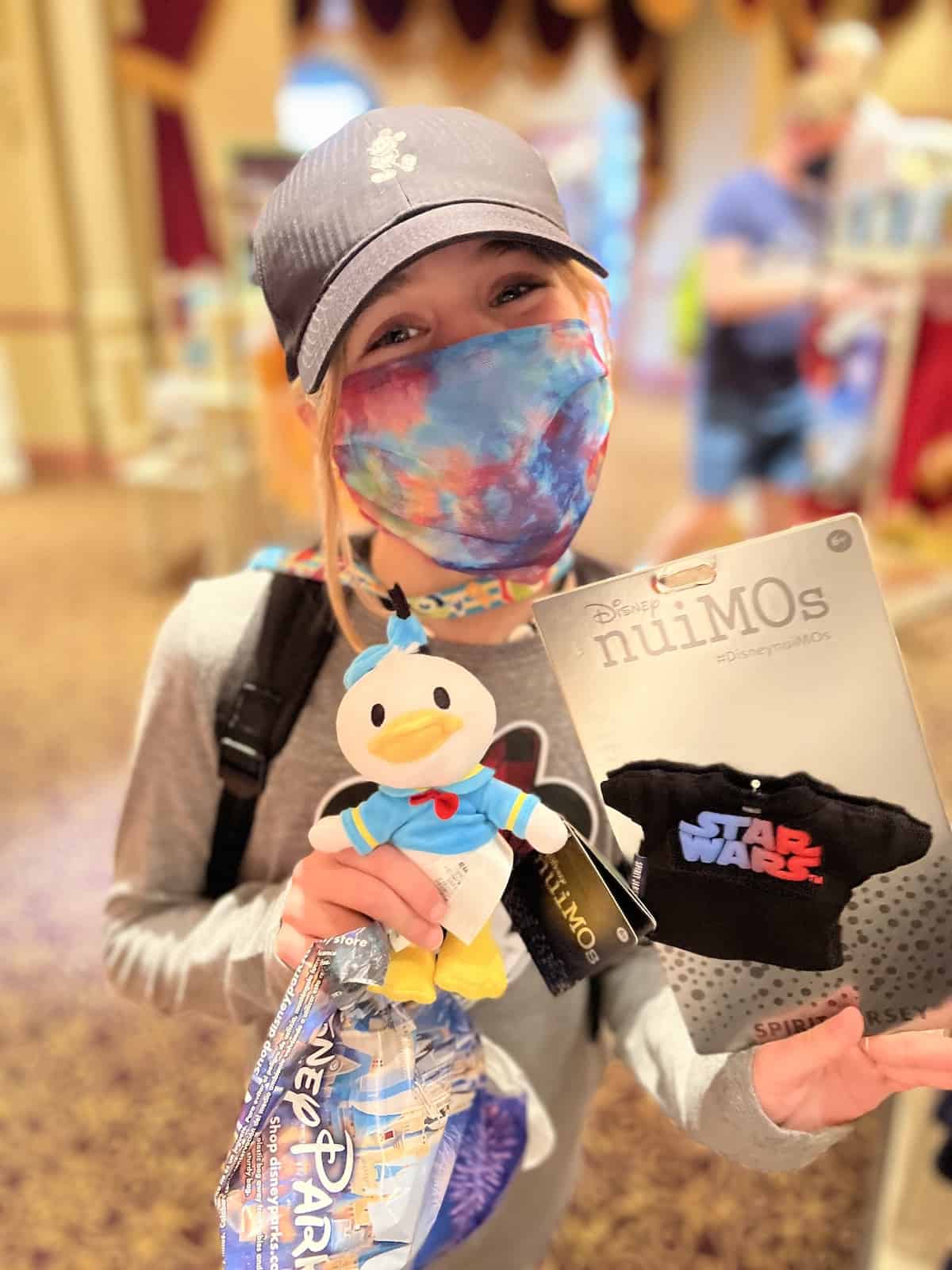 LOVED seeing SO MANY awesome characters at the new calvacade! SO Many friends we haven't seen it ages and a few we've never seen at all! The kids were PUMPED.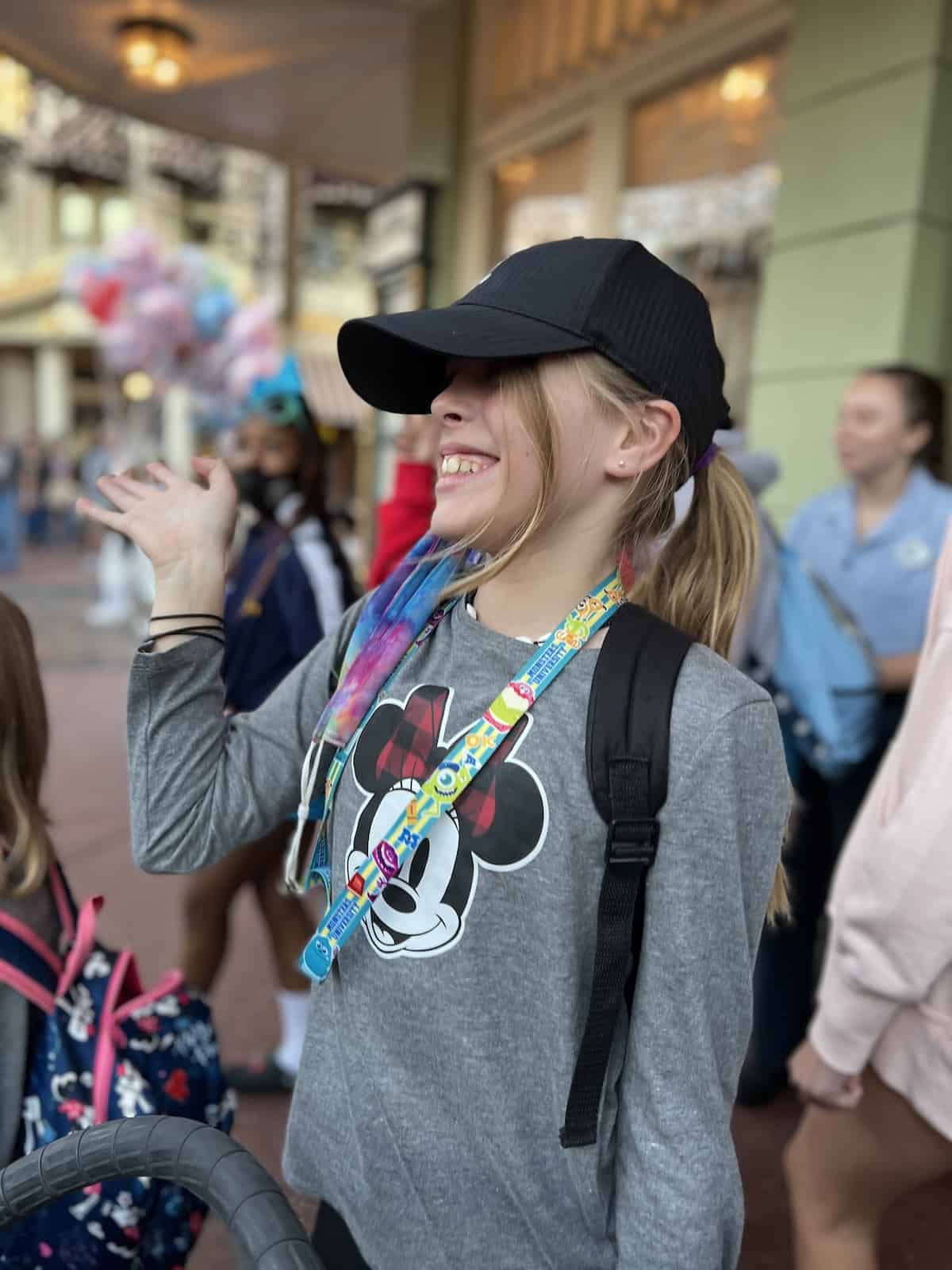 Had to get a castle pic 🙂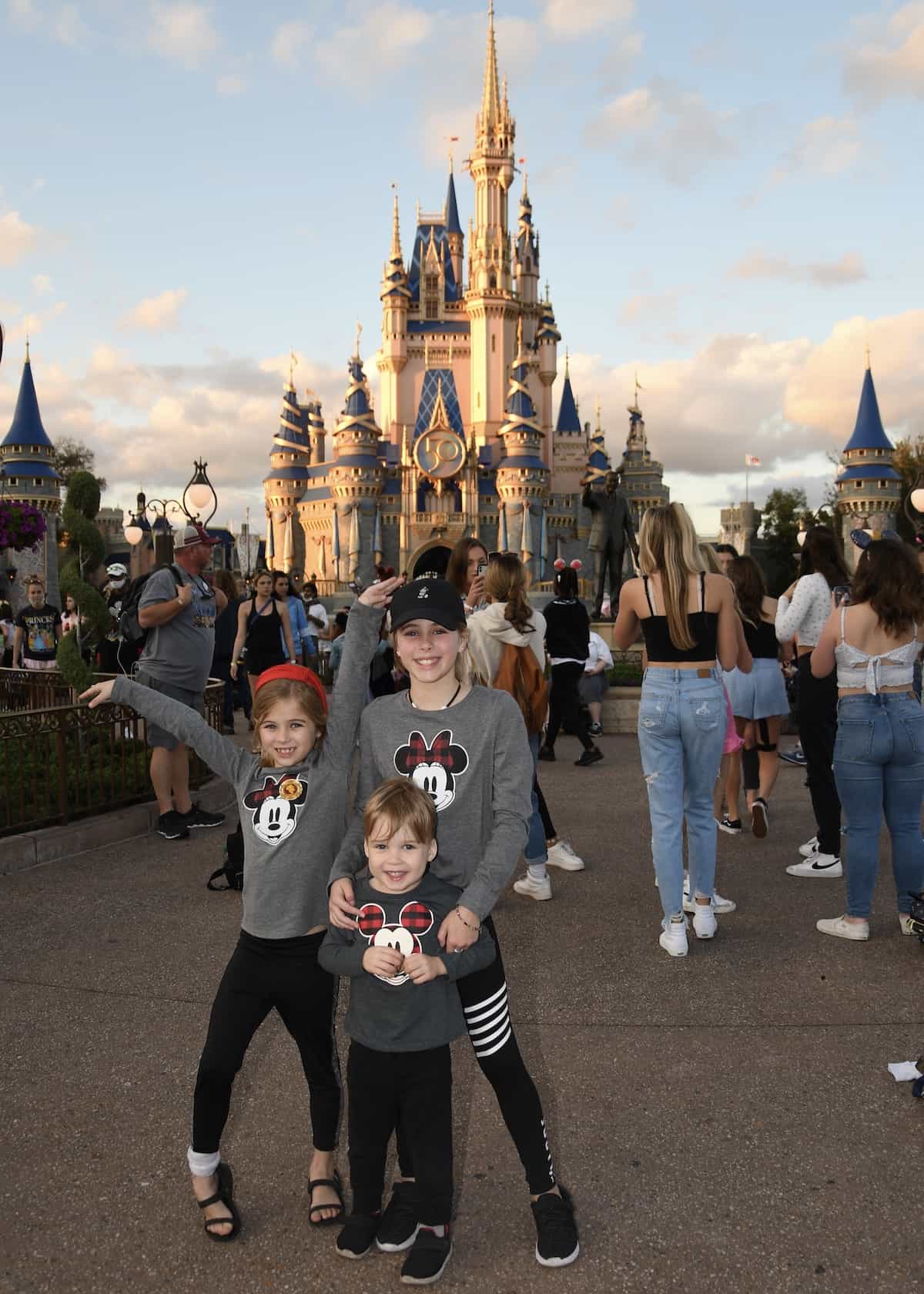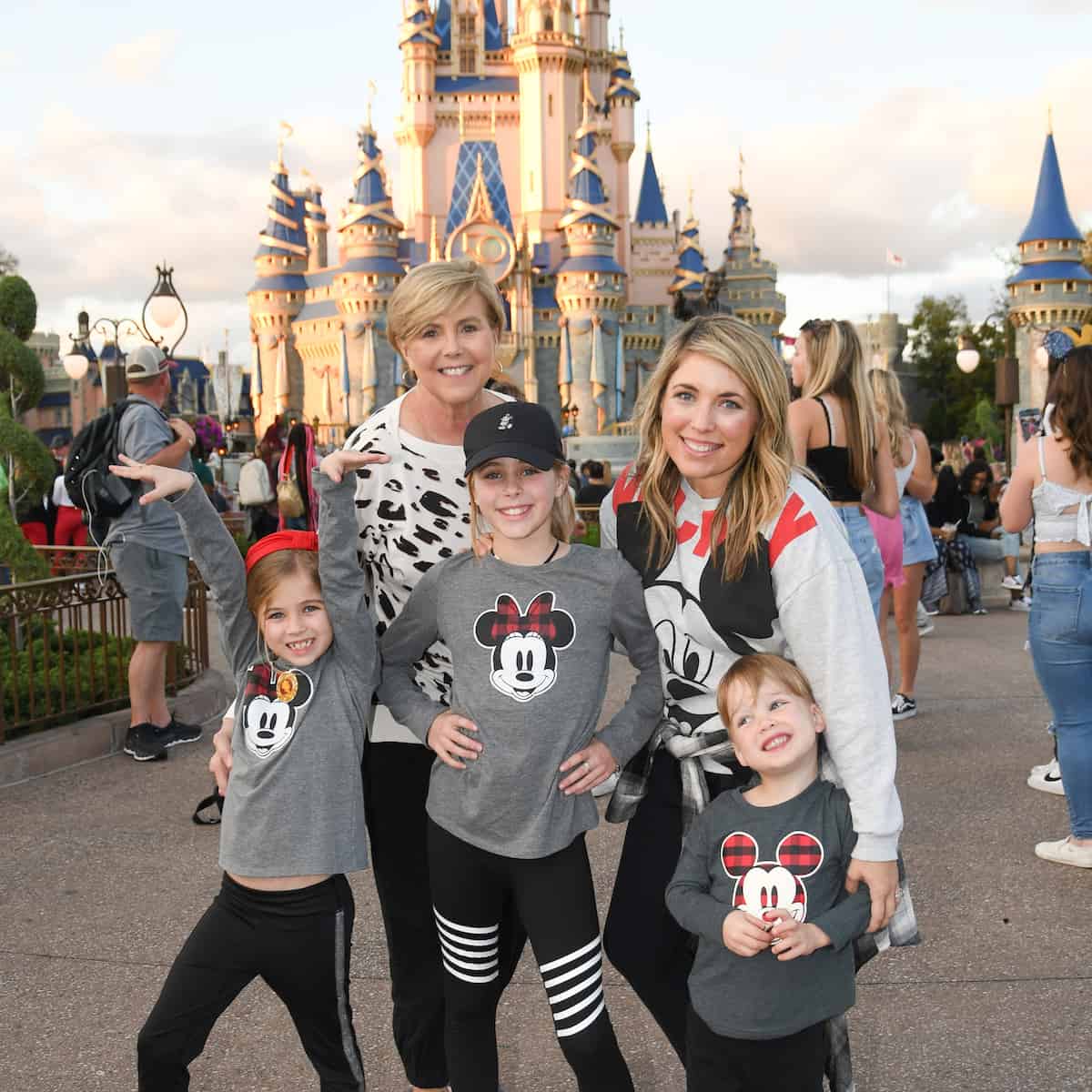 Our favorite viewing spot for the fireworks has changed slightly…you can read all the details on the best spot to see fireworks at Magic Kingdom here! But the set up was basically still the same and we got settled in about an hour and a half before showtime and had plenty of time to eat our packed dinners and grab some yummy snacks.
This was the first time Spear has been included in a fireworks viewing night. He and I attended the dessert party back in Nov and had a great time but this was his first wait an hour and a half for the show experience and he did SO GREAT. He did ask if we were going to have desserts and hot chocolate and "cheers" again which made my heart melt that he had remembered so many of those details.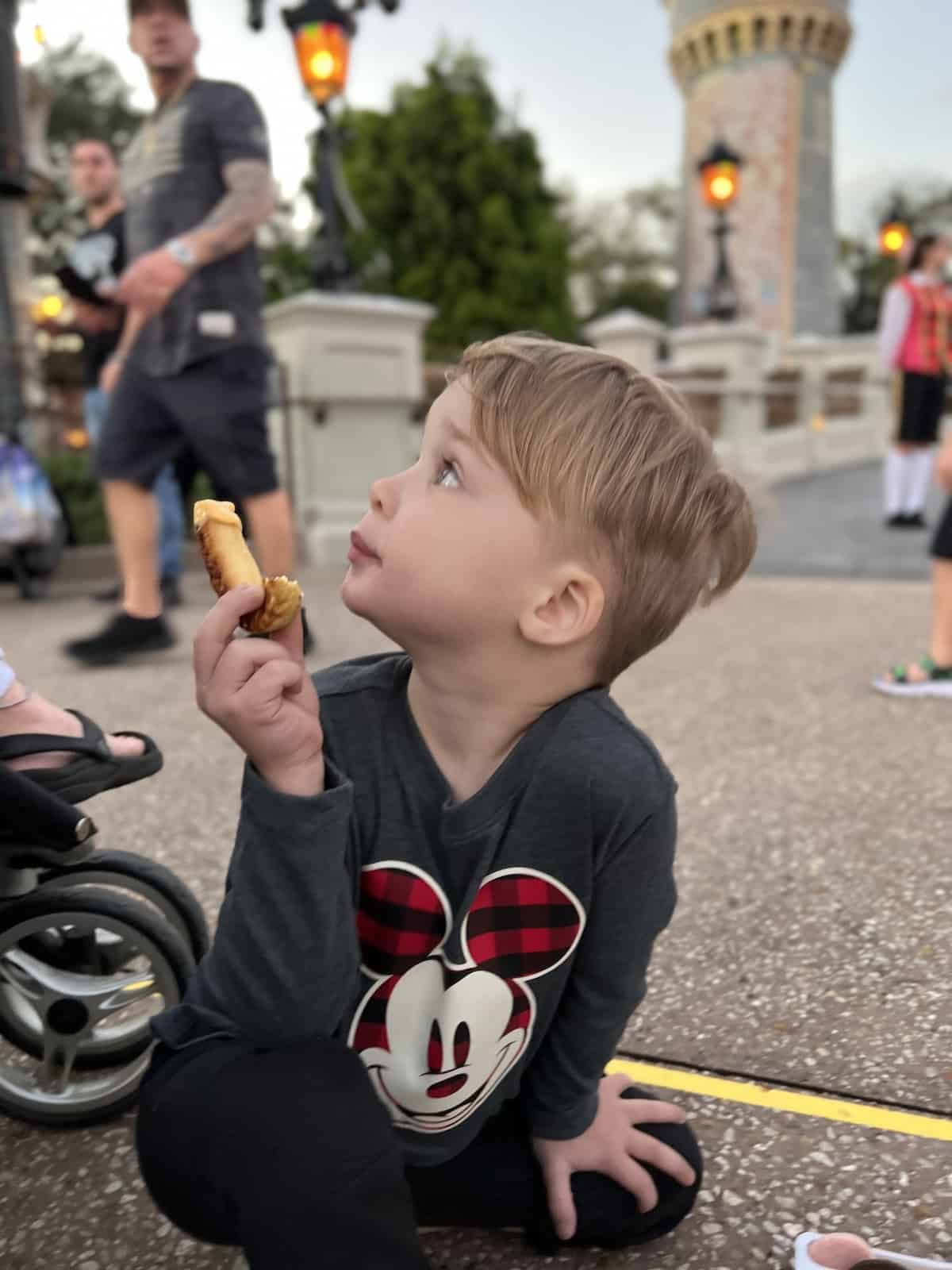 I'm pretty sure the HUGE lollipop I let him get as his special Disney treat helped (He loved sending Daddy a picture because we know Zach would NEVER have said yes to that!).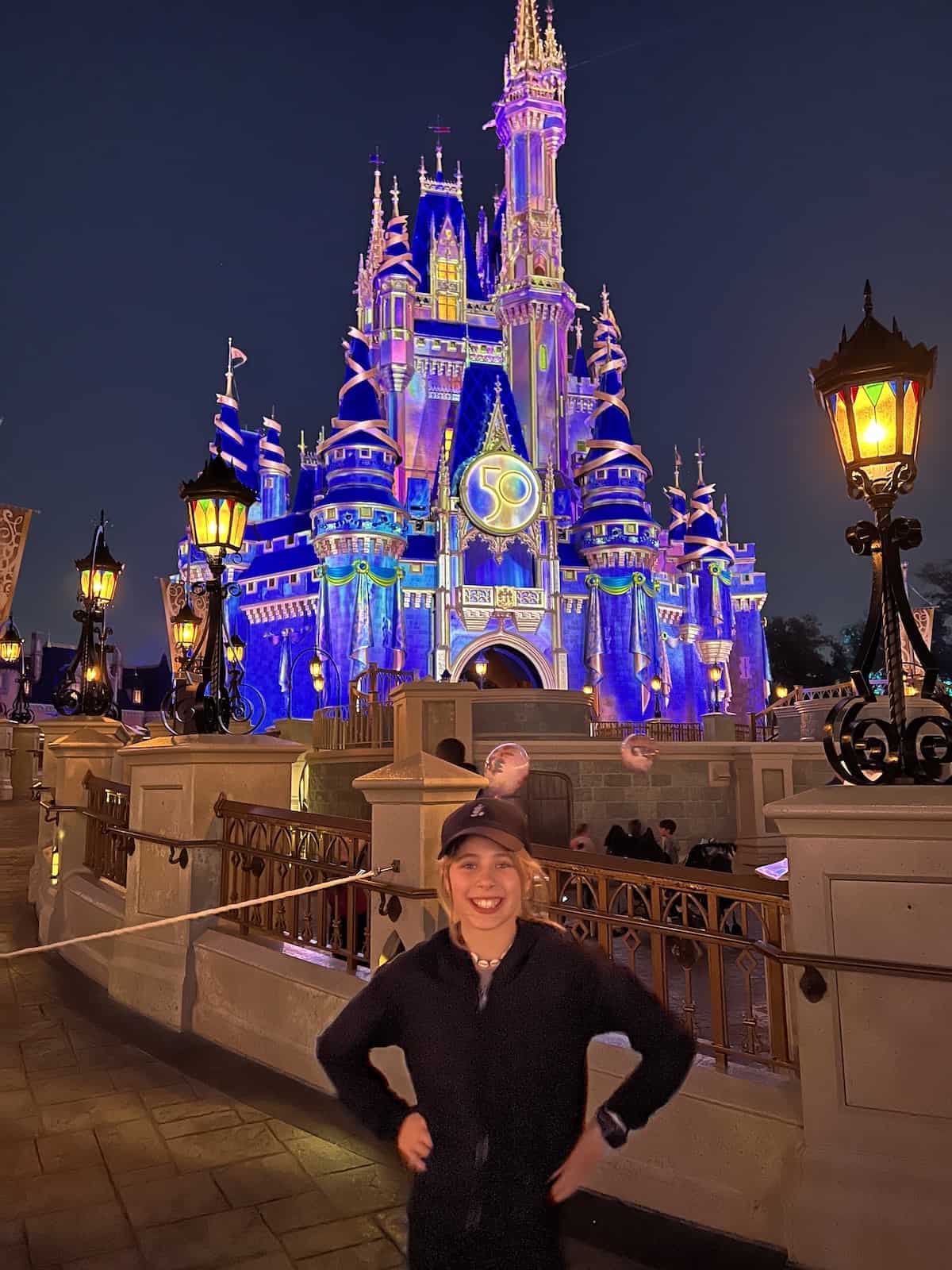 Britt and G-Mama took a bathroom break before the show and stopped for some pics on the way back. Def my kinda Disney people 😉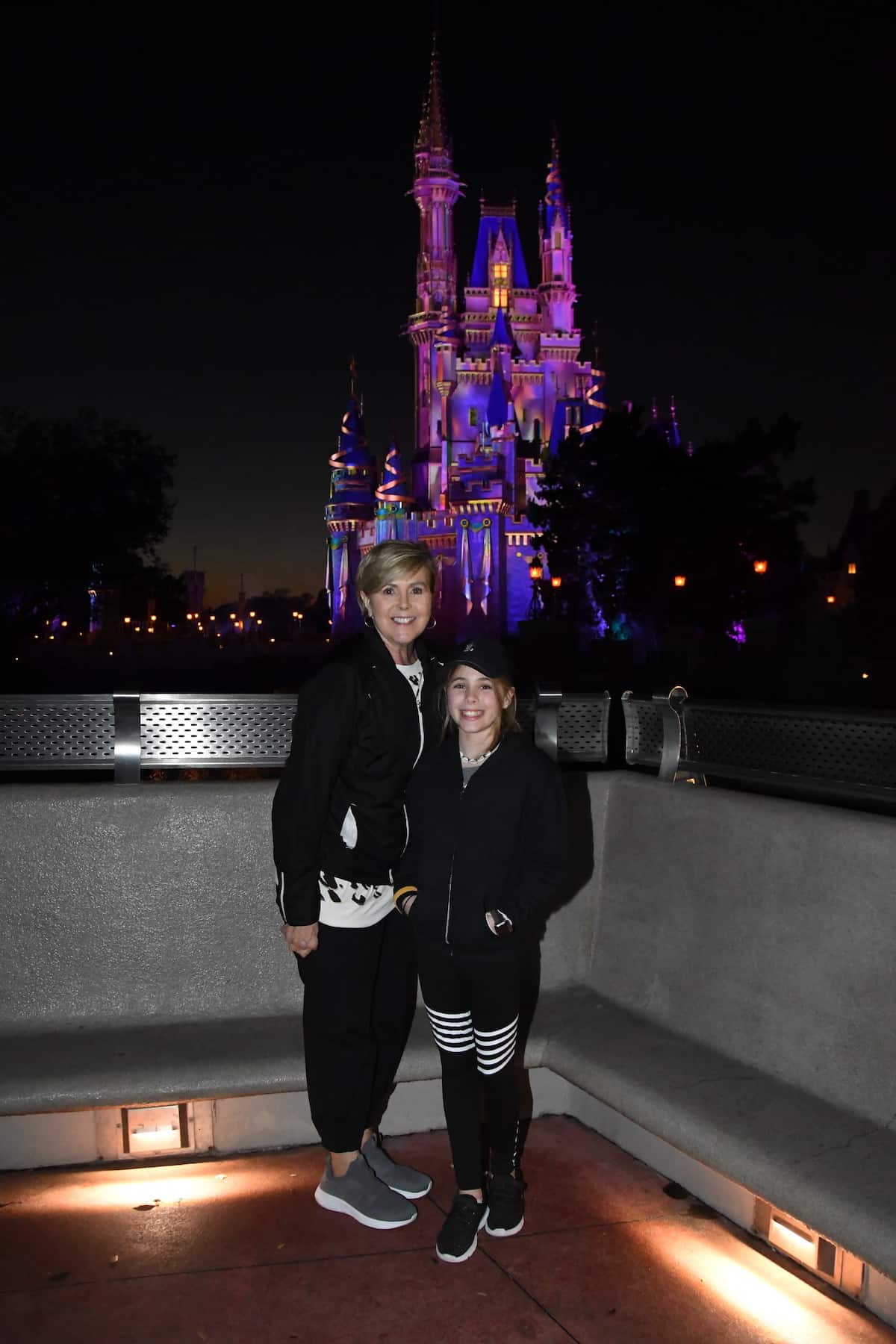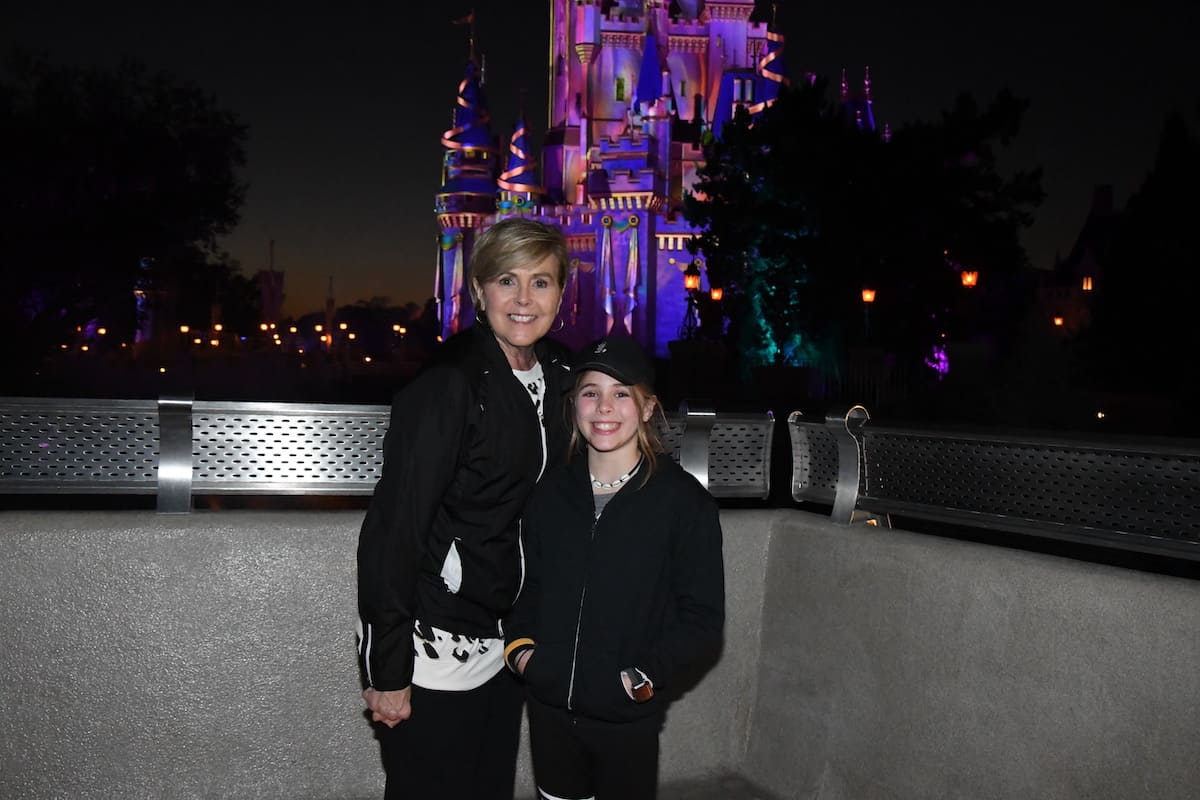 Spear had been SO excited to watch Tinkerbelle flying but it was windy so we talked about that she probably decided to have a sleepover in Cinderella's Castle instead. I'm pretty sure I just stared at Spear the entire time the show was taking place. I just love seeing his big eyes soak it all in! I also loved watching Britt belt out every single song with such passion. She got emotional and said the "you are the magic" song just really spoke to her. Sweet, precious girl!
It was a VERY late night but all the kids did awesome and Spear impressed me. He was truly a big boy! He did awesome waiting for the show and amazing as we left. I love having him with us for these kinda moments!!!