Kye is the trickest birthday to celebrate at Disney because there isn't really a school break around March 4th! Some years we hold off and celebrate over Spring Break and others we celebrate early over the Winter Break in Feb.
This was an early celebration year and since the kids hadn't missed many days of school all year we had 'em play hookie on the day before Winter Break to give us a bit of an extended trip. They were all okay with missing their class Valentine's Day parties to be able to hit the road and get the travel fun going early 🙂
Zach and I have started to drive separately for our trips which has it's pros and cons but means I ride with ALL the kids solo. I'm always so thankful for my big kids who really make it possible and are such a HUGE help with Spear. It takes all four of us to wrangle our wild man 😉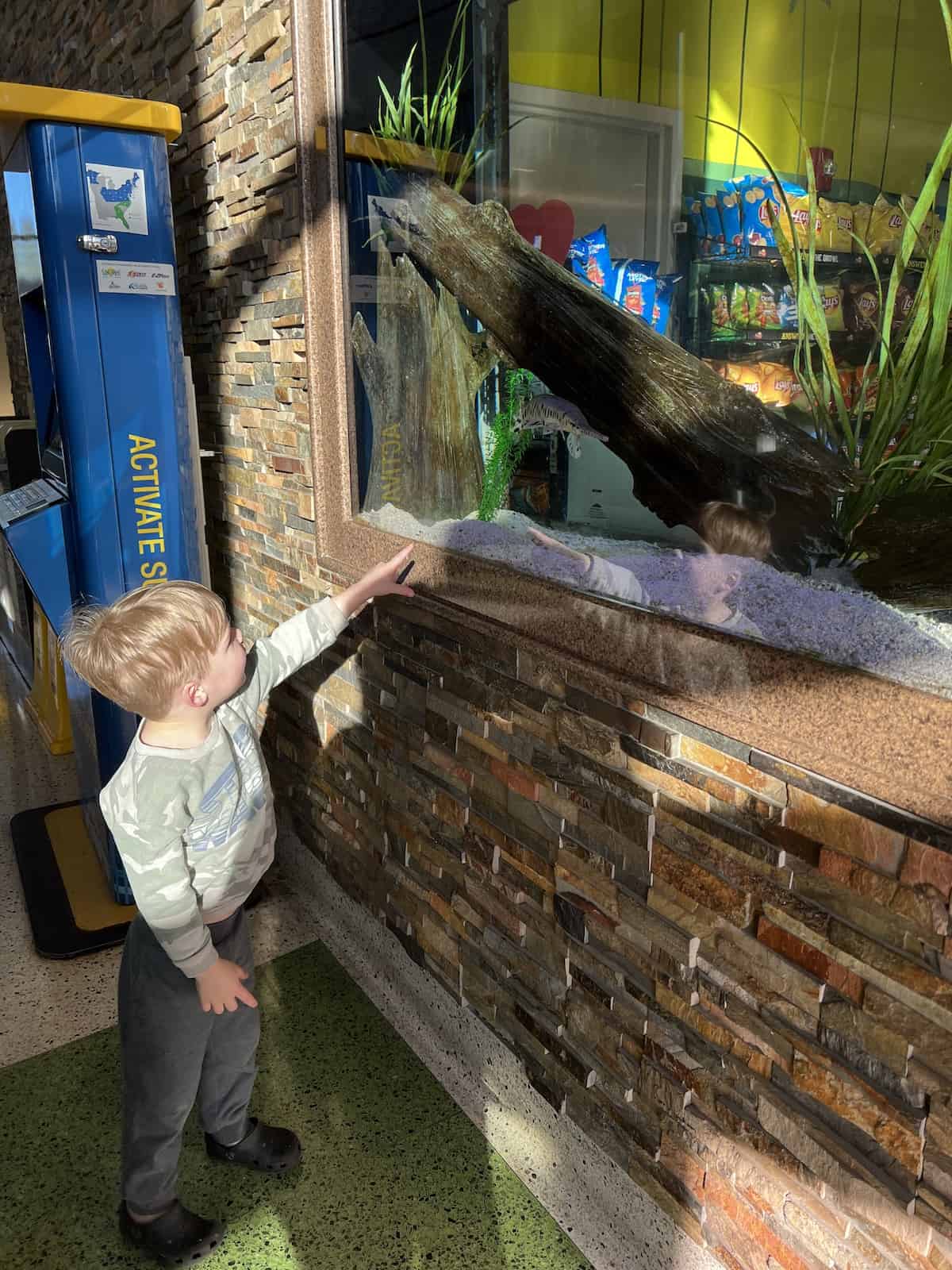 We checked out of school and headed down to the Disney House and Zach was able to get in a full work day then meet us down that evening.
The next morning Zach hung at the house with Spear while I took the big kids to the Titanic Artifact Exhibition in Orlando (you can read all about that experience here). When we finished up at the Titanic Museum and met Zach and Spear at Dave and Buster's – can't have a Disney birthday for Kye and not hit up Dave and Busters!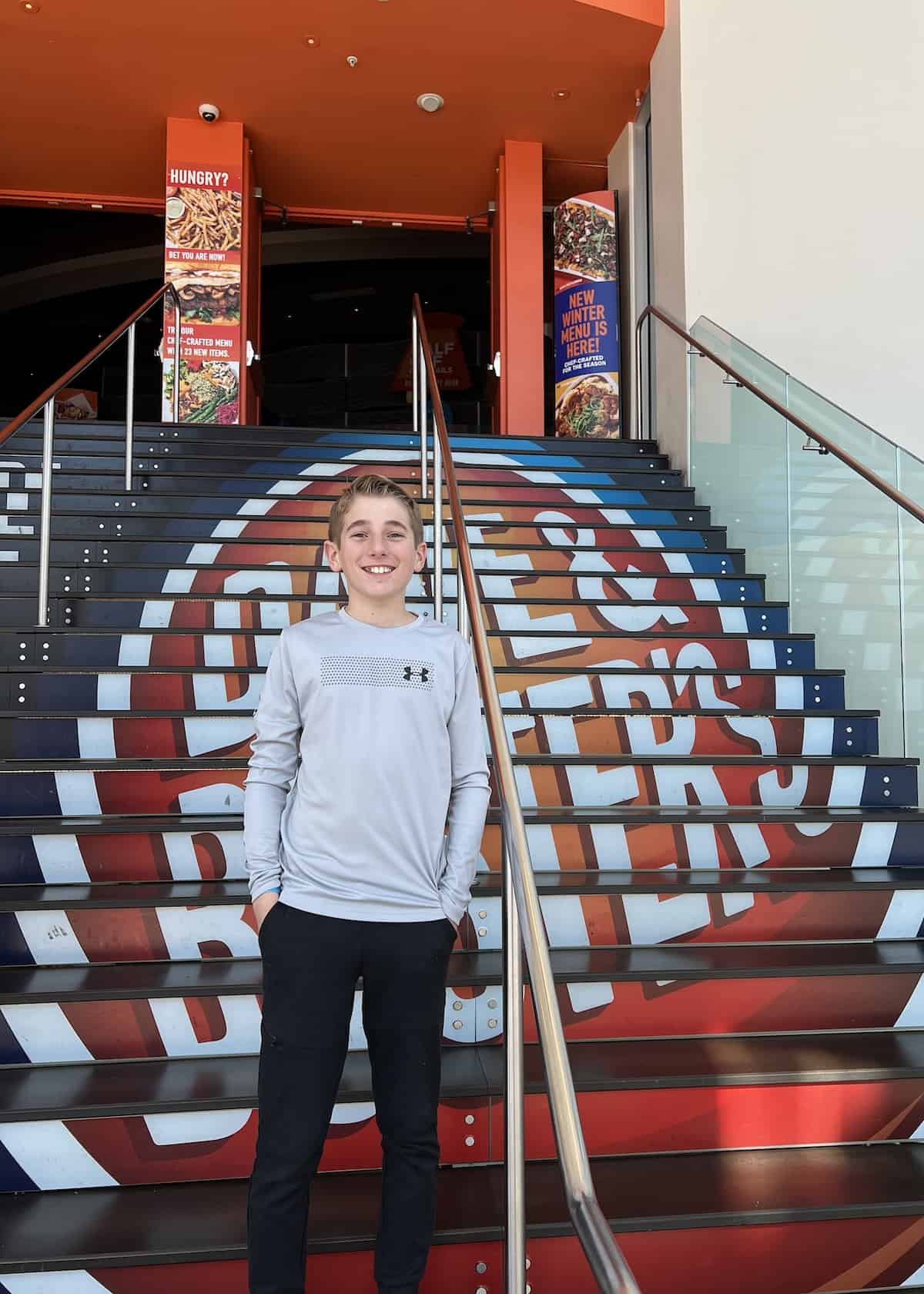 Spear was SO excited to watch the "King Kong + Ting Tong" game and had a lot of fun doing the race games as a family too.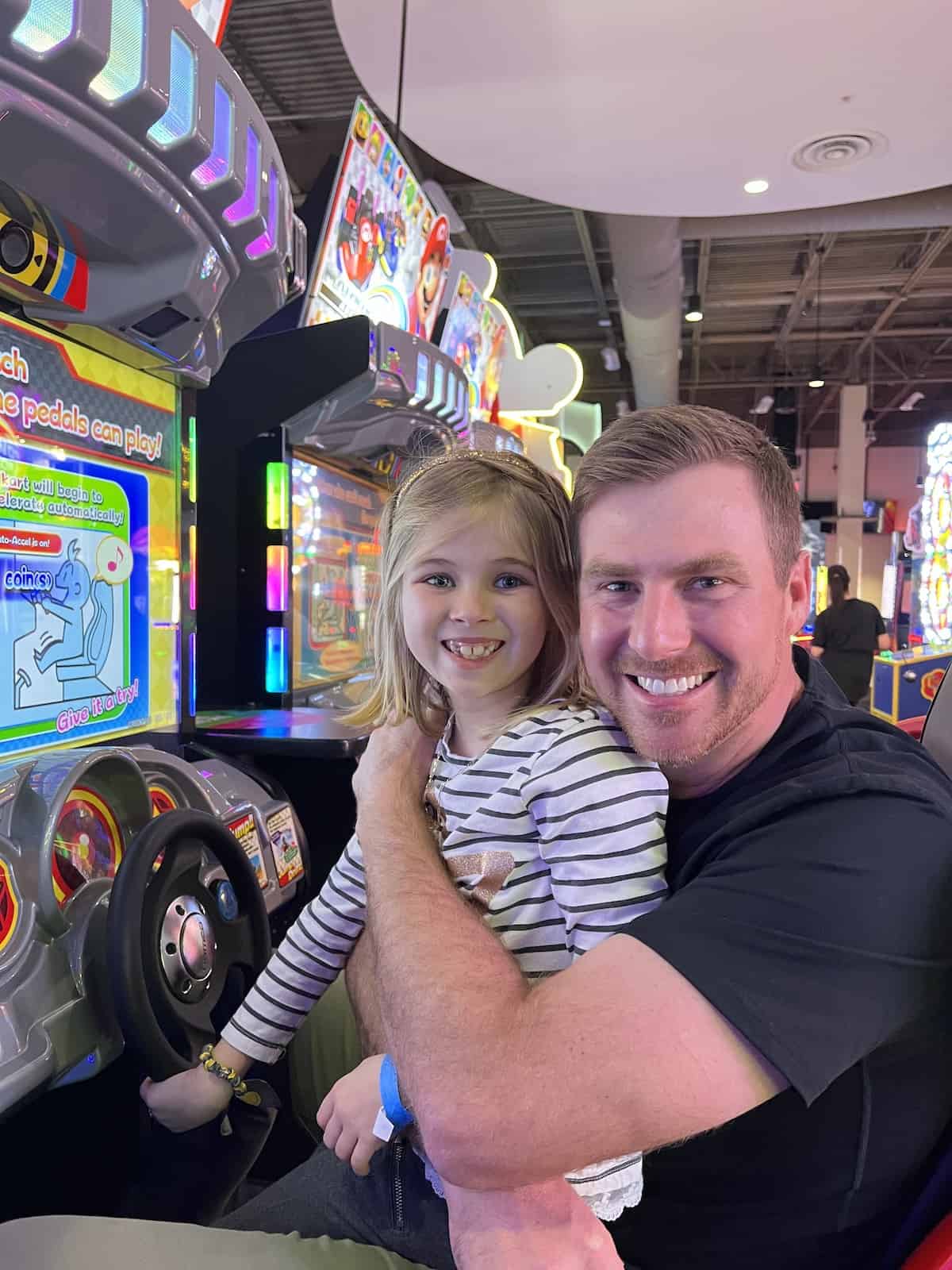 After we finished up with the games we headed over to Ford's Garage for a birthday feast. G-Mama met us there too and we got to all be together to kick off the birthday weekend in full force! Kye doesn't have as much interest in Disney meals but he really loves GOOD food and Ford's Garage is THE best burgers, hands down.
Also had to have an embarrassing birthday song for the official teen 😉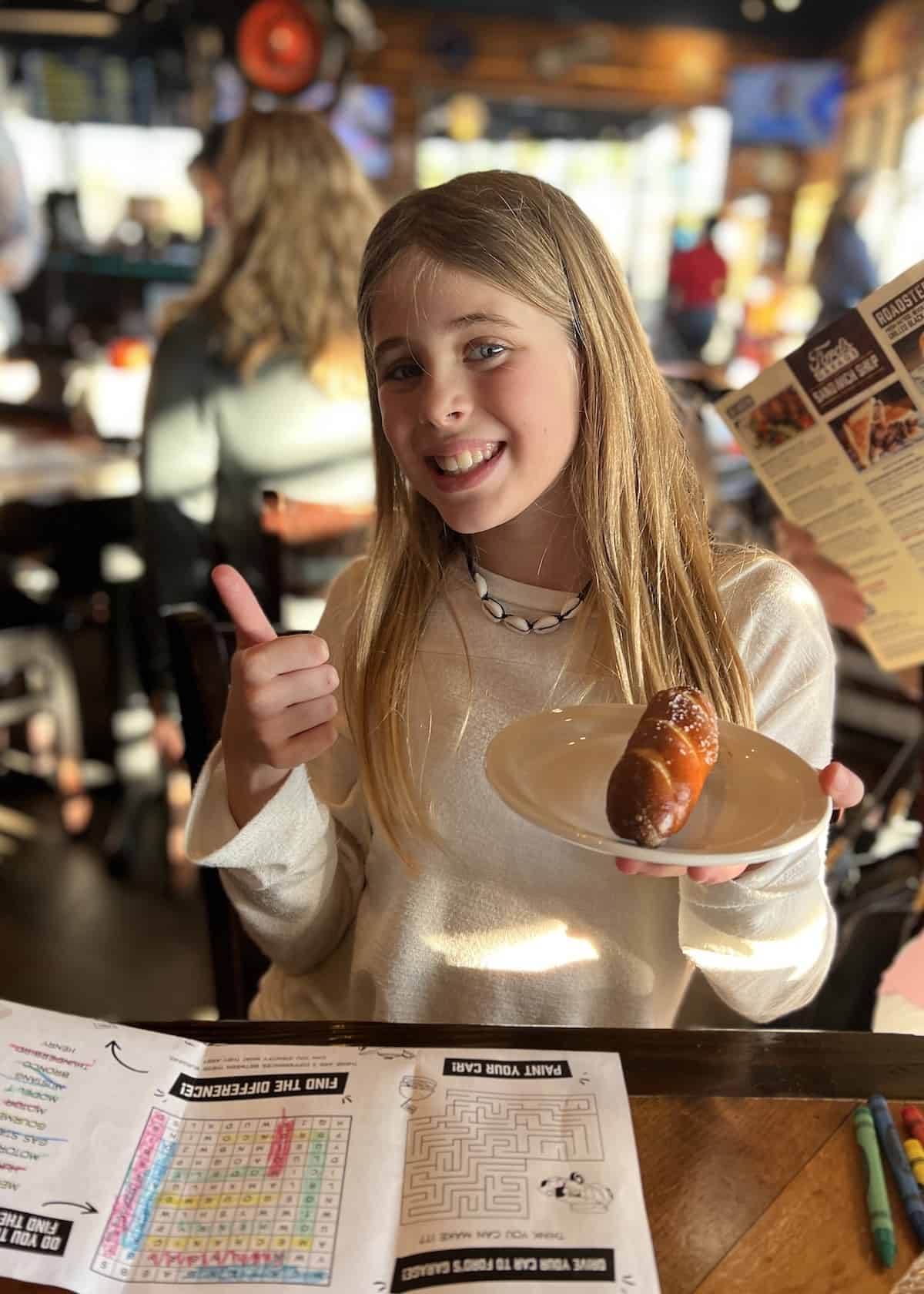 The next morning (Friday Feb 11th) we headed to Hollywood Studios. We had a bit of a tough start as we went straight to Runaway Railway to hop in line and then it shut down. The big three, while we were in line, decided they really didn't wanna ride it so we let them head off to do their own thing and they rode Star Tours together just the three of them while Zach, Mrs Charlotte, Spear and I waited in line for Runaway Railway.
Once it broke down we headed to Star Tours and the big kids rode it again to be able to ride it with Spear since he's 40″ and officially tall enough. Whoop whoop!
Unfortunately, while they rode the ride Tessie's bookbag was open and her Jasmine doll got lost. I tried to find it but in the end couldn't track it down and so we just hope that a sweet little girl found Jasmine and is enjoying her!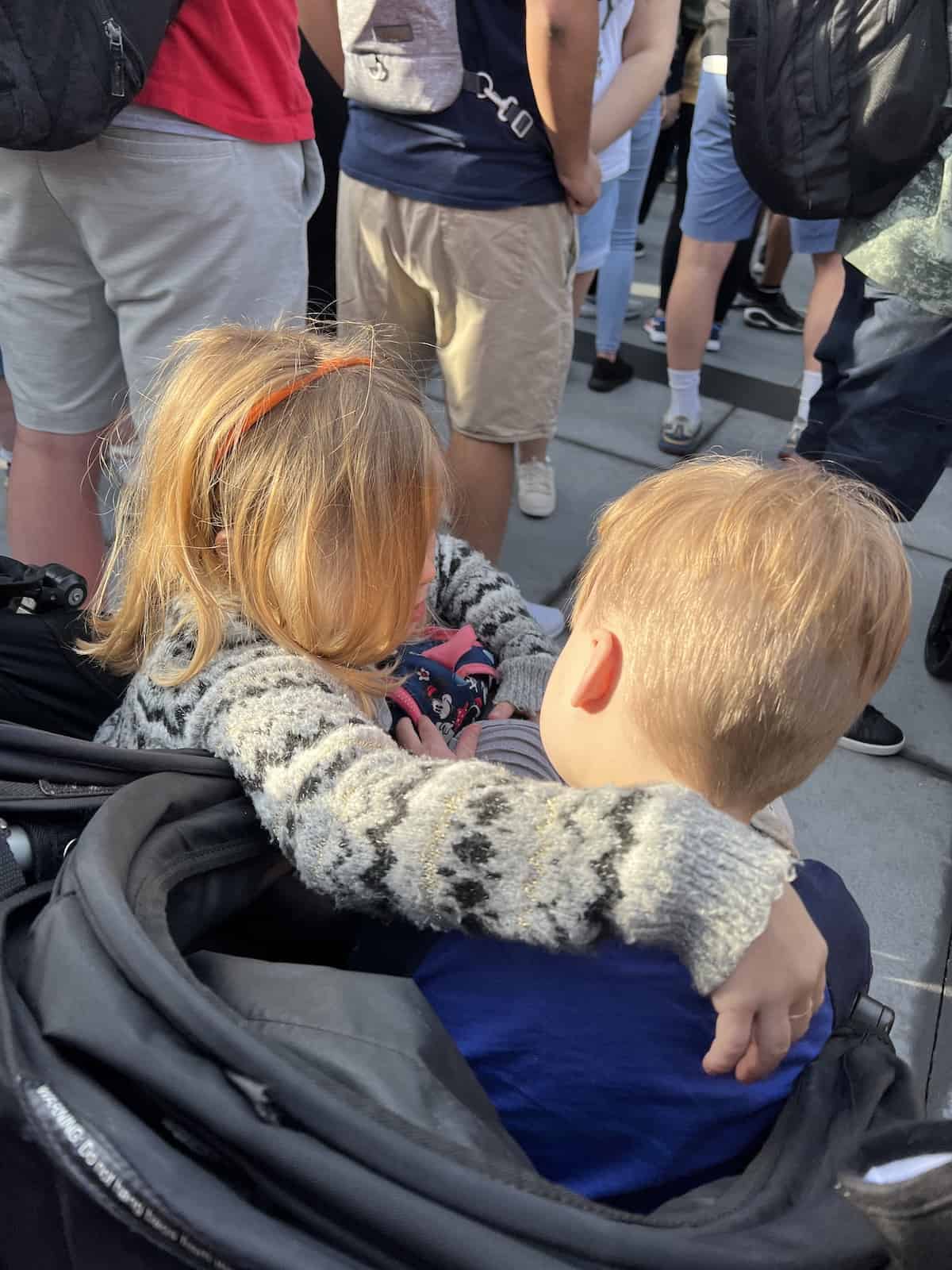 Spear was super excited to get to ride Rise of Resistance with us! They had to check his height about a billion times. It's weird to me writing this post now and seeing us with masks – just a week or so after our trip masks were dropped completely but, ironically, this trip was THE most strict that we'd had since reopening regarding masks. Cast Members were very hardcore about it.
I love the pics of Britt bc she's wearing MY sweater. It's so fun that I can clean out my closet and pass things along to her 🙂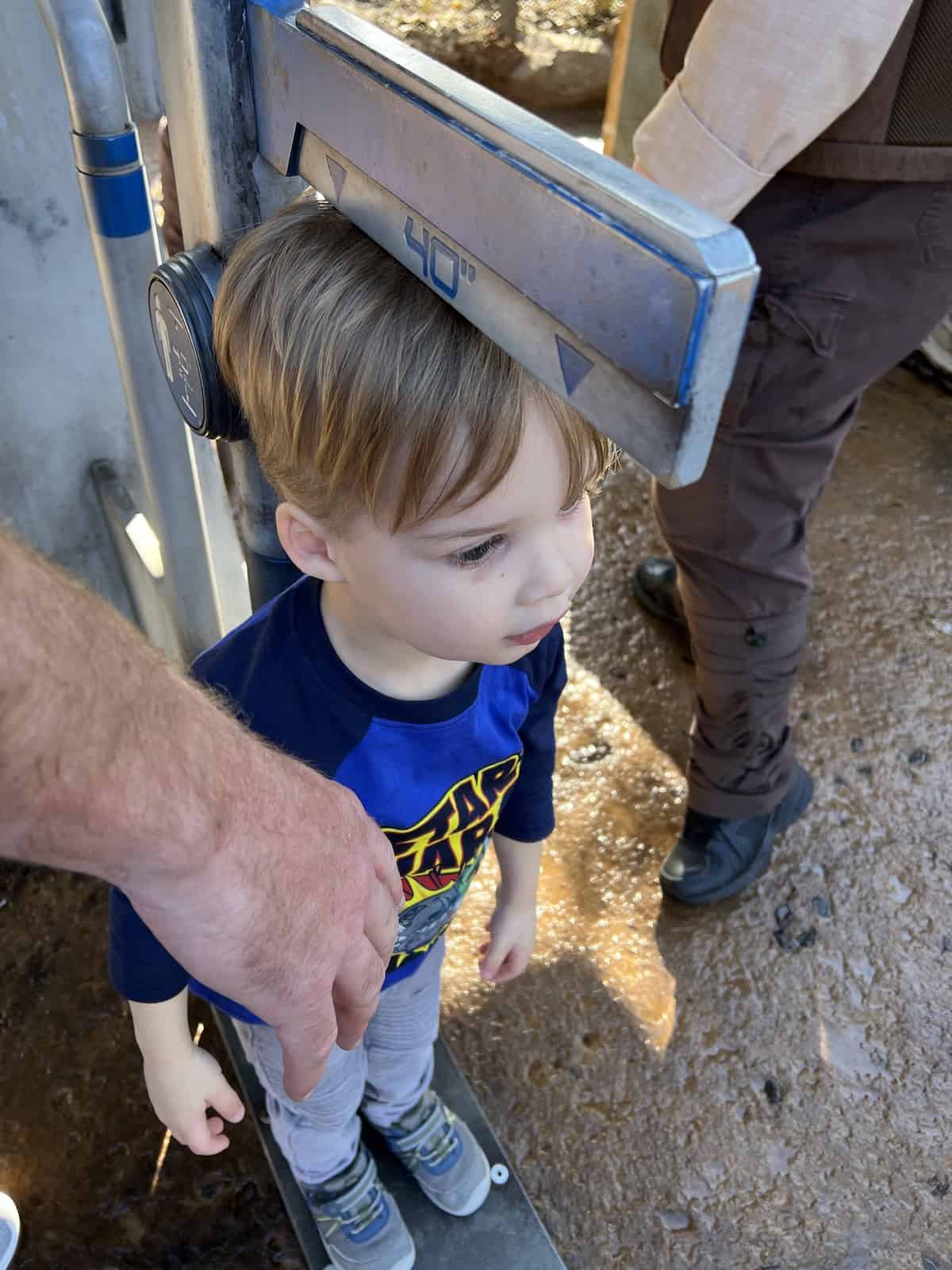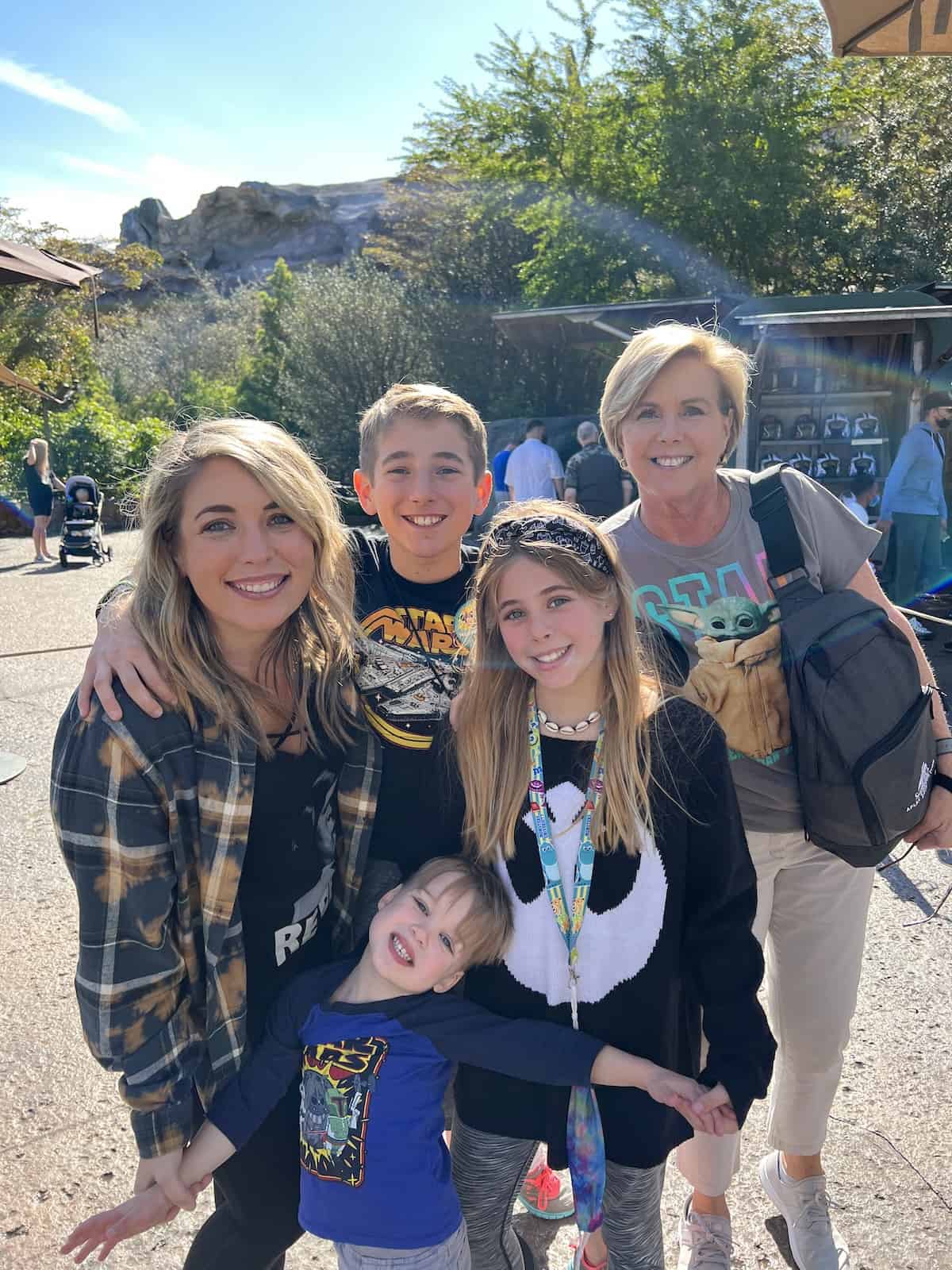 We had a bit of a snack break after riding Rise and I love chiller moments at the parks to catch our breath and not feel rushed.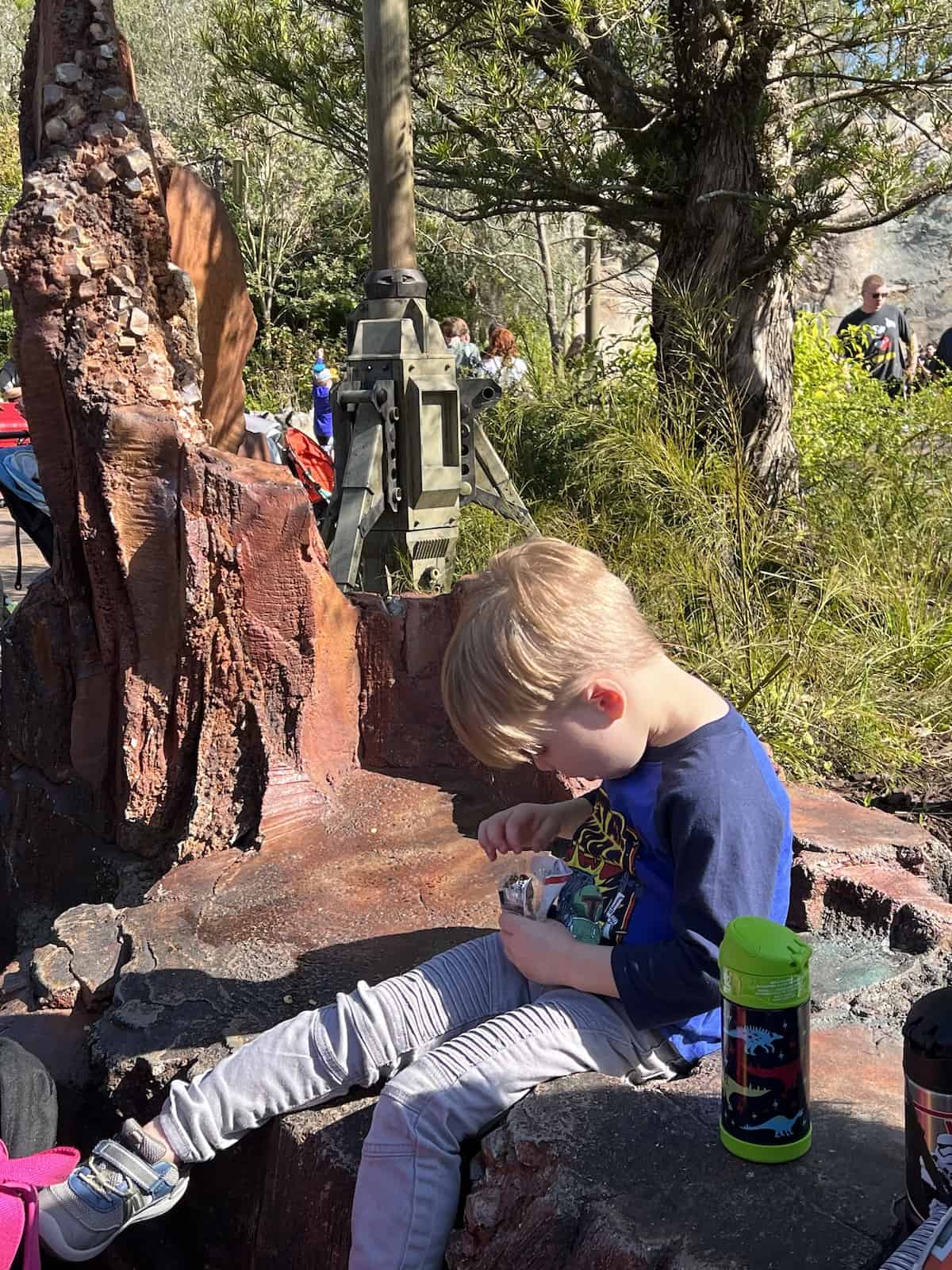 We then headed over for the Rock N Rollercoasters to get their ride on while the remaining of us hit up the Lightning McQueen show with Spear. It's kinda hidden in a spot behind Rock N Rollercoaster and is a great way to eat up some time while in the AC when other people are riding the rollercoaster!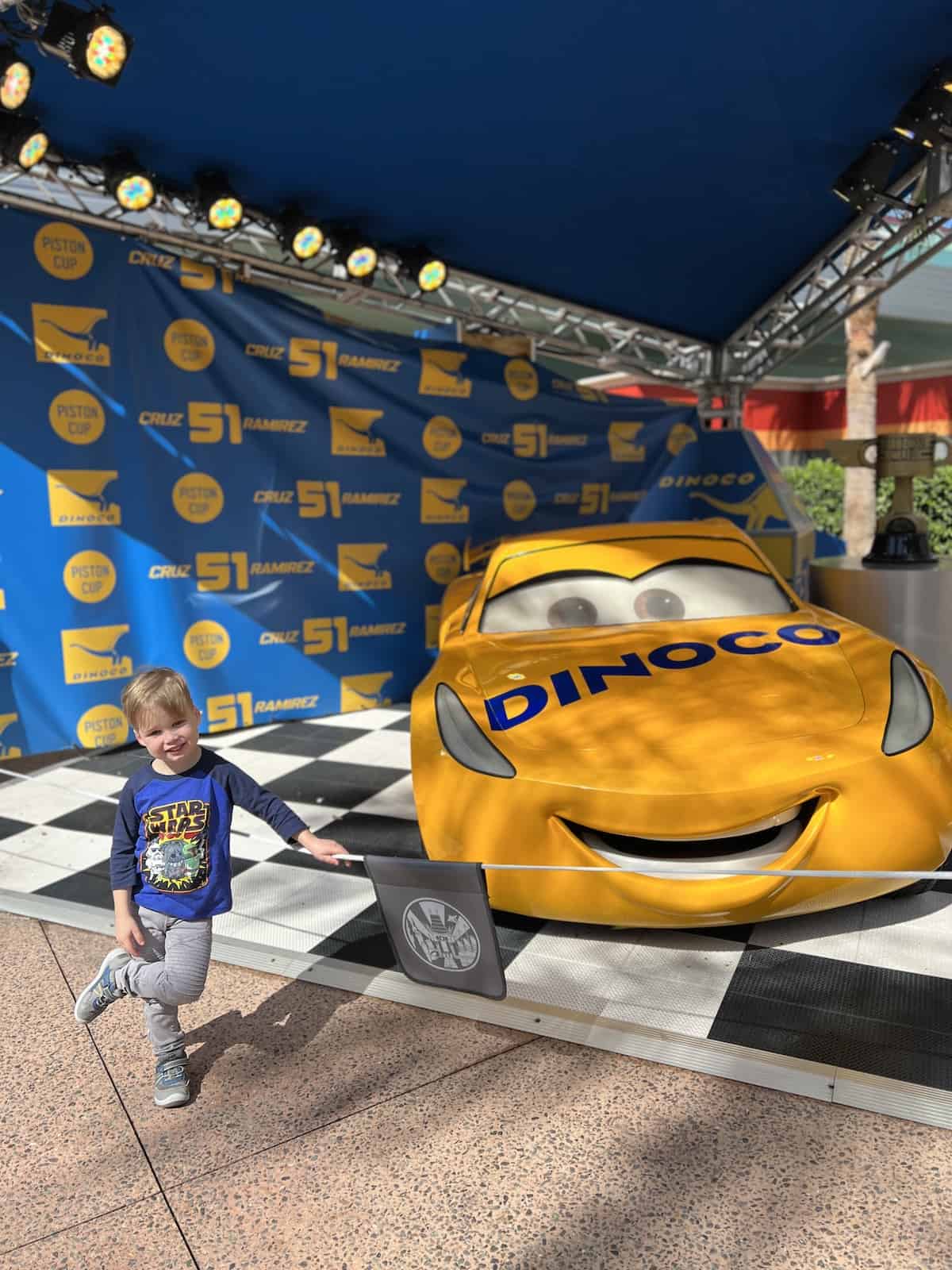 Britt is wearing MY shirt and Tess is wearing Kye's! That BB8 shirt has been worn by 3 out of 4 of my kids at this point. I'm kinda like Disney World myself when it comes to Disney clothes – I NEVER waste a Disney themed item 😉
I absolutely LOVE when we get Kye laughing. He is a pretty serious personality overall and when he is in a true, authentic laugh it's just the best. G-Mama and I were teasing him about what a stud he was in his sunglasses and it was SO funny. I love, love these pics of him!
It was a day of a LOT of ride breakdowns. Which for us as Annual Passholders and DAS holders it's not a huge deal, just an inconvenience. But I always get so upset for the people who are paying top dollar for their day at the park and on top of that probably paying for Genie + and Lightning Lanes only to be faced with breakdown after breakdown. Literally Tower of Terror was down majority of the day. Rise broke down for an extended period right after we exited. Runaway Railway was broken down first thing at opening when we were in line and then again when we went to redeem our DAS later in the morning. Toy Story Mania also broke down while we were in line for it. Disney has GOT to do a better job at keeping things RUNNING.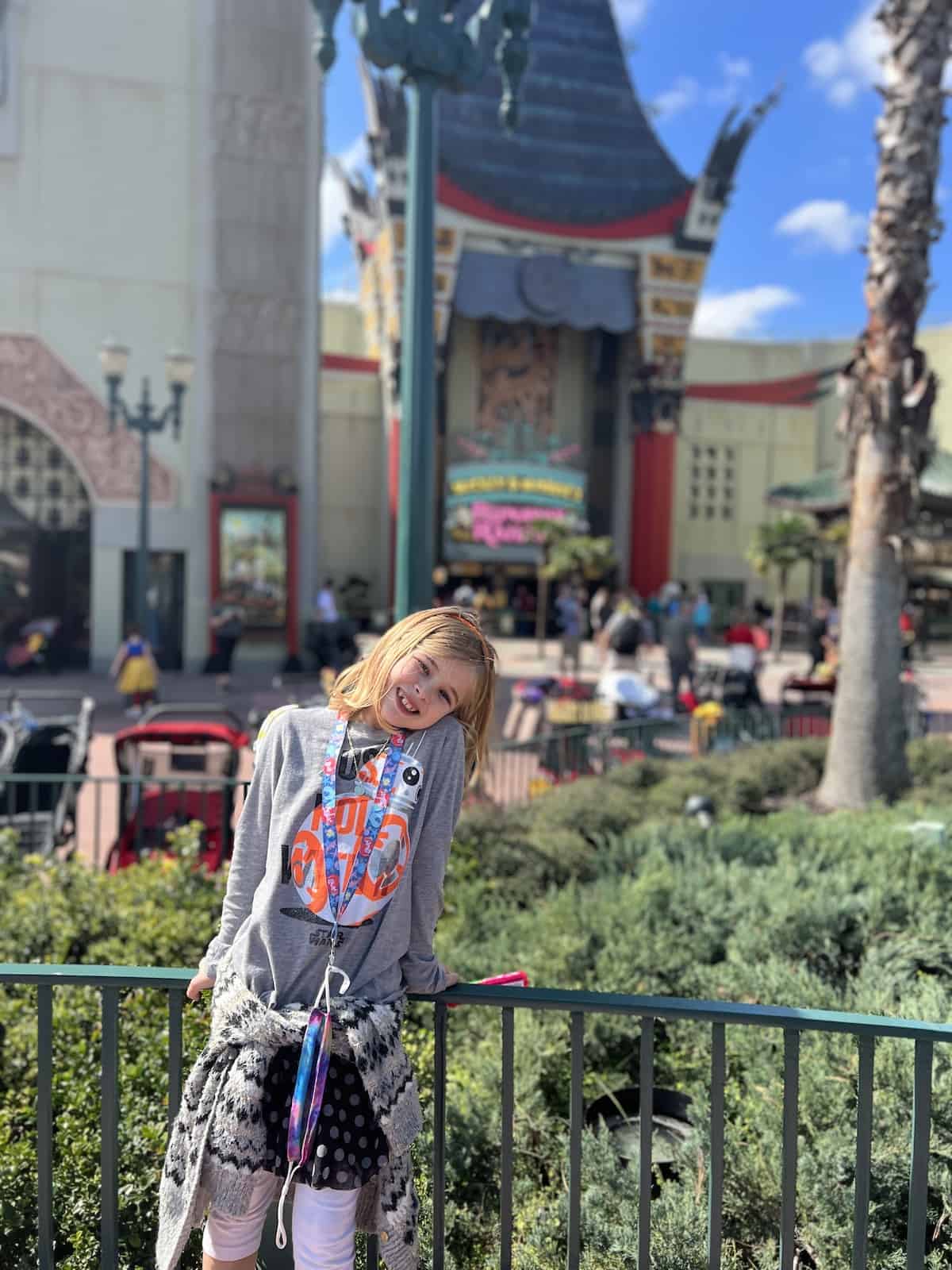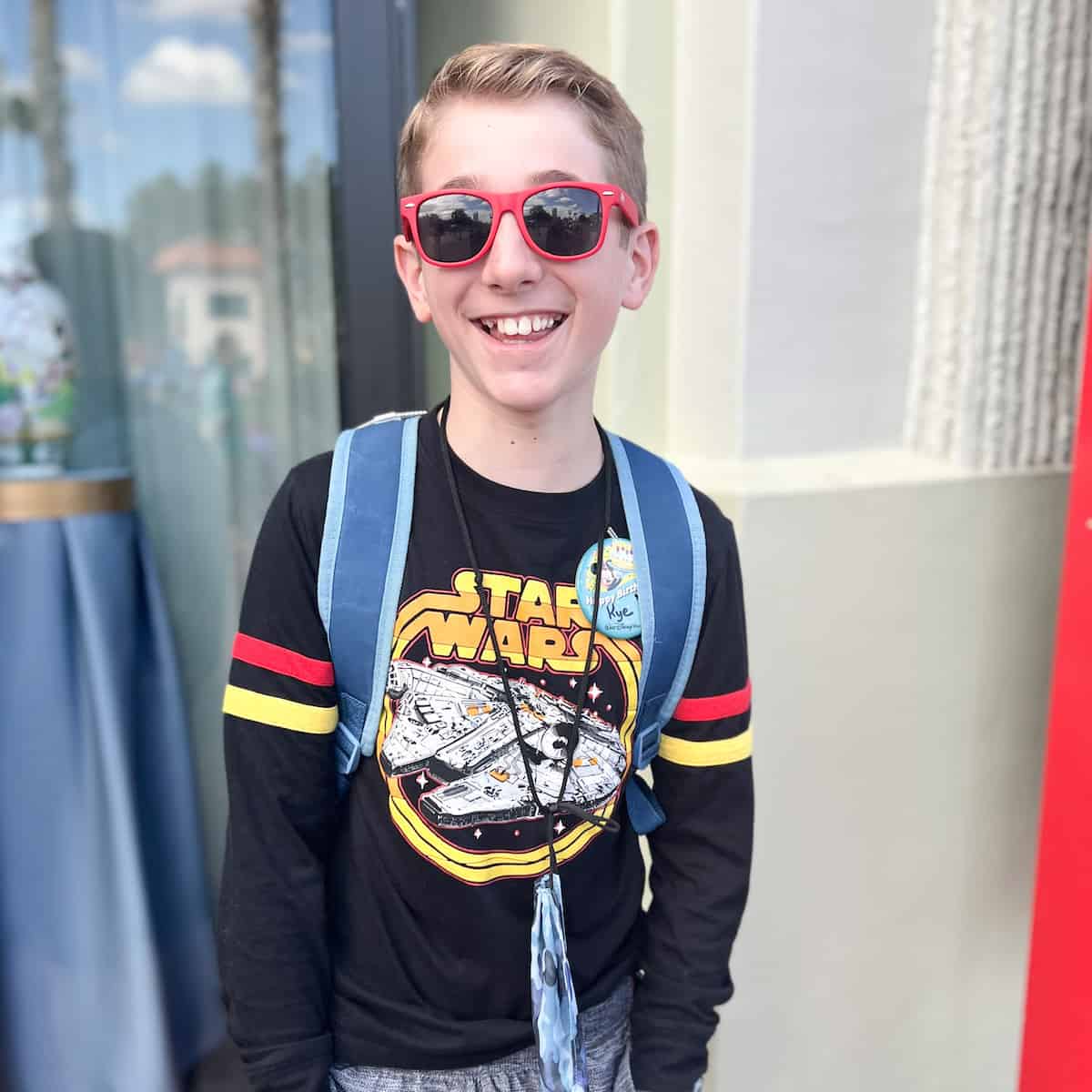 Pluto!!! I'm glad we did at least this one social distanced meet and greet for the memories of this weird time in history!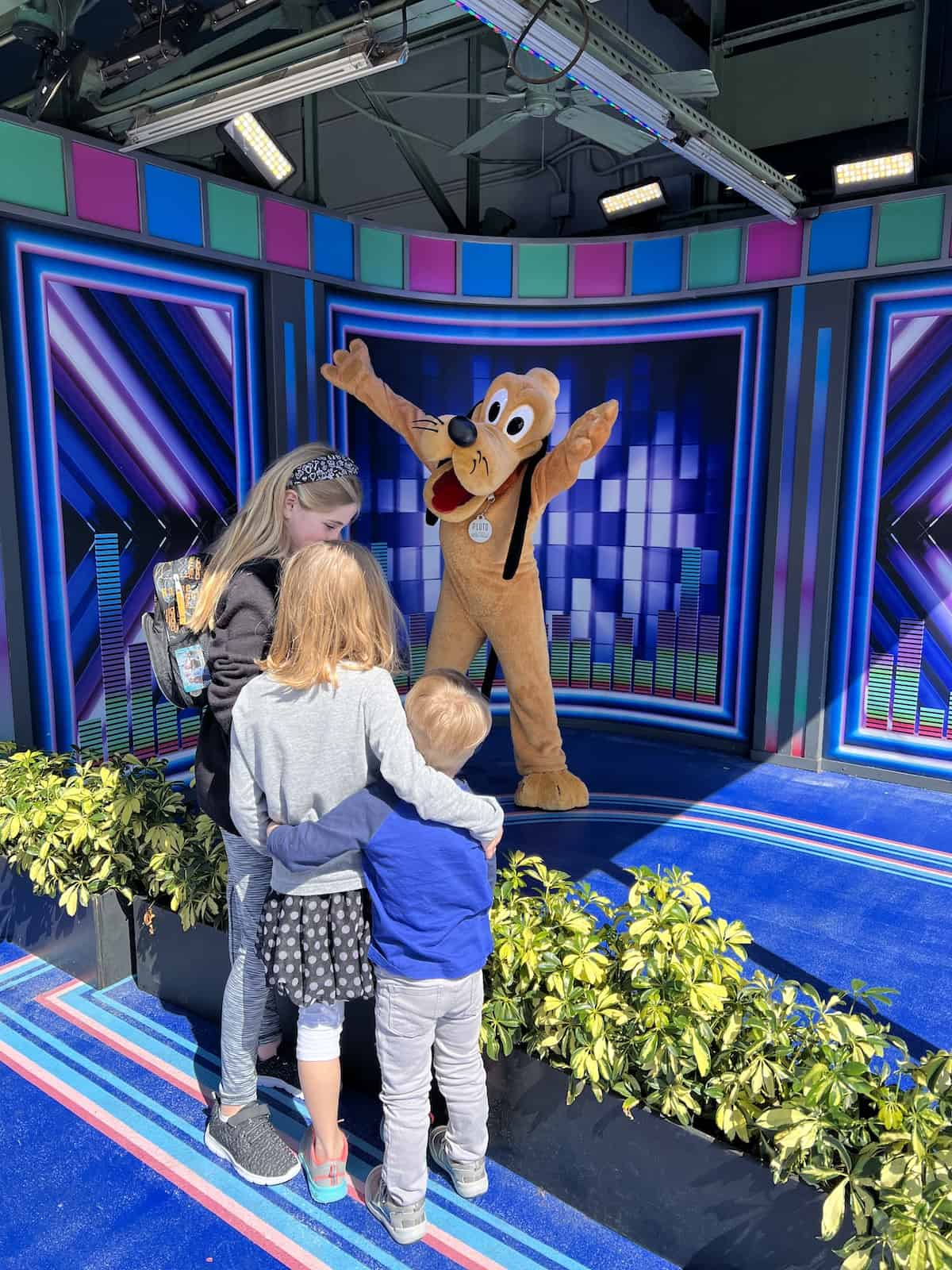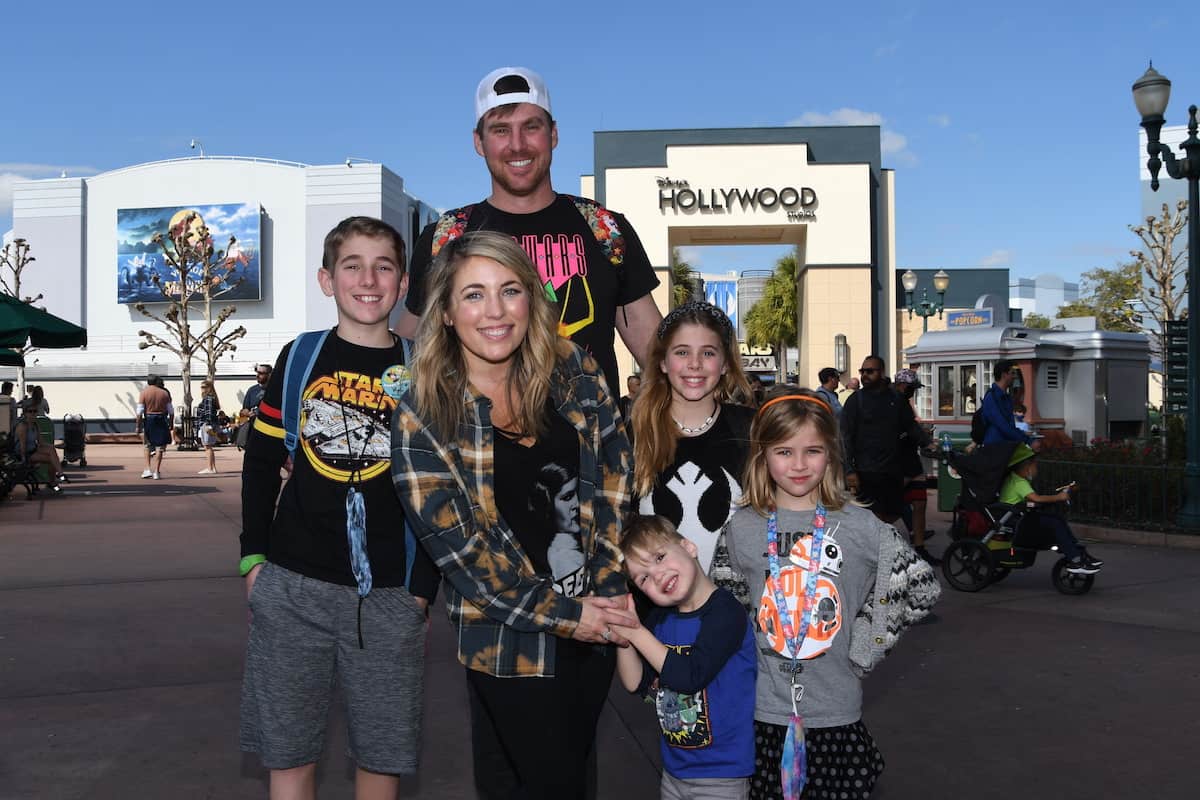 Tess and I were "Team Super Fam" for our Toy Story Mania ride and Kye was "Team Solo" 😉 He then beat me by 500 points – I was pretty bitter about that!!!
While walking a Cast Member stopped Kye and noticed his birthday button and asked if he'd like a box of birthday popcorn to celebrate! I LOVE Disney magic moments like these – and especially that the CM made a TEEN BOY smile. Disney isn't just about the little kids – they know how to make sure the older ones feel the magic too 🙂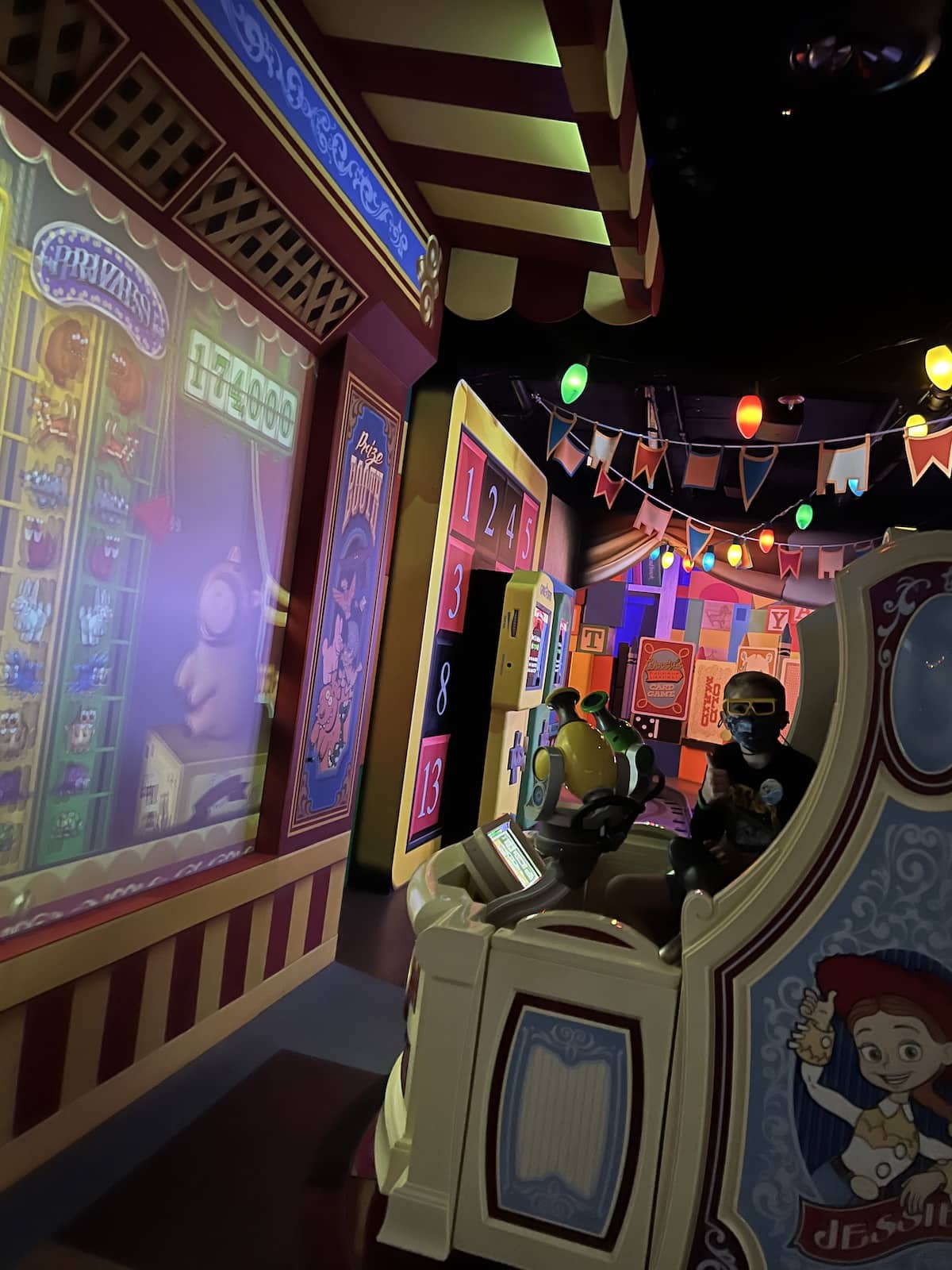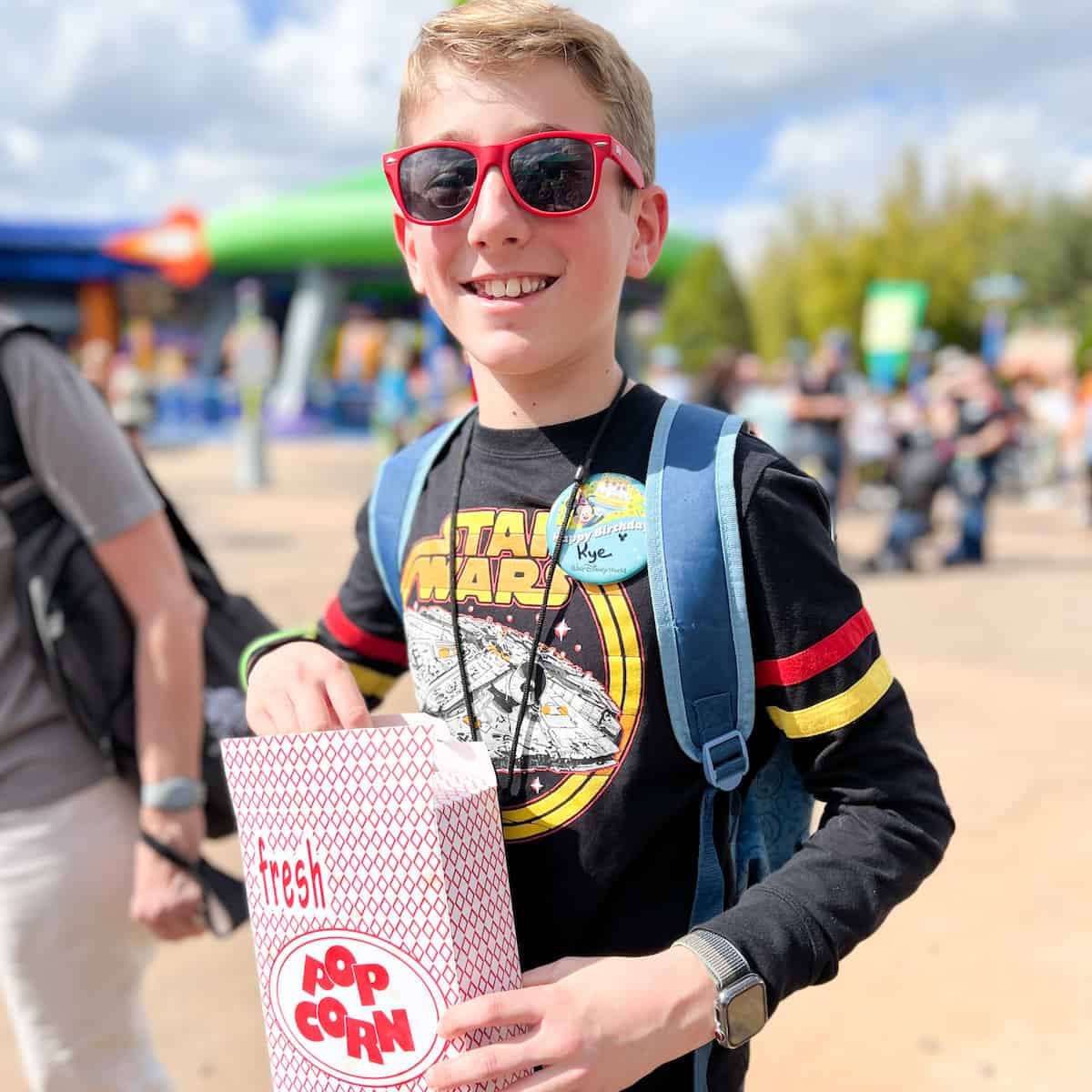 Kye's fav is Smuggler's Run and Spear is tall enough for that one too so those that wanted to ride it rode it to end the day. I get a bit sick on it so prefer to sit out when I'm not needed to ride and Tessie opted to also skip it. She and I had a great time walking through Batuu together. Another reason I just love being a passholder is that there is NO pressure to ride things. She didn't feel like it, so she skipped it and we had chill time while we waited!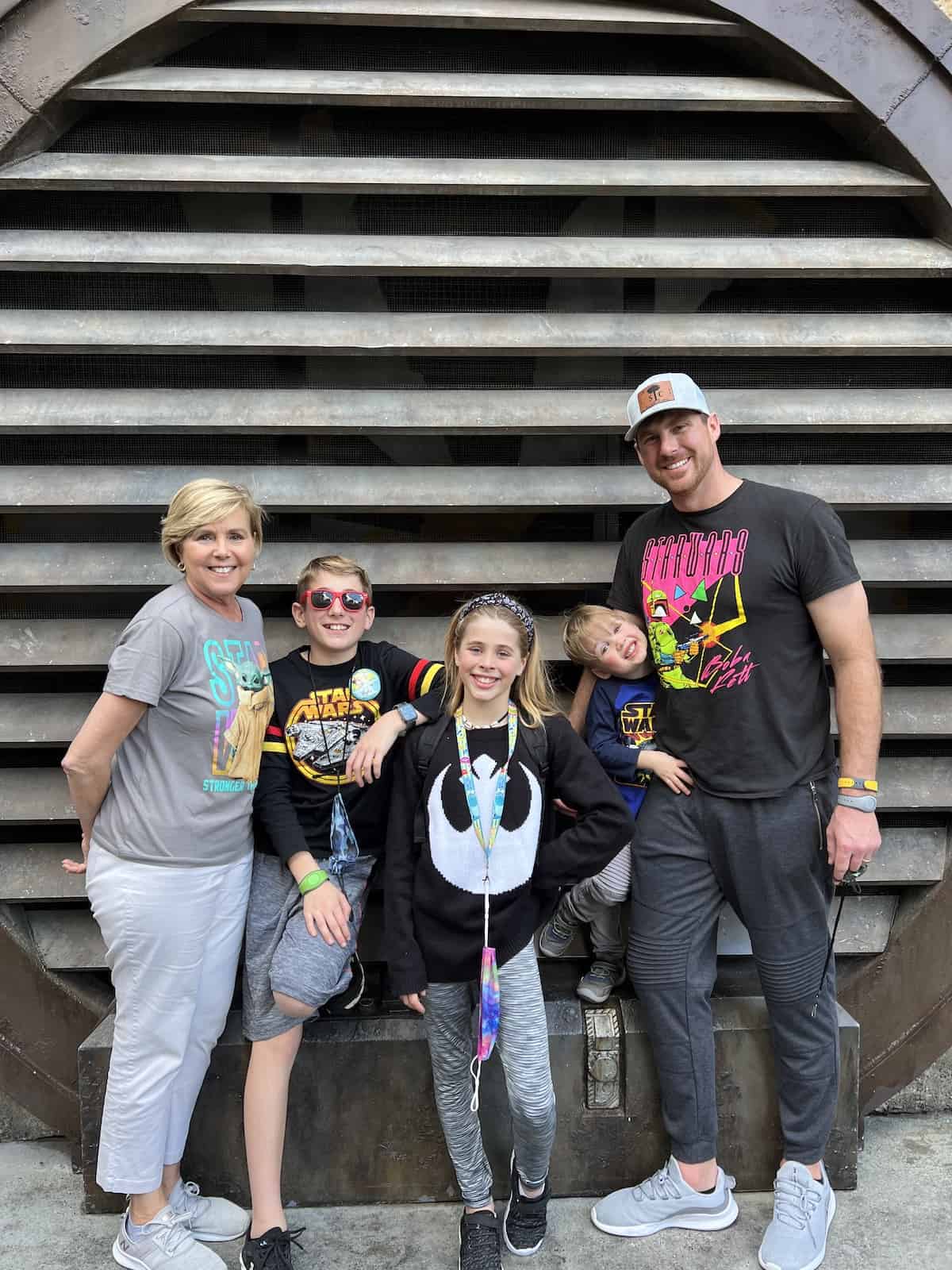 Typically Hollywood Studios days are skip naps days as it takes us a good bit longer to get in all the rides we want to do. Our tradition on DHS days is to skip naps and have a family movie night and early bedtime. We randomly have a Captain America costume at home (even though we've never seen Marvel movies) and Spear LOVES the costume and says he wants to be Captain America when he grows up. He also really wanted some Mickey Ears so when I happened to see Captian America Mickey Ears I HAD to get 'em as a surprise for him 🙂
We had pizza and watched the finale of Book of Boba Fett and LOVED it!