Hollywood Studios Day: November 2020
Since Britt was the birthday girl she got to choose the Disney Parks we'd visit during our trip and her first choice was, of course, Hollywood Studios!
We had a chill night after our EARLY morning at Universal and the kids went to bed nice and early and then woke up early. We have a rule at the Disney House that they can play in the morning while we sleep in a bit 😉
Kye made a super cool bed fort for the girls and they had so much fun!
Hollywood Studios didn't open until 10 am. Disney switched up the way the virtual line works for Rise of Resistance which was SUPER frustrating for us. Now it's at 7 am so I did my best to snag a spot at the house that morning but no luck.
It's actually THE first time since ROR opened that we've been unable to secure a spot! It WAS nice though just to go to the park knowing up front we weren't going to be riding it that morning and not having that stress looming over me all morning long.
Our game plan since reopening has been to arrive at the parks an hour prior to opening (which, FYI, is ALWAYS our game plan even prior to shut down). It's been interesting to see how differently each park is handled with opening procedures.
We were shocked to pull into DHS with a CRAZY long line. They allowed us in the parking lot earlier but then weren't allowing people into the park and everyone was lined up waiting for the health screenings. I waited in the line while Zach and the kids got parked and everything and then when the line reached them they hopped in line with me.
Even though all of that ate up time, we were still ON Mickey and Minnie's Runaway Railway at 9:40! Def still worthwhile to get there early as by the time we finished the ride the line for the attraction was several hours long!
It's our favorite family ride and Spear LOVES it and talks about it at home too "Ride Mickey Choo Choo at Disney World!"
We went from Runaway Railroad over to Toy Story Land. Zach and the big three went to ride Slinky Dog and I took Spear over to Alien Saucers. The only time the ENTIRE day that ANYONE asked Spear to wear a mask was on this particular ride which I found interesting too!
The bigs finished up so we all rode it again as a family and I got to ride with Kye and Britt for a change who just love to see me freaking out 😉
Next up we headed to Toy Story Mania which is SUCH a great ride yall. I know now it's "old news" but I just love it so much and so does all of my fam. Spear was in a SUPER Daddy phase this trip and ONLY wanted his Daddy for EVERYTHING.
It would probably hurt my heart more if I didn't have my Tessie who ALWAYS wants her mama 😉 We aren't just look-alike twins, we're twins in personality too as we don't focus as much on winning as the rest of the fam does. Tess was just super proud that she beat me in accuracy ha!
A few shows are FINALLY opening back up at Hollywood Studios which is SO exciting! Frozen Sing Along is back open but the kids all agreed they wanted to do the Disney Jr Dance Party instead!
It was interesting to me that Disney is so hardcore masks but then the cast member leading the dance party wasn't wearing one. She was PLENTY far away distance-wise but it's just interesting how they are so hardcore with guests but treat CM's differently in certain instances.
Spear is so much like Kye at this age where he has NO reaction. He's just very still and soaks things in. No dancing for him! But don't worry the girls more than enough made up for his lack of dance moves 😉
The best part was to get to see several characters during the dance party. Even from a distance we love our Mickey!
We headed over to Galaxy's Edge and passed by some pals on the way. It made me sad to see Britt trying to make the best of the "character meets" and Chewy waving at us just made me wish we could give him a big hug! I haven't heard ANY rumors as to when character meets will be back but I pray they DO come back at some point and aren't a permanent change.
Rey was adorable being so excited about Tess's hairstyle – proud moment for me as I'm not the best hair mom haha!
Spear is allllllmost tall enough for Smuggler's Run but not quite there yet so we did rider swap to trade off. I let Zach and the big kids ride first and Spear and I enjoyed walking around and exploring.
He LOVES the Storm Troopers and they were so funny talking to him and said "we see who is in charge here, good work" to him haha! He also got so excited to see the droids, or as he says "bee bo bee bos"
When it was time to swap out for Smuggler's Run Zach and Spear went on ahead to find us a spot for lunch. Smuggler's Run is Kye's FAVORITE as it's so much like a video game.
We finished up and went to meet Zach and Spear. Zach had taken the stroller with him to go ahead and get lunch set up so Kye, Britt, Tess and I walked from Galaxy's Edge to meet him. It wasn't THAT far at all but my little stroller loving child is ALWAYS able to get someone to carry her. Someday she'll be too heavy and I'll be sad but for now she's able to con me into carrying her across a theme park in 75 degree weather while wearing a very itchy sweater 😉
Zach found a baller spot for lunch (at the Frozen singalong area) and it was SO nice and relaxing and we enjoyed the music playing while we ate. Spear insisted on climbing in Tess's chair with her then just about instantly regretted it because she totally smothered him and would literally feed him if he'd let her. I love the way she loves him!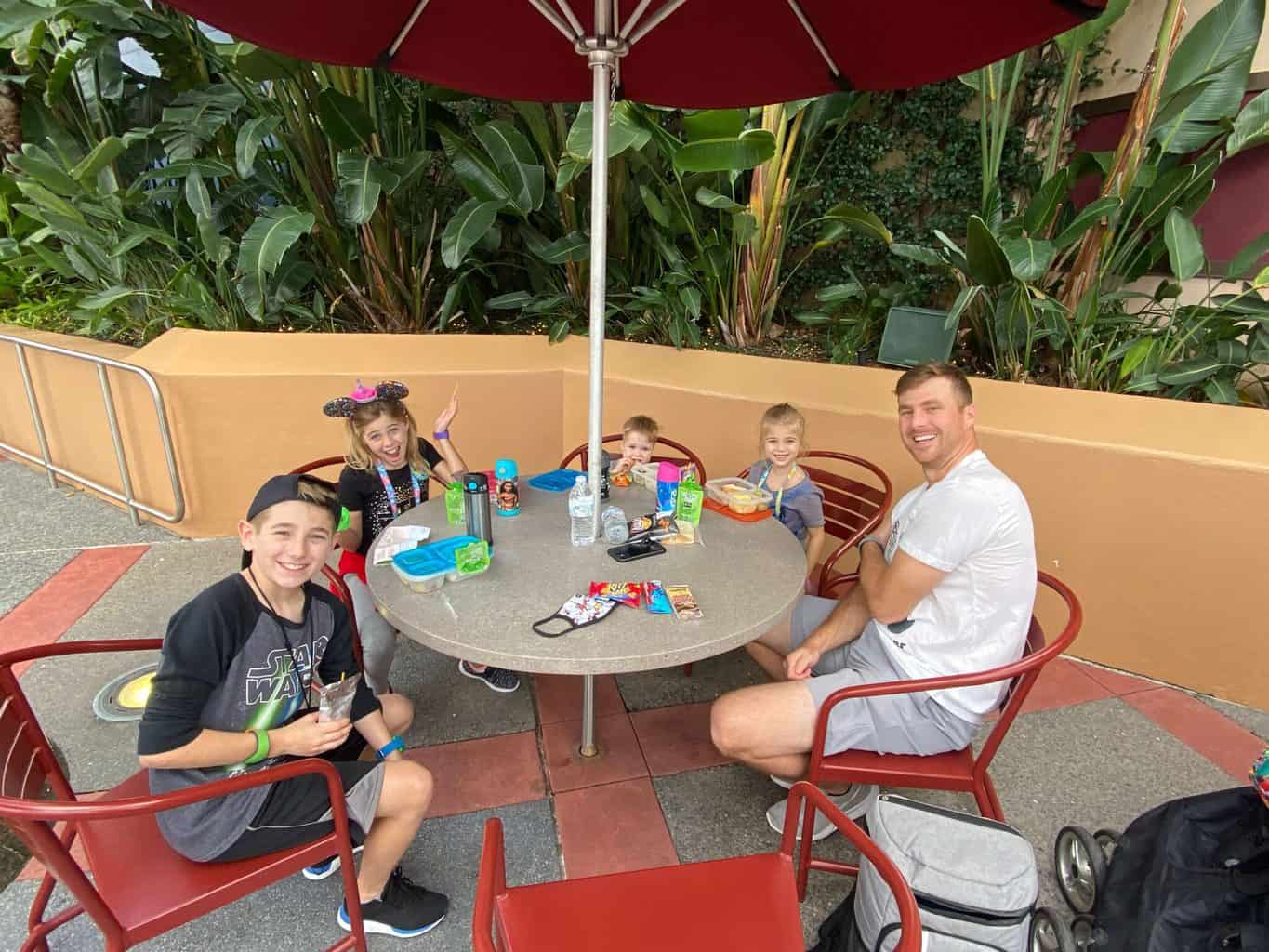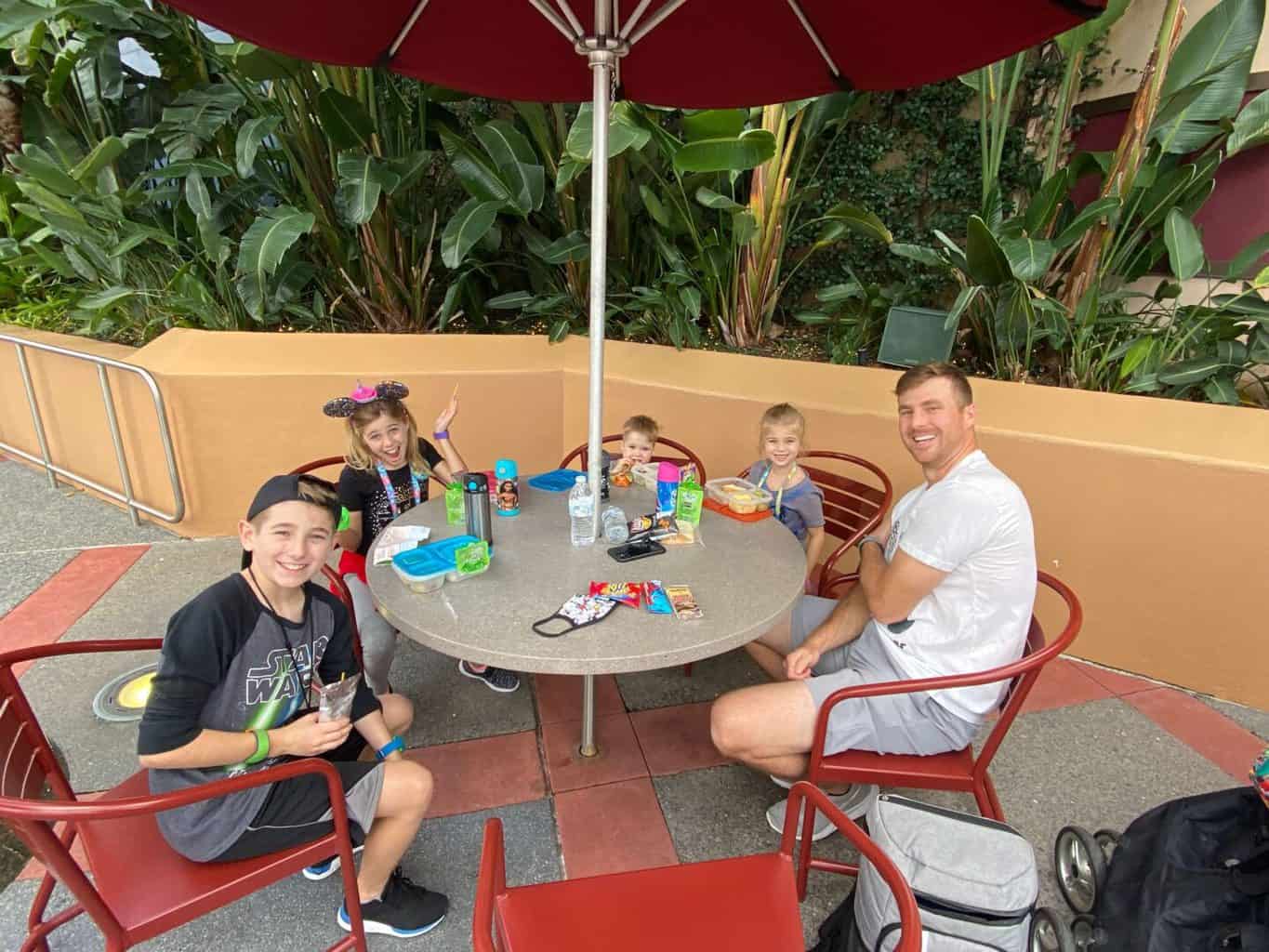 Not only was it a great spot to enjoy our lunch but it was made even better when we heard the music change and get louder and saw a cavalcade heading our way! YAY FOR SANTAAAAAAA bonus points for Santa rocking a Corvette too 😉
After lunch I wanted to grab a couple pics in front of the Christmas tree. Tessie had the GENIUS idea to suck on her sucker behind her mask while walking around.
We had our first experience of a cast member being really diligent with us about mask wearing for our pictures. And it's because we took too long! Trying to do a group shot with 4 kids is tricky and we weren't able to snap it quick enough before someone got onto us. We're always VERY quick to put them back on and are always VERY nice about it.
But, and yall know what I'm going to say here, we're also OUTDOORS with NO ONE AROUND. The cast member was even very far away – like she had to yell for us to hear her. It is just silly to me to enforce something like that when it makes no sense in the moment. I HATE feeling like a rule breaker and rebellious but here we are haha
Britt is getting braver with rides and wanted to ride Rock N Rollercoaster this time so we headed over for her to ride it with Zach and Kye. While we waited Spear and Tessie had a lot of fun playing in the Lightning McQueen area.
Disney does NOT have enough of these sort of set ups. I LOVE how this area is SO PERFECT for little ones to hang out who are too short to ride the roller coaster. We need more sections like this in the parks!
It worked out perfectly where the roller coaster crew got done in time to watch Lightning McQueen Racing Academy with us! Spear LOVES it and it's a great little sit down show.
They did make us socially distance since our party had more than four people but it's fine with us and Zach and I didn't mind the quality time with JUST Spear 🙂
Afterward we went and hung out in the area where the Beauty and the Beast Show typically is…or was…not sure if it's permanently gone or not. But it's a HUGE area with NO ONE there so we had a mask break and let the kids run around while we waited for the next opportunity to try for the Rise of Resistance boarding group.
I WAS able to get in this time around but we had a back up boarding group number. We decided NOT to wait around in hopes of getting to ride. Our group DID end up getting called but it was at 6:10 that evening AND they've shortened the return window span…only 50 minutes! We COULD have made it from our Disney House but I didn't feel like loading everyone up and going through all the hassle to ride it.
Tessie really wanted to ride Tower of Terror for the first time since she's now tall enough! Britt did NOT want to ride that one so Kye and Tess and Zach went for Tower of Terror and Britt just really wanted some time to browse the shops. Girl loves some shopping 🙂
I love rare moments like this where different sibling pairings group up. It was a great chance for Tess and Kye to make a memory together and for me to have some time with just Britt and Spear!
Tess said Tower of Terror was scary but that she LOVED IT 🙂 Didn't surprise me a bit!!!
And it was all a MEANT TO BE MOMENT!
Like totally the most magical moment for Britt and I! I went to Magic Kingdom back in June of 2019, just Spear and I, and bought the girls these adorable Mickey rings I found at the Spaceship Earth gift shop. Growing up I ALWAYS wore a ring and I thought my girls would enjoy having a special ring to wear all the time too.
I gifted them to the girls on a morning where we had some girl time at Epcot. Britt LOVED hers and wore it every single day since then. Tessie didn't show much interest in wearing it yet and once she did decide to wear it, it was WAY too big. We ended up finding MY childhood ring and she's able to wear it until her finger grows a bit more for the mickey one 🙂
Both girls have done a PHENOMENAL job caring for their rings. They take them off to bathe or swim and ALWAYS keep track of where they put them and always remember to put them back on. I've been SO impressed with their responsibility!
Britt has grown and her ring no longer fits. I was able to find a ring of mine from high school that fit her middle finger so she's worn that in its place but I've been on THE HUNT to find her the next size up in her mickey ring. I just think it's the perfect little girl ring because it is dainty and lays flat so it doesn't snag on anything.
It's also great quality! I have been unable to find it ANYWHERE. It's not online. It's not an item they can even look up and tell you where they sell it. It's brought in from an outside vendor so whatever stock they get, they get and once it sells they don't know if/when they'll get more.
I've been everywhere. Every time I'm at Disney I am ALWAYS looking. Sometimes I've found the rings but NEVER in the size she needed.
I did find her a different Disney ring but it was awful quality and was a fake gold that wore off in less than a month of wear. I had been researching other ring options and was even looking into having something made for her birthday or Christmas for her!
THEN. WE. FOUND. IT.
We literally FREAKED OUT. Like draw attention from random strangers freaked out.
I'm honestly surprised the cast members didn't give it to us for free because we were practically in tears with joy over finding it! Not only that but they also had the next size up from that so I bought BOTH to make SURE we don't have this issue happen again!
I was tempted to buy doubles to make sure we have them for Tess but I also assume Britt will grow out of it and pass it down to her so we'll be fine by then!
We were both BEYOND excited and it was SUCH a perfect magical moment and even more special that it was JUST the two of us (well and Spear in the stroller) when we found it!
We then stepped out of our magical moment into a cavalcade starting up! Britt was SO PUMPED and it was just that special Disney thing that I LOVE THE MOST! She felt it in her heart and just had that pure joy!!! Plus they all were pointing to her and saying Happy Birthday – she was in HEAVEN!
Tess and I may be alike in many ways but man Britt is my Disney Soulmate. We just GET IT the same exact way!
Spear was so excited to see so many Pixar pals too – he LOVES Incredibles and when he saw Edna he said "little incredible."
We surprised Daddy when they met up with us. Britt said "what is different about me?" He did finally guess and when he did Britt and I yelled and literally jumped up and down in excitement. Which if you know me you know I'm not really a jump up and down and yell kinda girl. This was a RARE moment and Zach and Kye were shocked to see me so pumped.
Literally one of my top Disney moments ever!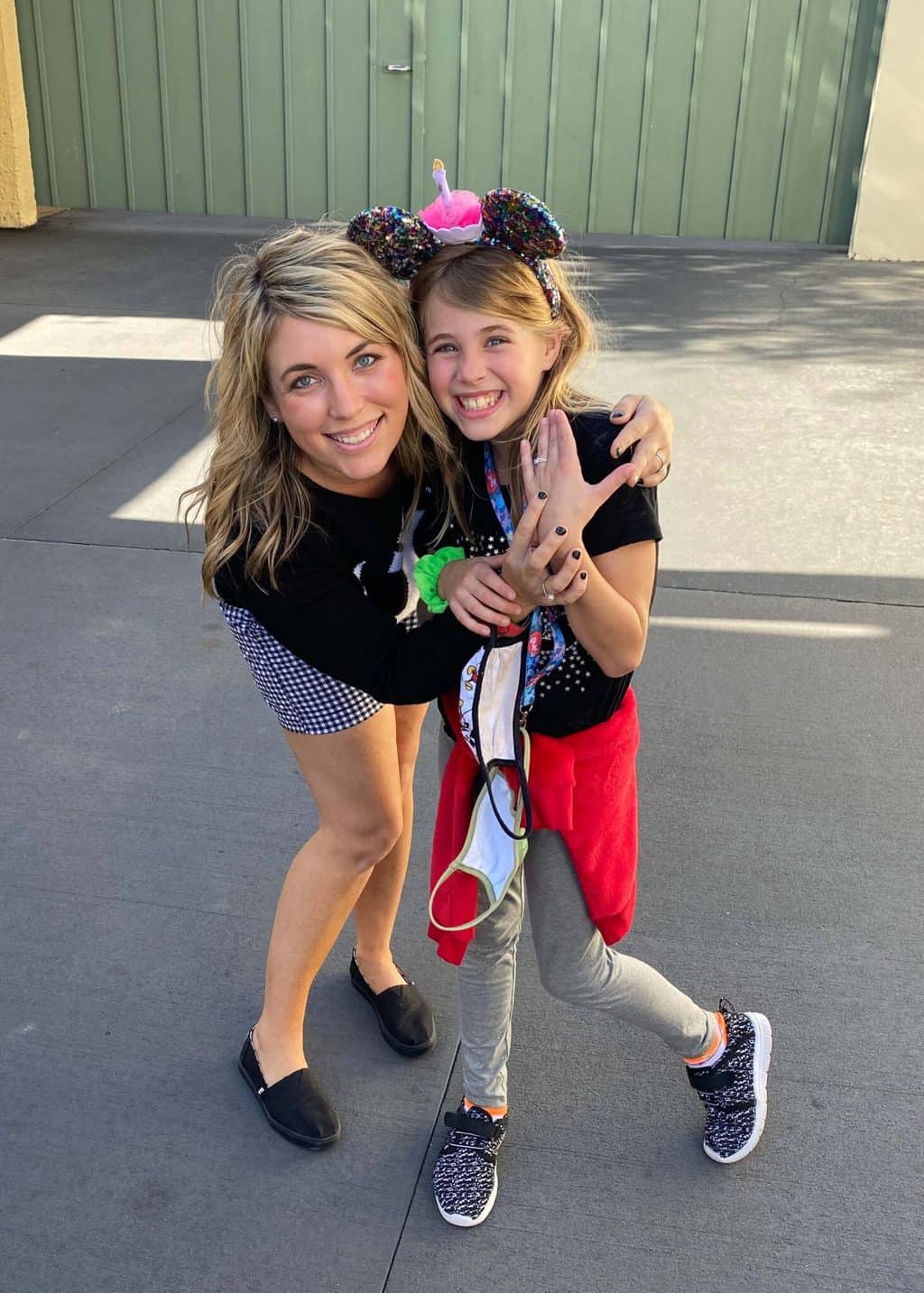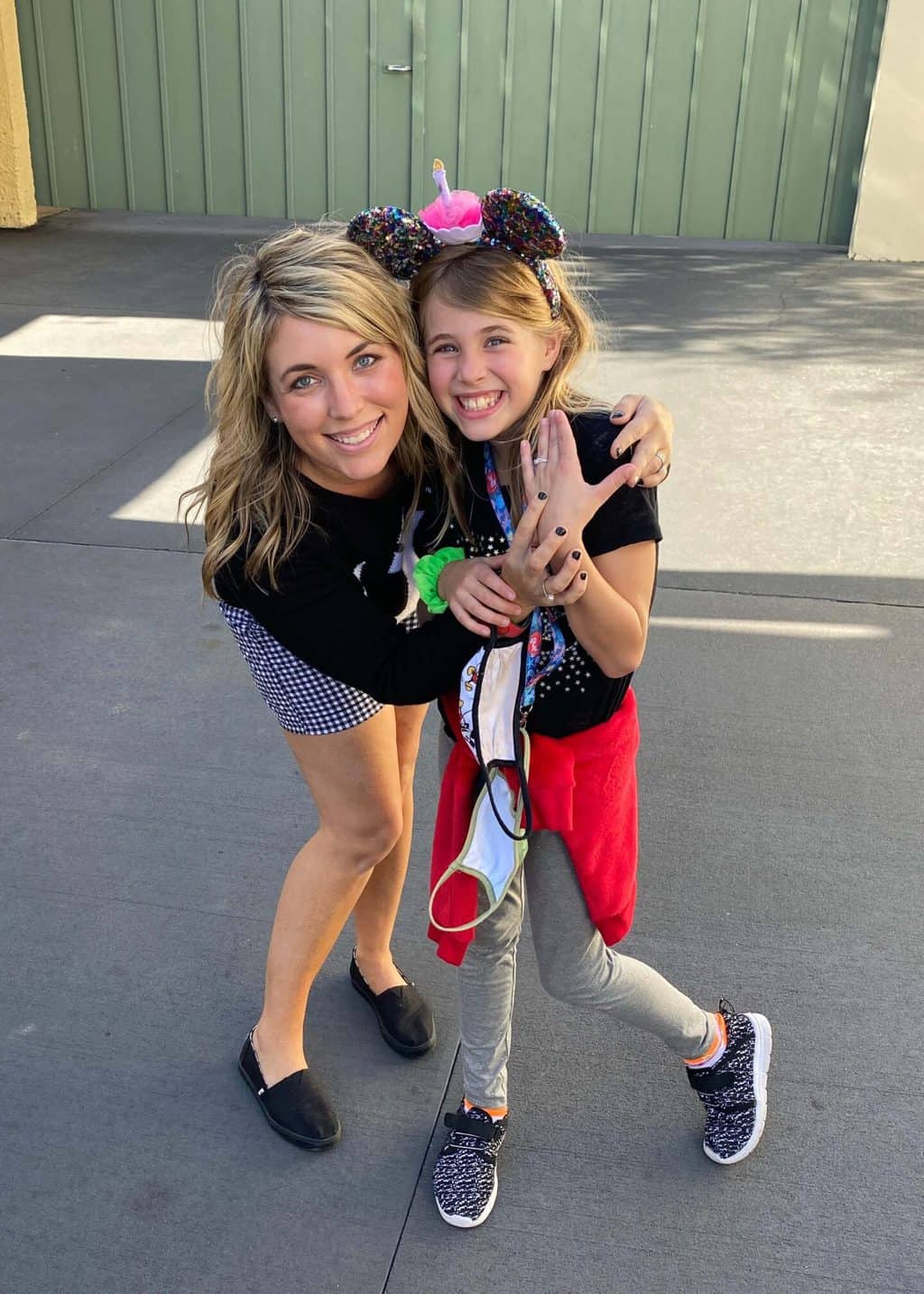 I'm glad we got some family pics together before leaving the park. I try really hard to at least stop at ONE photo pass photographer as a family whenever we go to a Disney park. It can be a hassle with a kid in the stroller and when you're in a rush, but I think it's great for the memories!
I wish we'd gotten a pic of Tessie solo to remember her first time riding Tower of Terror but oh well!
I love all the ride photos and how BRAVE Tess always is!!!
We went back to the Disney House and had Taco Tuesday night. We love tacos around here because it's a rare food that ALL the kids actually LIKE!
Our tradition since we started going to Disney for Thanksgiving has been to put together a family puzzle all week. And by family I mean everyone other than me…I'm not a puzzle girl. I get SUPER frustrated and don't have patience for feeling like things are lost.
It was another GREAT day!!! I've included a video that should auto play at the start of the post and it needs a little back story too…
Spear's birthday party was the Saturday prior to our trip and the cupcakes from Sams with black icing were intense. Literally.
It took a couple days but we did notice an affect of the cupcakes…watch the video if you want to find out haha!