Britt's Birthday Trip 2020: Islands of Adventure Morning
The last few years we've visited Disney over the week of Thanksgiving. We use this trip as Britt's birthday trip (someday to also be combined with Spear's birthday trip too).
We've typically stayed home for the weekend to celebrate Spear's birthday party and then drive down the Monday of Thanksgiving week but this year Britt said she REALLY wanted to go to Universal since we have passes and Hogwarts is her HOME.
Universal is NOT doing park reservations the way that Disney is and are doing a first come first serve basis when it comes to park entry while operating with lower capacity. I had been reading online that it would be INSANELY crowded so we decided to go down a day early to ensure we could visit Universal as early into the week as possible with the hopes of having less crowds.
We were allowed entry at 7 am, an hour before official opening time, because we have annual passes so we arrived at Universal an hour prior to that. Which meant I woke up at 4:40 AM so we could leave by 5:40 to be at the entrance at 6 am.
We were in line by 6 am and just hung out waiting until we were allowed in! The kids ate breakfast while we waited and it didn't feel like it took too long.
It was our first time entering from the Islands of Adventure side of the park and we had a solid game plan ready – Zach and Kye raced to The Hulk (and ended up being the first people to ride of the day!) while the rest of us went to Hagrid's as fast as possible. Britt said that Hagrid's is her FAVORITE and it's THE thing she wanted to do most so it was priority #1 for sure!
When we got up to Hogsmeade the line was already long for Hagrid's and we were told by a team member that the attraction was NOT up and running due to some issue. Rather than move on and do something else we just waited there. I had to wait for Zach anyway so why not just stand around and hope the line opened while we waited.
Sure enough, it did! We actually were at the front of it before Zach and Kye made it to us. This gave us time to chat up some team members who were SUPER SWEET and understanding about us waiting for the guys to reach us. They offered to let Britt go ahead and ride and then ride again once the guys showed up but she was too nervous to ride solo, so they let us hang out and wait a bit.
Once the guys reached us they all three rode it and then as they got off the team member found the birthday girl and told them to ride again! SO AWESOME! Turns out the magical moments don't just happen at Disney 😉 Britt was BEYOND thrilled!
While the oldest were riding Hagrid's the rest of us walked around an empty Hogsmeade! It was Spear's first visit to Universal and Tessie loved showing him all the items in the windows. She told him "we can walk around but you HAVE to hold my hand, say yes ma'am" SO SWEET.
Once they finished up we went over to Hippogriff and were SO GLAD that Spear is tall enough! If you have a child under 36 inches there is literally no reason to ever bring 'em to Universal. We truly wouldn't bring Spear or even Tess because there is so little to do until 48 inches!
Flight of the Hippogriff was walk on with no wait and Zach did rider swap to allow both Spear and Tess to have a turn riding since they each had to have an adult with them and mama don't ride.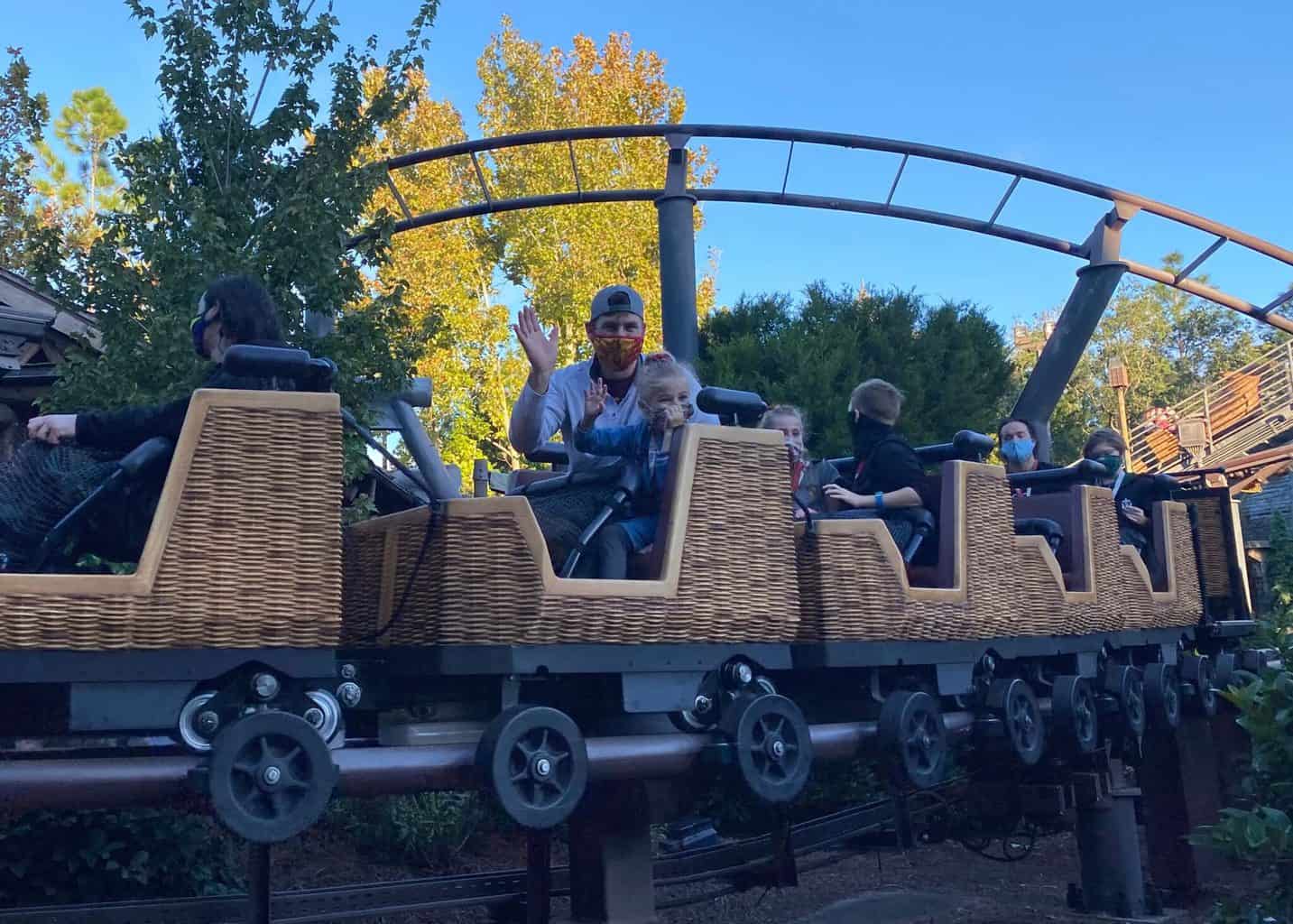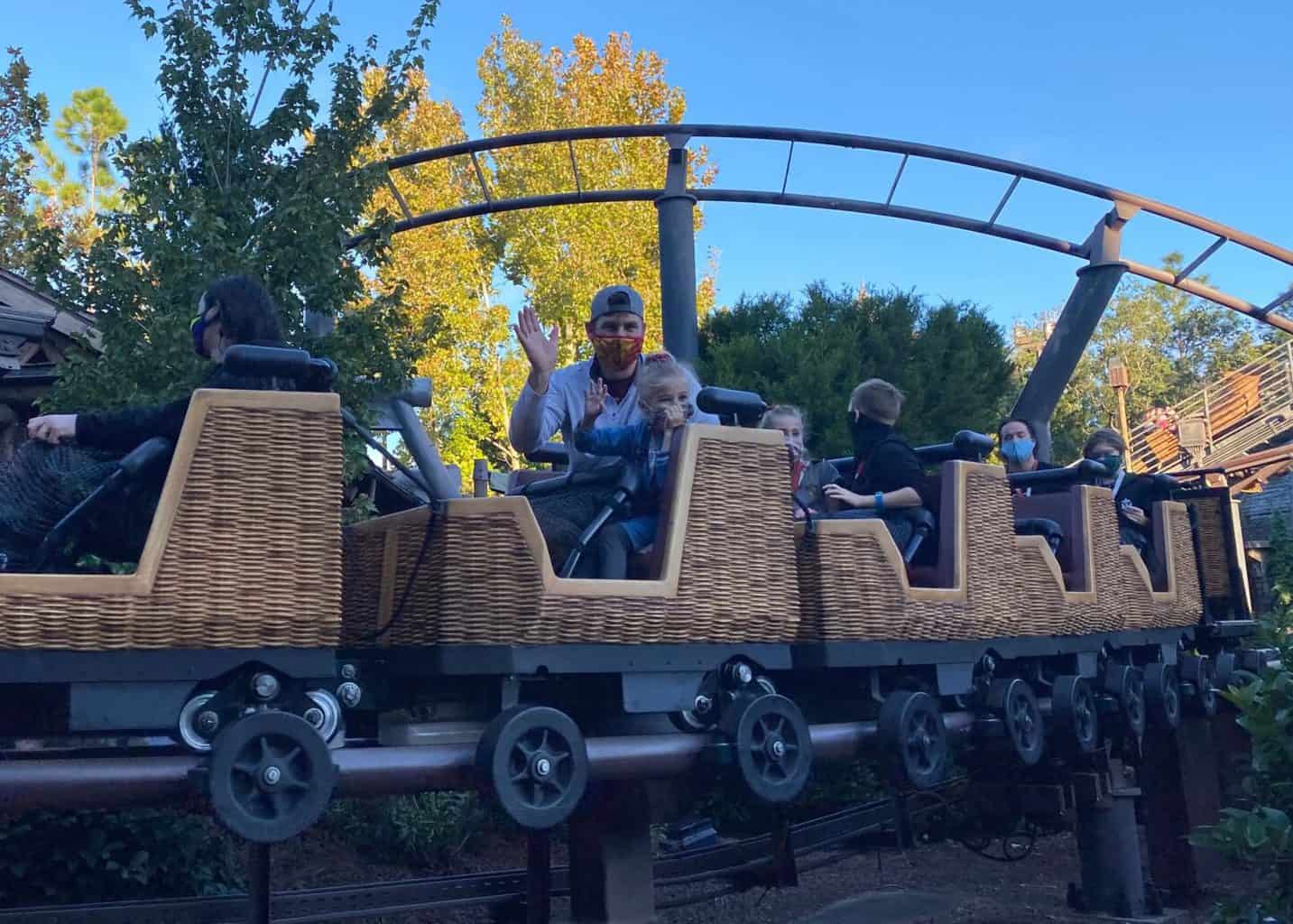 We then all walked through Forbidden Journey together. It was also no wait! You are able to walk through the entire attraction and see all the cool details and then just exit before getting on the ride. It was a good way to kill time for Spear and something for us all to do!
Tess is my thrill ride lover so I hate that she's not tall enough to do most attractions but she's a trooper about it with her positive attitude and I do love that it gives the older two a chance to bond over experiences.
Britt told me "You know that feeling you get at Magic Kingdom? How Disney is YOUR HOME? Well Hogwarts is mine!" She said she was truly just happy to BE in the park. She didn't mind that it was getting more crowded and that we wouldn't be able to do all the things…she was just content to be there. And I totally get that and support it!
I really really wanted to stay until night but it just didn't make sense. There isn't enough for us to do to justify staying that late and just hanging around, especially with Spear. So my Universal goal is to be there at night sometime before our passes expire. I'd really like to surprise Britt next year with their holiday VIP experience to see the lights and all the holiday special items and such!
Kong is my favorite ride at Universal and I was pumped that Spear was tall enough to ride (and also that there only a 20 min wait!) but didn't even THINK about how it's pretty intense. It may be a ride a wuss can handle but I mean dinosaurs and a gorilla basically attack you and fight each other. He was SUPER brave for it though and didn't get scared.
Zach and I are pretty hardcore when it comes to our kids and scary moments. If you expect them to be scared, they will be. If you act scared, so will they. If you ask if they are scared, they will say yes. Instead, we just had fun and focused on the exciting parts and he did great and kept saying "gorilla fight dinosaur!"
We decided to split up a bit as Tess has really, really wanted to ride the rides in Seussville and hasn't had the opportunity to do so since our first visit back in 2019. Kye had his Timex watch so he went to ride Hulk solo while the rest of us headed to Seussville.
It worked out SO WELL. The watch gives me SUCH peace of mind when at the theme parks. Plus phones aren't allowed on rides…but watches are so he's able to keep it on the entire time!
We text to check in and I can see where he is with the tracking. It was also so nice for Zach and I BOTH to get to experience the "little kid" side of things! Usually Zach is with the thrill seekers and he enjoyed getting to have that time with Spear and Tess!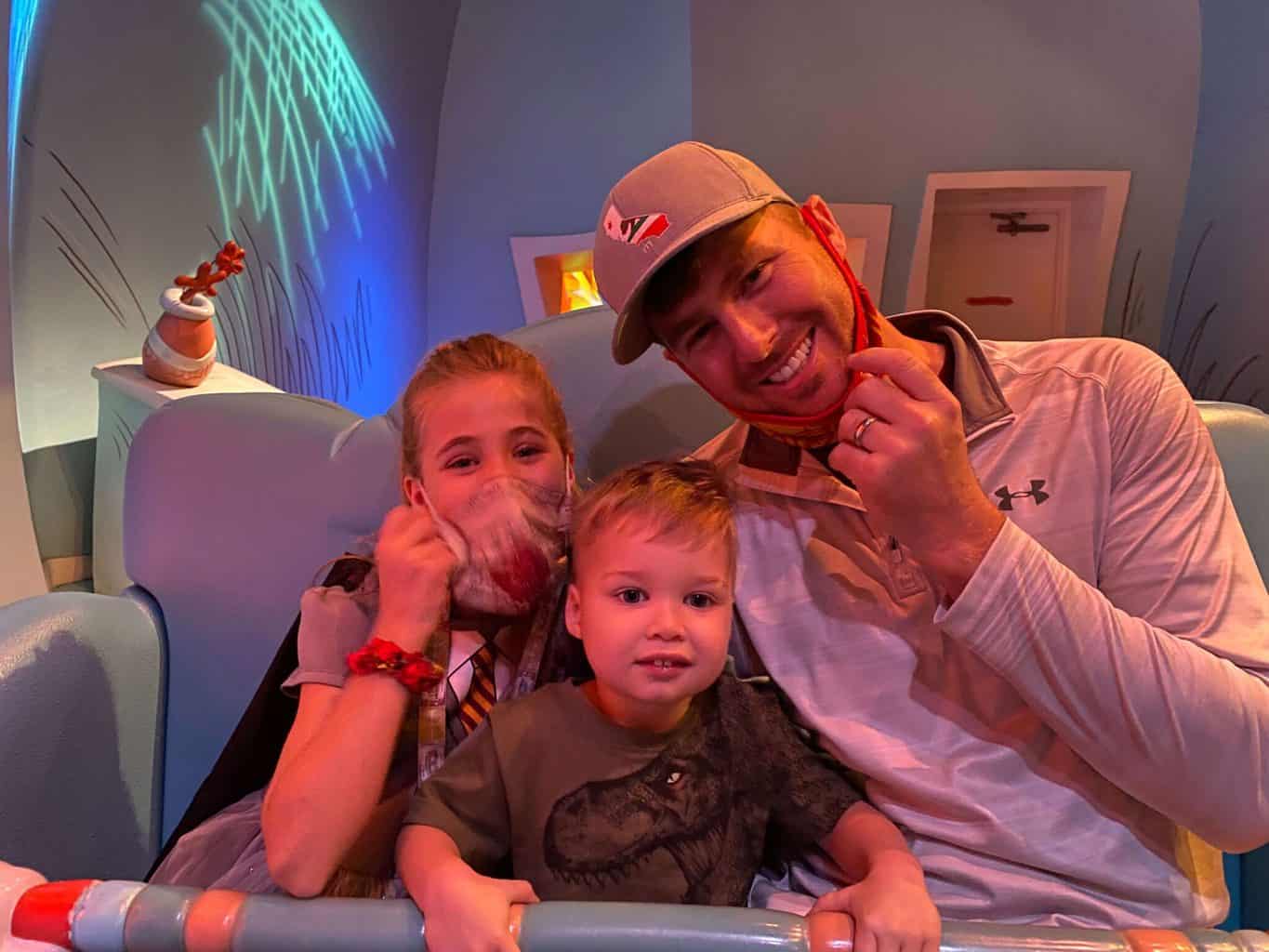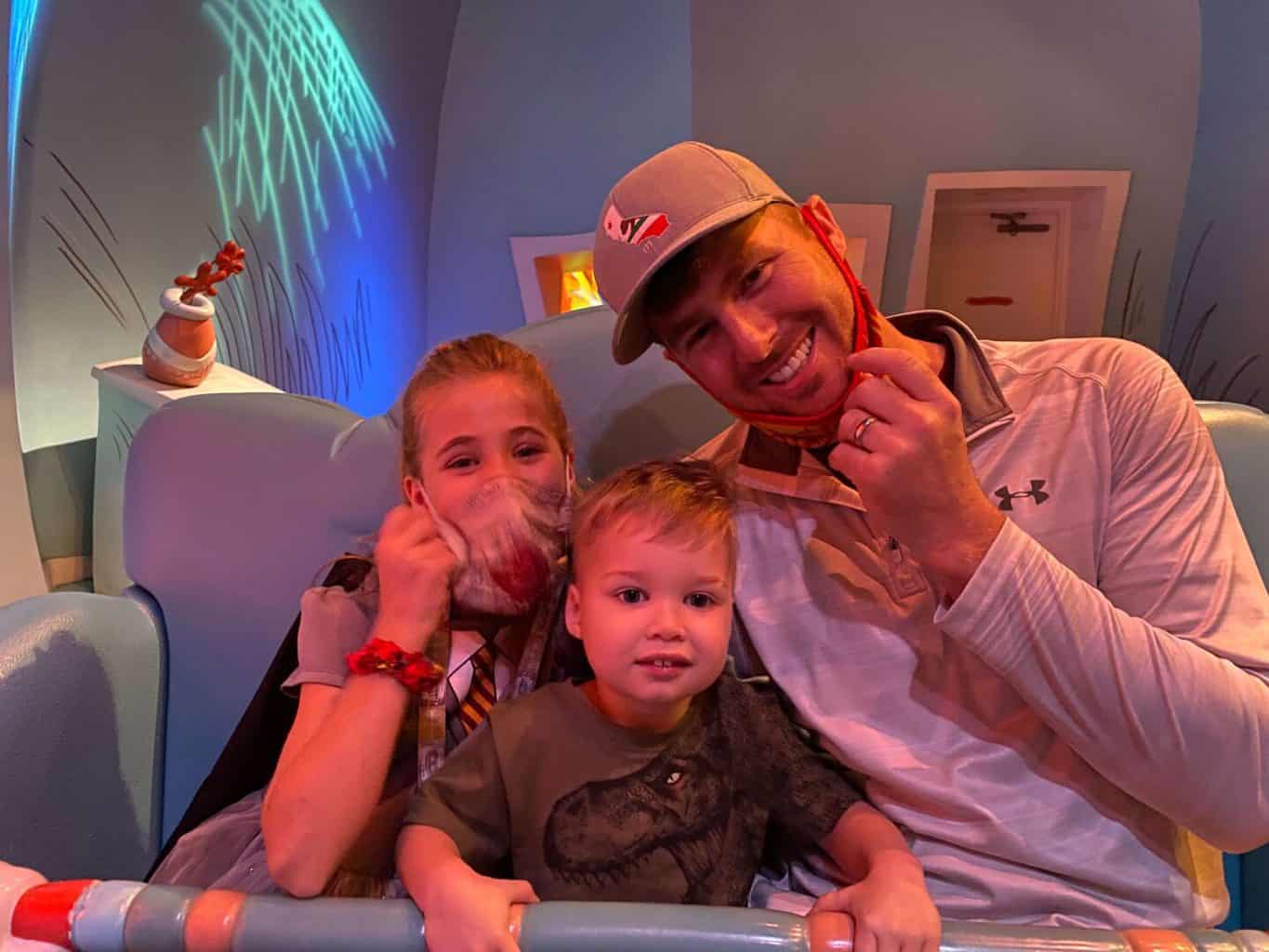 We rode The Cat in the Hat and the Caro-Seuss-el with ZERO waits but skipped The High in the Sky Seuss Trolley Train Ride because it had a FOURTY FIVE MINUTE WAIT. Kye at that point was at the Hulk which is a MAJOR attraction and it was only a 25 minute wait!
So weird for a little kid ride to have a wait that long. But the team members told us it was a legit 45 min too. Kye met us in time to hop on One Fish, Two Fish and make sure Britt got drenched 😉 Tessie and I were team "STAY DRY" which I def appreciated 😉
Spear was ALL about Daddy and wanted to sit with him on every ride and hold his hand every time and Zach said "I gotta admit…this feels AMAZING" haha! He's never had one of our kids be all about Daddy that way and it's def a special feeling so I'm glad he got to experience it!
I REALLY wanted to get Britt a Universal birthday button as she LOVES that attention at Disney but OMG it was SO HARD TO FIND ONE. Literally they only have them at guest services and it's a crazy long wait just for a button. I finally found someone at a booth selling ticket upgrades and such to get us one. I was shocked at how difficult it was to find one and then not a single person said Happy Birthday to her anyways so it was kinda pointless. If you have a birthday kid who is all about that birthday attention…stick with Disney!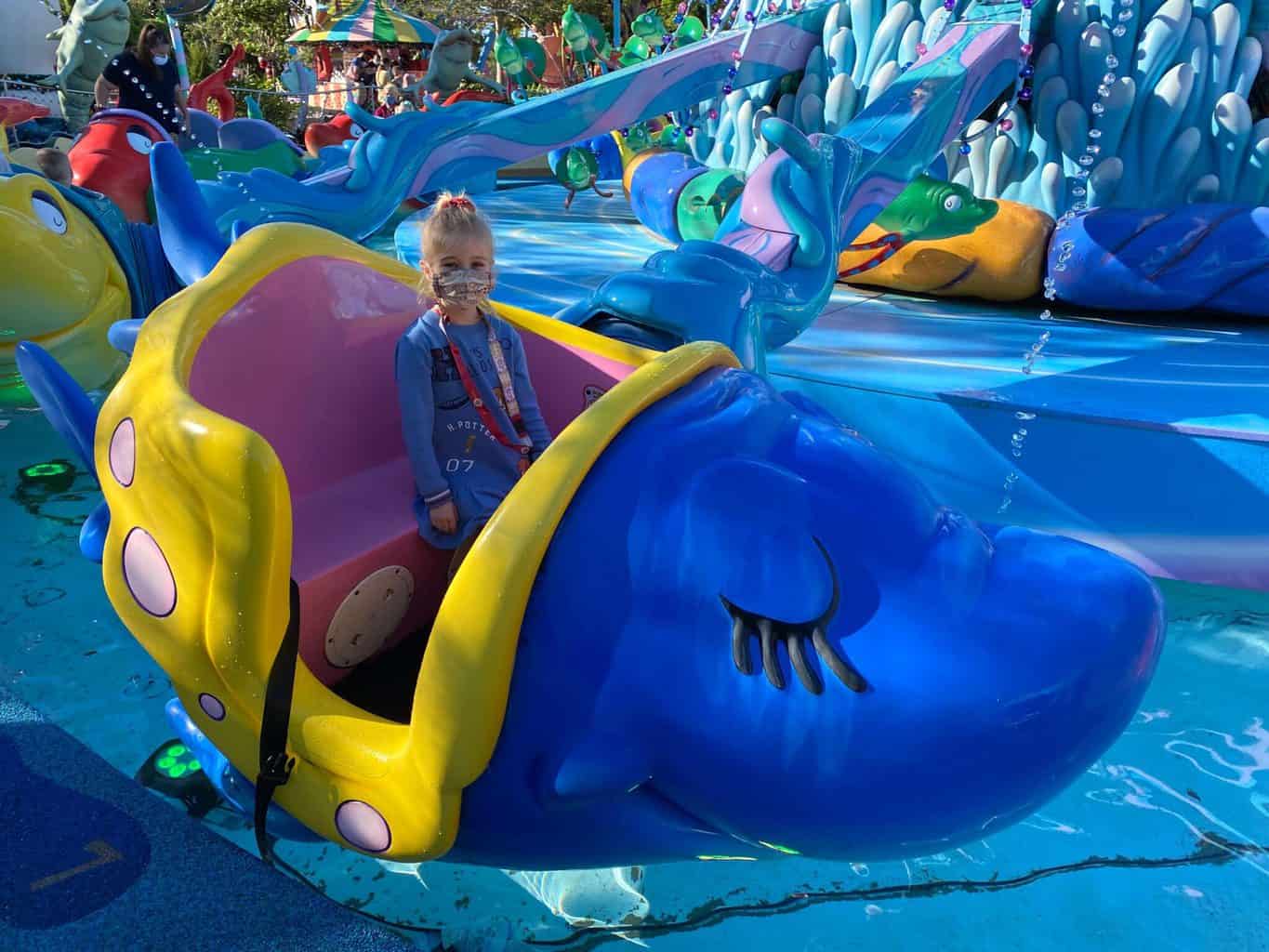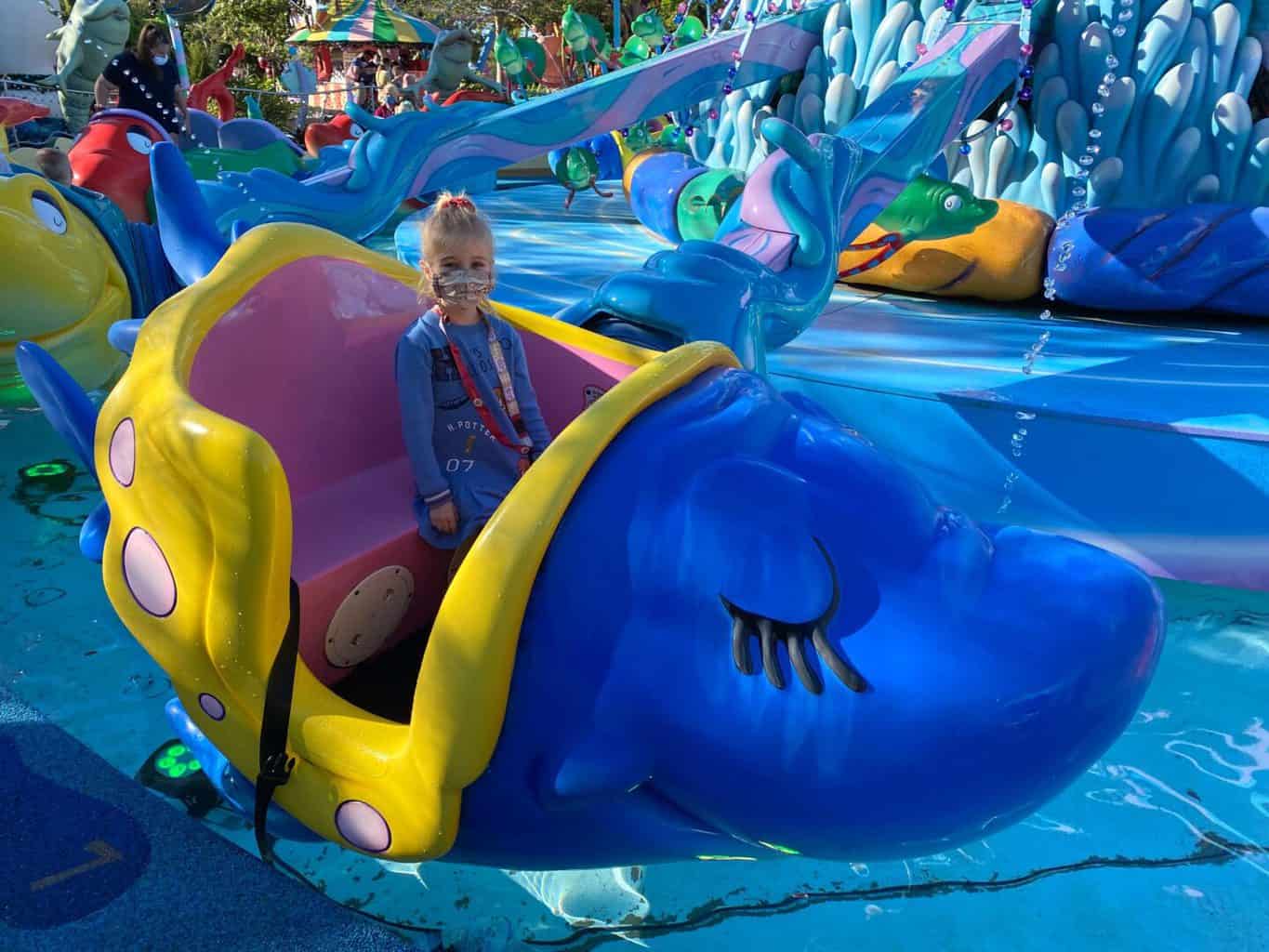 By that point in the morning (10 am…so 2 hours after the park officially opened) everything was slammed. The park hadn't reached capacity yet but the lines were LONG and even the ride on the train to Diagon Ally was an 80 minute wait.
And none of us minded one bit! I was super proud of the kids, especially Britt, as they were truly just go with the flow and appreciative of the epic morning we'd had and were fine with walking around a bit and just staying in the one park rather than hopping to the other.
When we came in July Britt had brought a self addressed letter from home to send herself in order to receive the "special stamp" from Owl Post but when it arrived it didn't have anything special about it. She saved it to bring it back with her and the team member stamped it!
We started to get in line for a raptor encounter experience which sounds really fun and something we can ALL do but it ended up being kinda a cluster as no one knew exactly when it opened and we decided to give up on waiting for it!
The great thing with owning wands is that it's ALWAYS a "thing to do!" Bless Spear…he was SLEEPY after getting woken up at 5:40!
A butter beer is a must-have when visiting Universal so we bought two frozen ones and it was PLENTY to split between us all! We lucked out and were able to see one of the shows that the girls and I had wanted to see in July but had been rained out – the frog chorus and they were singing Christmas carols which was fun!
We started the walk back to the entrance and were able to do a character meet and greet with some sort of tiger character. I assumed it's from that kung fu panda franchise so we did some karate chops with her 😉
I don't get why Disney isn't doing experiences like this. Is it as good as getting to HUG the character? No. But it's better than them just riding by on a float or being super far away!
A couple years ago Tess started doing this thing (I guess you'd call it an "act") where she pretends to be an elderly woman and says "I'm an old grandma – watch it kid!" She was in a silly mood and doing her act and I was ahead of her going into the bathroom. A couple of girls were letting me in but couldn't see Tess behind me so I said "excuse my old grandma she's really slow" and they died laughing when they saw Tessie. And she didn't break the act either. She kept shuffling her little feet right on by 'em. (Be sure to watch the video in this post to see her in action!)
We had SUCH a great, EPIC morning. We rode ELEVEN rides by 9:30 and were completely done and outside the park by 11:00. WHOOP WHOOP! AND during the week of Thanksgiving!!! The longest posted wait time we entered was still under 30 min!
It really couldn't have been a better morning and fulfilled Britt's Universal birthday desires 🙂
We didn't have any set plans for the afternoon since I had no clue how Universal would go and it worked out so great that we ALL were able to take a nice long nap and then just have a chill movie night. We watched Santa Claus which was great…but I wouldn't recommend watching with little ones as the whole plot was basically about Santa and questioning his realness!
It was the perfect day to start off one of our favorite family weeks of the year! A very short little video should play at the top of this post 🙂