Halloween 2020
Usually around Halloween time we have a TON of activities but this year, obviously, it was much slower-paced and that wasn't such a bad thing! Sometimes all the rushing around a holiday to do ALL THE THINGS can rob away some of the joy!
Our local Lowe's had an event that we THOUGHT was going to be pretty legit so the kids put on costumes and everything and we loaded up to head to Lowe's…it was just one car handing out pumpkins and another handing out a baggie of candy and that was it. Really went overboard on the getting dressed up but oh well!
I wasn't mad about the free pumpkins 😉 We skipped out on visiting a pumpkin patch this year and just saved the money and used the freebies!
Halloween fell on an actual Saturday this year so we had ALL the fun in one day! We started the morning off with visiting our "backyard pumpkin patch" and choosing our pumpkins. Then the kids got to decide how to decorate them.
Spear opted for stickers, Britt opted for painting, Tess had Daddy carve hers and Kye decided to carve his 100% on his own from start to finish. It was fun just letting them all do their own thing! They enjoyed it and it was less stress on Mommy and Daddy too 🙂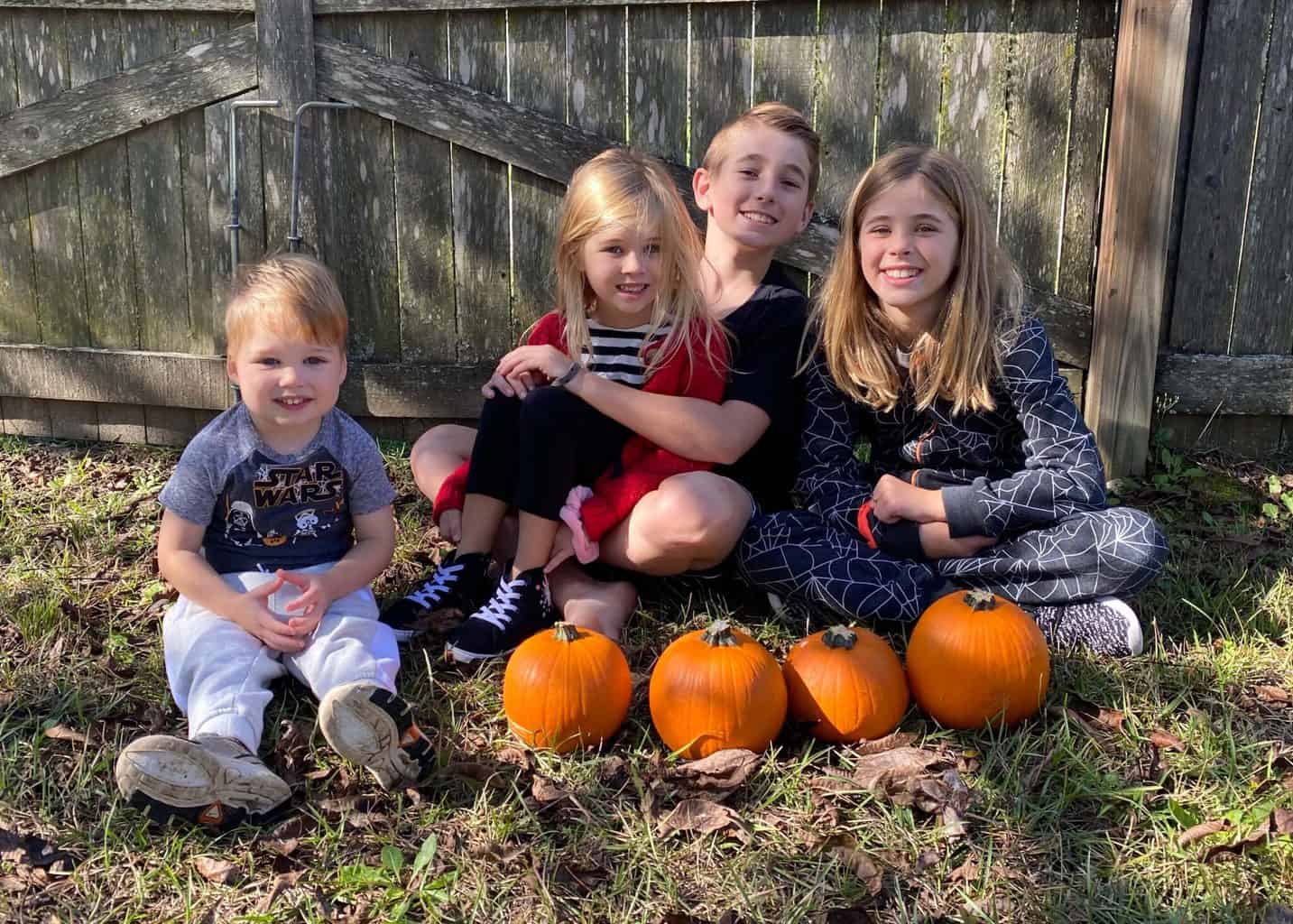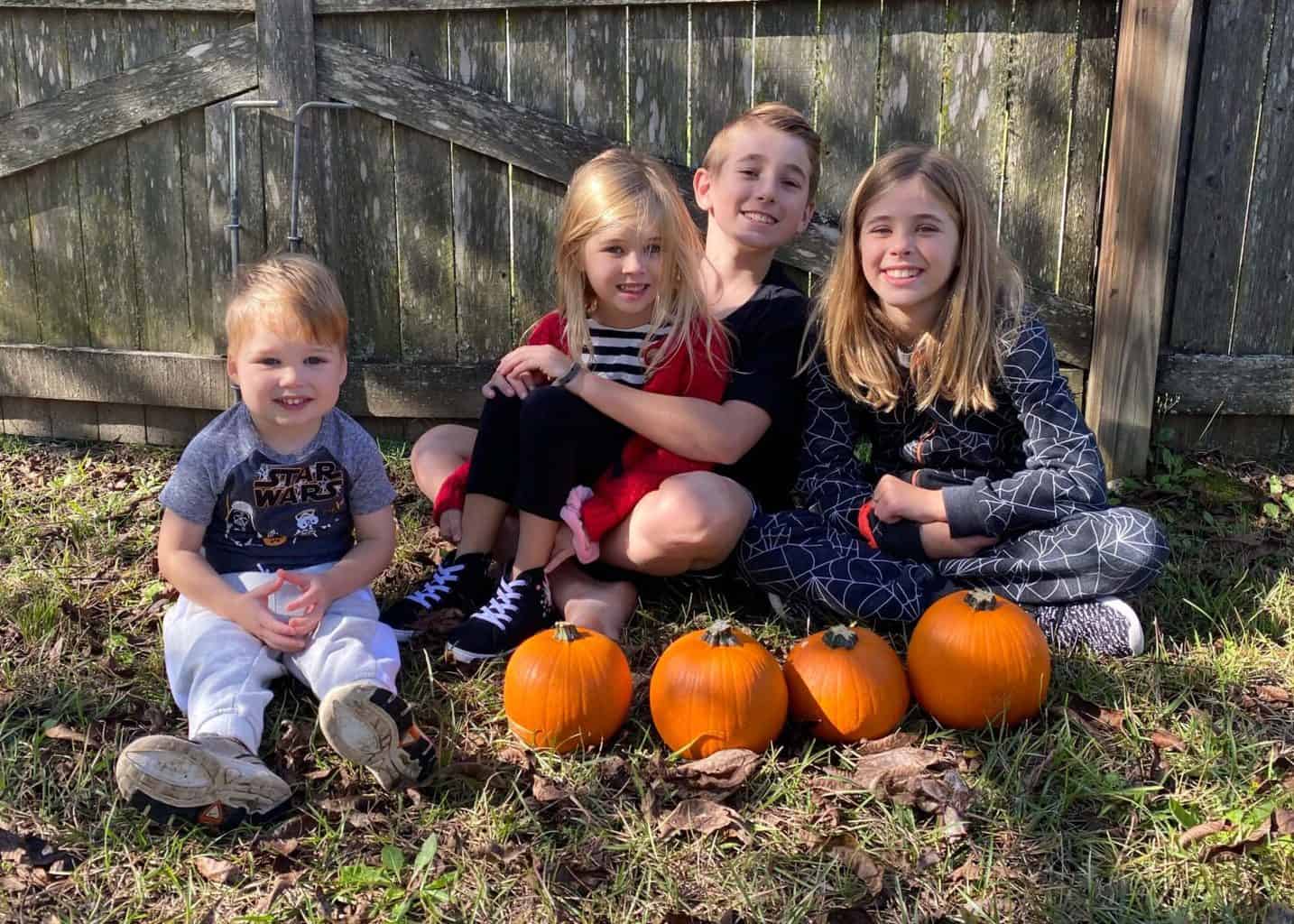 The kids all loved the end results and had fun displaying them on the front porch. Kye did great for his first time carving and learned the valuable lesson to make sure to carve out the top at an angle so it won't fall through!
Casey hosted her annual family Halloween party on the afternoon of Halloween – another perk of the holiday falling on a Saturday!
We had an early spooky lunch and then went to her house after naps for a couple of hours. She always goes all out making the event so cute and fun!
The kids LOVE being with their cousins and we got to debut our family Halloween costume for the year – DUCKTALES!!!! Whoop whoop! You can see all the details of our DuckTales family Halloween costumes here!
Casey put together a fun scavenger hunt for the kids and they had a BLAST doing it! They had to take pics of their partner in front of the items on the list. Britt and Elizabeth ended up winning the HUGE chocolate bars – the perfect prize for our chocolate lover!
We then played a game where a partner tossed candy behind them and their partner had to catch it in a bucket. Of course the Parker adults couldn't resist an opportunity to be competitive 😉
A #halloweenmiracle also occurred this year…our family WON the costume contest! I think my showing the judges the comparison photos of our costumes with the DuckTales characters helped our case ha!
We headed from the party to do a quick change at the house and then all of our trick-or-treating friends came over!
Zach was SO sweet this year and really wanted to make sure it was extra special so he loaded up the trailer with hay to do a hayride. We didn't, however, really think through just how BIG our trick-or-treating crowd is. We did NOT come close to all fitting on the trailer.
The kids did the hayride and the adults rode along some in the golf cart and then walked the rest of the time.
We all agree – BEST HALLOWEEN EVER.
The kids all had SO much fun and it just felt NORMAL. It was the first tradition since March that just was completely and totally unaffected. It seemed like the whole vibe of trick-or-treating was different this year too. Like you could FEEL the joy every single person was having while we were all out and about running from house to house.
It was an energy and it was so super awesome. I love our annual tradition and we loved having new friends tag along too! We hit up more houses than EVER and it was fun having the little ones be a bit older. Spear was super excited about it all…but mostly excited about the trailer and riding in Daddy's truck 😉 He hit a few houses but was more in it for the RIDE!
There is one house in our neighborhood that does a super spooky haunted house every year. Well the kids were a good bit ahead of us (the little ones take longer) and they just all WENT THROUGH THE HAUNTED HOUSE.
Yall. I'm talking crazy clowns. Pitch black darkness. Bloody makeup. A CHAIN SAW CHASE AT THE END.
TESS. CARTER. BRITT. Oh there were some mega tears. I think just about every kid age 8 and under sobbed.
It was quite the scene when I caught up to them. I just walked up to a bunch of kids bawling their eyes out. Kye was mad I had missed it because I def would have done it and I def would have been FLIPPING OUT too.
I cannot believe Tess went through that house! She recovered okay and was super proud of herself by the end of the night for doing it! Brave kid!!!
We had SO much fun that none of us wanted it to end! We finally headed back to the house a little before 8 and got Spear in the bed then rather than hand out candy the big three and I decided to hit up more houses on the golf cart 😉
We drove around the neighborhood to close out the night and it was the first time we've ever gone out that late…the kids RACKED UP. It was so, so fun and a night they will never forget (and candy that might last us until next year!)
If 2020 taught us anything it's taught us to truly appreciate normalcy. Small moments become more special when they've been taken away. We appreciate the opportunity to trick-or-treat in a totally new way this year and it was truly the best year yet!
Some things are just more fun as the kids get a bit older and Halloween is FOR SURE one of those times where older kids are super fun and it was a total blast of a day!