Great Wolf Lodge 2020
We visited Great Wolf Lodge for the first time in March of 2019 and Zach and I left that trip pretty confident we wouldn't be going back. (You can read about our first visit to Great Wolf here!)
Pre-Covid life one of my big goals for 2020 was to work with Disney. I mean it's THE goal right? I would DIE if I got the opportunity to work with my happiest place!!! In working towards that goal I signed up for a Social Media Conference at Great Wolf in May.
I've never been to any sort of social media event and had a friend going and figured the kids would love a chance to hang at Great Wolf again and since it was located not too far away it made sense to go. Especially since the hosts of the event are well connected with Disney and partner with the Disney brand frequently.
Obviously, that plan got canceled. With everything else going on at the time it was very low on my priorities or concerns! Great Wolf then reached out once they reopened and said they'd be happy to have us come for the same price I'd paid for the conference…which was a STEAL for the huge family suite and two wolf passes.
Yall know. I have a hard time resisting a deal. But a deal on an experience for my kids? I cannot say no to that!!!
Zach can haha he was like "I'll keep Spear at home! You take the big kids!" Tiffany and I had SUCH a blast together in Atlanta with the boys in February and her kids have never been to Great Wolf so I figured she could tag along and split the cost of the room with me and make it a SUPER affordable first visit for her kids AND extra fun for mine PLUS lots of quality friend time for the two of us while the kids did their thing 😉
I put together a little surprise for the kids and they were IN SHOCK and SO pumped! (The video should auto play in this post). I was pretty proud of my little poem skills 😉
When booking the trip they offered me the first available weekend and I grabbed it. In the world we currently live in I feel like we have to DO WHAT WE CAN WHILE WE CAN. Right?!?!
Of course it happened to be the first weekend of the kids first full week at school. So I'm starting off on a great foot with the truancy haha Checking 'em out the first week!
We picked up Tiffany's crew and were on the road! We stopped in Albany to get out and get a break (the drive from Valdosta to LaGrange is ROUGH YALL) and ate at My Pie! Super yummy!!!
The family suite was the same one we had stayed in last visit. It was def an advantage of having visited previously because I knew what to expect going in. We stopped and got some groceries and must-haves for the weekend and didn't end up arriving and getting all checked in until well after 8.
It was a late night for all the kids for sure! It worked out GREAT for sleeping situations. The boys had their own room, the girls had the living room, and Tiffany and I had the master bedroom.
The safety guidelines at Great Wolf are not super hardcore which was a nice break from the hardcore-ness of Disney and Universal! Masks were required but it wasn't heavily enforced or anything and no masks were needed at all in the water park area.
The package came with two wolf passes so we bought the rest of the kids one and I do think they are a good value as I added up everything I knew we'd want to do and it ended up being the cheaper route for sure!
It's also a good tip to keep your wands! Bring 'em back and if you do Wolf Pass again they get a topper thing for the wand which is fun!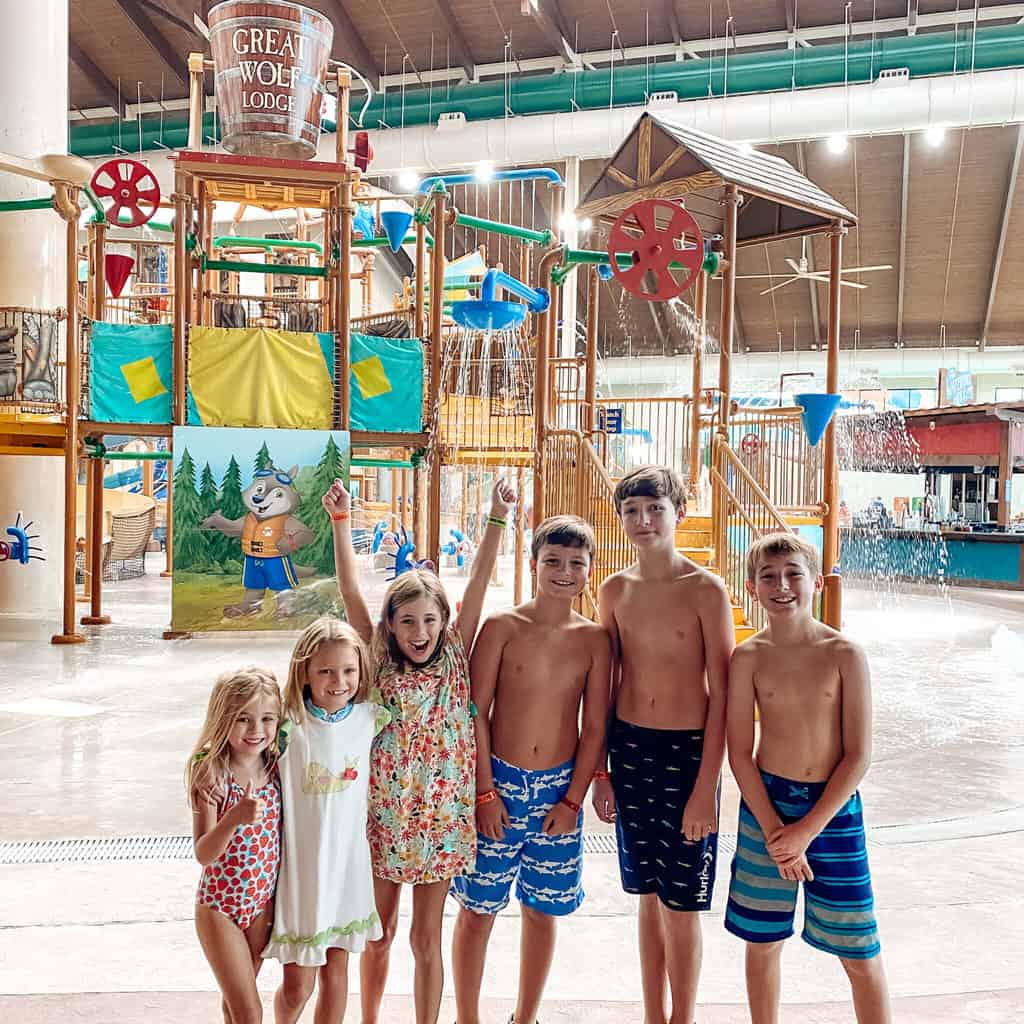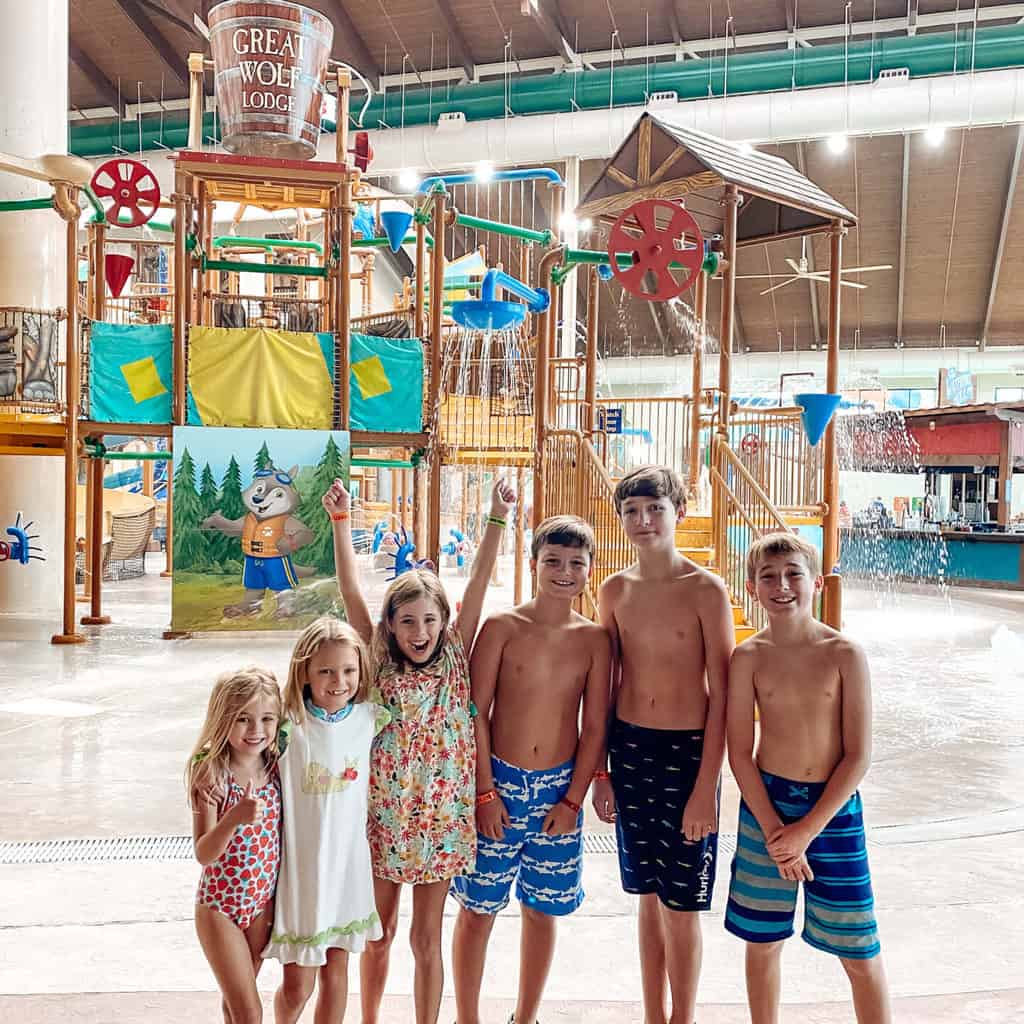 We got to the waterpark RIGHT at opening on Saturday morning and it was zero percent crowded but got MUCH more busy as the morning went on. The guidelines were odd as if the wave pool had too many people in it a line would have to form and if that line got to long they'd shut down the entire wave pool. Very interesting to see how different places handle things!
Tess was the only kid not tall enough for all the slides and she did wonderful playing on her own during those moments when the others were riding the big stuff.
Our kids all just get along SO beautifully! I thought surely an entire weekend together with odd number groups would lead to SOME sort of drama (especially with the girls) but NOPE. Never an incident!
We decided to let the kids do all of their water fun and then head to a late lunch/early dinner. Genius way to save some money rather than buying two meals!
While we got ready the kids all played video games together and it was so cute how each girl chose a boy to cheer for 🙂
It was the first time I've ever had my van at MAX CAPACITY! We made it work with all the kids crammed in (and yes, we fixed Tess's chest clip!).
We went to the same Mexican restaurant we'd eaten at during our family trip. It was super close to the resort and WAY cheaper than eating the Great Wolf food. The service was also fantastic and we had the kids load up on alllll the chips to keep their bellies full 😉
We planned for the morning to be water park and the afternoon to be the activities on the Wolf Pass.
Britt had LOVED the ropes course during our visit and was SO PUMPED to do it again! Kye was so funny because he kept showing off and then would fall. He was really good at it though and I love that they have NO fear.
Tessie really, really wanted to do it too but sadly she was the only one not tall enough. I paid a $6 upgrade charge to allow her to mine for gemstones. It was a cute setup (and something we didn't do last visit) and she really enjoyed it and it helped her feel special rather than left out.
Everything about this trip was EXTRA fun because our friends were with us! The rock wall was SUPER fun because the kids could race against each other. Davis, being SO tall, was the clear winner to the top! Poor Maddox had on Crocs so it was a bit of a struggle for him!
The girls did great too and I was proud that Tessie never gave up! Britt was the tall one again so she had that edge 😉
The Wolf Pass comes with the perfect amount of "tokens" to use at the arcade and the kids spent more time debating over what prize to get than they did playing the actual games.
I do wish we'd left more time for the kids to play the MagiQuest game. But it's always good to have something to look forward to doing next time. Since apparently I give up on saying "we'll never go back" haha
The bowling was also a surprise HIT this time around! Tessie knocked 'em all down and immediately held up her #1 finger for her "hole in one" 😉
It was SUCH a close game and the kids all had SO much fun and were laughing and never getting over competitive but were always supporting each other and cheering each other on the whole time. Davis ended up having the top score for the day and it was a highlight of the trip for him.
We let the kids all play putt-putt without us and we went on the hunt for a little bit of food for any of the kids that were hungry.
Yall. I spent $17 on ONE very typical standard buy at Walmart in a pack hot dog, 1 can of soda, 1 order of fries and 1 pretzel. INSANELY over-priced and not even very good. But it was still cheaper than if I'd had to buy food for ALL the kids for dinner so our plan of eating at the restaurant worked out well!
Tess's favorite memory from our last trip was the candy place and part of the Wolf Pass includes a candy cup. With the guidelines they weren't able to fill the cups on their own but still enjoyed getting to choose their treats!
We went back to the room to get ready for bed and in our pjs to then head back down to the lobby to get the "midnight snack" of the ice cream that also is included with the Wolf Pass. There is just something so fun about being in your pjs walking around!
We had the goal of getting back to the room earlier that night to allow the kids to have "talk time" together since our night was so late the night prior.
We ate a hearty breakfast of random stuff we'd got at the store and then went ahead and loaded everything up to head out after the water park Sunday morning.
I loaded the car while Tiffany took all the kids to the water park at opening. And I could NOT FIND THE CAR. I walked around and around the parking lot. It was hilarious. Once I got everything loaded up I met them to allow the kids some time to enjoy the water park before we headed out!
Lines were LONG very quickly and poor Tess got really upset because the slide she wanted to ride on had a crazy long line. Kye is such a great big brother and went to comfort her and went to swim with her in the wave pool. It was so precious.
As the kids got over it we changed in the locker room area into car ride clothes and made plans of where to stop to eat lunch on the way back.
We spent 2 nights at Great Wolf and still about 4ish hours at the water park. You really don't need a long stay because kids do NOT stay entertained at the water park for longer than that! Our first visit we were there for 3 nights I think and they spent about that same time in the water park area.
For lunch we stopped at O'Charley's (YUM) and my whole ticket for ALL of us was cheaper than the night prior at Great Wolf! Apparently they have a 99 cent kids meal deal on Sundays so I only spent like $15 total! An awesome way to end the weekend for sure!
Tess is a PRO at conning people into carrying her 😉
While I'm not the biggest Great Wolf Fan I will say it was 100 times more FUN this visit thanks to going with friends. The kids enjoyed every little thing way more and not having to chase a toddler allowed me to just CHILL.
It was really a bonding weekend for all of our crew. Tiffany and I got to bond closer and I even feel like I know her kids better too and that all of our kids got to really bond more as true friends.
I'm so glad we ended up going! It couldn't have gone any better and I'm always thankful for opportunities for my kids to have great memories and this was SUCH a fun trip! I'm all about family time but friend time is very valuable too and I look forward to more travels with the Hall crew in the future 🙂
Considering a trip to Great Wolf Lodge? I've got you covered with EVERYTHING you need to know here!