Last week I did a Flashback Friday post from my Senior Scrapbook, and this week I'm doing another one 😉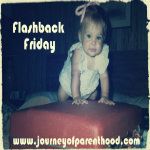 Another assignment for our scrapbooks was to do a comparision of ourselves from 9th grade to who we had become in 12th grade. Now that it's been 10 YEARS since 12th grade I thought I'd write an update on where I am now 🙂
I have NO CLUE why when I made my senior scrapbook I picked this picture of me to represent myself in 9th grade?!?! But whatever! This was me and here is all about who I was during that phase in life! Keep in mind that I was 15 years old and the year was 1999 😉 I'm cracking up while I'm typing this btw haha
Hair: short (to ears), no highlights
Makeup: Minimal (gel type eyeshadow, loose powder)
Favorite Band: Blink 182
Best Friend: Autumn
Biggest Crush: Anders
All-time Favorite Movie: Clueless
Must-see TV Show: Dawson's Creek
Weight: 120-125
Favorite Store: MTB
Best Store to Find Deals: Beall's Outlet
Favorite Hobby: Laying Out
Favorite Breakfast Place: Bagel World
Face Products I Can't Live Without: Clinque
Biggest Celebrity Crushes: Paul Walker, Tom Delonge
Favorite Pet: Mom's dog, Abby
Best Concerts: Weird Al
Piercings: Ears only
President: Bill Clinton
Grades: A's and B's
Favorite Book: Watchers
Hangout Spot: The Bowling Ally
Big Movie of the Year: American Beauty
Best Guy Pal: Jonathan (my cousin)
Jewelry I Wore Daily: Necklace, Toe Ring, Earrings, Rings and Bracelets
Latest Fashion Trend: Capri Pants
Hair Styling Products: Blow-Dryer Only
Most Popular Rapper: Eminem
Favorite Place to Get Ice Cream: Cumberland Farms
School Transportation: Mom or Bus
School Mascot: Scorpion
Favorite MTV Show: Real World
When I do my Homework: Right after school
Hit Song: The Thong Song
Dream College: Michigan State
Clubs I Participated In: None
Favorite Radio Stations: 101.1, 107.1
Favorite Magazine: Teen People
Sizes: Pants (6 or 7), Shirt (M), Shoes (7 1/2 or 8) For some reason I also listed my BRA size?!?!? I mean no one needs to know that info about 15 year old Emily…
Favorite Color to Wear: Black and Khaki
Dances Attended: Homecoming and a Middle School Dance
Eyebrows: Plucked for the first time but still pretty long and bushy
Tan: Real (worked hard to get it all summer)
Trouble I Got Into: Note sent home from teacher, Detention for dress code violation, and Police called on for rolling houses
Biggest Insecurity: My Arms
Pretty hilarious what I found worth telling about myself huh? Anyways this was me from Senior Year in high school. It was 2003 and I was 18 years old!
Hair: long (to my shoulders) with blond highlights
Make-up: Still minimal (regular eye shadow, loose powder)
Favorite Band: Box Car Racer and Blink 182
Best Friend: Michelle
Biggest Crush: Mark
All-Time Favorite Movie: Memento
Must-See TV Show: Friends
Weight: 115-120
Favorite Store: Delias
Best Place to Shop For Deals: Dawsonville and Tanger Outlets
Favorite Hobby: Scrapbooking
Favorite Breakfast Place: Chick-Fil-A
Face Products I Can't Live Without: Proactiv
Biggest Celebrity Crushes: Johnny Knoxville and Tom Delonge
Favorite Pet: Sadie
Best Concert: Box Car Racer
Piercings: Ears, Belly Button and Nose
President: George W Bush
Grades: Straight A's
Favorite Book: Angus, Thongs and Full Frontal Snogging
Hangout Spot: The Mall
Big Movie of the Year: Chicago
Best Guy Pal: Mark
Jewelry I Wore Daily: Minimal…usually earrings, maybe a bracelet but always three toe rings (what the heck?!?!)
Latest Fashion Trend: Ultra Low Rise Pants
Hair-Style Products: Blow-dryer, straightener, Bed Head Gel
Most Popular Rapper: 50 Cent
Favorite Place to Get Ice Cream: Brusters
School Transportation: Myself!
School Mascot: Black Knight
Favorite MTV Show: The Osbournes
When I do Homework: 8:30-9:00 at night if at all
Hit Song: "In The Club" by 50 Cent
Dream College: Florida State
Clubs Participated In: SGA, Beta, NHS, Latin, and NLHS
Favorite Radio Stations: 99x, 95.5, 100.5
Favorite Magazine: Glamour
Sizes: Pants 5, 6 or 7; shirt small; shoes 7 or 7 1/2
Favorite Color to Wear: Browns, Oranges, White and Purple
Dances Attended: Homecoming and Prom
Eyebrows: Plucked, less long and bushy
Tan: Tanning Bed (Paid $5 per session)
Trouble I Got Into: None
Biggest Insecurity: My Teeth
I meant to get a solo picture during the weekend at the reunion but I forgot so I had to crop Zach out of this one 🙂 I'm gonna try to answer all the same categories about myself for who I am today! The year is 2013 and I'm 28 years old 🙂
Hair: Growing it out…I guess most people would consider me a blond now?
Make-up: Mac Foundation, bronzer, blush, eyeshadow, etc. And I don't leave home without it 😉
Favorite Band: Fun.
Best Friend: Casey, Robyn and Rachael are probably my closest friends!
Biggest Crush: Zach 😉
All-Time Favorite Movie: Ehhh I consider watching a movie more than once to be a waste of time…however I did see Life of Pi last year and just bought it so Zach can see it so I guess that one?
Must-See TV Show: Bachelor/Bachelorette, Big Brother, RWRR Challenge
Weight: Haha…let's just say it's more than it was in high school 🙂
Favorite Store: Gap Outlet
Best Place to Shop For Deals: Old Navy
Favorite Hobby: Blogging!
Favorite Breakfast Place: Anywhere in the world? Bagel World. For sure!
Face Products I Can't Live Without: Mary Kay Timewise
Biggest Celebrity Crushes: Jeff Schroeder from Big Brother
Favorite Pet: Sadie
Best Concert: Well…Carrie Underwood has been my ONLY concert in the past like 4 years…
Piercings: Still just the single ear holes and my nose. No more belly button 😉
President: Obama
Grades: If I was in school, I'd totally get straight A's. Duh 🙂
Favorite Book: For parenting; Babywise. For "fun" reading; I like Emily Giffin's stuff!
Hangout Spot: Our House!
Big Movie of the Year: Wasn't there some new Iron Man one a lot of people liked?
Best Guy Pal: Zach but other than Zach, Jordan. I mean I don't have any guy friends? I feel like that stops once you get married!
Jewelry I Wear Daily: Wedding rings, still rockin' the same toe ring from middle school, and typically a balance of small earrings with a statement necklace or statement earrings with no necklace. Bracelet if matches 😉
Latest Fashion Trend: I like all the neon bright colors!
Hair-Style Products: Blow dry and straighten hair, use heat protector spray and that's it. I'm CLUELESS about how to fix my hair any different 😉
Most Popular Rapper: Oh gosh. I have no clue who is "cool" Zach likes Little Wayne a lot but is he even relevant now?
Favorite Place to Get Ice Cream: The Mix!
School Transportation: Drive Kye to school in our cool SUV 😉
School Mascot: Once the kids are in the county system it will be the Vikings. I don't think Kye's school now has a mascot?
Favorite MTV Show: The Real World Road Rule Challenge is the only show we still watch on MTV
When I do Homework: I do NOT miss homework. And I DREAD when my kids start having it. I mean they go to school allllll dayyyyy shouldn't they get to come home and have FUN!?!?!
Hit Song: Again, no clue what's "the song" of the moment. For me personally it's "Carry On" by Fun. I listen to it on repeat almost daily!
Dream College: For my children I hope they go somewhere close 🙂
Clubs Participated In: I'm not in any "mommy clubs" unless you count the Babywise Friendly Blog Network…I mean that's a club right? 😉
Favorite Radio Stations: Either Disney songs on cds or my songs on my Ipod when I'm kidless, rarely any radio at all
Favorite Magazine: Parenting
Sizes: Pants No juniors sizes AT ALL. Usually a 6 but during "that time" an 8; shirt medium; shoes 6 or 7 (isn't it odd how my feet have SHRUNK?!?!)
Favorite Color to Wear: I like all colors really, not a big fan of orange or greens really though
Dances Attended: I am not a dancer AT ALL so since high school I've probably only danced in front of people at my own wedding. But with the kids? We break it down in the living room on the regular!
Eyebrows: My poor eyebrows. I got them waxed ONCE in college and they ruined them 🙁 I've been growing them back ever since but I do have to pluck the stray hairs every day b/c they are dark!
Tan: Obsessed with my home spray tan system!!!
Trouble I Got Into: Our neighbor almost sued us for landscaping issues but we proved to him that he didn't have a case…I guess that's the closest I've been to being in "trouble"?
Biggest Insecurity: Arms for sure!
Zach just walked by while I was writing this and said that I have def improved in the looks department since high school and I guess I agree with that 🙂 I mean I miss parts of my teenager body (hellllo perky breasts!!!! I miss you!) but overall I think a lot of my looking better now just has to do with growing up and learning ways to improve ya know? Someday when I learn how to style my hair then I'll really be looking awesome haha
One thing that bothers me about all of these lists is the absence of some deeper questions. What were my dreams? My goals? My spiritual walk? It's fun to laugh at some of the stuff I found worth mentioning but I'm thankful I've got a lot more going on as a person than just shallow stuff. I know I did then too but I wish I'd found it worthwhile to discuss! My life as a Christian is THE most important thing to me and it makes me who I am.
I thought it was fun to take a look back at who I was in different stages of life. I have so much contentment in the stage I'm in now. It's neat to think back to who I was and how I had NO CLUE where my life would lead me. Now that I'm here I wouldn't change the path that got me to where I am. I'm so thankful for my life, my family, and my role as a mommy! I wish I could just freeze time and stay at this stage forever!!!
How have you changed since high school??? Hope you had fun looking back at some of my changes…and I'm prepared for some teasing so bring it on 😉