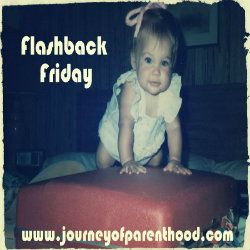 My birthday was yesterday! I'm now 28 years old (gotta enjoy my last two years before hitting 30, right???). Part of my birthday I spent going through old pictures and reliving my birthdays of the past. I thought it'd make a GREAT (but, VERY LONG) Flashback Friday post! Be sure to link-up to your Flashback Friday post! Remember…you can post your link at the bottom of my entry. No rules, no topics, just link-up to any pre-blogging day story!!!
Let's start at the beginning…my legit birth day. I was born on November the 1st (SO thankful Mom held out to have me until then…glad I'm not a Halloween baby!). My dad is in scrubs b/c my mom was in labor for a long time and they prepped her for a c-section. She begged for one more push and, with a little help from the drs, out I came 😉
I was turned the wrong way so they used forceps to get me outta there…hence the bruised up eye
I think Britt looks similar to me as a newborn, but Kye doesn't
newspaper clipping from when I was born
First Birthday!!!
I found all of these together so I'm assuming 2nd birthday
Haha love this
Growing up I was ALWAYS a fan of the spend the night type party. Based on the friends in the picture I'm thinking this was second grade???
Oh the glasses years…5th grade!
6th Grade another sleep over 😉
7th grade I had my first, and only, boy-girl party! It was a good time and I still had a friend sleep over after. I actually remember the fun spend the night with Claire more than I remember the actually party. I think I'm just the type of person that enjoys quality time with close friends rather than a large group!
In 7th grade I also started a tradition of having a weekend getaway party to my dad's every year for my birthday. I invited my closest friends that year and we just did silly girl stuff all weekend. Laughed a LOT. Ate junk. Stayed up late. Played dress up. That kinda thing. It was always SUCH a fun time but I think that first year we did it was the best. Being 7th graders we were a lot more silly than we were as we got older 😉
Gainesville Mall!
8th grade friends
10th grade
We had a HUGE mud fight then hosed off and posed hahaha
11th grade I think???
In 9th grade I lived in Florida for the year. I had a close group of a few friends so we went to eat and to a movie. My mom dropped us off so we felt very "adult" I'm sure 😉
For my 16th birthday I went down to visit my mom and celebrate with her and my family. She rented my best friend, Autumn, and my cousin, Jonathan, and I a LIMO for the night!!! We all went out to eat as a family and had fun riding around town in the limo! Such a neat surprise!
It's okay…you can say it…worst. haircut. ever.
Mt Dew in our glasses 😉
Me, Mom, and Nana
Celebrating my 16th birthday at Dad's I got my first cell phone (old school Nokia!) and my first car!!! I was THRILLED with it! I miss that car still to this day. I swear when I'm a little old lady and don't have kids to carry around everywhere I WILL own a bug again 😉
My cousin, Michelle, lived with us at the time 🙂
17th birthday. Mom, Mark and I hit up my favorite restaurant – Provinos!
A group of friends came up to Dad's for another weekend…I think this was also my 17th???
I put this picture in here JUST for Zach. My random shoe collection from high school cracks him up 😉
18th Birthday at my apartment!
Hard Rock Cafe for dinner
Lots of FSU gear 😉
This was a special birthday for me b/c my WHOLE family was together!!! Since my parents divorced when I was 9 I had always celebrated "separate" birthdays…but I got to have us all together for my 18th. And we all had a great time! We got Harry Potter glasses just to make it a legit party 😉 We also all went to see The Ring in theaters that day together.
Freshman year in college my mom and Jonathan came to visit
Showing them around campus with my roommate, Kim
My 20th Birthday…1st birthday with Zach in Valdosta!
He got me a cross necklace
Our church even had a little party for me!
Mom and Brandon came to visit for the weekend of my birthday
Little Mama and Big Daddy
Zach surprised me at work at had flowers sent to my office! It was the first and only time that happened seeing as it was the only time in my life that I had an office type job haha
For my 21st Birthday Dad, Brandon and I all met up in St Augustine to celebrate. Zach had an away game and his family flew with him so it worked out where I got some quality family time 🙂 It was SUCH a great trip together. I had never been to St Augustine until Zach took me over the summer so I was excited to share one of my fav vacation spots with my family.
The ghost tour was SO FUN (even though Dad kept being annoyed that he didn't see any actual ghosts haha)
I took this for Zach since his high school mascot was the Vikings 😉
Celebrating my 21st together!
My first set of Victoria's Secret pjs 😉
Red Lobster all you can eat shrimp (I'm not sure which birthday???)
The year we were engaged…Zach made me my favorite pancakes in our first home!
Dad bought me my ipod (I'm impressed…that junk is STILL kickin'!)
And Zach bought me my very first Coach bag 😉
Dinner out with friends, our first year married (so my 23rd birthday)
Also our first year married we went to Charlie Trippers for the 1st time AND we got the call that Courtney was pregnant with Colt that night 🙂
After that ALL of my birthdays have been on the blog!
And all the fun from my 28th birthday will be posted soon 🙂 Can't wait to see what everyone else is linking up to today!!! Thank you to EVERYONE who wished me a happy birthday yesterday, it was a wonderful day and it's only the beginning of my birthday celebrations this year. I'm so blessed!!!