I'm starting to get in a good groove with this whole Flashback Friday thing. I am organizing all my old pictures as I go and I LOVE that now they will be forever stored on my blog and, eventually, in my blog books. PLUS scanning them gives me a digital version I can save on my computer for extra safe keeping!
I try to have the post up every Friday at midnight and the link-up stays opened through Sunday night at 11:59. So if you want to link-up you can do it anytime over the weekends!!! There are NO rules…just simply write your blog post then add your link at the bottom of this post 🙂 Easy!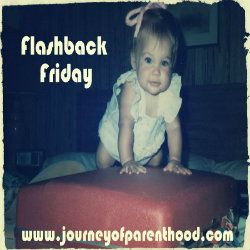 I have NEVER been a beauty pageant type person. I'm not against them or anything…they just have never been my kind of thing. First of all I loathe walking in heals. Even though I have always dated tall guys (Zach is 1 foot and 5 inches taller than I am haha) I've always rocked my flats. I just struggle with walking in heals! Also, while I'm a confident person, I'm not that confident. Being judged in general makes me super uncomfortable…but being judged based on looks?!?! Ehhh. No thanks.
I cannot for the LIFE of me what made me decide to take part in the Miss Central Pageant my Junior year of high school. I didn't have a lot of super close girl friends that year…I was pretty much just attached to my boyfriend's hip (you know how that goes I'm sure…we've all been there!). But for some reason, I decided to do it. And I'm so glad I did!!! The Miss Central Pageant is something put on by my high school every year for all the Junior and Senior girls who want to participate. We were judged on our interviews before the actual pageant, a dressy casual type outfit and then a formal look. We didn't have to do a talent or anything like that and I think the only thing we had to say while on the stage was our name? The rest an announcer read out while we did our walks.
I really surprised myself and had so much fun participating in the pageant. It was a great chance to hang out with some girl friends and get a break from boyfriend land 😉
You KNEW it was coming Rachael (she's on the left!)…
Introducing myself 😉
Michelle was my BEST friend throughout childhood (I'm actually going to have a Flashback Friday devoted to her someday!) and she came to support me 🙂
Getting ready with Jenna and Jenna
Recognize anyone??? Like Danielle (she's on the far right!)
Dad was so proud 🙂
I really had SUCH a great time participating. So much so that I decided to do it again my Senior year. I can't remember if I was on or off with my boyfriend at the time (we were on and off a LOT over the course of our three year relationship…haha) but his mom offered to do my hair for me and my mom and brother drove up from Melbourne to be there for the event!
Buying this outfit was the first time I ever shopped at New York and Company. I remember feeling so grown up haha. Now it's like one of the only stores we have in my town!
Claire and I
I remember Danielle running around like crazy backstage rocking her Crest Strips! haha
Taylor, Me, Claire and Lauren
Mom and I
My mom was being CRAZY backstage and cracking us all up the whole time…she couldn't resist the temptation to try on the crown!
Lauren and me
With Amelia!
Practicing our walks!
Michelle came out again to support 😉
This makes me laugh out loud…you know you're short when the mic covers the top of your head haha
I just remember being thankful that I didn't trip. I kept telling myself "don't trip. Smile. don't trip, Smile" haha
Getting hugs after it was over!
My family
I had such a wonderful time with all of my friends! I made a lot more awesome girl friends during my Senior Year and I'm so thankful for that. Not only did it make the year more fun for me, it also allowed me to have some life-long friendships that I'll forever cherish. I'm thankful I branched out some from boyfriend la-la land that year! haha!
For my senior scrapbook we had certain things we had to write (we did the Senior Scrapbooks as a school project…I LOVED it). One of the topics was "My Favorite School Occasion." I had SUCH a blast my senior year with the pageant that I wrote about it for my topic 🙂
Here is what I wrote: "I first participated in the Miss Central Pageant my Junior Year and I loved it! At the time, I didn't have many girl friends and it was a great chance to have fun with the girls! This year was the best ever because I wasn't as nervous and because so many senior girls were there along with me. Mom and Brandon came up for the big event and that made it even more special. I said the person I most admired was Brandon and I think he liked the surprise. Of course, Mom goofed around backstage and tried on the crown! Haha. Whitney Peterson won the title and deserved it. She's beautiful! More importantly, we all had a lot of fun joking around and trying to keep our dresses on in the heat behind the curtain. More than any dance or get together, I will always remember the fun times I had in the Miss Central Pageant!"
It really was such a fun event and I'm glad I went outside of my comfort zone and participated in both pageants. I think the interview portion was especially beneficial for me. I hadn't ever been through an interview process before and doing that made me realize that I do well in those types of settings. It gave me great confidence for future times when I would have to be interviewed. It for sure helped teach me a life skill that I used later!
While I enjoyed my pageant experience…I will not be signing Brittlynn up for any baby pageants anytime soon 😉 No Toddlers and Tiara's for us!!!
Can't wait to see what everyone else is linking up to this week!!!