Soooo. I'm ticked! I paid to have a year subscription to Linky Tools for my Flashback Friday posts and now I can't even get their website to load…does anyone have any clue how to fix this?!?! Maybe it's some glitch in my security settings on the new computer!?!?! For now if you wanna link-up SHARE a link to your post in the comment section of this post 😉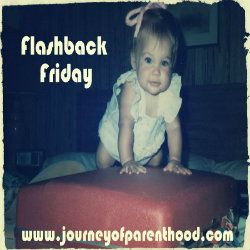 I am CRUNK about my 10 Year High School Reunion this year. Like you're gonna get sick of hearing me talk about it. I am starting my 24 Day Challenge on Monday and my GOAL is to be walking into that reunion with my head held high. Overflowing with confidence and ready to see some people who haven't seen me in 10 years 😉
So this is a TON of pictures. But I wanted to remember it all 😉 I don't know if all high schools do this or not but ours had a Baccalaureate thing the week or something before graduation? It was at a church and was some type of ceremony. Honestly…I don't remember much about it. I think Claire sang and someone else played a sax? I was rushing to get there from my Real World interview (that WILL be a Flashback Friday someday! My almost claim to fame haha) and was in SUCH a blur about that so I didn't pay much attention to this ceremony. I know Dad went with me though and took the pictures 🙂 I realized when making this post that I FOR SURE get my hardcore picture taking obsession from my dad. He took TONS and I'm so glad he did! Hopefully my kids will appreciate my constant camera snapping someday too 😉
Who looks cool in their hat and gown?!?! NOT ME!
I love all the group shots!
So smart to TAKE off the HAT! 😉
Beautiful Claire 🙂
Another one with Danielle!
More group shots…isn't it fun to look for people you know? 😉
I'm pretty sure our entire graduating class was invited to attend? It looks like hardly ANYONE did though? Didn't we have a class of over 500???
Jennifer…friends since kindergarten!
Taylor!
Practicing for the Graduation ceremony…we graduated with honors so we got to sit together (and be among the first people to walk)! SO FUN!
My family came into town the day before graduation and we all went out to eat together that day to celebrate. It was wonderful having them all together! Looking back it was especially so sweet of Nana to make the trip and Jonathan, my cousin, to come along with them!
Mom, Jonathan, Nana, me and Brandon
Tip for 2003 Emily: Short shirts…and BAGGGY pants are NOT cool 🙂
I LOVE how PROUD Nana is 🙂
My favorite guys!
We all met up at my "apartment" prior to the ceremony and I got ready and took LOTS of pictures!
My cords are for graduating with honors, Beta club and the big medal is for Latin haha I was the Latin Club President. Whatwhat!
Daddy's Girl 🙂
I still totally have this entire outfit in my closet…let's bust 'em out for the reunion 😉
I LOVE pictures of the four of us! Rare and special!
My apartment was actually the basement of a house in the same neighborhood where I grew up. SO random, I know. But I would park on the street and walk down this pathway around to the back of the house to get into the basement where I lived. The rest of the house was rented out (to people who ended up being DRUG DEALERS. Awesome) but really the apartment was the perfect amount of space! I had everything I needed for sure!
Do all towns do this? I love that we did in Lawrenceville! I don't think I've seen it in Valdosta though? I DO see tons of football related signs…of course…ALL the people who lived in my neighborhood and were graduating together were listed on this sign! Tyler and I might have jacked the sign later that summer and hung it in my apartment…and I might still have that junk in my attic somewhere…
I thought I would cry a lot during the ceremony. But I didn't. I tend to NOT cry when I think I will (birth of babies…didn't cry…wedding day BAWLED though haha). I did get a little misty when Claire sang. Claire singing had been something I had enjoyed at pretty much all the major events of my school career and I figured it'd be the last time I'd hear her. Spoiler alert: it wasn't. I've gotten to hear her sing at several weddings since then…including my own! I'm glad Danielle and I were sitting next to each other so we could talk through the boring parts and I'm thankful I didn't trip when it was my turn to walk across the stage!
As soon as the ceremony was over I ran to find Mom and Nana then went to the field to see all of my friends.
My dad was awesome! He followed me everywhere and anytime I stopped to say hey to ANYONE he got a picture of us together. Some of the pictures are MEGA random. But I LOVE that he did that for me (I repaid the favor for my brother when he graduated). You only get to experience moments like these ONCE and having a tonnn of pics is a blessing!!! I do wish I had a pic with Rachael though…I don't even remember seeing you that night?
Stephanie and Lauren
I'm glad Mark and I were still friendly after we had broken up (another spoiler alert…we ended up getting back together that fall and were still loosely together until I met Zach…). We were a HUGE part of each others high school experience and I think it's so nice that we supported each other so much even when we weren't an item!
I miss you Nana. This is so precious to me 🙂
Brandon! He was always my dad's favorite through all my years of school!
I never ONCE hung out with DC?!?! I laughed out loud when I saw this haha
Claire
Keith…I think he's a dr now so something? He played guitar and sang with Claire…they were awesome!
Tyler!!!
Chelsi and Taylor (how the heck did their hair stay so perfect?!?!)
Erik! My first grade boyfriend 😉
Lacey
Michelle…my best friend from childhood
I totally put this up for Melissa and Katie 😉 Ryan!
I know that not everyone is into the social networking thing but GAH I wish Katie was. I have always ADORED her and really, really hope she comes to the reunion so we can catch up 🙂
Cassie, Mark's little sister
Justin
Meghan
Matt…it's funny to me how we are all PARENTS now!
Going to pick up my legit diploma after all the fun seeing everyone!
Afterwards Mom and I hung out at my apartment for awhile then I went to hang out with my friends. I think we all spent the night at Jared's house??? I can't remember for sure where we all were but I know we didn't get much sleep! I love that our group of friends were all pretty much good kids. No wild partying…just hanging out laughing (and maybe a few embarrassing make outs…haha). That night started my summer of NO SLEEP. Seriously! I think Danielle and I were pretty much together 90% of the time. GREAT memories! She lived out of her trunk hahaha 😉 The BEST summer ever and I totally have some pics for a flashback post someday 😉
The morning after graduation Michelle and her sweet mama, Mrs LeeAnn hosted a party for me at their house. It was SO sweet of them!
Hahah I LOVE my cakes…Dad is so funny 🙂
The cookie cake had a yellow bug (my car at the time) and said "Congratulations Emily on your High School Diploma year 2003"
The ice cream cake had TWO pictures of me on it and said "Class of 2003 congratulations Emily"
I STILL dream about this cake. It was AMAZING. I kept it in my apartment freezer and ate off it majority of the summer. It was the beginning of my obsession with Dairy Queen cakes. I remember I wanted to kill someone when he accidentally left open my freezer and it got ruined!
Mark and his mom came to my party which was very nice and a crew of us attended his party in return that next week (that's when I ran over the dead deer…remember that Danielle??? And Tyler opened the window to see it and yall had to live with the smell the rest of the ride home!)
Party Guests: Tanner, Joann, Brandon, Alyssa, Mr George
Mom, Nana, Claire, Danielle, Uncle Chip
Jonathan helped with the decorating 😉
Opening gifts!
Our crew for the summer! I'm not really sure how it all initiated but the four of us hung out constantly!
Danielle, Tyler, Taylor and I!
Why did I BUY this picture?!?! Omg worst smile EVER. Haha
I'm really so so thankful I got to graduate with everyone at Central. I started off in pre-school with a lot of my friends. I moved to Florida my freshman year of high school and I'm so glad I ended up back where I know I was meant to be! The friendships and bonds I have with so many people from my high school are PRICELESS to me!!! I truly am SO excited to reunite with everyone this year for our reunion and everyone BETTER show up!!! You KNOW if I took this many pics on graduation day that I'll be taking a millllllion more at the reunion haha hopefully Zach will do as good of a job as my dad did for me 😉
Sorry for the link-up issue…hopefully I'll get it fixed for next week! Just leave your blog link in the comments section if you want to link-up!