Recently we have had a bit of car issues in our house. First I busted my side mirror on the garage door then remember about a month or so ago when Zach wrecked my car? Well last night he and Jordan were on their way home from working in Savannah and were on some country roads when a huge BEAVER ran out and Zach ran it over in his car. Engine lights started flashing and the car broke down. Mr. Rusty was kind enough to go tow him and Big Daddy let him borrow a car. They are at the dealership now dealing with getting a rental and paying our deductible again to get it fixed. Oh the joys of car wrecks! And we're now on wreck #2 in the span of 8 weeks. Not good!!!
While I was SUPER MAD about the trailer wreck, I honestly just started LAUGHING about the beaver. C'mon, you know it's funny. We just keep having random bad luck after random bad luck and now it's at the point where we just have to toss up our hands, dig further into our pocket books, and enjoy the ride the best we can 🙂
Thinking on our recent car troubles inspired today's Flashback Friday post!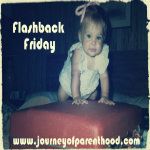 My first car was a VW Beetle. I loved loved loved that car 🙂 One night my boyfriend, Mark, and I were going out to get some pizza for dinner. The weather was SUPER bad. It was dark. Raining. BAD wind. Etc. Seriously, when we were at at a stop light the lights were spinning over and over. It was NUTS. I was in the left hand lane (if you're from the Lawrenceville area I was on Scenic Hwy turning left onto Sugarloaf) and literally couldn't see a SINGLE THING. Visibility was ZERO. It was a double left turn lane and I was in the further left lane so cars were to the right of me who were also turning left. Mark told me to stay as far left in the turn as I could so I wouldn't hit someone and they wouldn't hit me. I did that and heard a LOUD thud. I kept driving and honestly just thought I'd hit a bump or something. Like I said, I couldn't see a thing! Pretty soon I realized I was actually DRIVING ON THE MEDIAN.
VW's are SUPER low to the ground so you KNOW that junk was doing some damage. Tons of lights were flashing in my car and it straight up quit. Thankfully some kind men came to help us, in the POURING rain.They helped us push my car to the side of the road and then Mark's parents came and picked us up (my dad was on an international business trip, I was living in my apartment at the time). Long story short, my car had to have an entirely NEW transmission put in AND they had to rebuild the engine! I remember Dad saying that it was almost enough to just total the car!
Since my mom lived 8-10 hours away from me during high school, I would also make sure to visit her every Spring Break and during the summers. Mark and I were attached to the hip (yall know you've been there with that high school romance!) so we always went together. It was the summer of 2001 and Mark had just turned 16 the March prior so he was a relatively new driver. We took his car down to Melbourne for a two week visit. I actually have HIS version of this entire story in my senior scrapbook so I'm using that to re-tell this 😉 Sorry for the ghetto scanning!
We went to bed SUPER early the night before we were leaving to go back home. We got up at 2:30 in the morning and jumped in the shower so we could be awake for the drive. Around 7:15 I fell asleep. We had JUST gotten my dog Sadie and she was a tiny puppy. She was curled up sleeping at my feet. Since I was asleep Mark turned down the music and started getting tired himself. He nodded off for a split second then jolted awake realizing he was halfway off the road. Being the new driver he was he did what many unexperienced drivers would do…he jerked the wheel to the right to get us back on the road.
I remember waking up hearing the sound of us going over the edge of the road (that loud bumpy sound) and to Mark SCREAMING "We're gonna die!" over and over again. We had been in the fast lane of the highway going about 70 mph. We were spinning around and around and I remember it in slooooow motion (isn't that how stuff always is in our memories?). I just remember both of us looking at each other (I guess he gave up trying to get control of the car at that point!) and screaming.
We had barreled into the trees and it all ended with us choking on the smoke from the air bags. Mark asked if I was okay and if Sadie was okay (we both were) and then he got TICKED. He got out of the car and was beating it and cussing and yelling at himself. Someone pulled off to help us (again, such nice strangers!) and I remember trying to dial my moms phone number but I couldn't b/c I was shaking so badly. At some point Mark called his Dad and my Dad and the two of them decided to drive down together. My back had some bruising and swelling so they decided to take me by ambulance to the nearby hospital in Lake City, Fl. You know me…before getting on the stretcher I asked to take some pictures first haha!
And I asked one of the EMT guys to snap this for me. Don't judge my amazing natural curls. This is what my hair looks like when I shower and don't blow dry/straighten hahah
I love how we are all smiles next to the car!
A police officer was also there (Mark got a reckless driving ticket…which I just think is dumb. I mean YES if you hit someone else it makes sense to get a ticket. But he was already suffering enough with his car being totaled! Kinda like kicking him when he's down, ya know?). The damage from the wreck was pretty legit. They told us we should be very thankful that it had rained so badly the night prior. The ground was muddy and it kept us from flipping over which would have resulted in a much worse outcome for sure.
The police officer drove Mark and I rode by ambulance (Sadie went with Mark I'm assuming?). The only thing I really remember is being stuck on that stretcher and being TORN APART by ants. It was horrible. I was in so much pain on my legs and just wanted to itch them but I couldn't bend or move. I guess I had stepped in a bed when we were waiting outside? It was awful!
At the hospital I had xrays done and was fine. (Although fastforward to now and at a recent chiropractor visit they told me that wreck actually DID do damage to my back!). We waited, with Sadie, in the lobby of the hospital for a good 4 hours or so until our Dad's came to get us. Mark's car was totaled and they got him another car. I had some burns on my face and arms from the air bags (but still went to the Blink 182 concert the next night…so hardcore haha) but otherwise was fine. I KNOW we were SO blessed to be okay and I'm so thankful. I have had issues with falling asleep in the car ever since and just recently started being okay with snoozing while Zach drives. I also ALWAYS freak out when we go off the road for a second and hit those bumps. It still brings back that panic feeling!
Another time I wrecked a car happened in college. Zach and I were dating and I was working (gasp! yes, I've had a job before haha). It was again POURING down rain. Me and driving in the rain are NOT friends. For some reason I was driving his Trailblazer and he had his old truck. He met me at work and we were going somewhere after. I went to back out of my parking spot and backed into Zach (in the truck) with HIS car. Oops. He was SO ticked! Thankfully I only busted a tail light and we got it fixed quick 😉
I know that SO many people have had such worse experiences than we have with car accidents. I'm very, very thankful that it hasn't been anything worse. After me wrecking the Trailblazer we didn't have any other accidents until Feb when Zach's trailer came unhitched and did some DAMAGE to my car (you can read about it here!).
Zach was smart this time around and I didn't actually get to SEE his car after the wreck last night. He wasn't too happy that I posted pictures up of the damage from my car so I think he was being clever this time so that wouldn't happen. He's already taken the car up to the shop and has a rental. Have to pay yet another deductible for the insurance but at least this time he didn't get a ticket for it! Hopefully this little Beaver run-in will be our last wreck for AWHILE!
Have you ever been in an accident? Just done something stupid (like ride over a median haha)? Or have you been fortunate enough to never know the way it feels to have an airbag deploy in your face or to have to pay that hefty deductible in order to get your car fixed? Let's trade some stories so I can feel better about this beaver… 😉