Family Recap: March 2020 (Pre-Social Distancing Life)
I'm splitting March into two separate posts because MAN life changed DRASTICALLY mid-month didn't it?
Here's the first part of our March…the days we took for granted before the chaos of coronavirus.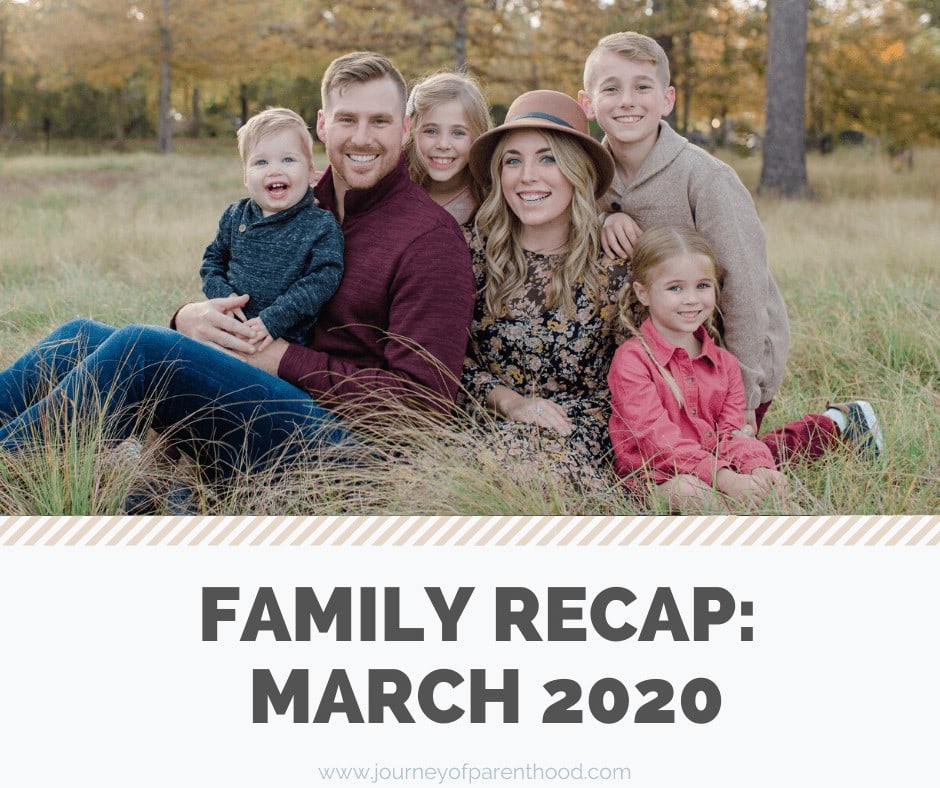 Family Glow Night
The kids' attend an awesome school that has TONS of events (and dress up days, as you've seen ha!).
One of their big events for the year is a Glow Festival Night. They used to do a Fall Festival and we enjoyed that but they switched it to a night event as a Glow Fest.
Zach is a true introverted extrovert. He is very outgoing and chatty and friendly and seems like an extrovert when you meet him, but he's actually introverted and is notttt a fan of events like these.
He basically asked the kids "what will it take to NOT attend this event?"
So the Parker Family Glow Night was born!
THE biggest thing our kids love at their school festivals is donut on a string haha
Up next were glow sticks and night jumping on the trampoline followed by cookie candy pie (we used cookie dough as the crust, covered in candies then topped with more cookie dough).
Lastly, we ended the night with an EPIC family laser tag battle. It was SO fun!
It was SUCH a fun night! Kye asks frequently to do a "family fun night" and I've never quite understood what he means by that but he said this night was EXACTLY what he's meant 😉
3-3 Date
Zach was SO sweet to surprise me with a special date on March 3rd.
My lucky number is 33 and Zach planned a fun afternoon/evening together on 3-3 – my "lucky number day."
Super sweet of him and we had the best time!
We cuddled during naps and watched Bird Box then had a sitter come and went and got pedicures together and then ate dinner at Panera and he surprised me with a unicorn cookie cake 🙂
It was such a special date and so beyond thoughtful of him!
Big Kids
Britt and Tess's passports came in for our Disney Cruise!
The kids had some dress up days for school and have been doing so great with their chores with much less complaining 😉
Kye had a great birthday this month and enjoyed playing with his new games with Zach as well as his new board game with all of us as fam.
Spear
Spear's big news this month was figuring how to climb out of the crib…
We used a sleep sack to keep him from climbing out and it worked great, until he met me at my door one morning!
I've had a bunch of people on Instagram asking why I don't just transition him to a big kid bed but yall NO WAY is he ready for that.
I don't even trust him to not sit in a high chair anymore…no way do I trust him to stay in a bed.
Zach was out of town when Spear figured out how to climb out with the sleep sack on so I was limited on my options and ended up just pulling his mattress onto the floor.
He ended up sleeping on the floor in front of it but man his sleep was SO BAD during that week.
He never napped and was overtired and exhausted and beyond difficult.
I was thankful when Zach got home and when our crib tent arrived.
Spear is doing amazing in school and is rarely having any potty accidents at school now too!
I've started to have him do independent playtime in his bedroom and he's doing GREAT with it as well, which surprises me.
He plays better in his room by himself than he does when he's just playing randomly around the house. He focuses better and sticks to one thing and destroys much less.
His two favorite things are playing outside and bath time! He will help himself to join anyone who may be bathing 😉
A video recap of our month should play in this post, if not view the video here!