Disney Weekend January 2020: Part 1
Our house at Disney World rents out pretty frequently so we have learned that if we want to use it we gotta block of dates EARLY!
We basically go through the school calendar and block it off for our own use anytime the kids don't have school and when we think we'll be able to go down 🙂
We love a good long weekend and spending 'em at Disney is the best!
The kids had off for Martin Luther King Jr day we went headed down to the house Friday afternoon after school.
We've gotten into a really solid routine with Disney trips that is making them easier and smoother each time 🙂
We LOVE stopping in Ocala on the way down to hit up McAlisters!
We got to the house right at bedtime and had big plans for the next day so we all went to be as quickly as possible.
Zach and I LOVED Rise of the Resistance in December and both thought it was worth it to take the kids – even if that meant waking them up at 5:30 in the morning!
If yall know us then you know how hardcore we are about sleep…so you know this ride is AMAZING if we're willing to wake our kids up that early!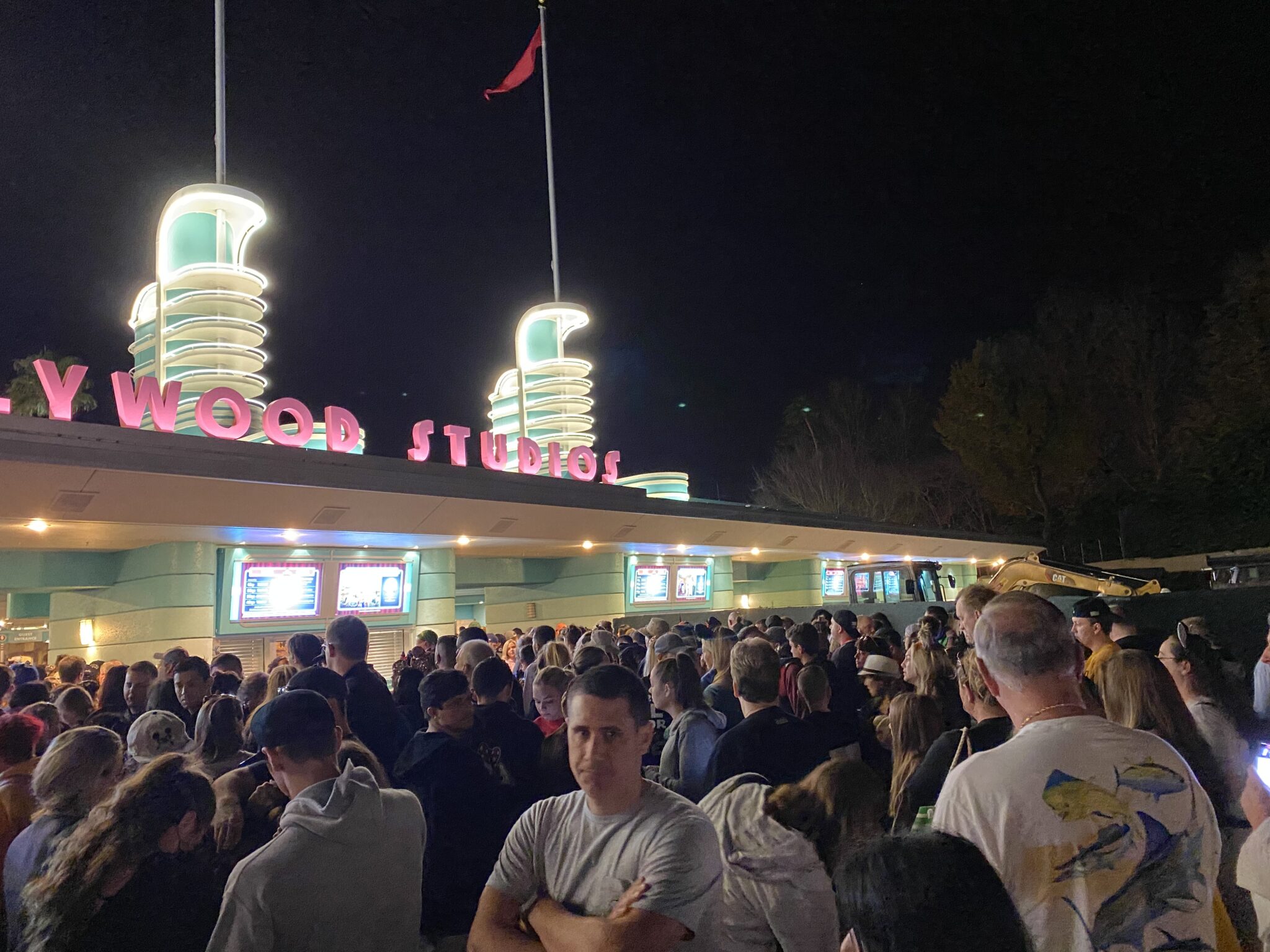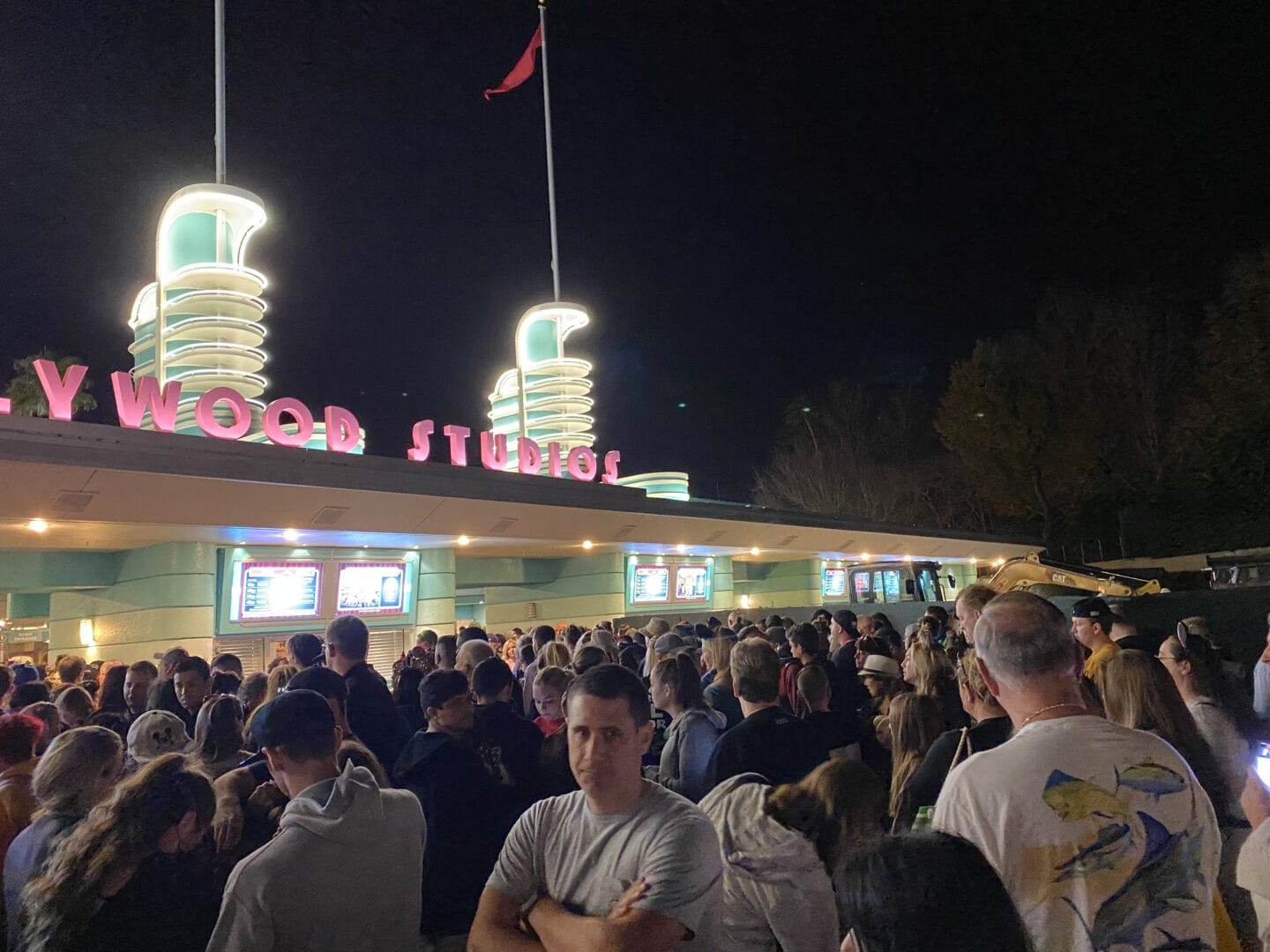 Disney keeps changing up how they are handling Rise of the Resistance and I gotta say…this recent change was NOT for the better.
When Zach and I went it was truly first come, first serve.
We got there at 6 am. We were allowed in the park a little before 7. As soon as we scanned our bands we could use the app to get a boarding group.
People who were there earlier, got earlier boarding groups. People there later, got later ones.
Well now they changed it to a lottery system.
You still have to arrive super early but now they allow you in the park well before the park opening time but the app won't work until the park opens.
On this morning the park opened at 7 am.
We were there by 5:50.
The kids did A-MAZING.
We were allowed into the park around 6:30 and lined up near the entrance to Galaxy's Edge.
Zach busted out the old school Mickey videos while we waited and Spear took some potty breaks 😉
Right at 7 we went to board a group and MY APP DIDN'T WORK.
I wasn't super shocked…b/c that's my typical kinda luck.
Zach was able to use his app to get he and I a group but his app wasn't allowing us to add the kids.
So we headed over to wait in line to talk to a cast member about it.
She was able to add the kids to the boarding group that Zach was able to get.
At that time (literally not even 7:10 am) the boarding groups were already above the threshold for the "most likely to get to ride" groups.
SO thankful we thought to have Zach get a group in that moment of panic!
And so frustrating for the new system.
We arrived at the park EARLIER than the day when just Zach and I went yet he and I on our solo day got group 27 and on this day got group 87!
So. Frustrating.
But I DO still love the virtual line.
I love that we can still have our three fast passes and I love that we can still go and do while we're waiting to ride!
Once we got that sorted we headed over to Galaxy's Edge to get a DAS pass for Smuggler's Run and then went over to Toy Story Land.
We hit up the bathrooms to wait until we could use our first FastPass – Toy Story Mania!
It was the first time Spear was big enough to sit in a seat on his own for the ride and it made it SO fun for our WHOLE family!
Tess and I were "Team Baby Yoda" 😉 How stinking GROWN does she look in that last pic with the Bo Peep staff? TOO BIG.
Zach and I learned during our visit in December that even though DHS is open at 7 am…a lot of stuff isn't opened at the official park opening time.
A lot of meet and greets with characters didn't open until 10 am!
We headed over to Launch Bay (or as Zach kept calling it – The Hud haha) to see if we could meet Darth Vader.
With Spear's cute outfit we thought it'd be fun to meet him and the big kids haven't met him at DHS yet (we did meet him at Disneyland!)
The wait was shorter for BB8 so we met him first!
The cast member at the door was SO fun and had everyone help push the button to open the door 🙂
I love that BB8 is still a photo pass spot and it was a fun interaction.
We all LOVE BB8 – including Spear!
I totally spaced out and forgot we could have used the Disney Chase Visa to meet Darth quicker but oh well – Zach stood in line while I took the kids to play around Launch Bay.
A cast member totally chatted me up later on in the morning and complimented my skills on controlling them all, especially our mini-Darth 😉
Darth Vader's meet and greet is the computer photographer and not a human.
It's annoying…but this time the cast member in charge of the meet and greet handled both our phone (I usually don't use it but since our last pics were AWFUL with the computer thing I asked her to use it) and helped the computer work where the pics were WAY better than before.
Spear has NO FEAR with Storm Troopers or Darth Vader – he's def got the force 😉
You're welcome for my epic facial expressions!
The above pics were with my phone and the coloring is really off to me – I think she must have been snapping them at the same time as the photo pass computer thing…I was def impressed with how these turned out!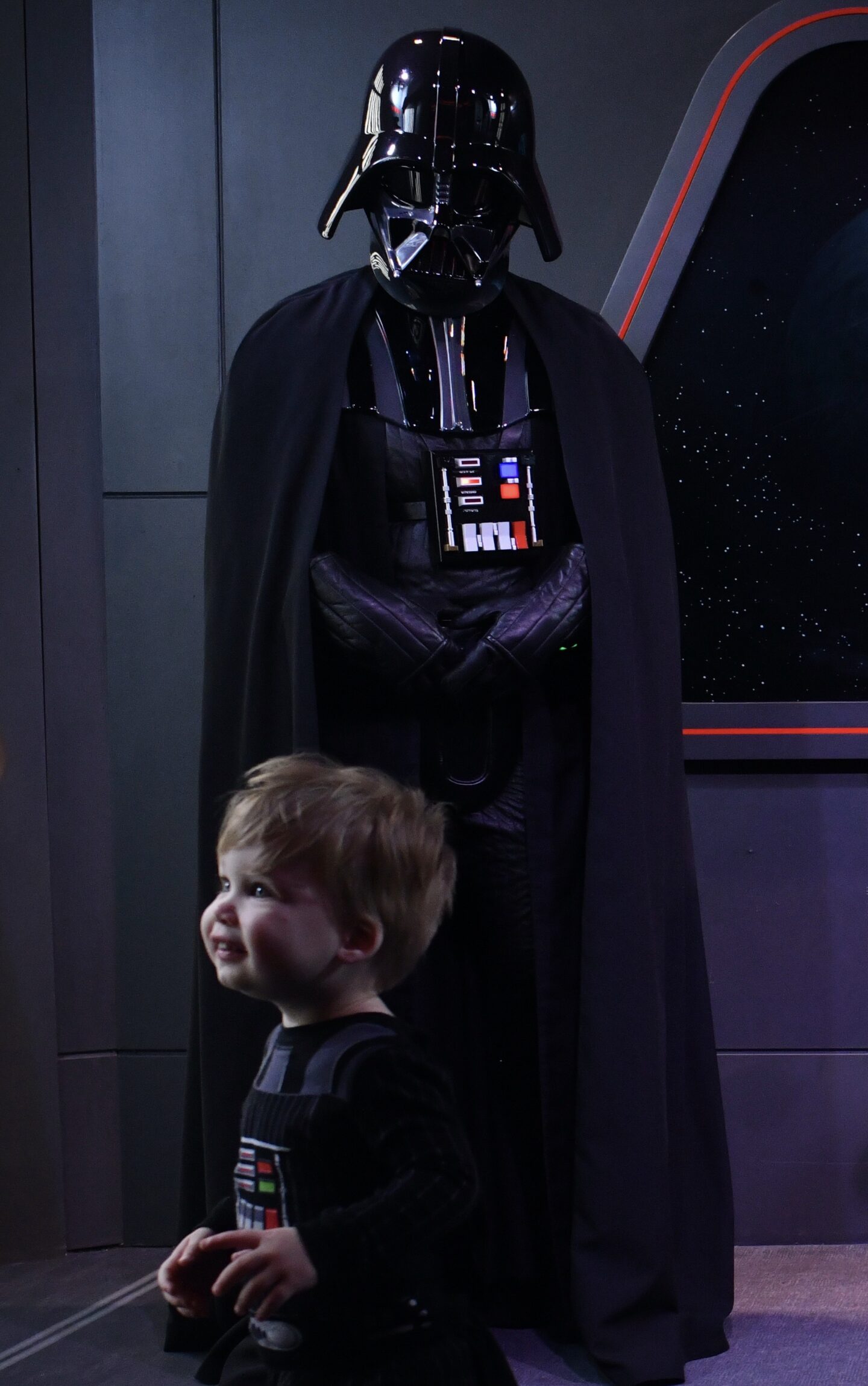 We finished up with the meet and greets and it was time to return to our pass for Smuggler's Run.
We traded off – Zach rode first and then I went with the kids!
A negative about rider swap is that technically you can only swap for 1 adult and TWO kids.
I get the reasoning but it is also impossible to just choose TWO kids.
We won't have rider swap options for much longer (Spear is not too far off from being tall enough for rides) and it's just really hard to only be able to choose two of the big kids to take for the second ride.
Thankfully Tess is pretty darn cute and the cast members are always super sweet about letting them all ride the second time!
When I rode with them we were assigned gunner and engineer rolls and Tess started crying (the 5:30 am wake up was showing at that point).
Another cast member saved the day and let us wait for another pod to load so it was just the four of us and Tess was able to pilot.
It was a "aw thanks" kinda moment b/c in reality I was SO GLAD when Tess was NOT given a pilot role because I get so sick and knew HER driving would be awful for me.
I piloted with her and sure enough – I think I'm done with Smuggler's Run for AWHILE. Barf City (not truly but I felt like I could).
We got to say hey to our buddy Chewy!
We had a fastness for Zach and big kids to ride Star Tours so Spear and I rushed over and made it in time for Disney Jr Dance Party.
Spear was SO cute and serious the whole time and was so excited to see Mickey!
He didn't dance but just soaked it all in.
Which is so funny to me about Spear because he's SO WILD yet so focused too!
I LOVED having this quality time the two of us!
We packed lunches and I'm so glad we did!
We had hoped we'd be able to go back to the house to eat but with a boarding group of 87 we were prettttty confident that we wouldn't be riding anytime soon.
So lunch break was in order!
Spear was so funny wanting to sit with the big kids – we are def on that verge of having FOUR BIG KIDS!
It was a cool moment while Spear and I were in the bathroom where Zach and the big kids got to see the Star Wars march coming down right by where we were hanging out!
We finished up lunch and had another fast pass for Rock N Rollercoaster.
We had some time beforehand and I really wanted to make sure we got a family picture.
If you're looking for a quiet photo spot at Hollywood Studios head over in front of Hollywood and Vine by the pond!
We were in line on Hollywood Blvd and I ran down to check in front of Hollywood and Vine and NO LINE at all!
I love how these turned out too!
It was SO chill that the photo pass photographer had some fun with the kids and doing some shots of them using the force 😉
Spear loves looking at the ducks in the pond 🙂
We walked over to Rock N Rollercoaster (yall know I LOVE when Kye takes my hand as we walk around Disney!) and still had time prior to our pass so we had time to check out the Lightning McQueen Racing Academy.
It was cute.
Just cute.
I didn't LOVE it and thought it was a bit boring actually but the kids surprisingly really enjoyed it and Tess asked if we could do it again!
Def not a "must do" but a good time killer.
And a GREAT thing to do while bigger kids ride Rock N Rollercoaster.
I wish that Disney did a better job of providing smaller kid activities nearby the big attractions.
Like Galaxy's Edge needs a "Baby Yoda Playground" right?!?!
When Zach, Kye and Britt went to ride Tess, Spear and I visited the other cars and browsed the shopping carts!
I LOVE that Tess loves to "shop" 😉
After Rock N Roller Coaster we headed back to the house for naps.
We were frustrated that we had such a late boarding group but were also GLAD that if we didn't have an early time…that we knew we'd have time to go back to the house for nap time.
I did some googling and was able to find boarding time averages and knew that boarding groups in the 80s usually board between 3 and 5 pm.
I noticed it seems to run at a rate of about 10 boarding groups per hour once the initial early loadings finish up.
We got back to the house and CRASHED for a bit!
Part 2 coming up 🙂