Every year for Christmas Eve we get up and get going to head over to Big Papa and G-Mama's house for the day and night! For several years we had a family football game on Christmas Eve (The Cat Creek Classic). Over the past couple of years there have been some shifts and changes and the game just died. Which is SO SAD. And I'm legit not being sarcastic. It truly breaks my heart that it's no longer a thing as it's something Zach loved so much.
Rather than a football game some of the family has transitioned into golf (#shocker) instead. It worked out this year to play the golf the morning of Christmas Eve. Which really worked out SO GREAT. I had the morning to get everyone ready and loaded up without being rushed and I think Mrs Charlotte liked it too as she could also get everything ready for hosting! I think it may be a new tradition 🙂 Golf on Christmas Eve!
Our Elves leave us on Christmas Eve and this year they left a friend for the kids to care for throughout the year as well as a note. I love seeing Tess so into it this year. It was really the first year it all "clicked" for her in a big way!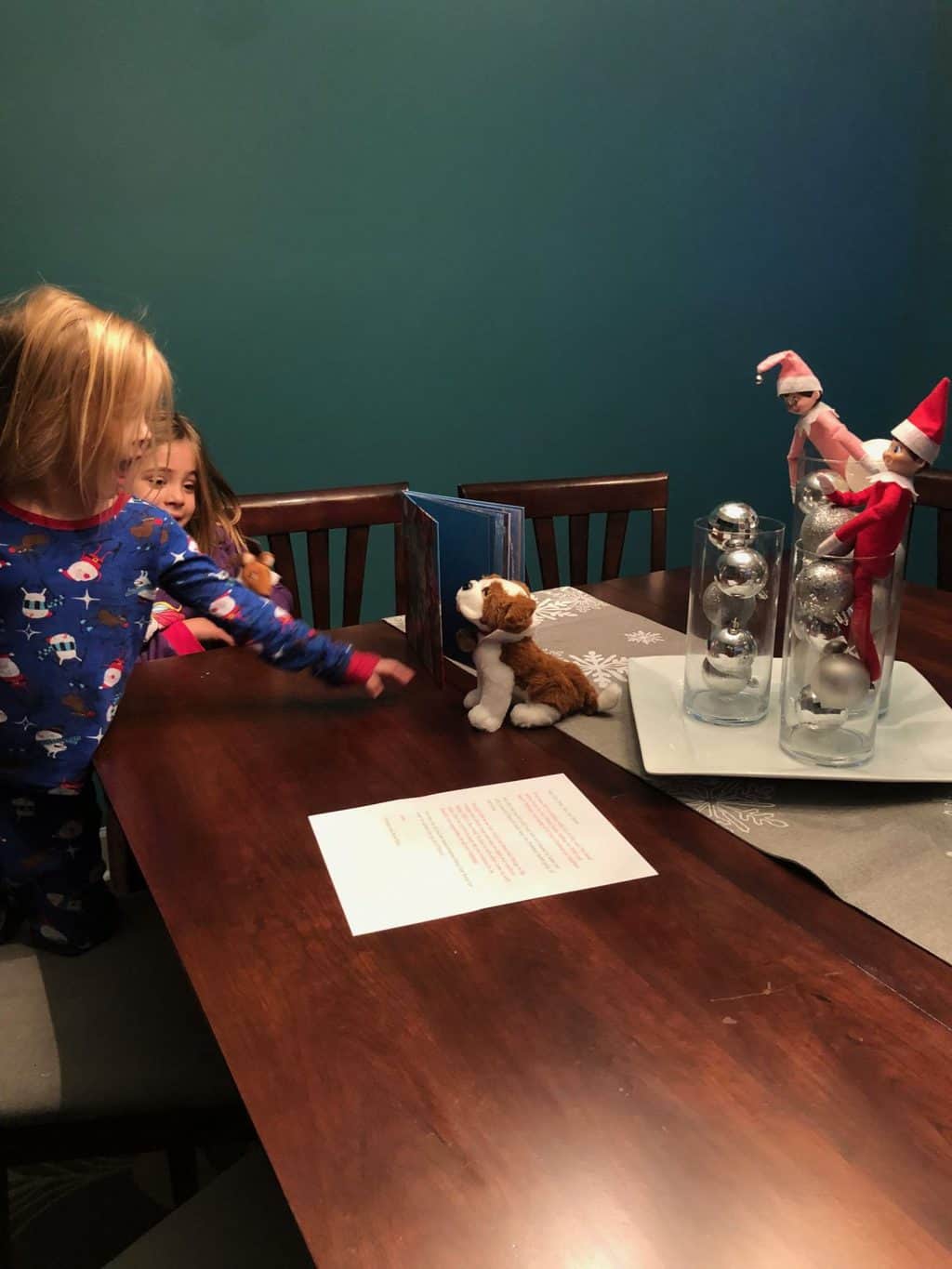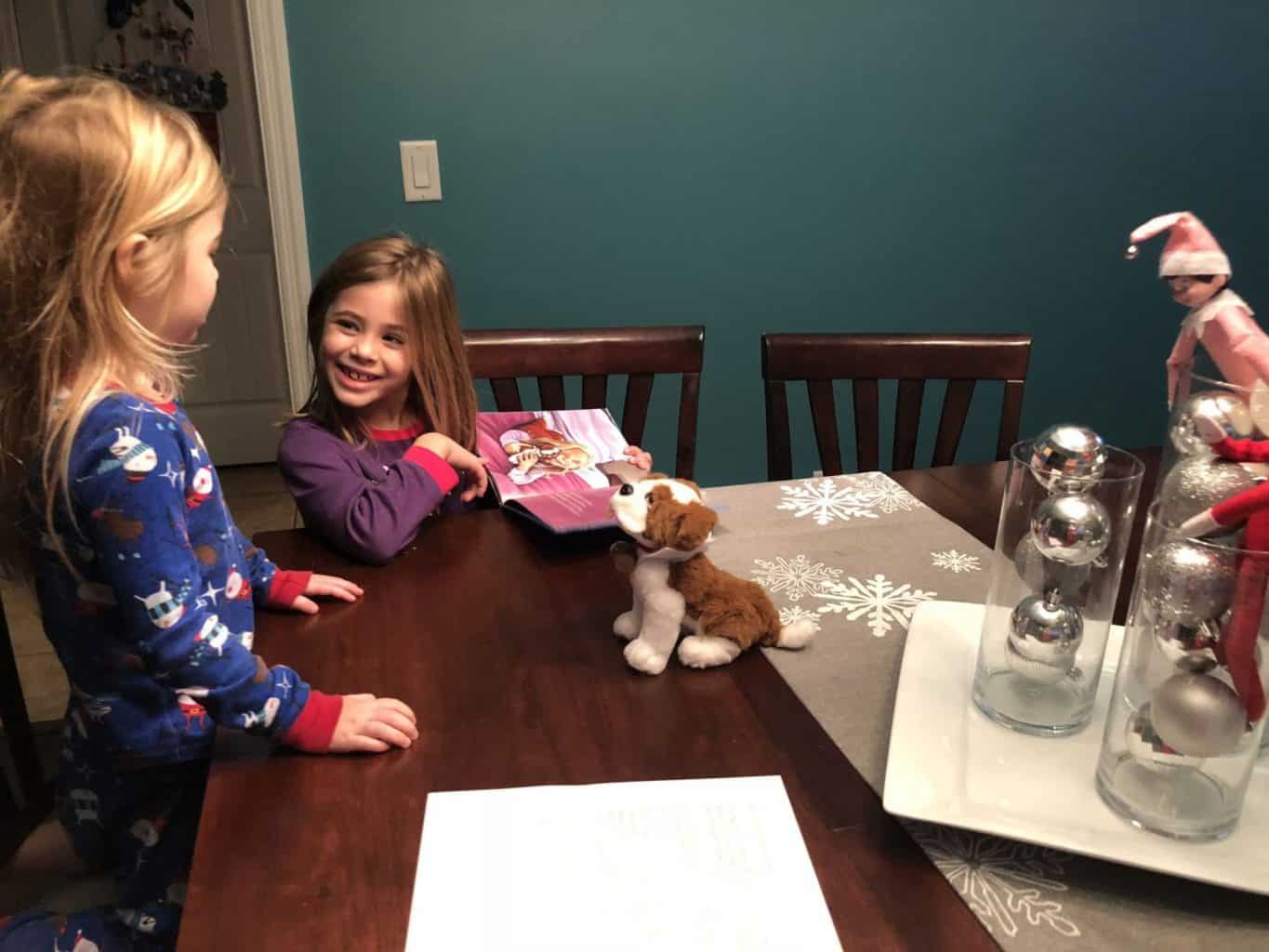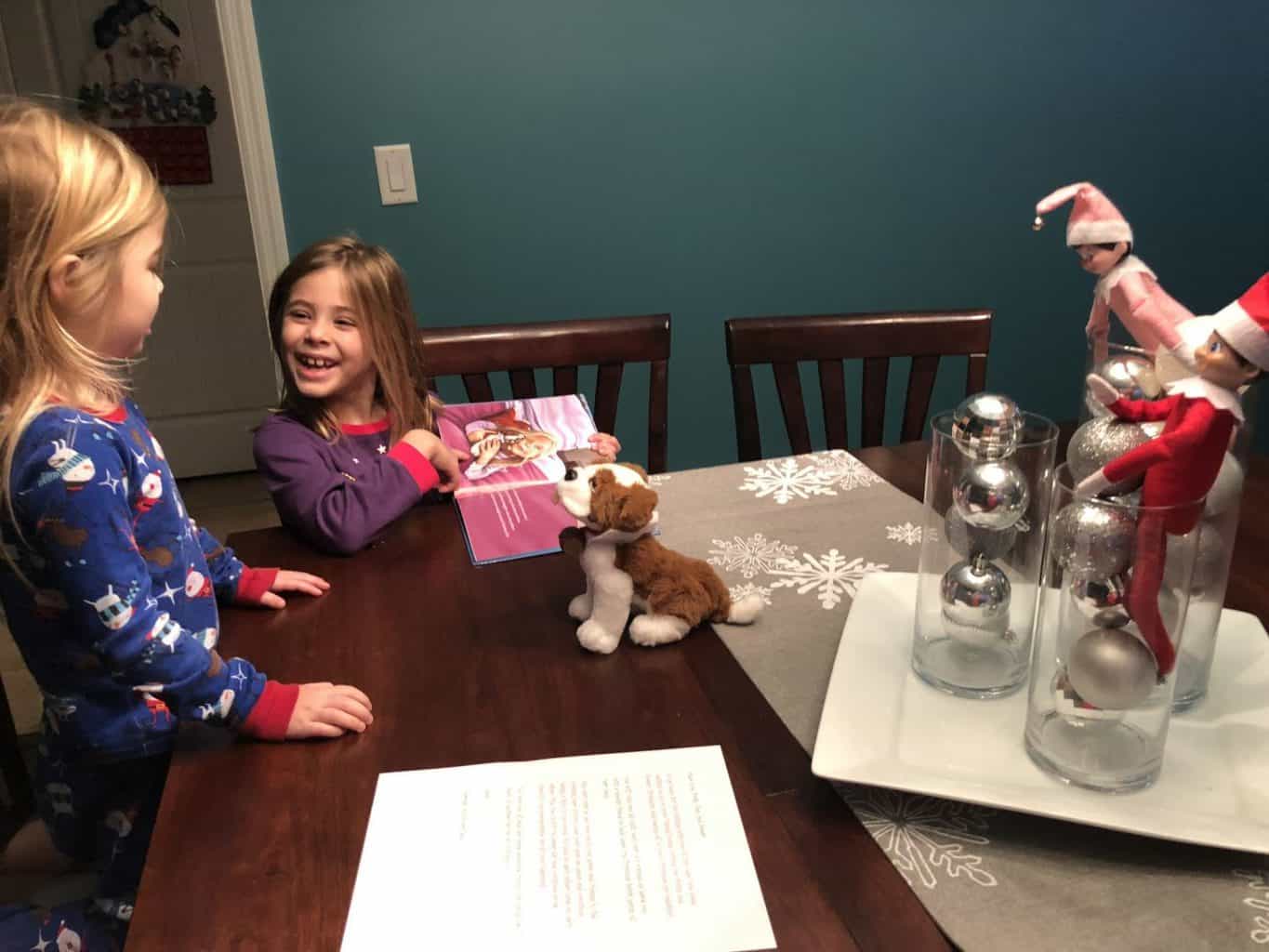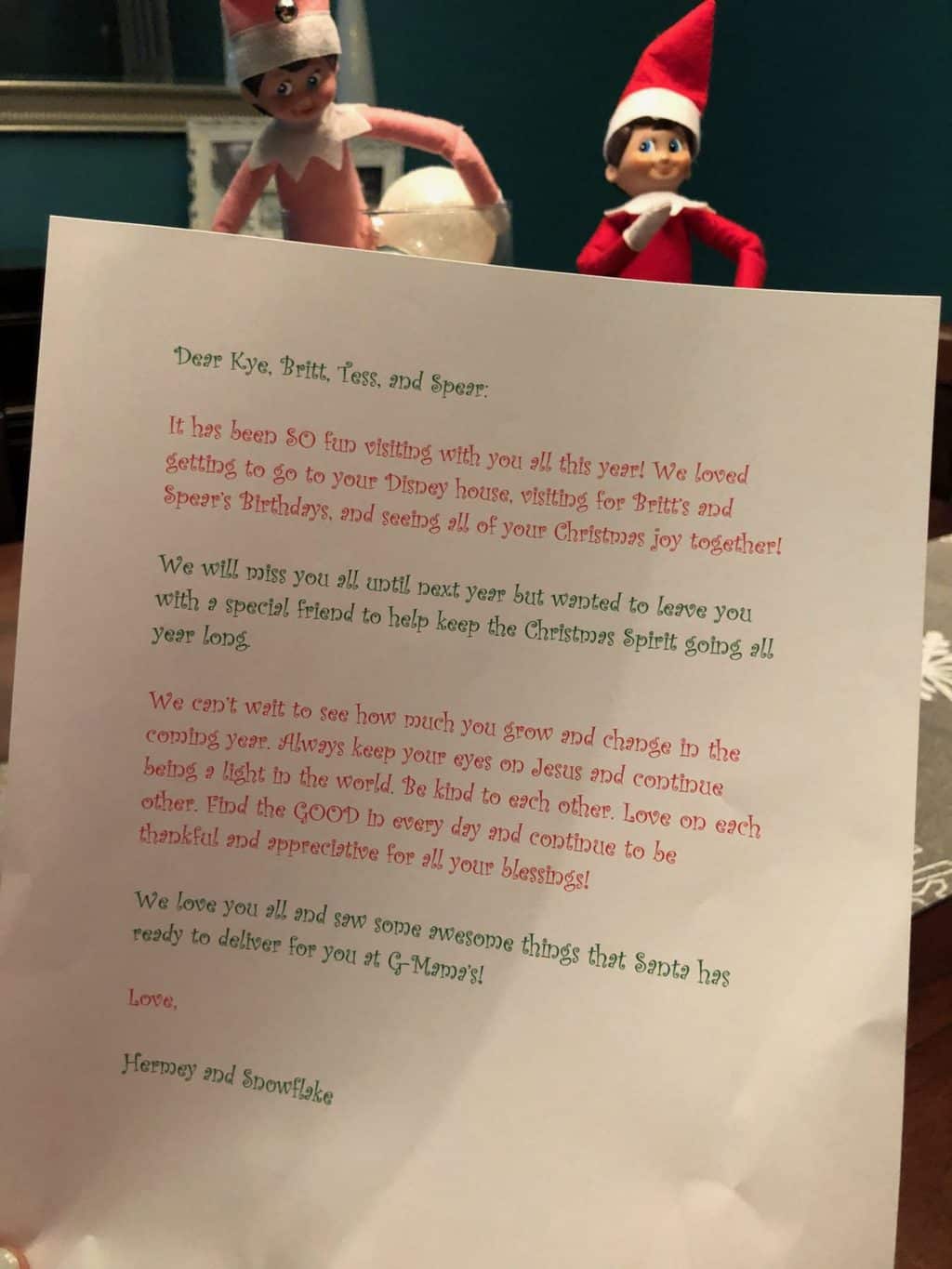 Random Emily fact but growing up we always drank Egg Nog around the holidays. We'd put a dash of it in with milk – SO GOOD. I grabbed a carton and wanted the kids to try it and they liked it too!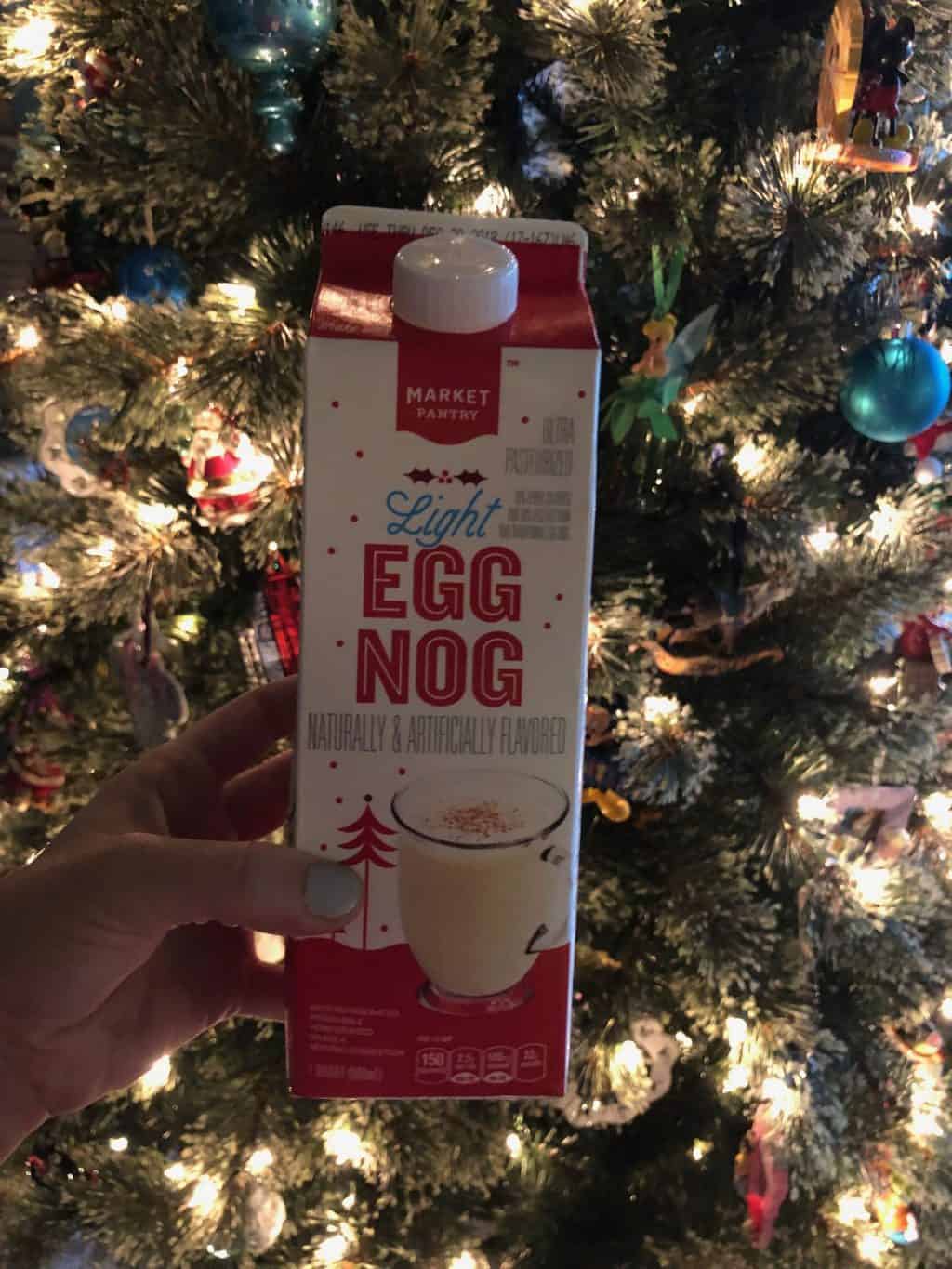 We took time that morning writing out our Santa letters 🙂
Britt's Letter Says:
Dear Santa: I really want a flip beany boo, a koala with baby, and a big hatcnhimal. I hope you have a great year. Thank you for ??? (no clue haha) he is really special and thank you for Hermey and Snowflake. I love you love Britt. Oh and thank you for giving us presents. Oh and I promise I will keep my eyes on Jesus.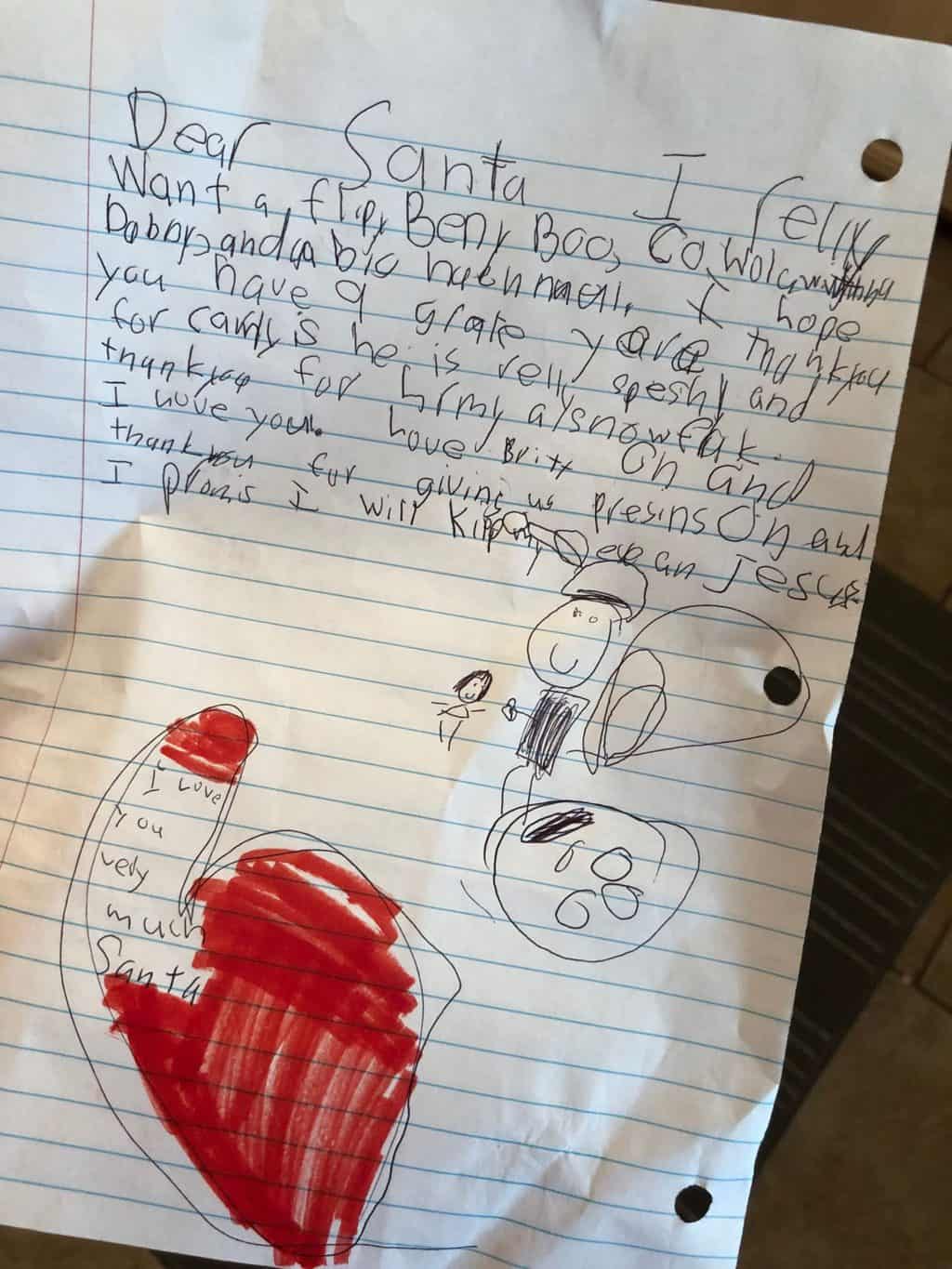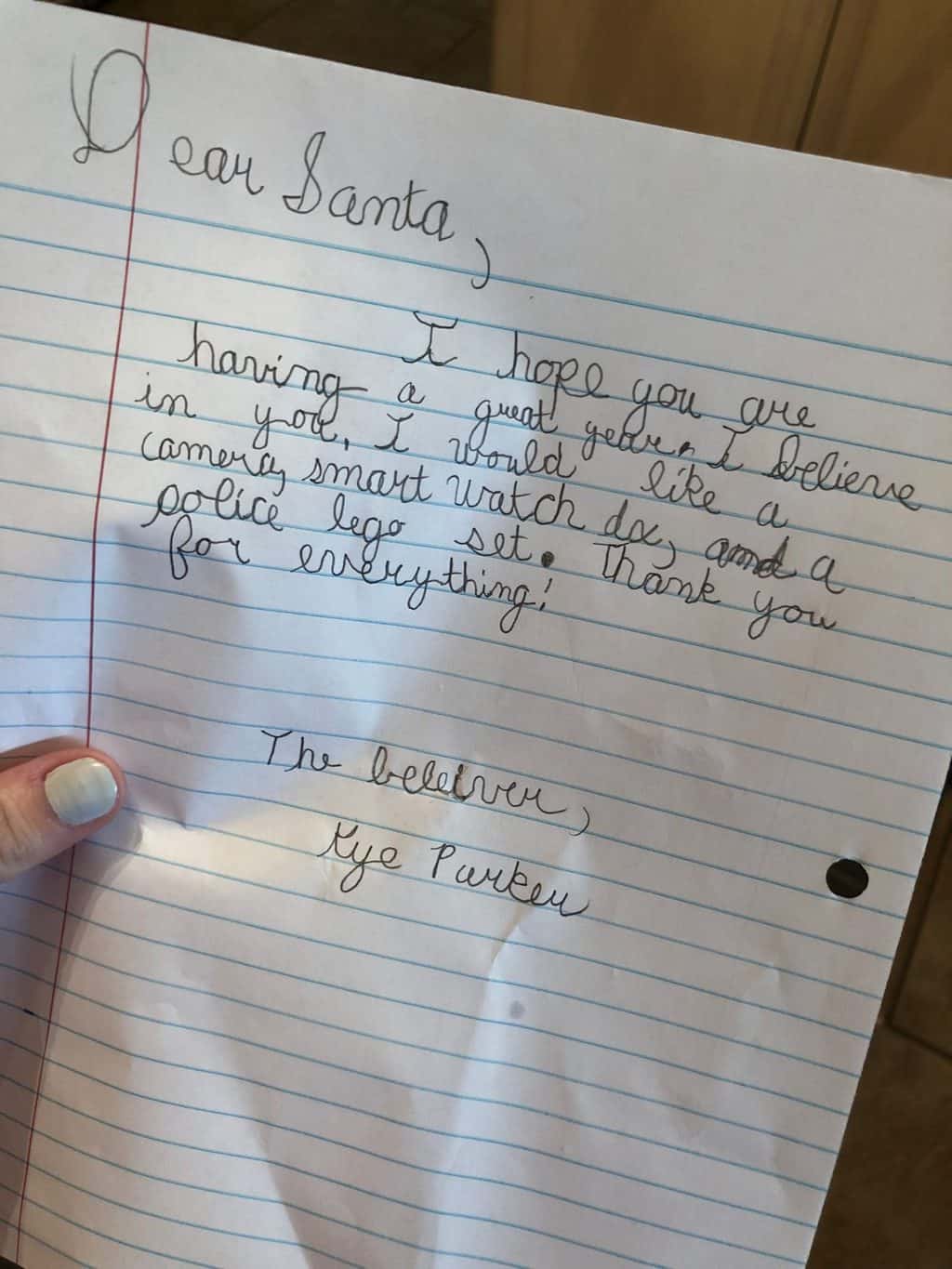 One of the family gifts during our Core Crew Christmas was this swing! Zach hooked it up that day and the girls have been OBSESSED with it! They love being able to swing together!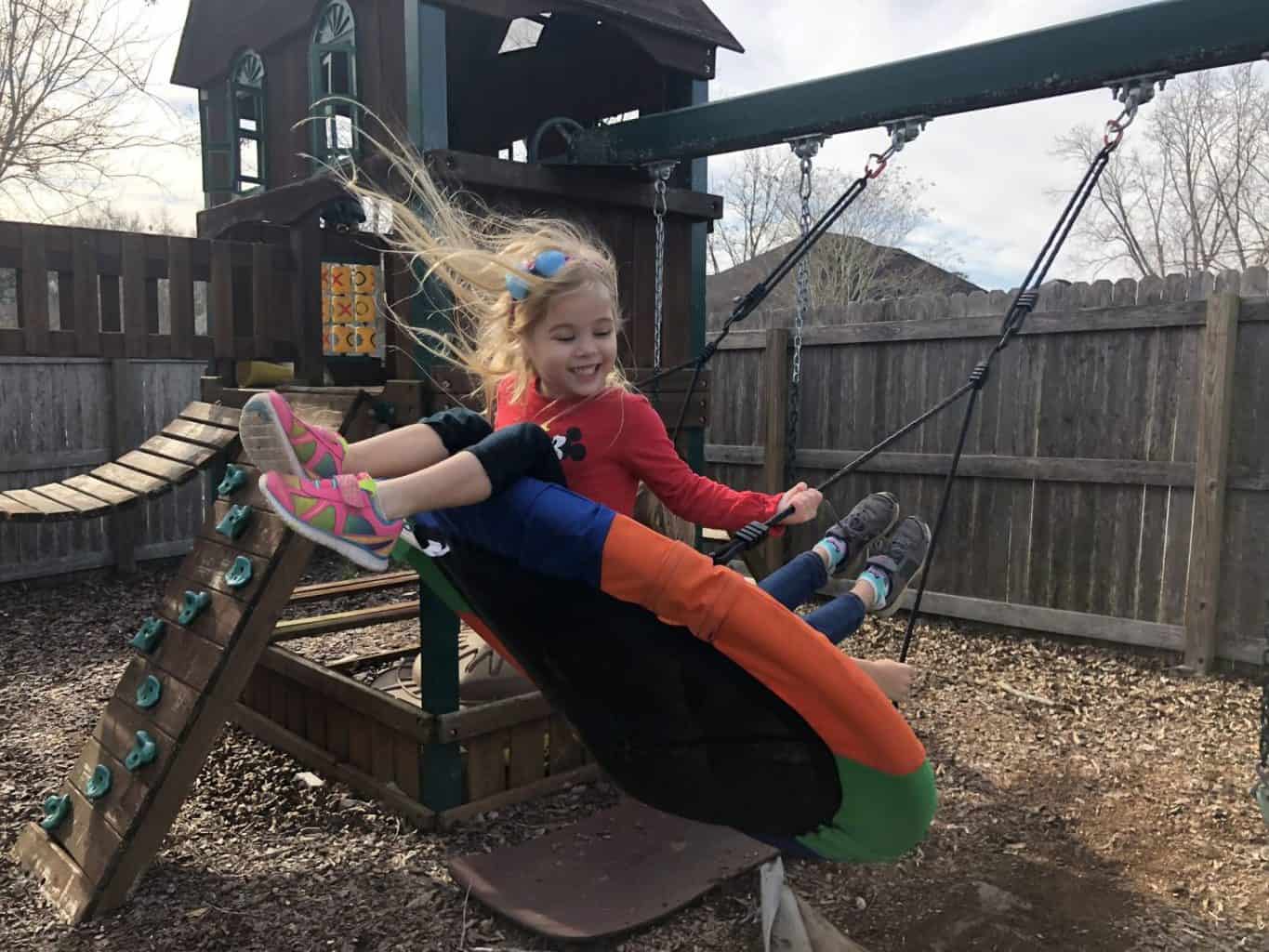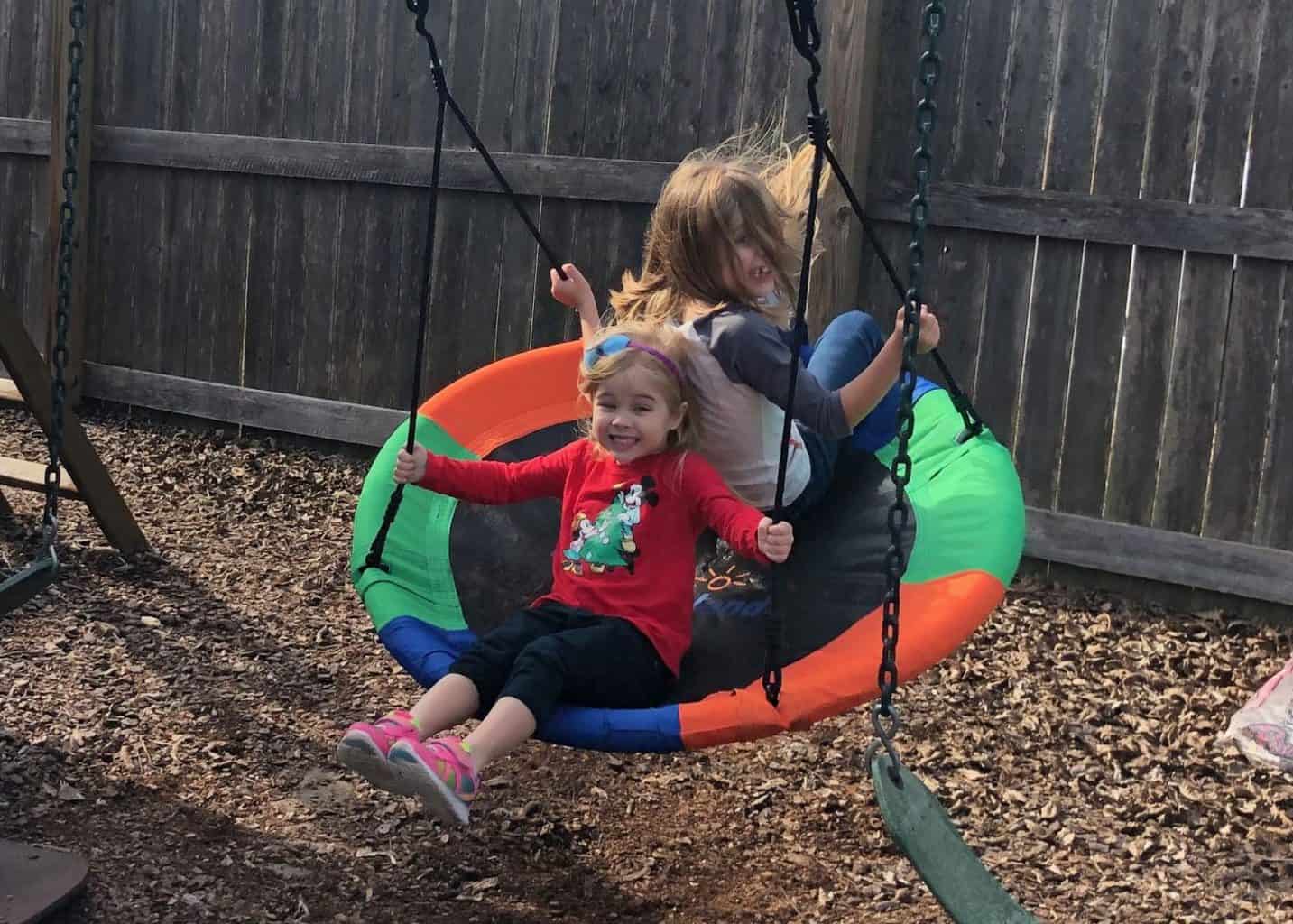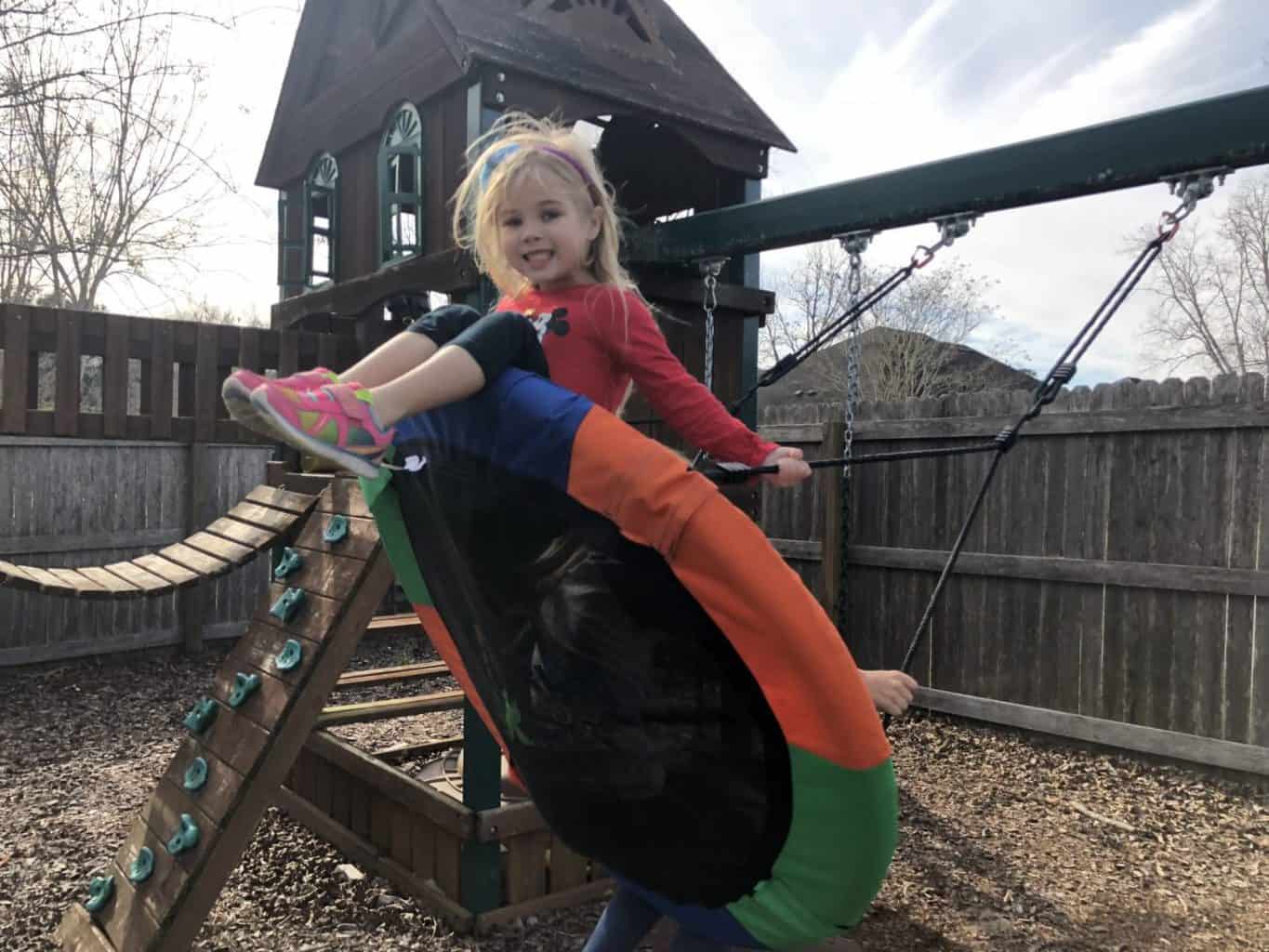 And this kid? All he needs for Christmas is a box 😉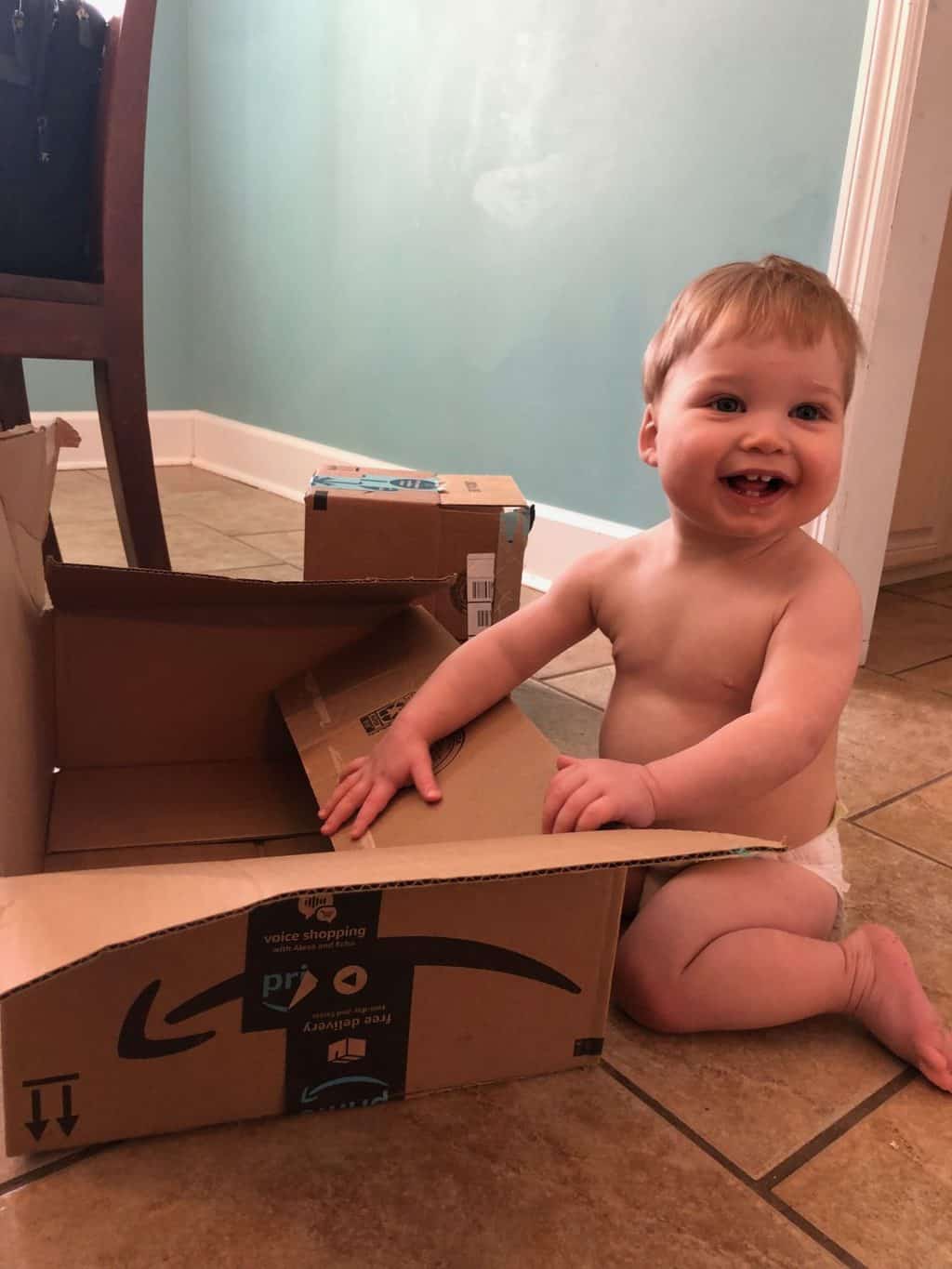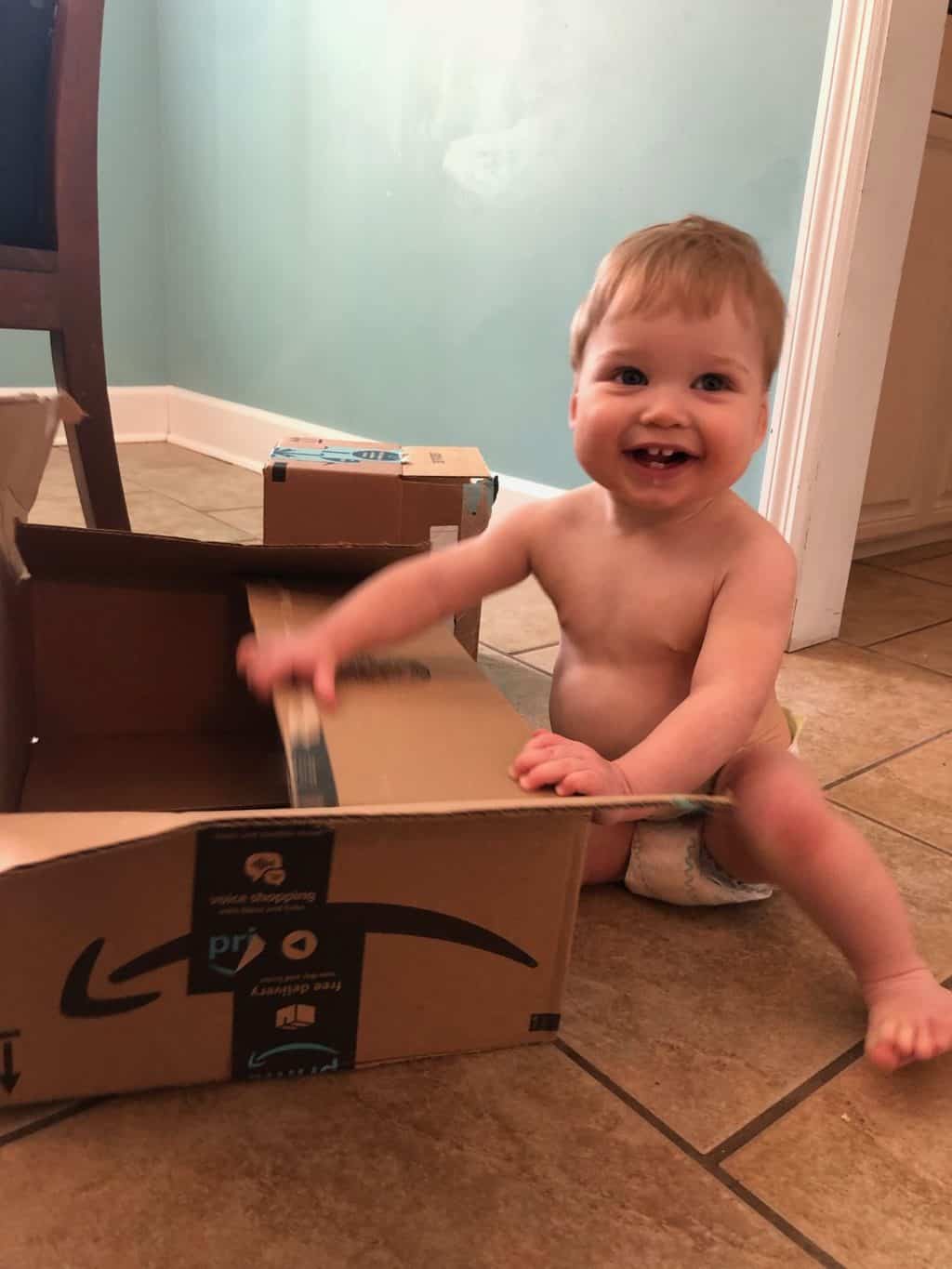 My big thing with Christmas Eve is comfort! Zach's family isn't really the get dressed up type of crew but I still like to look put together while being comfortable!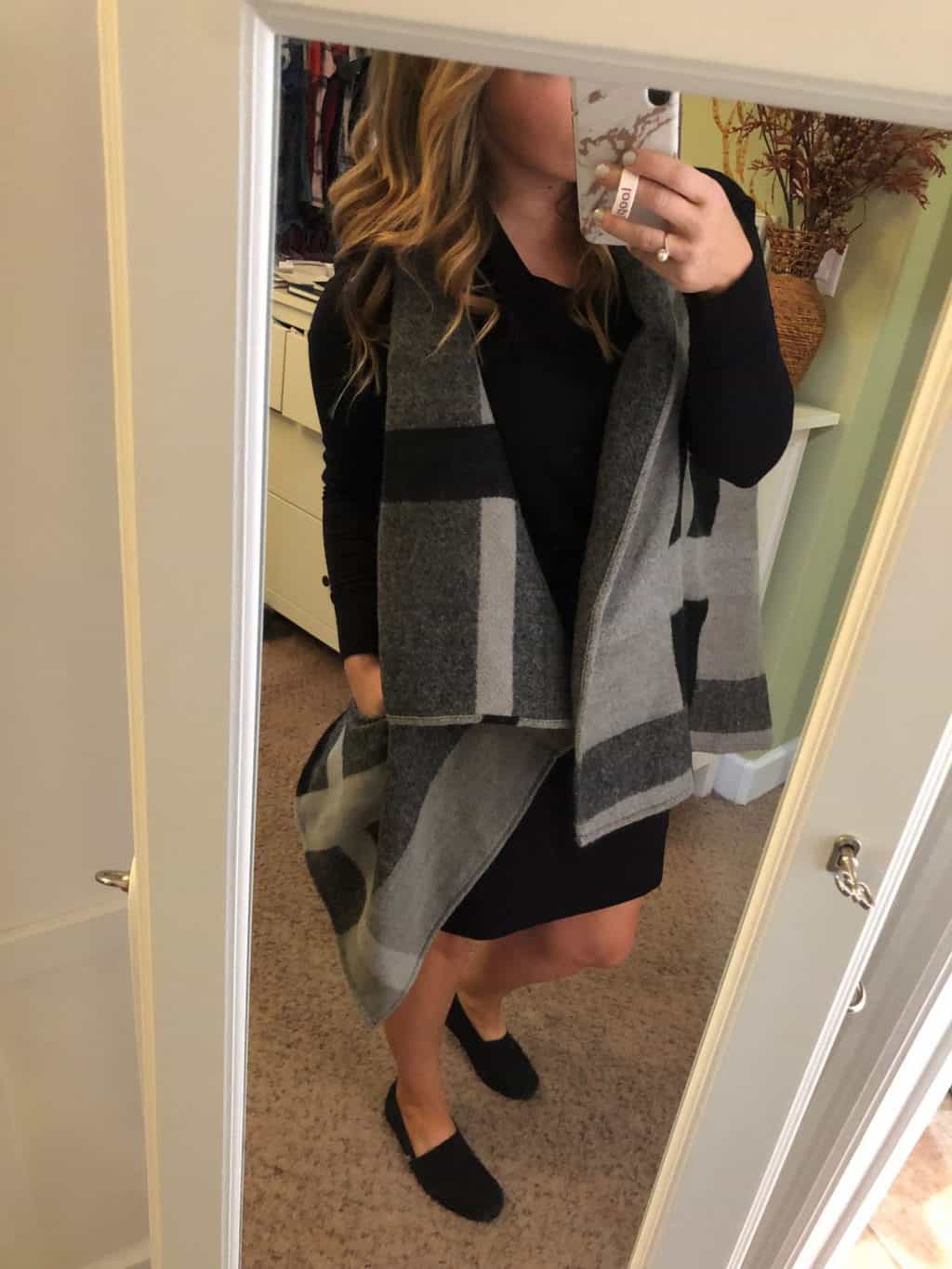 We got over to Mrs. Charlotte's at nap time. Tess skipped nap (Sidenote but BIG MISTAKE on our part) and all the non-infant grandchildren decorated gingerbread houses!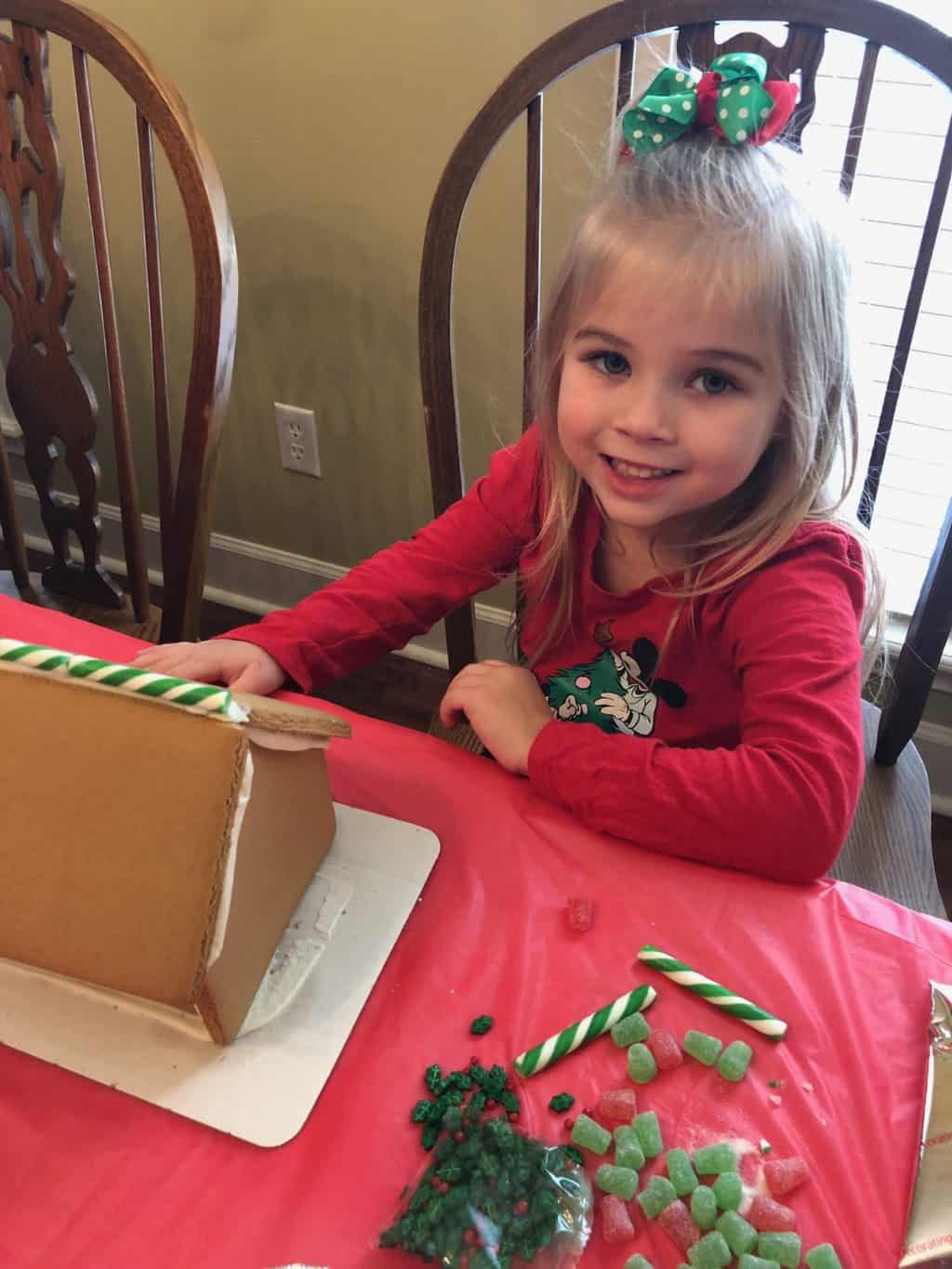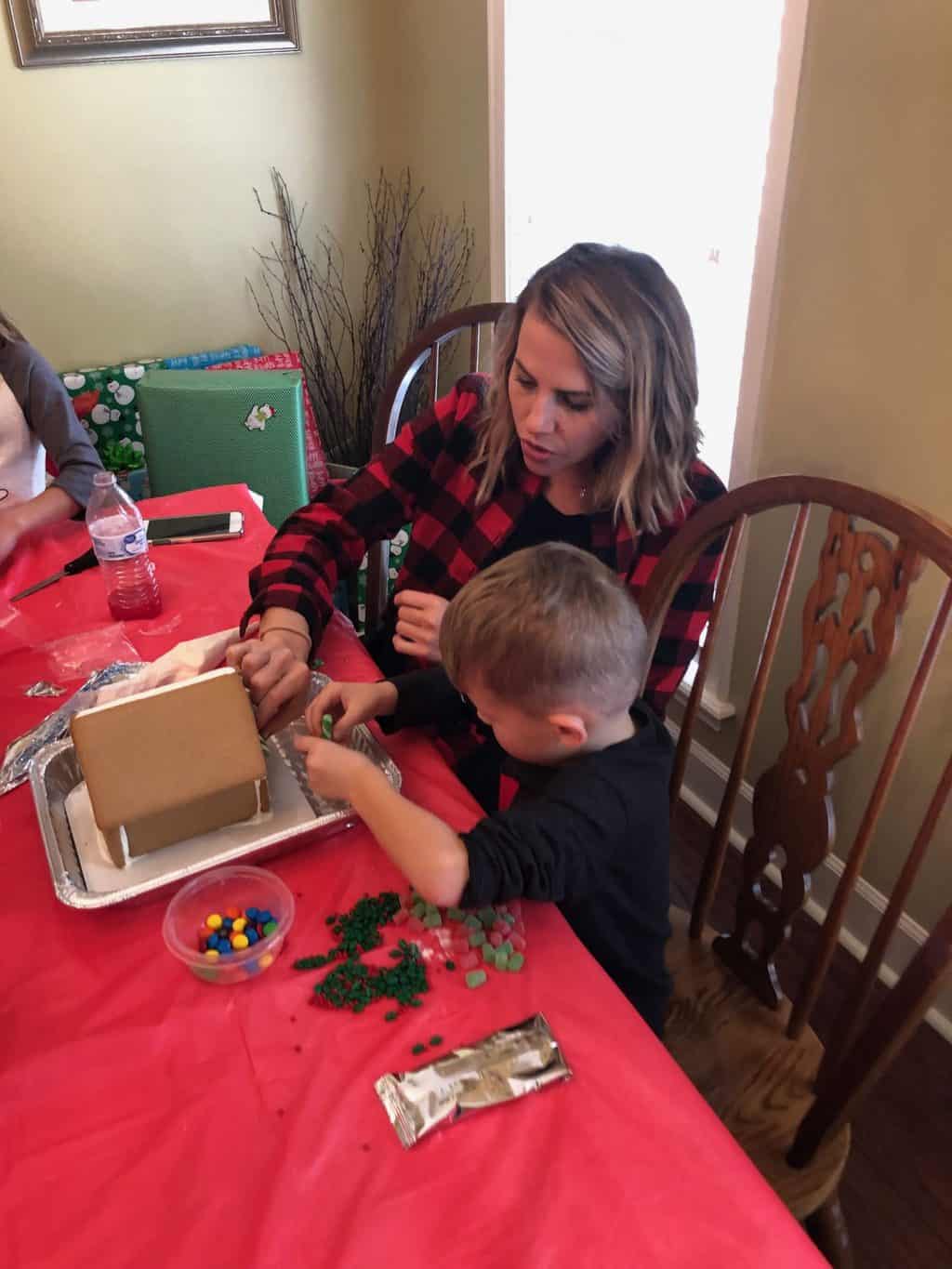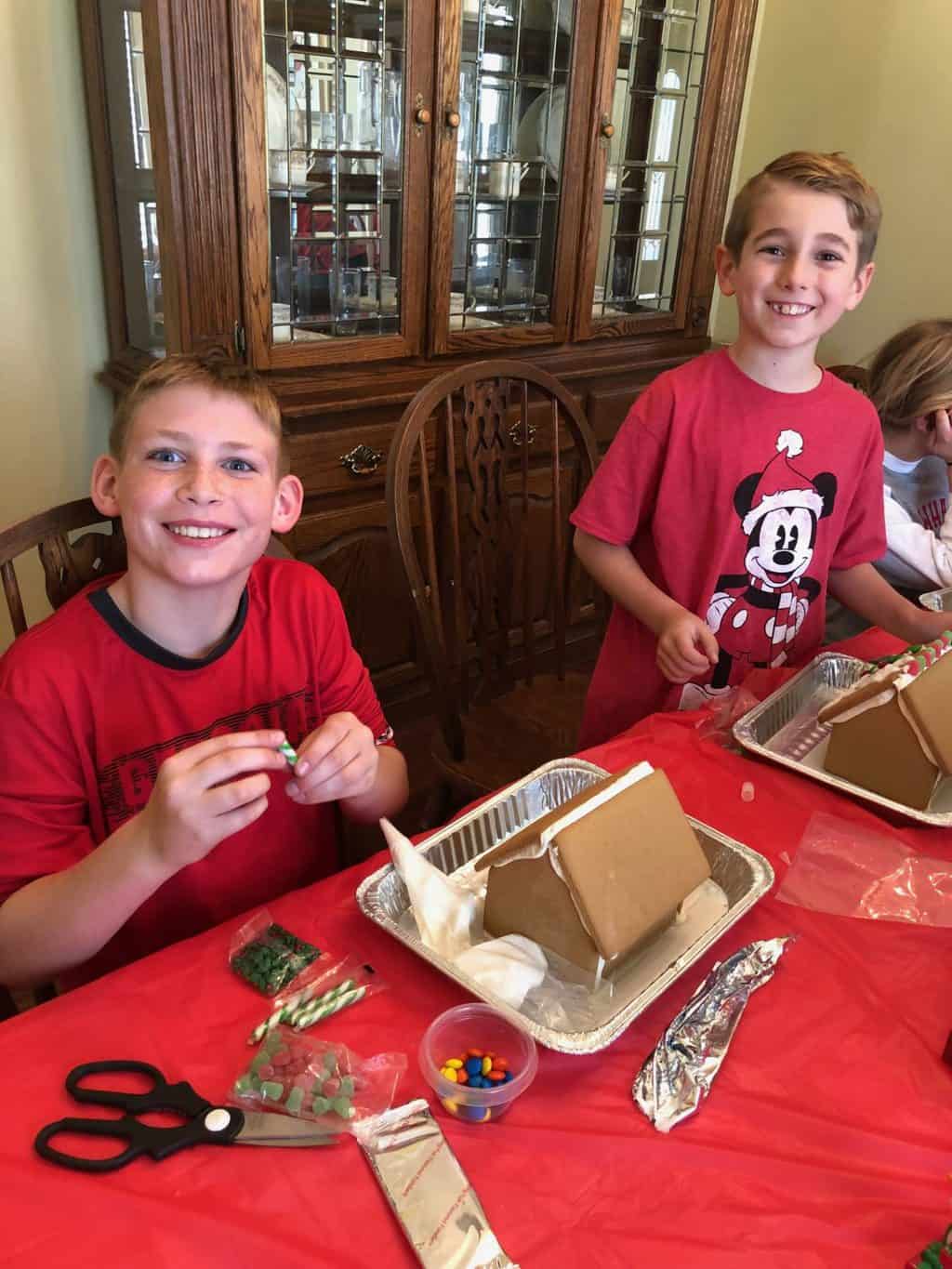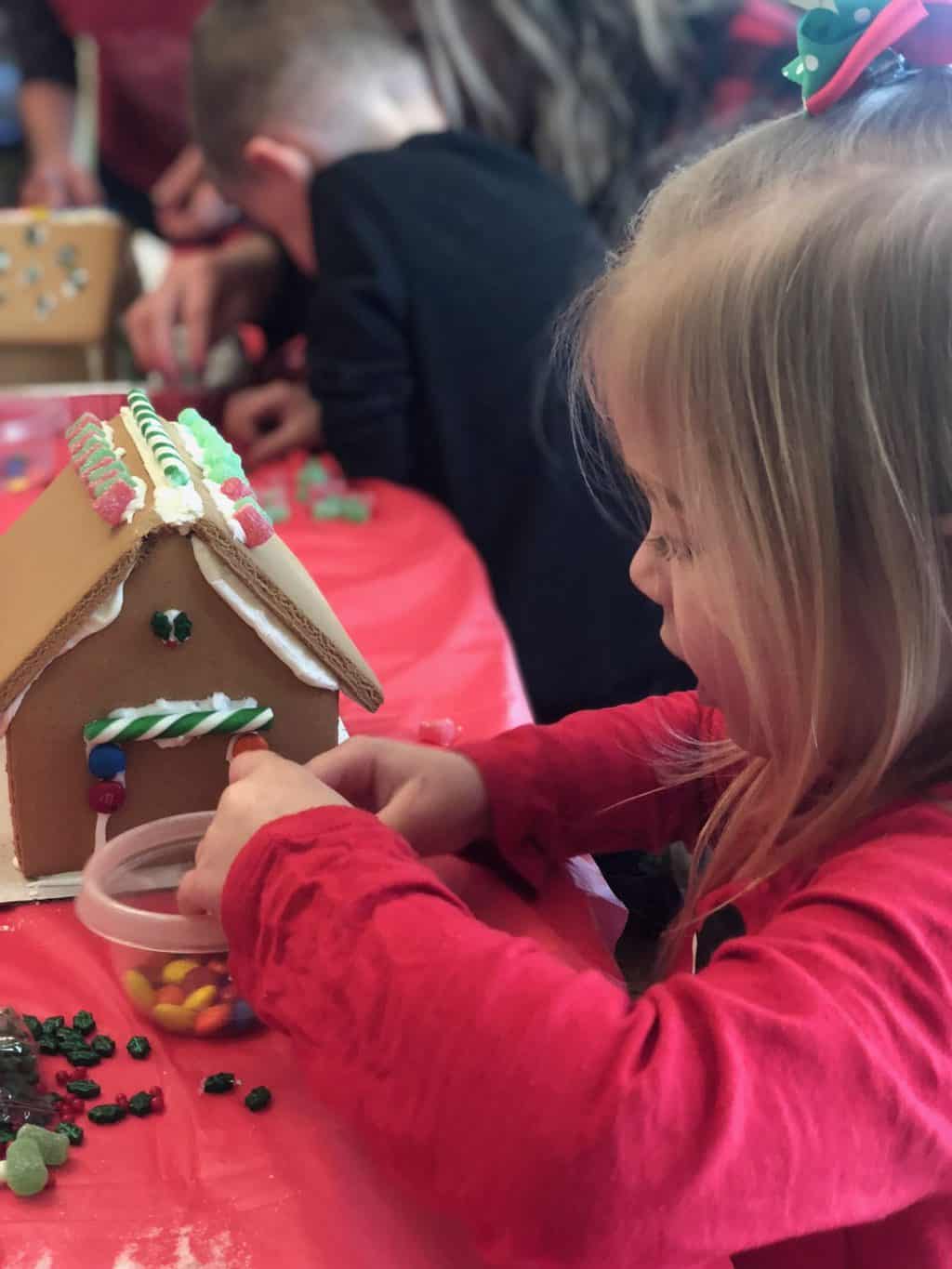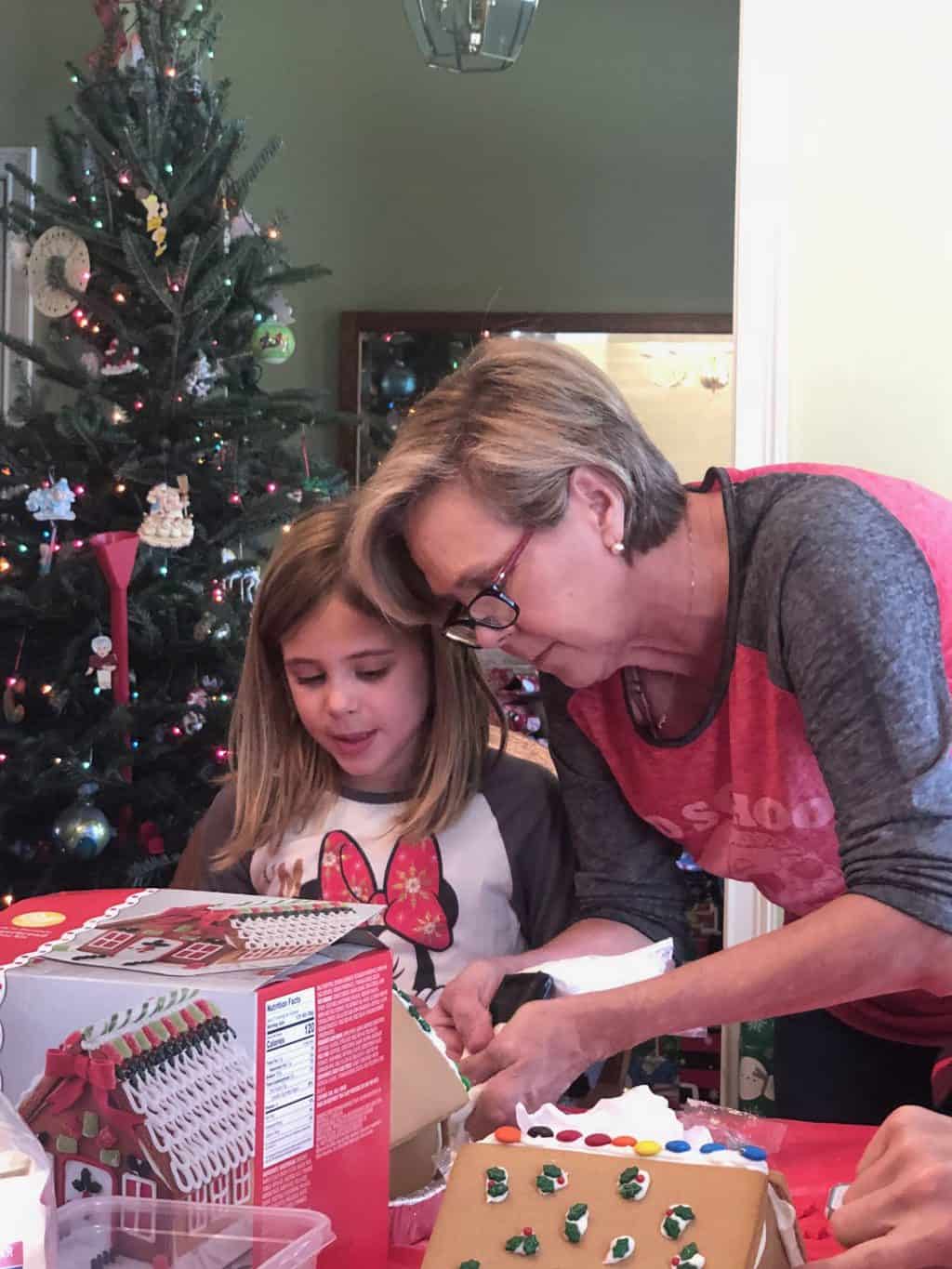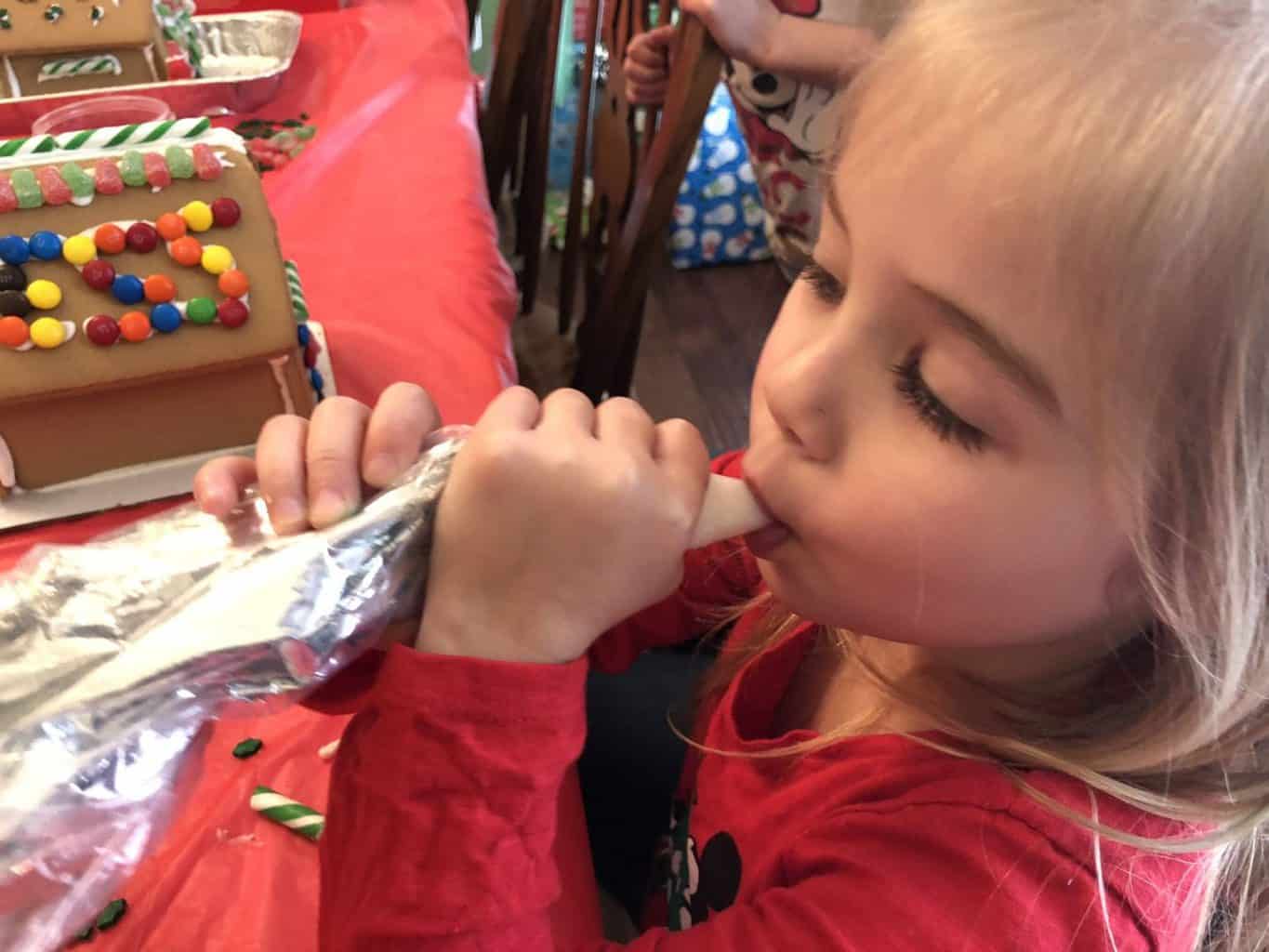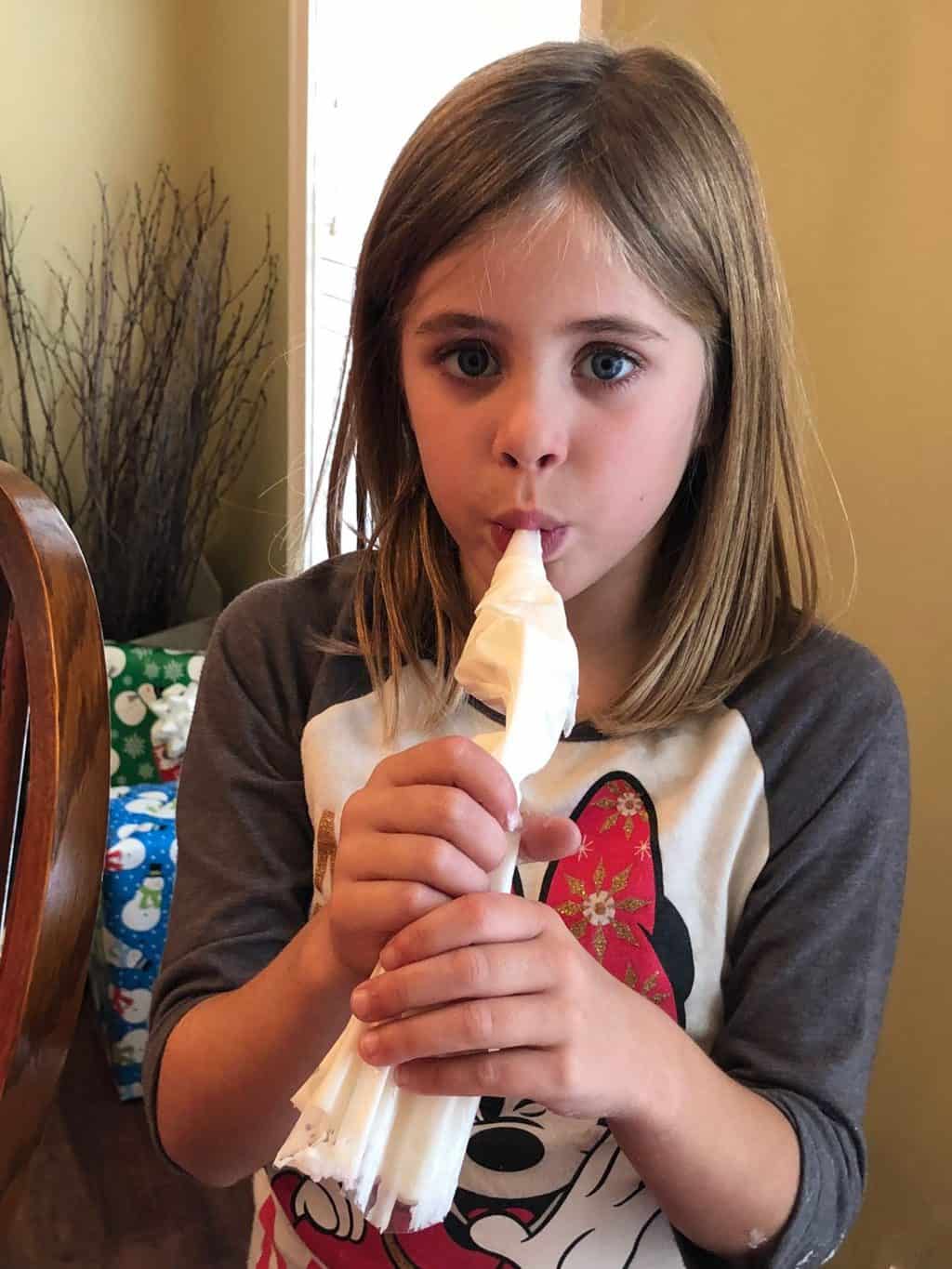 Of course it became competitive and of course G-Mama had to make sure everyone won a title!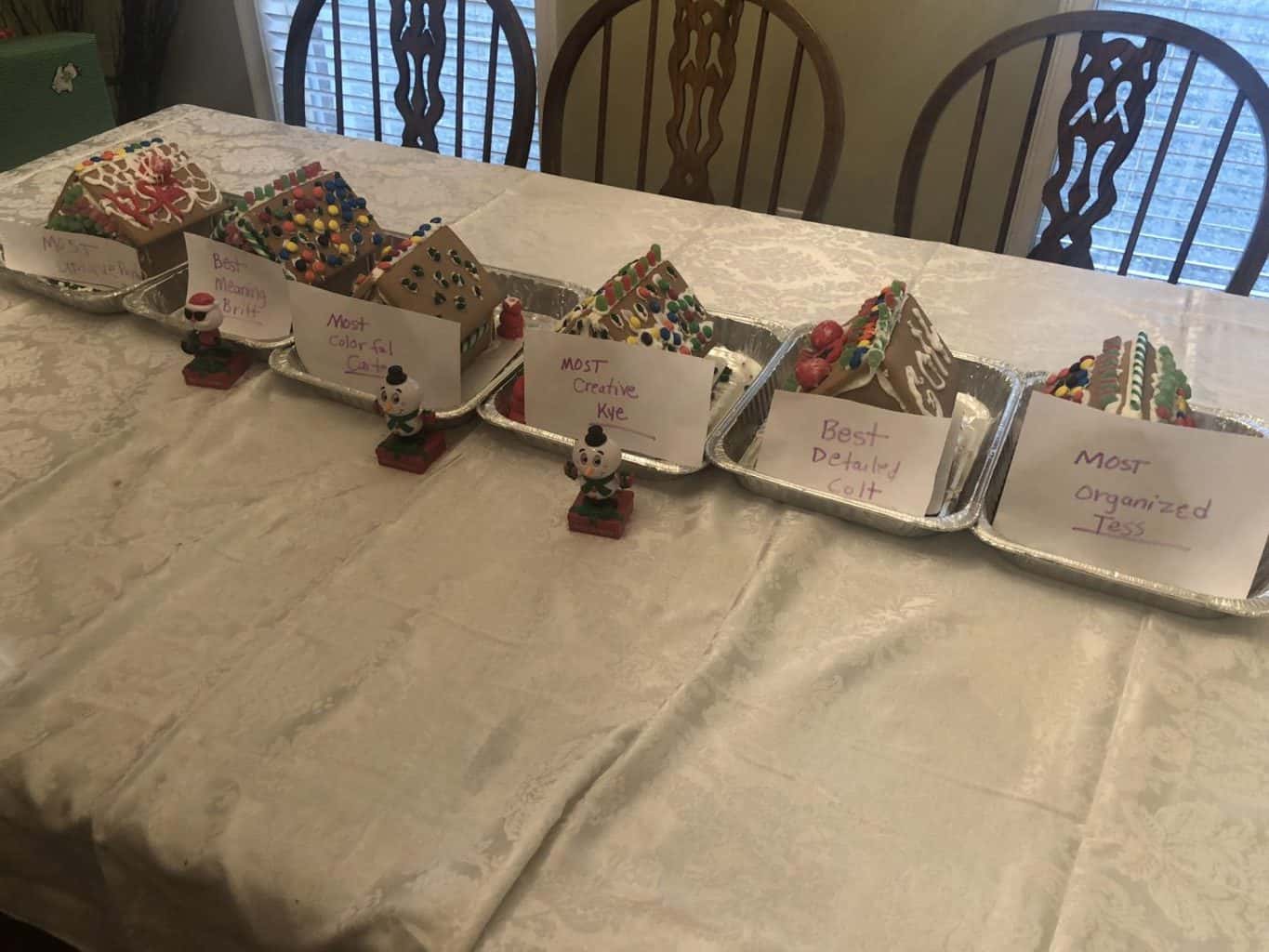 It was nice weather and the kids just spend a few hours playing outside!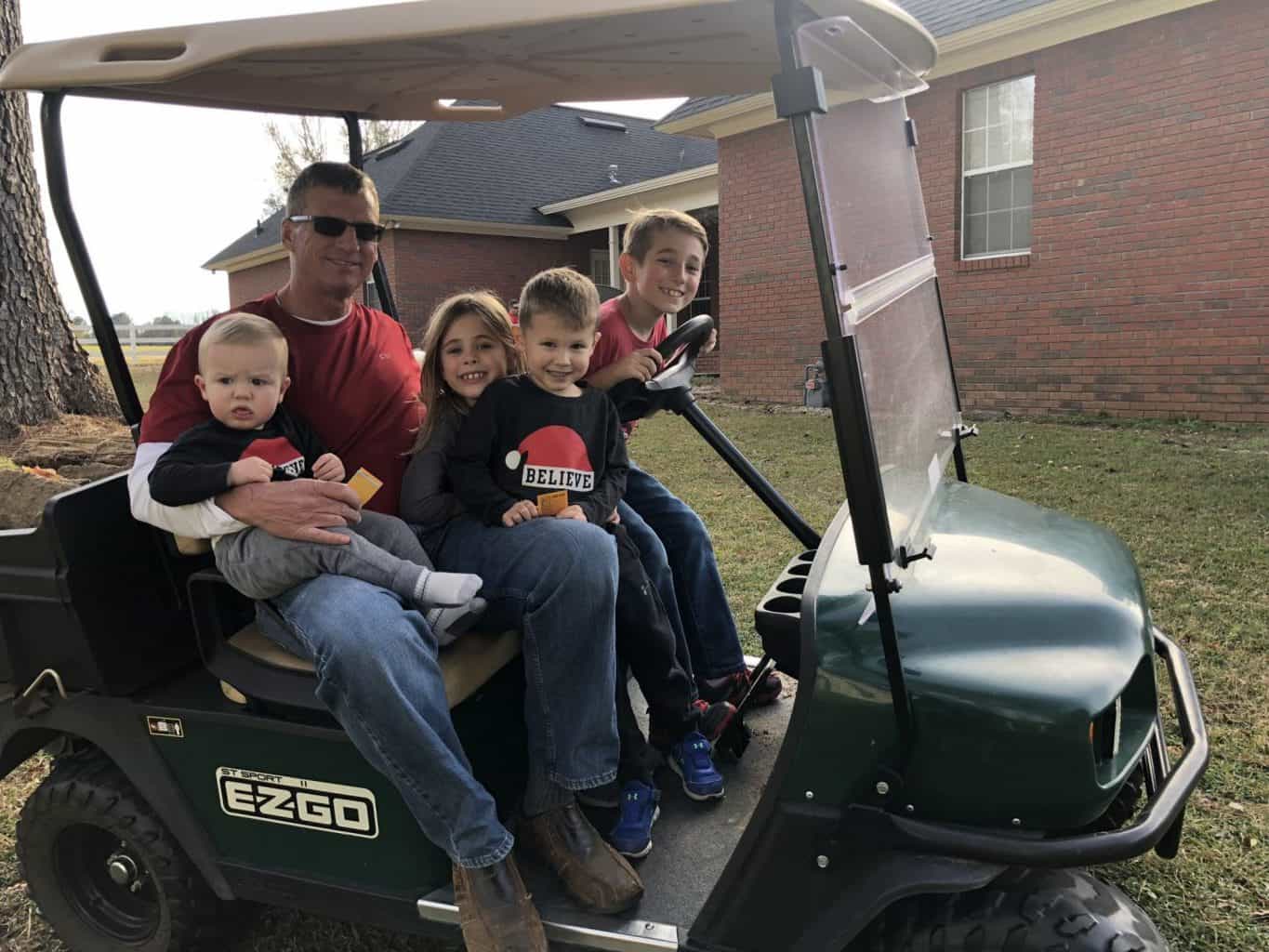 Then they all came in to watch a Christmas Movie. This year we watched Charlie Brown…and it was my first time ever seeing it!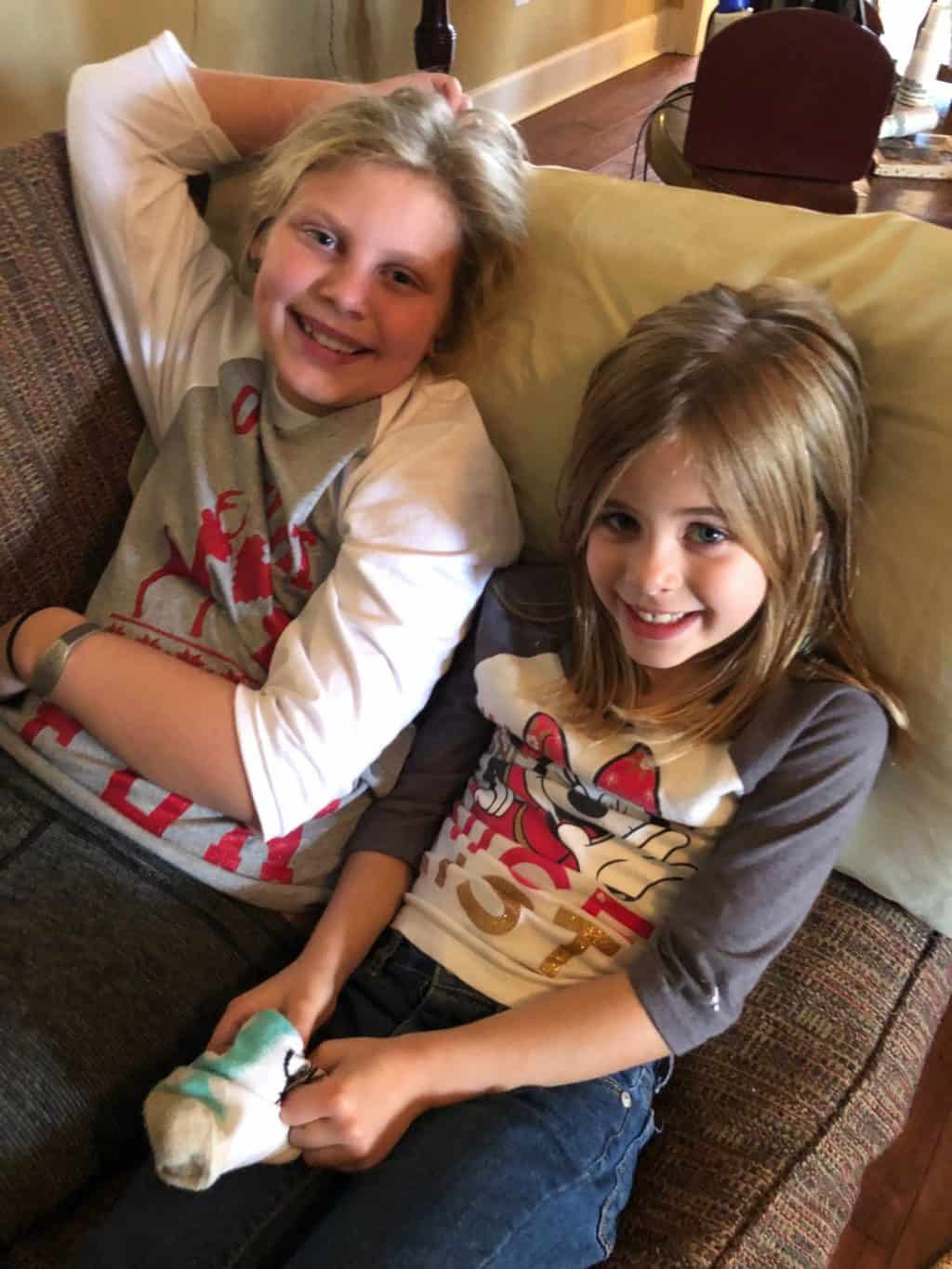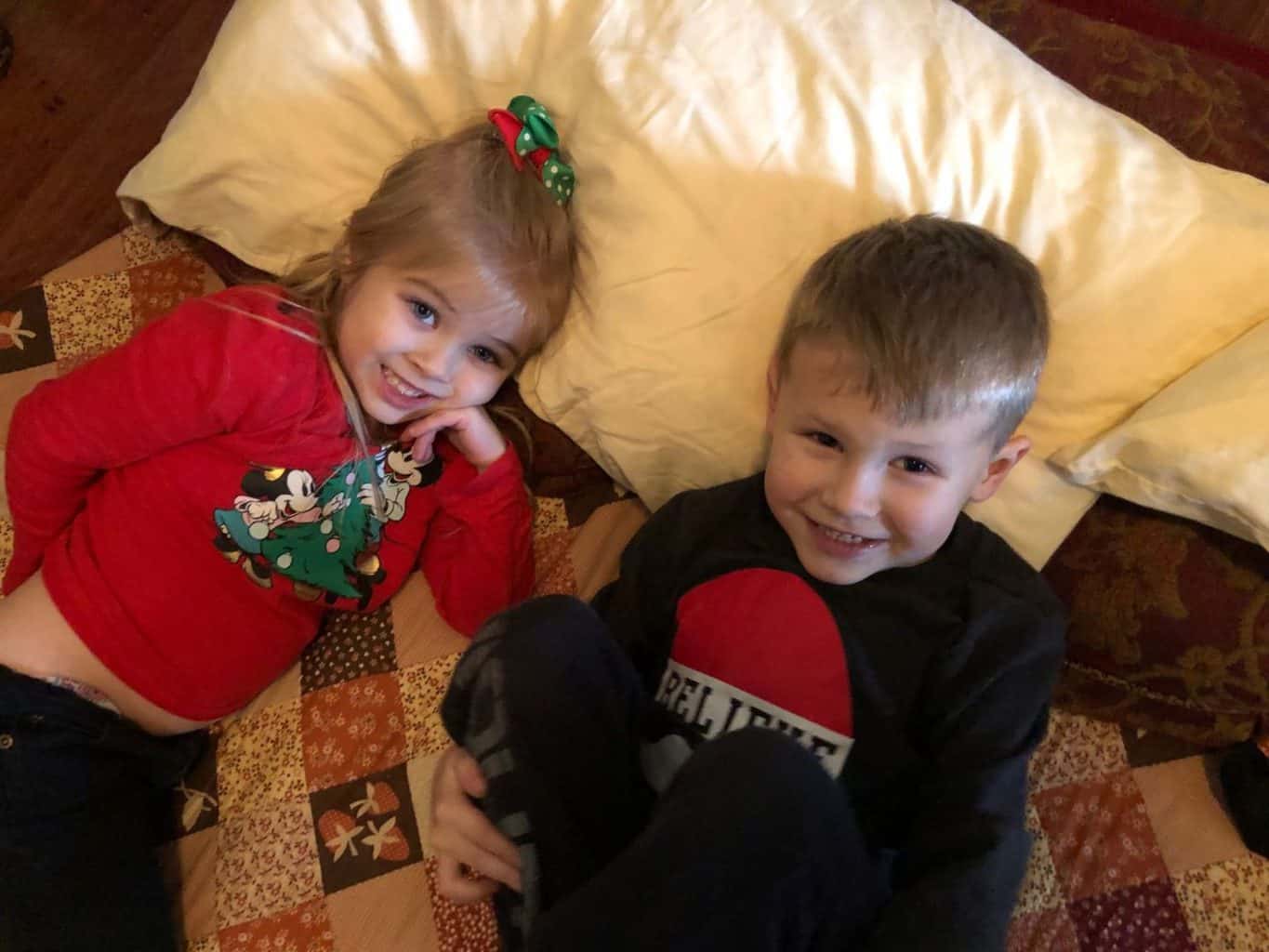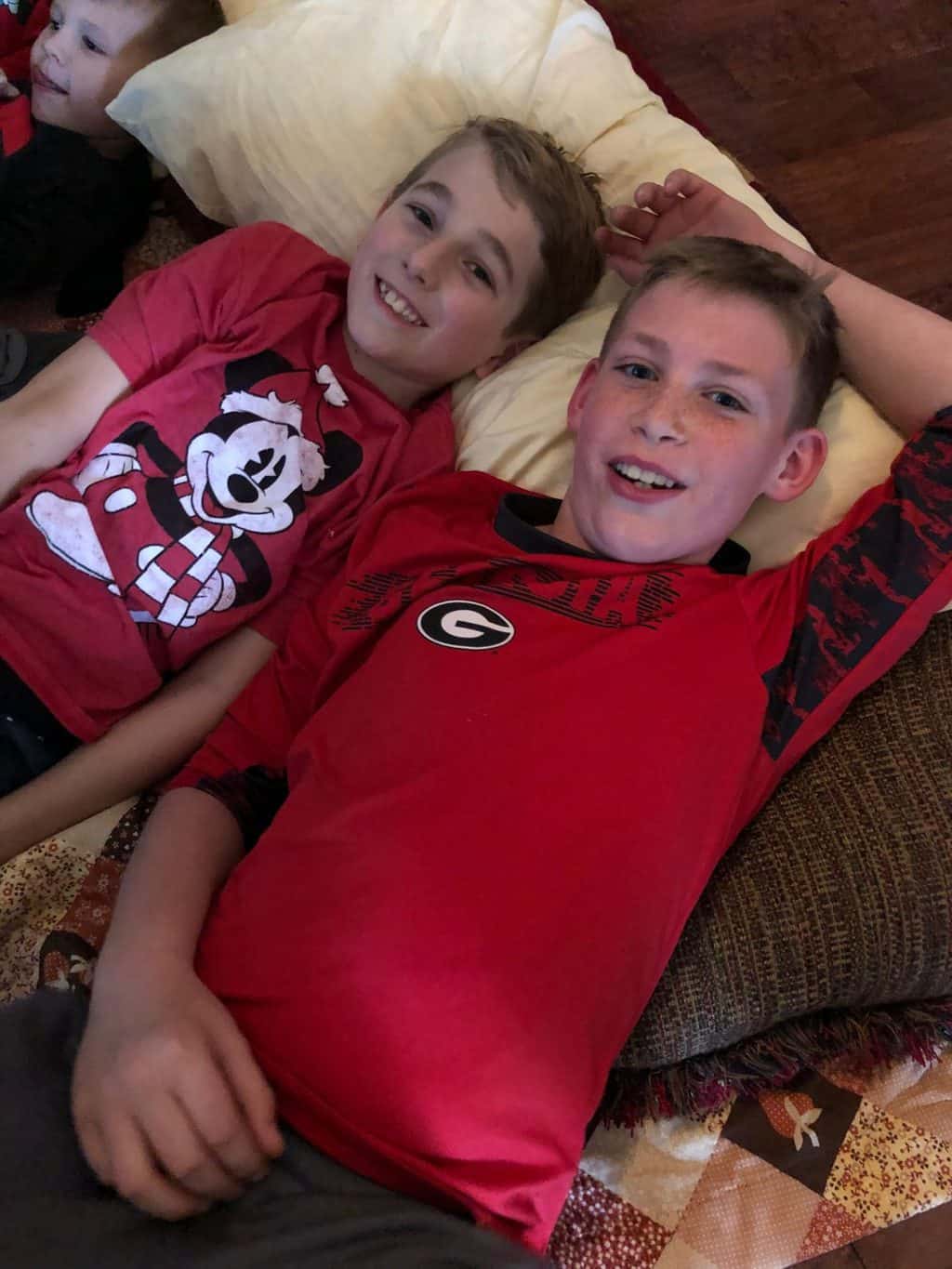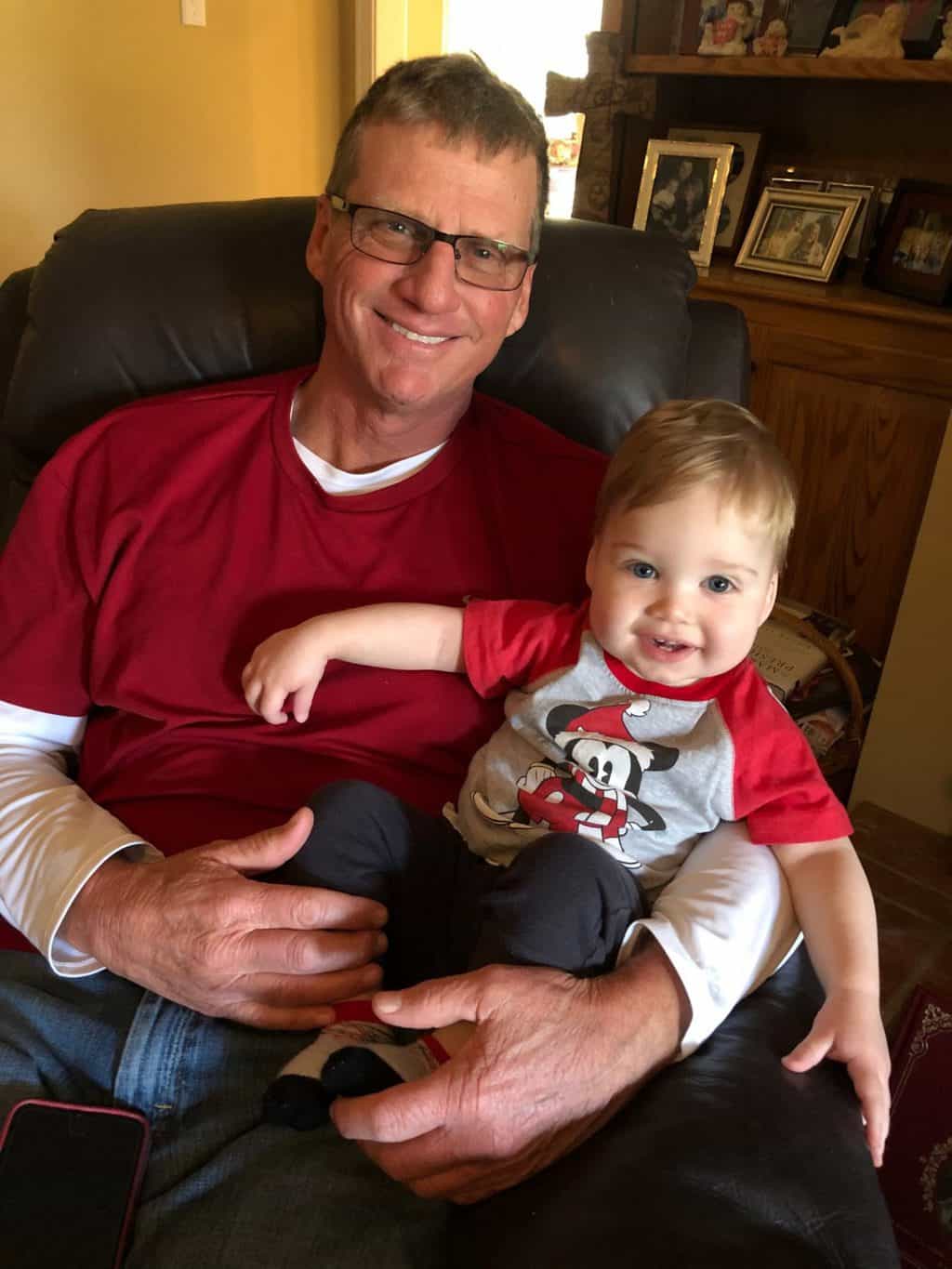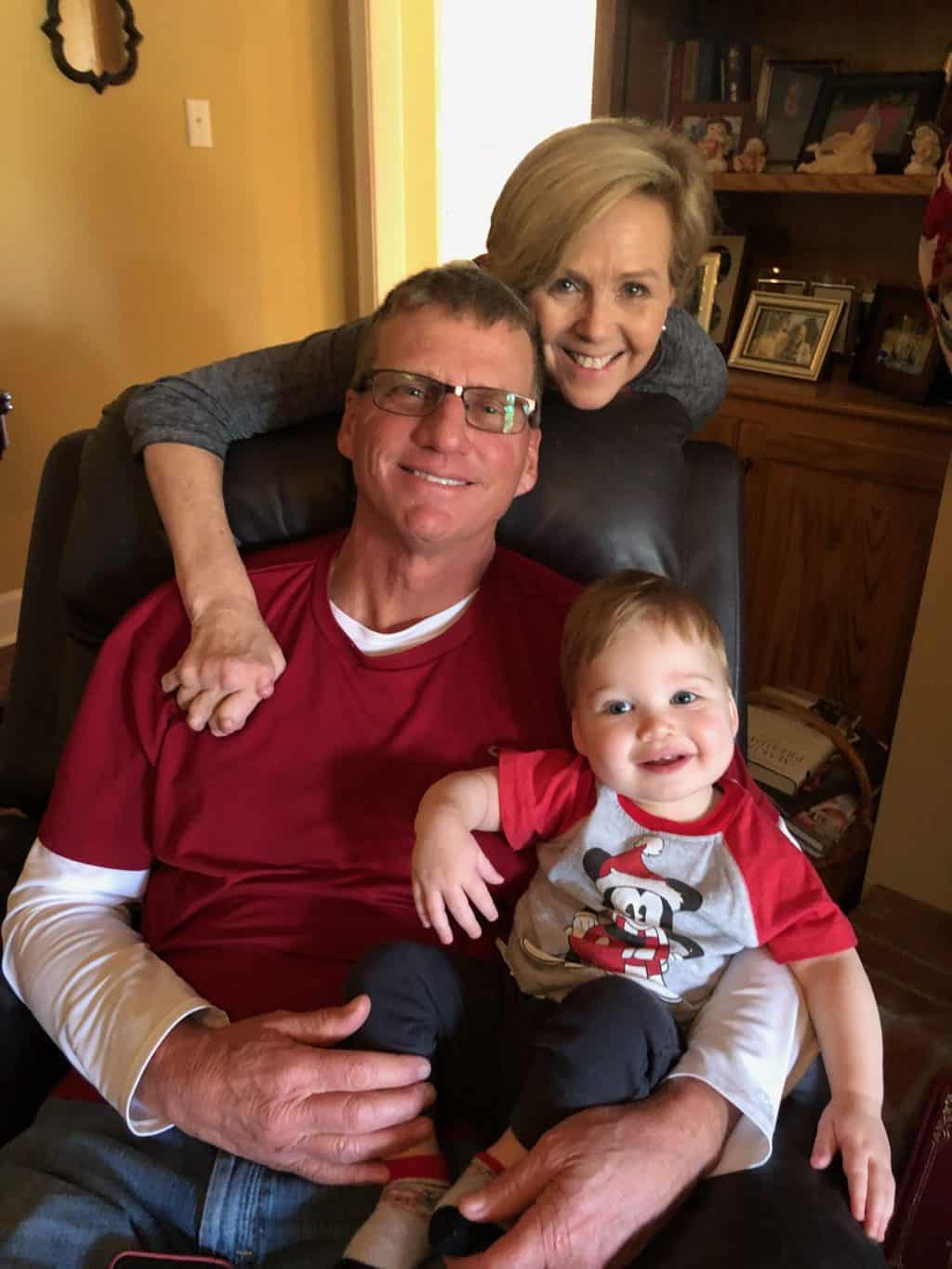 The kids put on their singing performance of Christmas Carols!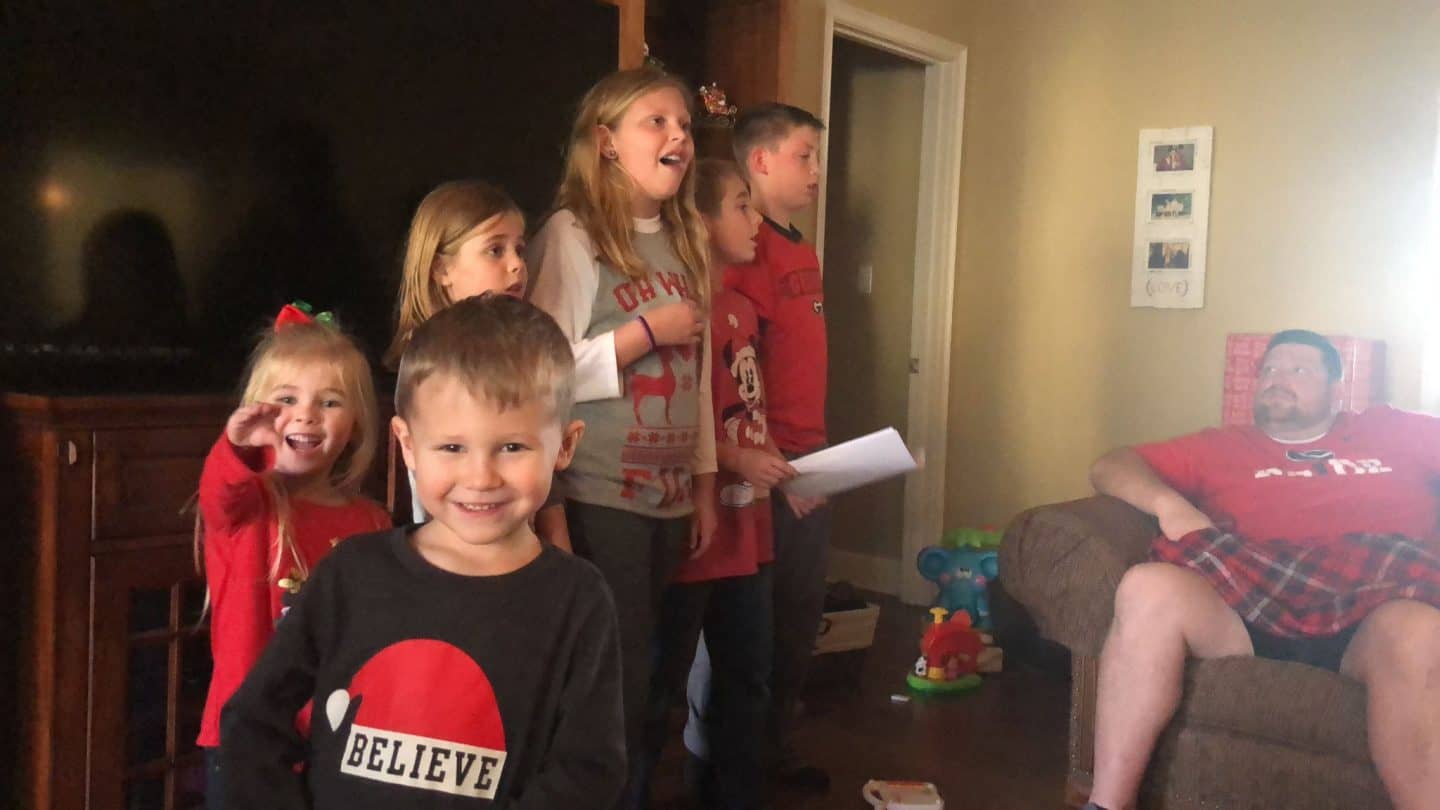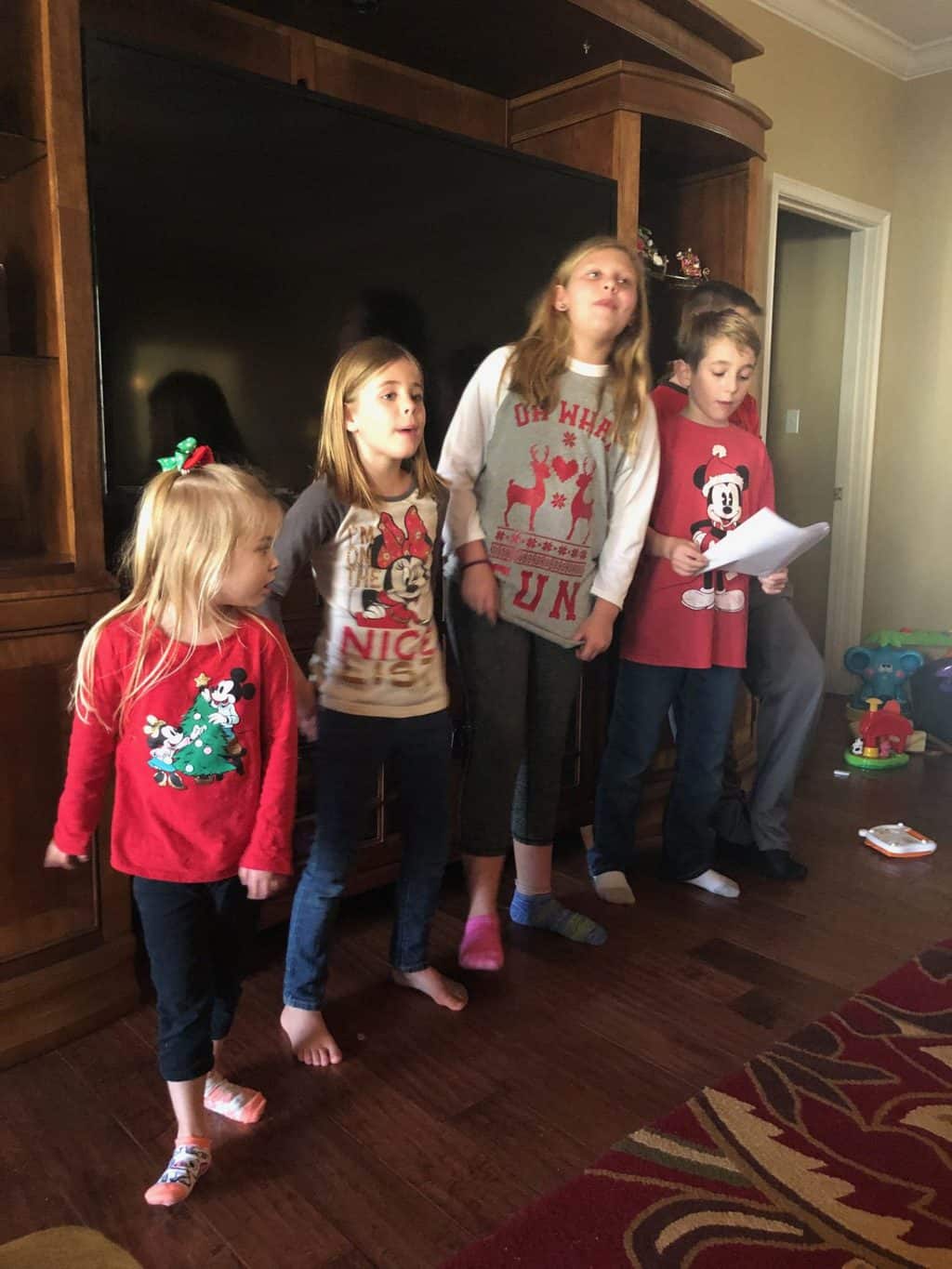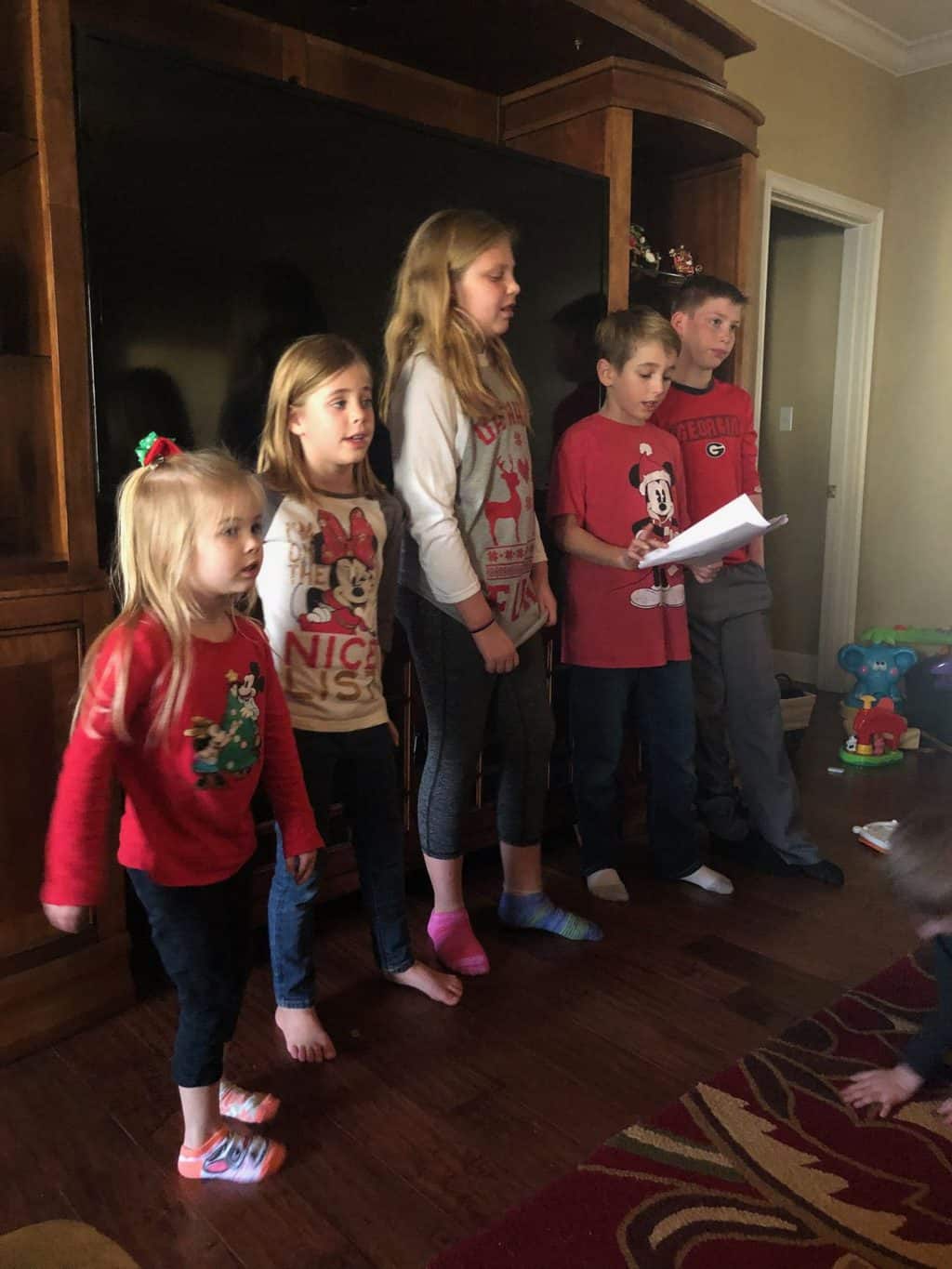 And we had a dance party in the backyard…Britt has been SO PUMPED for the dance party at G-Mama's. Literally it's THE thing she was most looking forward to at Christmas time! A couple dance party moves: one and two!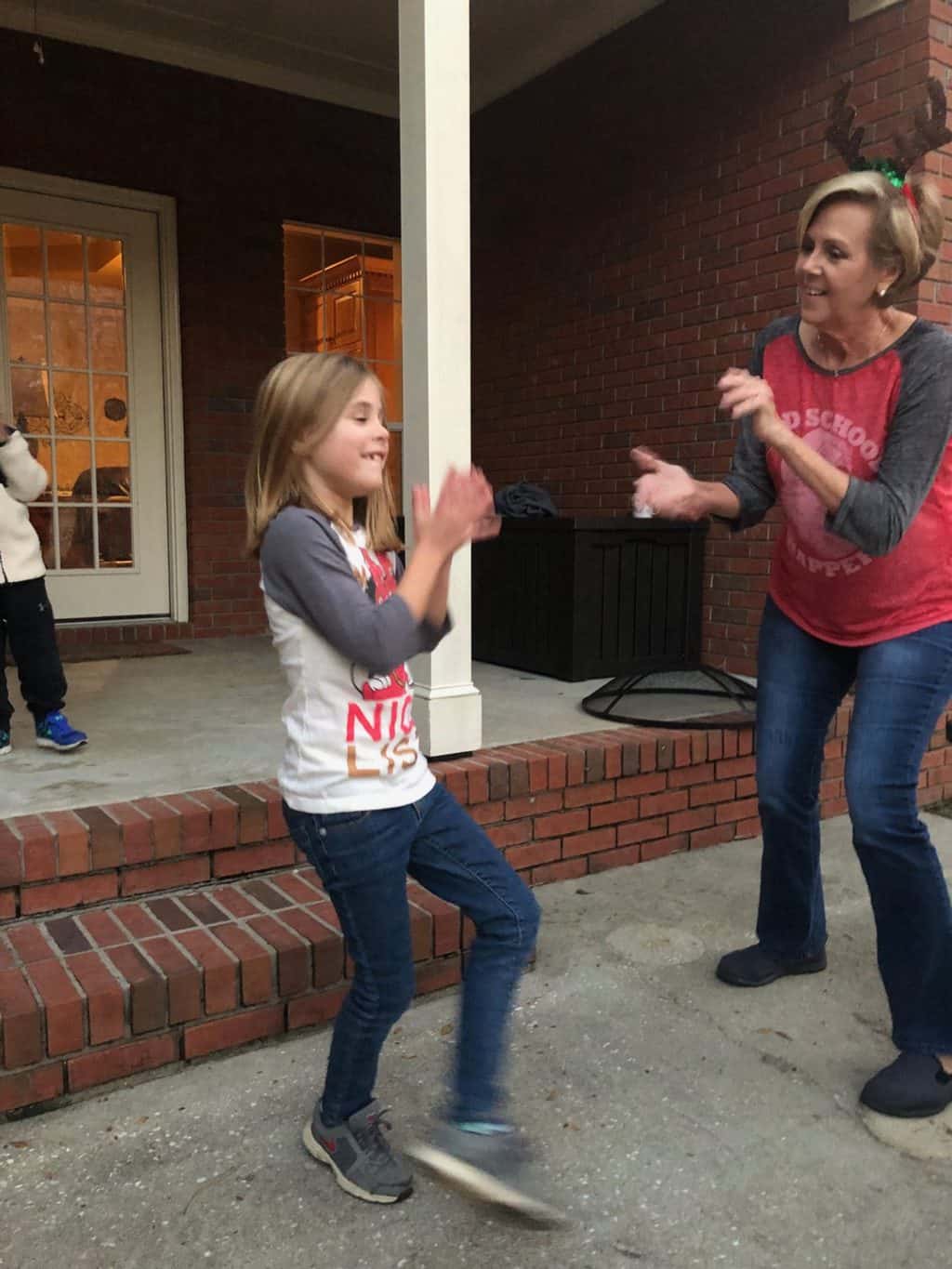 The side eye was strong at some of the dance moves haha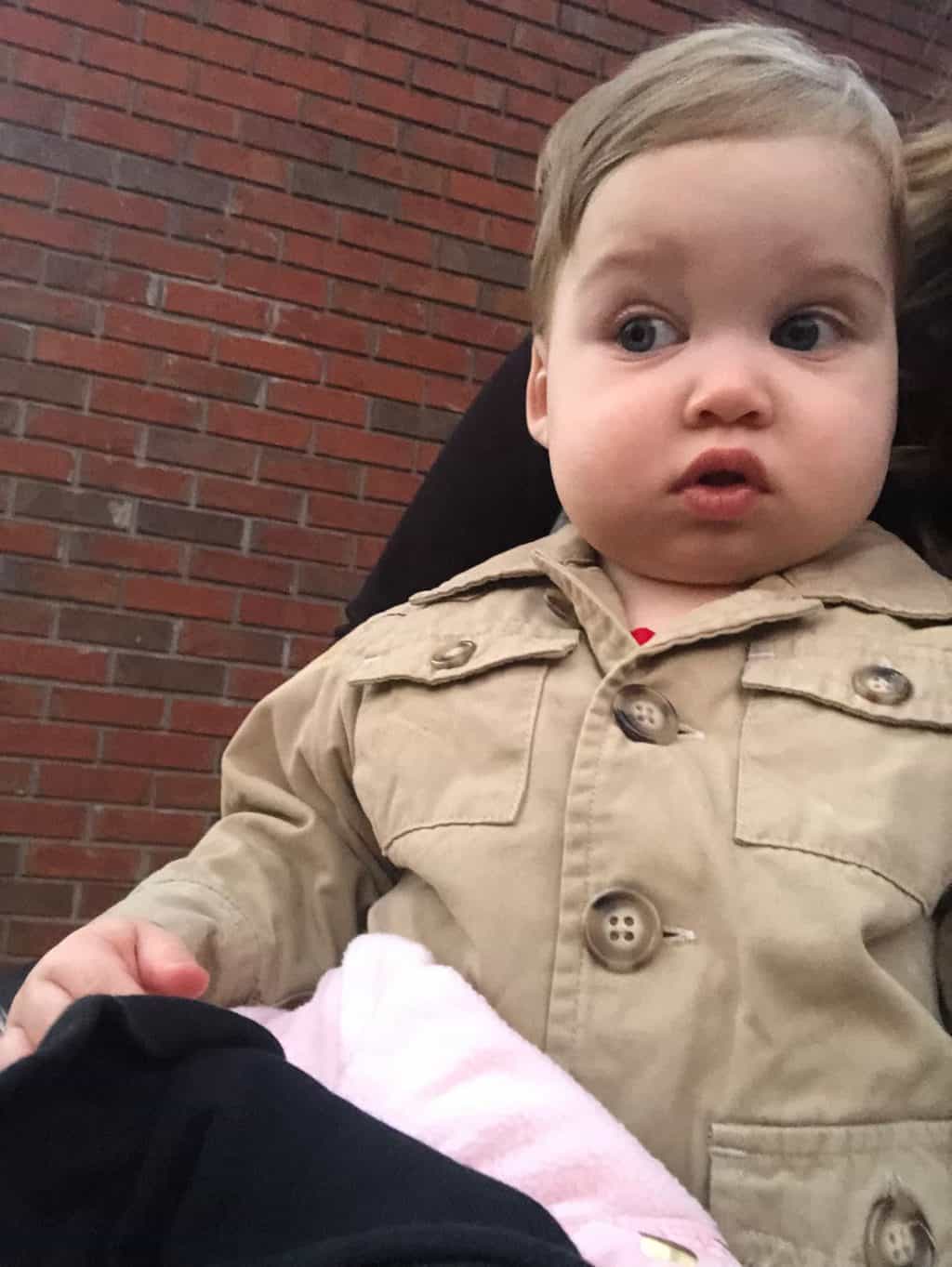 Dance party and s'more roasting…makes perfect sense haha We had to make sure the kids kept the dancing on the stage and not by the fire 😉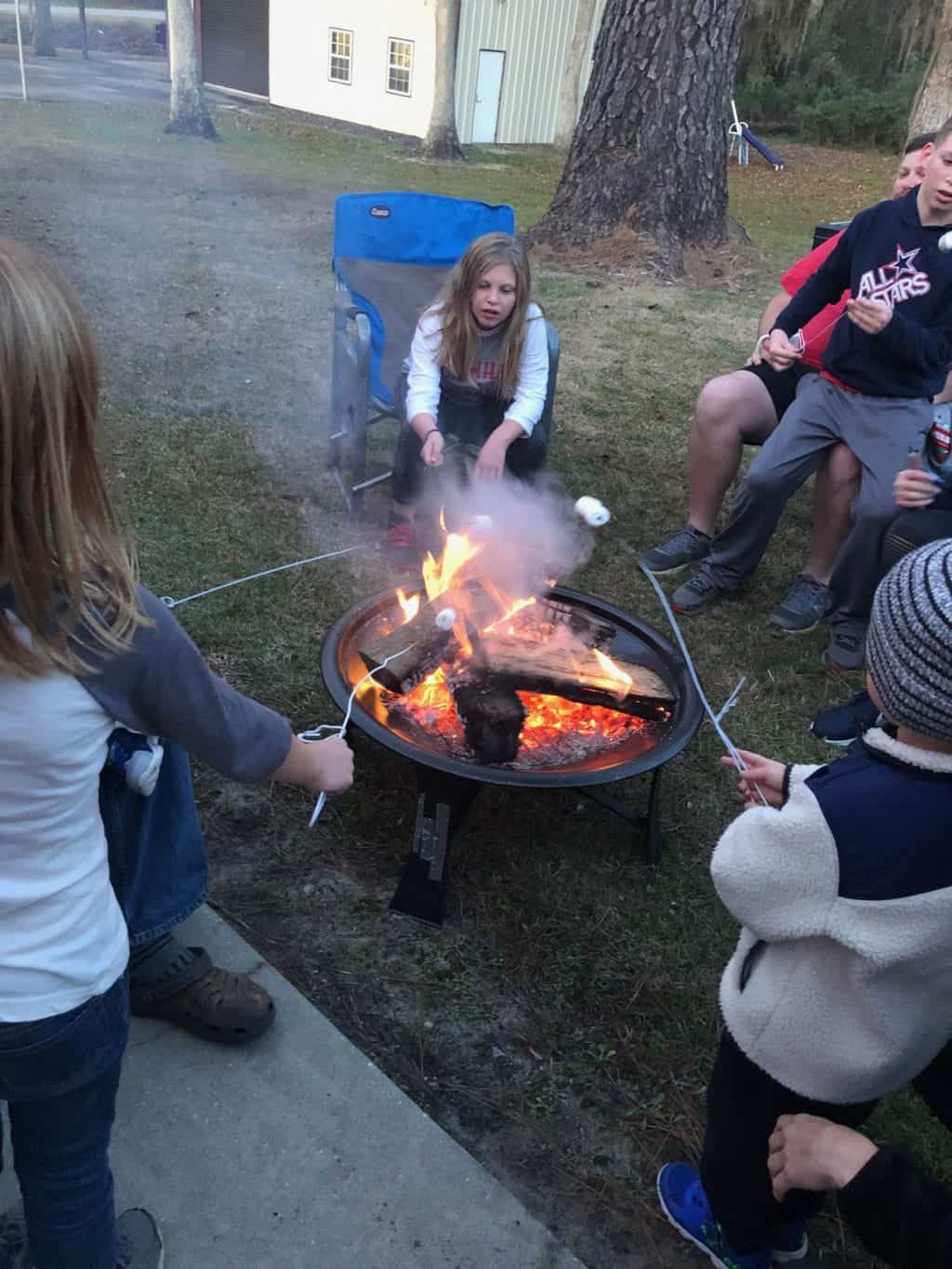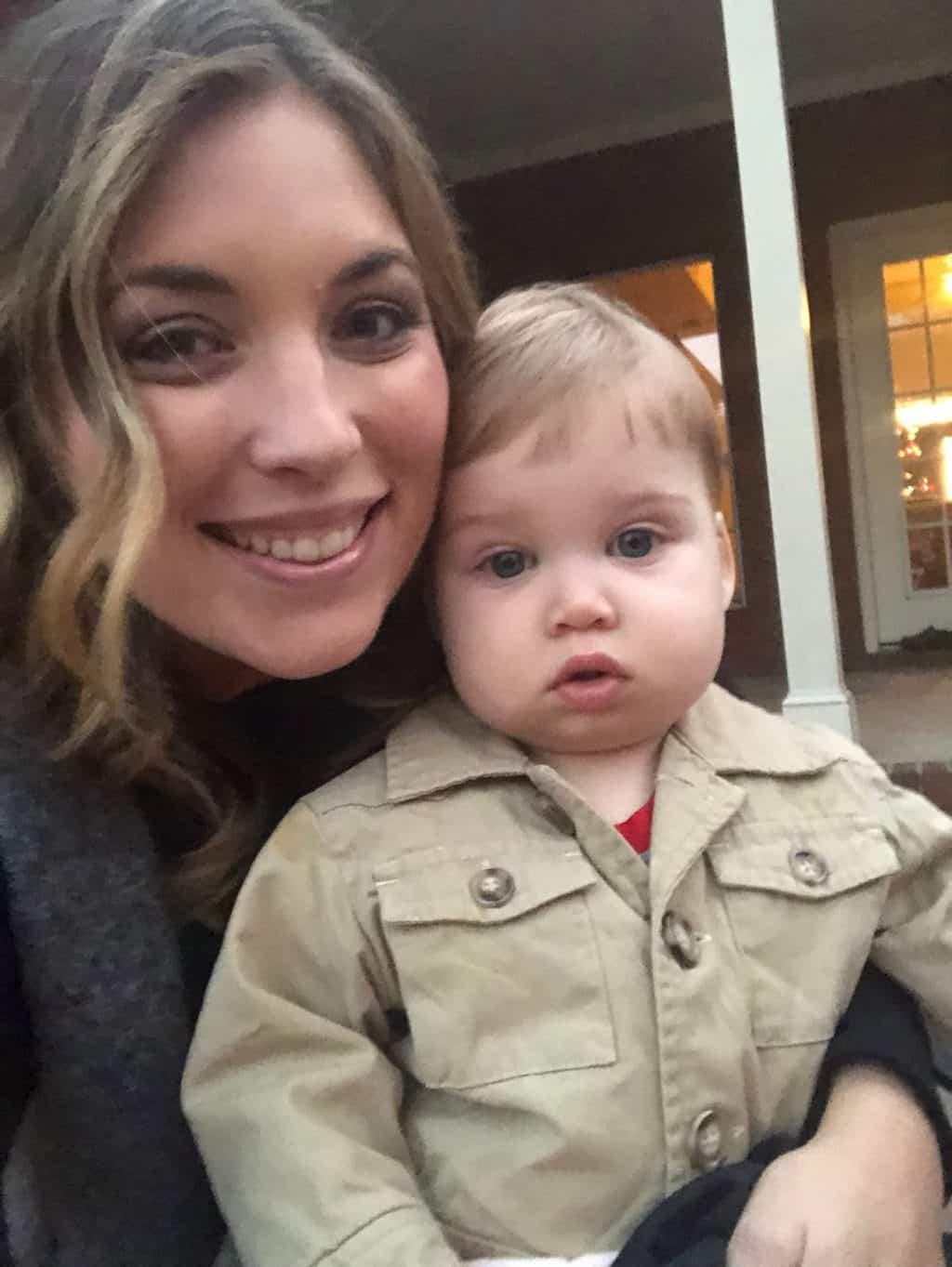 Getting the Christmas pjs on!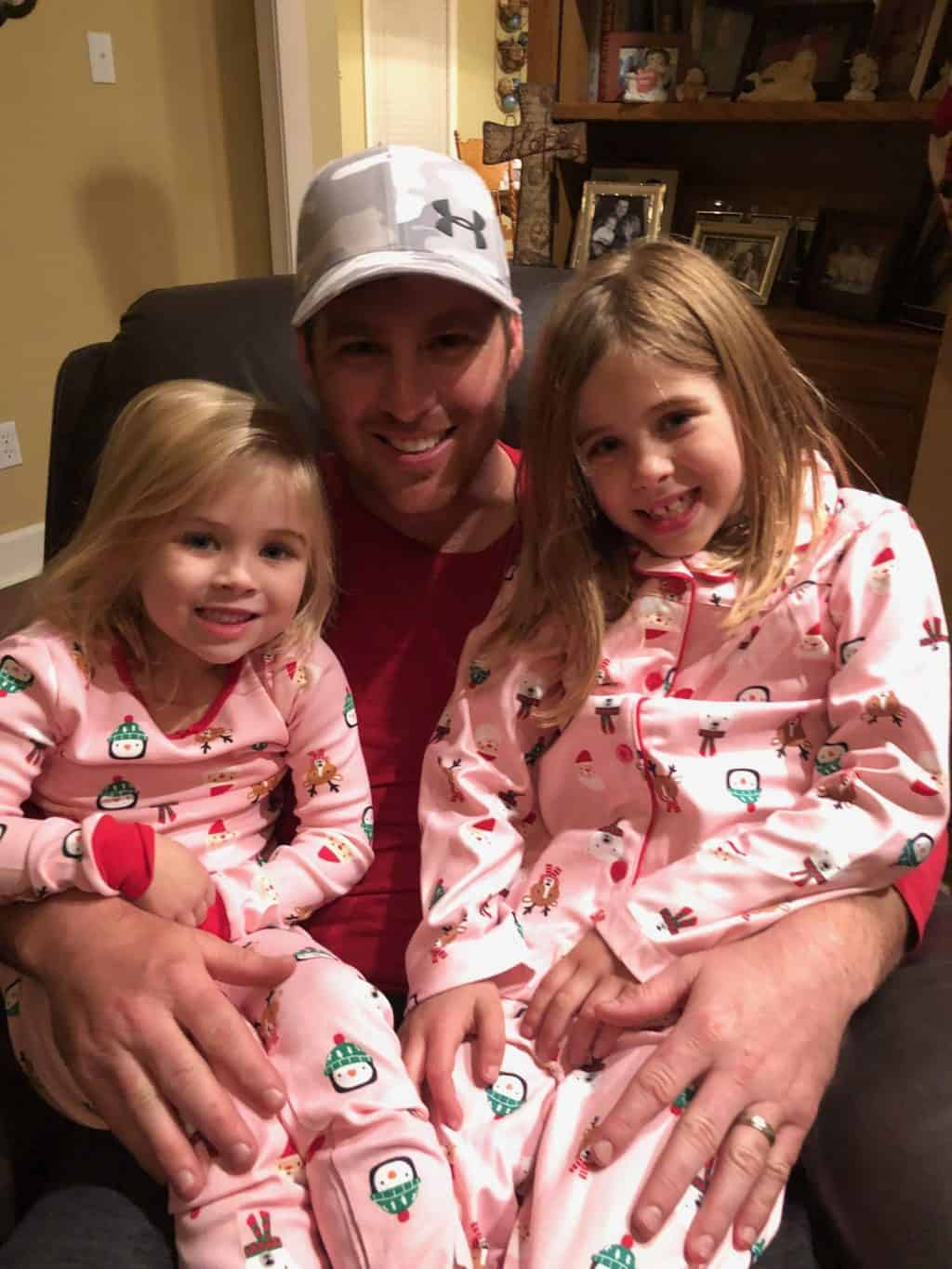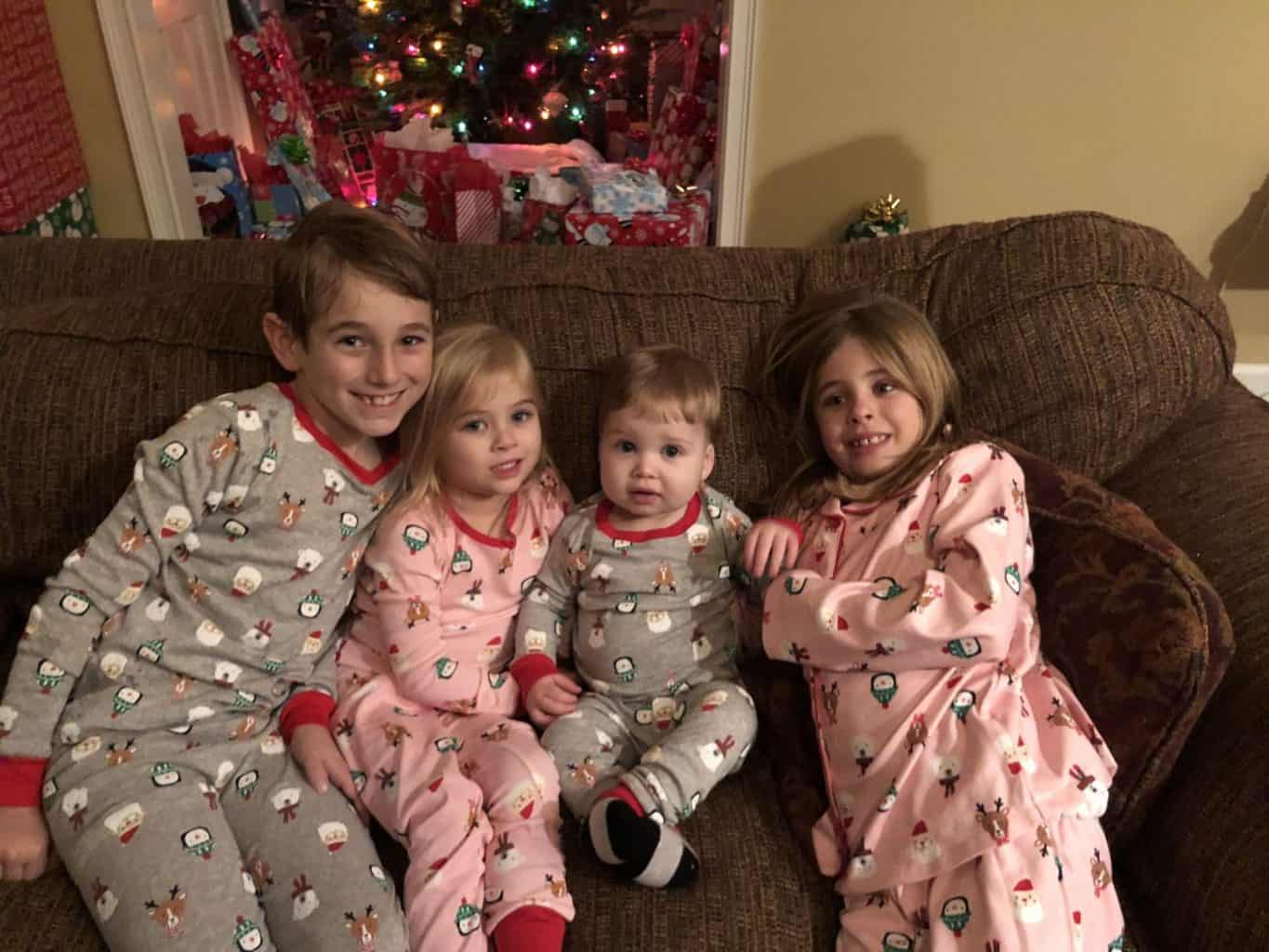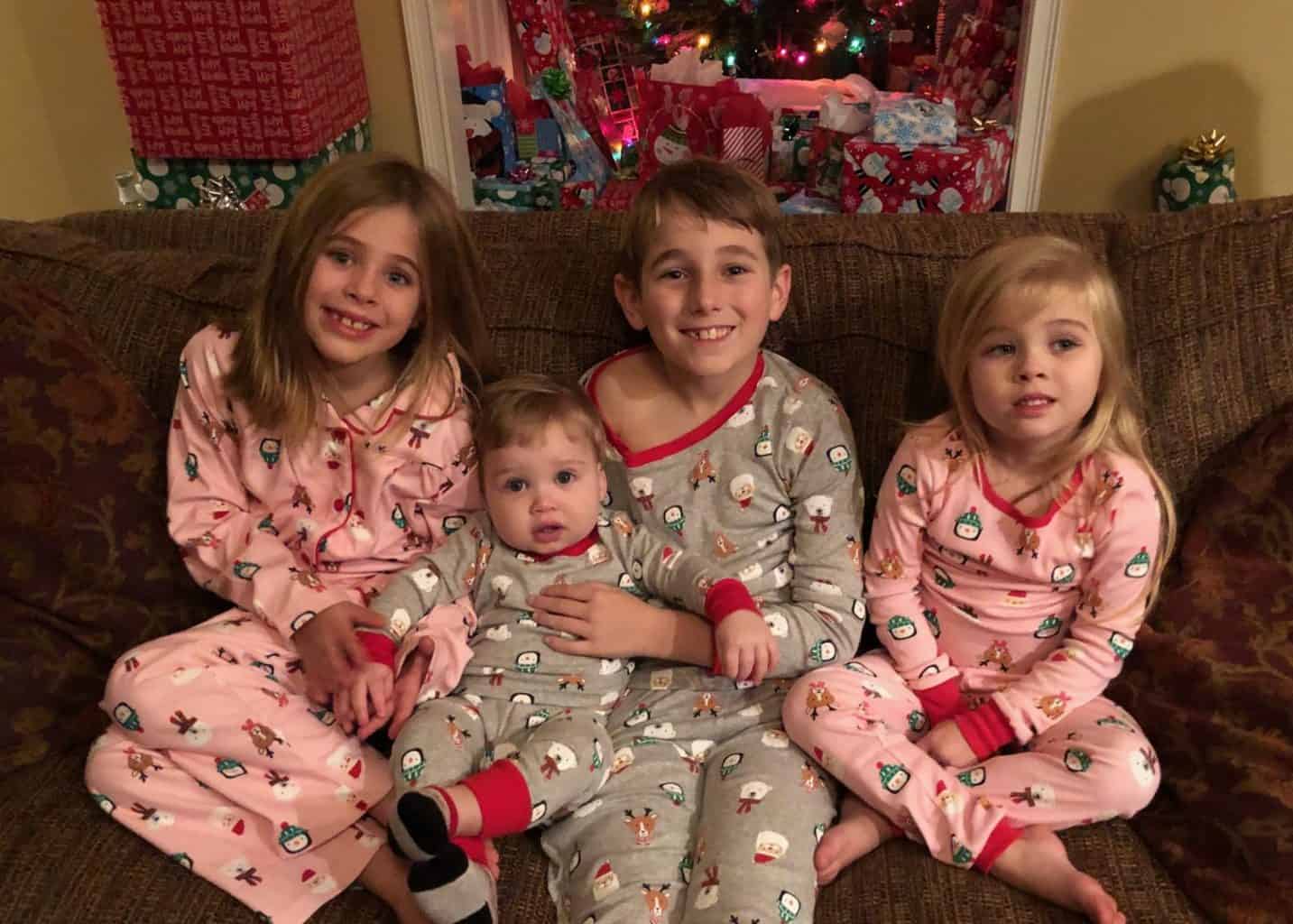 Once pjs were on we headed out to feed the reindeer 🙂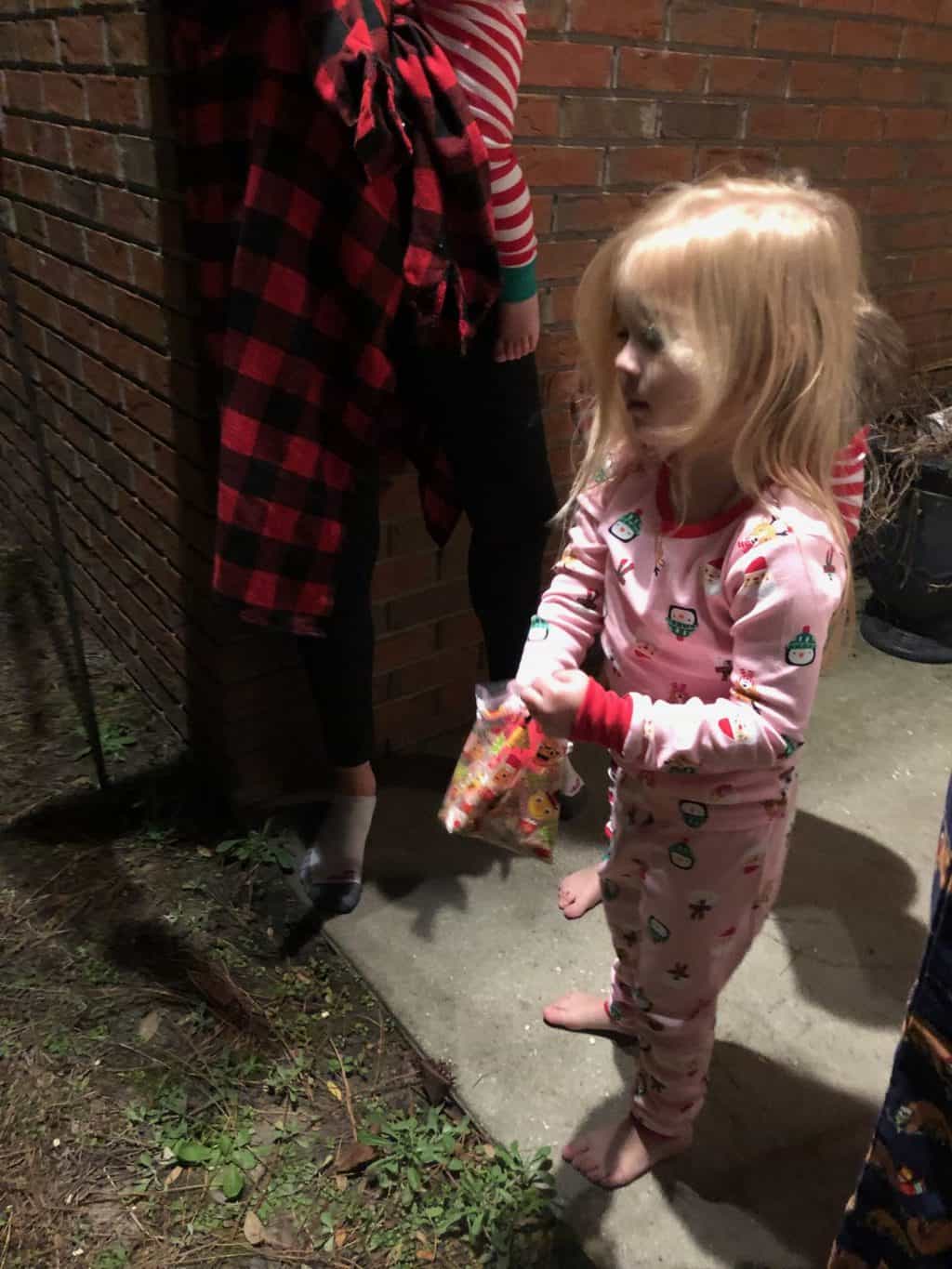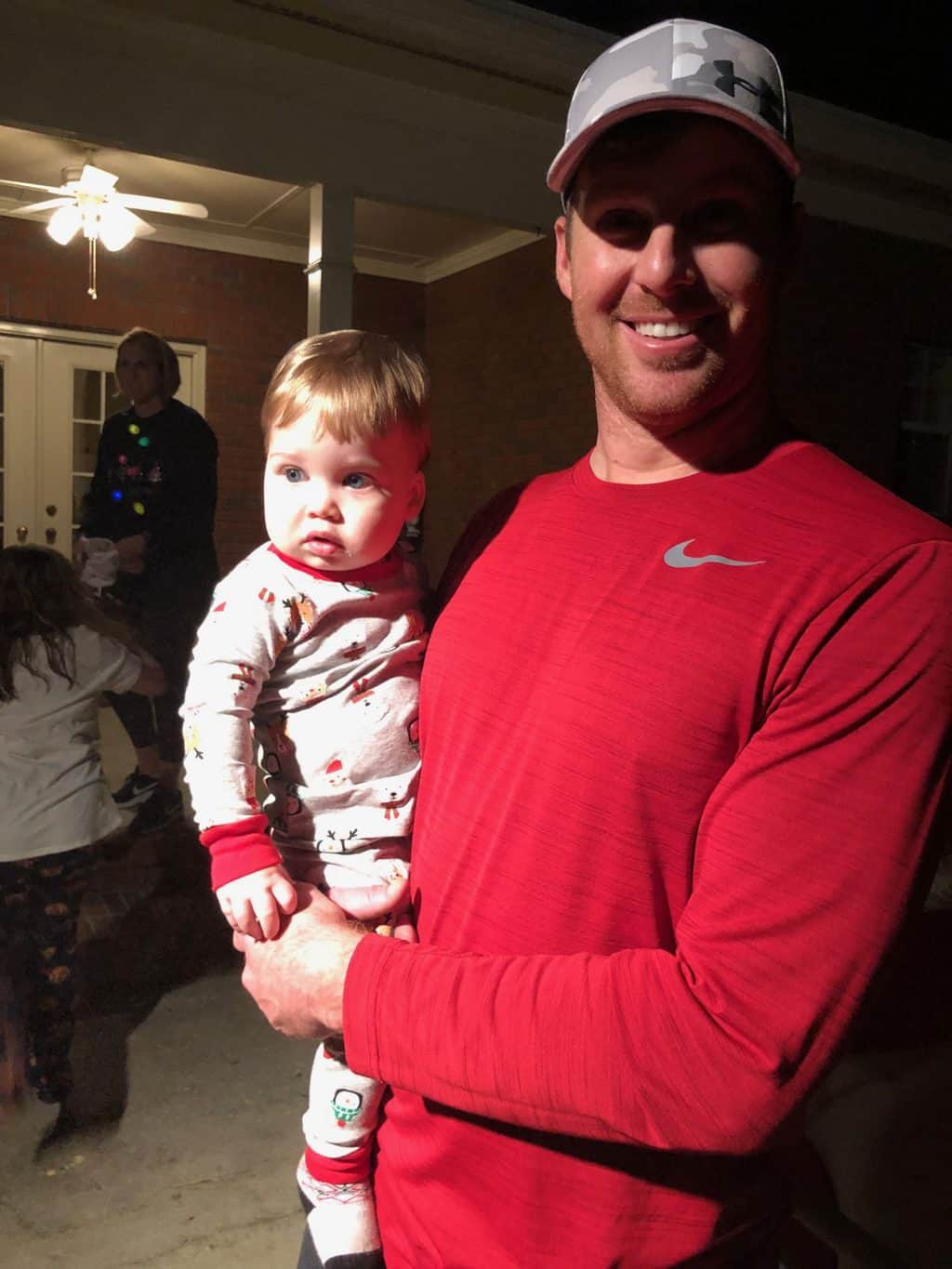 Big Papa's tradition is tracking Santa's location!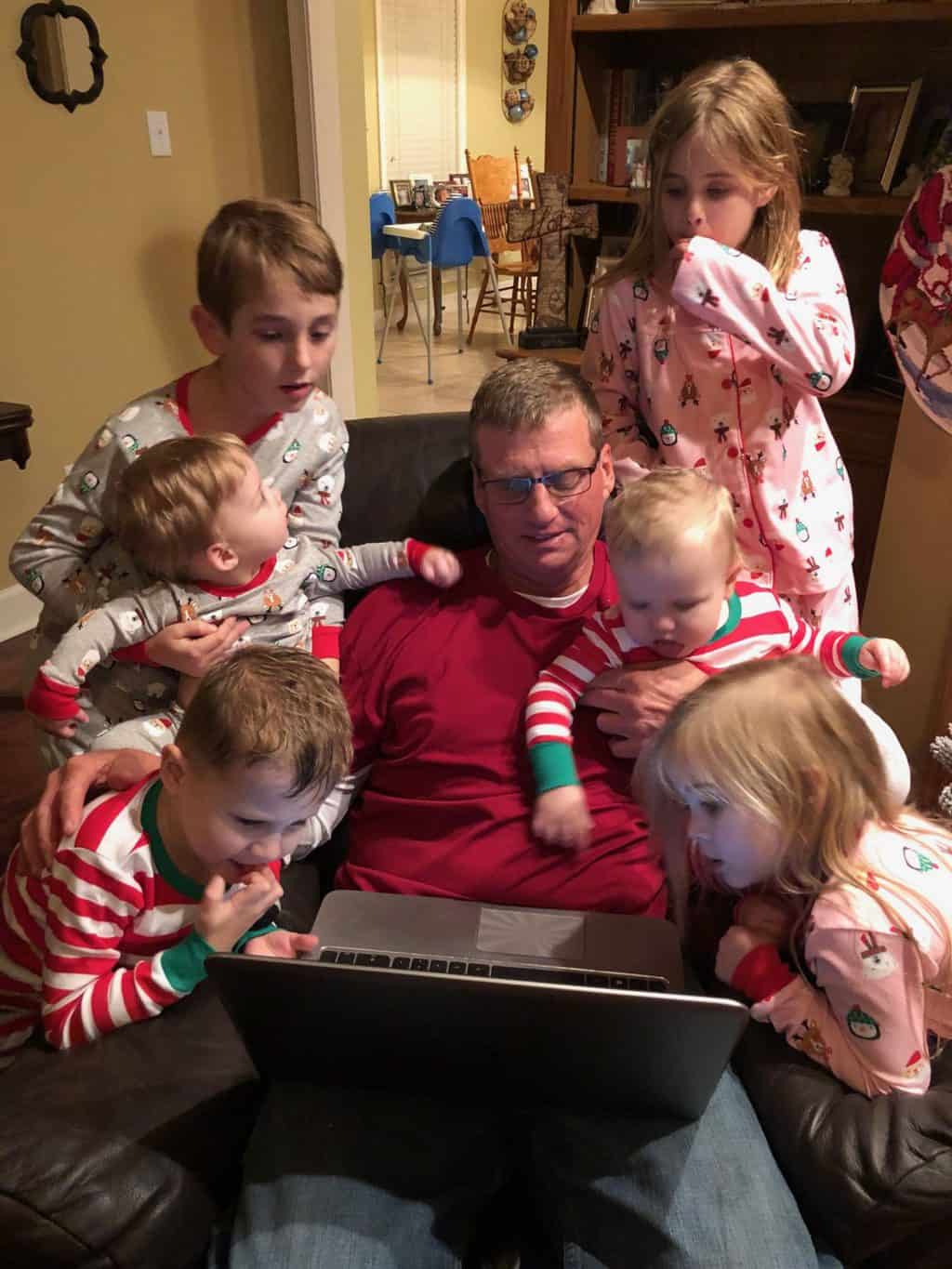 And G-Mama's tradition is reading The Night Before Christmas before the kids head to bed!
(Tess's yawn and Carter's nose picking make for the perfect Christmas photo ha!)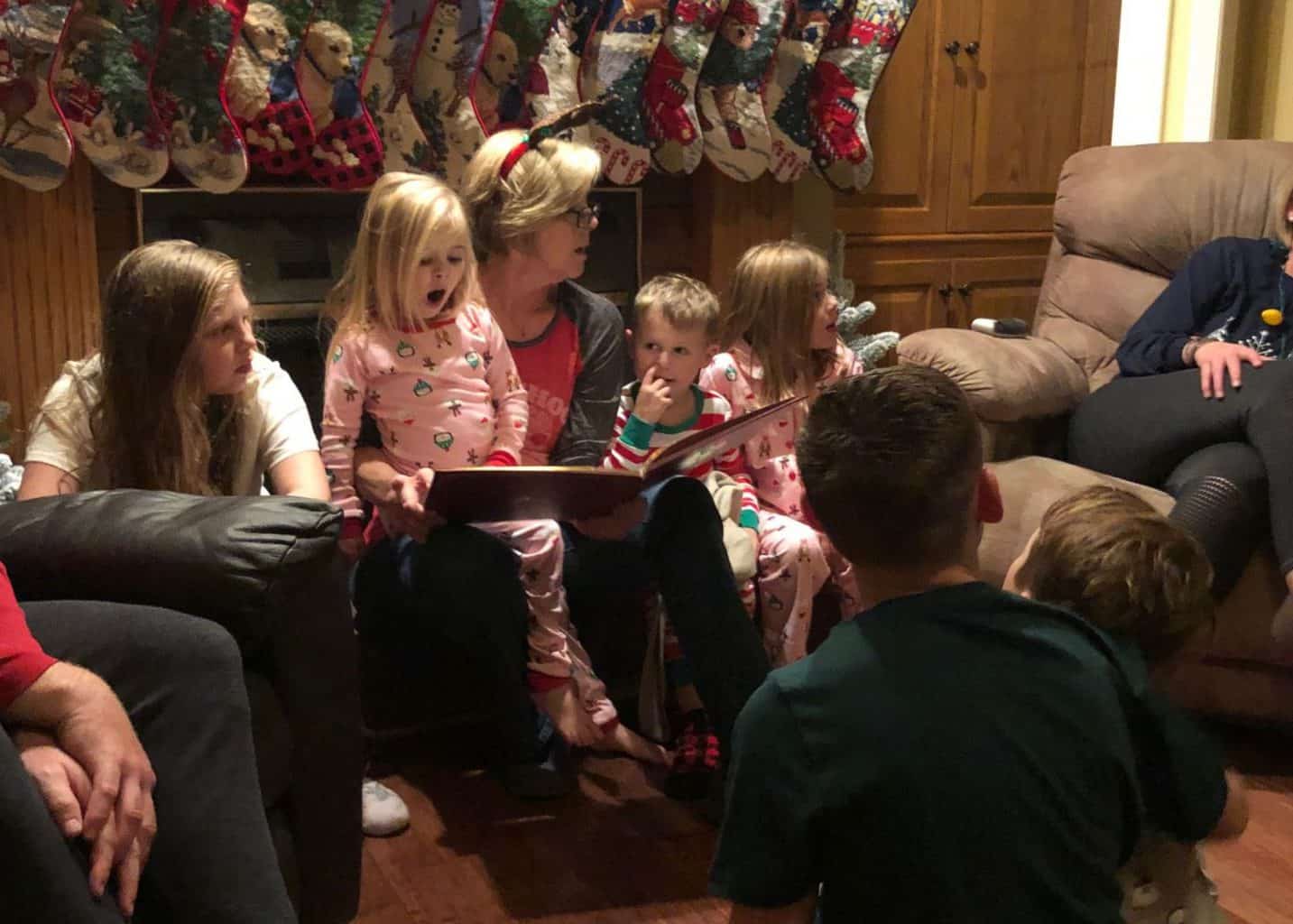 Casey and I agreed that Carter and Tessie aren't quite ready for the big cousin sleepover situation. Man, I really shouldn't have even let Tess have the Carter sleep over. Casey slept in their too and they did FINE but were up talking SO LATE. Tess was a HOT MESS on Christmas morning and I can only blame myself for letting her skip nap AND have the cousin sleep over. Lessons learned BIG TIME!
At least they loved their time together! Out of all the cousin bonds, these two adore each other the most for sure!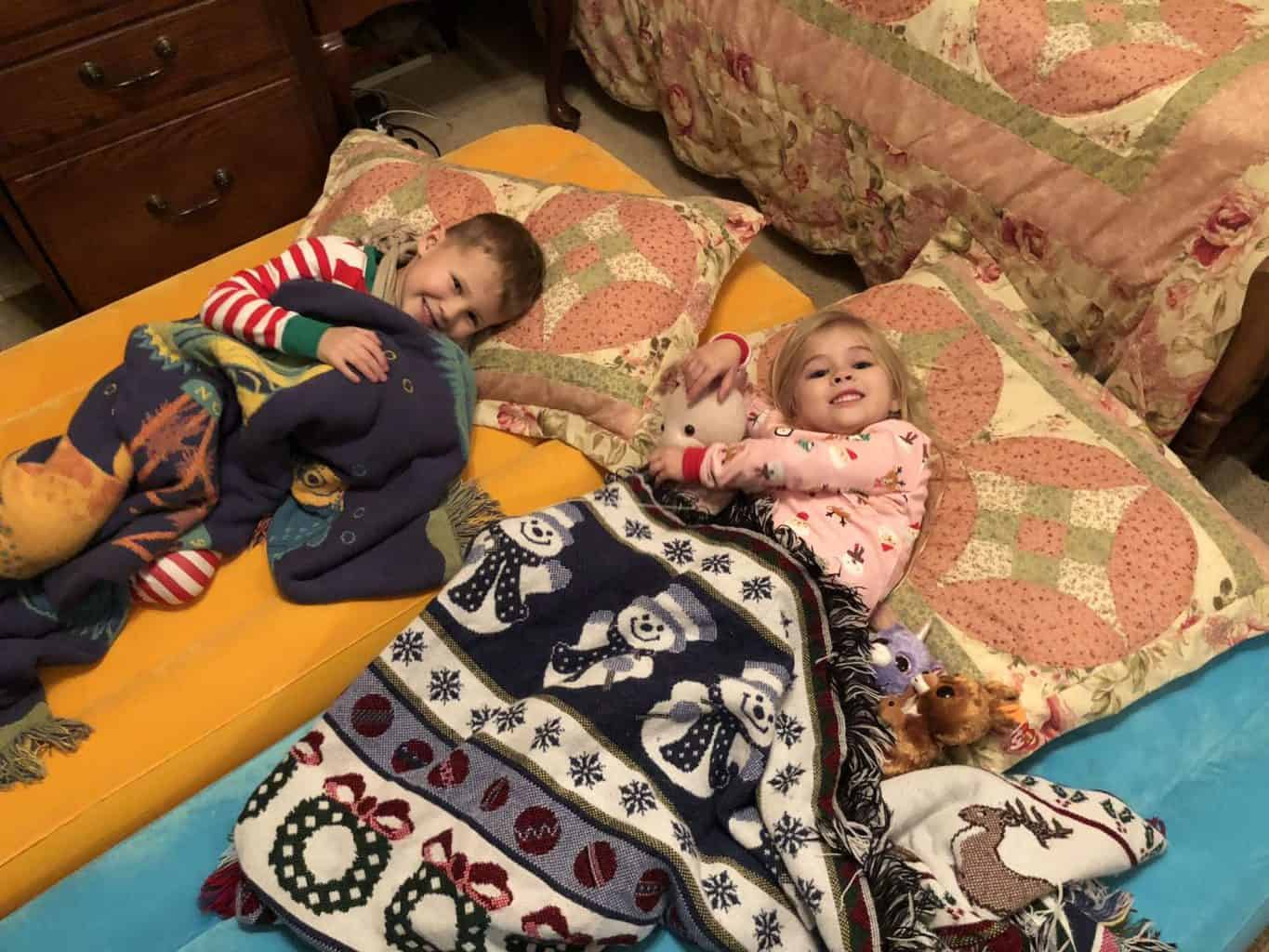 Listening intently to the rules.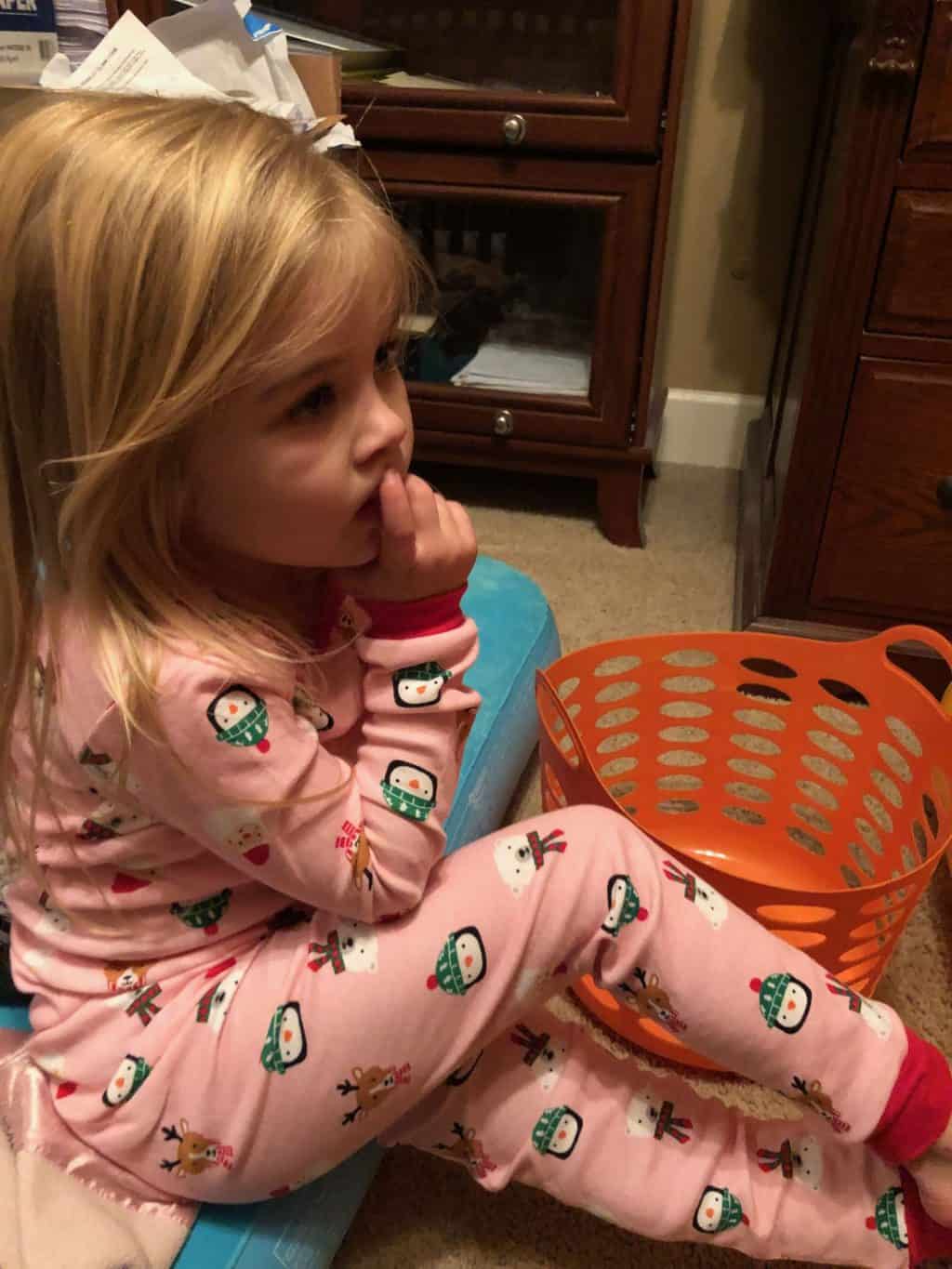 Big kid cousins sleep in Mr Rusty and Mrs Charlotte's room!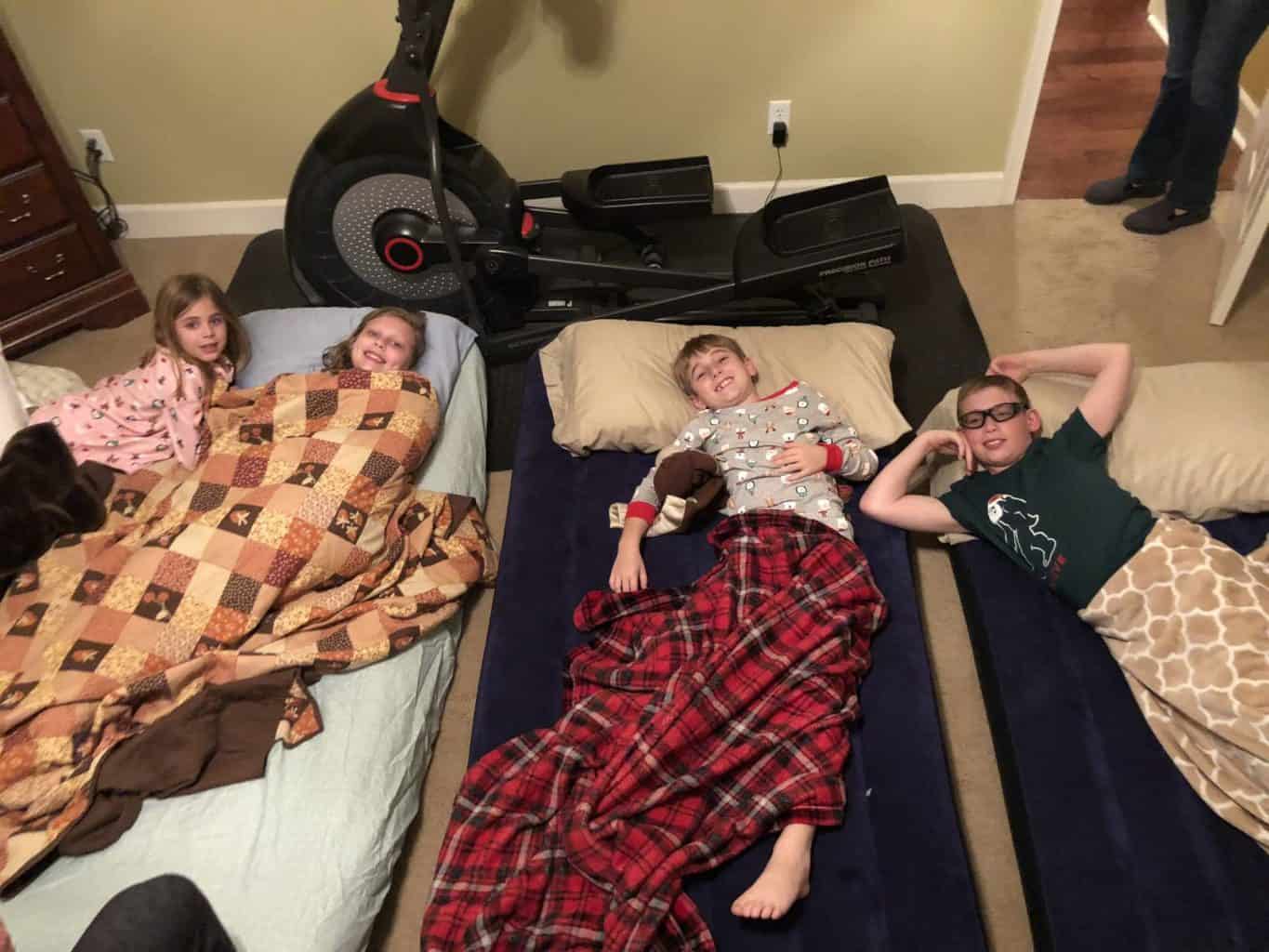 Once the kids are in bed we've started having the adults open gifts. That way Christmas morning runs a little quicker! The most thoughtful gift this year was for sure Mrs. Charlotte finding someone who had the Sportscenter Top 10 Plays segment on DVD from When Zach was the #1 Play of the Day back during his senior football season (I know, isn't that AWESOME?). We had it recorded years ago but over time we no longer had it and this is SO special for Zach to have and to be able to show his babies! Kye couldn't believe it when he watched it. The catch y'all was EPIC.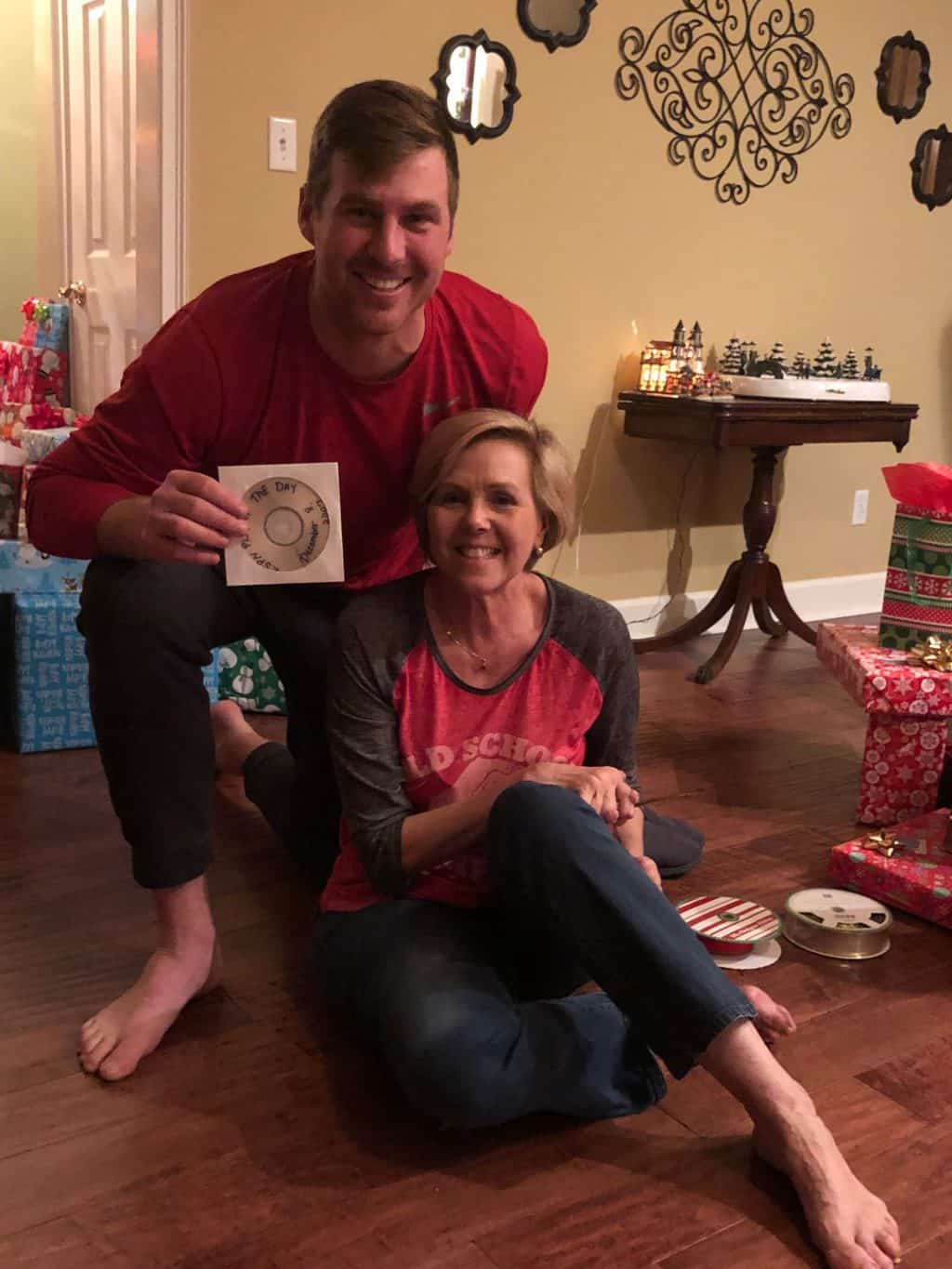 We were all in bed at a decent hour and I slept the best I've ever slept at Mrs. Charlotte's house! The flow of the day this year went really well and the kids all had so much fun! Up next…Christmas Morning!