My absolute favorite day of the entire year is the day of our Core Crew Christmas. This tradition started a few years ago and has grown and evolved over the years as time goes by and we tweak things as we see fit.
It's important to me to NOT make this a "it must be THIS date" kinda thing. Someday I'll be a mother-in-law. Someday our kids won't spend Christmas with us. My hope is by keeping this tradition flexible that maybe some elements of it will still be able to happen as our kids grow into adulthood. We shall see!
In the years past it's always been Christmas Adam when we have our Core Crew Christmas Day. This year Christmas Adam (the day before Christmas Eve) fell on a Sunday so we shifted our day to Saturday. It's important to me to have the whole day together, and I'd much rather move the day itself than sacrifice that quality together time.
We have several mini traditions within our larger tradition of having a Core Crew Christmas!
First, the kids all wear their Christmas pjs from the year prior so they can get used twice 😉 We have a dinner as a family (this year it was fast food pick up Daddy grabbed) and then we all load up in the car in our pjs and the kids all bring a stuffed animal and we let them get out of their car seats to drive (slowly!) through a neighborhood to look at Christmas lights.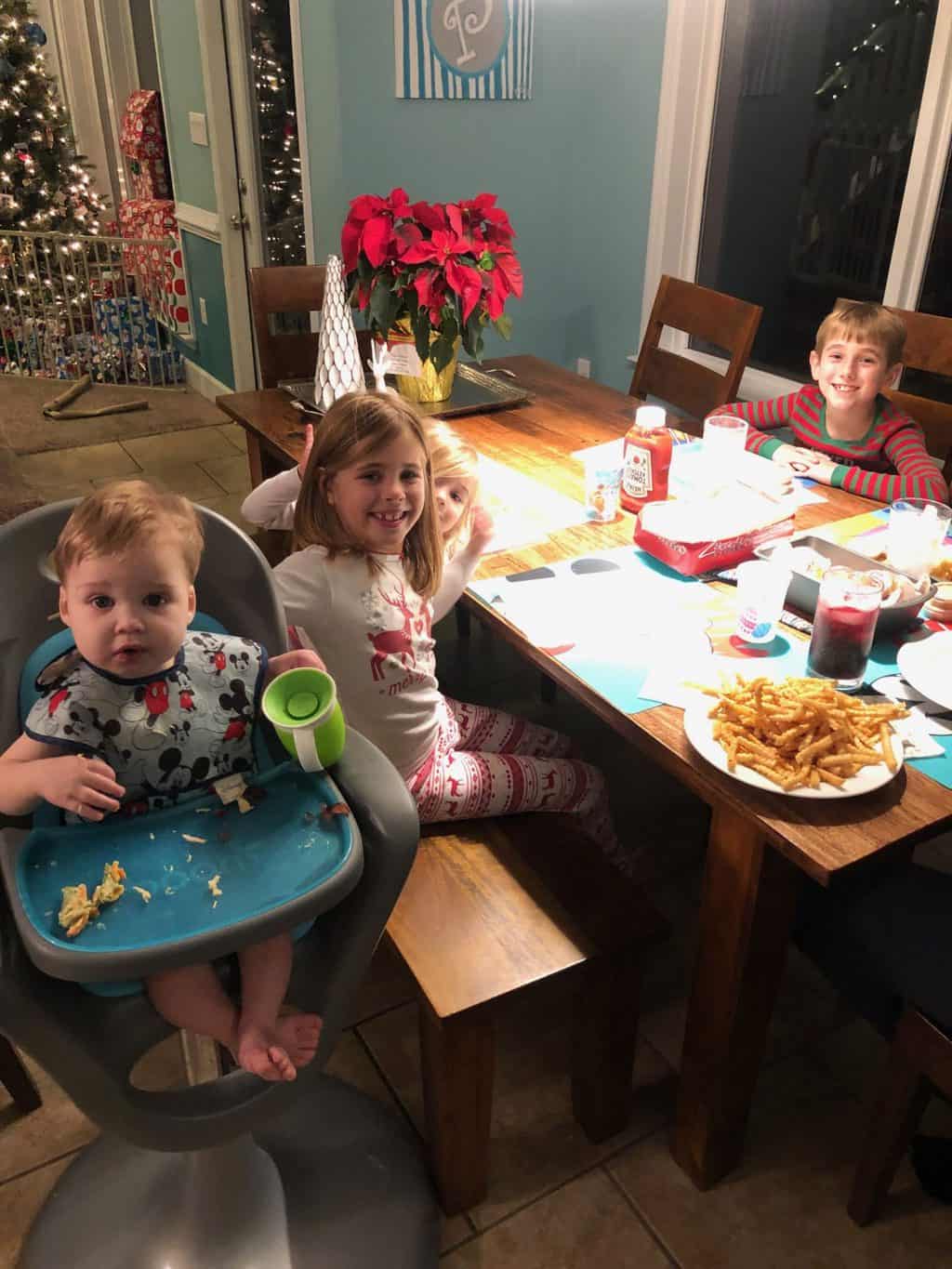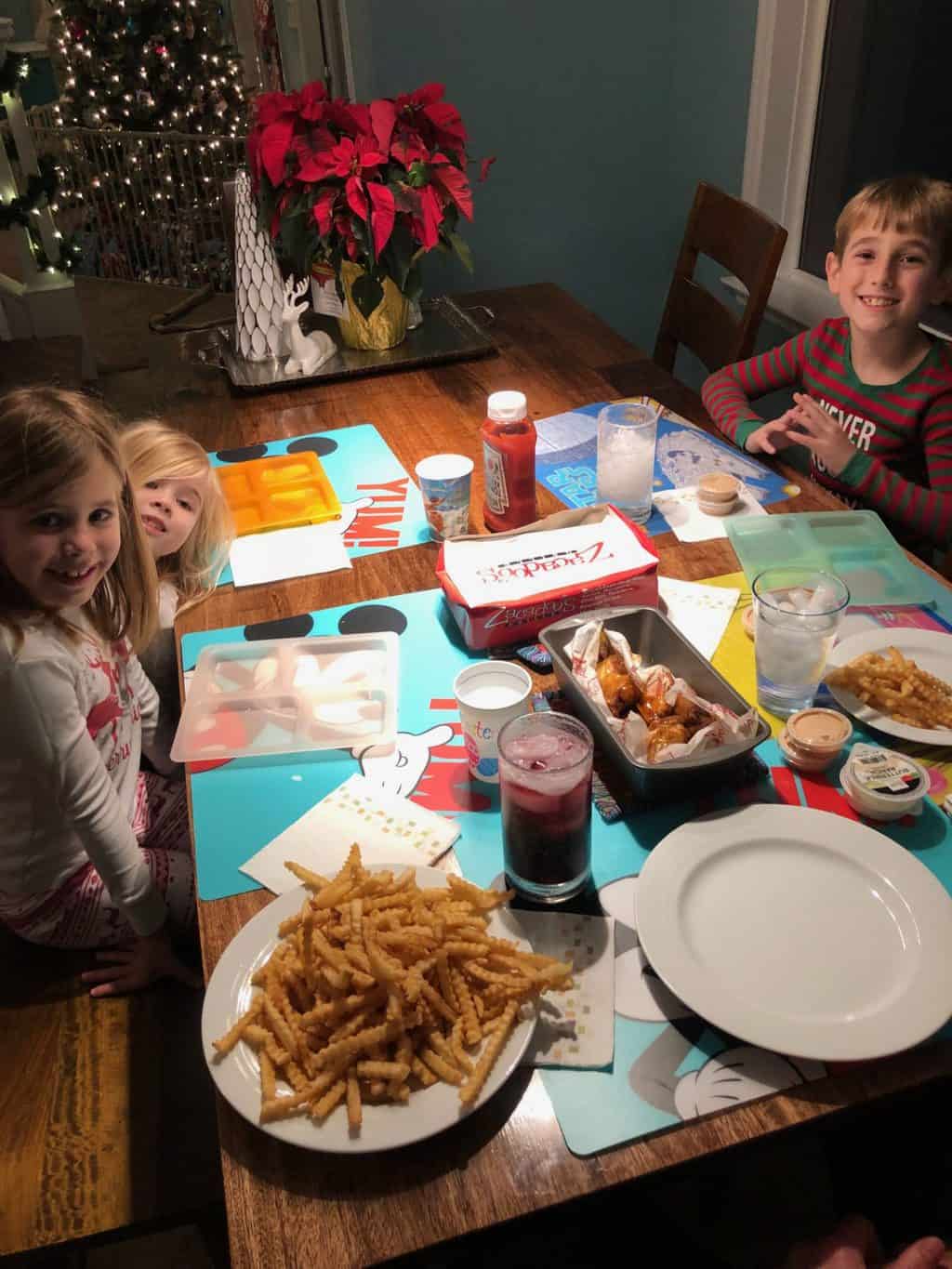 Best gifts under the tree!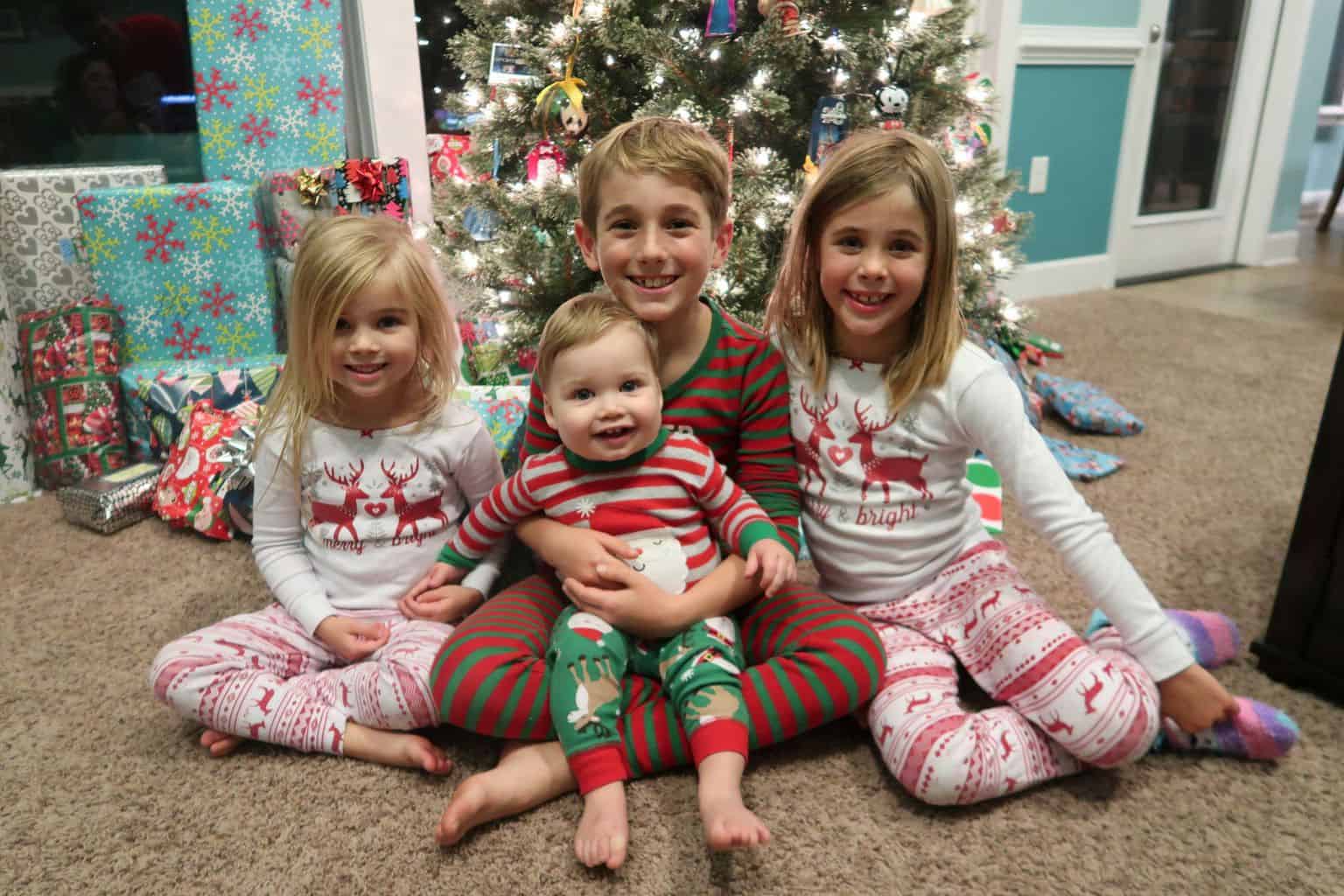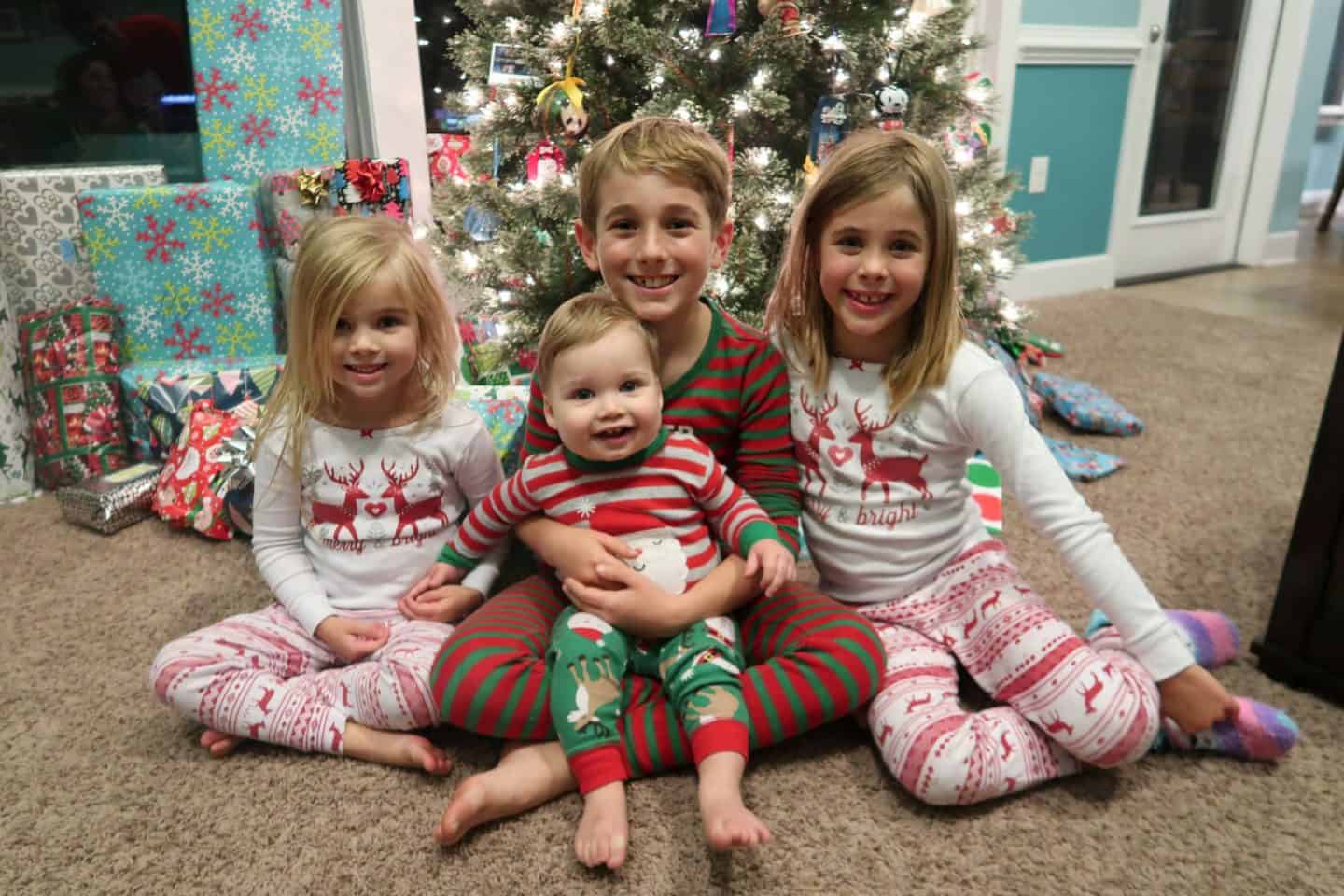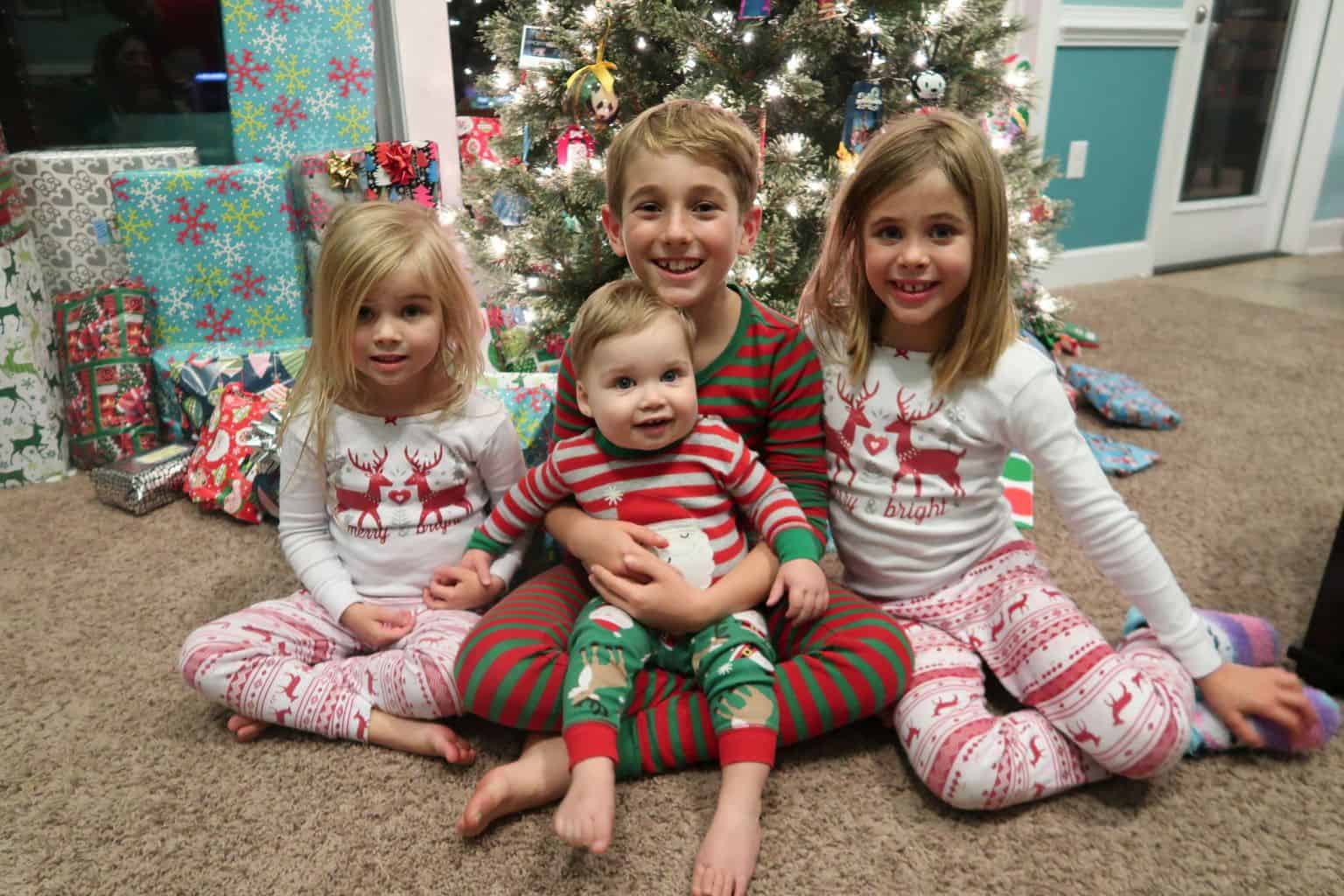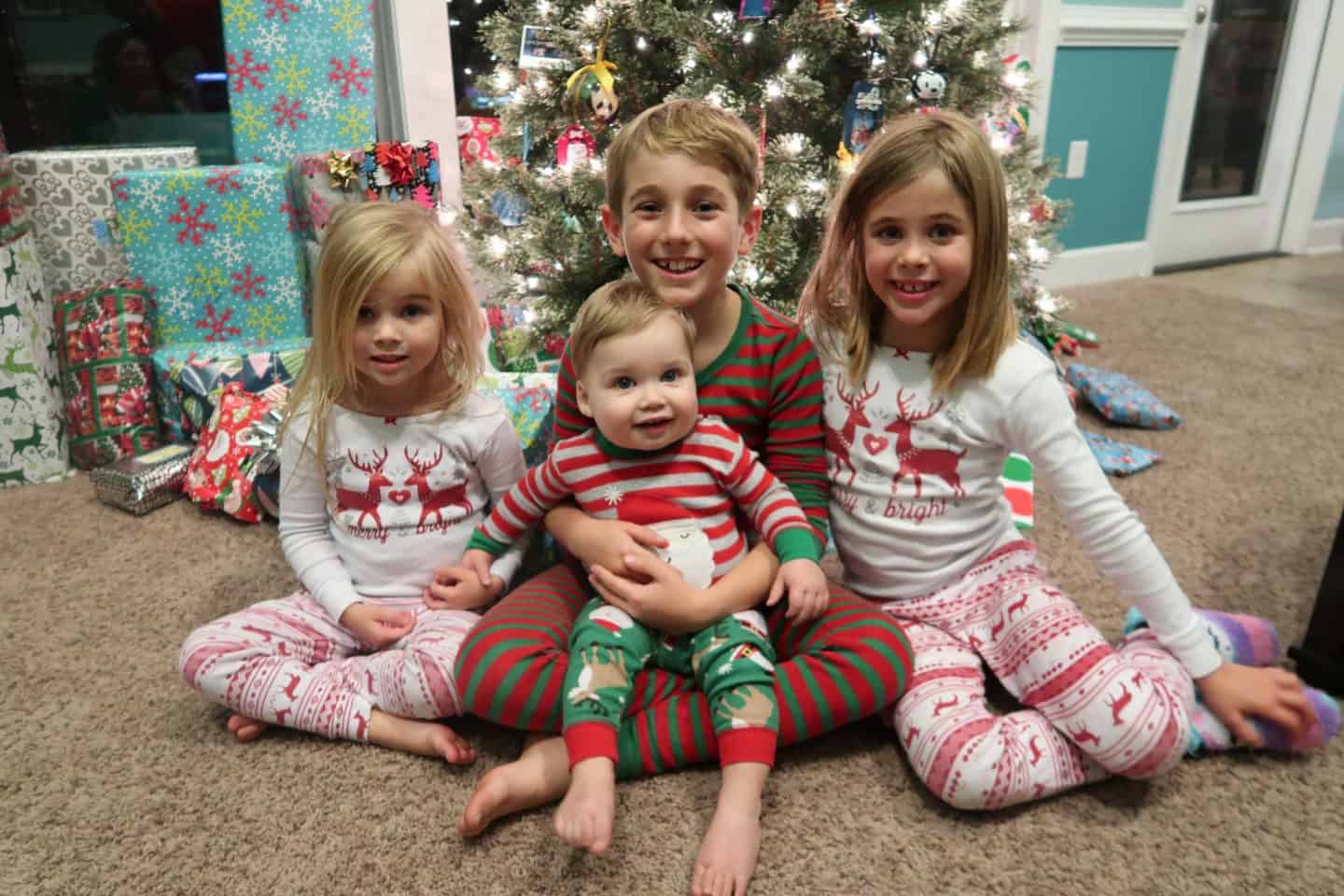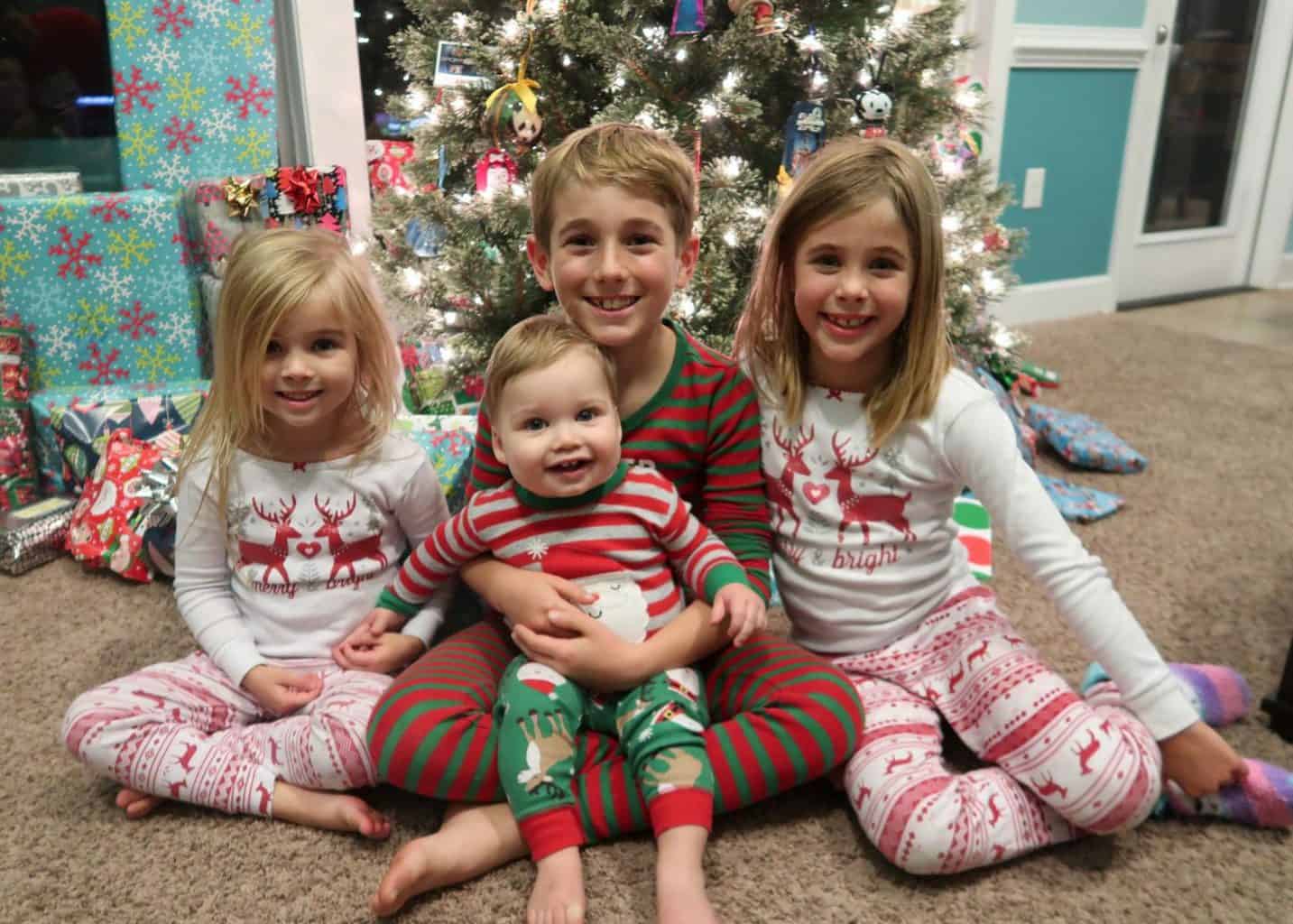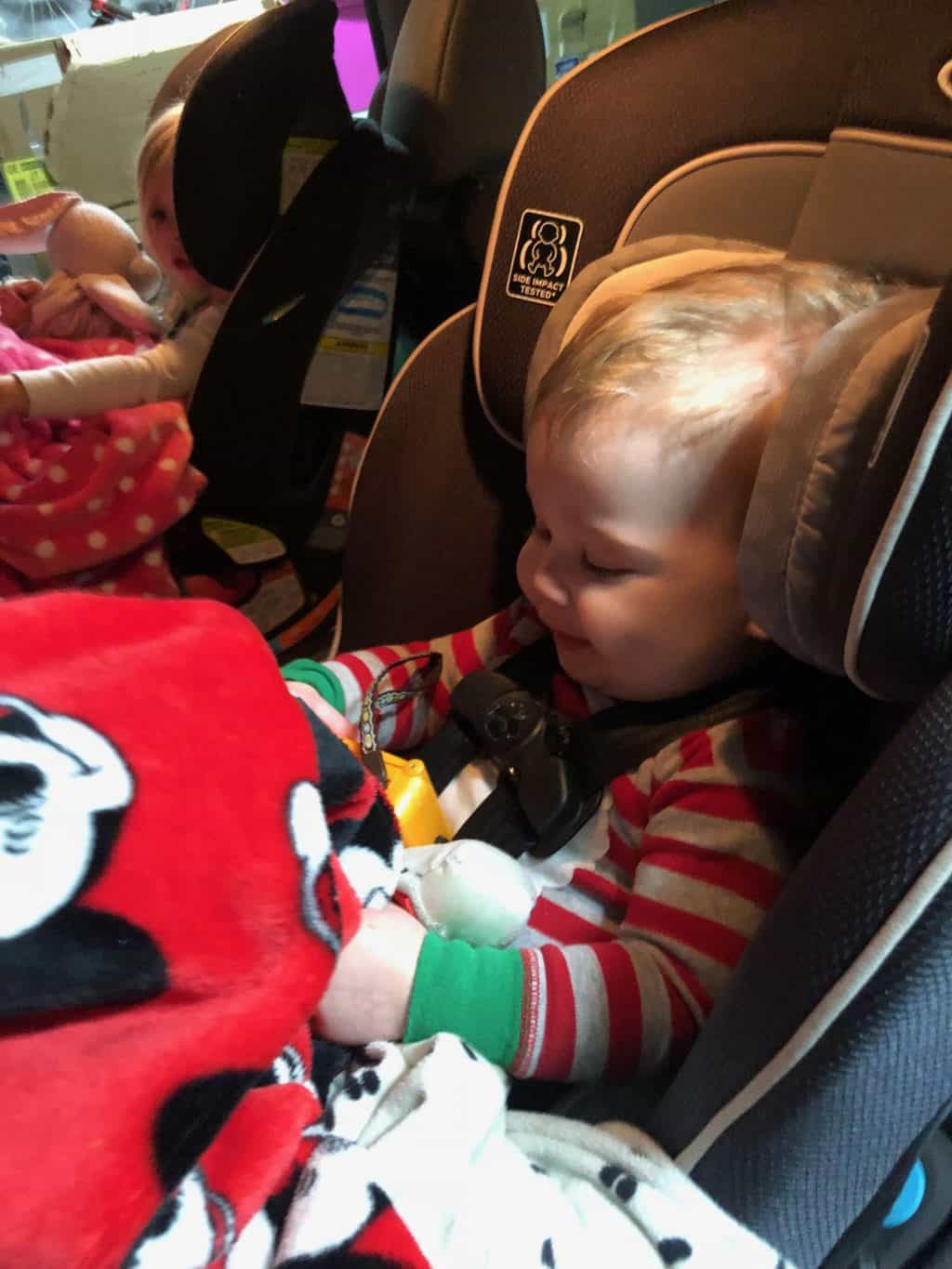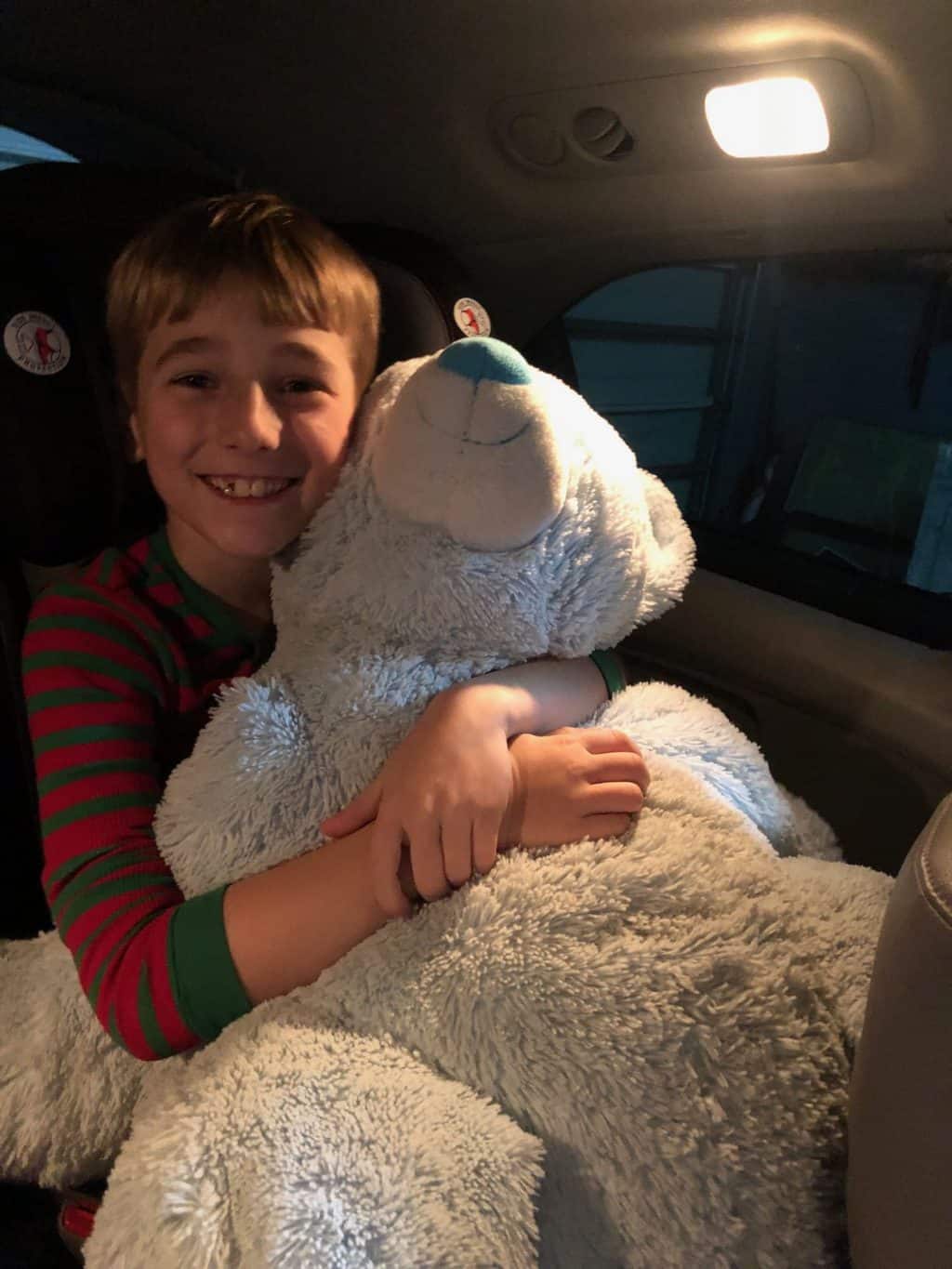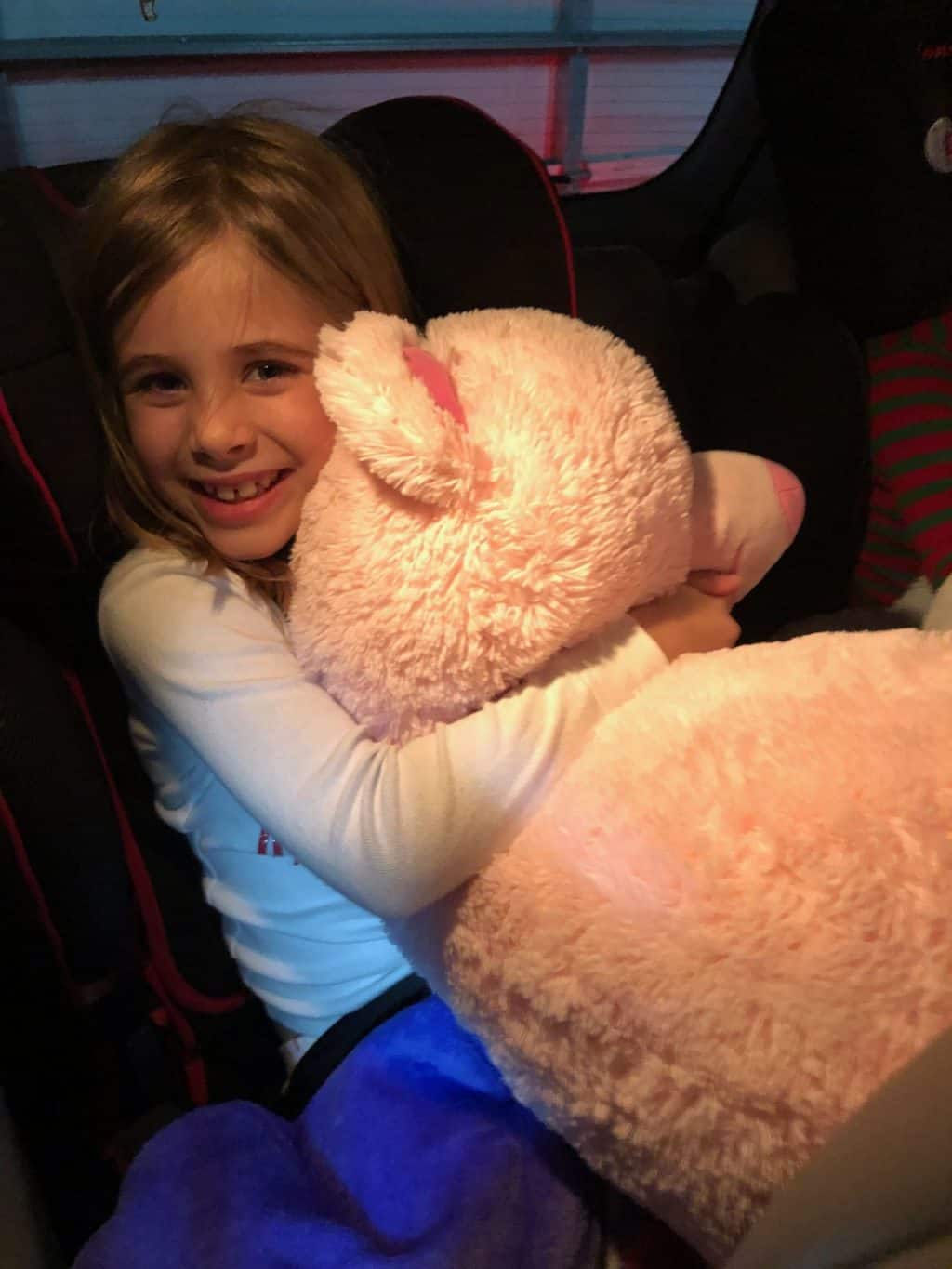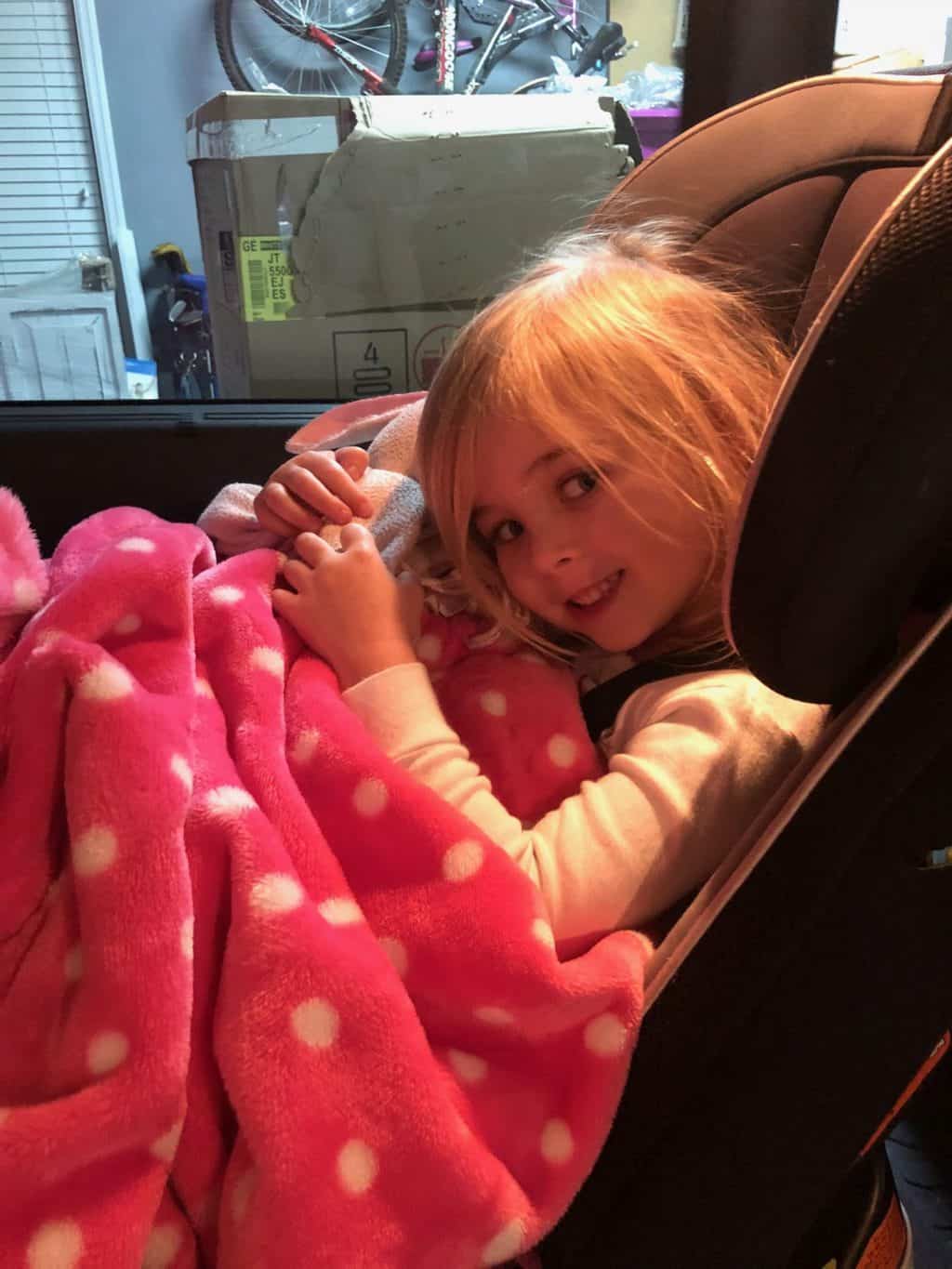 Zach let Kye drive a bit too in the neighborhood and he did GREAT!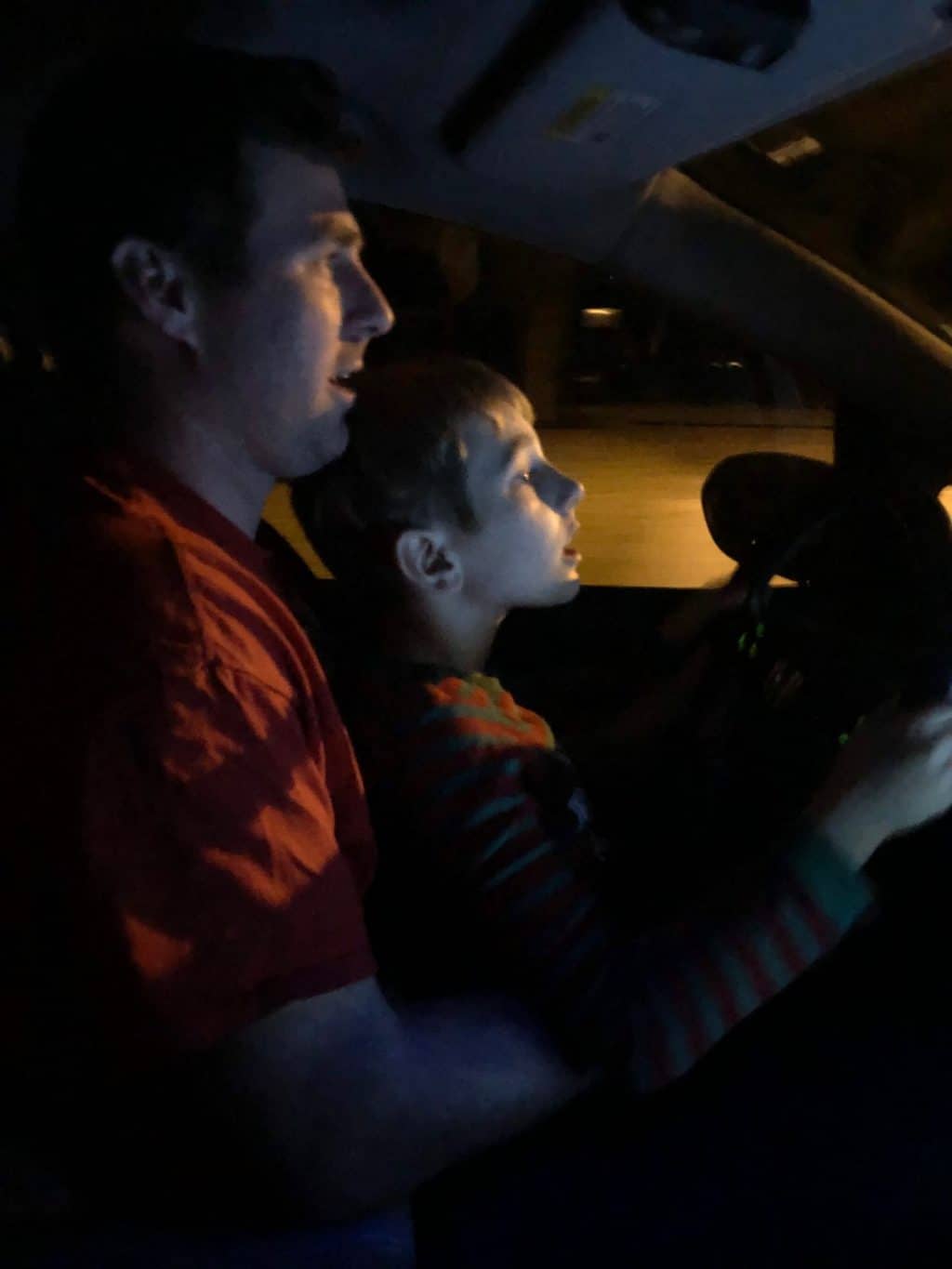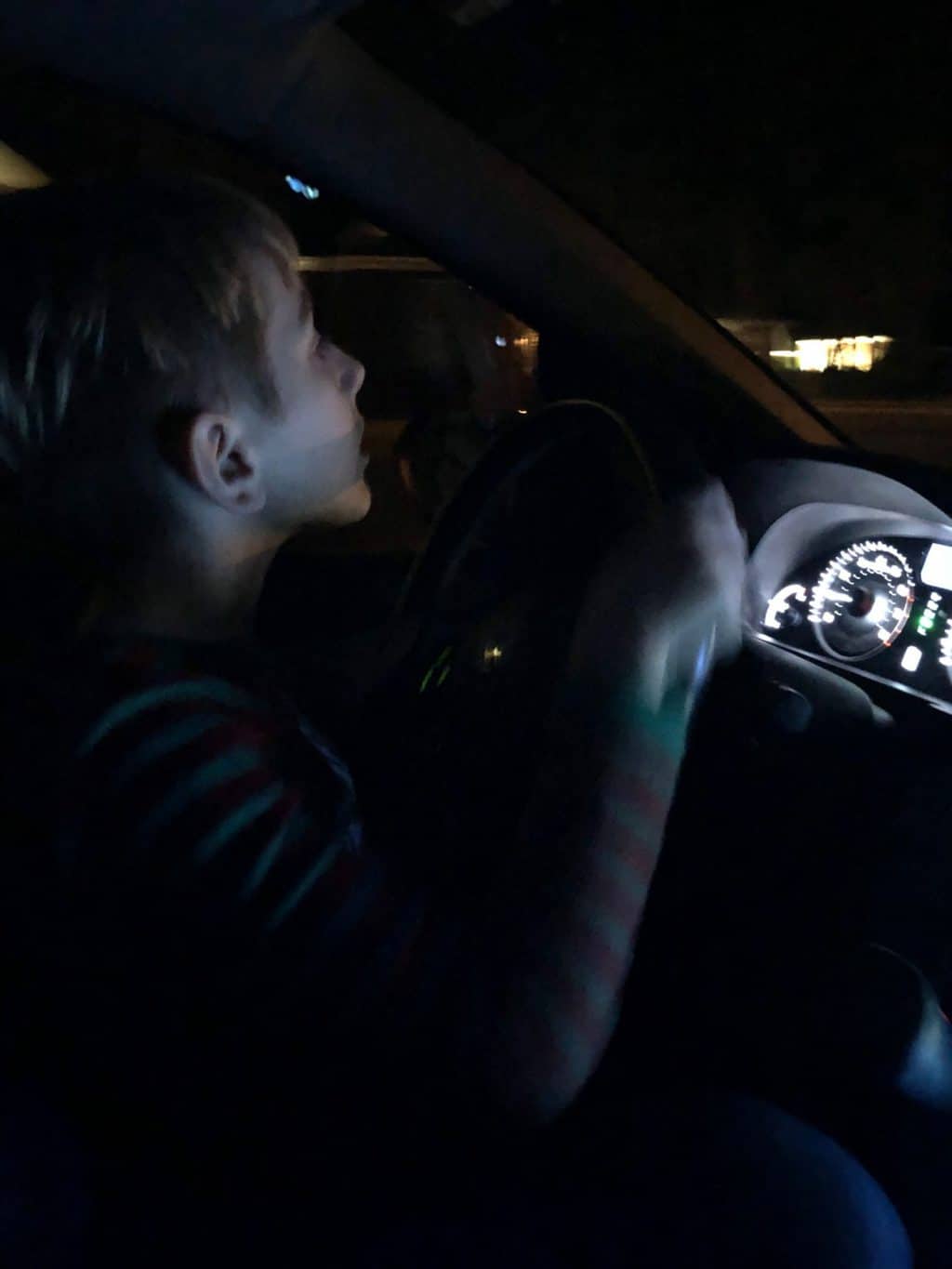 This year we added the tradition of getting back home from Christmas lights and going out in the backyard to hang out by the fire and roast marshmallows to make s'mores. Zach has finished his backyard project with our new fire pit and it was our first time getting to use it! YAY!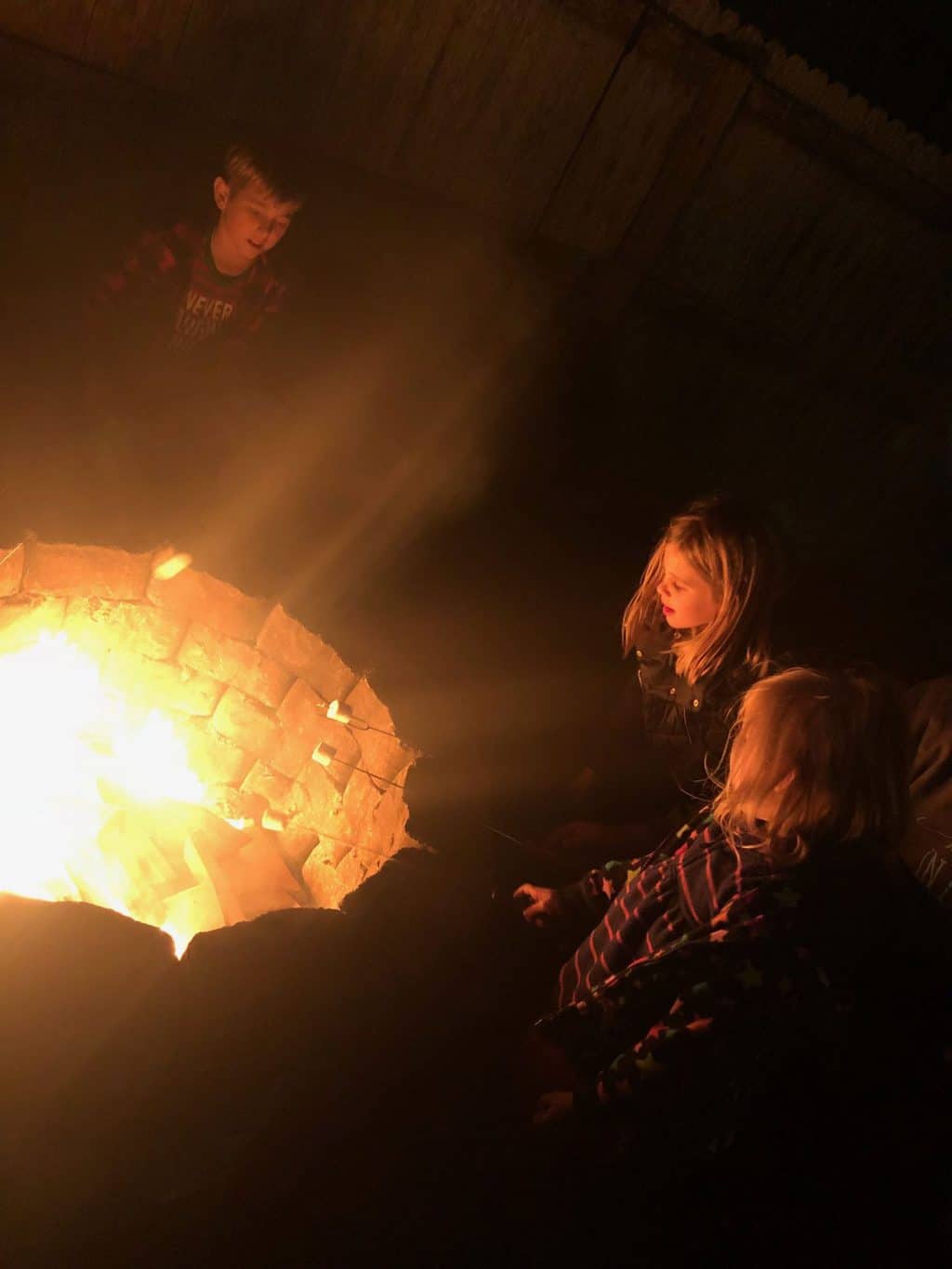 Our usual routine is the kids getting to have their bedroom Christmas trees lit up for the night in their rooms. Well. Britt's tree broke this year and the new tree we got her we never added lights so she didn't have a tree to have lit up. Duh, I just let the three big kids camp out together and enjoy Kye's light 😉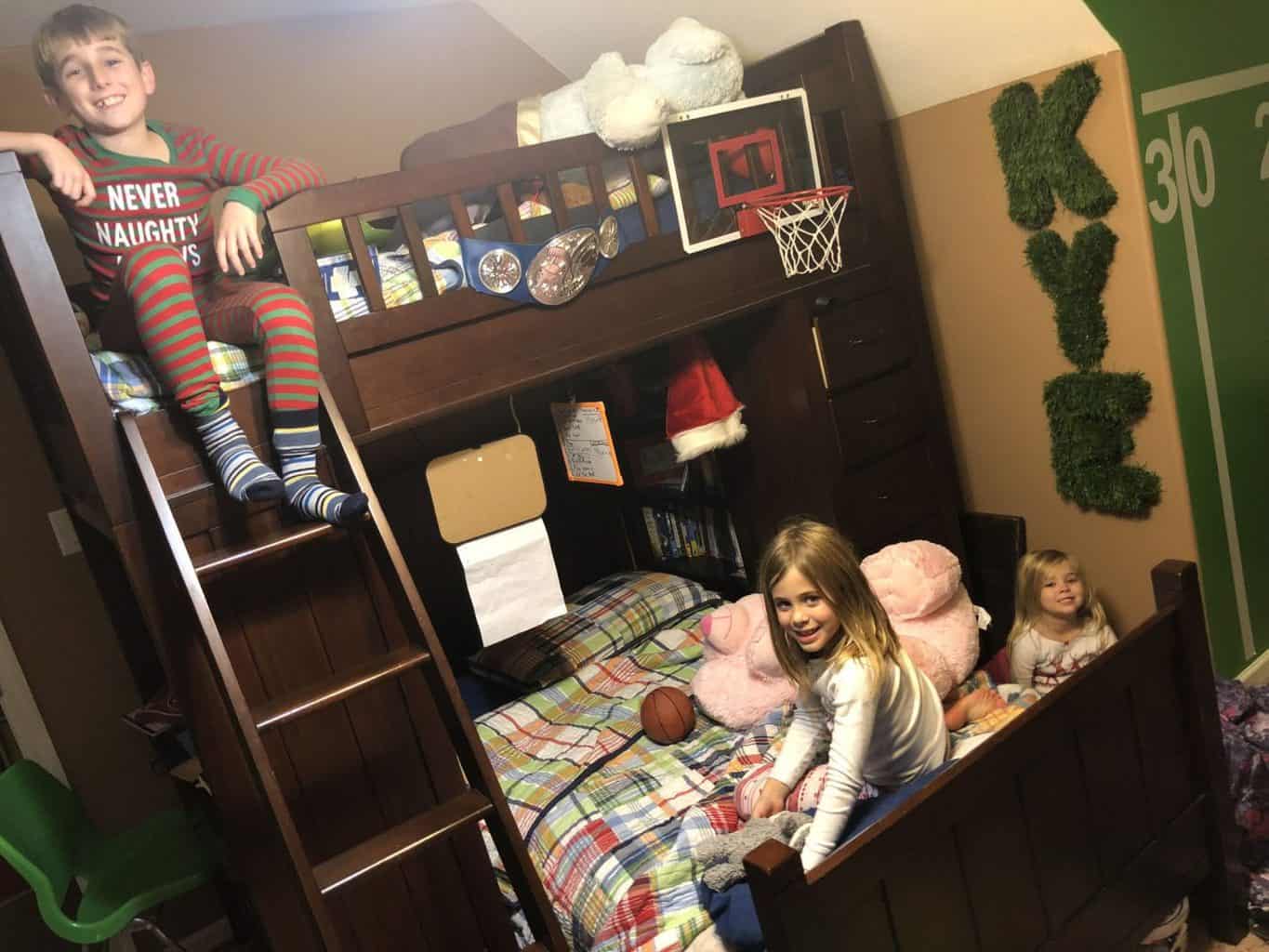 This year we packed up the gifts as we wrapped them to take over to Zach's moms house. So all we had under the tree were the gifts we planned to open on our Core Crew Christmas! Still a full tree for sure! Our elves even came to watch 🙂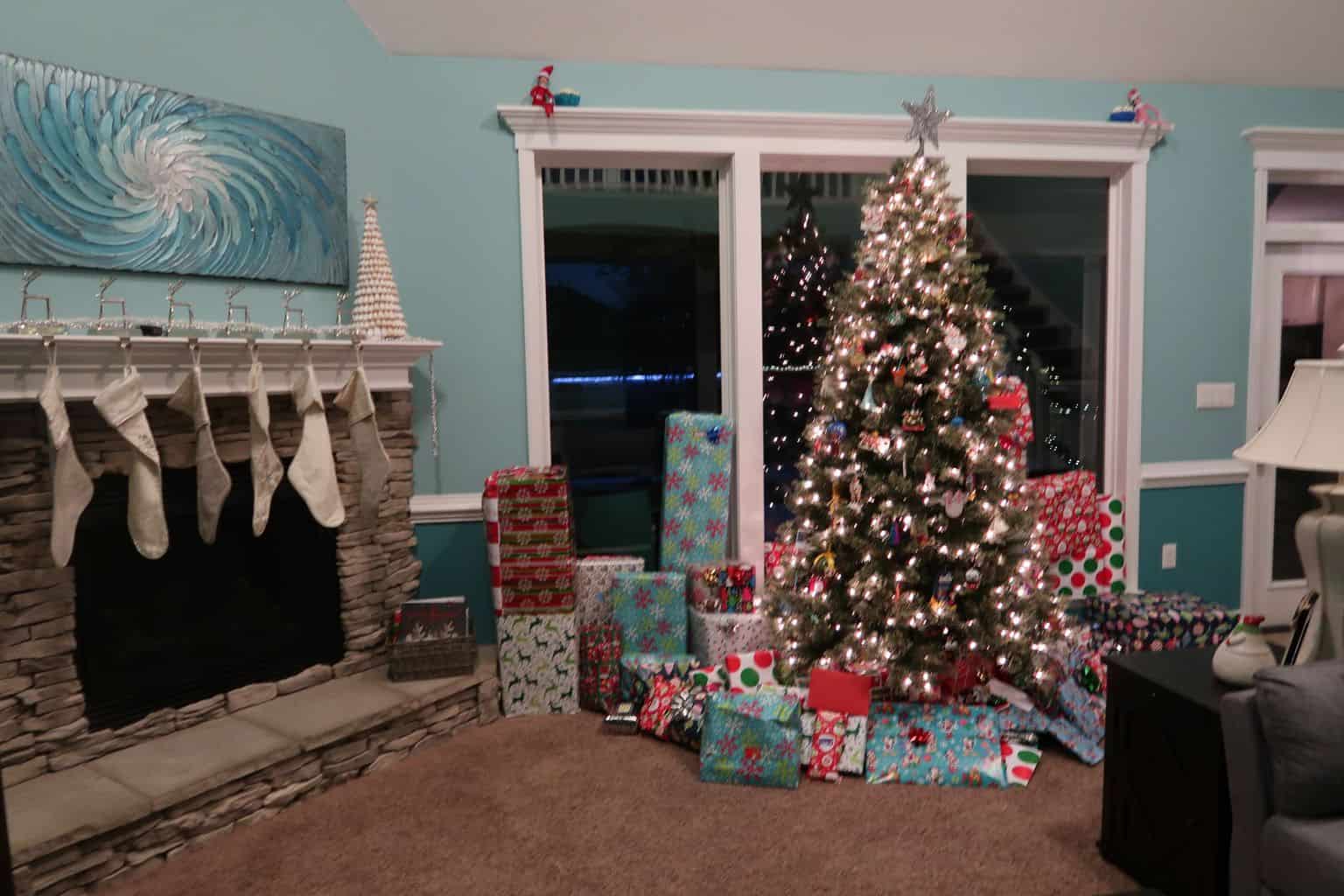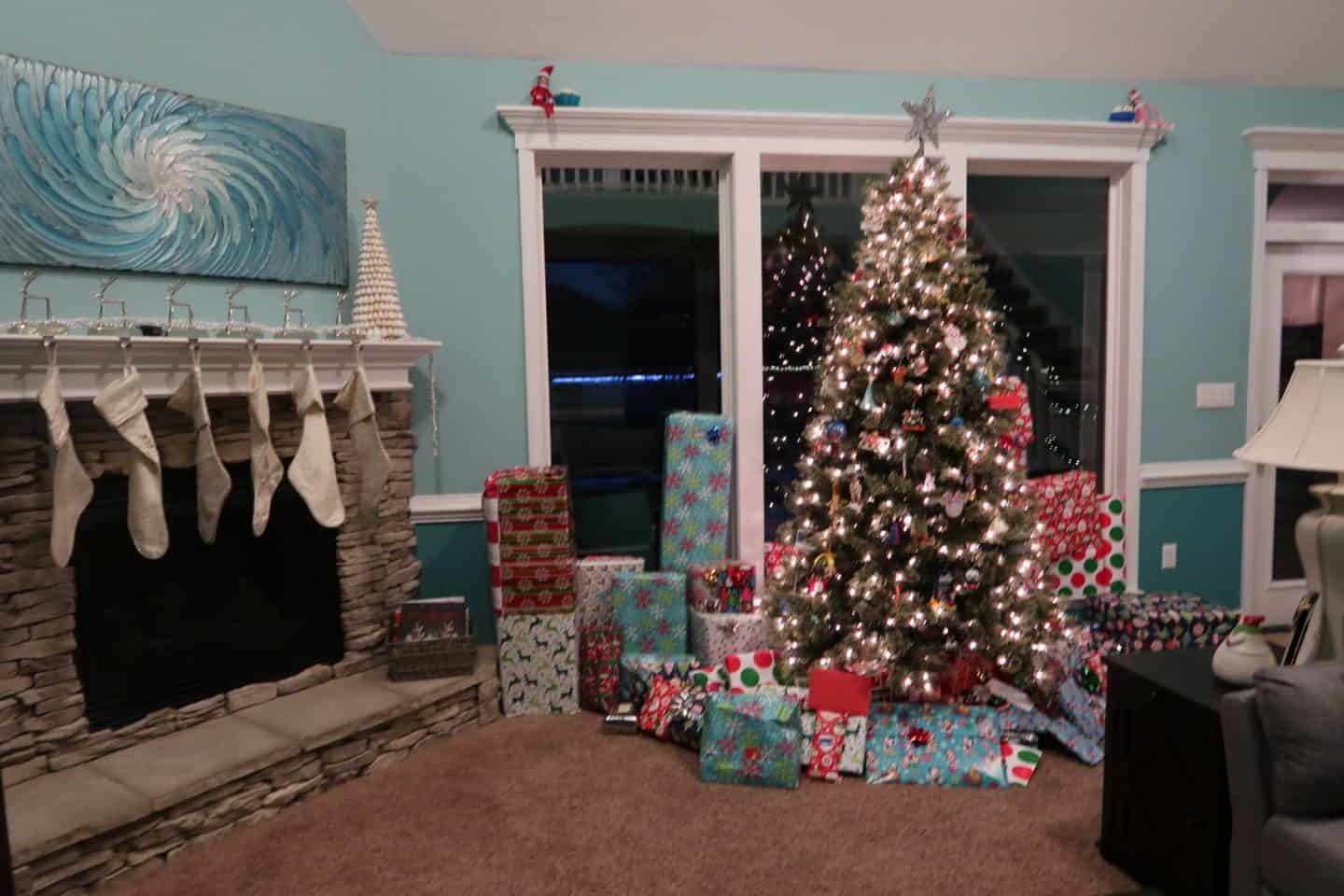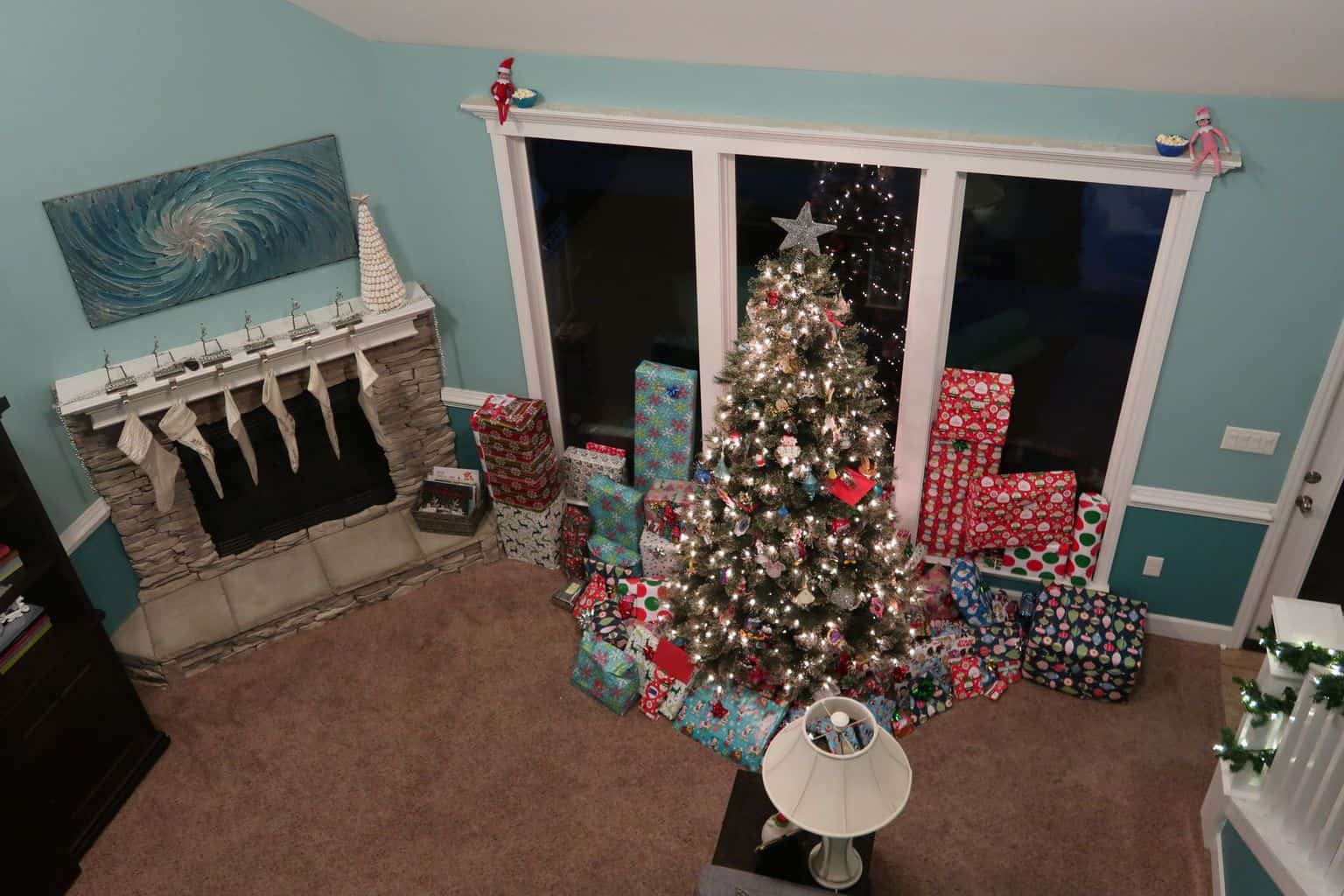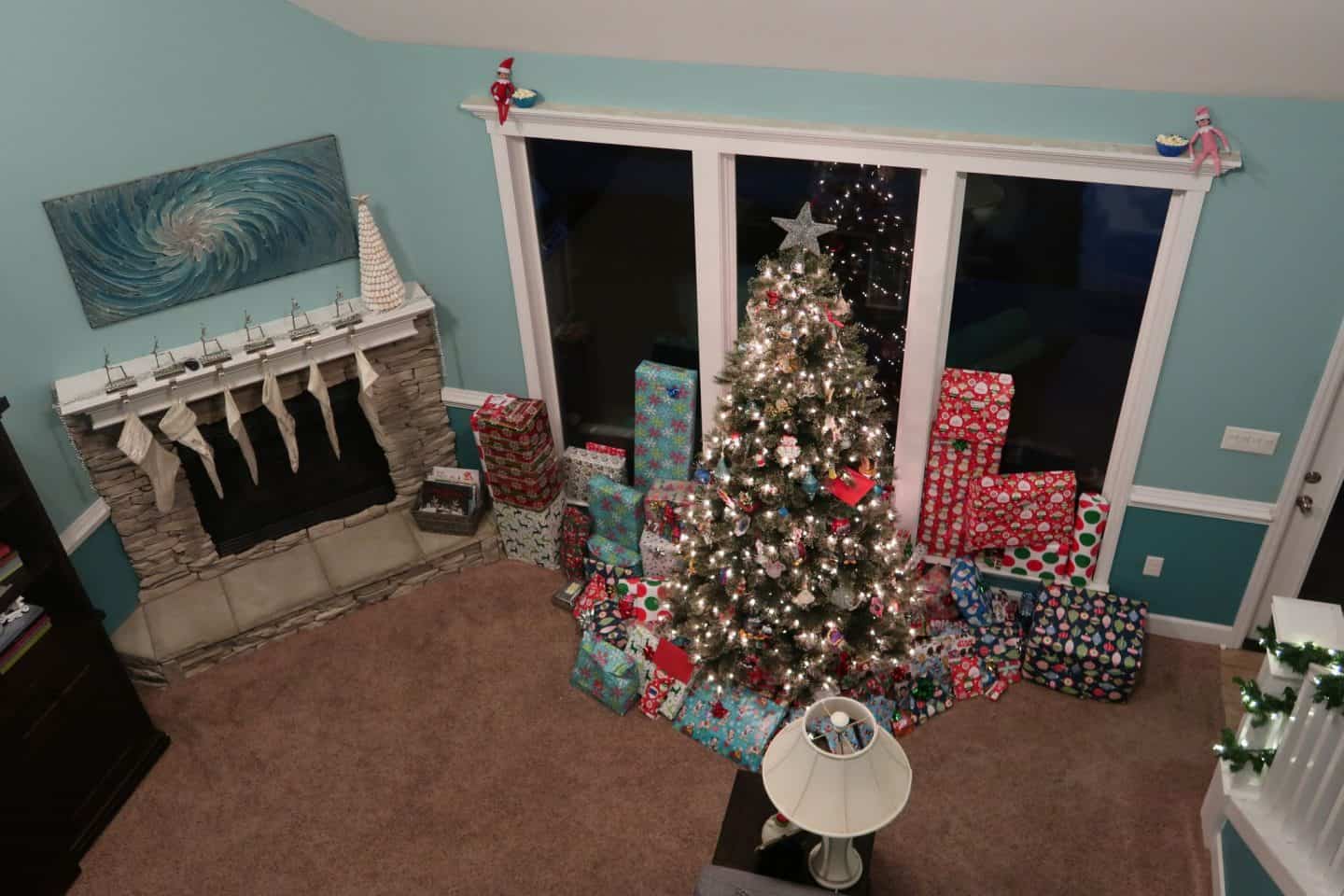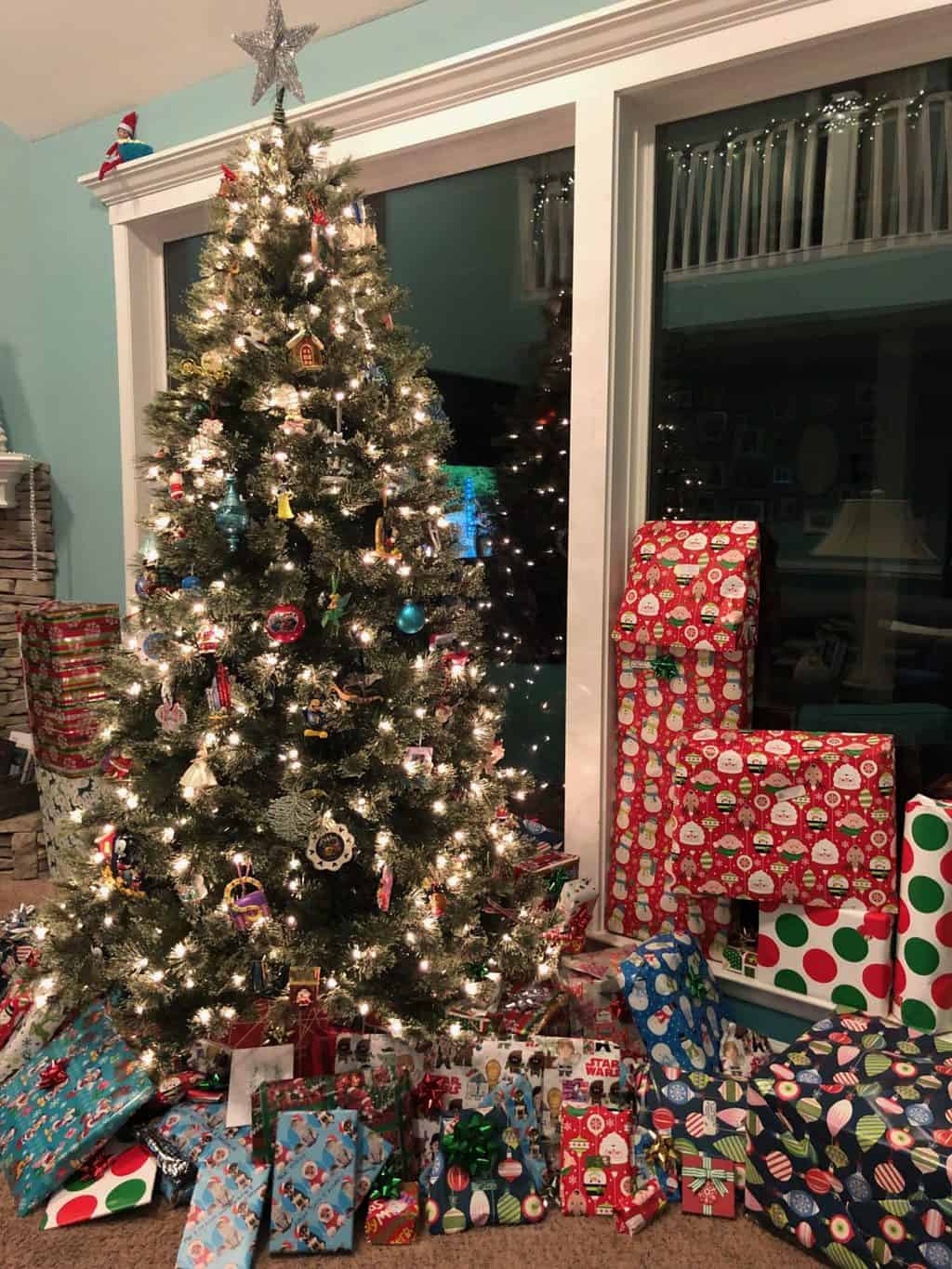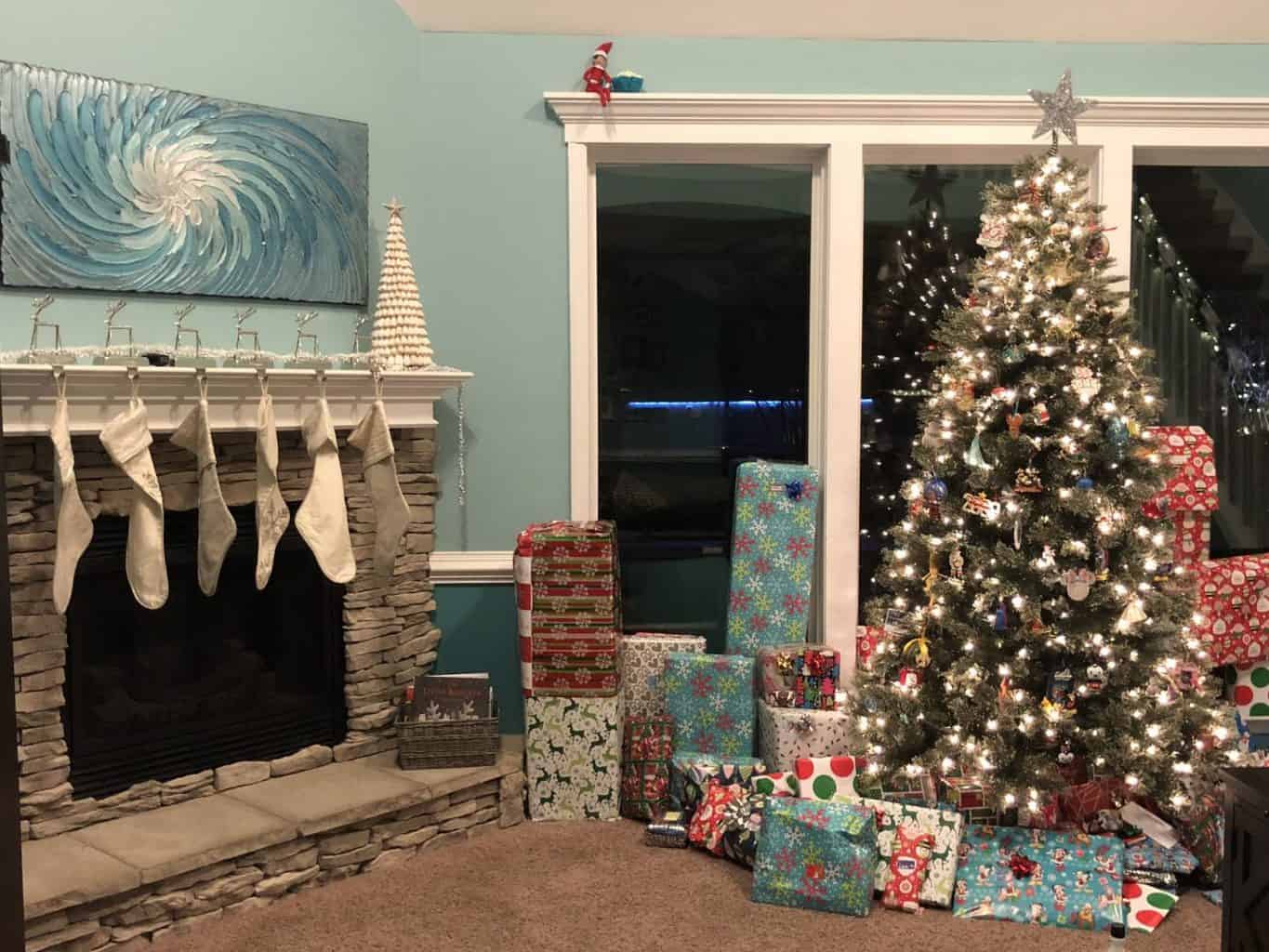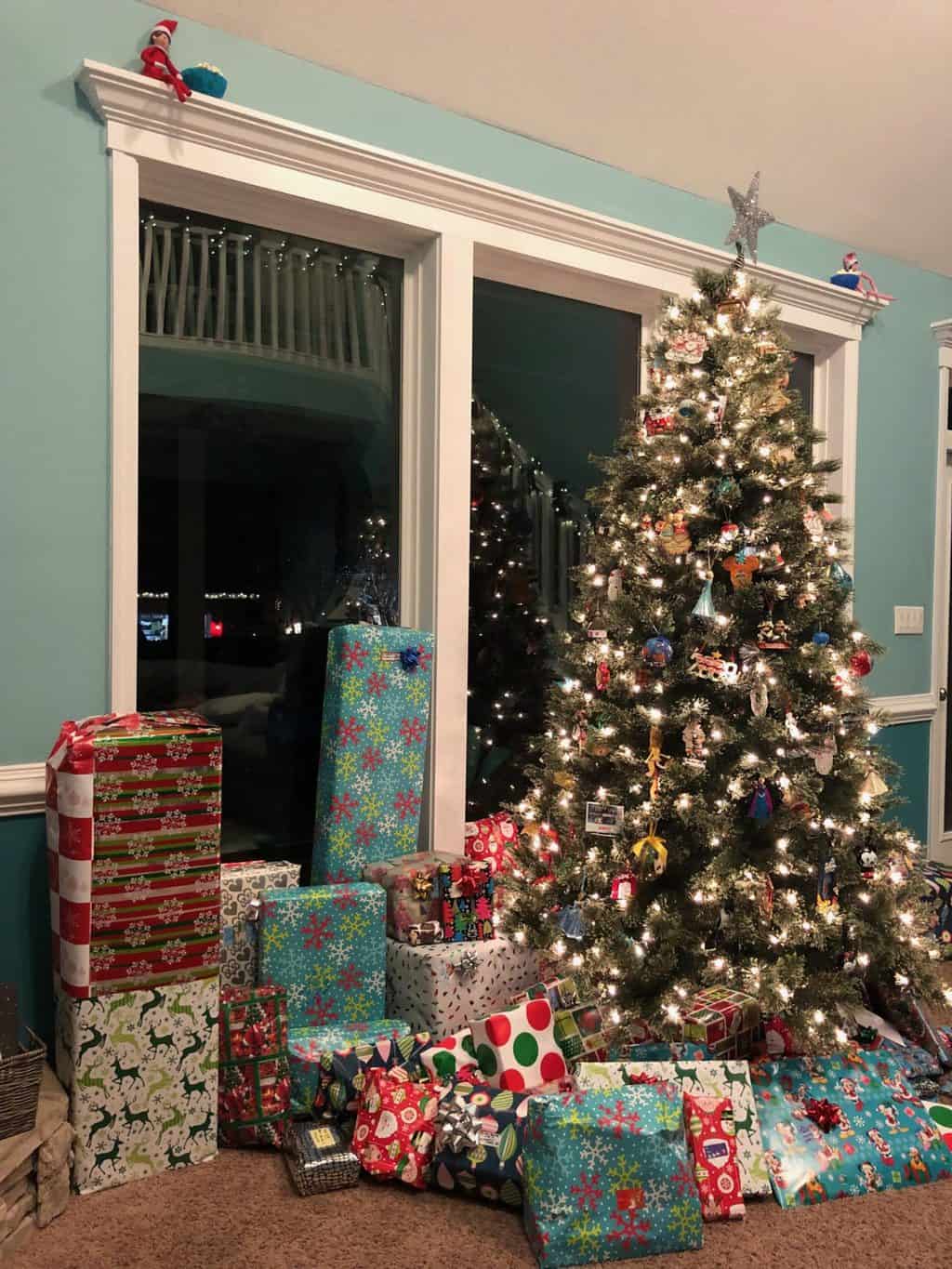 We'd gotten all wrapped up in the fun the night prior and totally and completely forgot to stuff our stockings. OOPS! So the kids got their things to bring down with them when it was time to get up!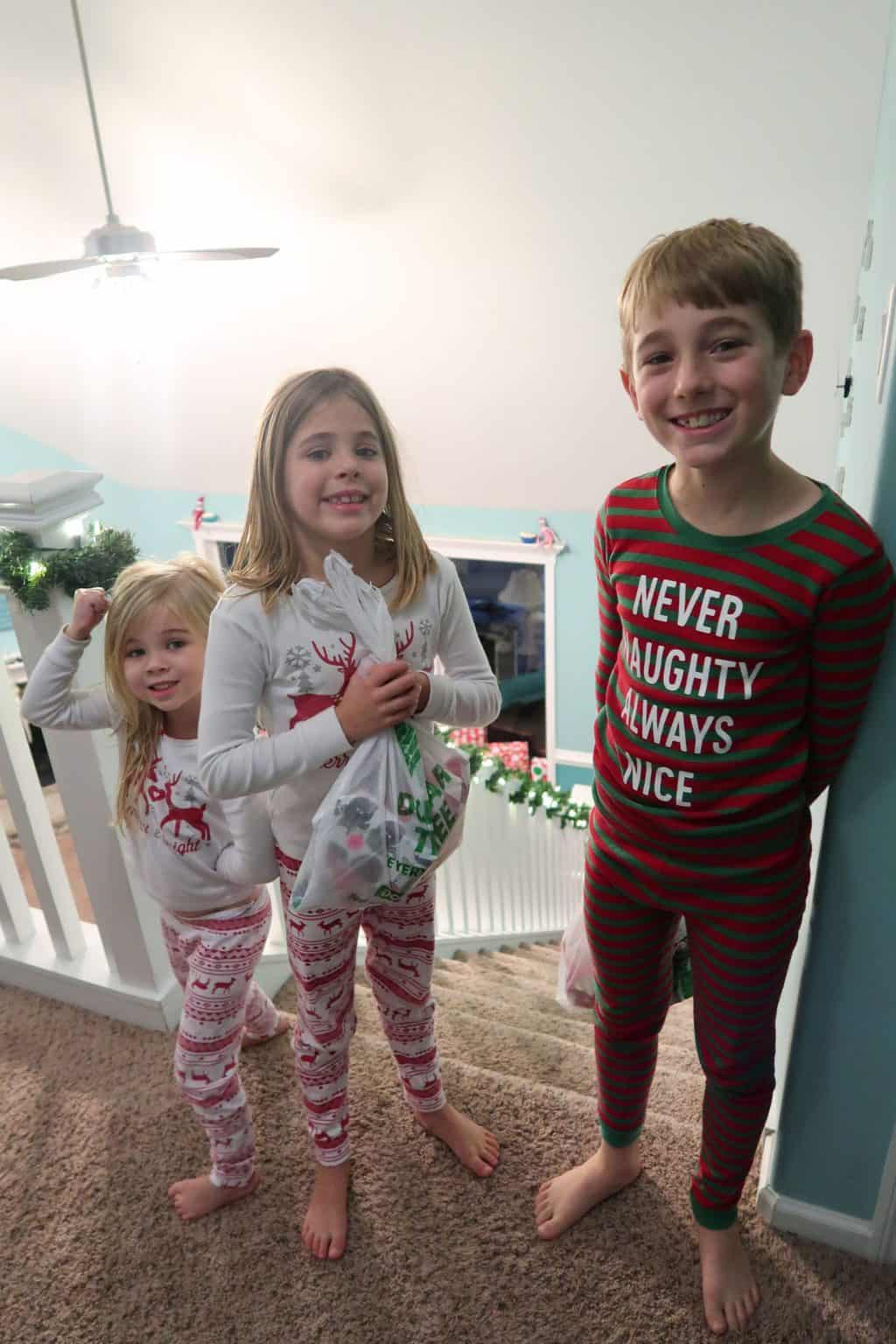 We decided to go ahead and have the kids find the pickle on the Christmas tree before we got Spear up for the morning! With the artificial tree it was SO much easier to hide the pickle and it was also super tough to find haha I had to end up giving clues!
No surprise that Kye ended up finding it!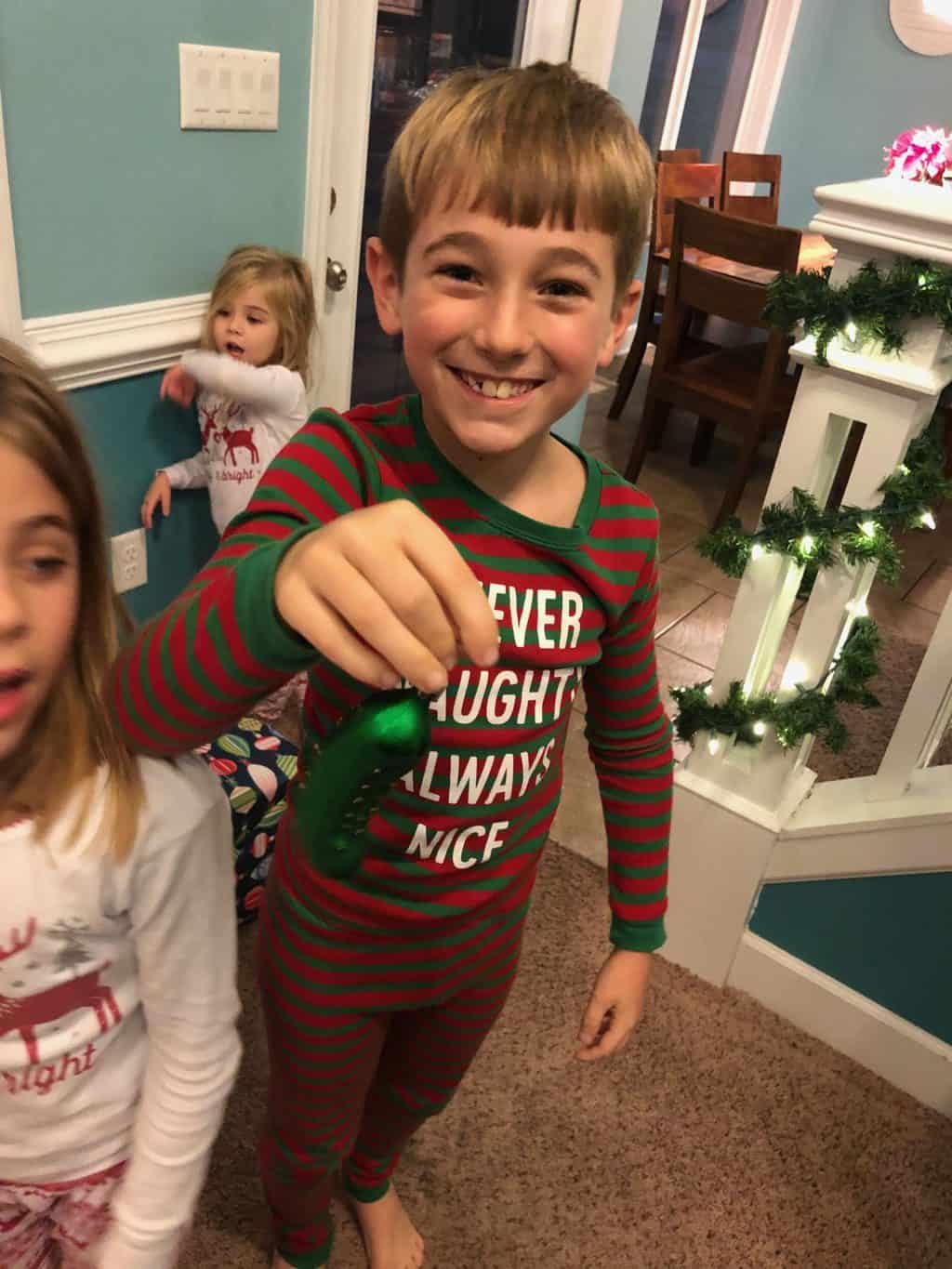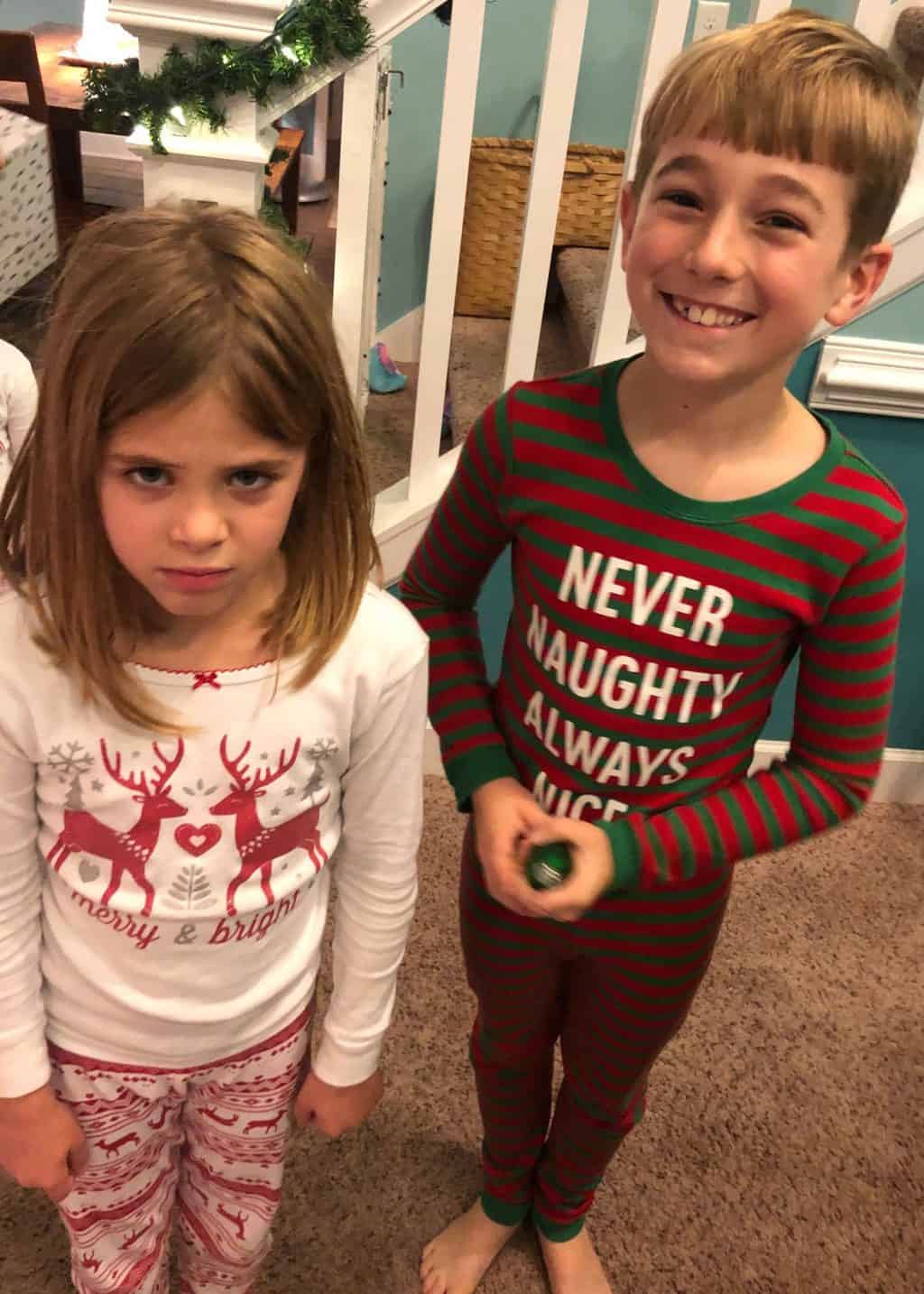 I always make sure the Pickle Present is a gift for everyone to enjoy. This year it was a Dynasty Toys capture the flag laser tag set! The cool thing with Dynasty Toys sets are that they can all work together so the laser tag set Kye has will allow these guns to be added too!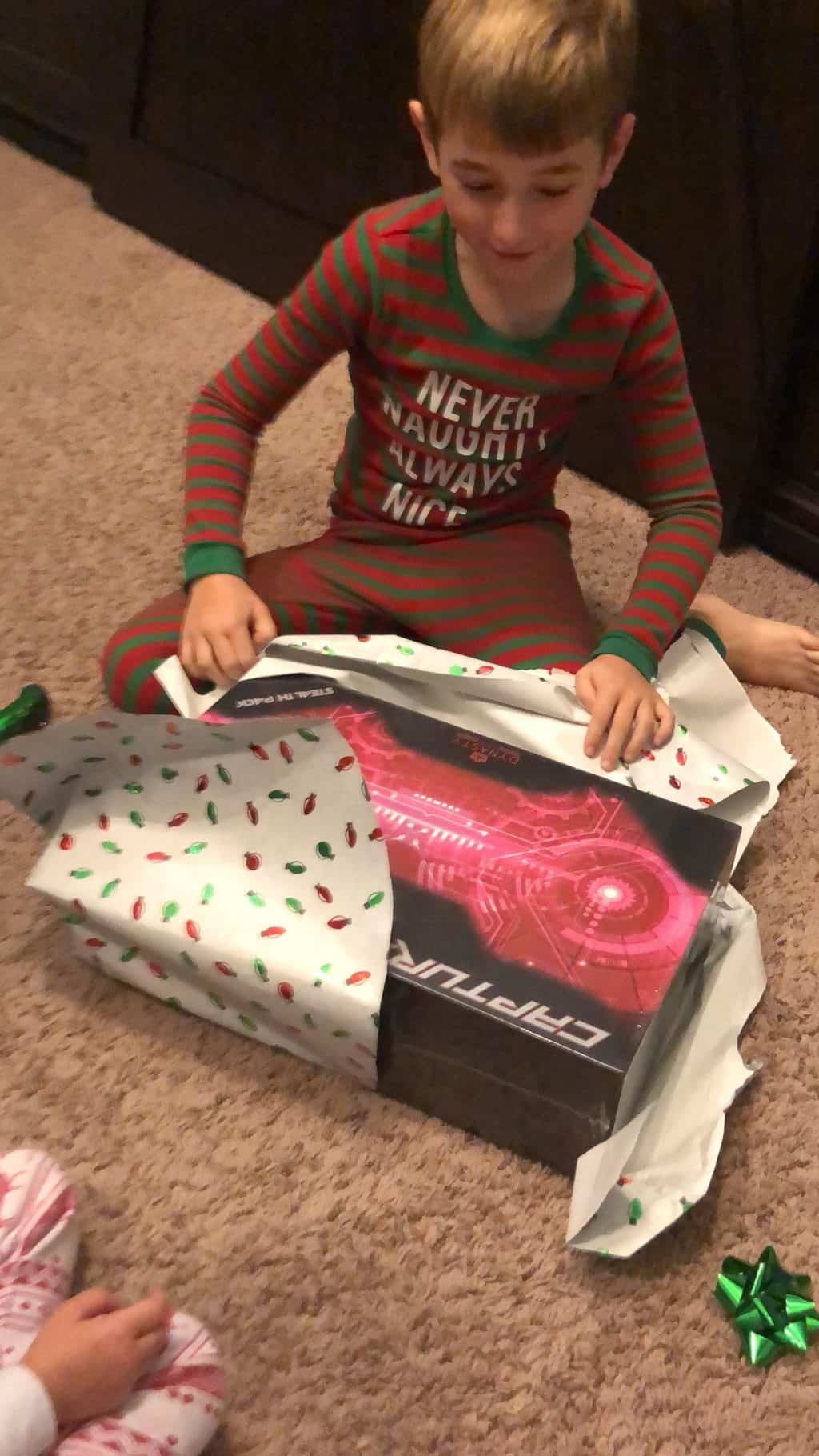 We decided to pass out ALL the gifts and make piles. Sometimes I'm hardcore about ordering certain gifts at a certain time but who wants to be that structured during gift opening? So I just let the kids pick whatever gift they wanted to open and open it in whatever order! I am really hardcore about making sure each kid has even but this year Tess had two extra because Kye and Britt both bought her a gift at their school store so she had a couple more than everyone else.
The beauty of our Core Crew Christmas is TIME. We take our TIME. Growing up our Christmas morning always took FOREVER. We each took turns and we'd open a gift and talk about the gift and really enjoy the moment. Gift giving is both of my parents' love languages so the time spent talking about the gift was part of their love in giving it. We literally took HOURS to open and it was amazing.
I love that we're able to do that on our Core Crew Christmas morning. We just go slow and savor the moment. This year was a bit tricky with Spear (hard to take your time and go slow with a toddler!).
We have been giving 10 gifts per kid for our Core Crew Christmas. They also open the gifts to each other as well as the ones my dad and stepmom send. So it ends up being quite a bit!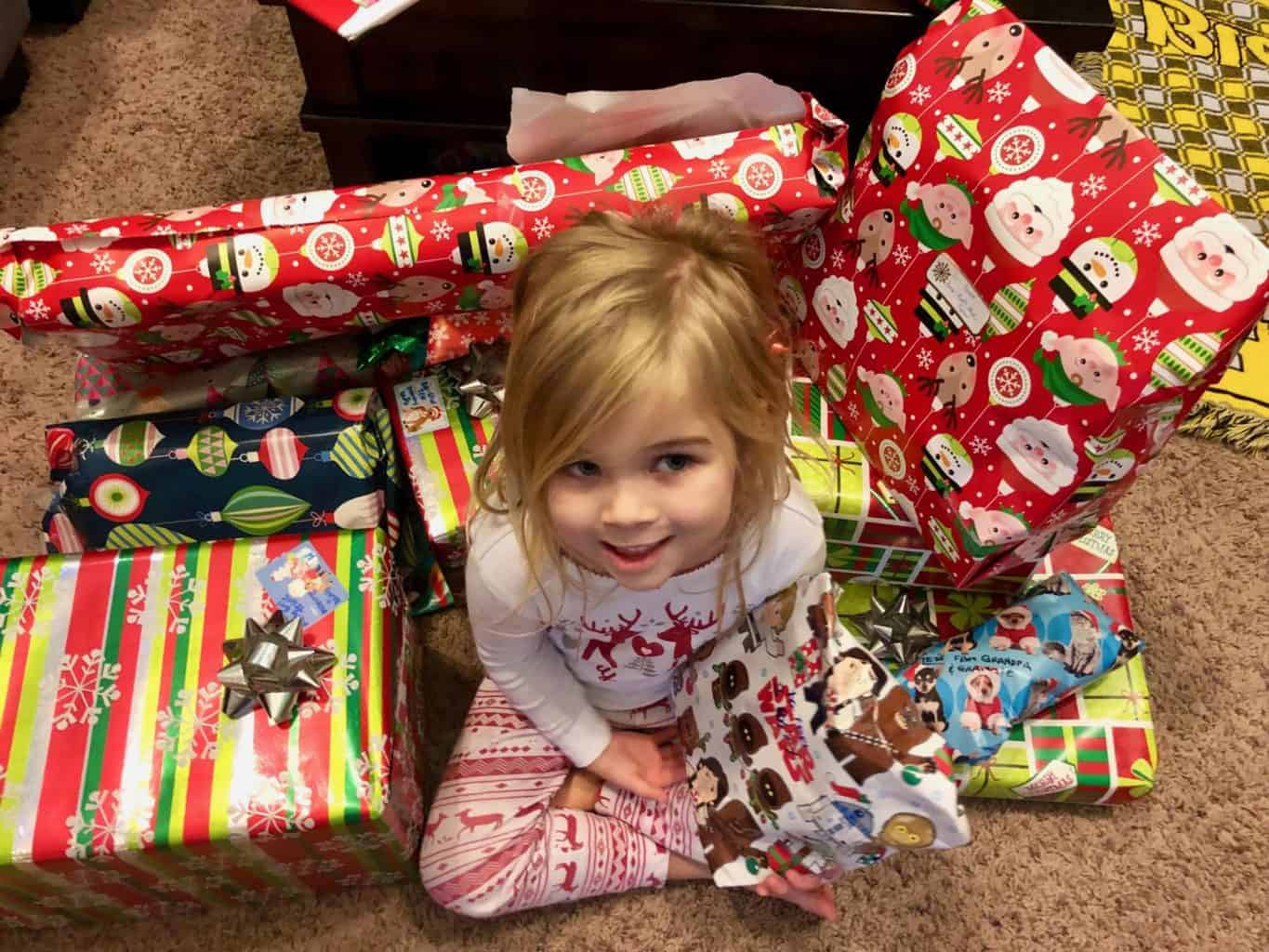 They were all so excited about the gifts they got each other which was SO sweet!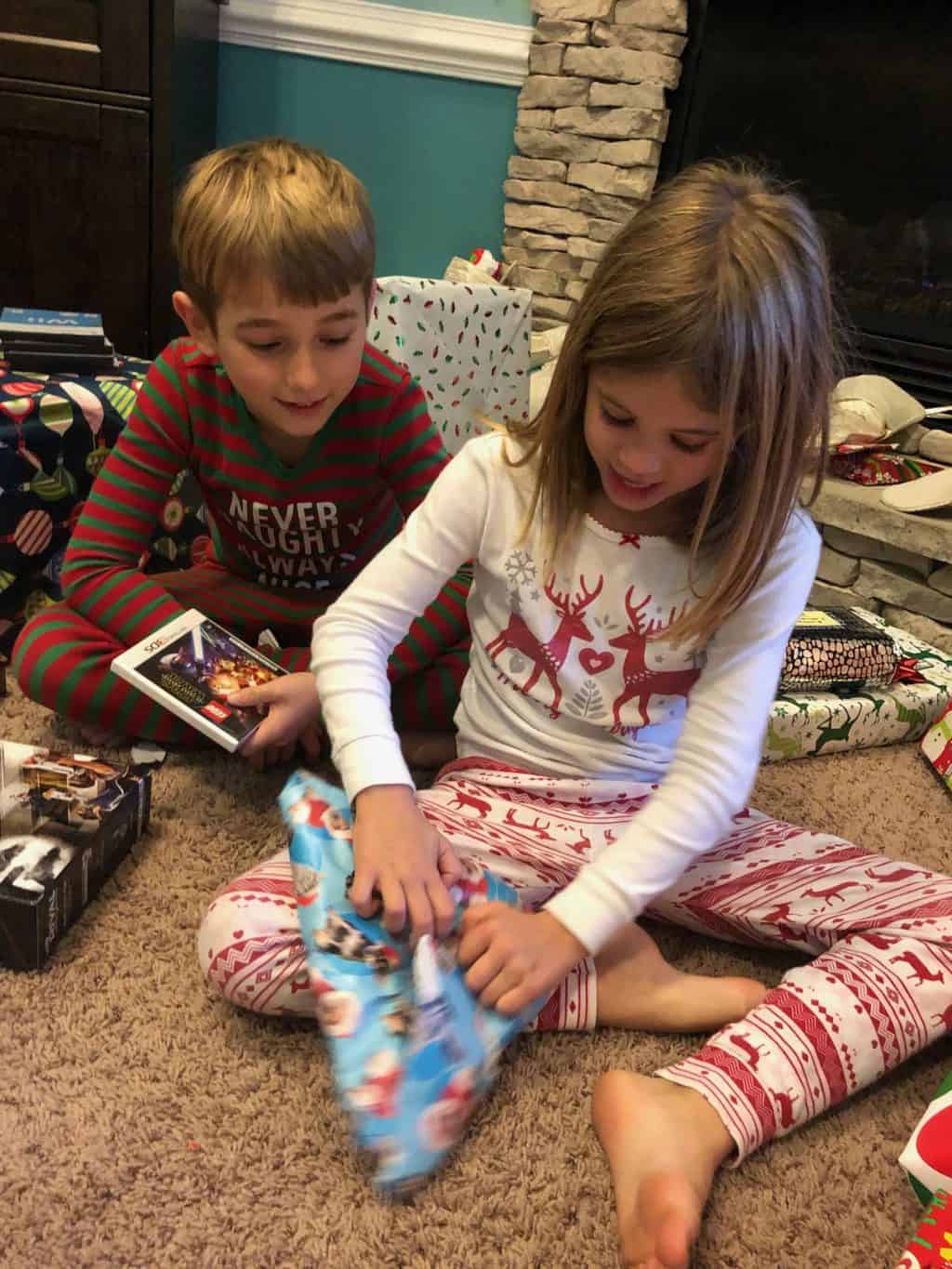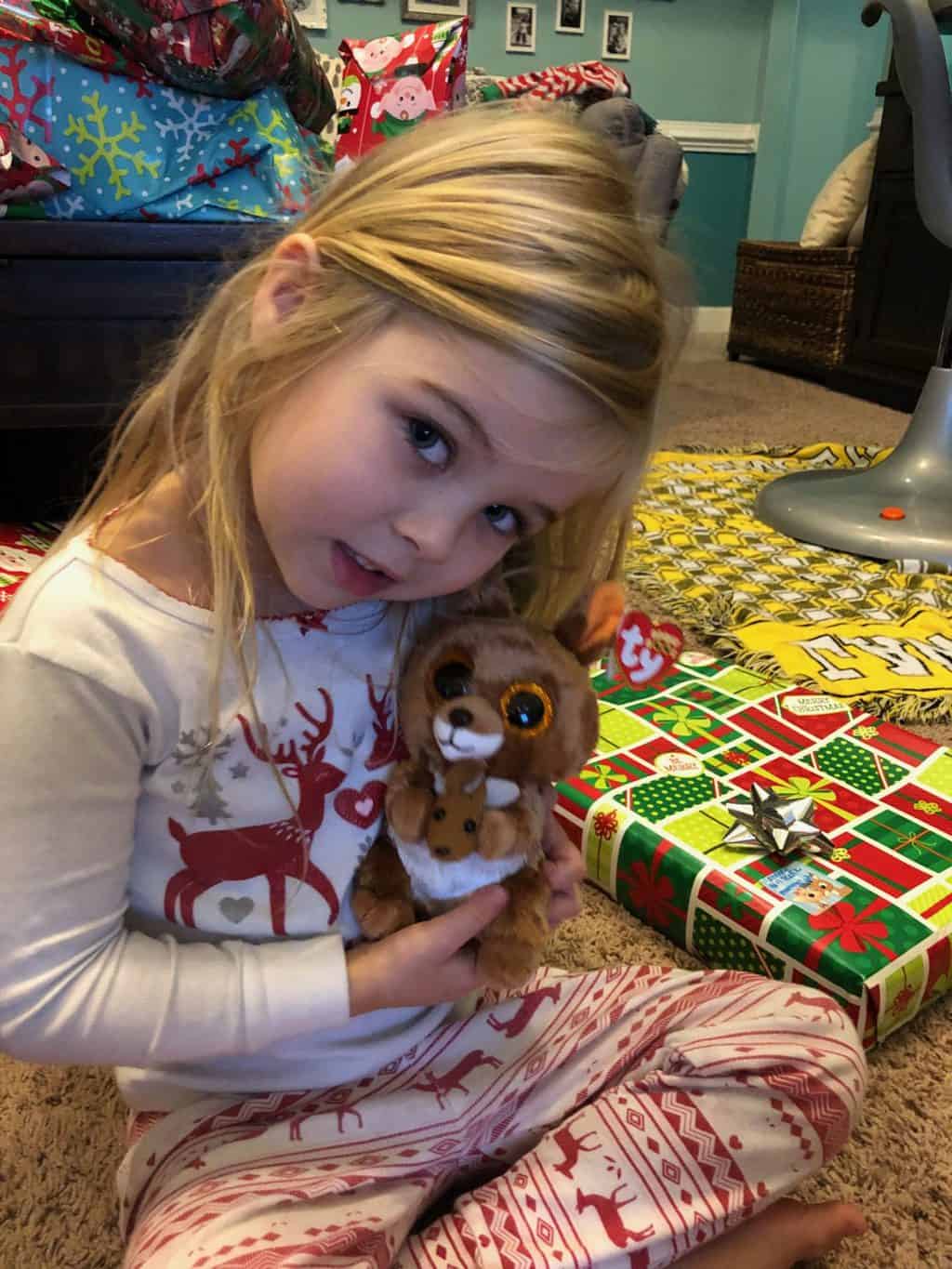 My dad and step-mom did awesome this year for me! I was so excited! I love my Disney gift card and can't wait to get something FUN!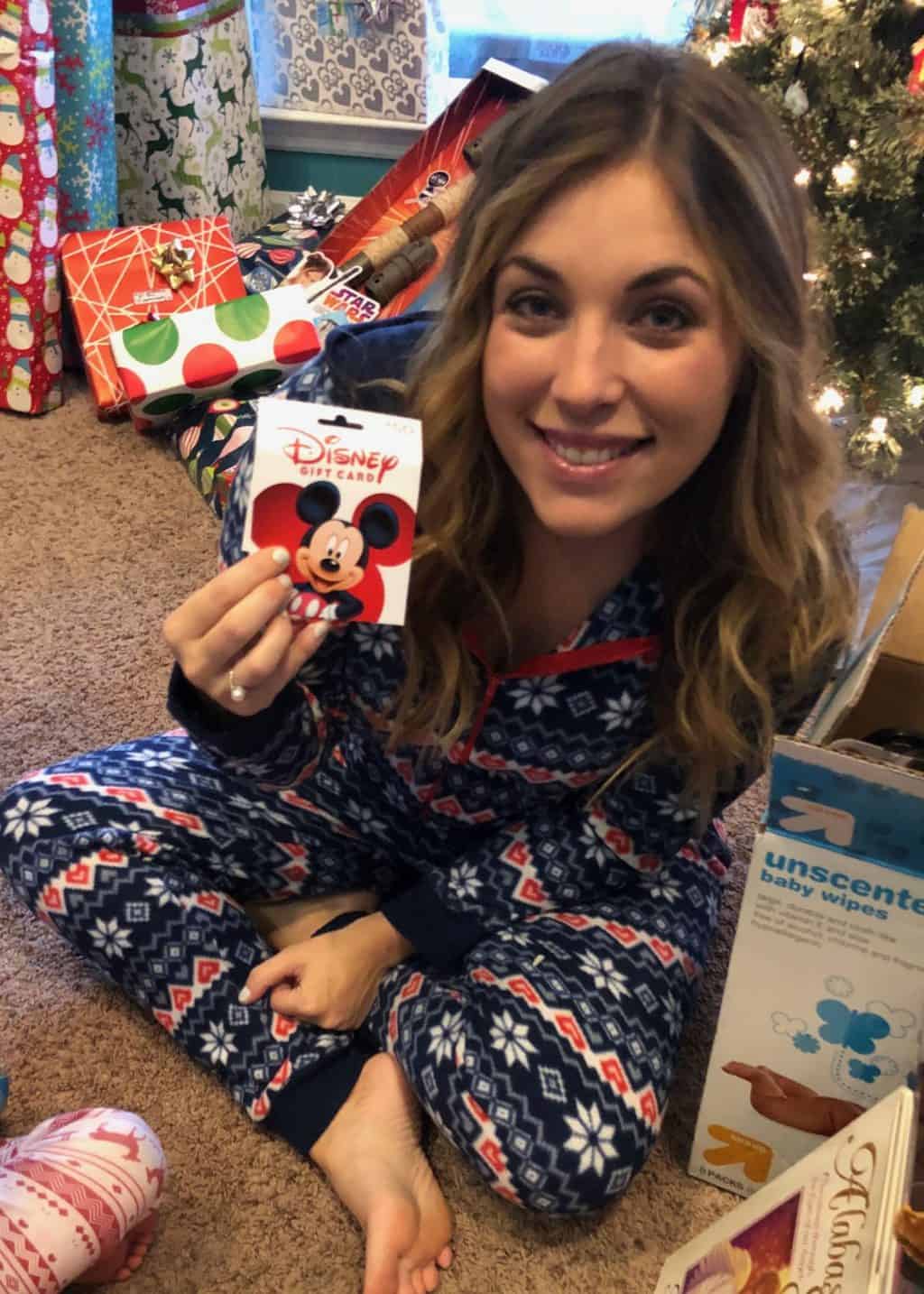 We put Spear in his high chair and let him eat breakfast while we opened which went well!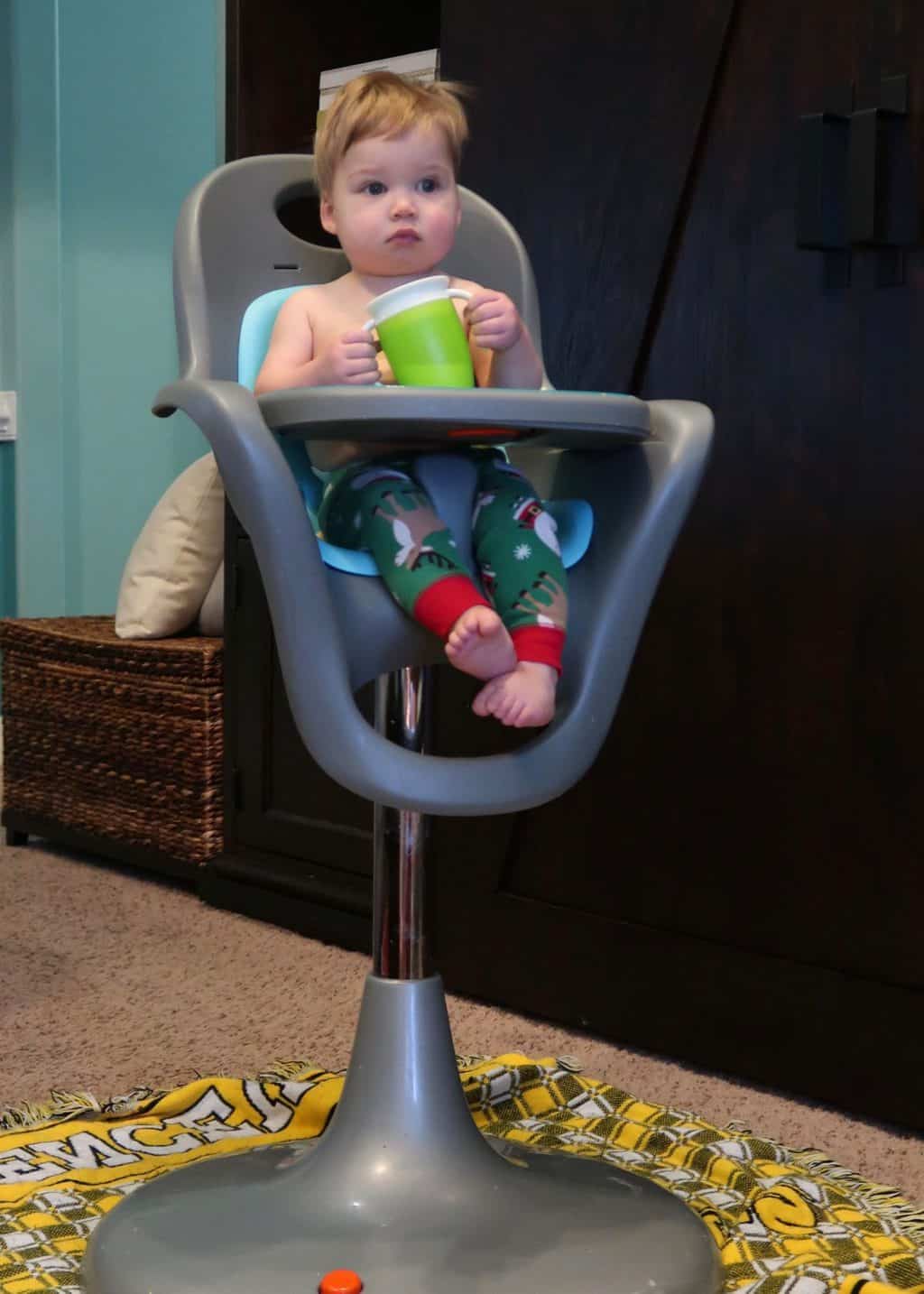 The gift I was so excited about this year was books! I put together a MASSIVE box of books for Kye. He reads so much and so fast and I thought if I bought a bunch of books for him at Christmas maybe it'd let me ease up on the book buying for a bit. Sidenote but I was wrong because within a week we'd already read 8 BOOKS. EIGHT y'all. In ONE WEEK. Kid kills me!
He was SO THRILLED with the books I got him. He said it was his favorite present. I finished out series he's already started, started some new series for him and also just got some random books too. It ended up being just over 30 books total! Epic gift!
Here's a video of him opening them!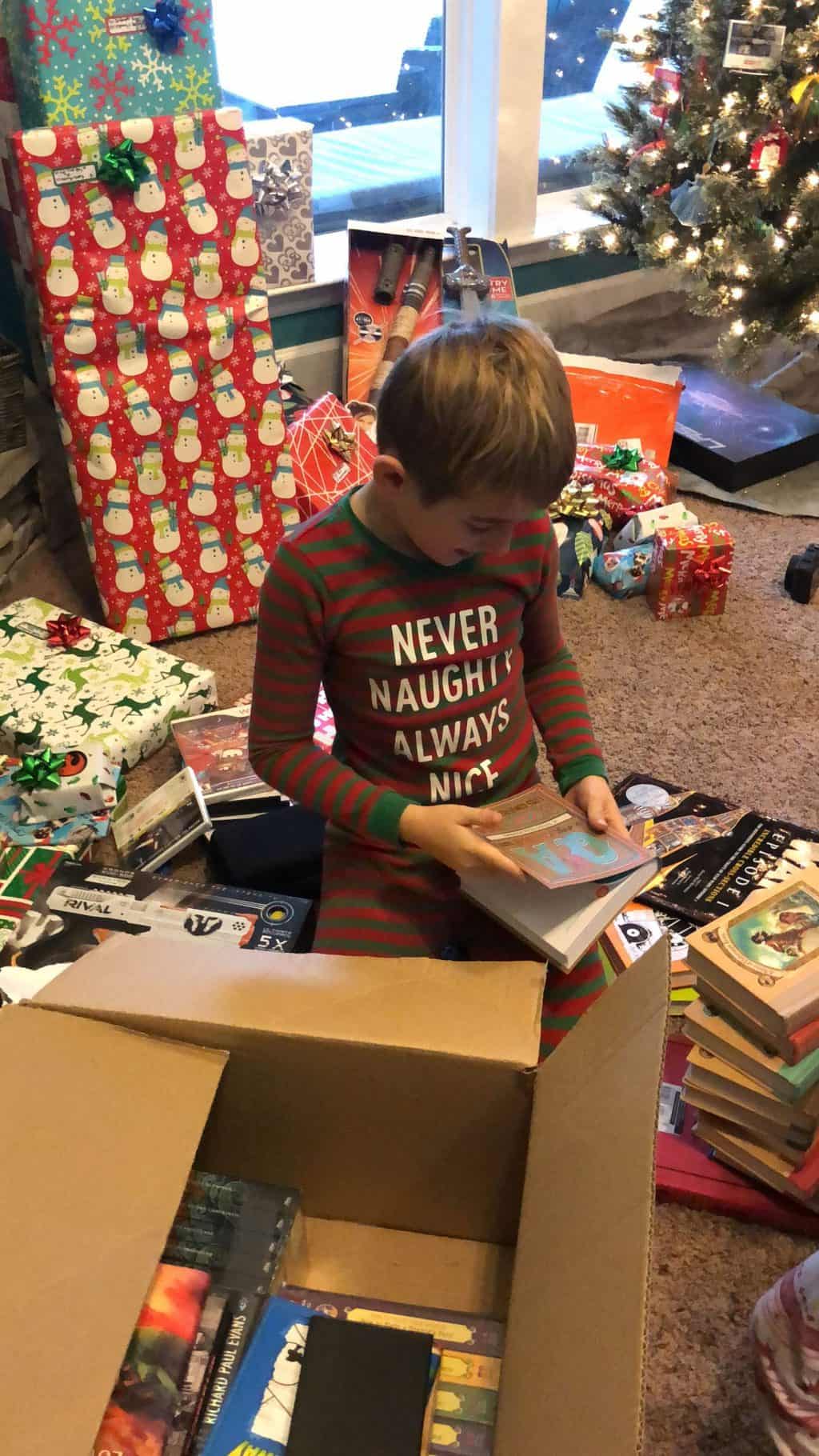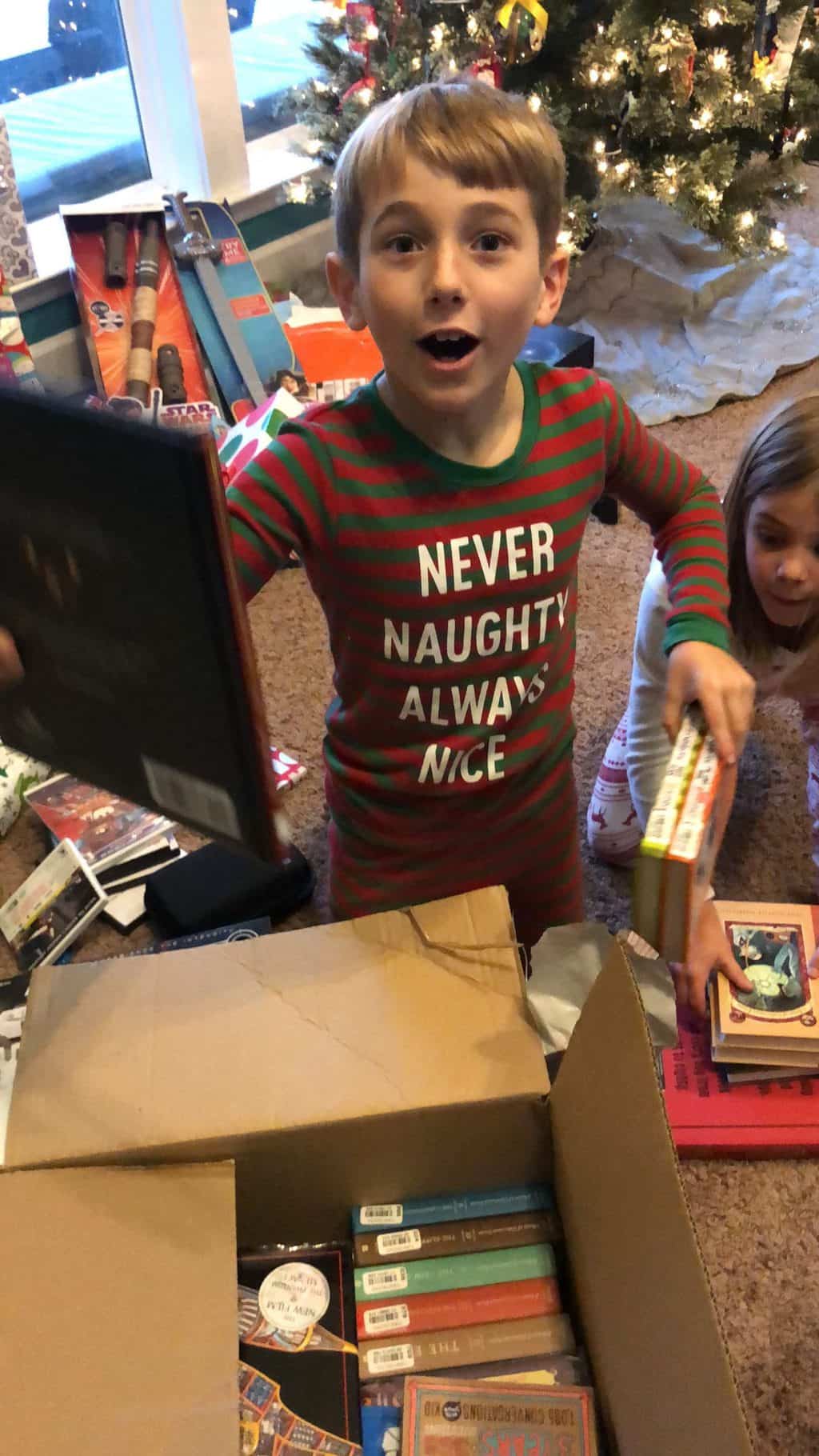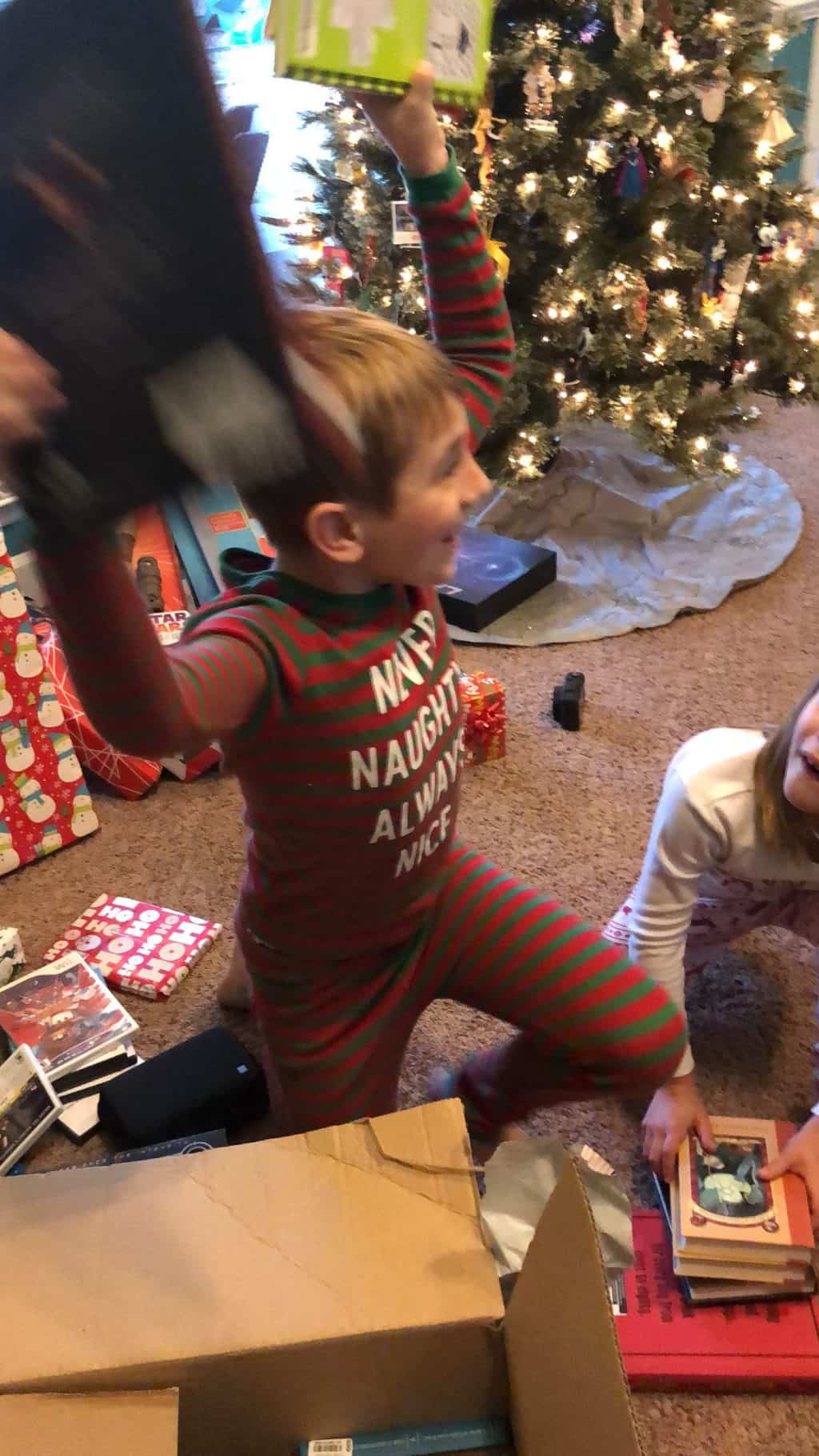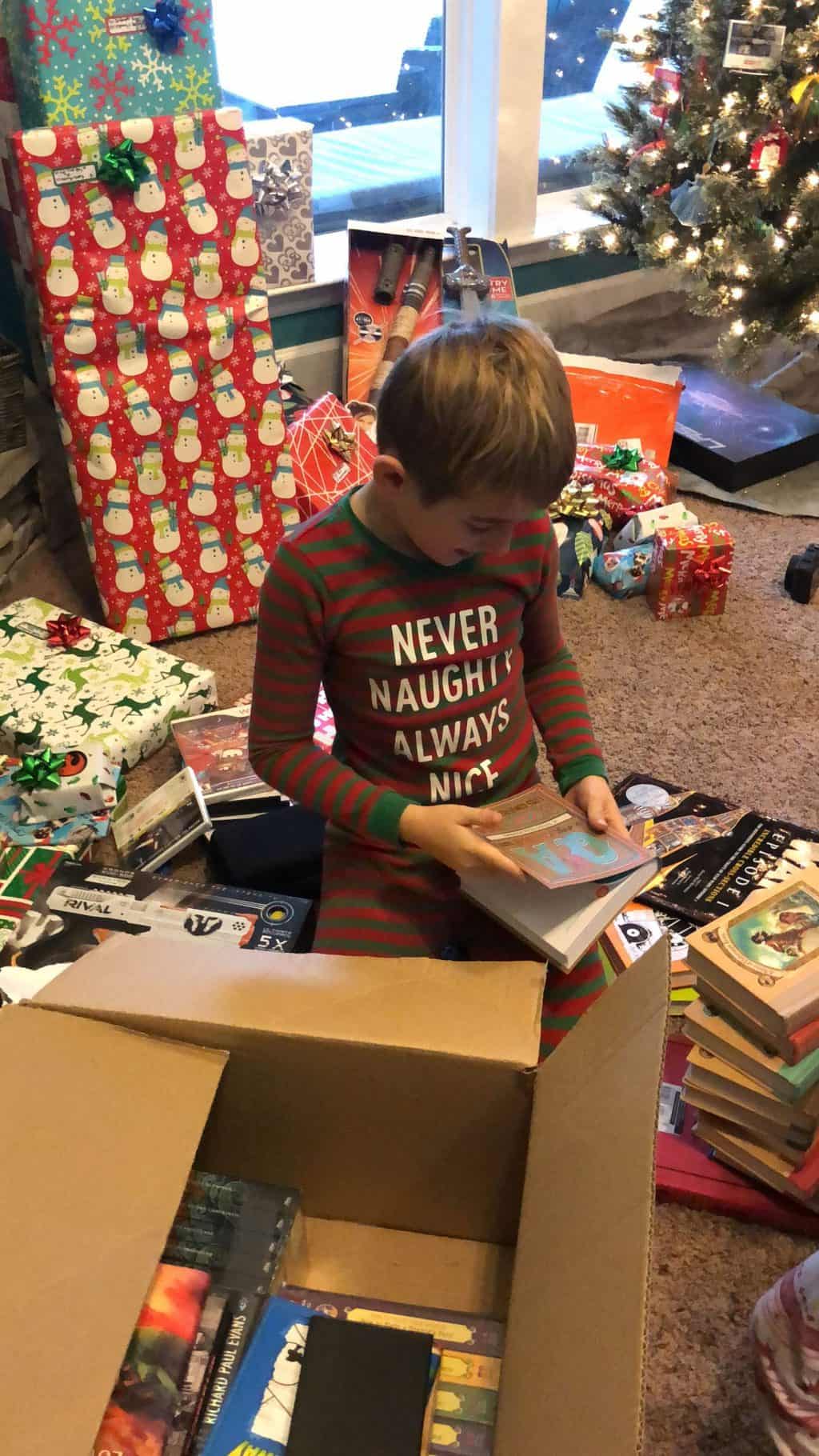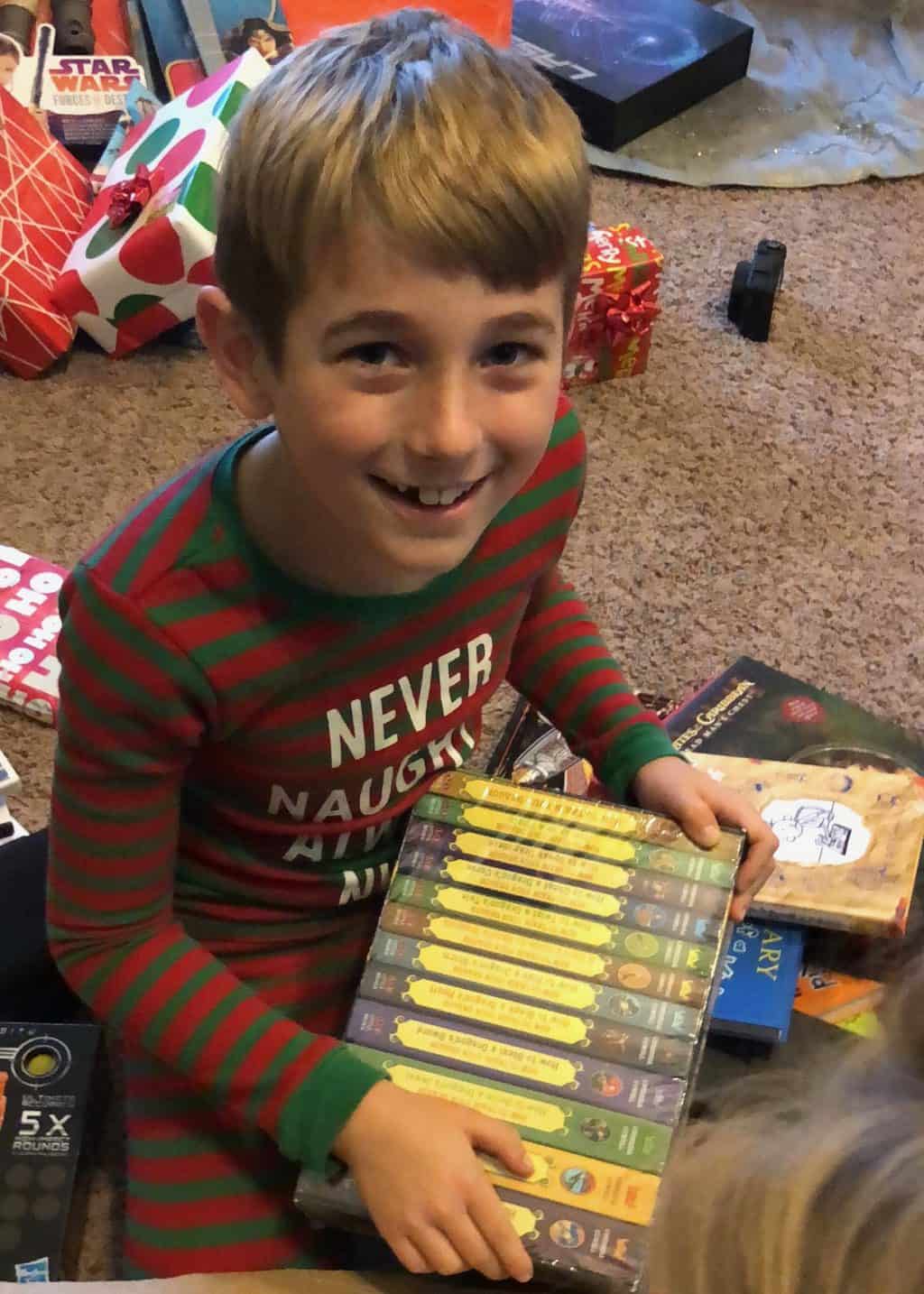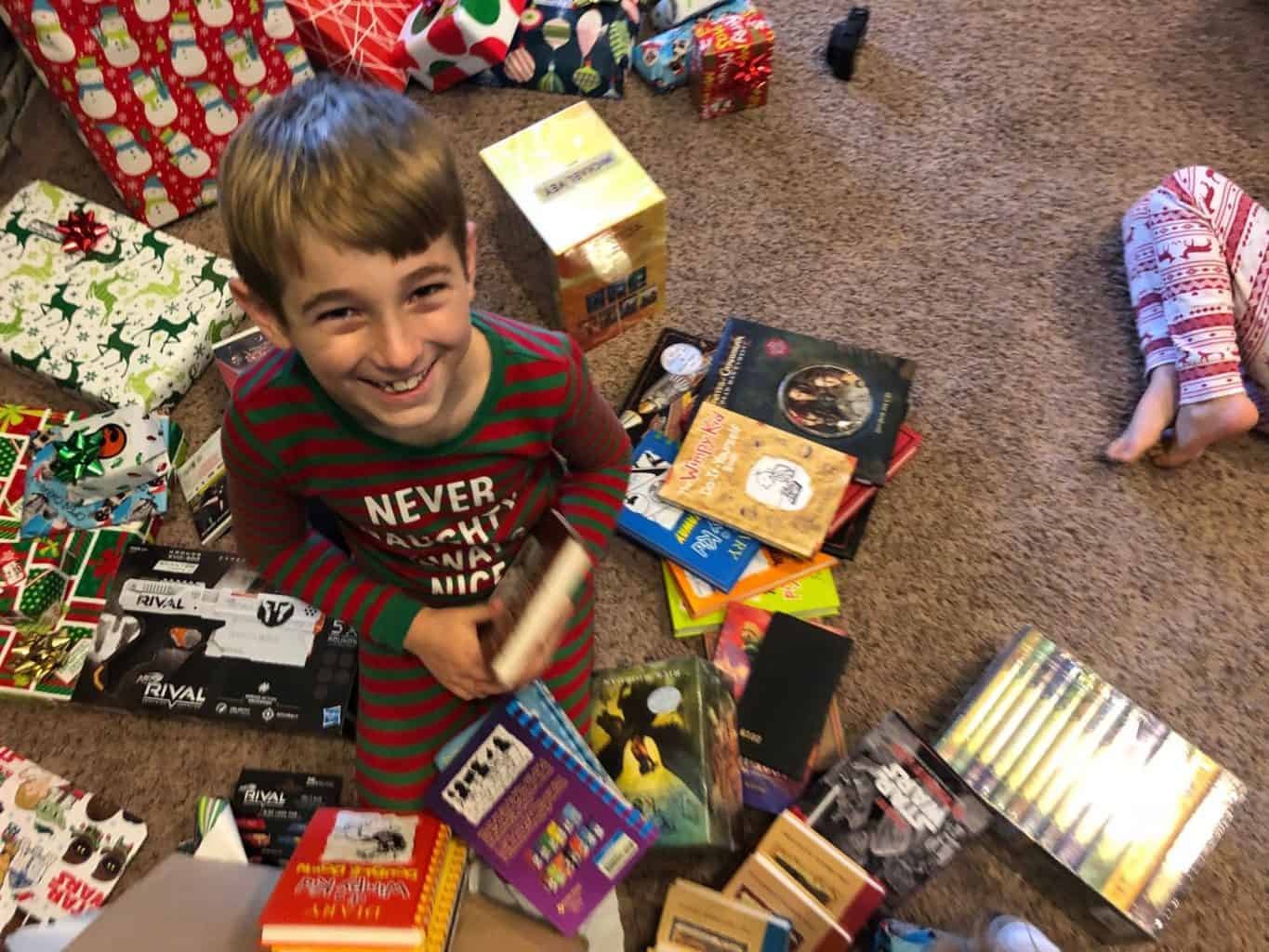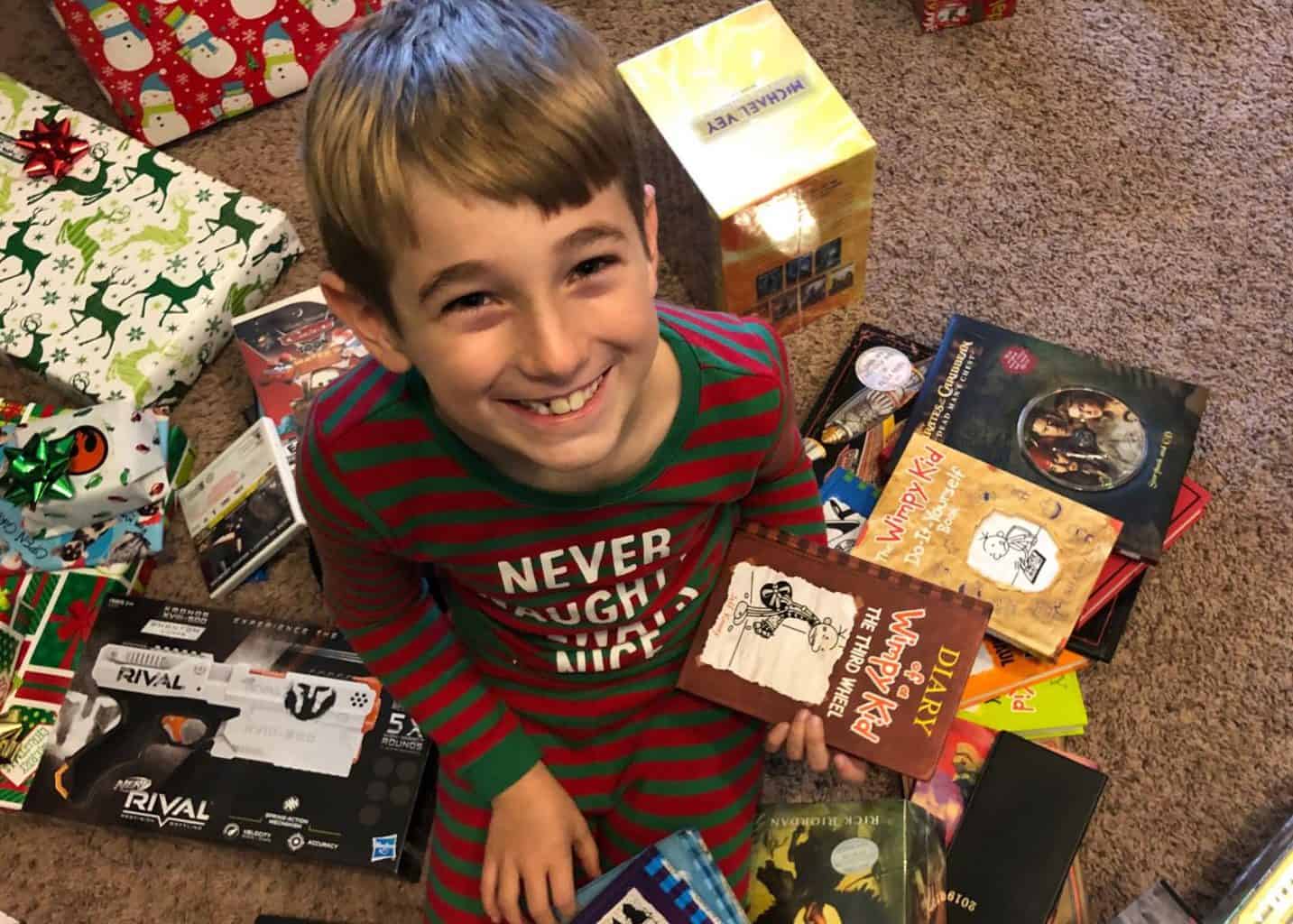 We basically all sat in a circle around Spear to help him open his gifts. He was confused at first about the opening of gifts because he was told for so long "no sir" when he'd go to open them…now we were all encouraging him haha! He warmed up to the idea!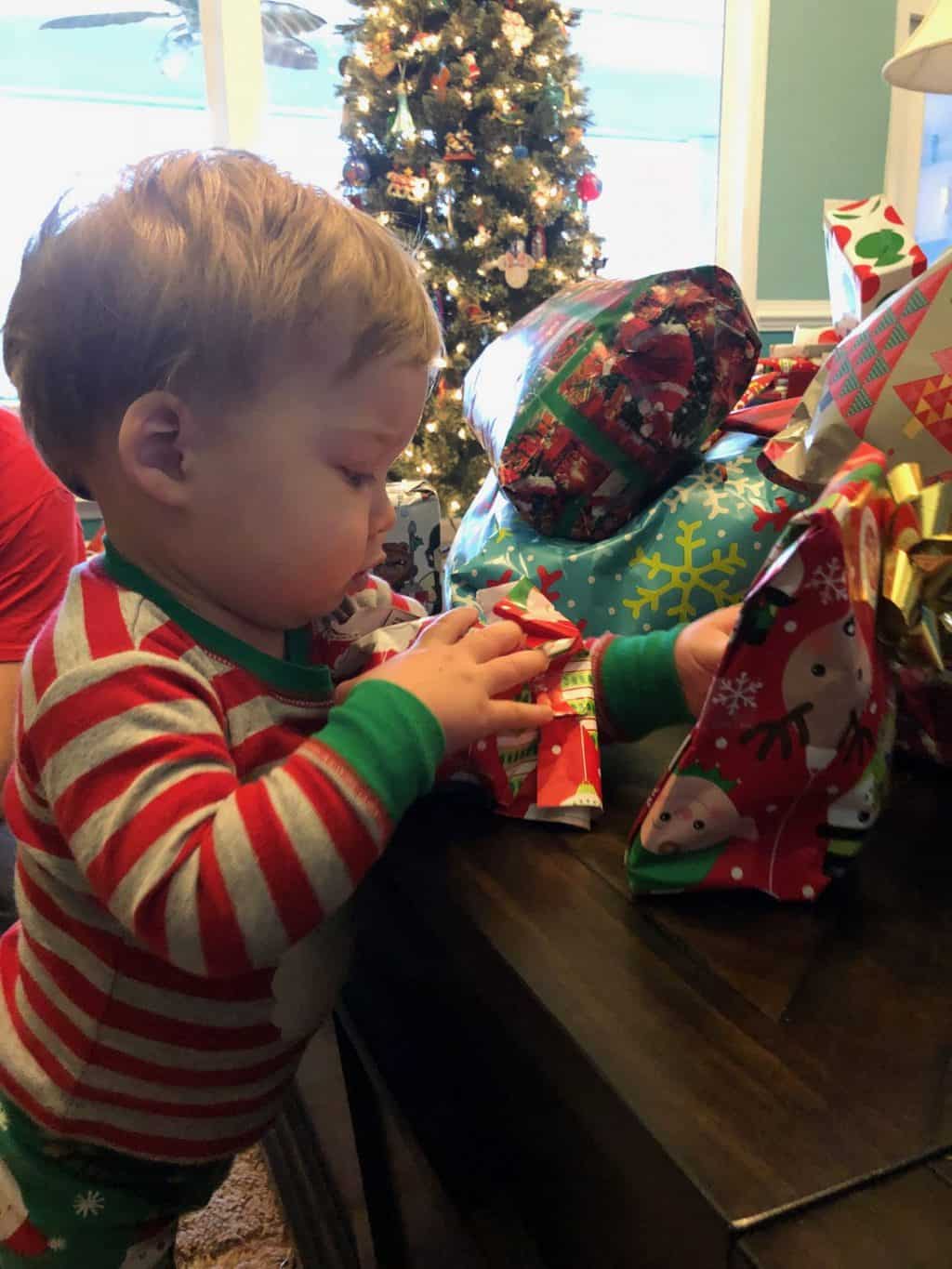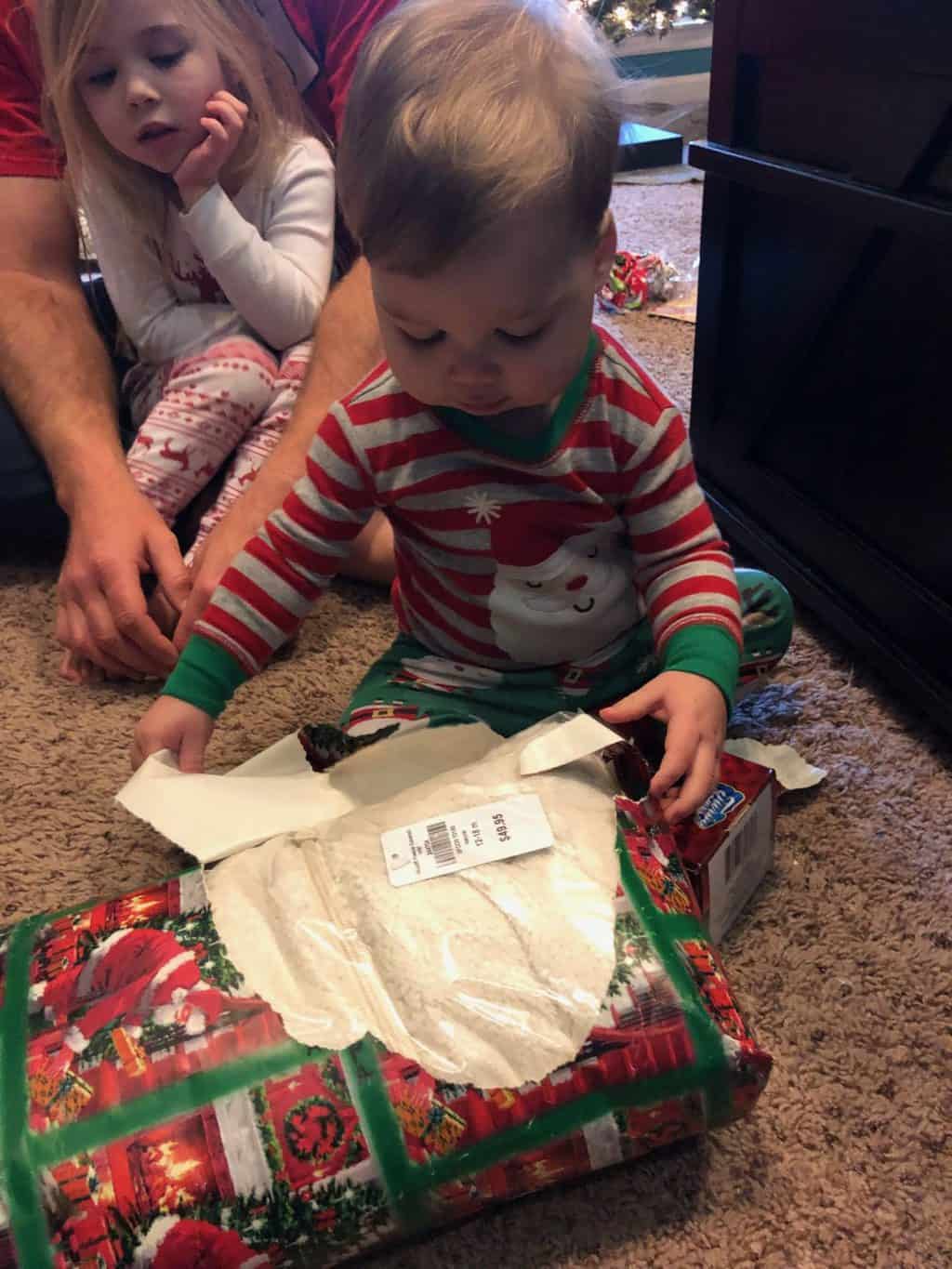 So excited to finally have a Spark sink!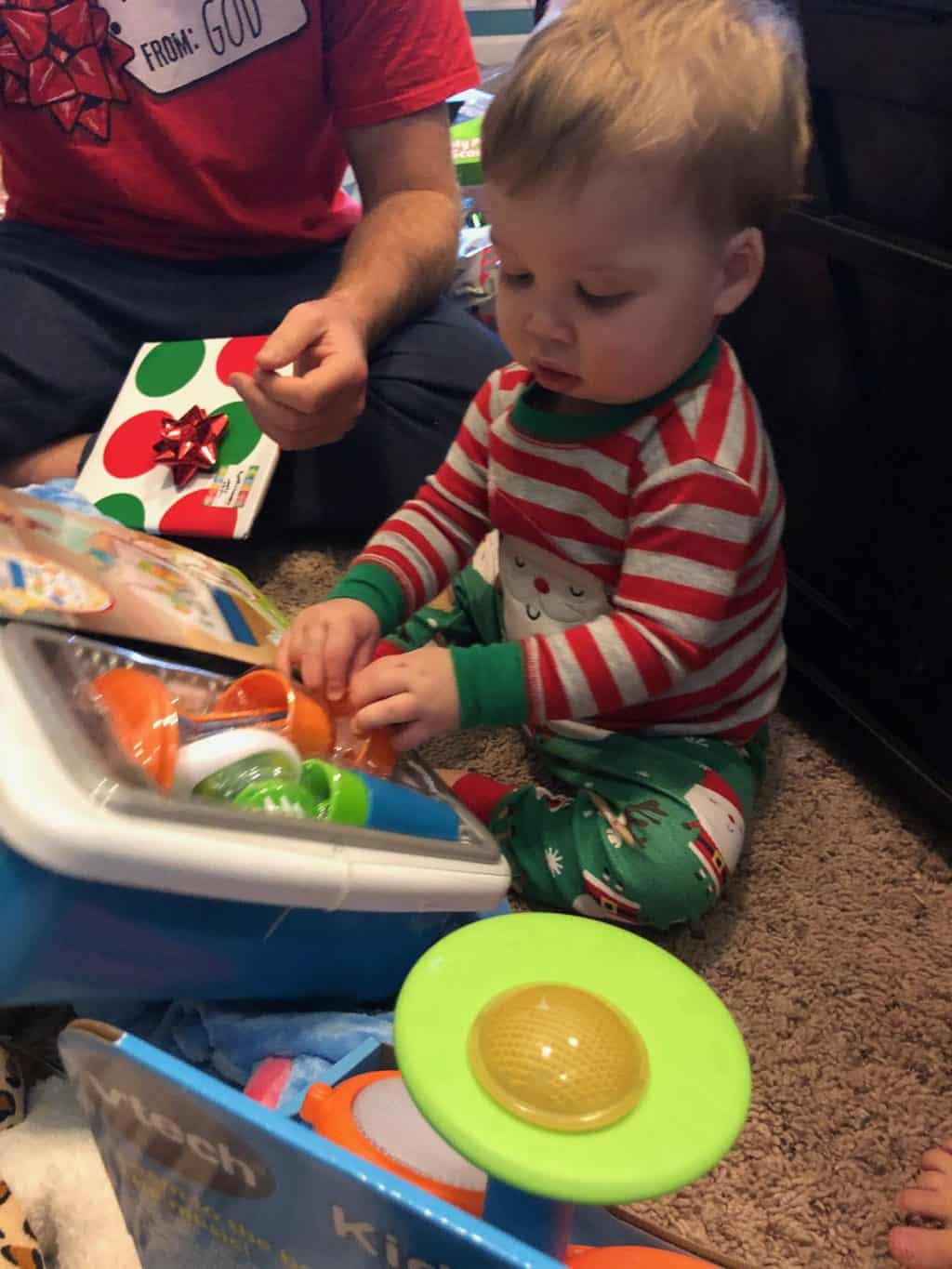 Great benefit of going slow and taking our time…coffee and cookie breaks!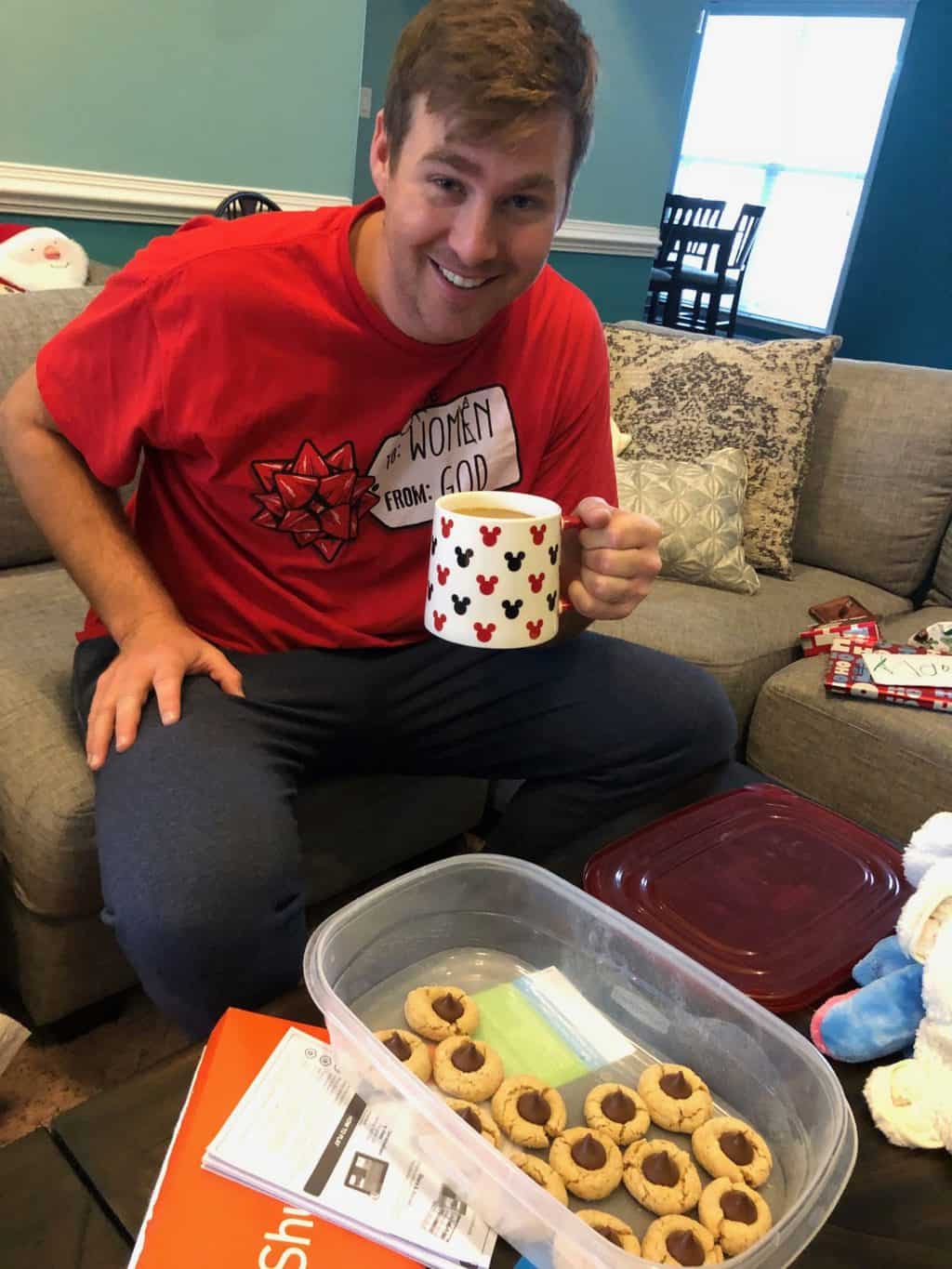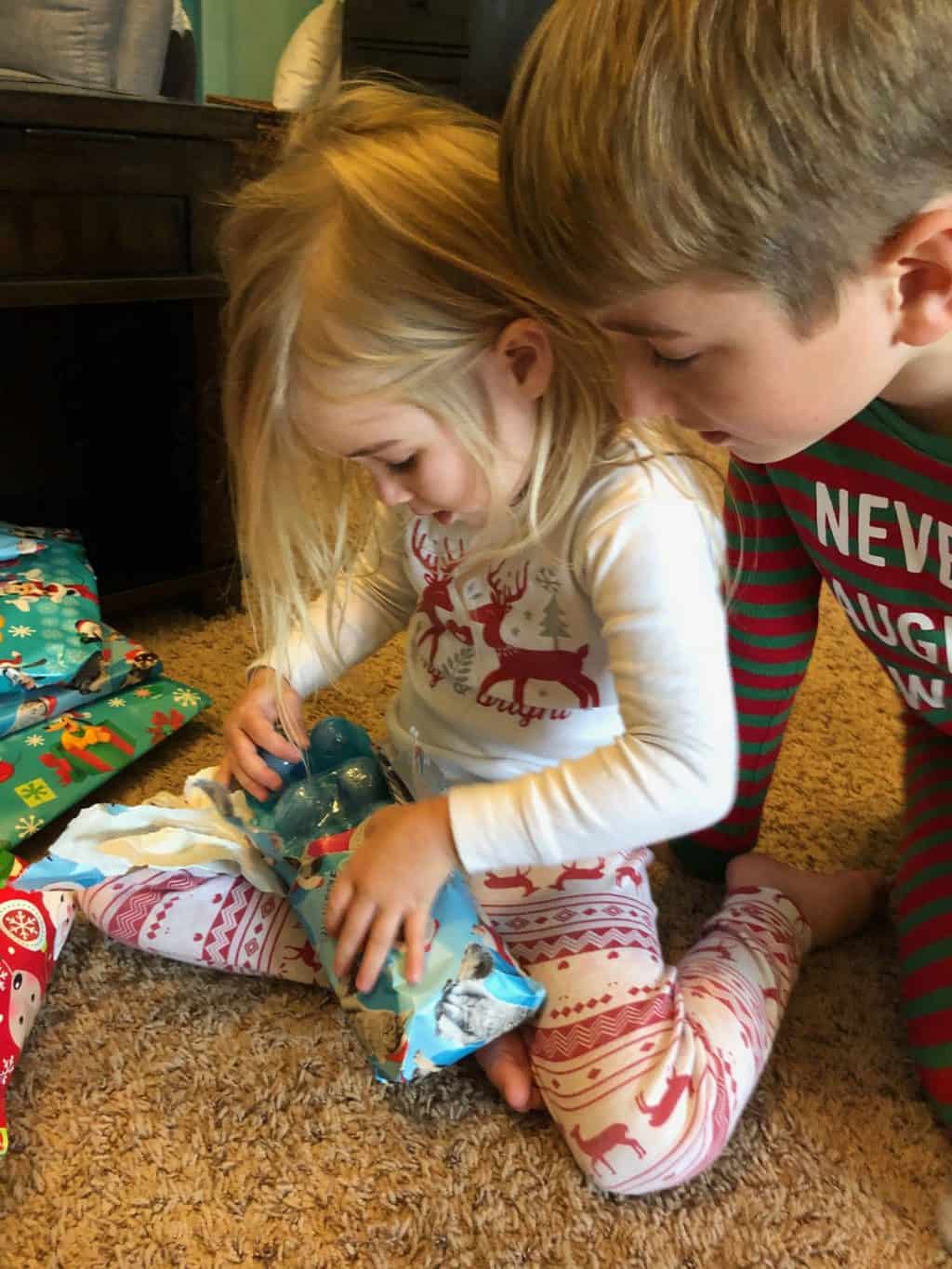 Britt got some Hatchimals for her Birthday and Tess started talking about how she really, really wanted some too. I was kinda freaking out because I totally didn't buy her any. Thankfully Grandpa and Grammie came through for the HUGE WIN! She was THRILLED!!!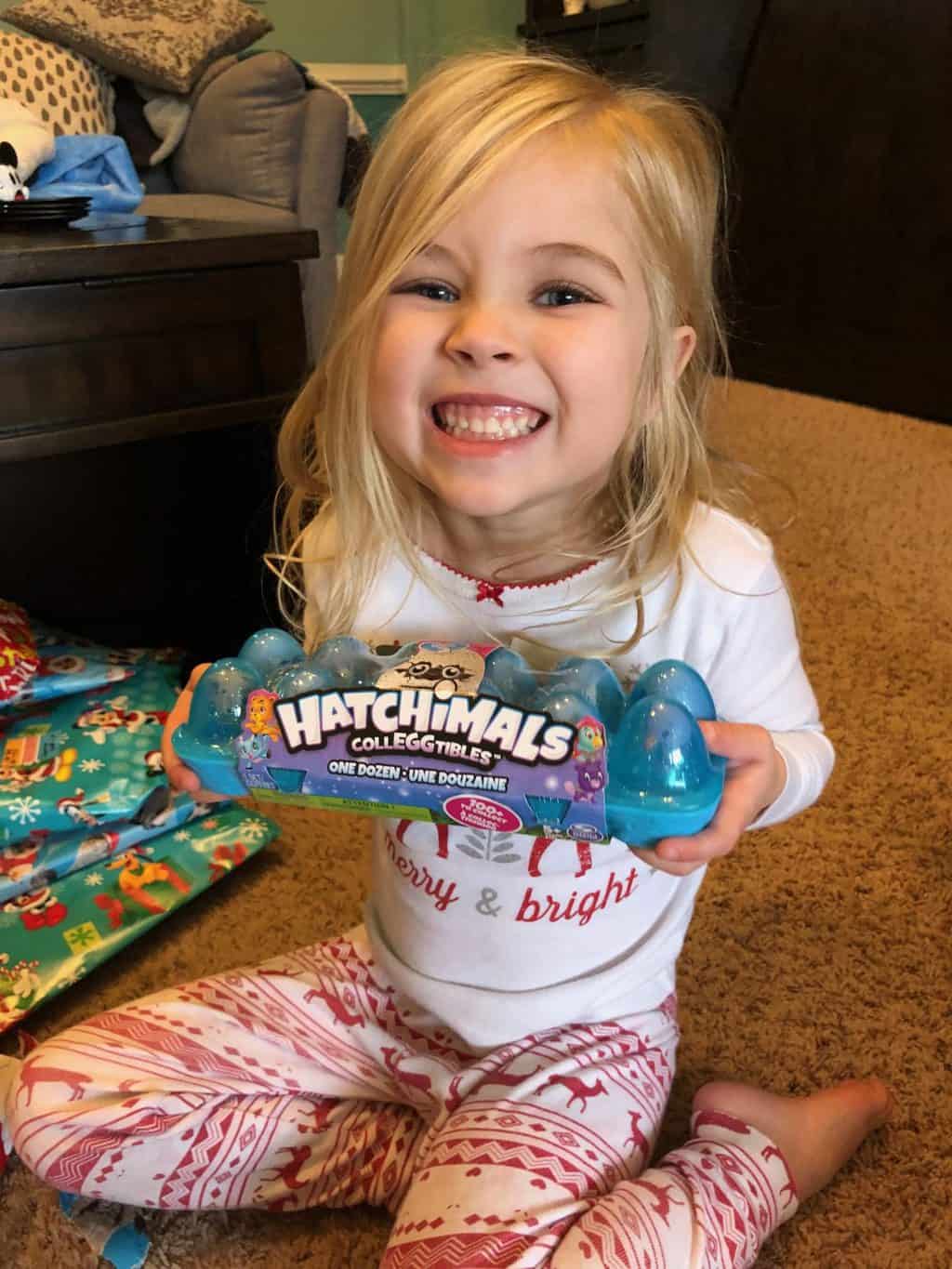 I love the ways that Kye is still holding onto being a "little kid" in many ways. When Zach helped me wrap this Nerf Nitro thing he was SO SURE that it wasn't something Kye would really like but it was the first thing he opened and played with that morning!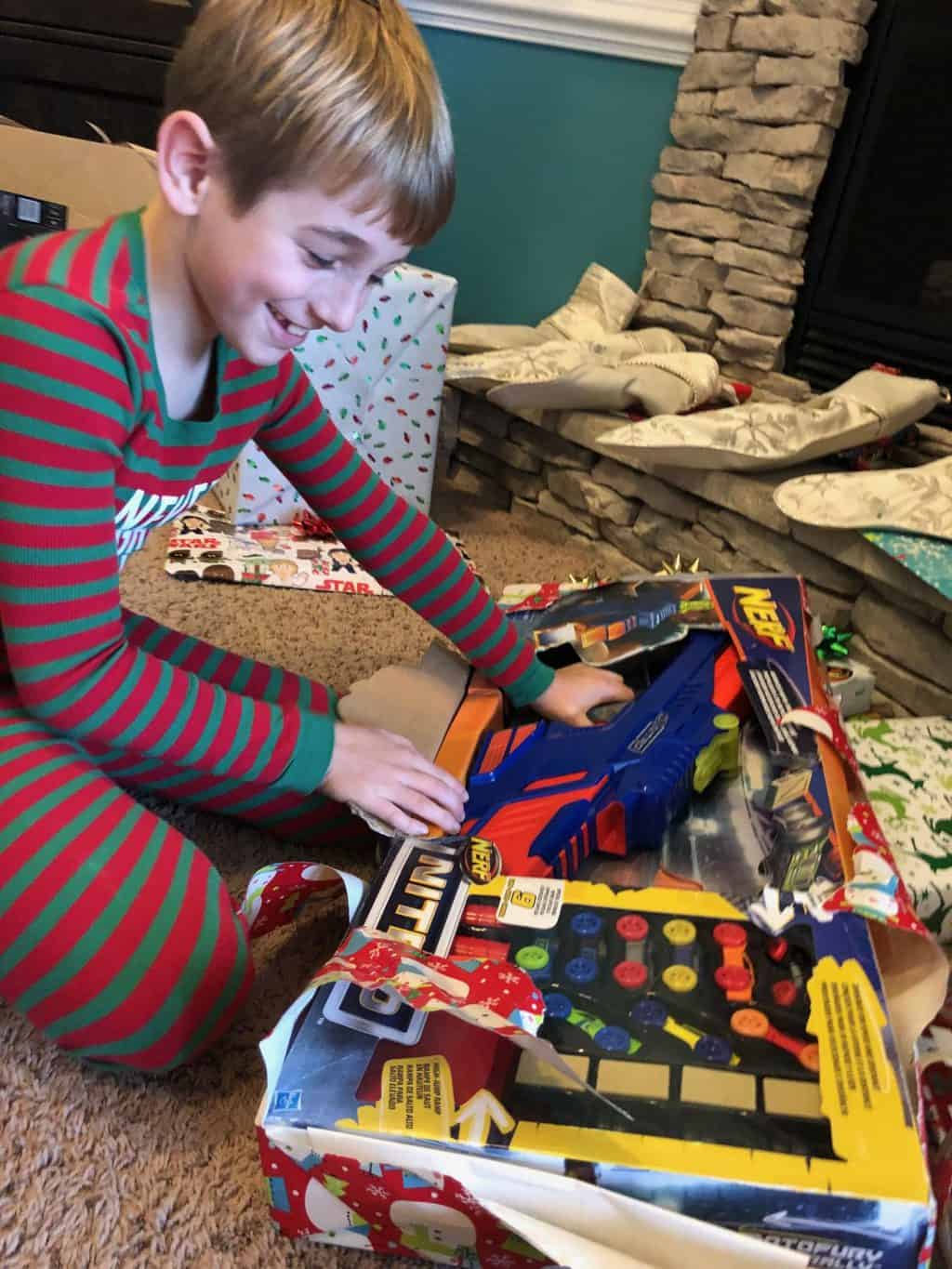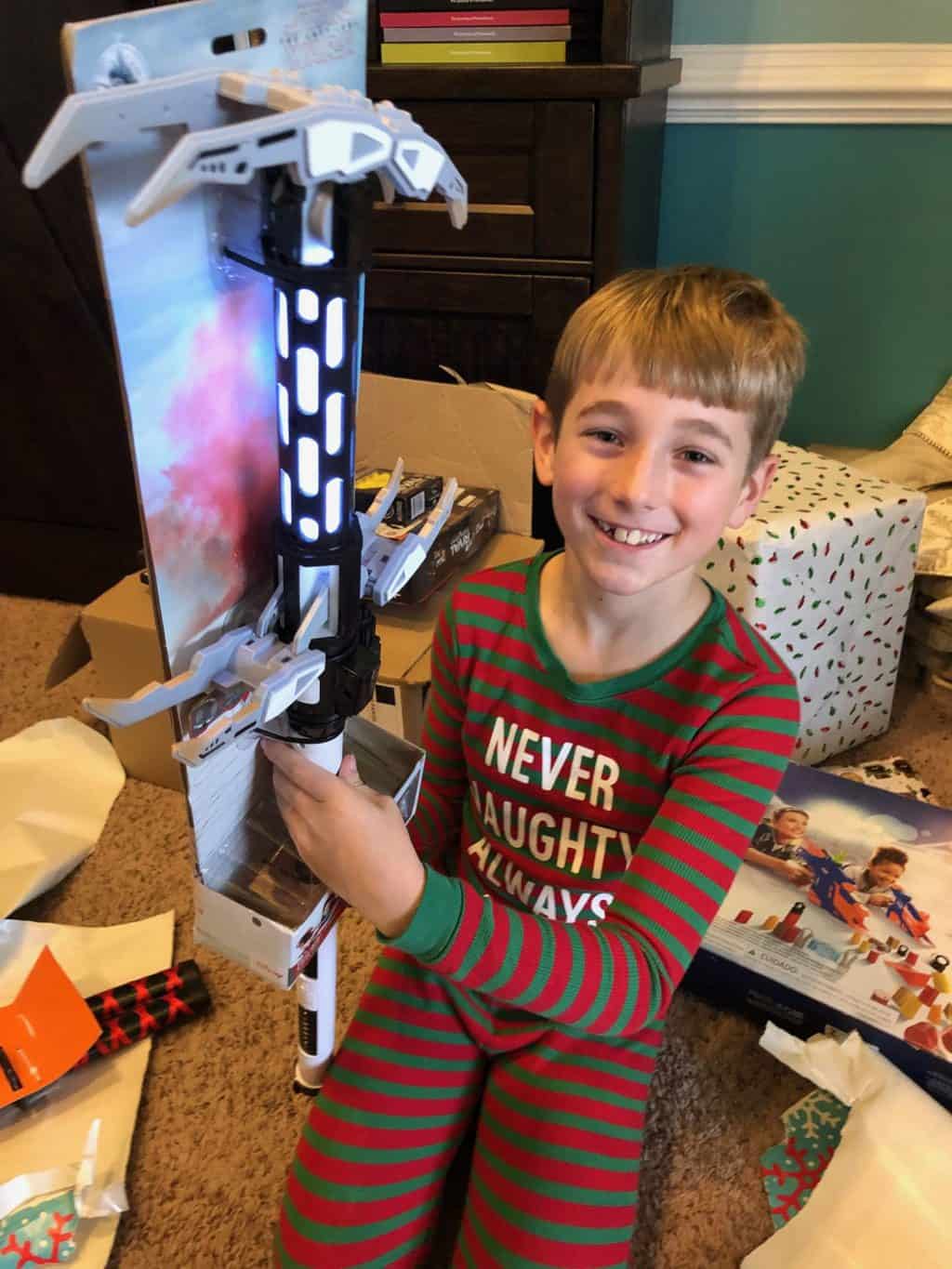 Britt was so excited for all the unicorn stuff!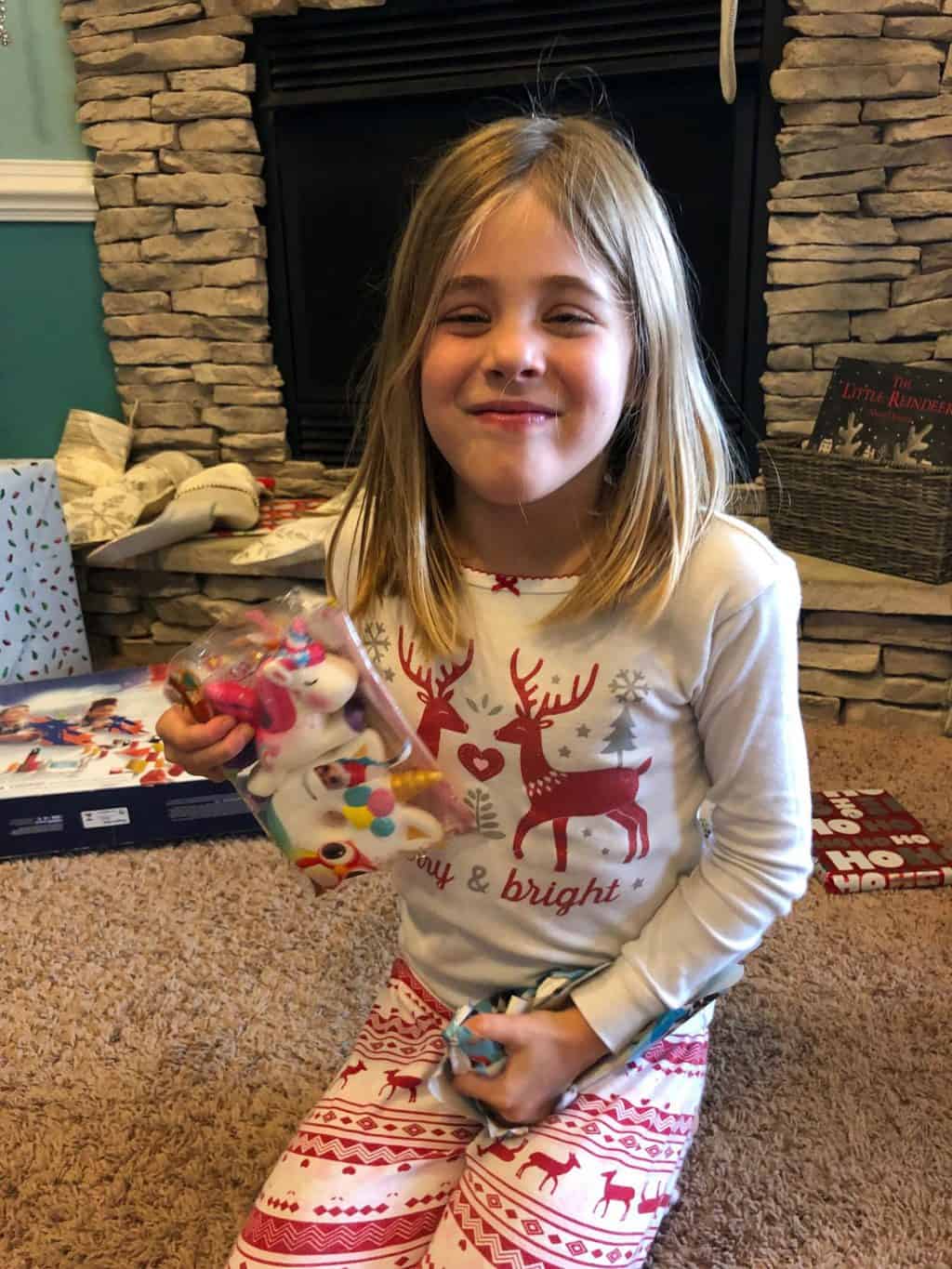 Another super thoughtful gift from my dad and step-mom…Ariel themed earrings!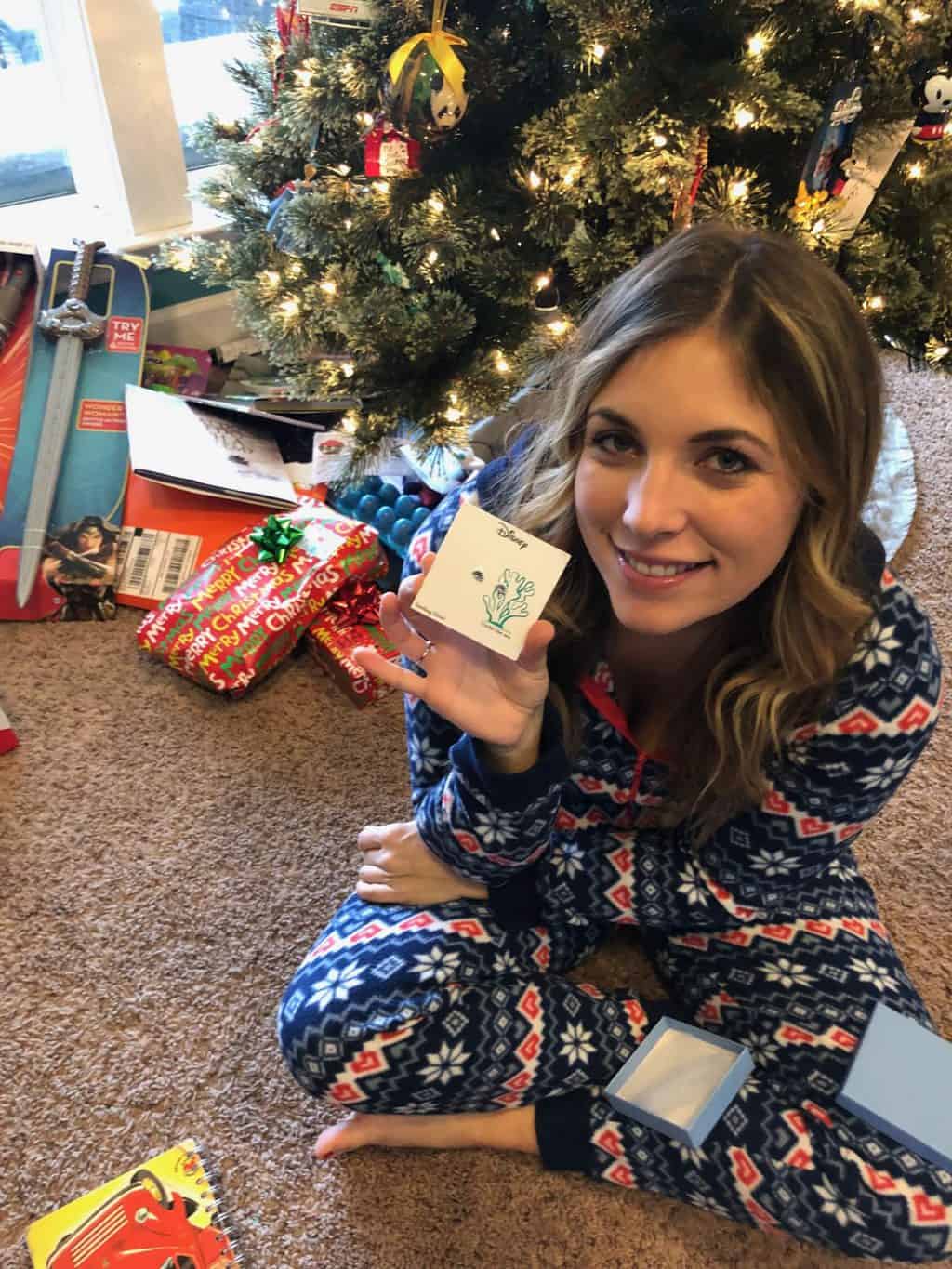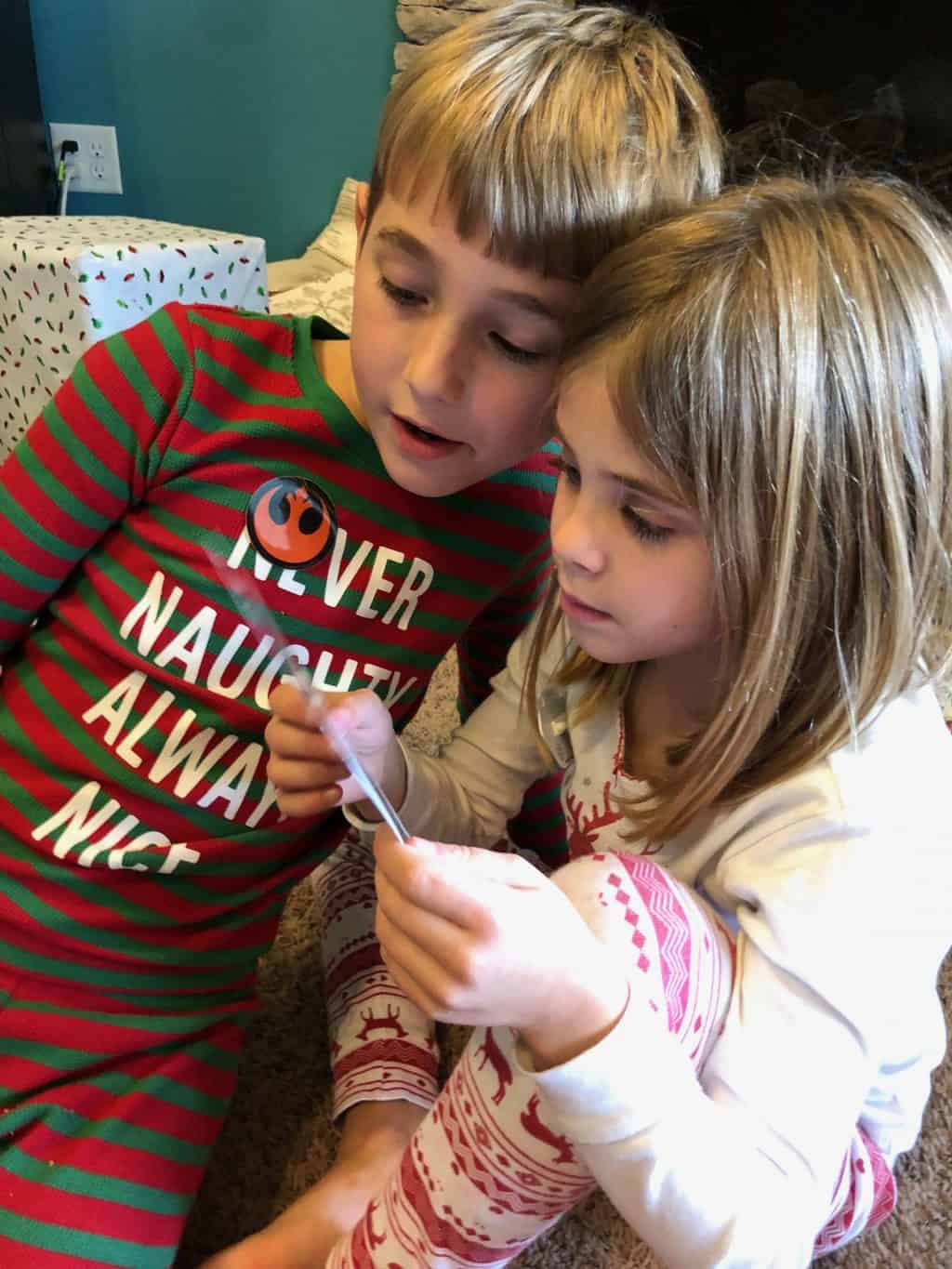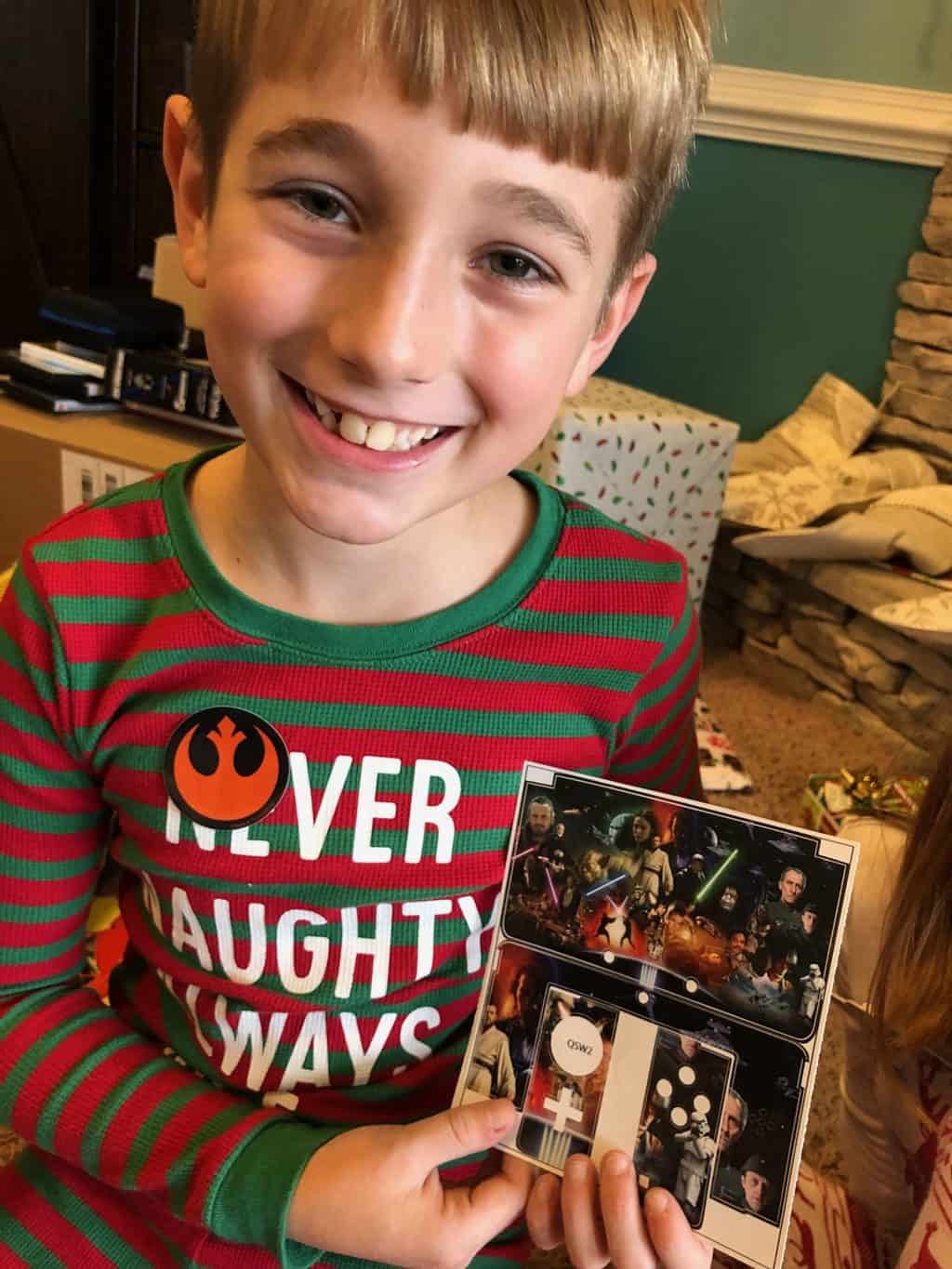 Grandpa and Grammie know we love us some Disney! The girls are thrilled to have ears to wear to the parks!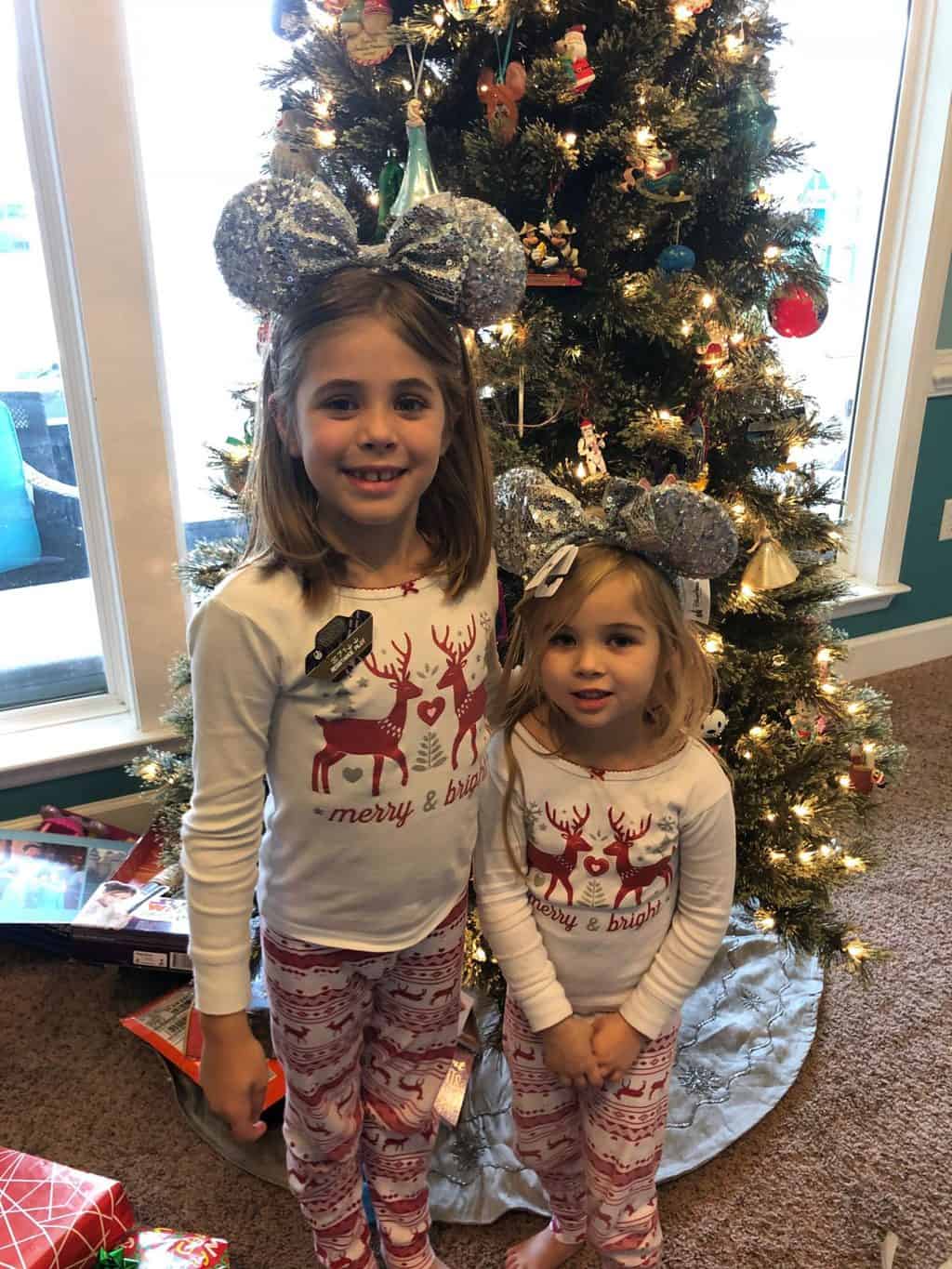 They also got me my very first Coach Disney item!!!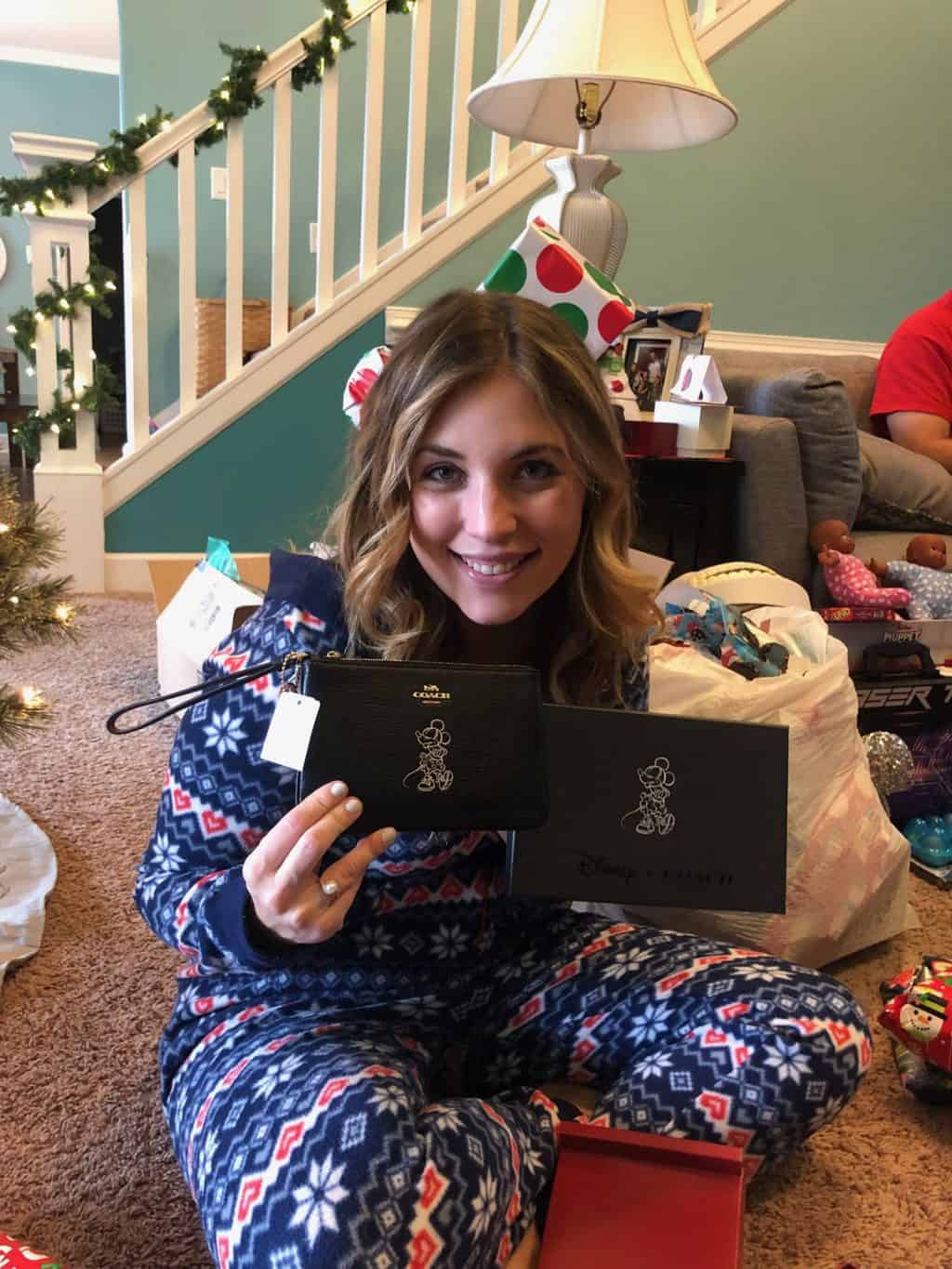 Tessie was SO THRILLED about her own Disney book bag! She was also all about sitting with Daddy and even made him a card (and not one for me which I know meant a lot to him as she's THE most attached to her mama!)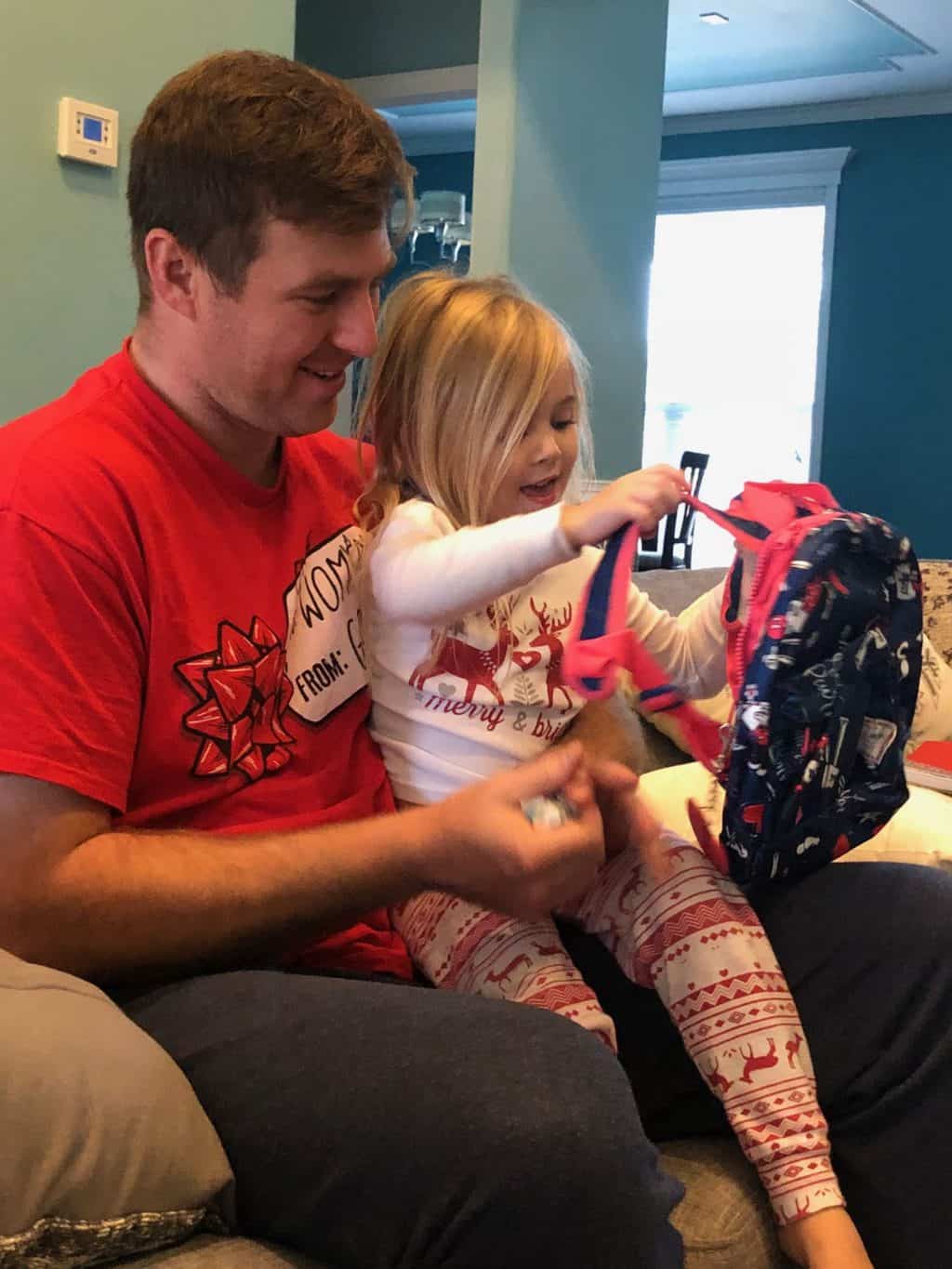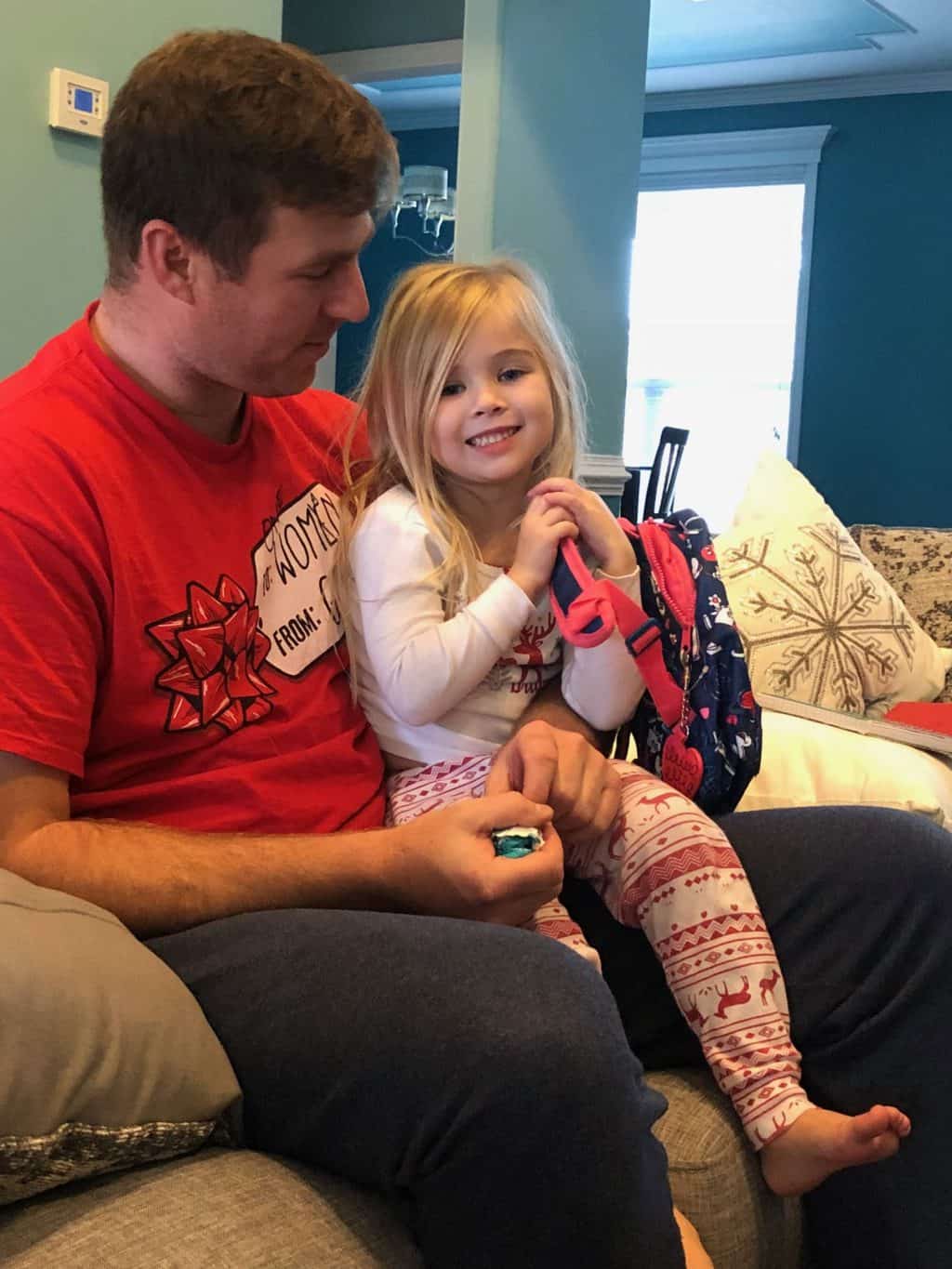 Kye was the most excited about the gift he and Tess got Britt! It's a Hatchimals house thing and he was so adorable watching her!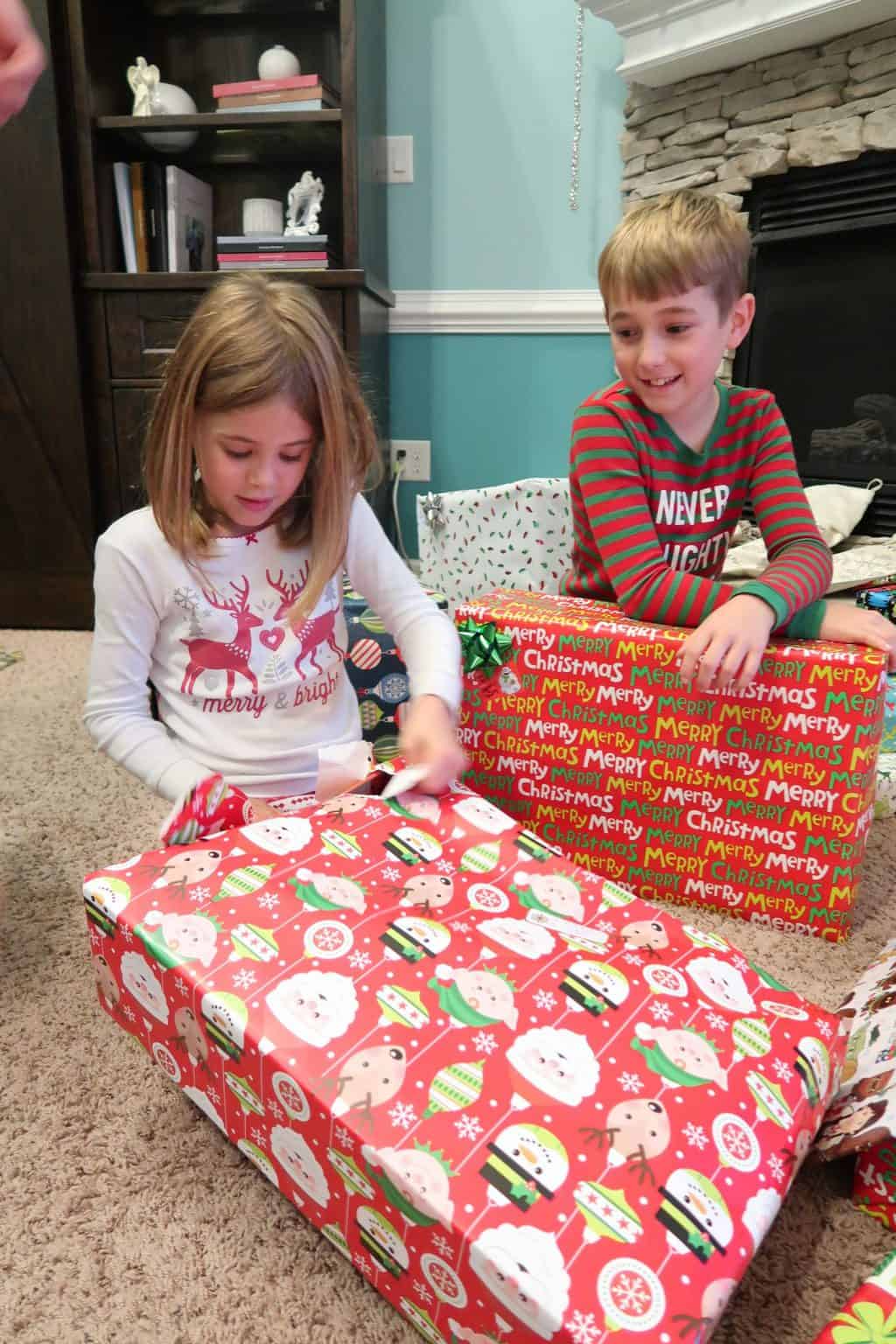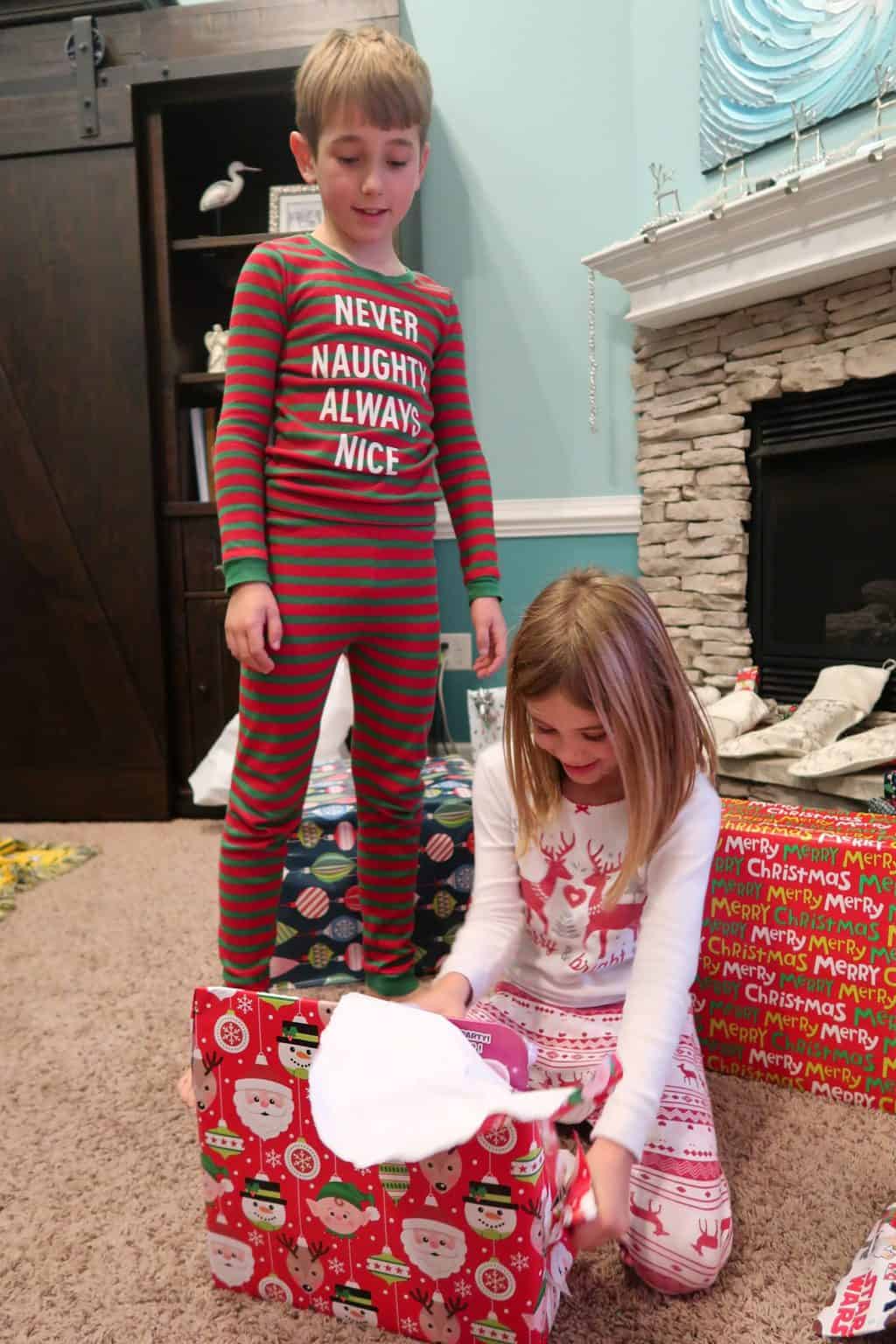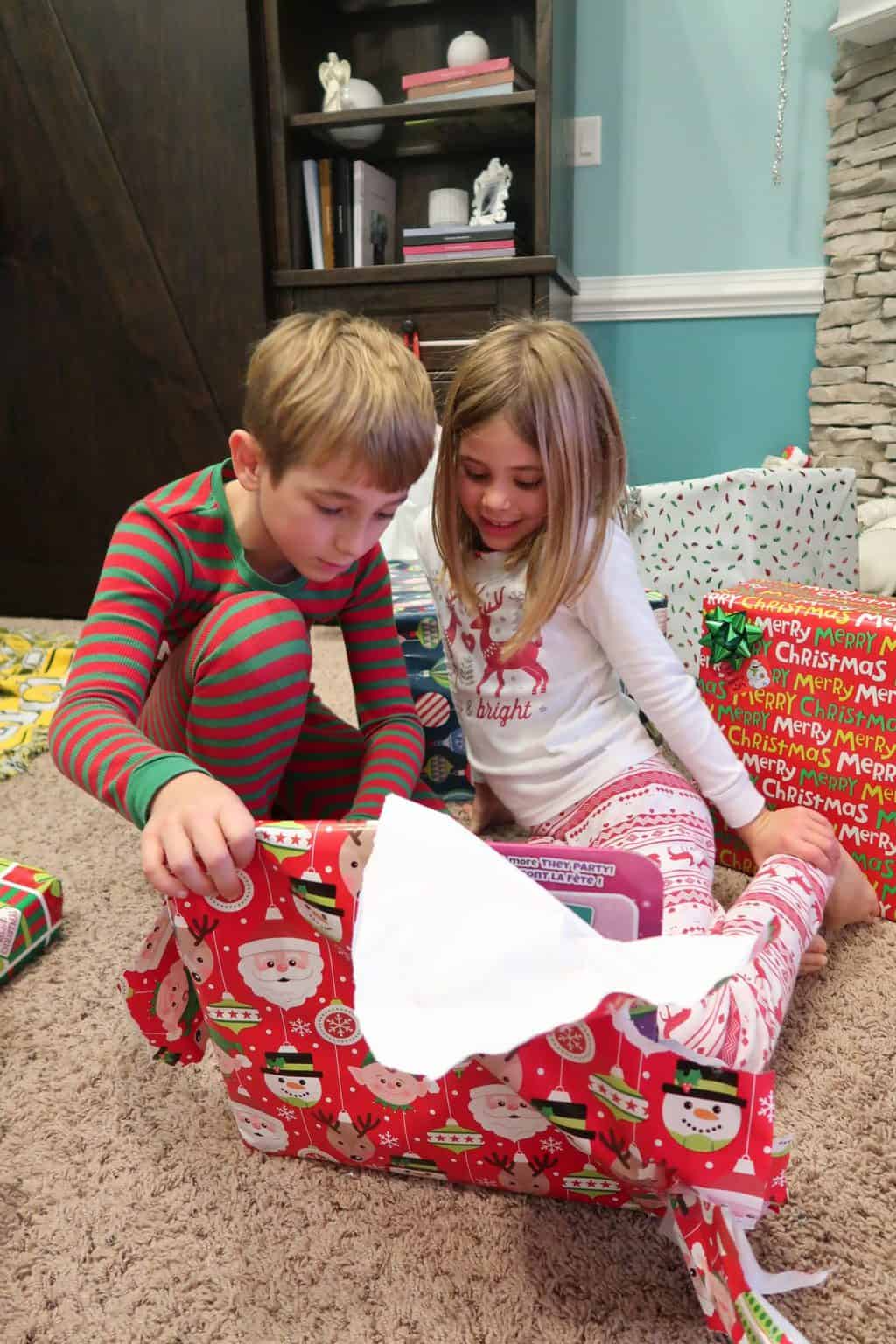 Kye and Britt were also excited to give Tessie her Muppet Babies toy!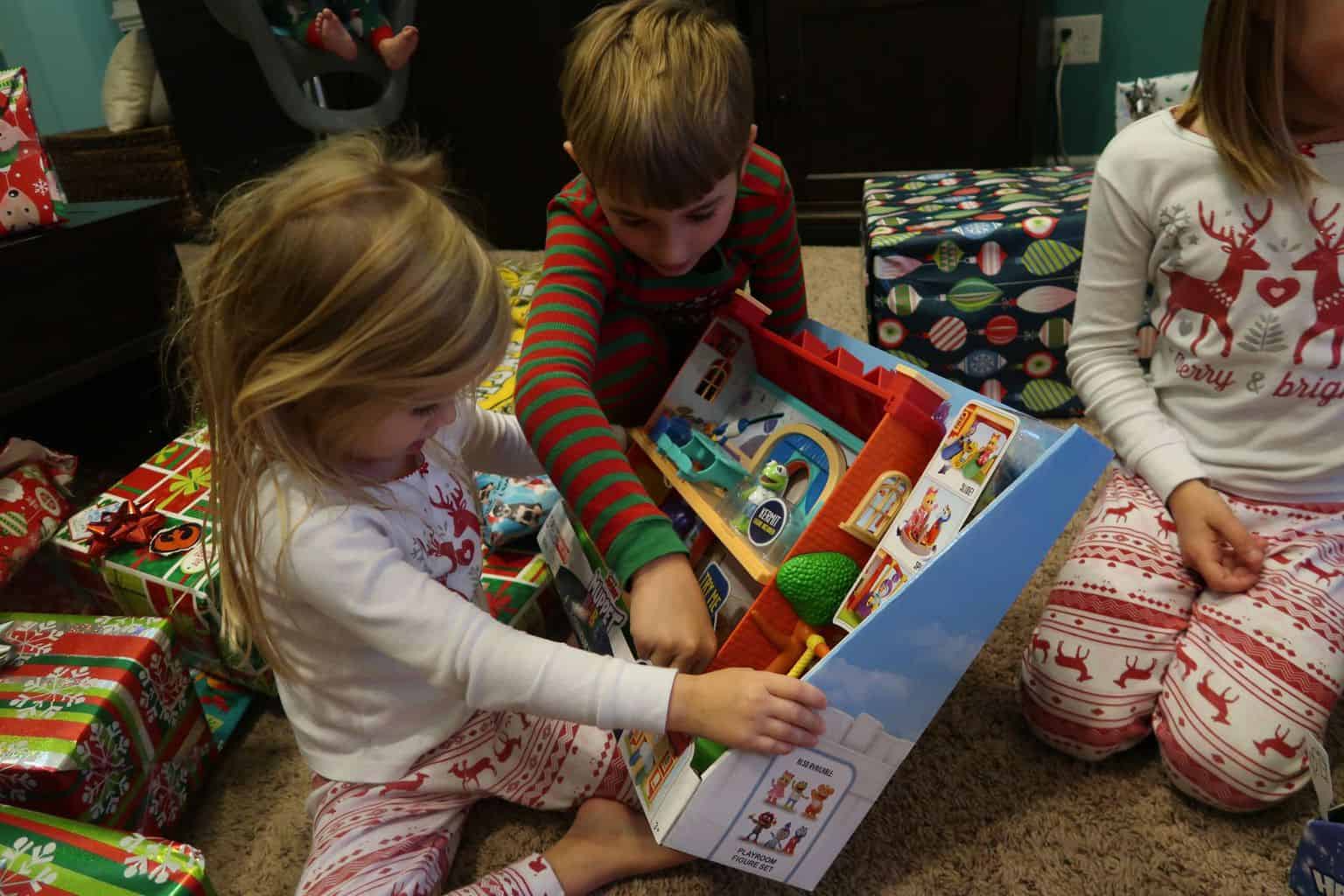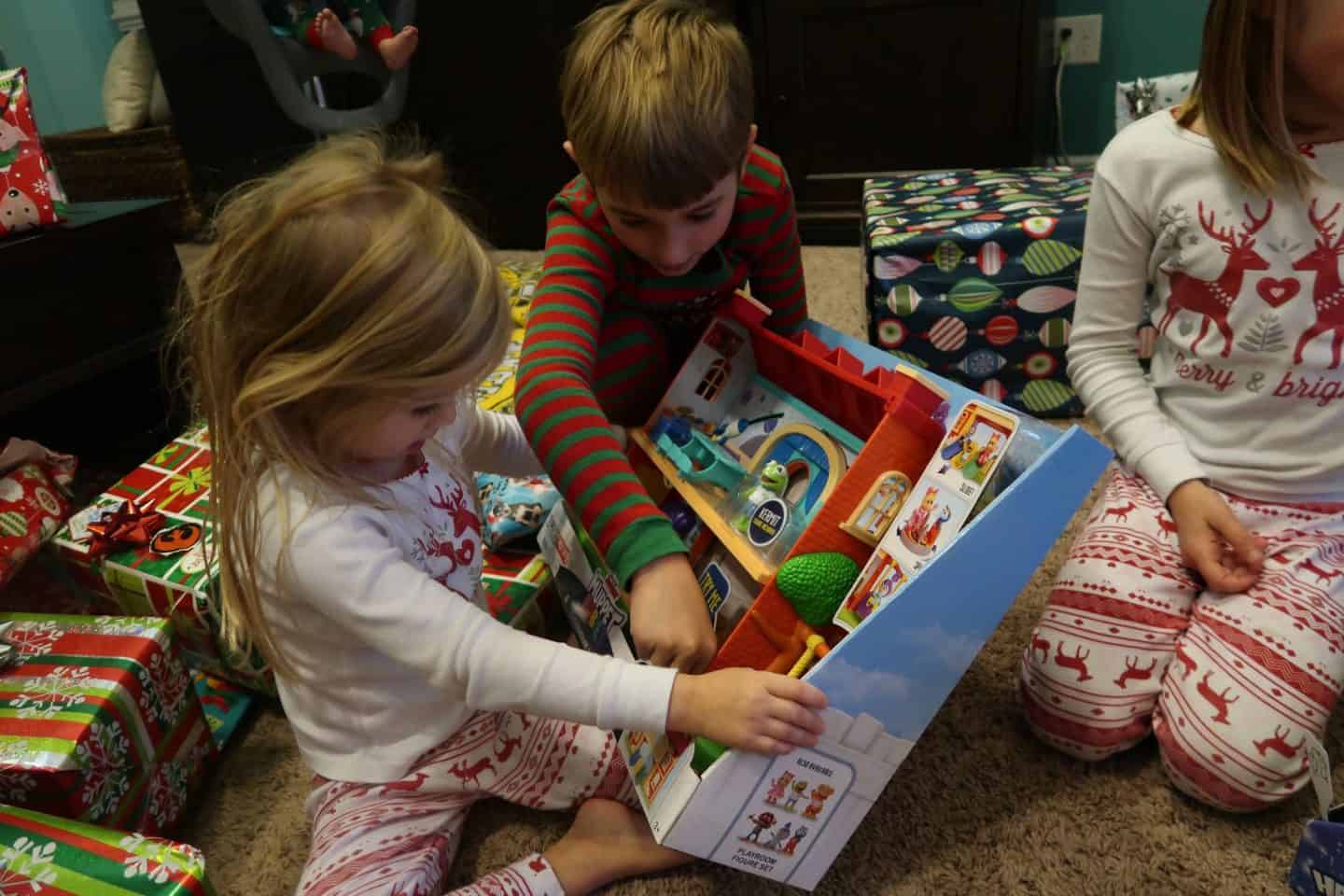 One year several years ago Britt kept saying she was so excited about all the "boxes" she got as a gifts. It's become a running joke and Britt always says "I LOVE BOXES!" haha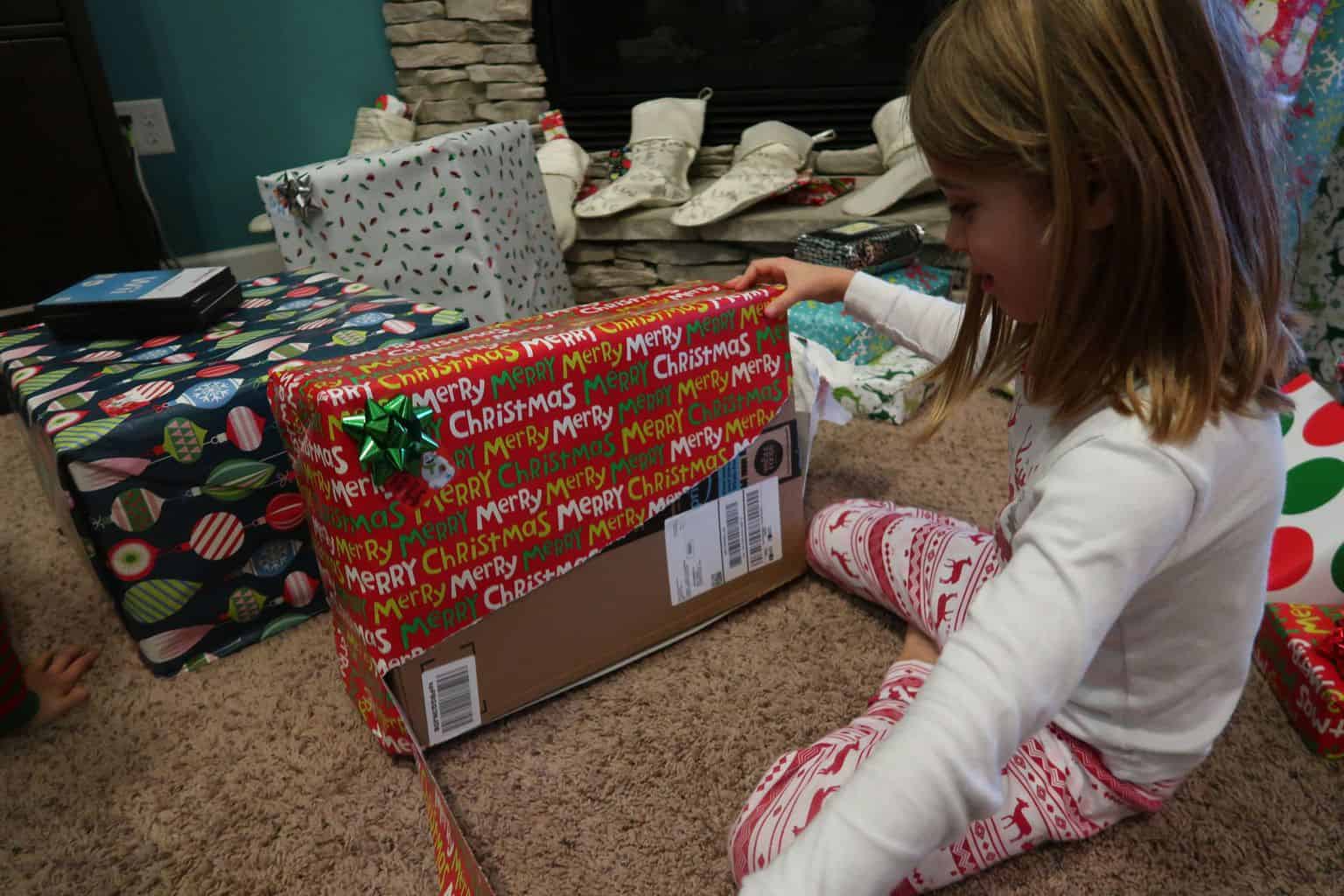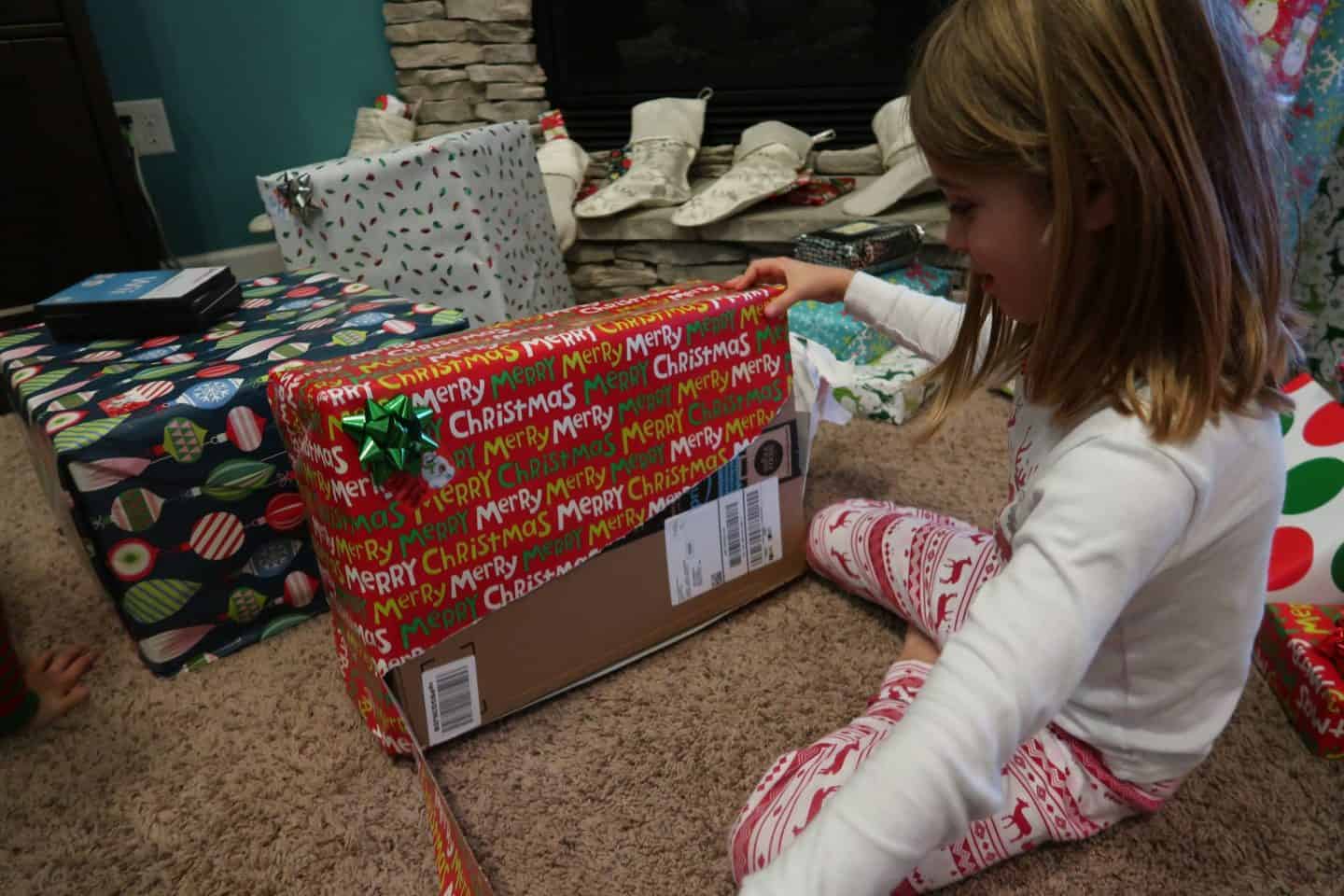 Britt and Tess got Kye a more legit nerf gun! It's a Rival (and Daddy helped and totally didn't realize it's for ages 14 and up haha)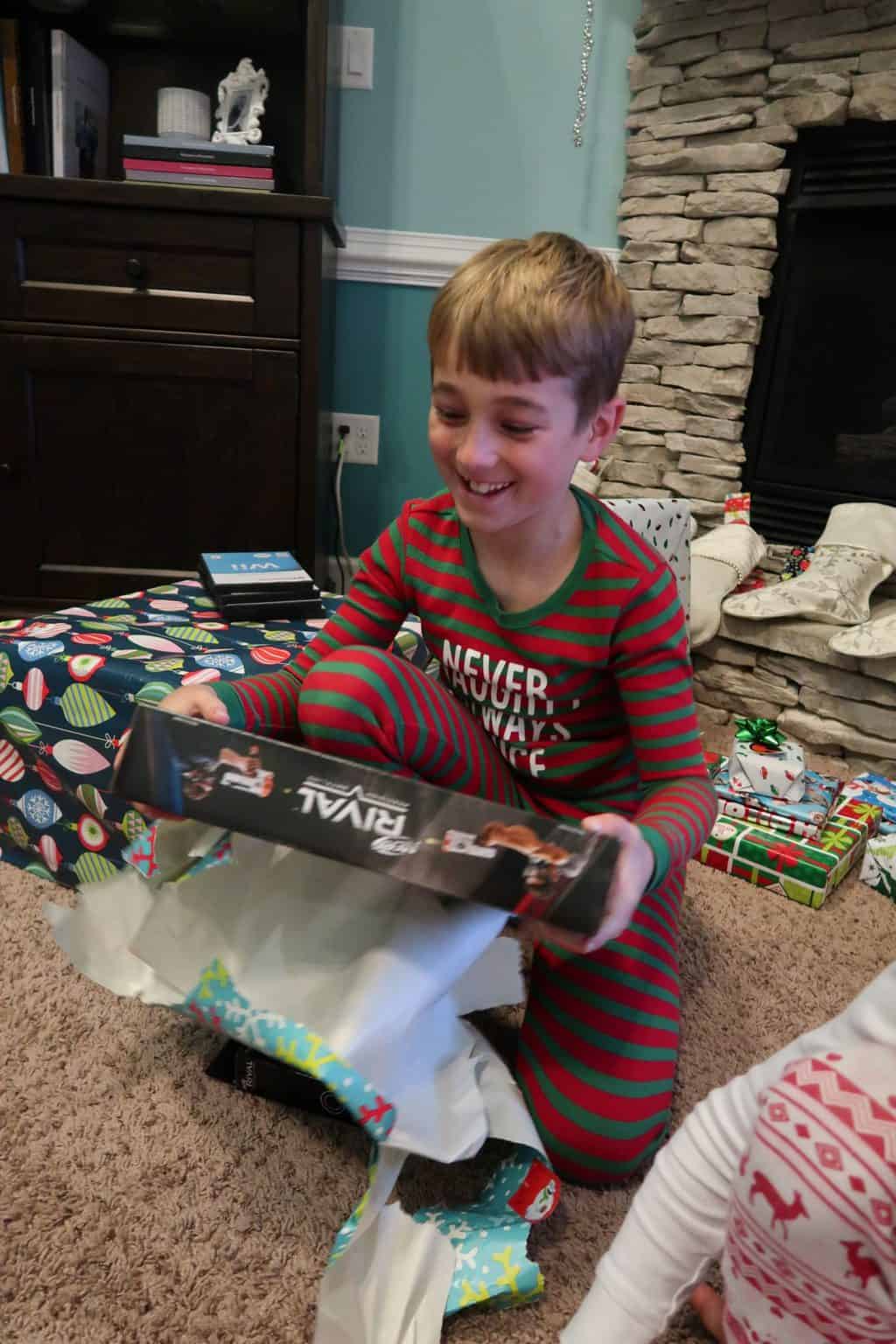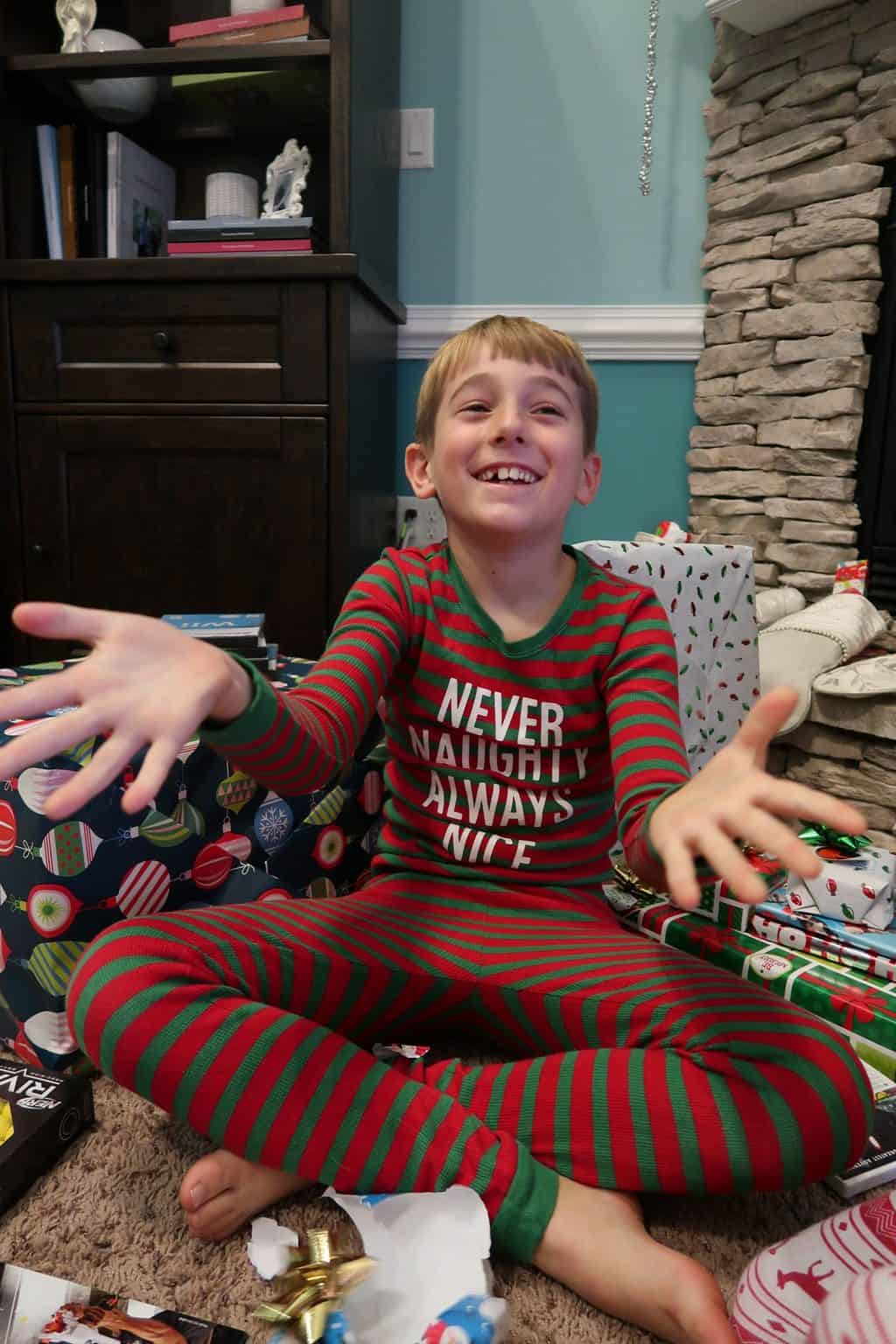 THE big gift for Kye…he's been wanting more games for his Nintendo DS and especially Lego Star Wars!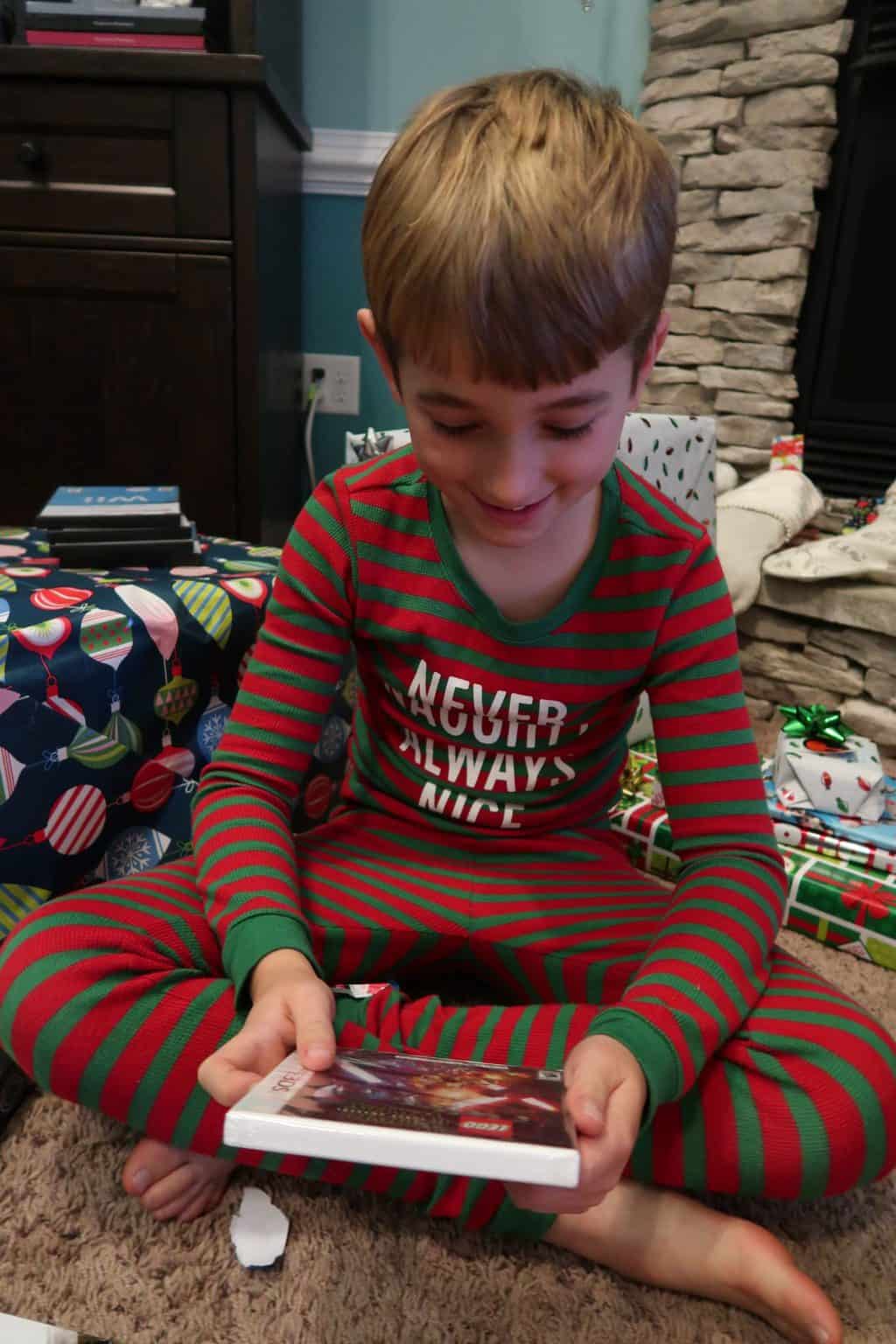 I was SO excited about Zach's gift from me! We do ONE present for each other and I was so, so excited for the Air Pods! I knew it'd be a gift he would LOVE and he's never asked for them which made it even more exciting! He was THRILLED. I legit feel like it's the best gift I've gotten him!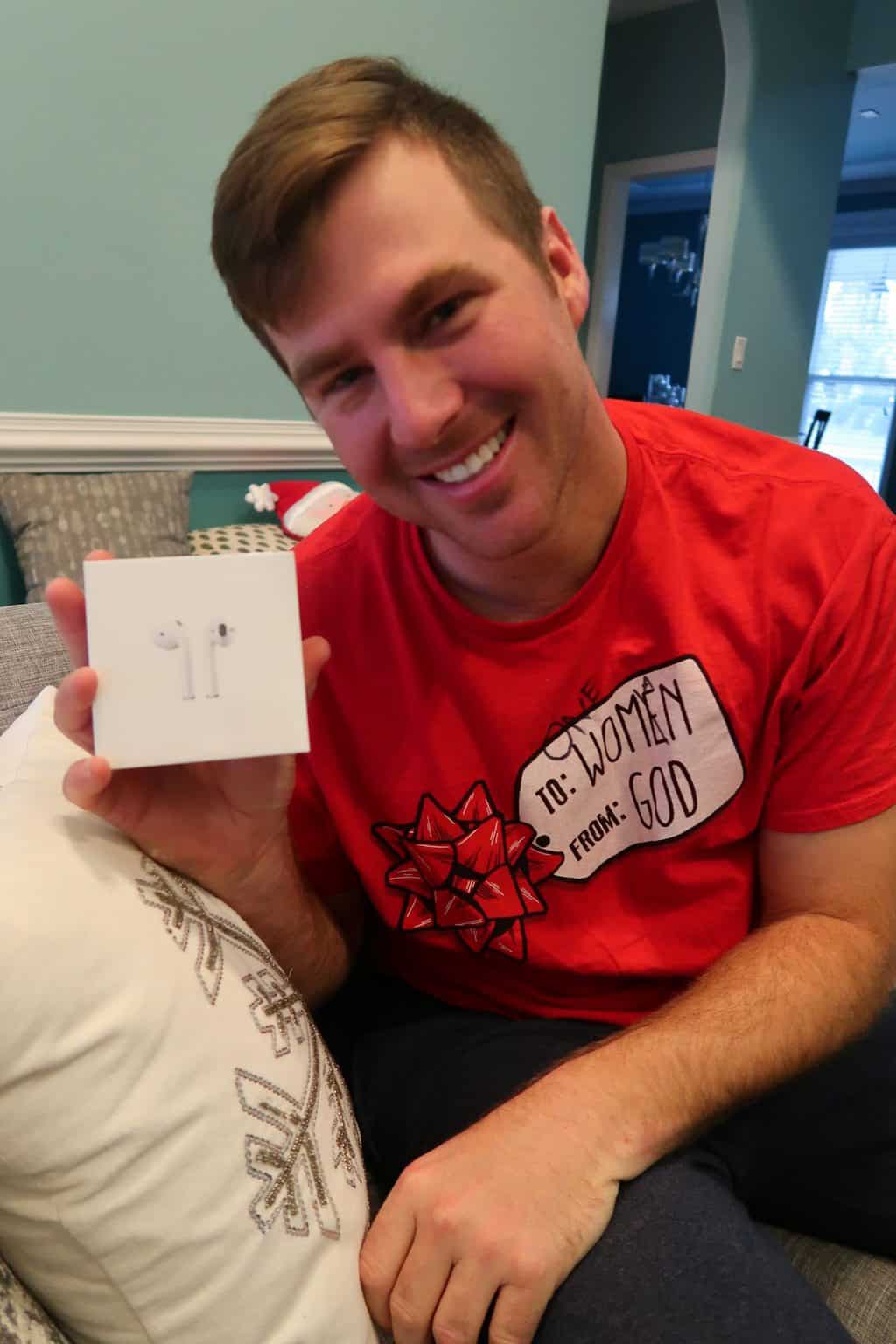 For my gift Zach pulled a bit of a trick…first he gave me my ring. Which would be a FABULOUS gift. If I hadn't been with him when we ordered it haha. It's actually the same ring that he bought me when Britt was born as my push present. Since our 10 year anniversary I hadn't been wearing it very often and always kept it in the same spot in my jewelry box in my room. I went to put it on back in April and it was missing. I'm 90% sure someone stole it. We'd had a LOT of workers in and out of our house with Internet issues and they'd be in our bedroom for extended time periods and my jewelry box is one of those standing ones that is super easy to open and snatch something out of. And this ring is pretty much the only thing of real value I had in it.
Even though I was sure it was stolen I still have looked EVERYWHERE and we finally decided to just go ahead and replace it. We used to have jewelry insurance that was $100 a year. When we canceled it we agreed that if something were to happen to our jewelry we'd replace it and this ring is very important to me. I figure IF by some lucky chance the original shows up then I'll have a ring for each daughter someday 🙂 I am SO excited to have it back and really it makes me appreciate it even more!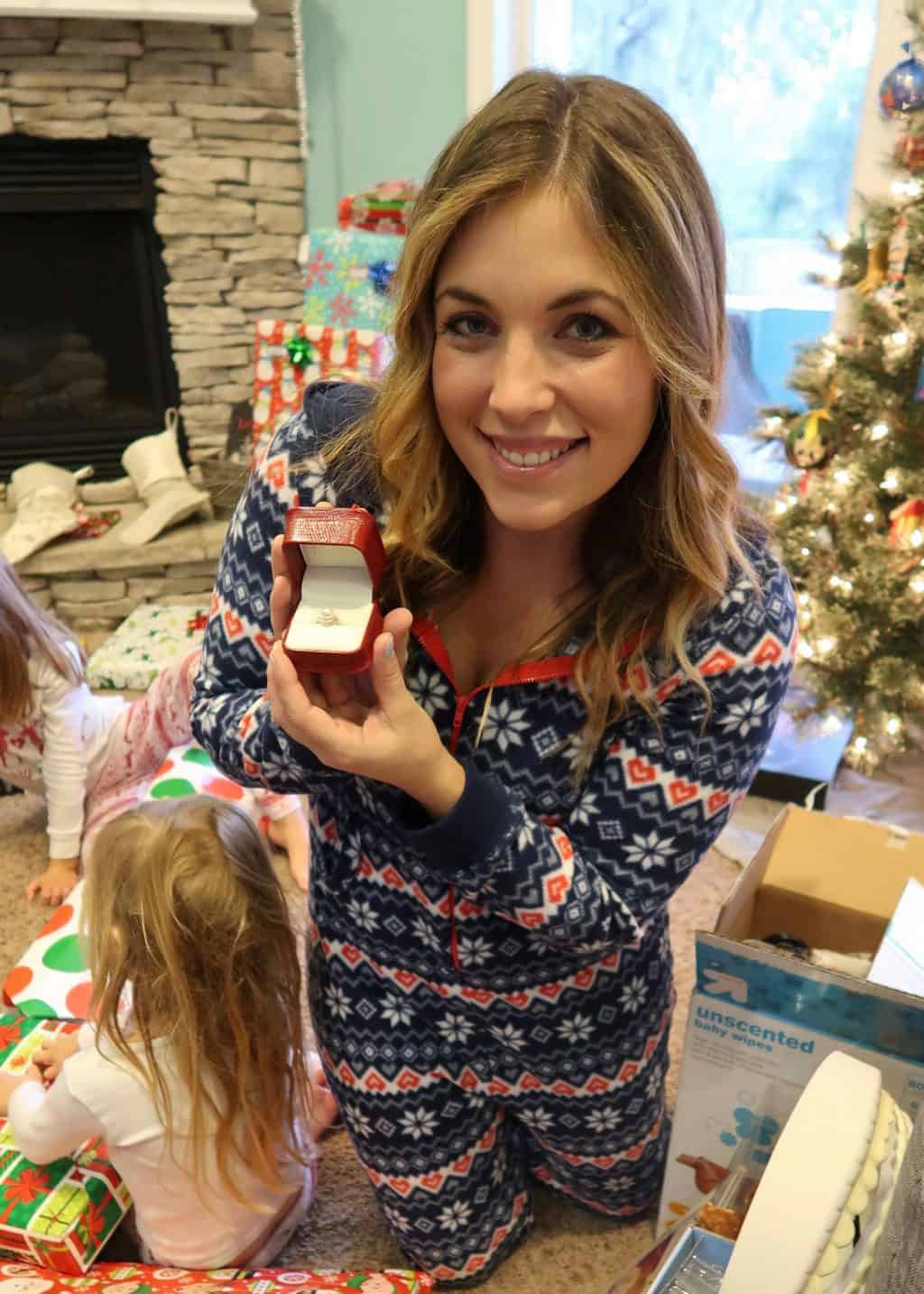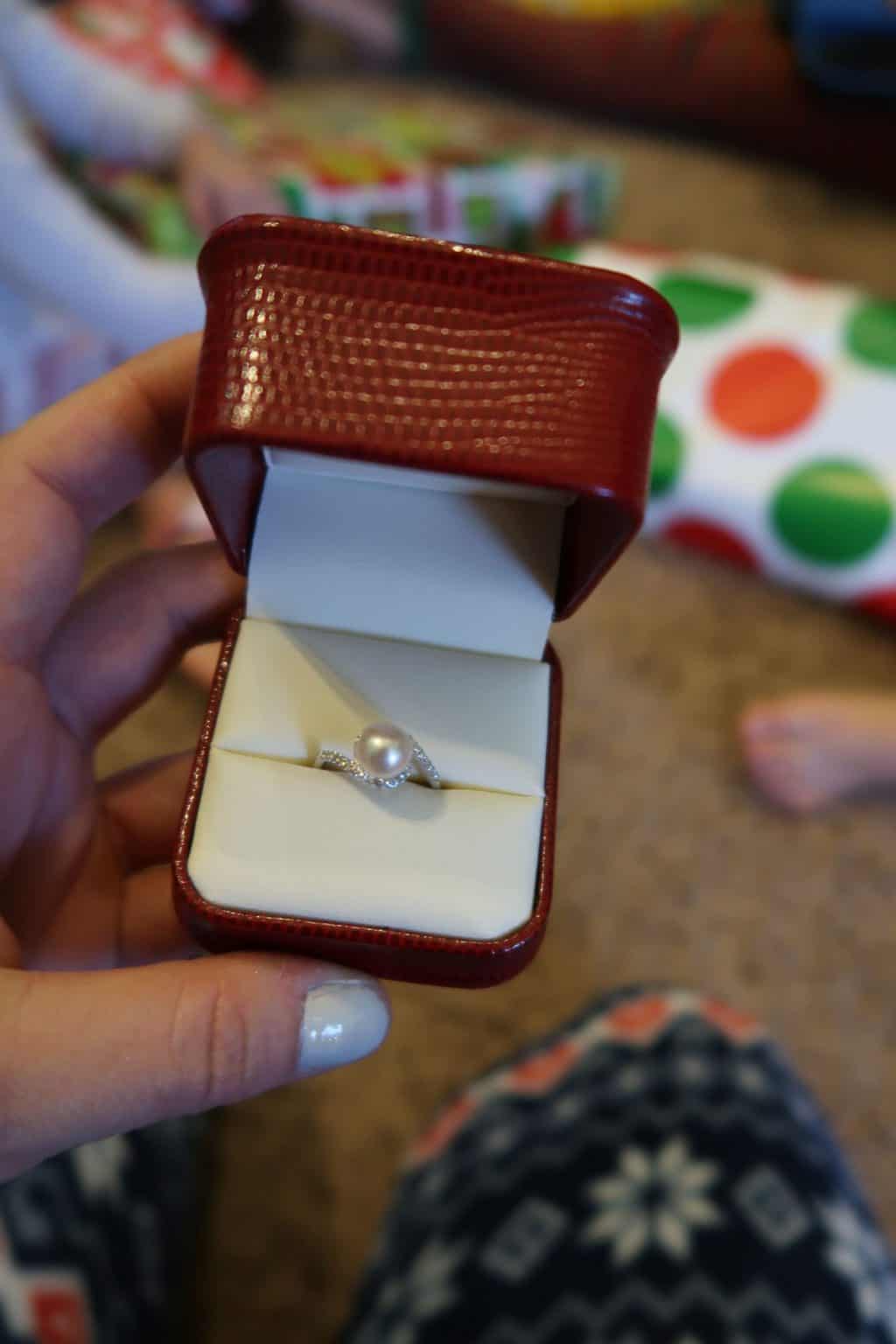 Zach was playing a trick by giving it to me as a Christmas gift though and surprised me with a second gift…a new Michael Kors watch!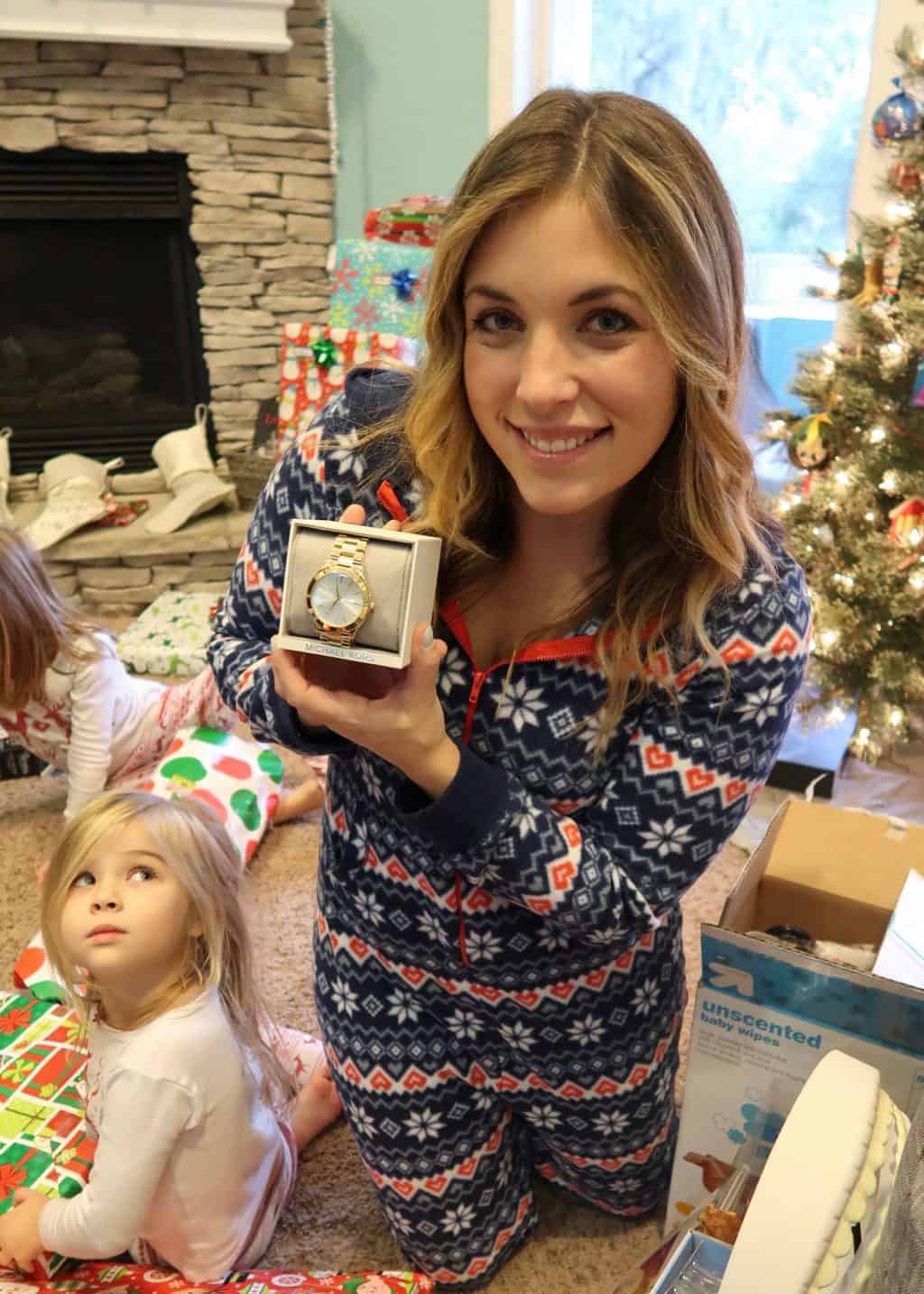 Spear getting the hang of opening!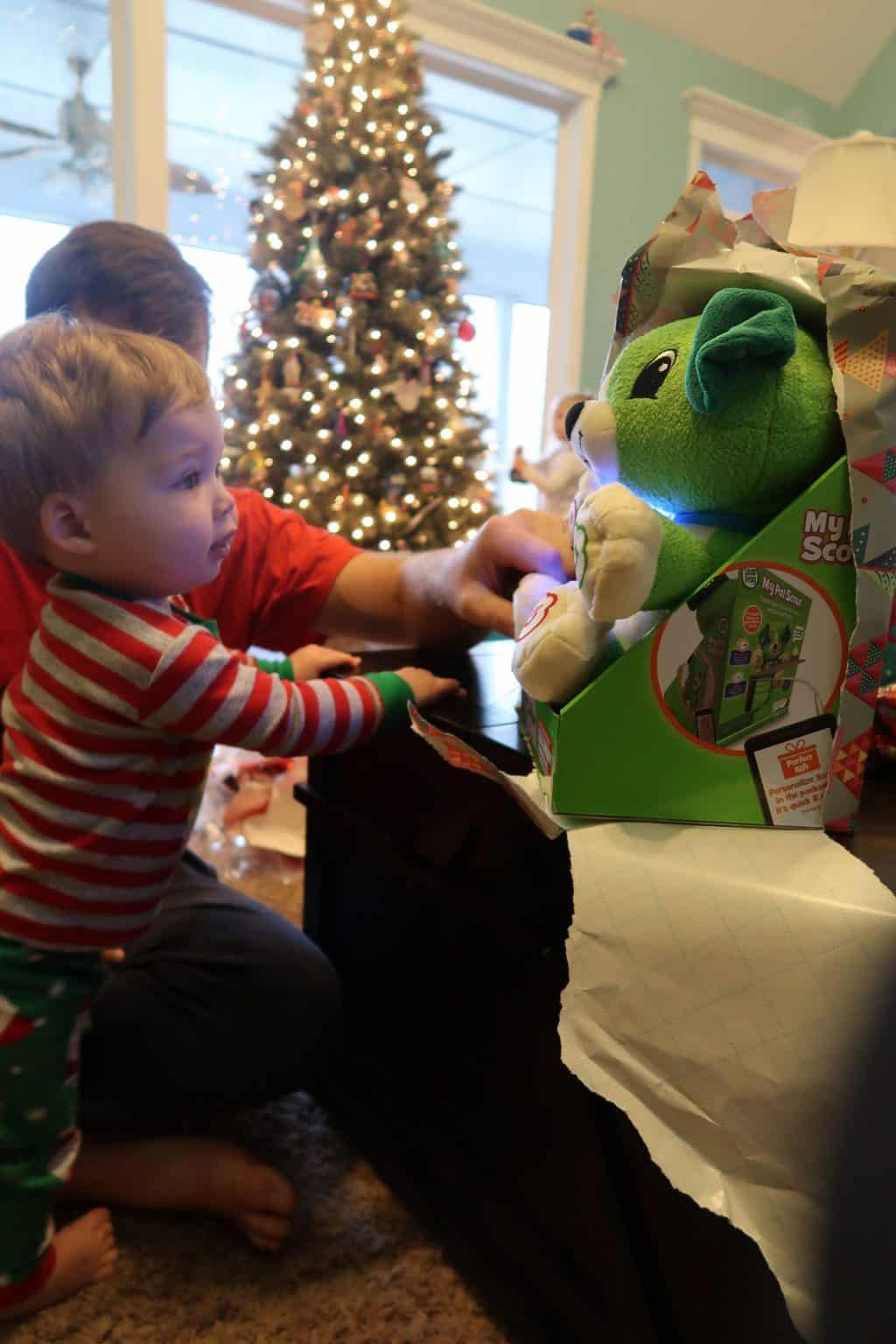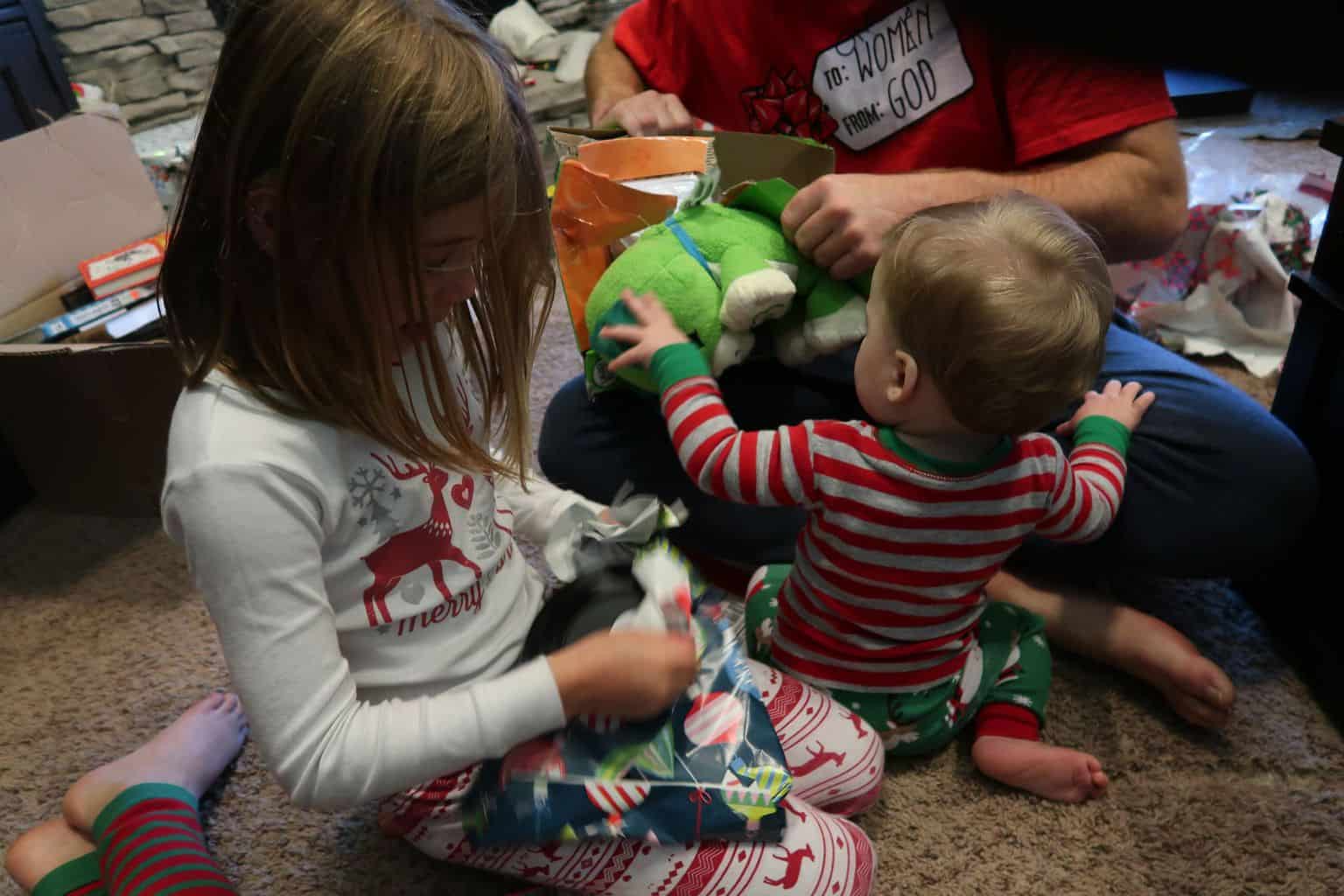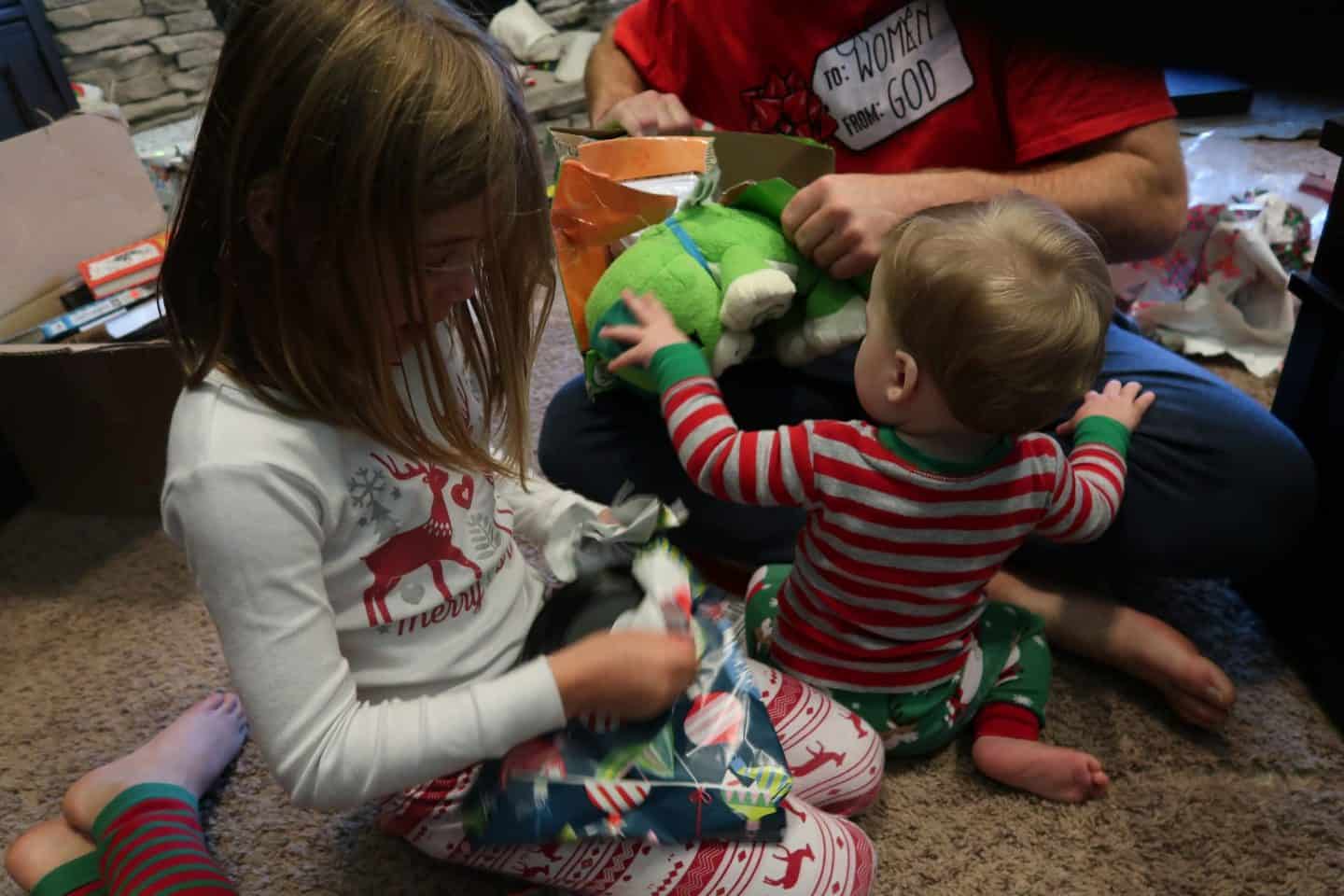 I love the messy, messy hair and straight up excitement on "Christmas" morning!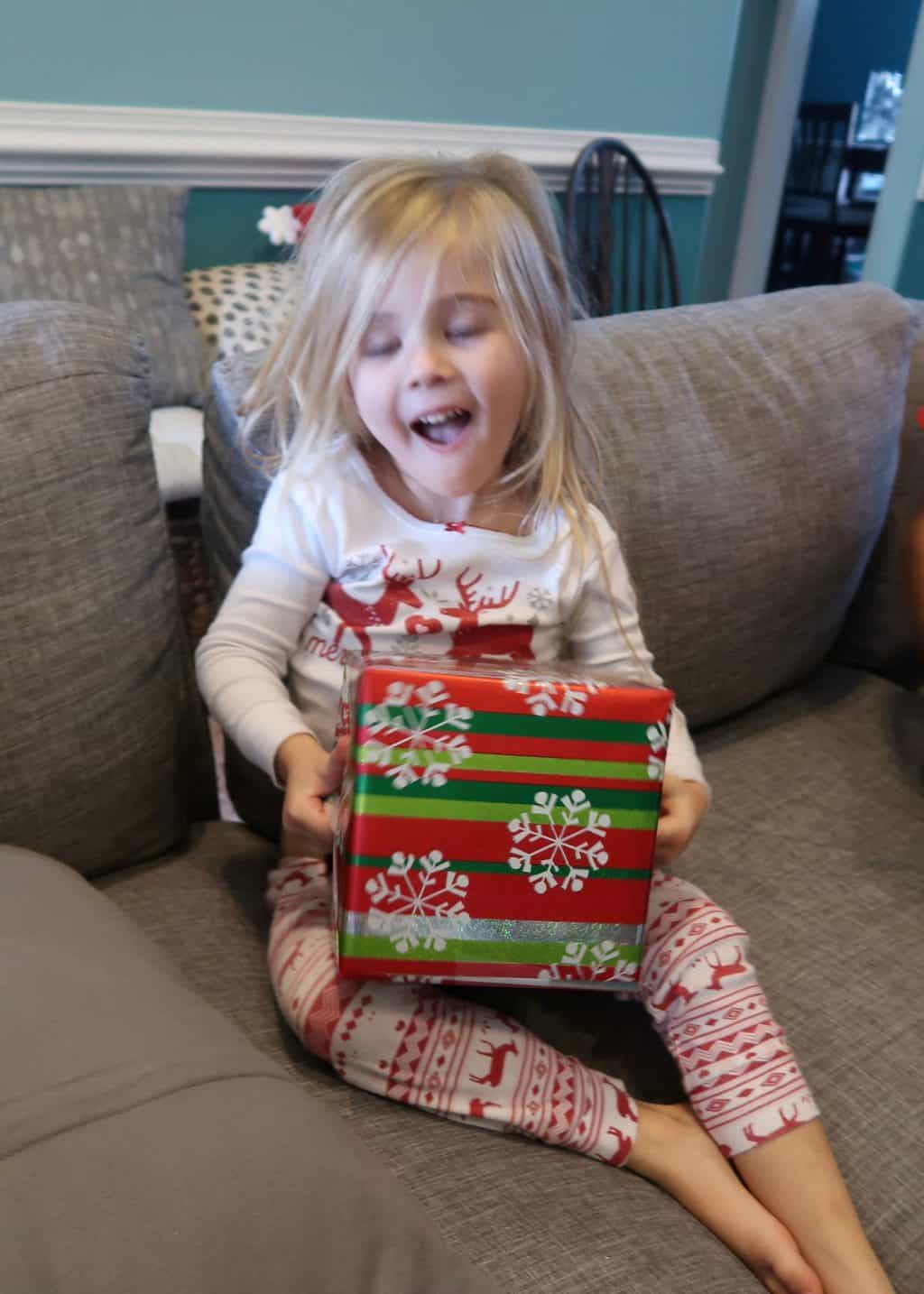 The gift she wanted most! My girls are OBSESSED with "sparkly eyes" stuffed animals!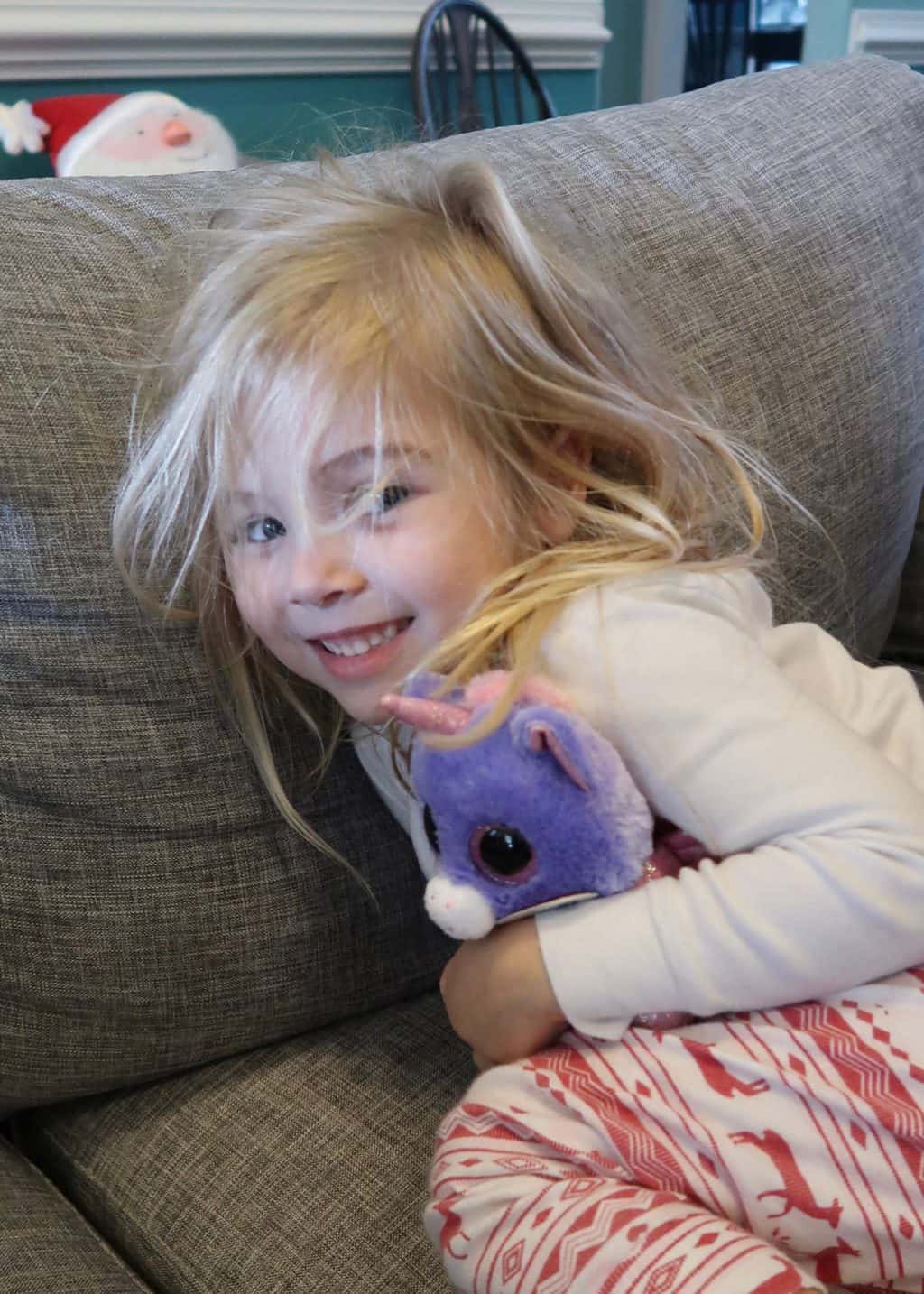 A couple videos of Spear with his drum: one and two!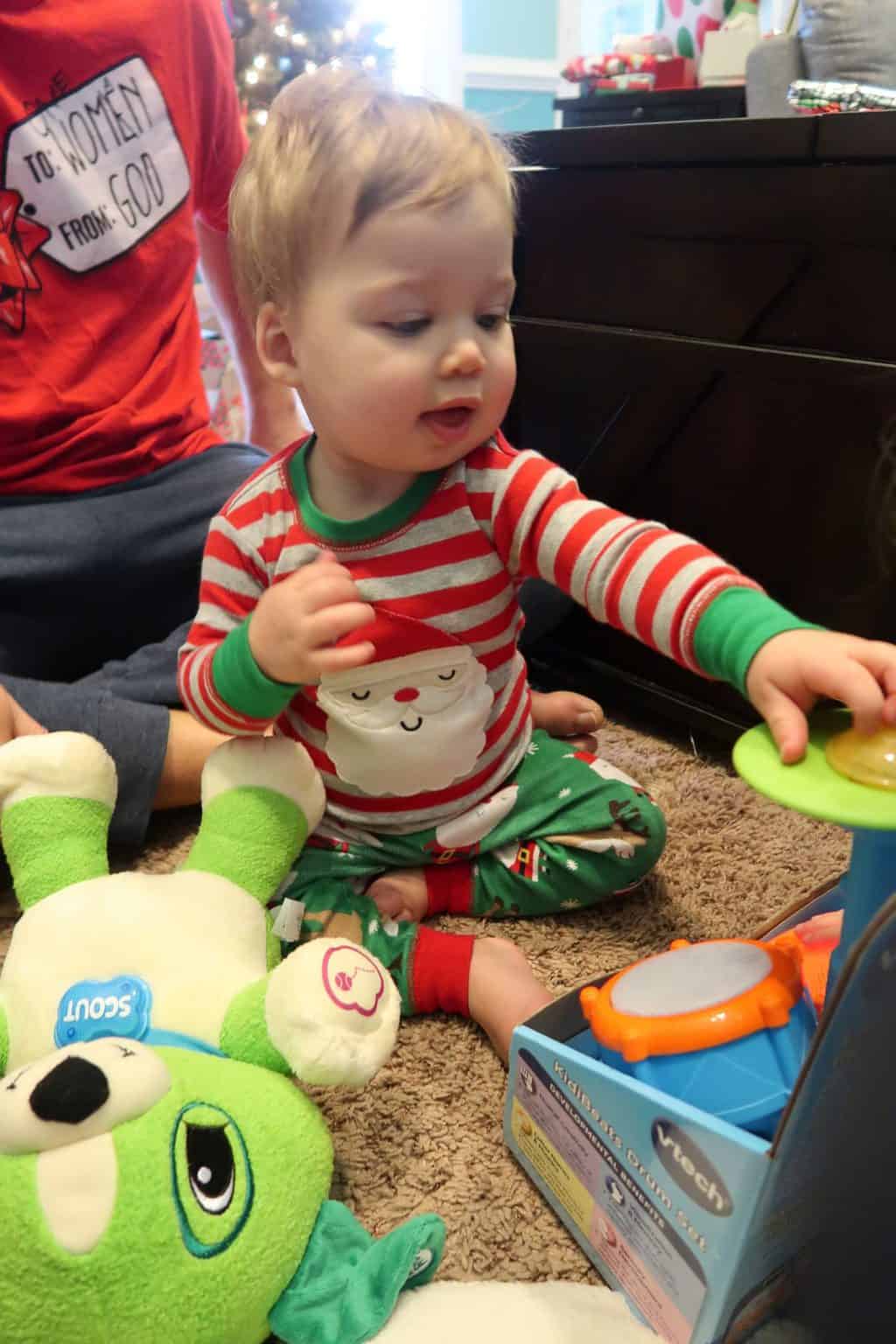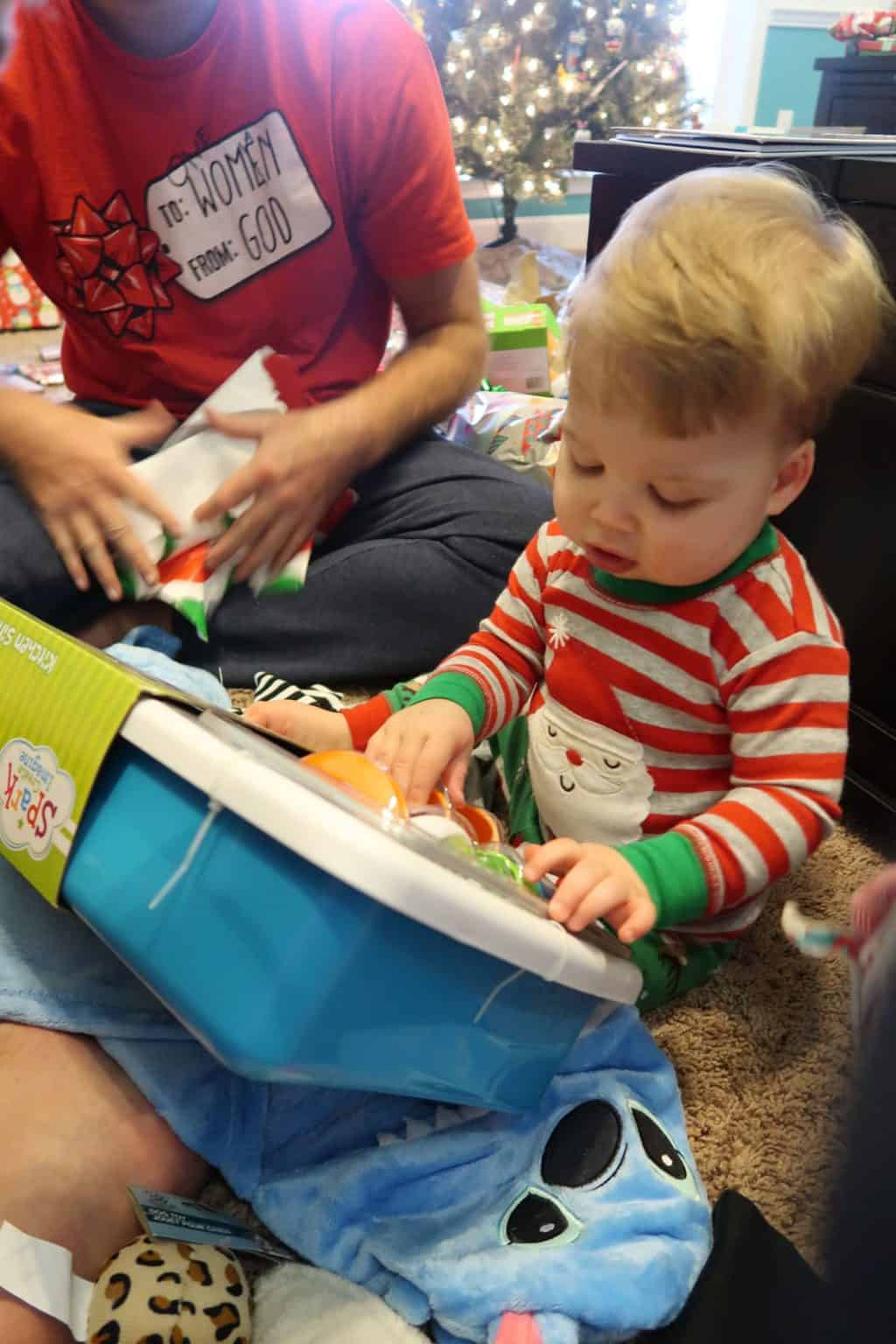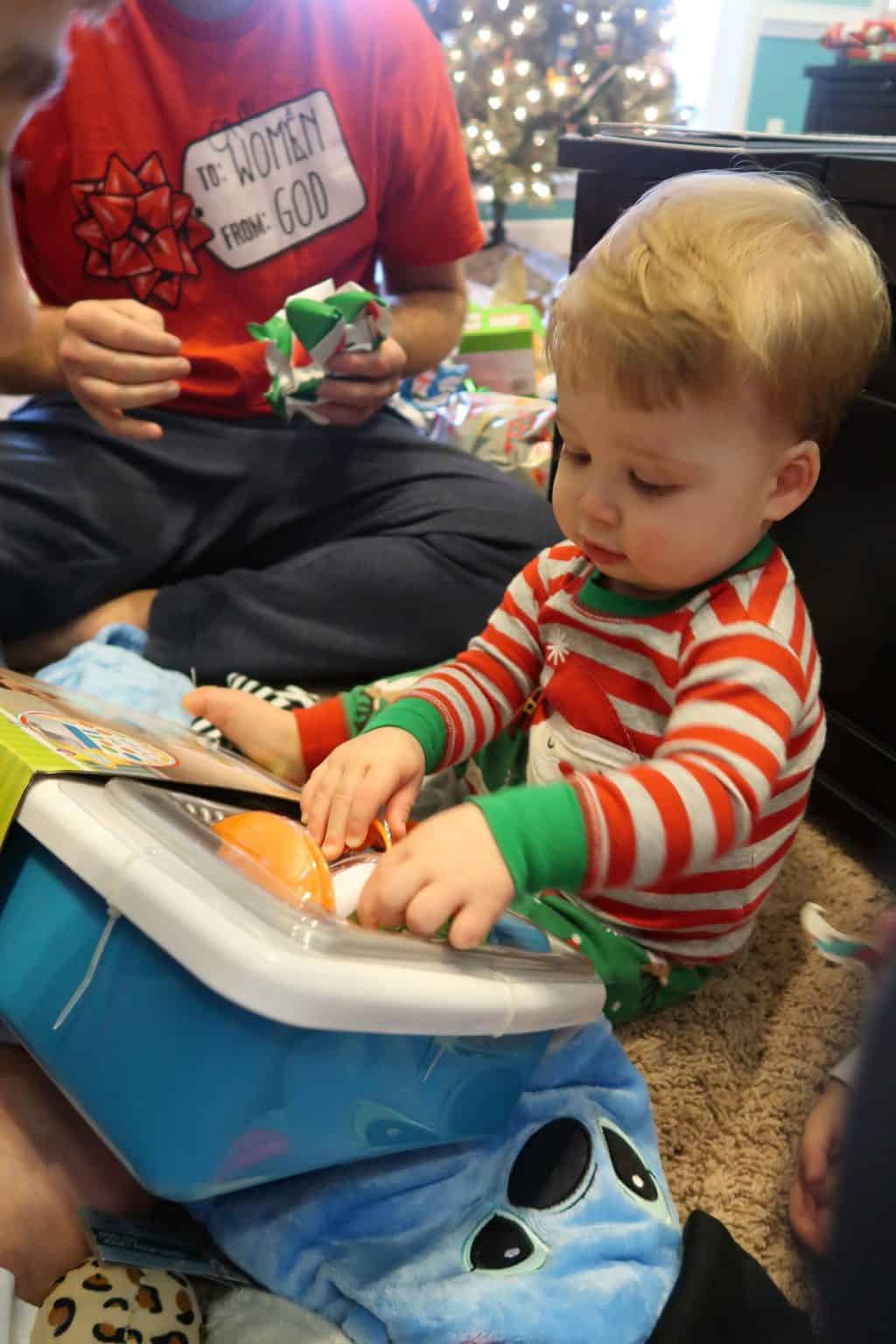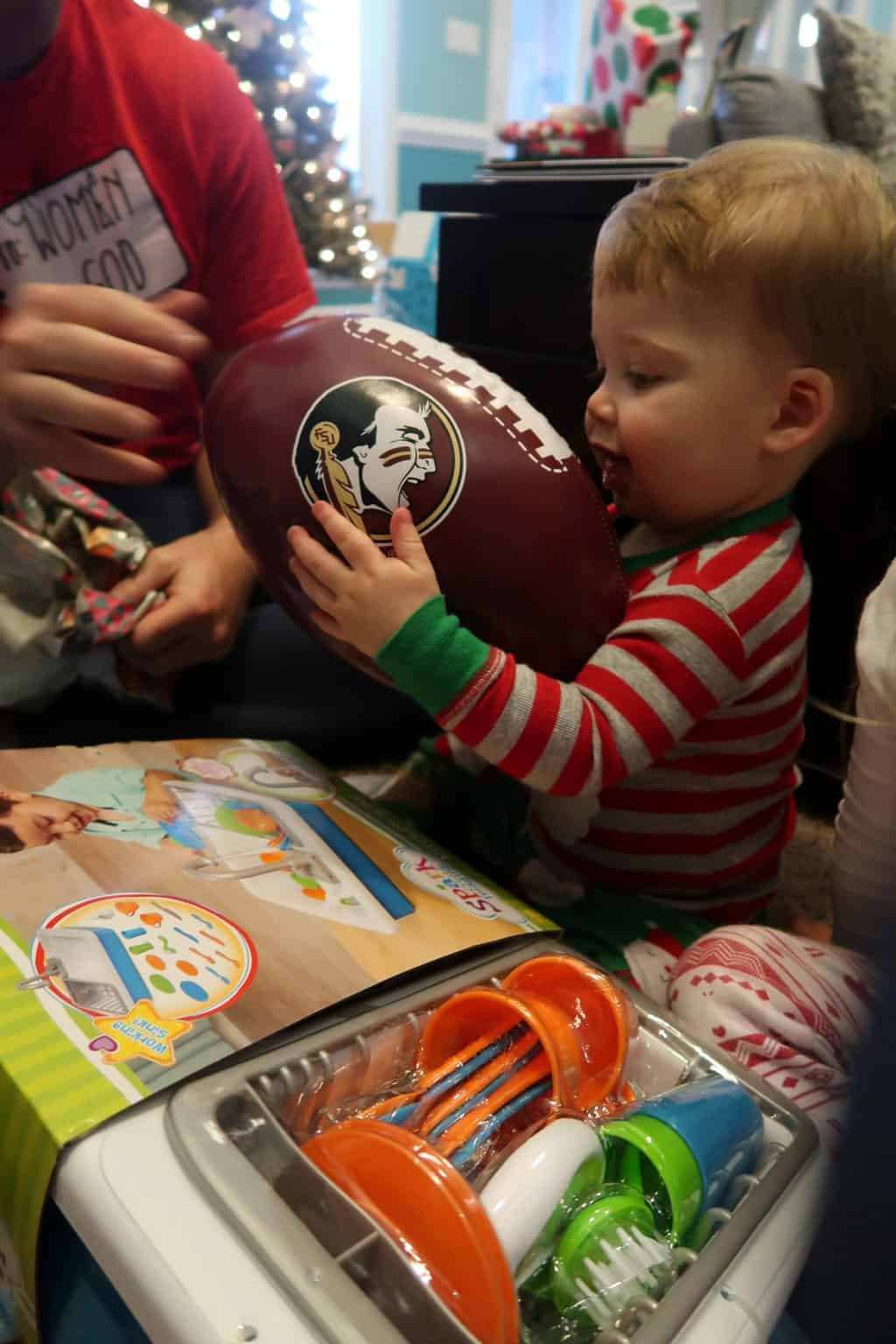 All the kids got me a unicorn lamp for my desk 🙂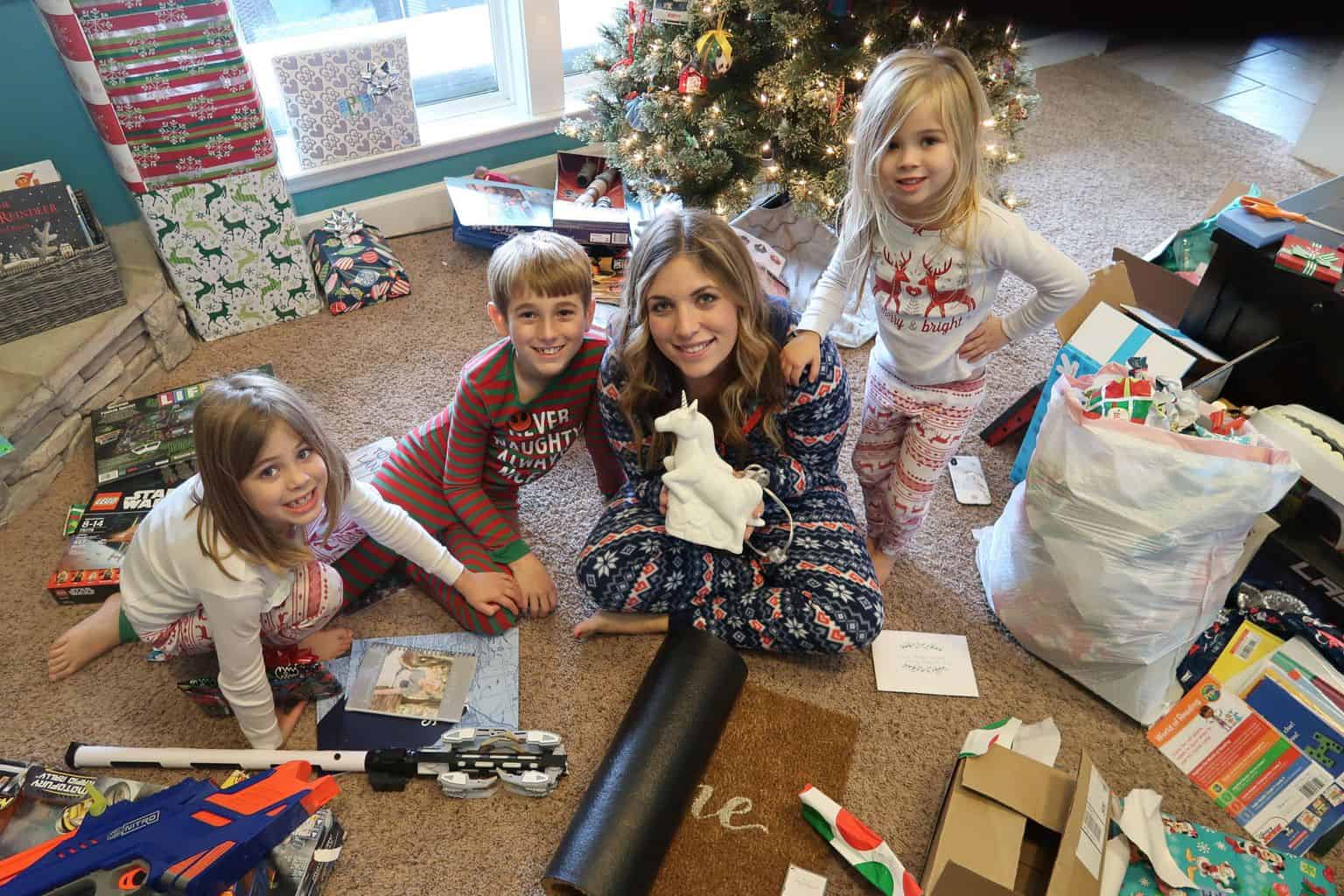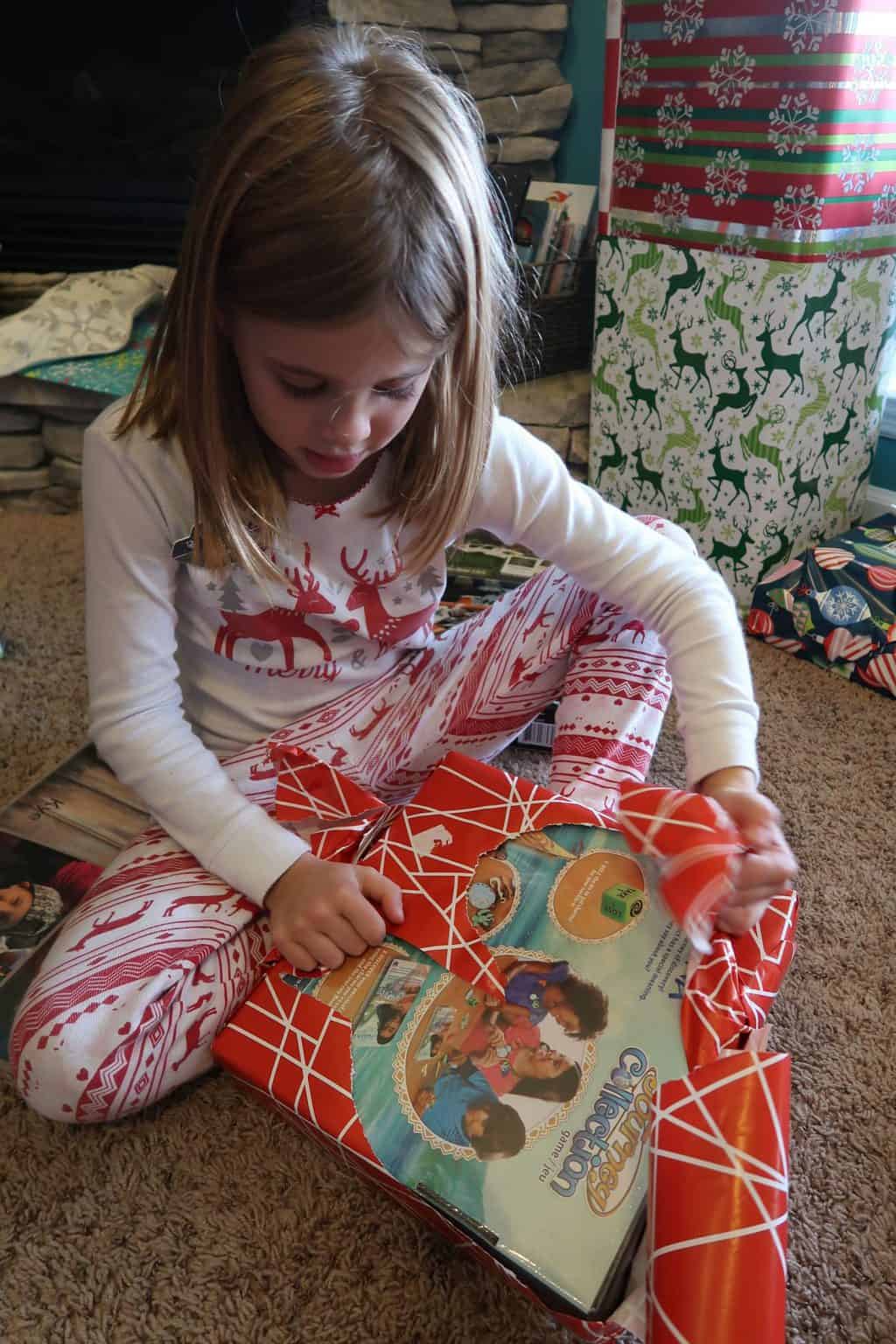 Tie from my dad and step-mom!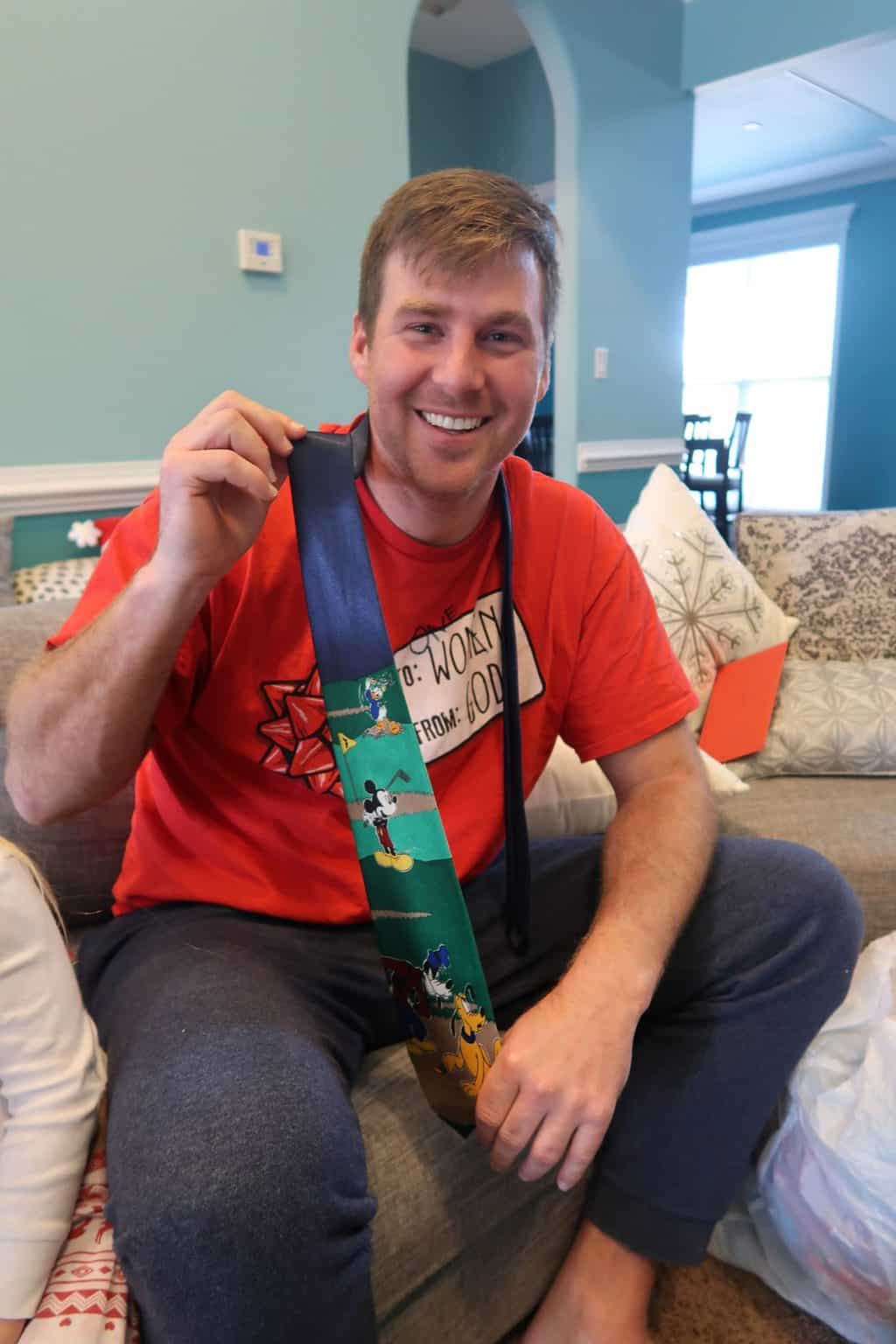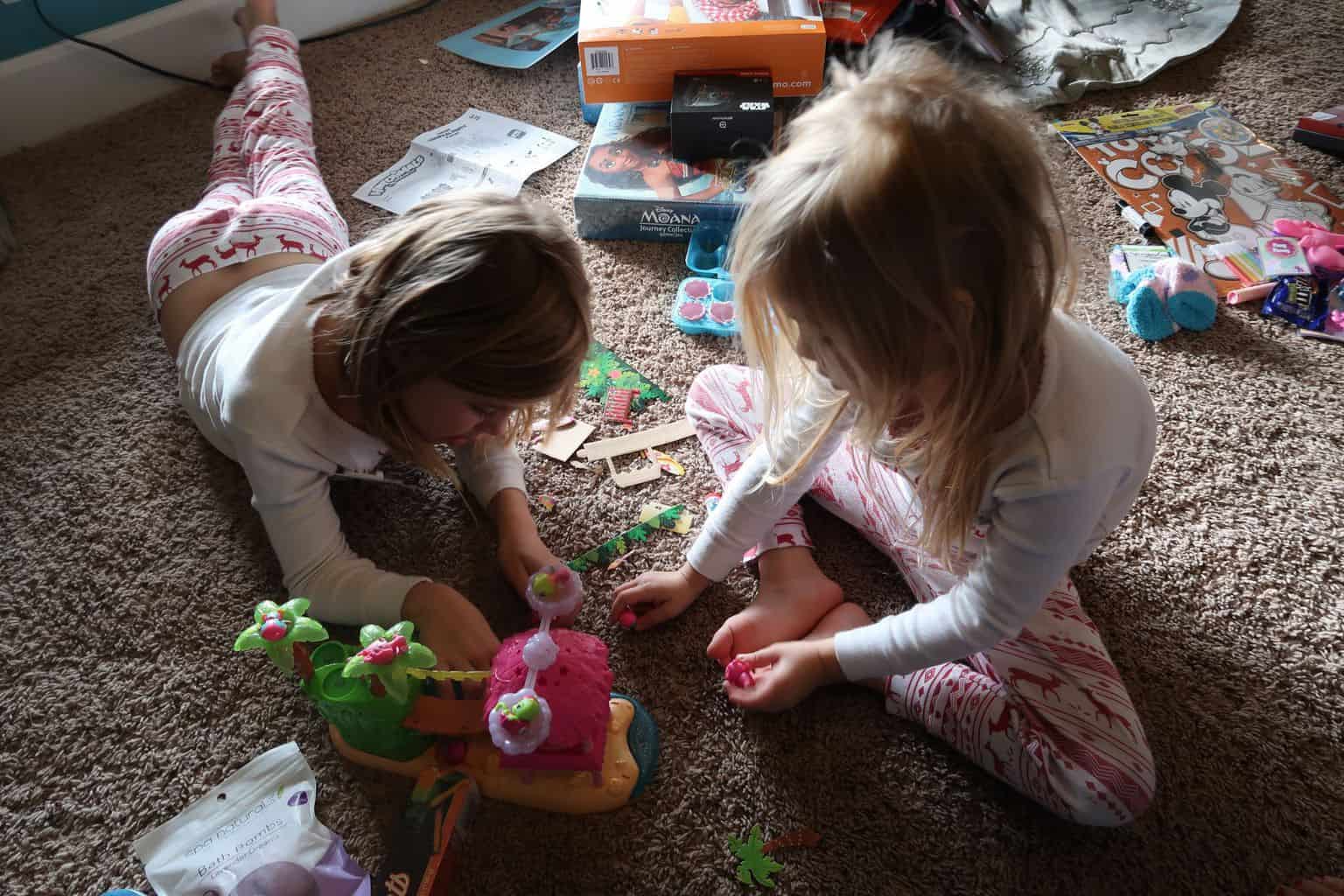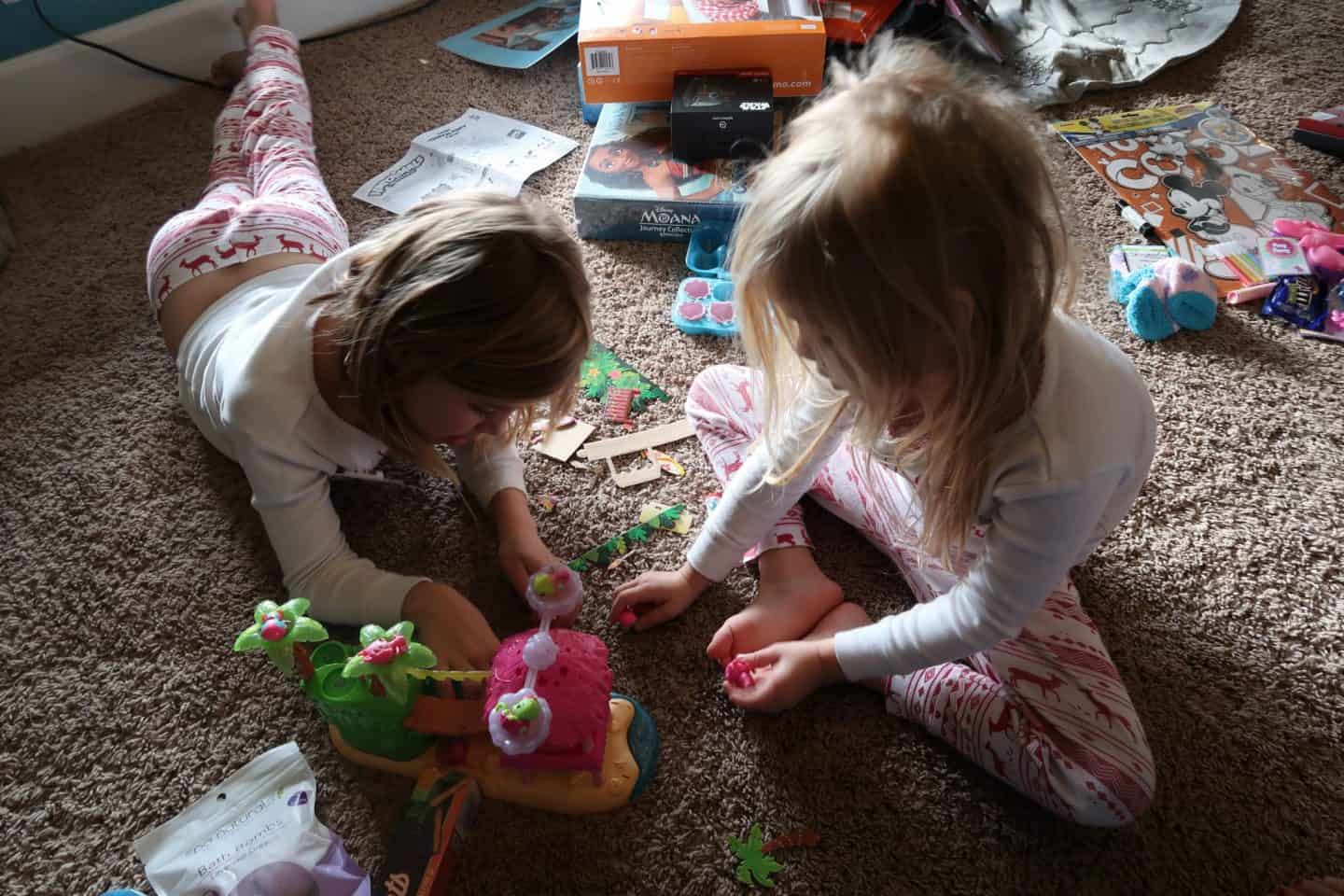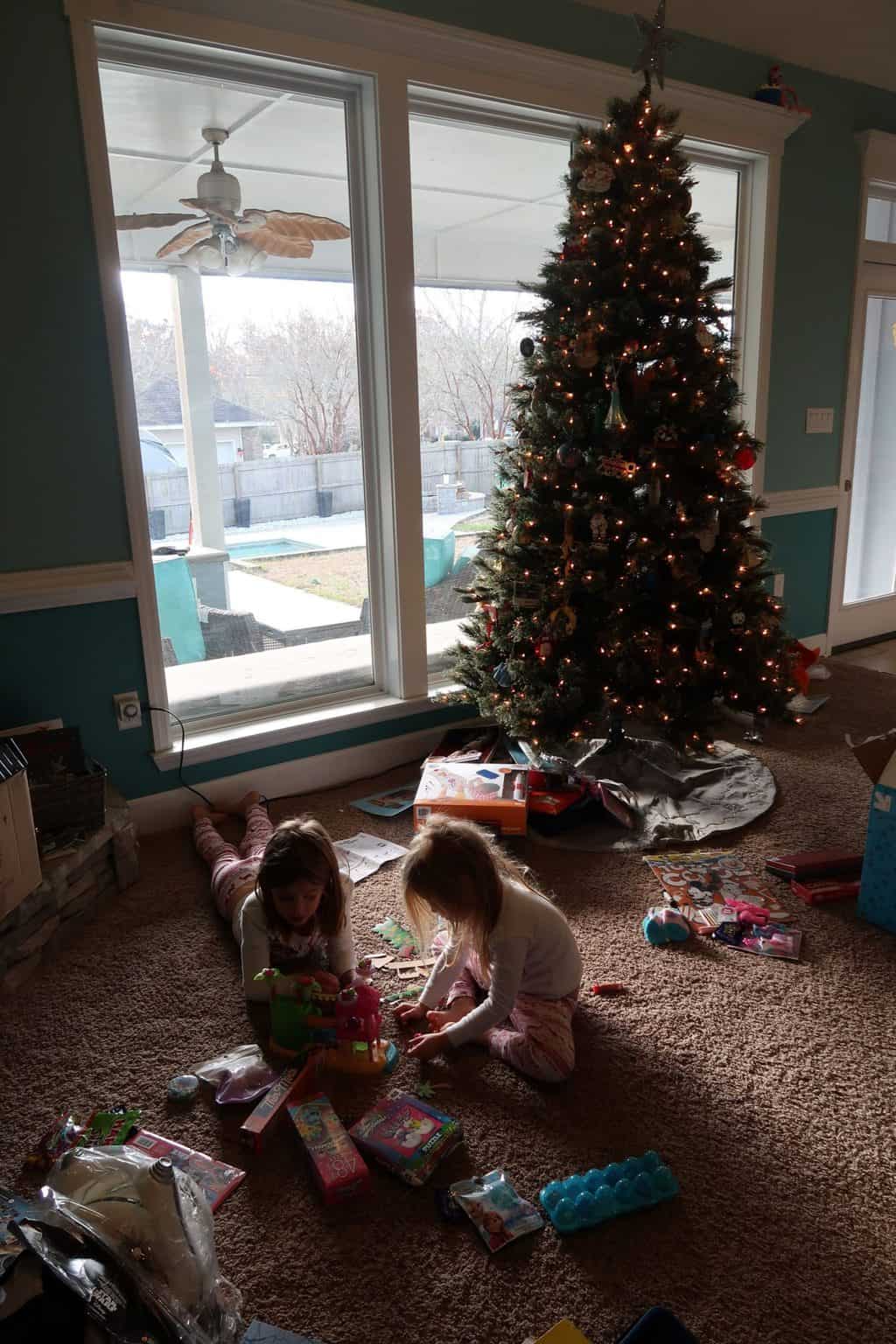 We are changing things up a bit with Christmas. I have been on a big personal growth journey and a lot of that is about healing wounds and moving forward in a way where I won't always have those wounds re-opened.
In this process it has made me think more rationally about Christmas. I've always LOVED carnival Christmas. I grew up with TWO carnival Christmases each year. BOTH my parents showed their love through gift giving and went WAY overboard.
I budget. I deal hunt. And our Christmases are EPIC.
But y'all. We don't need ALL THE STUFF. We just don't. And my kids? My kids KNOW I love them. They don't need to be showered in a ton of presents to feel that love. They feel it every single day.
I have a lot of emotion wrapped up in Christmas and how we do it and it's hard to let go of that. But quality time together trumps all the gifts. Zach and I talked a LOT and agreed to cut back. Cut down on the gifts and instead surprise the kids with a trip each year for our family.
This year I gutted the "gift closet" I have. The place where I store all the random deals I find throughout the year. I mostly buy things because they are on sale. NOT because "my kids would really love this." Which results in stuff that simply doesn't truly get played with.
So this year the kids still got the carnival Christmas situation. But in cleaning it all out, I won't be replenishing it. Our plan moving forward is to still deal hunt and bargain hunt but to really, really narrow it down to things they will TRULY love and to also get more practical gifts. Like if our trip is skiing, some boots for the trip etc. Stuff they can use in a practical way rather than junk that piles up.
We didn't want to totally switch everything up at once for the kids. So this year we talked up asking for less (which worked out to be EASY since Toys R Us closed and they don't have anywhere to roam the aisles to see things they want AND don't get a toy catalog to circle) but didn't make the switch to actually giving them less since I was gutting the gift closet!
We also didn't do a SUPER BIG trip this year. We decided to keep it smaller for a trip since we just went to California . We also decided NOT to bring Spear on the trip with us for the first few years. Until he's 4. He goes with us to Disney (which our other kids NEVER did this young) but we don't want to be limited with the trips we can take by having to care for a young child on them. Tess was a great age for California so we feel like 4 is when he'll join in on the Christmas trip gift too!
To tell the kids about the trip we decided to show them a video and we did it on our Core Crew Christmas morning!
Here's the video they watched to reveal it:
And Here's the video of their reactions:
We are SO excited! We've never been to a Great Wolf Lodge before and the location is only a few hours from our house and near other fun things to do (we're hoping to white water raft, visit attractions in Atlanta and do one of those wild animal safari things). We can't wait for Spring Break!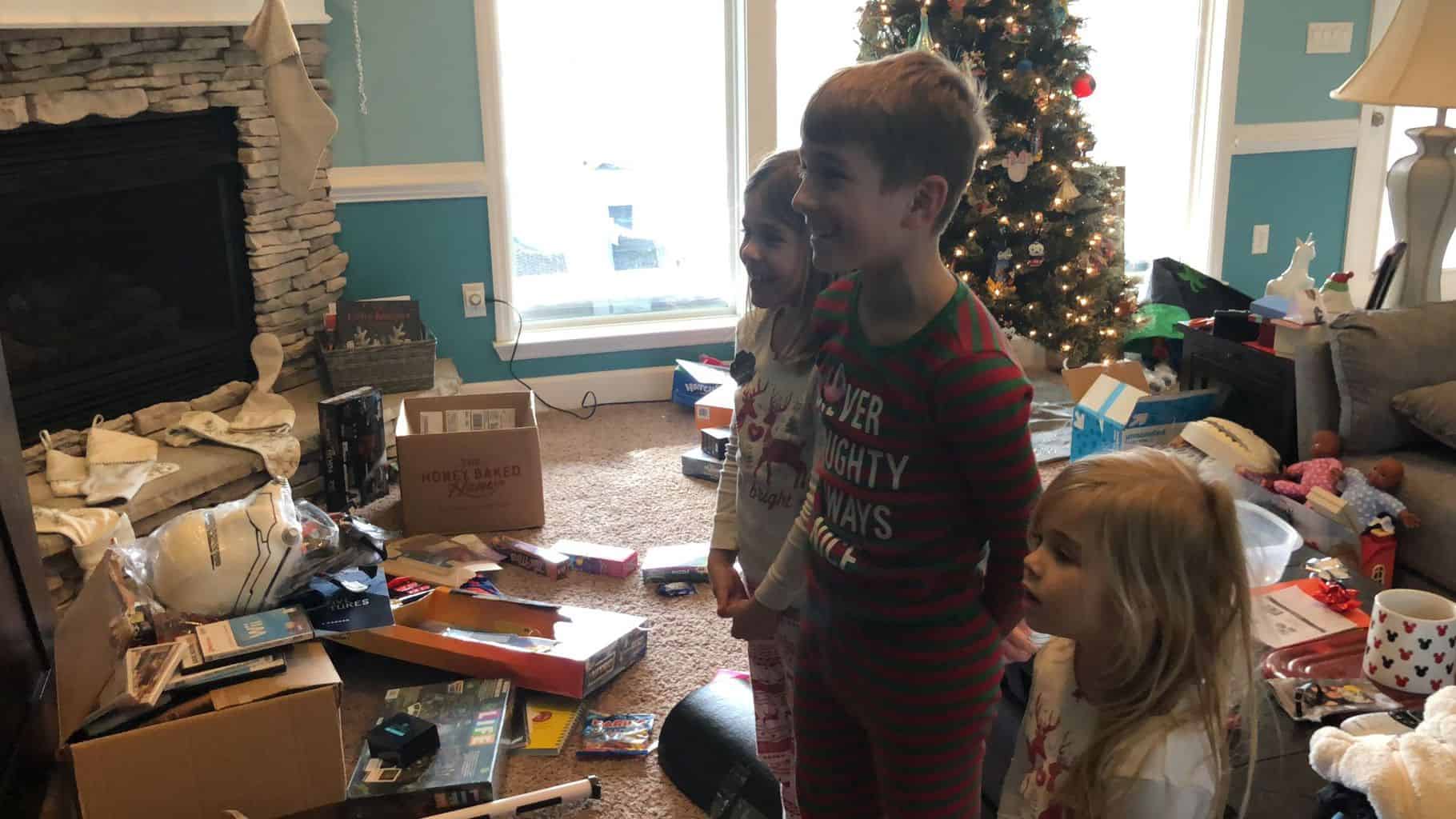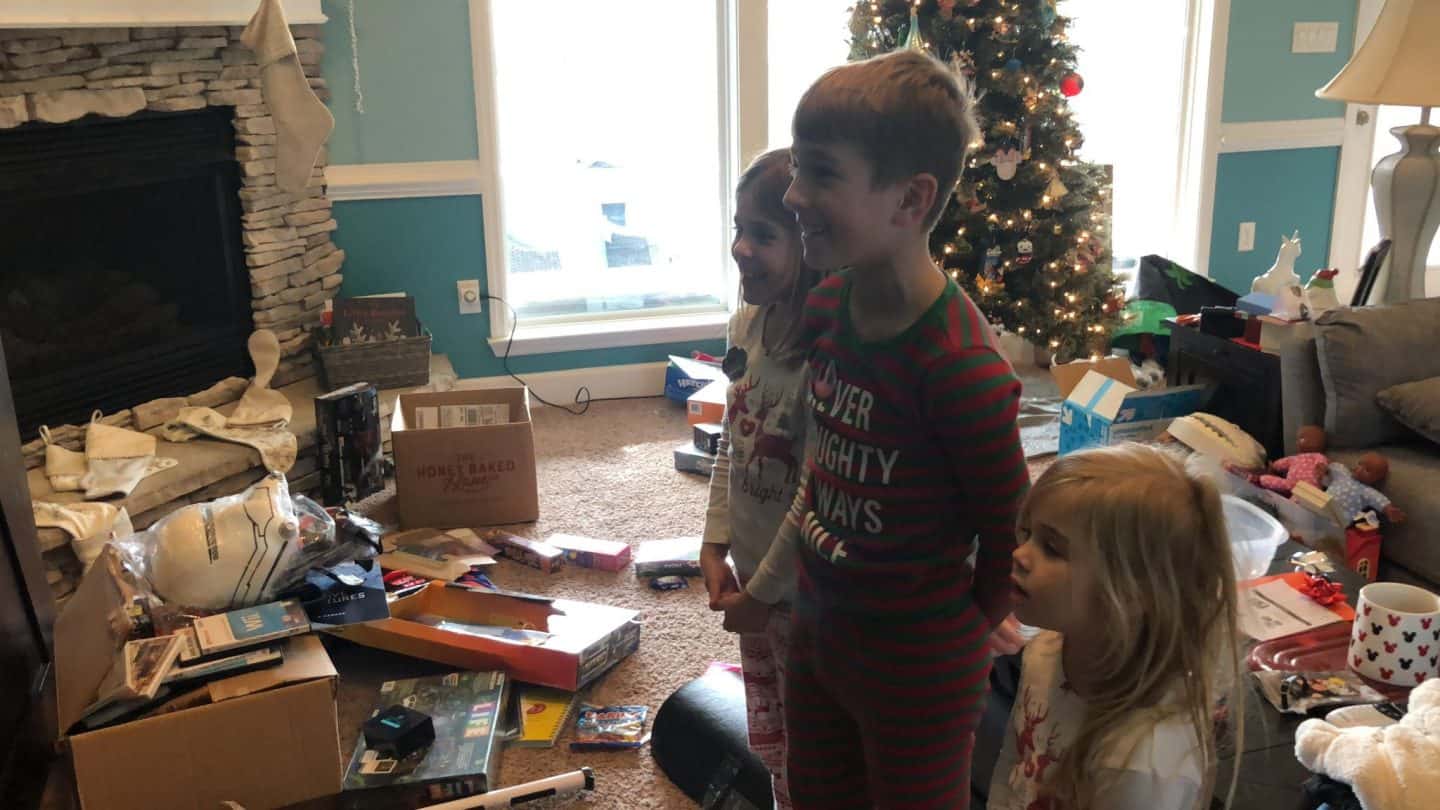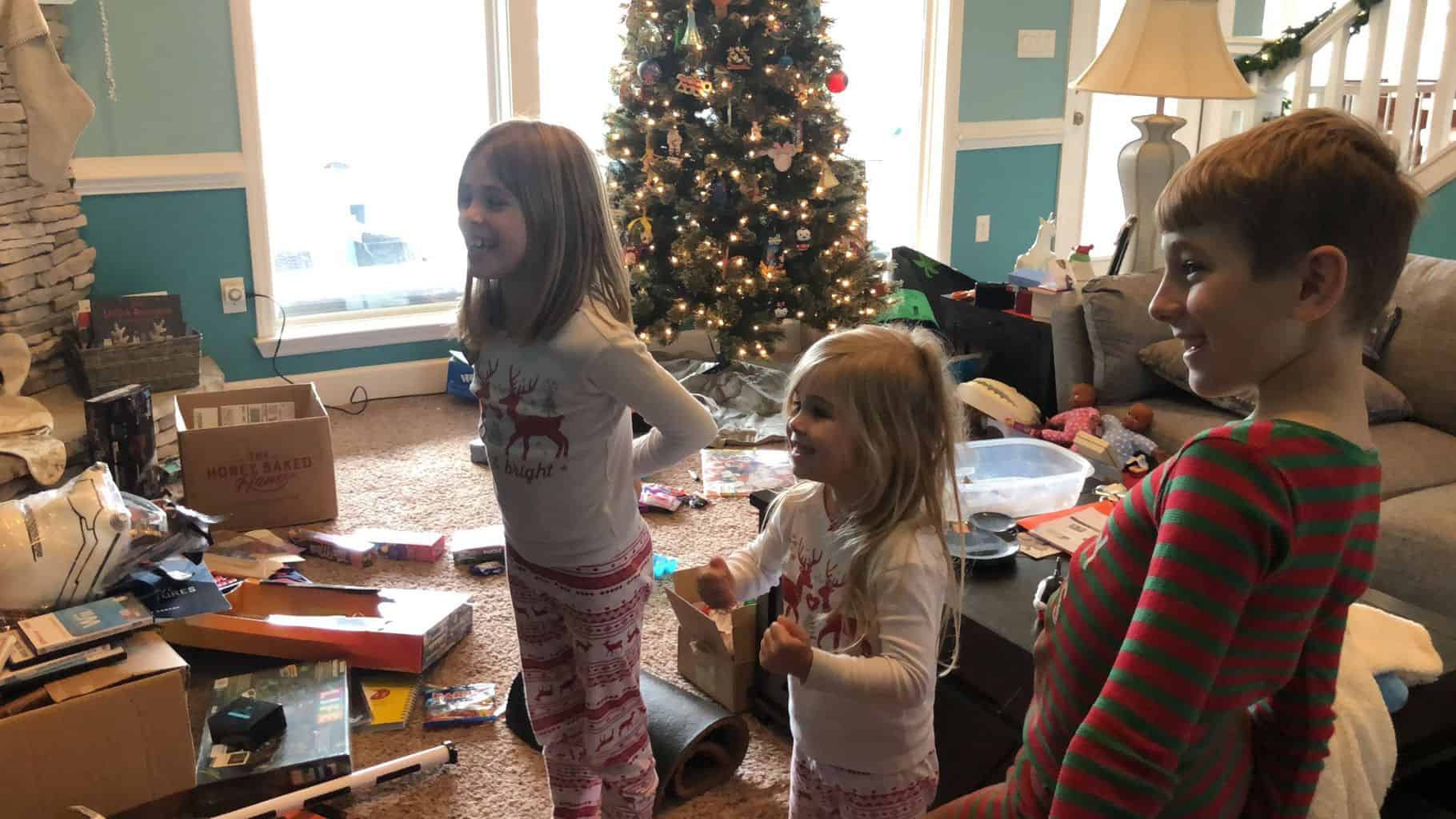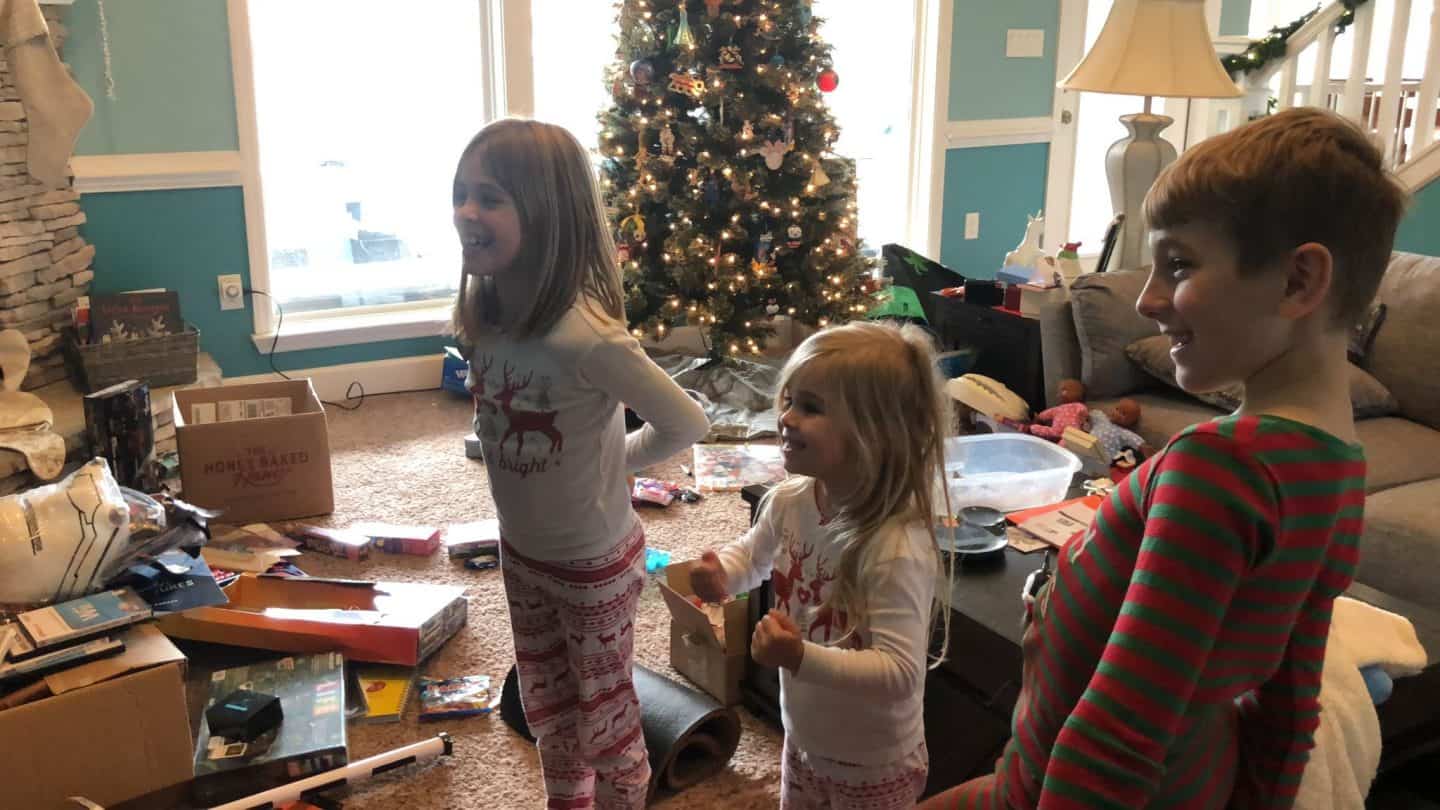 We spent a little over three HOURS opening gifts! Once we finished up Daddy cooked a big breakfast, Spear napped and the rest of us opened and played with toys! Kye went RIGHT to reading 🙂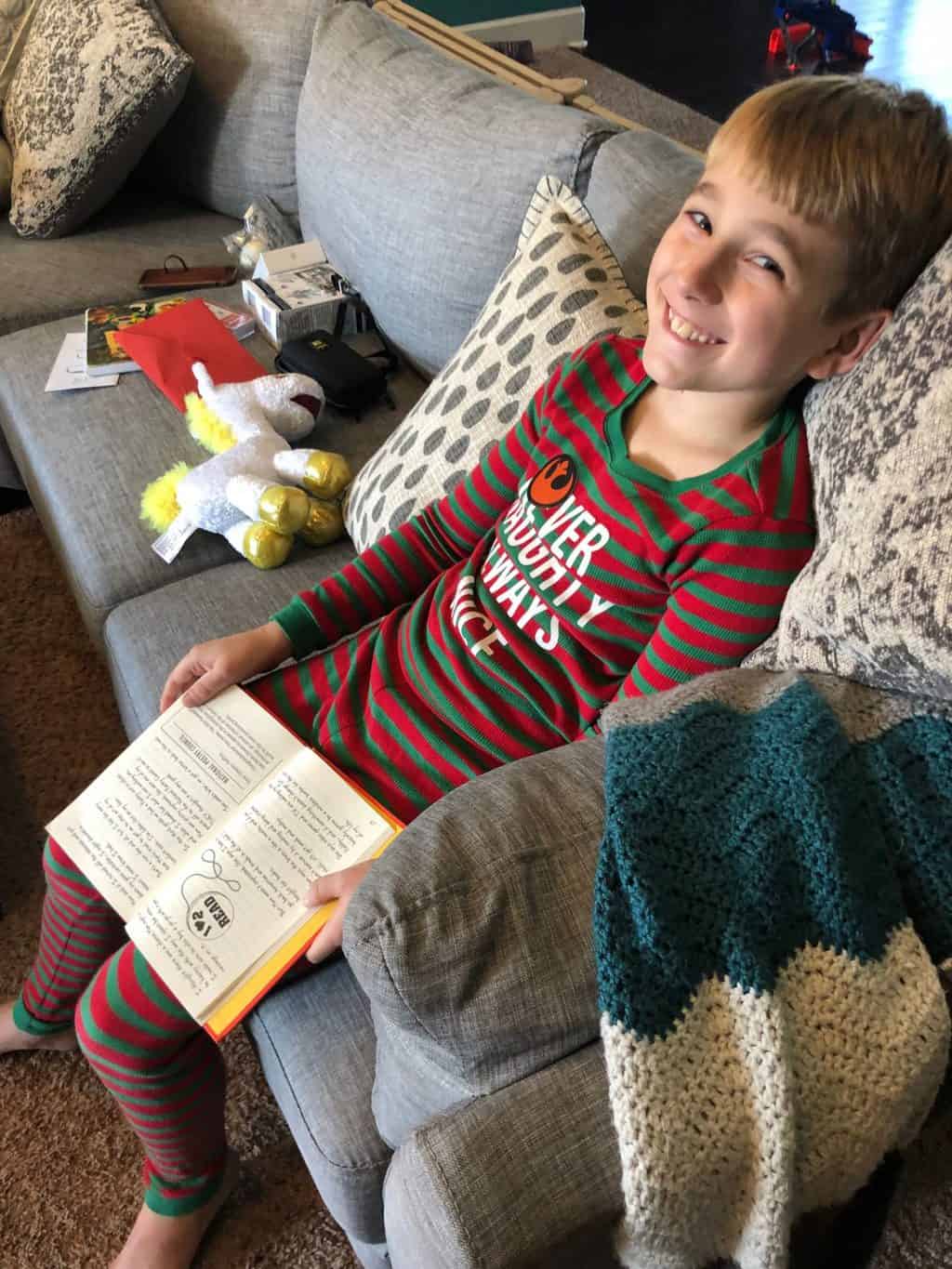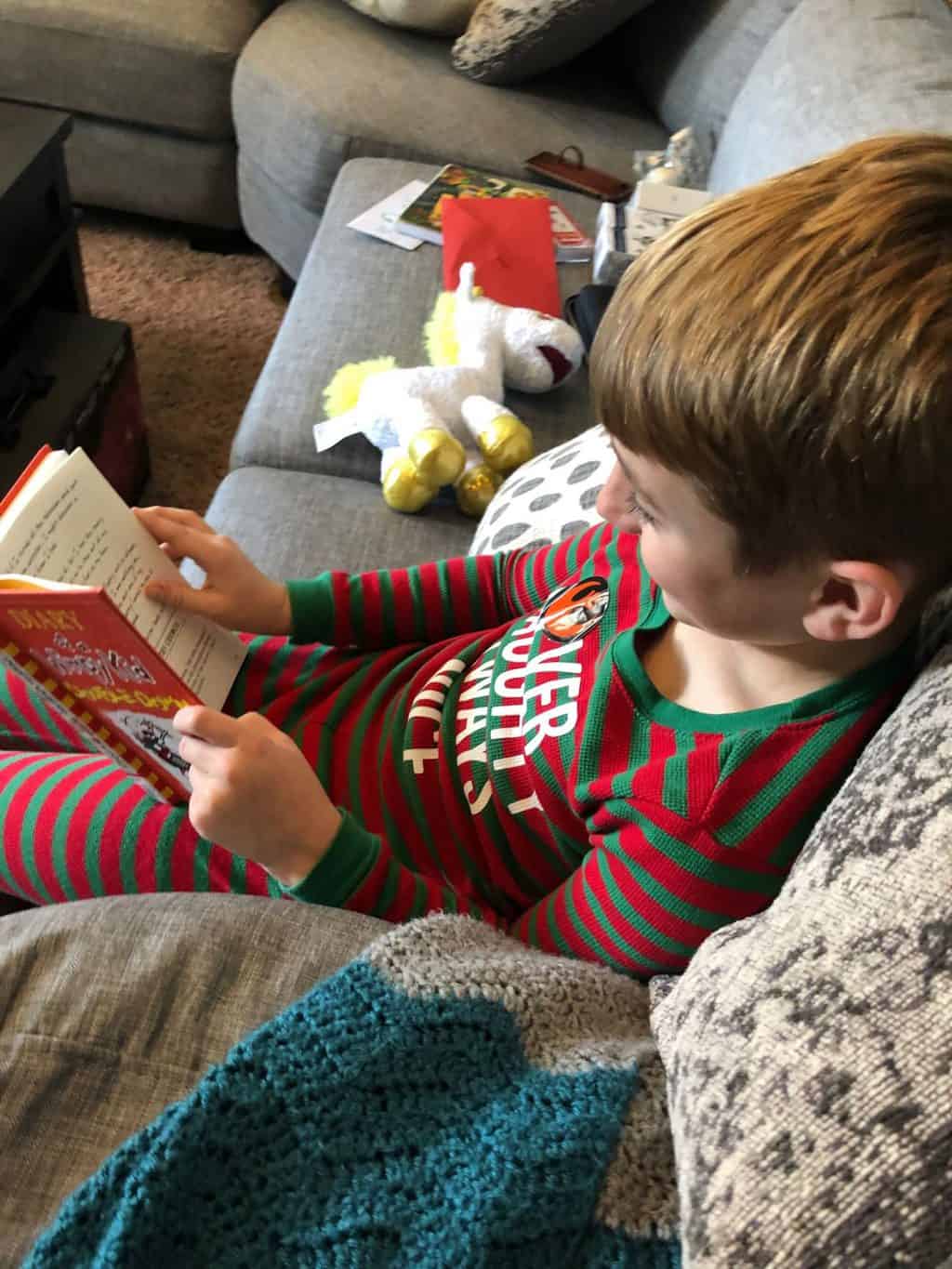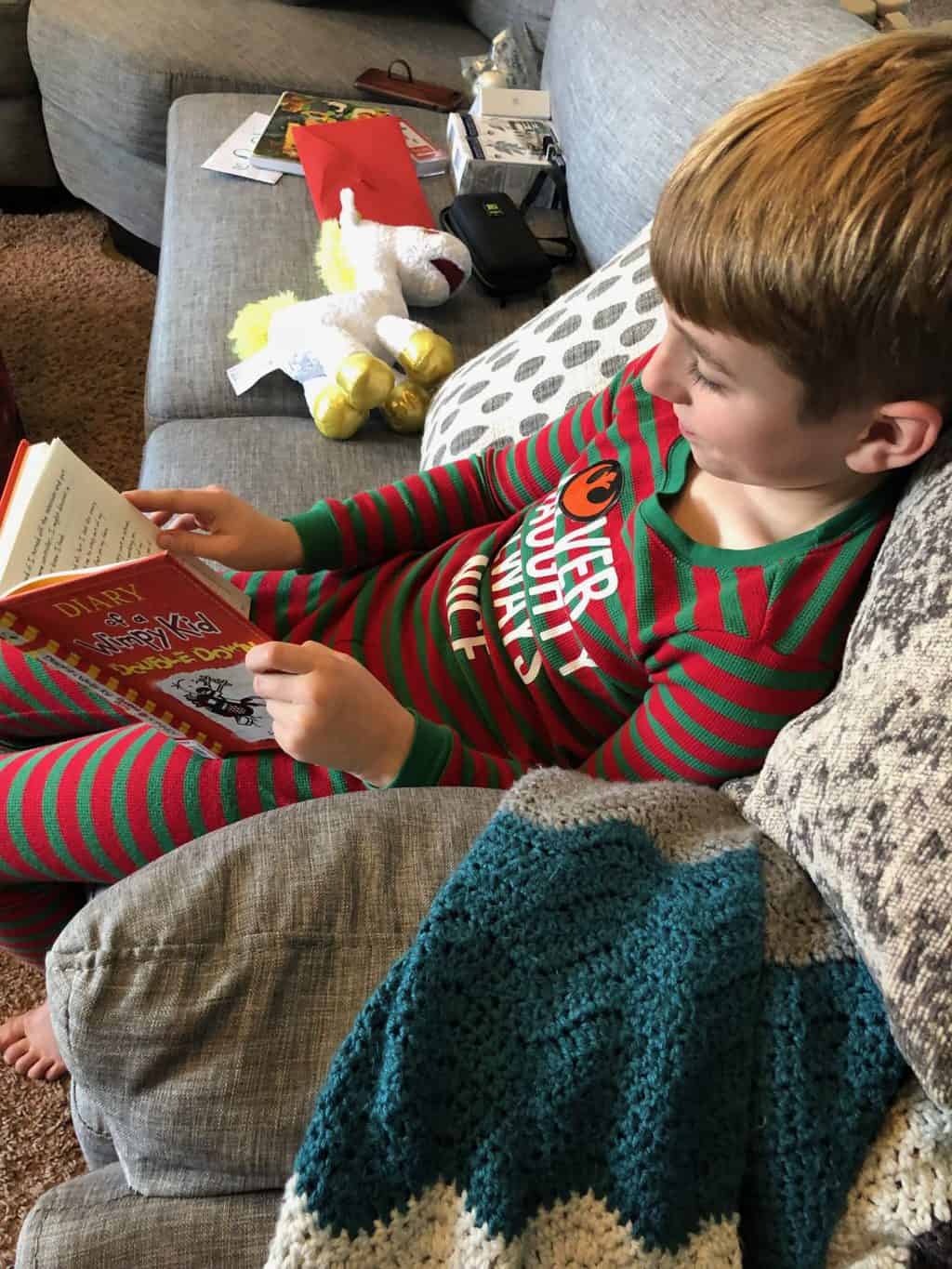 BIG breakfast that we kinda made more into a Brunch 😉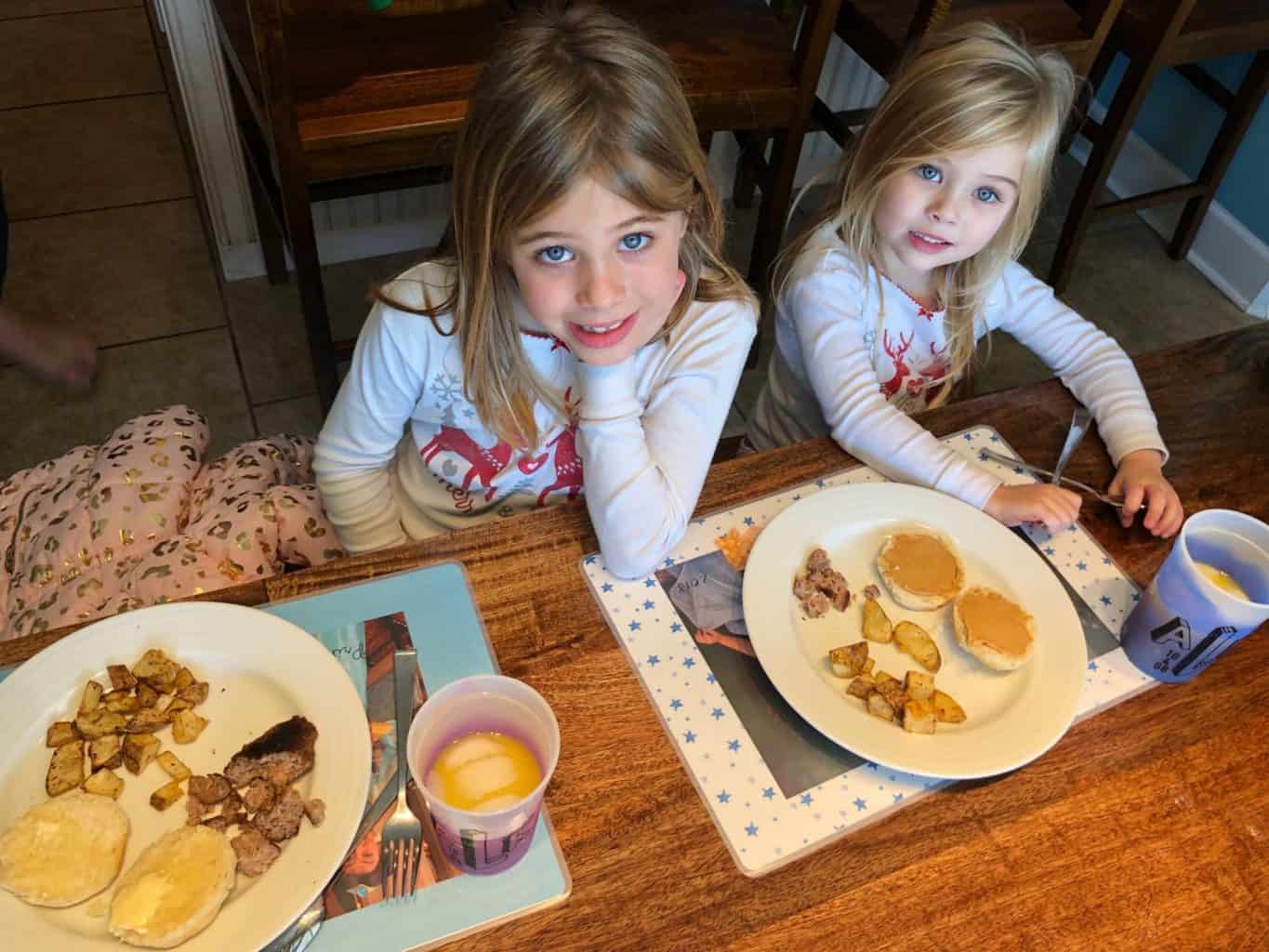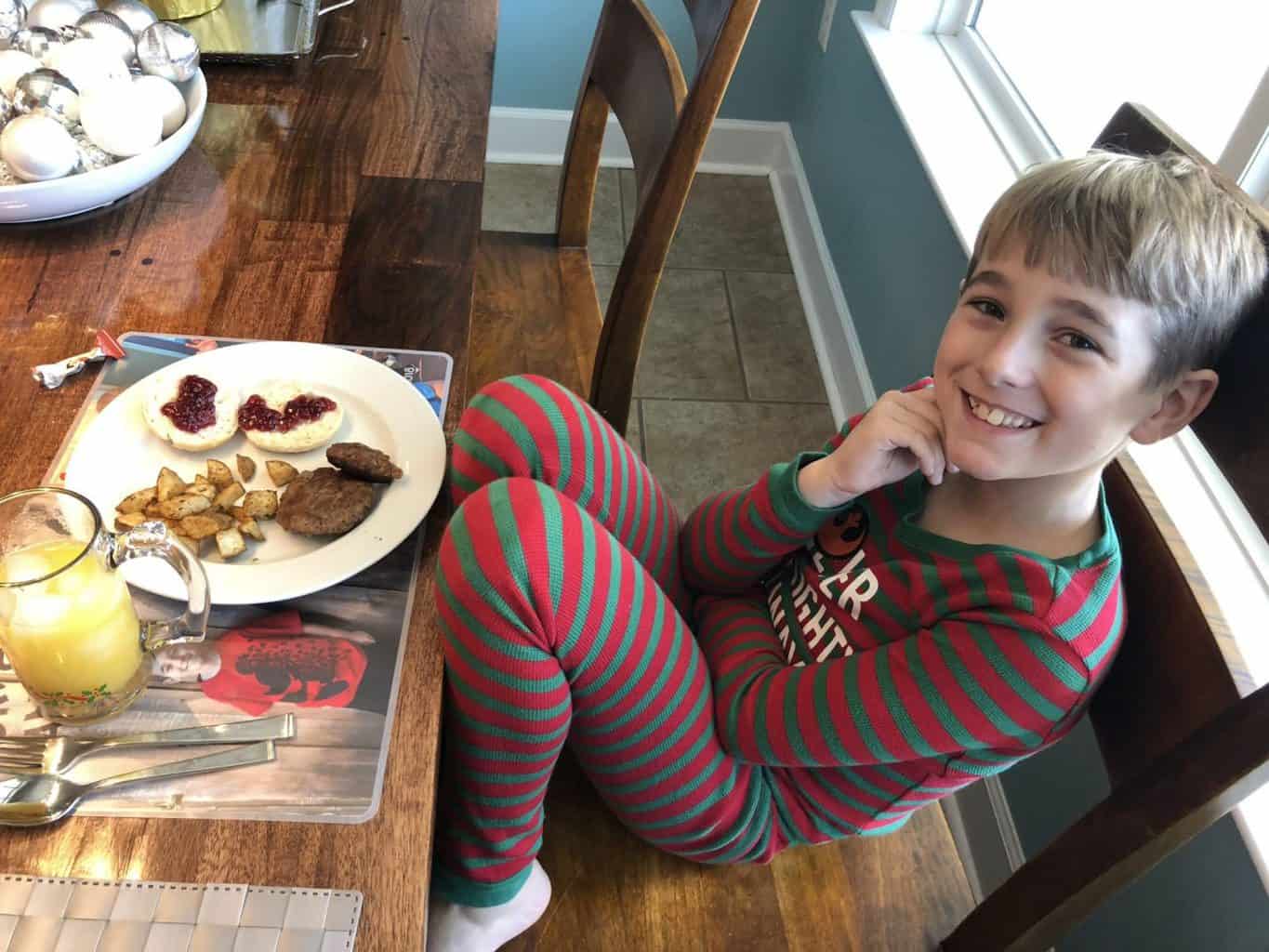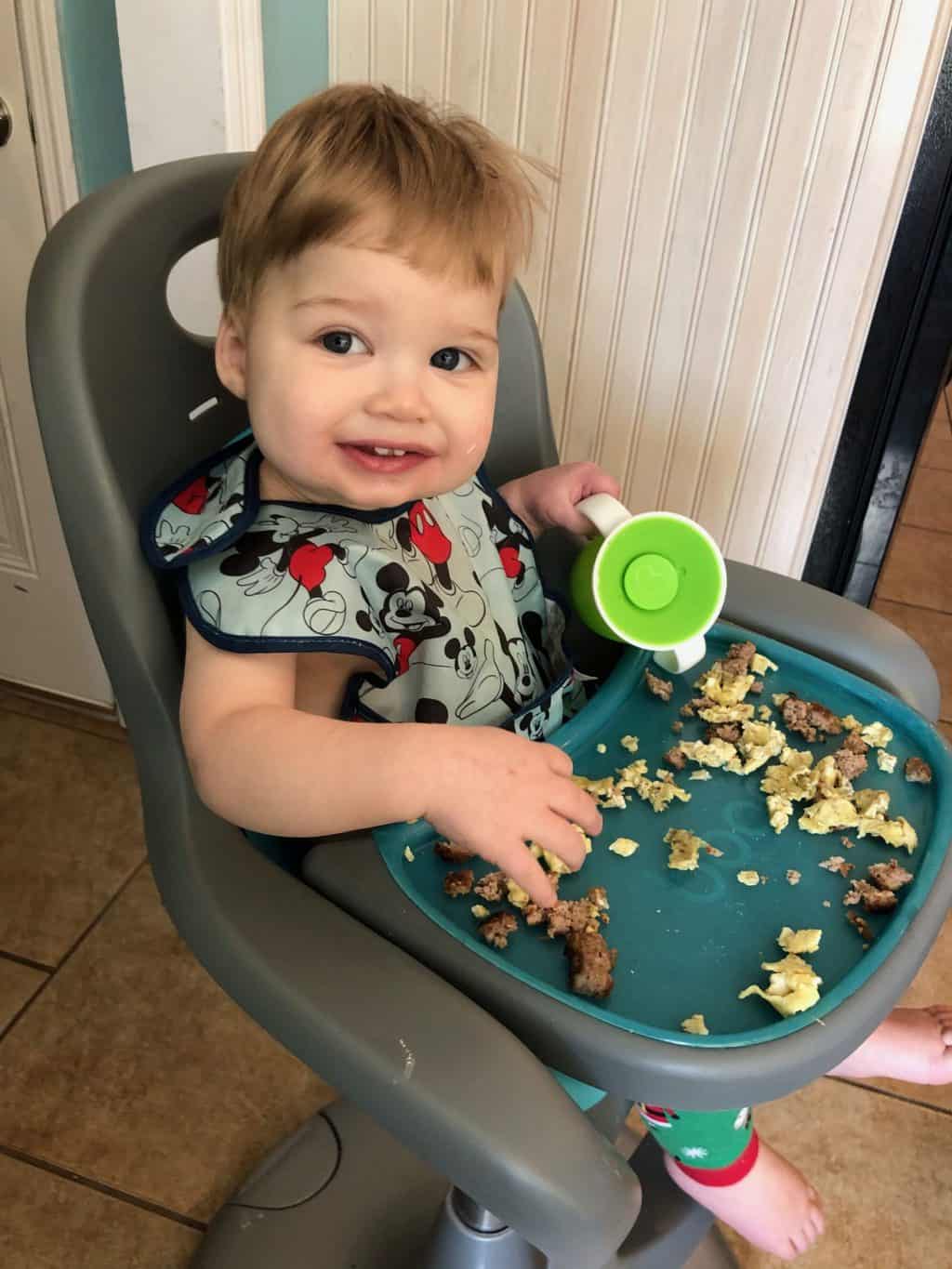 Our outdoor lover got some Frozen Skates that go onto her shoes and she had to test 'em out!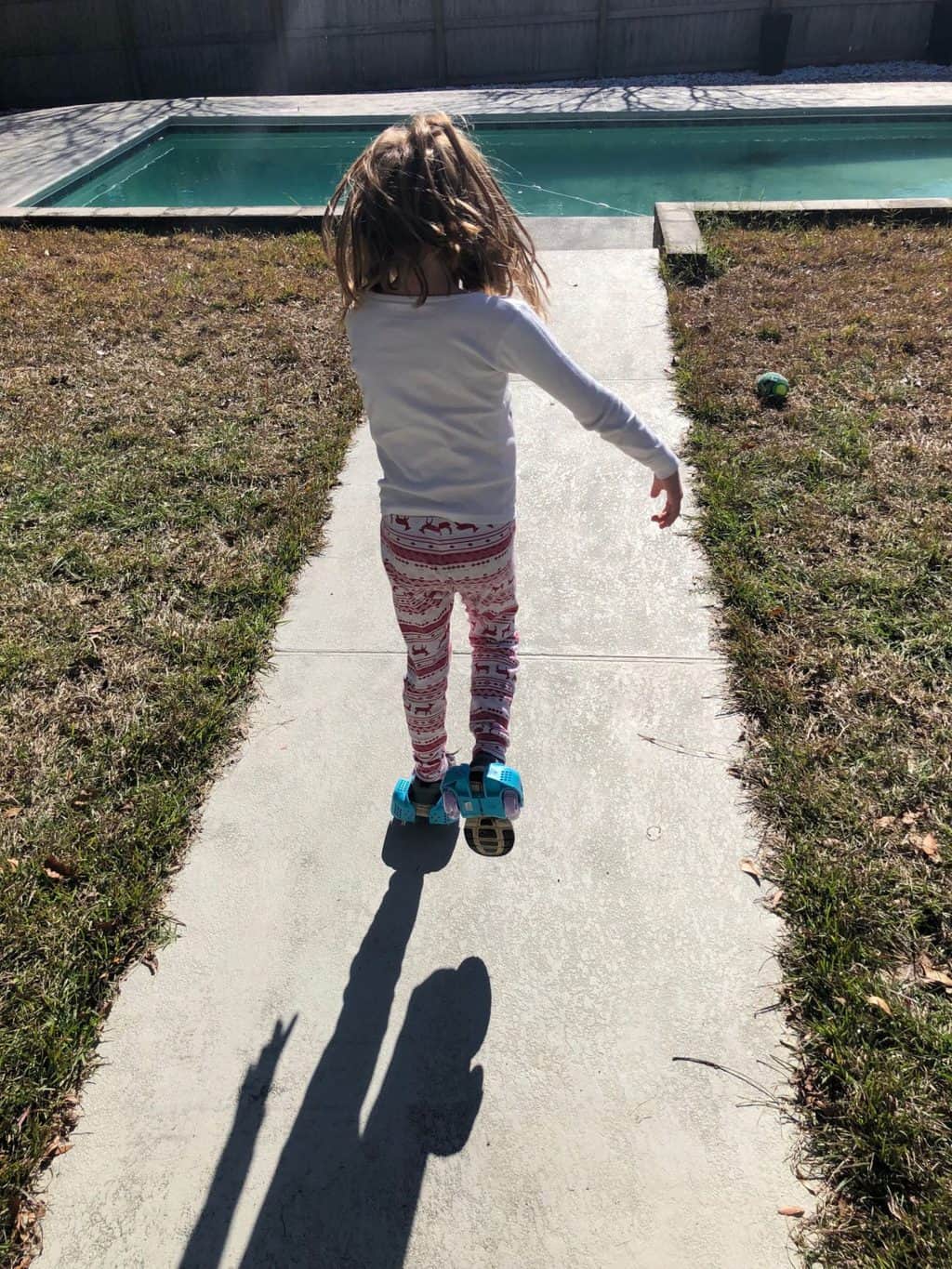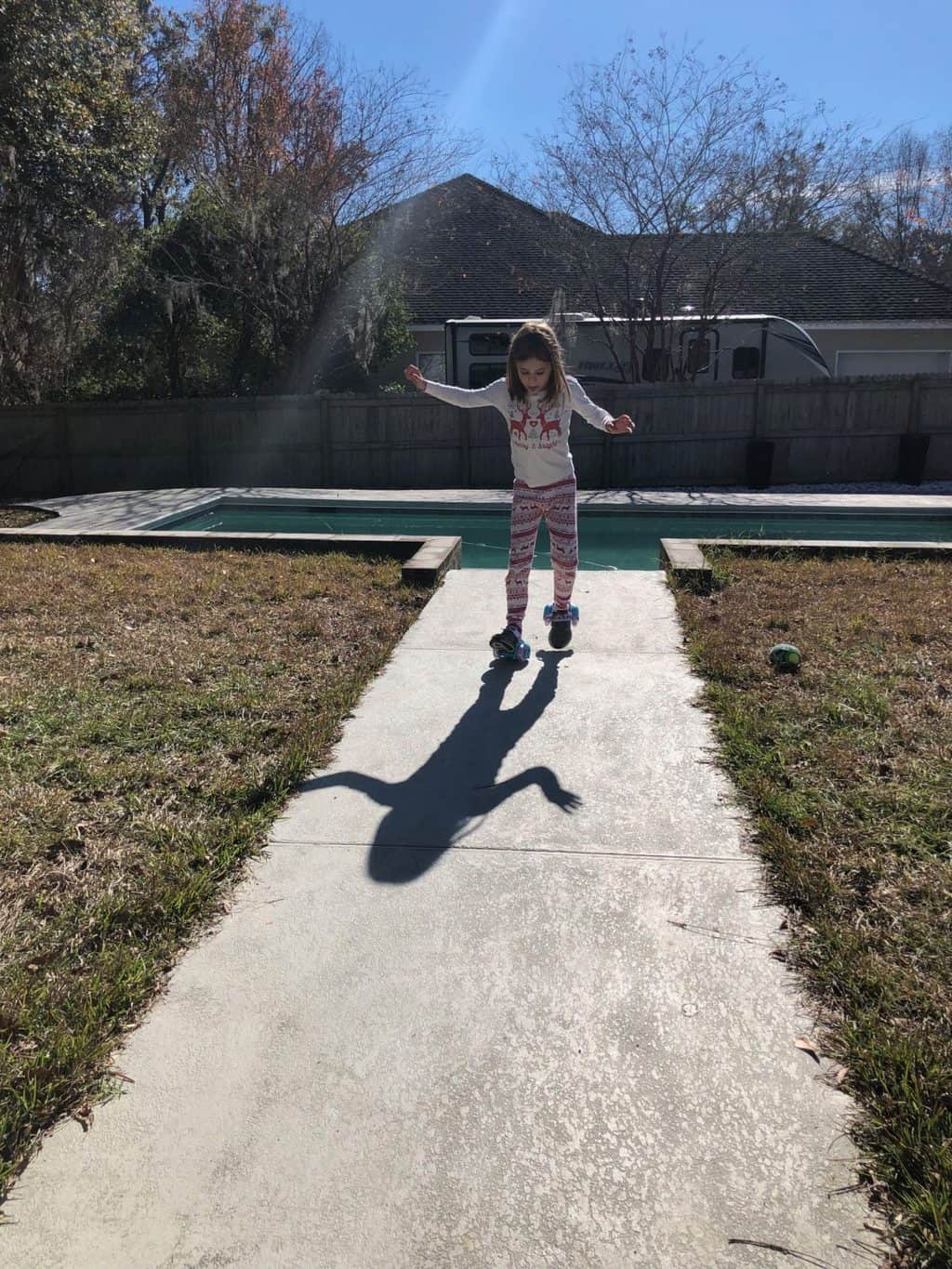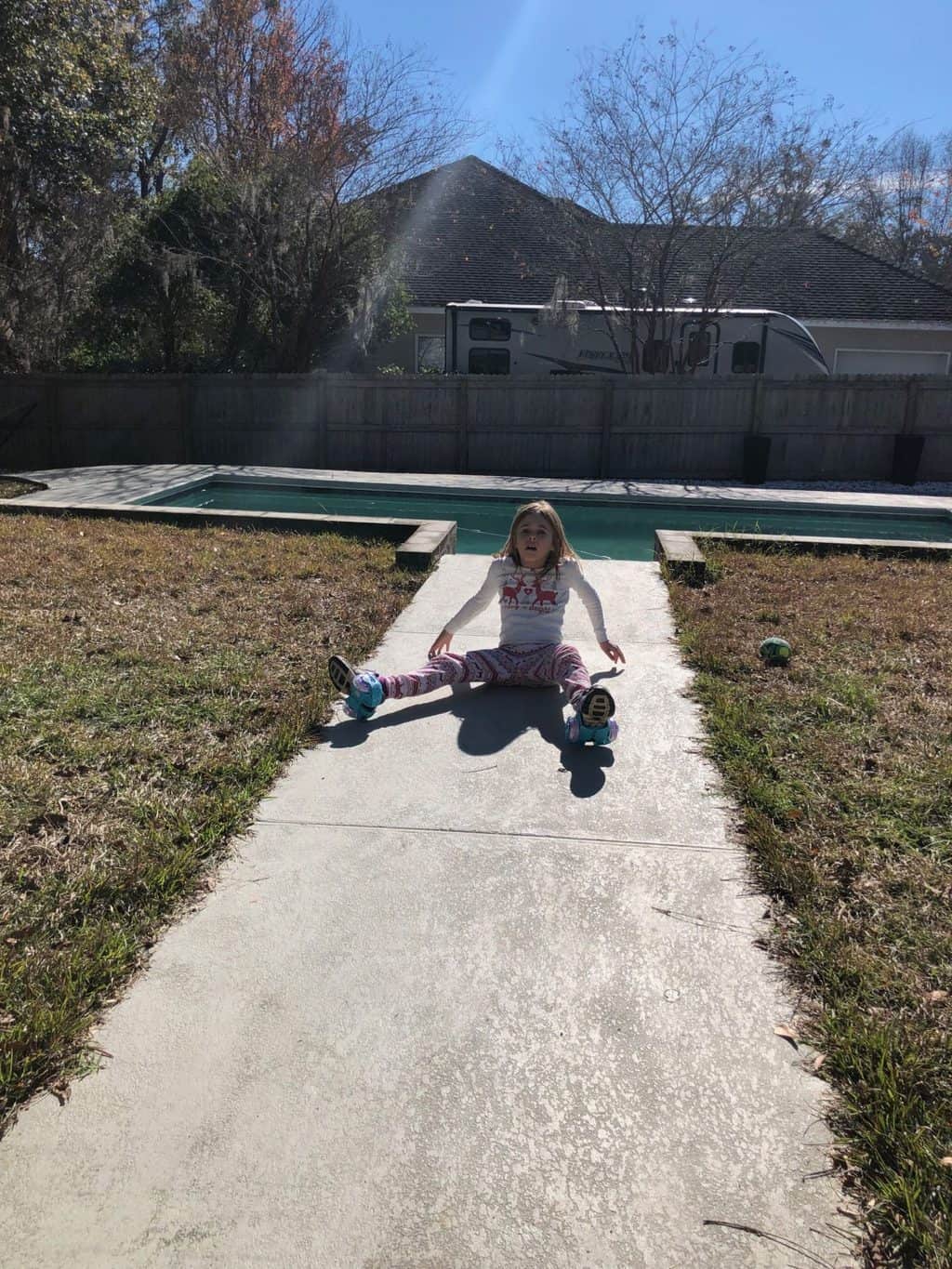 She also LOVED her Rey costume (we got it after Halloween on super clearance and I was SO EXCITED to give it to her!)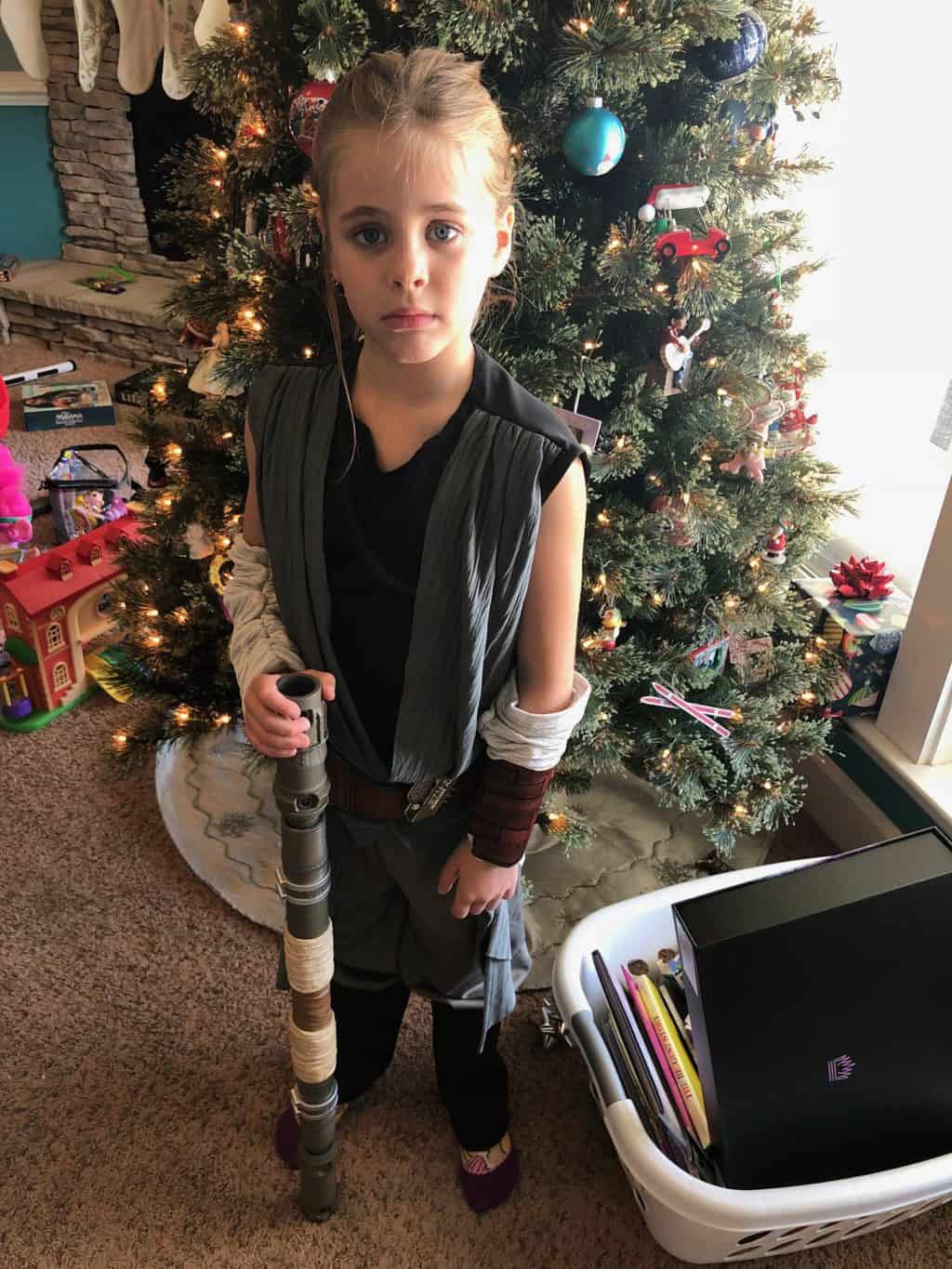 Zach and I got these name tags made for the kids at Disney on our anniversary trip in May!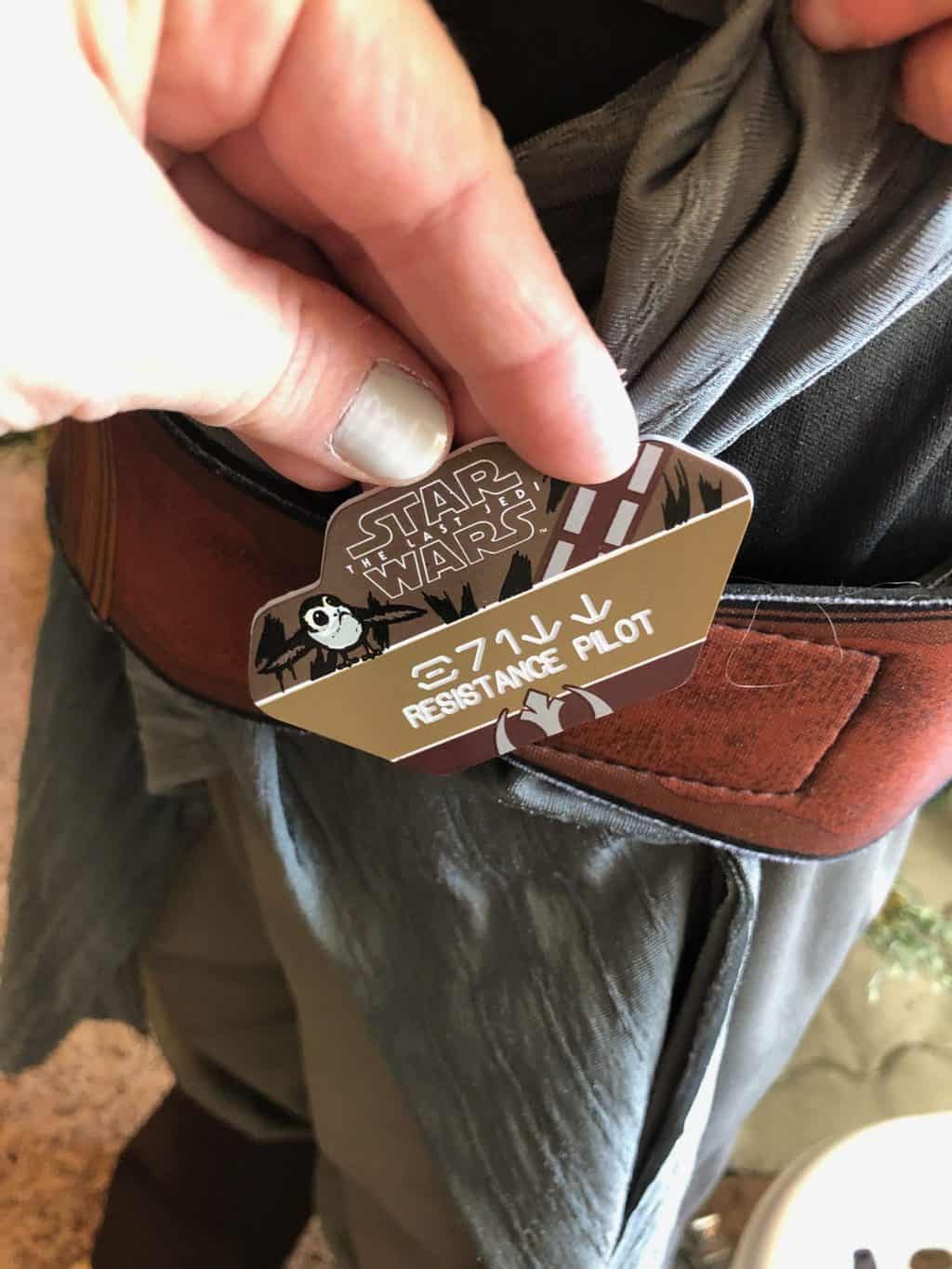 Did a little shirt altering 😉 Much better!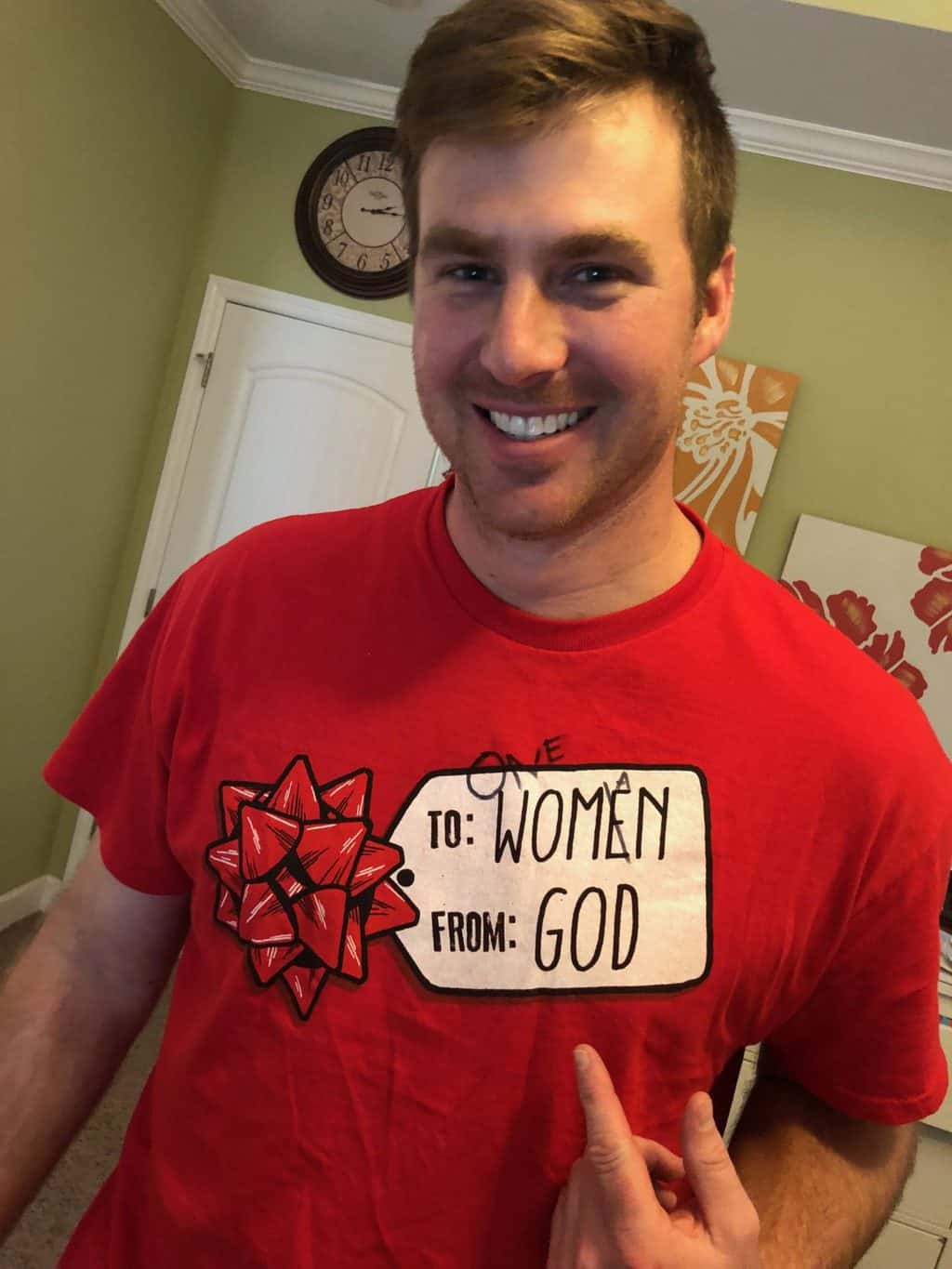 One of my favorite parts of my favorite day is decorating Christmas Cookies! The kids and I make the dough together days in advance and I roll it out and cut and bake all the cookies solo because it's hard enough alone, I don't need the "extra helpers" in there too haha. I was REALLY proud with how they turned out this year! Zach likes them really thin and I'm slowly learning which cookie cutter shapes break the least often so we really had a great batch 🙂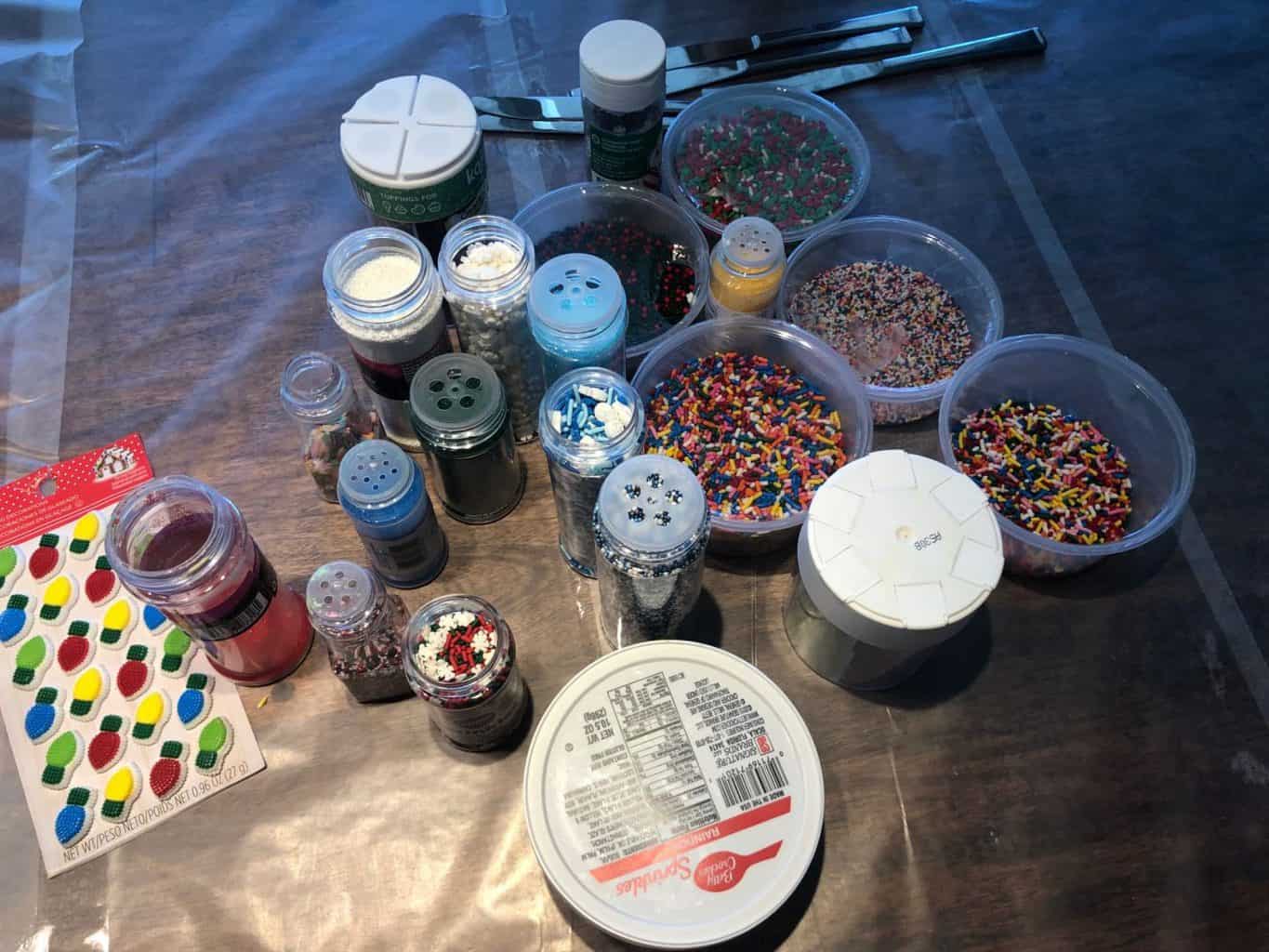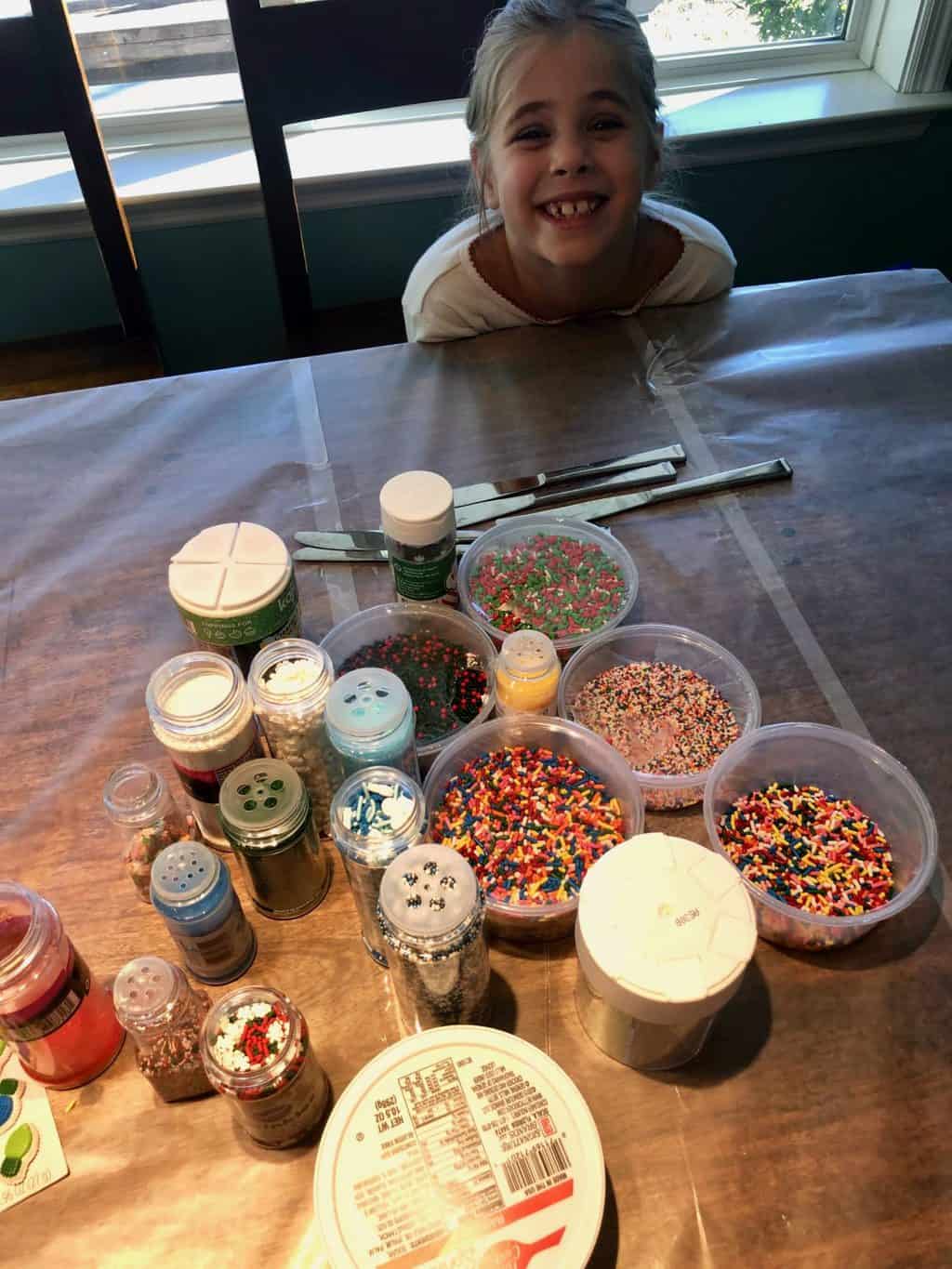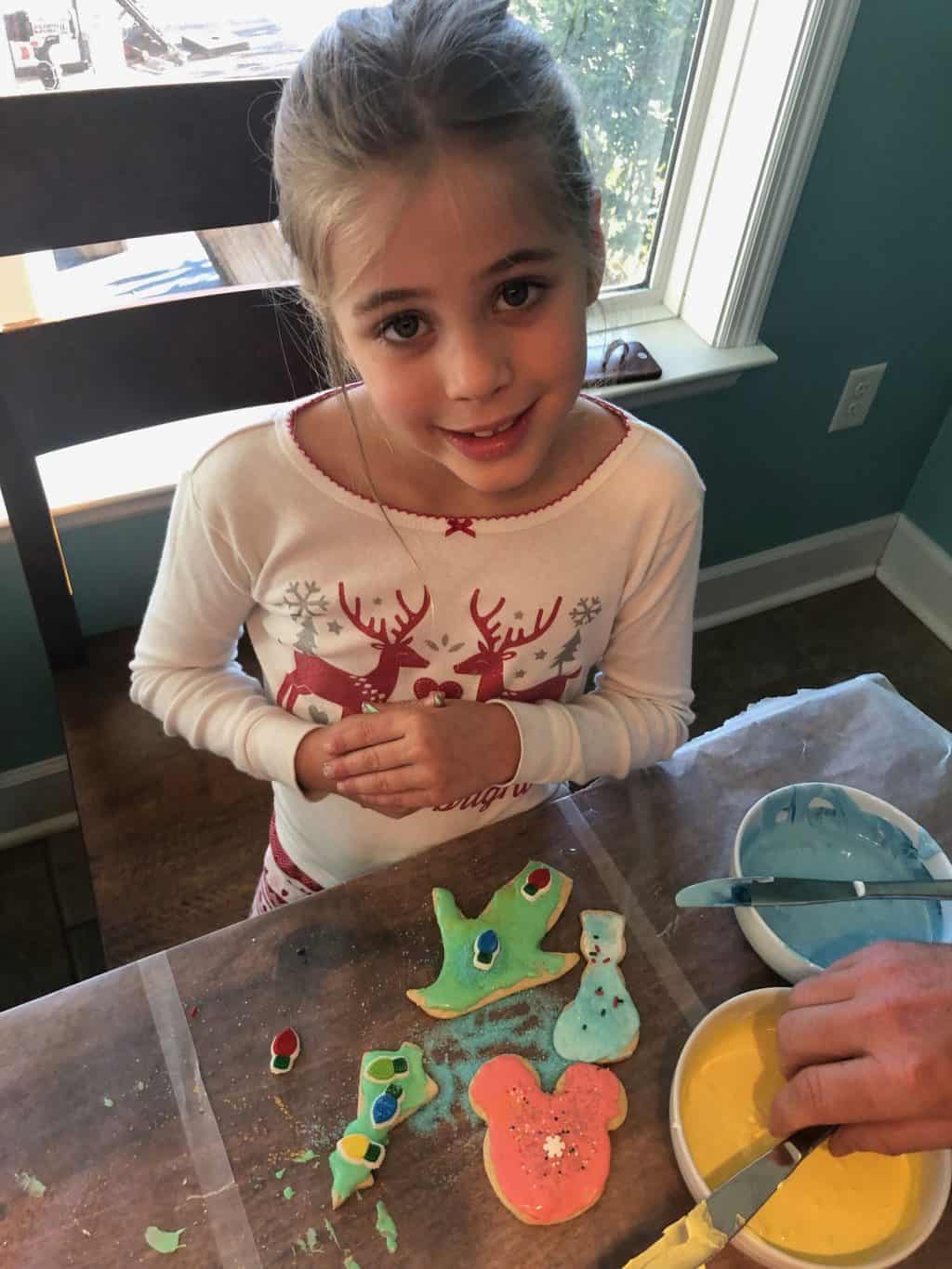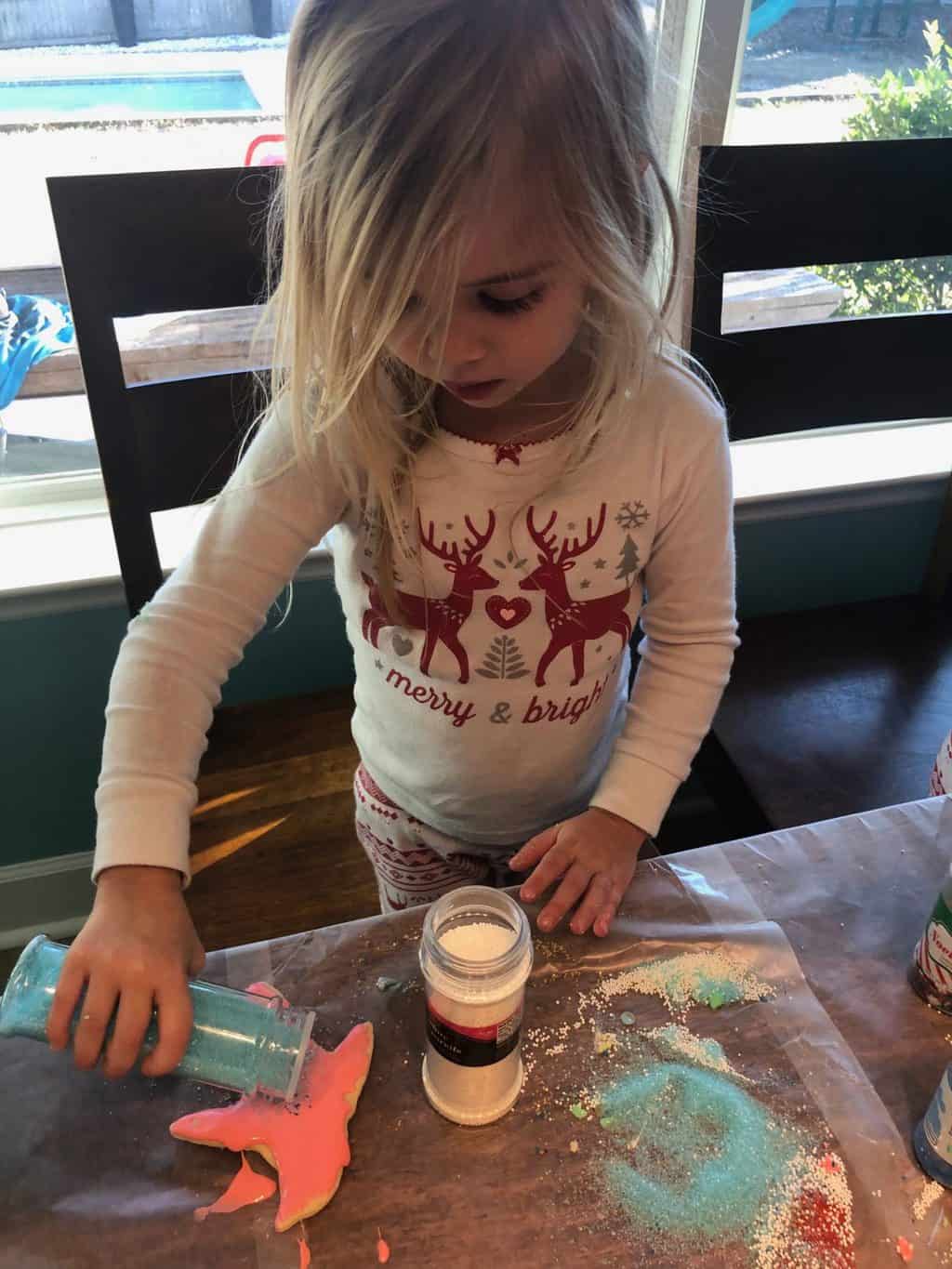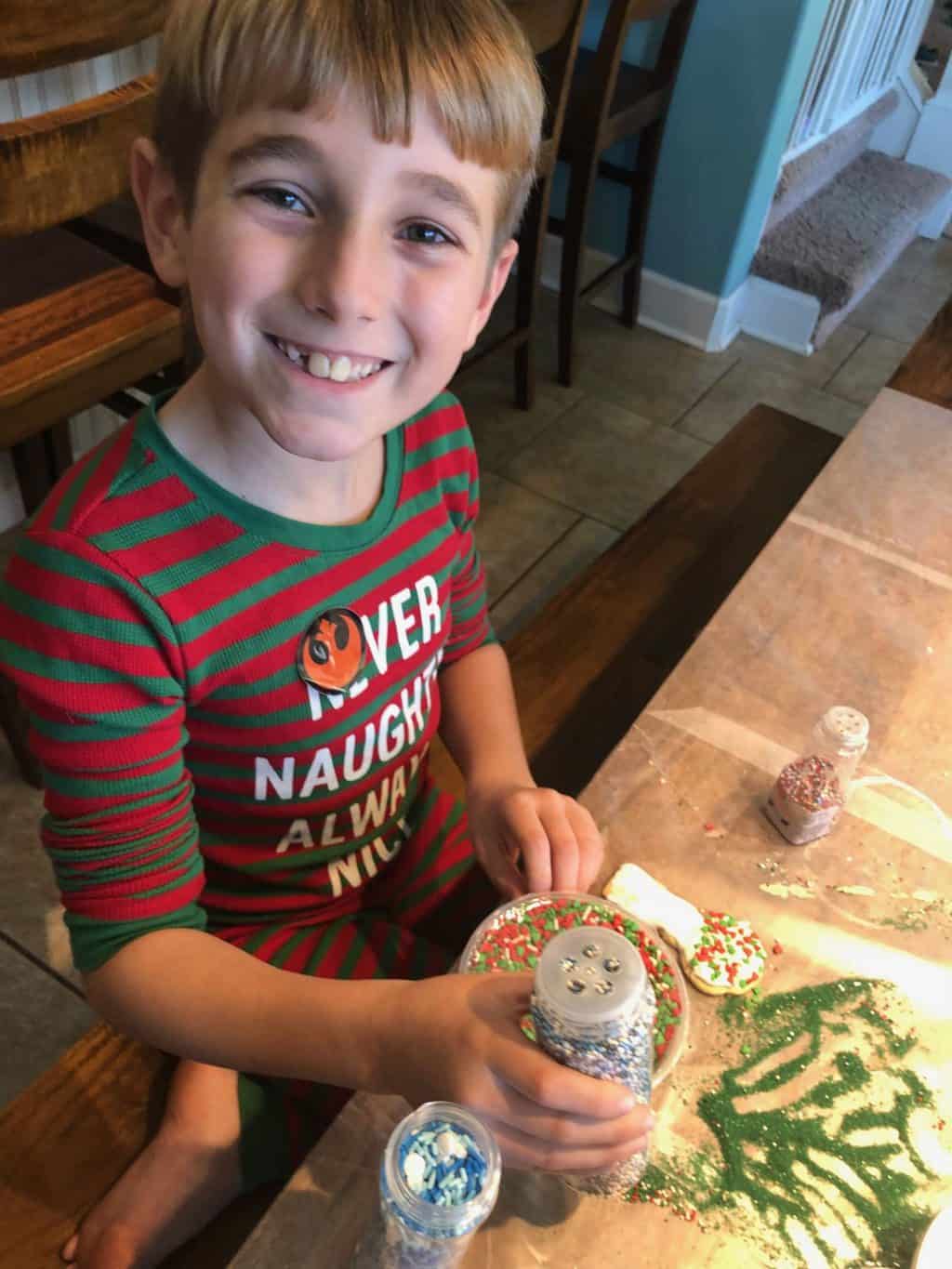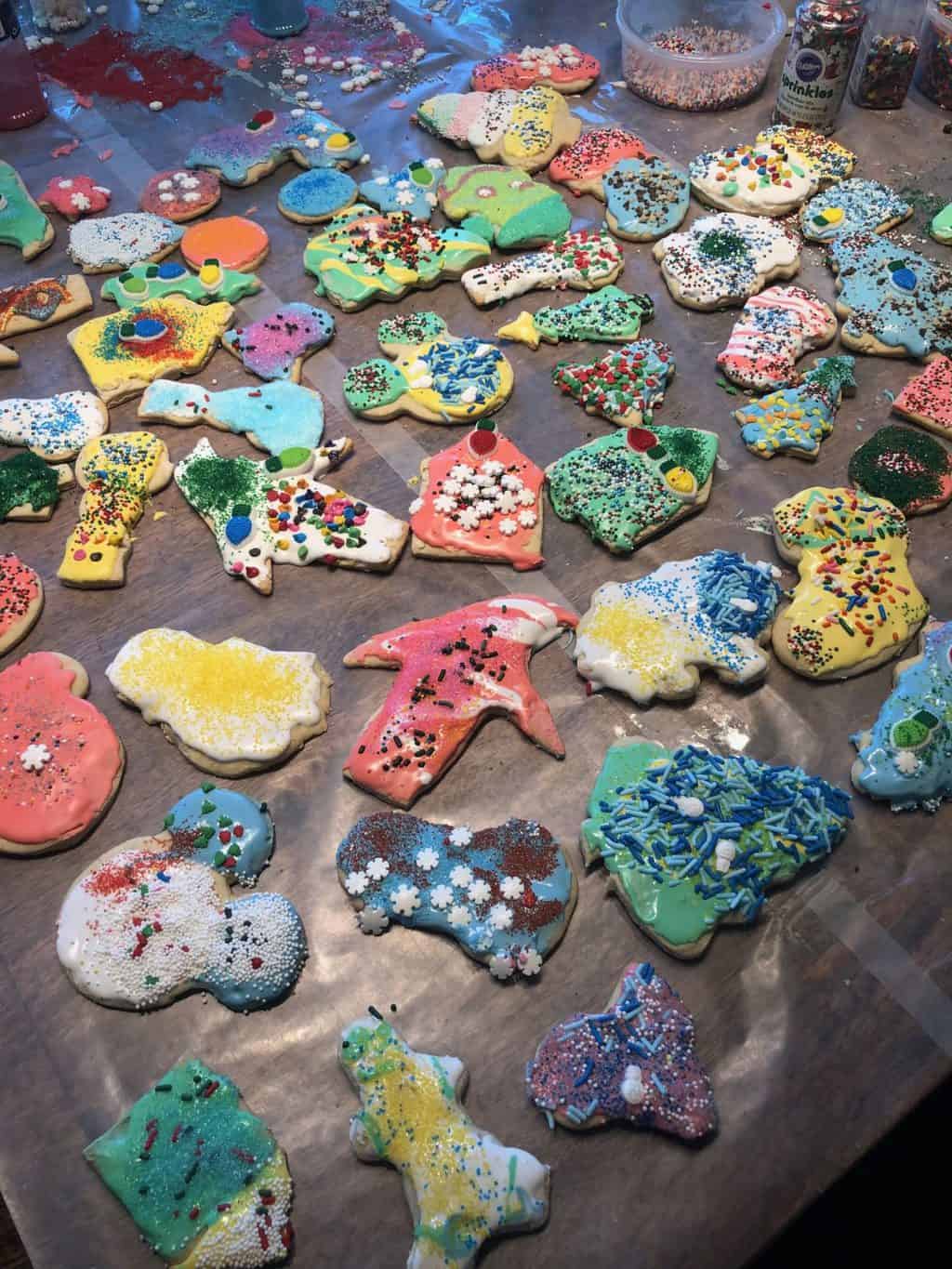 We kicked off the decorating towards the end of nap time so Spear was able to be part of a bit of the fun with us and got to snack on his first Christmas cookie too!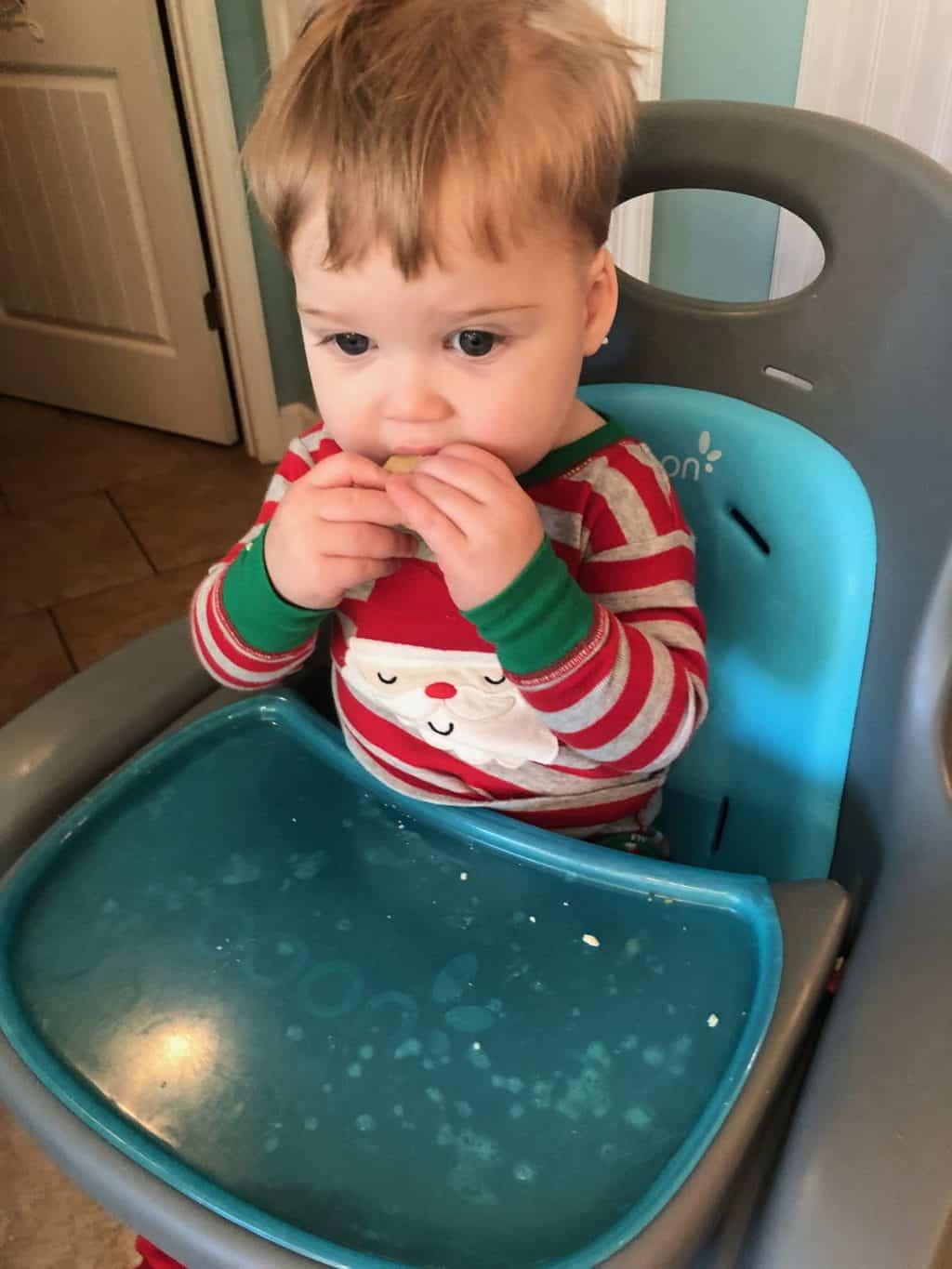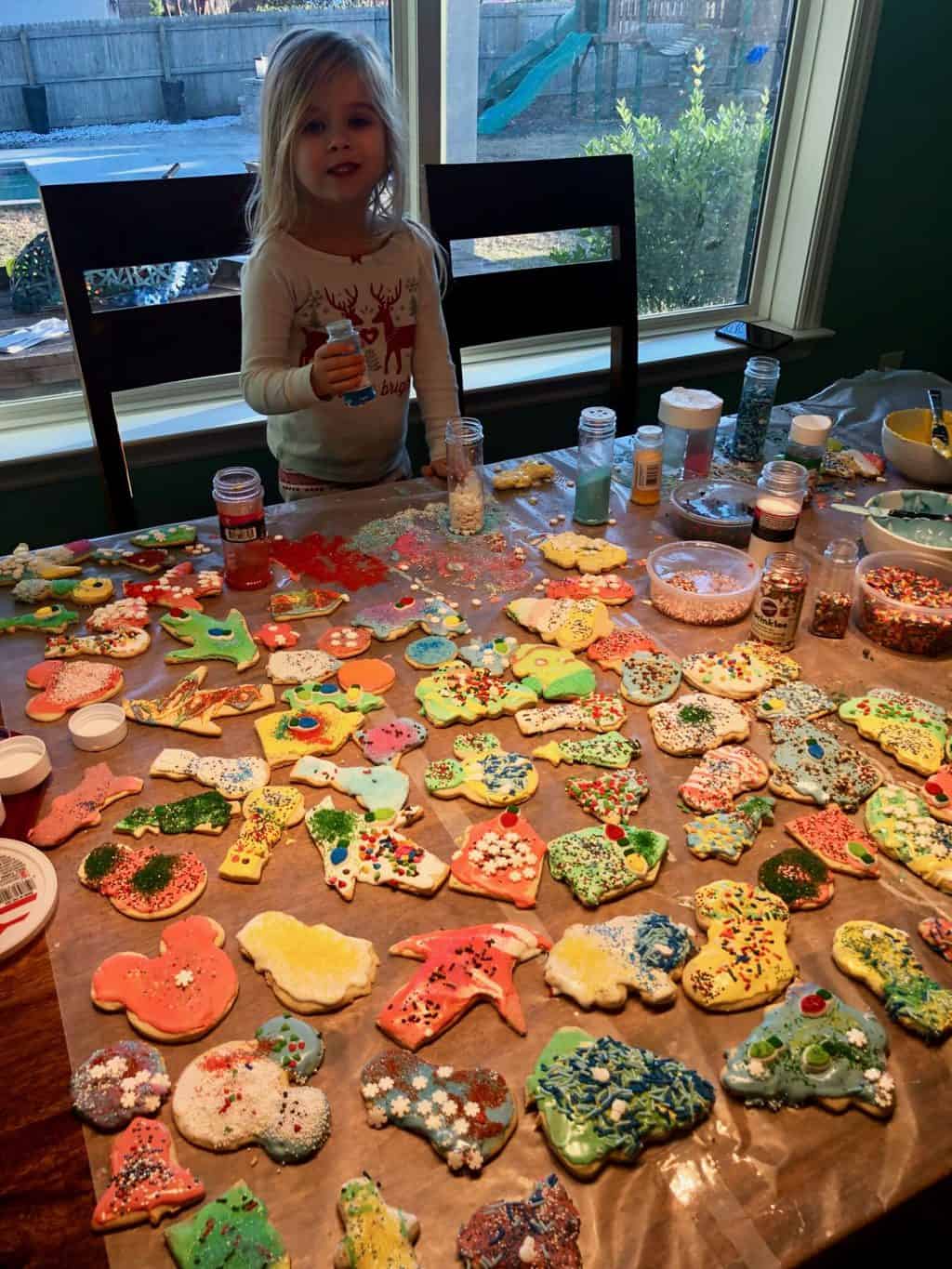 I love this picture of my happy boys!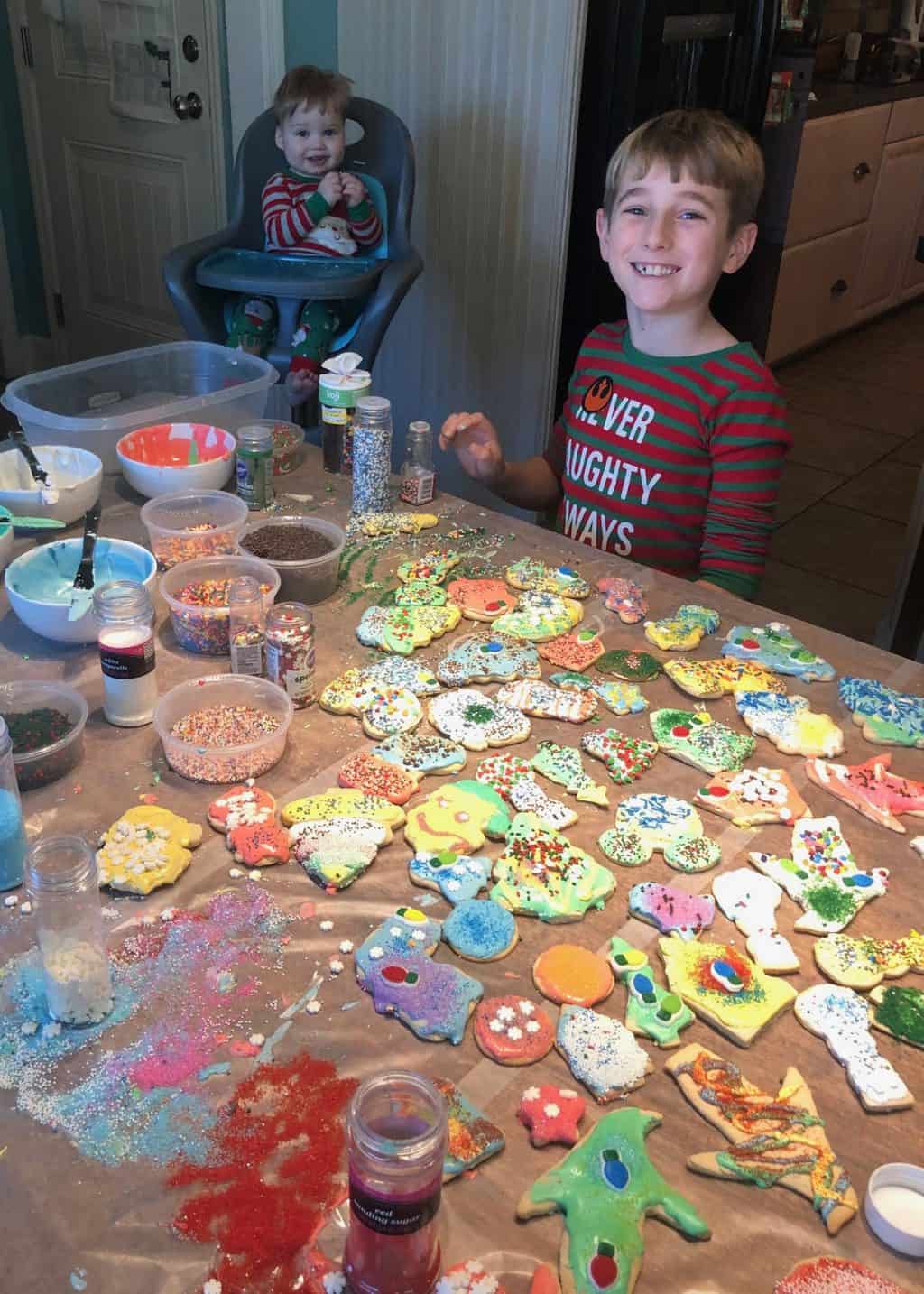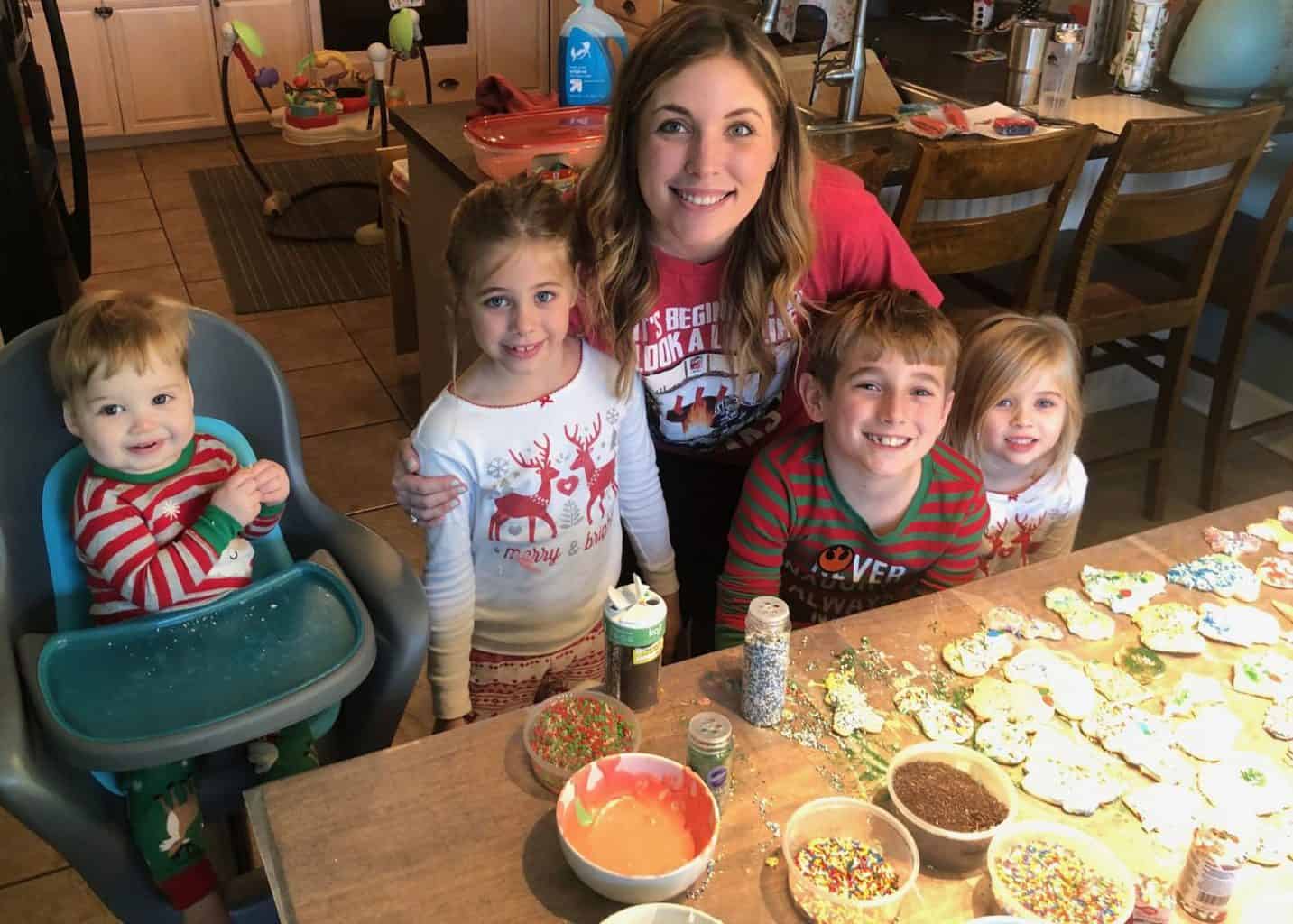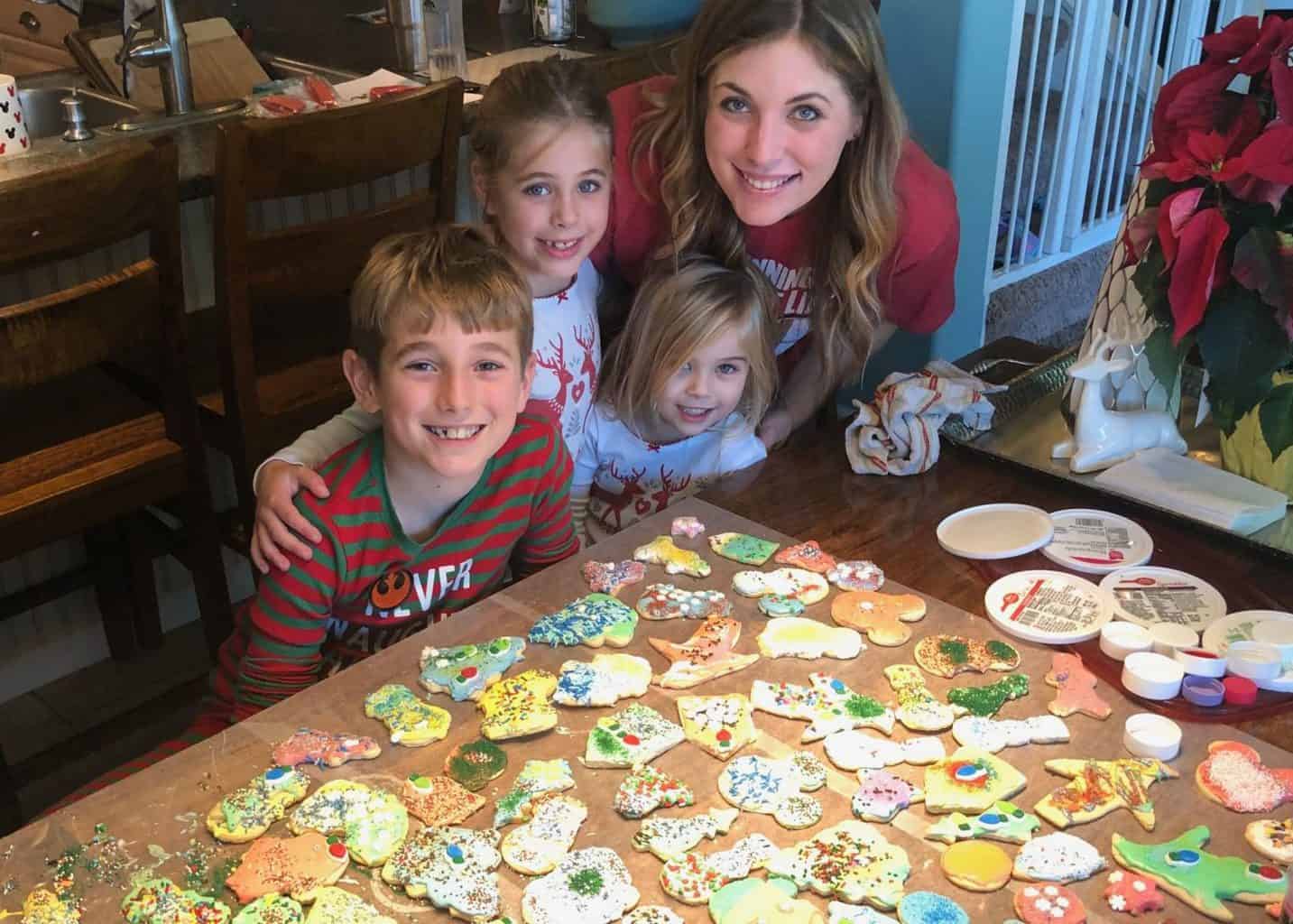 Eating the cookie dough was my FAVORITE thing growing up and my mom would always set aside some dough just for me. So I've carried on the tradition and set aside dough for each of us 🙂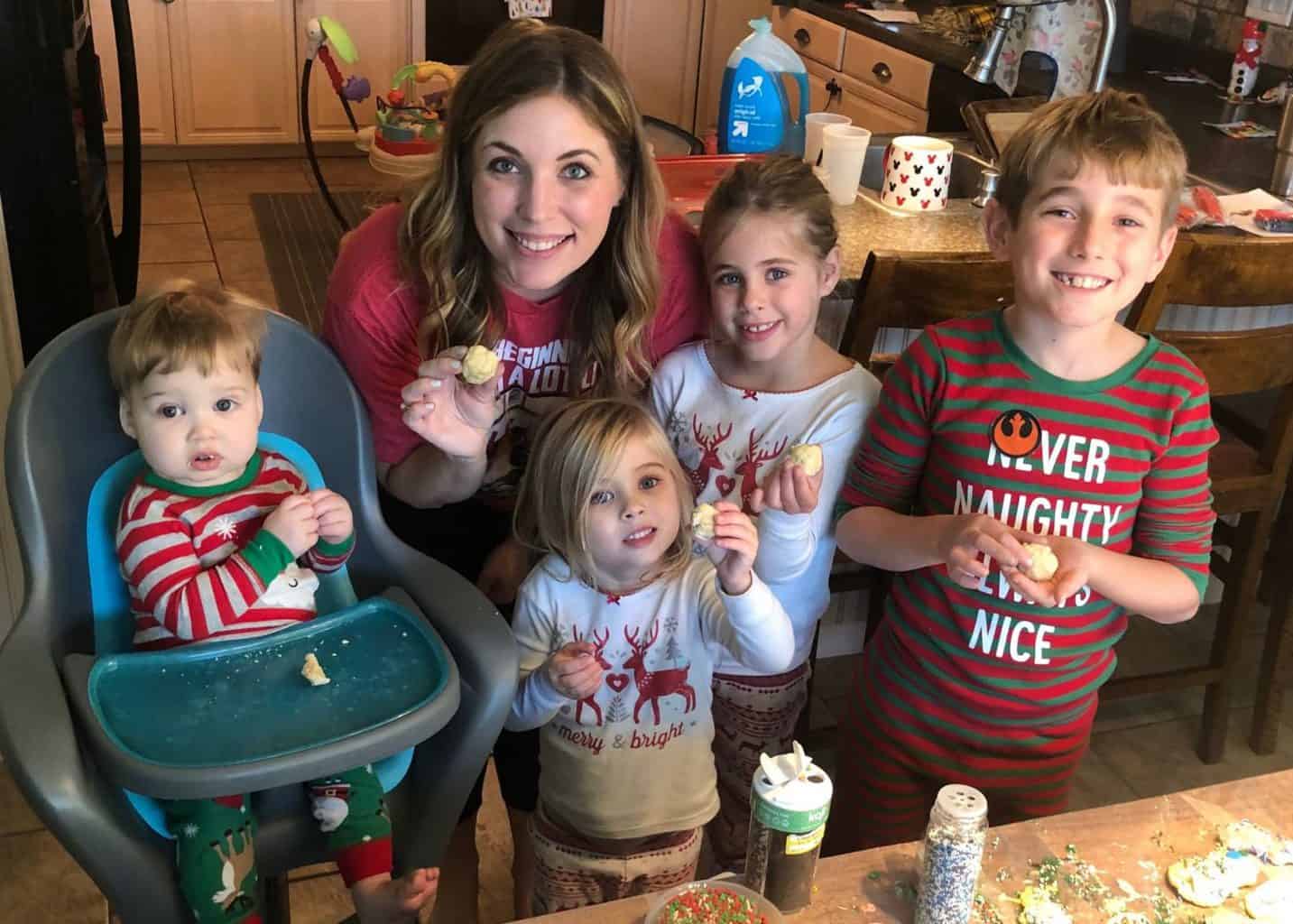 And we each also get to choose our favorite cookie to eat!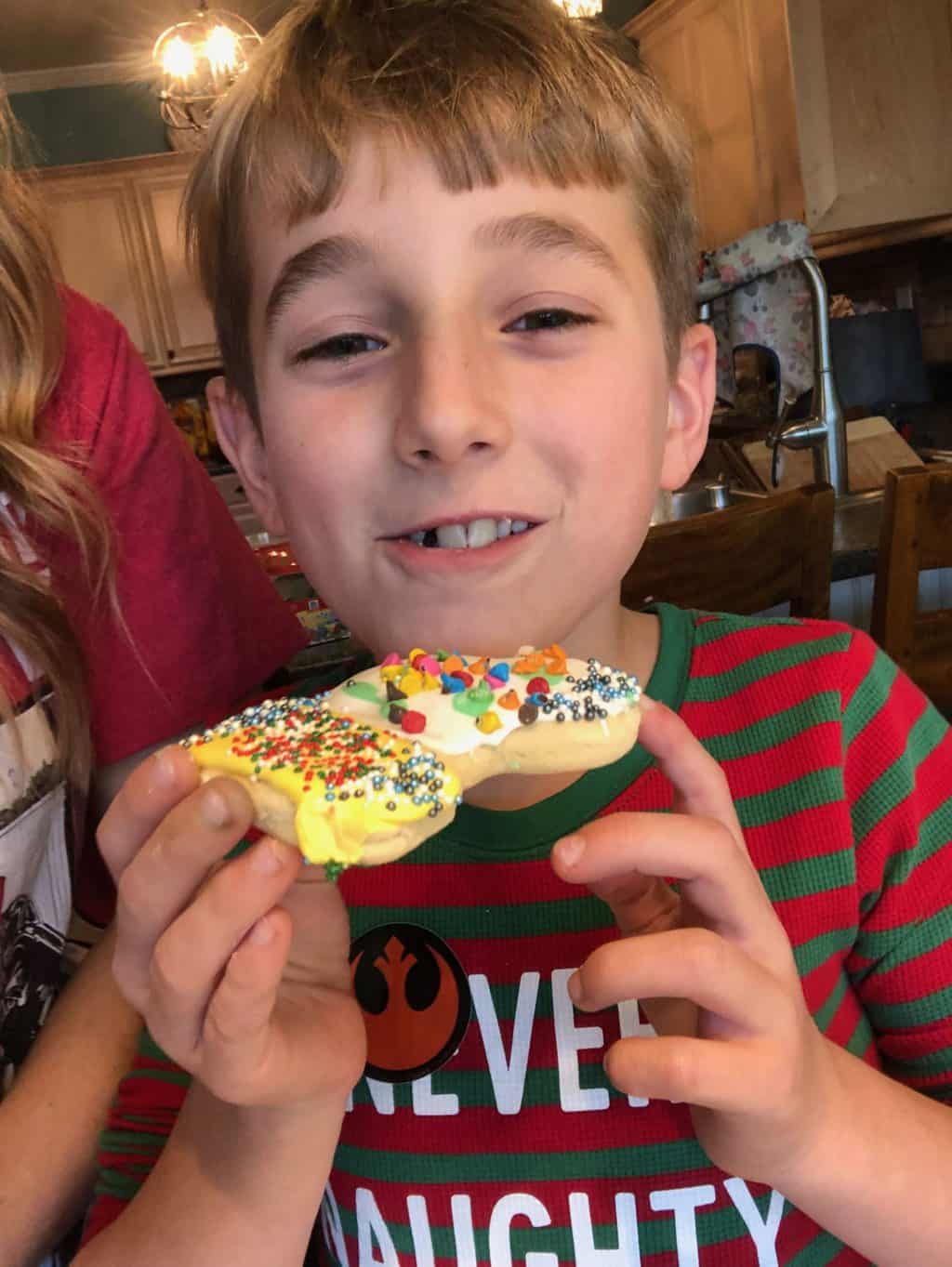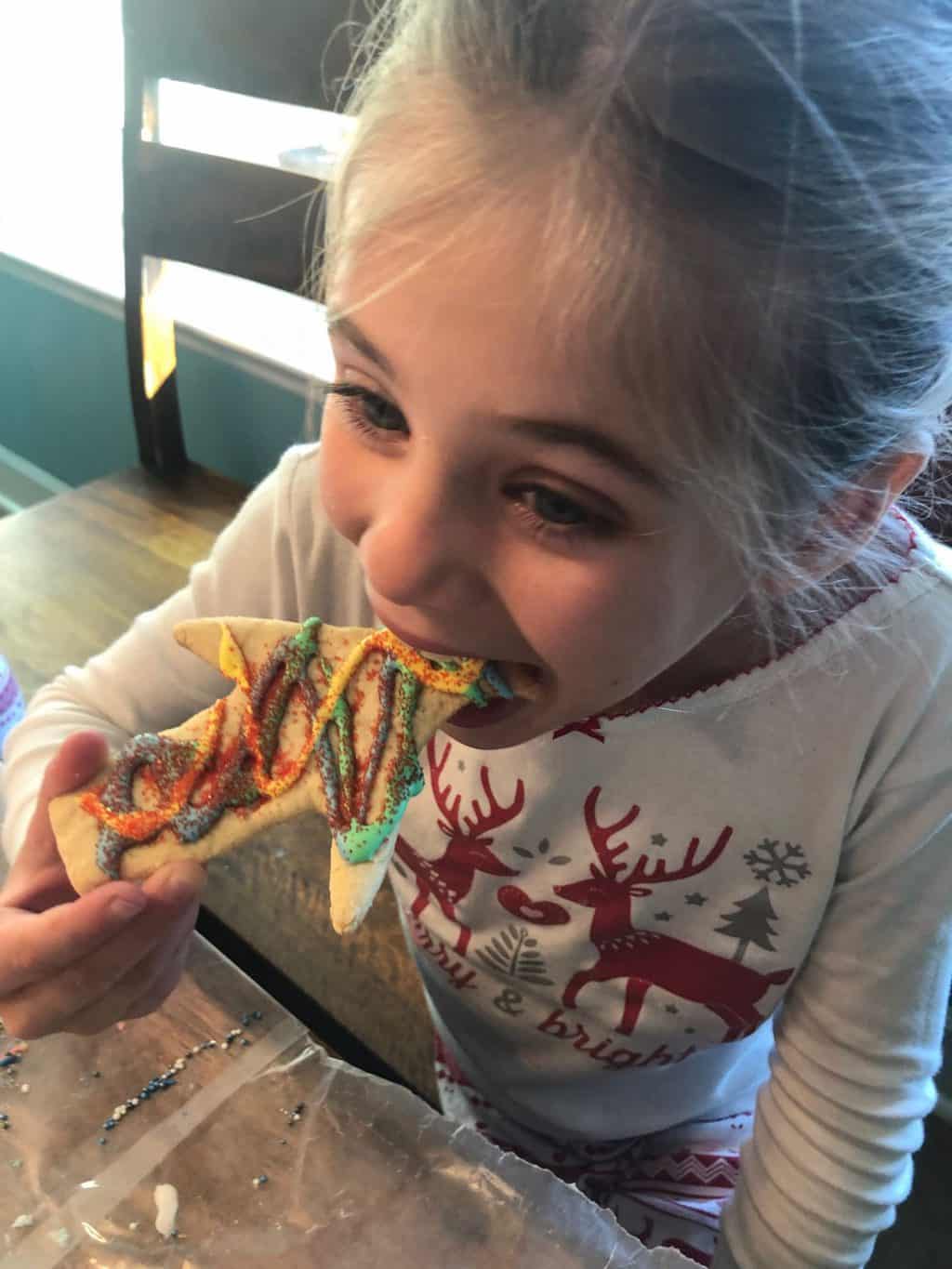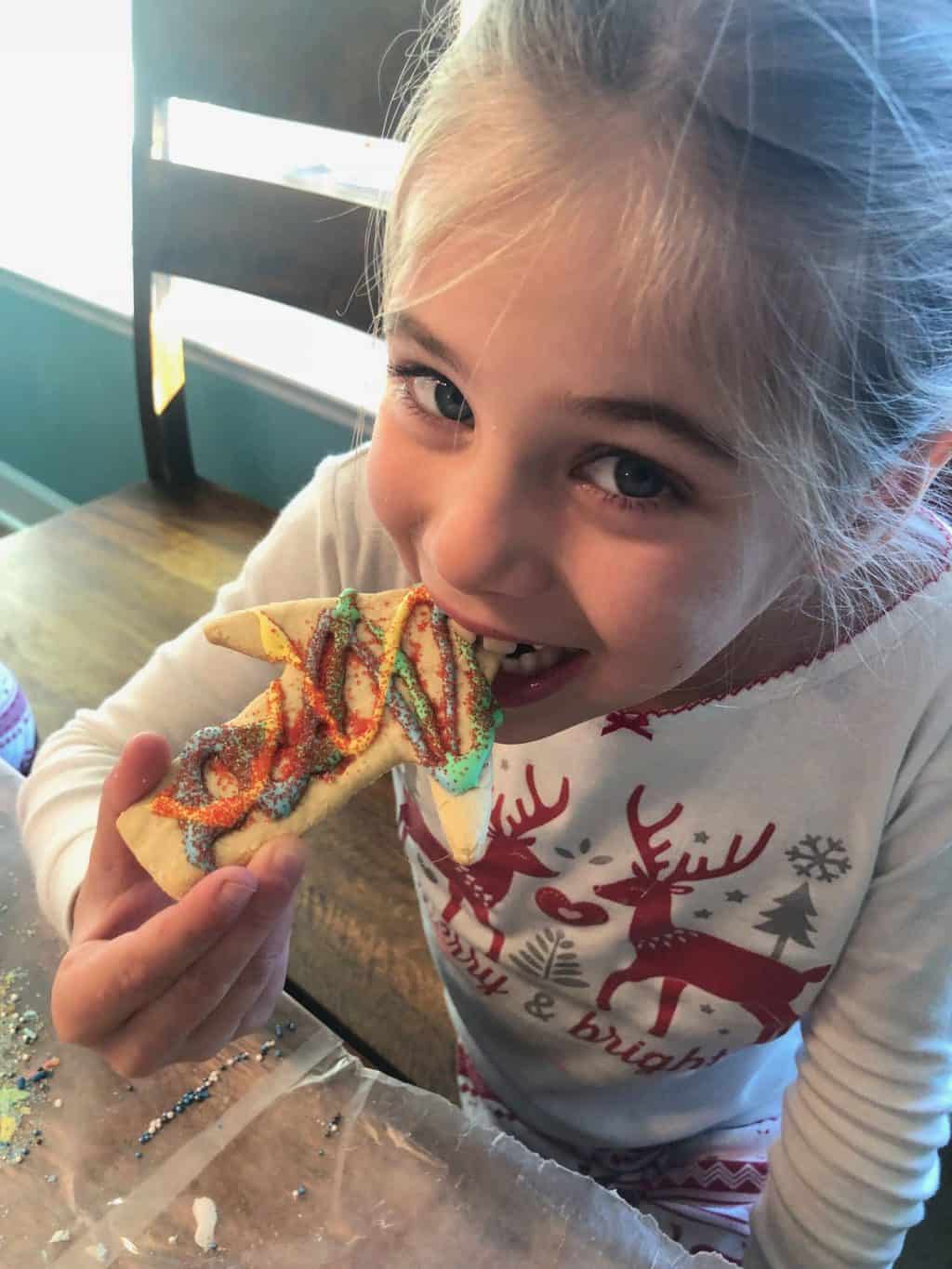 We had a Christmas FIESTA for dinner!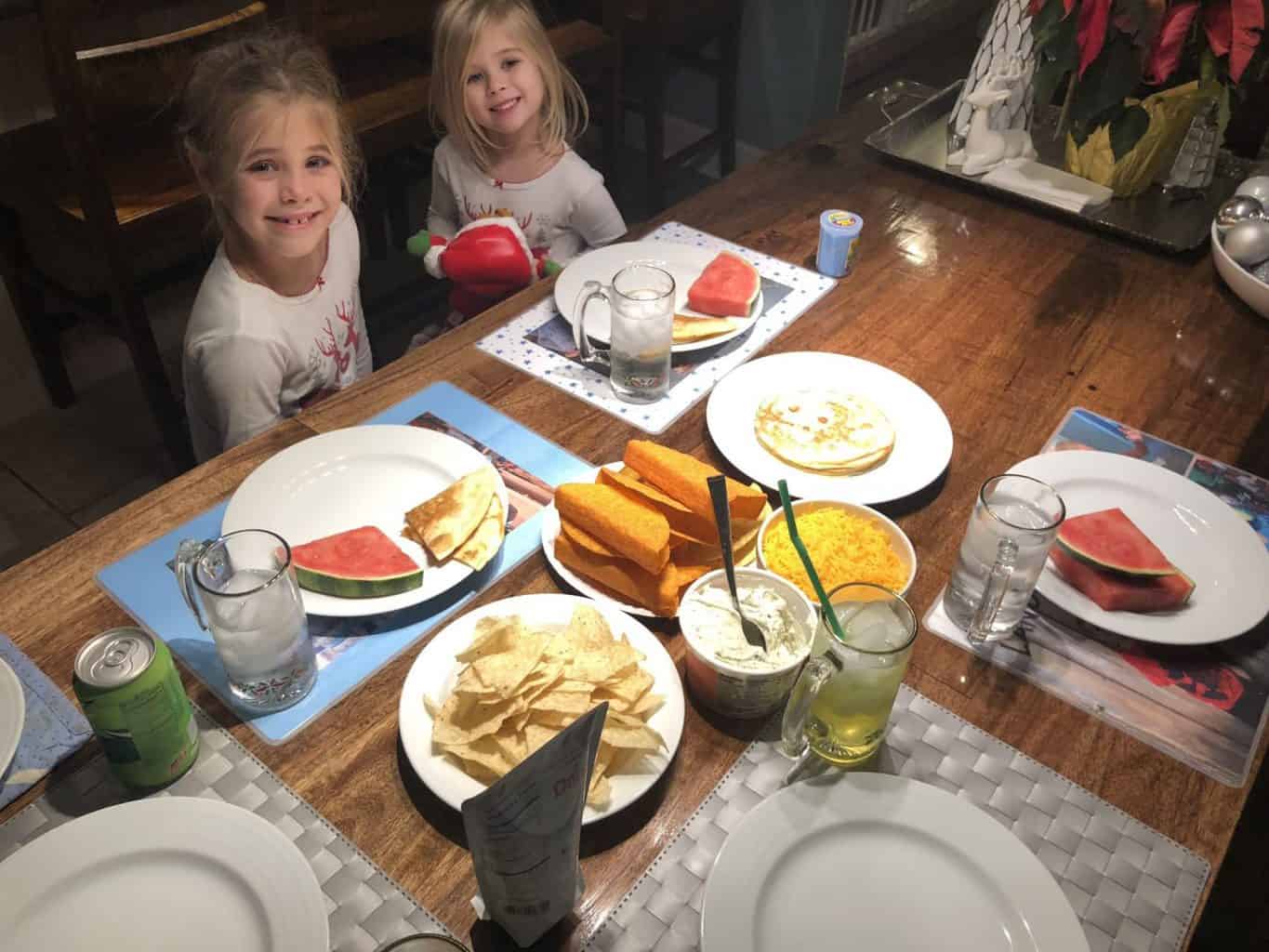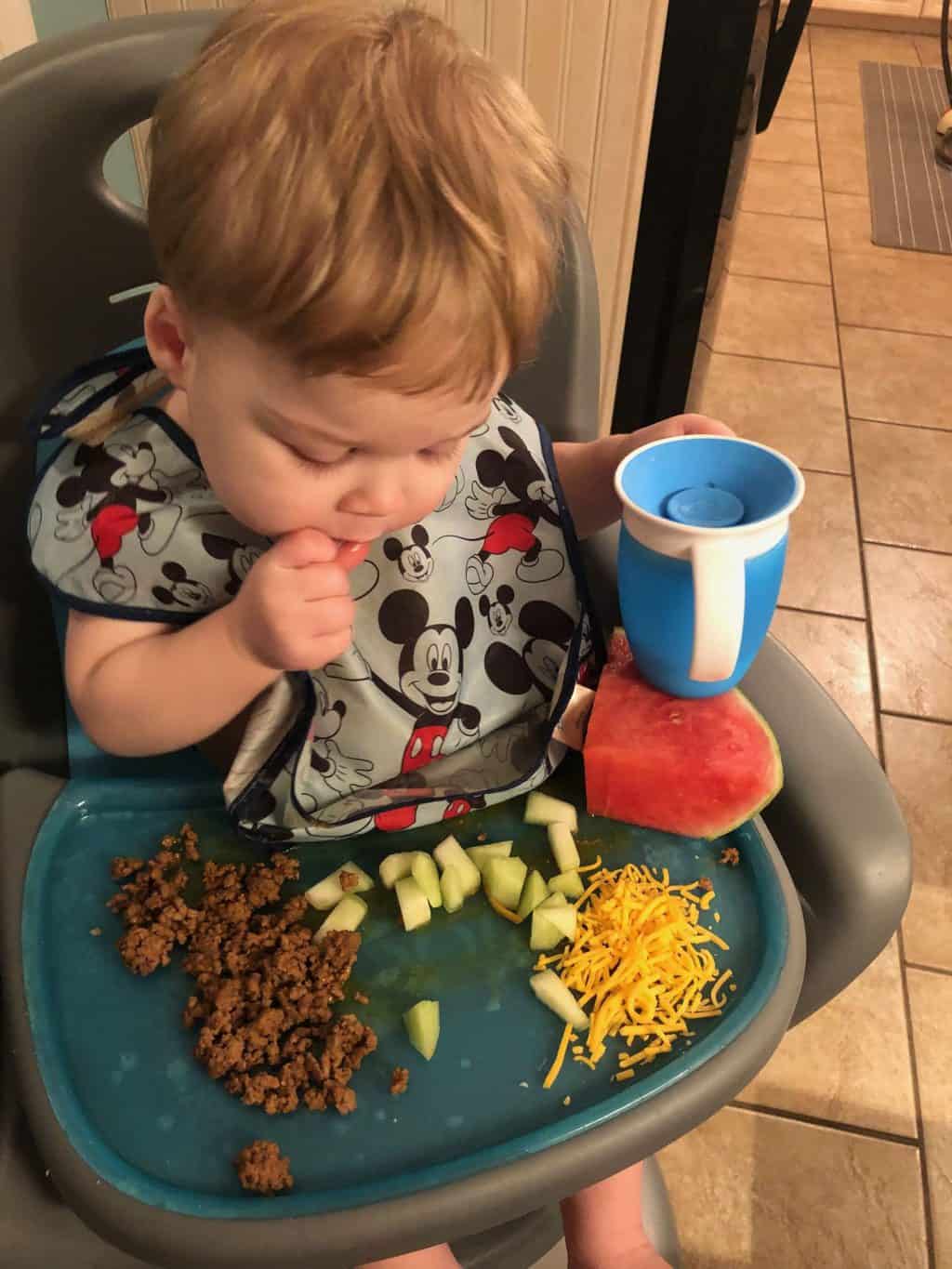 I randomly saw that The Year without A Santa Claus was only $1.99 so I grabbed it. We'd never seen it before and thought it'd make the perfect Christmas movie to end our day! Even Spear watched a bit and actually paid attention!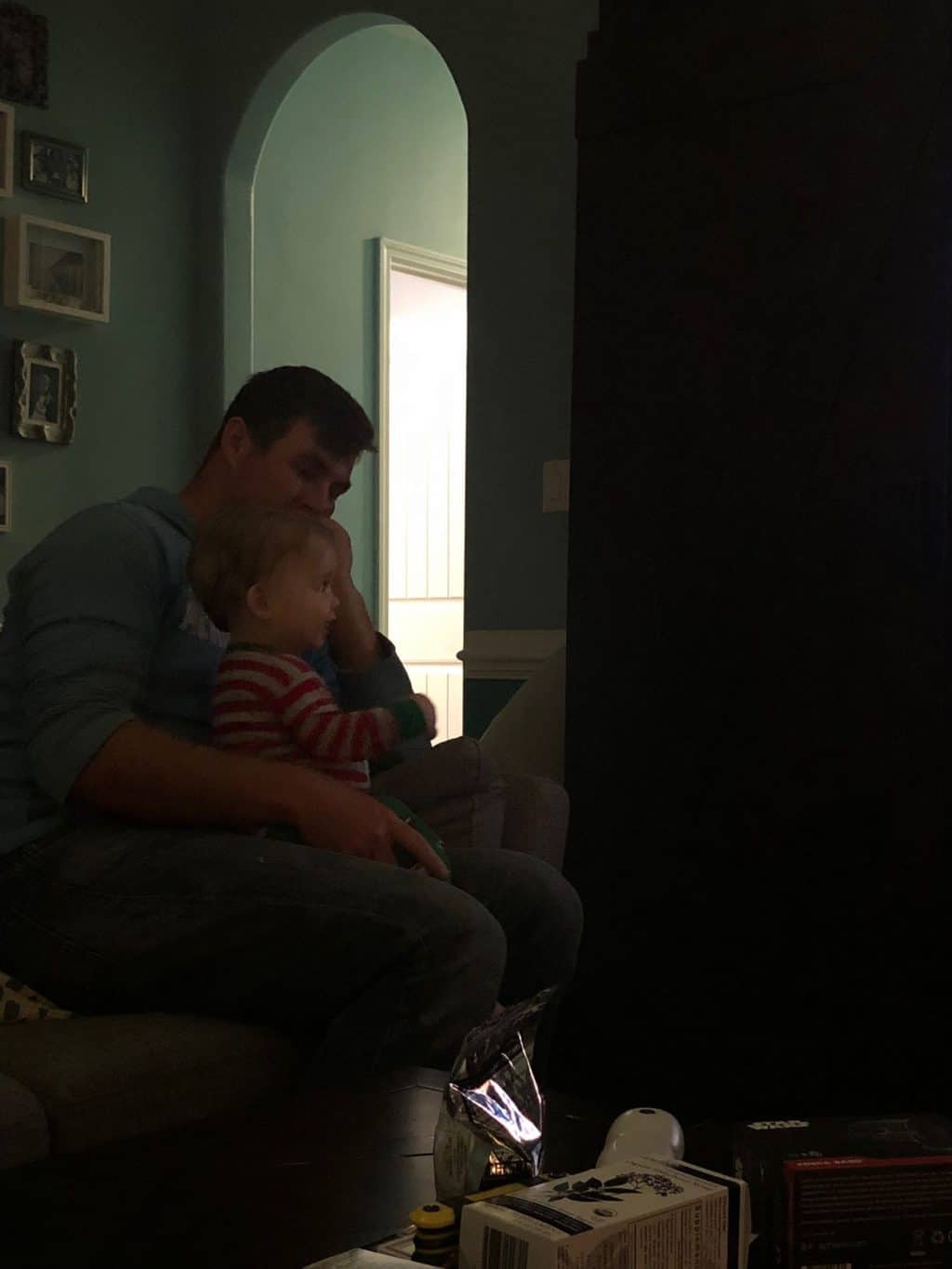 Daddy didn't want any hot chocolate so Kye got to use the special Santa mug 😉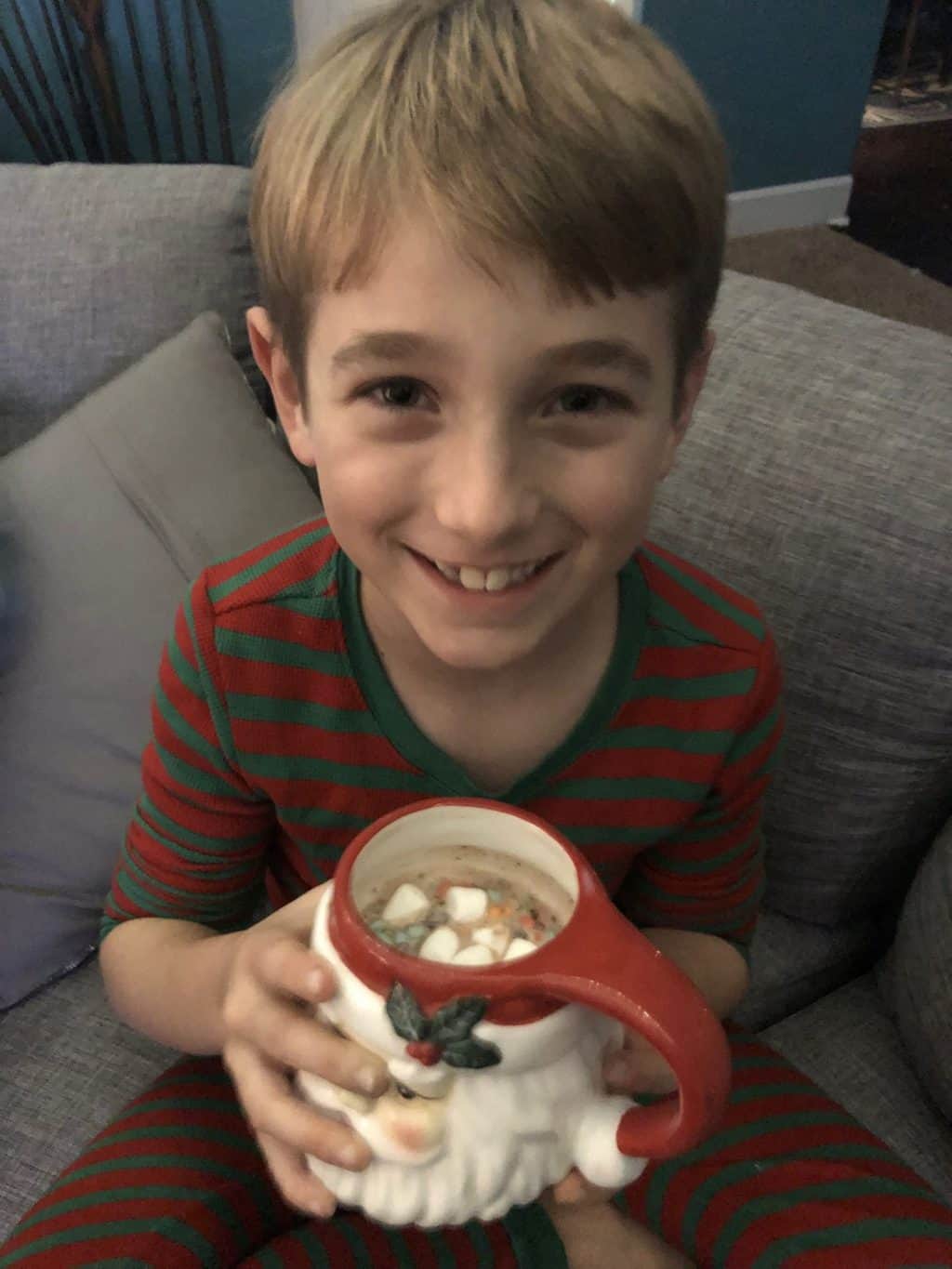 Our Core Crew Christmas Day was truly so flawless. We had the best time and just all felt so HAPPY and CONTENT. Zach and I have been brainstorming what cutting back will look like. How it'll work.
And honestly? It's tricky for me to cut back with spending Christmas Eve and Christmas morning at his parent's house. His mom is like me and LOVES TO GIVE and while it's SO sweet of her, she also goes overboard. She and I did talk and she is SO awesome about being understanding of our desire to minimize the random stuff in our house and did GREAT this year on purchasing things that would truly be appreciated and enjoyed and mixed in practical items for each child too!
It's hard thought for me to cut back with what we give the kids Christmas morning when their grandparents give them so many gifts because as the parents I naturally want to be the ones supplying most of the kid's Christmas presents. But at the same time Christmas morning over there is CHAOS and it's all so quick and happens so fast that it's hard for any of us to really even enjoy the kids opening. I always feel rushed since our kids do have so many to open!
Being raised with the slow-roll Christmas I just much prefer the pace on our Core Crew Christmas morning. Zach and I had a bit of a lightbulb moment this year. Why not just do the Core Crew Christmas and let real Christmas morning be Santa and the gifts his mom gives them? Why deal with all the loading up stuff and unloading? Why feel that need I have to give my kids more? It's the PERFECT solution to cutting back on what we buy and how much we give them!
Our plan moving forward is to do the 10 gifts on our Core Crew Morning…then Santa gifts and maybe a few others at his parents. We talked with both of the oldest kids solo about this idea. I broached it by asking each of them on their own how they felt after our Core Crew Opening. While I know this shift is BEST, I also have some guilt in cutting back when the overboard ness is all the kids have ever known!
Kye said he felt perfectly content. He didn't need any other gifts, he didn't feel it was lacking. He was excited for the trip and loved the items he had received.
Britt said she was still really excited for Santa presents but otherwise felt the exact way Kye did.
I know that 10 gifts each is still a LOT. But those of you who know me and know how we have always done Christmas know that it doesn't even touch the hem of the garment on what I normally do for my kids. I just was raised with Carnival Christmas so it's all I know and it's all I've ever done. But I really, really am so excited for our shift and change.
I'm excited to put more thought and care and time into each gift we give the kids. I'm excited to spend less on material items and more on meaningful vacations. I'm excited to have LESS on real Christmas morning to open. I'm hoping that maybe with less stuff to open that we CAN slow down the pace a bit at Zach's parents and ENJOY it a bit more too!
We had SUCH a perfect day together as a family. It couldn't have been better and it only makes me excited for the future to come! I know we have one more year of the tricky toddler stage then we are GOLDEN as a family of 6 to REALLY spend the day ALL together having fun and making memories that we'll always cherish!