I was SUPER proud of Spear for how great he did sleeping with all the big boys on Christmas Eve! Such a perfect end note to all the years together at Big Papa's and G-Mama's house 🙂
The kids all did fantastic hanging out in their rooms for a bit while everyone got ready and made sure Santa had come!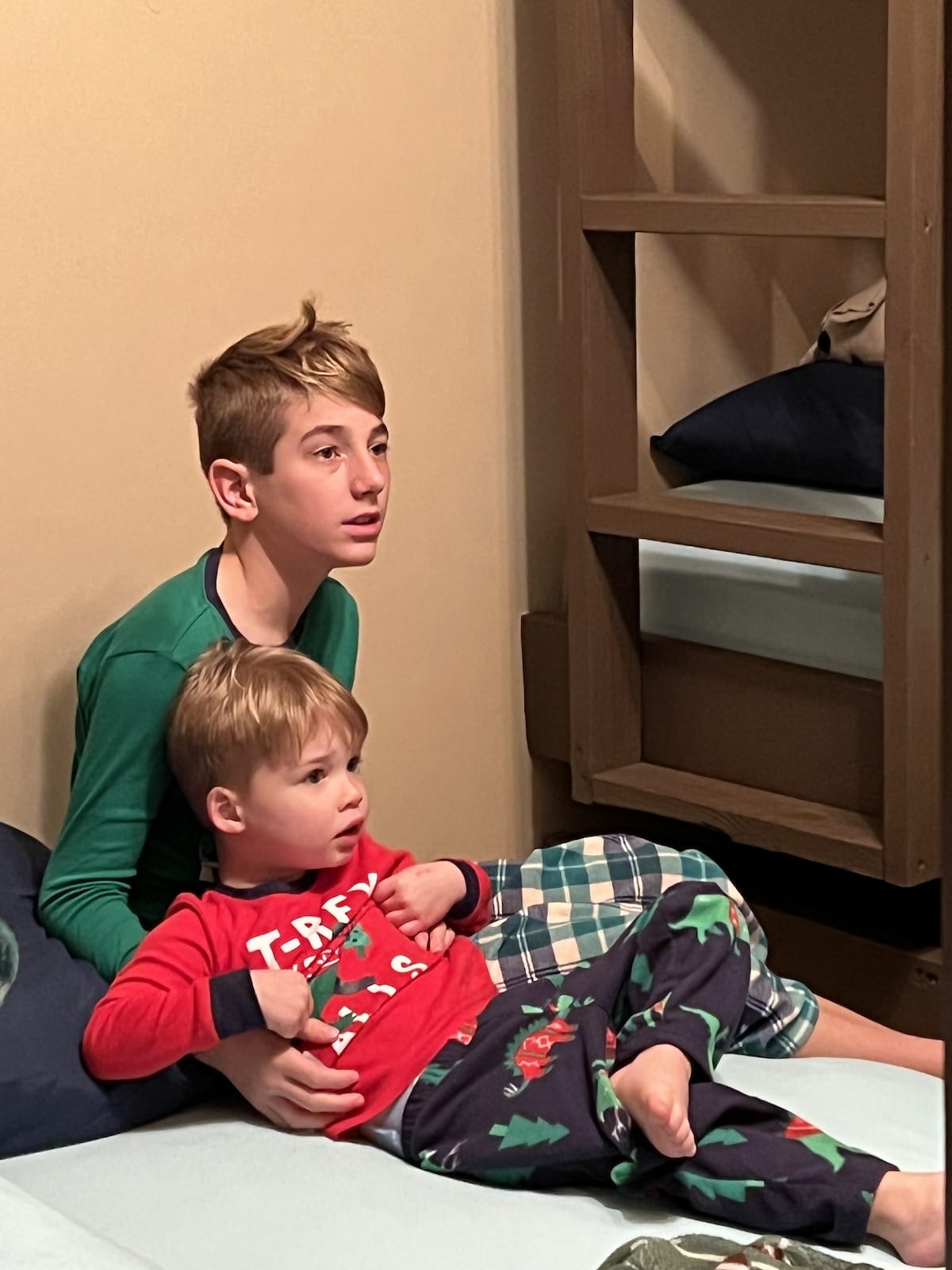 They always line up in age order from youngest to oldest to get to run out (it's a tradition that Zach did as a kid growing up with his siblings and cousins too). This year Santa was good to all of our babies! Since Kye received the only gift he'd asked for from Santa on our Core Crew Christmas he got to REALLY be surprised with what Santa brought him, I love his confused face hahah
Harry Potter ruled the morning for Britt and she also had her first big girl Santa ask – some new earrings 🙂 Tess was SUPER PUMPED about her Santa gifts and once Spear opened his new tractor he was content to be done opening 😉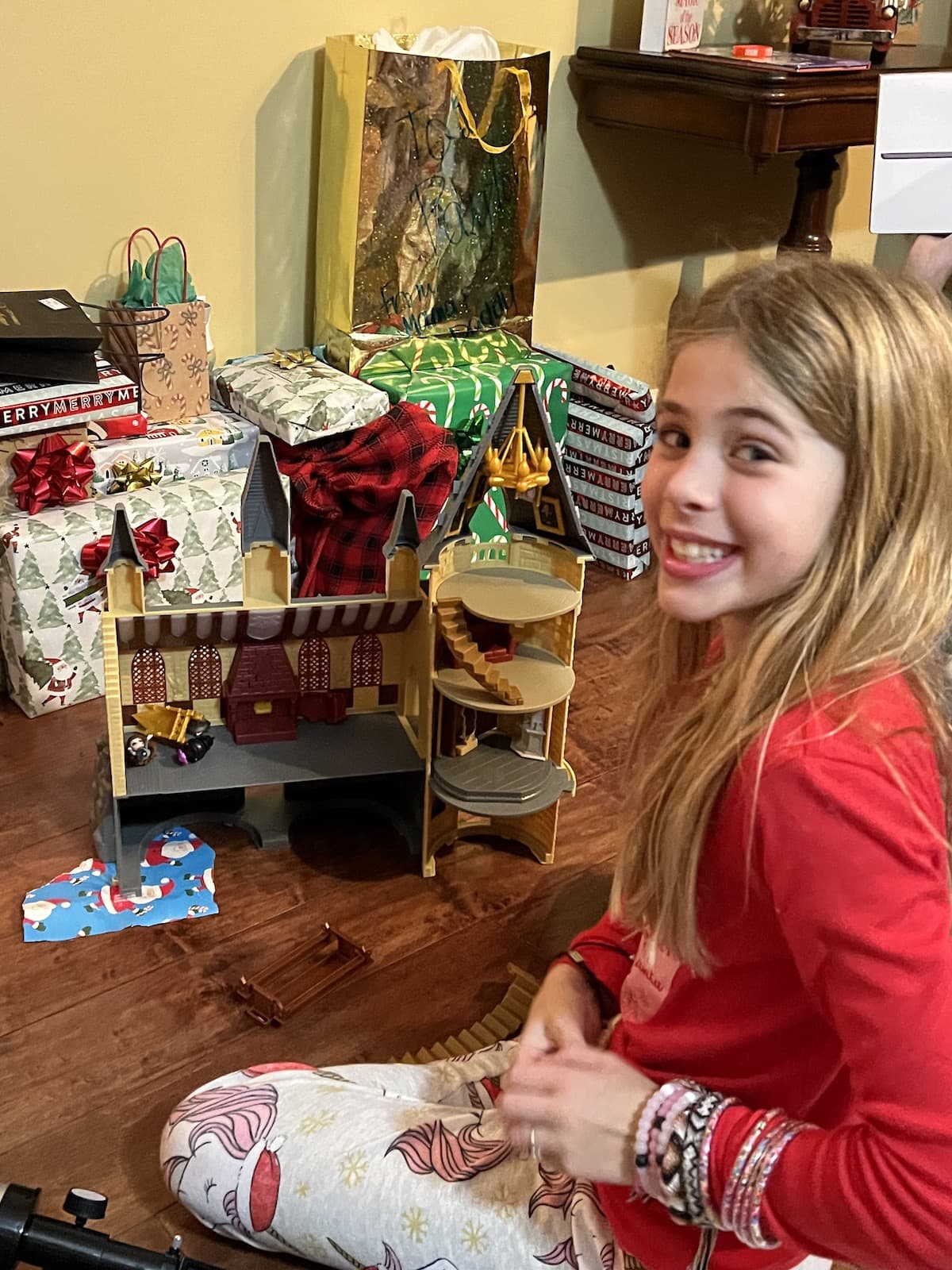 My tradition as a kid growing up was to snack on Christmas cookies during gift opening so it's a tradition I bring to the Parker family Christmas morning. Spear was especially into it and I'm pretty sure he ate more than his fair share and kept going back for more when people weren't looking 😉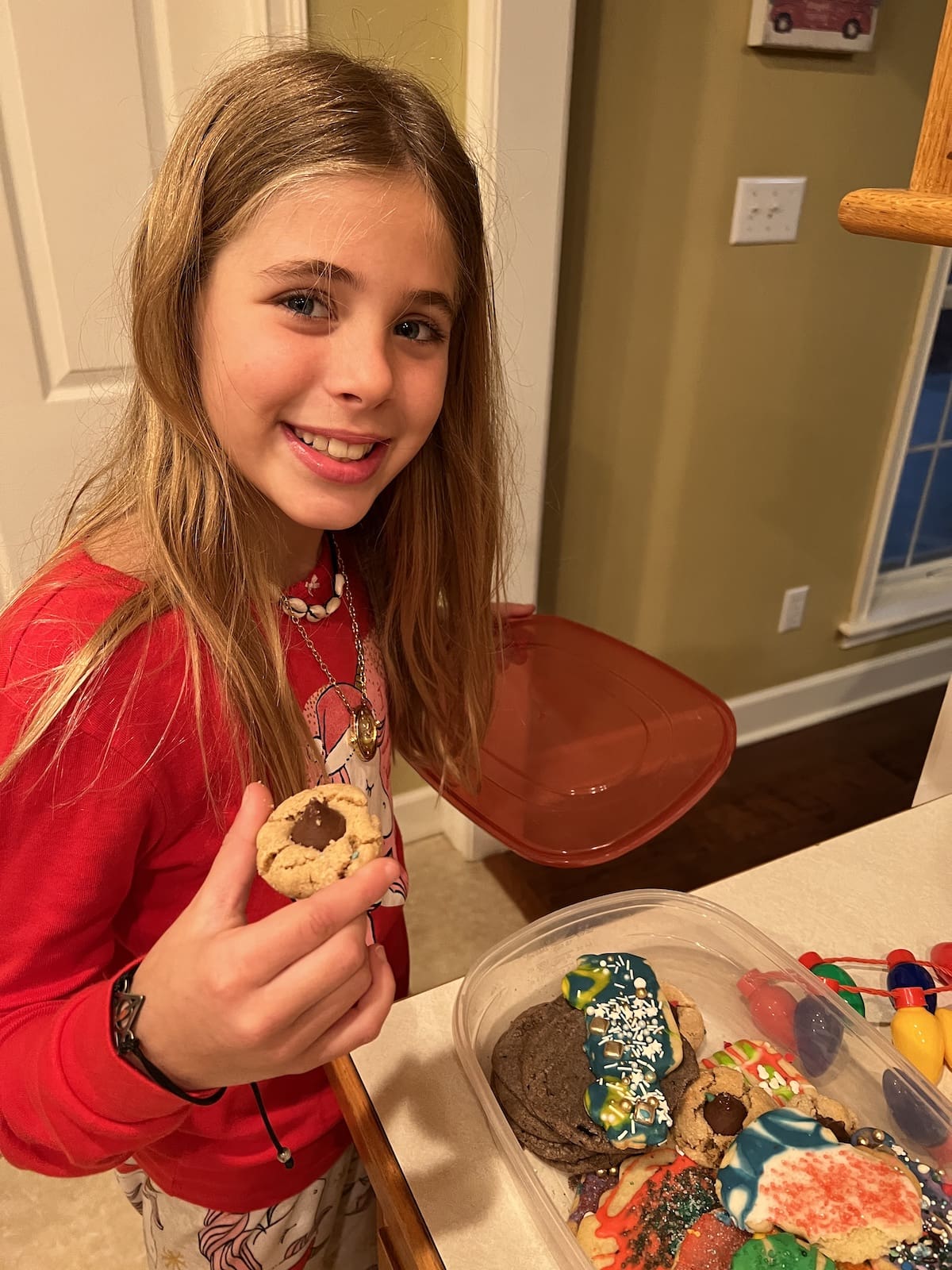 My greatest gift is this family of mine!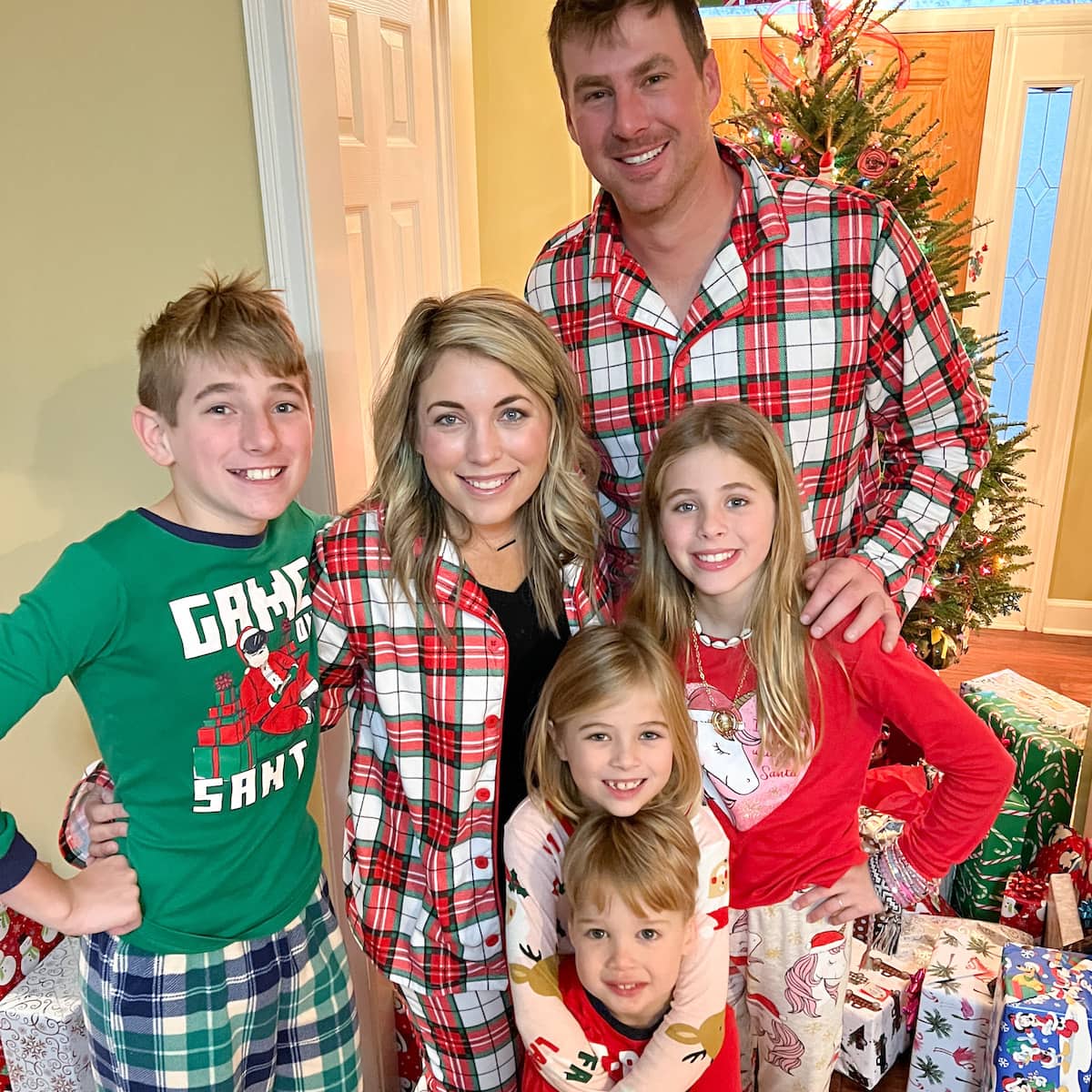 The big family all opens at the same time and I have our kids sit in a circle and each of them open one gift all together. It makes it easier for Zach and I to be able to SEE them open but doesn't take as long as it would to have them each take turns. We bring a few gifts from us but most of what they open is from Big Papa and G-Mama as well as their cousins (we do a cousin exchange so each cousin buys something for one other cousin).
Tess is very into playing school (and has LOVED the doll school set she received from Santa!) so I was super excited about her own personalized official teacher name plaque. It was the YEAR of the pop-its and I had fun wrapping them up in interesting ways so the girls wouldn't know what they were opening. Even after the nerf gun eye incident G-Mama was still cool about getting Kye new toy guns!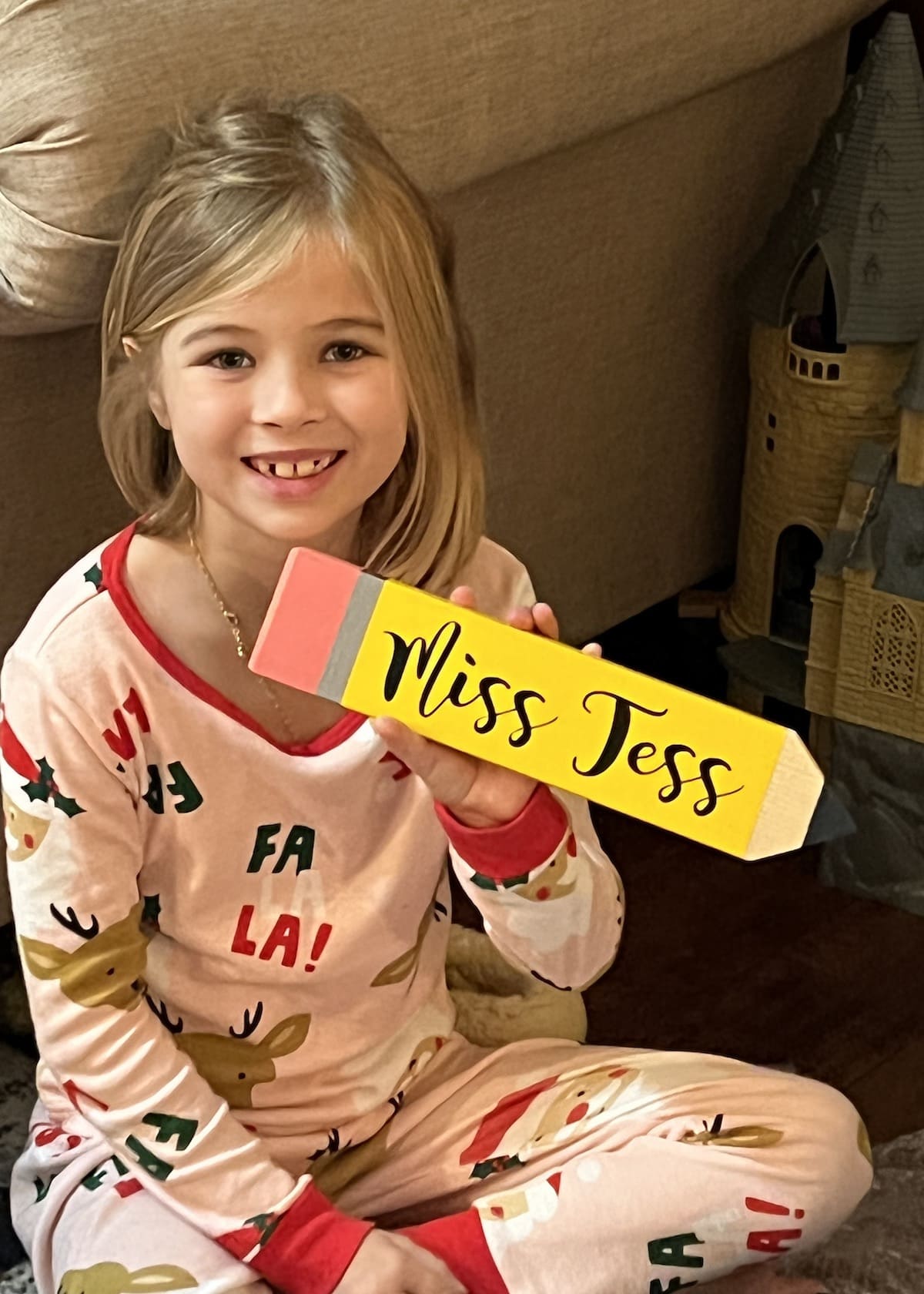 Zach and I recently discovered how life changing a bidet is and Zach HAD to surprise his dad with one for Christmas. And I was super excited to give Mrs. Charlotte a picture that I had done of their home to always remember it by when they moved.
Every Christmas I like to get one special "open last" present. Gift-giving is my love language and I love getting each of the kids a special gift that they have NO CLUE about. A surprise! A thoughtful gift that I know they will LOVE and appreciate and enjoy without them asking for it 🙂
For Kye I was really excited about his at-at lego (and I love his reactions… I'm telling yall he was SO FUN this year with his reactions!). For Spear I knew he'd be thrilled to have a remote control excavator (his favorite type of tractor). When I saw this adorable Minnie Mouse car I KNEW I had to get it for Tess and I also thought she'd enjoy having a new doll that looks more like her to play with her other two dolls for her new school set from Santa.
My favorite last gift was Britt's. She has had the dream to visit Hawaii and it's been such an issue and something I just need to remove off my mental load of worry or concern anymore. Something she really wanted on that trip was to go to Maui Divers Jewelry and buy this certain necklace she saw in these super old Hawaii planning brochures I had laying around the house that she used to make her "Hawaii Dream Board." I could not BELIEVE that they still make the necklace!!!
It's called the "Aloha Heart" and when you hold it up to the light the shadow of the design says "Aloha." She was SO surprised and it was the BEST moment!!!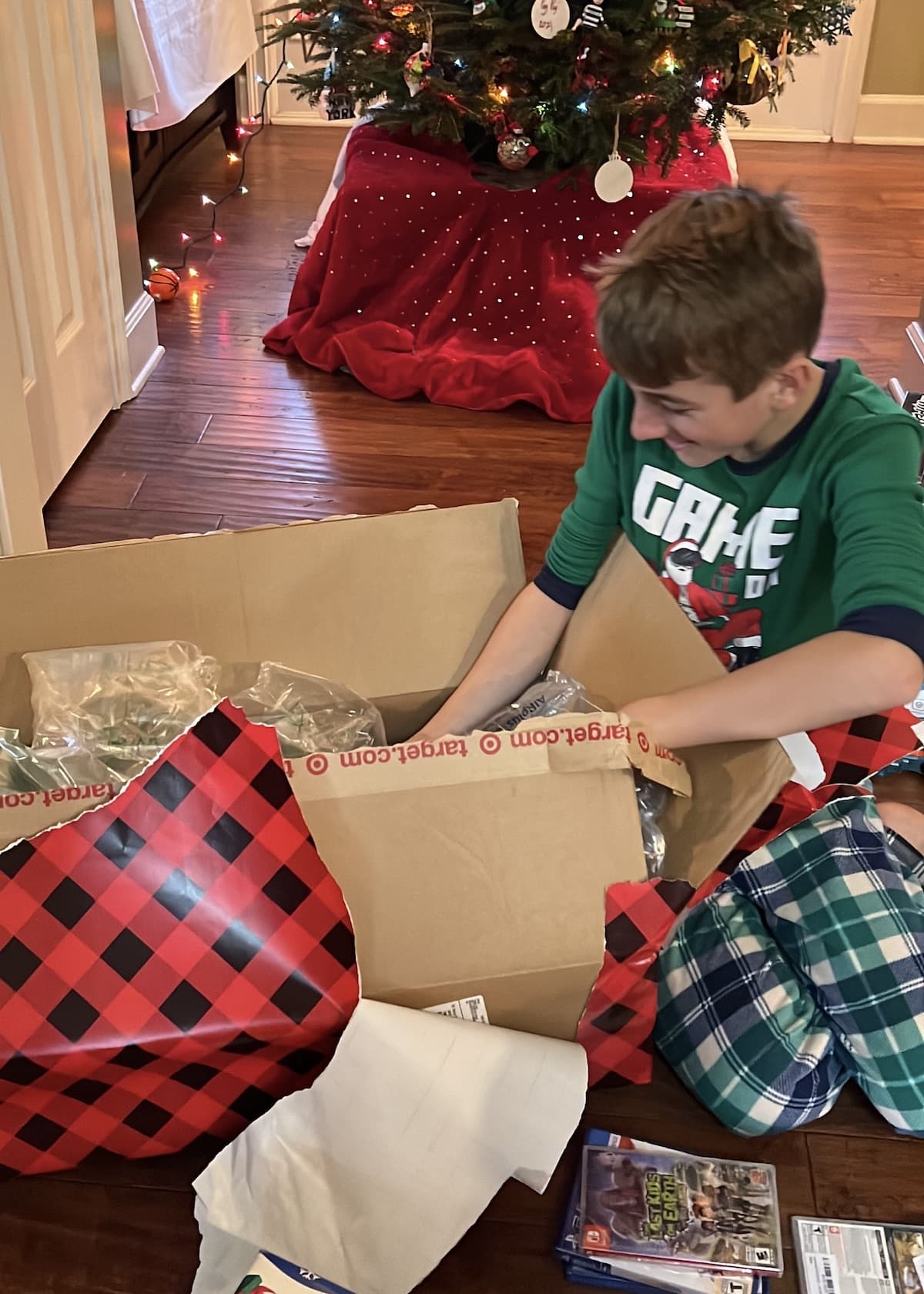 It was so fun thinking up these gift ideas for them and loved their reactions!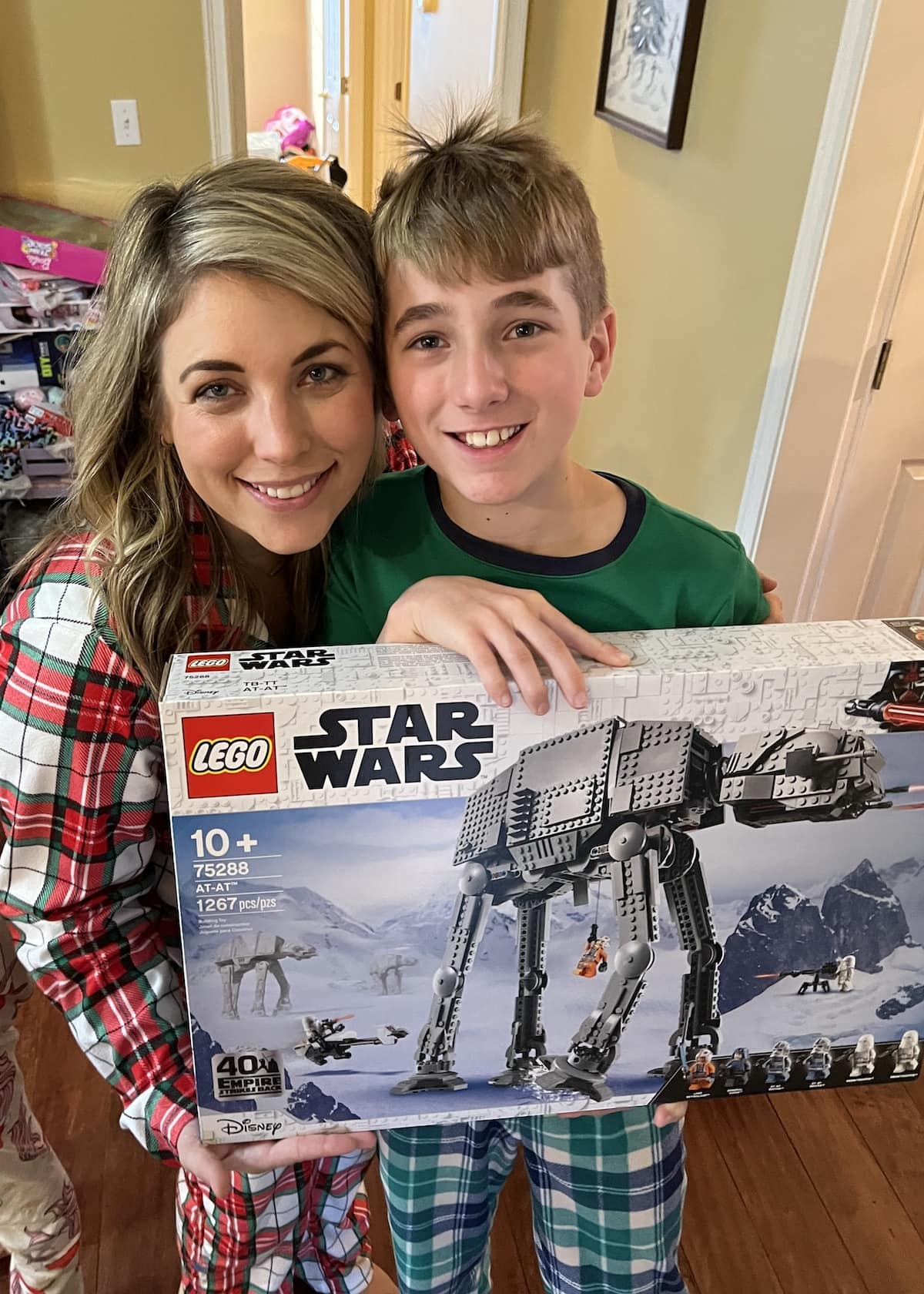 Everyone had a super fun morning and we had some downtime before heading to breakfast that allowed the kids to play with their cousins and enjoy some of their new toys!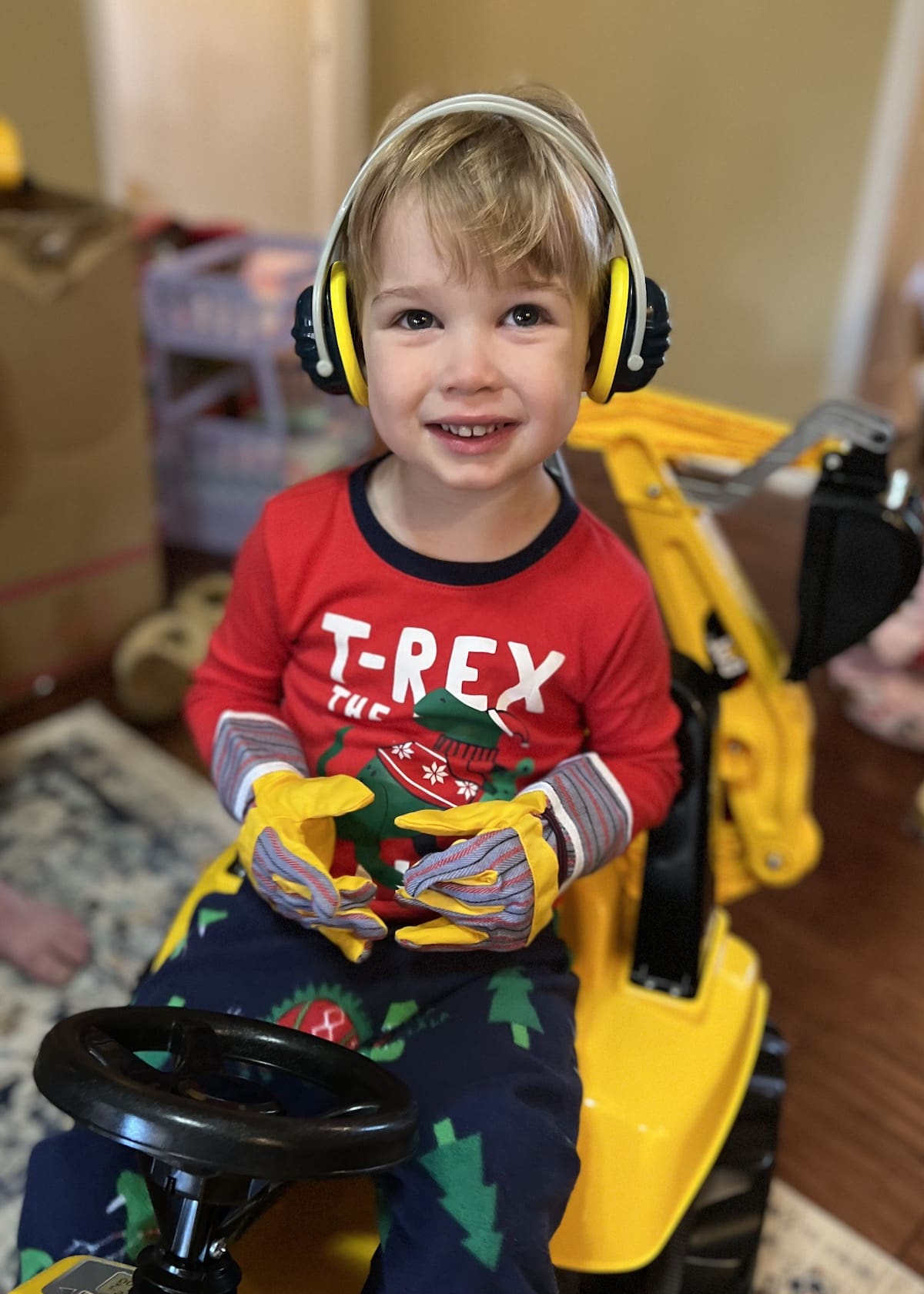 As I previously mentioned this was our last time all together at Mr. Rusty's and Mrs. Charlotte's house. They built this home 25 years ago and always had a plan to eventually move out to property they own nearby and built their forever home there. Now is that time!
We were so thankful to be able to spend one last Christmas together in their home and thankful to get some photos of everyone outside together too. Lots more fun memories to come in the new home and thankful for the legacy they are continuing 🙂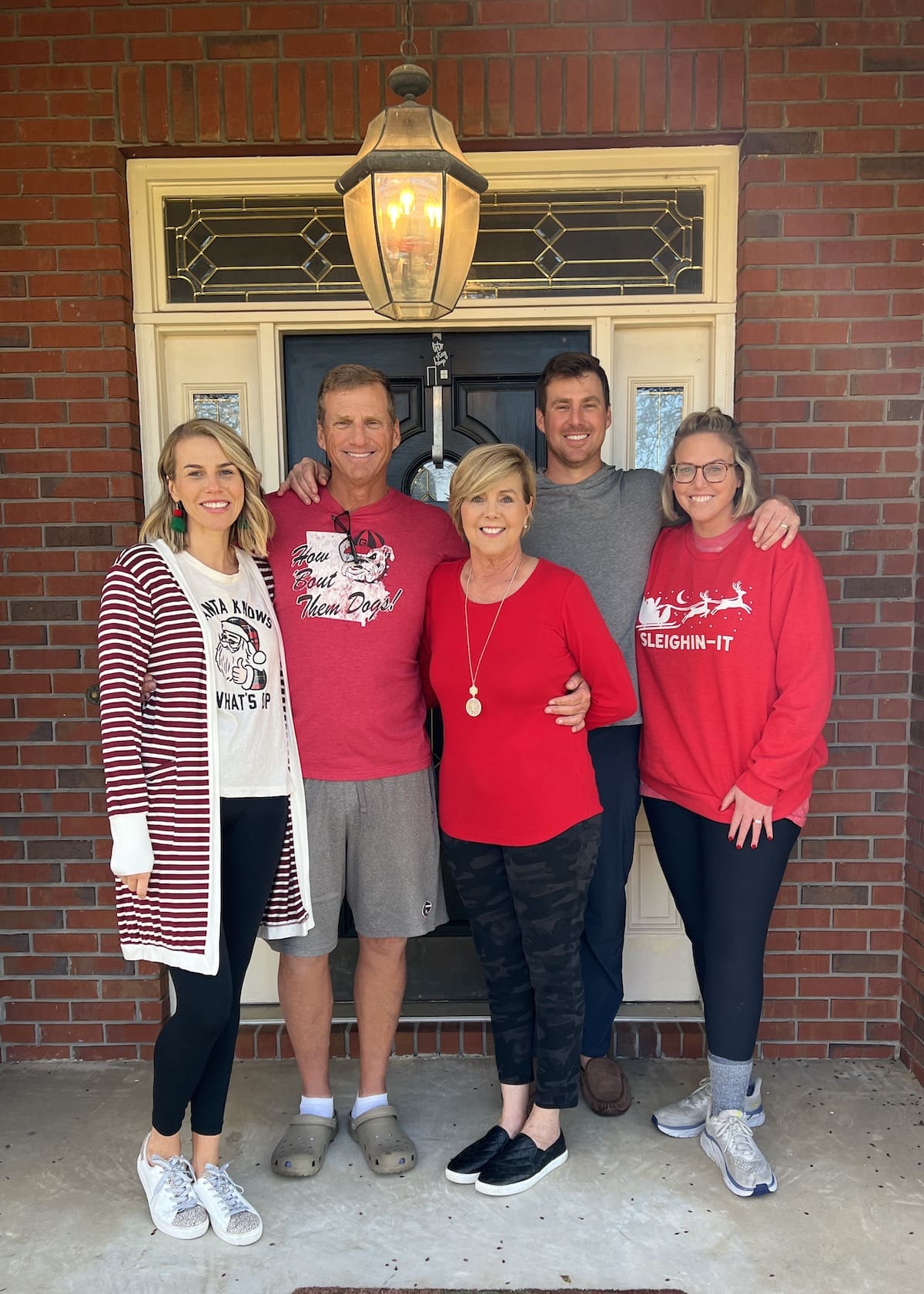 Speaking of legacy, Big Daddy passed away earlier this year and this was the first Christmas without him. In an interesting turn of events plans changed and even though Little Mama has moved into a new home with Aunt Karen, her home and land with Big Daddy is still in the family! Which meant we were all able to gather there on Christmas morning like usual for the big breakfast and Parker family gift exchange.
It was my first time being in the house since our last time together as a family when they moved in October and it was weird for it not to be Little Mama's and Big Daddy's house anymore. It was wonderful all being together and to continue carrying on the yearly traditions. Whew but it's def just never going to be the same without Big Daddy.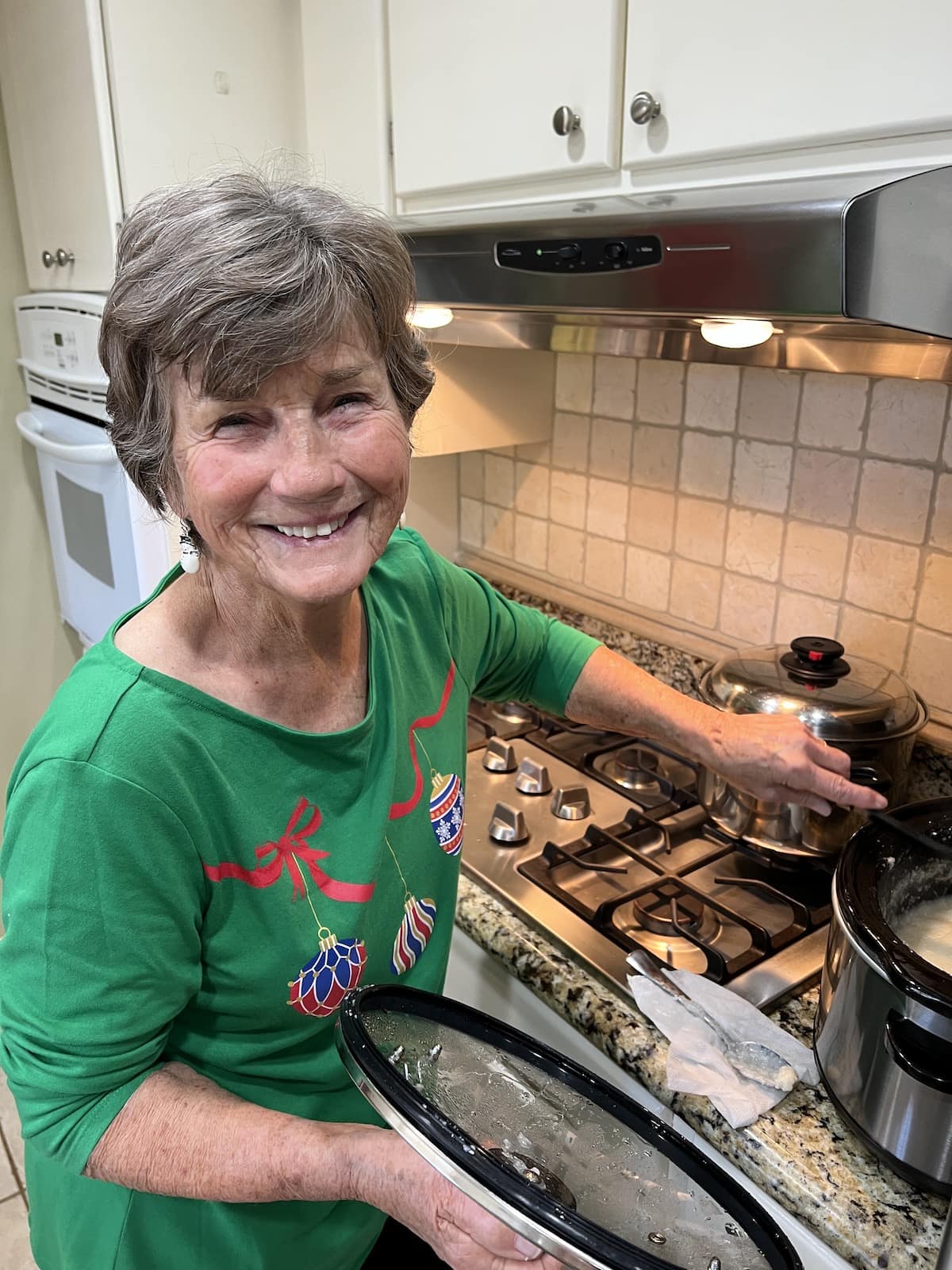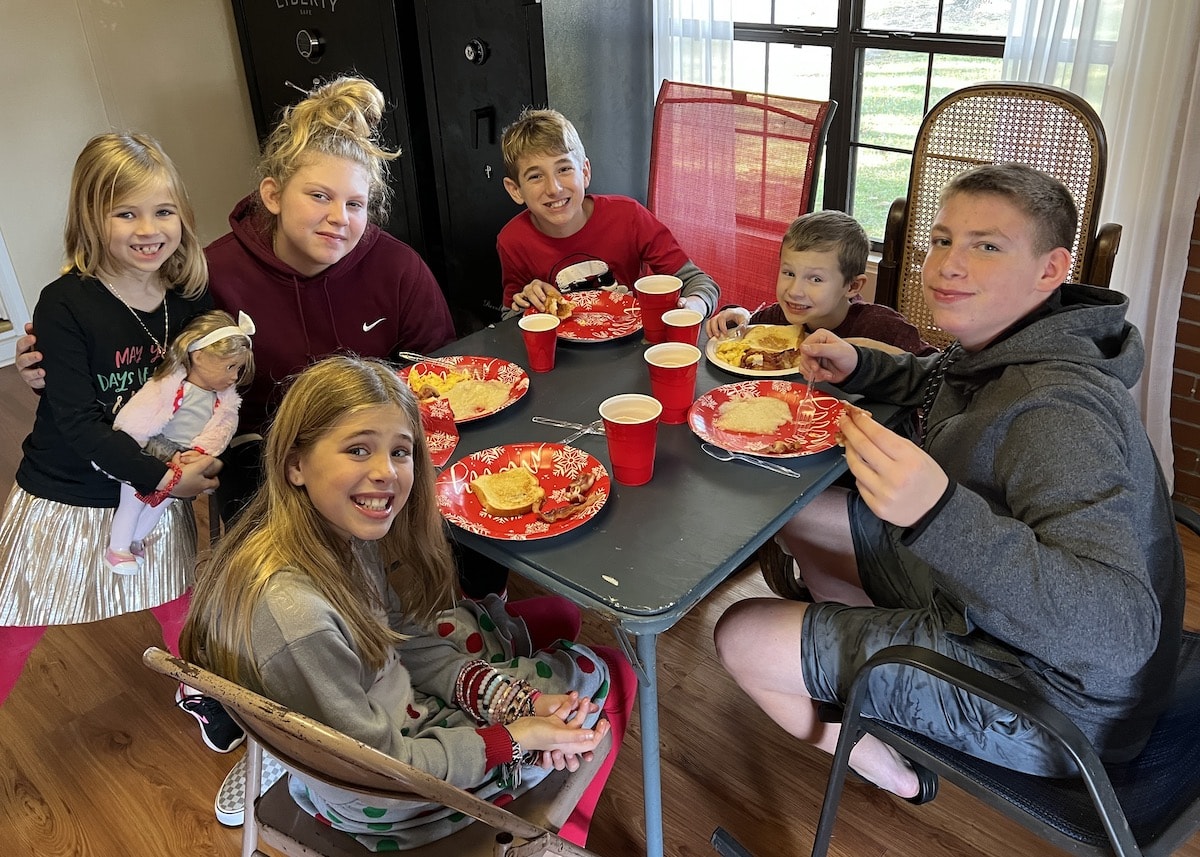 Gift exchanges were hilarious this year. I haven't spoken about this on the blog yet but 2020 lead to some changes in our family including a bit of a career change. This has lead to a LOT of jokes between Zach and his golf buddies (aka his dad and Uncle) who like to give Zach a hard time about being cheap (he doesn't buy drinks from the cart girls when they play golf) and also joke that he is secretly loaded and just hides his/our money away.
The joke really fed into the gifts this year when Zach opened his "money-making machine" which was hilarious. And then Zach had an extended prank going on Uncle Steven where he had faked tax documents to make it look like he'd earned 1.2 MILLION dollars this year and had Mr. Rusty in on it to get Uncle Steven to see the documents. Basically, Zach and his dad have been plotting and planning this whole prank for like 6 months and I was actually sad to see the big reveal to Steven about the prank because Mr. Rusty was HILARIOUS anytime he talked about it.
Zach had Uncle Steven read a letter aloud filling him in on the prank and how the tax documents were fake. He was SUCH a great sport about the whole thing – they really had him fooled!
We also gifted Little Mama a photo of her house to cherish too 🙂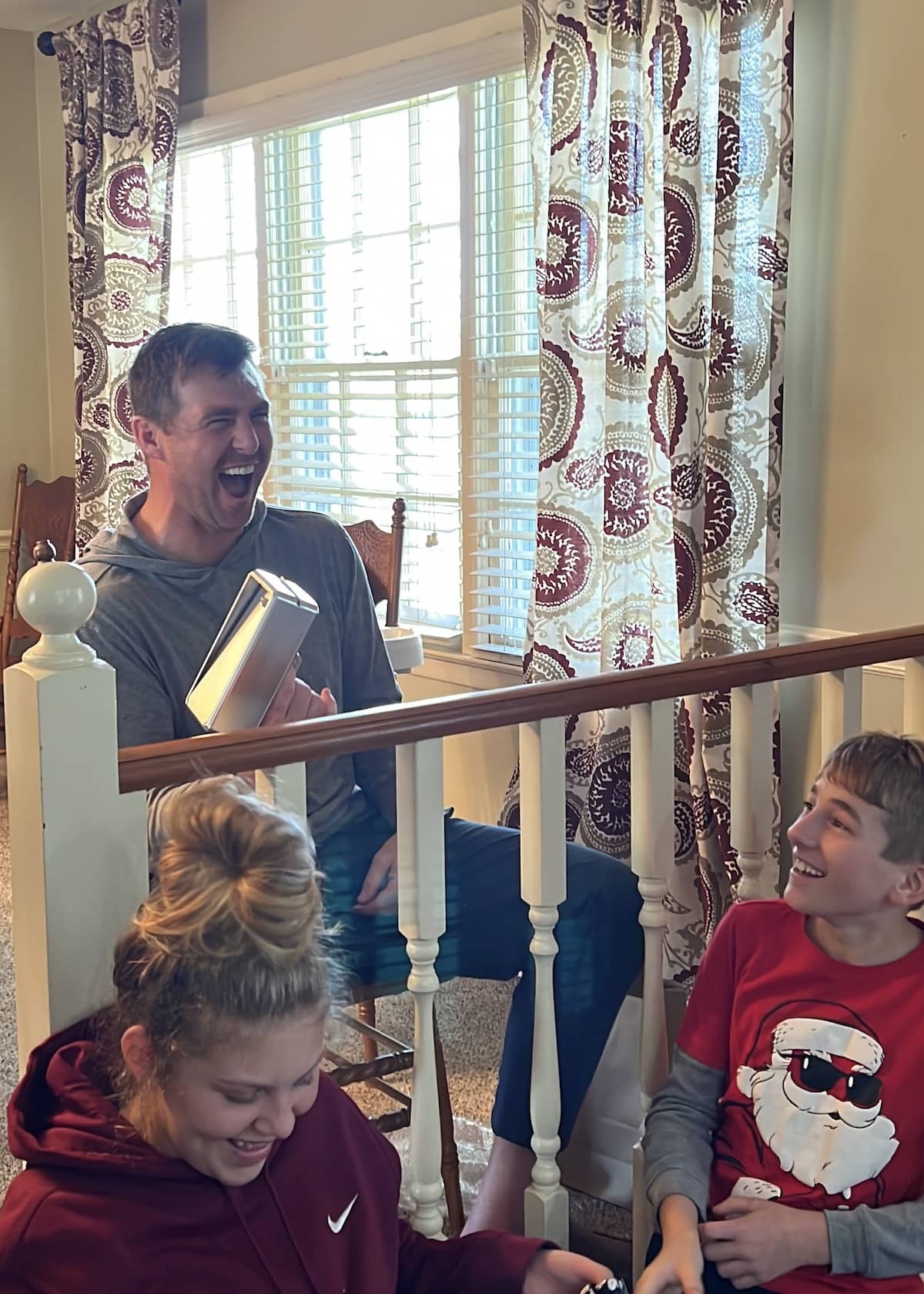 Our tradition is to get home from Big Daddy's and Little Mama's and nap, chill, rest, hang out, play all day in our pjs the rest of Christmas Day. It was the first year I did NOT nap! I actually had a good nights sleep at Mrs. Charlotte's house and didn't feel tired so instead I worked at purging out some things to make room for the kids new stuff while they played and I even got to lay out a bit because it was gorgeous weather (you'll never hear me complain about warm-weather Christmas!).
Zach and I usually have a date night to end Christmas Day and we watched Don't Look Up (and loved it) before going to sleep! It was a wonderful Christmas and so fun with our babies and family!