Potty Trainin' Is Tough Stuff
(insert your own caption here…)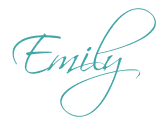 Emily Parker
Hey Y'all, I'm Emily! I'm a stay at home mom and consider parenting to be my passion. Disney is my happiest place and I love making memories as a family together. I'm a big believer in transparency and share all of my real-life moments as a mother of four.
My work has been featured on Love What Matters, Today Parenting and Babywise.Life. I'm also honored to be a member of the Babywise Friendly Blog Network.
You can read more about our family on my About Me page. Also be sure to follow along with me on Instagram, Facebook and Pinterest!