Zach's birthday falls at a tricky time of the year as it's always also the first day of school. Now that he has MS? It's worked out to be even trickier because it also falls around the same time that he has to go to Atlanta for his twice a year infusion.
I also had a hard time this year regarding what to do regarding birthday gifts for Zach since we just went on our big shopping trip in May and he bought just about everything he could possibly want for awhile!
When it comes to Zach's infusions it's important to me that I go with him whenever possible (I plan to write an update on his health so I'll talk more about my reasoning for this then). Since we'd already be going to Atlanta for his check-up, why not make it a combo as a surprise birthday celebration?
I planned out an entire day for us the day prior to his infusion and he was genuinely surprised and it worked out to be such a great gift and celebration!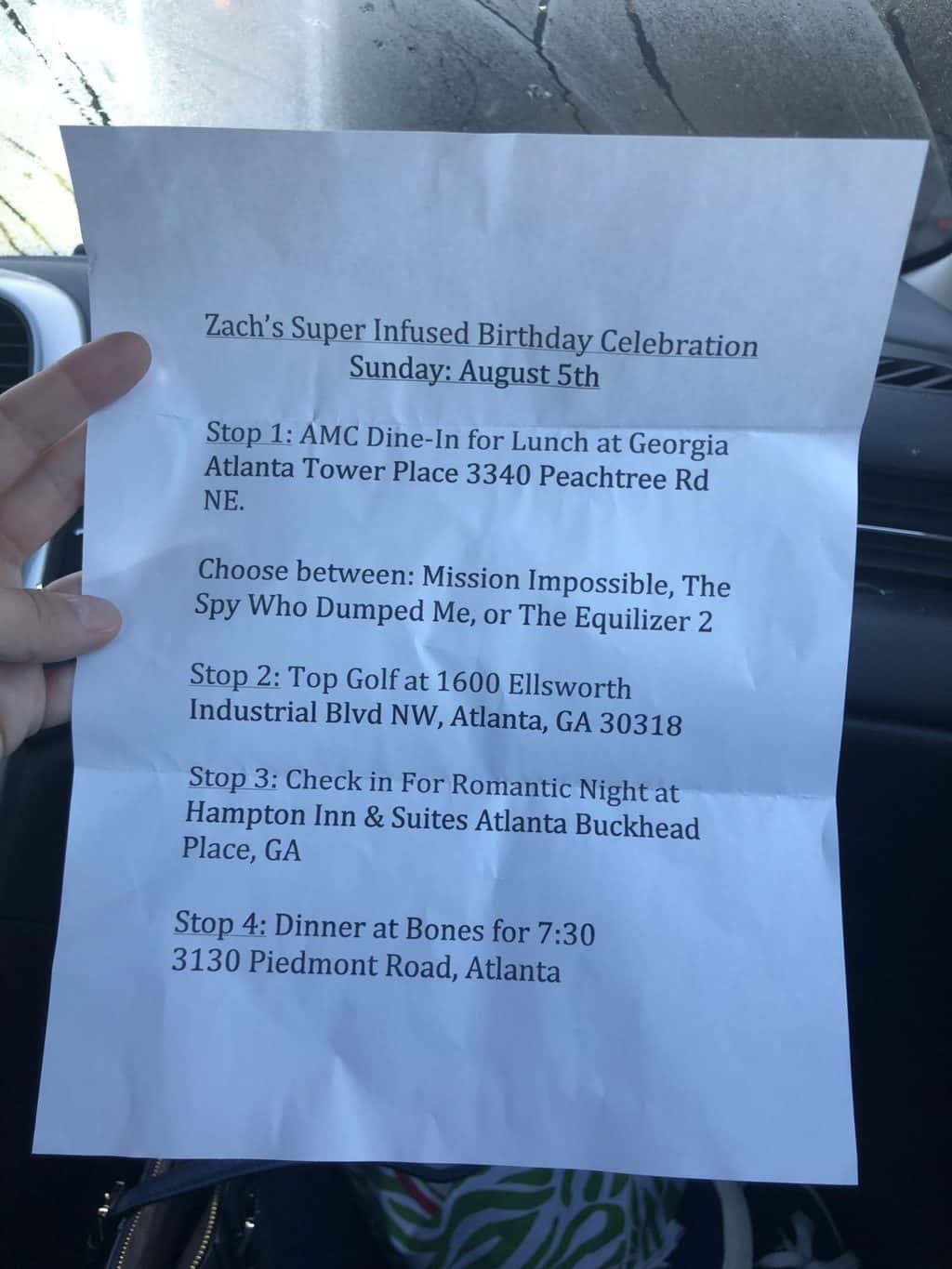 First stop was AMC in Buckhead for lunch and a movie! Zach LOVES the theaters that allow you to order food and eat while watching a movie and we lucked out that there were a couple decent movie options to choose from that we all very "dude movies" – perfect for the Birthday Boy!
We settled on Mission Impossible and y'all I just couldn't get over how Tom Cruise does not age. Like seriously. And not in a plastic surgery way but like in a legit he just looks youthful way. It kept me entertained the whole movie just thinking about that and how it's humanly possible haha.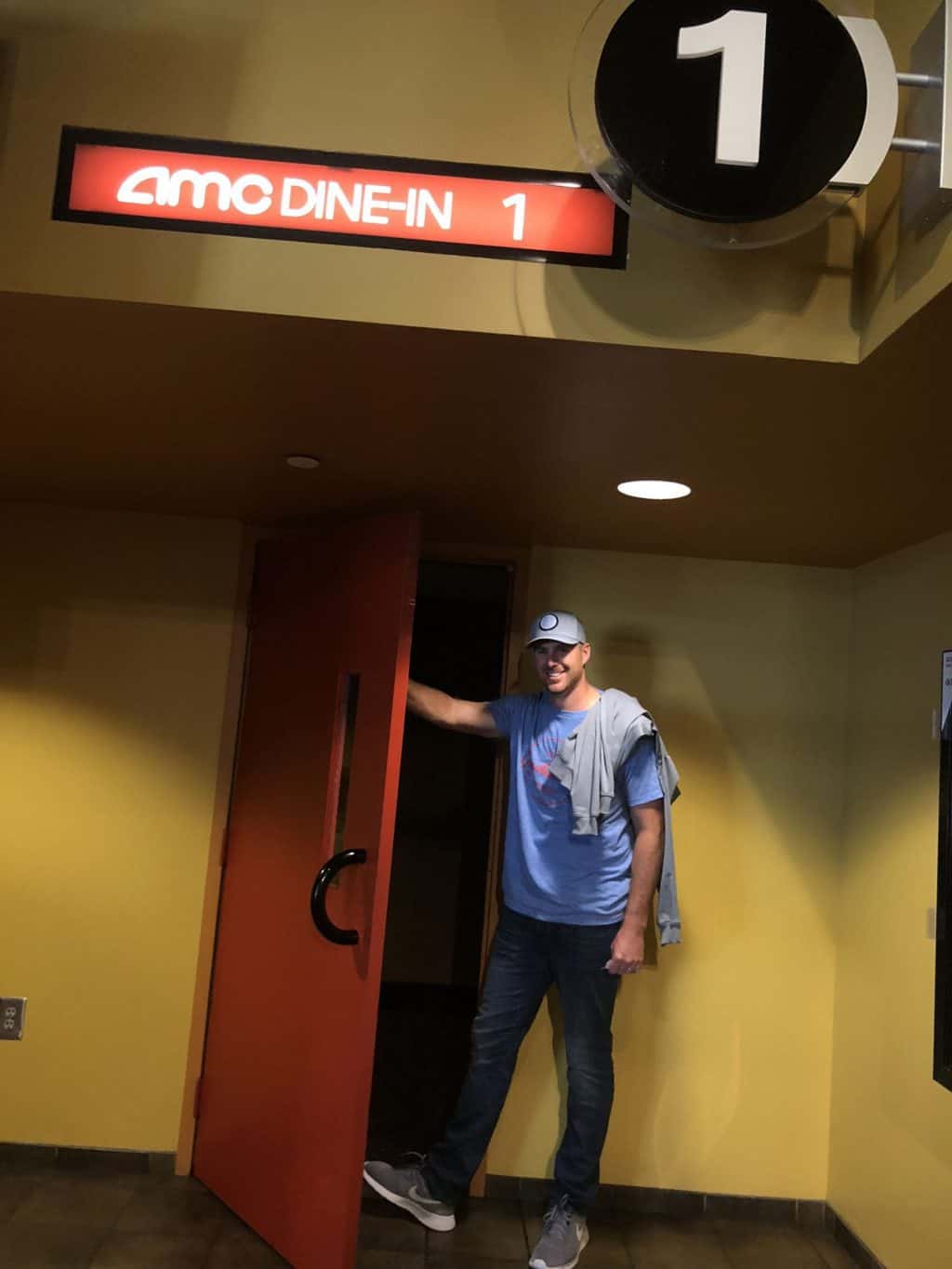 Coffee time before the next stop!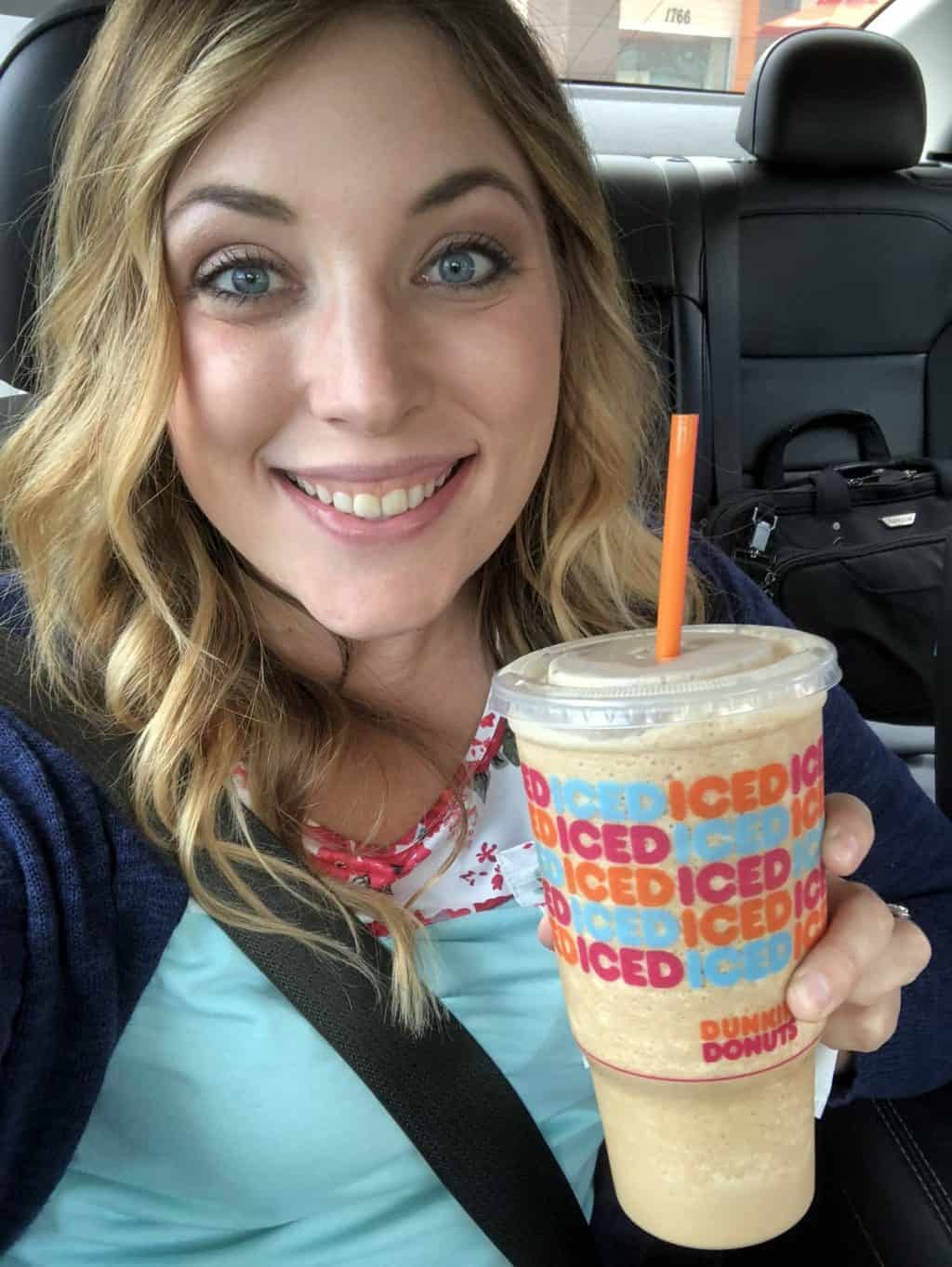 I know Top Golf has been around for awhile now but when you don't live near a major city you don't get to experience stuff like that often! Zach has been wanting to check it out for ages and I was so excited to take him!
When planning out the trip I actually thought of Top Golf prior to thinking of making his infusion trip a birthday trip and I had thought about planning a night for him and a friend to go to Top Golf in a location closer to home. But Zach always says I'm his favorite person to do everything with so I figured he'd rather have his first experience there be with me…even if I have zero golf skills 😉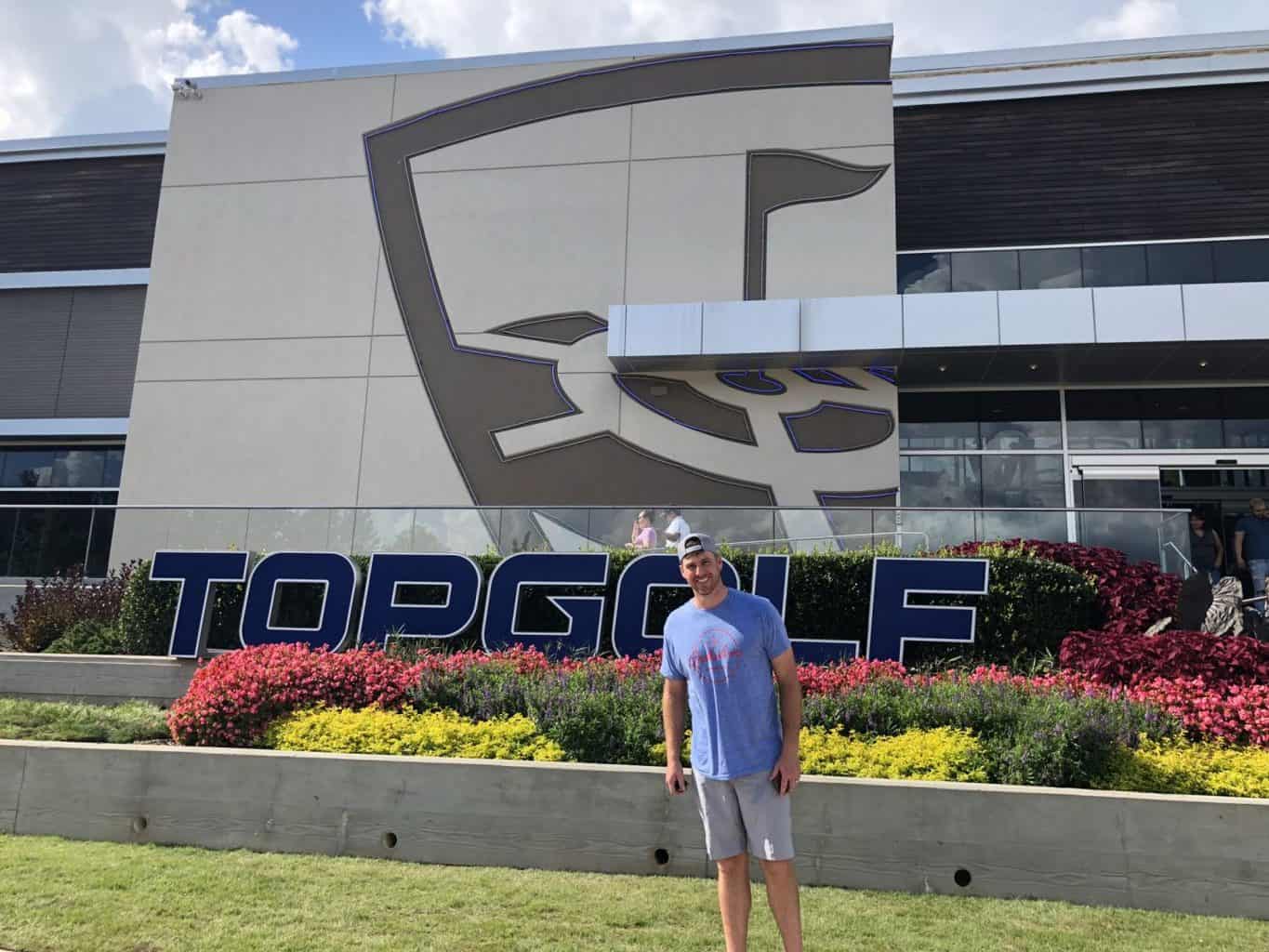 Neither of us were quite sure what to expect when we got there but it is SUCH a cool concept. I had always assumed it'd just be hitting golf balls but Top Golf is actually very high-tech and has TONS of options for different games that are appropriate for any skill level. It's a great thing to do with friends or as a date or with the kids!
I will say our service was not so great. I personally think when it's your first time visiting that a staff member should explain everything to you. We were just kinda left to figure it all out for ourselves. And once our waiter got our order of only water we never really saw him again.
I will also say that they played loud music that was often inappropriate for young children. And it was a Sunday in the afternoon. So it's not like we were there late at night or something! Zach still totally plans to take Kye at some point and I wonder if the locations in Jacksonville and Orlando are more family friendly since they are more family travel destinations and Atlanta isn't really?
You are allowed to bring in your own clubs but Zach didn't b/c he didn't want to be "that guy" haha but next time he totally will since we saw many people carrying in their own!
Overall we really enjoyed it and had so much fun. It's a GENIUS business model and I love companies that are started with simple concepts and ideas.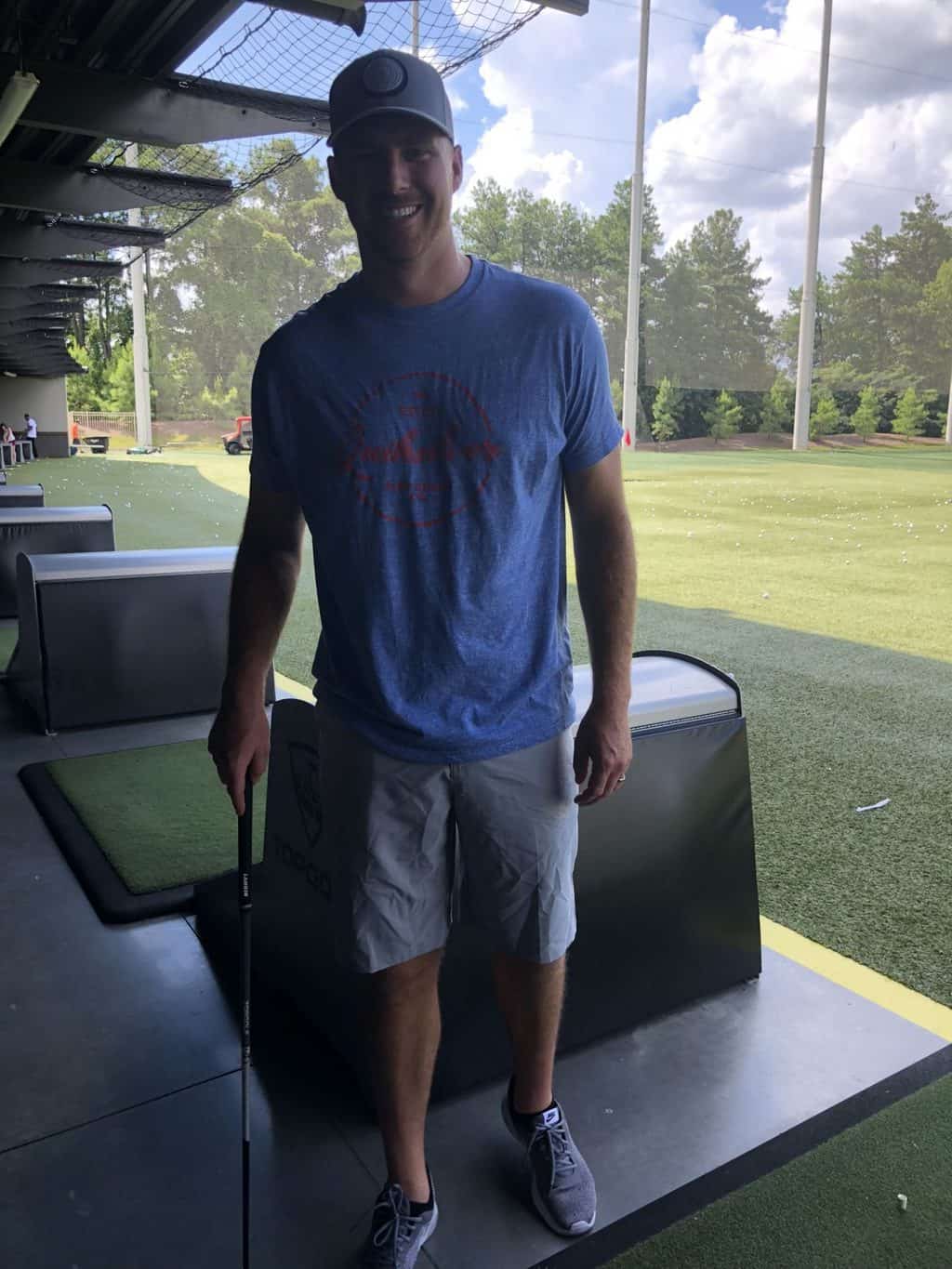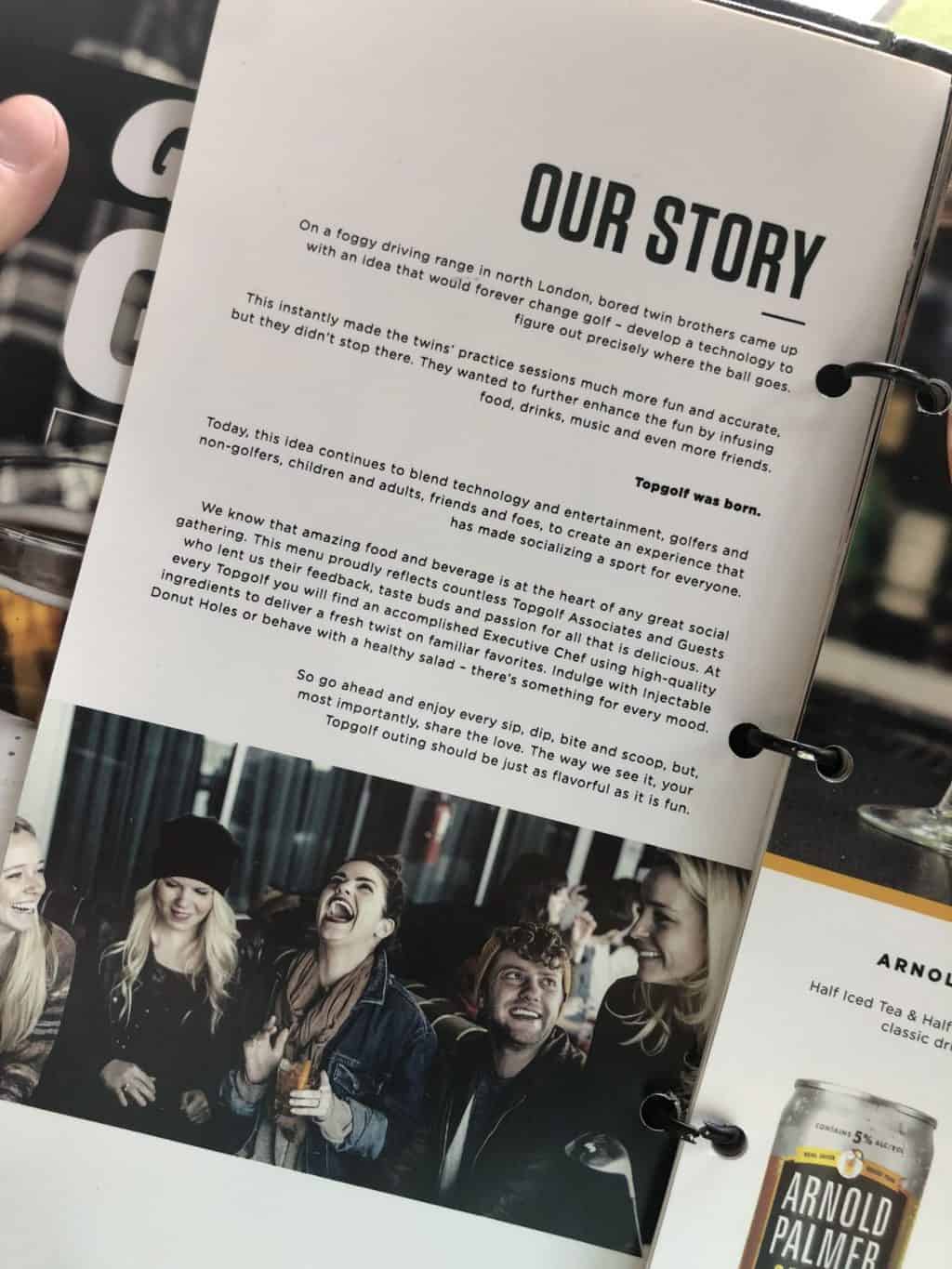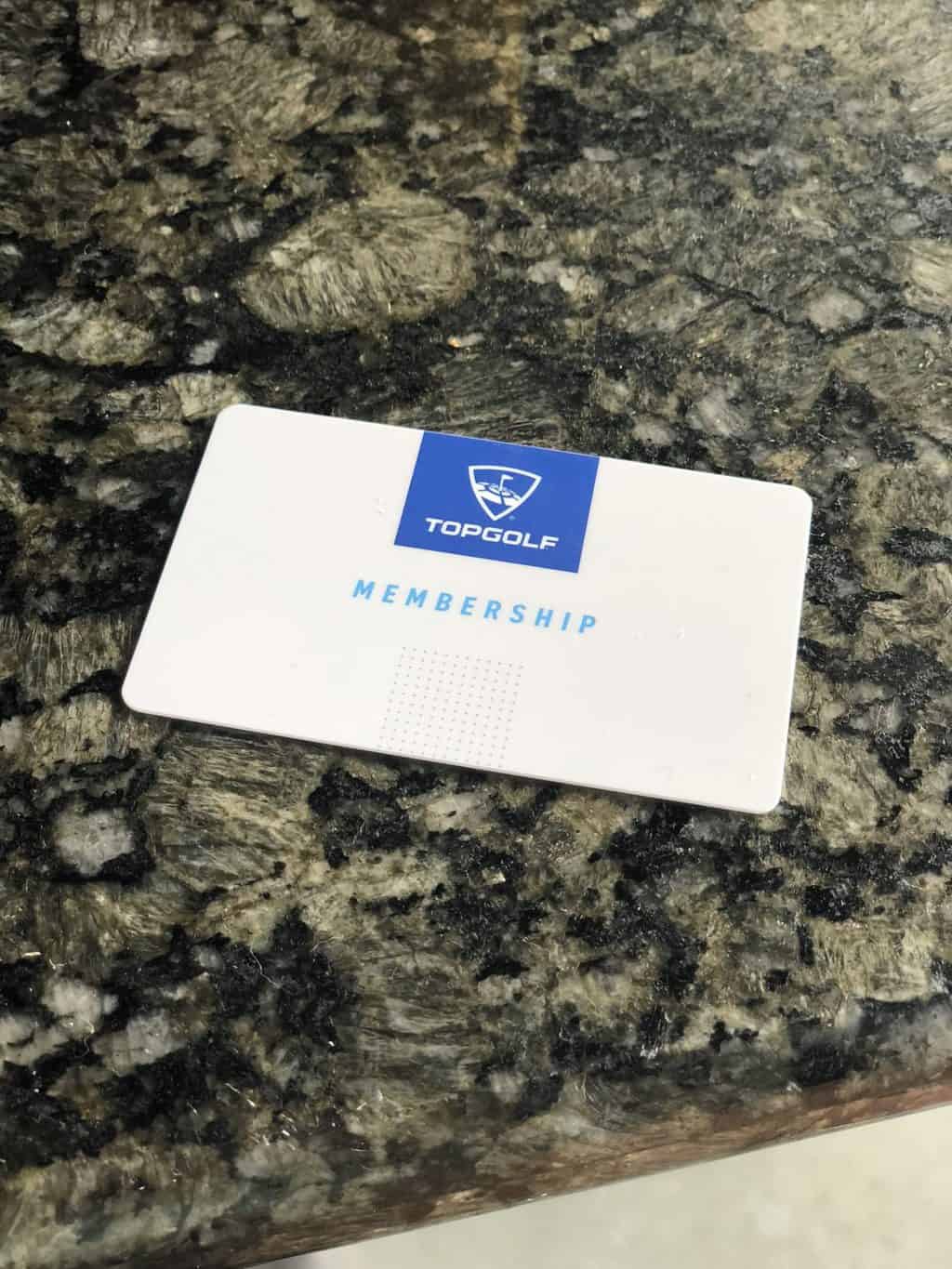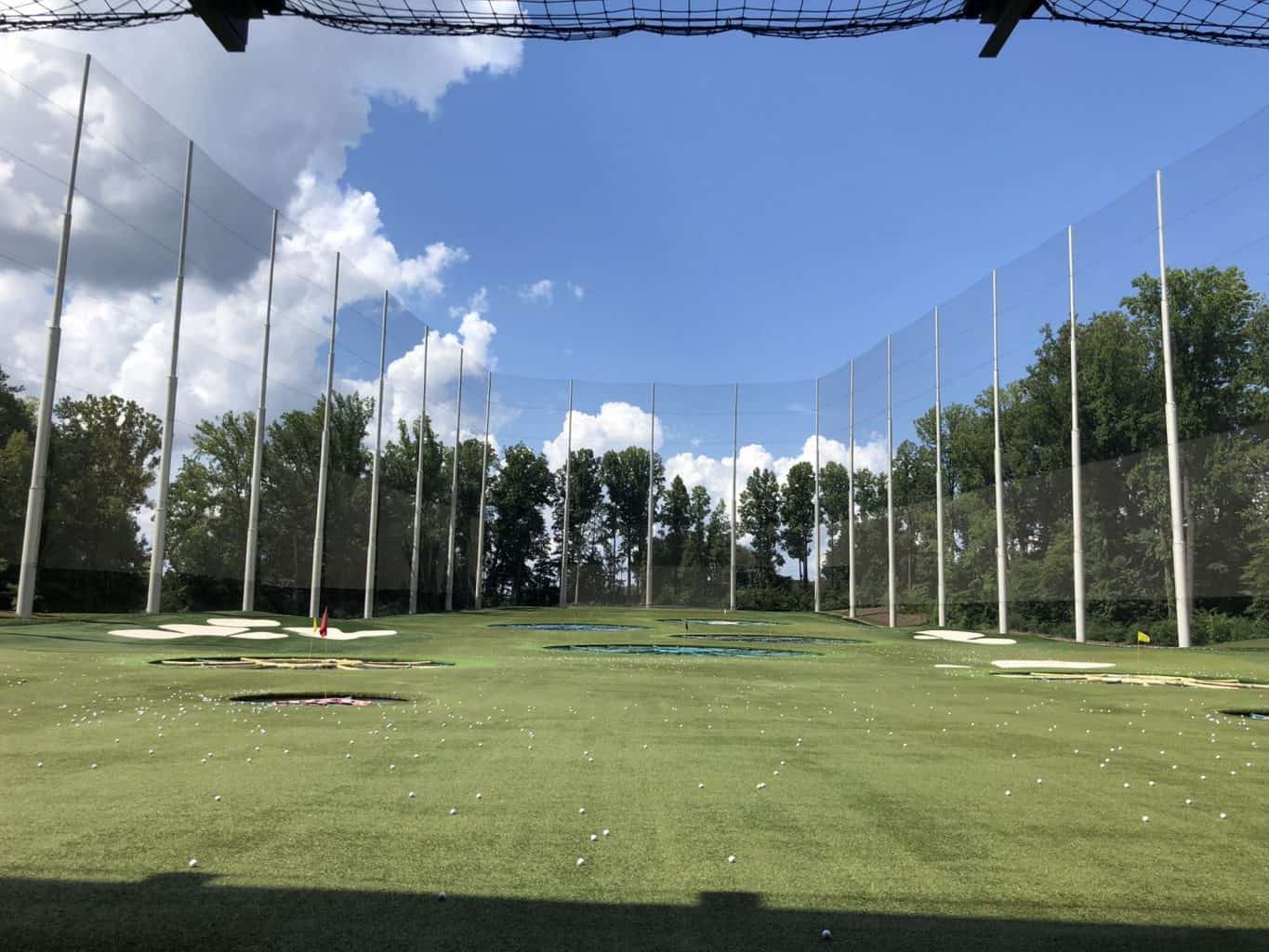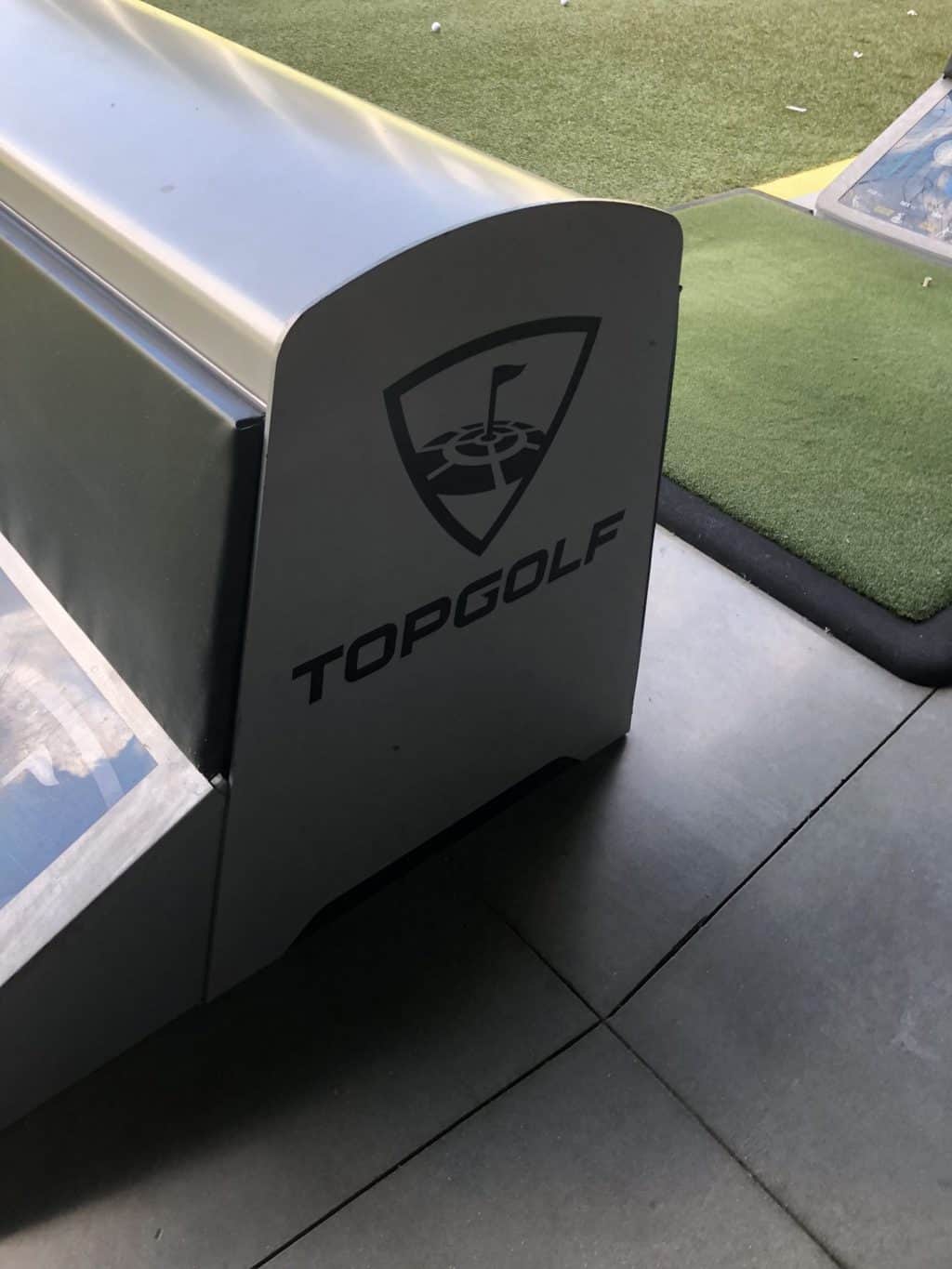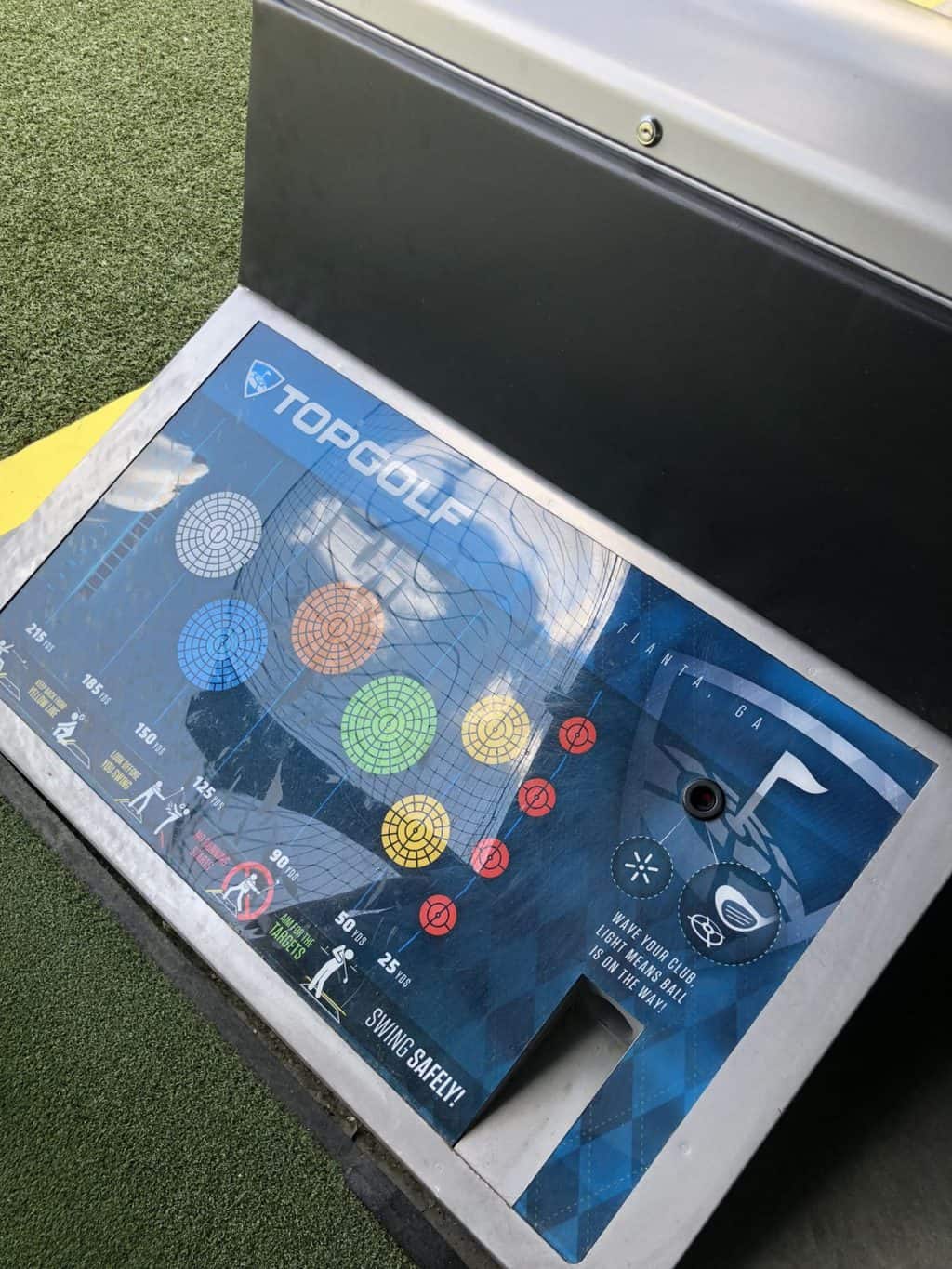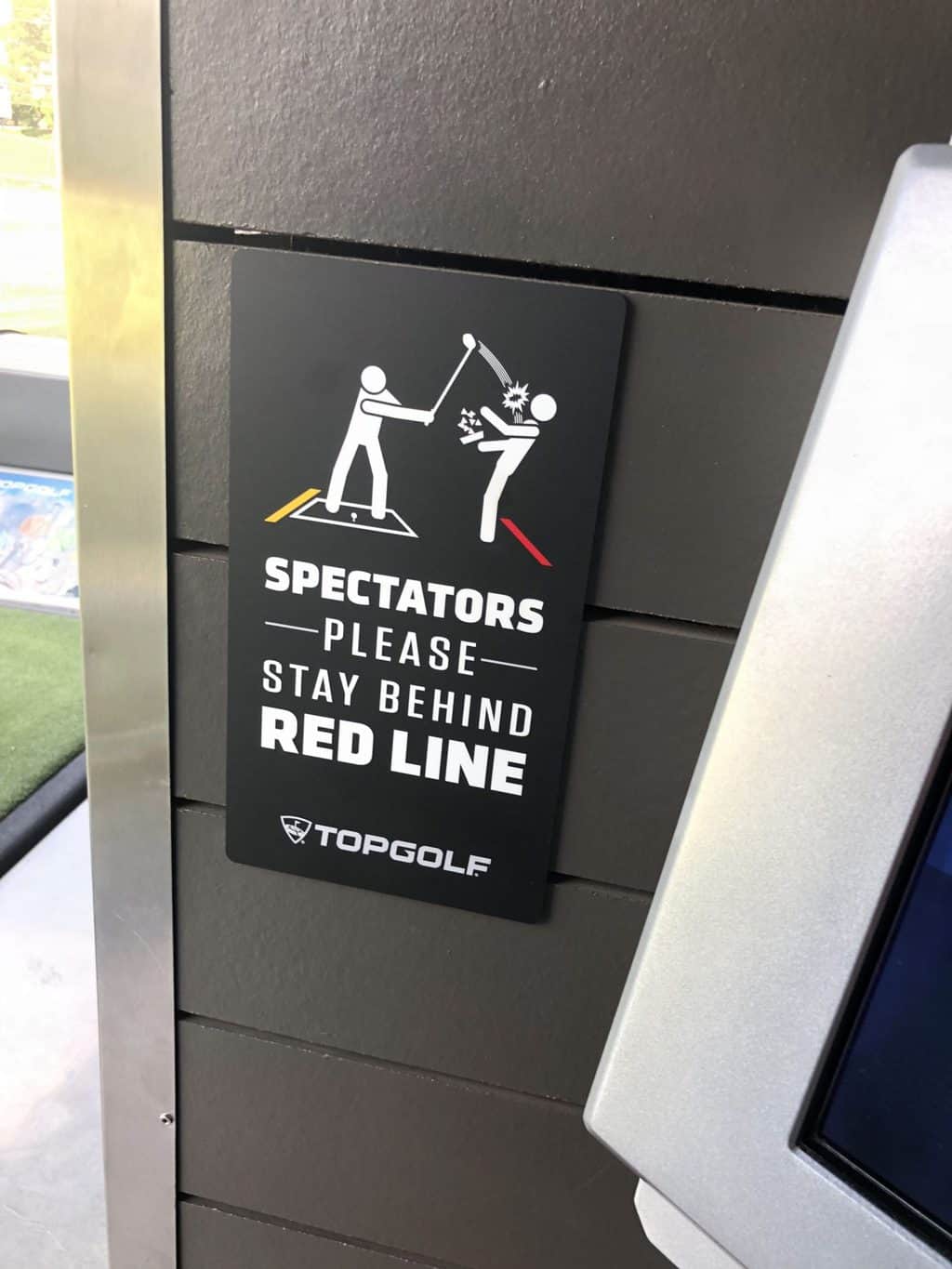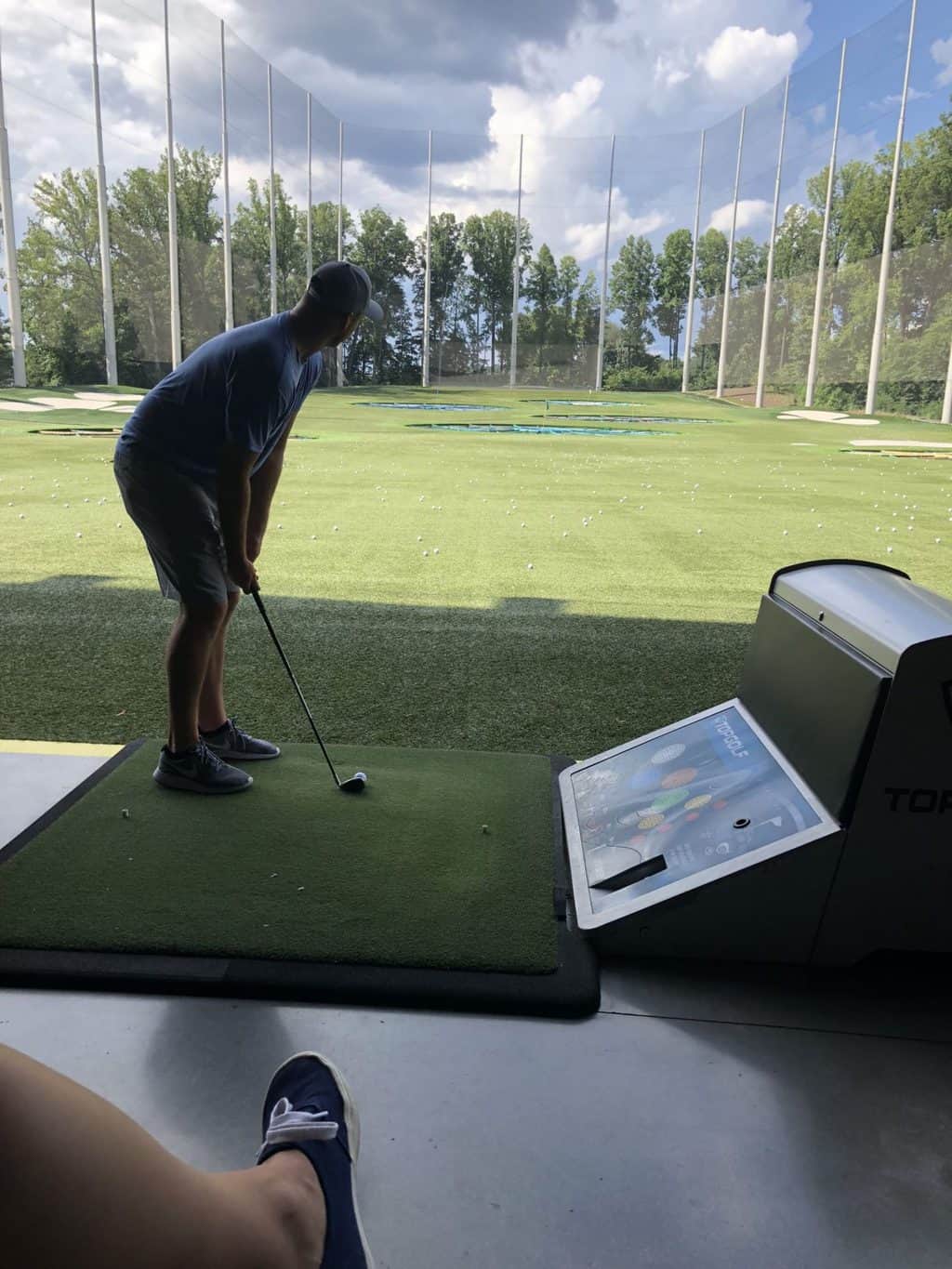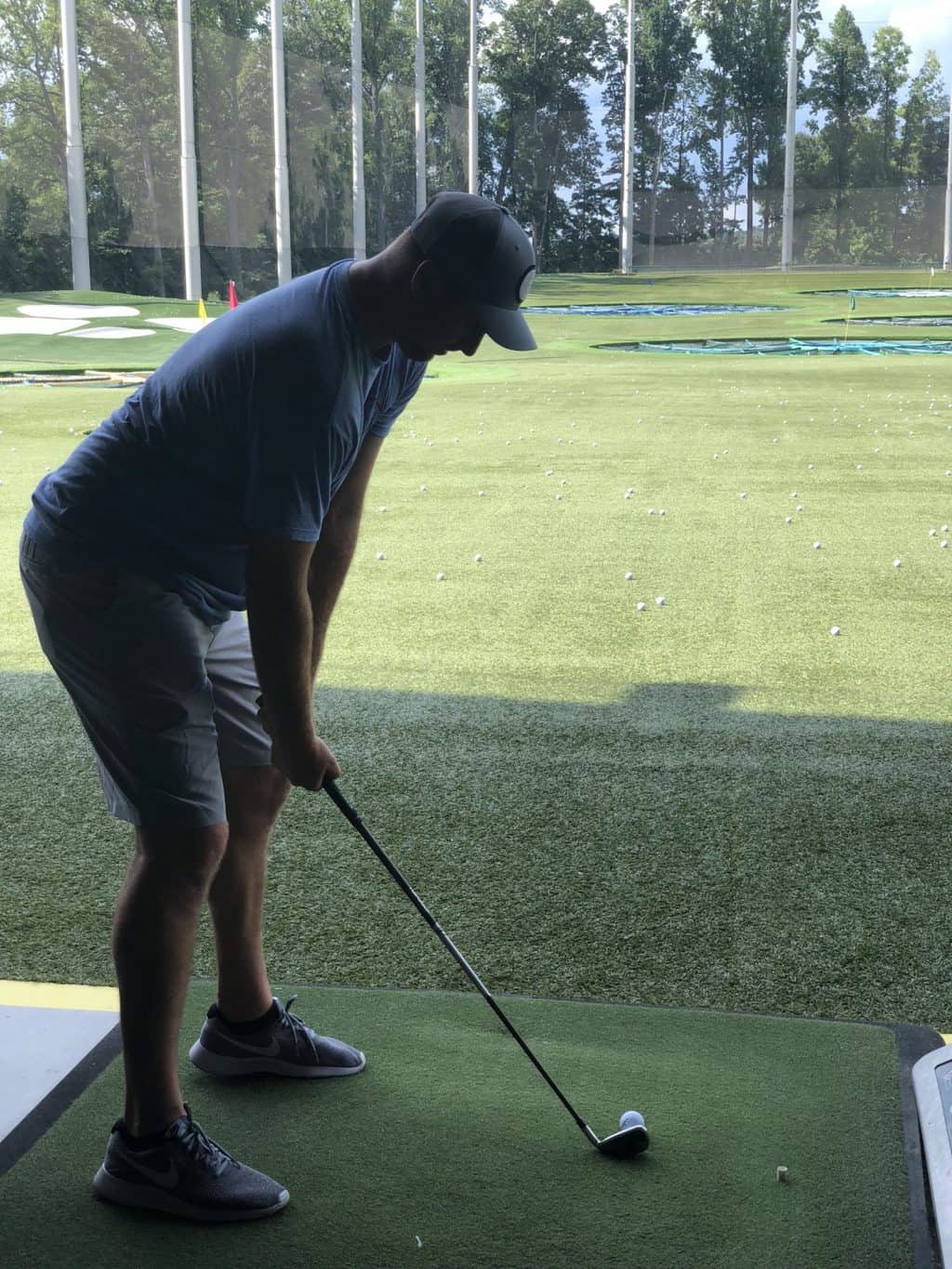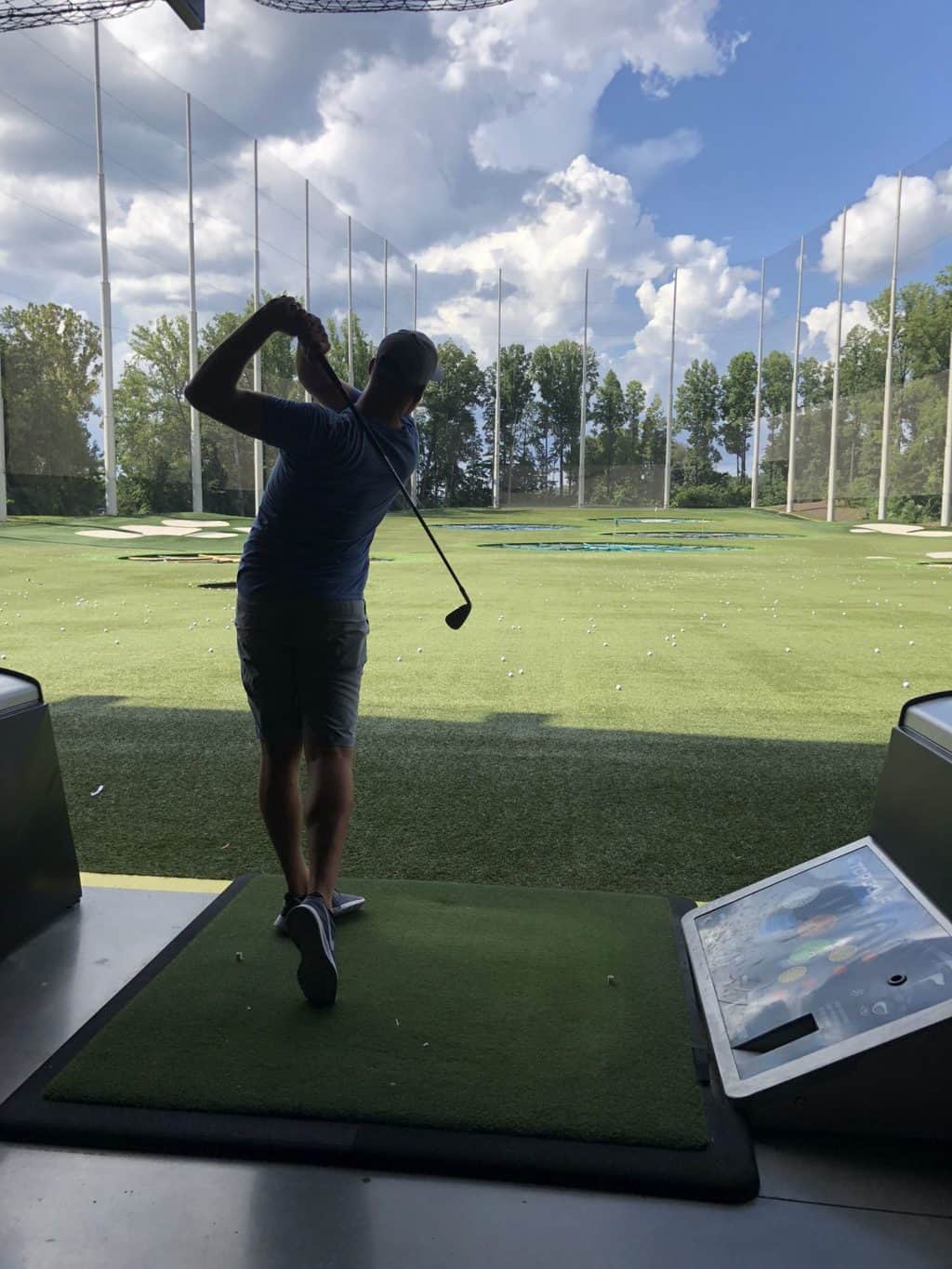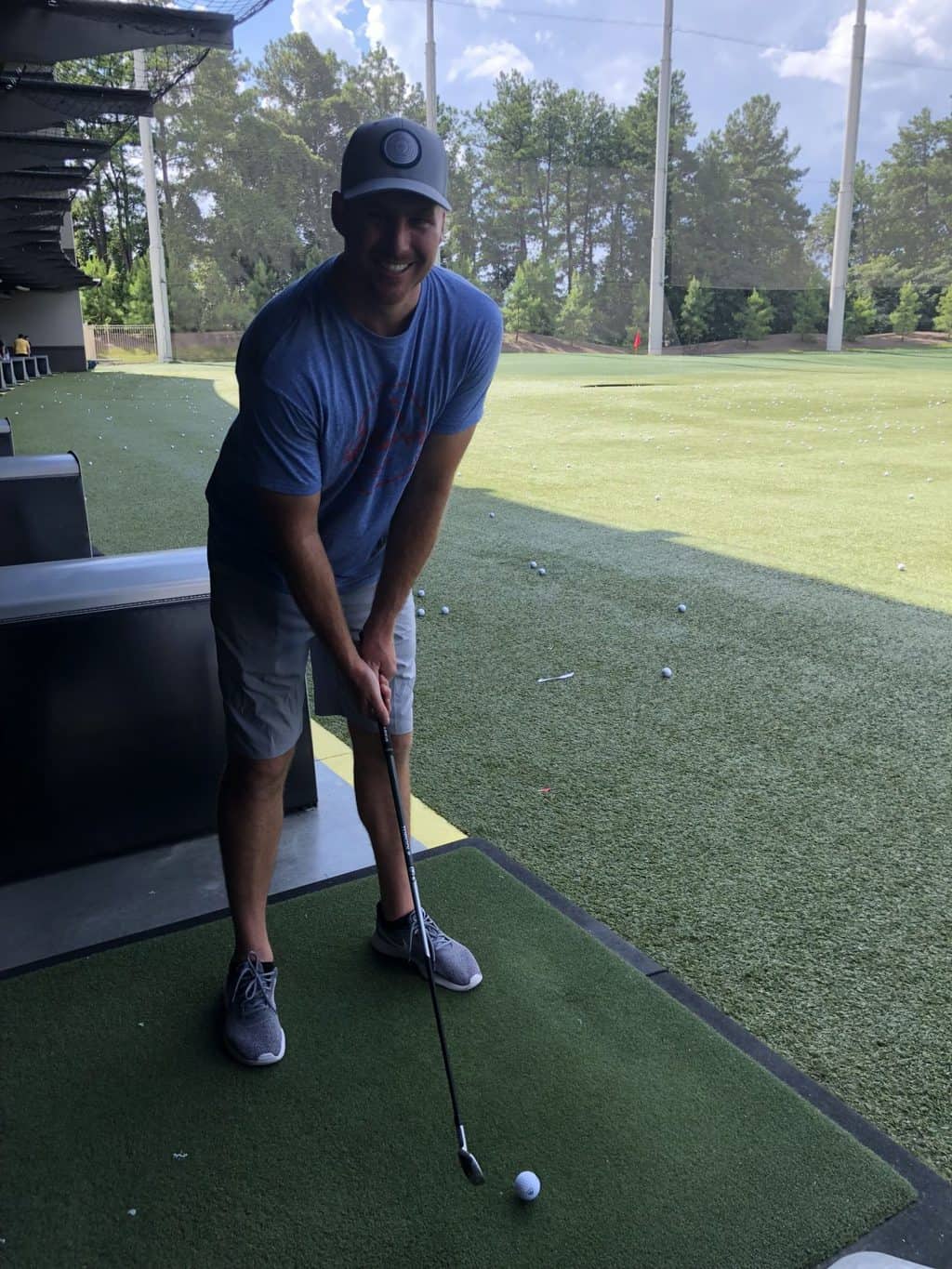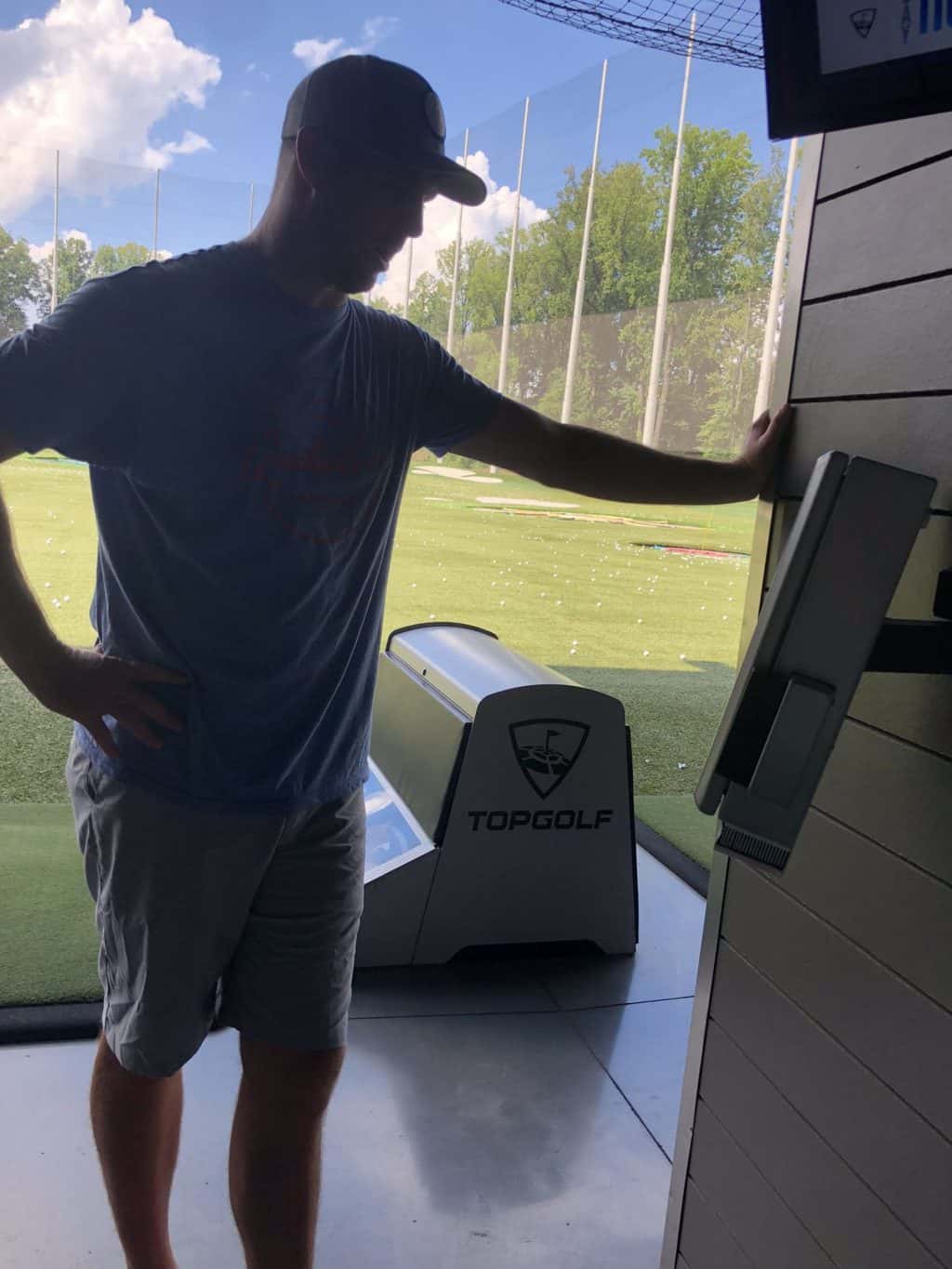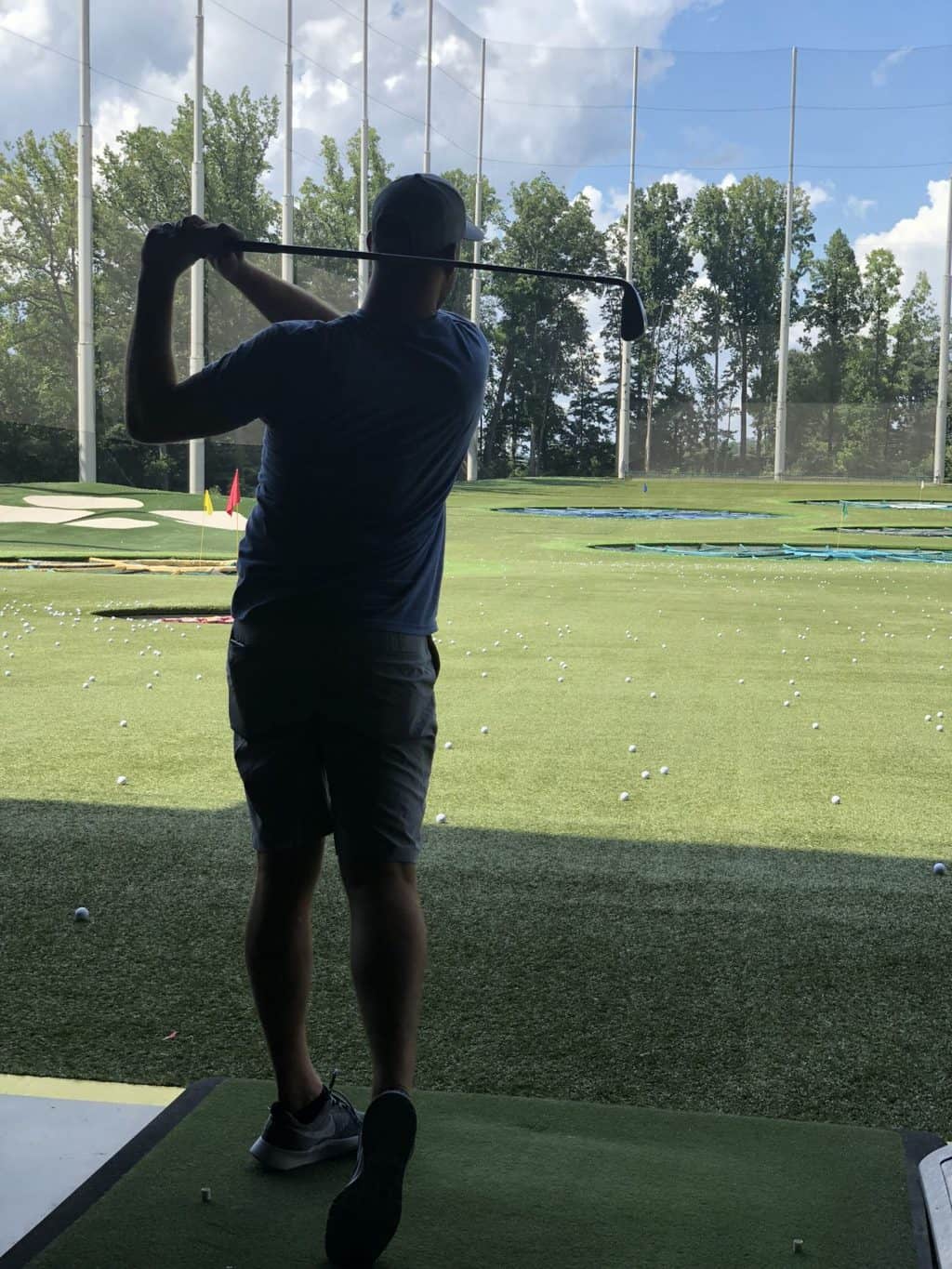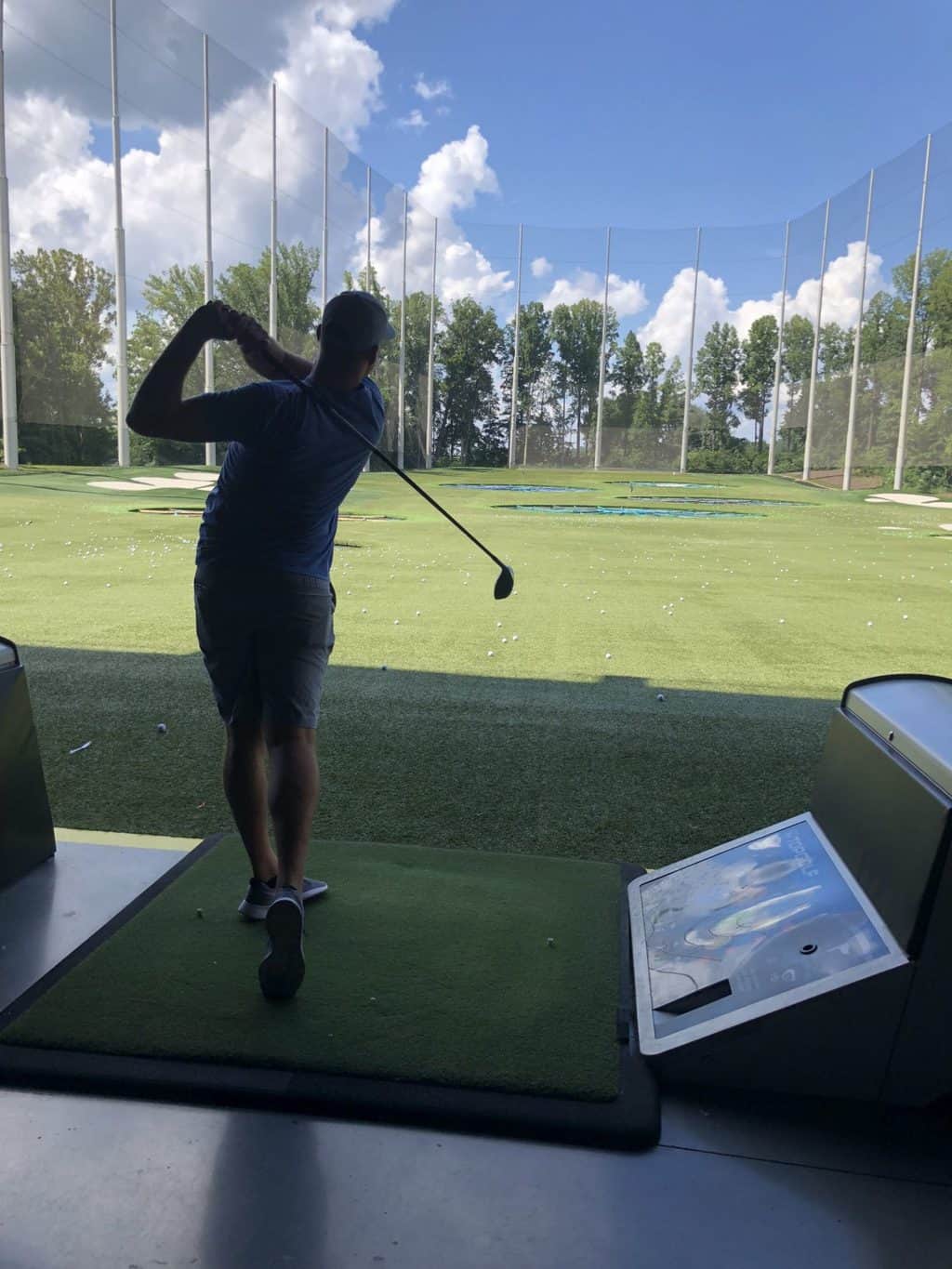 Here are a couple videos of Zach: Video 1 and Video 2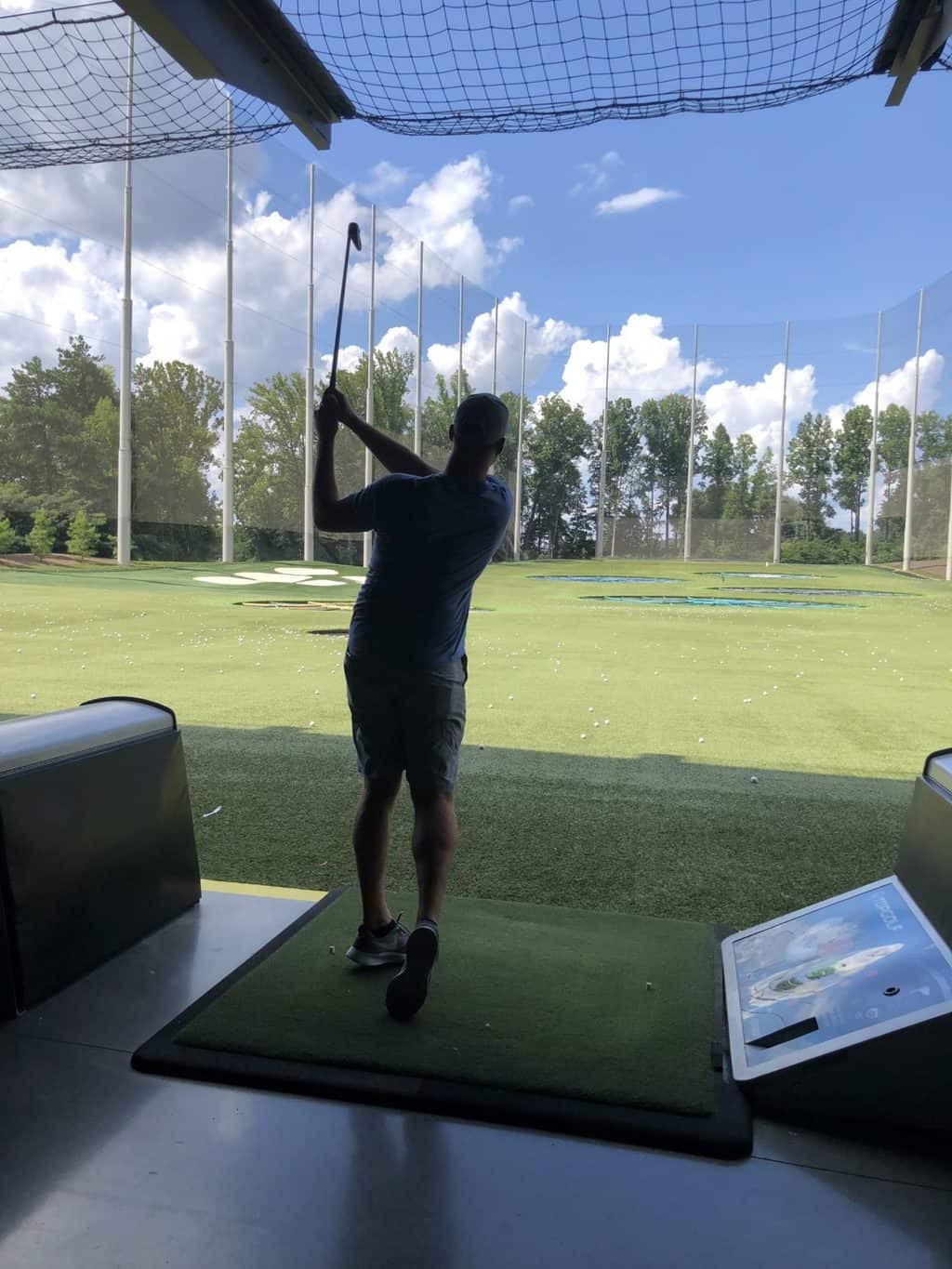 And Zach took a couple sneaky videos of me and my amazing skills haha: Video 1 and Video 2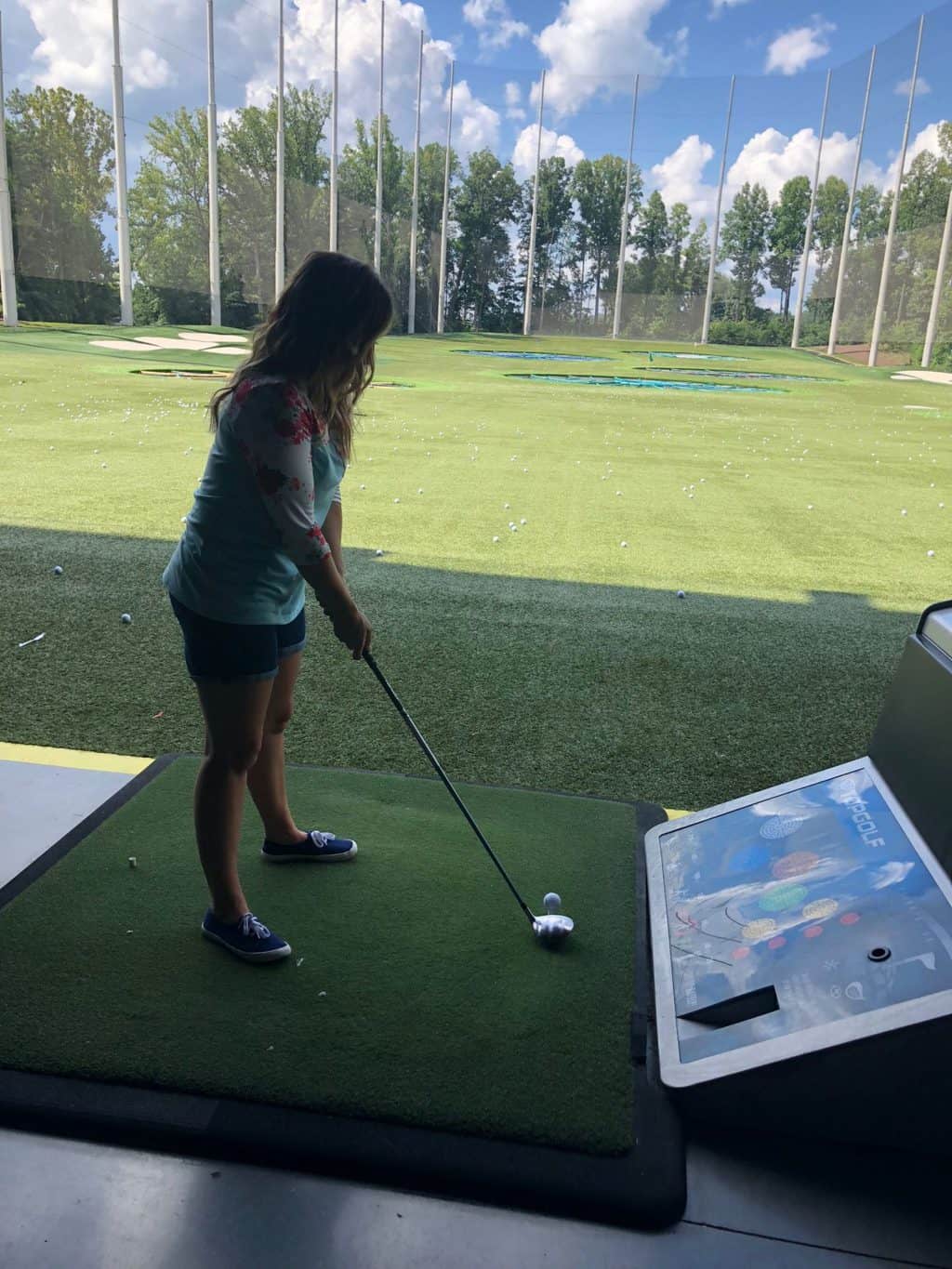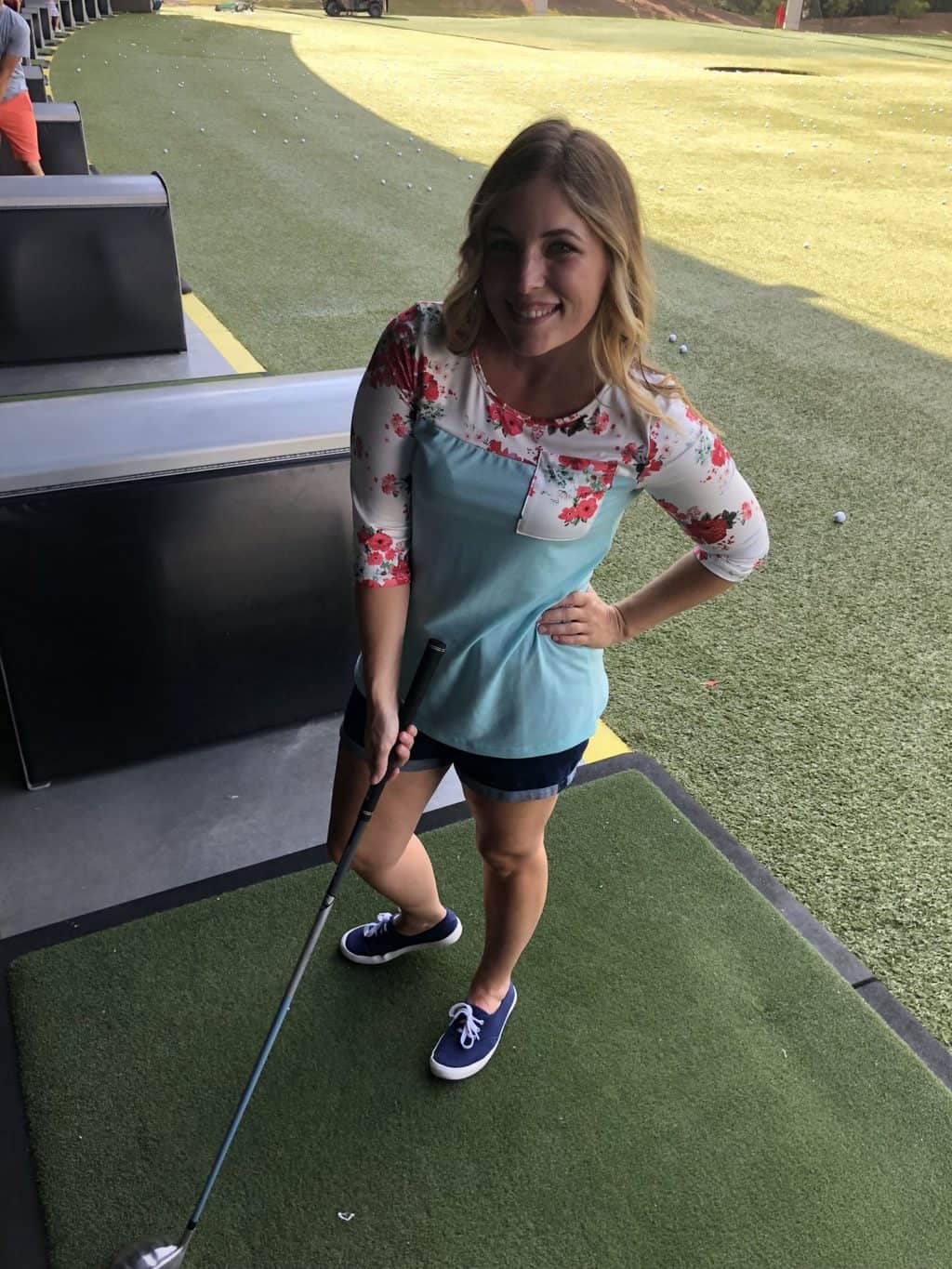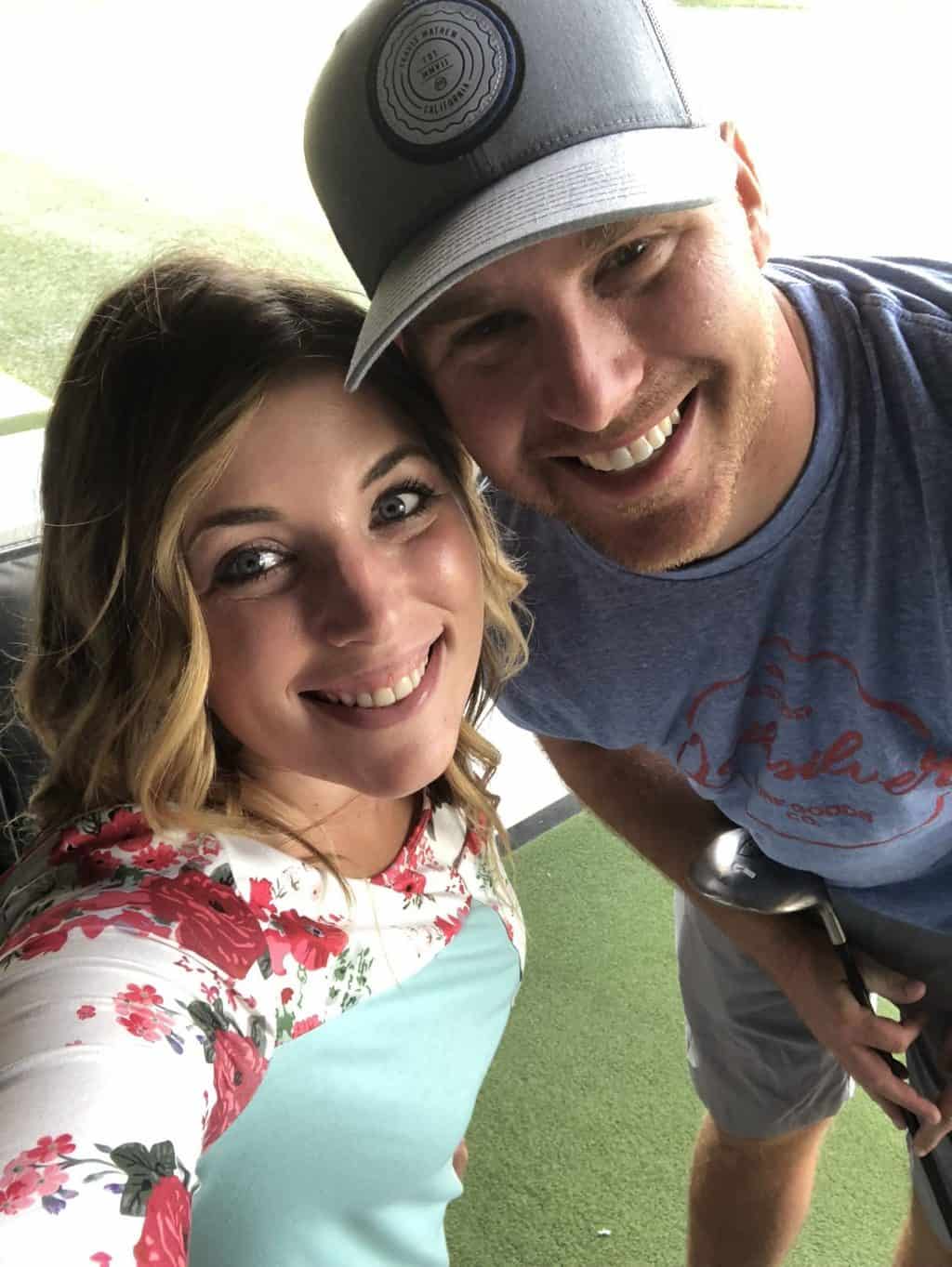 I'm SO appreciative to the many friends who have reached out and offered us a place to stay for Zach's infusions. Now that they are every 6 months and since Shepherd Center is located in the heart of Atlanta we've just been doing the hotel thing. It's twice a year, why not make a night of it together? My plan is for us to try out new things each time we visit. Maybe do a new restaurant each time or something? Try to have a fun "infusion tradition!"
Zach does still have to go for a check up every 6 months that is a MRI and not his infusion. So during those trips he will totally keep hitting up people for a spot to stay so don't hesitate in offering haha it's still very much appreciated! He usually tries to work those visits into work related stuff to keep his travel to a minimum! We are thankful we live only 3 hours from Shephard Center but still it's 3 hours and it's very bad traffic!
This trip we stayed at a Hampton Inn in Buckhead and it was super nice!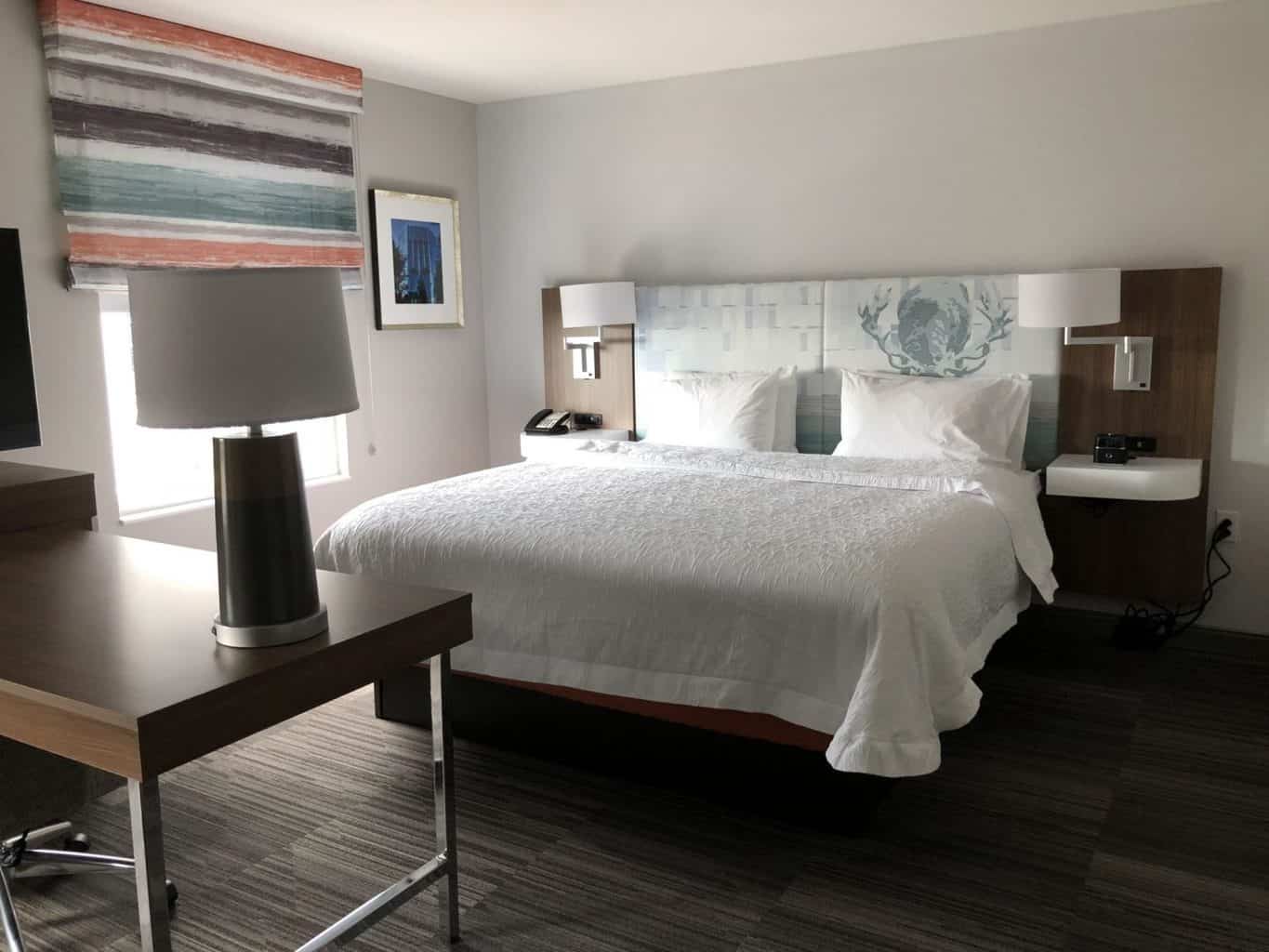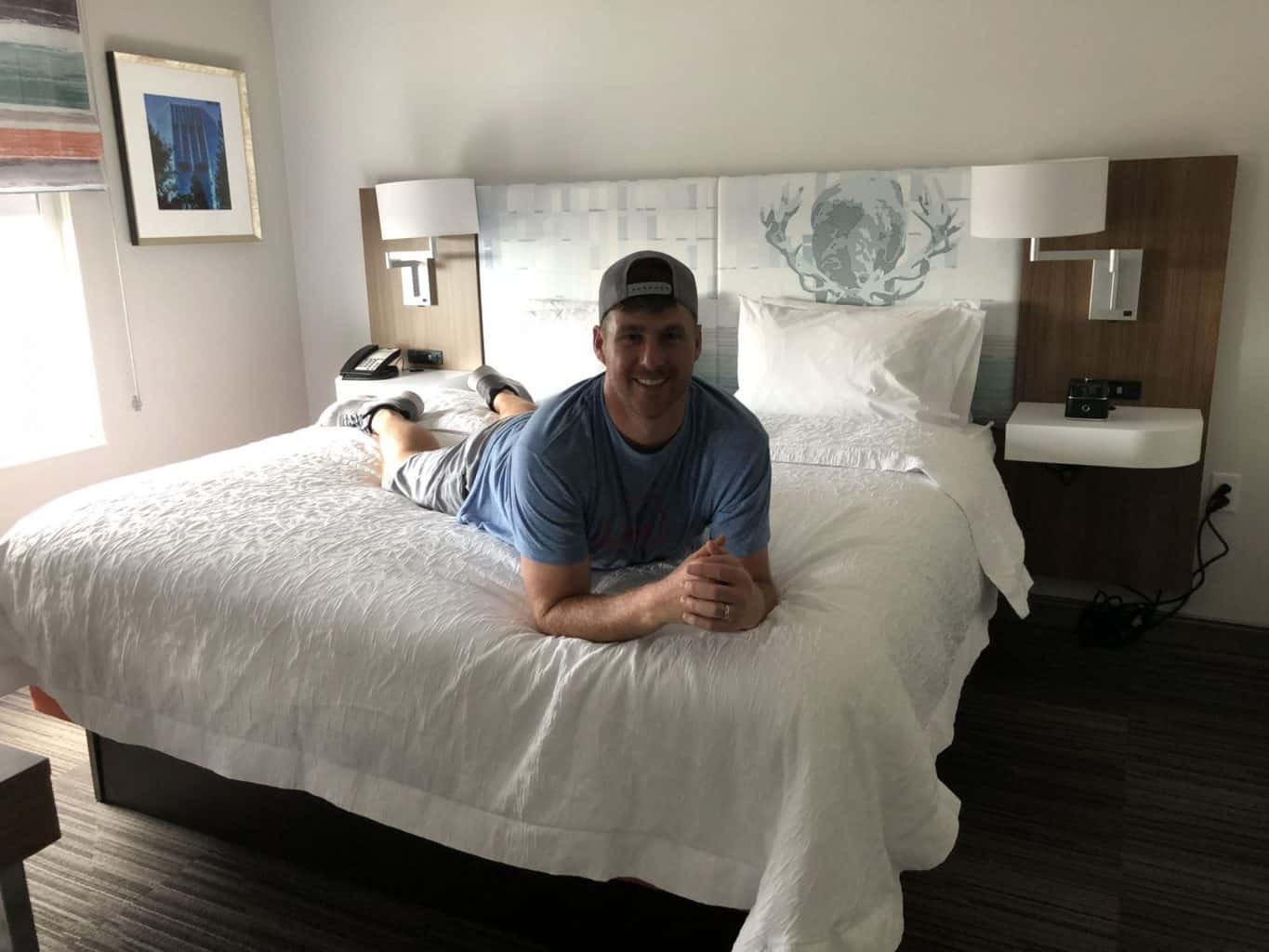 I had asked for recommendations from my FB friends regarding a great steak house in Atlanta for his birthday dinner. I debated and debated and then made reservations at Bones. And then Zach decided he'd rather have his trusted favorite: Maggianos! So not steak, but hey it was WAY cheaper and his favorite!!! It did NOT disappoint and we had a great dinner together!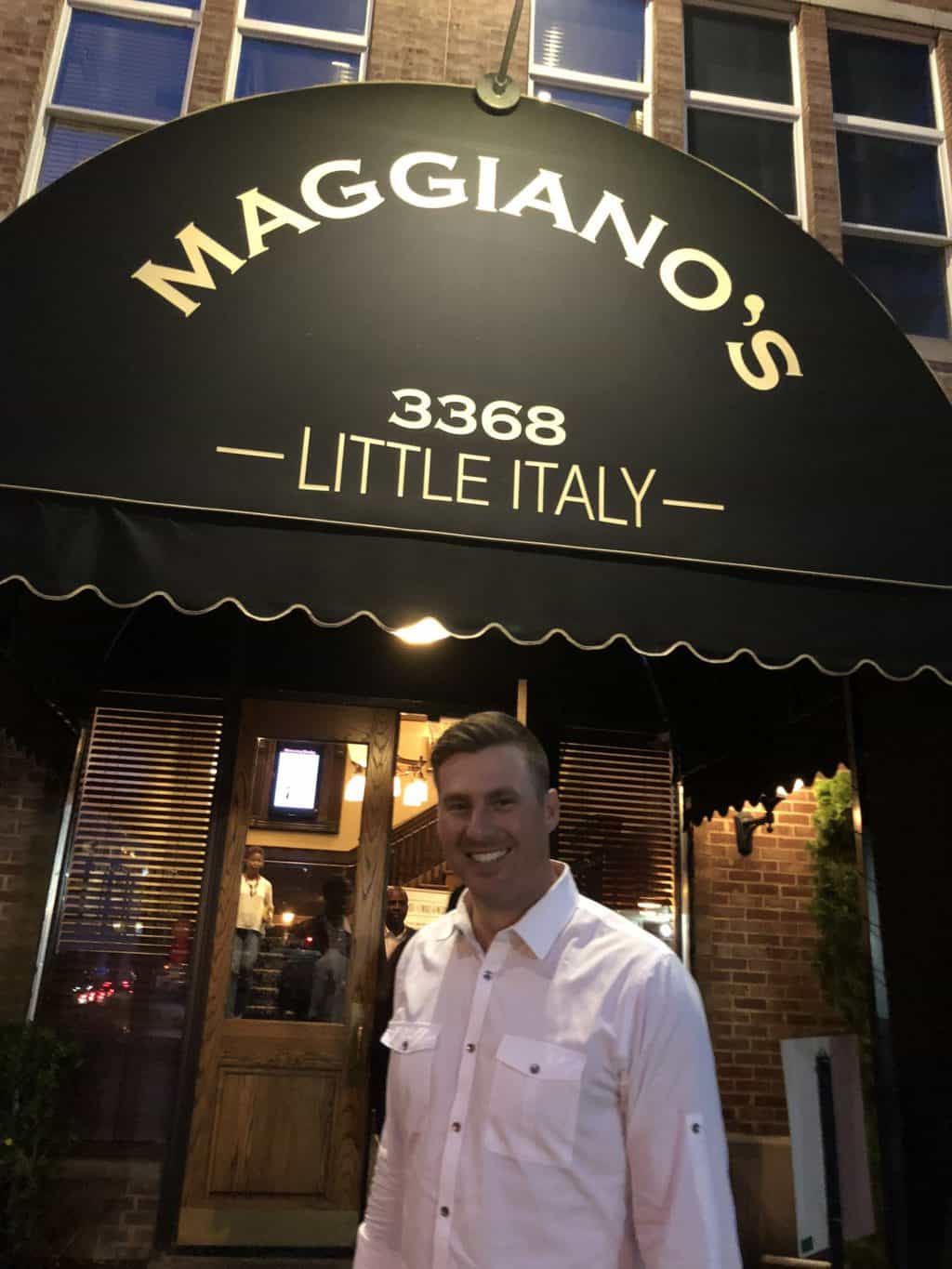 Birthday Cake for the Birthday Boy!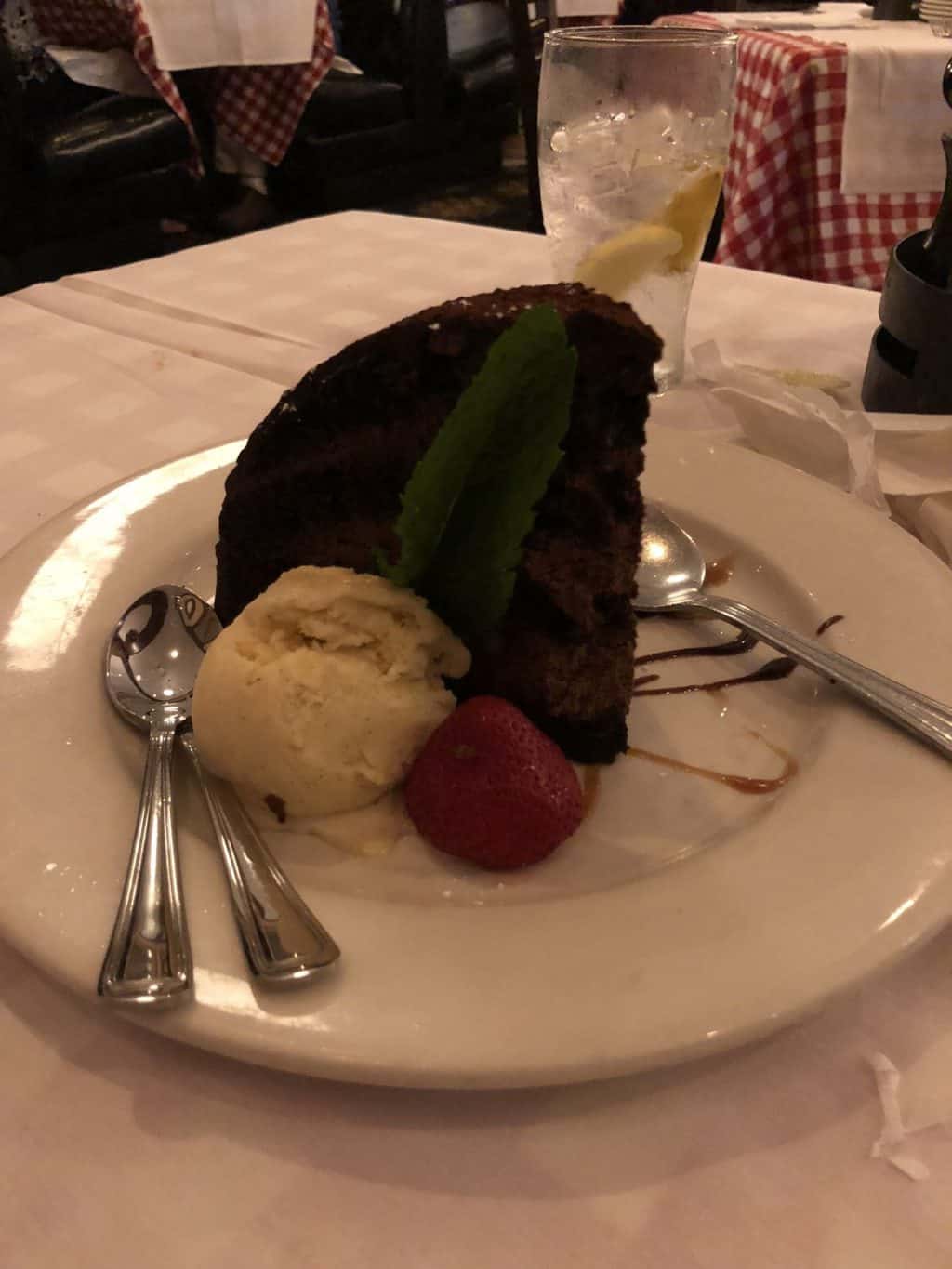 The last stop on our Birthday Trip was at Shepherd Center for his infusion! I am going to do an update post to cover his visit. I think it's good to post those sort of updates from time to time as I know so many people care and wonder but it's an awkward thing to ask about 😉 Or people DO ask and then Zach and I get awkward haha!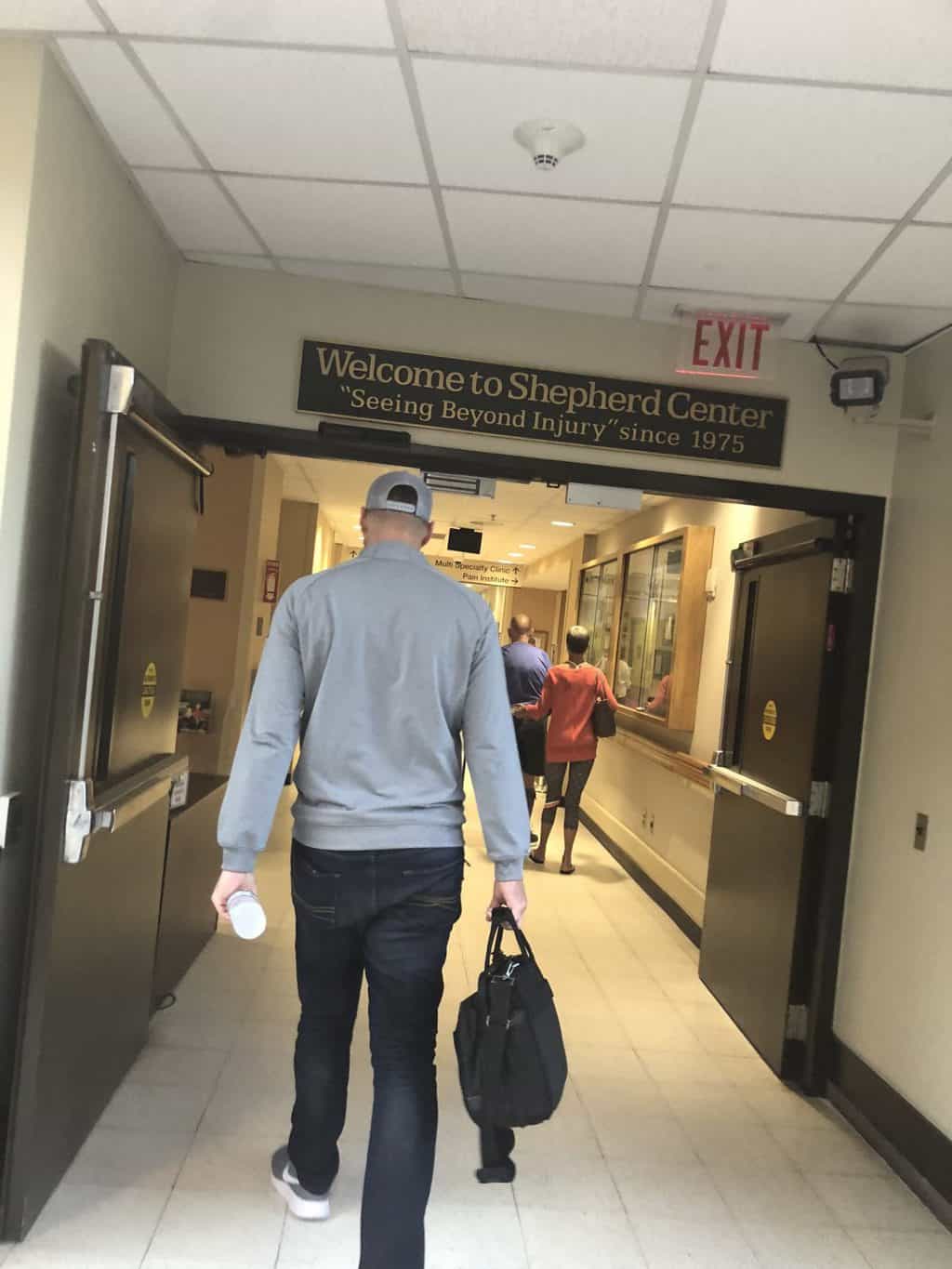 I made sure to take a pic of the side effects to look out for just in case!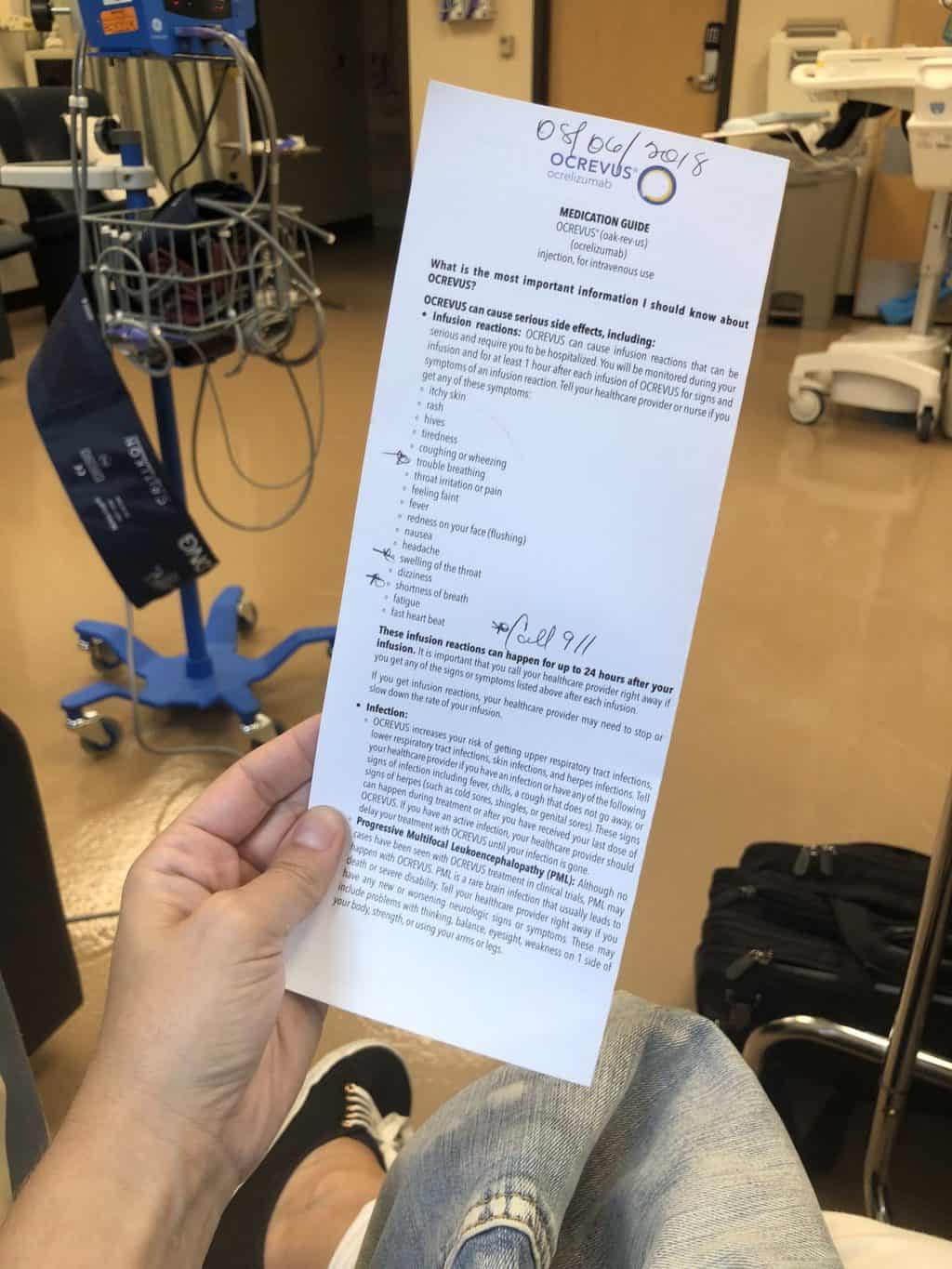 Gettin' It DONE!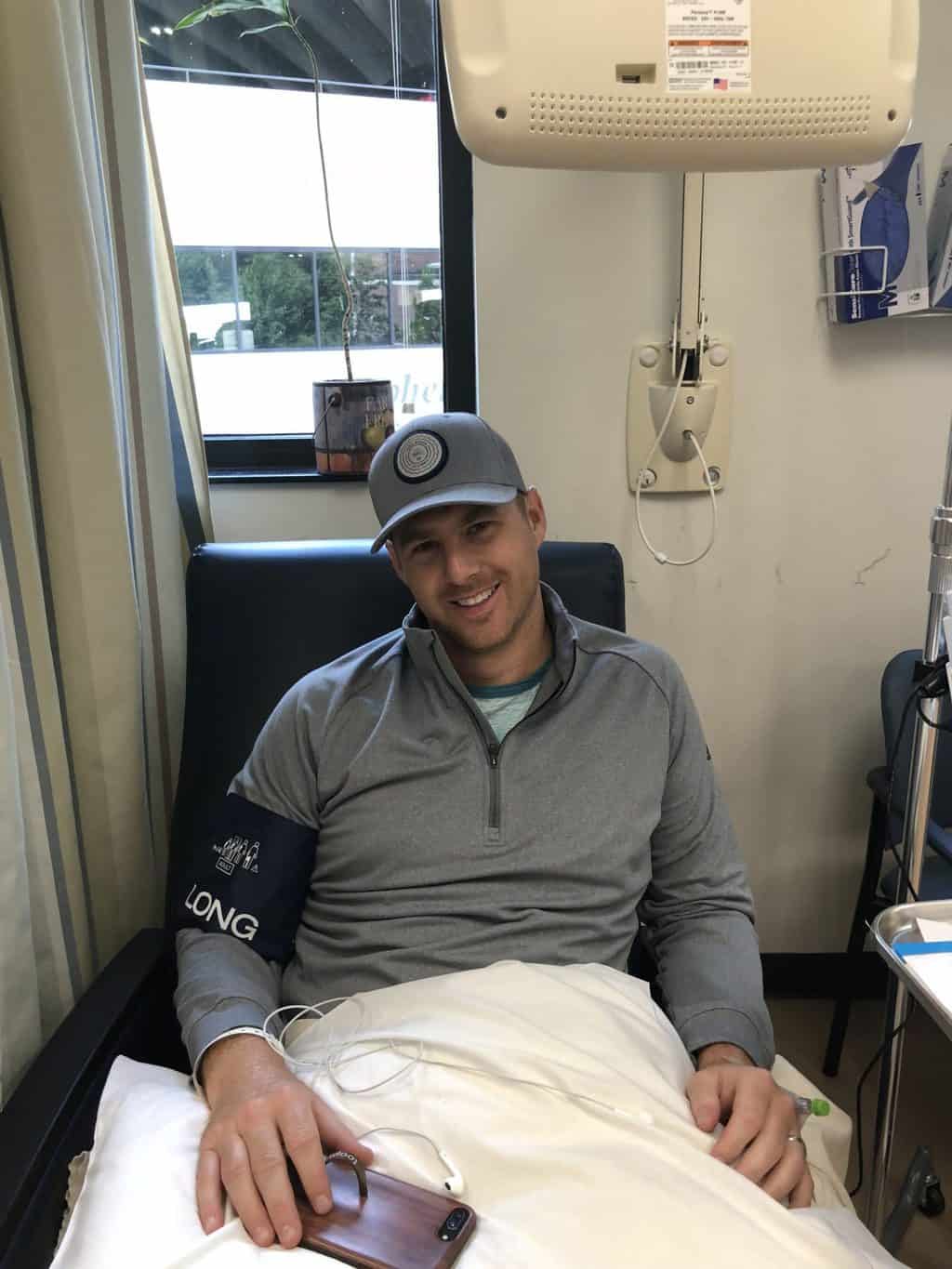 Now that his infusions are every 6 months rather than every 28 days they take a LONG TIME. Like HOURS. We planned on me being there for the visit and meeting with the dr and then once his infusion was going I headed out to meet up to pick up some breastmilk for Spear. Multitasking at it's finest 😉 It worked out well because part of his infusion is a large dose of Benadryl (to help the infusion not burn) and it knocks him OUT. So he sleeps most of the time and he would honestly rather me not come along to the appointments. He feels bad to inconvenience me or his mom when she keeps the kids but she and I both agree one of us wants to be there! So me having another thing to do while he was getting his infusion was a win-win because it made it easier for him to agree to me coming since I needed to pick up the breastmilk anyway 😉
Another win-win was that the breastmilk I needed to pick up? Just so happened to be from one of my favorite long-time friends! Claire and I met in elementary school and became the best of friends in middle school. She has been SO SWEET and thoughtful and giving to donate her pumped milk for Spear. It's a HUGE blessing and knowing it's coming from someone I know so well and trust so much makes it so great too.
I was SO happy to get to see her sweet babies and give her a big hug and catch up for a minute…even if it was too short of a time period. I've been so blessed throughout my life with so many incredible friendships who have helped mold and shape me into the person I am and Claire was such a big part of my life during such a huge time of personal growth and I'm so thankful to know she's one of those forever-no-matter-what friends. Time may pass and we may not see each other for years but it just picks right back up!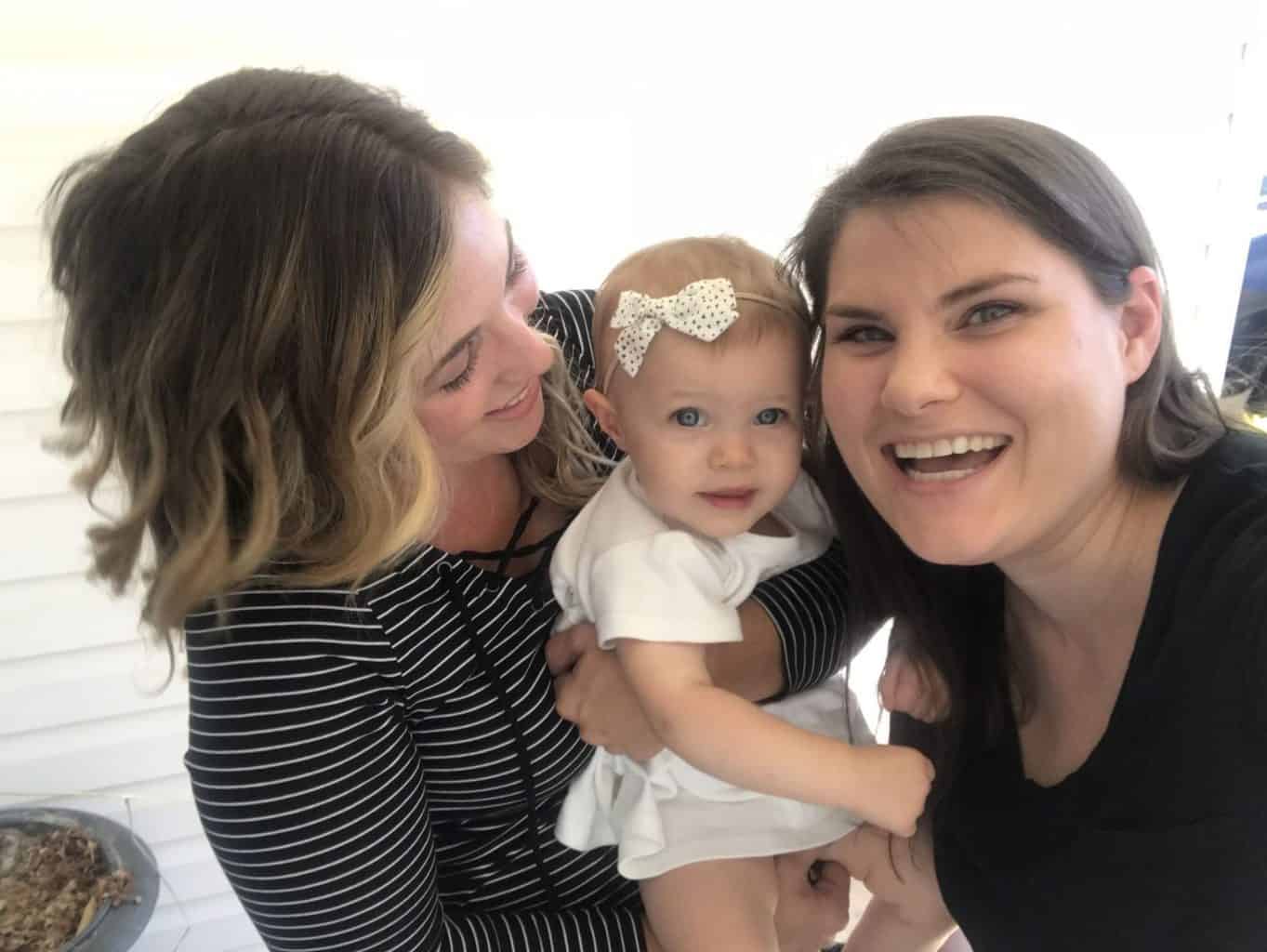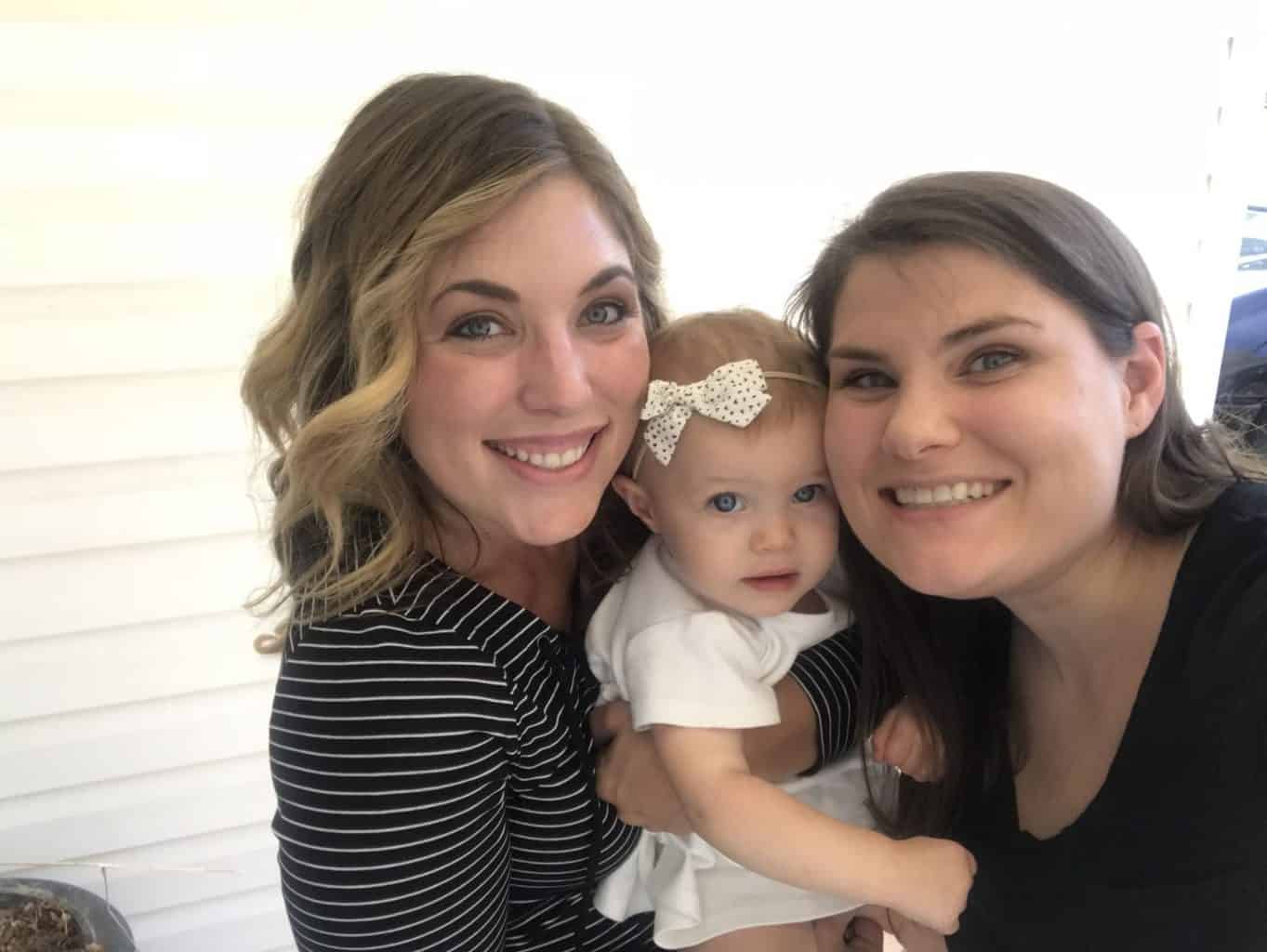 Thanks Hadley for sharing that liquid gold with Spear 🙂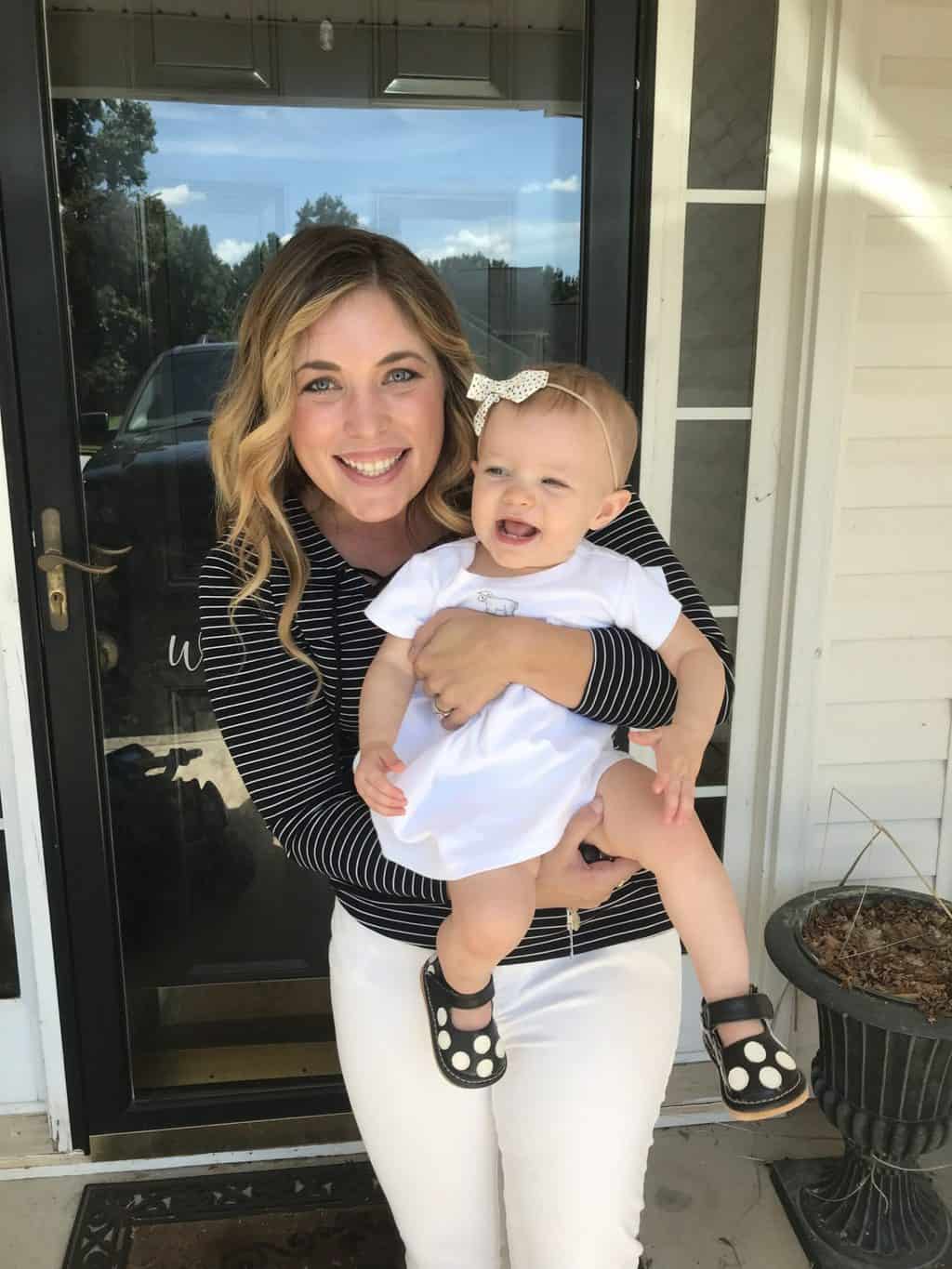 Flashback 🙂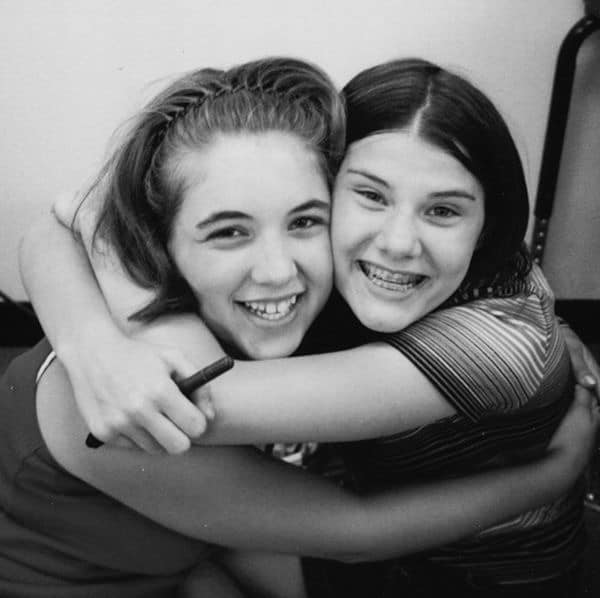 My dad works not too far from where Claire lives and I had hoped timing would work out to get to see him for a quick lunch or visit or something but it couldn't work from his end so I was able to meet up with Rachael and catch up over some lunch together! It was SO great to see her, it's been TOO LONG and it always makes my heart just so happy and feel so full when I get to see her in person. It doesn't happen often enough!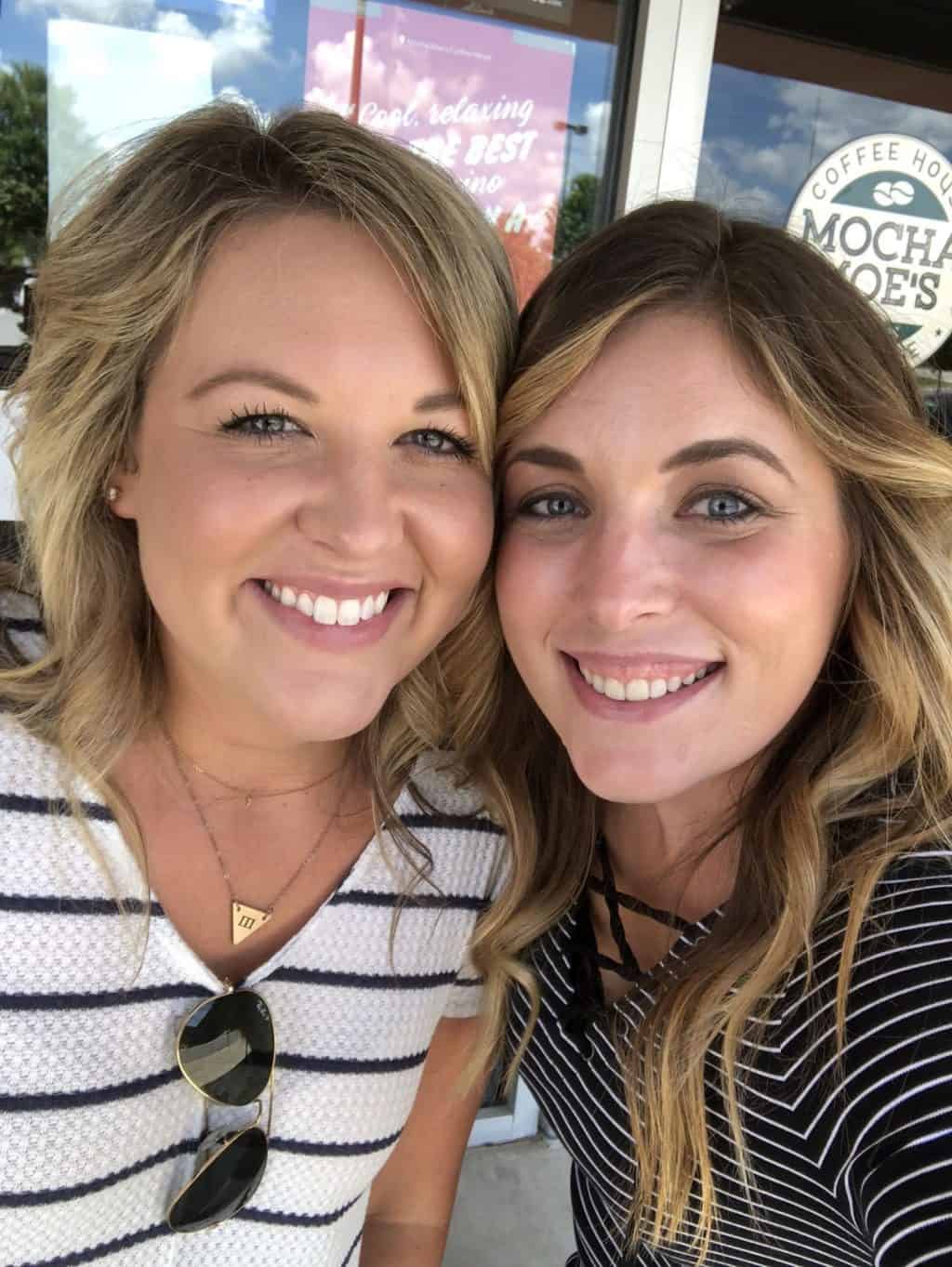 While we were in Atlanta the kids were enjoying their LAST day of SUMMER with G-Mama! She had an epic day with them and took all the big grand kids to the mall to play games and hang out together. They had THE best day!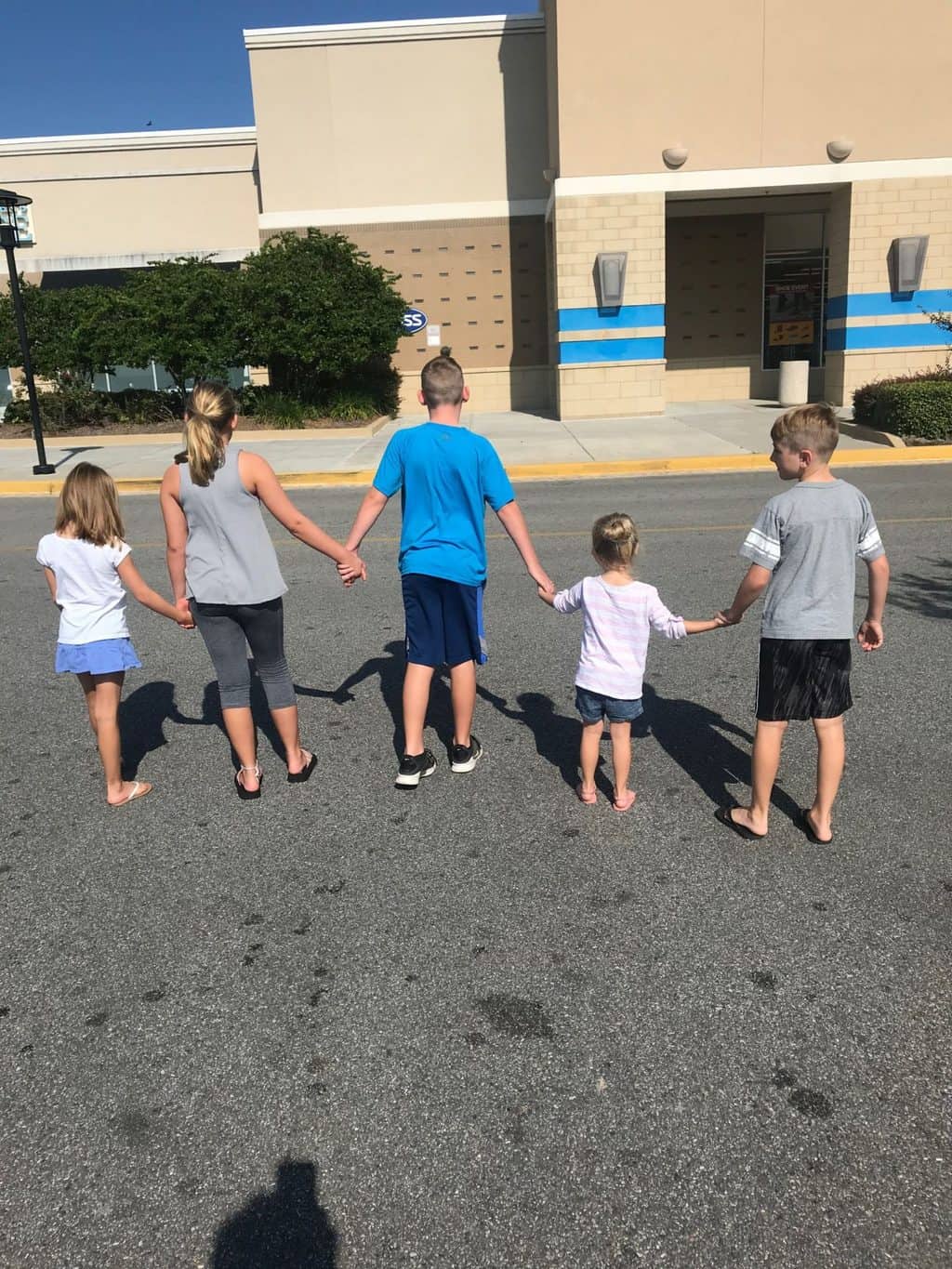 Zach's real birthday fell the day after his infusion and on the first day of school. We still made sure it was special! Zach loves cookie cake and he loves hanging out at home eating pizza so that's exactly what we did!
The kids designed the cookie cake from Great American Cookie Company by themselves…next time NO BLUE FROSTING ha!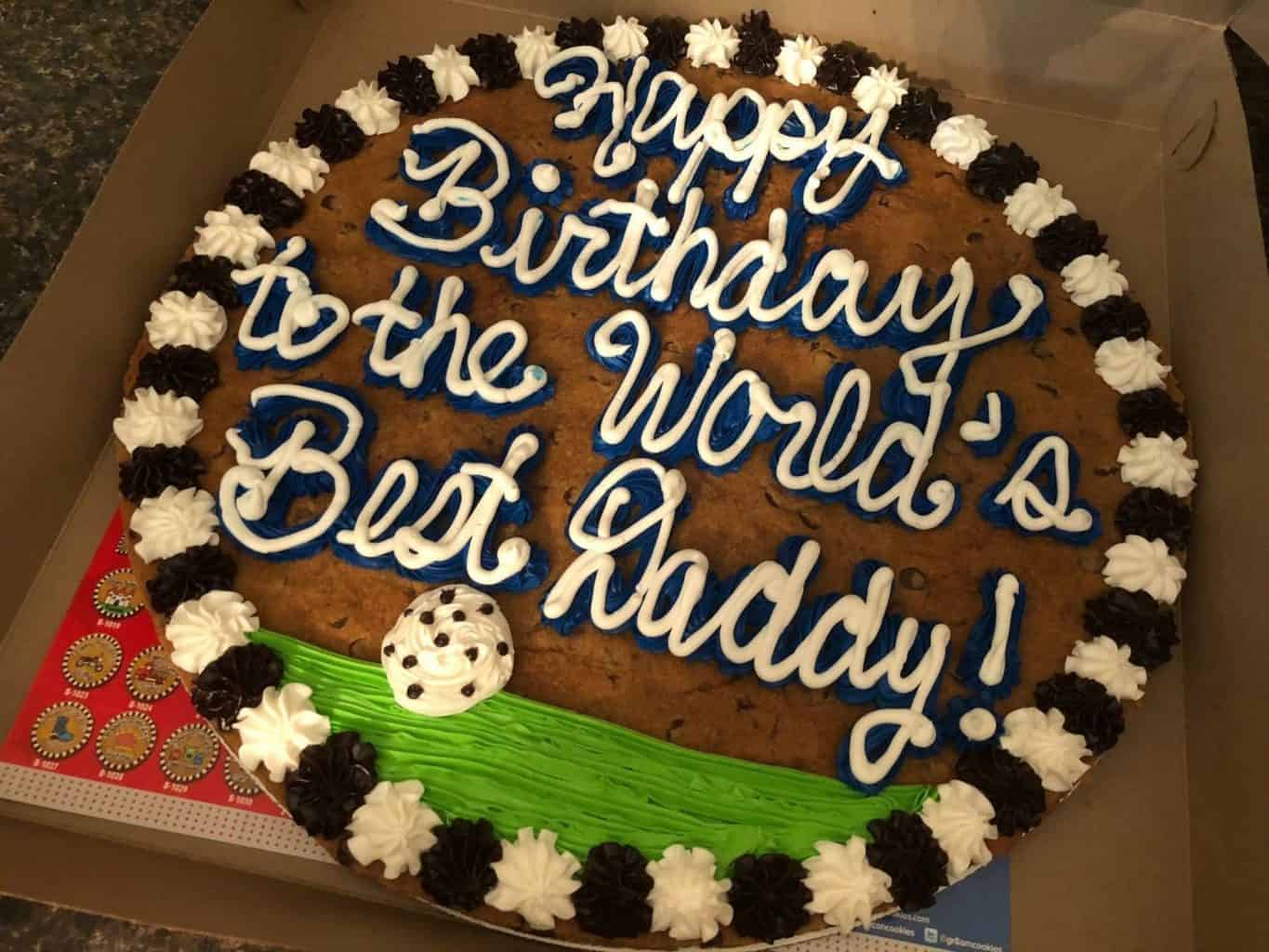 Bring on the pizza!!!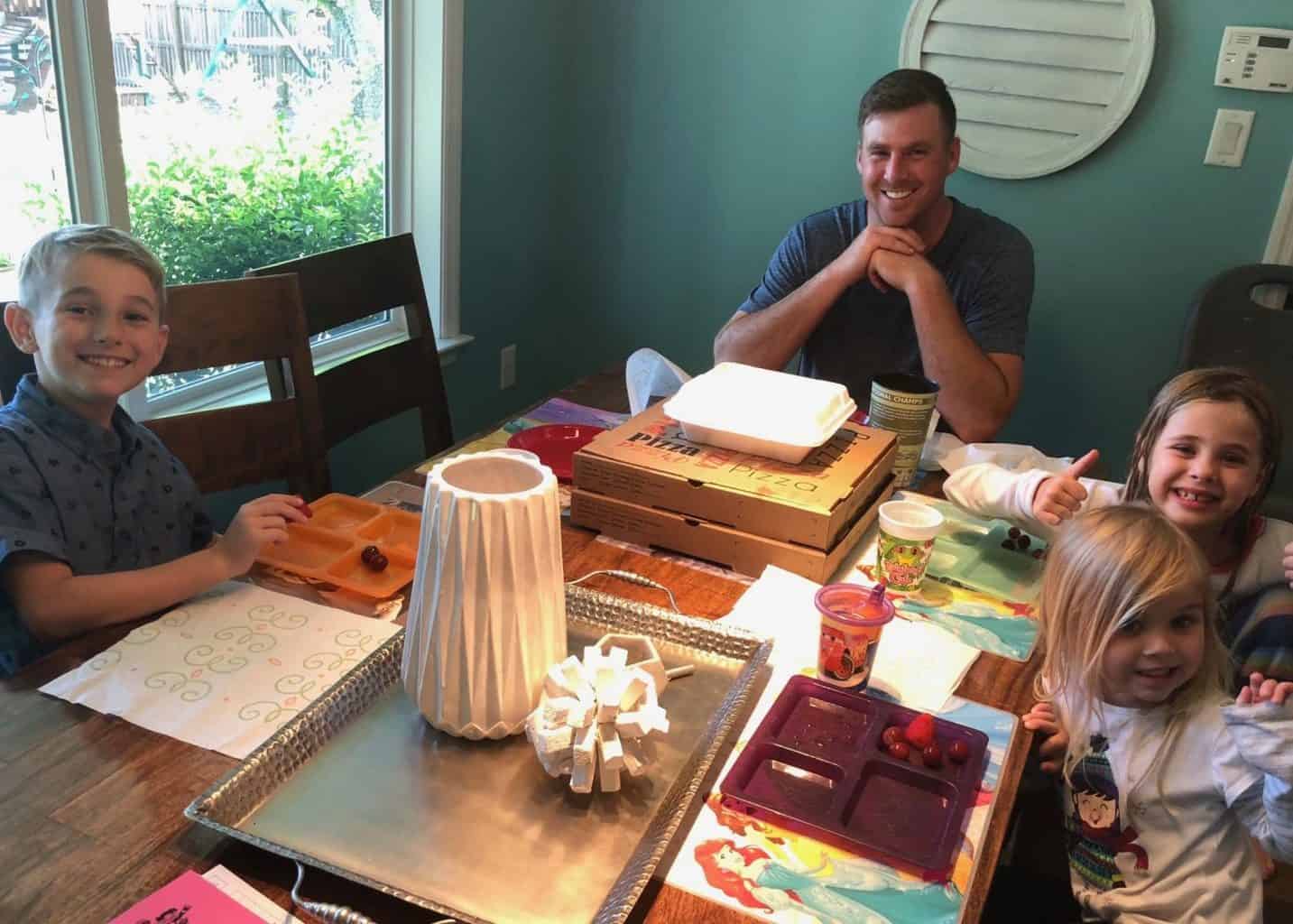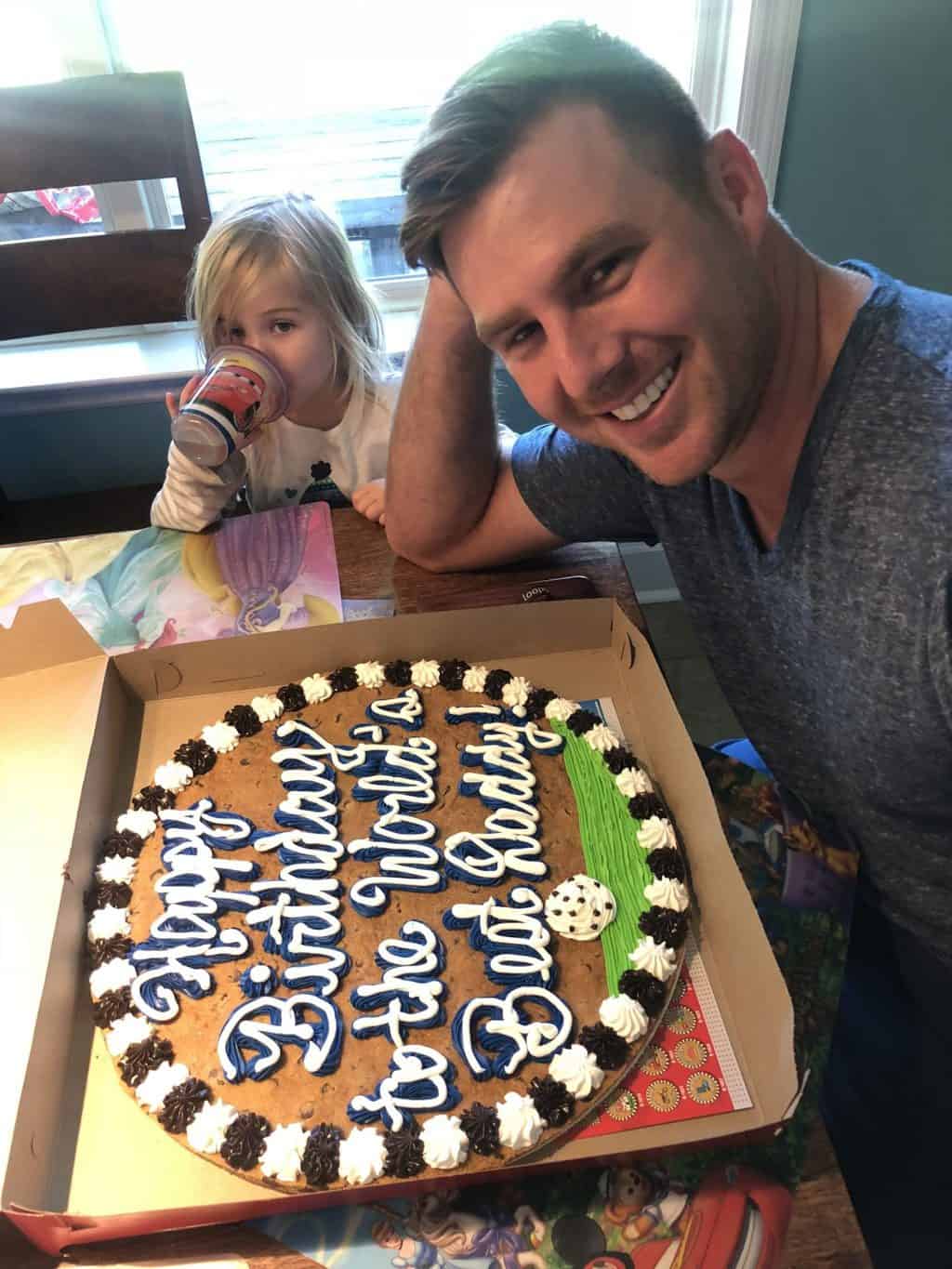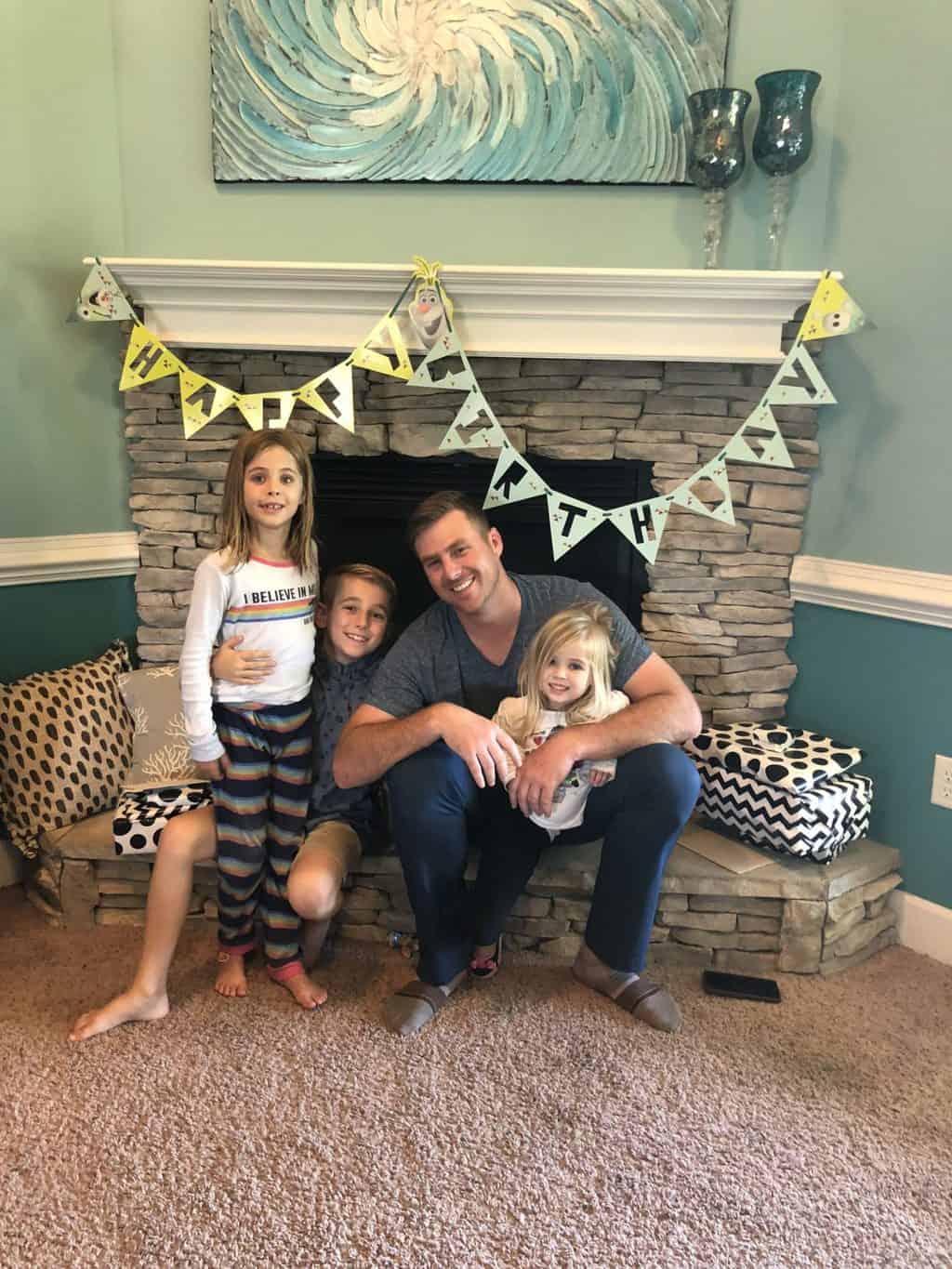 My Dad and Audrey sent a sweet card and gift card to Home Depot…def going to good use as Zach is always working on a house project!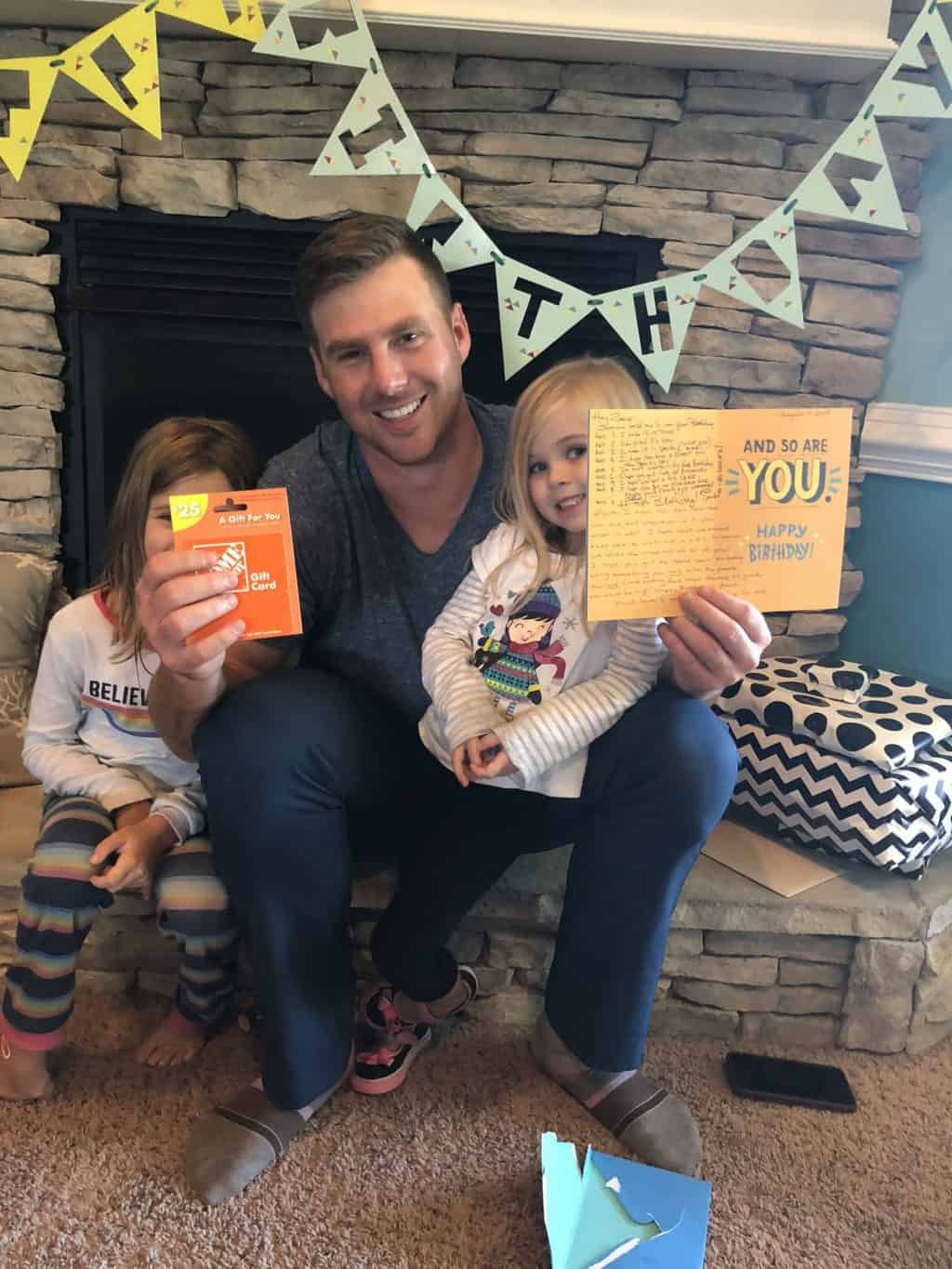 I spent a good chunk of the birthday money on the Atlanta celebration but still wanted to make sure he had some legit gifts to open too. I thought it'd be fun to let the kids each really pick out a gift for him and just let them have fun with whatever they wanted to get. Tess wanted to get him a new Disney shirt, Kye wanted to get him a football game for the wii, and Britt wanted to get him a new game to play together. Britt's game is Smack It and it's super fun!
Zach bought a pair of Shakas sunglasses when we were in Hawaii and he has LOVED them! They are lifetime guaranteed and are a customizable thing so I got him another pair as well as extra pieces so he can swap 'em out and mix and match. This way he can keep a pair in his car and in his golf bag!
(and yes we left up the same birthday banner from Tess's birthday ha!)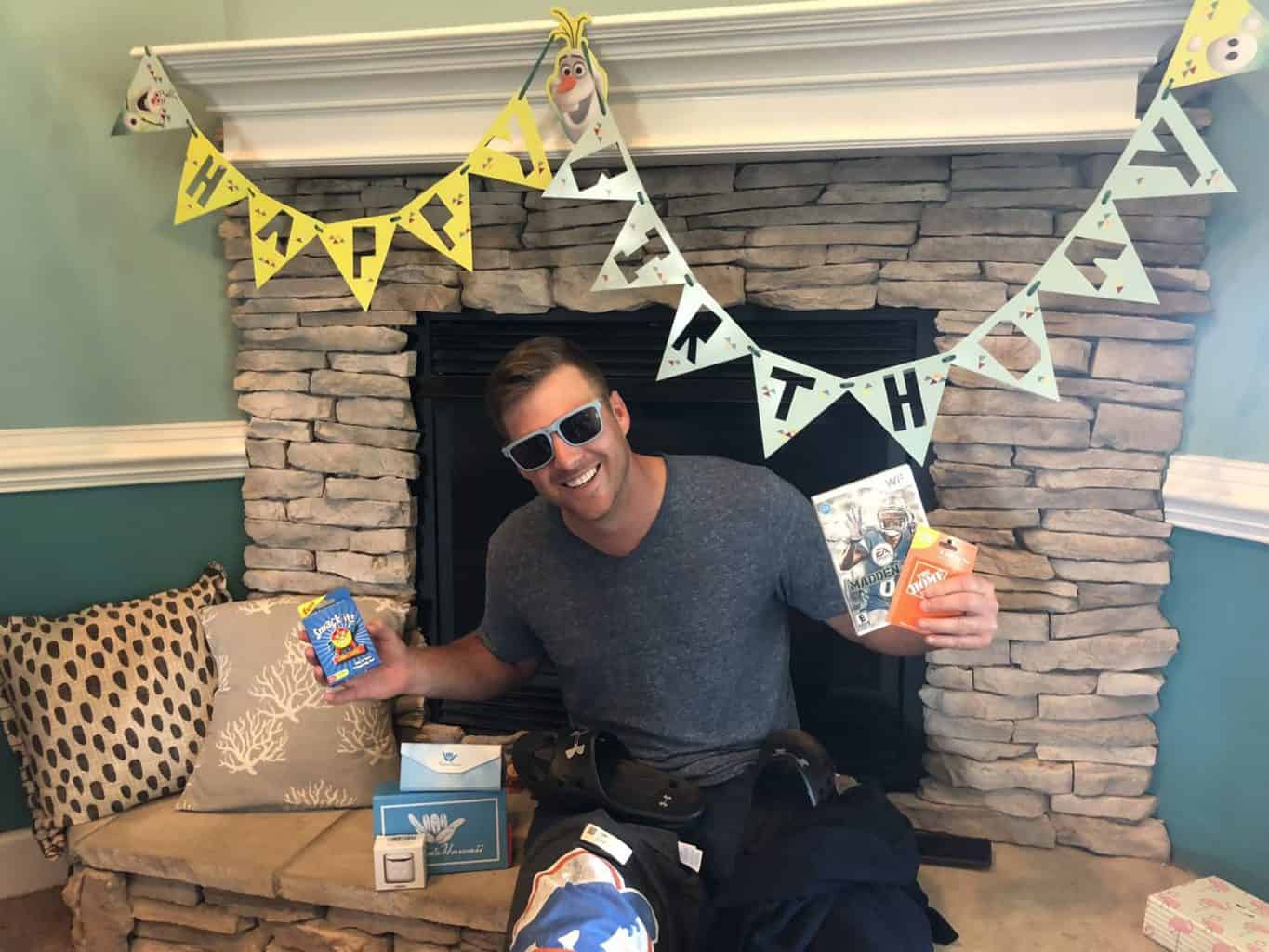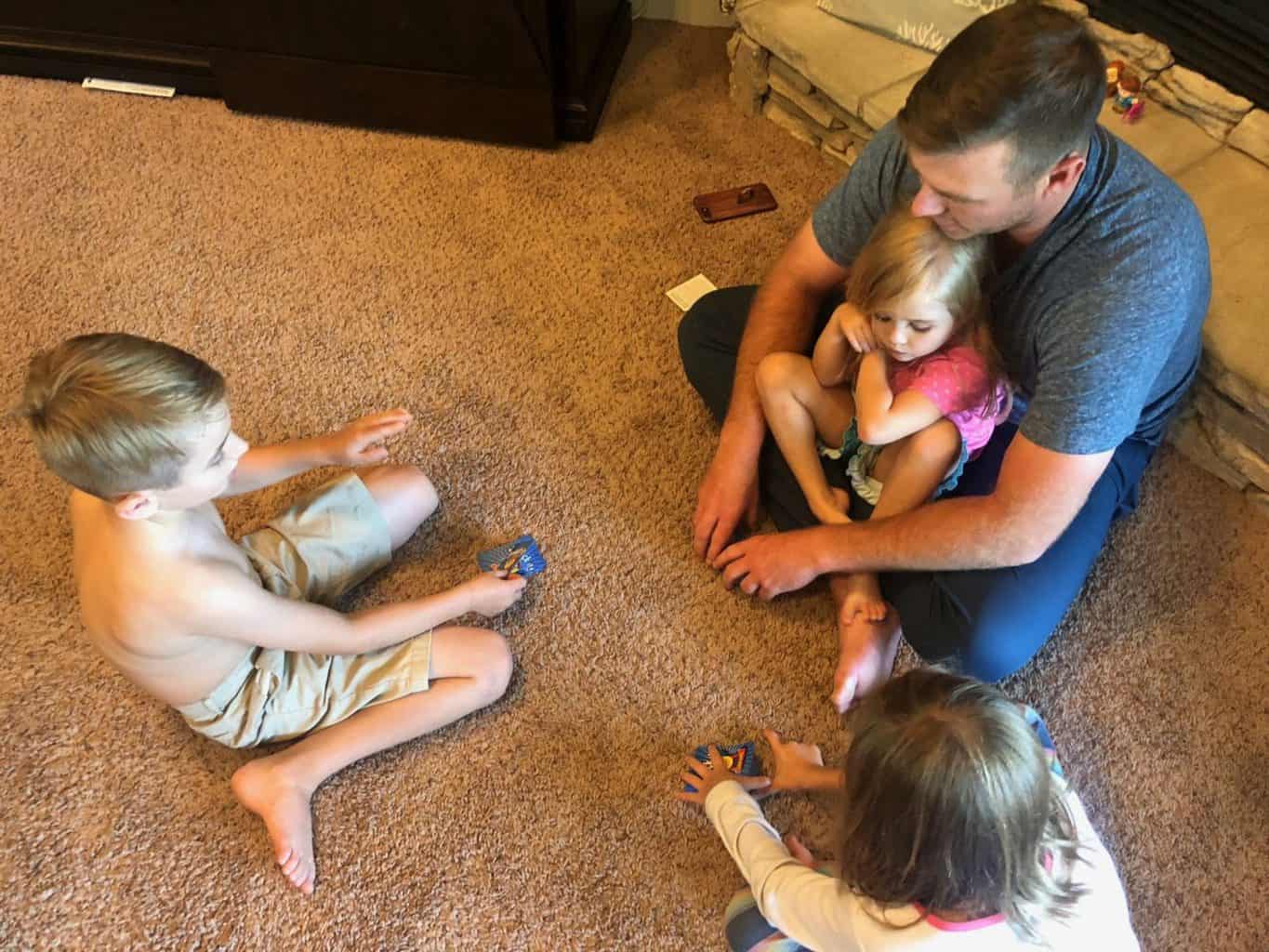 One lucky daddy and four lucky kids!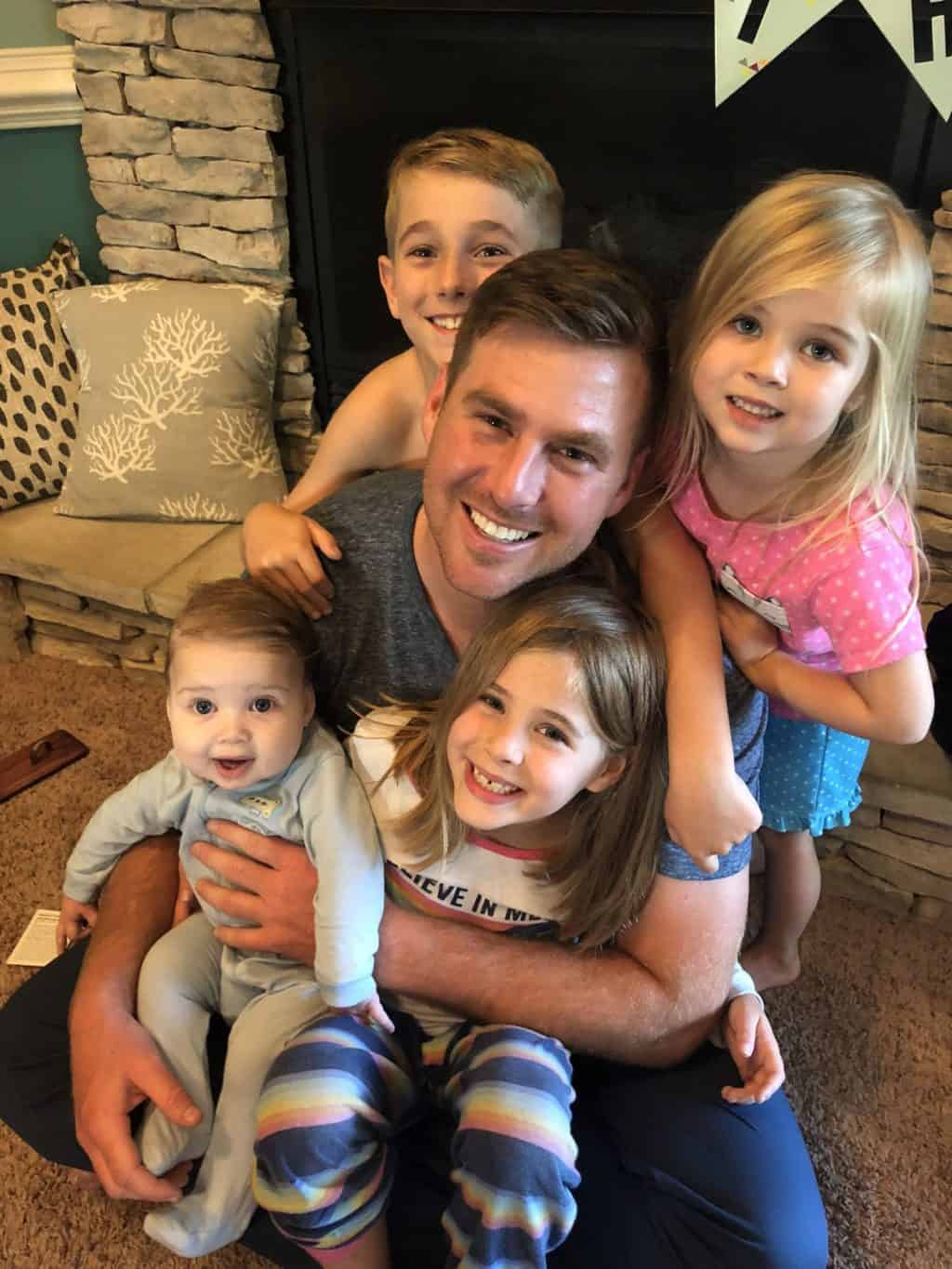 While many people would say it stinks that his infusion falls so close to his birthday, it's also a blessing. A reminder of how truly blessed we are to have medicine for his multiple sclerosis so he WILL have many, many HEALTHY birthdays to come!