The big kids and I were SOOOOO sad to learn that Disney permanently ended the Sorcerers of the Magic Kingdom game at Magic Kingdom. It's something we only just recently learned about and started playing and it's been SO awesome for Kye especially.
If you're not aware Sorcerers of the Magic Kingdom is an interactive card game at Magic Kingdom with portals and spells. It's FREE and so fun and a great way to enjoy the park when rides have long lines or you're just a pre-teen who maybe doesn't love every single little kid geared ride anymore 😉
Disney has been doing so many changes and it's been a tough time to be a Disney-family. It seems like it's just disappointing news followed by more disappointing news. And this one hit pretty hard.
However, I was SO thankful that we happened to have a Disney weekend planned rrrrright before Disney ended the game for good.
We hit up Animal Kingdom that morning and then did park hopping for the first time since the parks reopened! I took the big kids to Magic Kingdom so we could devote an entire afternoon to just playing the game so we could say goodbye.
Park hopping was a BREEZE. I was interested to see how it would work out because they require park passes to get into the parks but park hopping was surprisingly super easy! We were allowed to park hop to any park as long as we first visited our park pass park for the day. So we did AK and then after 2 PM we were able to hop to any other park so we did MK. Just scanned the bands and boom we were IN!
A really fun part of the game was getting to go into the fire station every time we visited Magic Kingdom to pick up our free card packs! We headed there first thing to have our LAST card experience.
I know the fire station will be repurposed and it's just so sad to see something we love leaving!
The kids even have their own card cases and collections for their cards and their own organization systems. I enjoyed listening to the Dapper Dans while they got everything organized for us to start playing!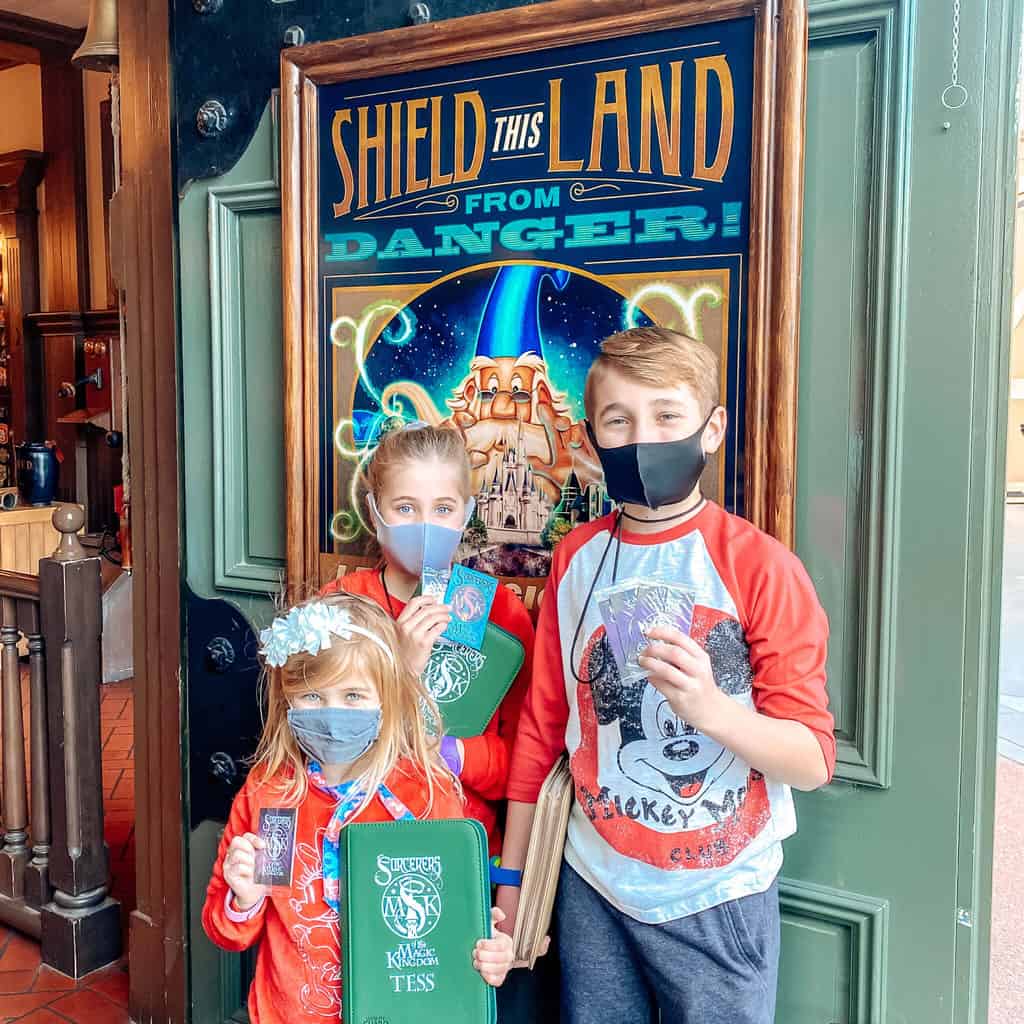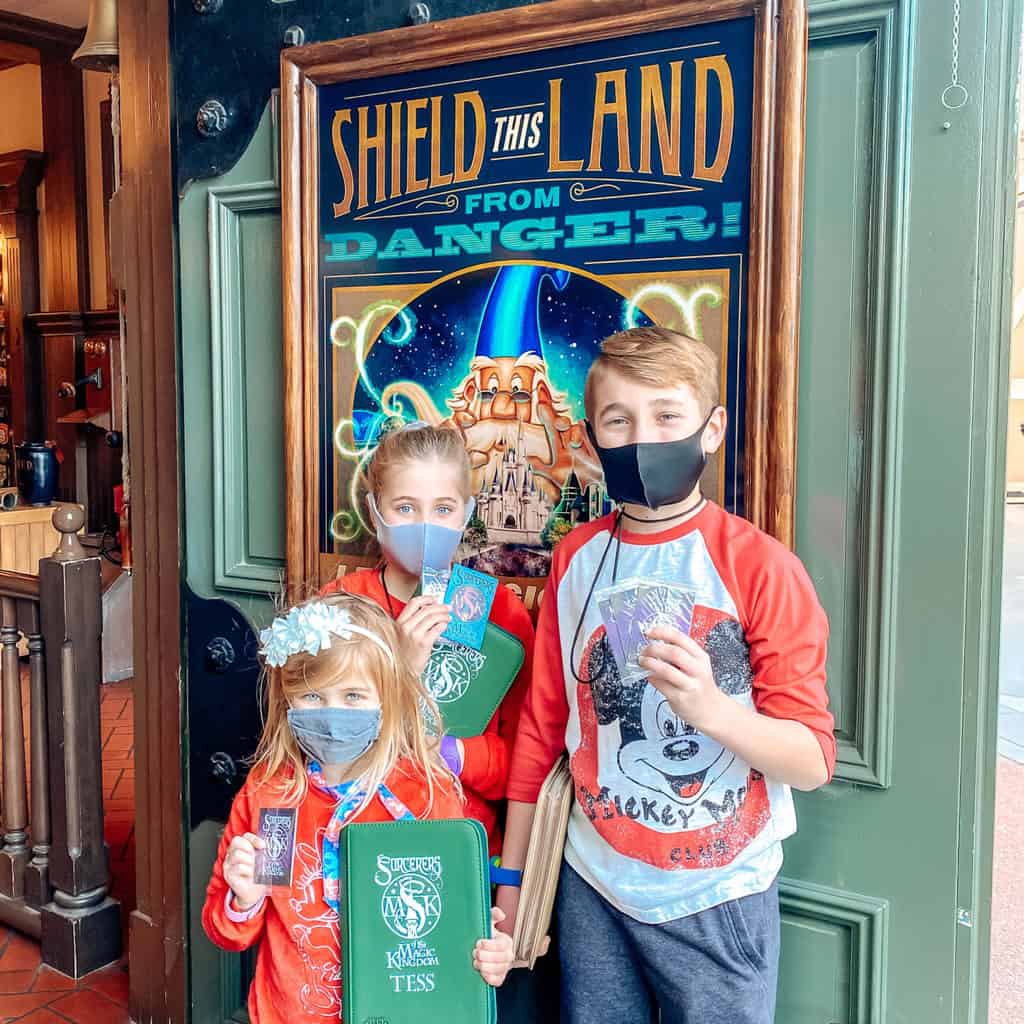 We happened to catch a cavalcade which is always fun! I love going to the parks when we don't have any sort of RUSH. We can just soak in all the details and it was such a pretty day to enjoy the beautiful castle 🙂
I also love that the kids playing the game allows me to just be hands-off a bit. I can sit and people watch and look at all the surroundings while they do their thing!
As we entered fantasyland we met Anastasia and Drizella! It was THE most normal-like character interaction we've had since Feb 2020 before the parks closed. They were hanging out chatting with guests and Britt NEVER wanted to leave. She's my fellow character-loving-girl and we miss it sooooo much!
Since Disney had just recently announced the end of the game there were a lot more guests playing than usual so that meant lines at each portal. The kids didn't mind as it gave them a chance to get their cards ready for play.
It really is such a bummer Disney made this decision. I'm holding out hope that they are going to replace it with something else?!?! It was SUCH a low-cost item to keep running. It takes little to no cast members to help run it. It's self sufficient. It's a cult following type thing so it's not a HUGE popular item but it's a GREAT way to help people spread out and a distraction from ride lines which you'd think Disney would want to KEEP around especially right now with all the social distancing etc. It's not something that involves multiple people or even touching stuff. SO WEIRD.
The game sends you all over the park which is really fun but also a good bit of walking. It's broken up into different segments of gameplay and each segment does stay in a set "land" so we were in Fantasyland for awhile and then finished that segment and the portal told us to go back to Main Street.
I didn't mind some more castle views AND we got to get up close to some princesses in the cavalcade too!
One of my Disney #lifelongdreams is to have a stencil done of each of my kids! I want to wait until it's back to normal operation but now that Spear is old enough I'm SUPER pumped for this!
Back on Main Street meant we got to see plenty more characters in-between portal visits too!
We also got to see more real bunnies in the "fake" plants haha this will forever now be a joke with me and Kye bc he assumed the plants were fake since they are at Disney 😉
We have a popcorn refill bucket and right now they aren't doing refills but are giving a container of popcorn. Just for reference you can see how the container does NOT fill the bucket. Usually refills overflow the bucket so it is less popcorn. Not a big deal, but something to be aware of if you visit!
I love seeing how into it Kye gets and Britt is always right there with him in her excitement level (although she's more like Mama and more into the Disney life than the game itself). Tess was cracking me up carrying her three cards ALWAYS ready and when we saw another cavalcade she made sure the characters could see her cards too!
THE hangout spot for Sorcerers players has always been Tortuga's Tavern in Adventureland. There is a portal in the restaurant so it's a great place to relax and do card trading. We learned a lot about the game from others there and it was a perfect spot for us to eat our dinner and it was great to still see lots of card players there too!
Another surprising thing about Disney doing away with the game is that not only does it have a large fan following but so many of the people we've met who play the game have children or are people who are part of the special needs community. We befriended a few fellow players on our last day playing and it broke my heart to hear about how sad they were about the game ending. ESPECIALLY during these crazy times in the world where so much is changing. Change is hard for everyone, but especially those who really thrive best on routine and structure.
We also met a fellow game player who makes his own cards! He was so sweet to gift some to us!
The sun started going down and it started getting cold and just sitting and watching the kids didn't give me a lot of ability to warm up. Lucky for me I'm the mother of a middle schooler and we all know middle school boys are NEVER cold and NEVER need their jackets 😉
We were really, really hoping to beat the level of the game we were on (Medium) and it was super disappointing that we weren't able to make it happen. BUT a lot of the portals weren't working (I assume Disney just let 'em stay broken b/c why fix them when it's going away) so it made it impossible to complete.
We got some hot chocolate to honor our last goodbyes to Sorcerers of the Magic Kingdom…thanks for the memories!
I wanted to make sure to get some photo pass pics too to remember the game by for the kids to have!
It is always sad to say goodbye to something you love but it was so great that we were able to make those last memories and I'm thankful we were able to play the game for as long as we did and that we discovered it when we did too! Who knows, maybe the cards will be worth money and help pay for their college educations, right? 😉