I work with several companies and links to any products within posts are affiliate.
Tess turned 18 months old on Jan 31st! This is a big deal!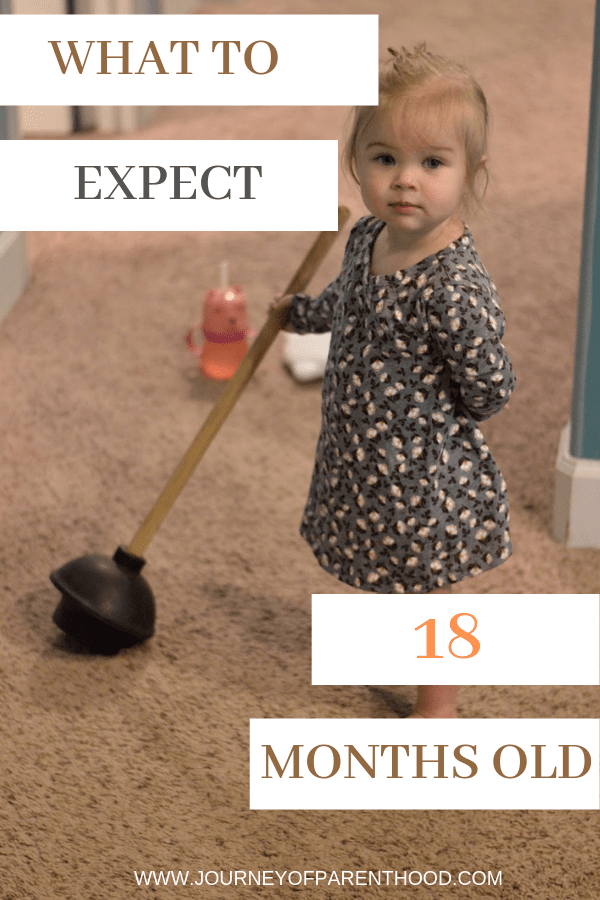 I mean we are 6 months away from being two right?!?!
SO why not celebrate with pictures of my adorable toddler carrying around a plunger hahahaha.
We had some plumbing issues and Tess wanted to help out and she was too cute to stop 😉
As usual I'm using What to Expect the Toddler Years for this post!
At 18 months old Tess is able to do all of the things a toddler her age should be able to do including:
use 3 words
point to a desired object
She can also do everything that an 18 month old will probably be able to do including:
run
use a spoon/fork but not exclusively
point to 1 body part when asked
Tess can also do all of the things a toddler her age may possibly be able to do including:
kick a ball forward
follow a 2-step command without gestures
And she can also do almost all the things an 18 month old may even be able to do including:
identify 1 picture by naming
I don't think she's yet using 50+ words though? Although she's my only kid that I haven't been obsessive with writing down every word she says…so she might be there, but I feel like she's more at 20-30!
You can see Britt's post here and Kye's here at the same age!
Rate This Post:
Average rating 5 / 5. Vote count: 2
We are sorry that this post was not useful for you!
Let us improve this post!
Thanks for your feedback!