Our first Disney park day was at Animal Kingdom! We've always been arrive to the parks an hour before park opening kinda people but now that Disney is allowing on property guests access to the parks 30 minutes before park opening it just doesn't make sense for us non-property people to arrive CRAZY early.
Currently Animal Kingdom opens the earliest of all the parks so we arrived at about 15 min before park opening of 8 am. It was nice not rushing out of the house as early as usual and to not have to stand around forever either.
We got to watch three cast members try to catch a flamingo and before we knew it we were allowed in!
It was all of our first times at Animal Kingdom since the kick off of the 50th celebration and it was fun finding all the gold statues throughout the park. Zach, Kye and Tess ran straight to Everest to ride that while Spear, Britt, G-Mama and myself went over to Dinoland with the birthday boy!
I LOVE the holiday decor at Animal Kingdom. It's truly STUNNING with so many beautiful details.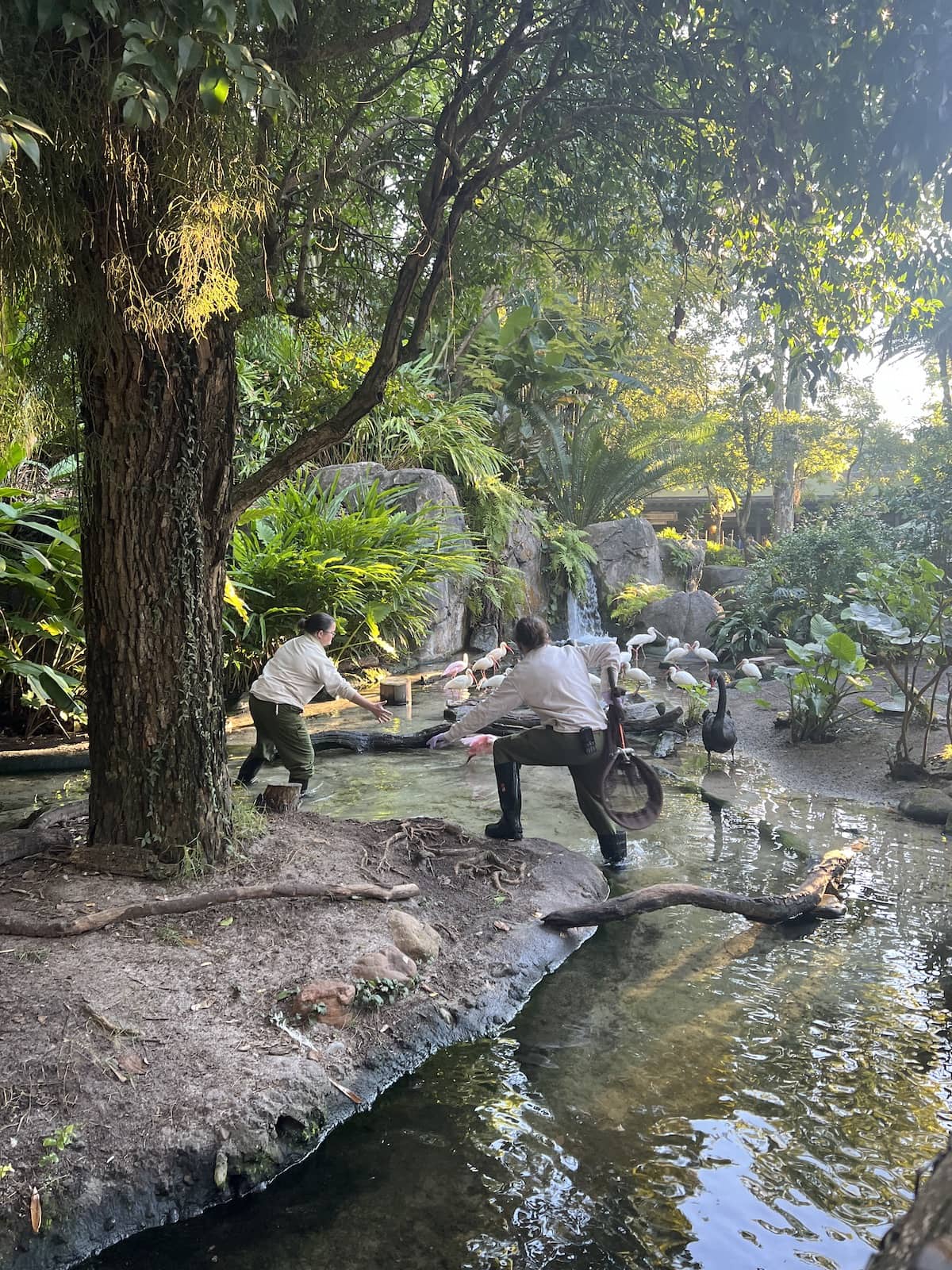 Spear couldn't contain his excitement! He LOVES Dinoland and the Dino ride. He ran up to Britt and said "I love you Britt Britt!" and then SHE couldn't contain her excitement either. They were precious riding together and G-Mama and I didn't mind sitting in the back row to get to soak in their joy.
Right now Dinoland is basically an empty area and Primeval Whirl has been demolished. I'm interested to see what comes of the whole land – I haven't heard any rumors or seen any announcements yet!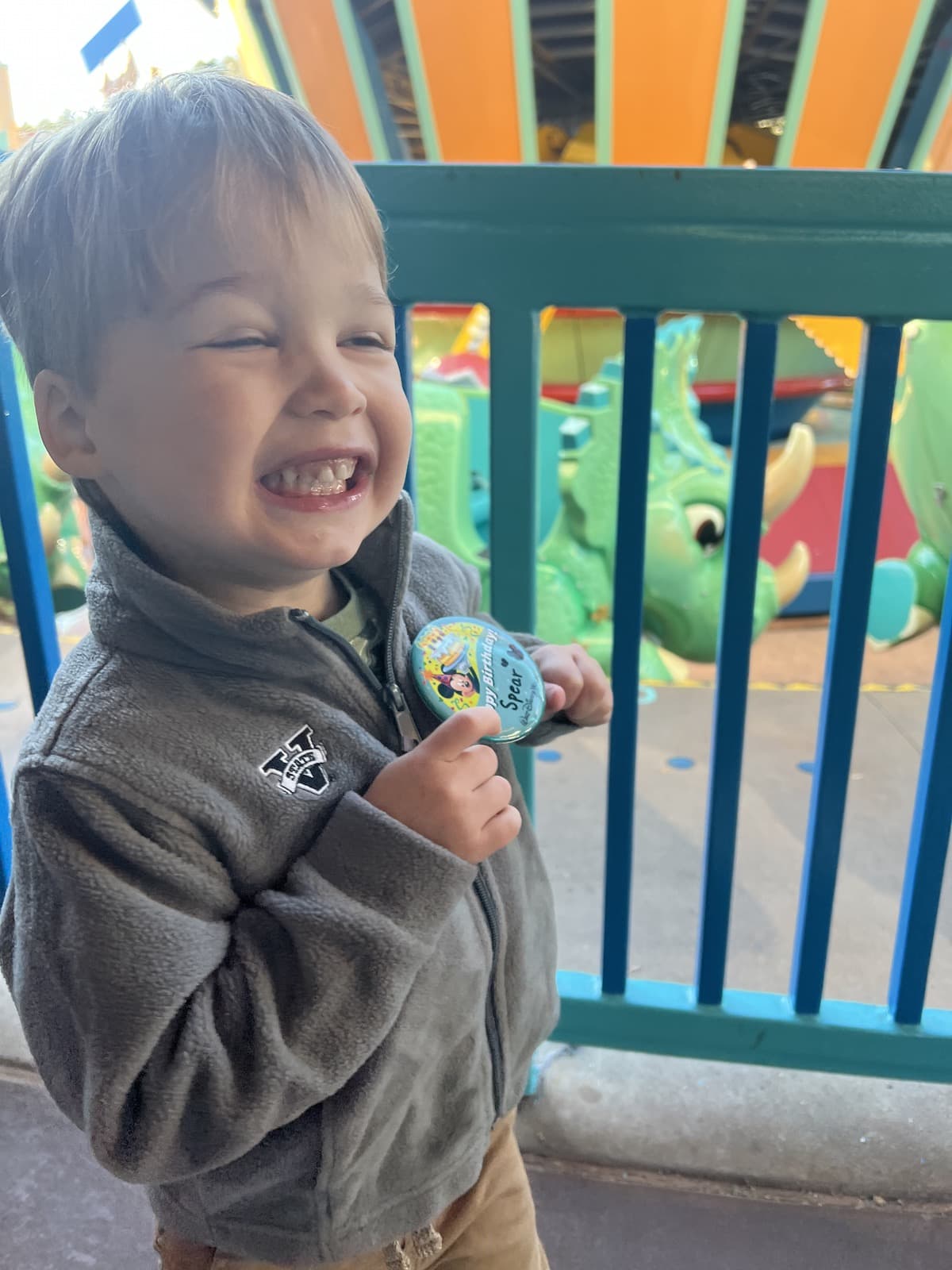 Britt and G-Mama love a good chance for a dance party and Britt then also showed us a secret Dino area I had NO clue existed. Apparently the exit of the Dinosaur ride has an AWESOME shaded area with huge Dinos on display. A perfect spot for little ones to run and play and explore! I wish I'd known about it ages ago!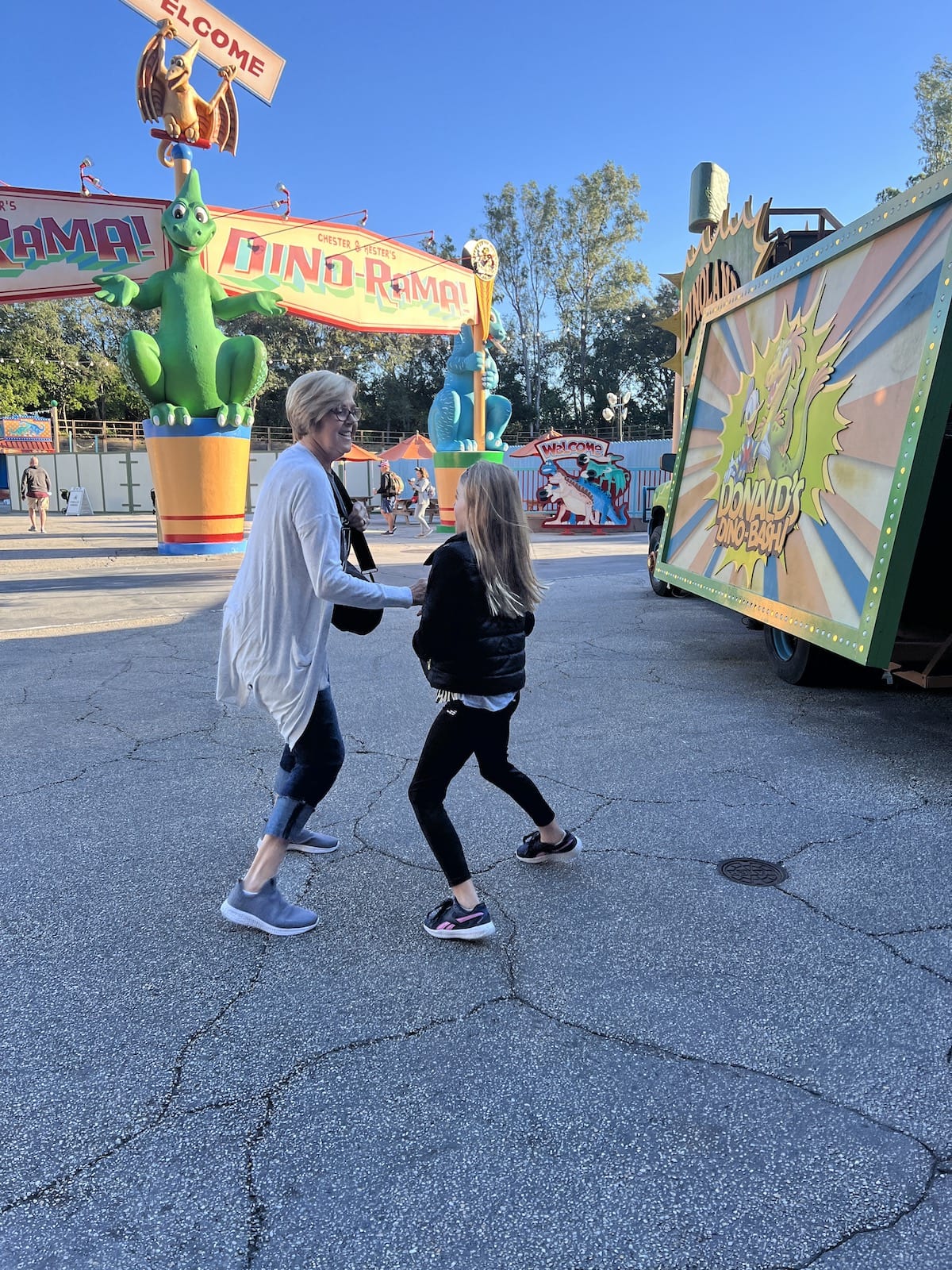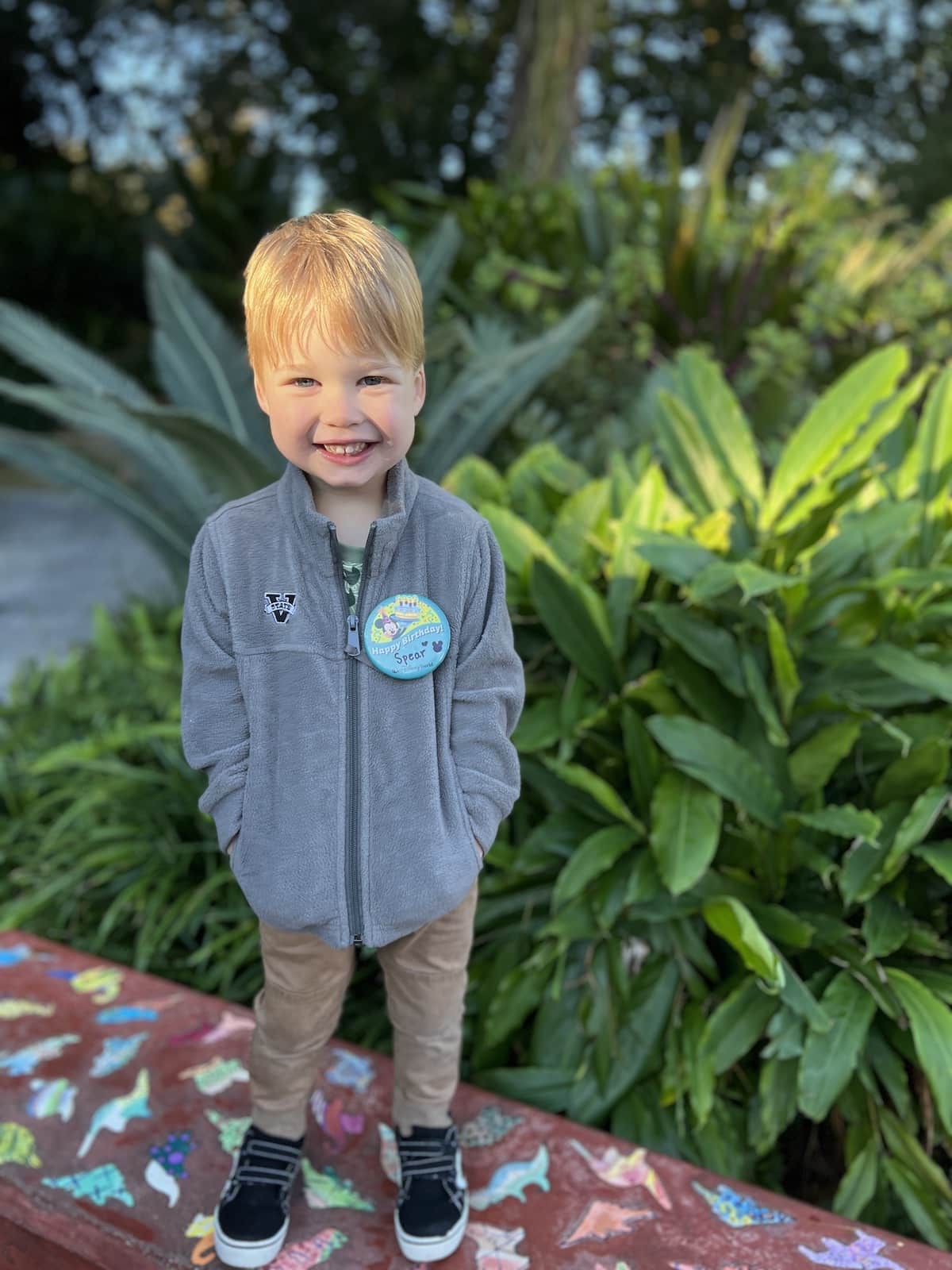 Everest is one of Kye's favorite rides and is now one of Tess's favorites too. I love any moments for my kids to have a shared experience together and I especially love Tessie's natural smile!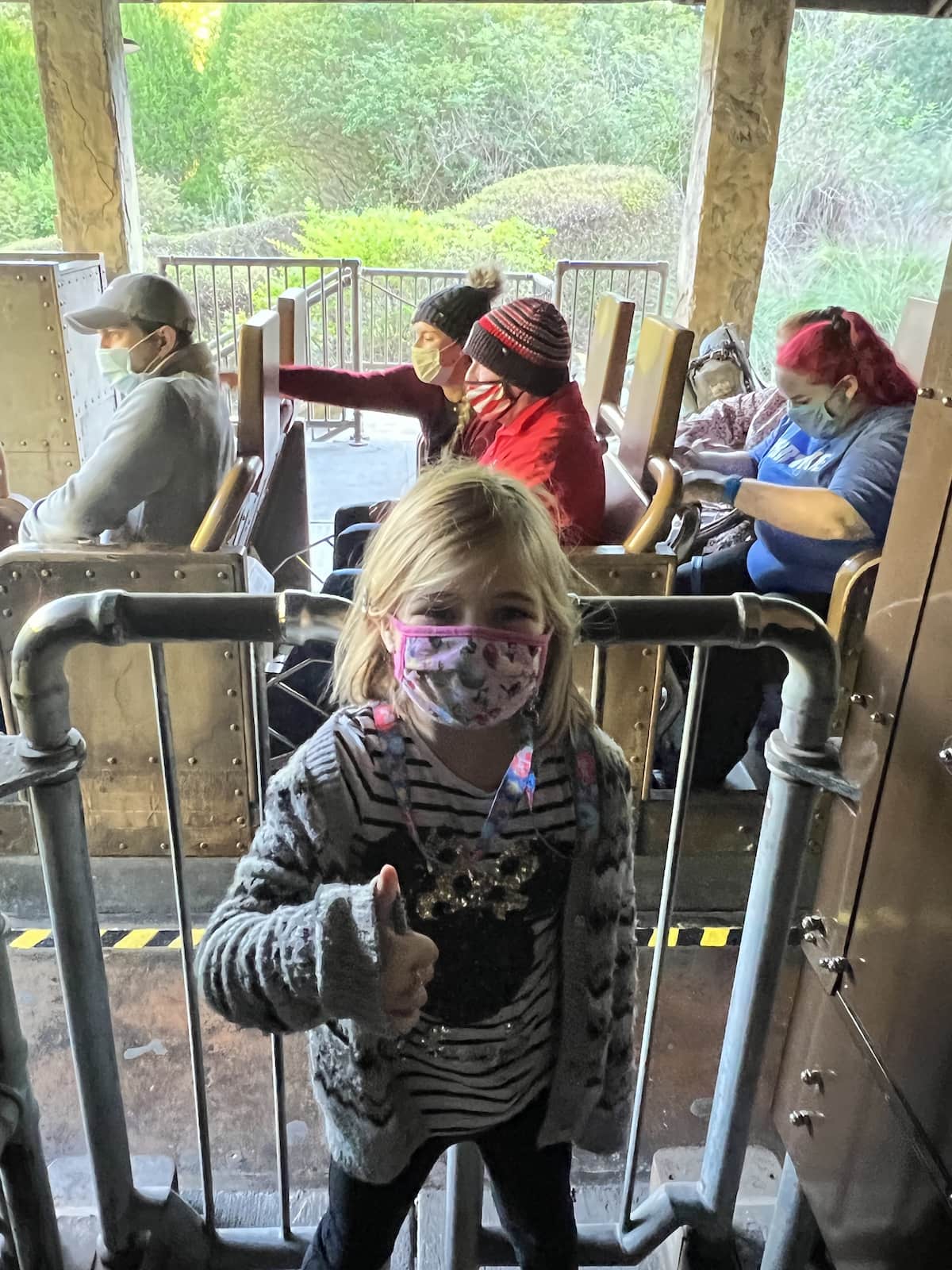 We found out Spear is now tall enough to ride Dinosaur and even his mask couldn't hide his HUGE smile!!!! He was so, so pumped and we all were chanting "Dino saur dino saur" as we entered the ride.
I will never forget the first time Kye rode Dinosaur. He was a little older than Spear is now and when he got done I asked if he wanted to ride it again and he said "when I turn 8" so funny. I do NOT ride Dinosaur but the rest of the gang loved getting to experience it with Spear for the first time and he was all about it. A great surprise for the birthday boy!
When they got done I asked him the same question I had asked Kye "when do you want to ride it again?" And he said, without hesitation, "right now"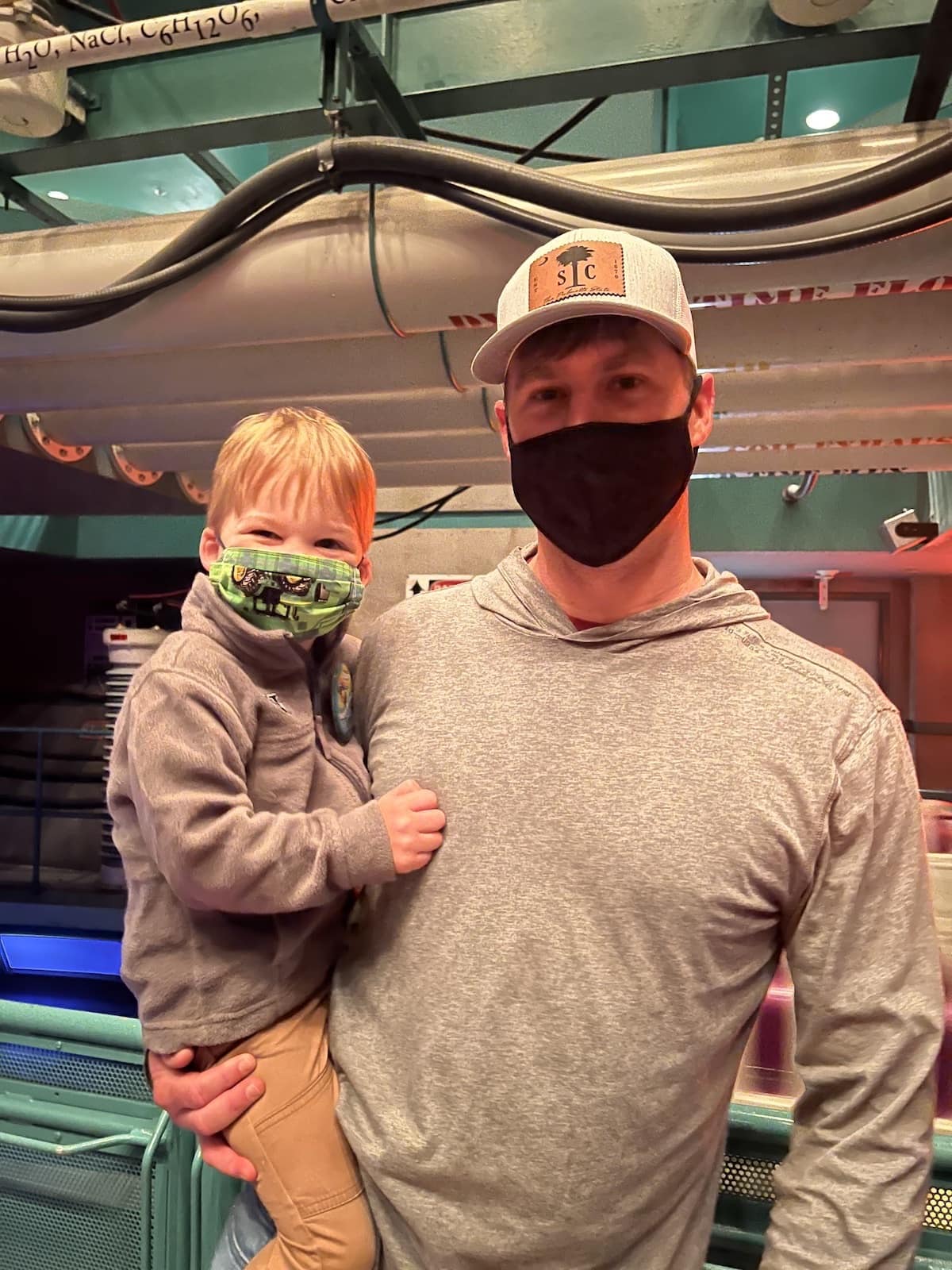 Afterwards everyone went to Flight of Passage and Spear and I just took our time soaking in all the Animal Kingdom beauty around us. He really is at that fun little kid animal stage so I tried to let him see as many animals as possible.
We happened to come across the bird show at the Tree of Life and it was super short and SO awesome when the birds all flew over our heads!
We also went and got Spear a Wilderness Explorers book and he was cute doing the chant. The books are free and the booth is located at the main entrance bridge before you reach the Tree of Life. Love anything for FREE and it's fun for kids to earn the badges throughout the park. Just keep an eye out for the signs.
We've actually never completed an entire book before and I think it'd be a fun mission sometime to do!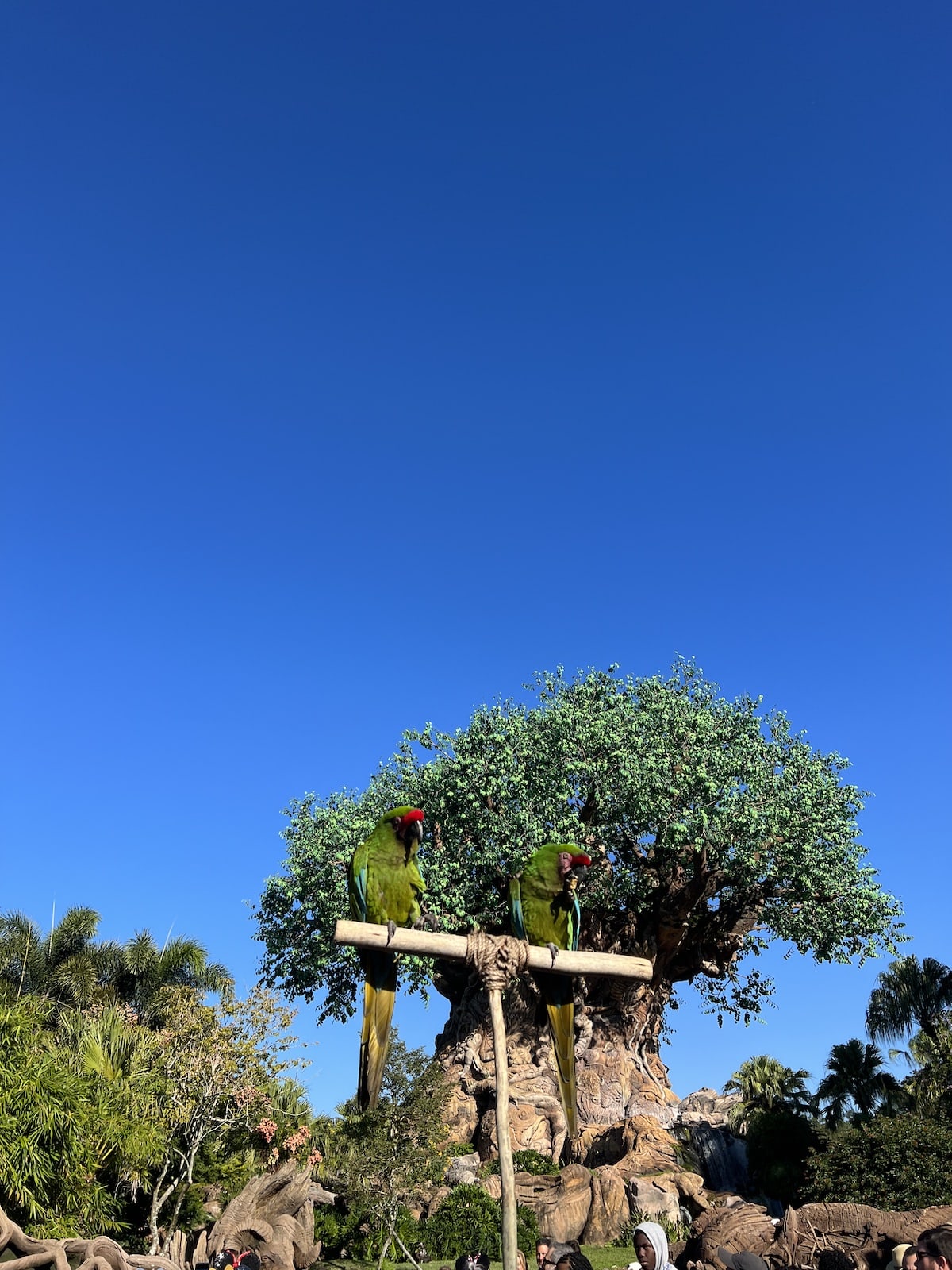 Pro Dad Zach wearing all the magic bands for Flight of Passage.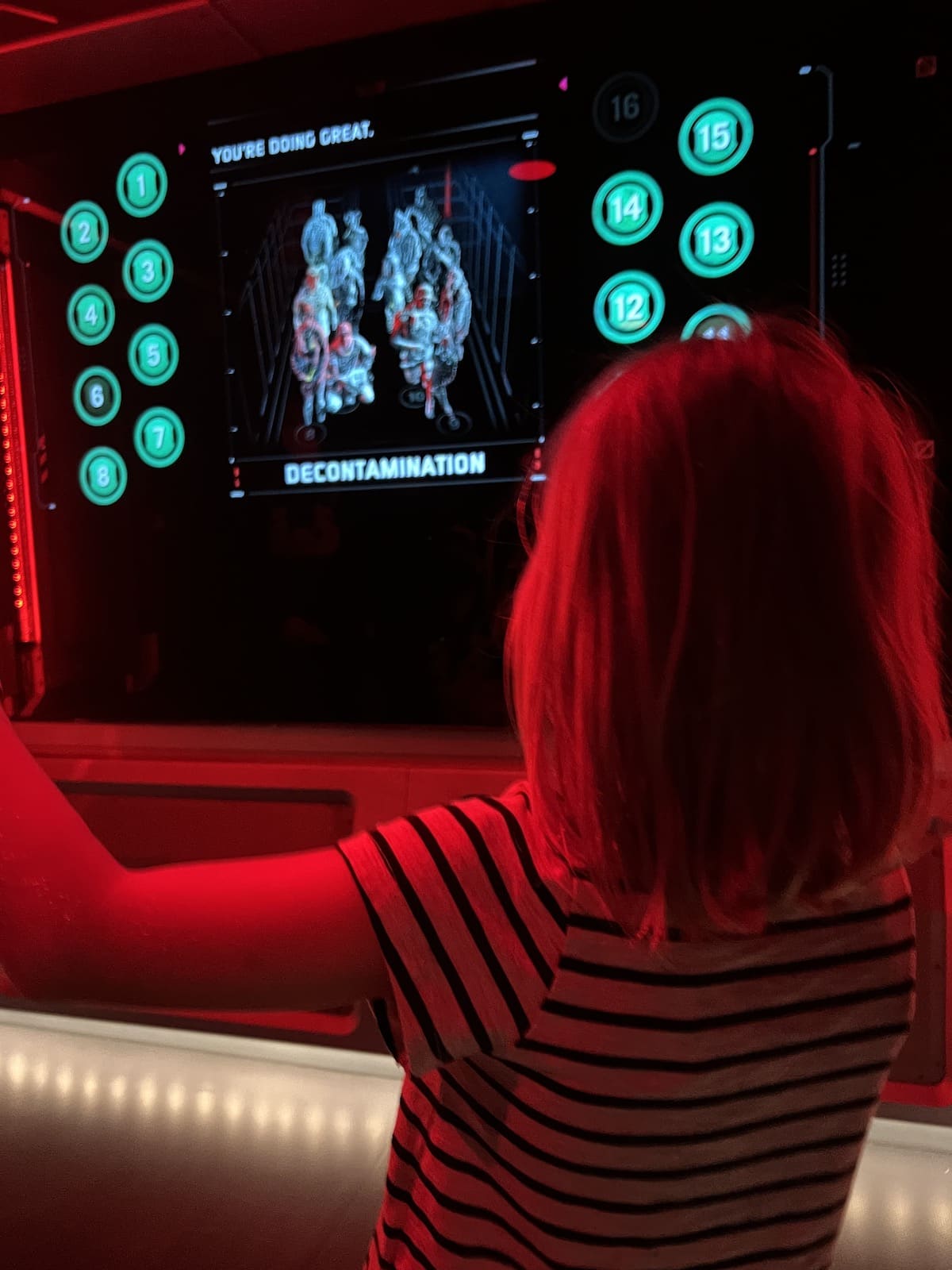 Animal Kingdom is one of the most photographic parks as well. SO many beautiful spots and they are frequently updating and adding murals throughout the park. LOVE the new one for the holiday season! So gorgeous!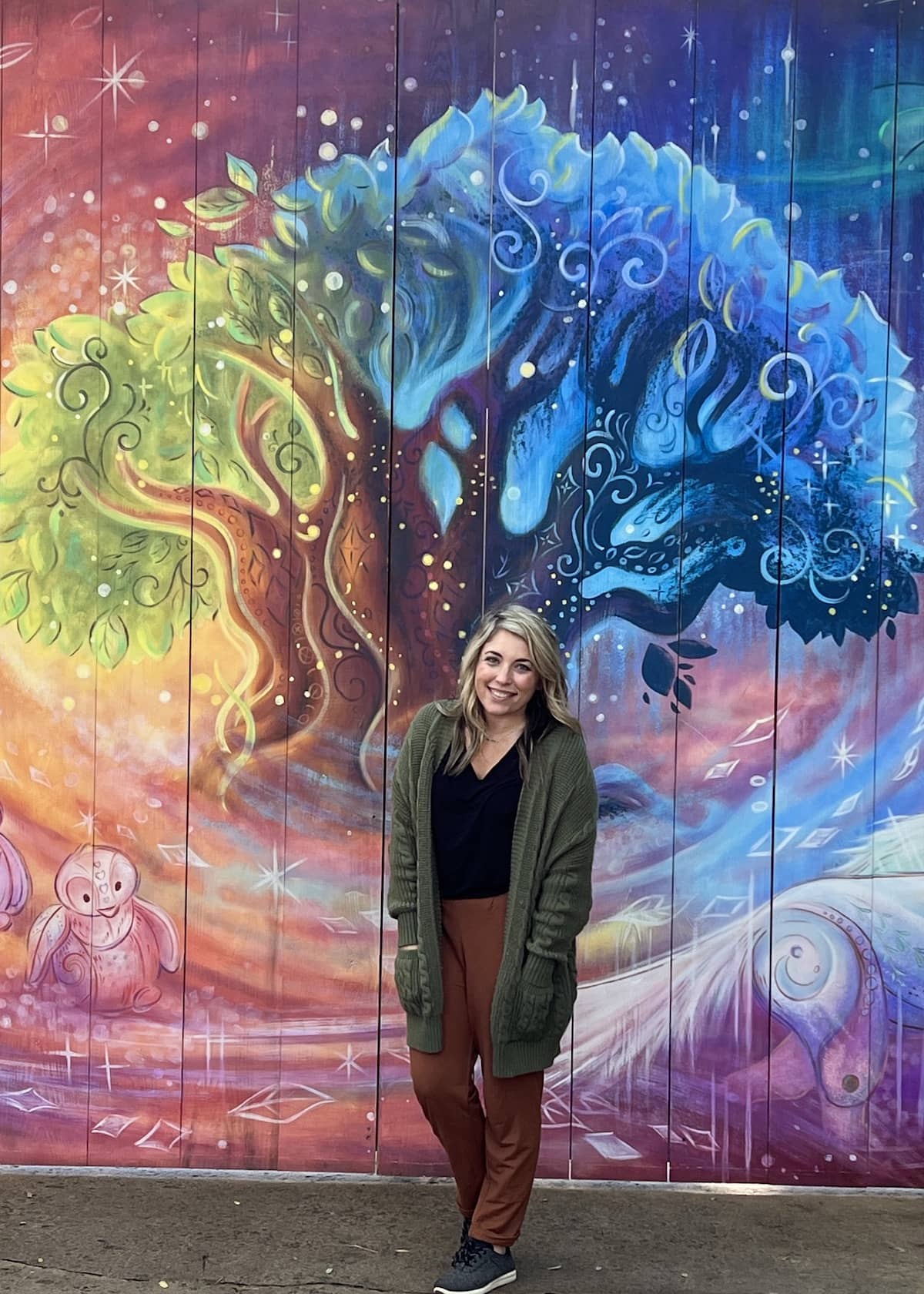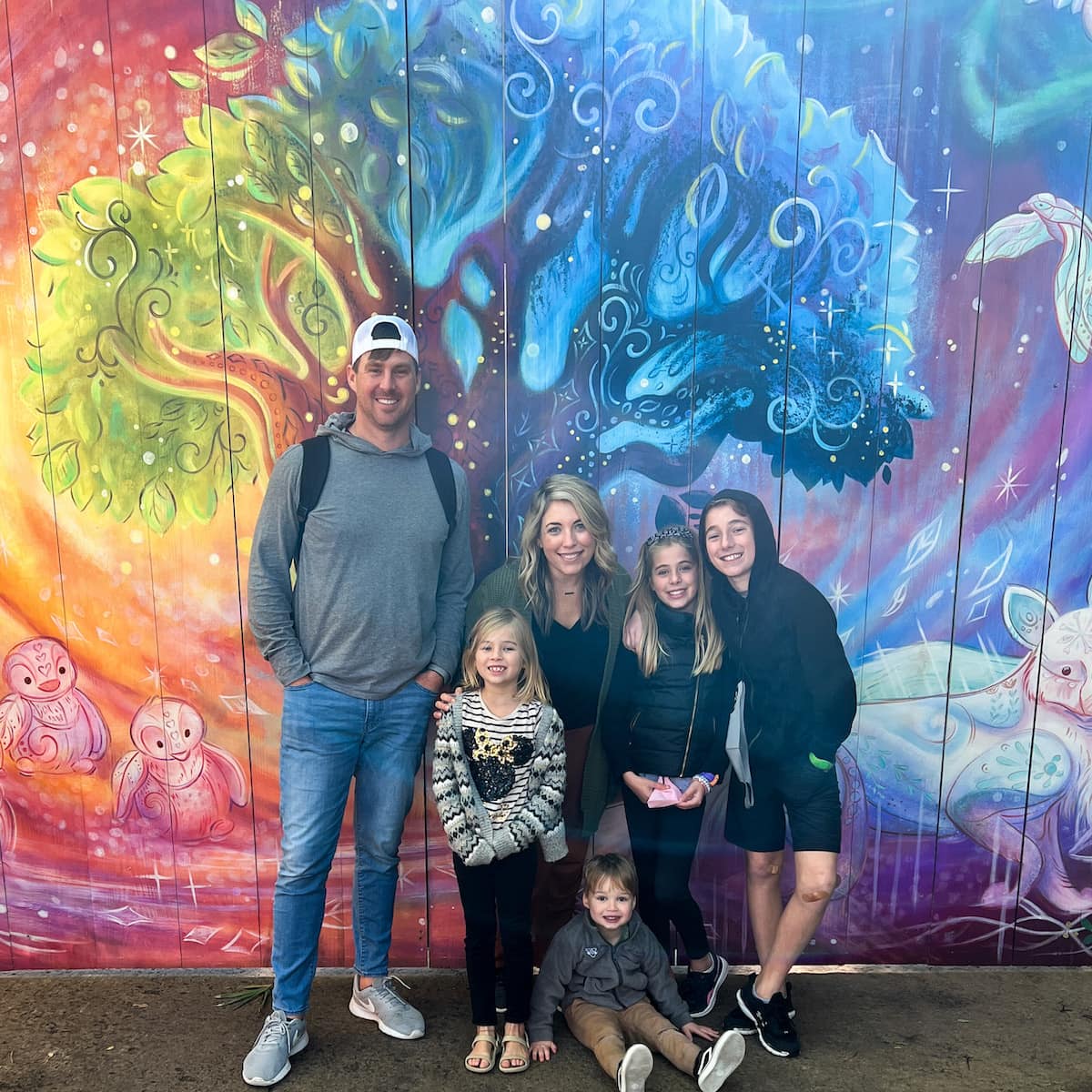 Spear and I went to see the otters and met up as a family to ride Na'Vi River Journey and then went to go see It's Tough to be a Bug but the line was SO long that we decided to leave to head over to KiteTails. We did enjoy the walk through for It's Tough to be a Bug as the line allowed us more time to really LOOK at all the details on the tree of life. We usually pass 'em right by!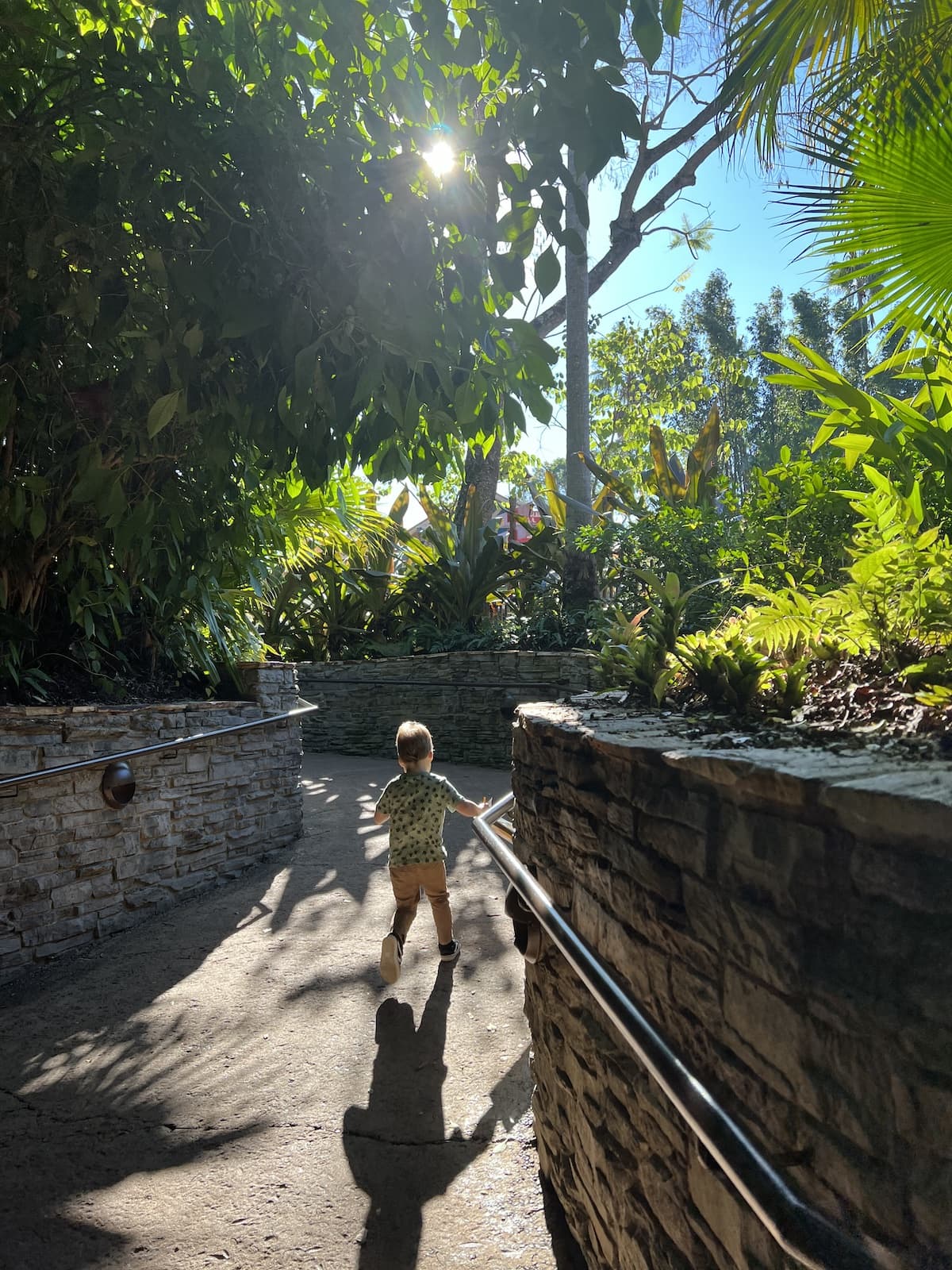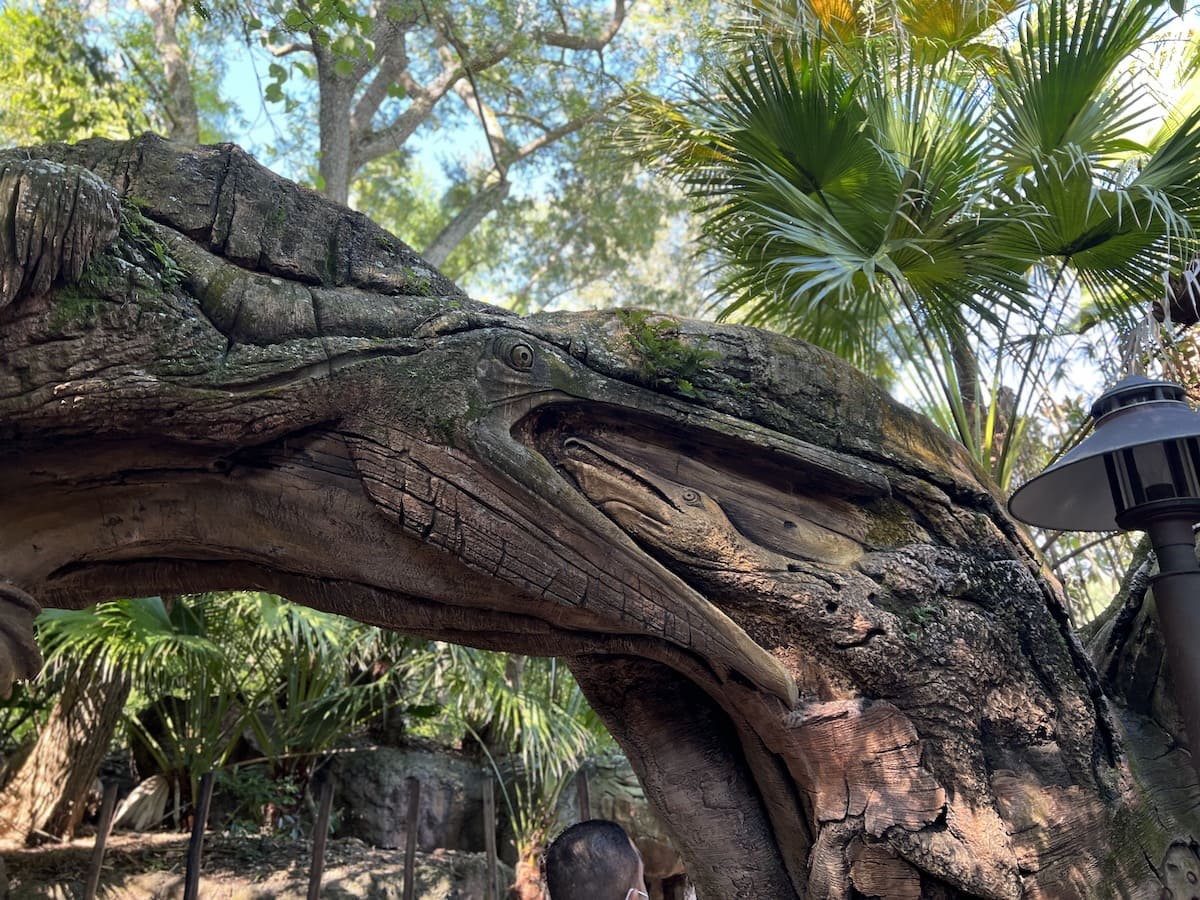 I had seen and heard a good bit about KiteTails and was SO pumped for the kids and Zach to see it. It did NOT disappoint.
There is no reason to arrive early but we were super early and didn't mind just sitting in the sunshine for a bit while we waited. We were able to see TONS of characters, even Santa, pass by as we waited! I love that even Kye can't resist waving hey to them all 🙂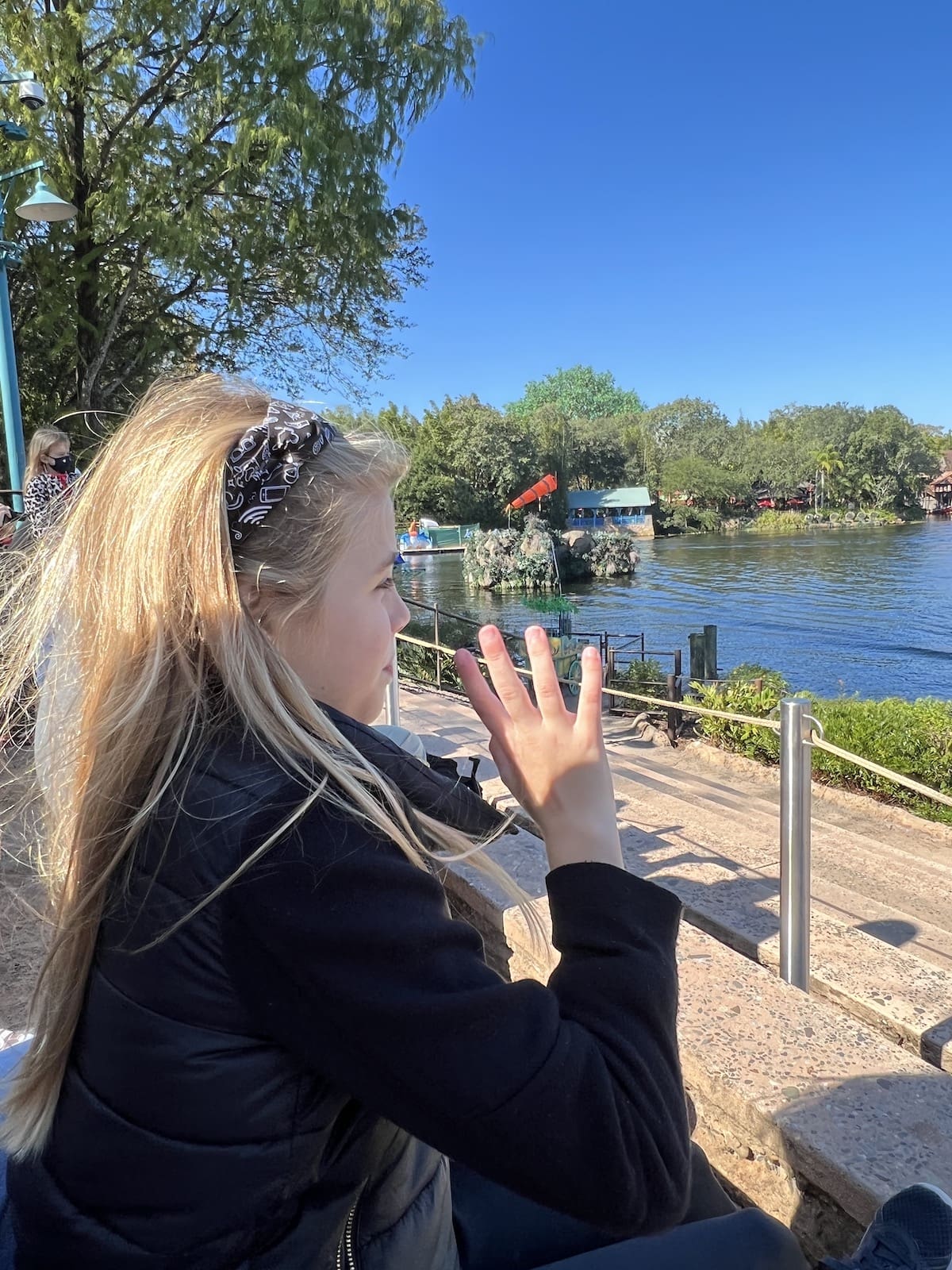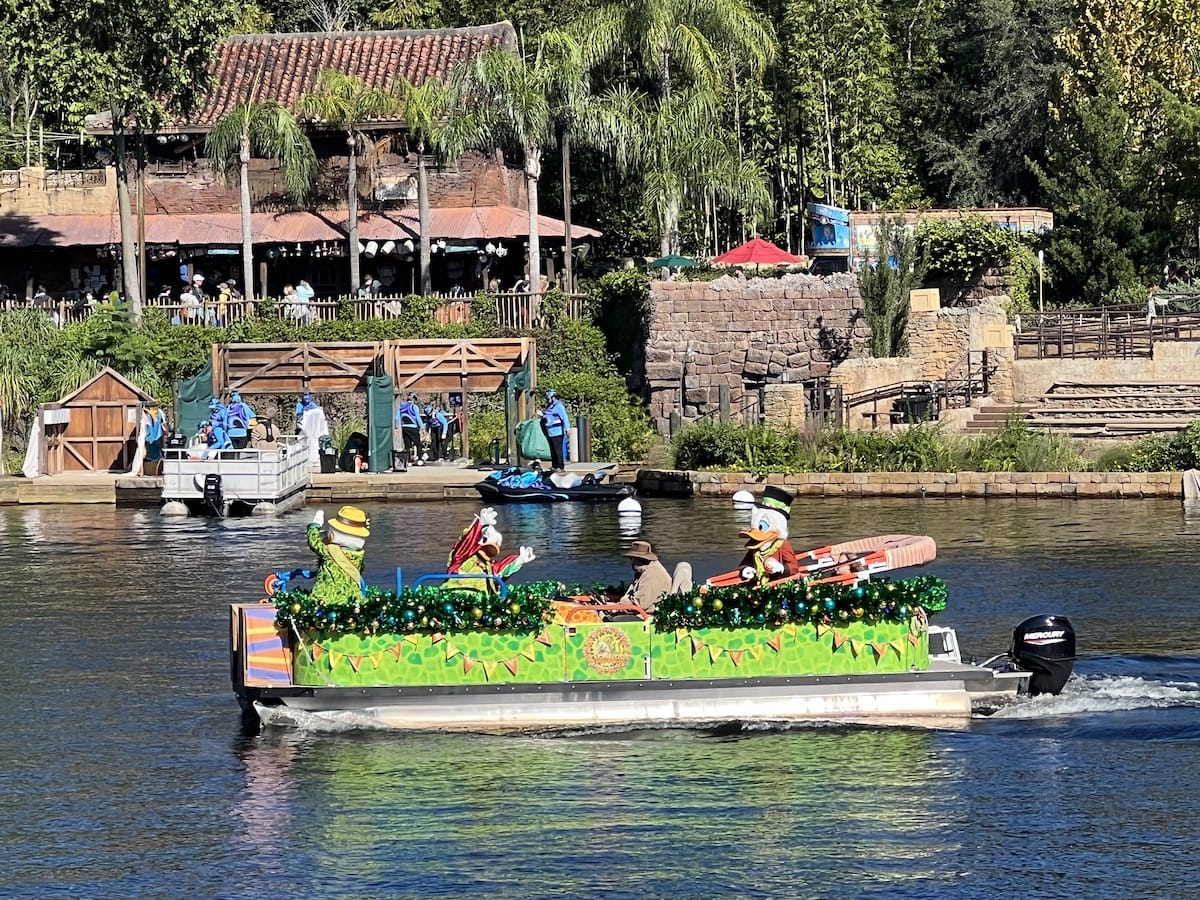 It was a pretty windy morning (and a beautiful 57 degrees) which only added to the excitement of the KiteTails show. Jet skis and kits and lots of epic crashes…what could be more fun?!?! It was SO hilarious and so much fun and we all LOVED it!!! Def lived up to the hype!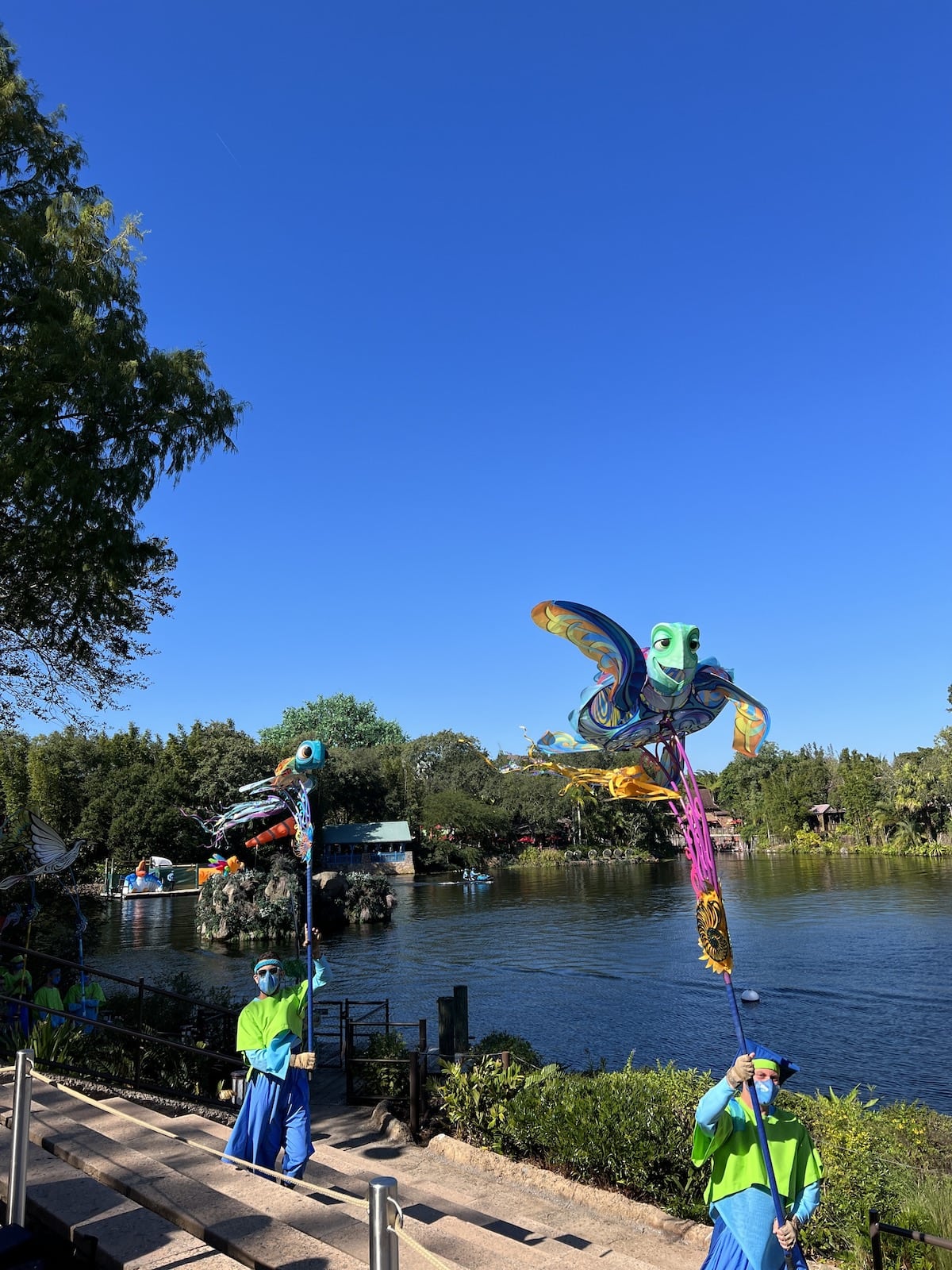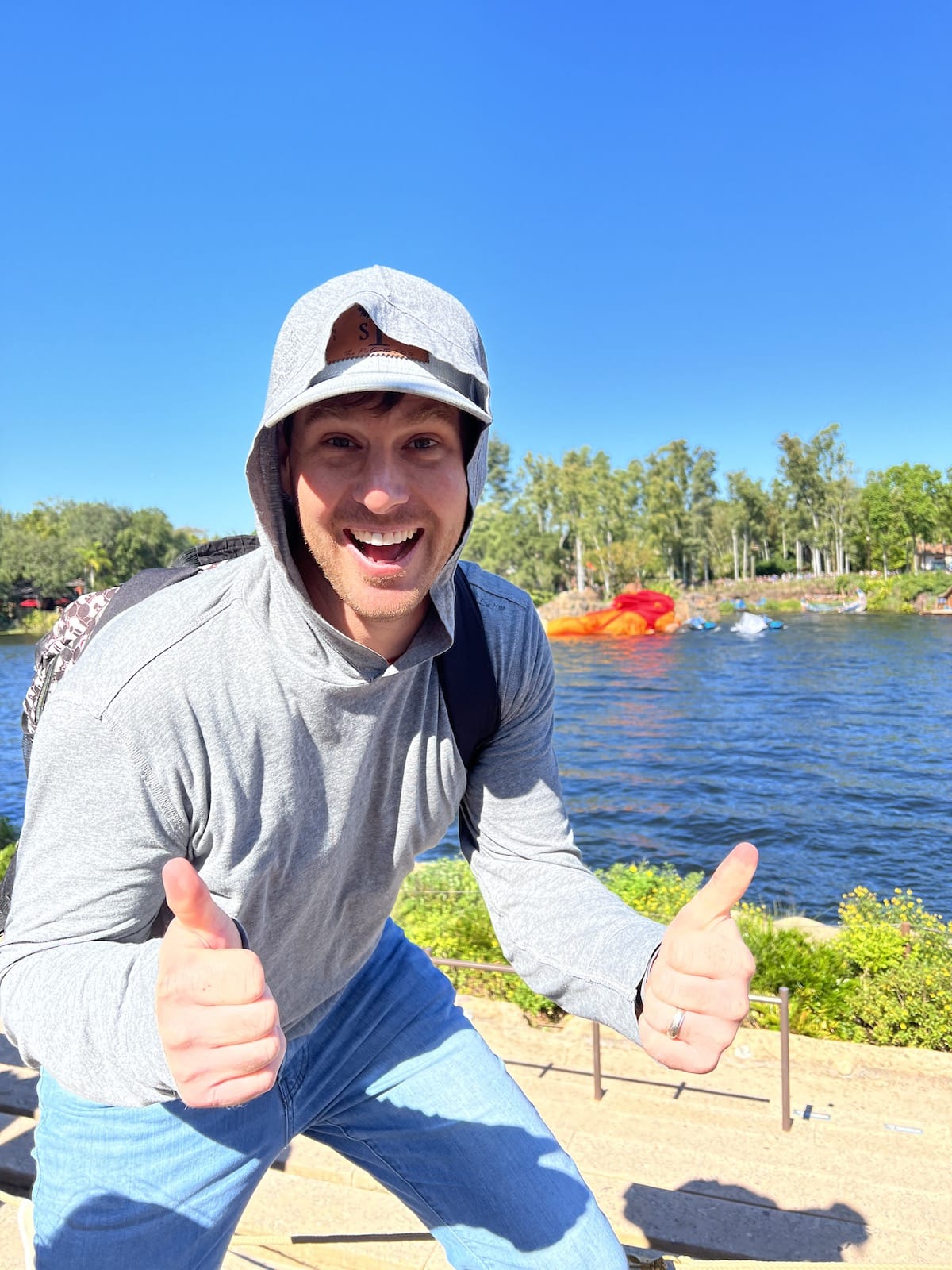 We had a pretty walk through the park to get over to ride Safari. Kye is passed the age of holding my hand while walking through the parks but ever so often his hand will find mine and I never want to let go! I loved holding his hand on the safari jeep 🙂
I also love watching Spear and his joy and excitement getting to ride in the jeep and getting to see all the animals!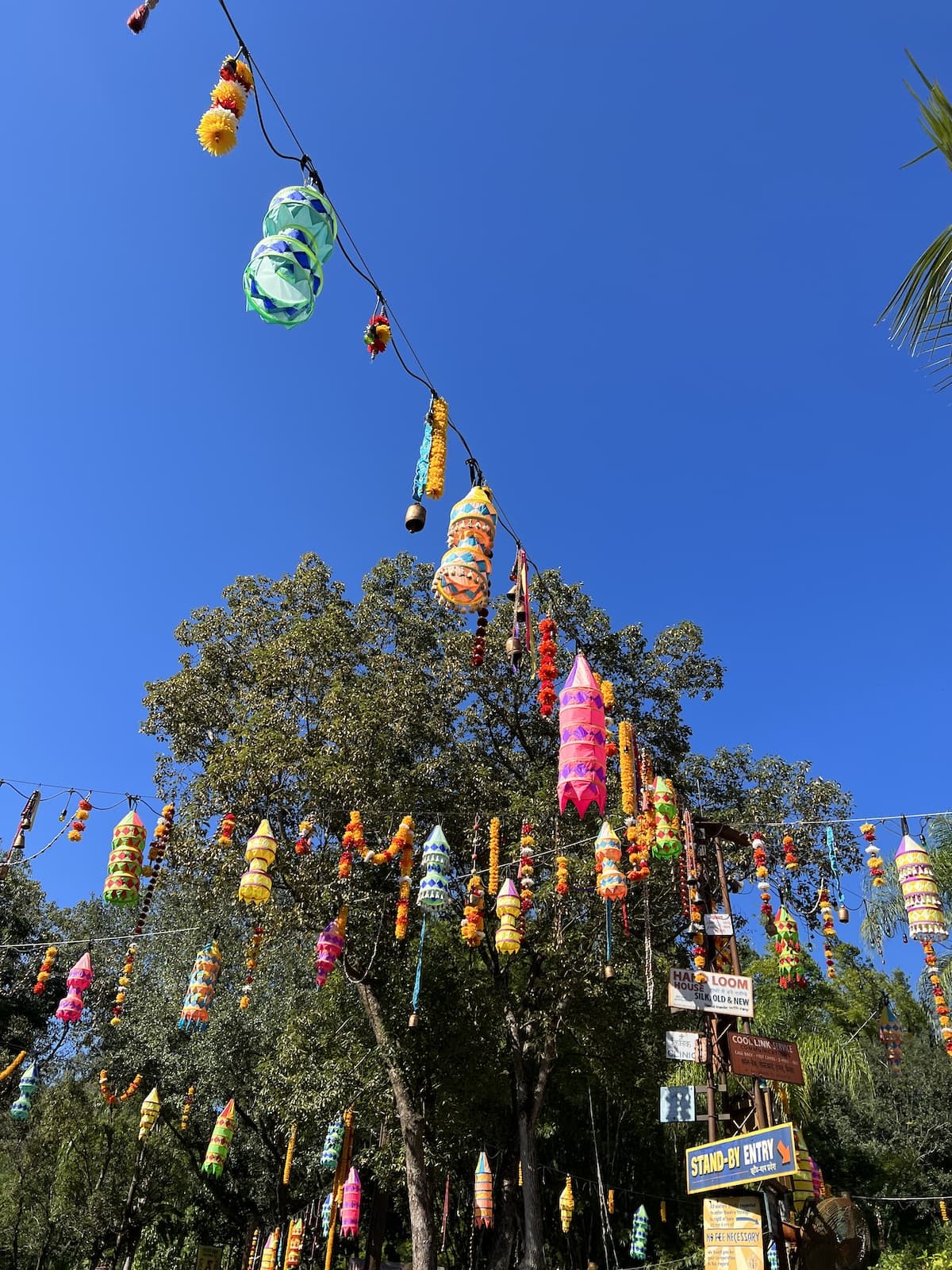 A few years ago the girls and I ate lunch with Aunt Katie at Restaurantosaurus and we've wanted to go back ever since. Of course back then they had an ice cream bar that they currently don't have but it was still a great spot to eat for the birthday boy!
Naturally I can't have a vacation of any kind without starting my period. I forgot my period emergency pack at the house because it had gotten DRENCHED at Universal so thankfully some sweet cast members helped me out and hooked me up!
Restaurantosaurus is a quick service restaurant (and has mobile ordering) with TONS of super cool and fun Dino details. The kids meals are served in adorable pails (pre pandemic you'd use the pails to fill up with ice cream too). And they have DELICIOUS chili cheese fries!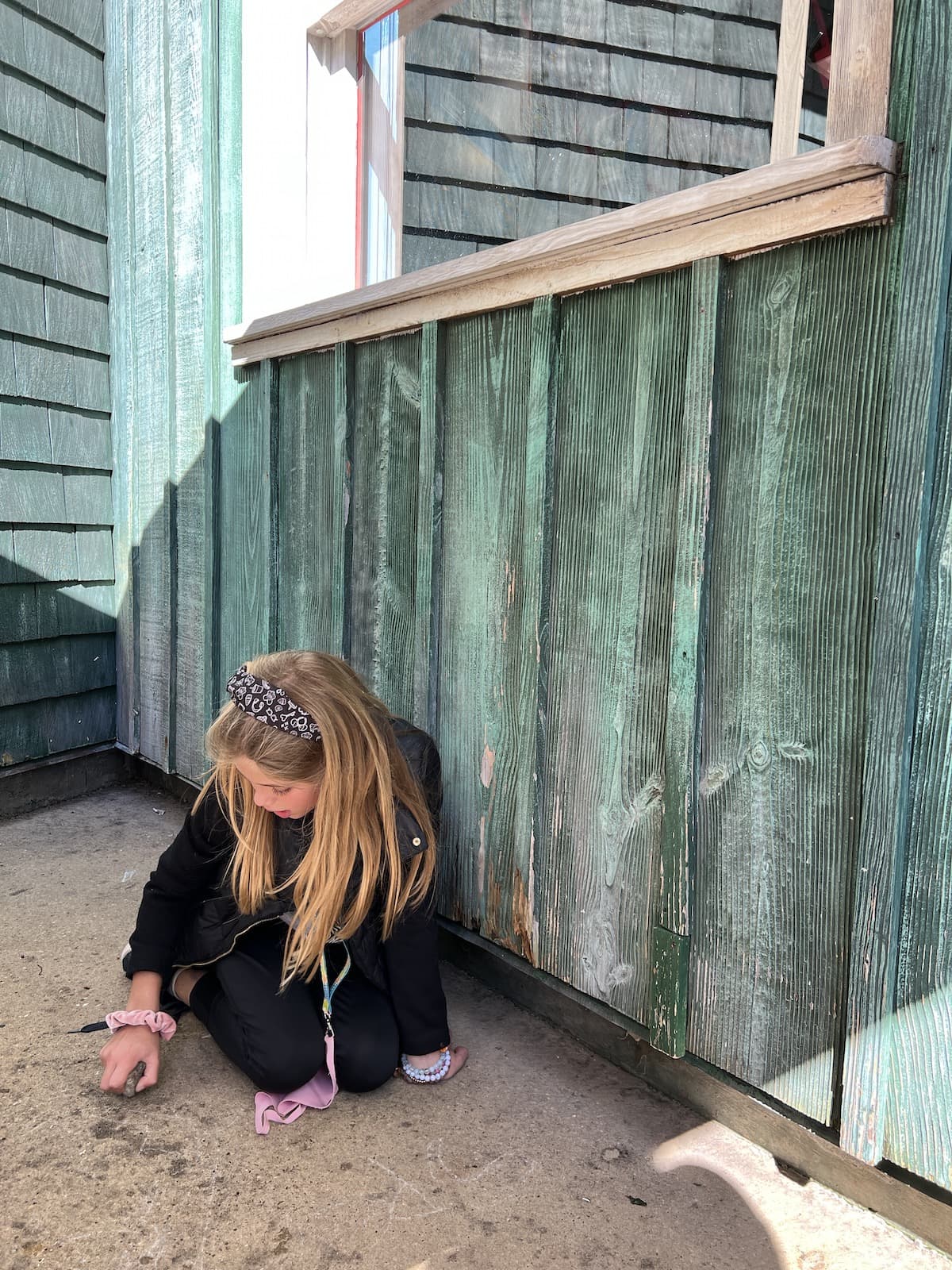 After lunch Zach and his mama went ahead and headed back to the house while the kids and I all stayed back to get to have some solid playtime at The Boneyard playground. It's been SO LONG since it's been open that Spear didn't have ANY memories of it so I wanted to just let them PLAY.
We stayed for a solid hour and they had so much fun chasing each other, sliding down the slides and digging in the sand. The Apple Watch came in handy as Kye and I were able to communicate and keep eyes on Spear.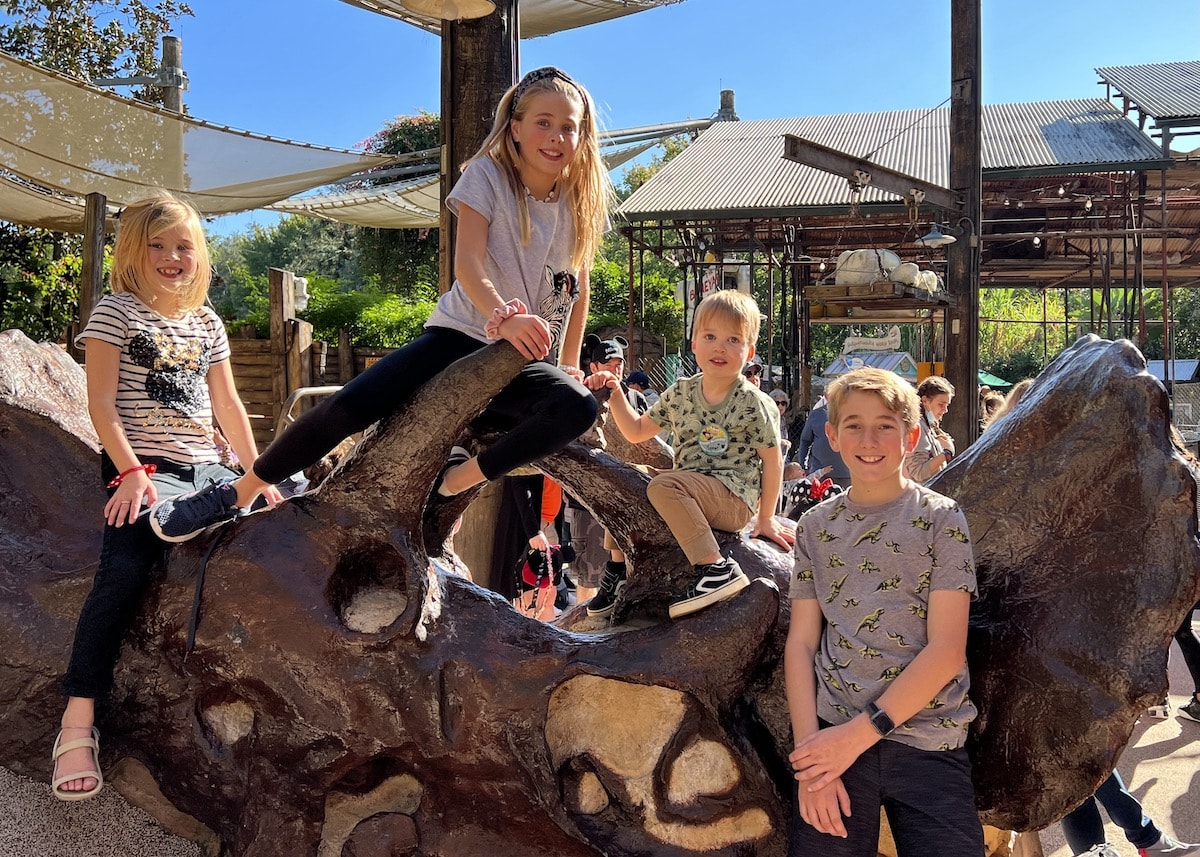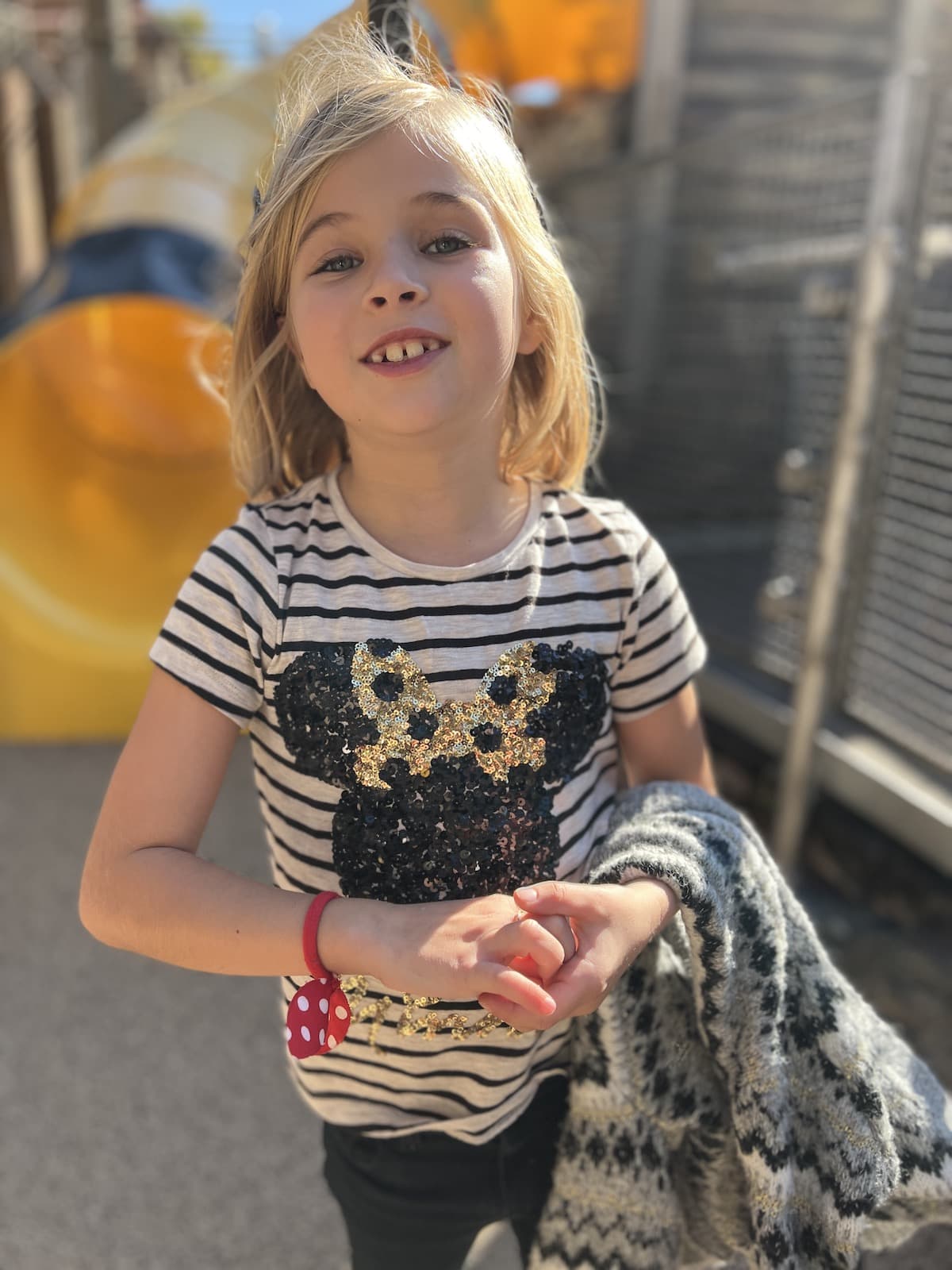 On our way out we had the most magical moment getting to meet The Merry Menagerie animals. YALL. It may sound cheesy but I legit had TEARS in my eyes. They were just incredible and amazing and that polar bear had my HEART. I was so, so, SO tempted to buy the stuffed puppet for myself! I LOVE IT. They are SO well done and such precious details. Animal Kingdom wins for my new favorite park at Christmastime!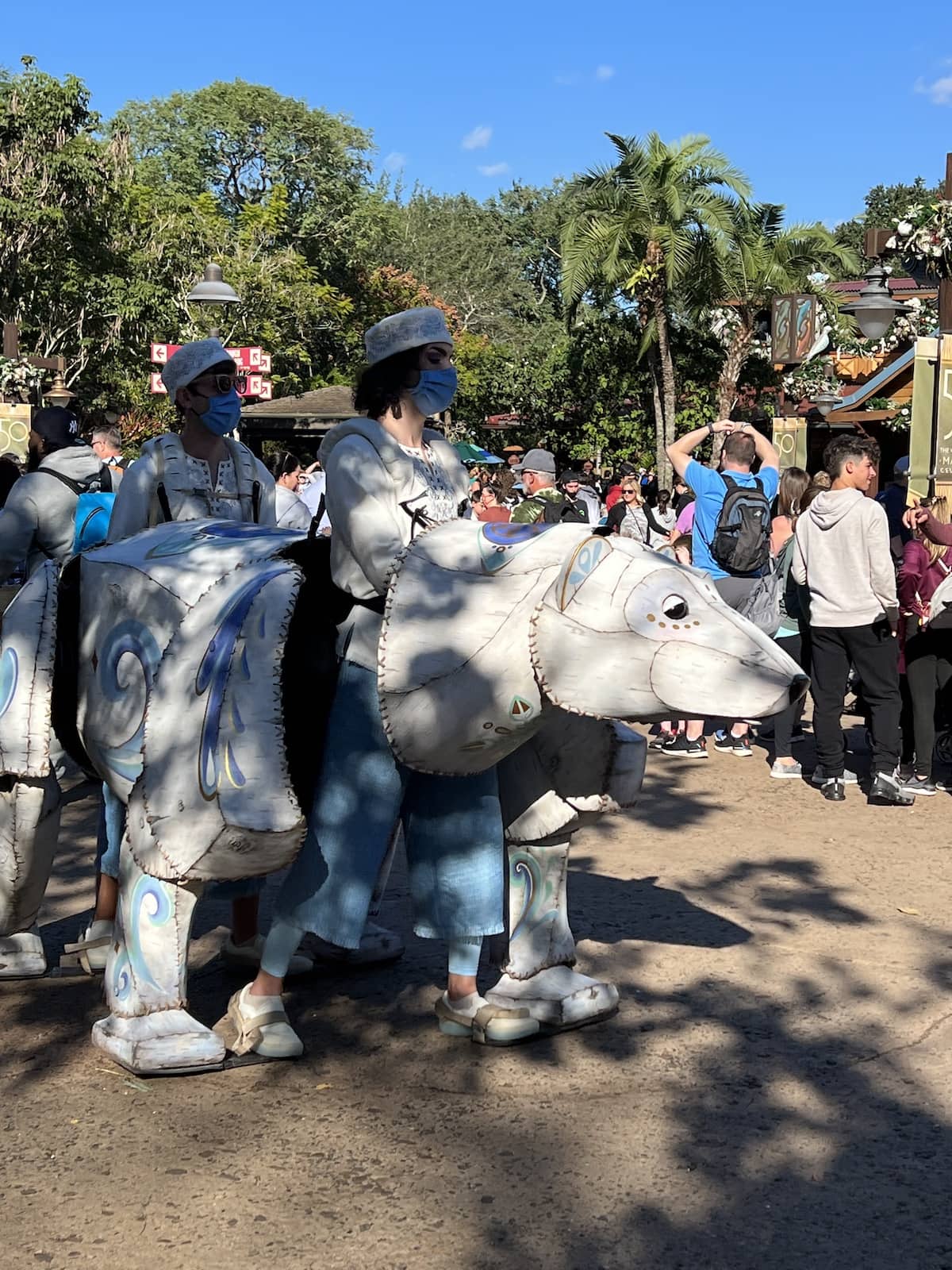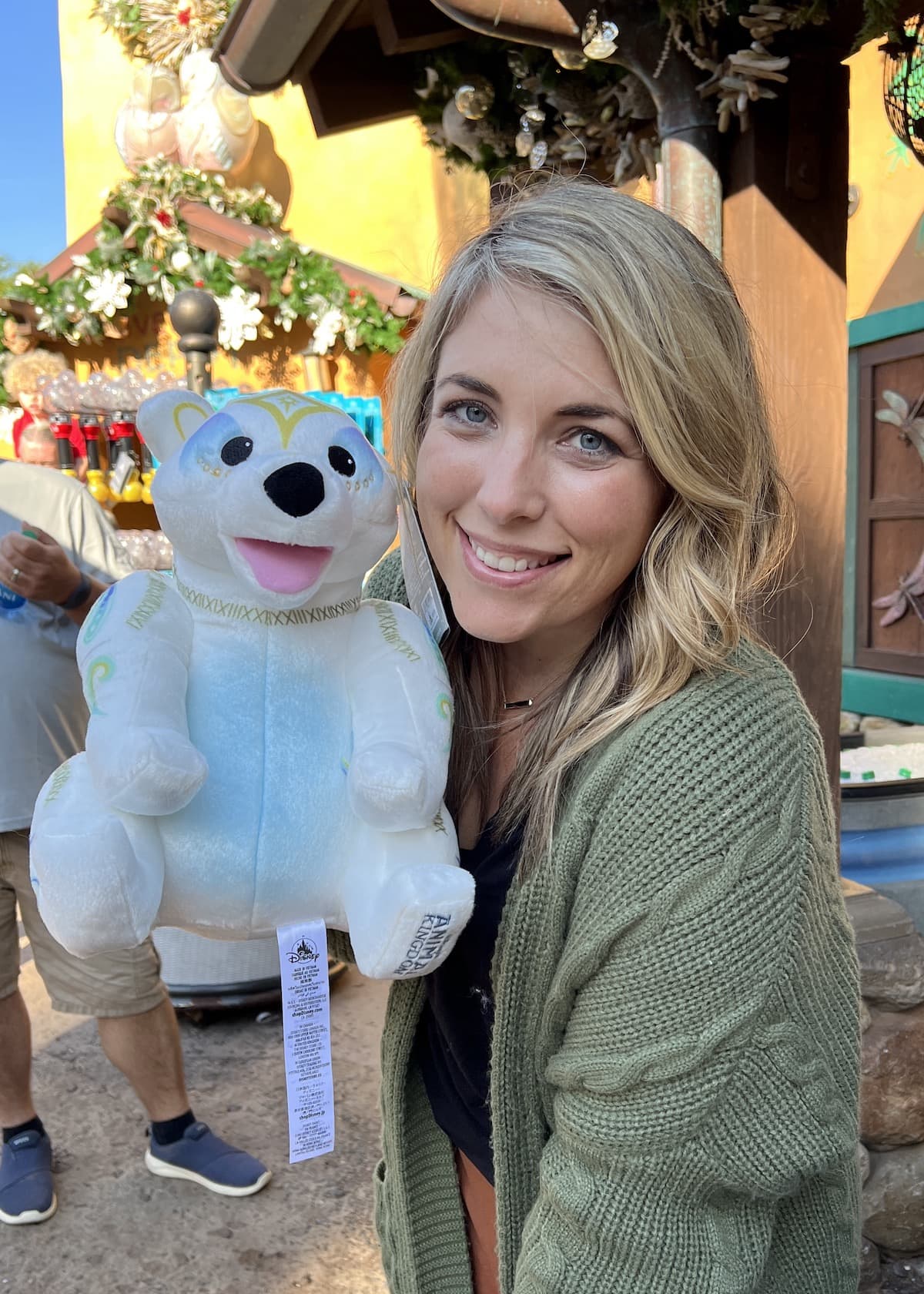 Once we got back to the house it was too late for Spear to nap so we just had a chill family night to allow for early bedtimes. We all had been referencing the Olaf shorts non-stop on the trip so we had to have G-Mama watch em and then we watched Jungle Cruise so Zach could see it.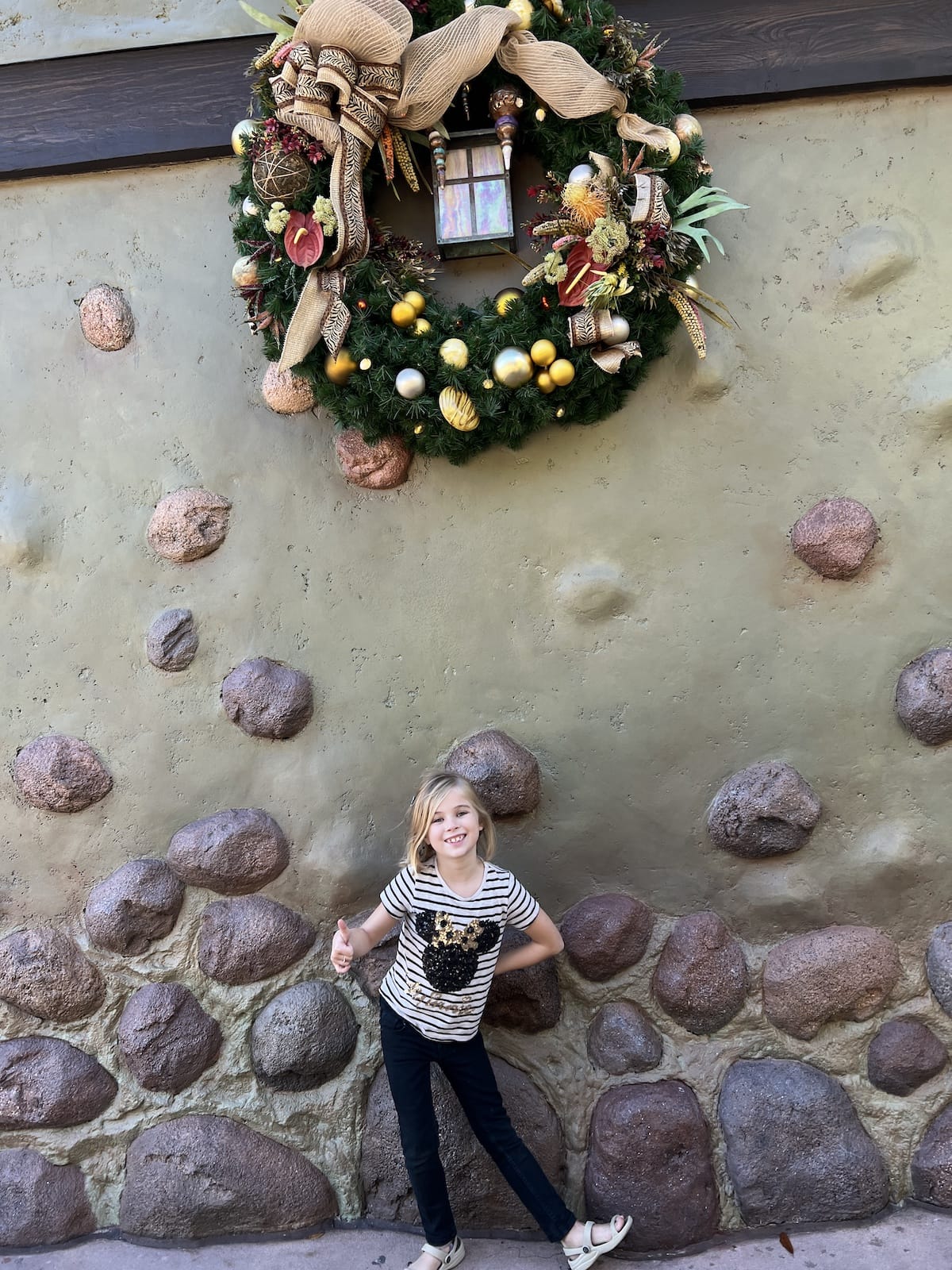 Here are our photo pass pics from our fun Animal Kingdom day! Mine with Spear cracks me up – he had ZERO interest in getting out of the stroller for a picture with his Mama. I adore the one of me with all my babies. We had such a fun time just US! I am not hating our new game plan of taking two cars down to Disney. It's really allowed us so much freedom for Zach to head out when he's done and for me to be able to linger longer and soak up the magical moments I love too!