Our First Visit to Sea World Orlando.
We are really trying to organize our travel this summer in a way that we aren't traveling two consecutive weekends in a row if at all possible.
We had planned a weekend down to our Disney House in June and when Mrs. Charlotte talked about taking a Parker Family trip it just made sense to use that weekend as the trip!
It worked out really well and our little family was still able to do the things we'd planned on (like me sticking to my goal for the year of visiting Disney once a month!) and the cousins got to all be together and make memories too!
Growing up I lived about an hour from Orlando and I have a lot of memories of visiting Sea World with my parents.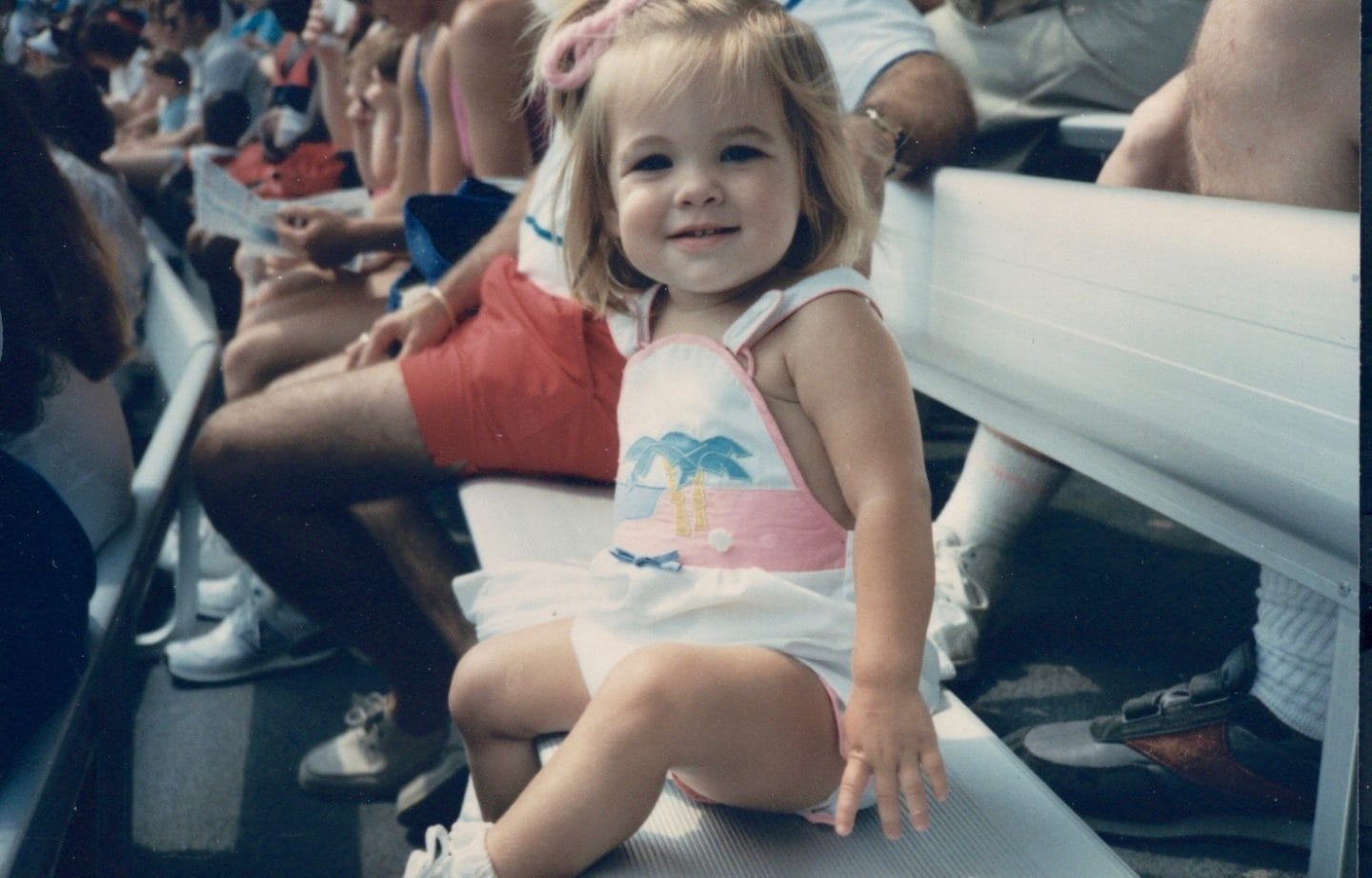 I have lots of happy memories there and have wanted to take my kids to Sea World at some point!
To be honest though? This wasn't the timing I'd choose for their first visit.
Spear is too young. It's summer time (HOT). And the kids just weren't really into the idea of going.
And if it was up to Zach? We'd never visit.
I mean c'mon dude has come so far in his enjoyment of Disney, I can't expect him to be down for a theme park revolved around animals 😉
I think for us too we'd just done Universal which was our first time there and it was overwhelming visiting a theme park for the first time and IF we are going to a theme park, we'd choose Disney. We know it well and we already have passes!
But we didn't want to be a stick in the mud and try to be as easy going as we can with four kids so we decided to do a half day at Sea World with everyone.
I did ZERO planning for our Sea World day.
And I really probably should have.
We found out they do not allow in outside food. Except for baby food. So we decided to keep the big three's lunches in the car to eat on the way back to the house and to just bring in food for Spear.
And they did allow it!
We also arrived at the park 45 minutes before opening, slightly later than we would for a day at Disney.
And quickly learned they do not even open the parking lot that early. So we had to hang in the car until they opened the lot!
Once we entered the gates we discovered that only Kye is tall enough for all the rides. Tess isn't even tall enough for MOST of them.
Which really, really surprised me. I always felt like Sea World was more geared towards the YOUNGER crowd, but maybe that's only because my memories of going are from when I was little?
We also quickly learned that even when the park opens, not all attractions open at the same time. Which resulted in a lot of running around at the start of the morning for us.
Once we got rolling though things really went pretty smoothly overall! Especially having SO many people in our group.
Thankfully the crowds were nothing like Disney. Even on a Saturday in summer.
It was a lot of rain on and off so maybe that kept people away? Or maybe Sea World is just that chill.
We spent basically the entire time we were there splitting up. There was very little that EVERYONE in our group could do TOGETHER.
And yall know what that means?
Yes I'm going to point out yet again how much visiting other theme parks makes me appreciate Disney even more.
Walt had a vision when he established Disney and that vision was for attractions that he'd be able to enjoy WITH his daughters. That families would be able to ALL experience TOGETHER.
I know Mrs. Charlotte really, really loves being with ALL her grandbabies and seeing ALL of their joy and she was constantly being divided between groups of the grandkids since there really weren't many things everyone could all do!
I was VERY proud of Britt and how she handled being too short to ride a lot of the things with the older kids.
Payton is her BFF cousin and she didn't get to spend a ton of time with Payton and she didn't complain about it at all. She just enjoyed the moments and experiences they did have together and she embraced the times where they had to be apart!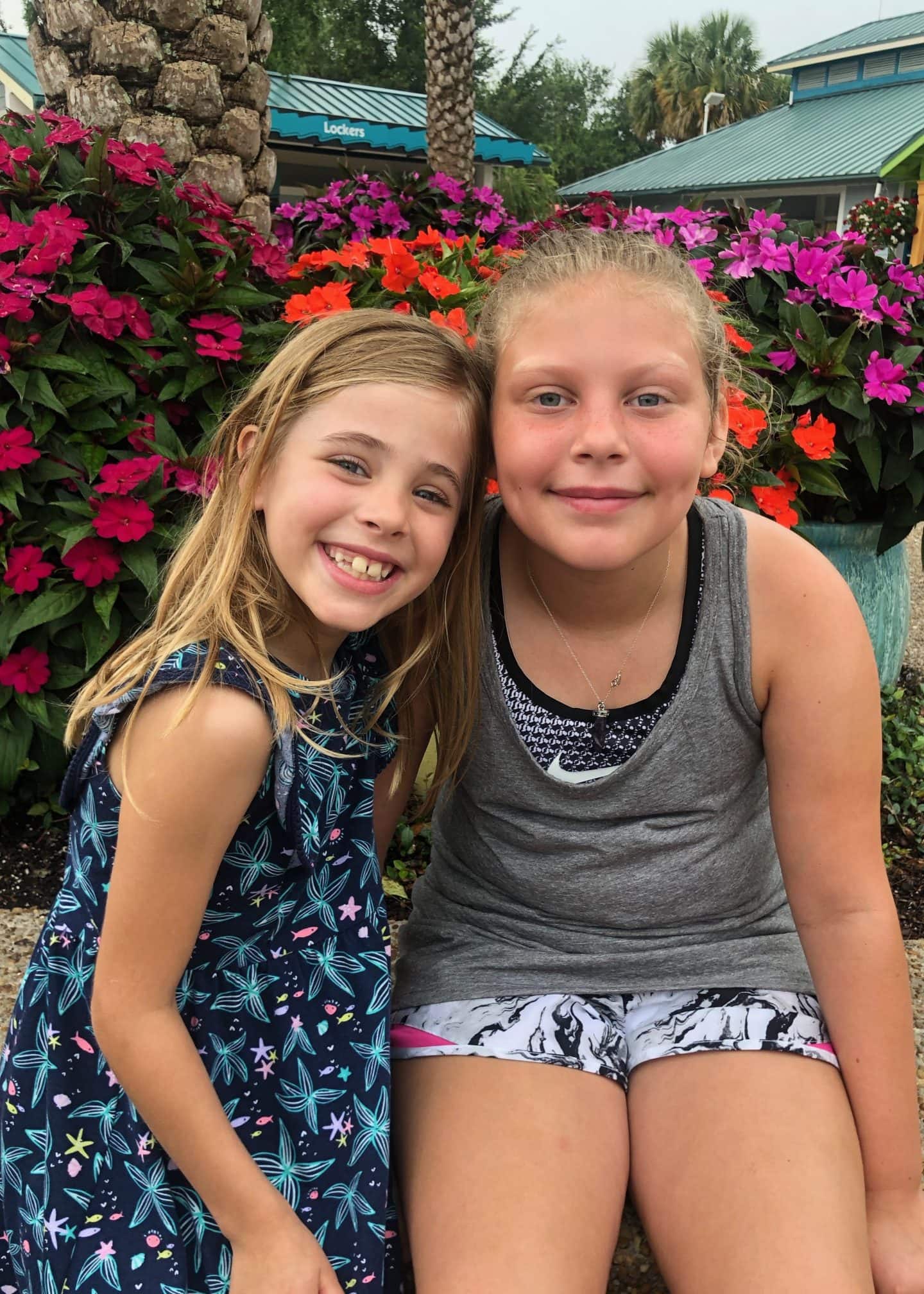 Right when the park opened the taller and daring people went to ride Manta while we checked out the dolphin tank and waited to be allowed access to the rest of the park.
I hope I get these ride pics correct since I didn't ride them myself! I think this is Manta 😉
The theme park is very beautifully done. I loved all the foliage and felt it was very clean and was thankful that there are lots of options for younger kids to enjoy while older ones ride rides.
It worked in our favor that our younger crew also love animals 😉 Tessie could animal watch all day!
Once the full park opened our little kid crew headed over to Turtle Trek while we waited on the older crew to finish up with Manta so we could meet up at Atlantis.
We had assumed Tess was tall enough for Atlantis but when we got there, she was too short.
Again, I'm so proud of how awesome she did in handling those sort of disappointments.
Tess LOVES big kid kinda rides and is SO BRAVE and I felt bad she had to miss out. But she did great just going with the flow of it!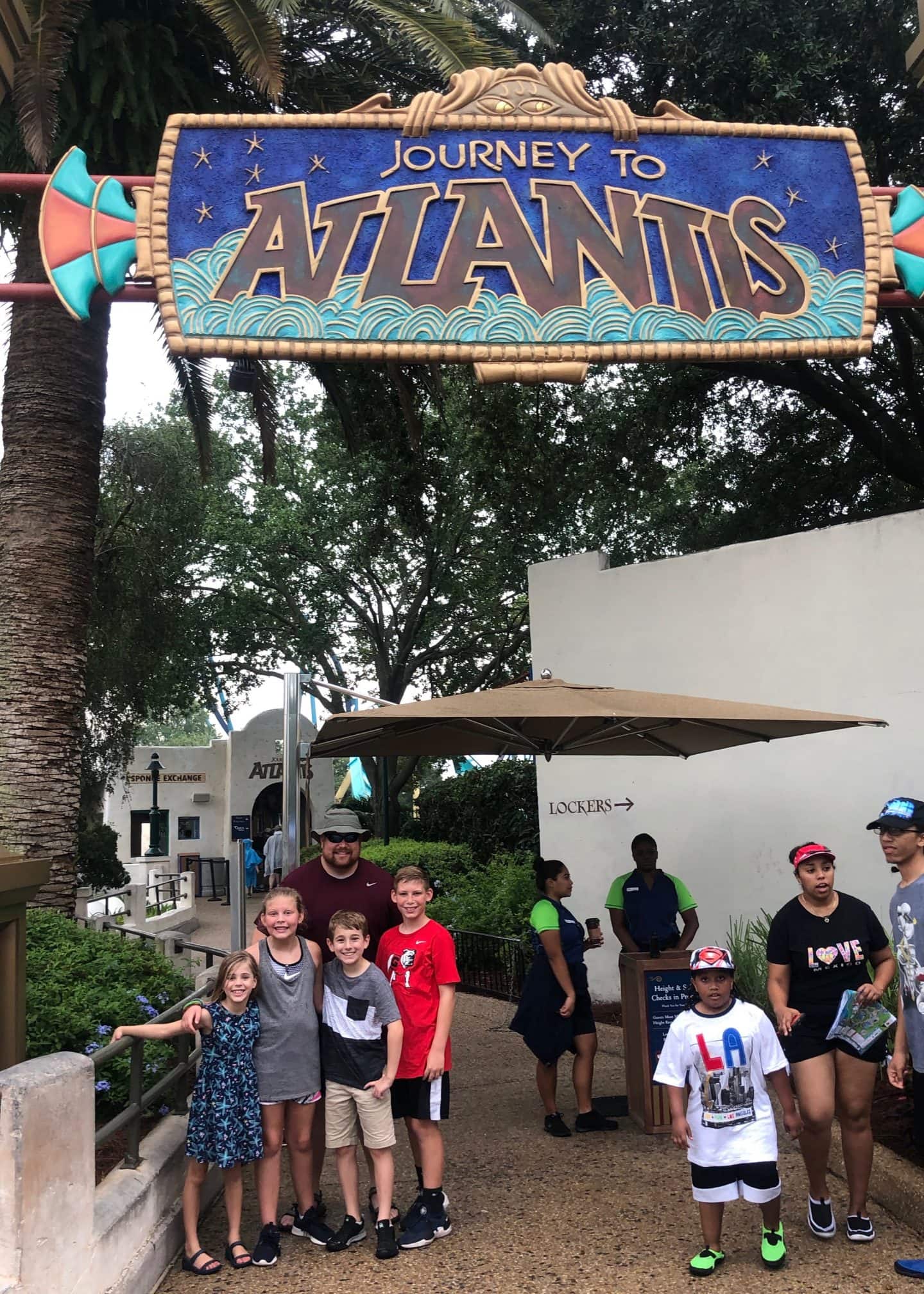 Zach stayed with Tess, Spear and I (another nice perk of a large group – Zach and I actually got to be TOGETHER a good bit since there were so many adults available to ride things!).
And the little kid crew went over to the Antarctica area to ride Empire of the Penguin.
The ride had issues and we had quite a wait but it worked out that the big crew was able to meet up with us after their ride and we all got to ride together!
The adventurous ones took the "wild ride" side and we stayed with the regular non-motion-sickness-inducing option.
It was a bit frustrating that we didn't know to have Tess sit in the front seat! Poor girl didn't get to see much of the ride.
And it was annoying that Spear had to be seated in his OWN seat with his OWN buckle. Thankfully he did well with it and he looked SO GROWN!
It was SO cold in the Antarctica area – especially for the soaking wet kids from Atlantis!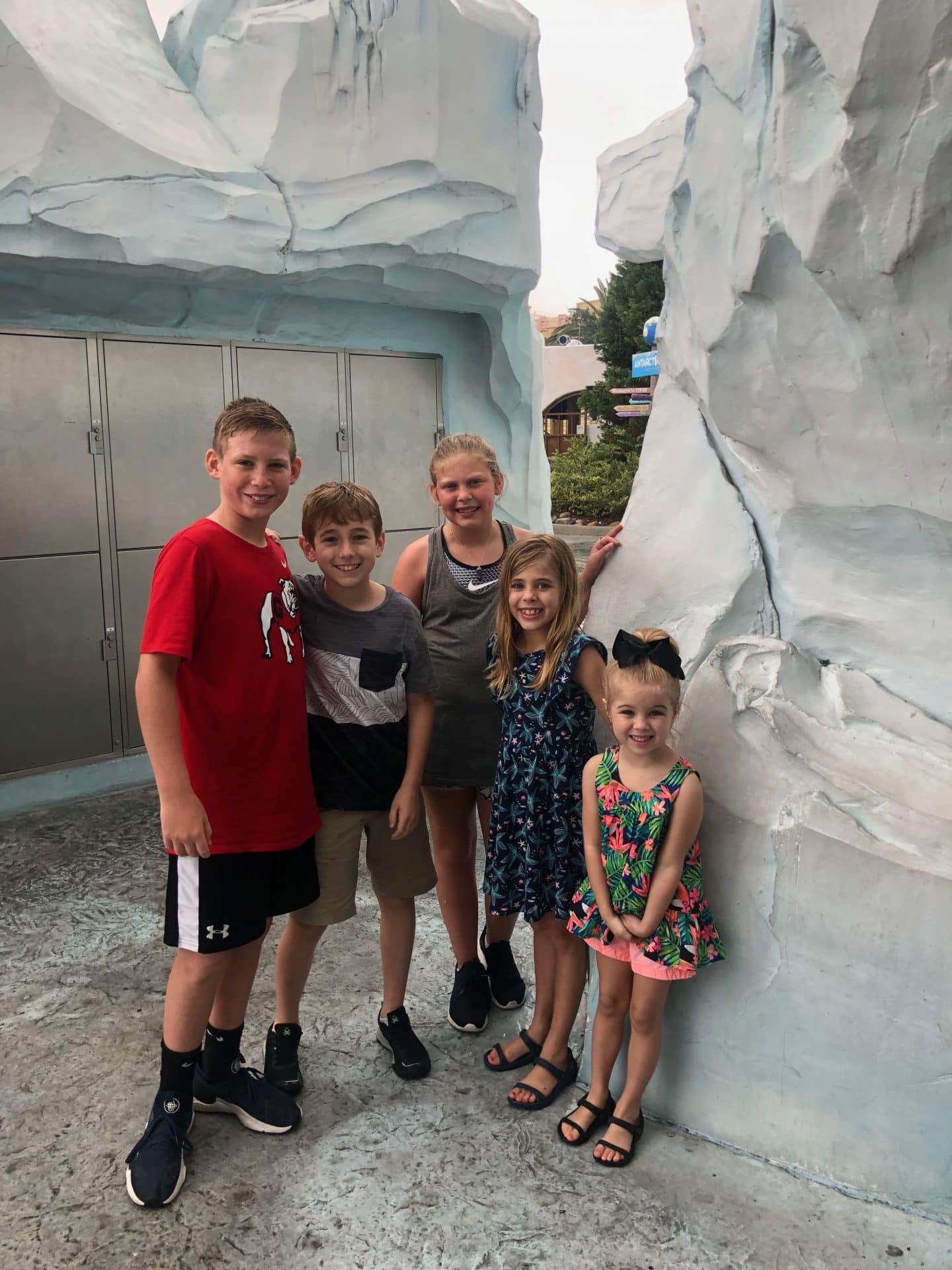 Next we headed over to Infinity Falls which I was VERY excited about because Tess was FOR SURE tall enough to ride!
I was tempted to ride too but did not want to leave Mrs. Charlotte alone to handle THREE strollers and TWO toddlers.
So I stayed back and we had a potty and snack break and watched as everyone else came down in the tubes!
They all agreed it was a super epic ride and Zach even took this video!
We split up again and this time the tallest and bravest headed to Mako and the shorter and less brave went to check out the Sesame Street area.
Zach's favorite moment of the day was riding Mako with his dad.
Apparently Mako is THE tallest, fastest, longest rollercoaster in Florida. Who knew?
Apparently not Mr. Rusty. I guess he was freaking out and it was hilarious.
The biggest kids all LOVED IT and Kye said it was the best roller coaster EVER.
We stopped by a carousel on our way and Spear's love for a carousel was born 😉
He was SO EXCITED and he just wanted to stay on all day and keep riding! He got upset when it ended!
The Sesame Street area is SO much better done than the Dr Seuss area at Universal!
We don't watch Sesame Street but the theming was cute and fun and the rides were very much like Wild Adventures which was fine for Spear and Cam.
Tess, Britt and Carter all did a great job going with the flow about it 🙂
Spear loved the little Choo Choo too and I really just embraced the moments to get to ENJOY HIM.
So often he's just kinda trailing along and I don't overly feel guilt about it because he does WAY more than the others did at this age.
But it was nice that this stuff was more geared towards HIM and that the older ones weren't as into it!
Casey and her boys stayed back a bit while the rest of us went ahead to meet back up with everyone at the shark area.
Since there was like zero line for Mako the older ones decided to ride it again and the younger ones just kinda hung out a little bit and waited for them.
Britt loved practicing her balance by walking circles on the stone wall.
Spear was SO happy and content to just WALK.
It was also so funny how outgoing he is and how he kept toddling up to random strangers and trying to befriend them haha.
Tess was making me laugh how much she smothers him.
He loved exploring and got down on the ground and tried to drink water from the shells in the ground. Total fourth kid moment!
We all met back up and headed over to watch One Ocean.
When the decision was made to go to Sea World my ONLY "must do" was the Shamu show. It's my only real vivid memory from my childhood.
Luckily it worked out that we could see the first showing that day right at lunchtime to feed Spear during the show!
Leading up to the trip I knew that Val (from Chronicles of a Babywise Mom) was spending 10 days in Florida and it just so happened that we BOTH planned to be at Sea World on the SAME DAY. I mean what are the chances?!?!
If you've followed my blog since the beginning (like all five of you who've been around that long, ha!) then you know that Val is THE Babywise Mom and that she's been a HUGE influence in my parenting path and has been my total MOM IDOL.
Several years ago she found my blog (probably due to my linking to her ten billion times haha) and invited me to be a member of the Babywise Friendly Blog Network.
Through that group of bloggers true friendships have formed. Like hardcore, amazing, incredible friendships.
And Val is one of those friends! Even now that we talk all the time, I still sometimes have to pinch myself that I'm actually FRIENDS with THE BABYWISE MOM.
So when we realized our schedules matched up a meet-up HAD to happen and the One Ocean Show was the perfect place for it.
My running joke with Val has been that the day we meet I'd have a copy of Babywise and have her sign it. Yall know I carried that book all around Sea World in order to follow through 😉
It made my heart SO HAPPY to meet her and be able to give her a big hug in person!
My favorite moment of the day and I am smiling just thinking about it!
And yes, we were matching, but no it wasn't planned. 😉
We actually already have plans in motion for most of the BFBN crew to meet up in PERSON later this year so I knew I'd get to meet Val then but it was so neat for us to both meet each other but also each other's families!
These are probably the most well sleep trained children in the world haha!
Not only did a magical moment happen in me meeting my mom idol…but the Sea World magic was being spread to us all…
Big Papa bought ALL EIGHT GRANDCHILDREN a Shamu (killer whale, whatever, it'll always be a Shamu to me ha!) stuffed animal.
It was SO sweet and just out of character which makes it even sweeter and I think it's so precious that all the grandkids have a special item to remember the day by!
Spear was ADORABLE in his reaction to the stuffed animal. It made me realize we don't really play with stuffed animals with him at home and probably should because he was ALL ABOUT IT.
The show was cute, basically what I remembered it being. Whales doing jumps and getting everyone in the Splash Zone wet.
Which we all totally sat in the Soak Zone and I gotta say it was quite the adrenaline rush haha
We kept anticipating the SOAK and it never came!
Brinley (Val's youngest) was so nervous about getting wet that she went and sat two rows behind her family to stay dry!
More pics from the show:
The morning started off a bit rocky but once things got rolling it really couldn't have gone much better!
It is always so sweet to see Mr. Rusty and Mrs. Charlotte with their grandkids and I know that having everyone together means a lot to them, as I'm sure it will Zach and I one day too!
We even got a random stranger to take a group pic for us! The whole crew!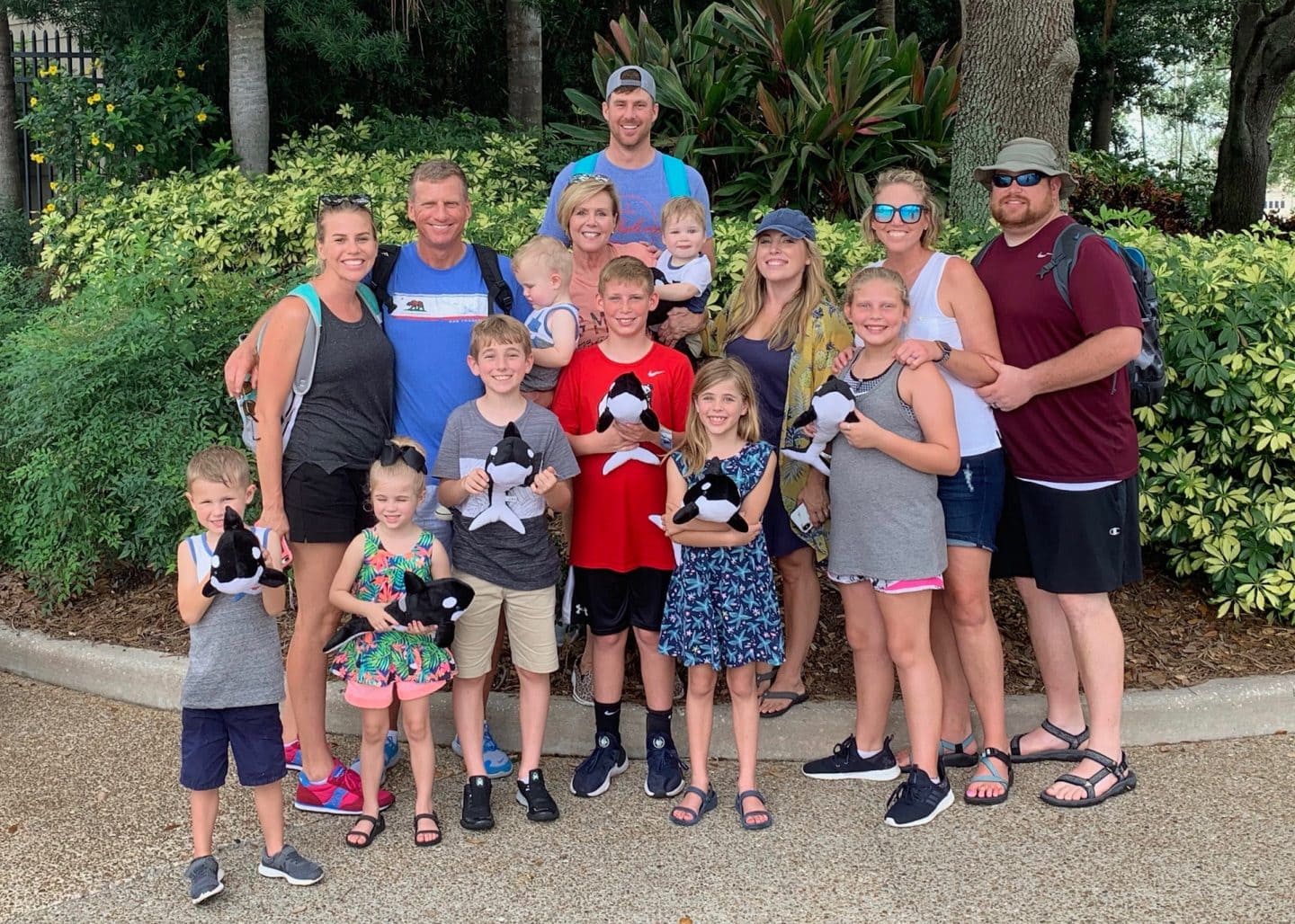 We all headed back to the house and then everyone but our little family went back that afternoon. Mr Rusty even went back too!
We really appreciate Mr. Rusty and Mrs. Charlotte for purchasing our tickets and giving our family this first time experience!
When they went back that evening it ended up storming a good bit and Mrs. Charlotte was actually able to get another ticket for everyone for free to come back within the next year!
We didn't tell our kids and plan to save our tickets for as close to that one year marker as possible in hopes that Tess and Britt will be tall enough to have more ride options and Spear be old enough to do an all day at the park and just skip nap!
I'm planning to hold off on a true travel guide for Sea World until we go back since we only experienced a half day this trip and I don't want to give bad advice!
So instead…send ME your Sea World tips so we can really make the most of our next day there!