Monthly Family Recap: July 2019
July was a busy month for us (clearly as it's why I'm so dang behind right now!)
We went to the beach for a week as well as to Disney for almost a full week too!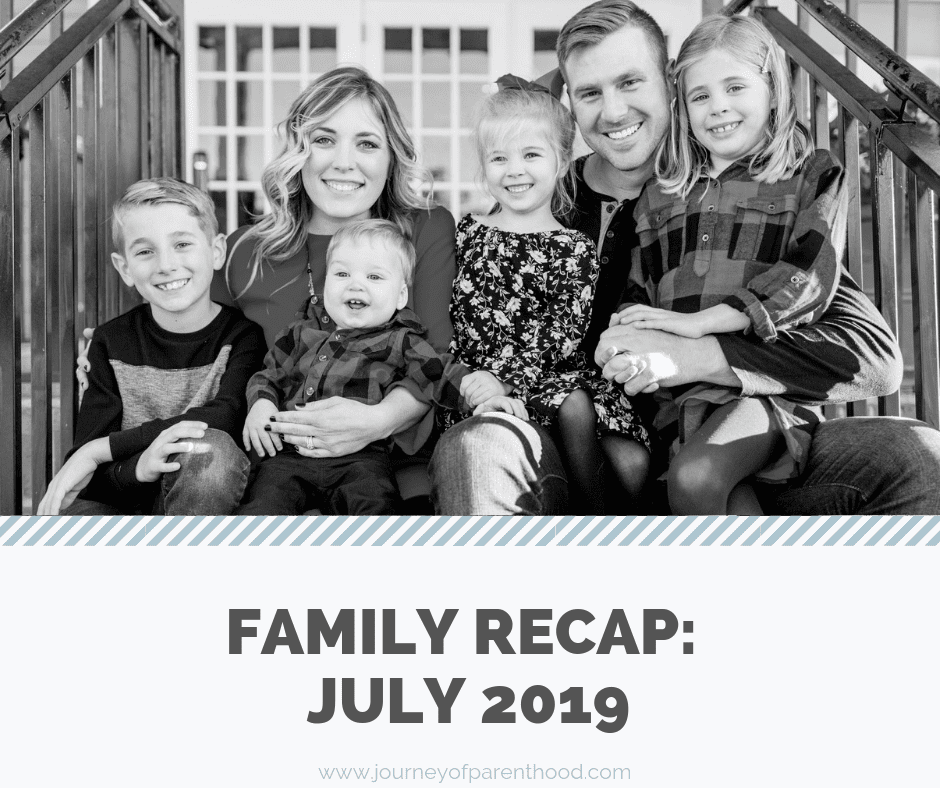 Here's a recap of everything else we had going on:
Chick-Fil-A does a National Cow Day every summer where you can dress like a cow and get a discount on your meal…that does NOT mean FREE yall.
It's one free ENTREE per person, not ENTIRE MEAL. We learned that the hard way, trust me haha
It's always a fun event and this year we went for breakfast which was pretty dang genius of us if I do say so myself. No crowds to fight at all!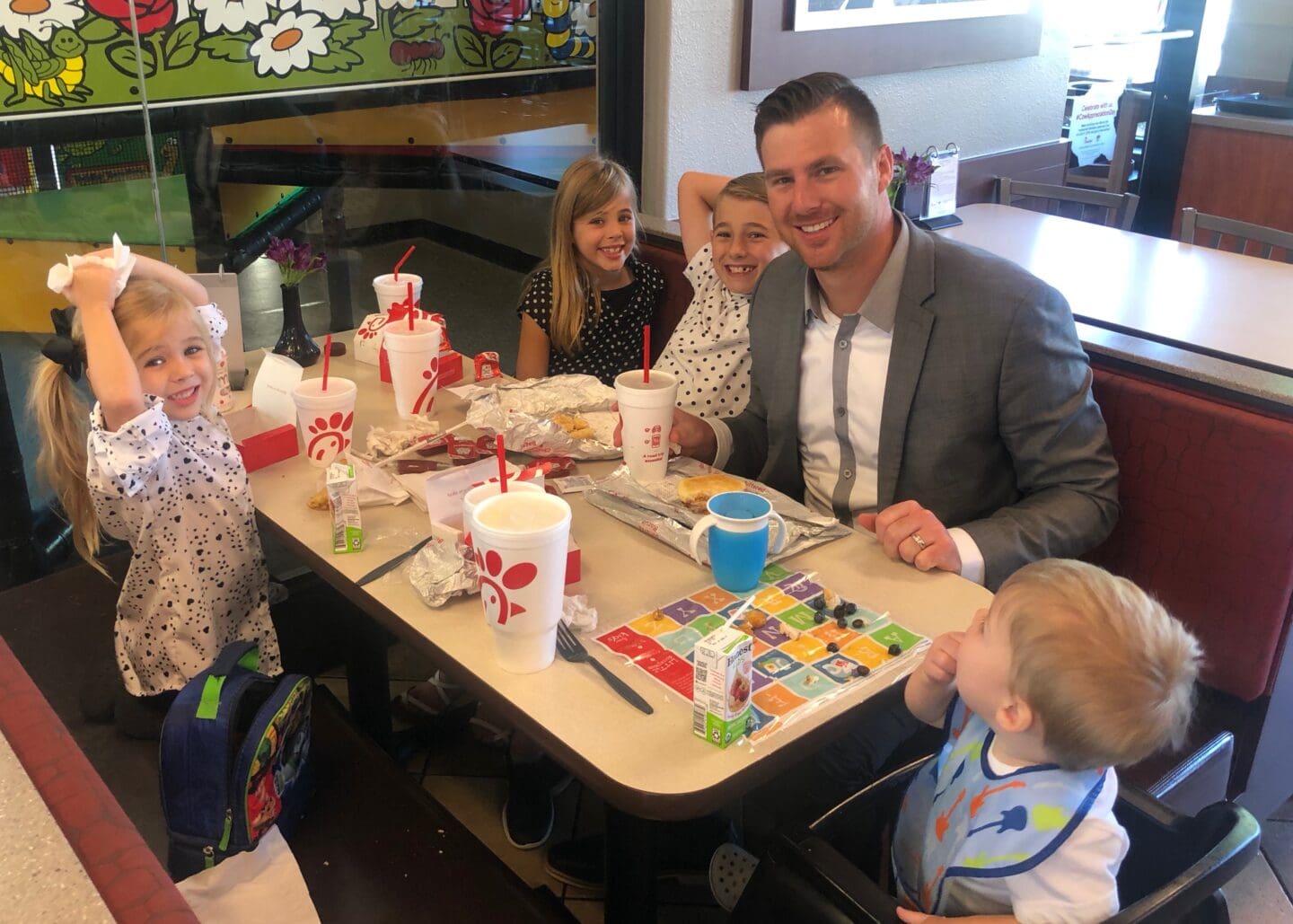 Our picture even got featured on our local CFA's page as well as the national Chick-Fil-A Instagram account which was fun!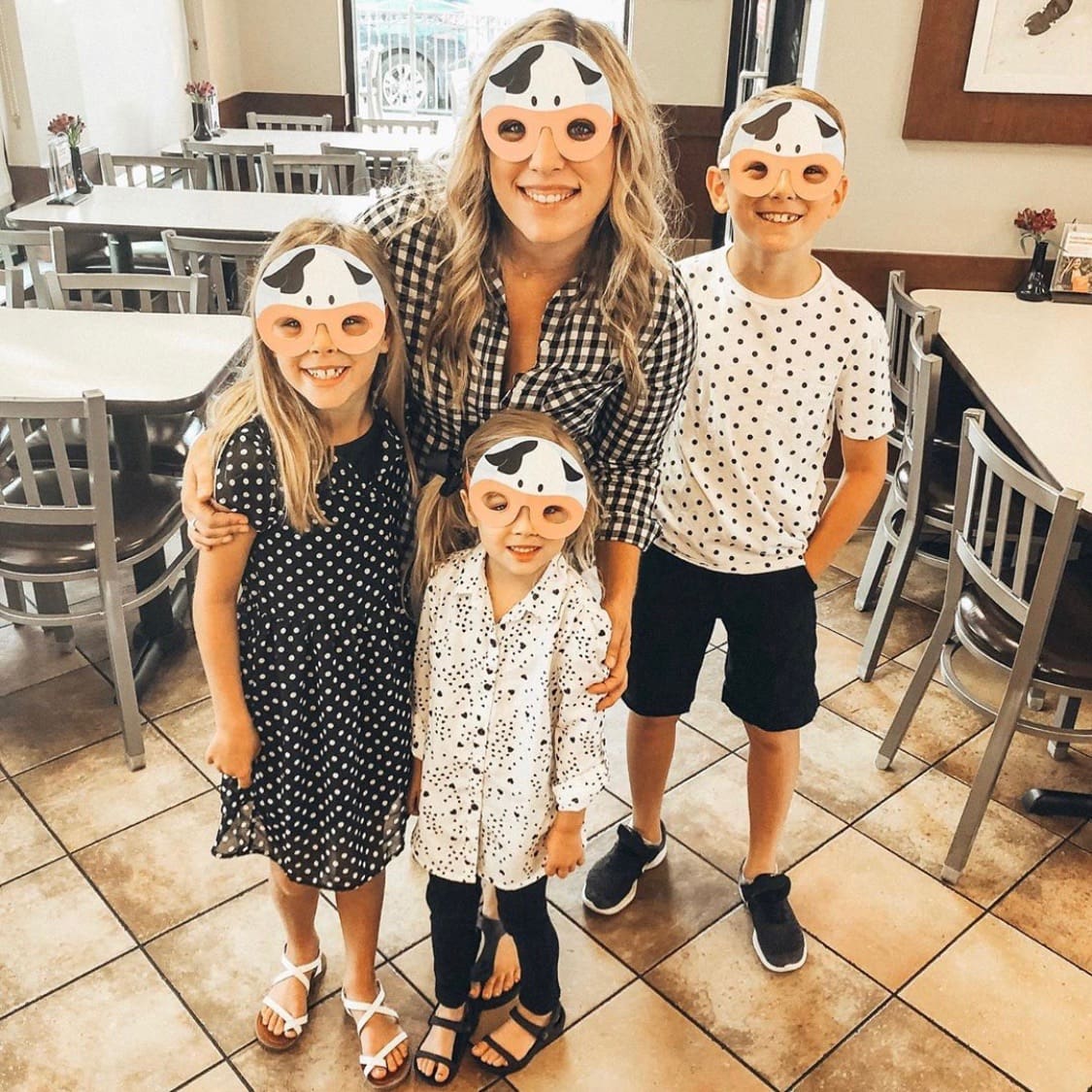 We also had our annual trip to the firestation this month!
I LOVE this tradition and it's something we started up way back when Kye was even younger than Spear is now.
I'll be dragging Kye out there when he's 20 😉
Spear did surprisingly well at listening a good bit of the time as the firemen gave their fire safety talk.
He did want to explore a good bit though and I'm glad they are so laid back and chill!
The kids ALL enjoy getting to go inside the trucks and to watch the big ladder and even get to operate the water hose!
It is always a great time with all of our friends and one of our favorite summer traditions!
Afterward Robyn and I took our crew to lunch at Pizza Hut and I ran by the library as we finished up our summer reading.
Something Zach and I have been wanting to do since he started working with Aflac over 10 years ago is to go tour the Aflac Cancer Center in Atlanta.
I'm so thankful we had that opportunity this month!
We headed up to Atlanta the night before our visit and had a fun dinner out with Alex and Kristen. I'm so appreciative to Mrs Charlotte and Mr Rusty for keeping the babies for our night away!
The next morning we met up with the rest of the Aflac group for our tour.
I expected to be HARDCORE CRYING during it but the tour was done in such a way that you felt more pride in the awesome things this company is doing for families battling cancer.
We also toured first that morning which meant most of the patients were still sleeping and I think that helped us not to be as emotional as well.
It was great to hear all the awesome contributors to the Aflac Cancer Center and their efforts in helping provide the best care possible to patients and families.
To learn more and see how you can help click here for more about the Aflac Cancer Center!
Made us even more proud to represent such an incredible company!
Following the tour we all went to Top Golf!
It was fun chatting it up with everyone and Top Golf does a fabulous job for work events. They had games set up to keep the pace moving and to help everyone interact and be involved.
Of course Zach's team won 😉
Zach and I also had a super fun double date night this month!
We ADORE Stephen and Tiffany and their kids and it's been so great to reconnect with them and build upon those friendships!
I also had book club this month and we read The Silent Patient which I'm not linking to b/c I don't recommend it haha!
I am super proud of our less awkward picture though!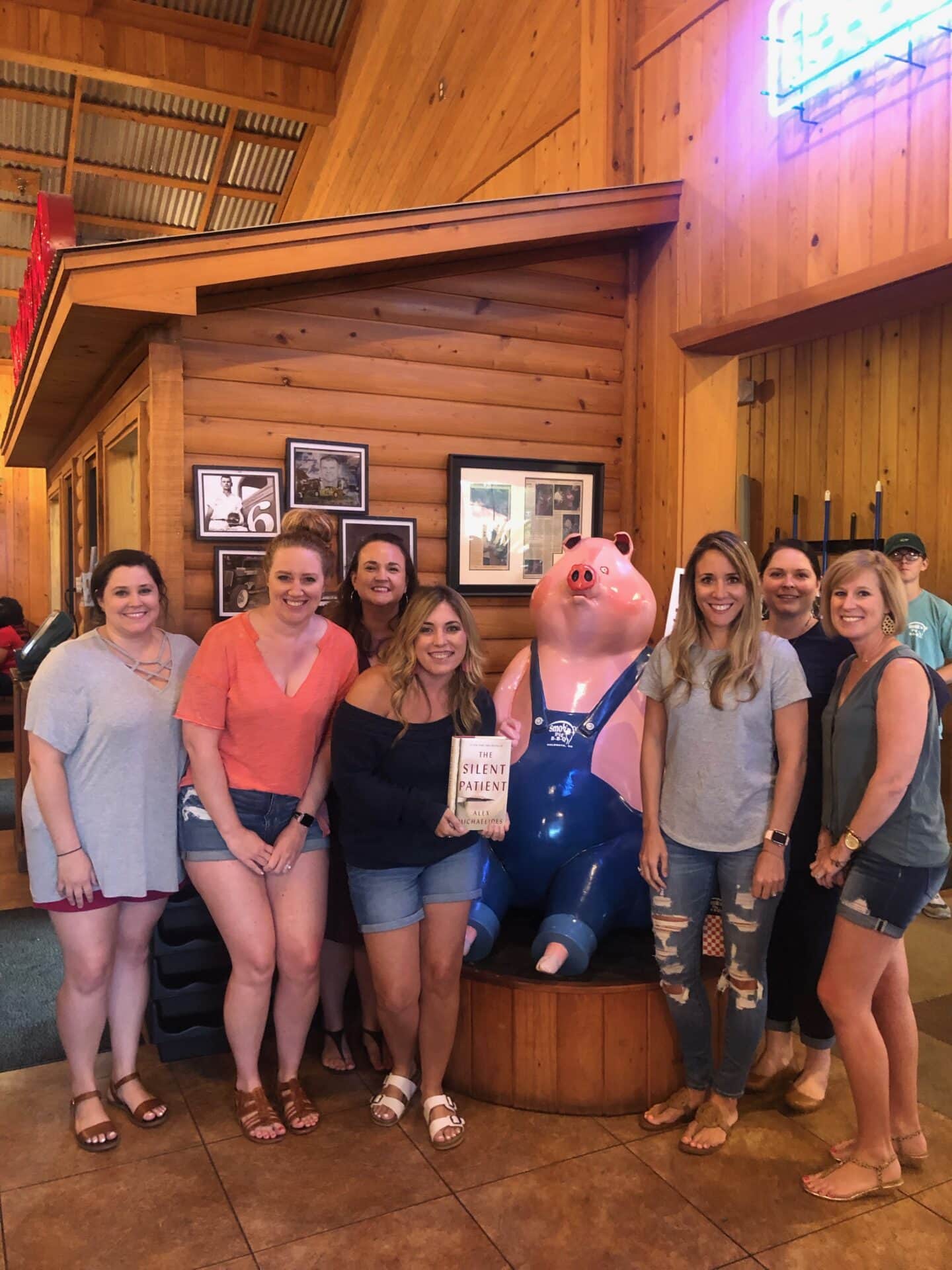 Zach has been on the hunt for a new vehicle for SO LONG and finally found a used truck with low miles!
It's the first truck he's owned since high school and he's really loving it.
So practical for all of his house projects AND side bonus but he's not having to bend down so far to get in and out of his car which is helping his back too!
Kye had his one year rescan for his back/leg situation this month and I did an update about everything going on there in this post!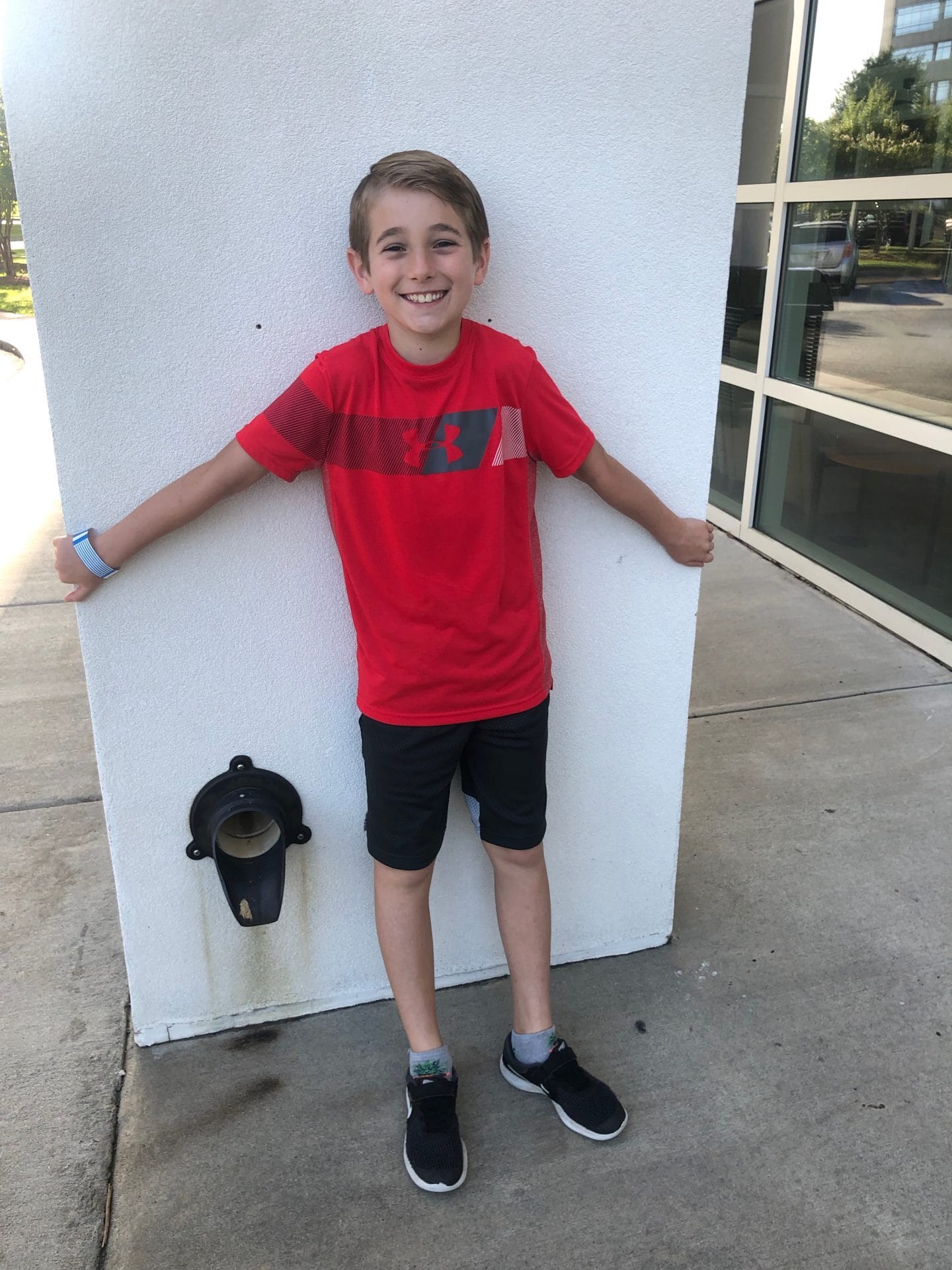 Britt really loves baking and says when she grows up she wants to be "a baker."
We tried to sign her up for a baking camp but the minimum age was 8.
However, once she did the Harry Potter camp and they saw how responsible, respectful, and well behaved she is they said she'd do fine in the more hardcore baking style of camp.
So Britt took part in the Cupcake Wars camp at our local Smallcakes and LOVED IT.
It was so great for her to be hands on and she even got to create her own recipe.
She is for sure doing more of their camps next summer, we were super impressed!
Colleen (an Aflac associate turned friend) has been asking to hang with Britt sometime and it worked out perfectly for them to have an afternoon together after one of her camp days!
Britt had a blast!
Remember that BRAND NEW CARPET we just got throughout our entire house back in January?
Well Britt has a dresser in her closet that I guess a drawer knob fell off of and the drawer was stuck shut.
Kye had the idea to USE A PEN to try to open it.
Shocker. INK ALL OVER MY CARPET.
Whew. I was nottttt happy about this.
Super thankful rubbing alcohol, a towel and 40 solid minutes of blotting got most of it out!
The kids felt terrible (as they should really haha) and were so super sweet and surprised me by making their own lunches to help free up some of my time since I spent so much of it on their mess that morning.
For back to school shopping this year I got SUPER SMART and ordered every single thing the kids had on their lists online.
We had fun sorting it all out and the kids were pumped, I was pumped, and it only took me about 40 minutes on my phone while hanging in Spear's room playing with him. EASY!
Here's all the other random little fun moments from July:
Kye is always my big helper and I especially appreciate it during the summer as whew I need all the help I can get!
Kye is great at using downtime to get creative and I love seeing the things he comes up with.
I also love how much the kids all stare in the joy of each others birthdays. Kye and Britt enjoyed staying up a little late to help prep for Tess's big day!
Britt started asking about baptism this month so Zach started working through this great book that we also used with Kye around this same age.
You can learn more about baptism and why it's essential to salvation here 🙂
Just to further prove how fast she's growing up she also is obsessed with wearing "high heels" (aka wedges) I don't let her wear them to school so she works it at church 🙂
Britt has had a goal this summer to sleep in until 8:00 am and she did it this month – until 8:05!
Britt is always so FUN!
She is super into baking and loves helping in the kitchen.
She also loves working on doing hair and did a twist braid for me 🙂
Britt is always making me laugh…I did a campaign for IG and her faces were SO FUNNY!
Tess continues to crack me up about how she is allll about wearing this fleece jacket outside!
I think it's the new "Ms Watermelon" bathing suit – totally keeping this thing forever 🙂
Tess is also the quiet and sneaky one…this picture cracks me up. The older two were posing and Tess was just waiting for them to turn around so she could shoot them!
Tess is always a great helper and is the first kid to put away her laundry each week.
Tess loves dressing up and it's SO CUTE. It especially cracks me up how she will sneak off to her bedroom and come out and act like we should be so shocked to see her in costume.
It's precious. Especially the Star Wars ones!
Speaking of Star Wars we started watching the movies with Tessie this month.
My goal has been to STAY AWAKE for them ALL.
I fell asleep watching them with Kye the first time because Tess was still really young and I was exhausted.
I fell asleep watching them with Britt the first time because Spear was a newborn and I was exhausted.
No excuse for sleeping through 'em this time! Our order for Star Wars watching is: Episode IV, Episode V, Episode 1, Episode 2, Episode 3, Episode VI.
I like to have 6 as the last one because it ends on a more positive note…three is SO DARK YALL.
Tess has LOVED watching them and hasn't been scared or had any bad dreams from them.
I think her base knowledge of Star Wars is so strong that it helps!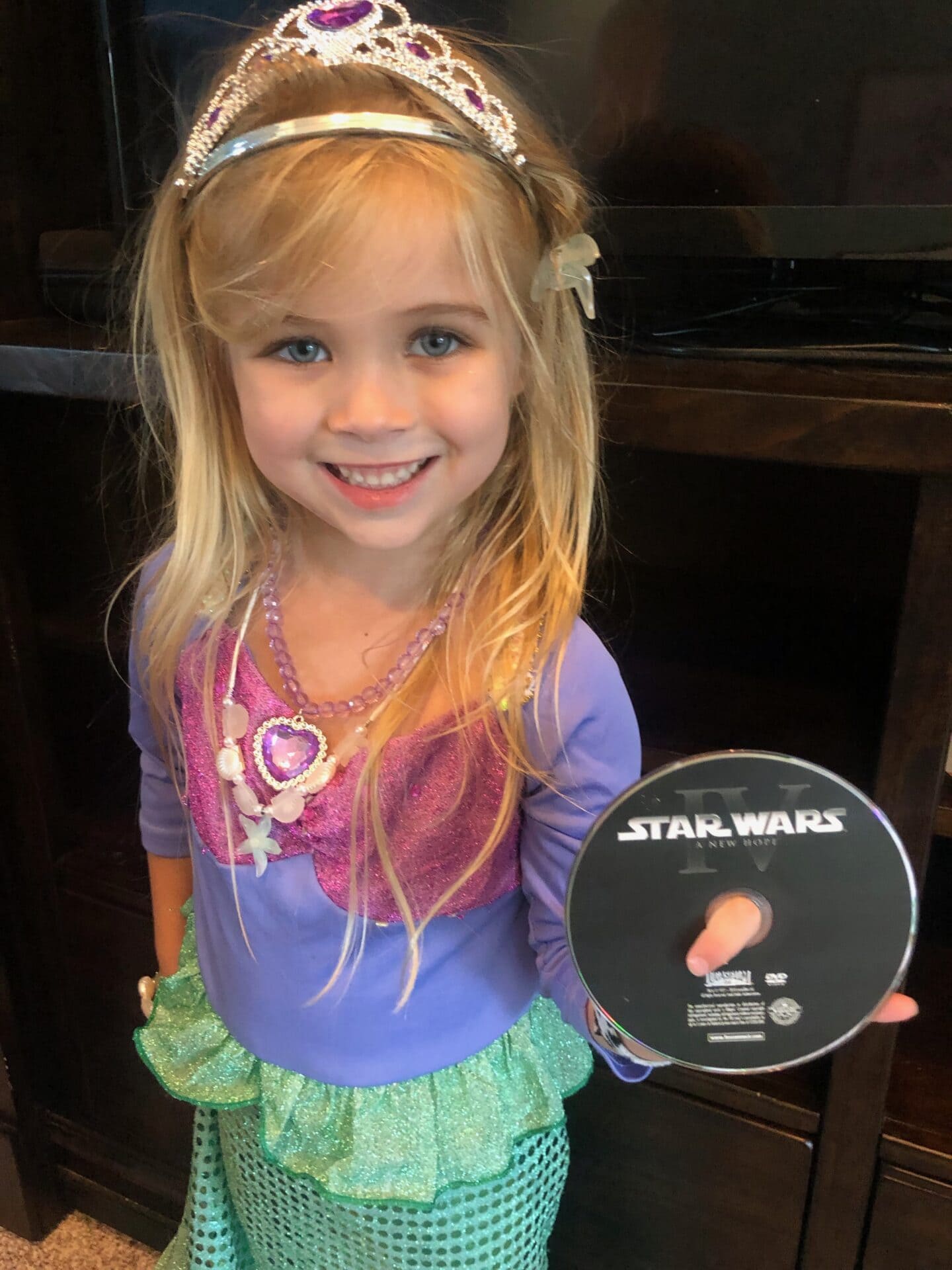 Tessie loves doing hair and I really have debated chopping hers off but it looks SO GOOD when UP! I just don't like to down (so stringy) but in a braid or pony or top knot I adore it!
Leading up to school starting I'm interested to see how Tess does without napping.
She naps HARD and LOVES that sleep! I love all the post nap snuggles and it makes my heart sad that I won't get to wake her up anymore after nap time!
Love my sweet babies and having them all home with me for summer!
Rather than do individual uploads of each video I put them all together in one video which should auto play in this post 🙂