Monthly Family Recap: December 2019
A lot of our December was spent gearing up for the holiday season so be sure to read all about that fun here!
This is the first family recap post where Spear is mixed in with everyone else.
I'm going to see how this goes and decide what to do moving forward as these recap posts can be SO overwhelming!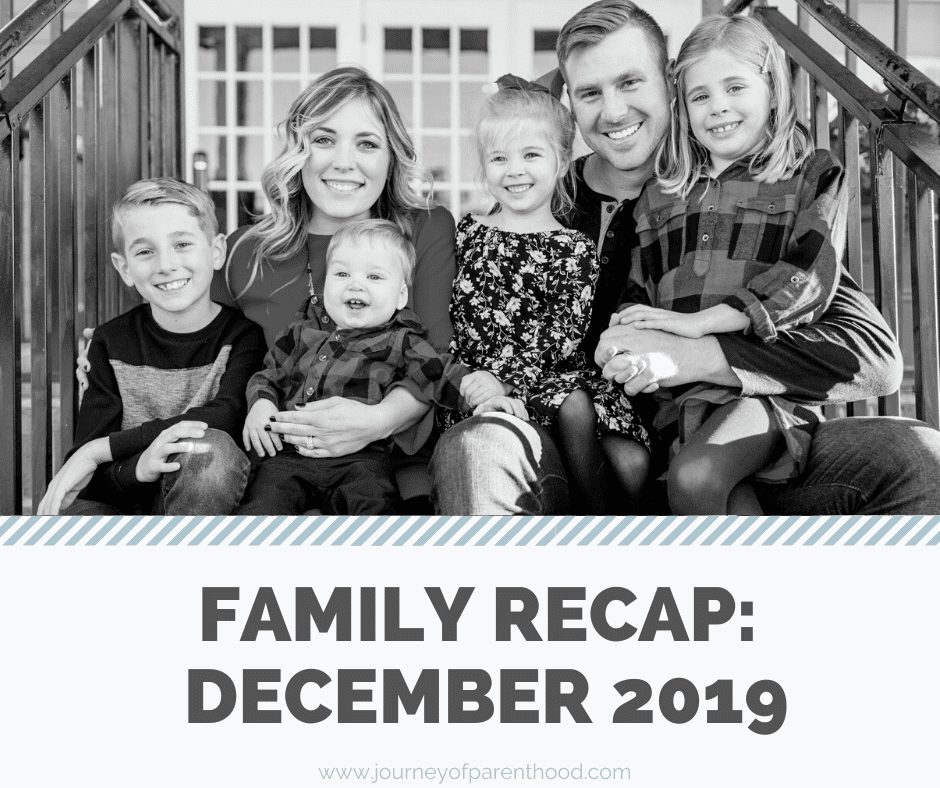 Family Fun
This month Zach and I had a chance to go on a date night! Whoop whoop!
We hit up Surchero's and then did some returns at Target and Kirklands.
It was a really fun time together just getting out of the house and enjoying each other's company and building upon our friendship.
Def less deals when the husband is shopping with you 😉
I hosted Book Club at my house this month but also had a fun night out to see It's a Beautiful Day in the Neighborhood and loved getting to go with Katie, Rachel and Lindsay!
I also read a bonus book this month (rare for me) and FINALLY read Bird Box. I loved it and want to watch the movie now!
My long time friend Kelly drove through on her way to Disney and I was so happy to get to give her a hug and grab some lunch together!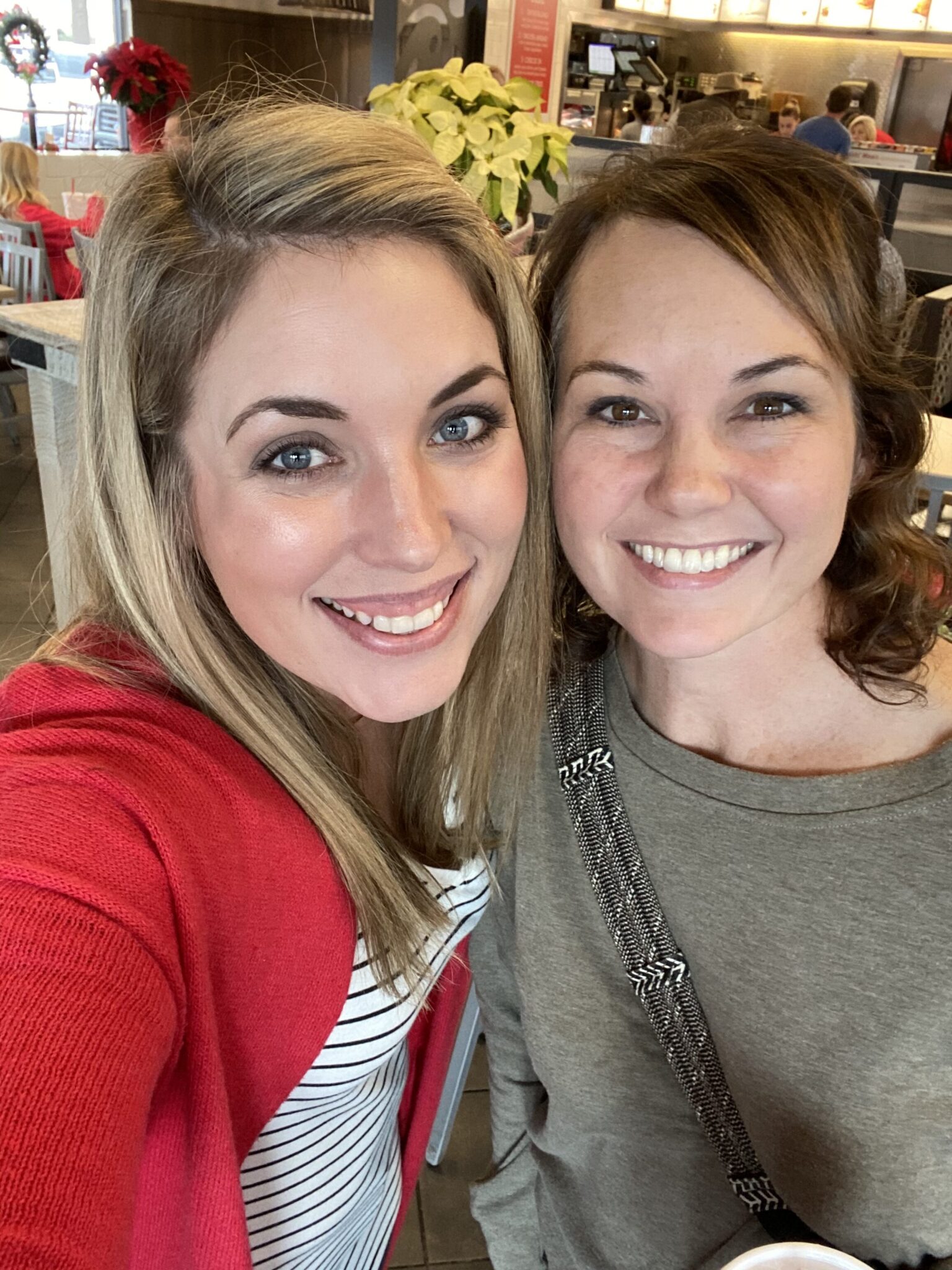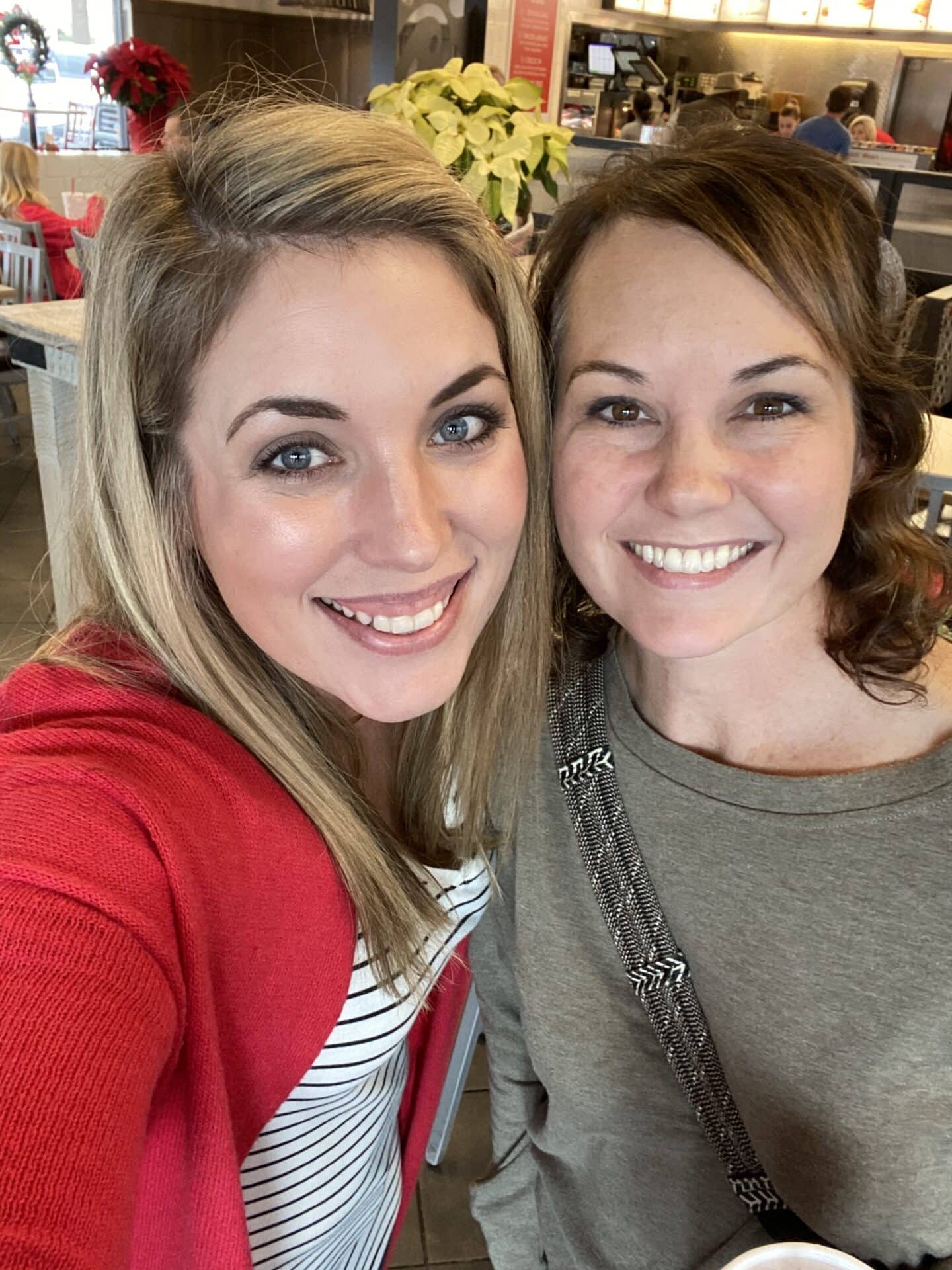 After Christmas every year we have "Feast Mode Beast Mode" and this year we invited Zach's cousin, Jake, to come eat with us.
Zach made his famous pizza and the kids just LOVED having Jake there!
It was a rare moment where Tess wanted to sit next to Mr Jake more than she did her mama 😉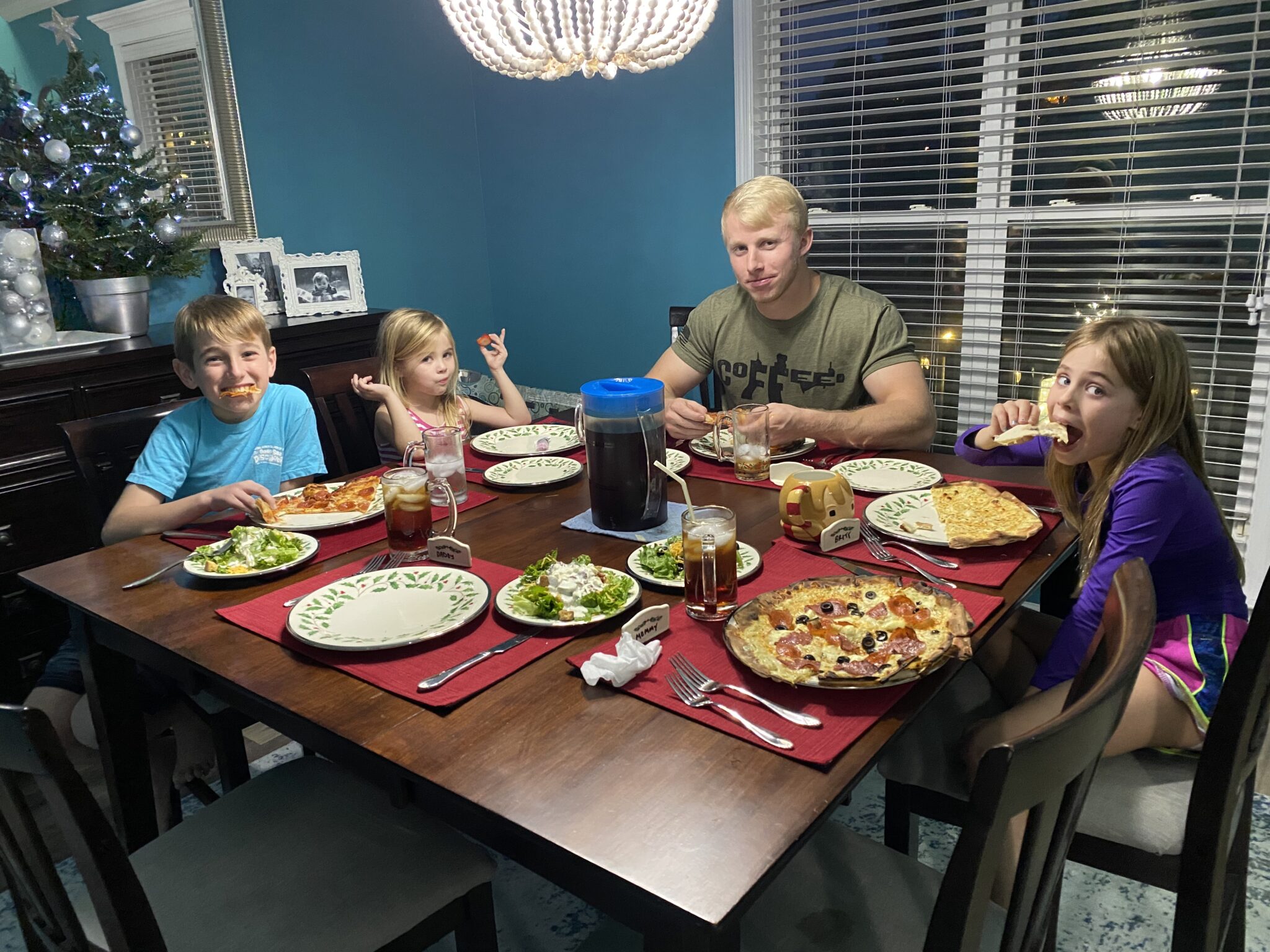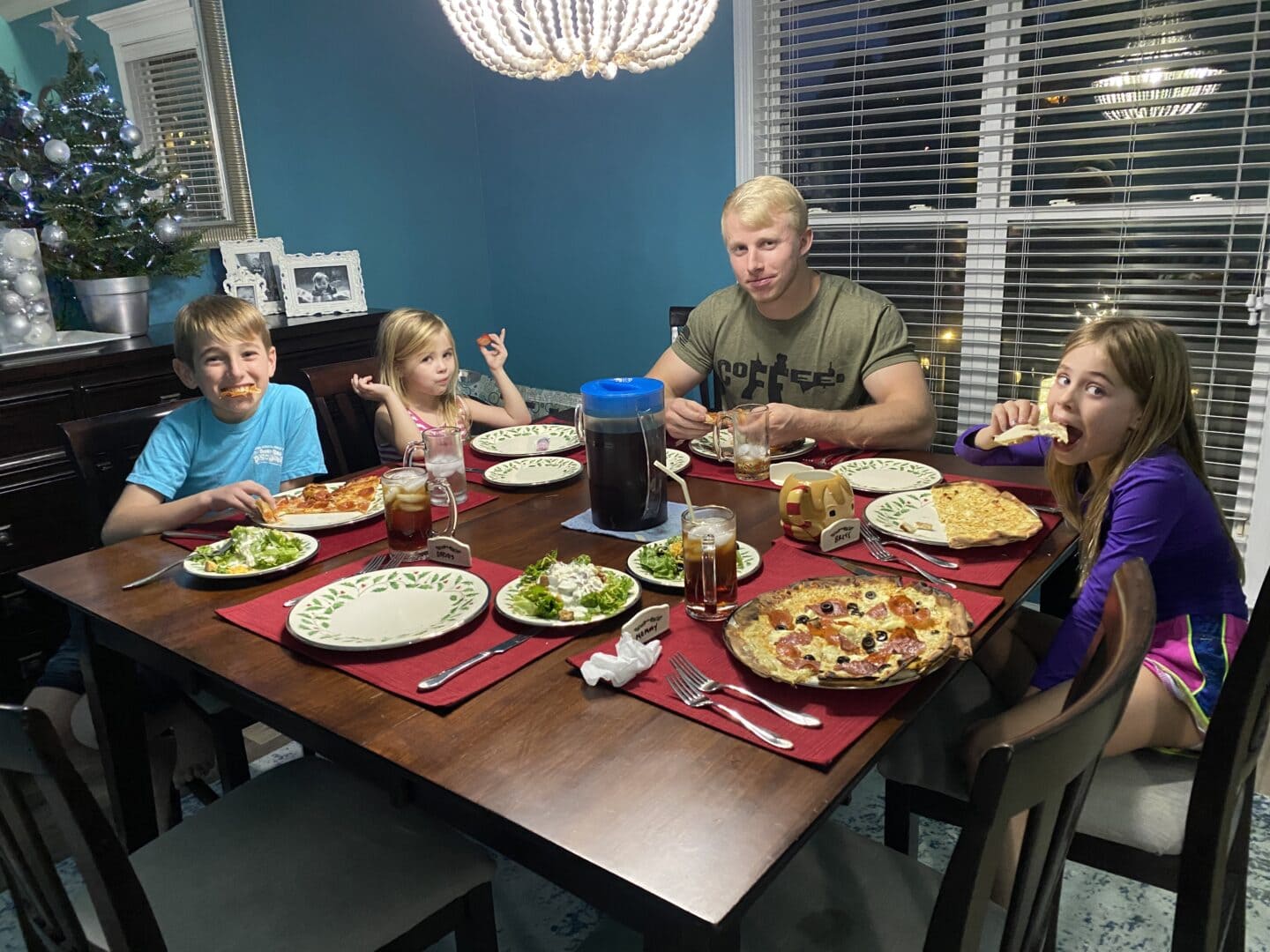 We stay in town over Christmas break and had a LOT of chill time at home.
For Christmas 2018 Mrs Charlotte got the kids and I Wild Adventures passes and they expired the end of the month so we wanted to be sure to use them one last time.
Zach also won a bunch of free tickets and food vouchers from a golf tournament we needed to use up!
We originally were going to go over the summer (part of his prize pack included a cabana at the water park) but Pepe passed away the weekend we planned to go so we decided to wait until Christmas break.
We then decided to potty train Spear over Christmas break so I was pretty bummed that it just didn't make sense at all to take him out there.
Instead we traded off.
I took the big kids out to get lunch and hang for a bit and then swapped with Zach and he took them back for dinner and to ride some other things!
As Disney people…Wild Adventures just can't come close.
But it was a fun afternoon together and a much needed break for me from potty training life 😉
The free food vouchers included HUGE sodas and the kids were freaking out. I let Kye get a COKE and he about DIED of shock.
When we got done eating the girls and I tossed our drinks and Kye opted to carry his around the park. He said "this is a once in a lifetime opportunity" haha!
Since Mommy is a wuss and doesn't do big rides we walked around a bit and I tried to make sure the kids all got to do a "must do" thing while I was there with them!
We have no plans to renew our passes for this coming year…we may look at it again for 2021 but with us having Disney passes we just don't see a reason to keep the Wild Adventures ones.
I do hope Zach wins another tournament though as it'd be fun to go as a family 😉
Kye hadn't ever ridden the Cheetah so we went with him to ride and Tess was so disappointed that she's not tall enough – girl is BRAVE!
We also hit up the Safari as I have such sweet memories of the girls riding the jeep ride over and over to see the turtles.
Kye was in a bit of a pre-teen mode. Kinda just being lame by saying the whole thing was lame.
We had a great talk about attitude and perspective and about how we CHOOSE to make things FUN!
It was a game changer and he took it to heart and then was super silly and it made everything more fun for us all!
We went to Swamp Thing and I was pretty positive Tess wouldn't be tall enough to ride…but yall. THEY DID NOT EVEN CHECK.
No one checked any heights on either of the rides we went to with a height restriction.
The Cheetah was like 48 inches and I bet I could have stuck Tess on it and they wouldn't have said anything.
Really, really not good for the park that they aren't sticking to height restriction rules!
I was nervous having her ride it when I wasn't sure she was tall enough but I knew she was close and other kids near her height were ahead of us and they lived so she went for it.
AND LOVED IT.
We also checked out the new gator area and it was done really well with a cool bridge to walk over the alligators.
They also revamped the kid's fav "Dizzy Dragons" ride to a "flying gators" theme which is weird but whatever!
Tess wanted to ride the little train and Britt did too and it was hilarious b/c Britt looked like Buddy Elf on that thing with all the little kids!
She's such a good sport 🙂
I loved getting out of the house a bit and getting to do something FUN with the big kids after spending so much of the break cooped up with potty training!
Then we swapped and Zach didn't have quite the luck I did earlier in the day.
I guess the rides they were wanting to do were all closed (so annoying) so they ended up coming home pretty early!
They did hit up that free dinner though 😉
Kye
Kye shocked me by winning his class spelling bee and advancing to the school wide spelling bee!
I've never attended a spelling bee and had no clue what to expect but when I got there I was SO GLAD I had gotten a sitter for Spear.
It was really hardcore!
Kye did great and came in 6th place which I thought was awesome because I had no clue he was a good speller (Zach and I are terrible so I dunno where he got it from!) but he was super disappointed b/c he thought he'd win.
I guess it's good he has that competitive nature!
He got out on the word "Hazmat" which is super tricky and isn't a common word at all so even when he asked for it in a sentence it doesn't really help.
Kye also got invited to an out of town birthday party this month.
Zach and I were away on our little Disney trip together and I was def a SUPER COOL MOM by being okay with Kye going.
I hadn't even met the parents before! But I had talked to his mom via text and felt good about her and the family and the boy whose birthday they were celebrating sounded sweet and I trust Kye so my mama gut felt okay about the whole thing.
It was hilarious b/c another mom text me to ask about Kye going b/c she assumed if he was going that I must have planned to go too but nope haha I'm sure I shocked her!
They drove to Tallahassee to go play paintball and they had a BLAST.
Kye wants to go back sometime for sure!
Kye LOVED being at home over the break. He is my homebody type kid and is just super content to be at the house which is something I love and hope he keeps when he's a teenager 😉
He is signed up to play basketball and had tryouts for his team and a couple of practices.
Zach and I are always proud of him but we can tell a difference in this year vs last year with playing and he is more serious and wanting to practice and improve which is great!
Kye also had a big moment this month – he BEAT ZACH in a connect four championship! WHOOP WHOOP!
One of Kye's big gifts was the Nintendo Labo for Nintendo Switch and Kye put it all together himself and LOVES it! He said it's worth the hype!
Another big win? The Kindle Paperwhite – Kye has LOVED it!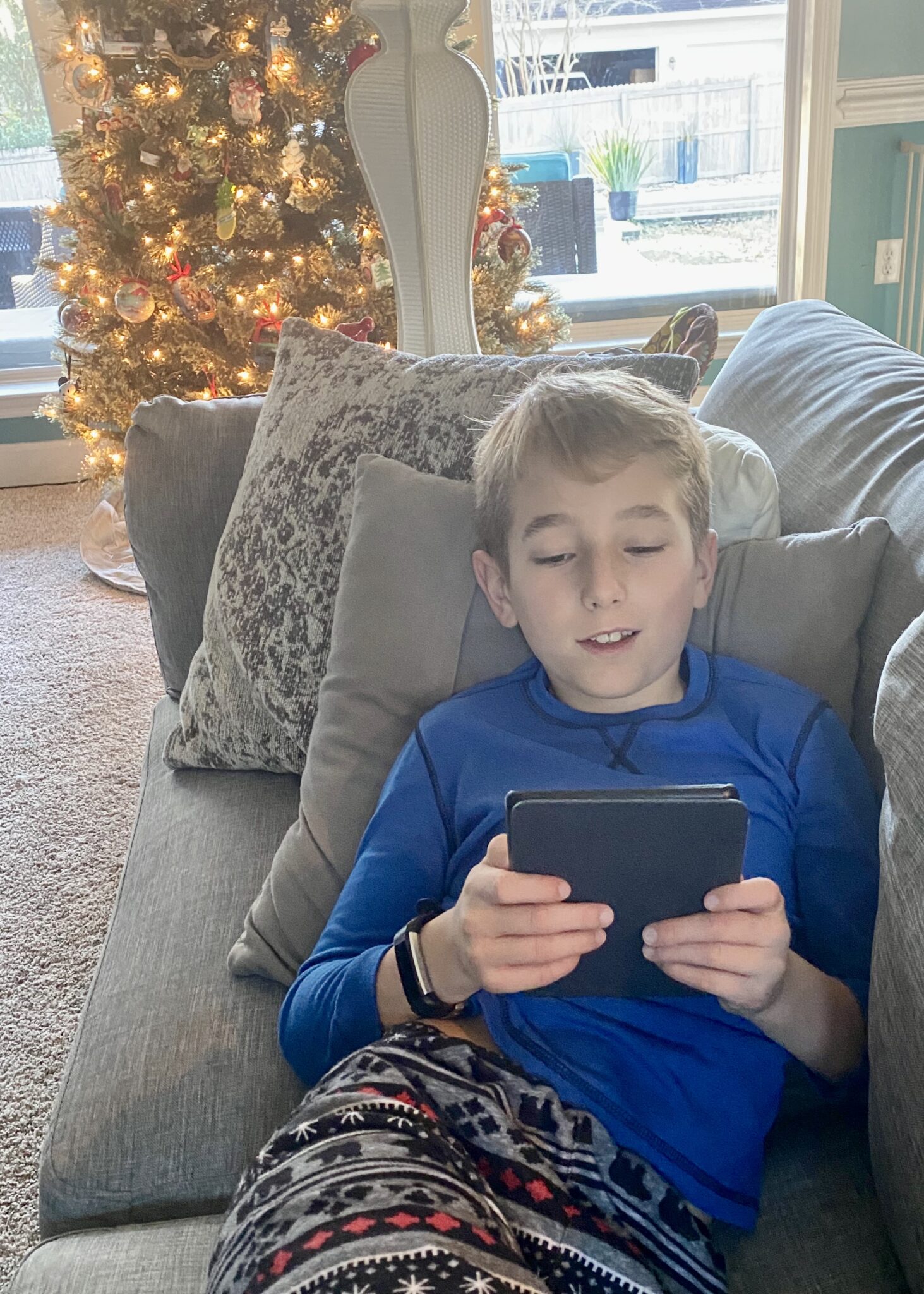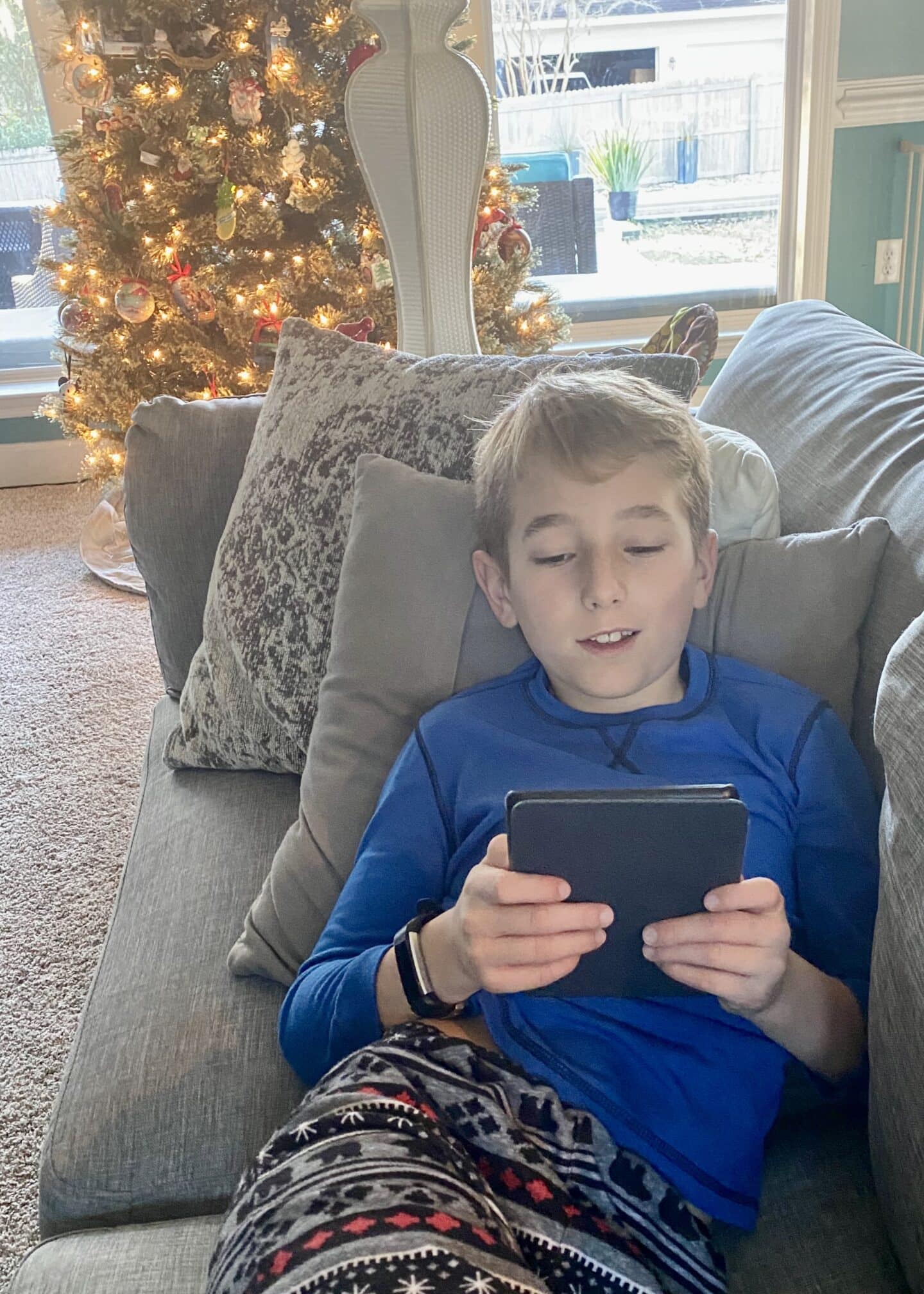 Britt
Britt's BIG gift from us this year was a trampoline and man it's such a worthwhile investment.
I knew she'd love it but she's literally LIVED on it!
I also knew the other kids would love it too and that has also been true 🙂
This is the trampoline we got for her…we wanted a rectangle shape to allow for all the gymnastics moves!
Britt is always, always asking if she can tag along anytime I have any sort of girl time away from the house.
She wants to go to dinners with my friends and I, she wants to go on girls trips, she wants to go watch movies with Katie and I.
So when Little Women came out I thought it might be a situation where Britt would be able to come along and enjoy it too!
Katie invited her mama as well and we had a fun mother-daughter time seeing the movie!
It's def appropriate for Britt's age and she enjoyed it and we have plans to watch the 1990's version with Tess soon too!
We hit up Walgreens prior to the movie and they had a huge discount on Christmas candy so I was loading up on stuff that Zach loves and Britt totally cut me off haha she said "Mom, that is enough candy!"
Britt loves baking and had several opportunities to bake over the break.
She was also a HUGE help with Spear in potty training and I loved that every morning of Christmas break I woke up to sweet Britt coming to snuggle me.
Another big Christmas win? The Osmo Disney Kits!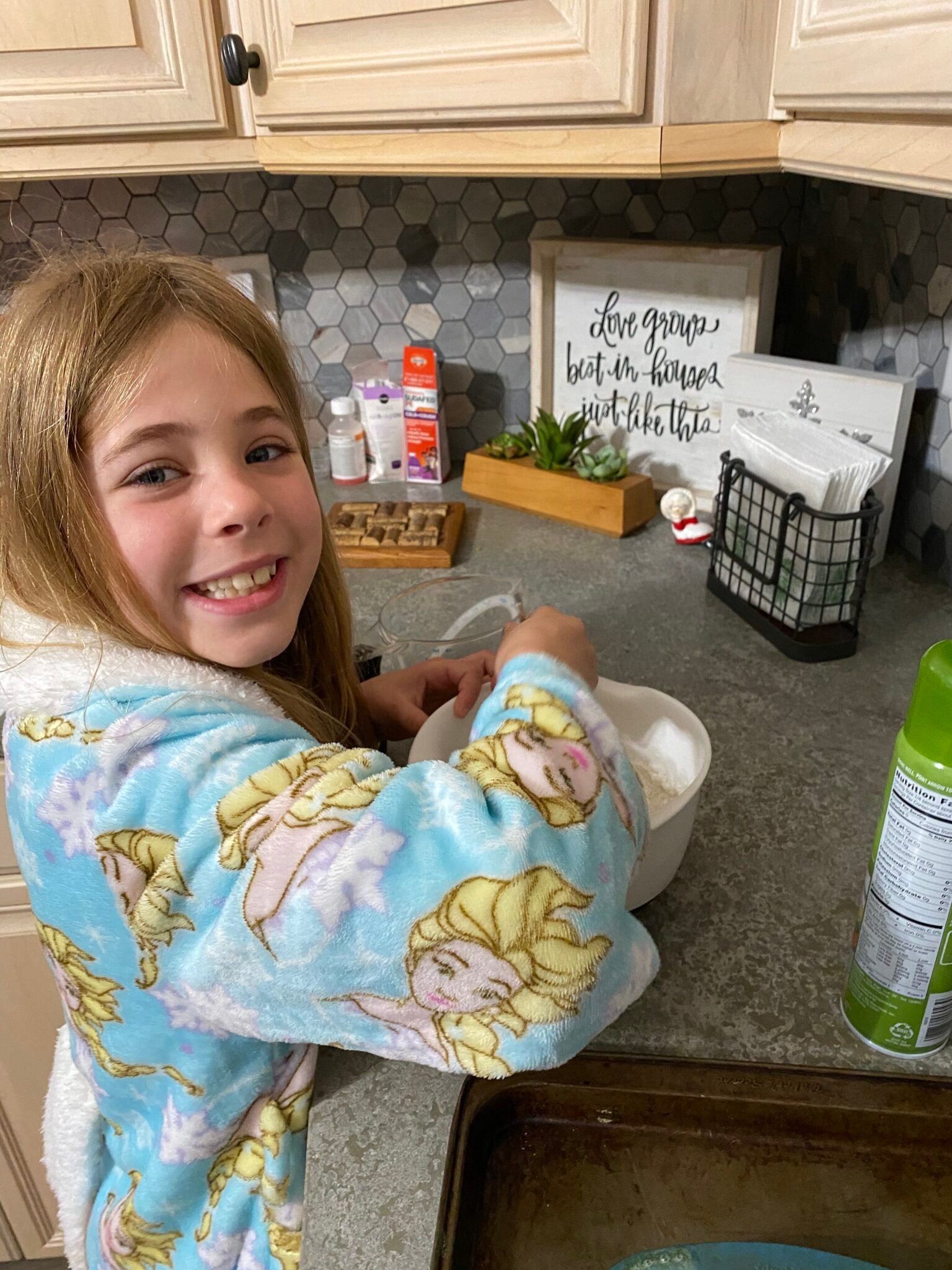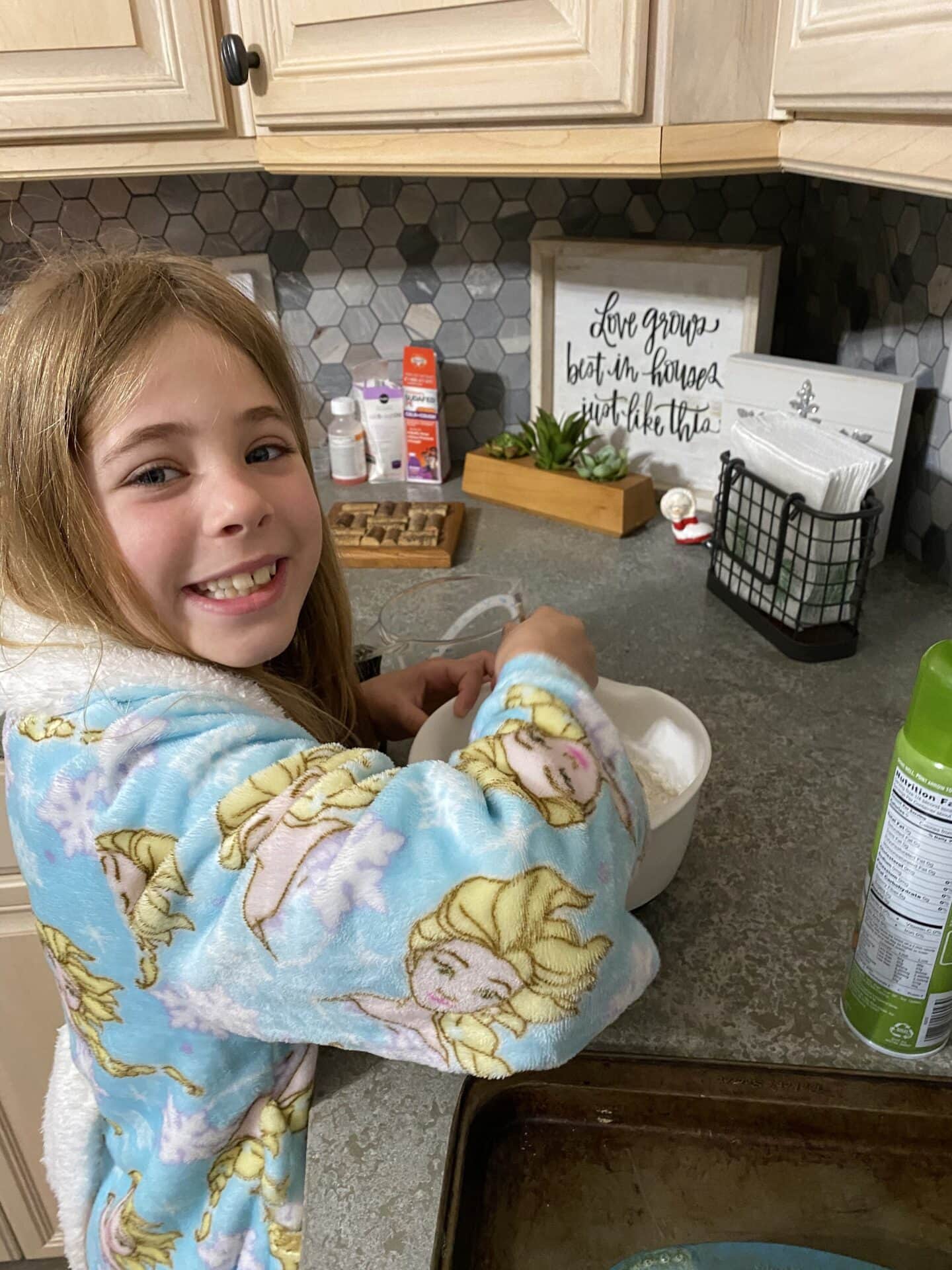 Tess
Tess thrives at home much like Kye does but she's not as chill mode about it.
She's all about playtime fun with her siblings 🙂
So much so that when Britt accidentally kicked her in the head doing gymnastics tricks she wore that big red bump with pride all through Christmas haha
I love that she's at that age where dressing up is her fav and she cracks me up with the random clothing she'll wear.
Spear
Spear is loving life as a two year old.
He did just seem OLDER after his birthday!
He started pulling down his pants and saying "go potty" so we decided it was time to start training.
Ugh I can't stand potty training.
I'm not going to go into a lot of potty training details here, I'm keeping notes in my phone and will do a full post once he's trained (could be a couple weeks…could be years who knows haha).
We spent a lot of time in underwear and a lot of time staying busy while staying dry and clean 😉
I pulled out all the fun things I could to keep him entertained and it was great timing to have all his new birthday and Christmas gifts too!
Spear loves outside and it's so great that he's starting to really be able to PLAY with his siblings!
The girls bicker over who gets to help him and be the closest to him.
He's def one loved little boy!
We attended feeding the flock at church for the first time with Spear.
He did great and the big three all went and sat with friends. It was def a glimpse of the future!
Spear also had some time with a babysitter and was able to go play with her puppy at her house and she sent me the cutest pics of him.
I love that our kids have so many people who pour into them.
And I love the time off of school that allows so much quality time together with my babies!
See all of our family fun recapped in this video (including Kye's spelling bee, Britt's introduction to her trampoline, Tess reading all the adorable commas, and Spear being his cute toddler self!):