Magic Kingdom November 2020
When I plan Britt's birthday trip I try to always plan for the best parts of the trip when Mrs Charlotte is able to be with us. She has an annual pass too and loves Disney days so I def wanted to save the Magic Kingdom day for then!
Magic Kingdom opened at 9 am so we arrived just before 8. With Magic Kingdom we were allowed right into the park with no waits to get in and attractions were running too! Not ALL attractions, and they aren't consistent with which ones, but we knew the big ones would be!
We were able to see Santa Goofy doing some sort of filming at the railroad as we came in and then we headed straight for 7 Dwarfs Mine train for everyone other than Spear and I. He and I walked right onto Peter Pan 🙂
It's funny how quickly new routines develop because this is def our current MK morning routine!
It was also crazy to see how FAST the line for Mine Train got LONG! Have I mentioned arrive early? ARRIVE EARLY!
When the thrill riders finished up with 7 Dwarfs they went ahead and hopped on Space Mountain while Spear and I took on the racetrack at Tomorrowland Speedway.
He wanted to drive so I let him go for it and he was ALL ABOUT IT. I love his little faces and how seriously he took it. I also love that I was in charge of the gas pedal 😉
We rounded the finish line and Daddy was able to snap some pics too as Spear steered us in! It's also a great attraction to get a little behind the scenes look at Tron, which is as close as I'll also ever be to it 😉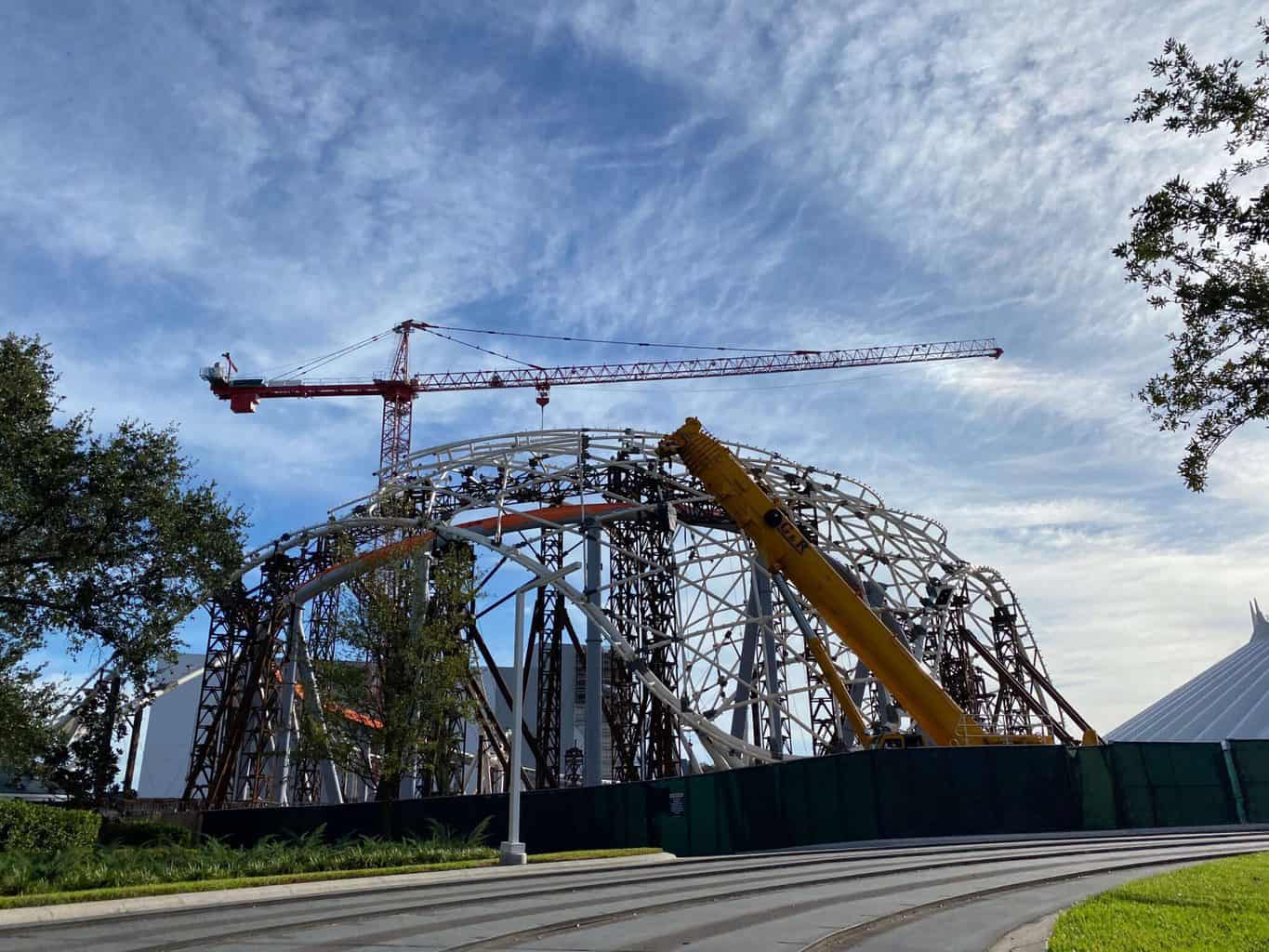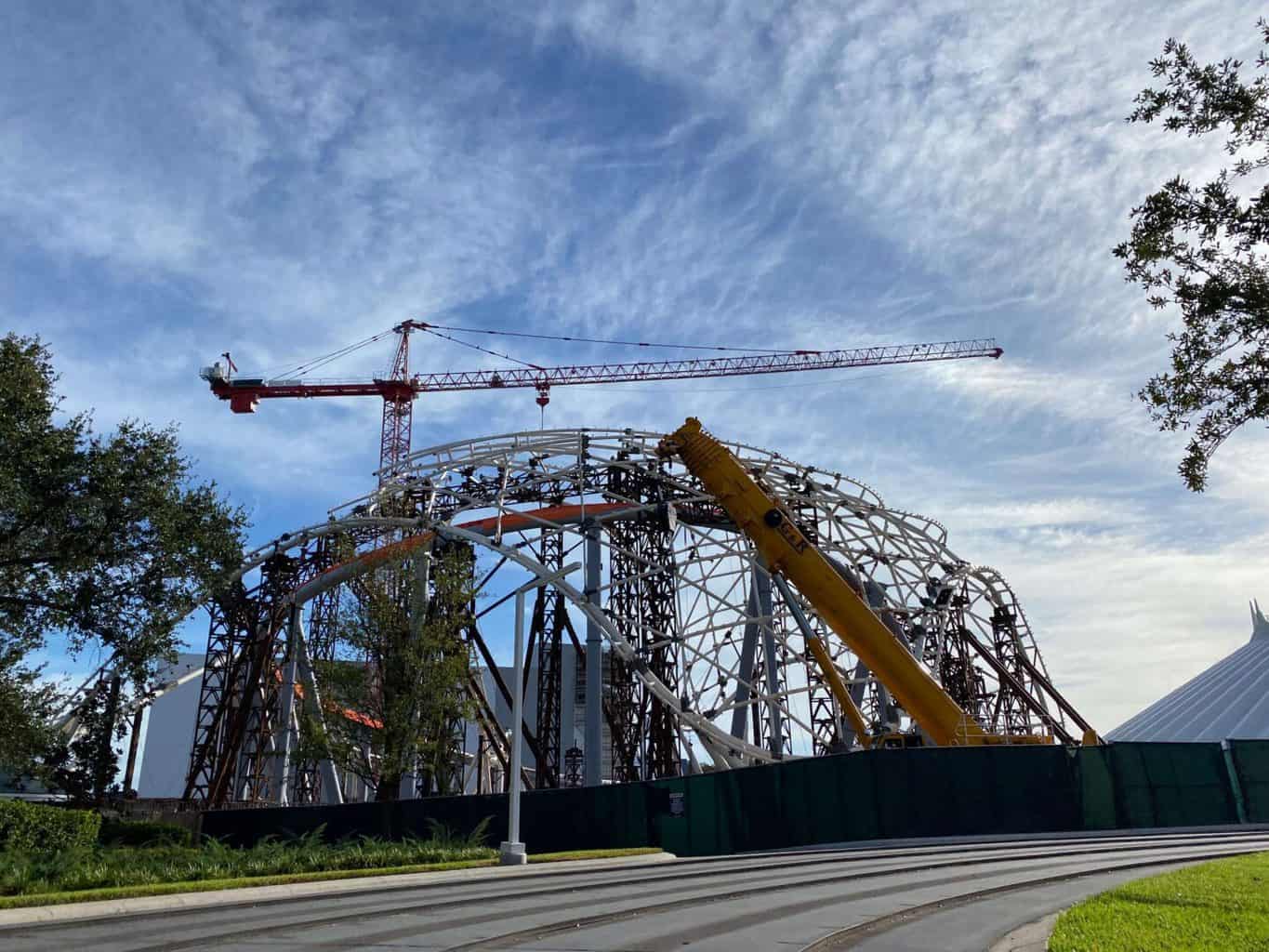 We headed to Adventureland to ride our first full family attraction of the morning – Pirates!
Spear was ALL about G-Mama and it was very sweet. Typically he's all about Big Papa so she soaked up all the Spear loving she could! Kye also said his favorite moments of the trip were the moments he spent with Spear and I love seeing their special bond.
Jungle Cruise converts to Jingle Cruise for the holidays and it's also a great one to go ahead and knock out early in the day. I think it's a great ride for Spear too as there is so much to keep his interest and it's an attraction we all also enjoy so much!
It felt EXTRA "jingly" this year – maybe it's always this decked out but I think after the crazy year of 2020 I'm noticing any extra magic I can get 😉
We had some great character luck running into Chip and Dale and a Country Bear (I'm terrible and don't know ANY of their names!). Plus we saw a Christmas Cavalcade and got to say hey to SANTA!
I LOVE seeing Britt LIGHT UP when she sees characters. It's like seeing her face is EXACTLY how my heart FEELS too 🙂 We just love 'em!
We all headed over to ride Haunted Mansion and it was so eery to see the pond drained and see all the tracking under it!
Zach, Mrs Charlotte, Kye, Britt AND Tess all went to ride Splash and Spear and I just headed towards the front of the park to wait on them. We got to see another SUPER adorable Cavalcade with Max being A-DORABLE riding around in his car. All the characters were SO CUTE.
Such fun holiday vibes!
I opted to just take Spear to the hub to hang out a bit. I haven't gotten to hang out in my favorite spot at my happiest place in AGES. And it was just PERFECTION for me. I love just sitting and soaking in the sunshine with the castle views and watching all the people.
It's also such a great spot to let the kids run and play. Spear had a little snack and had fun playing with his car in the grass and was just happy and content and it was a moment I just cherished.
Everyone else joined us and we hung out for a little bit just enjoying the GORGEOUS weather! I swear yall the week of Thanksgiving is always such pretty weather!
We headed up to Main Street to get some Sorcerer of the Magic Kingdom cards and got to see a few more characters coming out to say hey 🙂
The cast member at the fire station was super sweet and gave an extra packet of cards to Britt for her birthday 😉
Britt is ALL about the Christmas decor! Zach was actually the one who said we should go to MK and I'm SO GLAD he did! He's so right that it's got so much Christmas Spirit at the holidays 🙂
We went back to the house for lunch and naps and then went BACK that evening. We don't often do the parks morning and evening…and typically when we go back the "we" is me, G-Mama and big kids. Zach and Spear usually have always stayed back.
But now Spear is old enough to handle staying up a little later (especially with getting a nap!) and I WANT him to be part of the fun too and of course Zach didn't want to miss out on what the rest of us would be experiencing 🙂
The park feels even more Christmas-y in the evening. There is just something special about those lights coming on and the sun setting!
We walked onto Main Street and instantly saw the same Santa Cavalcade we saw that morning – I am OBSESSED with these cute reindeer. ADORABLE.
We split off again and the big kids and Zach went to ride a thrill ride but Mrs Charlotte opted to hang with me and Spear this time. She is often going and doing with the bigs and she wanted to spend more of that quality time with Spear.
Now especially that he's really "getting it" with Disney and is loving rides and is just at that really precious Disney age she didn't want to miss out on those experiences and it was SO precious how all about some G-Mama he was!
The three of us rode Dumbo and then met back up with everyone else!
Sometimes with Disney you luck out and sometimes you're not quite on time with the luck. That's part of what the "Disney magic" is all about – those lucky moments are the magical ones 😉
We raced over to see Stitch and got there JUST as he was heading back in…but I'm writing this almost 2 months after we visited and Spear just yesterday said "We see Stitch in dark at Disney World with Santa hat?" He remembered even that brief sighting!
Then our lack of luck turned into luck as we were able to ride Buzz two times in a row! Zach's gun was messing up and the cast member just had us all ride again which was super sweet and super fun to get to go "behind the scenes" for a second 😉
As we exited Buzz we saw a little girl all by herself. It was a moment where I kicked into "cast member mode" even though, duh, I'm totally NOT a cast member. But I talked to her and quickly realized she was lost. She'd stopped to look at something and her family had kept walking – which can happen SO EASY at Disney. It's happened to us several times!
I told her that she wasn't lost (kids don't get lost at Disney, parents do!) and just chatted with her about her day, her favorite things she'd seen, etc. Tried to keep her calm while Zach went to find a cast member. I knew it was important for her to stay exactly where she was as I know as a parent I'd freak out and immediately run back in the direction I'd come from!
As the cast member came over just about at the same time we saw her family RUNNING towards us. I kinda wish we'd seen them before they reached her so we could tell them that she was FINE and totally calm! I think as a mama we feel that stress and worry and I hated for the little girl to go from being calm to feeling that feeling ya know?
The MAIN reason I wanted to go back to MK at night was to see the castle! This year they did different projections on the castle with holiday theming and the projections changed every 15 minutes and a single burst of quick fireworks went off each switch. It wasn't some grand fireworks show but fireworks are fireworks and I'll take 'em however I can get 'em right now!
We did a mobile order for dinner to Pecos Bills. We brought dinner in for the kids and just ordered stuff for ourselves and, of course, G-Mama did a birthday treat for Britt too 😉 Spear LOVES being old enough to sit at the big kids table and he does decent with it!
It was also 7:15 PM which is his bedtime so he was pretty sleepy and silly by that point.
None of us have had our favorite Disney cold treat in ages – orange float from Sunshine Terrace. G-Mama is all about some Disney treat fun and who am I to refuse her that joy? 😉
We split up one last time as Zach and the big kids rode Thunder Mountain at night – apparently it's an entirely different experience when it's dark!
G-Mama, Spear and I rode Aladdin's carpets. I love that he loves it so much as it's one that Kye really loved when he was little and it brings things full circle for me seeing my youngest love something as much as my oldest did .
We headed to the hub to be able to watch the castle do it's changes and we met Zach and the big kids there watching it too.
I had this whole joke going with Britt. I told her when I came to the reopening morning I met Josh D'Amaro (which I mean he DID wave at me so it's semi-true)and we became besties and I told him it was Britt's birthday and that he needed to do SOMETHING magical to the castle for her.
We had this whole running joke of "Thanks Josh!" the entire night saying "Thanks Josh!" every time something remotely magical happened. What made it extra funny was when we rode the monorail to the parking lot the cast member who helped guide us to where to sit was named Josh haha
Anyways my boy Josh did a stellar job on the projections – they were FANTASTIC and we LOVED watching them cycle through and it just felt the most DISNEYish as Disney has felt since reopening. VERY magical. Very joyful. Very Christmas. Very special! Thanks Josh!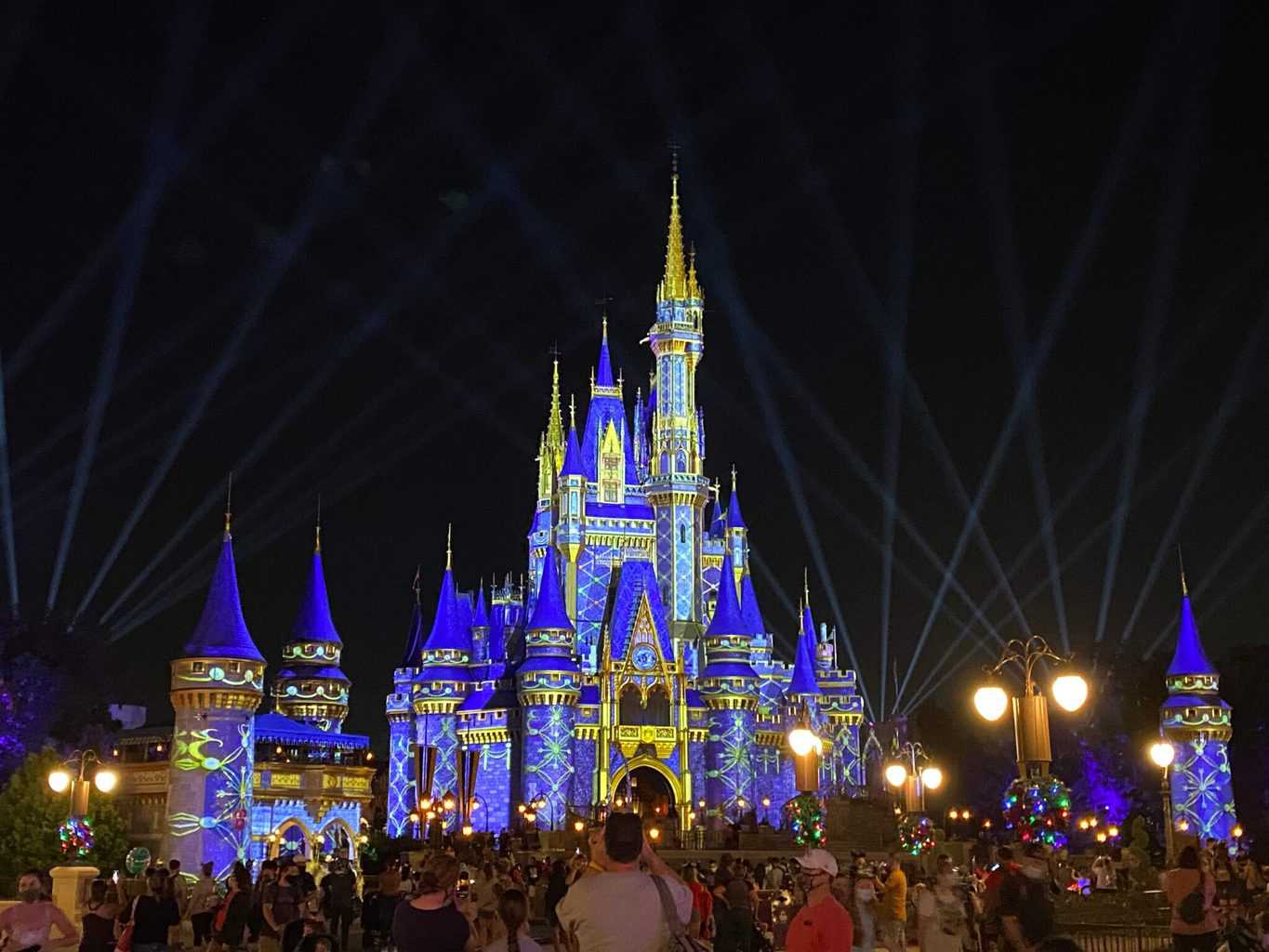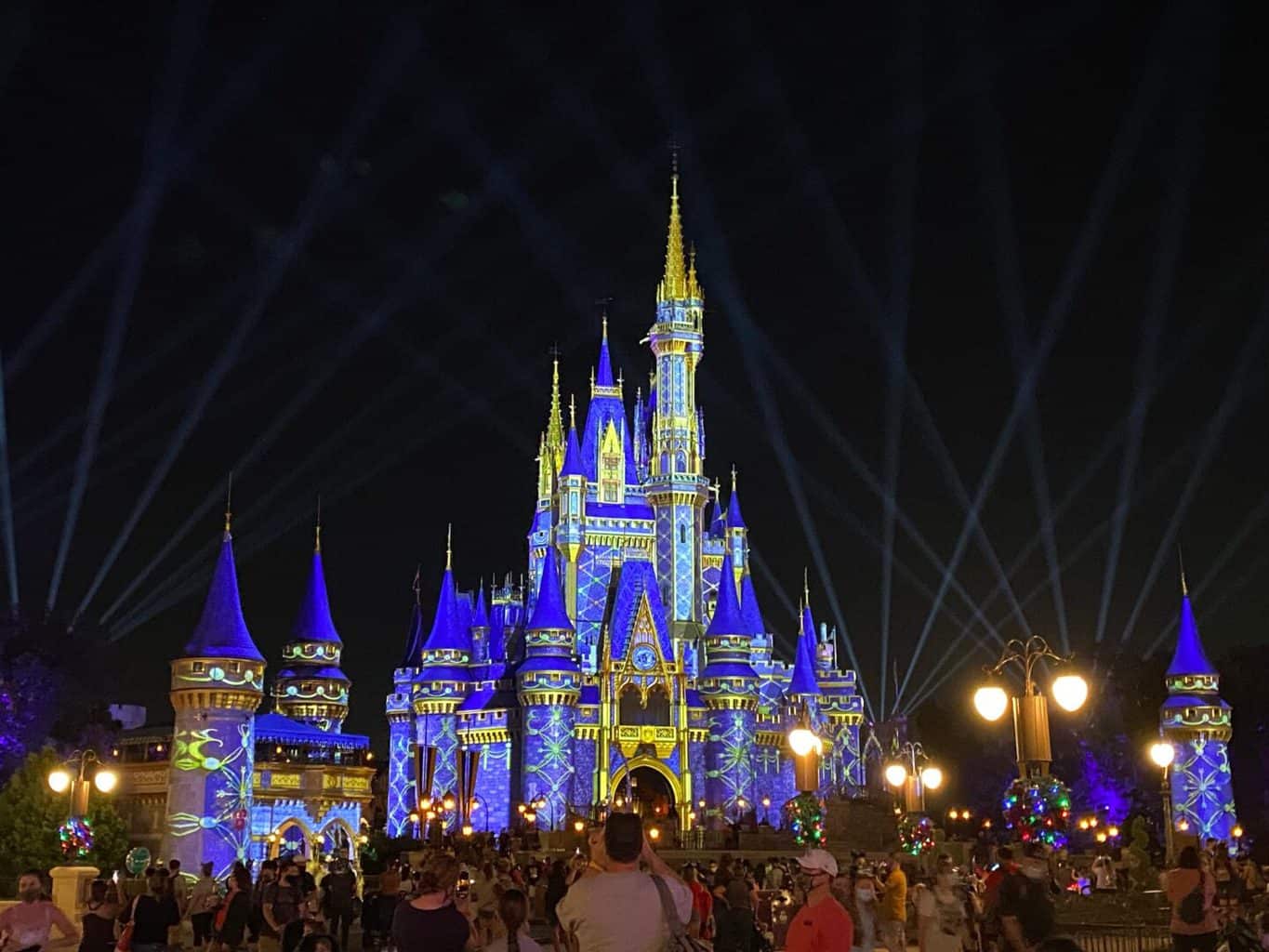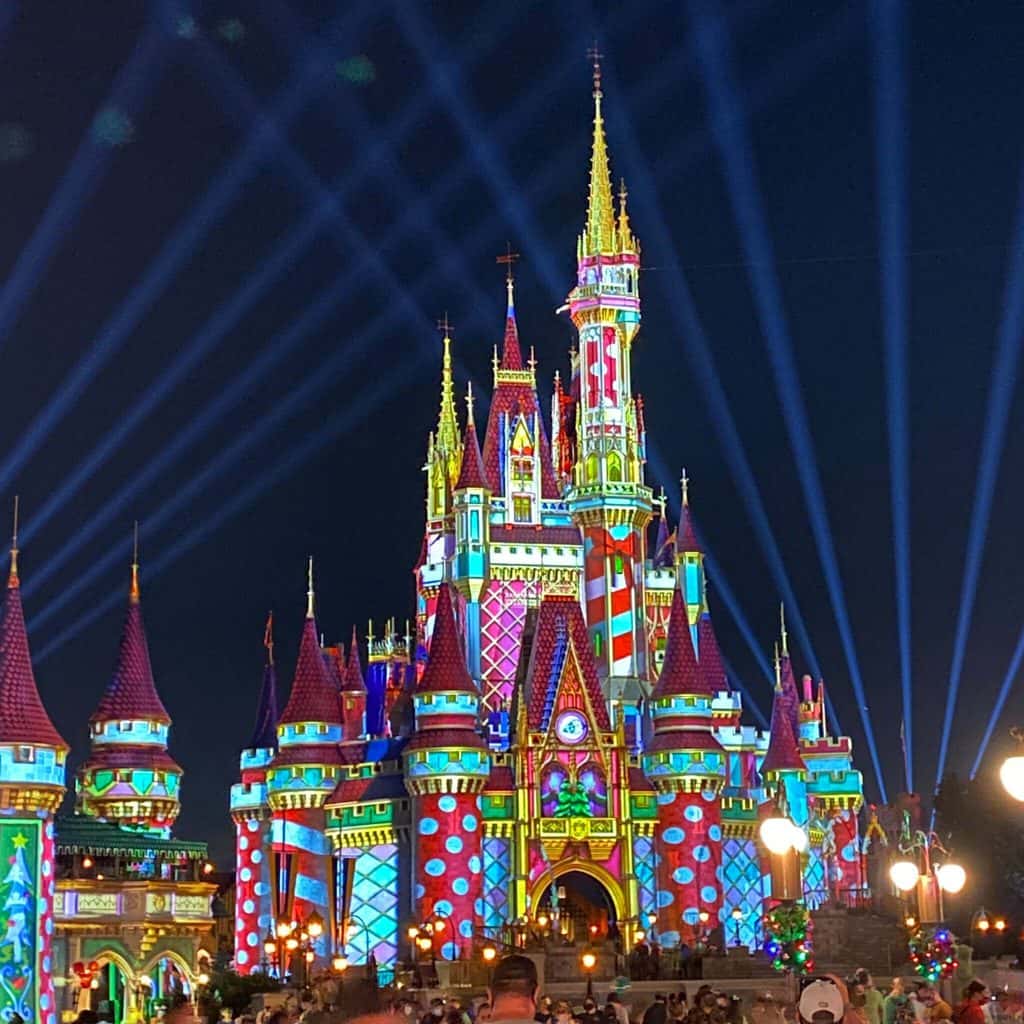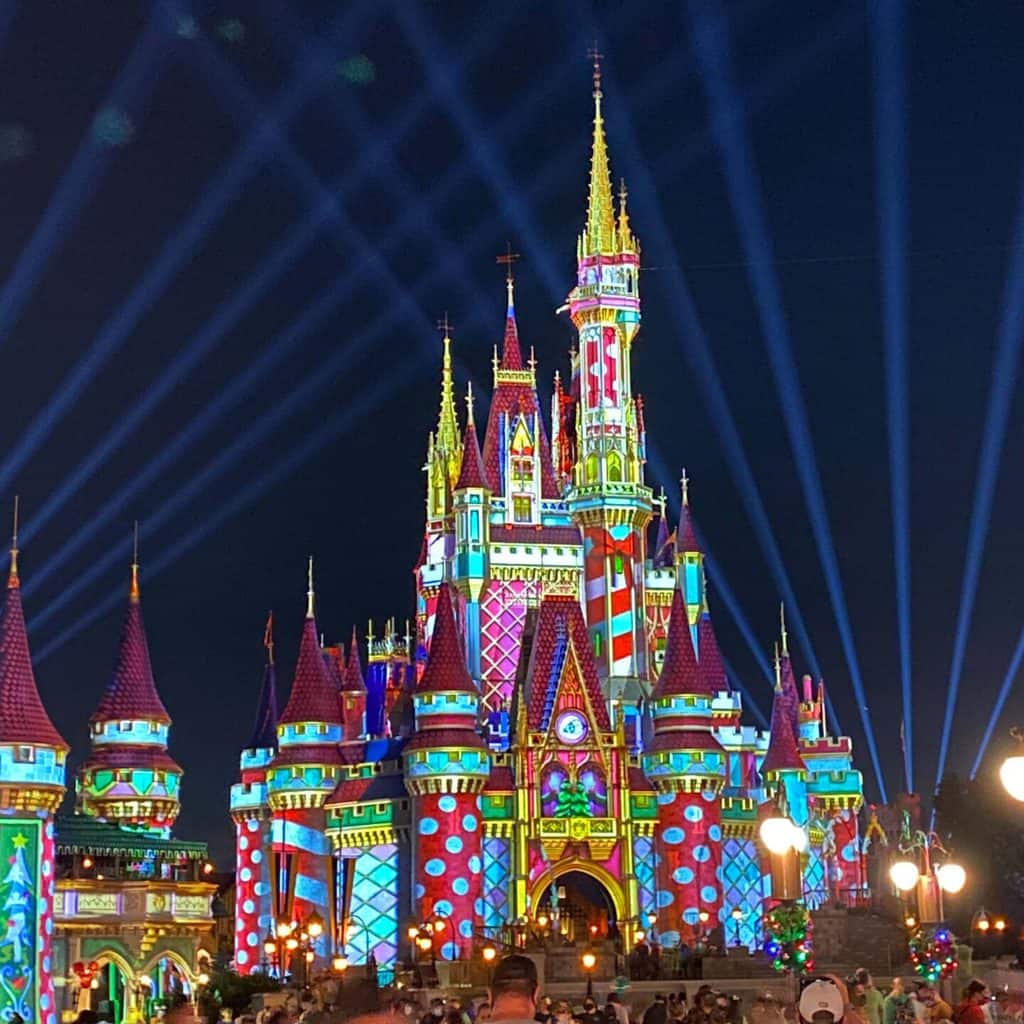 Had to get some pics of the tree as we left down Main Street too! Hoping when it's Christmas again that everything is back to NORMAL!
Here are our Disney Photopass pics from the day. We found a new photo pass spot in Fantasyland – complete with Cinderella's carriage!
I adore Tess always having her arms in the air 🙂
Sometimes you get an awesome photo pass photographer and sometimes you don't. For our nighttime castle pics…we got an awesome one! I LOVE these!!! It was the first time we've had a photo pass photographer make Spear wear a mask though. He actually semi-kept it on which is a small miracle in itself.
Our Elves had some fun while on our trip too. They played with Star Wars friends in creating the EAO "Elf Agreement Association" (not sure why it's not EAA then haha) and had a cute kissing booth set up!
We had a later night and were able to sleep in a bit the next morning and snuck over to a neighbors house to get some pics. It was hilarious because I totally embarrassed Kye by taking these! I did ask the owner of the house first which only embarrassed my pre-teen more haha
Magic Kingdom days are ALWAYS hard to beat – it's just my favorite park by far! We had a great day and it was so fun having G-Mama with us for those special memories 🙂
A video should auto-play in this post showing all of our fun moments including the cavalcades and castle projections!