Last Days of School 2019.
This year was, well, just a school year. Nothing crazy special. Not horrible, but not amazing either.
It was just a year ha!
Which is funny because when I look back at my own childhood fourth grade and first grade aren't crazy memorable. I have a TON of memories from third and fifth but very, very few from fourth.
This was the first year that Kye didn't love school, which broke my heart but also frustrated me a bit. Like I get it, you don't love switching classes. You don't love certain teachers. You don't love the friend options in your classes. You don't love the longer bus ride home.
But at some point? You just have to accept things as they are and make the best of it. I tried to really focus on gratitude with Kye in hopes that he'd have a sunnier outlook on his lot in life this school year, but let's just say he was SUPER glad to see summer arrive!
Britt really enjoyed first grade. She struggled a bit in the friendship area (girl drama starts young!), had her first little "boyfriend" and started the gifted program (and loved it!).
I honestly keep thinking Britt was in second grade this year (I even typed it out on accident earlier in this post) and keep thinking she's going into third this coming year! Britt just seems SO much older to me than the typical first grader!
Tess isn't a huge fan of school in general – she loved when she'd get sick and have to miss! She did enjoy her friends and her teachers, she just is my least "into school" kid. I take it as a compliment that I must just be that awesome that she'd rather stay home with me 😉
All three of the big kids did SO great in both the areas of academics as well as behavior.
None of them had a single behavioral issue the entire school year, which y'all know makes me the most proud!
Tess's school year ended a week before the big two did and she had a water fun day the day prior to her preschool graduation (you can read about her preschool graduation here!)
I love looking back at the start of the school year versus the end of the year! You can read about the first days of school in this post 🙂
Here is her comparison from the first day to the last day this year: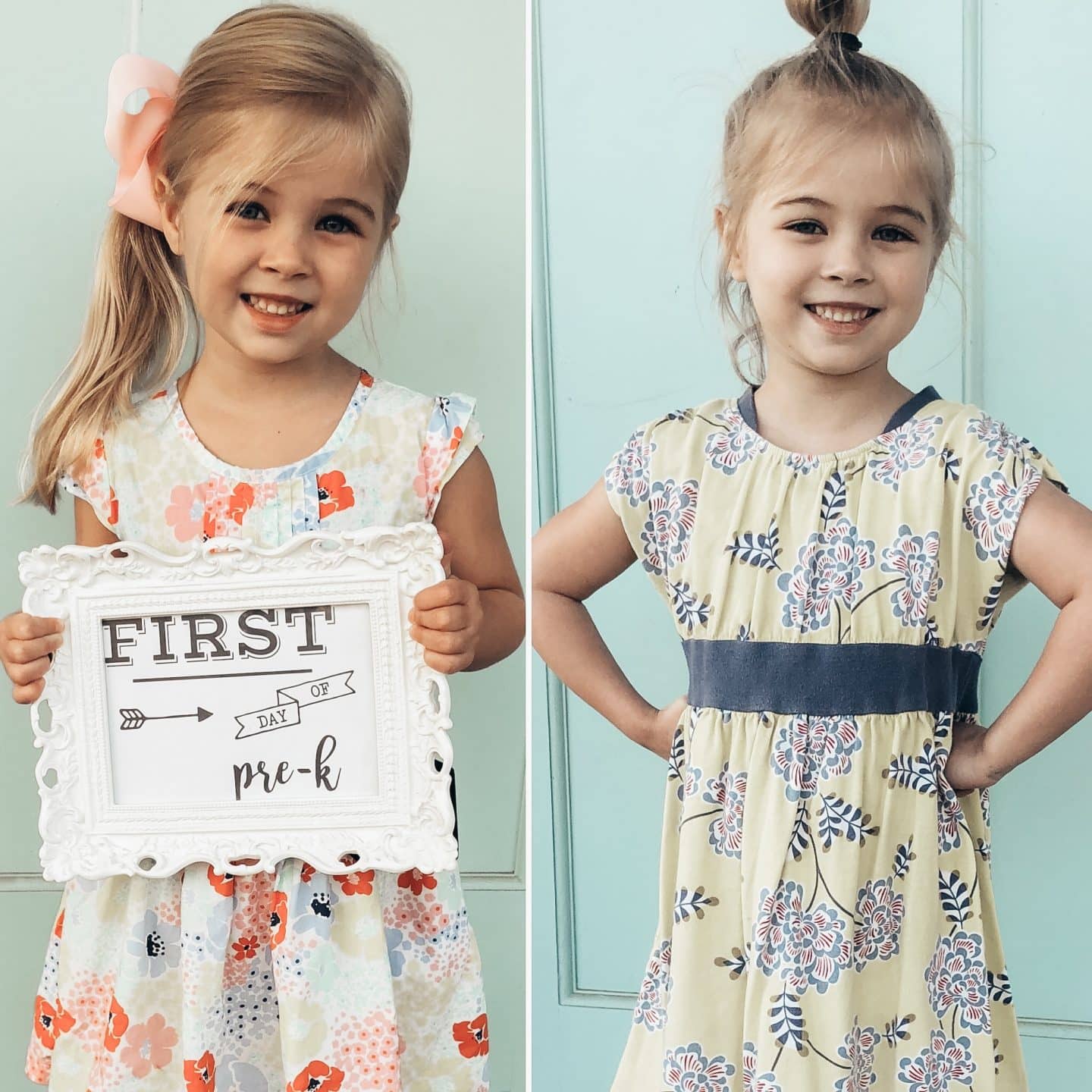 Kye and Britt rode the school bus together for the last time as next year Tessie will be joining them!
They are all THRILLED about being together at school next year and I know they will LOVE IT!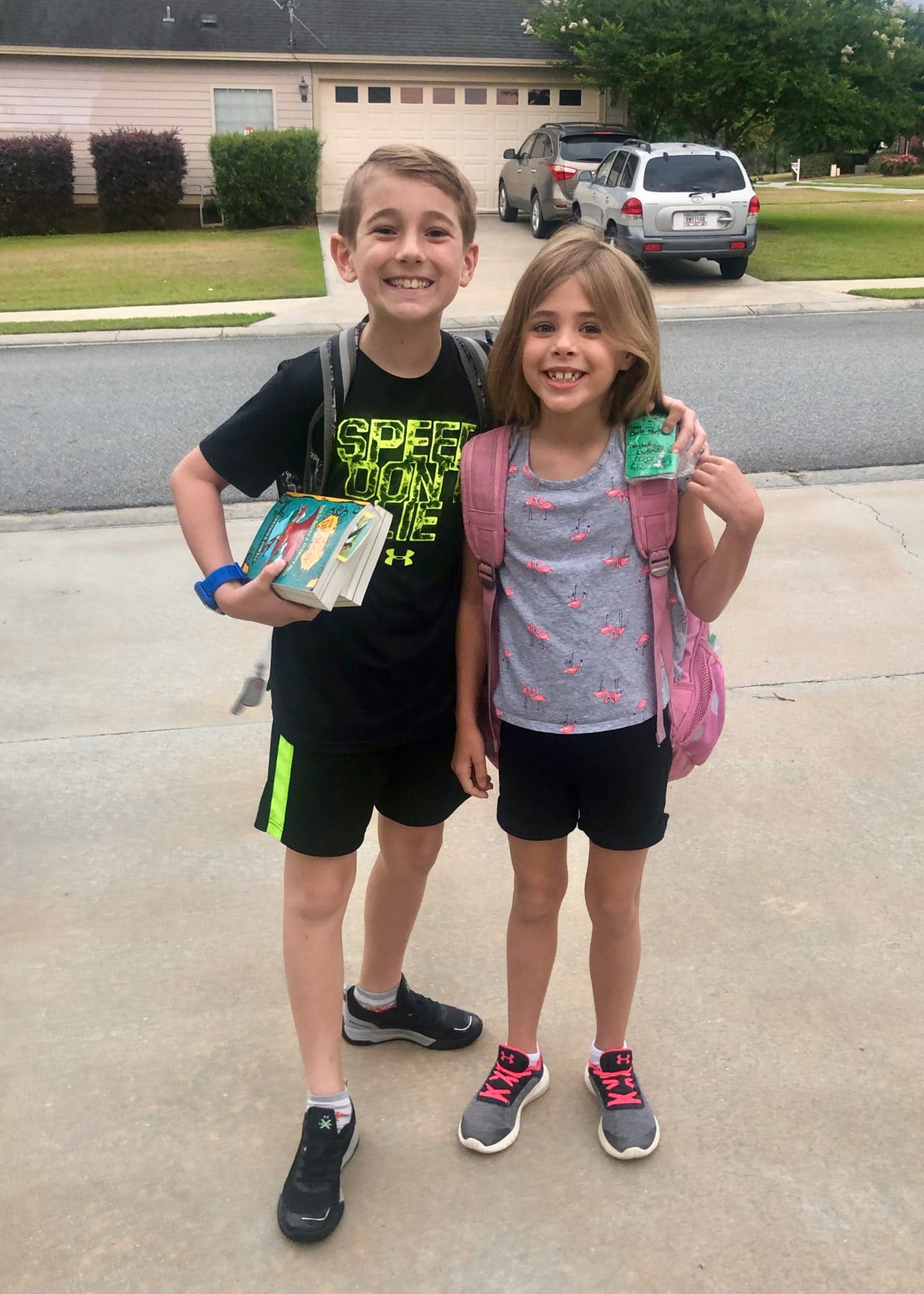 It's been tough to eat lunch with Kye and Britt this year because I had to pick up Tess at noon! Once Tess was out of school for the summer we had one week before Kye and Britt were out and planned to eat lunch with them.
Both kids also ended up having an end of the year party so I gave them the choice: Tess, Spear and I could come eat lunch with them OR could attend their class party.
Britt opted for lunch, Kye opted for party attendance so it worked out where we ate with Britt then had about 45 min just hanging out in front of the school until Kye's party!
The last day was a half day and YES I remembered to be home when they got off the bus (my kids will NEVER let me live down the day I forgot…you can read about it here!)
Here's Kye on his last morning of 4th grade:
And his comparison from first day and last day: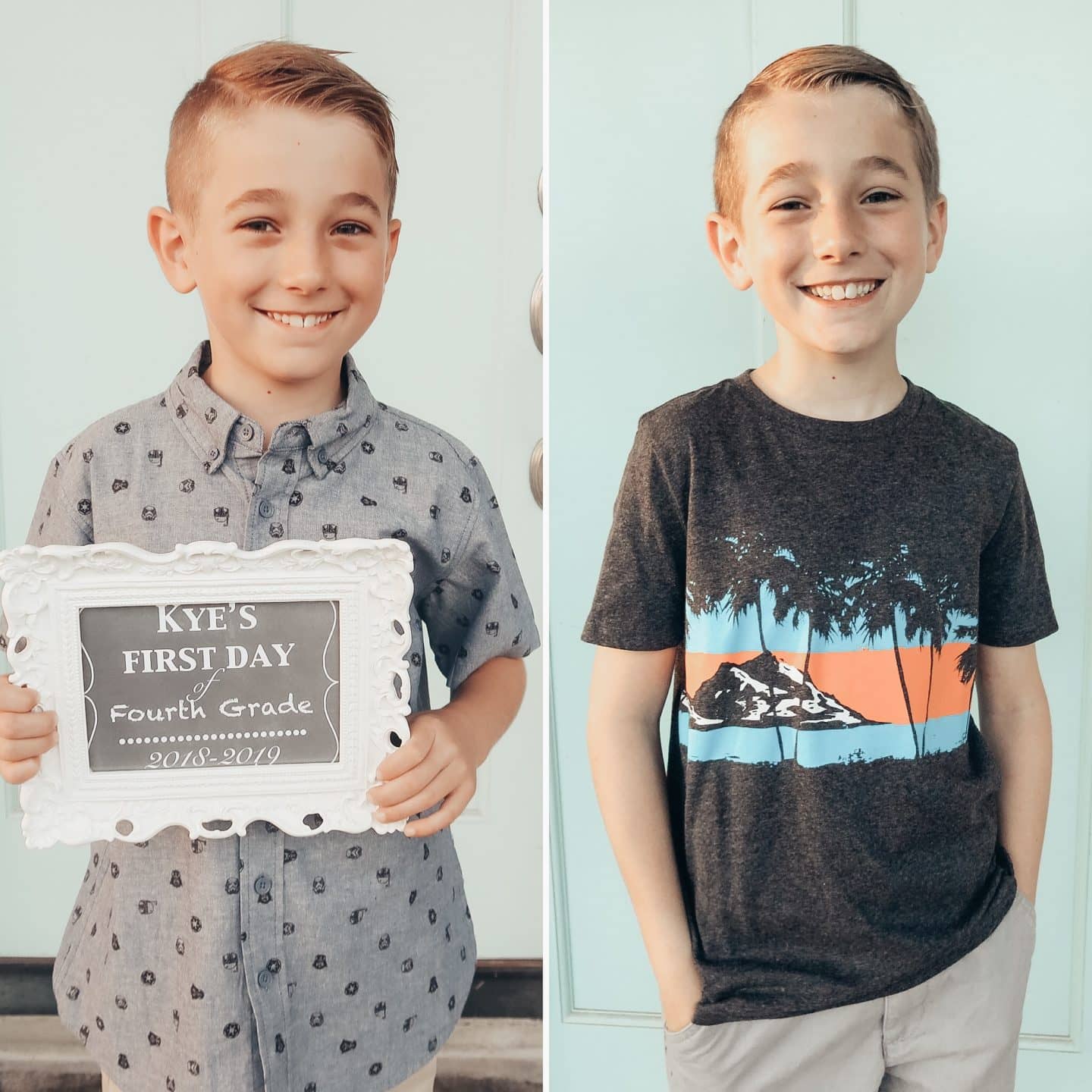 Here's Britt's last day of first grade…I had her wear her FAVORITE shirt so we could always remember it (girl loves the flippy!).
And the comparison between the first day and the last day: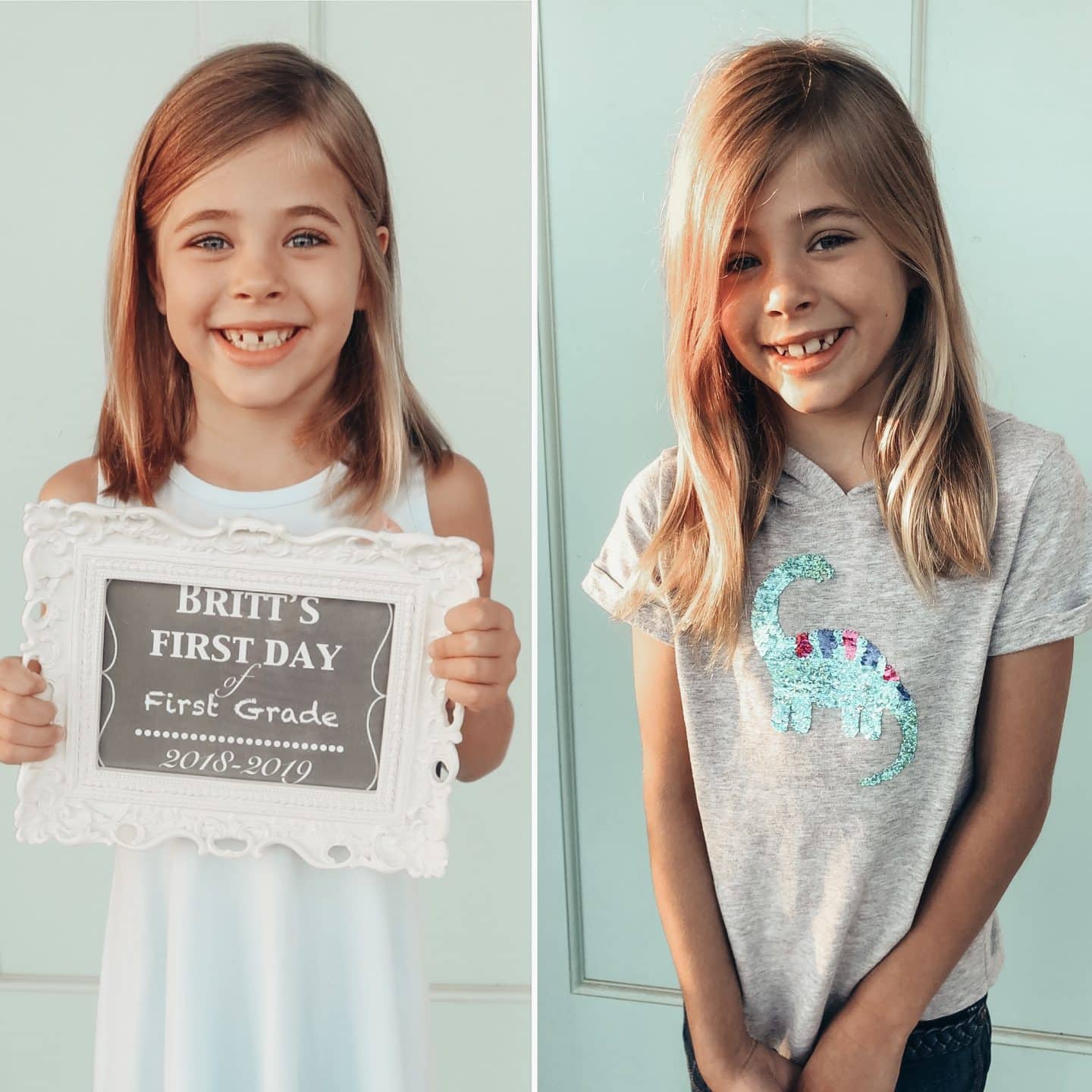 I LOVE the comparison pics from the first and last day 🙂 You can see SUCH a big difference in how they've all grown and changed over the year.
They are all looking so much older and grown!
Every year we celebrate the last day of school and the start of summer with a dinner out together as a family.
It's a great way to celebrate the achievements of the year and recognize their accomplishments!
We all decided to eat at Waffle House and it was SO PERFECT. NO one was there so it was super chill and just FUN 🙂
We are SO excited for summer and I feel like I'm entering in with a solid game plan!
If you haven't checked out my Summer Schedule Post be sure to click here for info on how to schedule your summer days to avoid going insane 😉