Right now Hollywood Studios is the family favorite park!
We had a park pass for Sunday and we headed straight for Mickey and Minnie's Runaway Railway. Hands down our FAVORITE family ride out of ANY park! Spear LOVES riding "Mickey Choo Choo" and it's def the one to race to right at park opening.
We then headed over to Toy Story Land and I was blown away surprised at how LOW the crowds were for a holiday weekend. All park pass reservations were fully booked but we really didn't have a crazy crowd at any of our park days!
We walked right onto Toy Story Mania and we are officially DONE with lap babies on rides! Spear was all about sitting on his own and managing his gun 🙂 Only big kid experiences from here on out for our crew!
Zach took the big three over to ride Slinky Dog and then from there to ride Smuggler's Run. Spear and I hopped back onto Toy Story Mania since there wasn't a wait and then we hung around in the gift shop for awhile because he just wanted to look at everything and try out some of the merch 😉
It was a sign of the guidelines slowly being lifted at Disney as we've frequented this exact gift shop a few times since reopening. Every single time they have had a cast member at the door counting guests as they entered and then also counting as they leave and only allowing a certain number in at a time.
This time the same cast member was there but she wasn't doing any counting and even as other groups of guests came and went I never saw a cast member keeping any sort of track on the numbers.
Since Spear did love the gift shop so much it worked out well that all three of the big kids wanted to ride both Slinky and Smuggler's Run as Spear was happy and content and I was totally fine not riding either of them. We took our time since Smuggler's is a longer ride and then headed out to meet up with them when they finished.
I loved walking up on Zach and the big kids together and watching them from afar. Such a sweet moment to capture!
I love that the Lightning McQueen Racing Academy has opened up near Rock N Rollercoaster. I will always and forever be a broken record regarding Disney's lack of smaller kid attractions near thrill rides with height limitations. Hopefully they are slowly seeing this issue and making improvements for families!
The entire Lightning McQueen area is perfect for this solution! We watched the show as a family and then Zach, Kye and Britt rode Rock N Rollercoaster (Tess tested out her height jusssst in case) while Tess, Spear and I hung out by the cars and danced it up (with a little Disney tantrum mixed in…it happens!)
I noticed on the app that there was a new to us show experience called Mickey and Minnie Vacation Fun. I'm not sure how long it's been there but it was new to us and I believe it must be decently new if we've never noticed it!
The area was SUPER cute and well themed and even the theater seats were cute. I'm thinking they plan to keep this around for a long time with all the effort put into it.
The movie itself was pretty cute, not my favorite by any means but the kids enjoyed it and it was a nice chill moment. They have super cute picture spots too at the exit but we didn't have time to wait around for our turn for every picture.
Zach took Kye and Tess over to ride Tower of Terror while Spear, Britt and I rushed to get to the Disney Jr Dance Party. We caught it JUST in time! We had a spot to stand on but that didn't stop us from breaking it downnnnn. Spear is so funny to me because he's super wild and silly and always moving and always busy. But when it is an appropriate time to be silly and wild, he's then super chill.
Britt really enjoys time with Spear and it's been the three of us more and more lately at Disney and it's been so nice and I also love that it gives Kye and Tess bonding time with Daddy and each other too!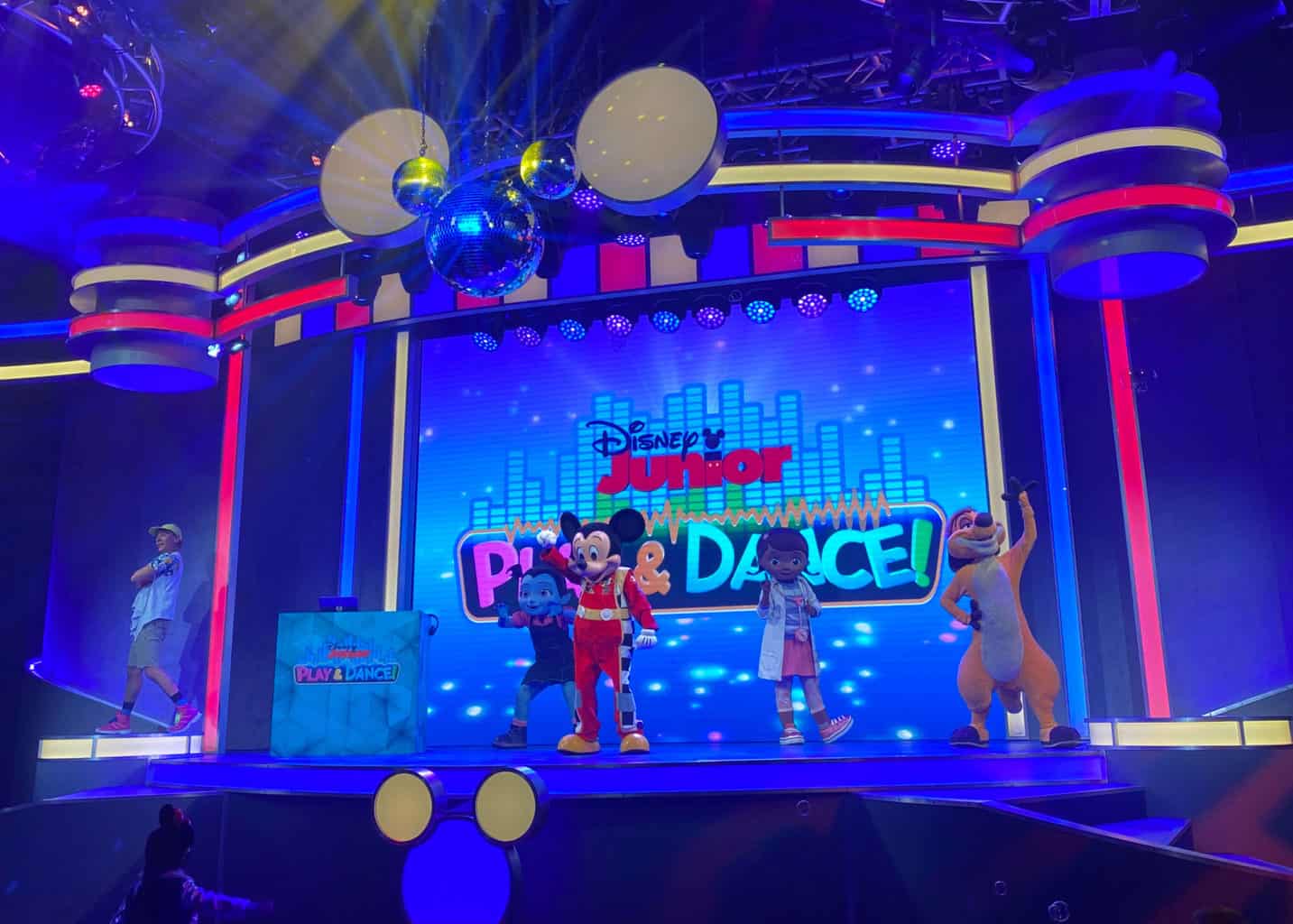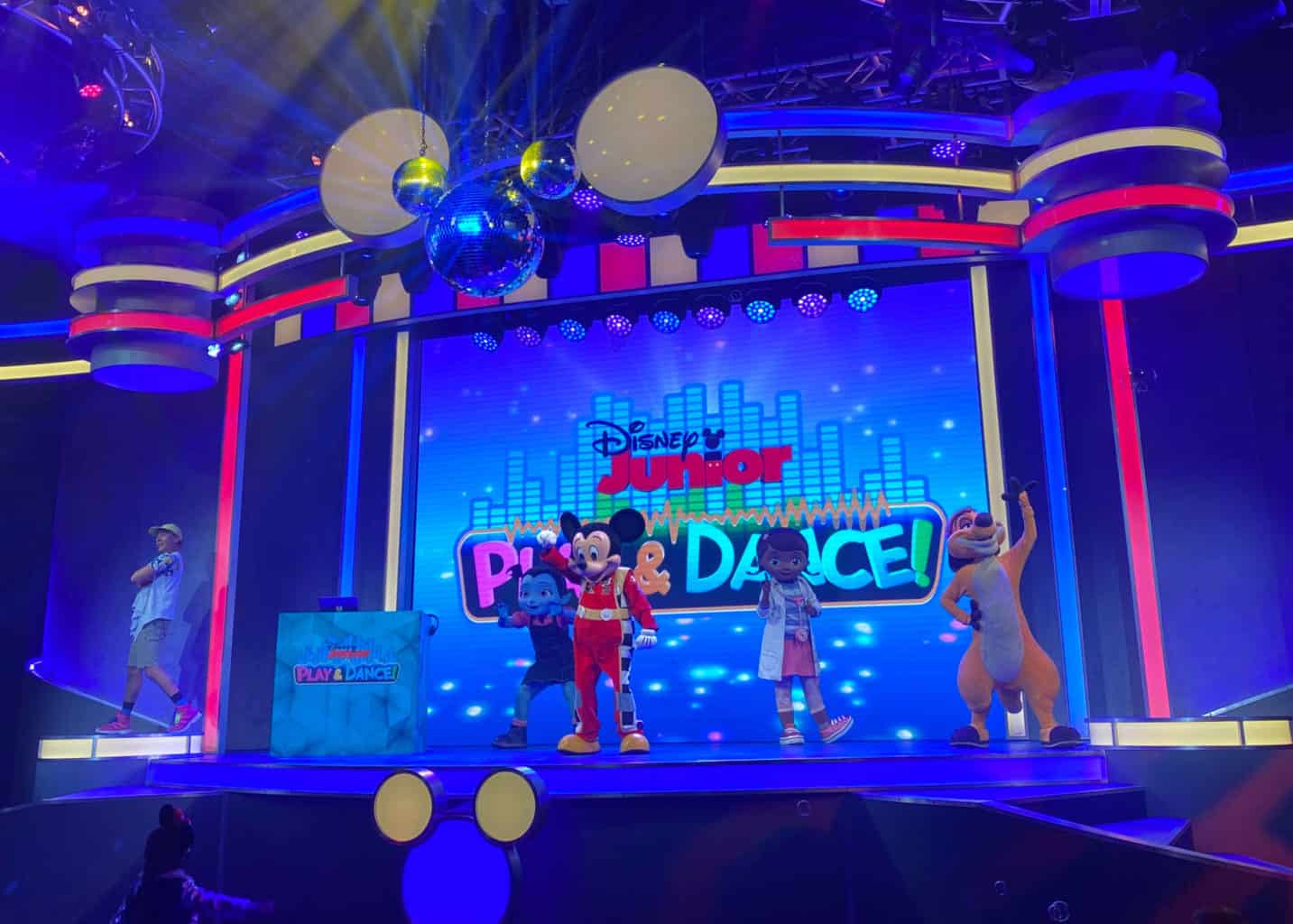 All about the photo spots 🙂 With no character meetings right now it is nice to take some pics where the characters usually hang out!
When Zach, Kye and Tess got done with Tower of Terror they headed over to our fav spot to eat lunch. Disney allows you to bring in your own food and they have lots of great spots to hang out and eat. We LOVE the spot with tables right by the Frozen Sing A Long show…it's also on the path of the character Cavalcades which is awesome too.
On our way to meet 'em we got slightly distracted by some photo pass opportunities 😉 Especially when we saw a cast member getting down on the ground to take pics of a little girl doing gymnastics tricks. DUH Britt was ALL ABOUT IT.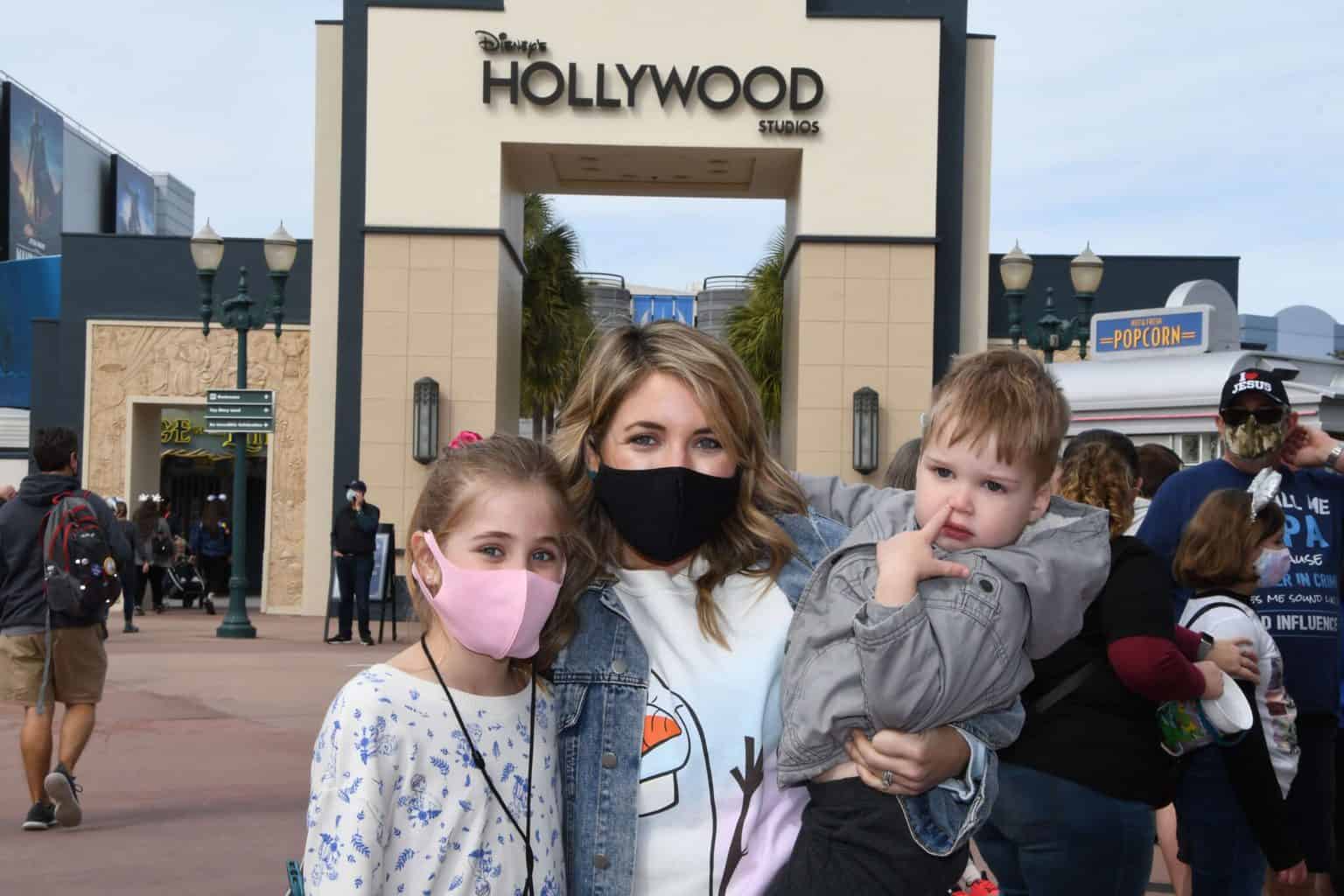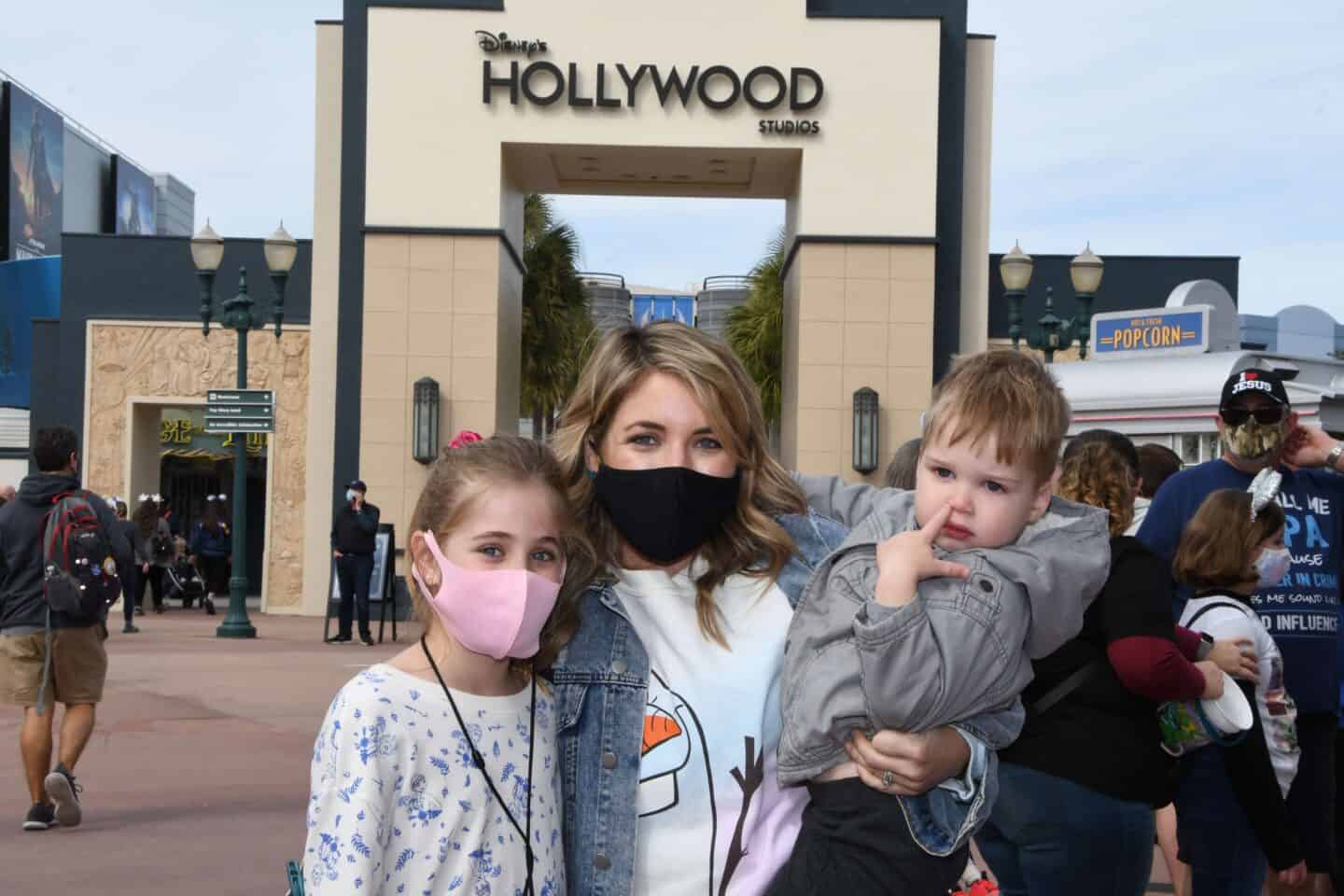 What an AWESOME cast member! Her name was Emily and she went ABOVE AND BEYOND to make the moment special for Britt! If you're wanting to do something similar to this you need to make sure that FEET ARE ON THE GROUND. She said that's a big rule for Disney so no handstands etc. Also right now it's also crucial that the mask is ON too!
Britt did some backbends and loved how they turned out!
We ate our lunch and got to watch characters as they came by. Tess loves to eat a sucker under her mask to get around the "you must be standing still to eat without mask" rule. So she can walk and enjoy her sucker and not get in any trouble by cast members all at the same time!
Speaking of masks…we have continued to have very little remarks regarding Spear and needing to have a mask on. We are always respectful and honest. If someone asks his age, we tell them. If they ask for him to put on a mask, we put it on. It doesn't happen often and my guess is that as things continue to relax a bit with the guidelines that it'll happen even less often.
I am also impressed with Disney in that I see ways they are trying to add in fun experiences during this weird time. It's taken some time but it's getting there!
Since you can't have personal meet and greets with characters anymore they have added a special magical photo pass spot in Launch Bay with unique photo opportunities! The photo pass photographer was SO great too and it was a fun experience and neat end result!
Rise of Resistance now has it set up within the My Disney Experience app with two times a day to secure a spot in the virtual line. 7 AM is open to anyone with a park pass for that day from any location and 1 PM is open to anyone with a park pass for that day who is also IN the park at that time.
We were able to get a spot RIGHT at 7 am from our Disney Rental House with no issues at all! Whoop whoop!
They have also changed the return window. It used to be 2 hours to return and now it's only like 45 minutes which is kinda limiting but so far it hasn't been an issue for us. Once our return window opened we headed over to ride! We did a rider swap b/c of Spear and I rode first with Kye, Britt, and Tess.
Rider swap DOES have a limit of THREE returning guests. That would require the riding swap parent to have to CHOOSE which two kids get to ride again which kinda stinks when you have as many kids as we do. We've never run into a situation where it's been an issue. Cast members are very understanding that it's impossible to choose between your children ha!
Sometimes one of the kids doesn't want to ride an attraction twice which works out fine but if they do the cast members are always nice about it and let them ride. Especially right now with rides being very divided by groups and parties it's not a big deal for one extra person to ride since we'd be in a little area by ourselves anyway.
We are justttt about out of the rider swap days as Spear is getting tall enough to ride things! I know the big kids will miss getting that perk but it'll be SO FUN to ride EVERYTHING as a family!
Rise of Resistance isn't a ride – it's an experience and an incredible one at that! I'm in awe of it every single time!
We did our swap and Zach rode with Kye, Britt and Tess. We decided I'd go ahead and head to the car with Spear as it was well into nap time and he was just READY to go by that point.
We had such a magical moment on the way out when we walked into another Cavalcade and this time it was my favvvvvvs! Pluto was SO CUTE taking the time to stop and get on the ground to say hey to Spear. It was THE most normal character moment and was SO magical and special! I always get so excited to see Mickey and having him wave bye to us was the perfect note to end on!
I'm sooooo pumped for the day that regular character meet and greets come back. Spear has no memories of hugging characters! I think it'll be SO AWESOME when he's able to do it "for the first time!"
We headed back to the house and did an early movie dinner and watched Up. It is one of those movies that you can forget just how AMAZING it is. That first 15 minutes is just incredible. So much storytelling with so little dialog. I cry EVERY TIME.
Since it was a Sunday we also put aside time to worship. I always love our little family worship times as we come together to sing, pray, read scripture and take the Lord's supper together. I'm always proud of Kye and Britt who make sure we don't forget no matter how busy the day may be!
I brought left over pasta from home and we had that for dinner – keeping it cheap for our trip 😉
We had a great little family weekend away and always love any time that involves family moments together, especially at Disney 😉
Love seeing my kids having fun and love their epic dance moves…showin' em off in the video on this post!