Travel with a baby is not always easy, but it is possible and it is worth it!
We have traveled with ALL of our babies at young ages and have seen many benefits of starting to travel with them while they are young (they are all excellent travelers!).
Wanting to make a trip with your baby but not sure how? Here are my tips for successfully traveling with an infant:
Disclaimer: post contains affiliate links.
How to Travel with a Baby: Stay Close to Home
It's important not to expect too much out of your baby.
Sticking closer to home makes travel smoother.
Our ideal distance is 2 hours because that's the exact length of nap time and allows baby to sleep in the car the entire way!
We have traveled up to 4 hours away with a baby and just take a break at the feeding time to change diaper, feed, and have some awake time before getting back in the car.
Bringing Baby on Vacation: Travel Strategically
Think through your travel plans. If you'll be in the car for several hours, consider what times would be ideal for your baby.
For example if we have a two hour drive we will leave at the start of nap time so that way baby will sleep majority of the drive.
It's also important to be mindful about time zones. When we have changed time zones while traveling with our baby, we have chosen to stay on our home time zone (it was only an hour off) this way things flowed smoother with keeping to our regular schedule.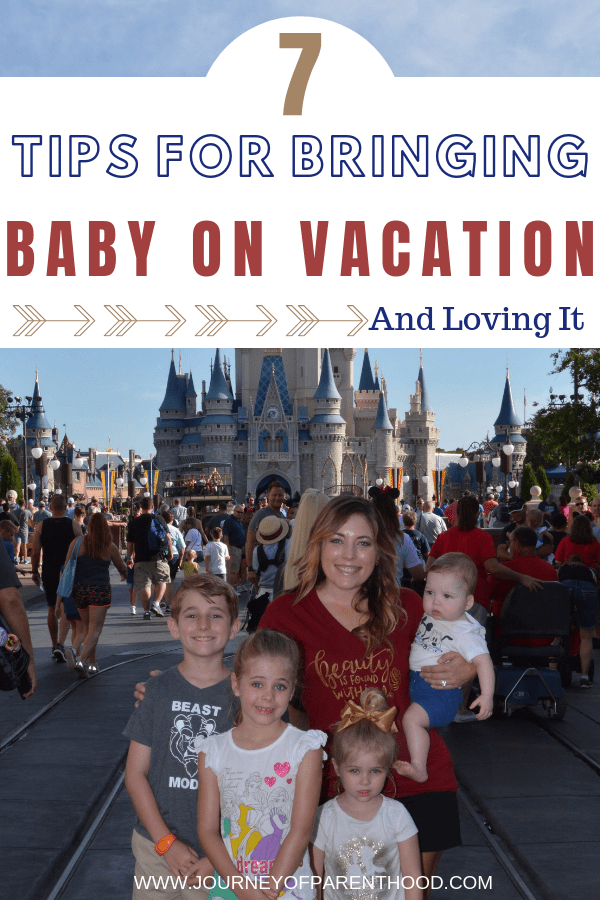 Travel With a Baby: Stay a Minimum of Three Nights
When you think about traveling a short distance from home, you think "oh quick trip!"
But with a baby it's best to have at least three nights away. That way you are spacing out your travel days, you have a full day of no traveling, and it allows the baby time to adjust to new sleep conditions.
Usually the first couple of naps and/or first night can be tough for the baby to settle in and sleep well, so giving that longer amount of time allows the baby to fully adjust and be able to get the sleep they need to be pleasant and enjoyable on your trip!
Surviving Travel with a Baby: Bring Comforts from Home
The goal for traveling with a baby is to keep their lives as close to life at home as possible.
If you use black out curtains at home, be sure to bring something to cover the windows and keep their room dark. If you use a sound machine, make sure you bring it with you.
Keep things as routine as possible and it allows for the baby to easily transition from home to the new location!
Making Traveling with Baby Fun: Schedule Trip Plans Around Baby
Yes, it means we do less when we have our baby with us.
But doing less means we're also able to fully enjoy the things we do because we revolve trip plans around the baby's schedule as much as possible.
Personally I aim to only ever skip one nap a day while vacationing and even then we try to have plans work out where baby can nap in their car seat or stroller or even in our arms if it works out!
Depending on your baby you will know which nap is the best to skip and which ones are the most important to them to keep.
—–> Find Out If Your Baby Needs More Sleep or Can Handle Less Sleep Here!
Vacationing with Baby: Location, Location, Location
So much of a trip going well with a baby depends on where you stay!
If a hotel room I always call ahead and figure out where a pack and play can fit.
Ideally we prefer for our baby to sleep in a bathroom or large closet rather than share a sleep space with us as it allows their sleep area to be darker and more quiet and allows us to enjoy nap time as quality together time.
It's also important to consider the location where you are staying.
If you're going to the beach, you want to be as close to the actual beach as possible.
Staying close to the areas you plan to visit allows you to maximize the baby's awake time to be able to enjoy the trip experiences and minimizes time they have to spend in the car driving from your hotel/condo/etc to the trip experience.
—–> Does Your Trip Involve Visiting the Orlando Area? Be Sure to Check Out Our Rental Home HERE!
Know When It's Best to Leave Baby Behind
While I love making experiences as an entire family, I also think it's often equally valuable to know when it's best to leave baby at home.
We are blessed with family who love a chance to have quality time with our children so when a trip is better suited for just my husband and I or just our older kids we will leave the baby at home.
If the trip is further away, for a shorter time, involves a lot of activities, or is just a situation where it'd be more of a headache and hassle than a joy for the baby to come then leave them!
I know that's hard for many mamas but I always remind myself that the baby will NEVER remember the time away from me, the baby will be better off at home on their regular routine, and the rest of our family benefits from quality time together especially during a season of life that mostly does revolve around the baby each and every day!
How To Travel With a Baby
Traveling with an infant doesn't have to be a headache. It can be an enjoyable experience for the whole family when plans are properly made and priorities are set!
Stay Close to Home – Keep your travels close to home to minimize travel time and to keep on the same time zone for baby's schedule
Travel Strategically – Travel around the baby's schedule in order to make the time in the car smooth and, hopefully, allow baby to sleep while driving!
Stay a Minimum of Three Nights – In order to allow baby time to adjust to their enviornment plan to stay on vacation for at least three nights.
Bring Comforts from Home – Bring items that remind baby of home and help them to adjust quickly and feel more comfortable.
Schedule Trip Plans Around Baby – Make sure baby stays on schedule as much as possible and arrange travel plans around the times that work best for keeping that consistent routine for baby.
Location, Location, Location – Minimize time spent in the car while on vacation by planning to stay near the activities you'd most like to experience!
Know When It's Best to Leave Baby Behind – It's okay NOT to bring baby on every trip. It can be a good opportunity for baby to bond with other family and a chance to go further from home or fit more into a tighter schedule.
Traveling with an infant can be stressful and overwhelming but when the trip is well-planned and keeps the baby's needs in mind it can be a wonderful experience with memories you'll never forget!
MyBaby Soundspa On-the-Go – Portable White Noise Machine
Check Price For Portable White Noise Machine Here!
Portable Pack-N-Play
Check Price For Pack-N-Play Here!
Want to keep up with all of our family travels and adventures? Be sure to follow me on Instagram!
Today is our Babywise Friendly Blog Network Pinterest Day! Be sure to visit all of my awesome blog friends and their posts on the topic of travel:
Chronicles of a Babywise Mom: Four Best Tips for Traveling with Four Kids
Christine Keys: How to Help Toddlers That Get Car Sick
Wiley Adventures: Post Round Up of Travel Tips
Team Cartwright: How to Teach Your Kids About the World Without Leaving Home
Mama's Organized Chaos: Practice These Everyday and Your Child will Travel with Ease
Twin Mom and More: Traveling with Children: To Drive Overnight or During the Day