How to Reconnect With Your Spouse After Having Kids
Guest post by: Elkyra Park
My husband and I were insanely happy when I gave birth to a beautiful baby boy 3 years ago.
It was pure joy for both of us. Little did we know back then that this precious gift from above will cause disagreements and heartaches in the long run.
I mean, we already knew that relationships take hard work but we didn't expect the difficulty level to go up a notch once another human being came into our lives.
We were so busy with everything – changing diapers, breastfeeding (which is really difficult, by the way), making sure that baby gets what he needs, all while working on our day jobs.
It was just so crazy that we weren't able to carve out some time for ourselves, not even to rest. Let alone to spend time together.
In my mind, being a parent means putting my child's needs above everything else – including my own. Because of that mindset, our relationship took a back seat.
Constant communication to talk about our day became limited to chore assignment which did little to our already crumbling relationship.
Sweet and soft-spoken voices were replaced with shouting matches due to overwhelming tasks.
We were both so tired and on a short fuse that one tiny mistake blows up.
We were both frustrated and on the brink of breaking up. So I initiated a move.
My goal was to bring back what we once had – pre-baby.
As of date, we are stronger and still holding on to each other.
We make mistakes every now and then, but we forgive easily because (1) we know that someone is constantly watching and learning from our actions, and (2) our family is too precious to give up on.
So what did we do? What changed? Here's what we did.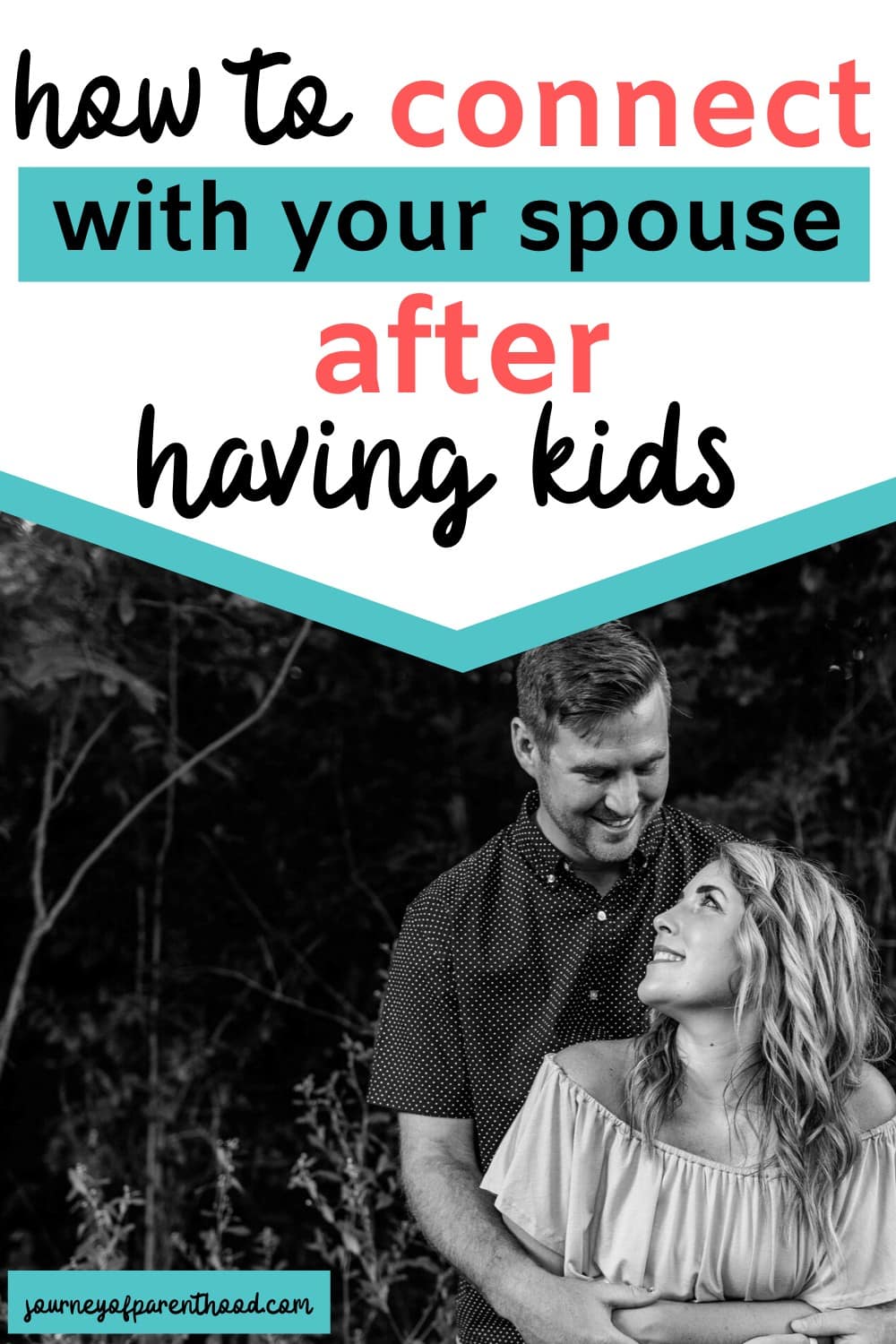 Reconnect with Spouse after Having Kids: Delegate Tasks
When I gave birth, I made it my personal mission to oversee EVERYTHING, as in every single thing, when it came to my baby.
No one can do anything with my baby (or anything else that involved him) without my permission or direction.
Doctors say that this is normal because our maternal instinct kicks in as soon as we become mothers. The result is that we become super control freaks.
I won't even allow my husband to wash my baby's clothes because I know that he was not good enough for that task.
But if you really want to be happy (and sane), delegate your tasks.
Learn to share especially if you are nursing your child. This way, your husband or partner will not feel left out and you will be free from that heavy load off your shoulders.
Keeping Marriage Strong: Me Time
Let someone else take the reins. Leave your baby and your chores to someone else even just for an hour.
Do something you enjoy ON YOUR OWN.
You can meditate, read, dance, take a long and relaxing bath, or do anything that relaxes you.
If you feel like you are empty or extremely tired, it means that you are not listening to what your body is telling you.
Mental health matters! When you feel overburdened, you will become irritable and even the simplest things irk you…and your husband is always on the receiving end of this anger because he is nearest to you.
Keep this from happening by dedicating some time for self-care. Remember, you can't pour from an empty cup.
Reconnecting after Kids: Don't Forget to Text
My husband works on shifts so there are times when we don't interact with each other.
I am asleep and dead tired from taking care of my little one when he comes home.
Other times, I come home from work and he just got out to go to his job.
To keep our communication lines open, we text each other sweet nothings or relatable GIFs.
Sometimes, this is our way of updating each other but we still make time to talk face-to-face during weekends.
It does not matter if we can't reply as soon as we can.
The important thing is that we both know that we think of each other in the midst of chaos called life and that we try hard to connect even if just for a few seconds.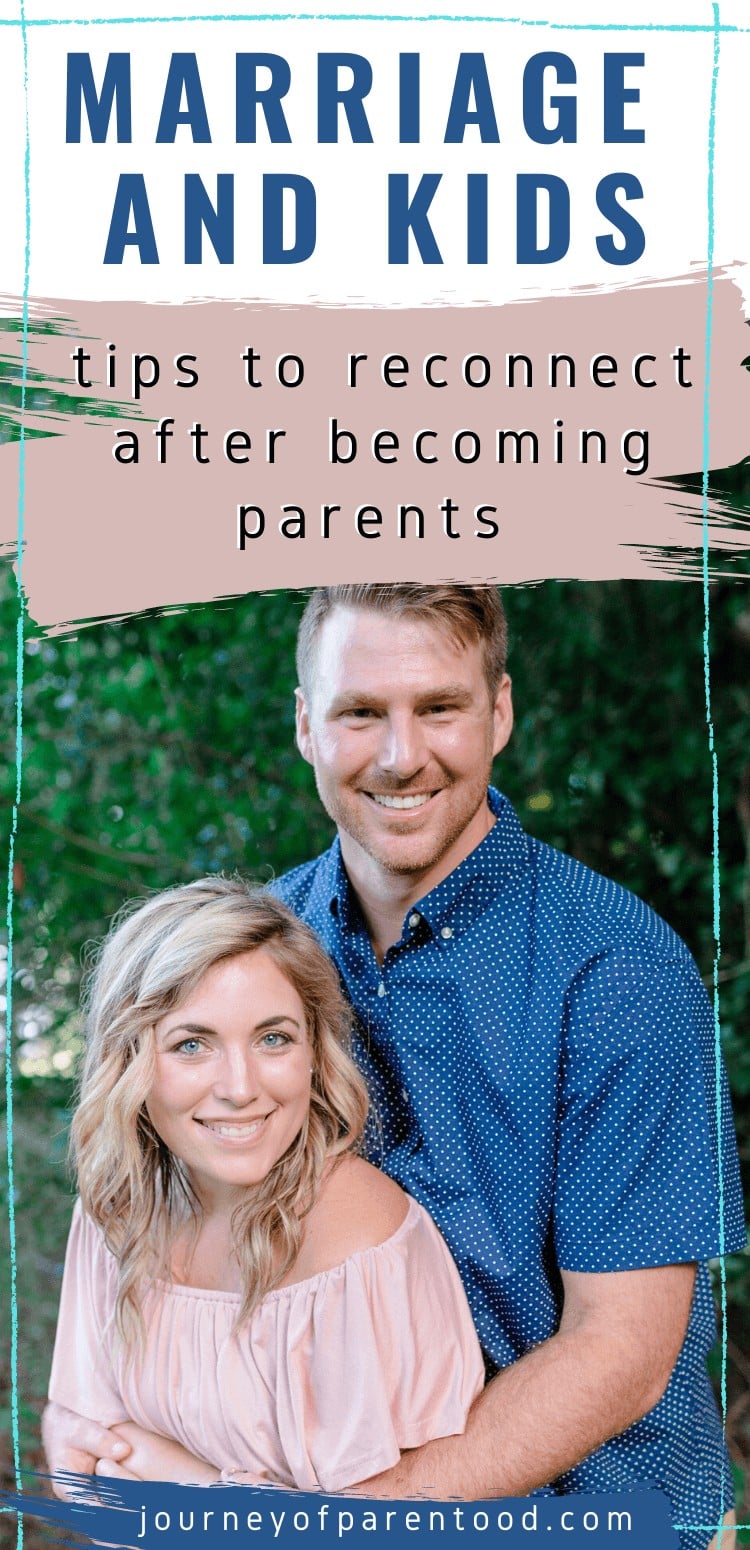 Connecting with Your Husband: Make Every Night a Date Night
When our schedules meet, we make sure that we set aside "US" time before we go to bed – no matter how tired we are.
We watch TV while snuggling, or talk about anything under the sun.
We make sure that there are no distractions during our time. We avoid cellphones and work and just focus on us.
We used to wait for date nights to do something special for each other but it was just impossible considering our schedule.
So our solution is to be practical and just do everything at home.
We follow a theme for our dates sometimes, too.
For instance, tonight will be picnic night wherein we eat al fresco and watch the stars after.
Be creative and think of many ways to spice up your date night. But a simple Netflix binge-watch will do.
Reconnect with Your Spouse: Be Thankful
Think about this analogy. A band or singer will release an album wherein not every song is awesome.
There will be songs that you won't like so you will prefer to listen to the songs you like more.
This is similar to relationships.
Focus on the things you like about your partner and learn to disregard those that you don't like.
Instead of concentrating on what they are doing wrong, think about what they are doing right. Praise him or her for those and you will see changes.
Also, don't forget to do little things such as making coffee or taking out the trash.
Do something that is unexpected and see your partner's face light up with joy.
These are just some of the things my husband and I did to reconnect with each other despite being busy with our jobs and parenting a little boy. A new parents, it's tough to be intentional in setting aside "couple time" and to pour into your marriage but it's so important to keep your love a priority.
I hope it will do wonders for your relationship too.
By communicating, delegating, prioritizing, and making small gestures it is possible to reconnect with your spouse after having kids!
Elkyra Park is a first-time mom who can no longer count how many baby products she has reviewed for her sanity and her son's sake.  She discusses about the realities of parenthood and how to gracefully cope with the struggles over at www.easyparentinghacks.com