If you haven't picked up a copy of Preschool Wise then I highly recommend it! I've been reading through it lately and have come across so many wonderful, practical, and useful tools, including some tips on how to get out the door quicker when you have kids to wrangle!
I recently wrote this post about a simple technique for teaching your children self-control.
Today I'm exploring another section from Chapter 9 in Preschool Wise.
We ALL have had it happen. We're in a rush. Trying to leave for church, school, or some other activity and our kids take forever.
They suddenly turn into sloths who move so sllllowlllly that we toss up our hands in frustration and assume we're doomed to be late anytime we go anywhere.
There is hope! There is a solution! And y'all, it's SIMPLE.
Disclaimer: post contains affiliate links.
Originally published on July 27, 2017
How to Get Out the Door Quicker: Three Candy Speed
Preschool Wise refers to this as three candy speed but I didn't personally have any candy laying around when I did it with my kids so we call it three treat speed instead. (From page 177)
"This is a way to show your child what accelerated movement is. Surely, if your child's favorite candy waited at the end of the task, you'd see lightning-fast movement from his part."
This is NOT bribing. (Although there are times in parenting when bribery is a useful tool!)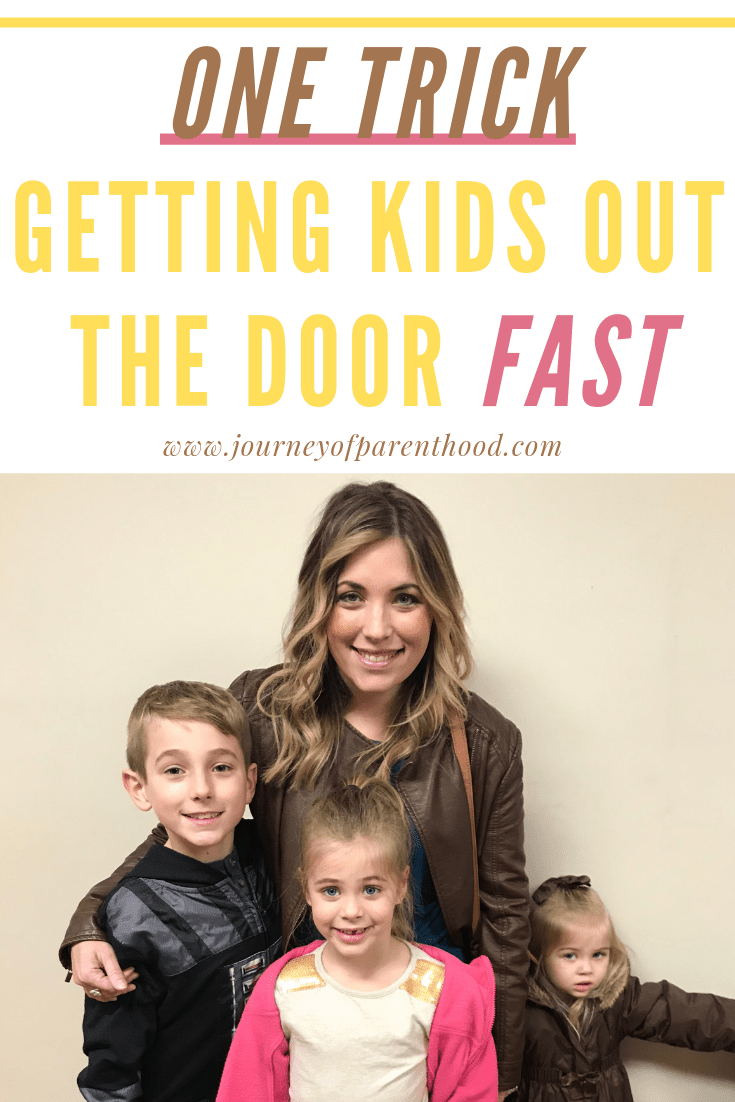 Instead it's a training technique meant to teach your children what fast actually looks like and means.
It gives them a benchmark to remember when you ask them to do something quickly!
Here's how it works:
First, choose a time when it's not rushed. I chose a random afternoon that we had free time and a messy living room.
Next, choose three pieces of candy (or in our case three small treats) and show them to your child (or children).
Explain to them that they will be cleaning the area as quick as they can (and you'll be timing them!) and then they will get to eat the treats.
This was exciting for ALL of my kids. I was surprised that even my 8 year old was super pumped for some tiny cookies 😉
Let them go get the task done!
The treats are a great incentive but older children also just love being timed to do anything.
So for my older kids they were doubly motivated to be fast 😉
Preschool Wise only discusses this with one child in the example, but it worked just as well for all three of mine to do it at the same time.
If anything it helped them work together more to accomplish the goal.
Often we face clean ups where one child played with most of the toys and the others are annoyed that they have to help, this eliminated that issue for sure!
When they are done cleaning the space stop the timer and allow them to eat the treats.
As they eat the treats explain that this was a one time thing.
From now on they won't be getting treats for cleaning up BUT they now know that when Mommy says "three treat speed" that they need to move as quickly as they were just moving during that experiment.
This was something that sunk in very well with my crew.
They enjoyed the treat and the timer but they also liked having an understanding of how fast I mean to accomplish a task when I instruct them to do it quickly.
In under two minutes I had a pretty clean room and happy kids as well as a new parenting tool in my toolbox!
As with all parental instruction, it's important to require a "yes ma'am" response when giving a command.
You now will be able to say "Clean up, it's time to go! Let's use the three treat speed!"
You hear the "yes ma'am" letting you know the kids understand the instruction and then they will be off as fast as lighting to get the task done!
The advantageous of this are pretty endless. You can simply use the term "Three Treat Speed" and know that your children know exactly what that means.
They know you mean to move fast and you will be out the door quicker than ever before.
I'm so glad we went through this exercise during summer as I know it'll be SO useful for the upcoming school year!
Today is our Babywise Friendly Blog Network Tips and Tricks Day where we share topics that we think are "Pin Worthy." Be sure to follow me on Pinterest!
How To Get Out the Door Quicker With Kids: Step By Step
Kids seem to be on their own timelines. When it's time to load up the car? They move at the speed of sloths. Sllllllloooooowwwww. With this simple technique, you can have your children getting out the door FAST!
Choose a small treat and show your children the three small treats they will receive
Have the children clean up a room and time them while doing this
Once the room is clean, allow them to eat the treats
Show them the time it took for them to clean the room and let them know that from now on, THAT amount of time will be referred to as "three treat speed"
When it's time to leave the house remind them to go at the pace of "three treat speed" and you will have them ready to go before you are!
Using this technique trains children to have a better understanding of time and the expected amount of time it should take them to be ready to walk out the door. It may take a few "training" sessions for the strategy to fully work.
On Becoming Preschool Wise: Optimizing Educational Outcomes What Preschoolers Need to Learn
Alarm and Stopwatch
Check Price For Stopwatch Here!
Fruit Snacks
Check Price For Fruit Snacks Here!
Also be sure to check out the fellow Babywise Friendly Bloggers who are all writing on topics from Chapter 9 in Preschool Wise: