I am FIRED UP about the new year! I have so many goals and feel like I achieved so much in 2018 that has allowed me to really keep rolling into 2019 and only continue on the foundation I have started building. Now that we're a year out from adding Spear to our family we've really gotten in our groove. 2018 was a big year of adjustments: new baby, new job for Zach, a transition for me into focusing on blogging as a more legit job, and purchasing the rental house. I feel like 2019 is a BIG sigh of relief kinda year. A breather. A chance to catch our breath a bit from all the adjustments and feel normalcy of all those changes. Bring it on!
I know people have all sorts of feelings about goals and resolutions. Personally, I'm a goal junkie and love making goals and tracking them and seeing how I did in achieving them at the end of each year. I review this list throughout the year to make sure I'm on track and working on things and staying focused on my goals.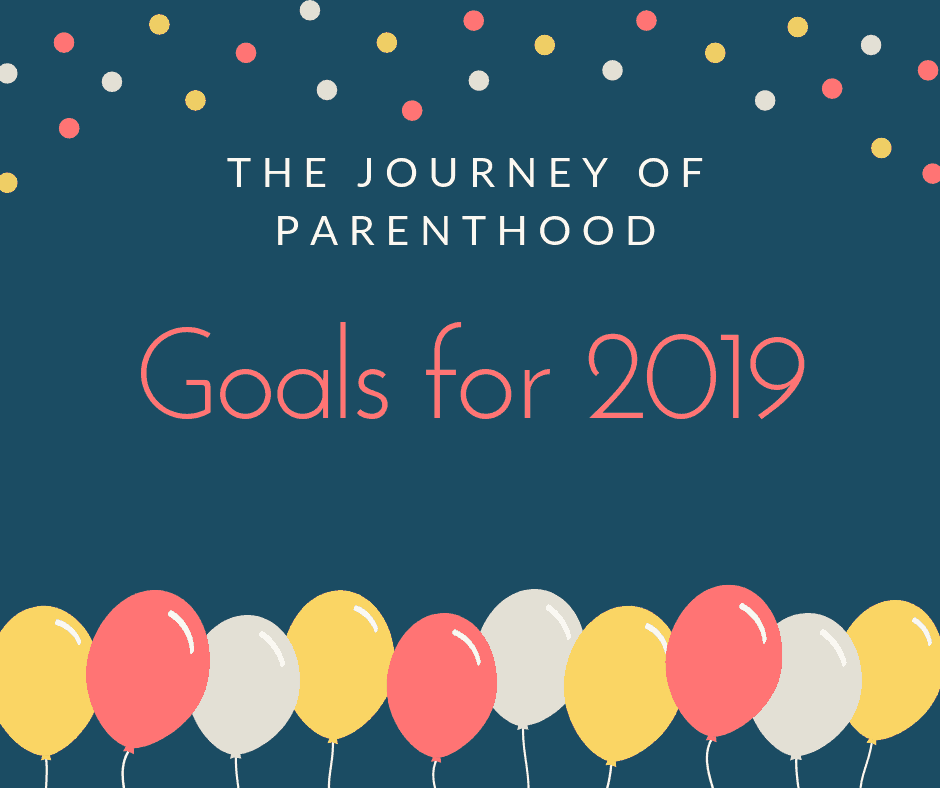 As always, this list is in totally random order. Here are my goals for 2019:
Continue waking up early and having my journal time, Bible time, prayer time and productive time!
Potty train Spear.
Pour into our marriage. Date nights often (at least monthly if not more) and communicate clearly.
Completely purge our entire house and have things well organized – and KEEP them organized!
Visit a Disney Park once a month for the year (just myself, not entire family).
Get 7 hours of sleep every single night.
Keep drinking my water – finish three bottles a day (at least 80 oz!).
Focus on speaking in kindness and love, no matter the circumstances.
Be back in a routine of regular family game nights and family walks.
Meet my children and husband where they need me most and show them love in the ways they best receive it.
Have all blog books printed up to the year 2019 (need to print 2016, 2017 and 2019)
Continue to build a deeper connection with the Lord through my morning time but also throughout the day! Turn to PRAYER!
Get a full handle on emotional/stress eating. Be at a place where it's no longer an issue by the end of 2019. Have that self-control to avoid that self-loathing icky feeling! PAUSE.
Host more events in our home and have more friends over more often.
Have at least 4 solo dates with each child.
Blog Goals: Meet prior goal income as an average across every month and have 3 months where I double it. Stay caught up to current time in personal posts. Focus more on SEO – have a full understanding of it to the point where I can explain it to others. Optimize as much old content as possible. Make pins for as much old content as possible. Have a reach of over 3 million on Pinterest. Hit 20k on IG. Produce more video content.
House Goals: Exterior painted, Interior trim painted, Replace light fixtures, New kitchen counters and sink, Begin work on finishing upstairs room for Tess and making our bedroom into a space WE LOVE.
Rental House Goals: Pay for itself from property management rentals as well as cover mortgage payment every month.
Continue to learn and grow and heal those deeper wounds. I want to feel SO GOOD about ME (who I am and where I'm at) when I turn 35!
Make time for ME once a week. Meeting with friends or even just time alone. Make sure I'm pouring into myself.
Work on the kids birthday slideshows and Shutterfly books in advance so I'm not stressing over them at the last minute.
Slow down at night when tucking kids in and make sure I really sit and give them that quality time to share their hearts.
Wear tank tops. Work on my arms so for the first time in my LIFE I can be confident about them! Continue with my solid work out routine.
Focus on POSITIVITY. The blessings. The joys. All the GOOD!
Time management: be productive with my time each day. Balance the to do list with quality time with my family as well as self care.
Truly cut back on Christmas and find that best balance of gift giving.
Fully organize all the kids school work/cards and other mementos in storage.
Be mindful of my mood. We control our moods – keep reminding self "same you new mood!"
Do better with having structured time for the kids, especially independent playtime with Spear.
Have a balance of going and doing but also relaxing at home on the weekends, be mindful of not overloading my plate!
Don't live in a rejection mindset. LIVE LOVED.
We discussed some family goals and these are a few the kids came up with:
Kye: Make three free throws with basketball and work out before bedtime (not sure what kinda workouts he's doing!)
Britt: Eat cleaner (no more messes), play with Levi more, reach advance level with gymnastics and master a pullover, learn to tie her shoes.
Tess: No tee-tee in panties, make more good choices, no crying before bedtime, and learn to unbuckle seatbelt.
My goal for our family this year is to really, really focus on gratefulness. I want us to be a POSITIVE, UPLIFTING family. I want us to support each other and build each other up and to find the GOOD in every thing!
I can't ever remember being THIS on fire in so many areas in my life at the same time and I simply cannot wait to see where 2019 will lead me!