Father's Day 2019.
Both of our Mother's Day and Father's Day celebrations were a bit "off" this year.
With our Mother's Day celebration we had Britt's exhibition and with Father's Day Zach's Aunt Cheryl got married on the day we'd planned to celebrate.
It all worked out as Zach really just wanted a CHILL Father's Day celebration anyway and wanted to swim as a fam and cook out at home.
EASY and SIMPLE.
So we made it happen 🙂
After we got home from the wedding (I'll cover that in the monthly summary soon!) we went ahead and opened gifts before naps.
We are keeping gifts very low-key this year and the kids and I went with a pool theme for Zach's gifts since he was excited to have pool time together!
I also printed off sheets for the kids to fill in for Zach.
Doesn't EVERY parent LOVE these things?!? Hint hint for Zach to have the kids do 'em for Mother's Day next year (although this year the kid's teachers did a pretty great job of having them do cute Mother's Day items…advantage of Mother's Day being during school).
Britt's:
Favorite memory: "When he threw me in the pool with my clothes on"
Age: 34
He's good at: Golf
He always says: "You're twelcome" (hilarious)
Fav thing to eat: Pizza
When comes home from work likes to: Hug everyone
Pockets are full of: keys
Makes dad laugh: jokes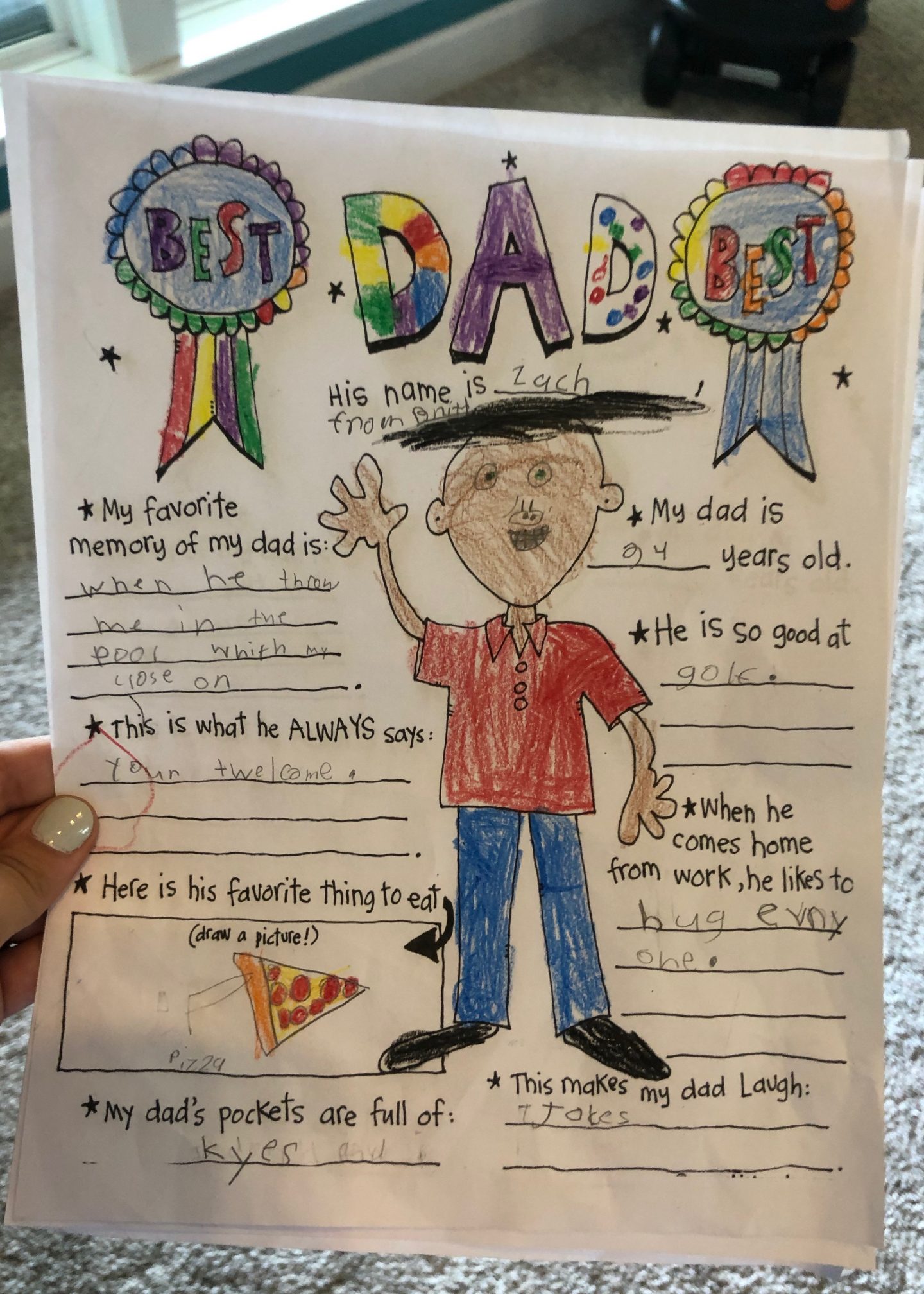 Kye's:
Fav memory: Going putt-putt at Disney on guy's trip
Always says: "You're Twelcome"
Age: 34
Fav food: Pizza
Good at: Golf, basketball and several others
Home from work, likes to: watch tv
Pockets full of: money and keys
Makes my dad laugh: when he scares mom (SO TRUE)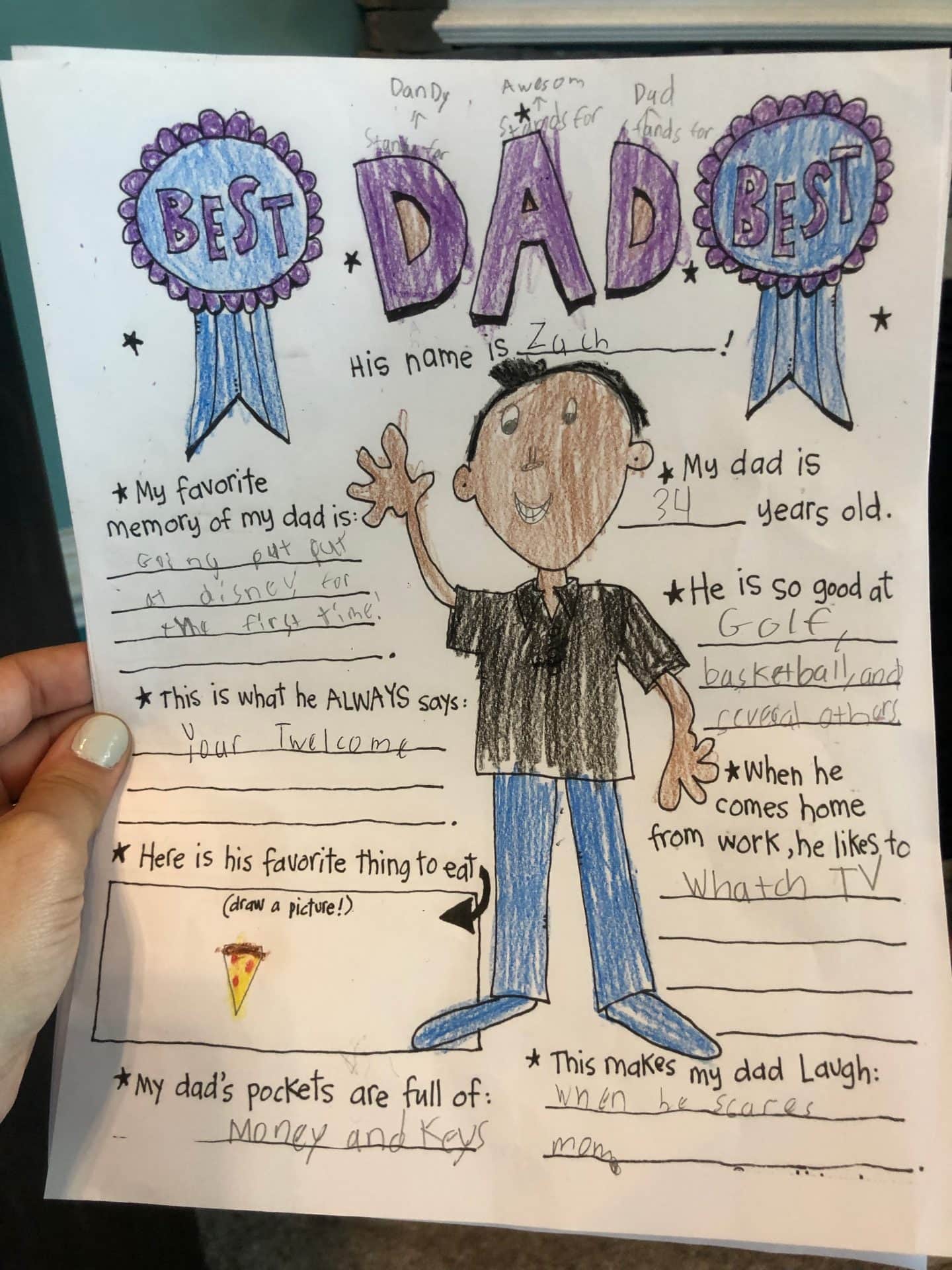 Tess's (all answers are HERS I just helped fill it in!):
Fav memory: night swimming a long time ago when Daddy actually went in the pool
Age: 40
Good at: Being Strong (Tess LOVES how strong her daddy is!)
Always says: "It's okay!" (Tess gets hurt a lot and he's always telling her it's okay haha)
Fav food: pizza
Pockets full of: Keys
Makes him laugh: jokes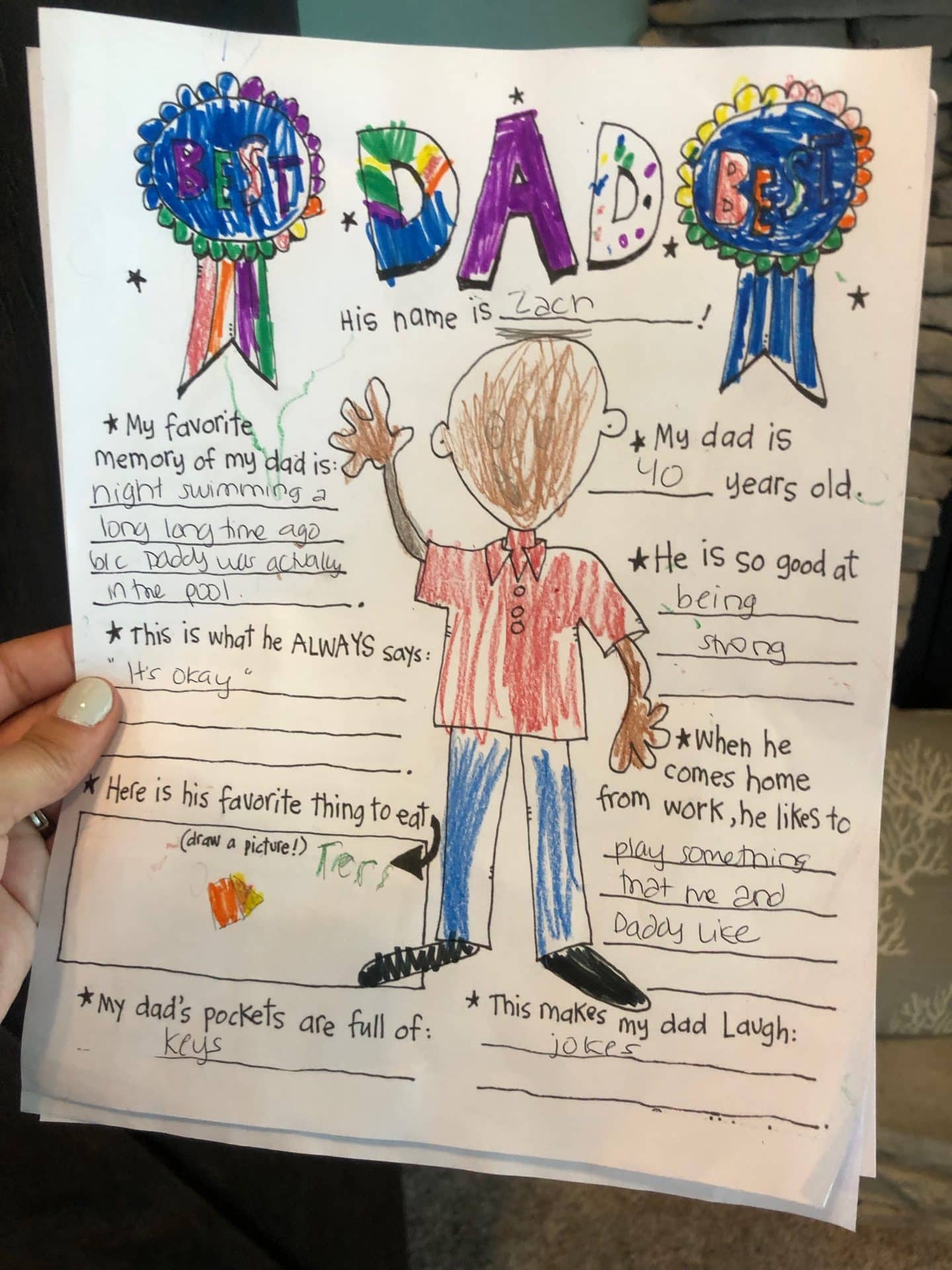 Father's Day Gifts:
Here are the gifts we got him for Father's Day:
Under Armor Water Jug (my new go-to gift! We got it for Mr Rusty too and it's AWESOME. Perfect for the days Zach is working in the yard!)
Spear had a rash and couldn't go in the sun so I hung out with him while Zach and the big three had a BLAST swimming!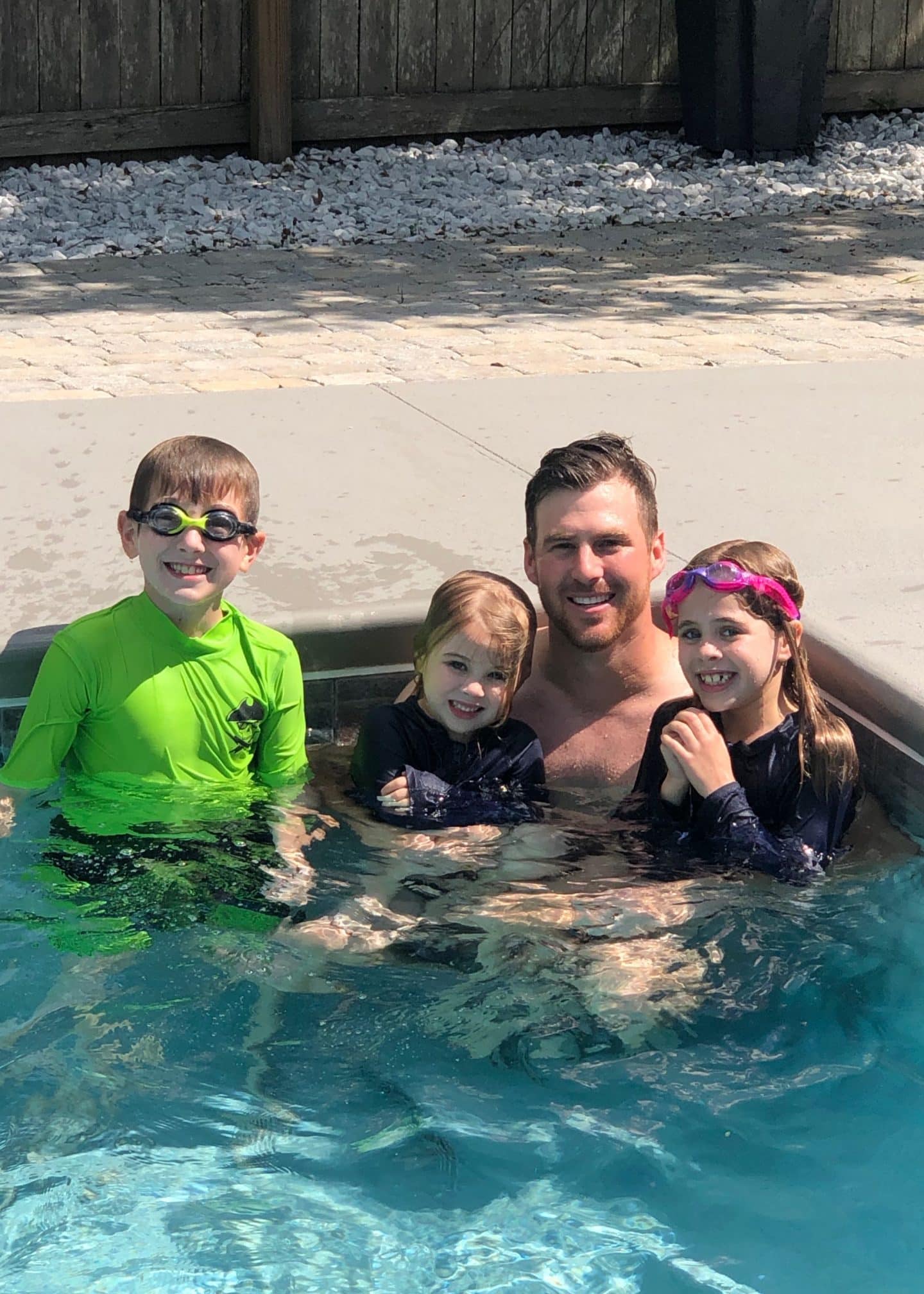 For dinner Zach wanted a true DUDE meal – steak and baked potatoes.
Literally. That was IT.
And omg it was all SO GOOD.
Yes, he cooked his own Father's Day meal and it was fabulous 🙂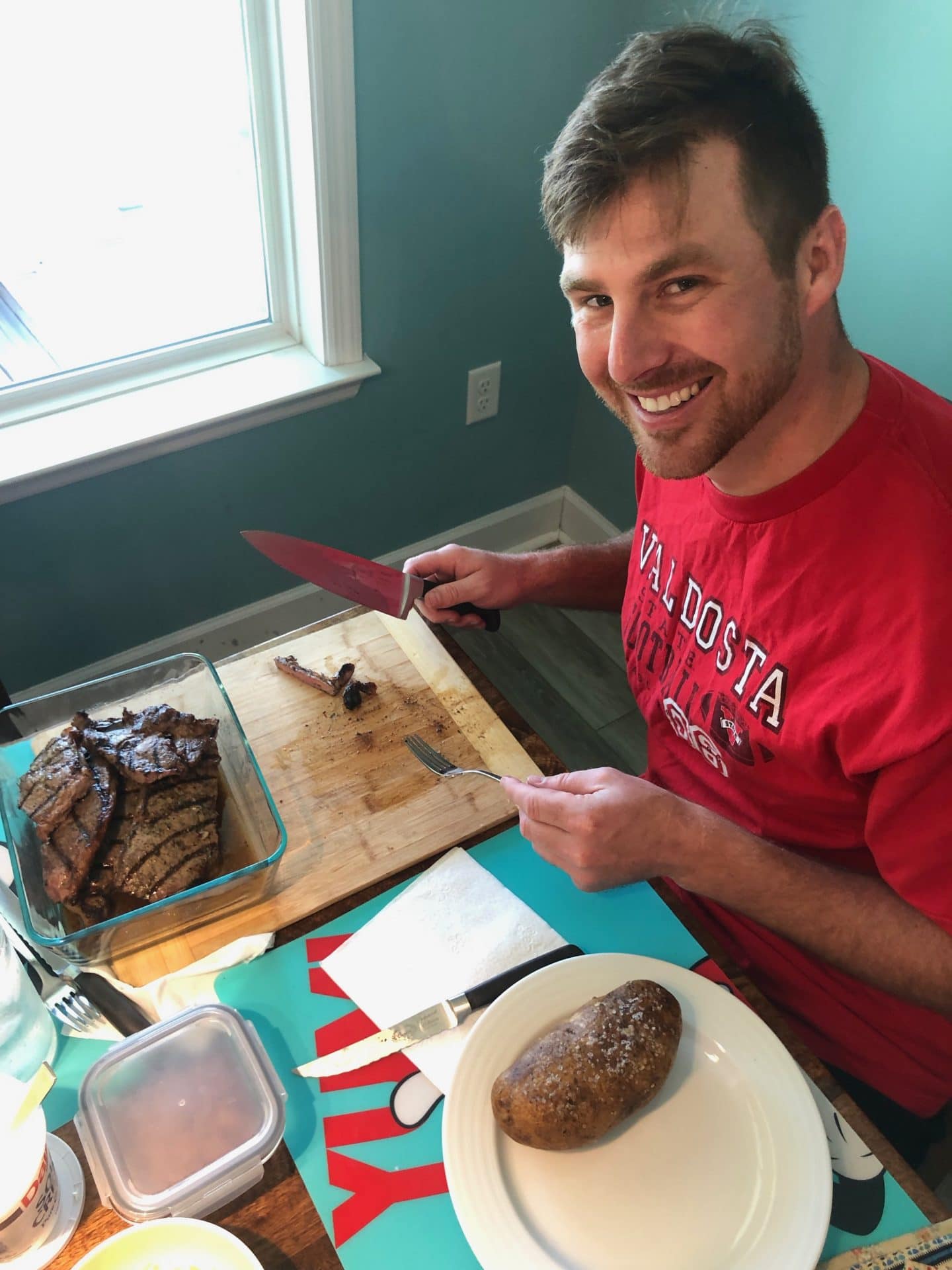 We ended the evening with some fun game time playing Sorry which is Zach's favorite!
Tess is on a STREAK. She played completely solo (no one on her "team") and WON.
The next day, true Father's Day, we visited the church where Zach grew up (and where most of his family still attends) and then had lunch over at his parent's house.
Loved getting the 4 generations of Parker men in a picture together. So awesome!
And Big Daddy IS happy – he's just from the generation who thinks men shouldn't smile in photos 😉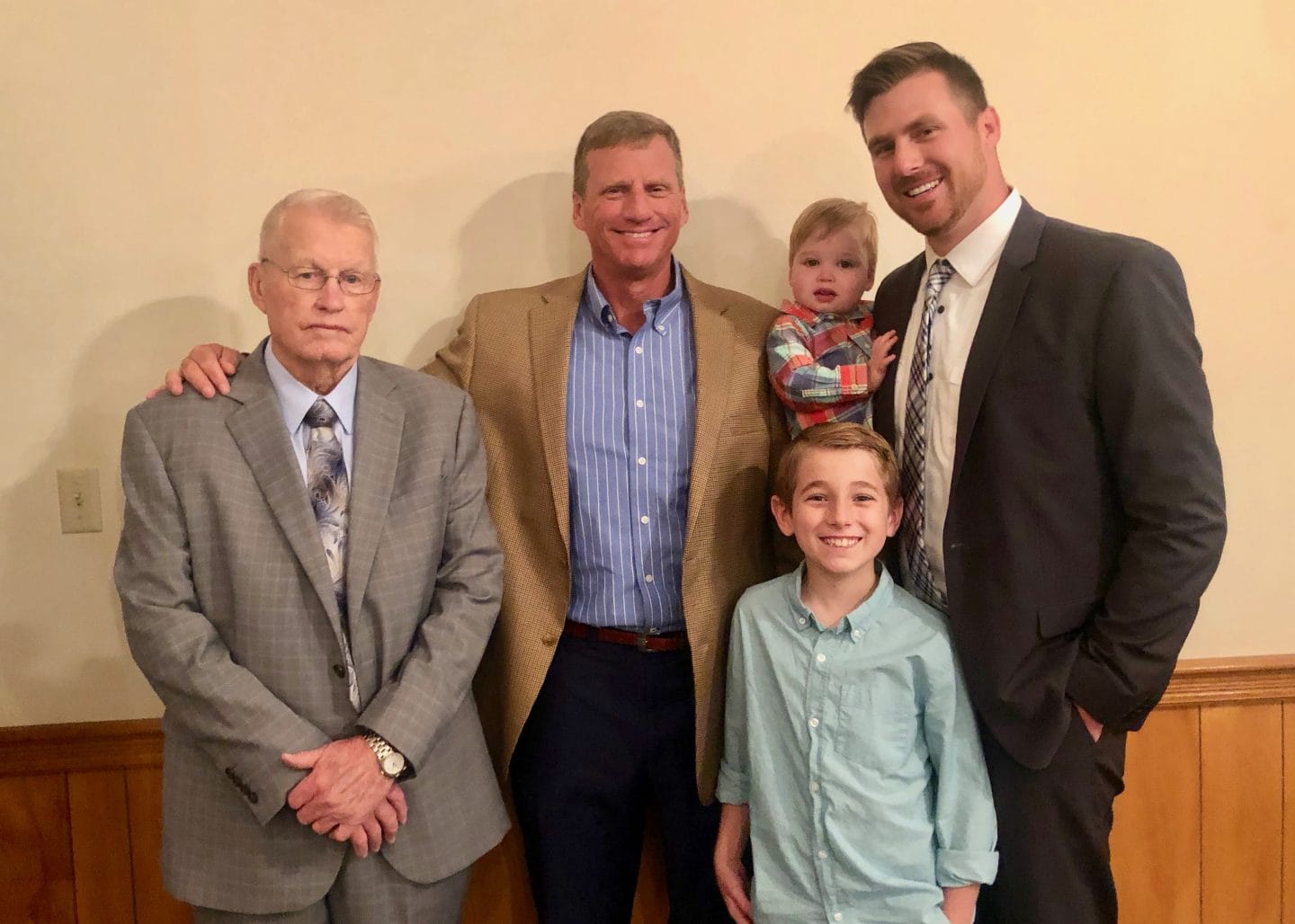 We get to make a lot of choices in life. Big choices. Small choices. And many of those choices have huge impacts on who we become and the paths our lives take.
But the biggest impact in our lives is the choice we didn't get to make. The one we didn't choose. Or decide.
Our parents. Our upbringing. The home we are raised in. The love, support, trust, faith we are taught from the moment we are born.
We don't get to choose who raises us.
When I look at my children I think about how blessed they are.
How they will never be able to grasp the gift they were given to be born into the arms of this father of theirs.
He sets the tone for their lives.
He is who our daughters will someday seek in a husband. He is who our sons will someday strive to be.
And this responsibility is one he doesn't take lightly.
He wakes up each morning and fights for our marriage, our family, our children.
They will never have to doubt his love for them. His pride in them. The true joy they bring him.
We make choices. Some big. Some small. I'm so thankful I chose him. Best choice I ever made.