One of our goals for our time as Universal annual pass holders has been to get to see Hogwarts at NIGHT. We got our passes in July 2020 and by October 2021 we still hadn't accomplished that goal yet! So I was on a MISSION to make it happen.
I heard that Universal brought back a night show at Halloween time on the Hogwarts castle so we drove down to our Disney rental house on the Friday afternoon of fall break and I hopped right back into the car with the three big kids to go to Universal!
Of course it started to downpour rain as soon as we got in the van but we didn't let it deter us! We arrived right at 6. The park closed at 8 so literally everyone was leaving as we were arriving! Even with the icky weather our vibes were all EXCITED and FUN! I lovvvvvvve these kinda moments with the kids where the energy is all elevated and I just knew we'd all have so much fun that night together!
We truly ONLY wanted to see Hogwarts lit up so we entered into Island's of Adventure and just went straight back to the Wizarding World area at Hogsmeade. With the downpour rain there was no point in trying to ride any of Kye's fav rides since they are all outdoors and close during bad weather.
Instead we decided to just wait in line at 3 Broomsticks. It took a good 45 minutes but then we were guaranteed yummy dinner with a dry table to enjoy it! Plus BUTTERBEERRRRRRR
We went outside on the patio to check the weather and the rain had finished up and the cloud coverage was this pink super spooky color.
Britt went to the bathroom and raced back in to tell us that something was happening just outside of the restaurant. I let the kids go ahead and go see whatever was happening while I finished cleaning everything up to go meet them.
I had NO CLUE that during the Halloween season that Hogsmeade gets SPOOKY. The fog. The green lights. And then DEATHEATERS came out and the kids saw them do a show of sorts and then the death eaters roam around from person to person and you can "battle" them by casting spells.
It was VERY creepy. And VERY awesome. Seriously SO FUN.
Hogsmeade also becomes basically one big line in sections to wait for the show at the castle. If you miss the spot to enter the line you have to walk alllll the way AROUND the outside of Hogsmeade then back into it in order to get the line. Learned that the hard way 😉
The show on the castle takes place every 10-15 min starting as dusk through park closing. We had an awesome spot to view the whole thing. It's called Dark Arts at Hogwarts Castle and it was EPIC.
I think it's so genius the way Universal has Hogwarts SO HIGH up. Everyone gets a great view with no heads or kids on shoulders blocking you!
After the show the park was technically closed but we decided to walk back around and through Hogsmeade again to hunt more death eaters. Yall it was SO FUN. The kids were HILARIOUS with them. I loved how Kye was so into it (as so rarely happens with him anymore at theme park stuff) and Tess was cracking EVERYONE up. She was spitting those spells like a rapper 😉
I love Britt's face of PURE JOY when she defeated the death eater! I think the funniest part was when one followed us into Honeydukes. Kye was so precious defending us girls!
We tested out some butterbeer fudge as a treat!
They even did another death eater stage show so I was able to see it too! Seriously SUCH a fun night. We all had an absolute BLAST. We literally went into it with the goal of seeing lights on the castle and had NO IDEA so many awesome things took place after dark!
A night we'll always remember for SURE!!! None of us wanted to leave!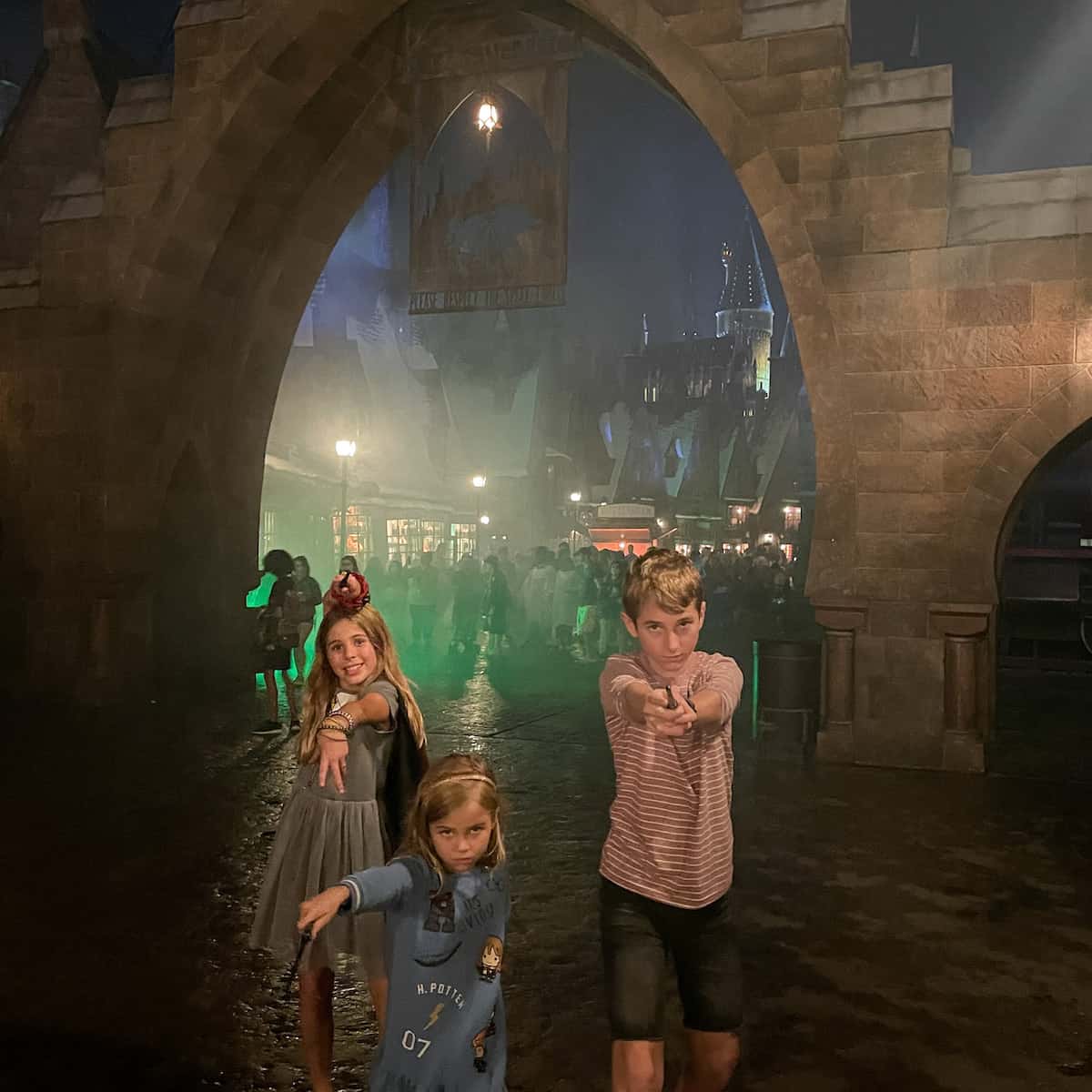 It was really neat seeing the entire park lit up, I'm sure lots of the rollercoasters are probably a very different experience at night – def something for Kye to look forward to at some point!
The next morning we headed to Volcano Bay. Our annual passes were set to expire in December and we decided our last visit to the water park that we LOVE would be over fall break.
We were SO early that we were THE first people in line of the day! We had to wait for security to arrive!
I made a new fav purchase prior to the trip – this stroller clip on cup holder is not only perfect for a cup but it's ideal for holding our loopy case phones!!!
I feel like we have such a solid system DOWN for Volcano Bay. We are truly sad to see our passes go but the main reason is because we love Volcano Bay so much!!! It's really been such a wonderful fit for our family with something for EVERYONE.
Luckily Tessie was FINALLY 48 inches so she got to FINALLY enjoy ALL the slides and live it up at the park to the fullest on our last day there!
On our way to Volcano Bay Kye and Britt had a big heart to heart talk and Kye said he really wants to do better at being kind to her and she said she'd love that. She came up to me with his HUGE smile and said "today is going to be a GREAT day!"
I am very proud of Kye for being self aware and self reflective AND to take the time and make the effort to communicate it too. My kids make me one proud mama 🙂
Just like the night prior was a super fun night for me with the big kids, our Volcano Bay morning was SO FUN with Spear for me!!! I love that I had this weekend to connect with ALL of my babies in such a special way 🙂
Spear is a little pro at the toddler play area and he did so great going down the slides and looking for me right when he reached the bottom.
Zach and Kye went to do some of the bigger slides that Britt doesn't love so the girls, Spear and I went over to the wave pool. Under 48 inches have to wear a life jacket and Tess was super pumped that she didn't have to anymore.
The girls LOVED getting to take Spear out into the waves and he gobbled up all of their attention too.
Kye and Daddy surprised us and everyone got to ride some waves!
From there the bigs and Daddy headed over to ride more big kid slides and Spear and I went to the Lazy River together. We called ourselves "Team Crazy Lazy!!!" We had so much fun and I love his big smile!
We hooked back up with the other and swapped. I took the bigs with me and we hit up the Wild Rapids!
Kye and Britt made me SO proud all day! They are probably the least close sibling set out of my kids and they have very different personalities and that can cause frustration and conflict plus being opposite sex with their age differences there can just be more issues ya know? But I love that they WANT a closer bond and that they BOTH put in so much effort on this day. They were SO great together and both LOVED it!
Kye and Britt went and did a couple slides together just the two of them and Tess wasn't the least bit jealous and she was totally happy and content to hang with Spear and experience the little kid slides with him. She is seriously just MEANT to be a mama. I love watching them together. She just ADORES Spear in the way that I adore my babies. She is SO great with him!
Our routine is to lunch it up at Volcano Bay and it was our last lunch at our spot! Zach and I were able to sit at our own table and just observe our babies all eating together and having fun together. Best note to end our Volcano Bay day on!
I love this crew and we are sad to see the annual passes go but also think it's great to have something to be excited about in the future!
While I totally intend to be Disney pass holders for life…by having the passes Disney does lose a bit of the excitement factor for the kids so taking a break from Universal I think will make it super epic exciting when we get the passes back again someday!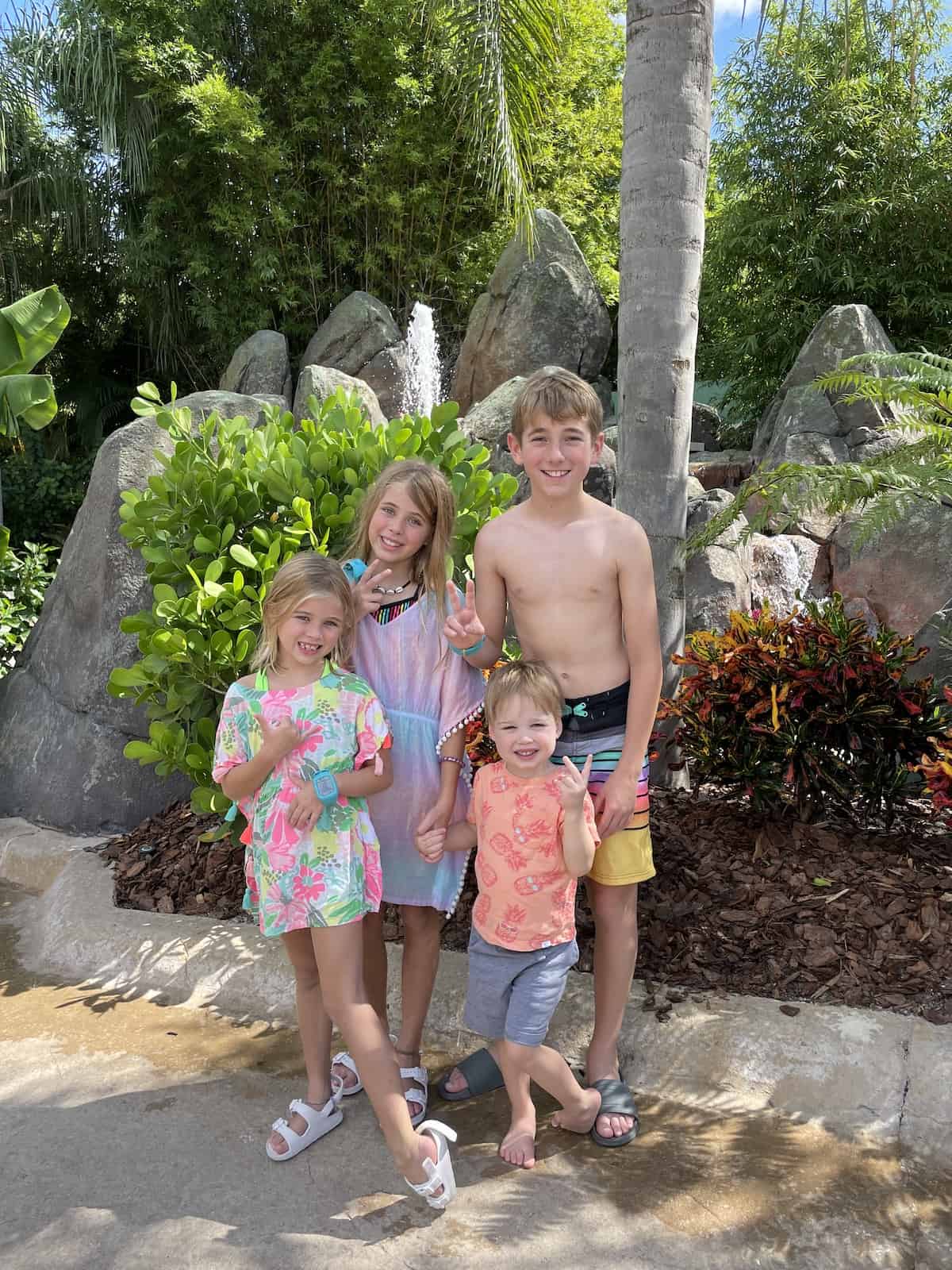 My mama heart was SO FULL!
We got back in time for naps and Spear is doing such a great job of going poop in the potty too! It was a beautiful afternoon so the girls and I swam and laid out and Spear came out with us a bit too with his baby 😉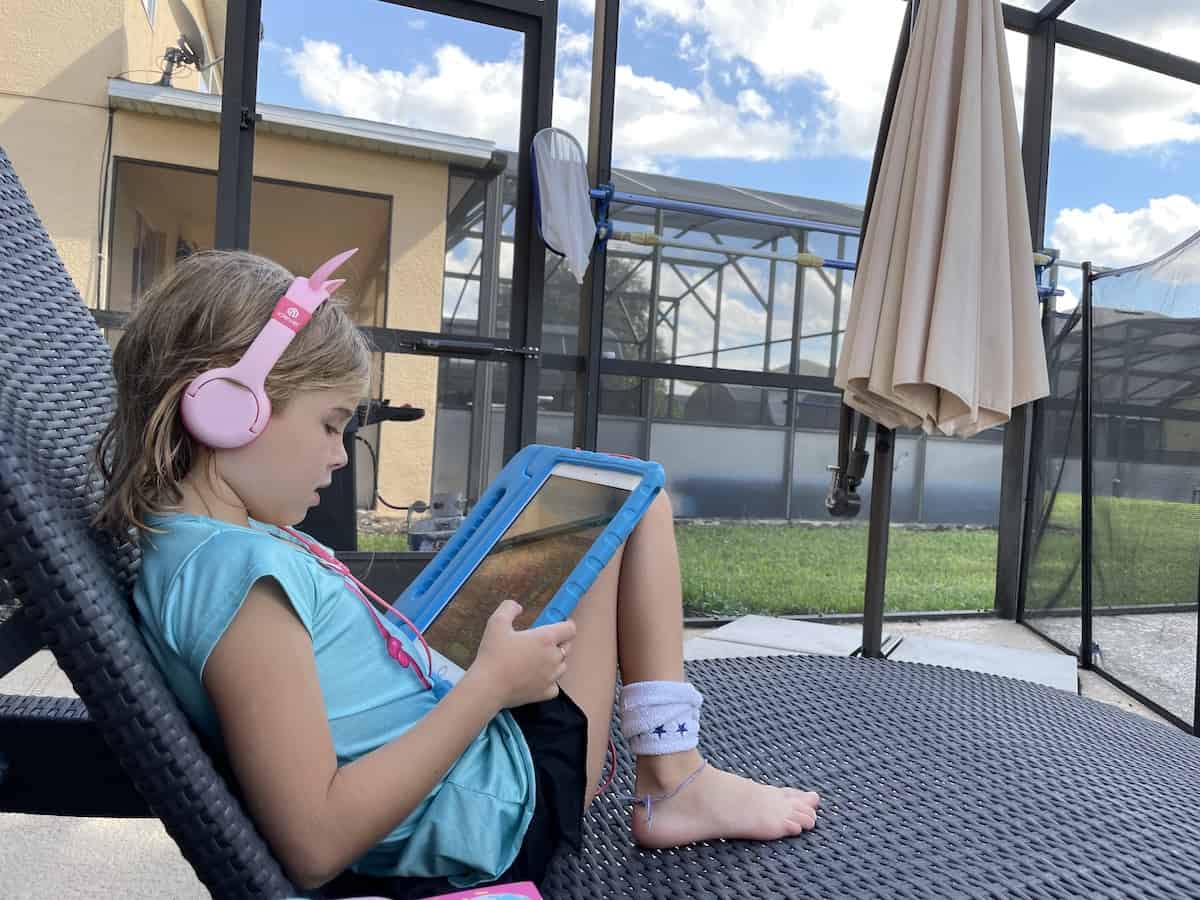 While on a mission to knock things off our "Universal to do list" Zach took the big kids BACK to Universal City Walk that night and finally visited Hollywood Drive-In Golf. We've passed it many times on the way to Universal and have always said we need to go at NIGHT to have the full experience because everything on the putt putt course is neon and black lights.
I hung out with Spear until bedtime and then watched Nine Perfect Strangers (so good!) while Zach and the bigs putt-putted their hearts out!
They all had a blast together and I am glad they were able to have this special Daddy time. I am really trying to make sure to focus on things that ZACH enjoys doing as a great opportunity for him and the kids to connect and bond and that I don't have to be part of all of those experiences ya know? I LOVE my mommy solo time with the kids and I want Zach to have those same moments!
Zach and Kye agreed they like the Fairways course at Disney better but this was still a fun experience they are all glad they had!
We had SUCH an amazing kick-off to our fall break. It was everything our little family loves most. I love when we ALL have FUN together!