Fall Break 2020: Volcano Bay and Animal Kingdom
Over Labor Day we visited Volcano Bay and it was SLAMMED PACKED so we just loaded up and left. This trip we really wanted to visit Volcano Bay as they are closing for the season until March and we wanted one last time at the water park.
We were much smarter in our plan and arrived at Volcano Bay a little over an hour prior to the early admission for pass holders. This paid off as we had VERY few people in line. It was tough to wait around that long just kinda hanging out but we were in the park right when the early admission started and it allowed us to have a great morning with very little waits!
We are always team arrive early 🙂
While I LOVE traveling and experiencing new places, when it comes to going places with my kids I prefer re-visiting places that I'm already familiar with. Now that we've visited Volcano Bay a few times I'm SO much more comfortable and able to be more relaxed and enjoy it more!
We have a system and a routine down and it flows super well. Zach takes the big kids right away to knock out the bigger ticket slides and I head over to the little kid area with Spear.
It's great because it's SUPER empty right at opening so we can get settled in and hang out! It's a great check-in spot for everyone and it's SO well designed with bathrooms super close and even a little sand area across the way too.
We saw a couple of kids have injuries in the kid play area this visit. A security officer came over with two slushies and was clearly looking for someone so I asked if I could help. Apparently a little girl had gotten a busted lip and he went and got a treat to cheer her up. SO SWEET.
He ended up not being able to find the little girl so he gave me the slushies as a thank you for being so kind and helpful. I'm telling yall being an extrovert has some mega perks sometimes 😉
Britt was FREAKING OUT and we all enjoyed the slushies! Even with the lame paper straws.
We literally stayed at the water park for only TWO HOURS and they did ALL the things they wanted to do! Literally rode 13 slides in just two hours! DEF worthwhile to arrive EARLY and take advantage of the extra 30 minutes allowed for pass holders on certain days.
Britt even was daring enough to conquer the big volcano slide! SO proud of her for being brave!
We headed back to the house and during naps the girls swam. Love that our pool is heated so they could still enjoy it even in October! We just had a lazy afternoon and evening and got the kids down to bed nice and early for another full day the next day.
Animal Kingdom is the only park we'd yet to visit after reopening and I really wanted the kids to experience it. It was SO crazy the weekend I went and was able to get on Flight of Passage with just a 5 minute wait and I wanted that for them too.
Well Disney now ain't the same Disney as it was in July! Animal Kingdom was much different from other parks we'd experienced up until this point as they allowed us IN the park early but NOTHING was open prior to the actual park opening time.
So annoying and frustrating.
We kinda walked all over the park upon this realization. We didn't want to wait in the already CRAZY long line for Flight of Passage so we went over to Safari to ride that right when it opened. They had guests lined up outside of the attraction to wait for the park opening time. Very interesting to me that some parks have rides operating before park opening and some don't. It's all really luck of the draw and I feel like Disney is intentional in making it all very random so people won't be able to develop some sort of strategy!
Zach stayed in the safari line and I walked the kids around a little bit. We went and checked out some turtles and Spear took turns favoriting his siblings 😉
Kye was ahead of us and said "man this was so nice and peaceful until yall showed up" ha!
It was a GORGEOUS morning at the park and we were able to ride Safari right at opening with very little wait once the park actually opened.
No surprise here – I still recommend getting to the parks early. Even with the randomness and the pre-opening lines it's still a time saver overall!
Spear LOVED seeing the animals. I love this age for Disney, it's my recommended age for a first visit!
We got our eyes full of a bonus view too…we interrupted a couple of lions making babies! Luckily the kids just thought they were "playing" ha!
After we got off Spear really wanted to see monkeys and Daddy had on his "cool Disney Dad" vibe so we just walked through the gorilla exhibit. We ALWAYS have great luck with the gorillas. We've seen some great interactions with them and they are always fun!
We got a DAS for Flight of Passage and decided I'd be the one to ride. It was Tess's first time being tall enough to ride it and she was SO excited!
Zach and I actually don't like Flight of Passage. It makes us both feel sick? But I don't do a lot of thrill rides and CAN do this one so I wanted to be there for Tessie's first experience.
She said she prefers Na'vi River of FOP and honestly? SO DO I! I don't get why Na'vi is so underrated. It's a really awesome experience!
Daddy and Spear surprised me with a Birthday Button when we exited FOP. So thoughtful! My birthday was a week after our trip and this is probably the closet I've been to visiting Disney ON my birthday 🙂
After we rode FOP and Na'vi Zach and the big kids headed on ahead and I made some returns to the gift shop.
When I came back in July I bought a TON of stuff with plans to do giveaways on Instagram but right now we just need to buckle down as much as possible on the budget so I returned it all and the cast members were SO SWEET about it!
We picked up Wilderness Explorers books and it was a GREAT distraction for Spear while I made the returns. He and I then headed over to ride the dinosaur ride while Zach and the big kids rode Dinosaur!
Dinoland was basically deserted and it was nice to just let Spear RUN freely!
Everyone met up with us when they got done and we had some snack time and mask-free rest time for a bit.
I can't really wear Mickey Ears #bigheadprobs but the girls were so sweet in insisting I bring the birthday ears and get a pic in them for "my Disney birthday" 😉
Spear's favorite thing was being able to check out the Dinosaur truck – kid loves some vehicles!
We also met our first ever VALDOSTA Cast Member!!! It was so cool meeting her and talking about local stuff!
The Wilderness Explorer books are GREAT for kids of all ages. Britt was really into hers this time and wanted to complete as much of it as possible. She loved all the stations and learning the facts and completing the little missions. It's a FREE activity so don't miss it!
Zach and Kye have never ridden the Rafiki Planet Watch train and, duh, just say TRAIN and Spear is ALL ABOUT IT so we decided (Daddy's Idea!) to ride it!
It IS a time suck but we didn't really have anything else to do while we waited for the DAS pass to be ready for another ride so it made sense to go for it.
Spear was SO serious and SO INTO it the whole train ride. It gave the girls a good chance to work on their Wilderness Explorer books too and all the kids had fun creating their own badges.
The petting zoo is currently closed down (not that I minded…I'm anti-petting zoos now…)
They are still having the animation classes but obviously we didn't do that with Spear with us. We just walked around and checked everything out and got a couple badges knocked out and then headed back! We were mostly in it for the train ride more than anything else. Something else to note is to leave your stroller behind as there are strollers provided at Rafiki's Planet Watch!
We got back and had lunch (we packed from home for us ALL and brought it into the park with us).
Spear was ALL About Daddy on this day which was so precious. Tessie also drew our family and included her favorite family activities we do together – have movie nights and go to Disney World.
Biggest smile EVER for Spear!!!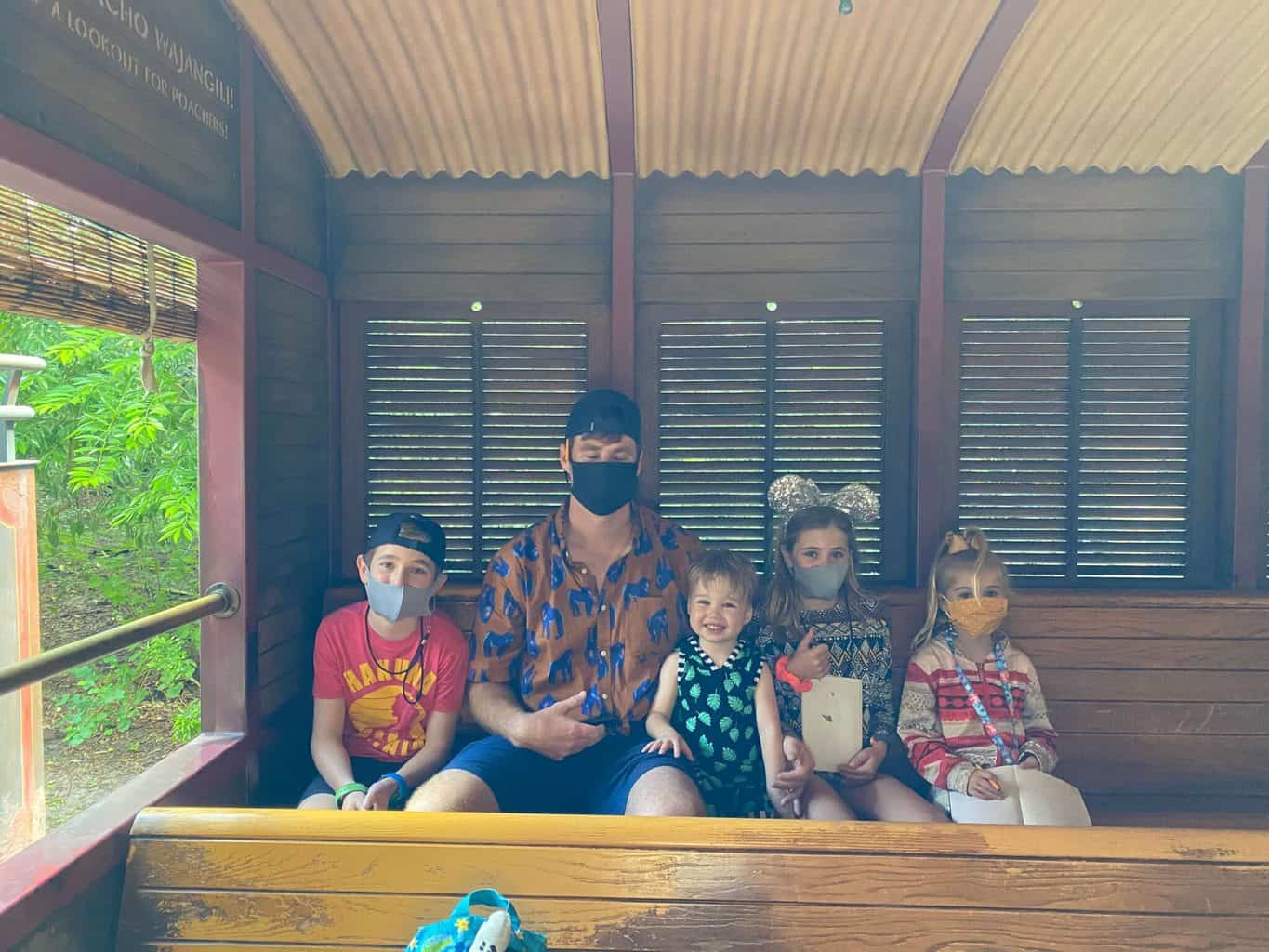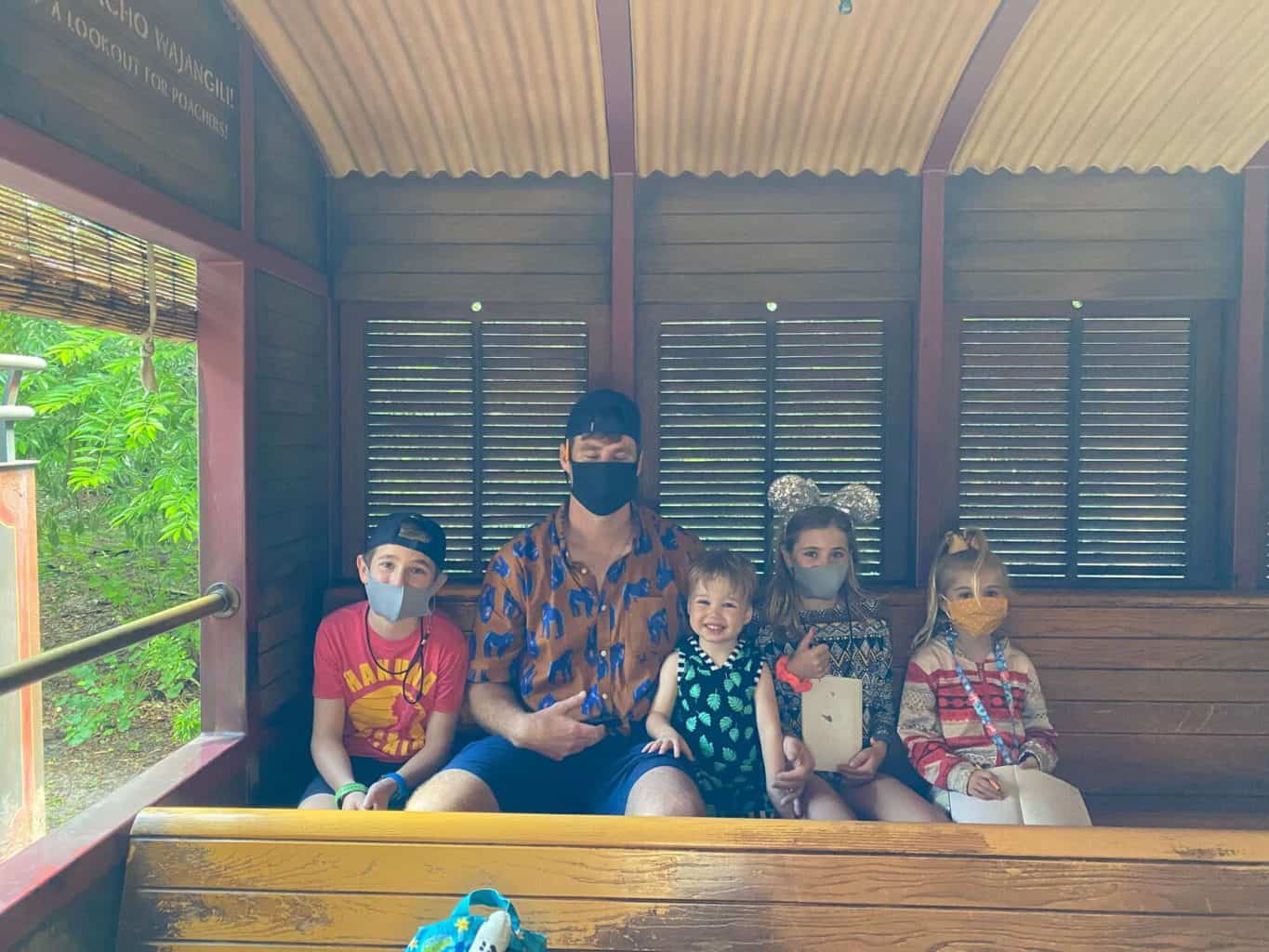 My mission is always to have ONE family picture in the parks…I'm not picky about where or what background so we found the least long line for a photo pass photographer and hopped in it.
This one was FABULOUS and it made me super sad that the kids all had their masks on because she took great individual shots that would be super cute if they could be mask-free!
Not only was Tess tall enough for Flight of Passage she was also tall enough to ride Everest!
Tess may LOOK like me but she's a whollllle lot braver than I am when it comes to riding rides. She LOVES the thrill rides and it's such a great way for her to bond with Zach too as he loves that she always wants him to ride beside her so she feels safe. She knows her Daddy will always protect her!
Britt didn't want to ride Everest (she wavers on her feelings regarding thrill rides…I think she'll end up being more like me when it comes to those types of experiences) so Spear, Britt and I had some quality together time working on completing as much of her Wilderness Explorer book as we could and hunting down the tigers!
Tess absolutely LOVED Everest and I love that they had so much fun together and I enjoyed the rare moment of the Spear + Britt combo!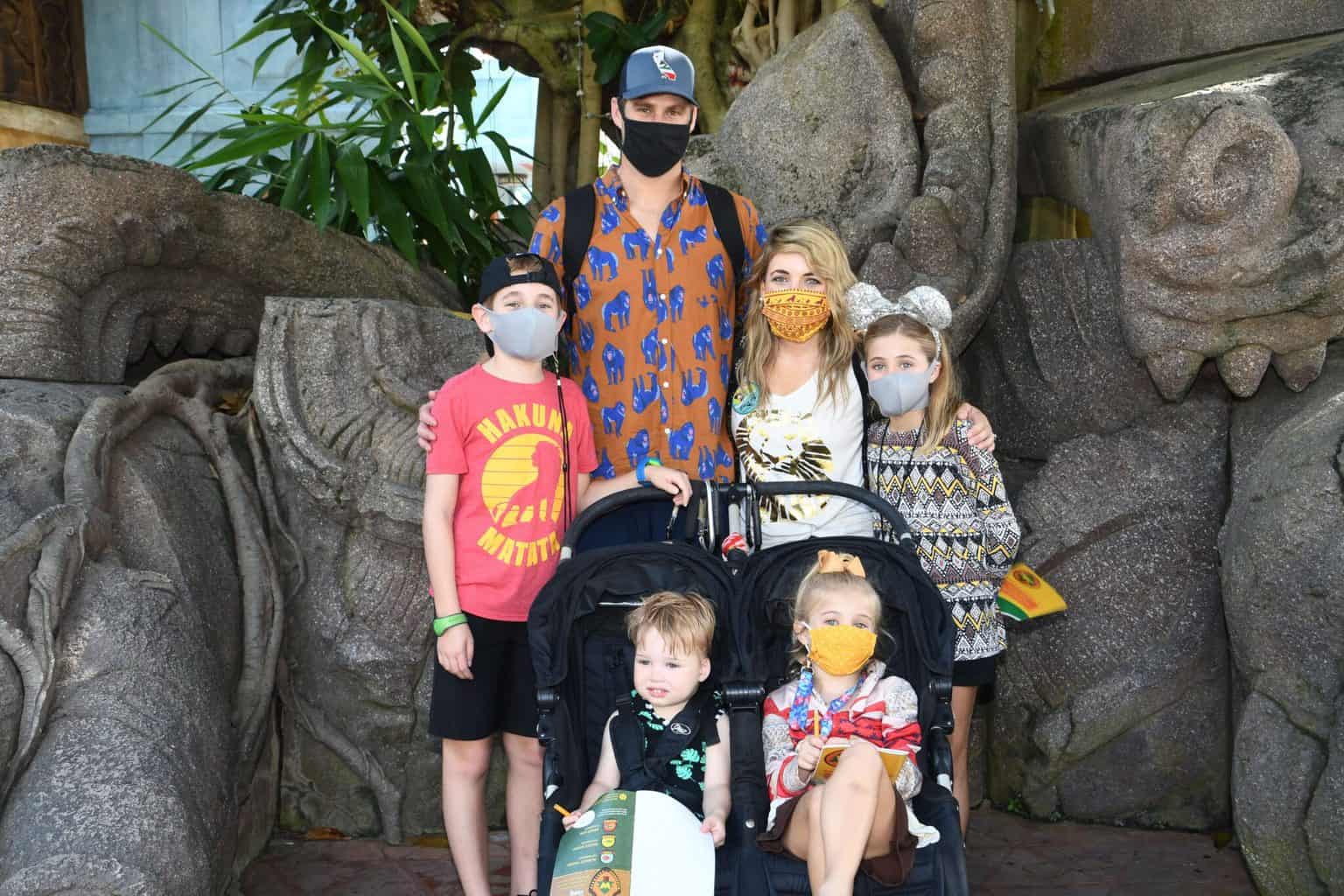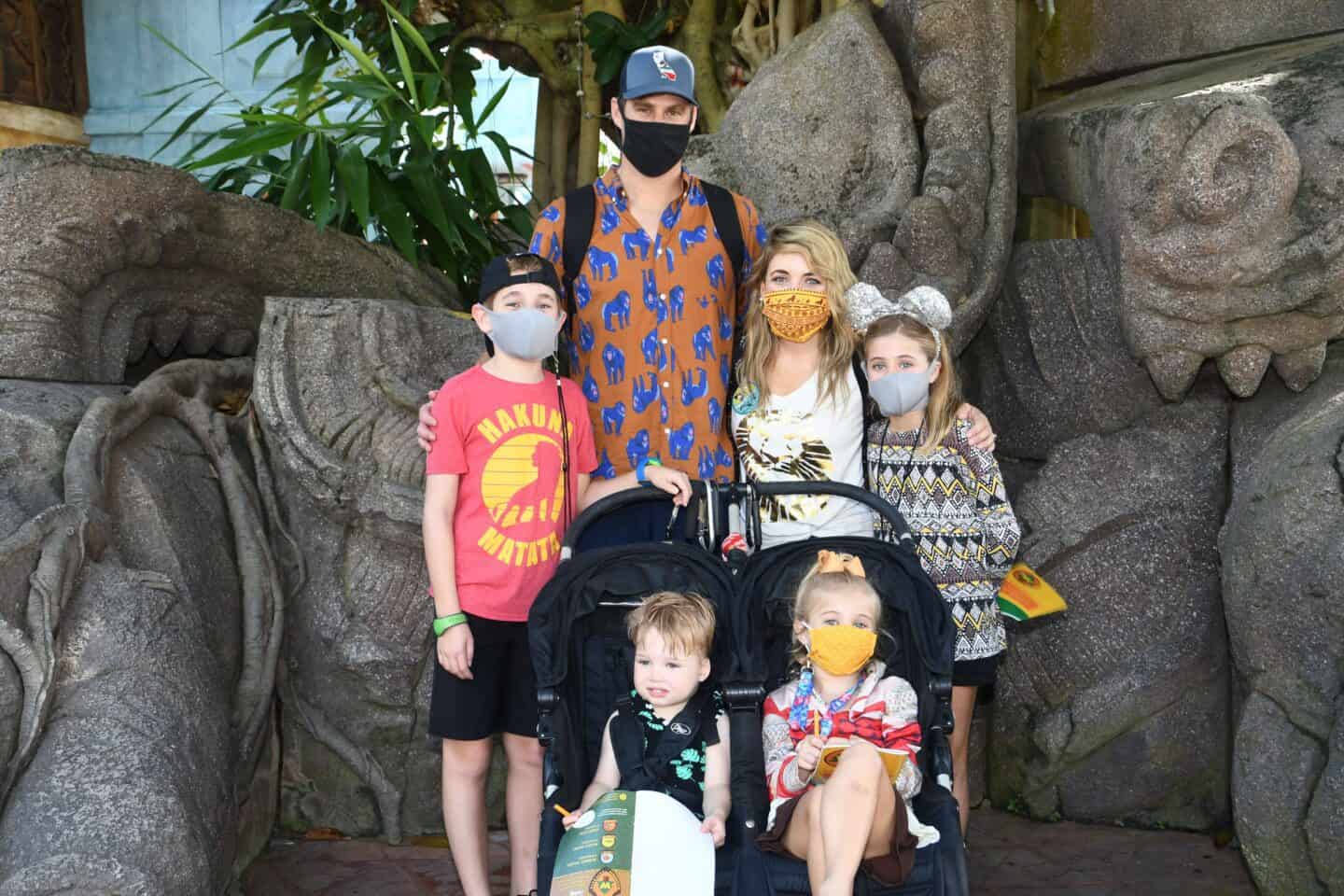 To end our day we decided to ride Kali River Rapids. I've never ridden it before and since I braved Splash Mountain I felt like I could handle a little rapid adventure.
I was pretty let down by this ride? I mean I barely got wet and it was SO SHORT. Kye and Britt were hoping for a lot more freaking out and getting soaked from me ha!
We did rider swap for it so Zach was able to ride with the three big kids too. A park tip during these mask days: pack disposable masks for water rides so you don't worry about getting your mask wet!
Yall it was OCTOBER 25th and it was 104 when we got to our car. INSANE!
We had a super fun morning and afternoon and even had a magical moment of getting to see Pocahontas and Meeko on the way out.
Back at the house we had worship services and an ice cream dessert and went ahead and got all packed up to head home early Monday morning. It was nice to have a longer weekend and have some chill time along with our park time too!