Easter is one of those holidays that sneak up on me and fill our schedule more than I anticipate happening!
We have a tradition that the kids LOVE where I do a "Mommy Egg Hunt" in the backyard. I fill 60 eggs and hide them. Each kid gets to find 15 eggs and they get to choose – regular eggs have candy in them (I do 24 with candy) and decorative eggs have coupons in them (I do 36 coupons). I make the candy eggs easier to find (as we know Spear prefers candy!) and the coupon ones are a little tougher to find.
Last year Spear found ONE egg and then called it quits but he stuck with it this year and found all of his eggs and was much more into it!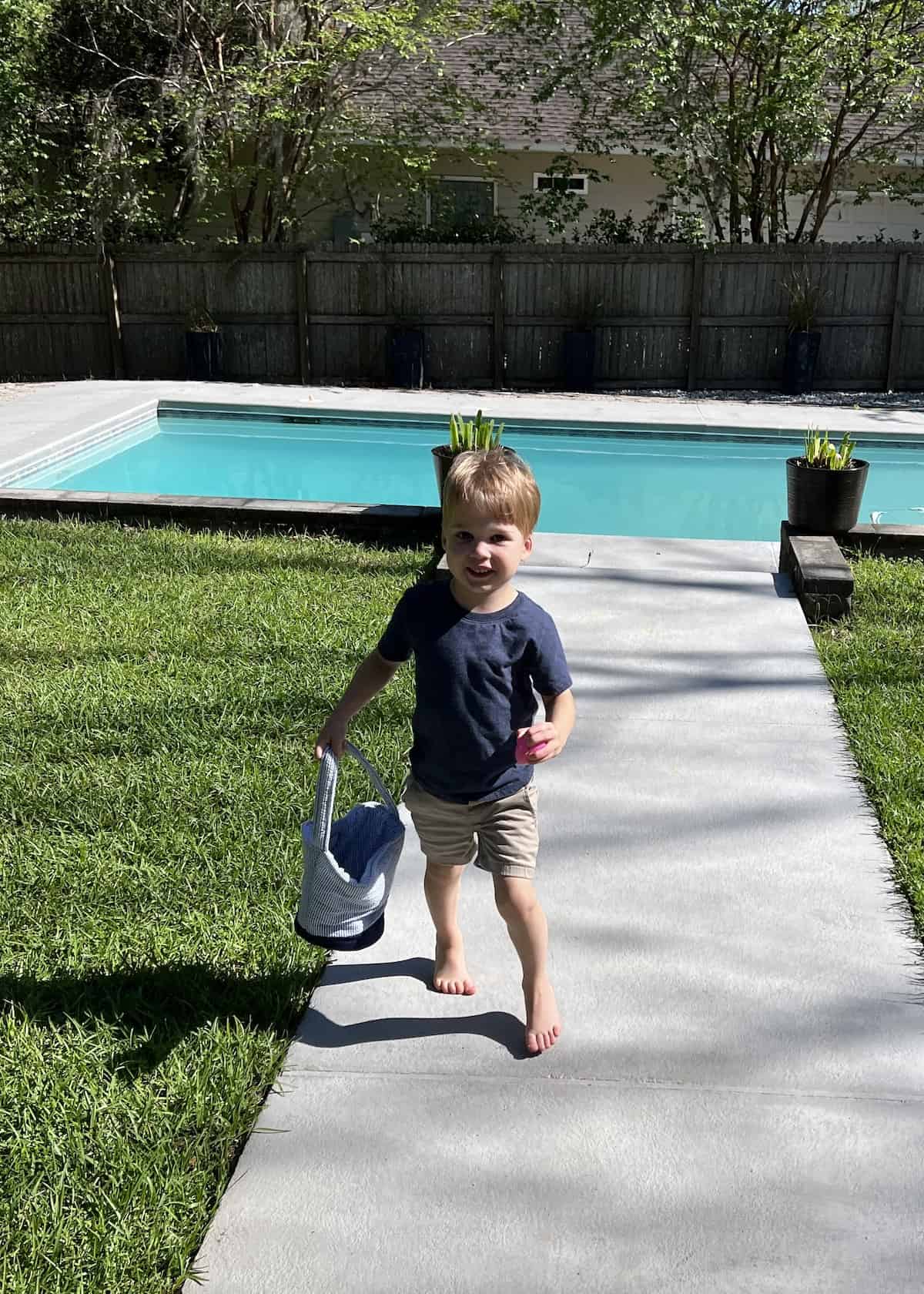 Tess really wanted to wear her Easter dress for the egg hunt and even though it was prior to Easter I let her wear it. She even wanted to wear a bow and carry the matching purse 😉 Love her style!
Kye is ALL about the coupon eggs. He is usually SUPER PUMPED about this egg hunt but I could tell this was the year that he was more going through the motions rather than being truly excited. I still caught a genuine smile in there though 😉
Britt cracks me up as she struggled the most with finding the eggs. I'd give super obvious hints like "BRITT CHECK THE BUSHES" and she'd still be unable to see the egg literally glaring at her!
Spear did a great job waiting patiently for the older kids to finish finding the well-hidden coupon eggs before everyone got to go through their baskets!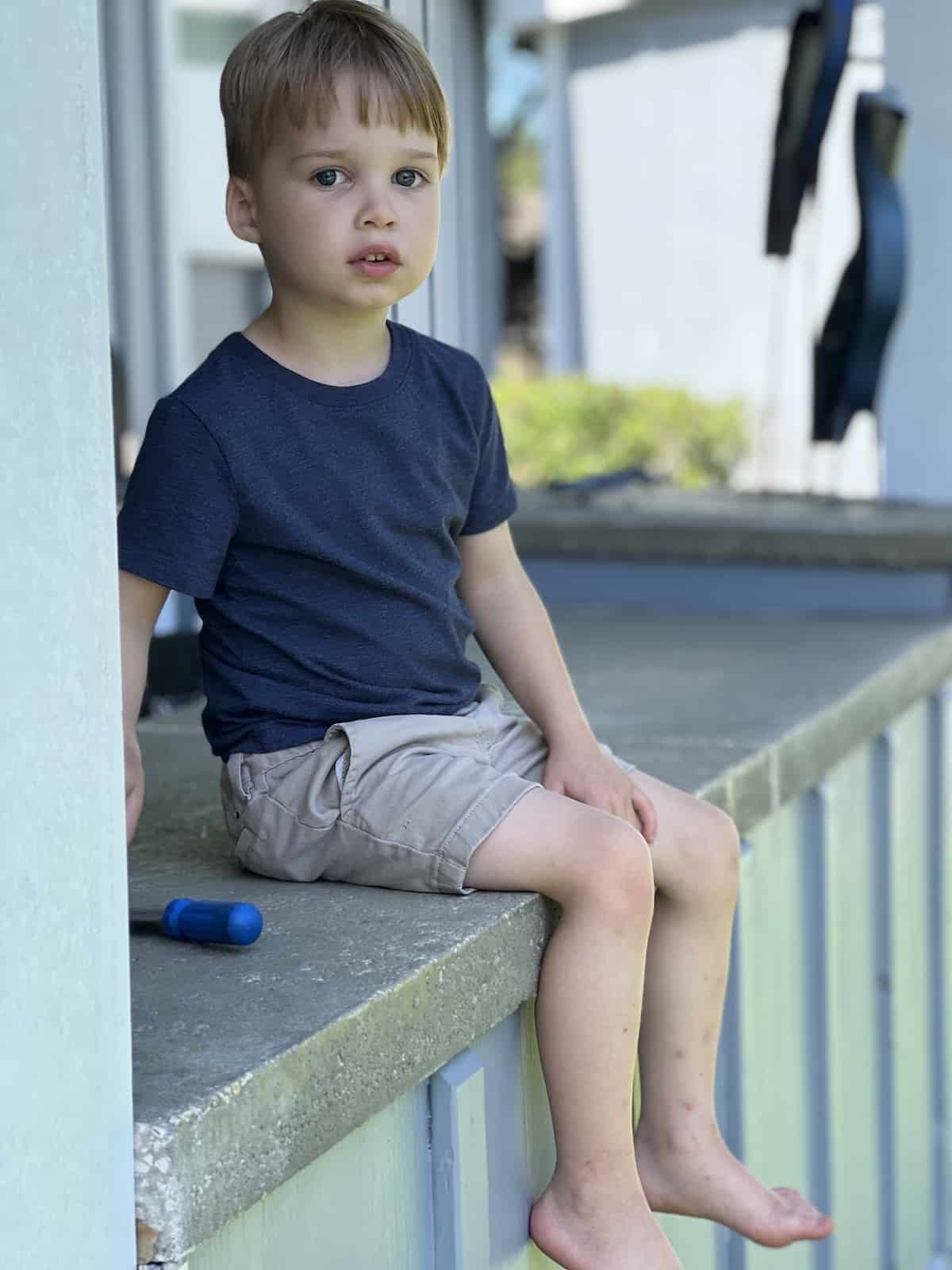 Each big kid had one big egg with a coupon in it that was a "copy cat" coupon. It allowed them to copy ONE other coupon! I figured that would help ensure each of them got a coupon that they truly wanted. I made coupons thinking of each of them and thought there may be an issue with the wrong kid finding the coupon that I'd "made" with another one in mind. The copy cat coupon was a good equalizer and insurance policy 😉
In true Mini-Emily fashion, the copy cat coupon caused Tess a lot of overthinking and struggling. She cried because she could NOT decide which coupon to copy! She felt overwhelmed by the decision and wanted everyone's opinion and insight and in the end decided to copy cat a milkshake!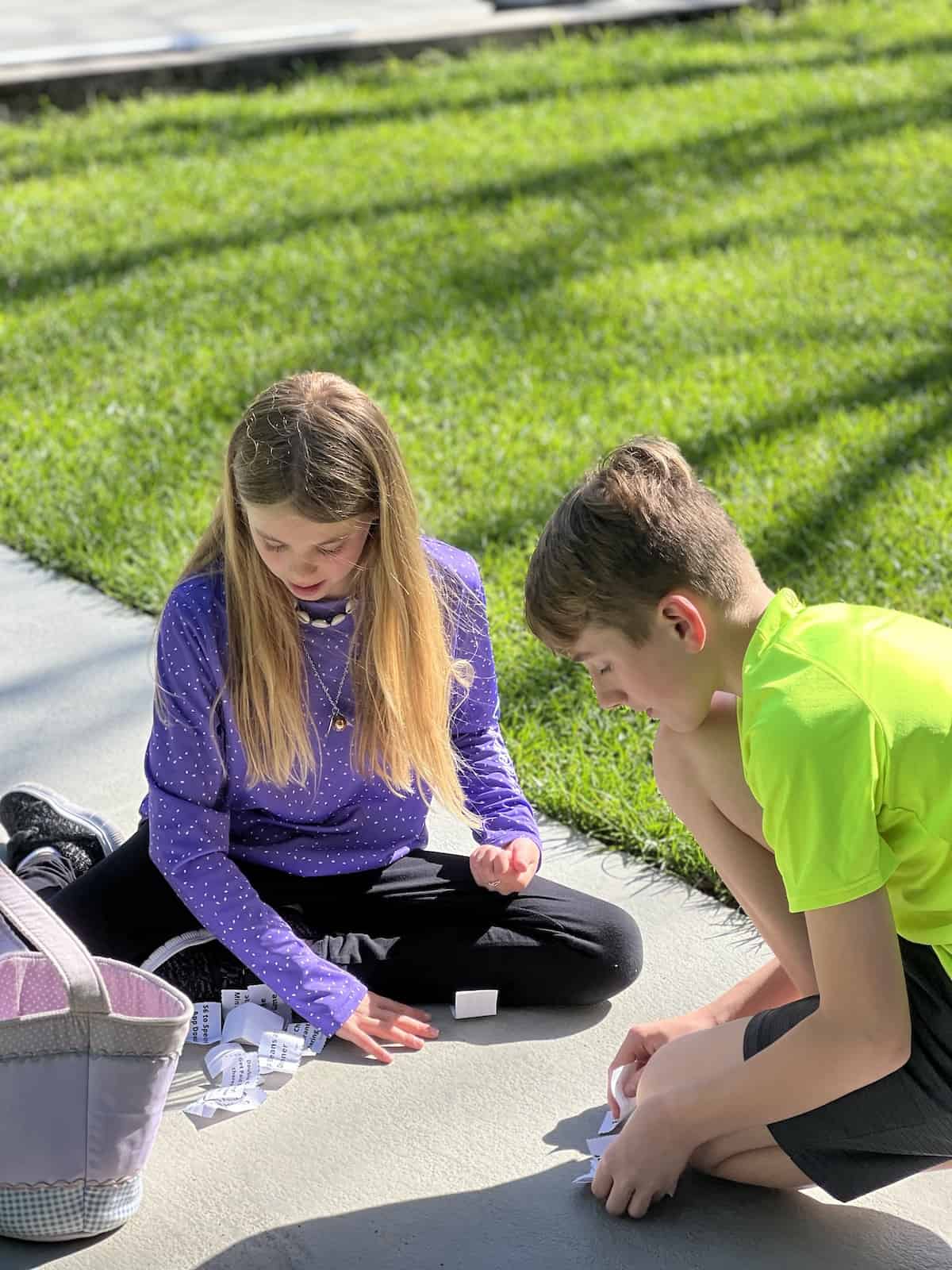 We had Spear's last preschool egg hunt and the last school event with Cam until HIGH SCHOOL! Spear has loved seeing Cam at the preschool and it'll be an adjustment for them to be apart next school year. I was thankful Zach was able to come for the hunt and G-Mama came too!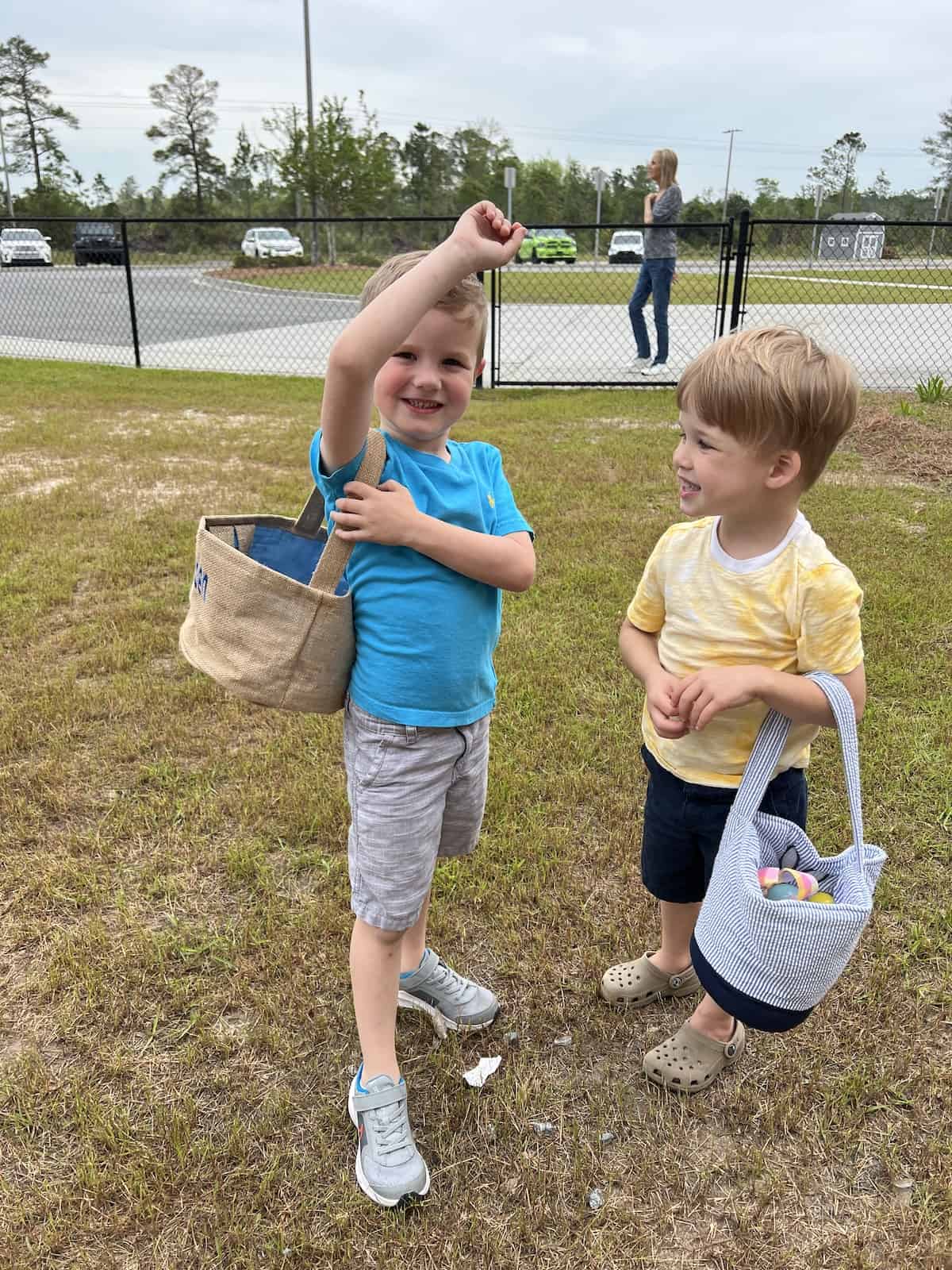 We tried a new method of coloring eggs this year and it added some fun to the decorating. The kids always enjoy drawing on the eggs prior to coloring them. This year Kye was old enough to handle the dying part of things which helped him be a little more engaged 😉
Tess was so cute wanting her egg to be a surprise! Spear also saw through the entire project and didn't run off to go play like he usually does!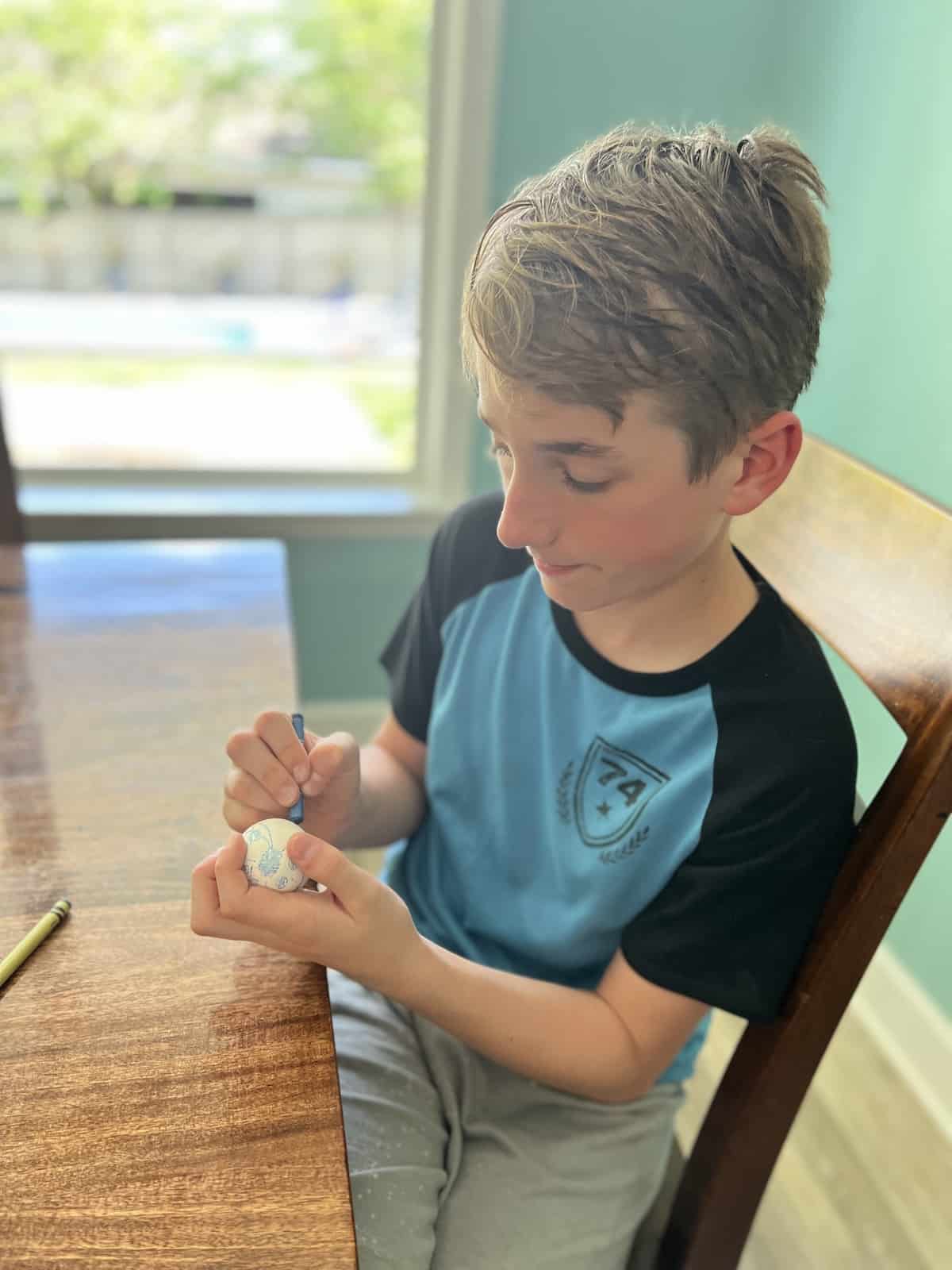 We attended Aunt Katie's annual egg hunt and it was a beautiful day for it! Robyn's crew were able to come this year which was nice to get to see them. Katie does a big egg hunt for the kids with a few golden eggs and Kye and Britt were on a misson to find them while Spear insisted on carrying around a stick the entire time he hunted (pretty sure that slowed him down).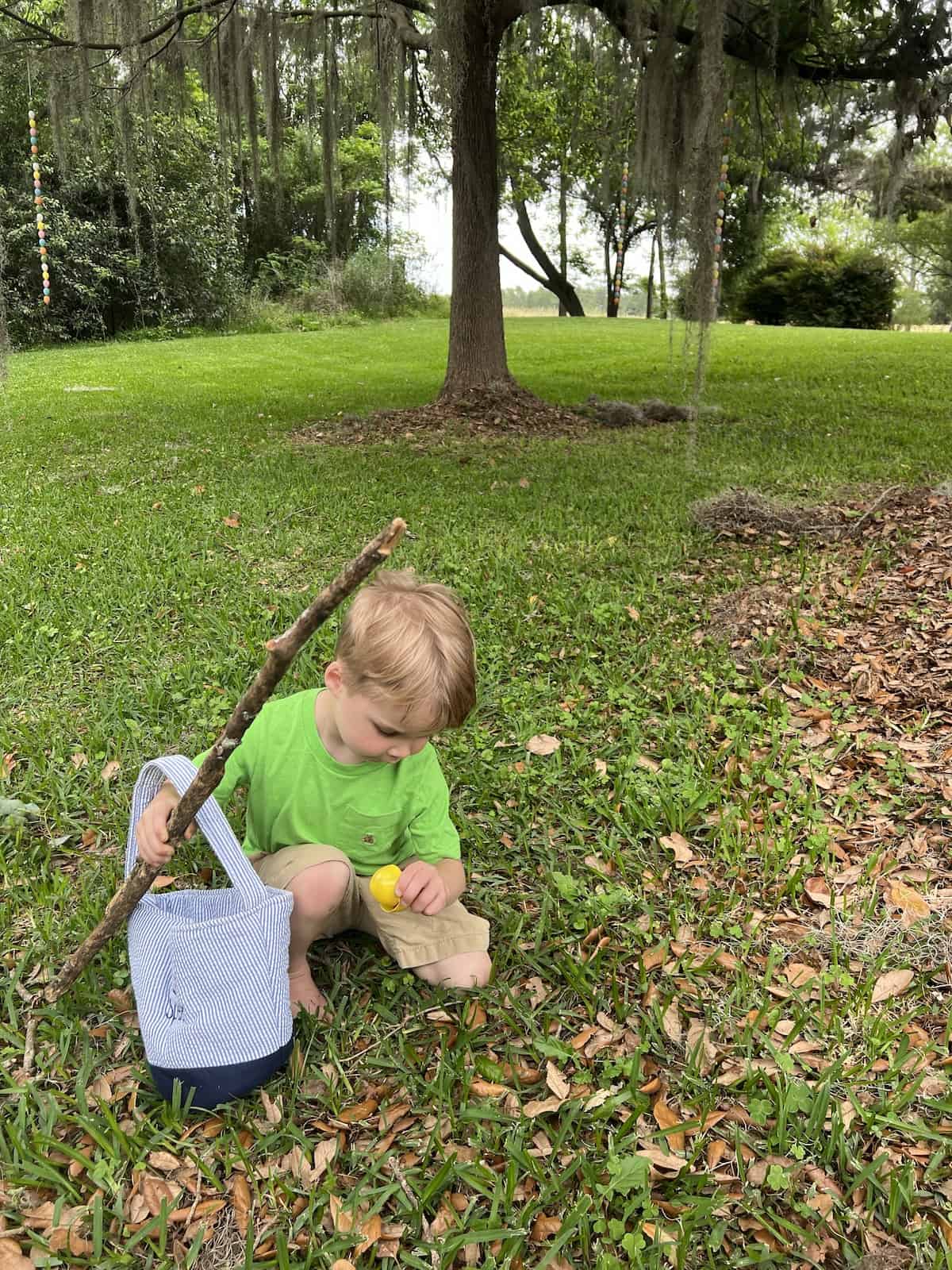 I love all of our Katie and Emily moments – these candids pretty much sum us UP! 🙂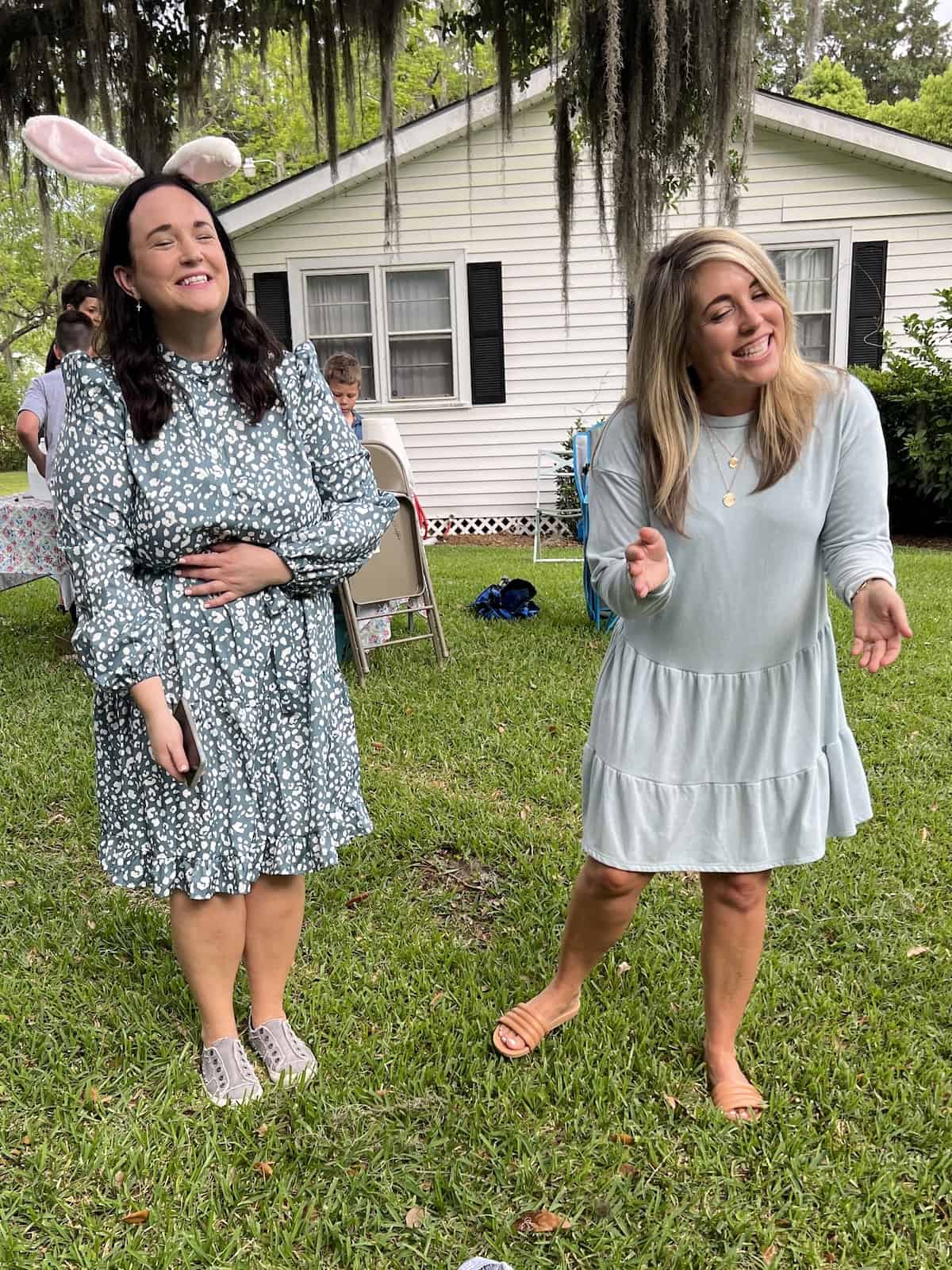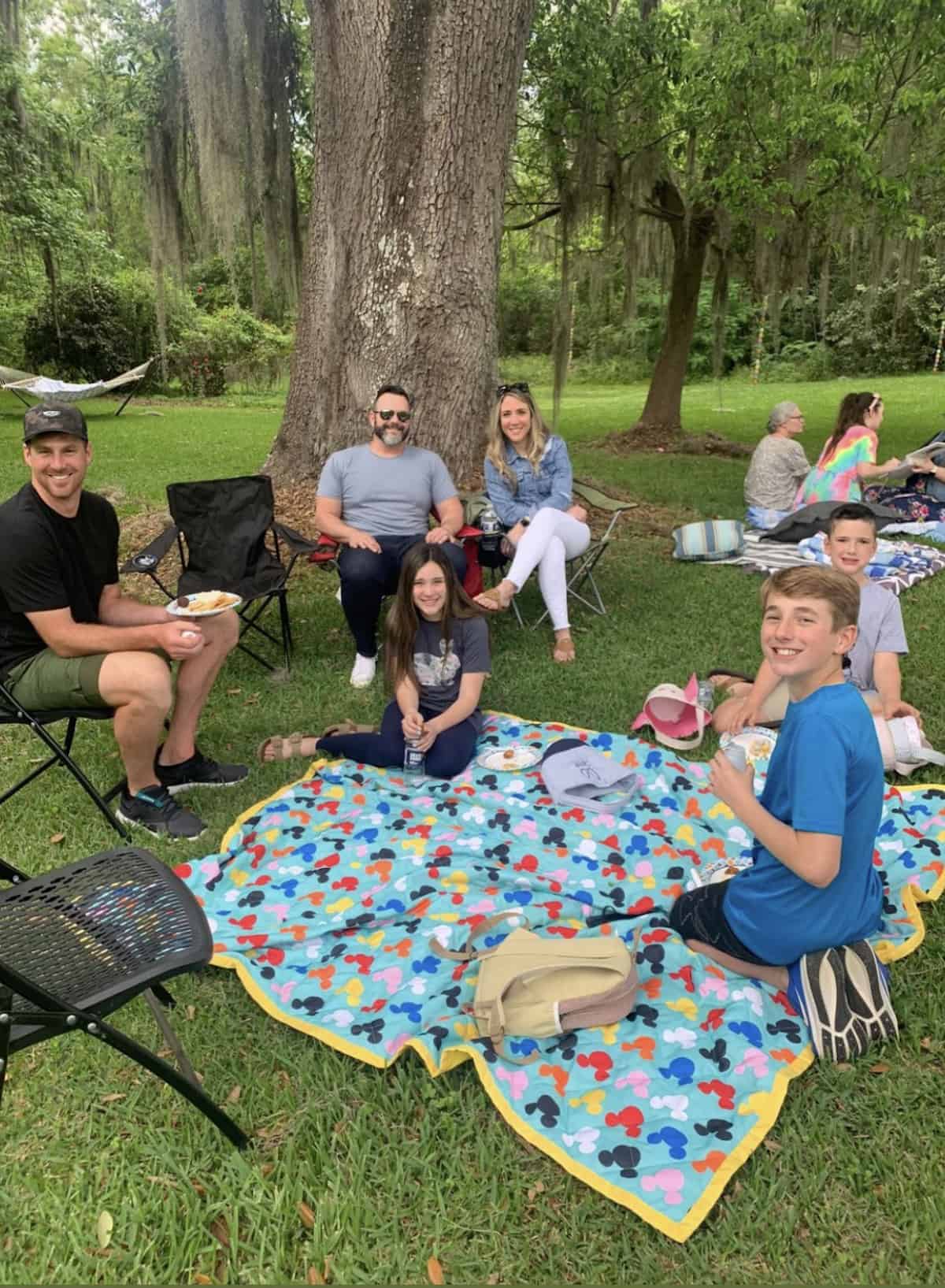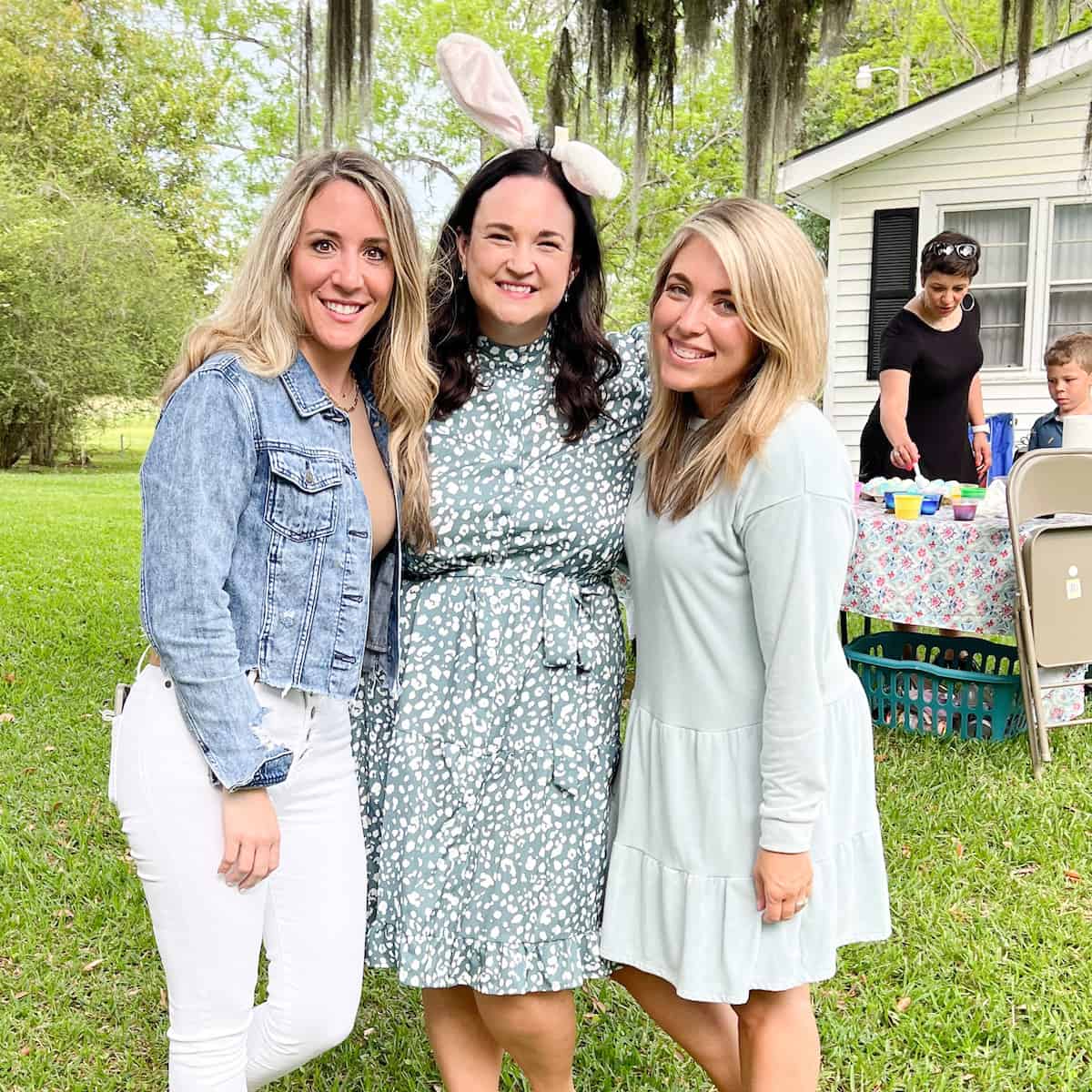 The Easter Bunny always hides an egg in our shoes and it's the first egg the kids find when they wake up on Easter morning. We always have them all gather down our hallway before they are allowed to go hunt (for our new house I actually ADDED a spot for this bench on our house plans to make sure we still have a "sit and wait" spot for holidays!).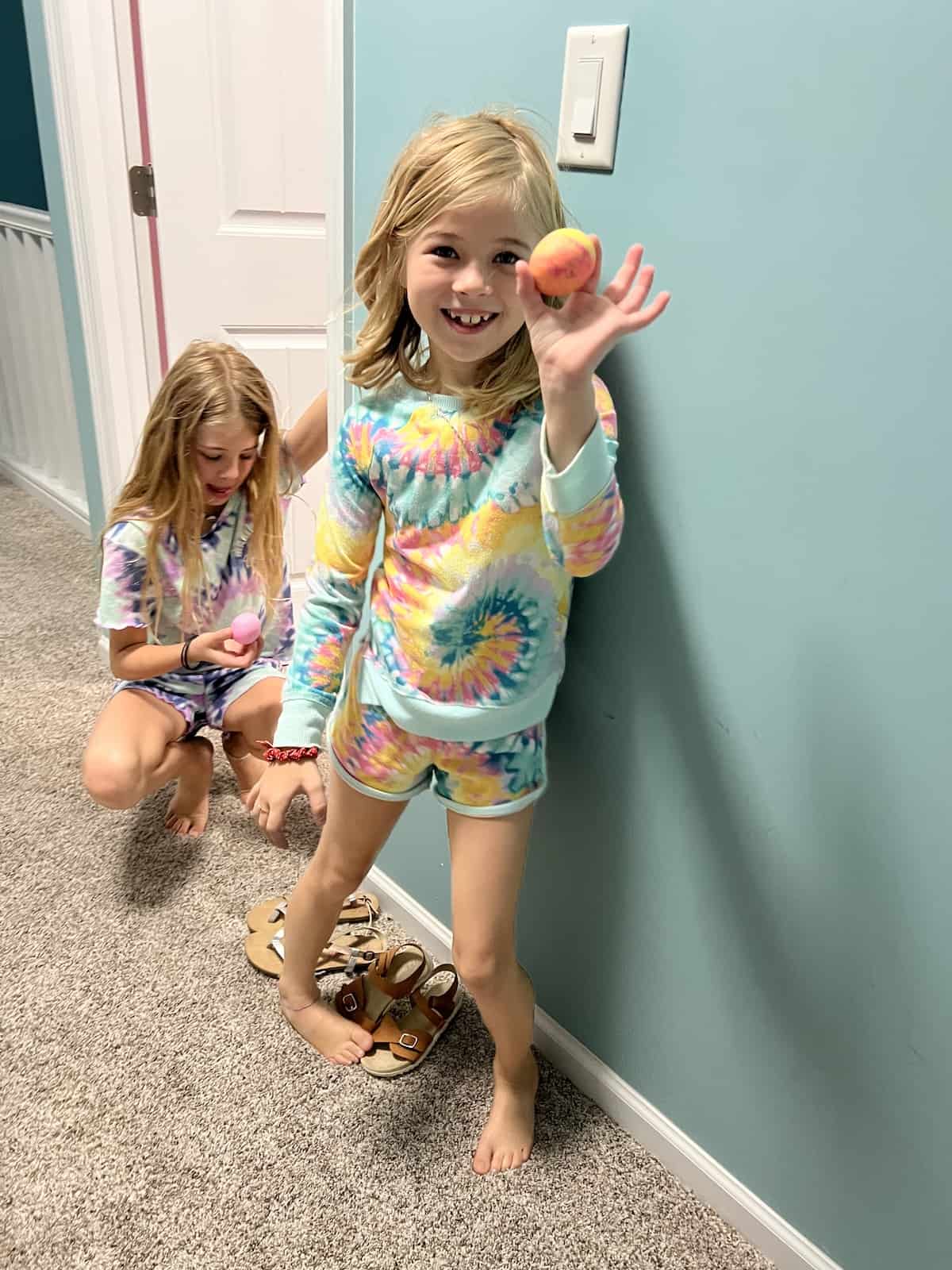 SO fun having the kids all old enough to participate. The Easter Bunny keeps it SUPER low-key. The only eggs hidden are the ones we dyed and they are always hidden in the living room area. So it's a quick hunt 😉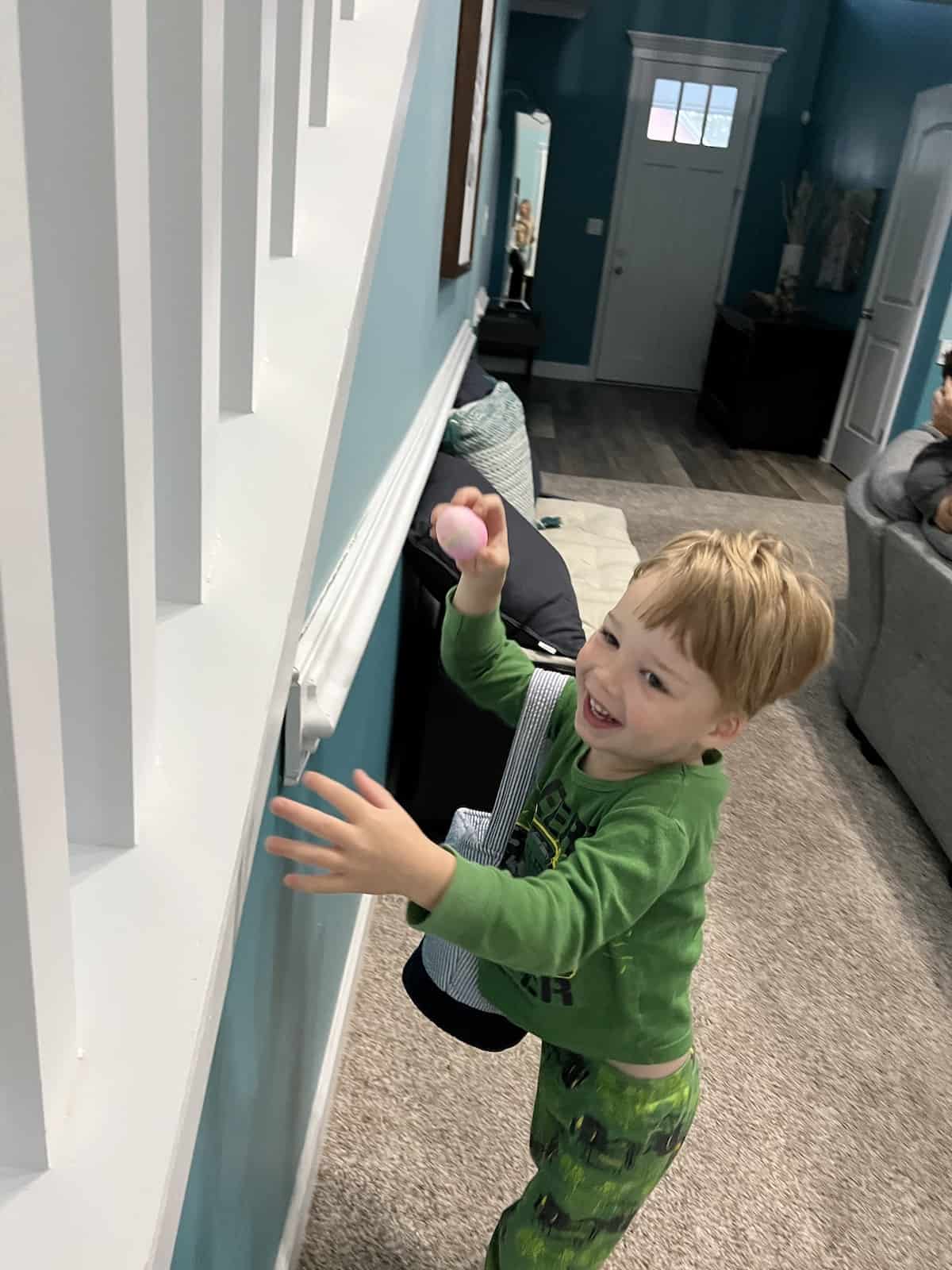 Then the kids line back up down the hallway and I go retrieve their baskets! The Easter Bunny puts them in front of the fireplace but I put them up and then bring them back out after the hunt 😉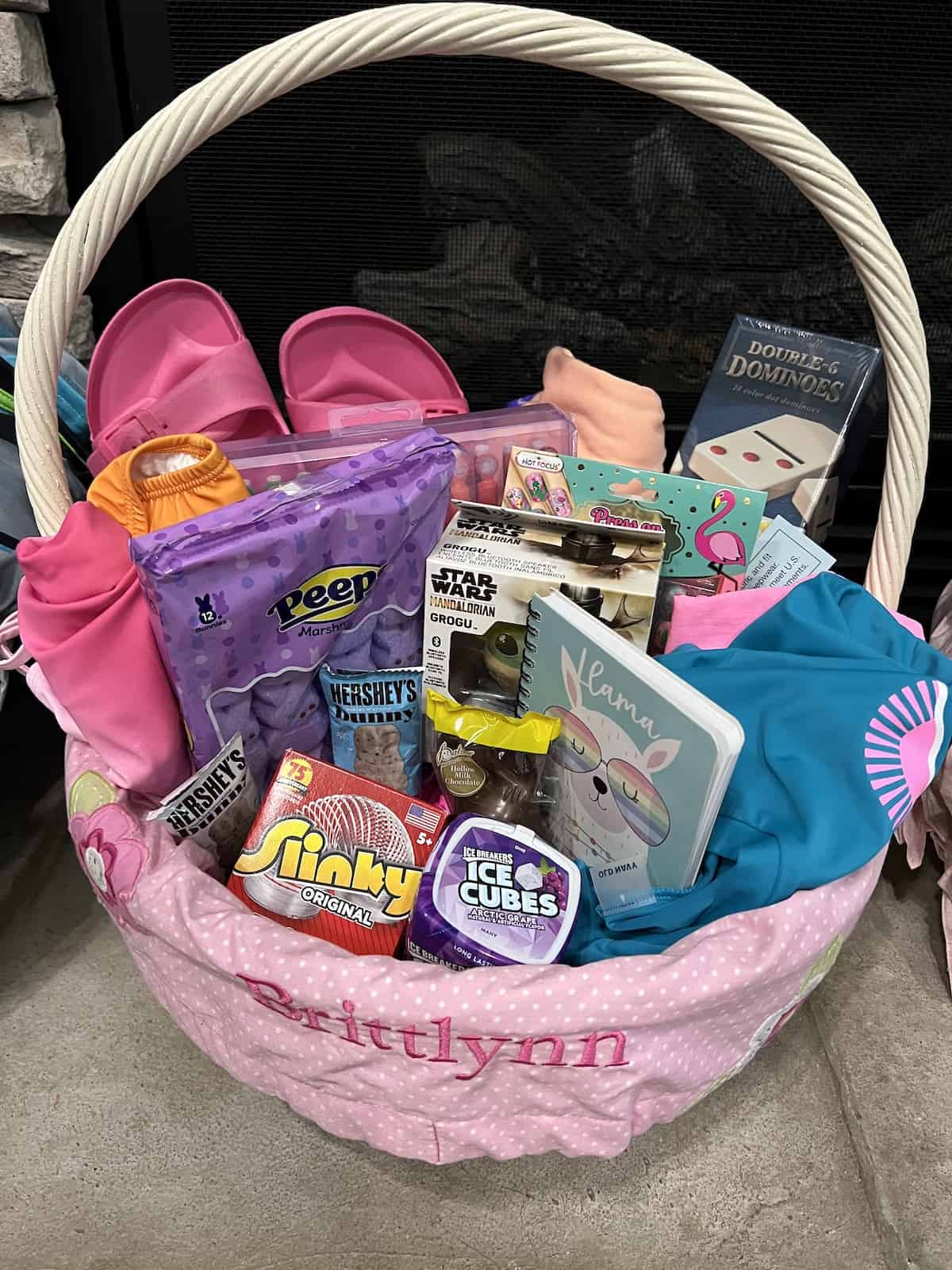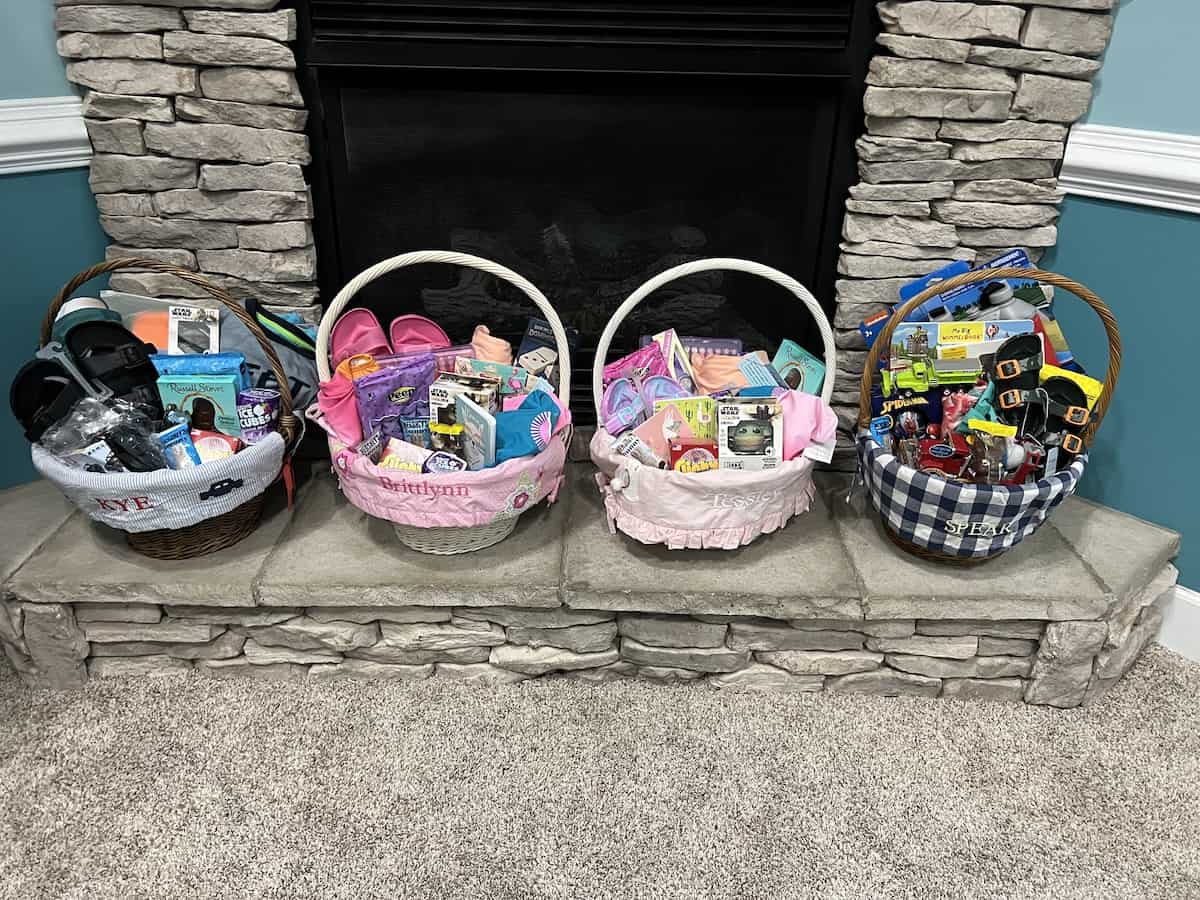 All the goodies!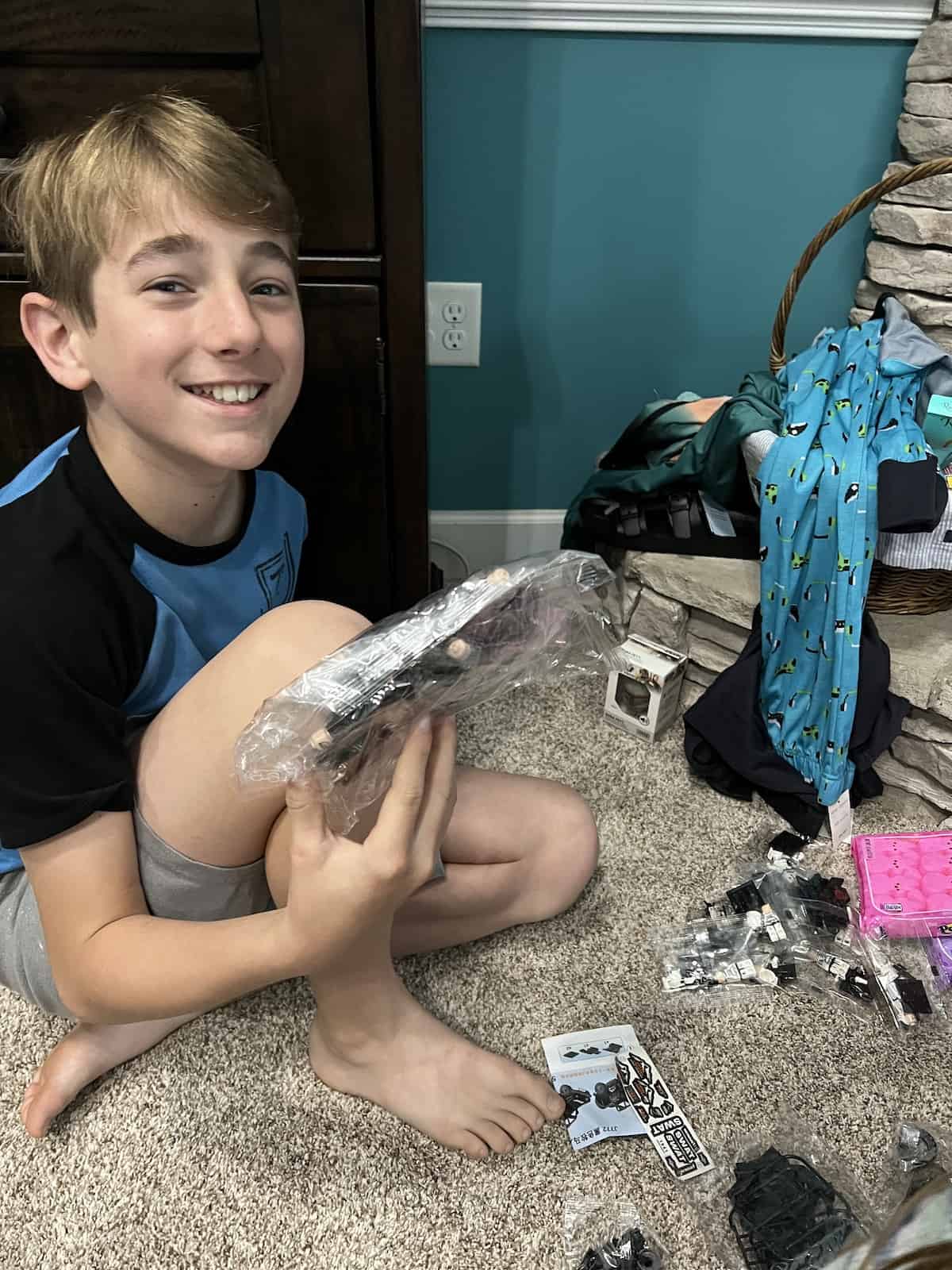 It was SO funny at church to arrive matching with one of the elder's wives! Guess she has good taste 😉
We attended our church for services and then drove out to Mema's to celebrate with the family and then BACK to our church for evening worship and a final egg hunt. Whew it was a fun-filled day!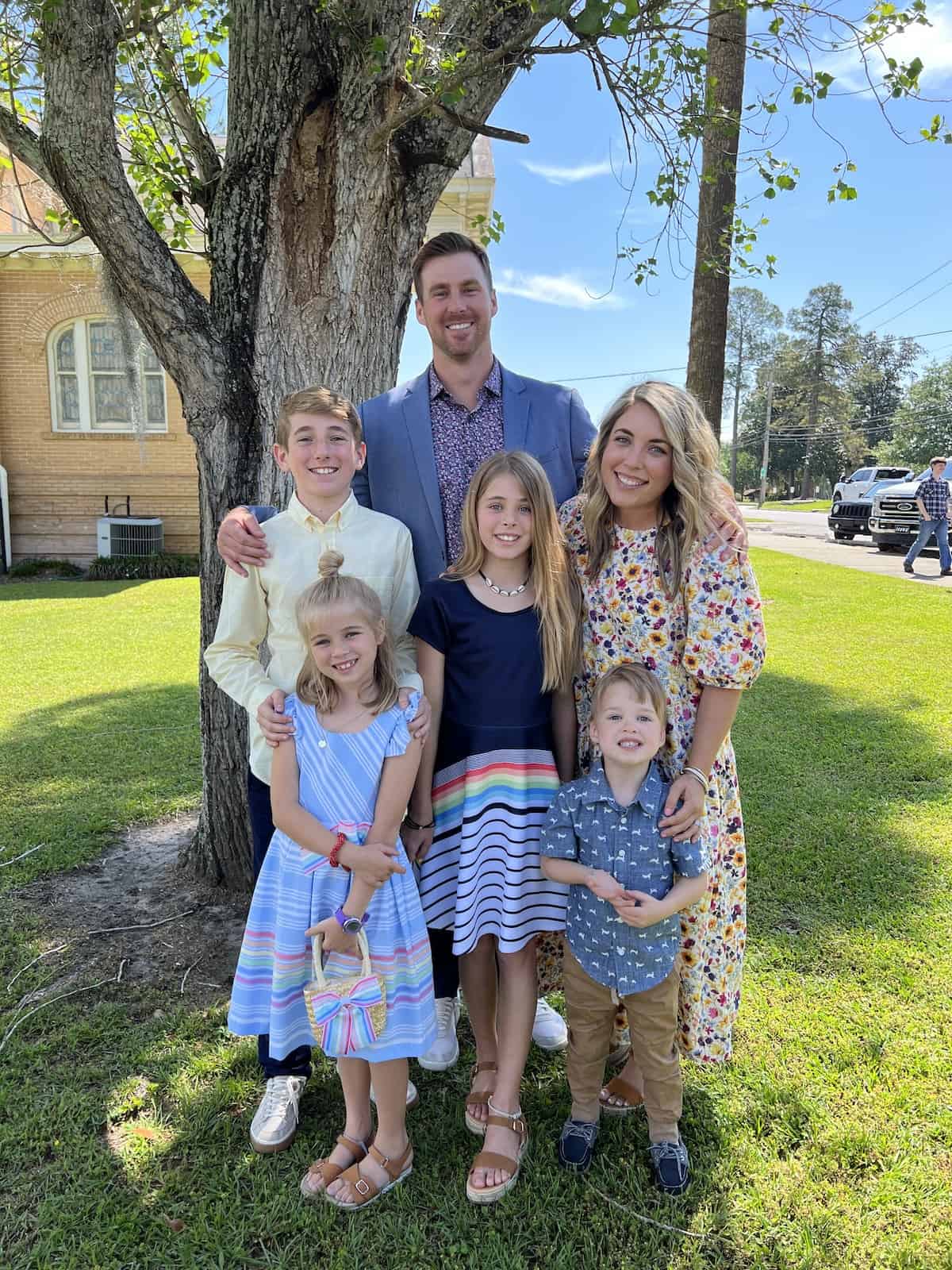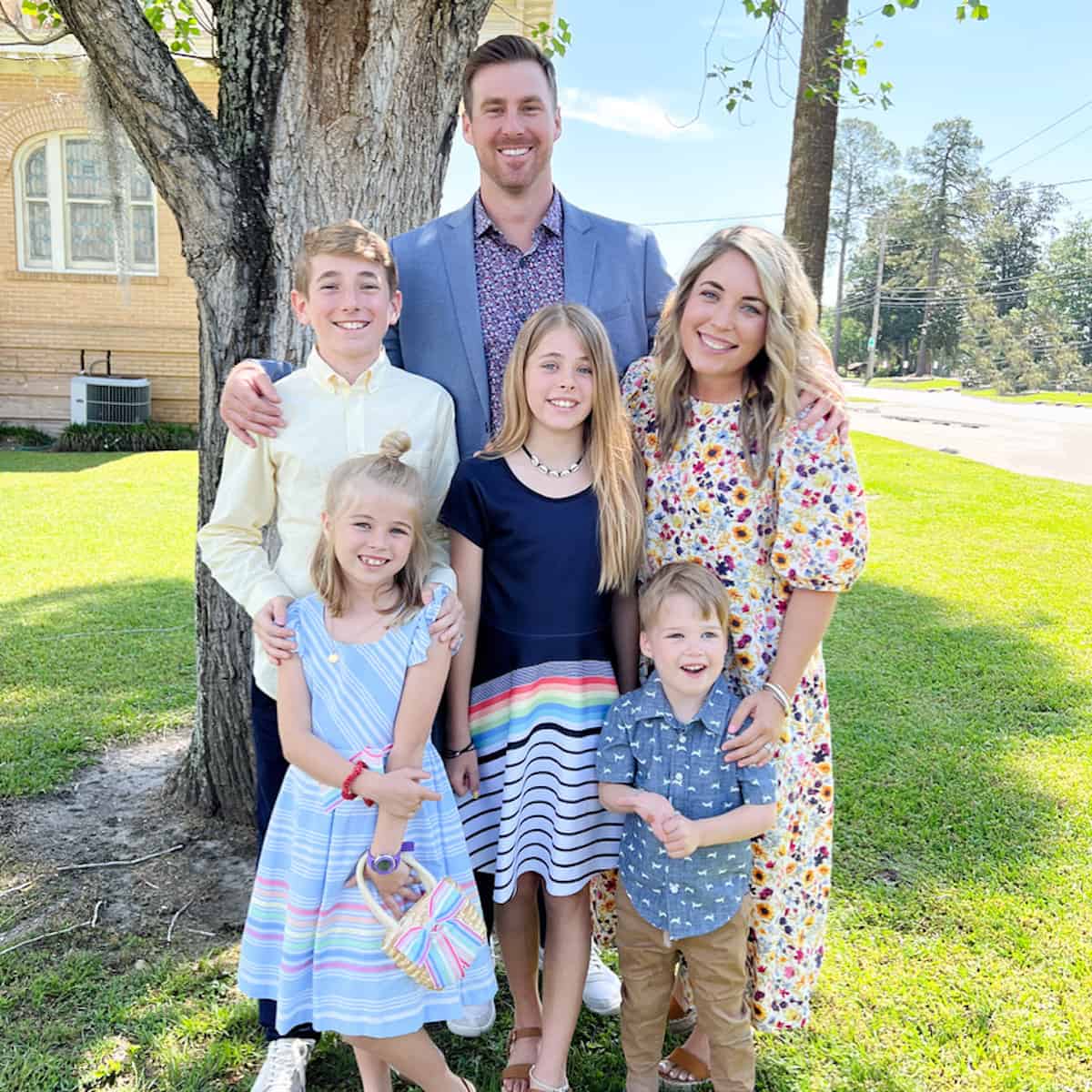 Sweet Jolee brought crafts for the kids while we hunt out at Mema's. It was the first year that the big cousin egg hunt was not including the three older cousins. They decided they were too old for it!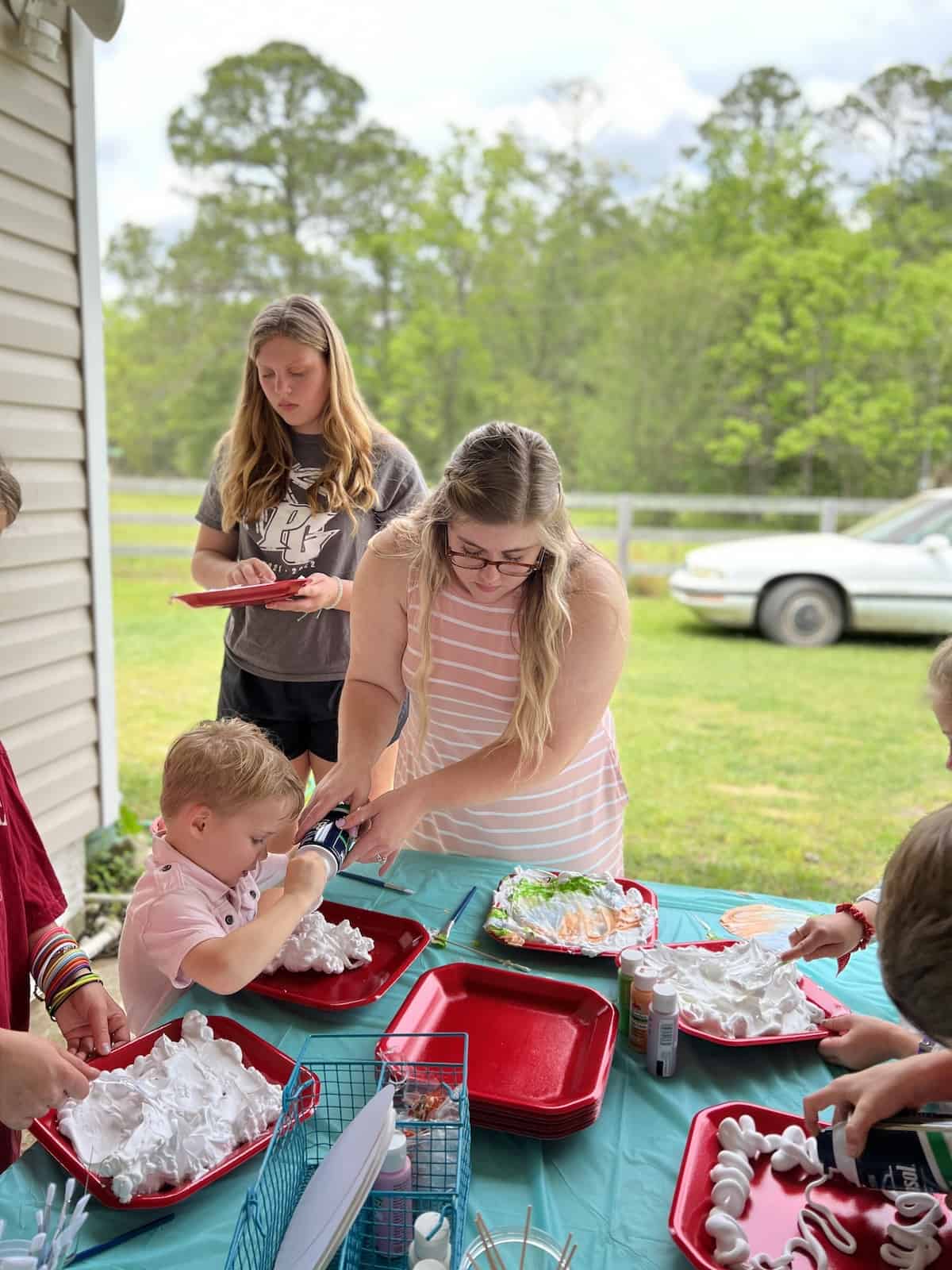 We still have plenty of younger cousins down for hunting though and the older ones still wanted to help!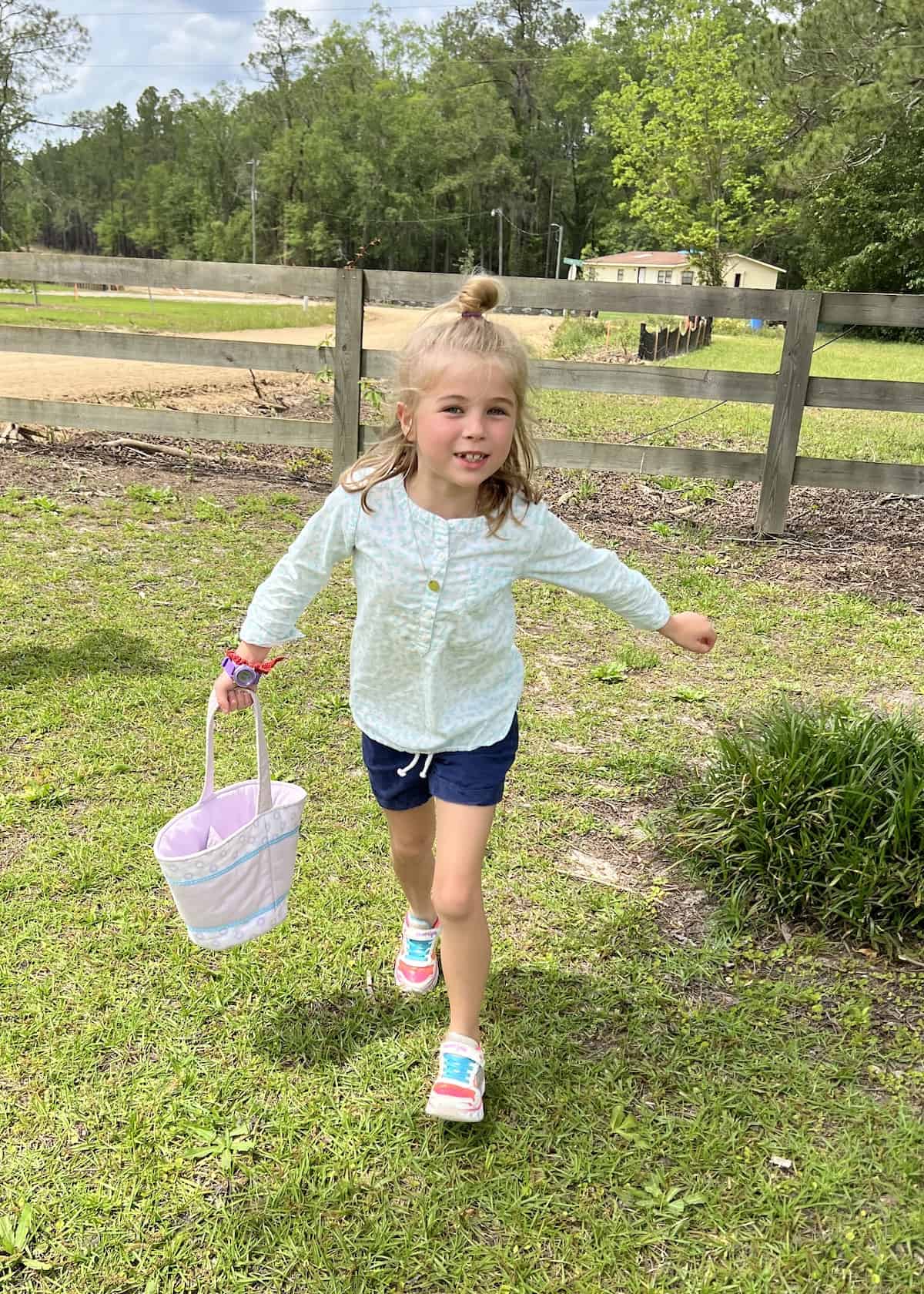 Mr Rusty and Mrs Charlotte are in the process of building their forever home and we were able to walk over and check it out for the first time! So incredibly excited for them and the many memories to come!
The drive from Mema's back to church is about 40 minutes and Spear snoozed the whole way. Tess cracked me up with the marker on her face – can you tell the Easter Bunny brought her scented markers?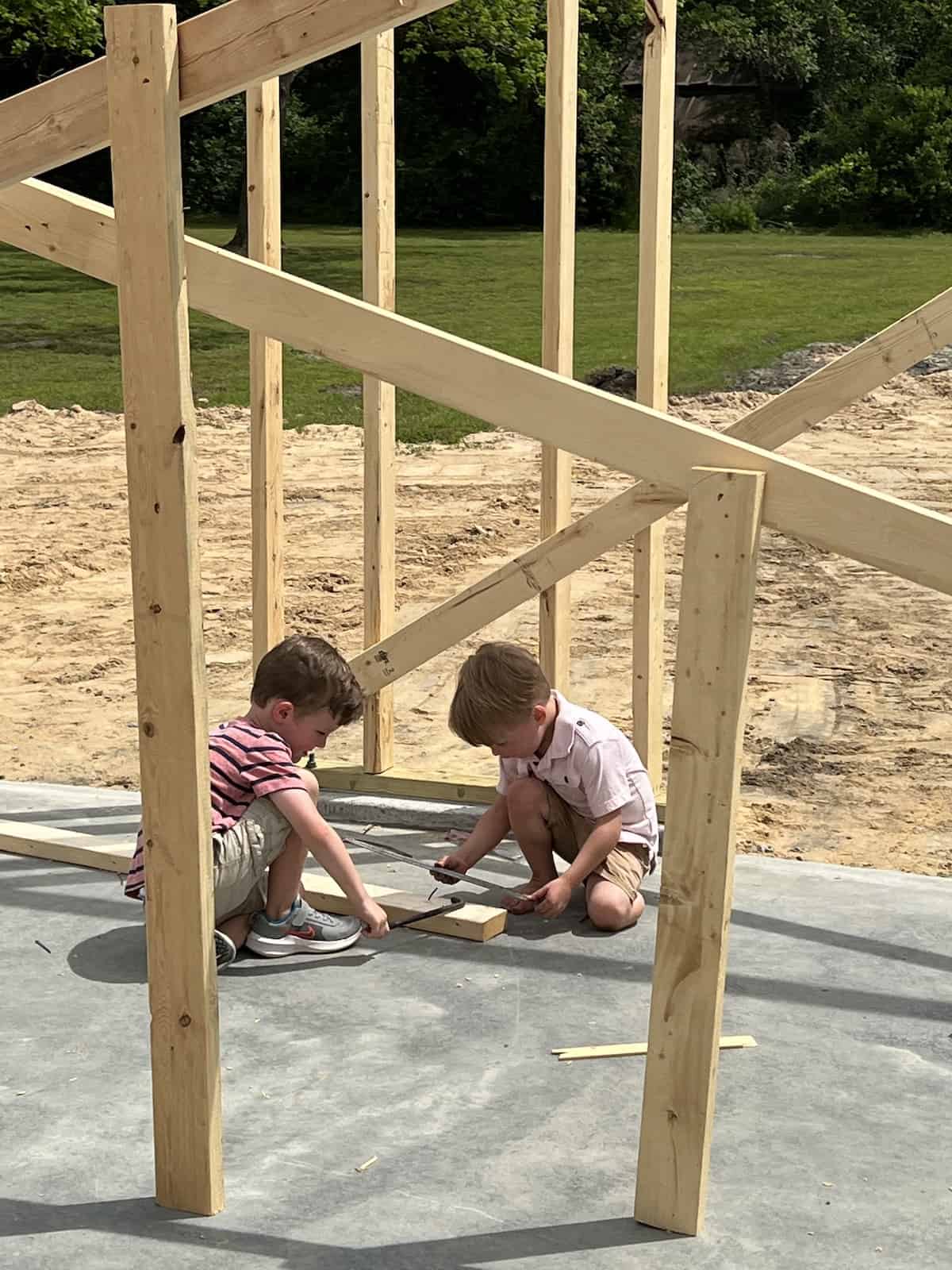 We got back to church for evening services and another egg hunt! And as if we didn't have ENOUGH egg hunts this year Tess also wanted to do her own egg hunt for her siblings so she filled 64 eggs with candy and treats for that too 🙂
Another fun Easter year in the books!