Britt loves Bibbidi Bobbidi Boutique. She has had her makeover done for both her 5th and 6th birthdays and wanted it done again as part of her birthday gifts for her 7th birthday too.
We did the location at Cinderella's Castle for the first time for Tess's birthday recently and all agreed, it was a cool experience but we prefer the location at Disney Springs!
It's MUCH easier to get a reservation at the Disney Springs location (because it's much less popular!) and I booked Britt's spot for 10 am to allow us plenty of time at Cape May and drive and walking time to get to their location at Disney Springs.
Disney Springs is, just like the rest of Disney, super pretty at Christmas time. It's also FREE to visit Disney Springs so if you're in the Disney area over the holidays I'd be sure to check it out!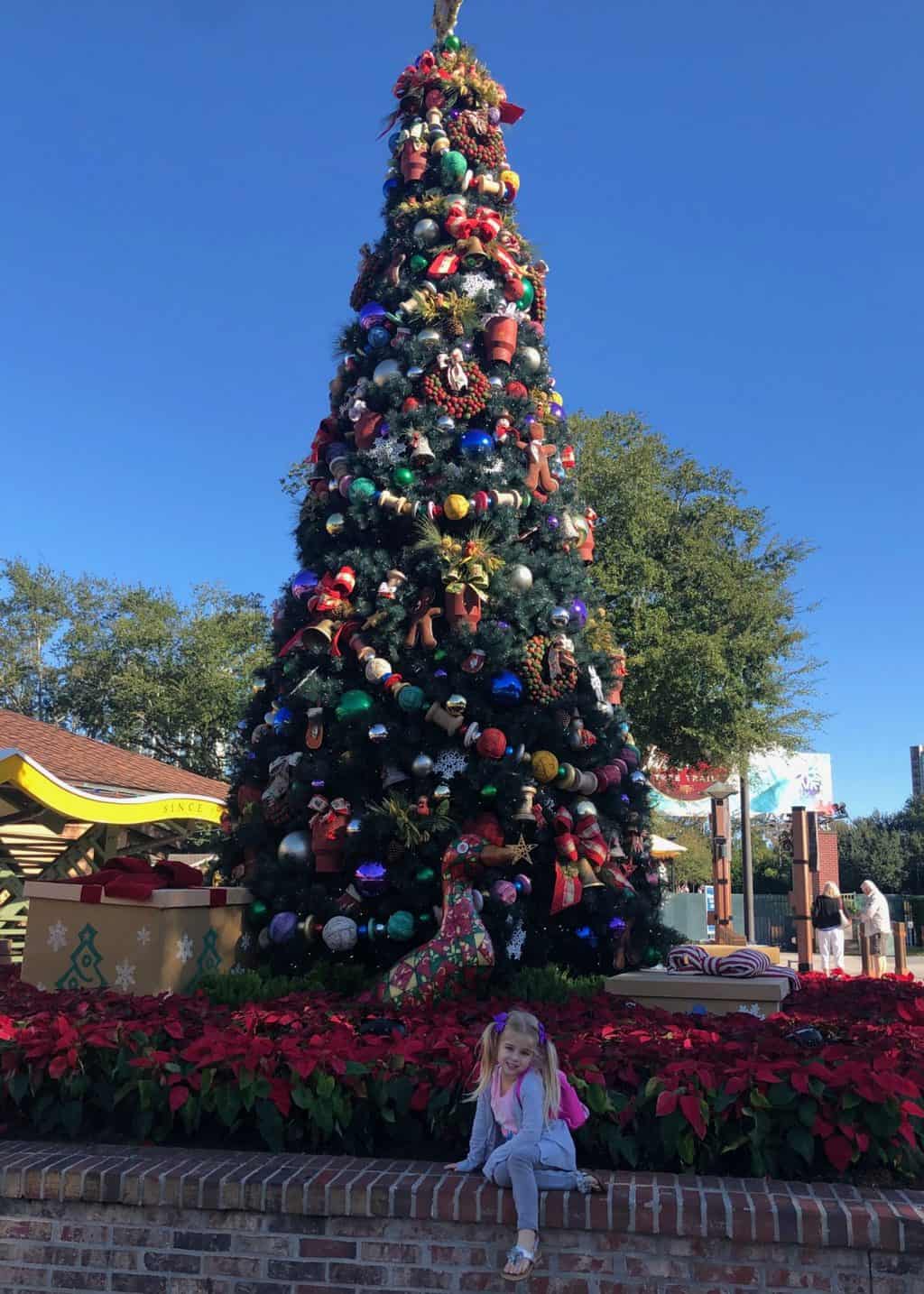 We had a bit of time so we headed into the Lego Store. Kye has been saving up his money for a certain Lego set and we were hoping since it was Black Friday that maybe it'd be on sale. It wasn't!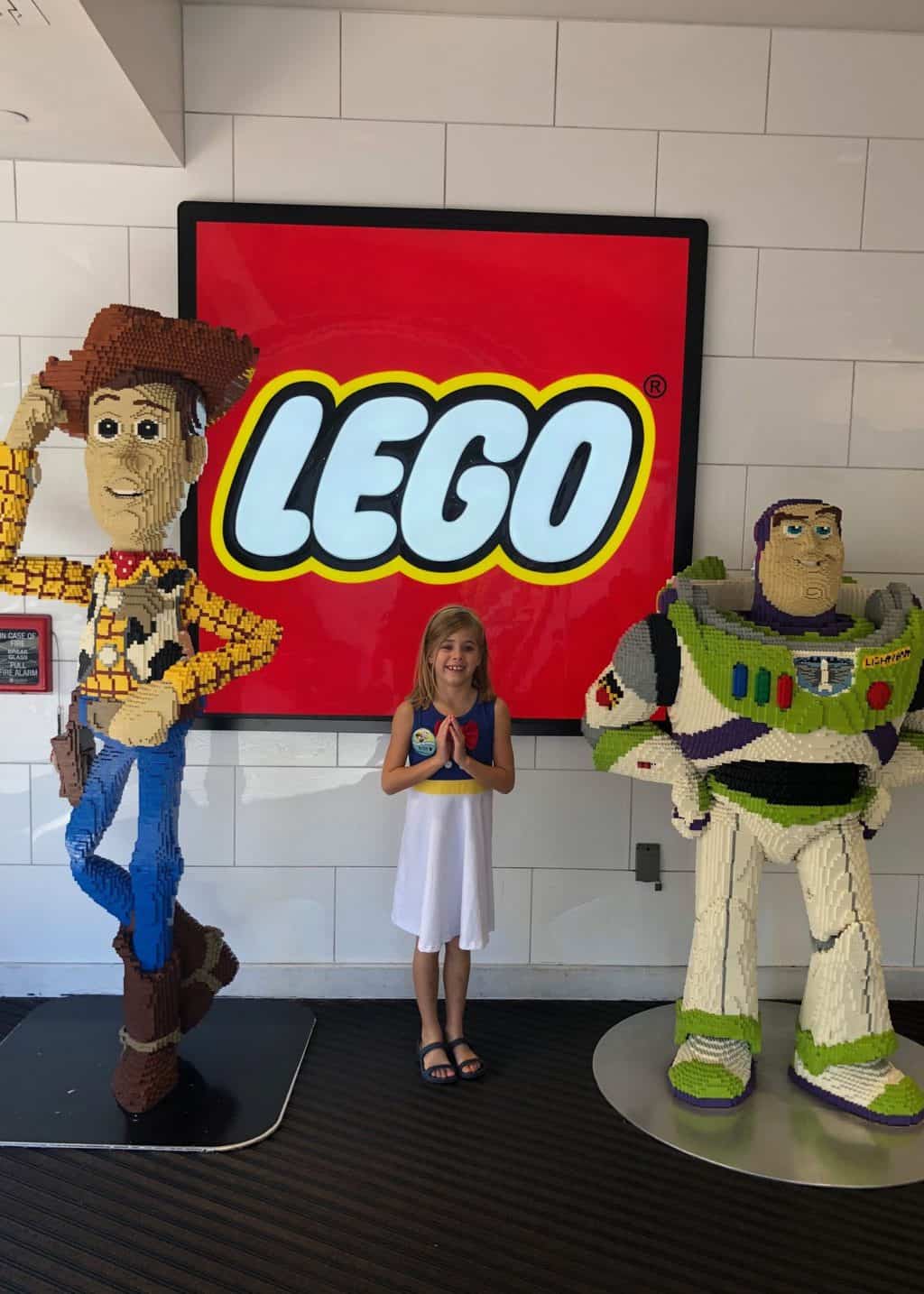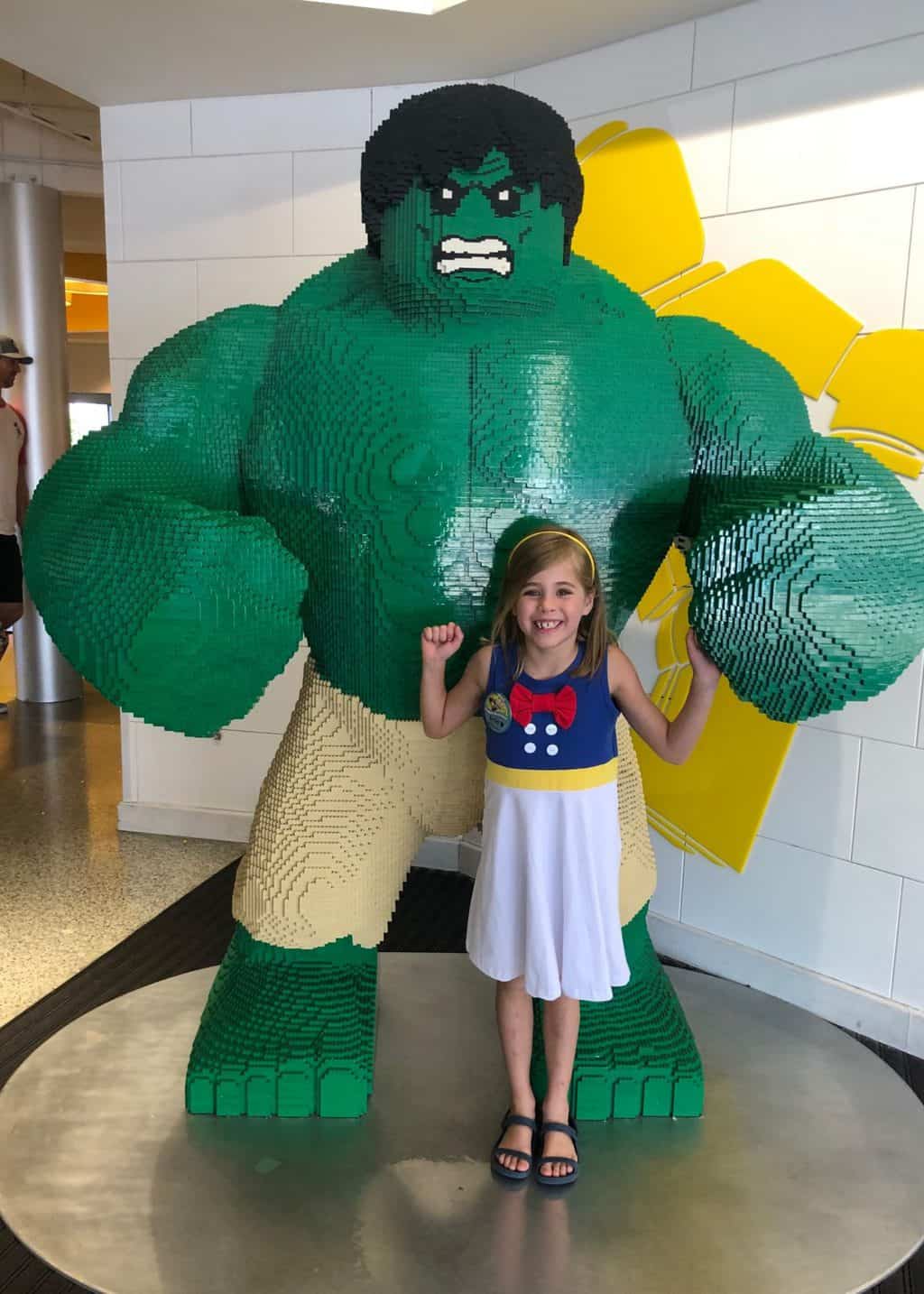 We also went ahead and let each kid choose their pin for the trip!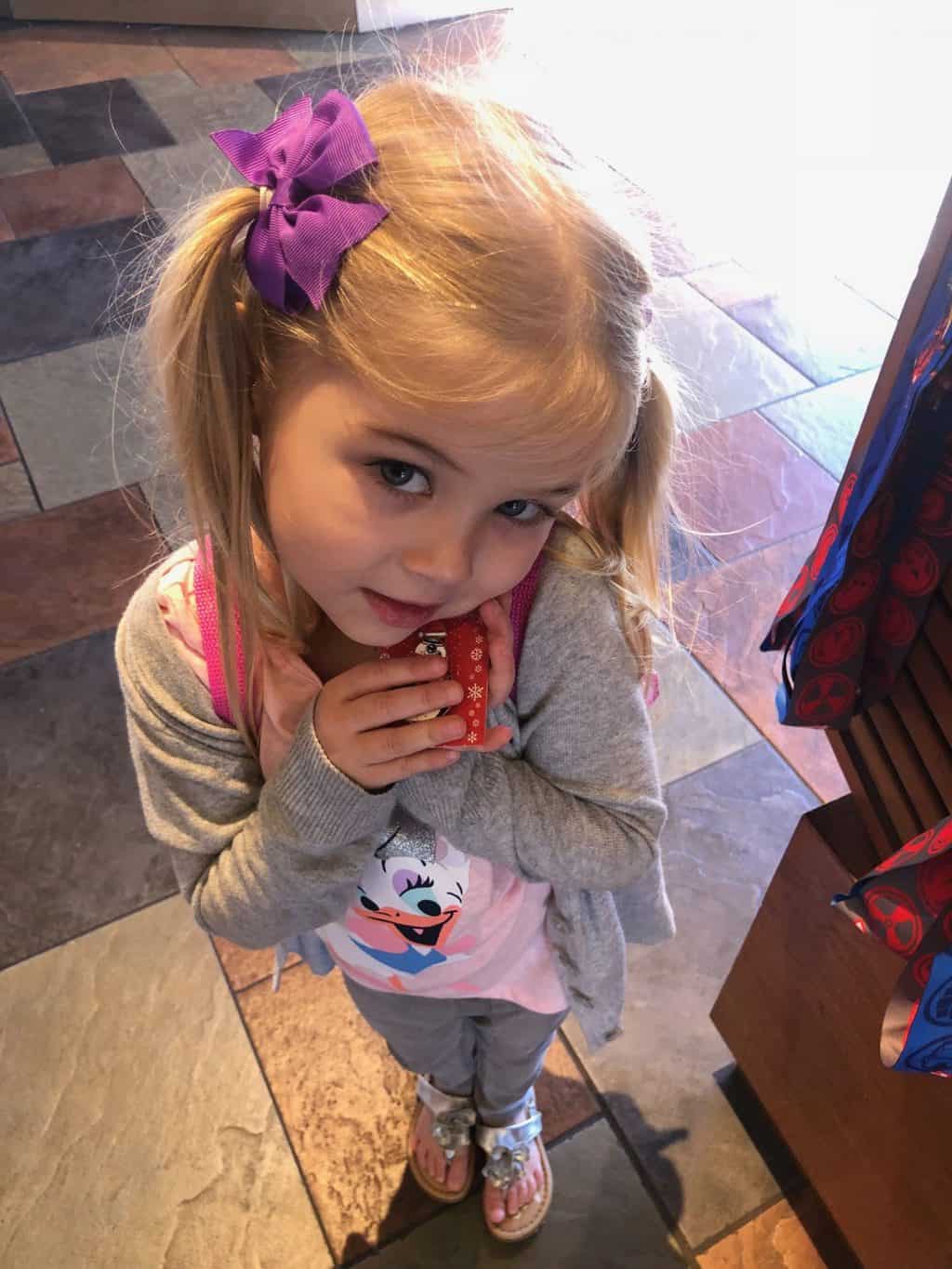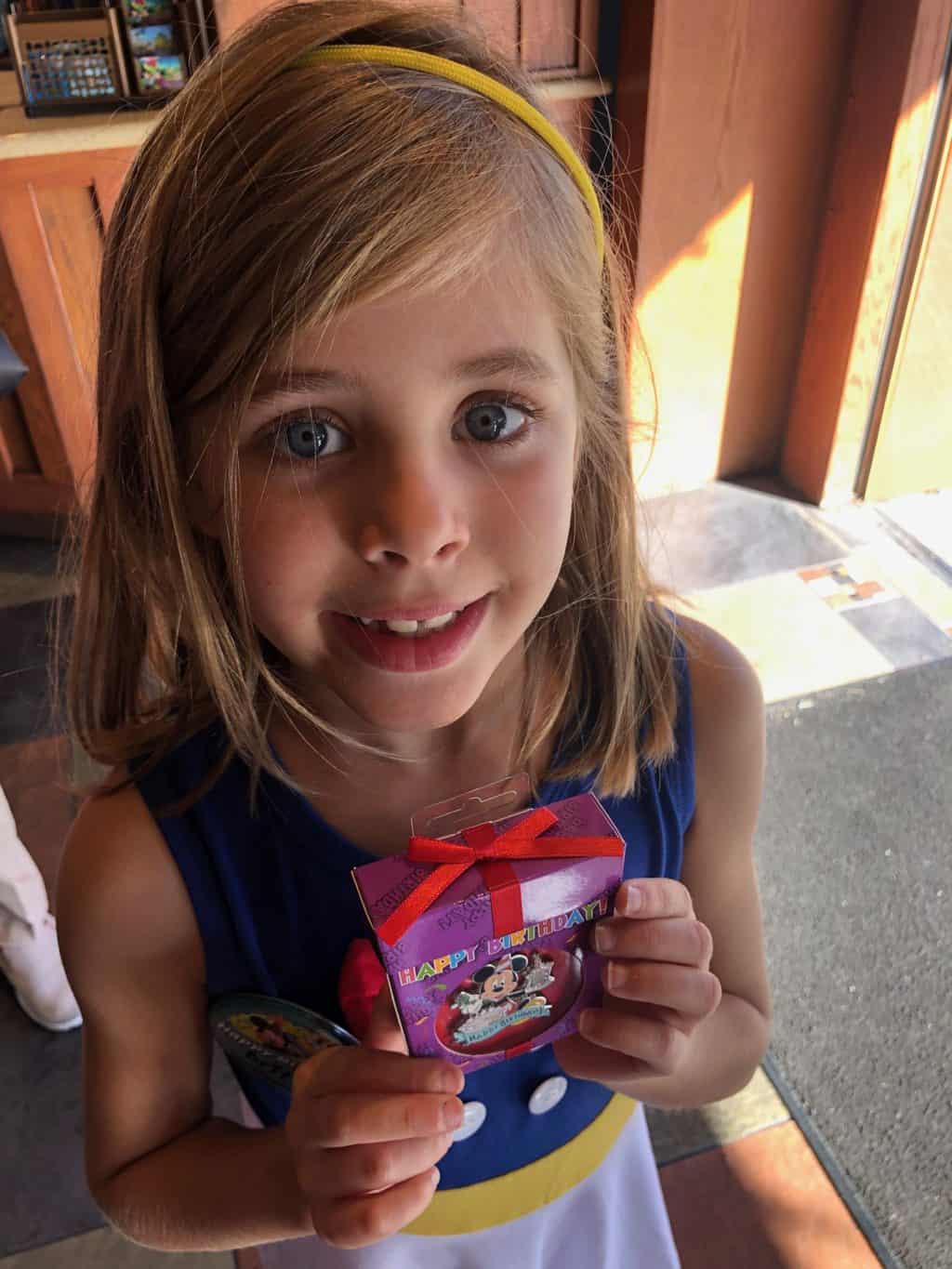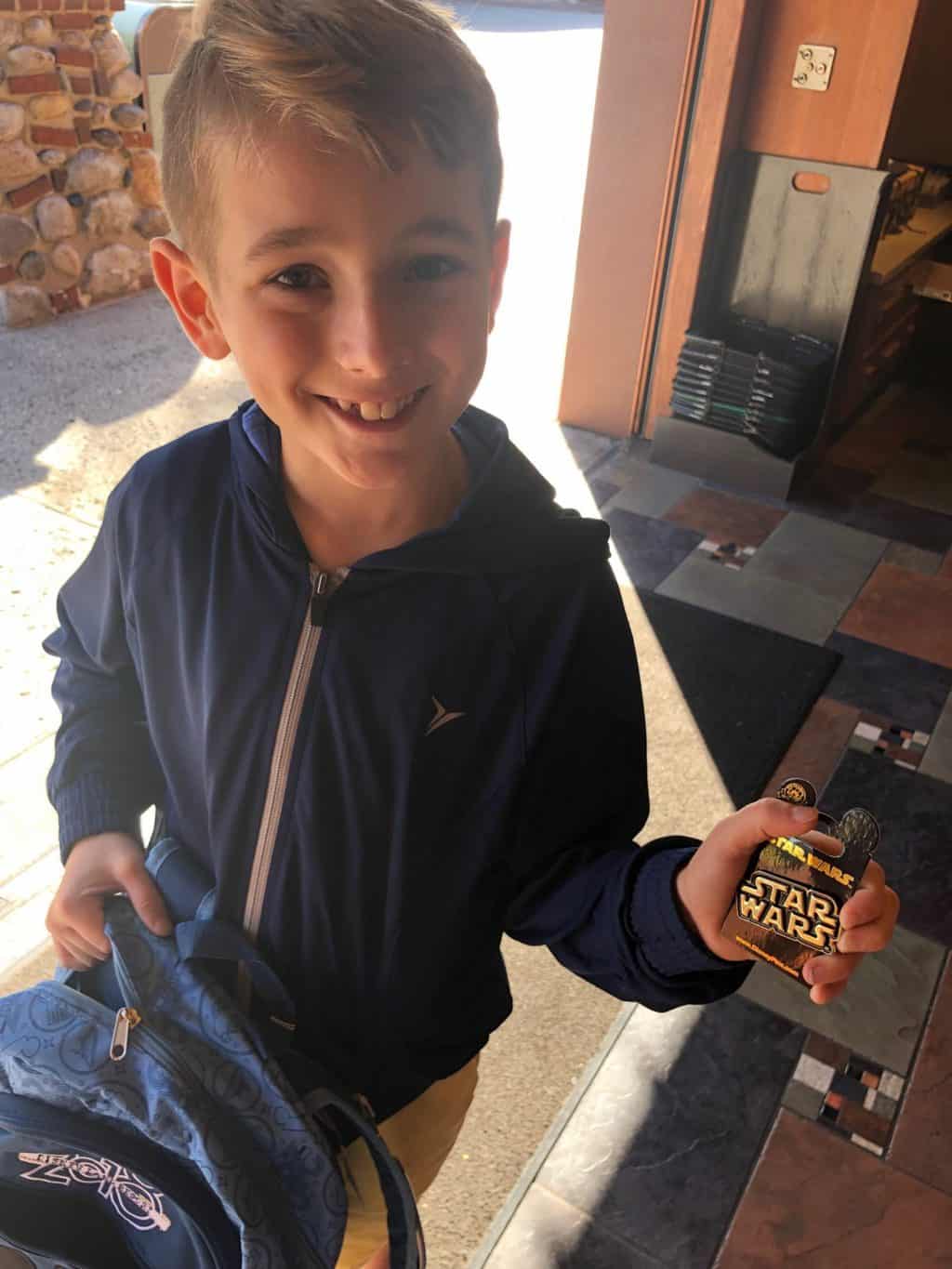 I couldn't resist getting Spear both a Christmas themed Stitch one and a Birthday one!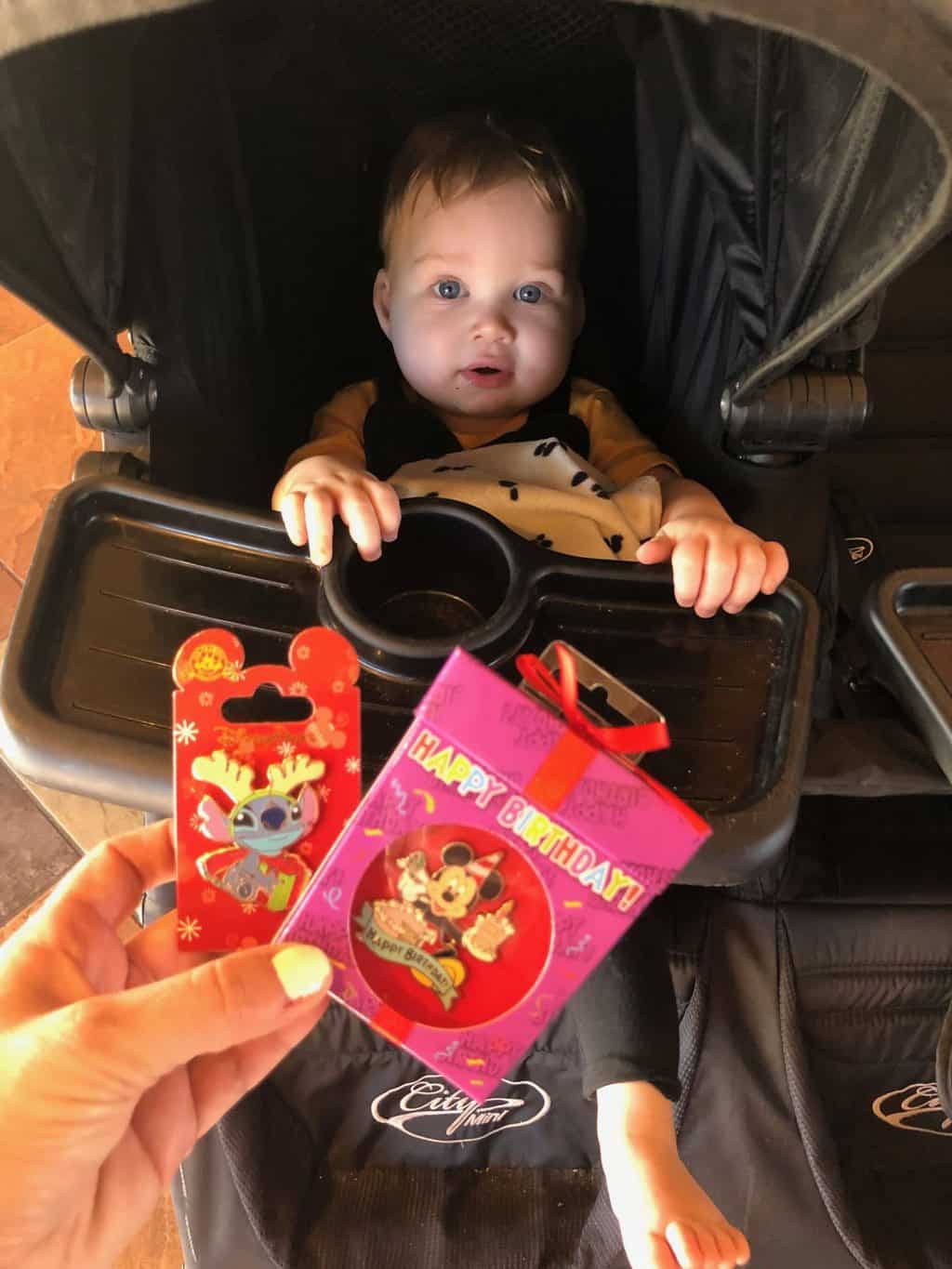 Ready for her makeover moment!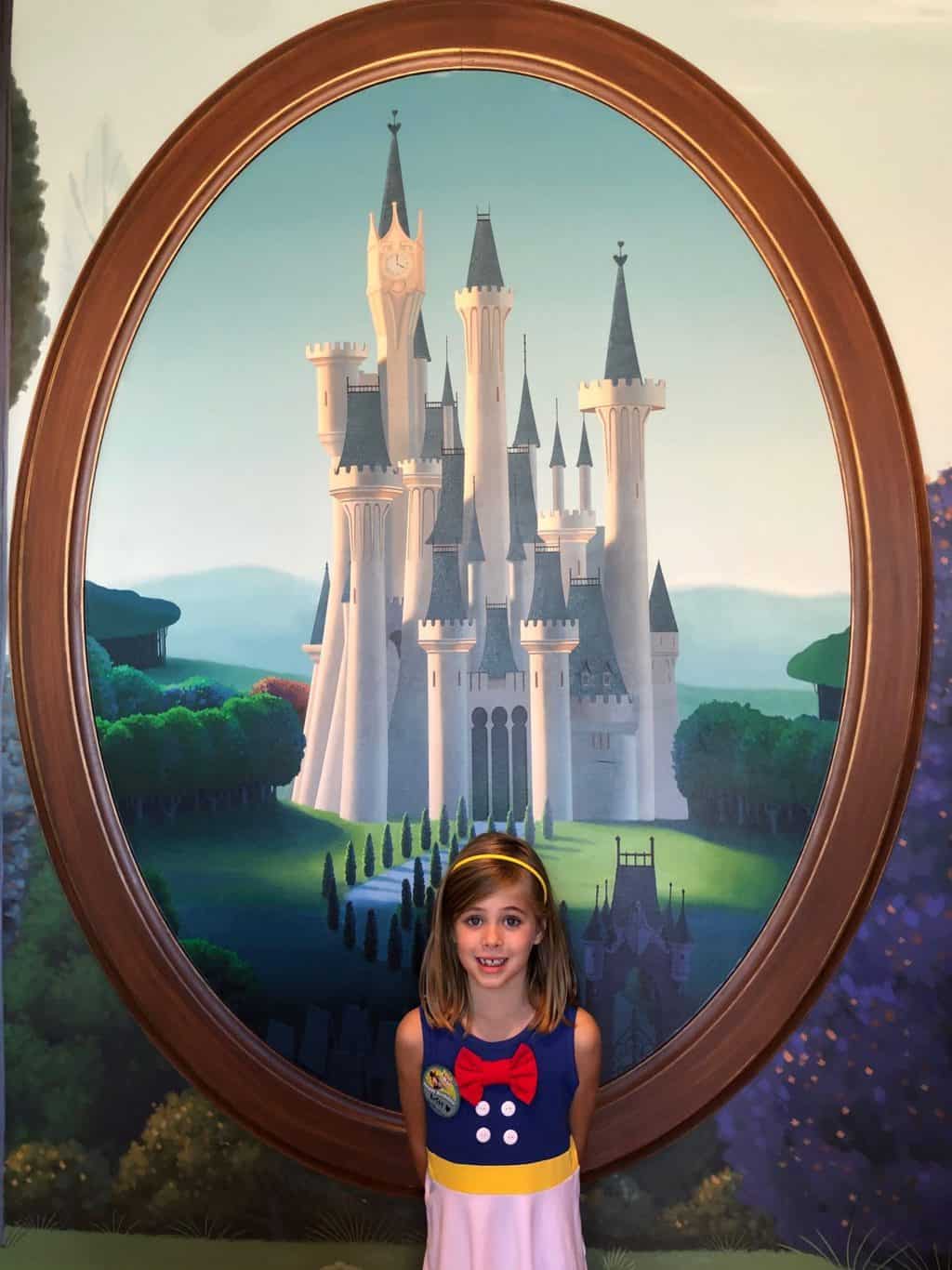 The Disney Springs location has a WAY cooler changing room than the Magic Kingdom location but the downside is they only allow two adults back with the child at a time. Zach and Mrs Charlotte traded off and she started with us and then swapped and let him come back. It worked out well too to just keep Spear out of the area and he stayed with the other adult. Kye opted to stay outside too to wait!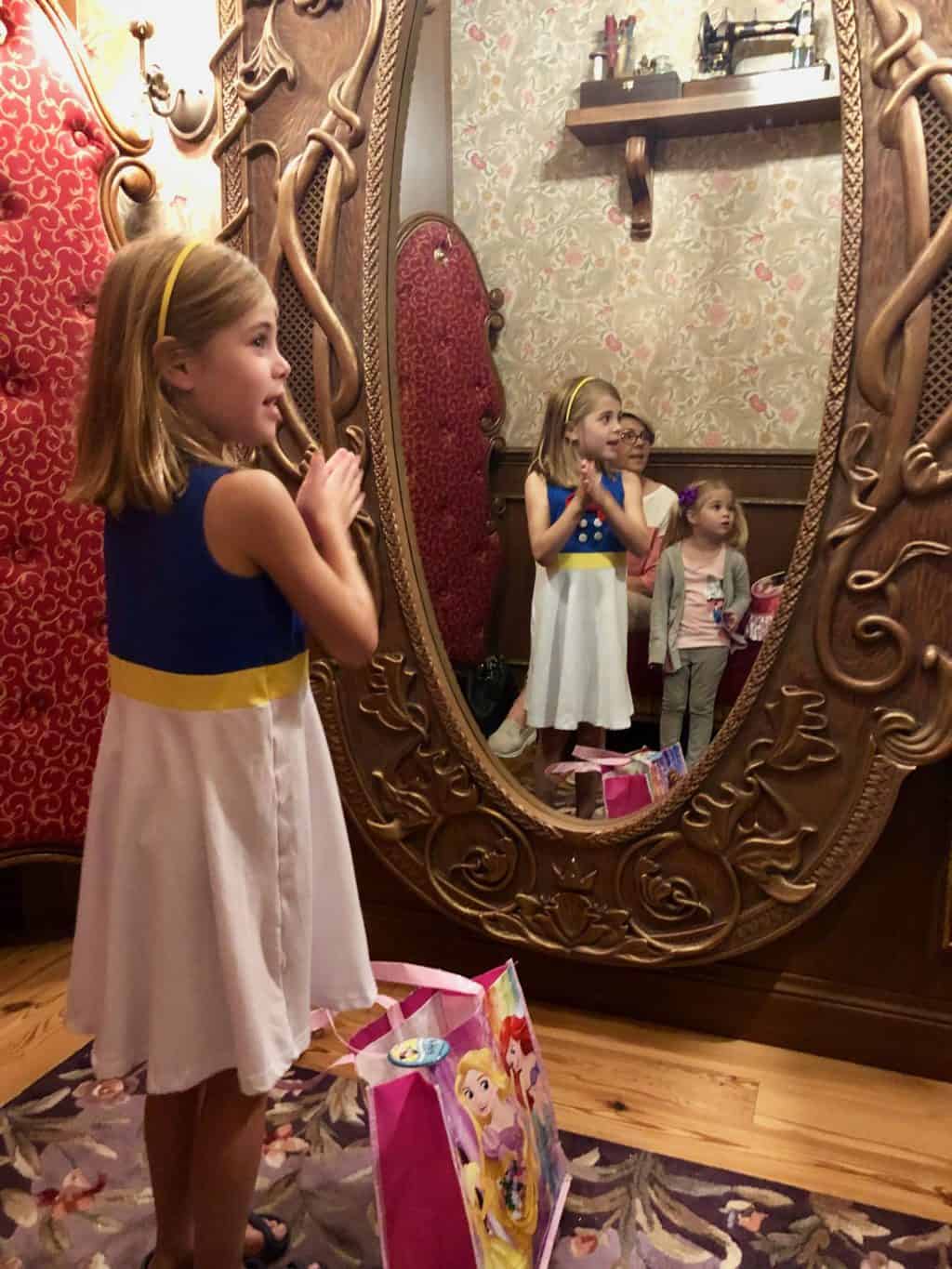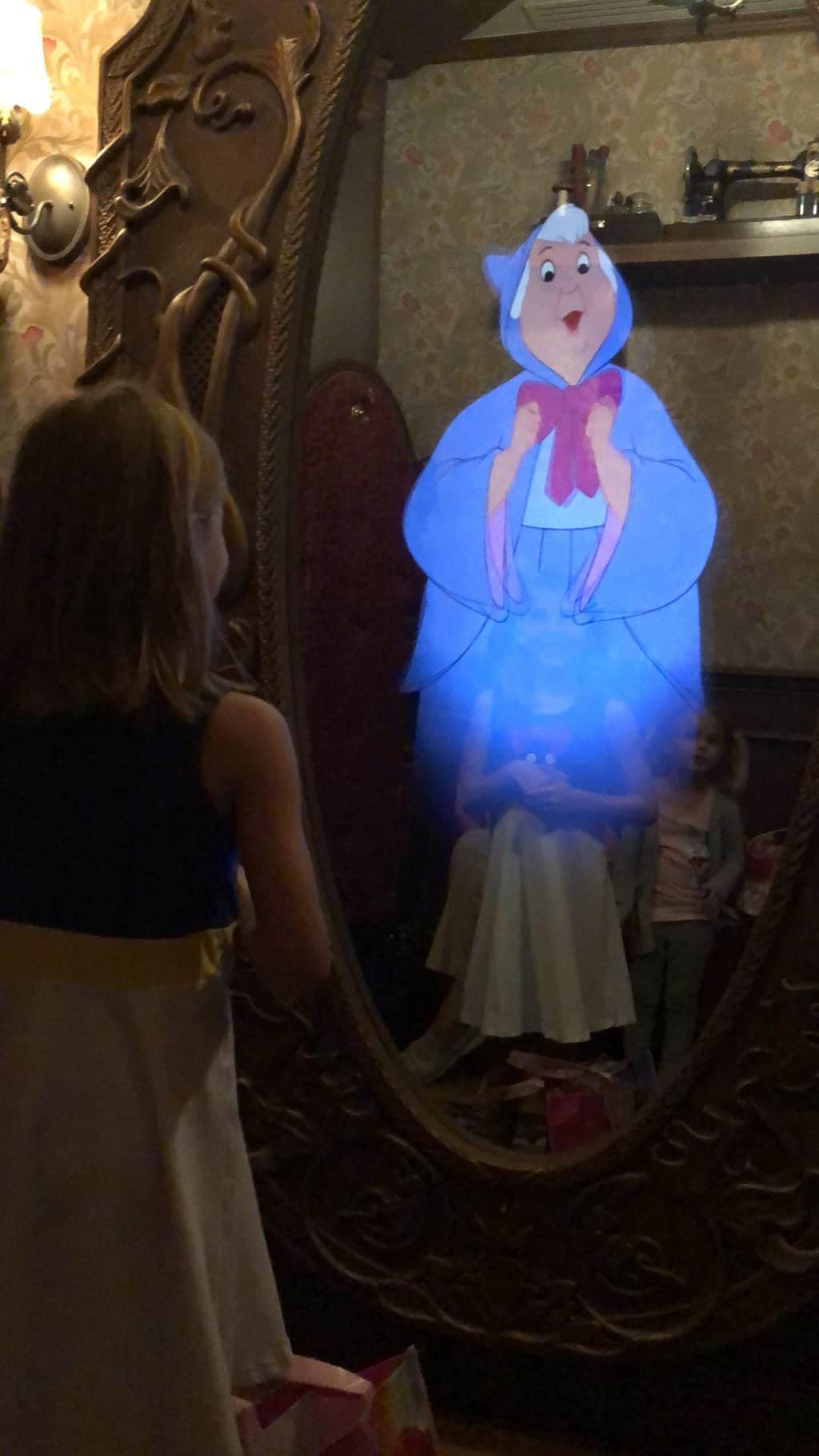 Britt has always had pretty long hair for her BBB appointments so she's always done the big princess top bun. This time her hair was too short so she had to pick an alternate style. She went with a ribbon braid and she LOVED it. Personally I prefer the princess bun but Britt said this is her new favorite princess look!
The fairy godmothers in training always go above and beyond to make the moment special and make the makeover recipient feel like a true princess. Britt was chatting away and truly having the time of her life. I love that she loves it so much! She said she's going to do a makeover as her big birthday gift every year until they don't let her anymore 🙂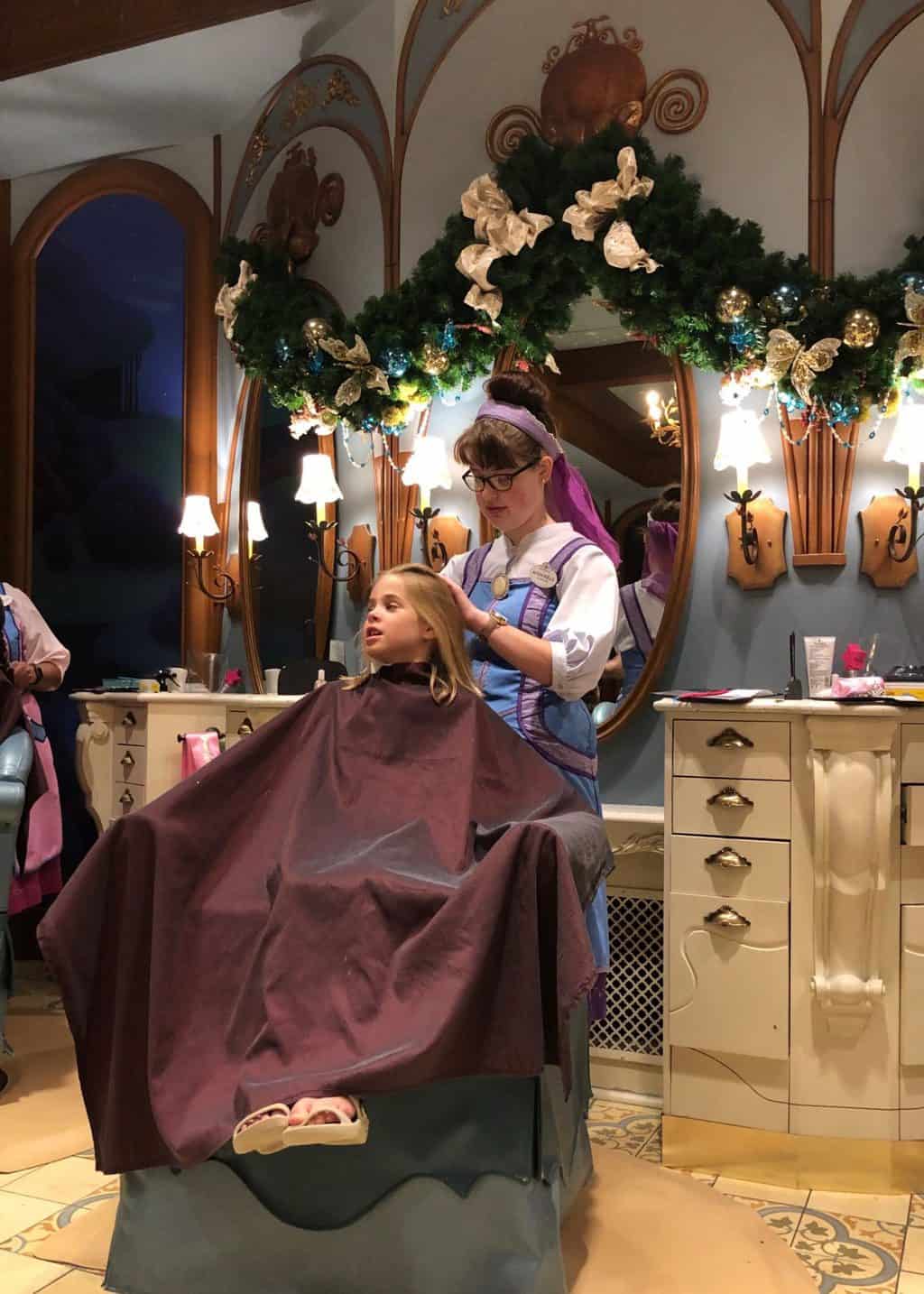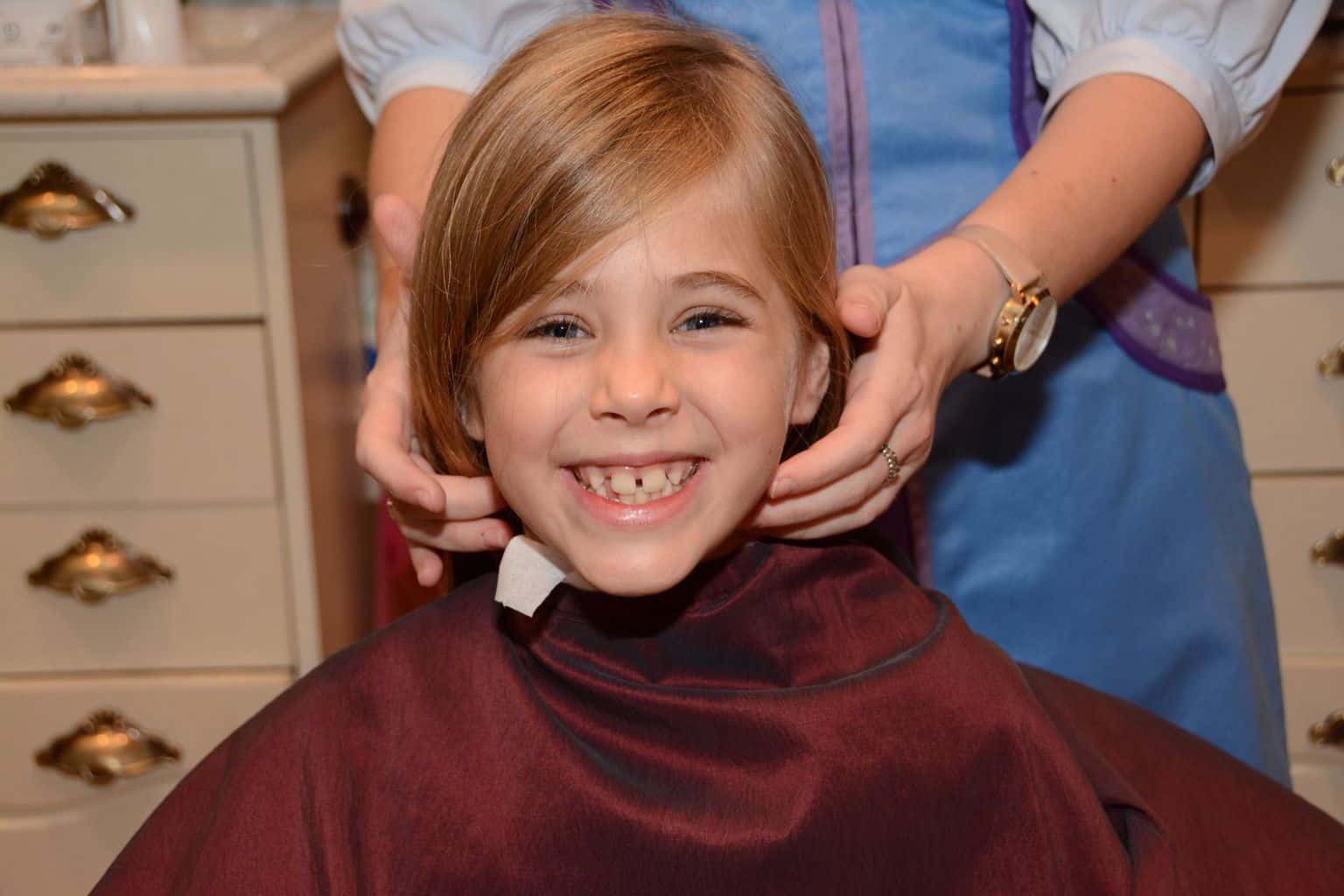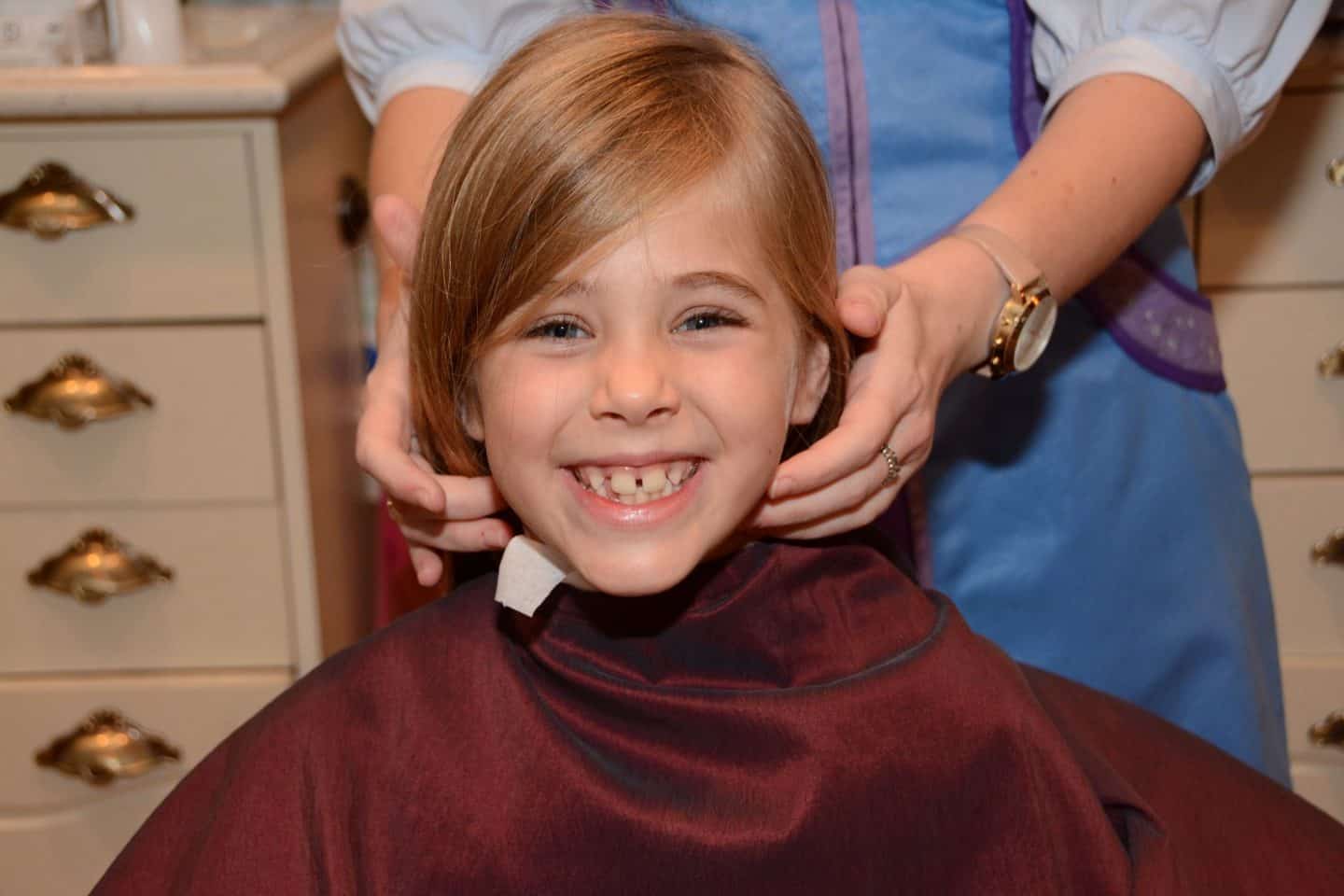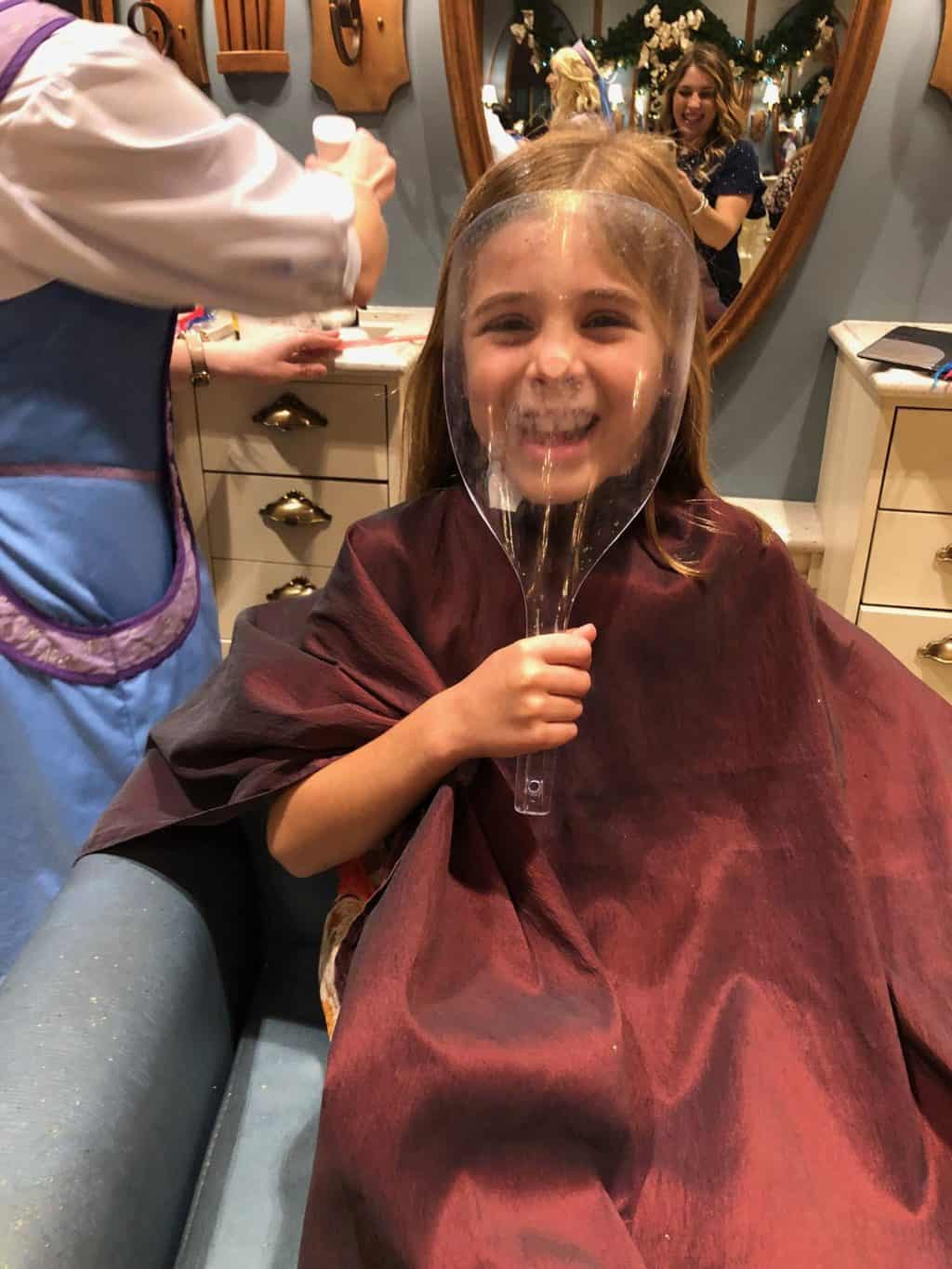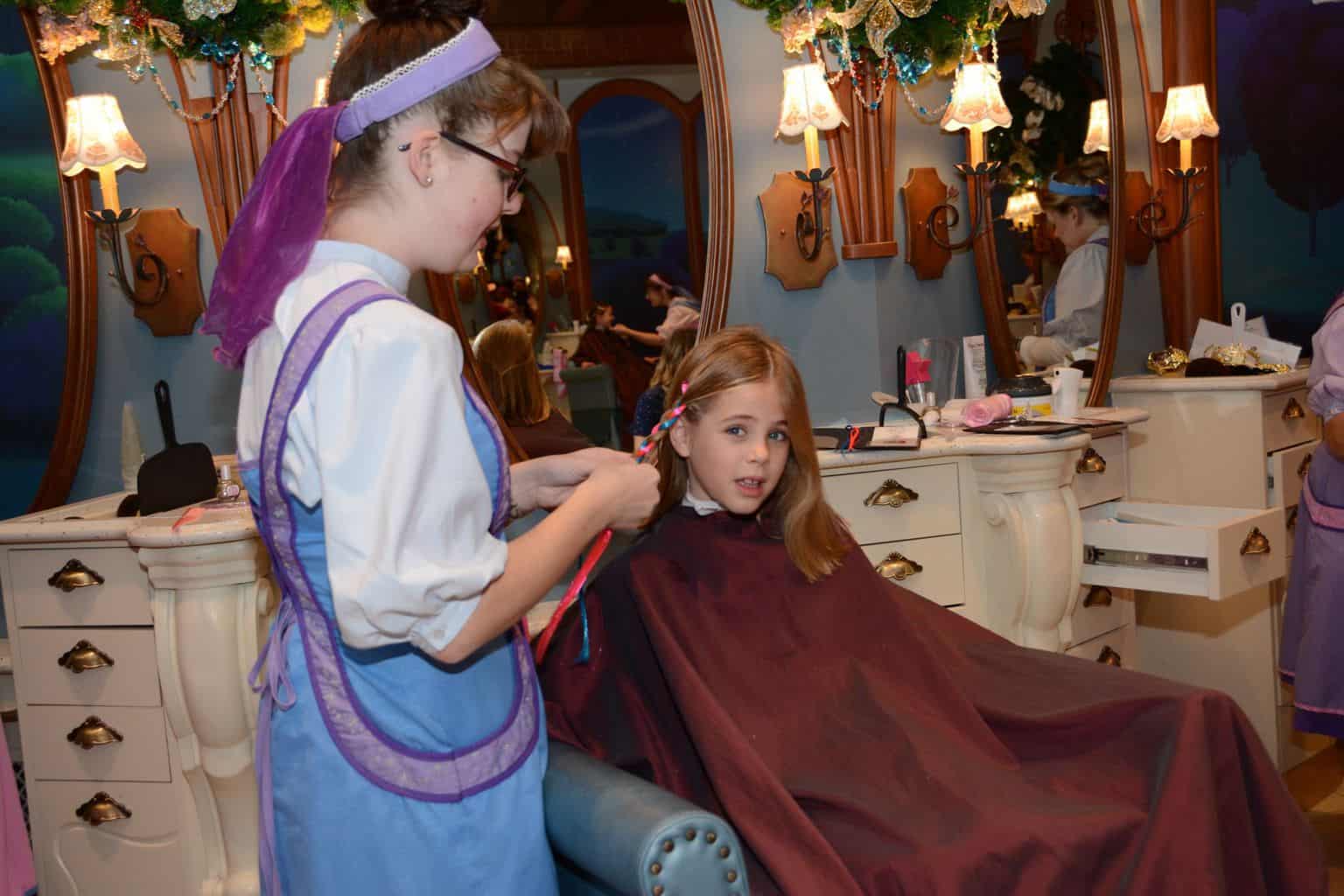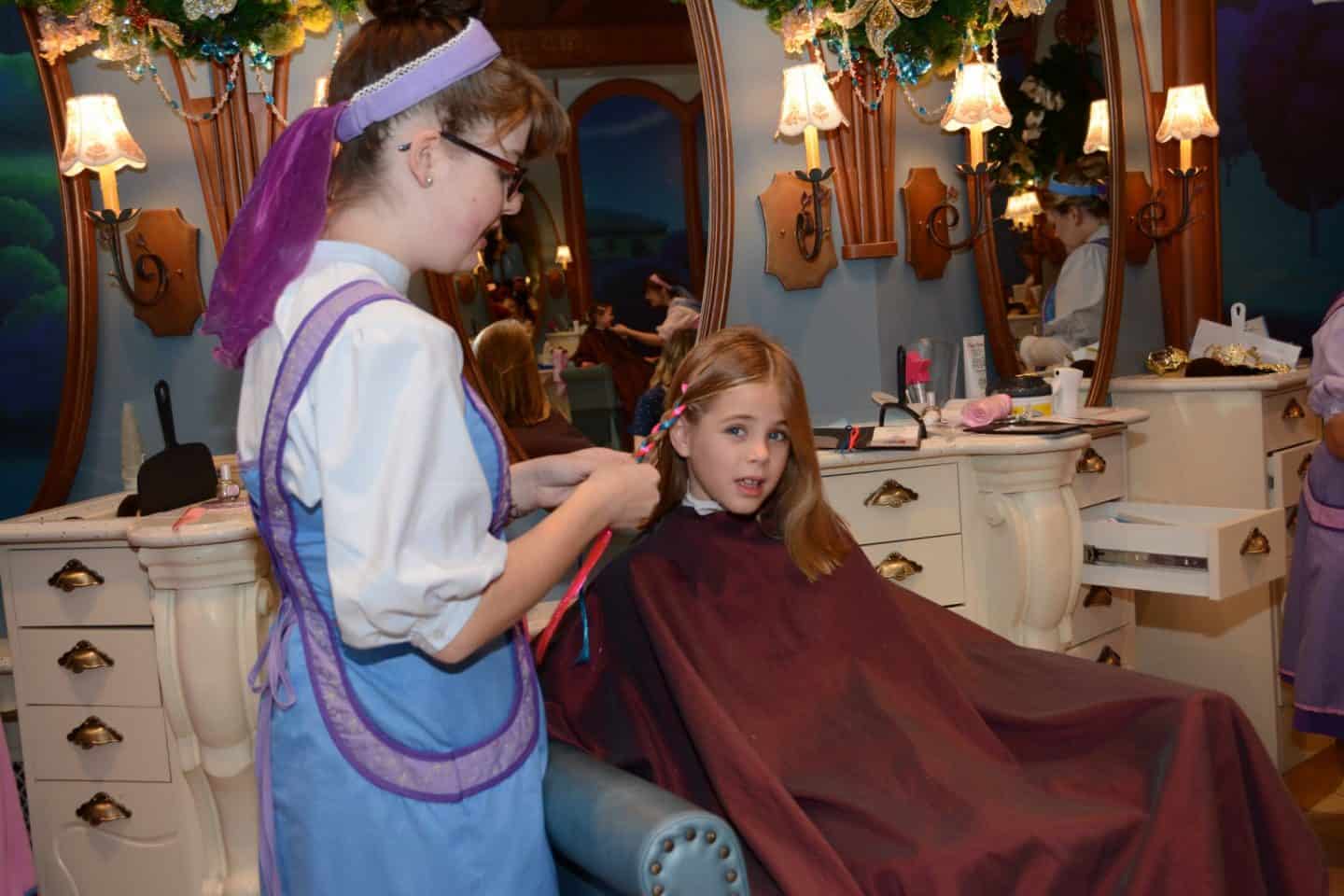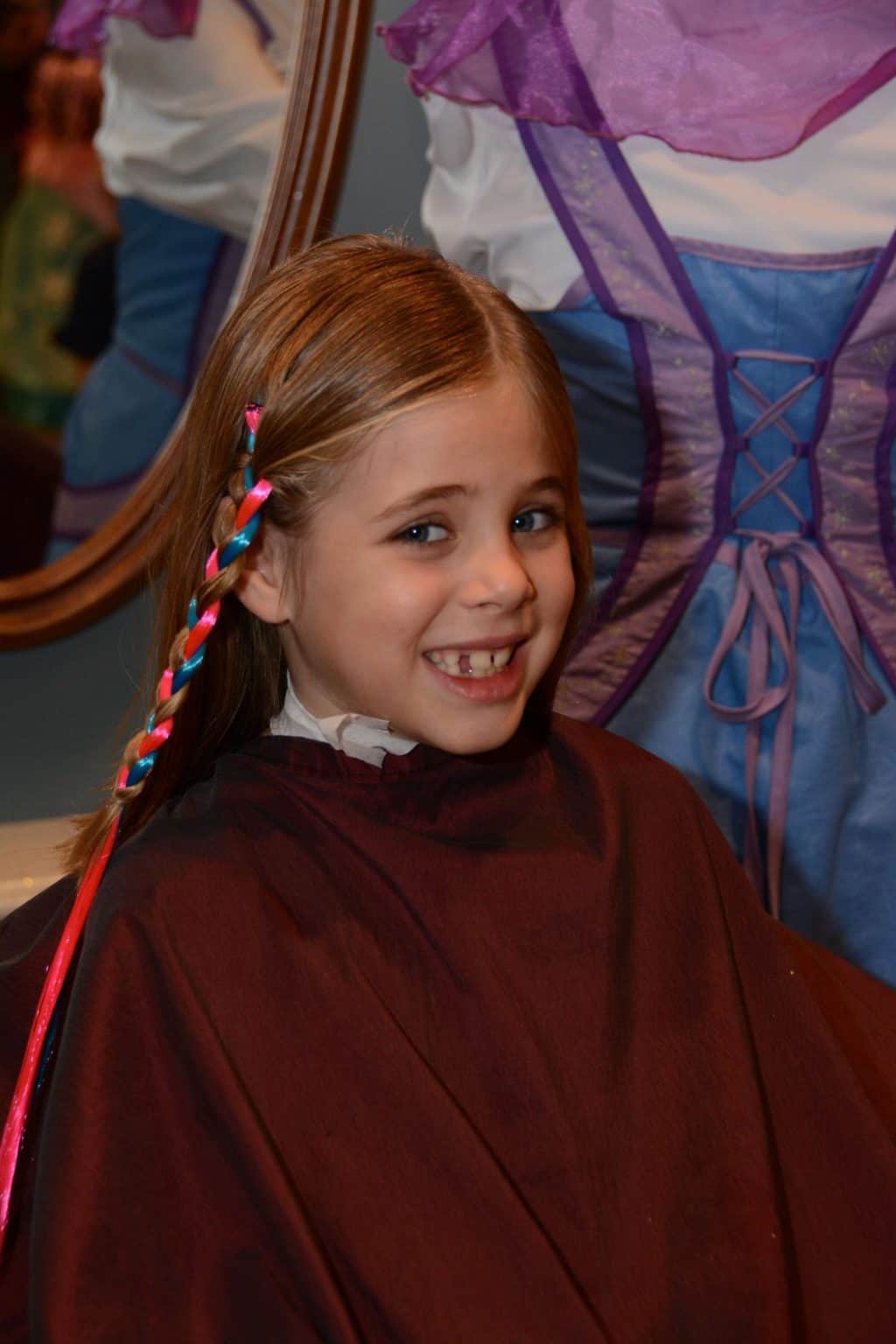 Having fun outside 🙂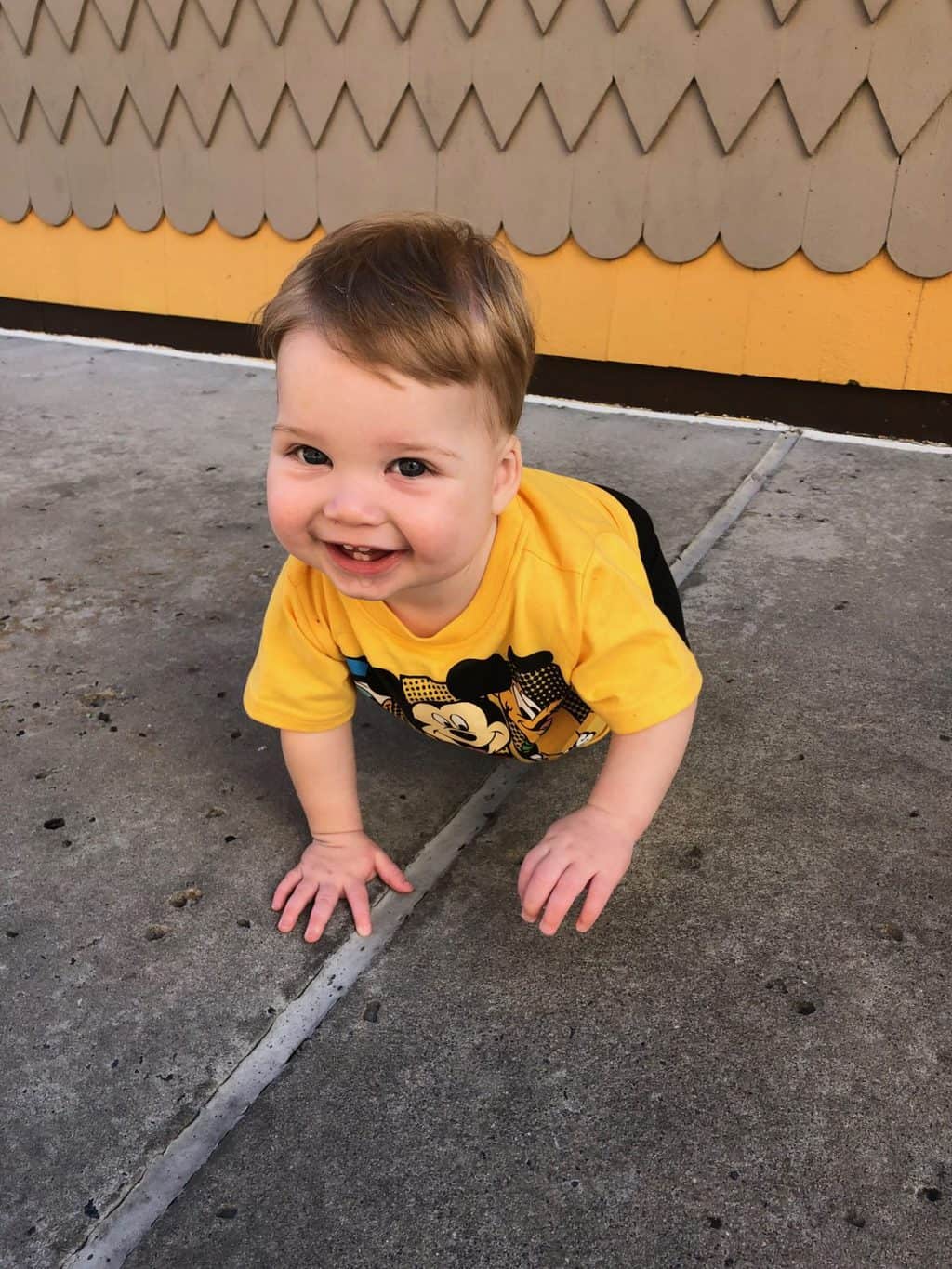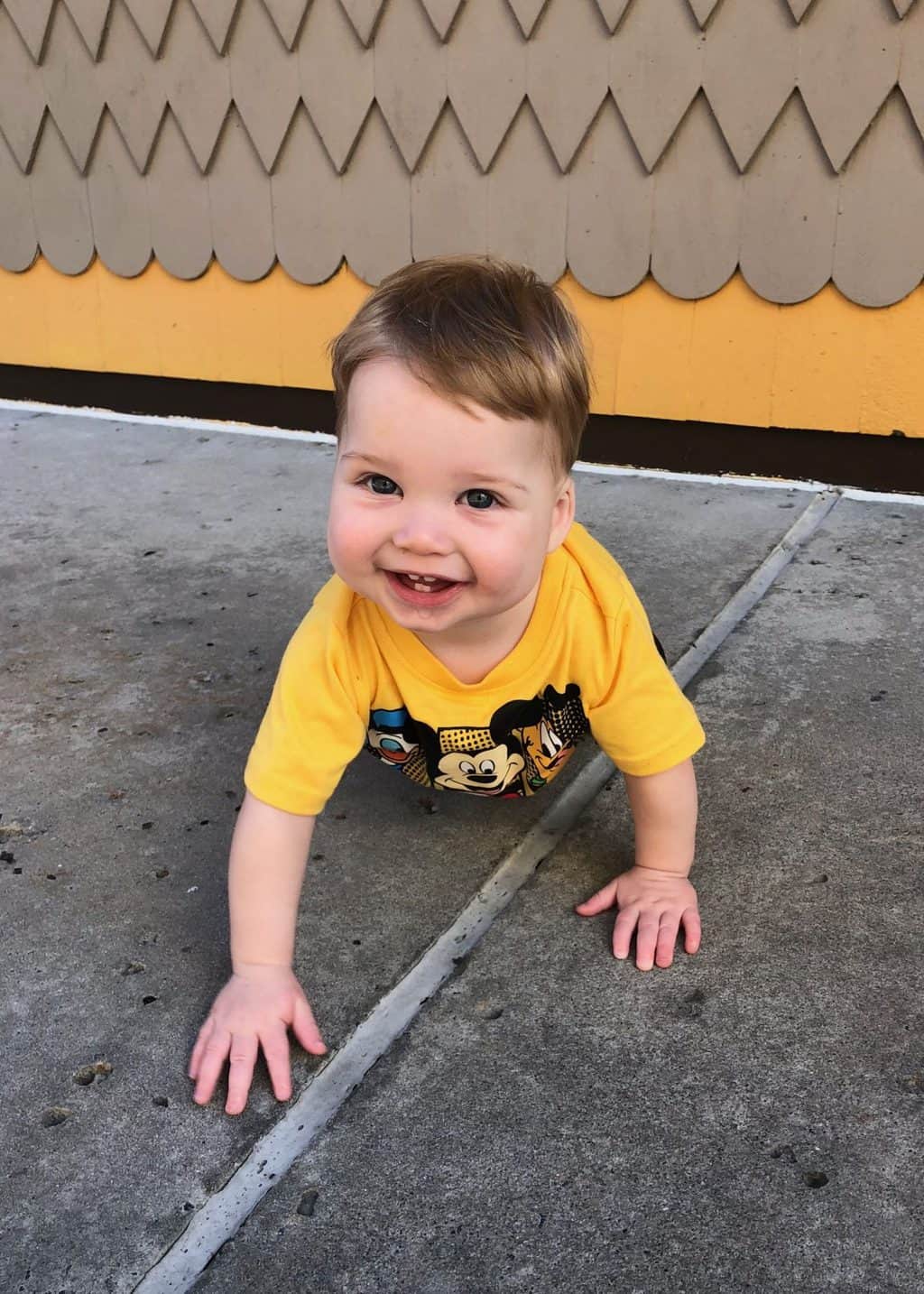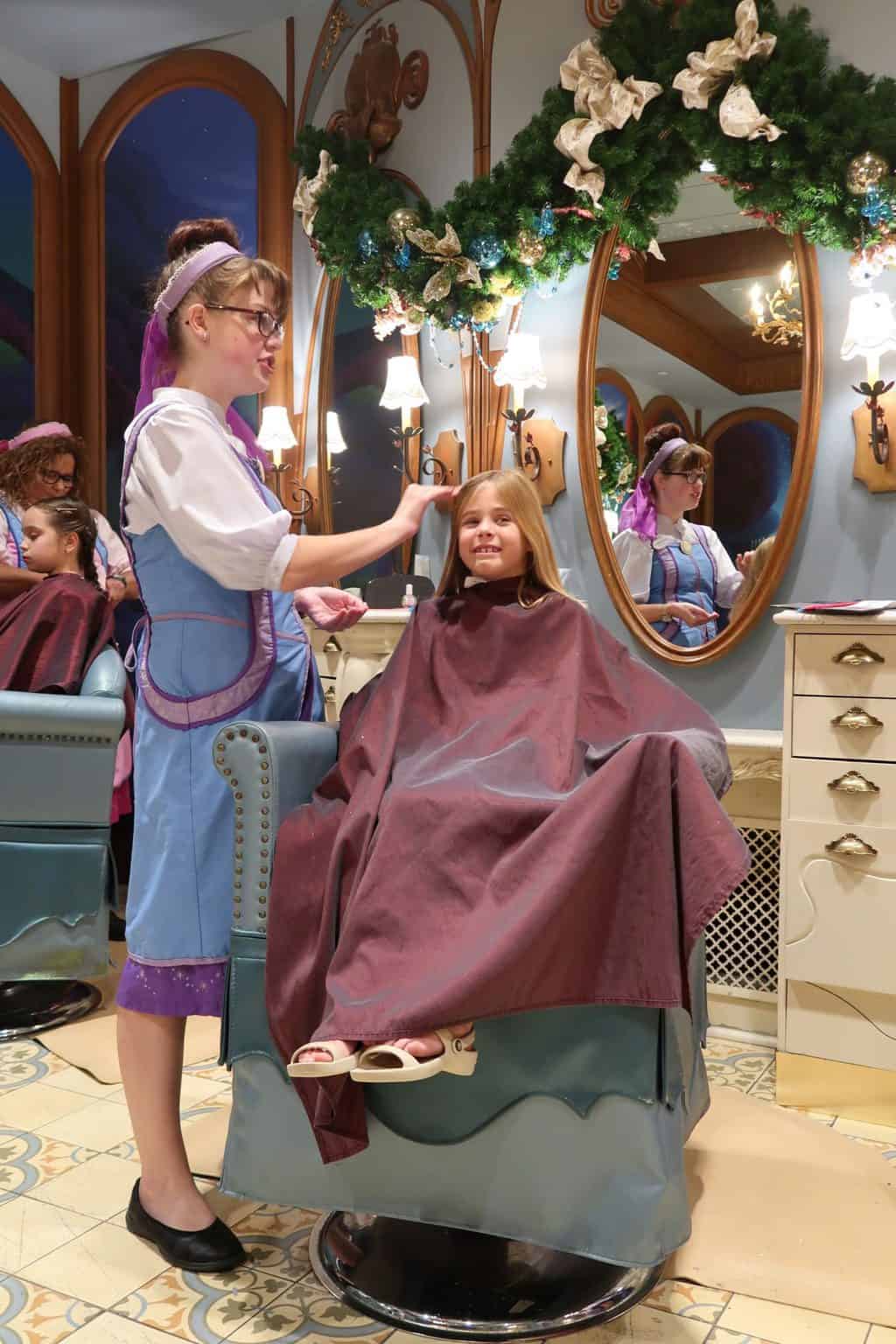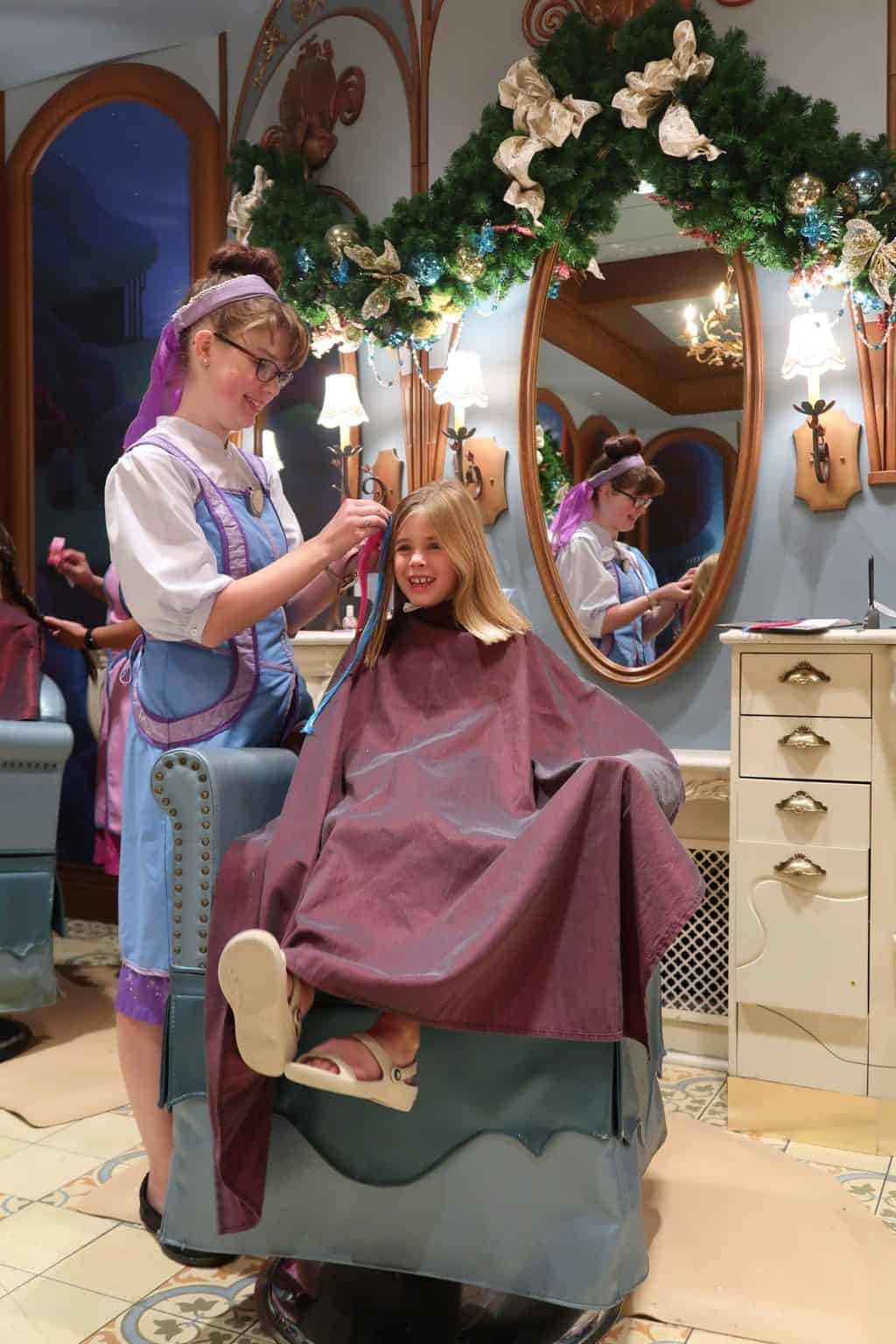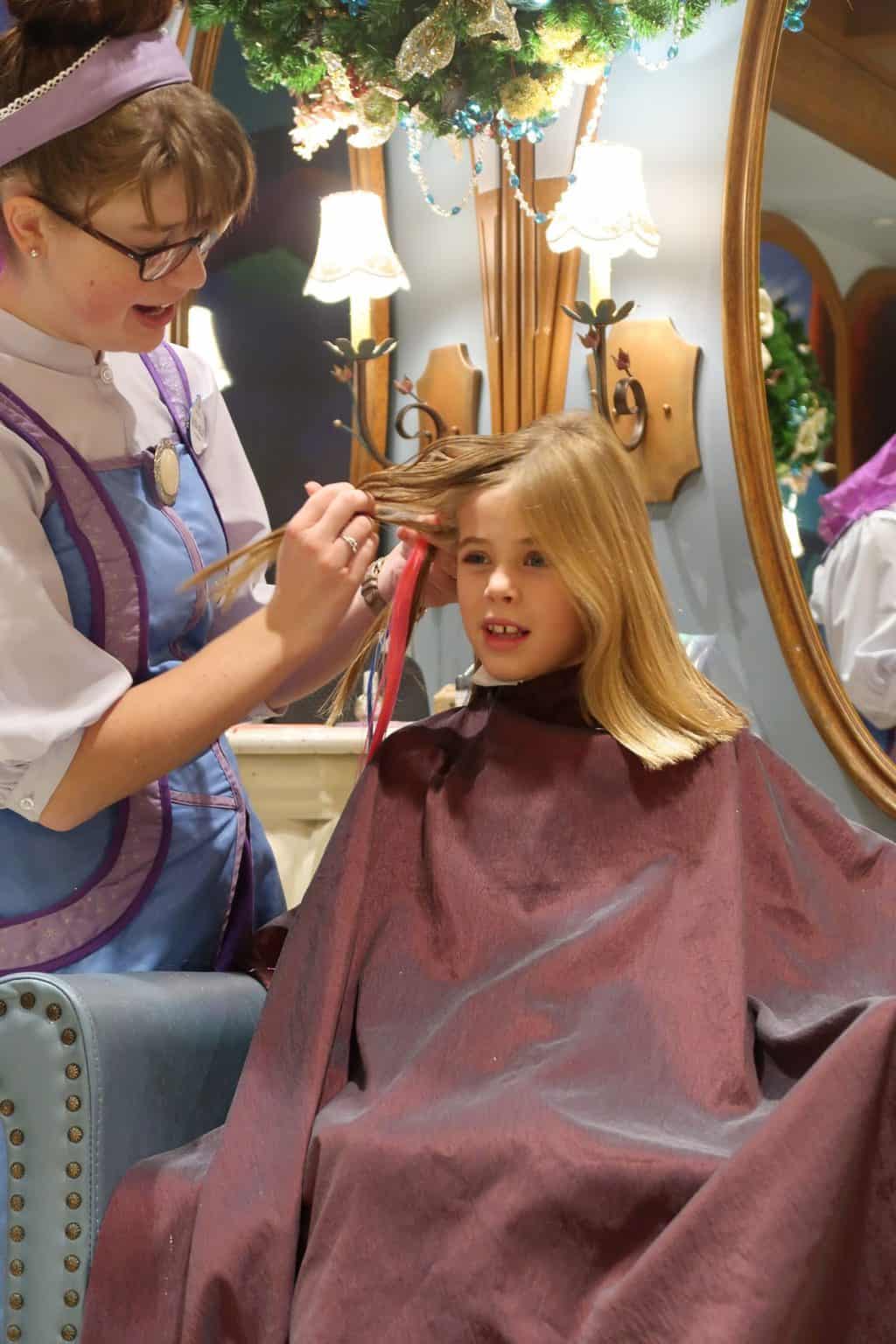 Such a sweet supportive sister! She never asked to leave or complained one bit!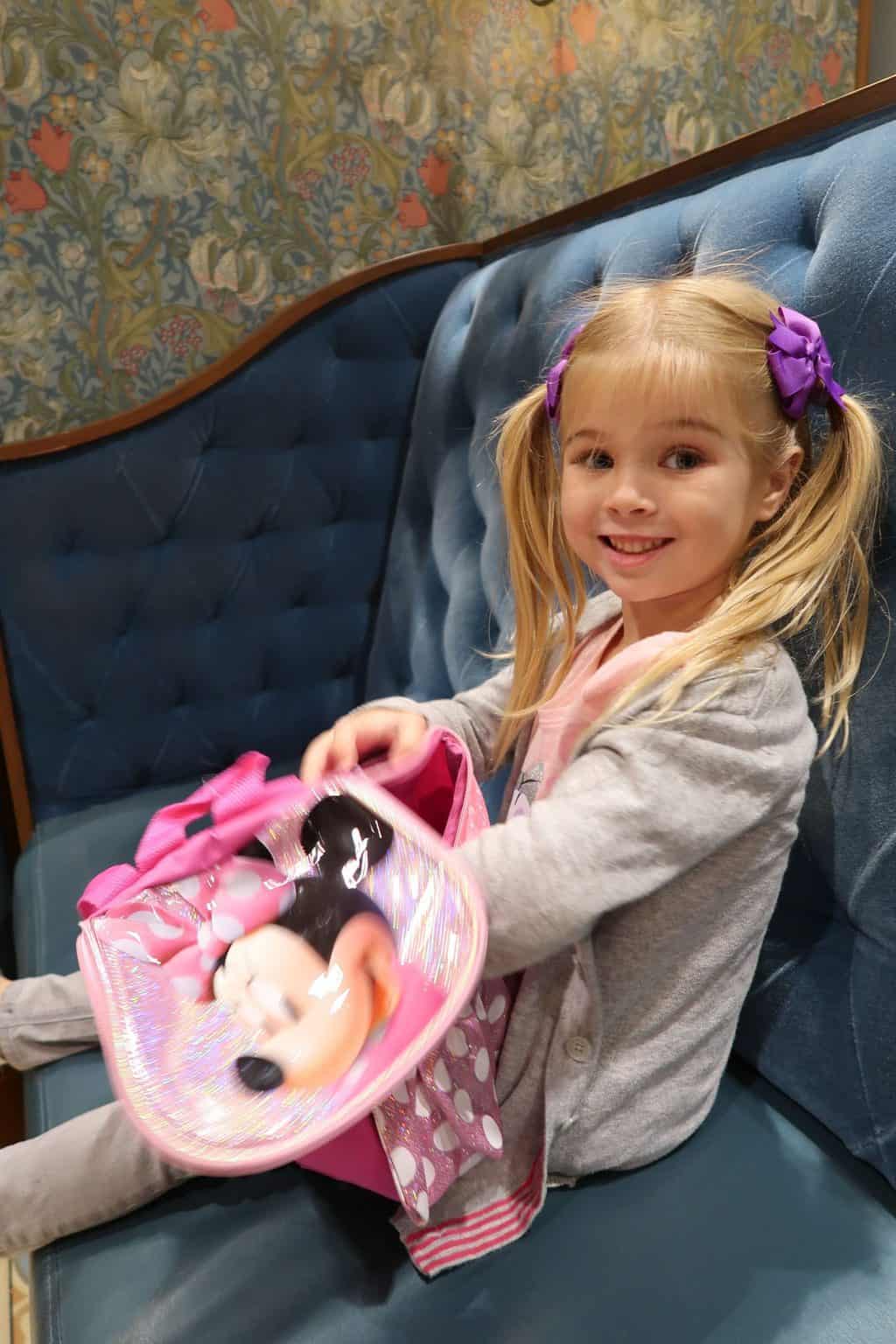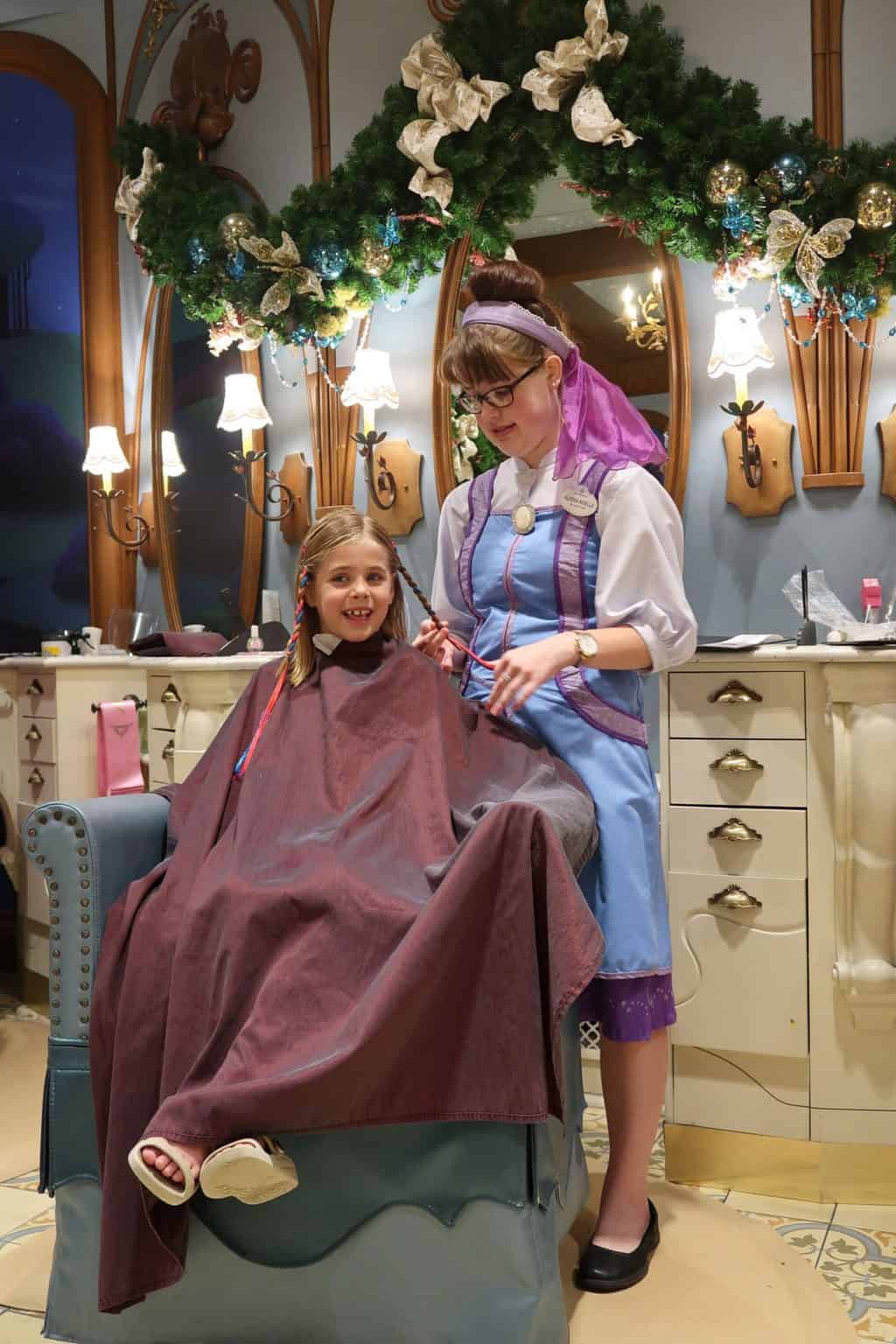 Her fairy godmother in training told her that her nail polish is actually pixie dust and that it means she gets a wish for each finger…10 wishes are tricky! Britt said one of her wishes is to someday be a fairy godmother in training.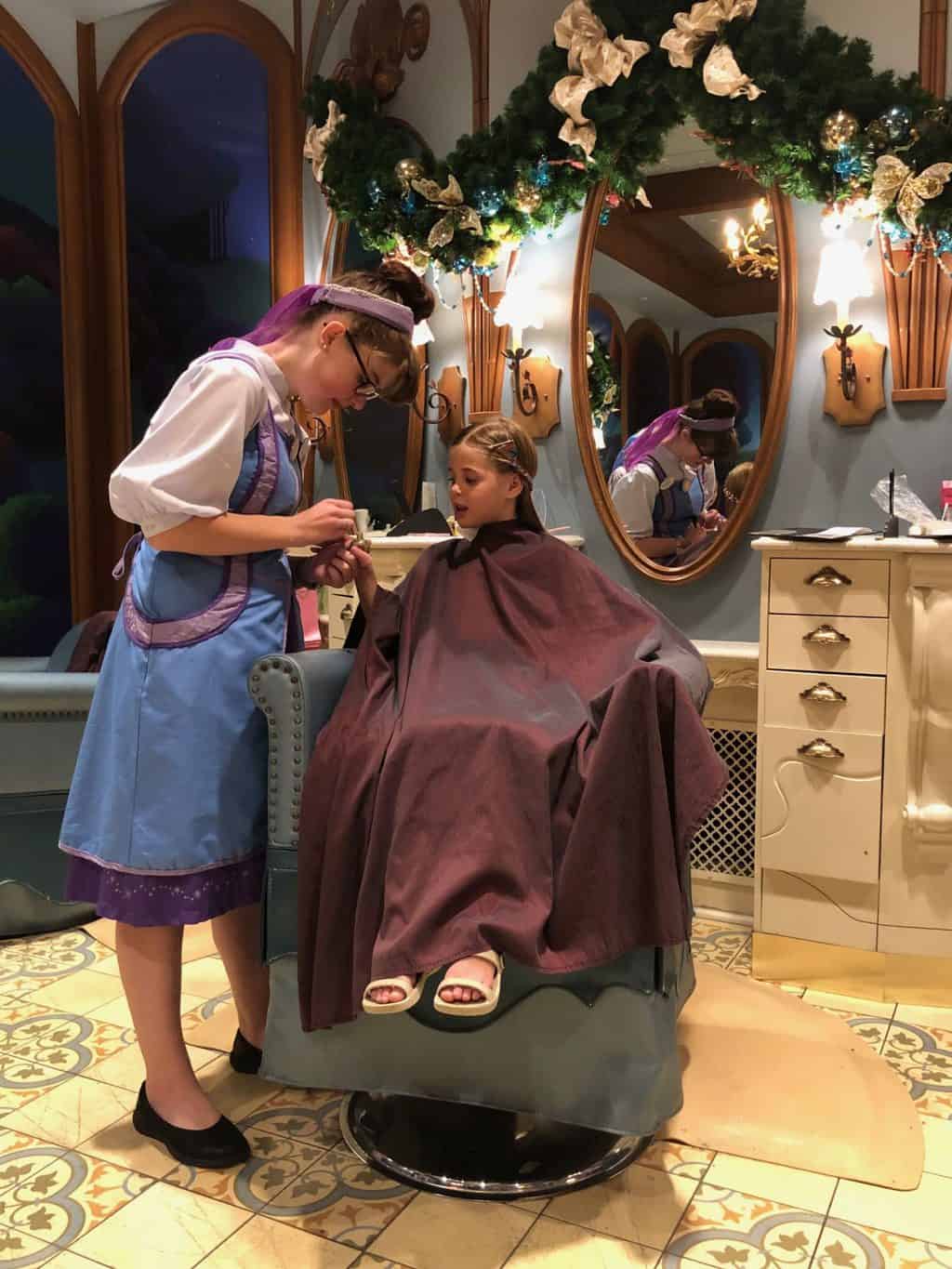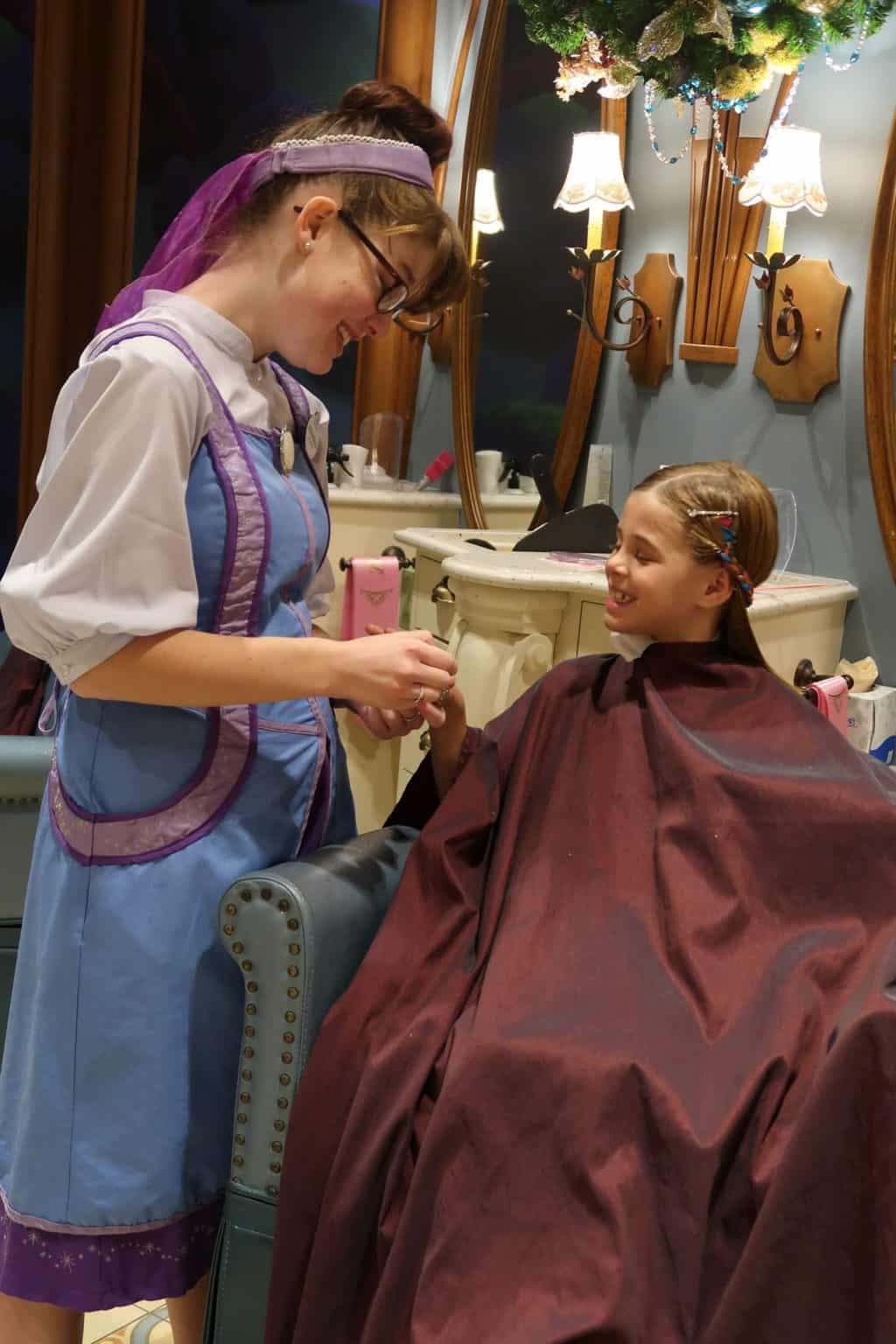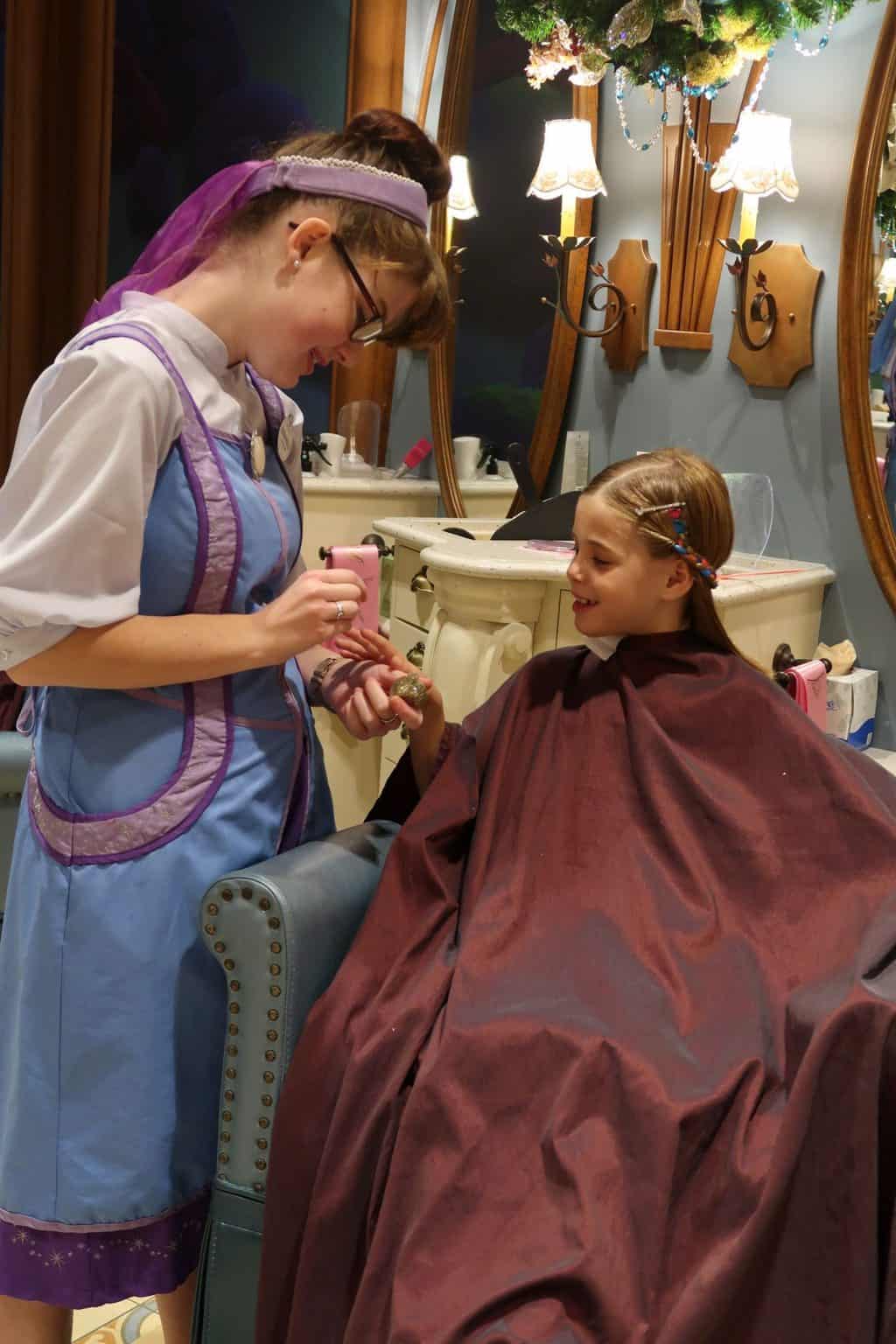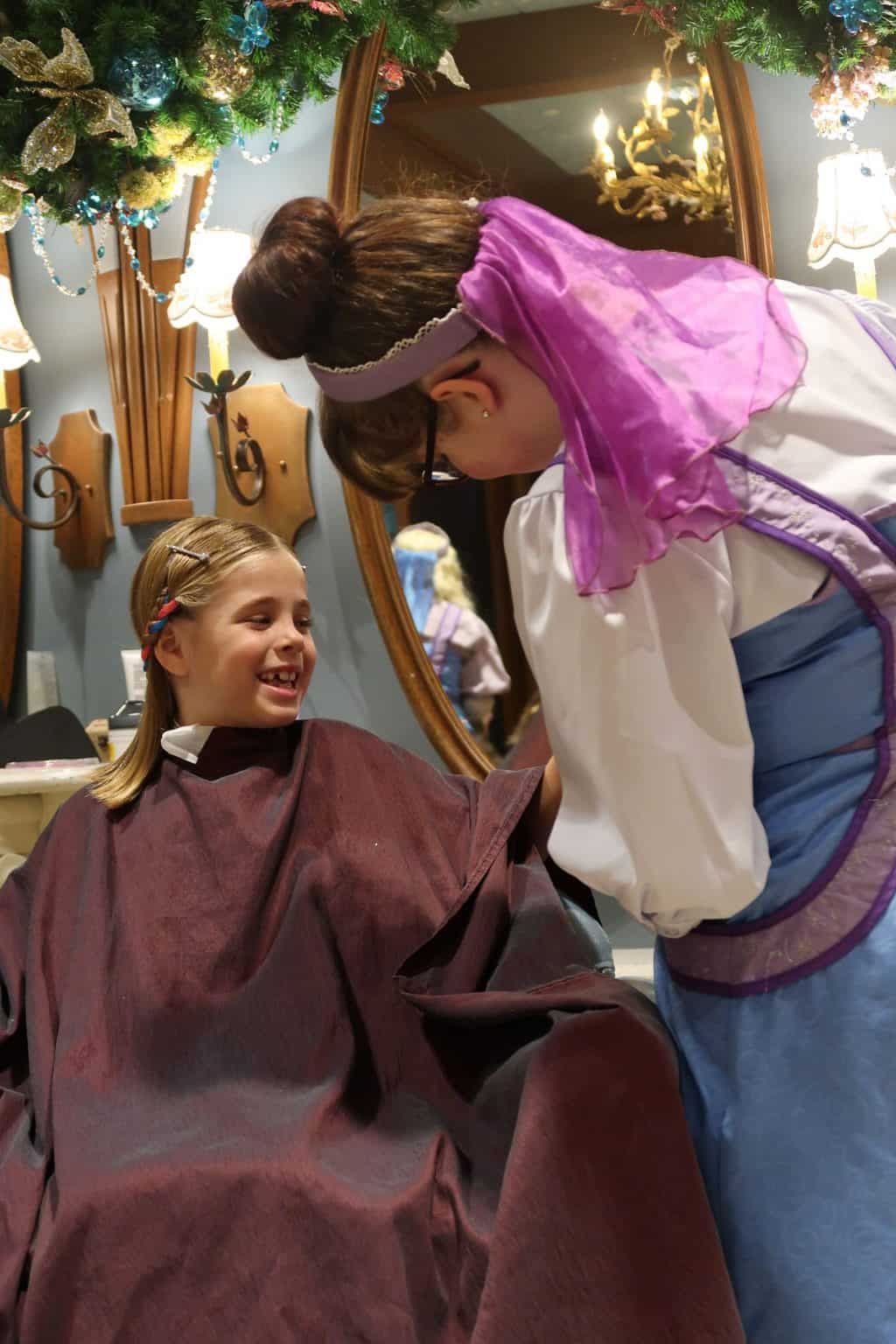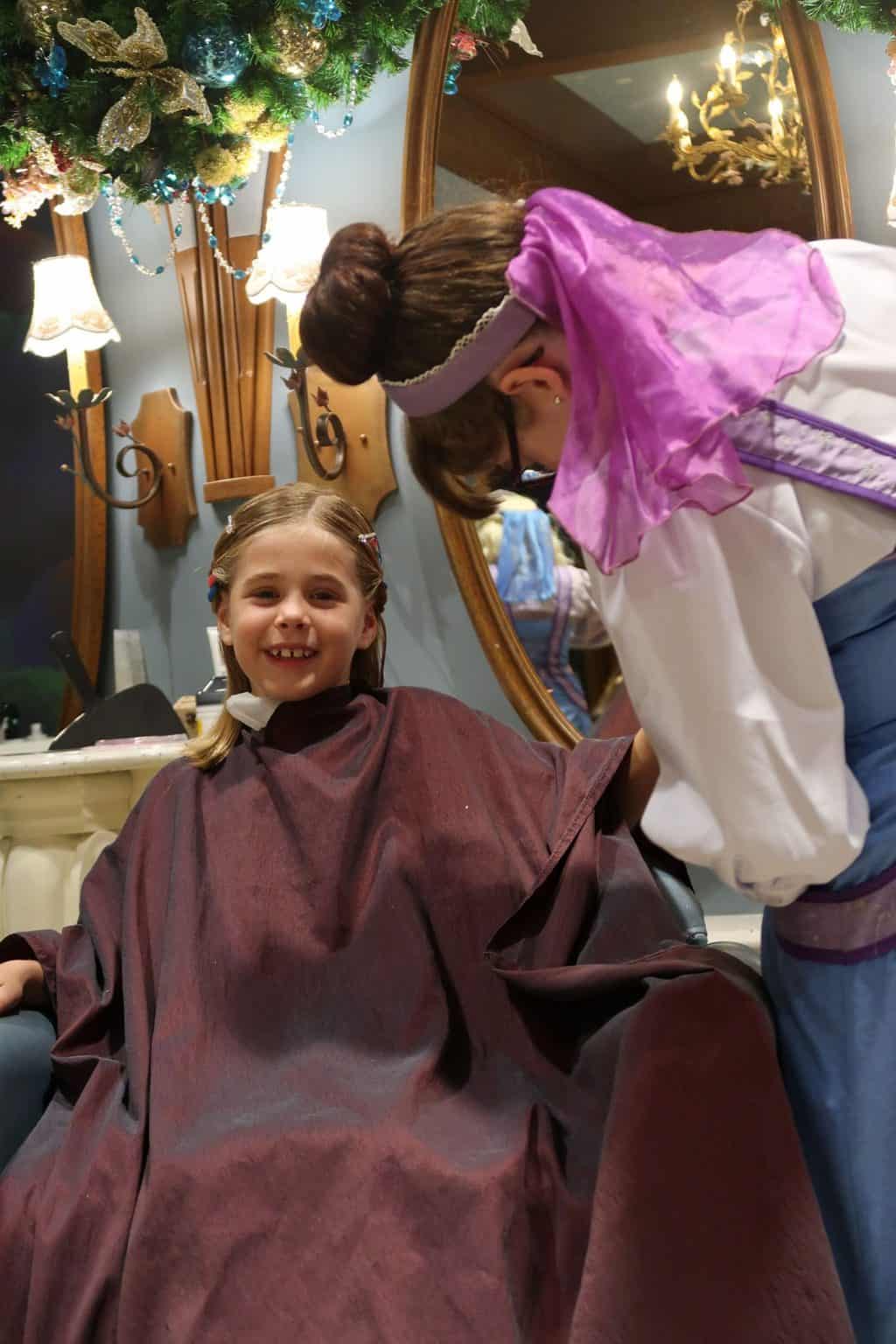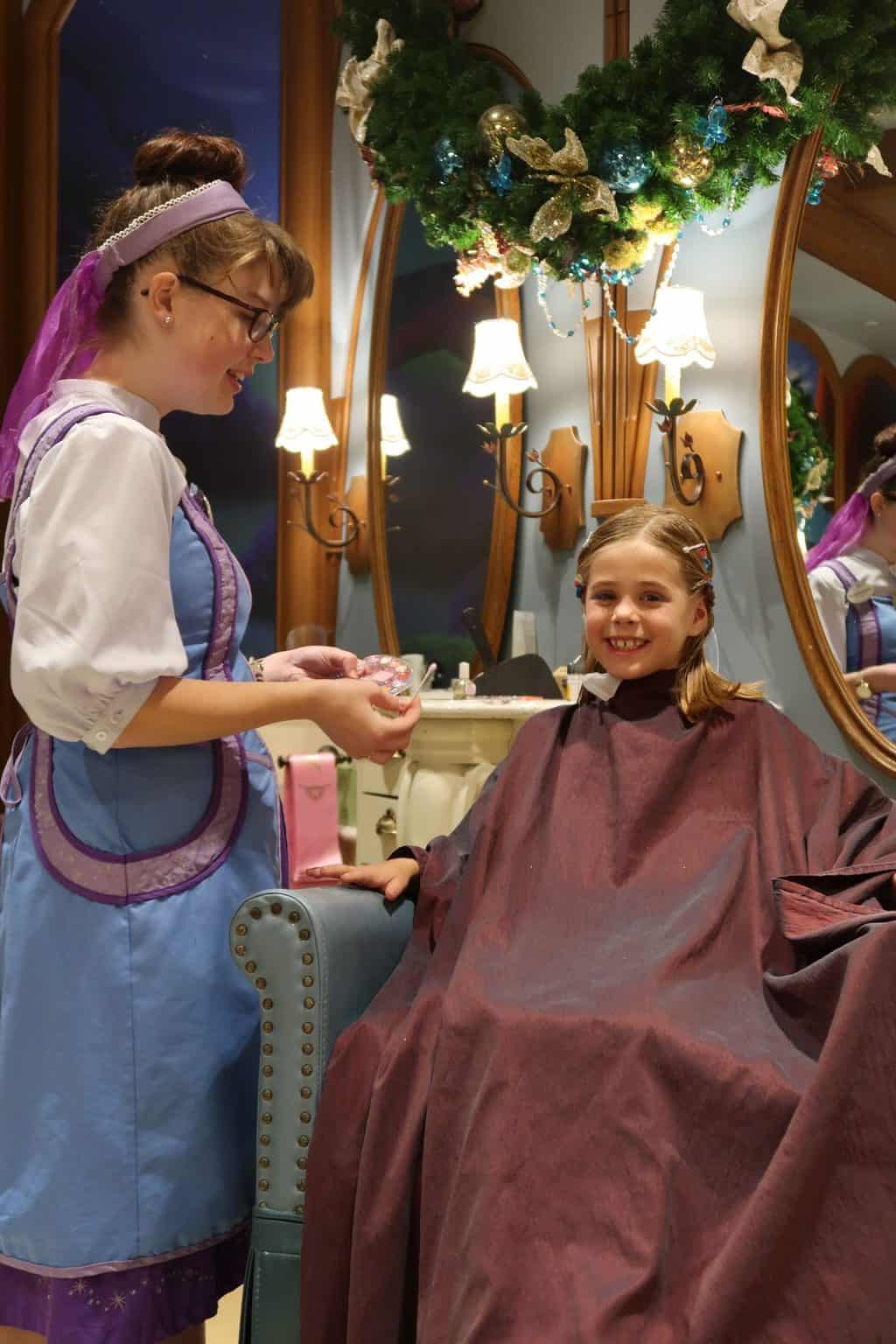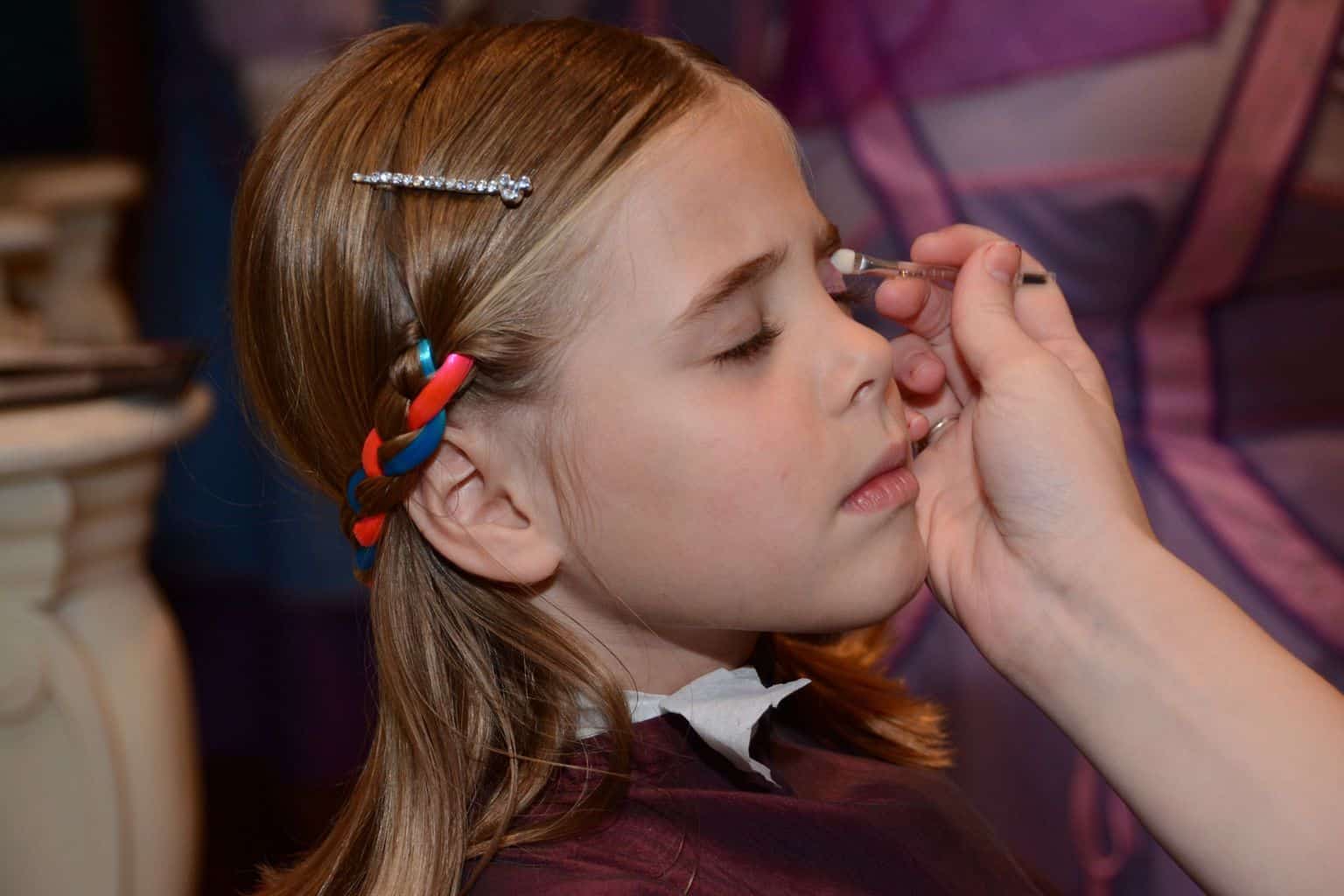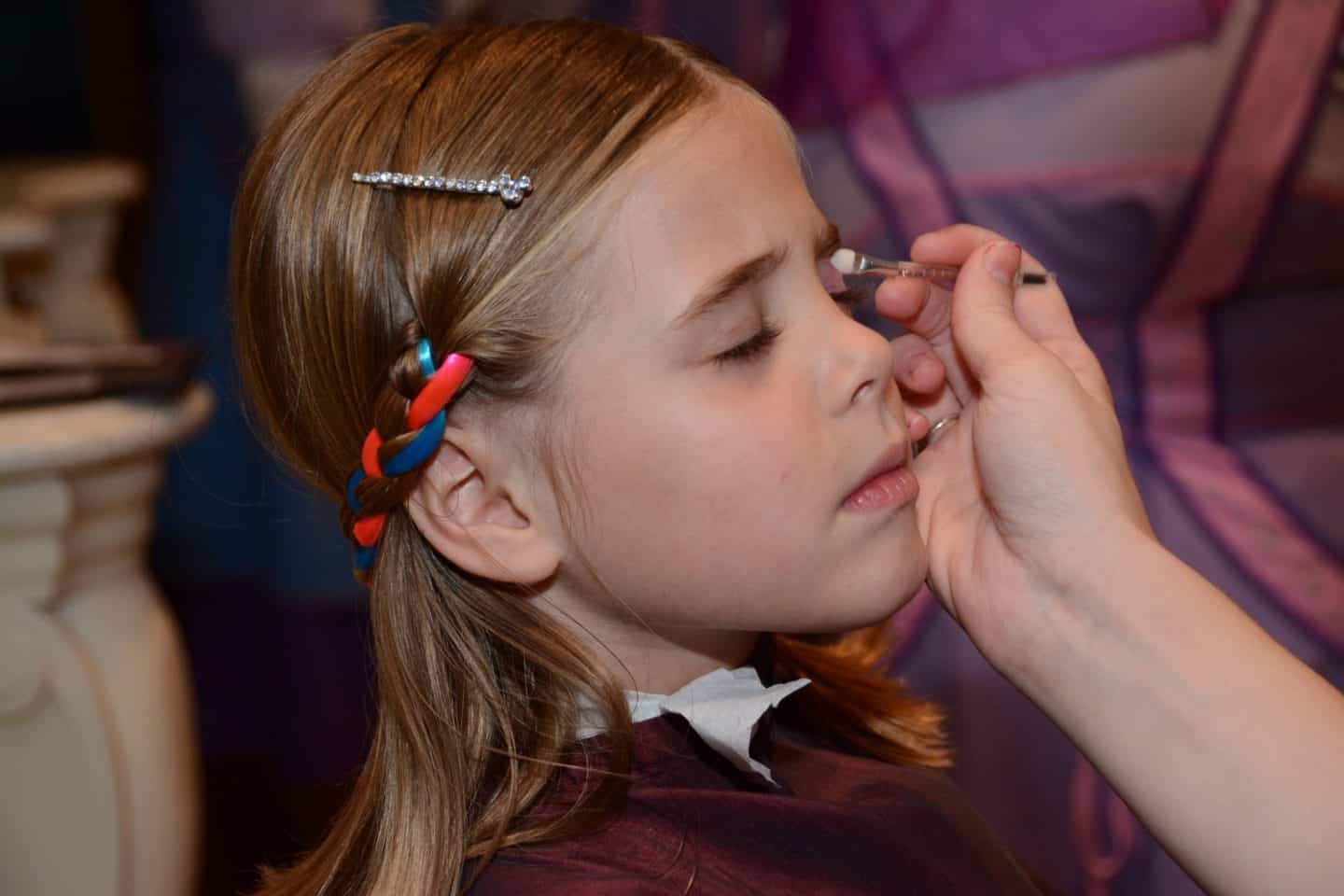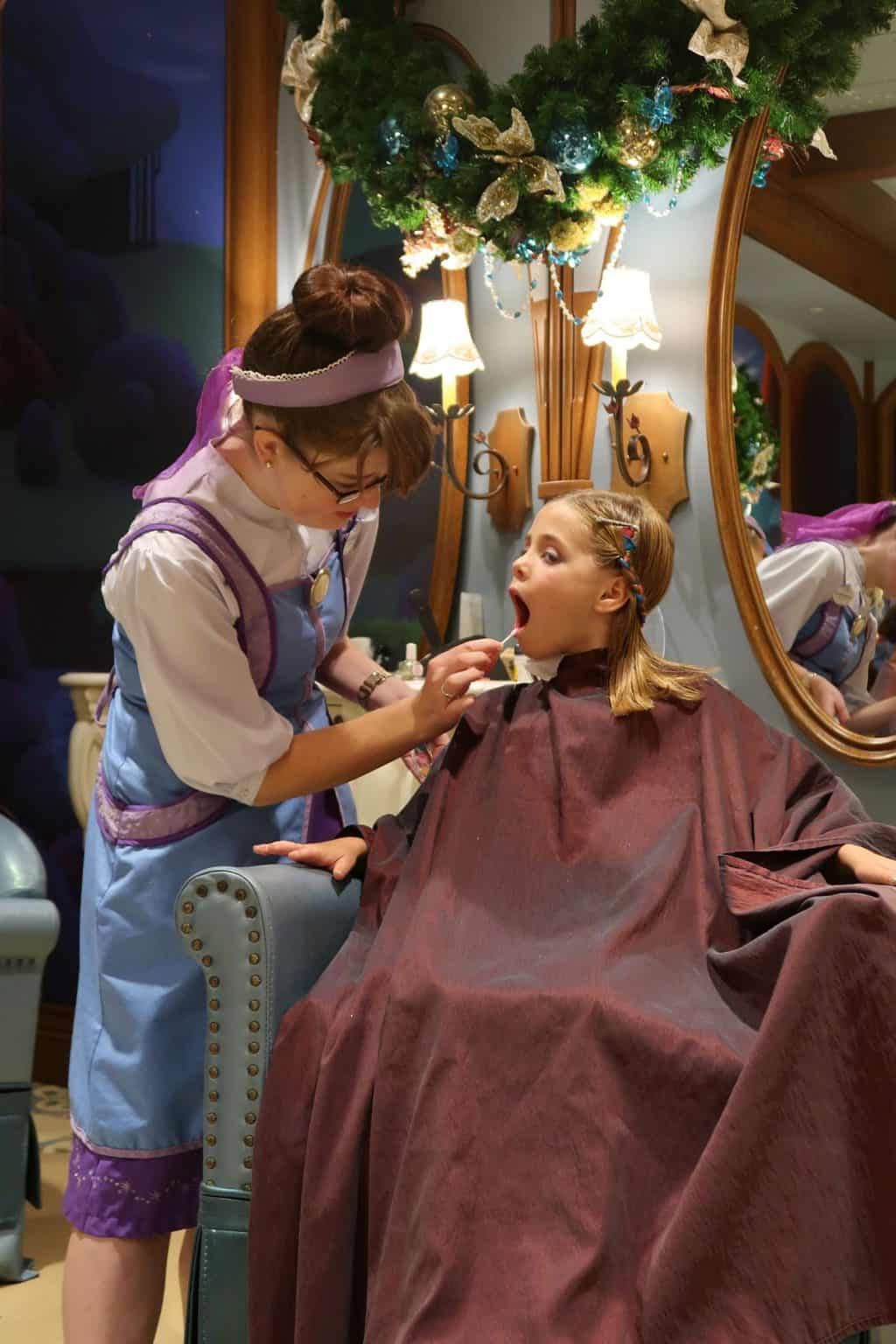 Gotta have pixie dust in the hair too!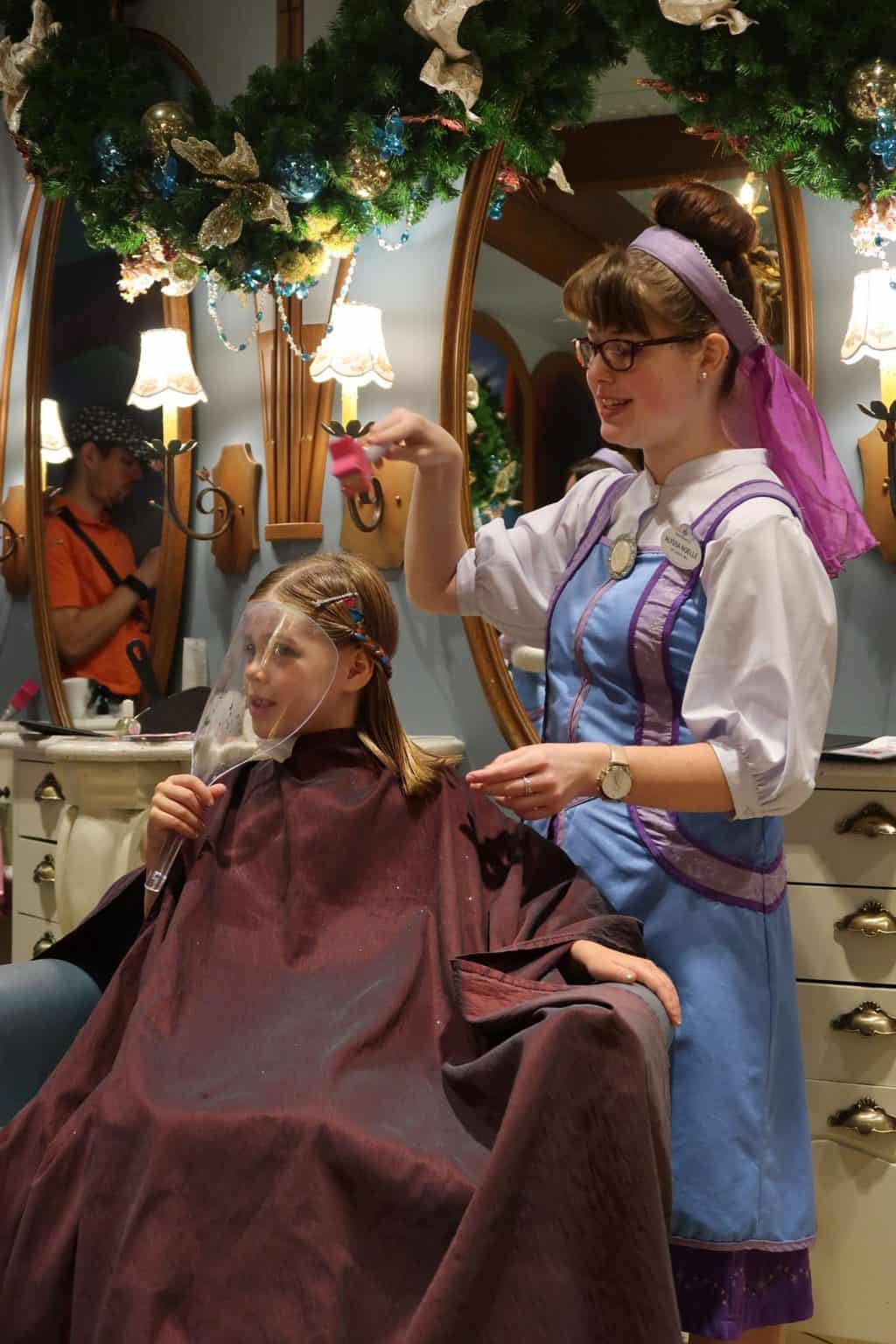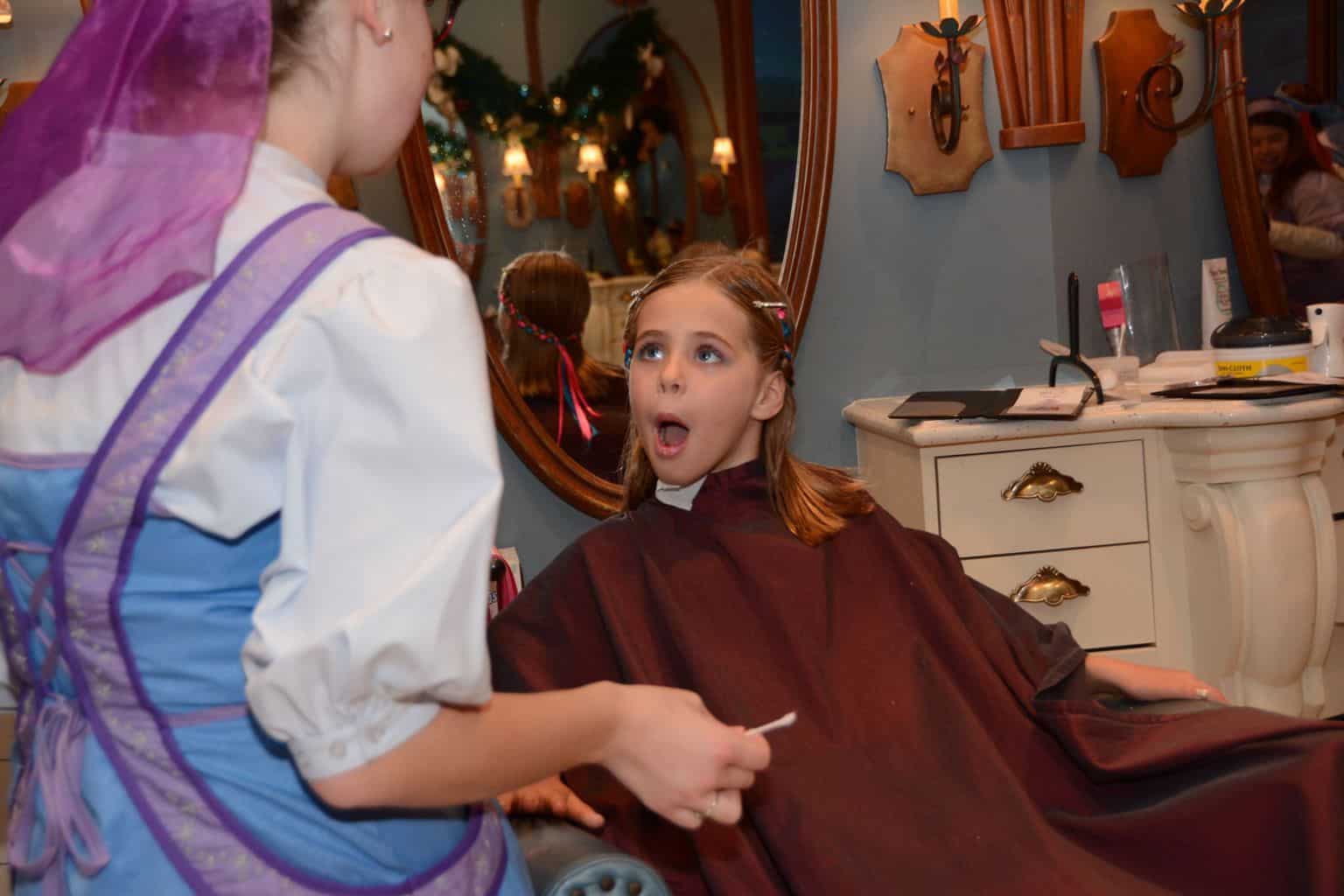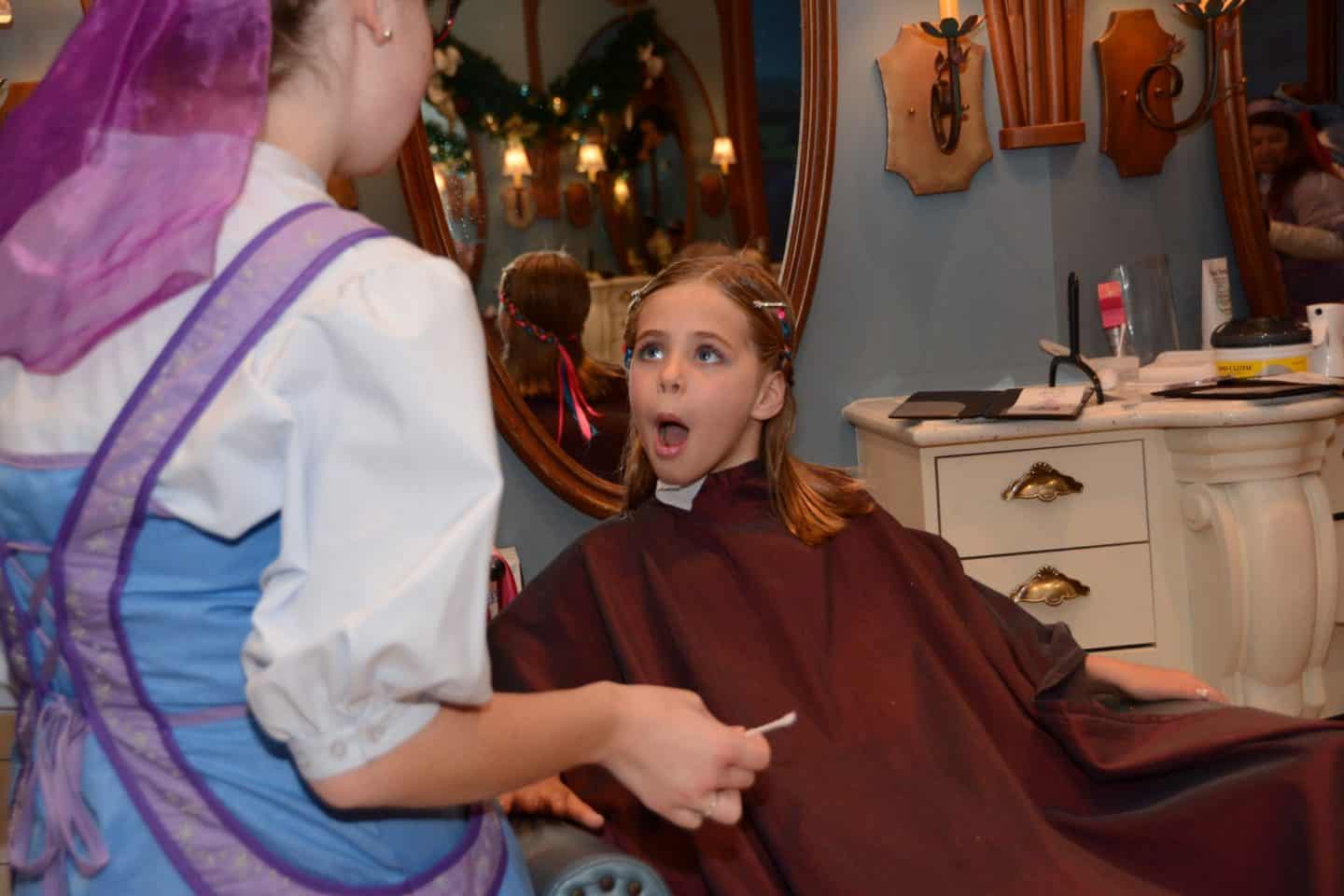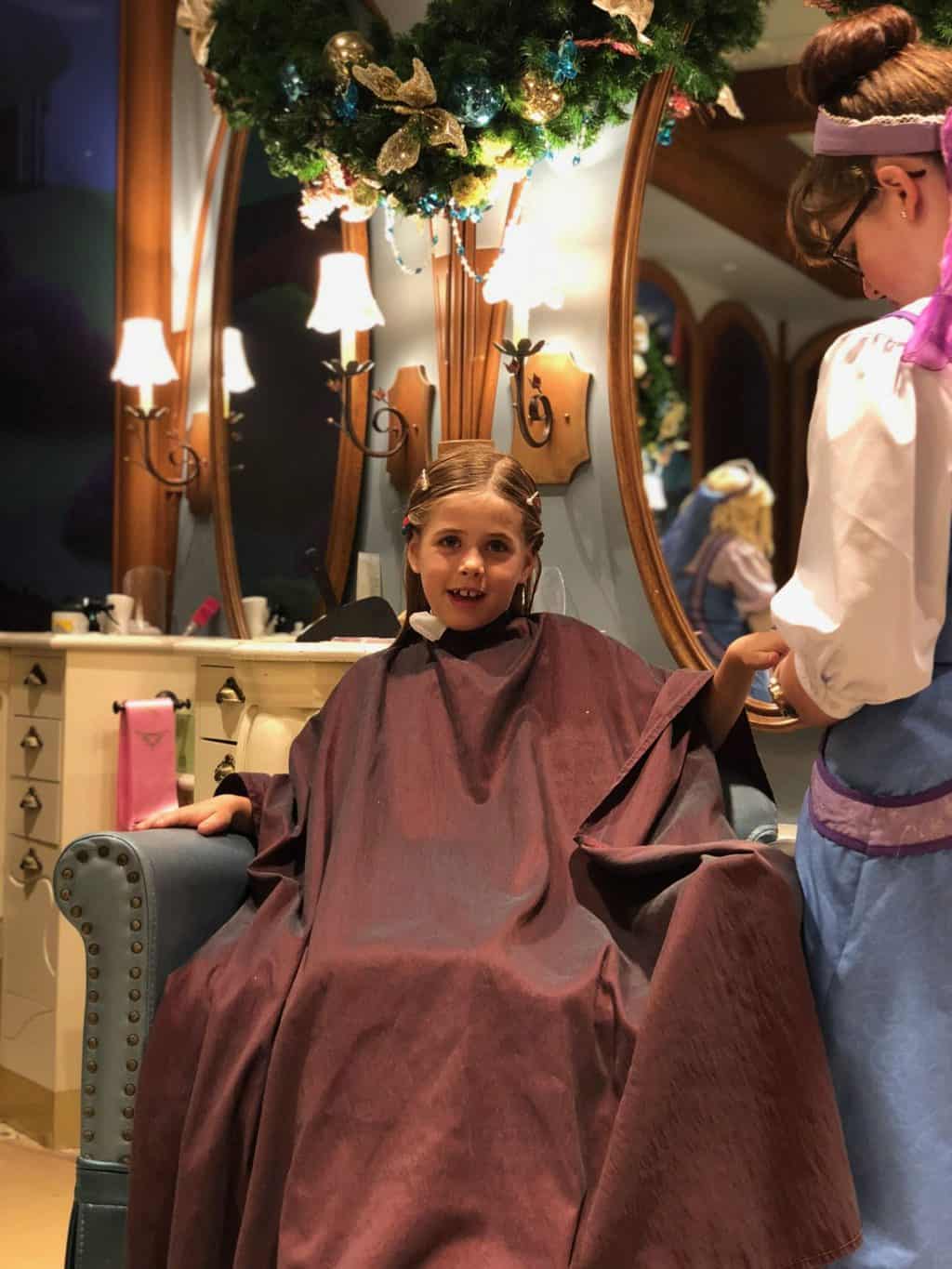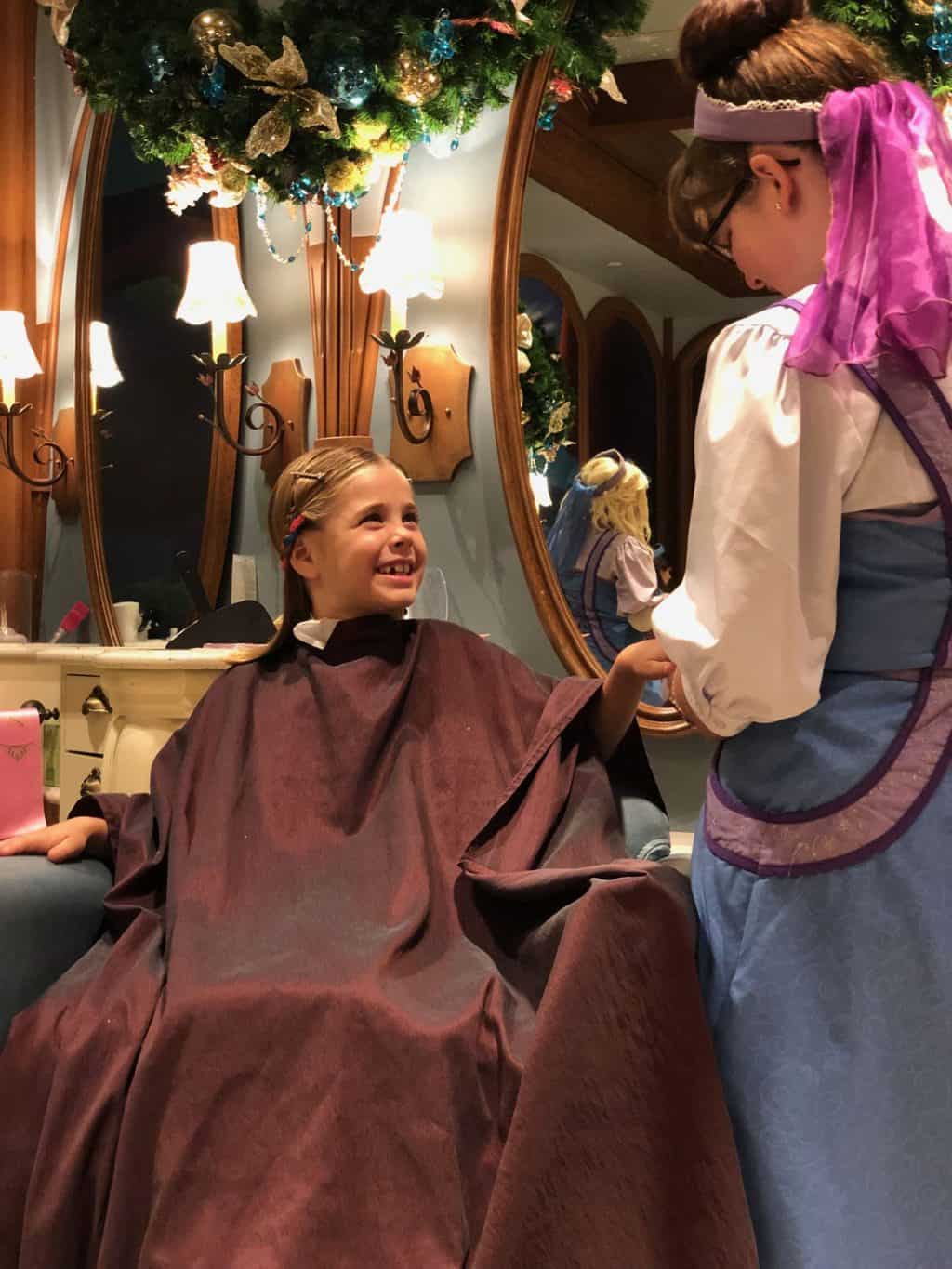 She made a promise not to date 😉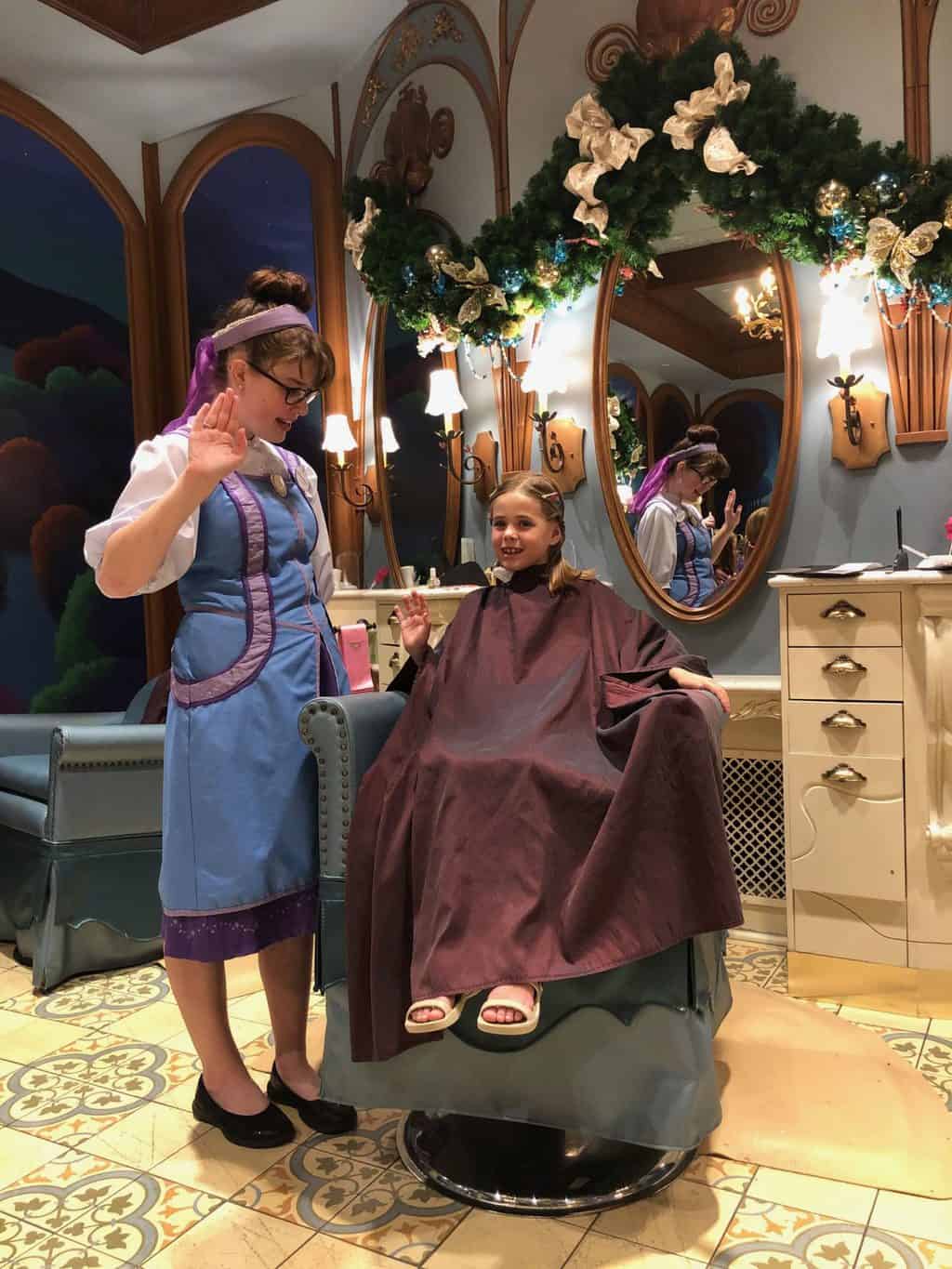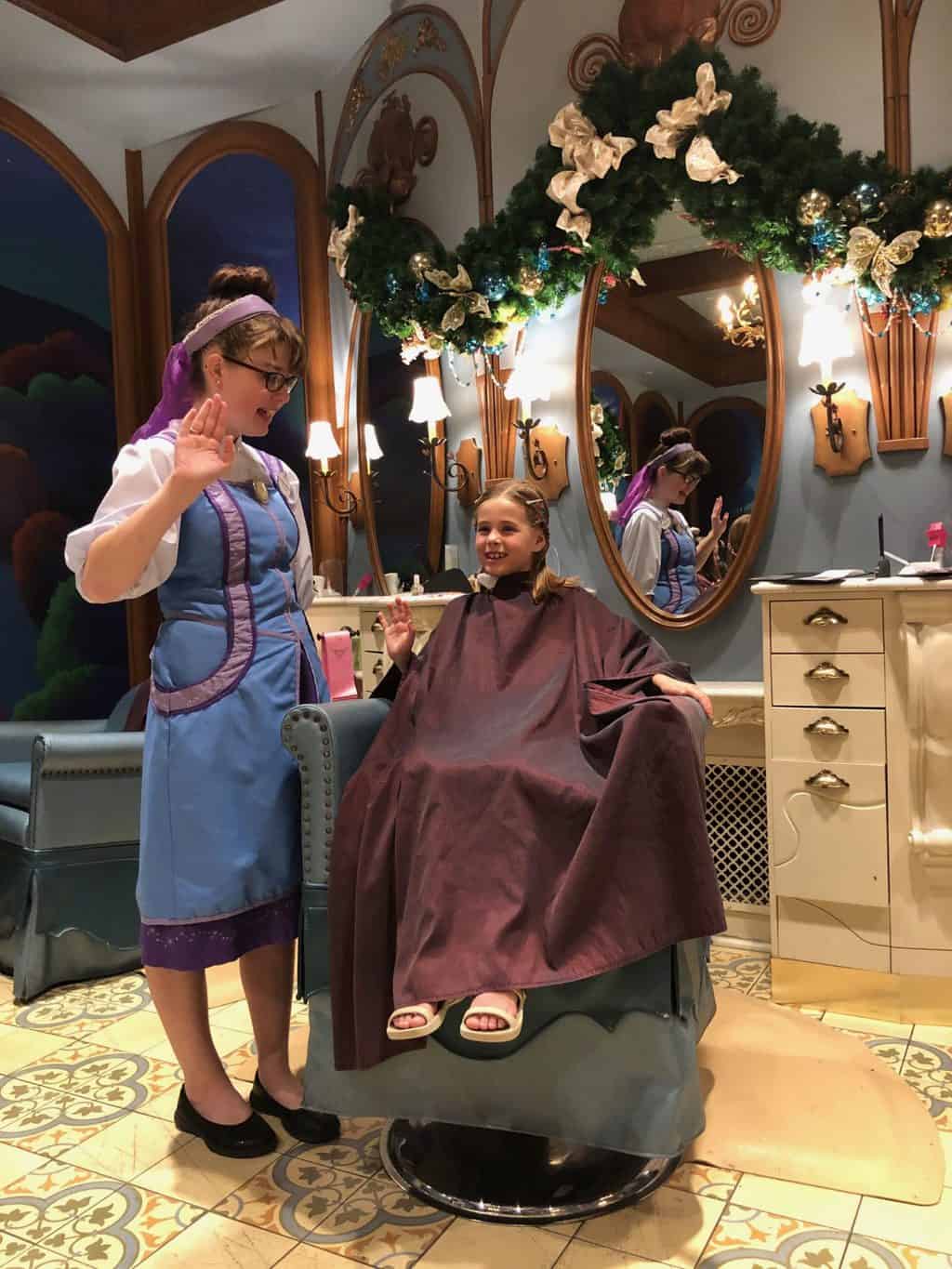 Britt wore her Moana costume last year and said she wanted to wear it again this year 🙂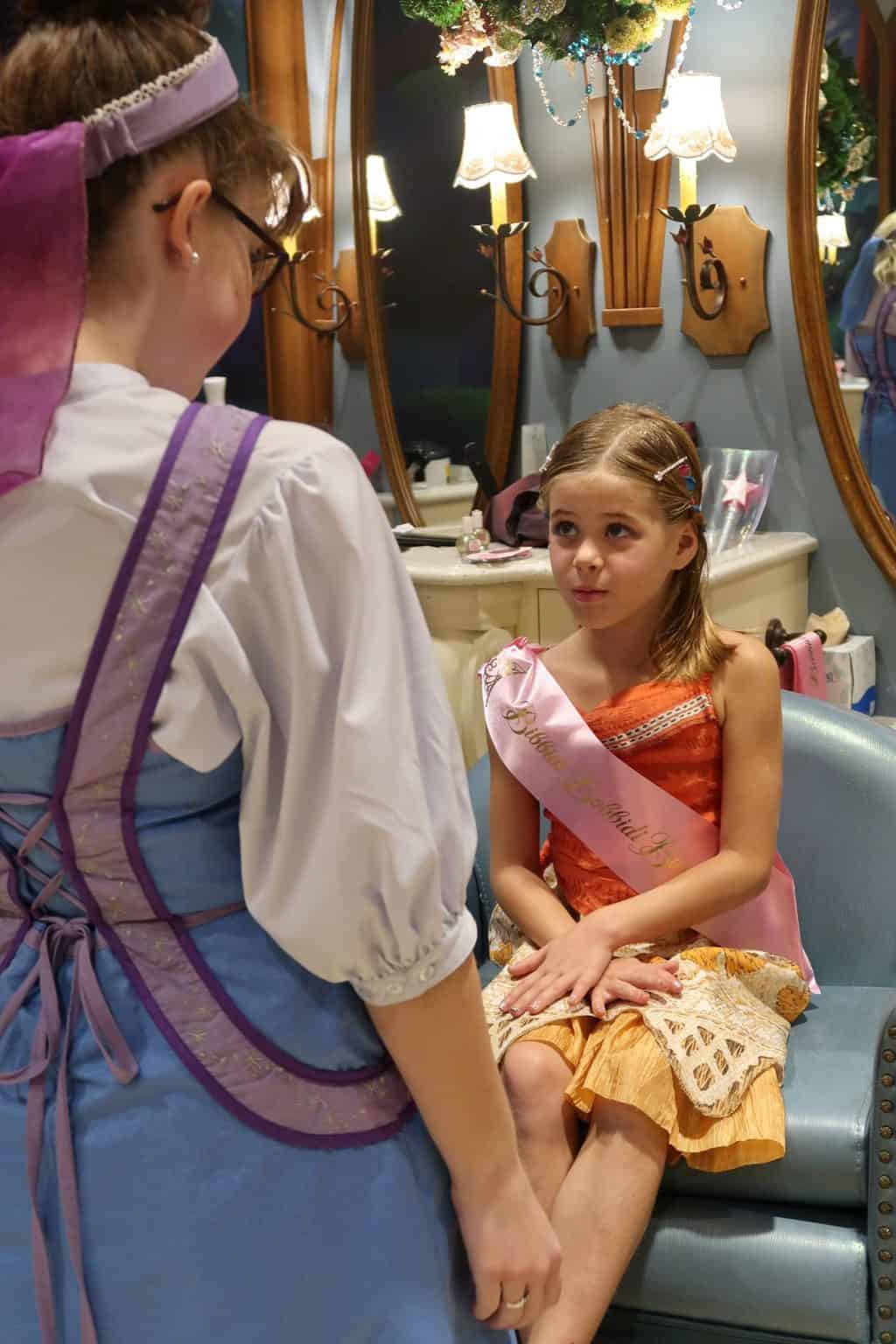 The reveal!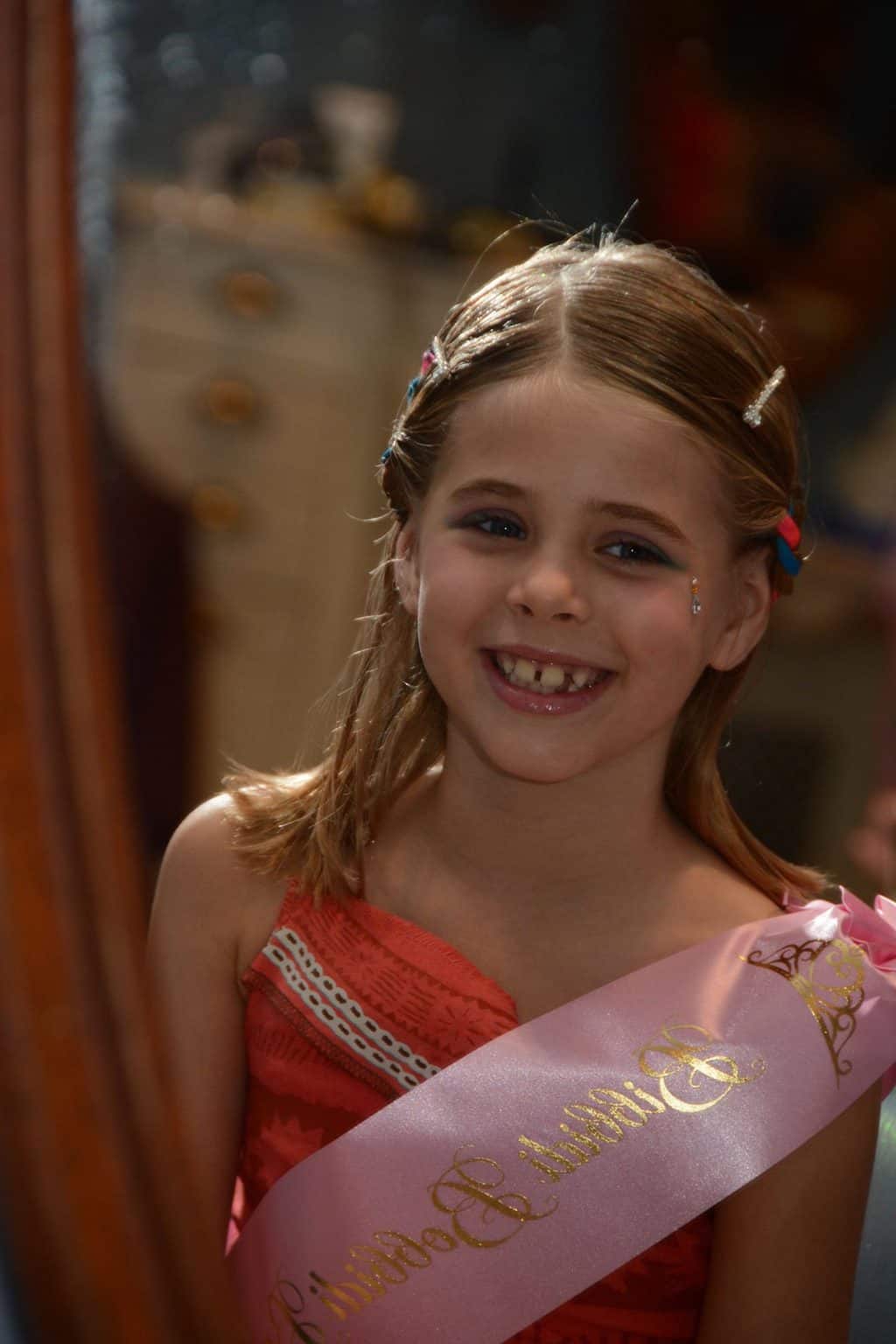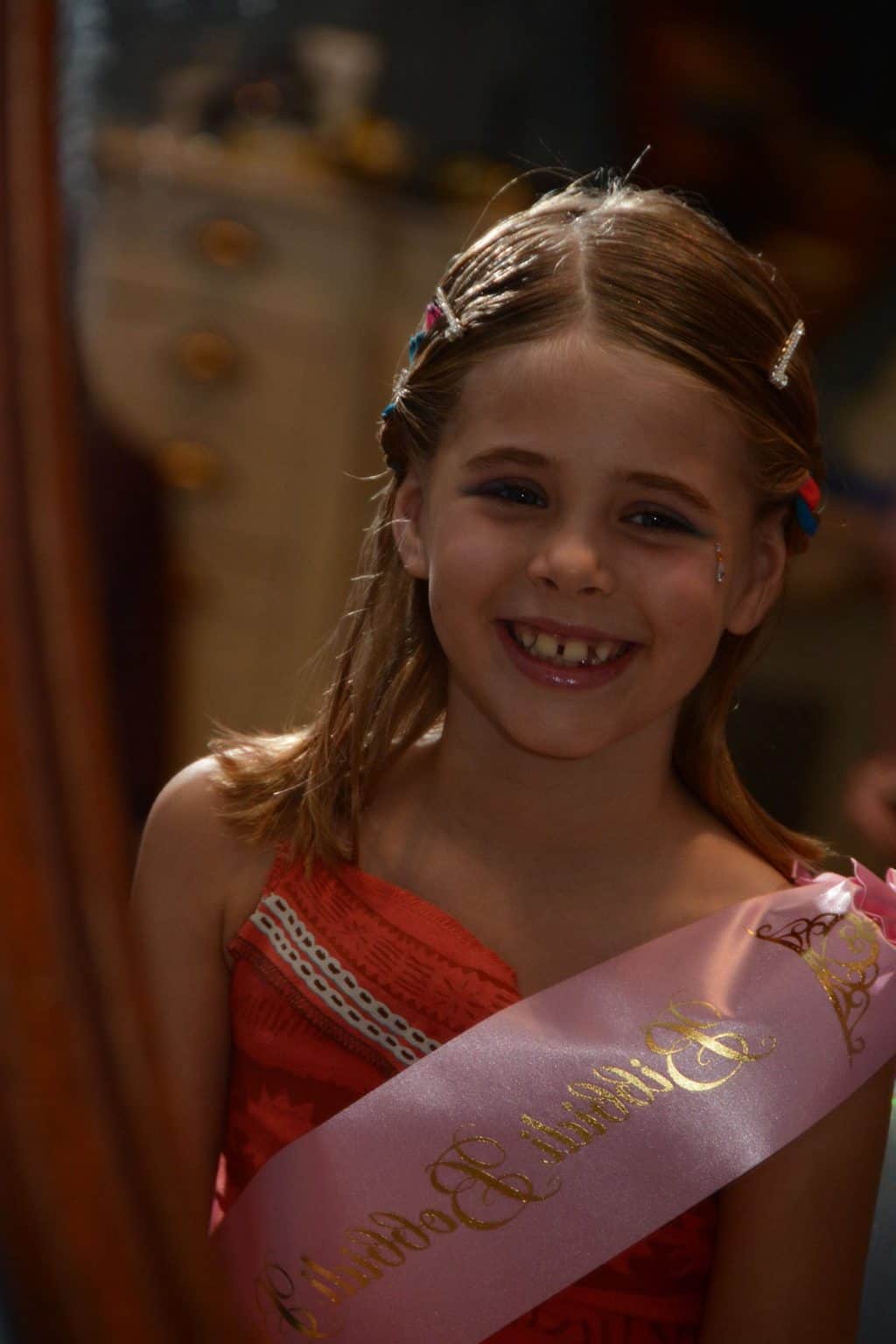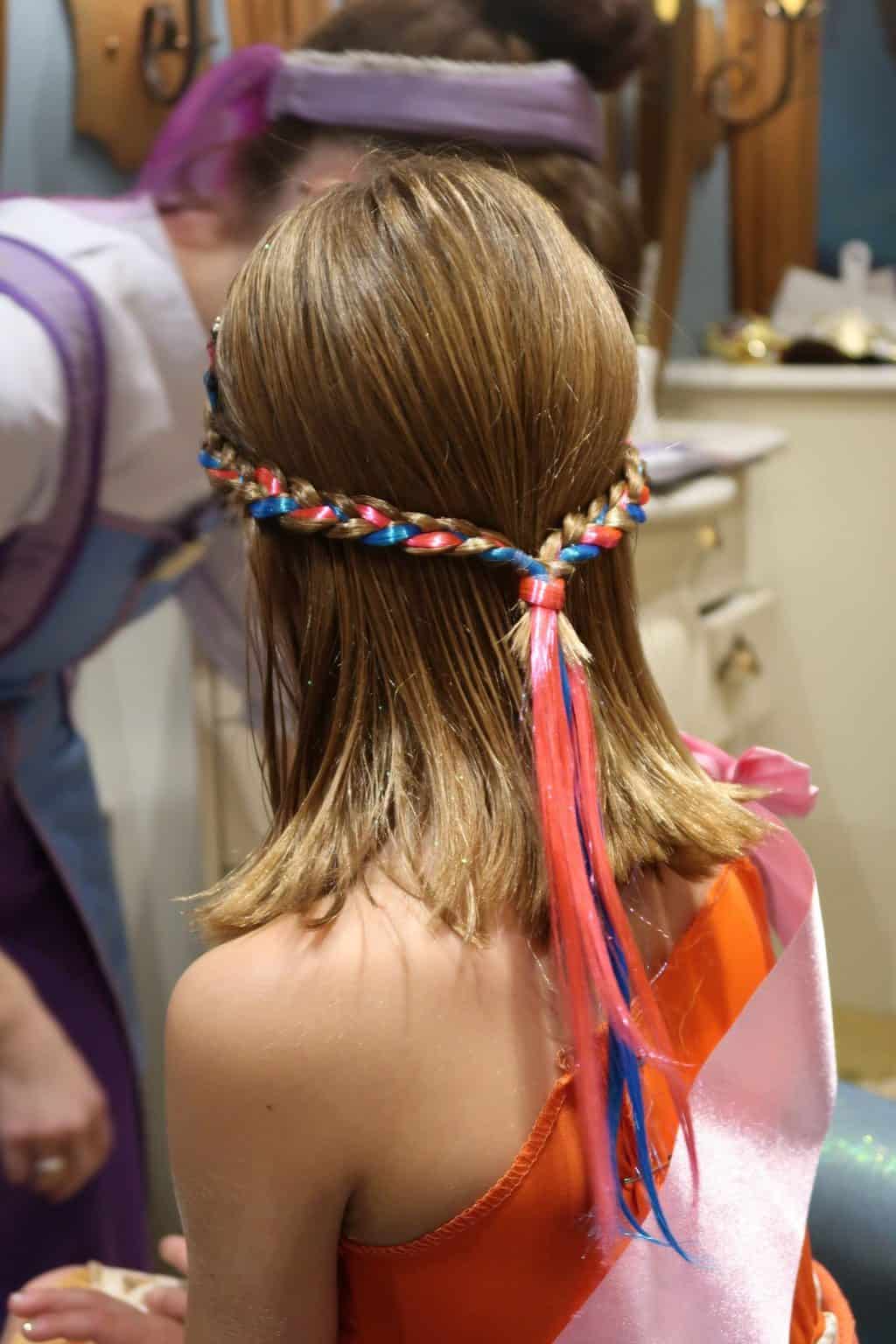 Britt FELT pretty. You could see it in her pose and walk and smile. She loved every single second of it. LOVED.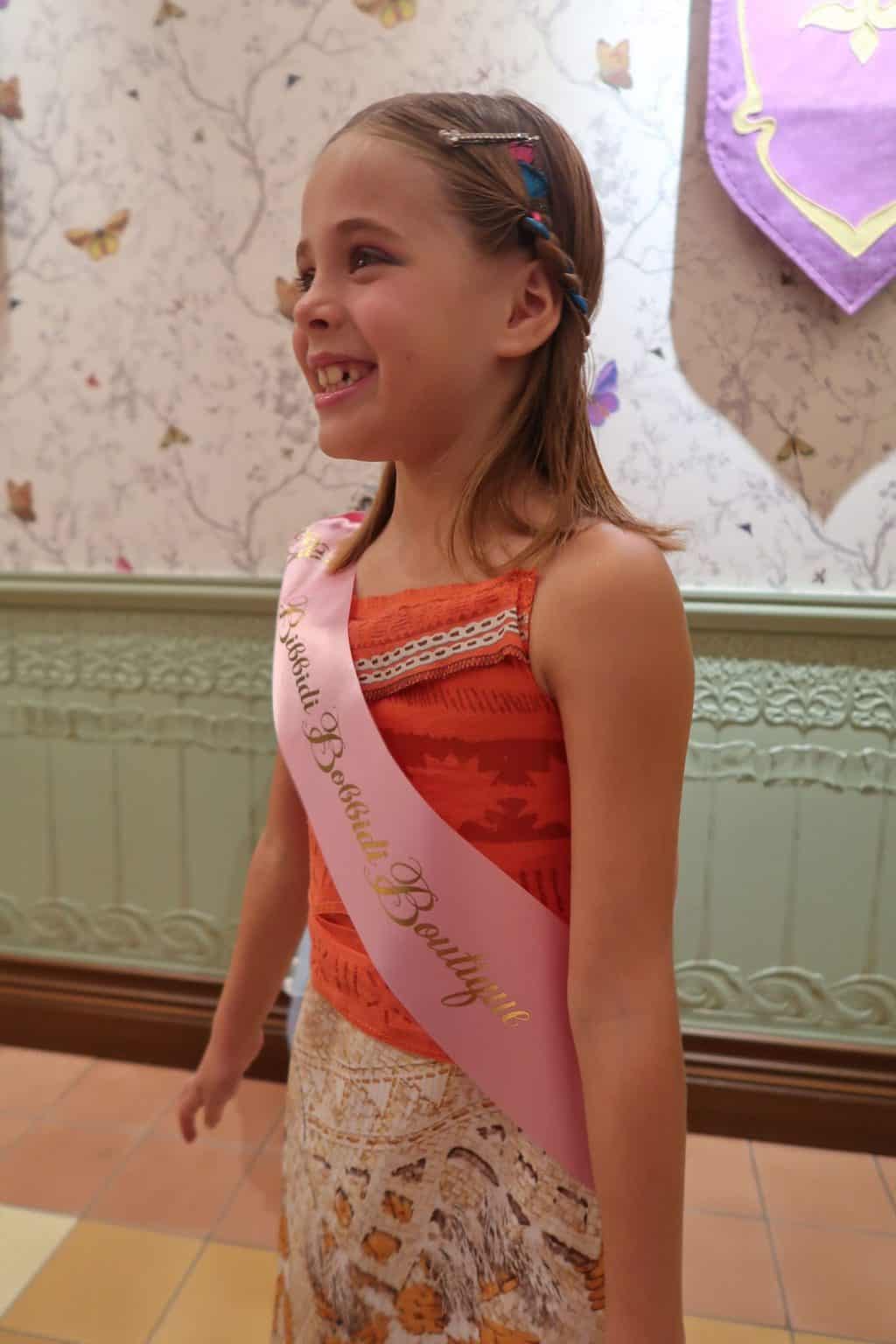 I will also say in comparing the MK to the DS locations I prefer the photos from the Magic Kingdom area over the Disney Springs one. The photographer was awesome though and above and beyond sweet to ask Tess to join in the pictures! I can't even handle how adorable the sister pics are!!! These two girls LOVE being sisters!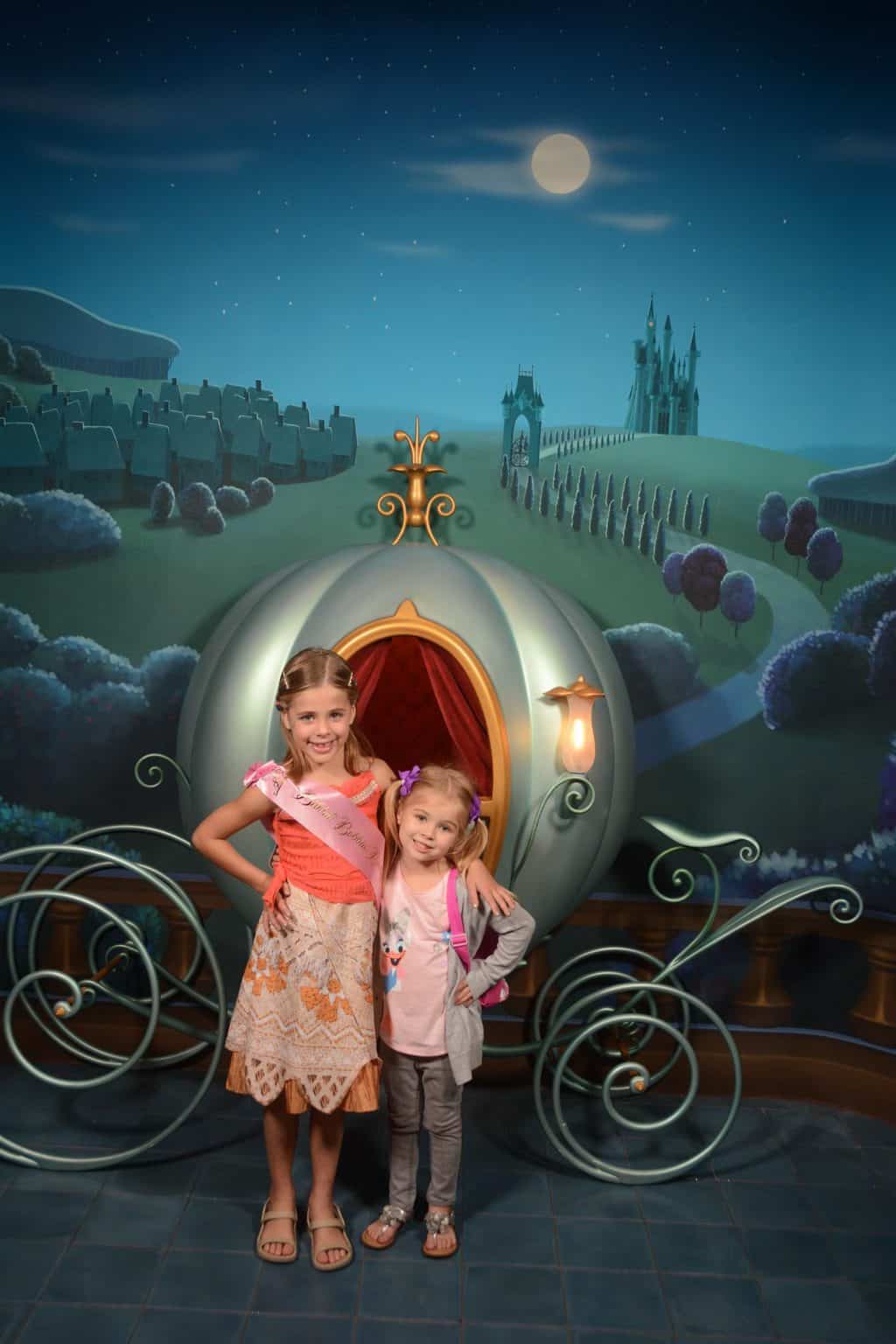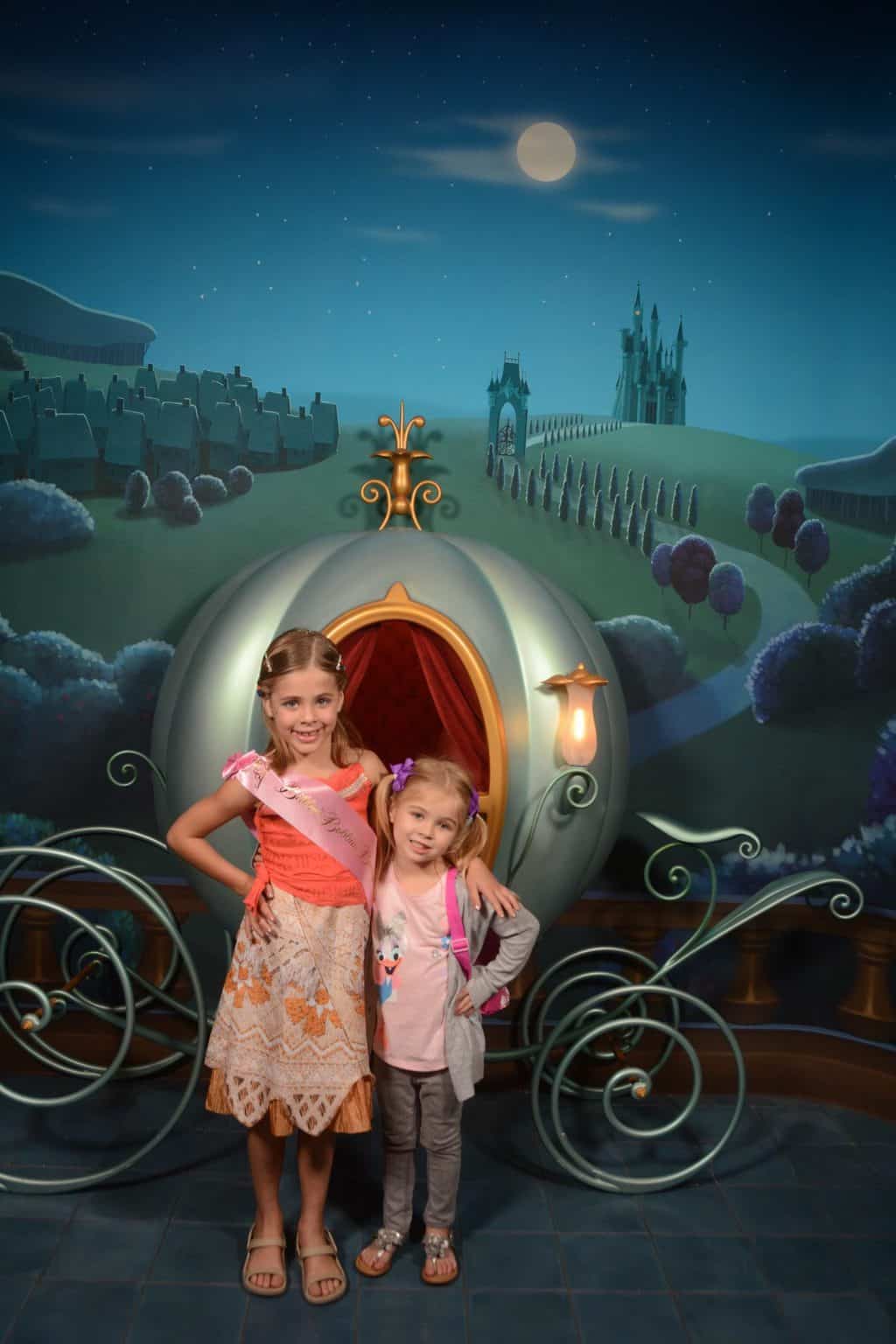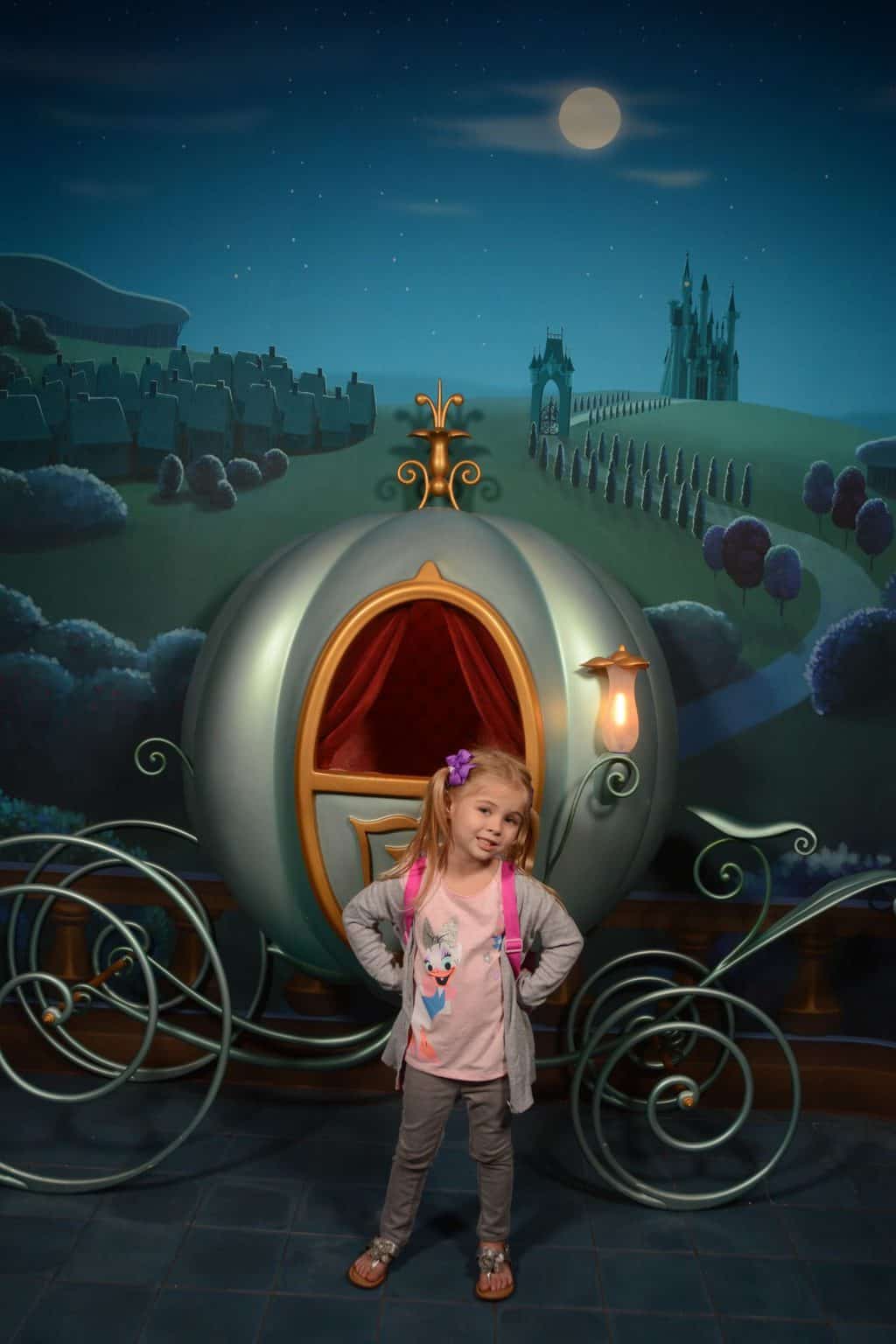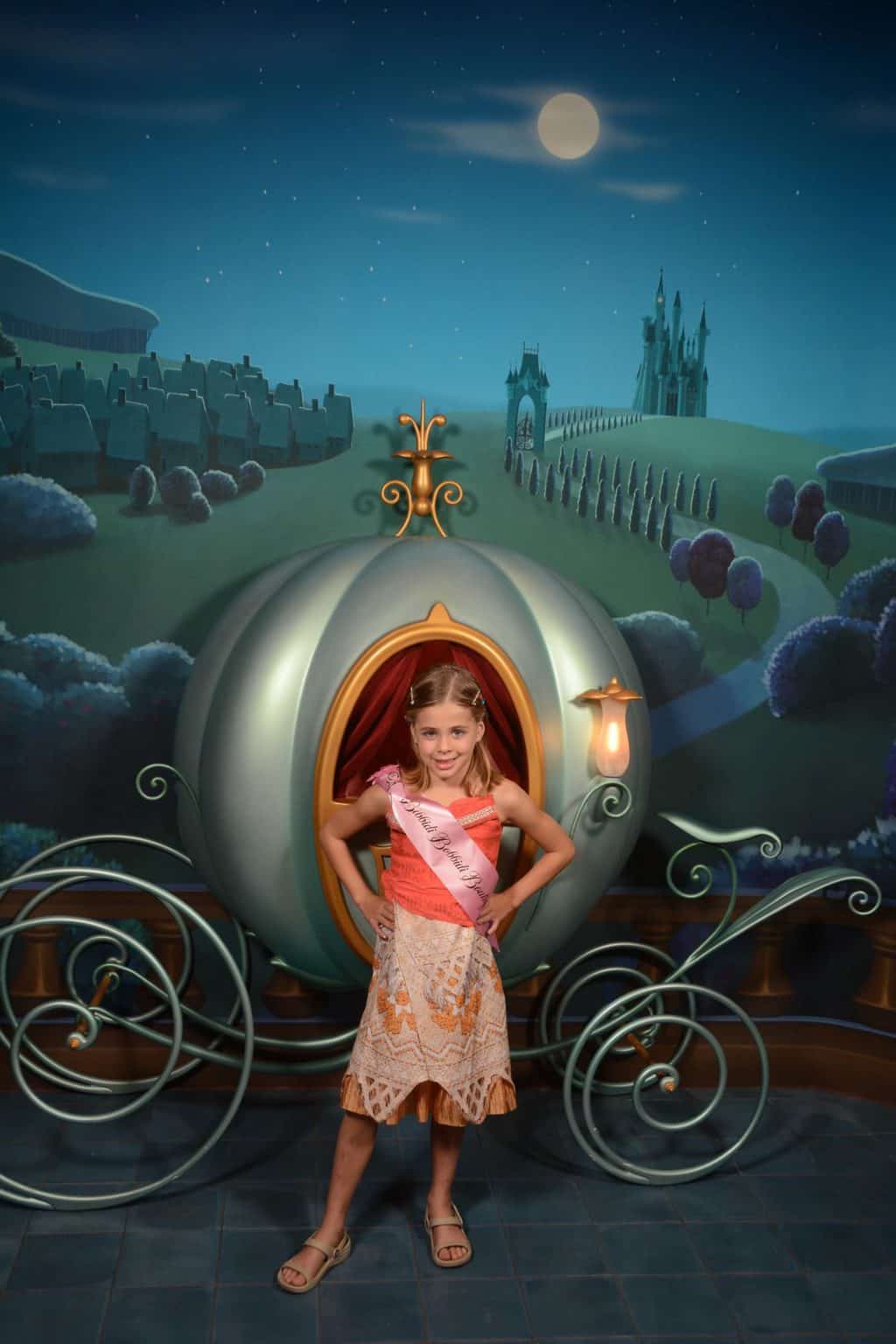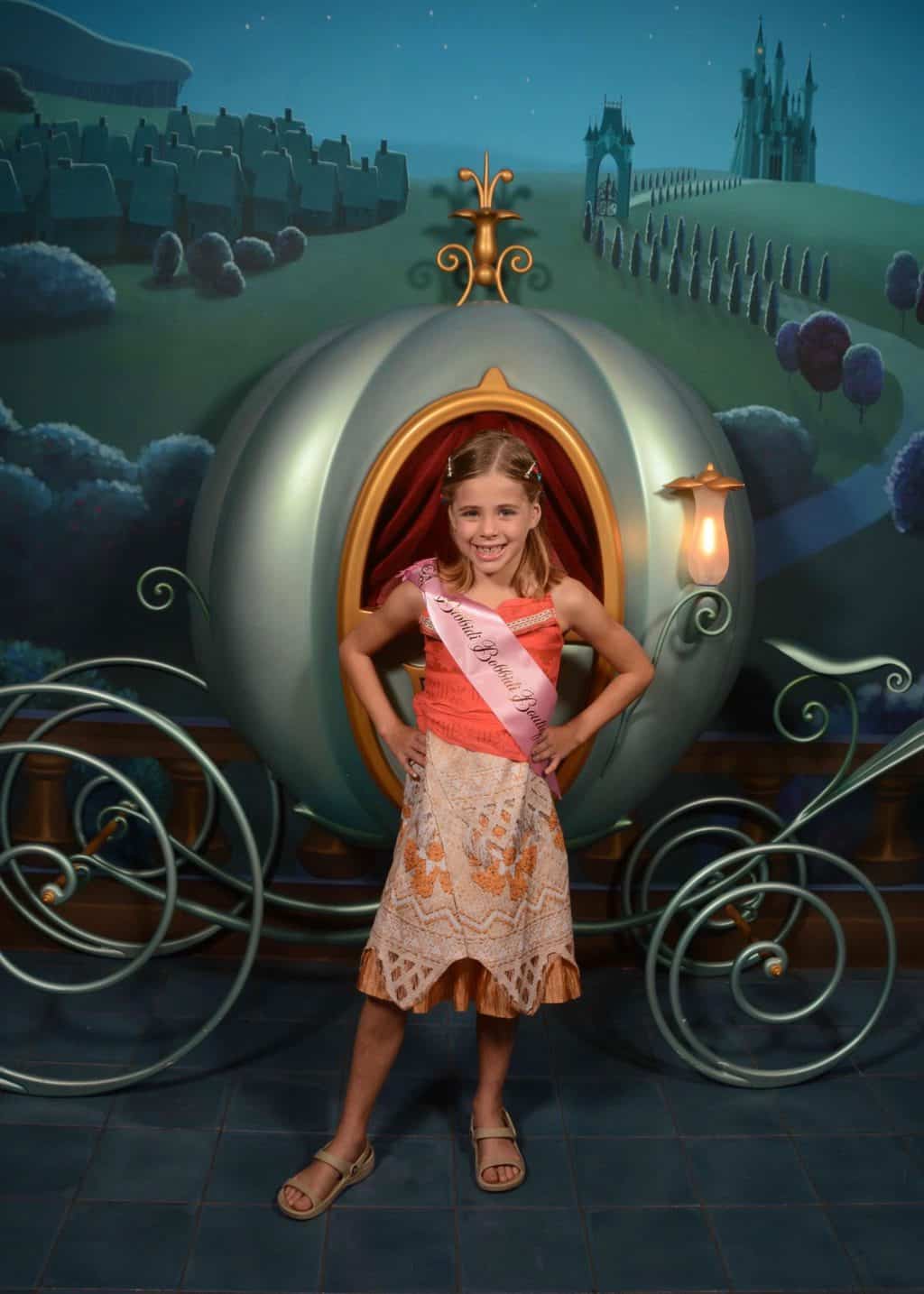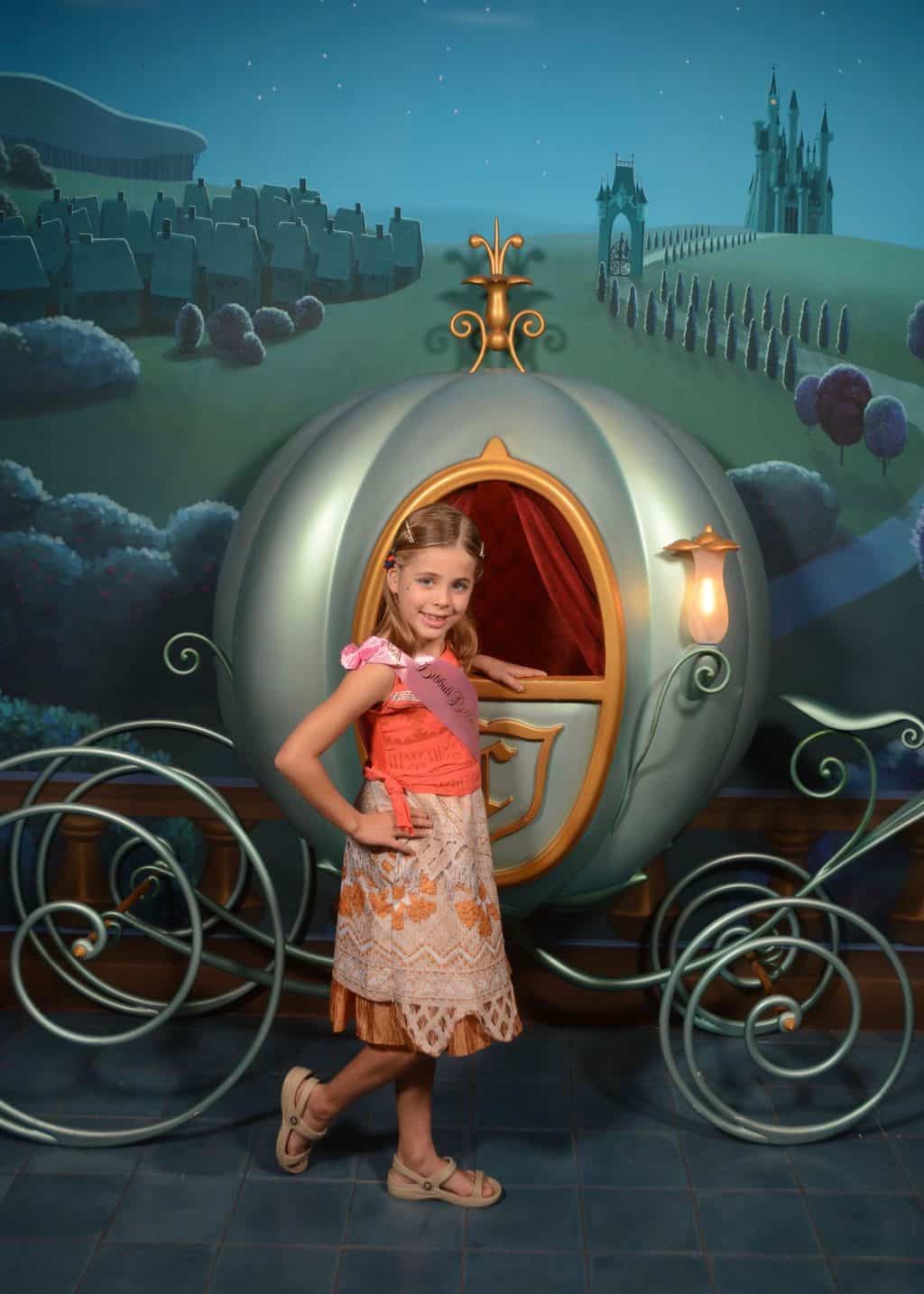 After she finished up we walked down to the photo studio area at Disney Springs to get some more shots of her. It's free with Memory Maker and they are able to do so many fun backdrops. It's a bit cheesy but Britt LOVED it with her Moana look to have Moana themed photos too.
When we got there we were all getting in line when we realized Kye was missing. Y'all. Panic MODE. Zach went one way to look, Mrs Charlotte went the other and I stayed in line with the other kids. He hadn't been paying full attention and had kept walking when we all turned into the photo area. He had been walking behind Zach but too far in front of Mrs Charlotte and I for us to have seen that he was even missing! He did a good job not freaking out and was tracing his steps back looking for us when Zach got him.
You don't think about losing the oldest kid! Def a good lesson for him to PAY ATTENTION and for us to keep a better eye on him too, of course! It's easy to get split up with a lot of people in a group like we have and it's important to be mindful of every member of our crew wherever we go!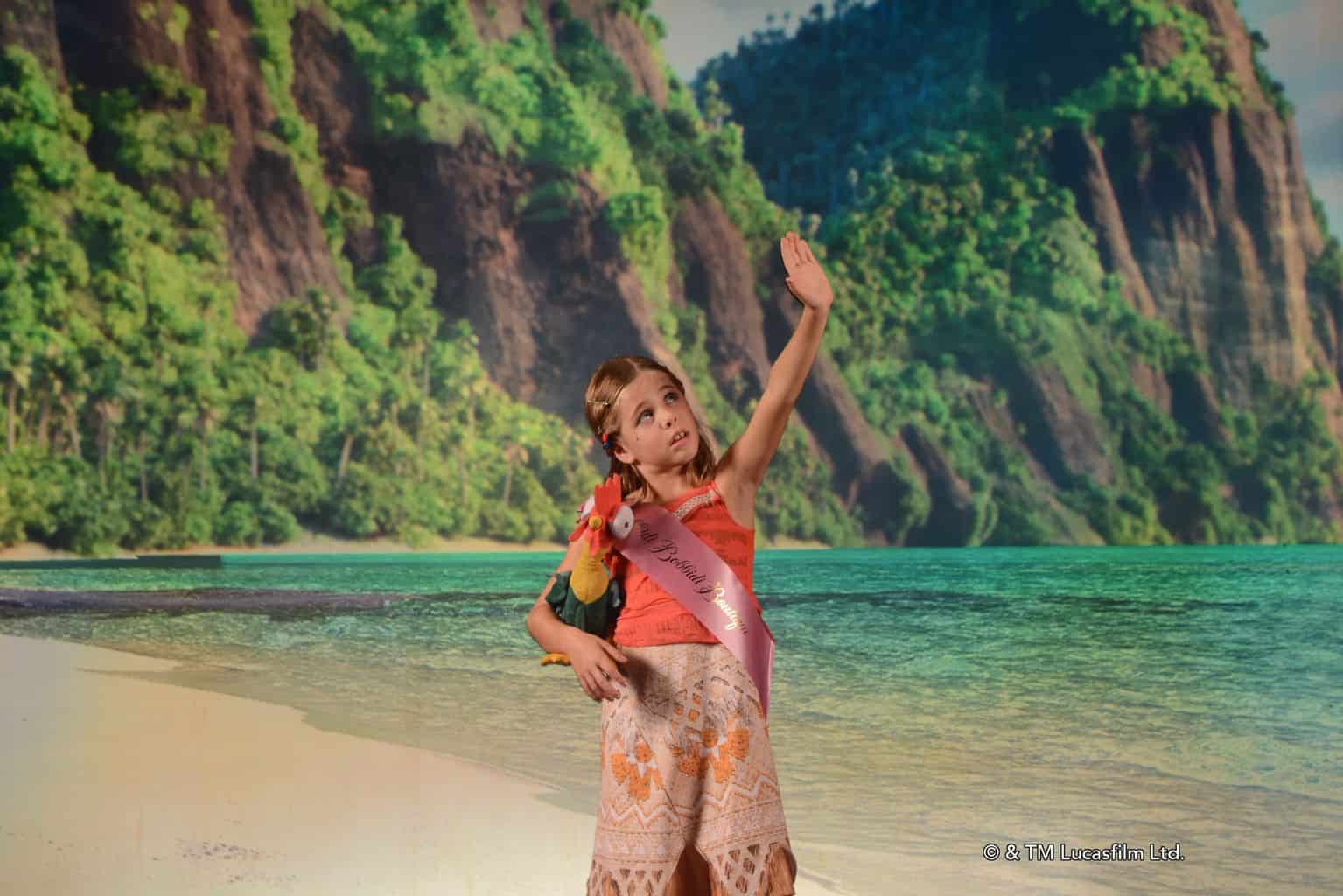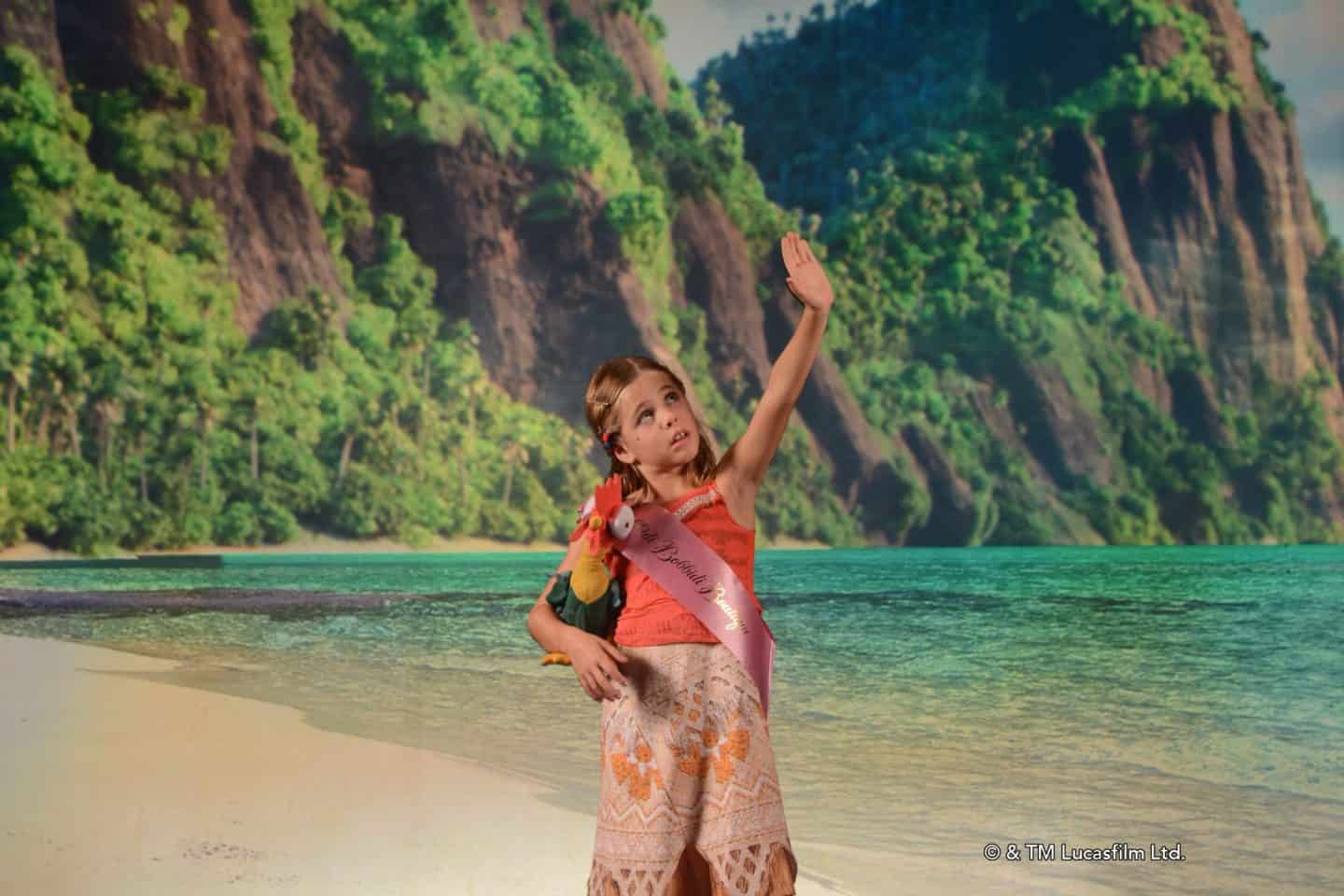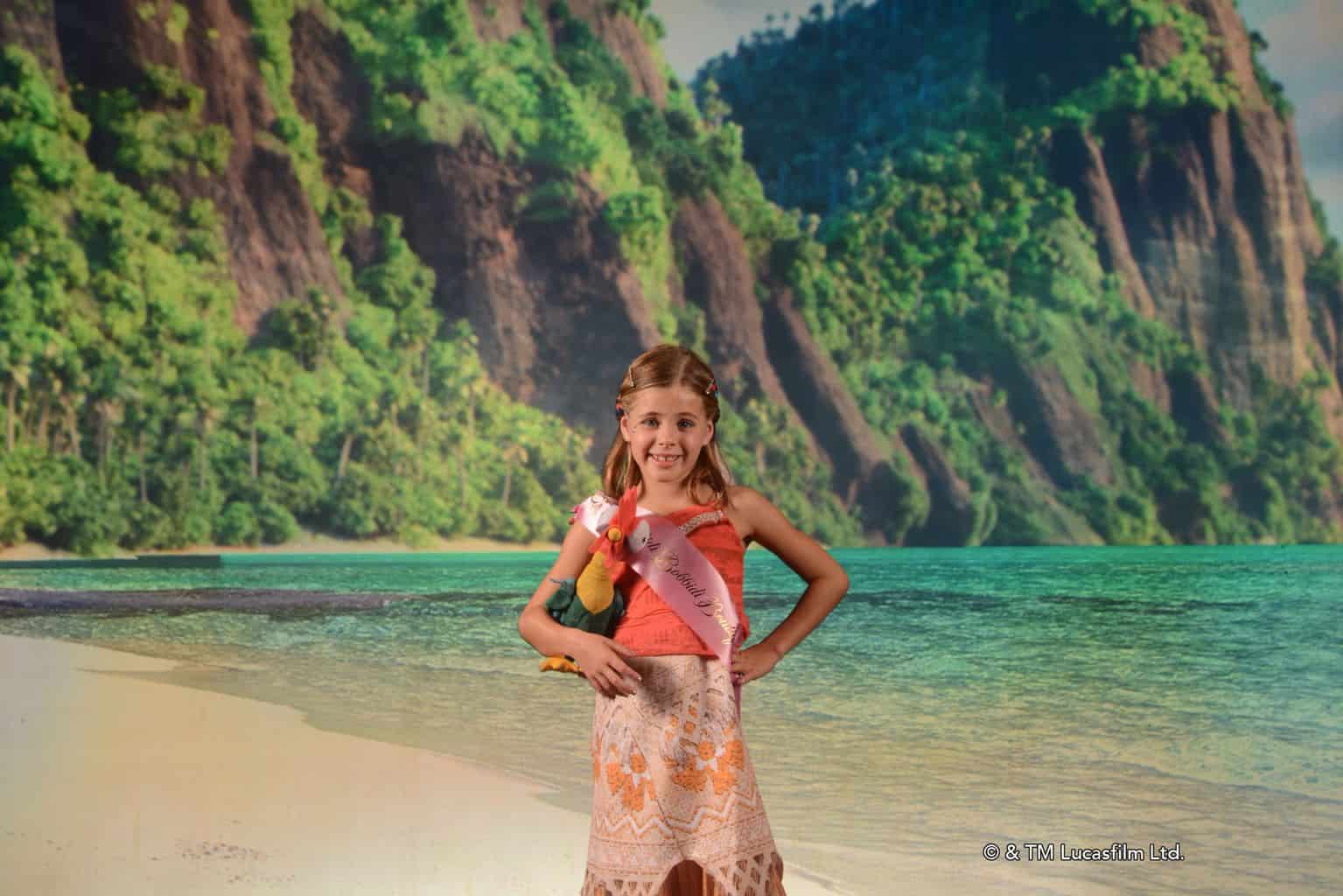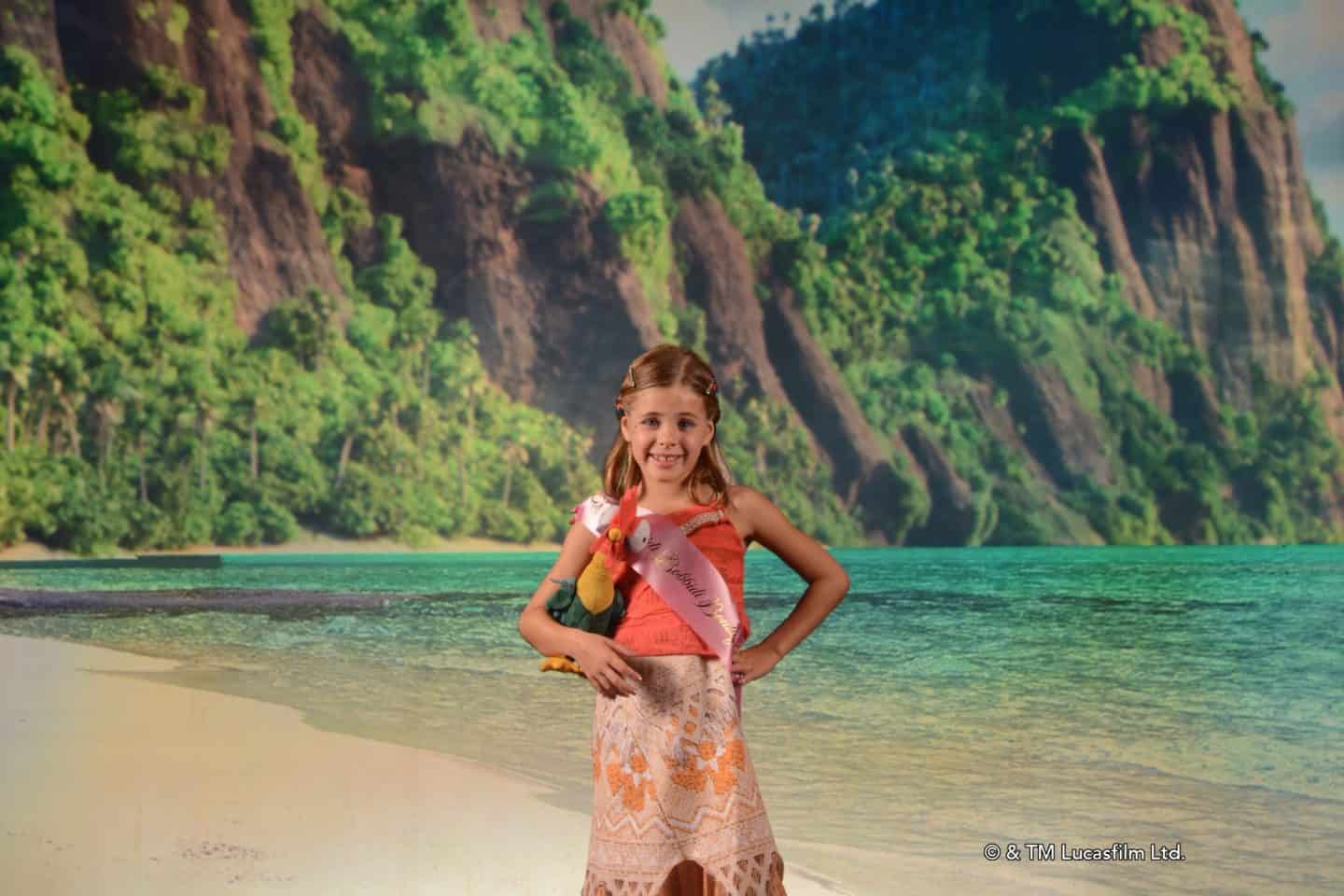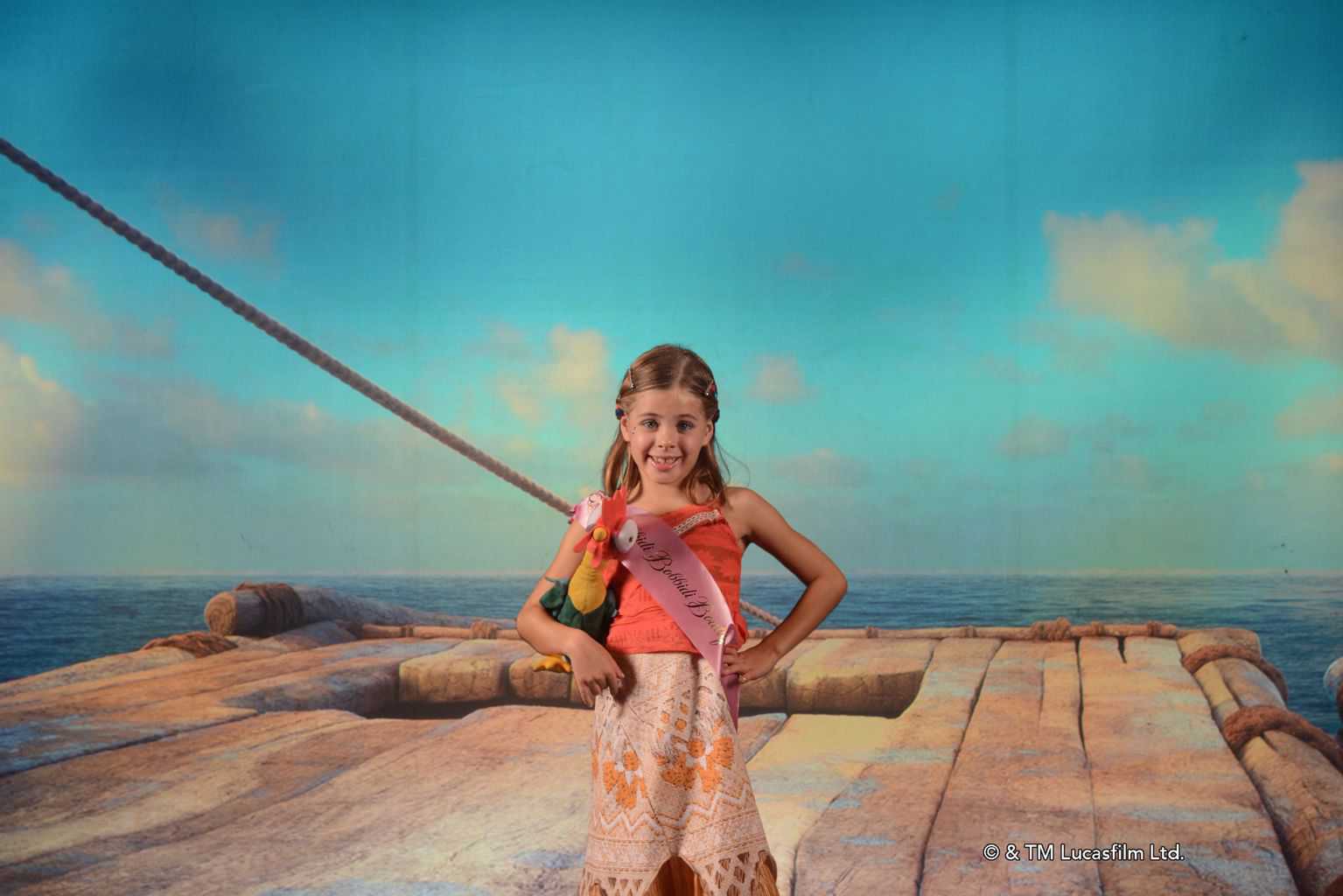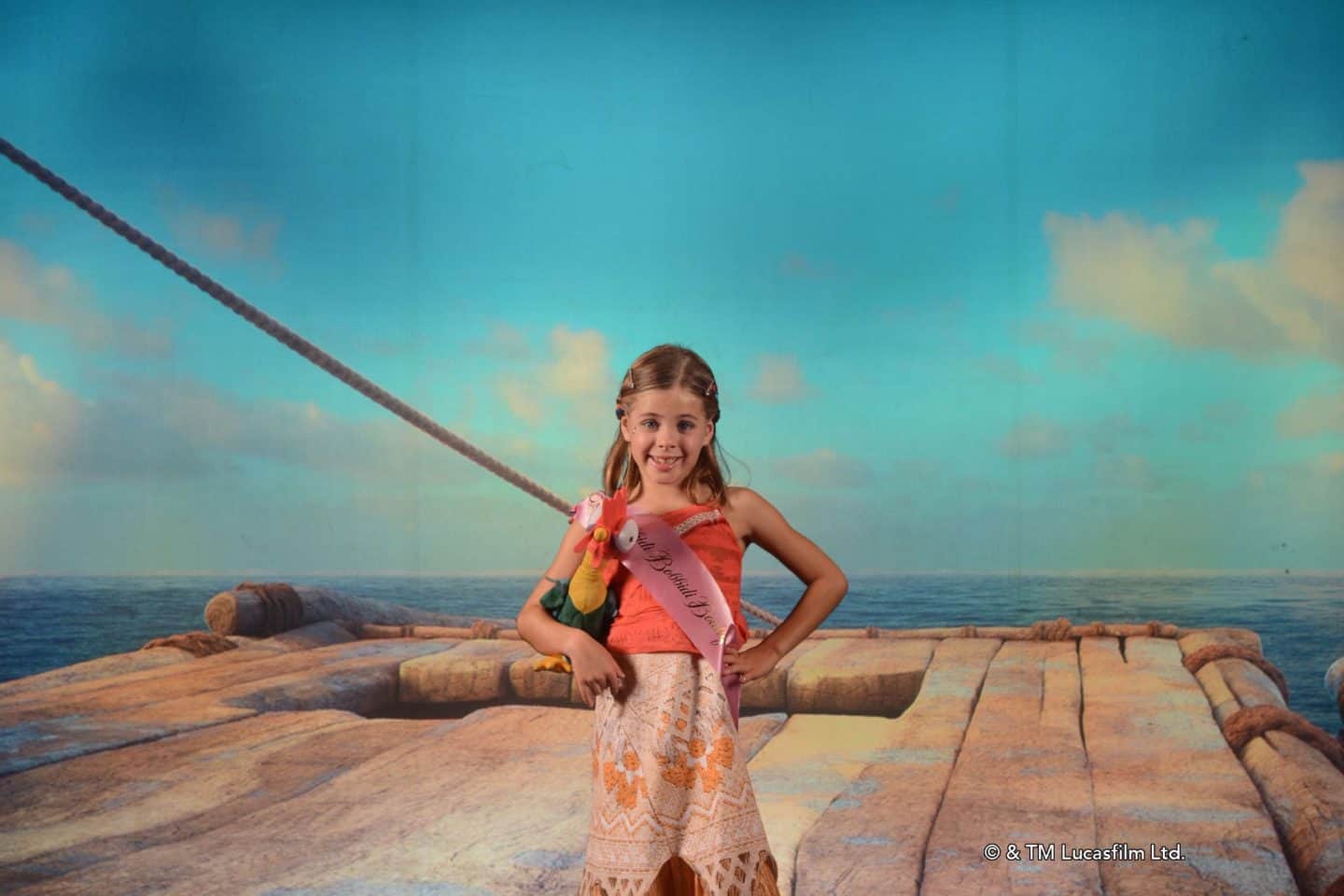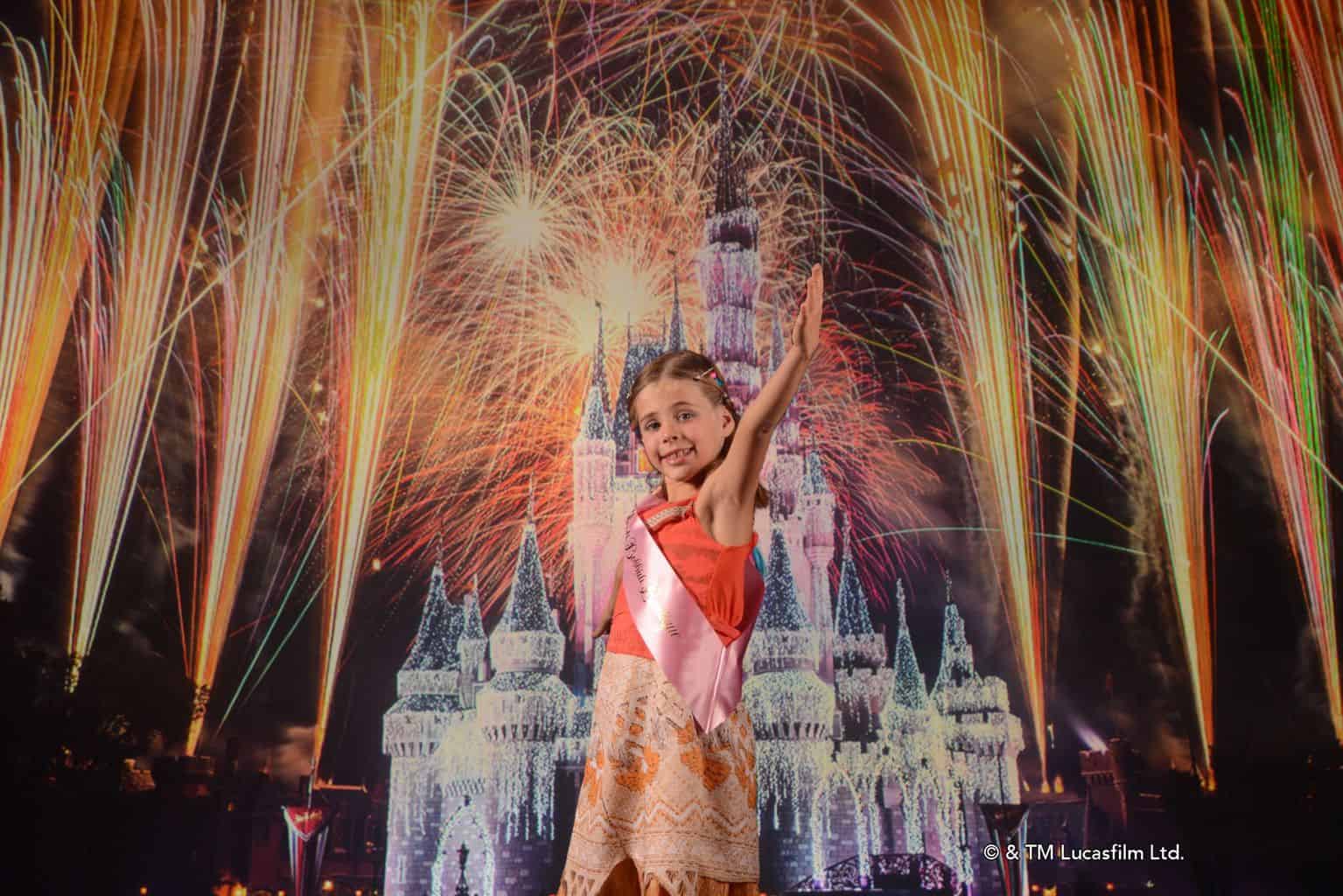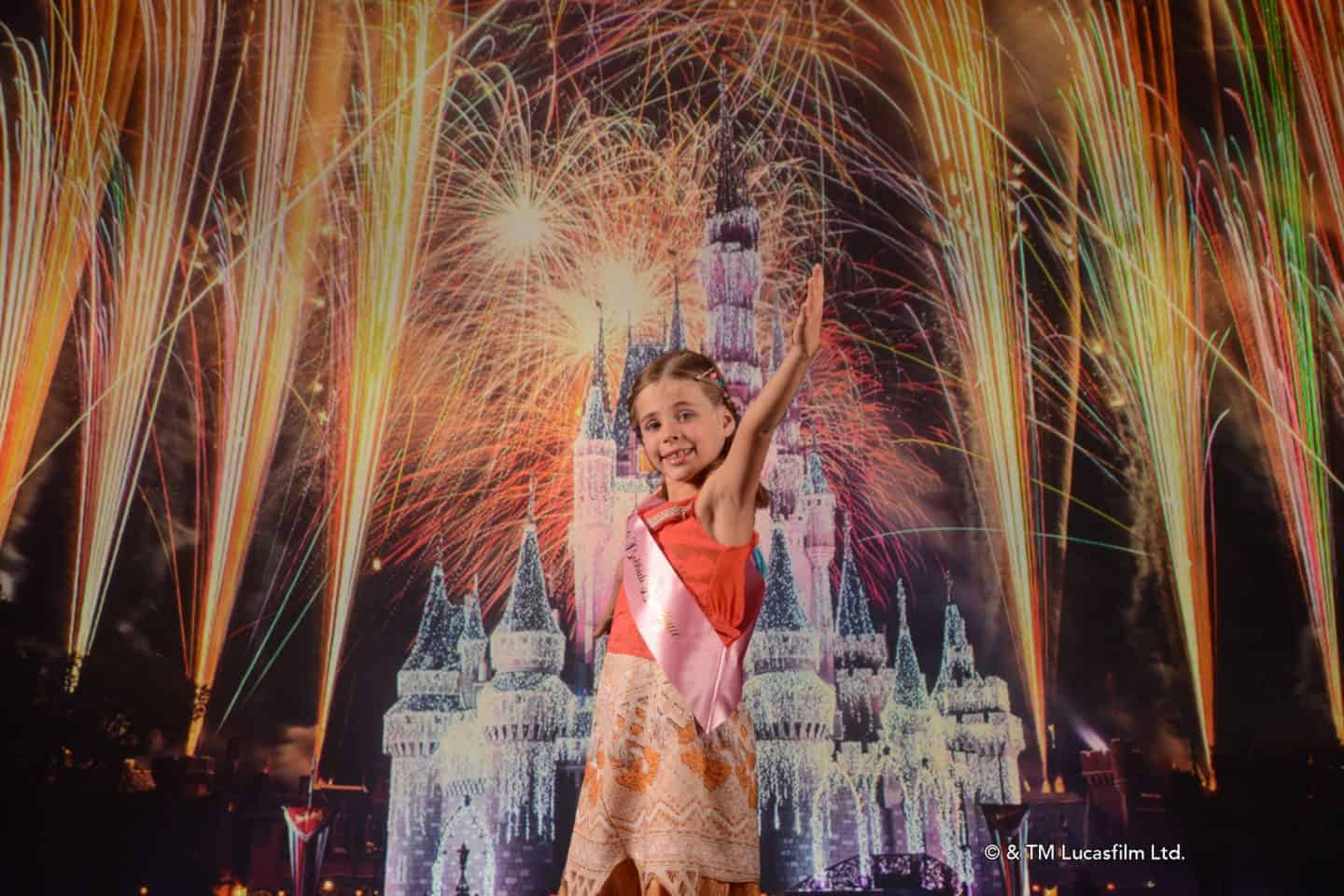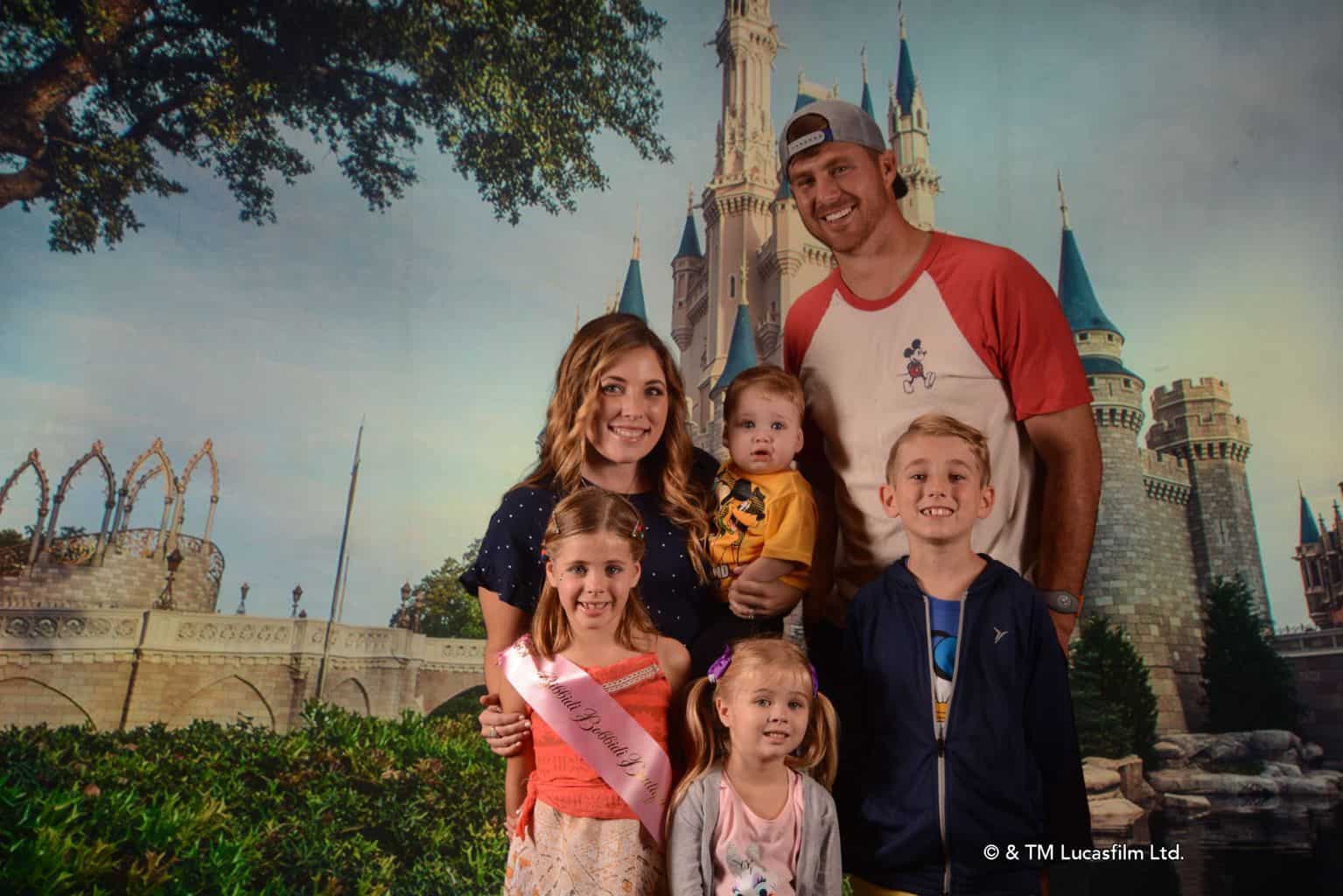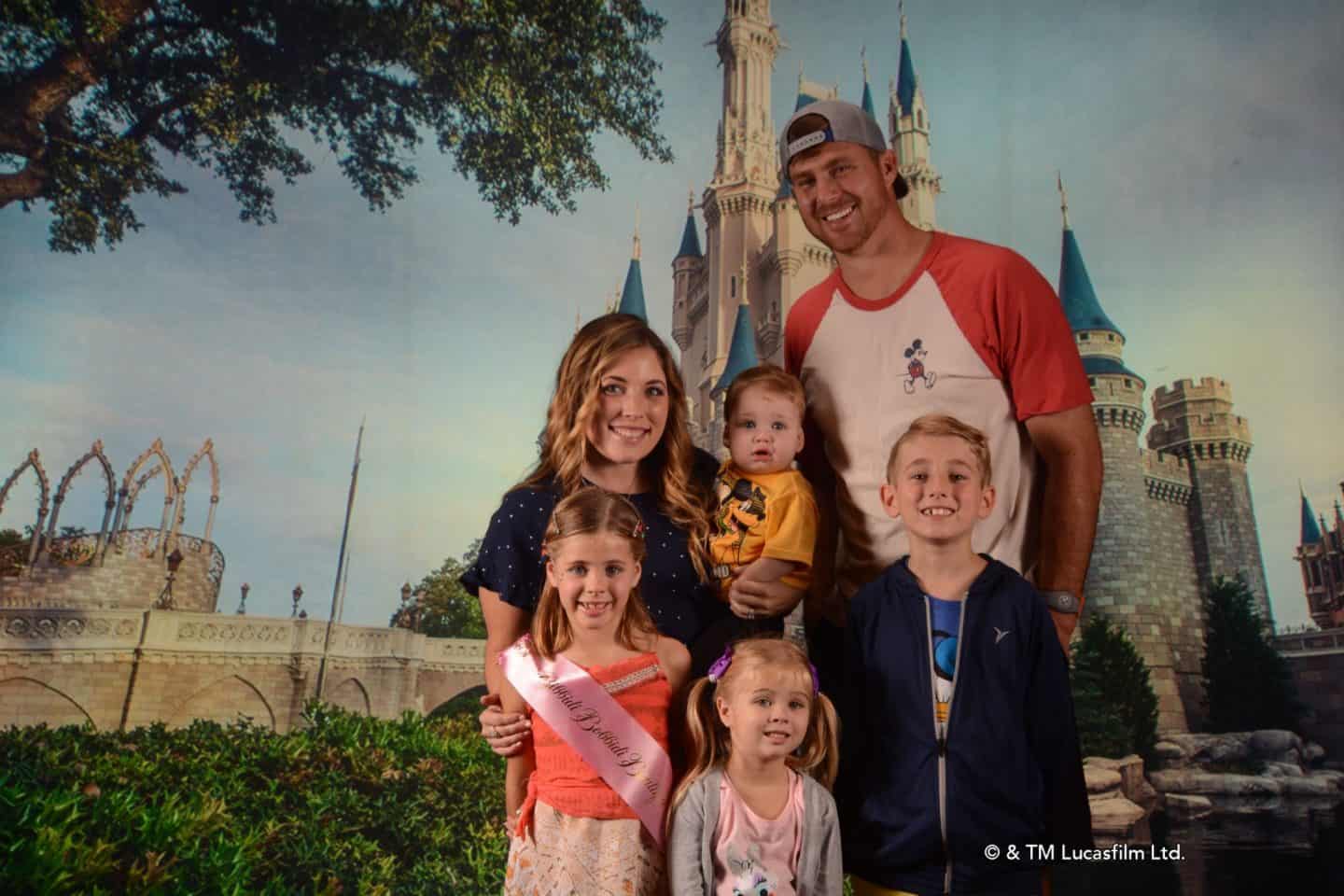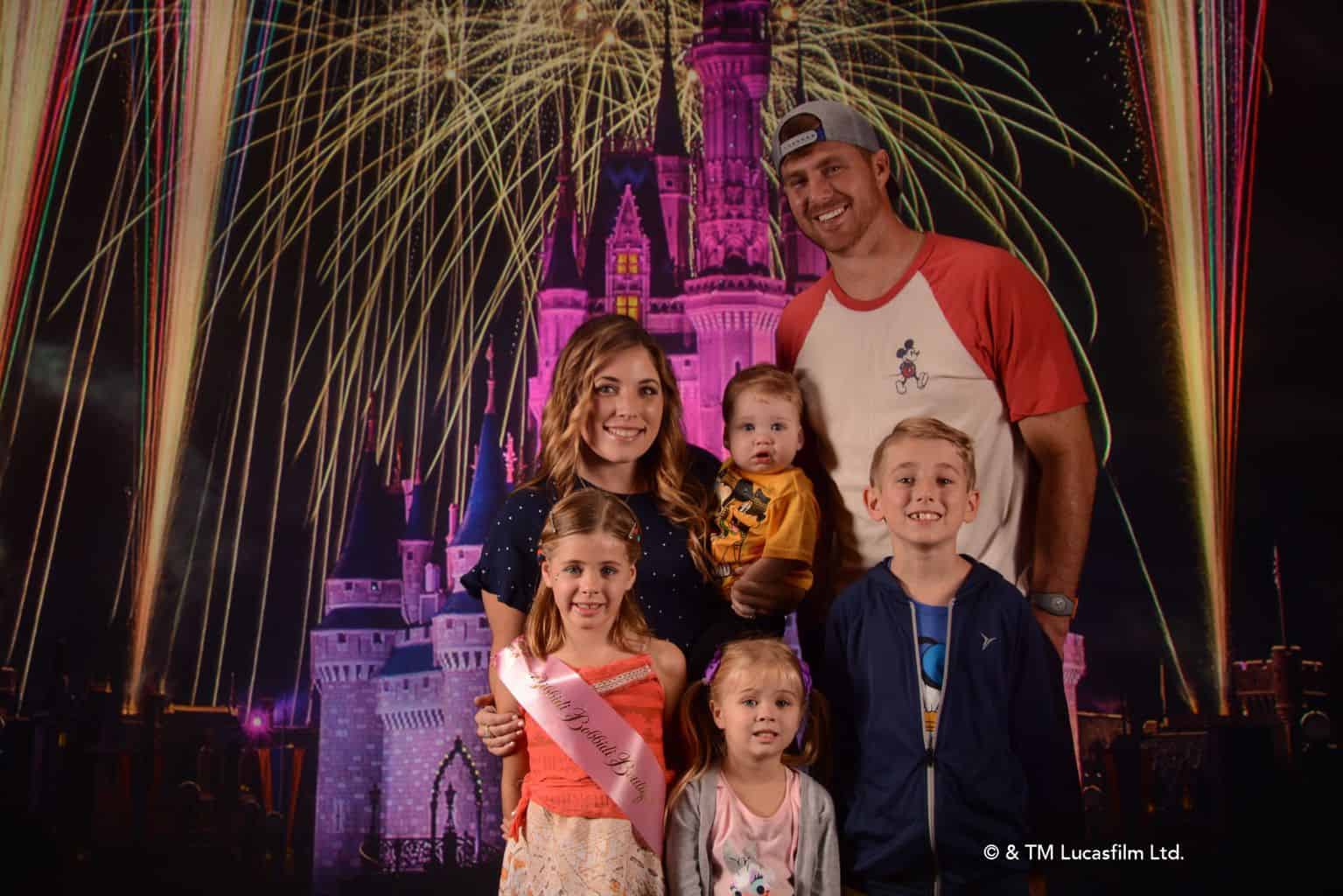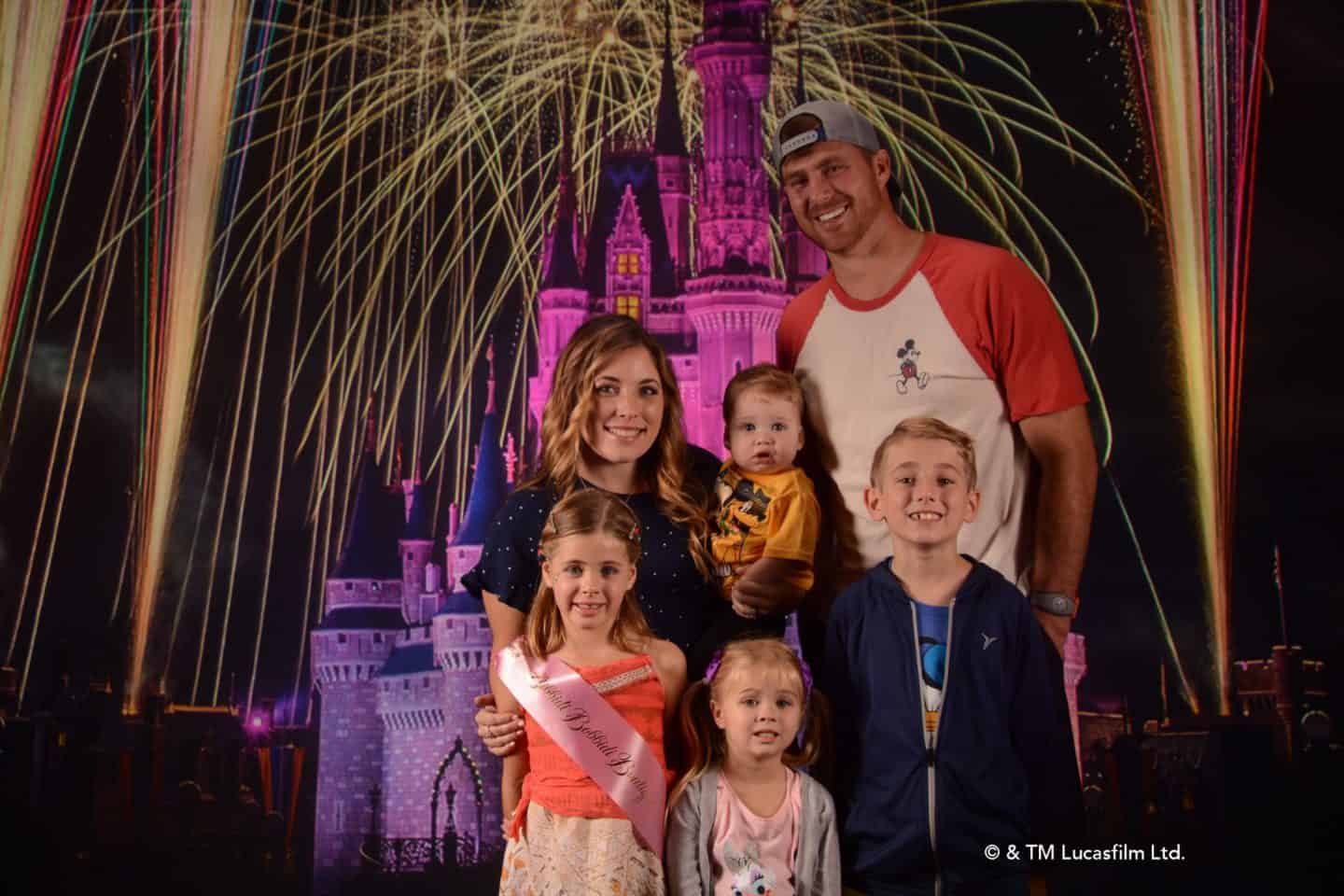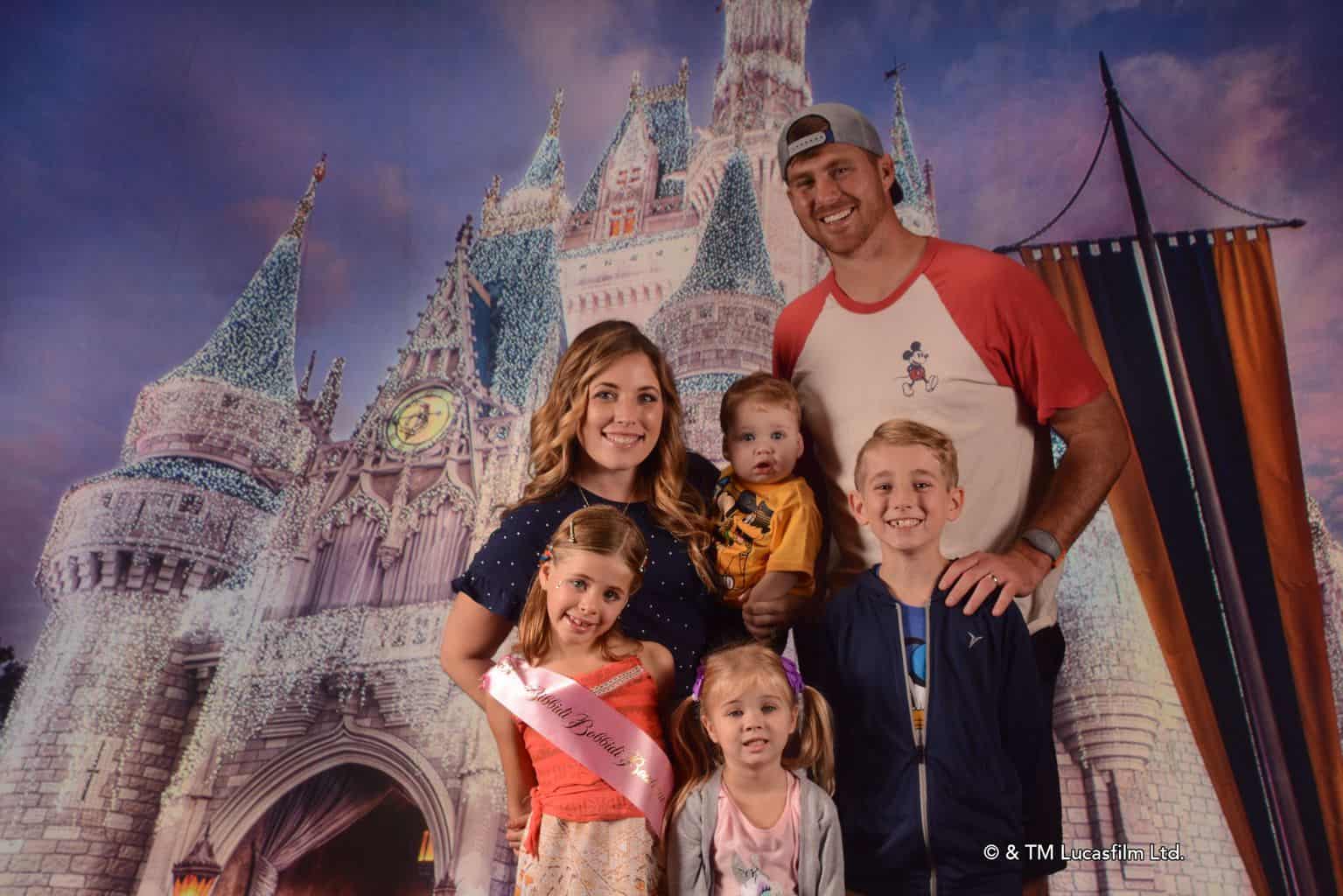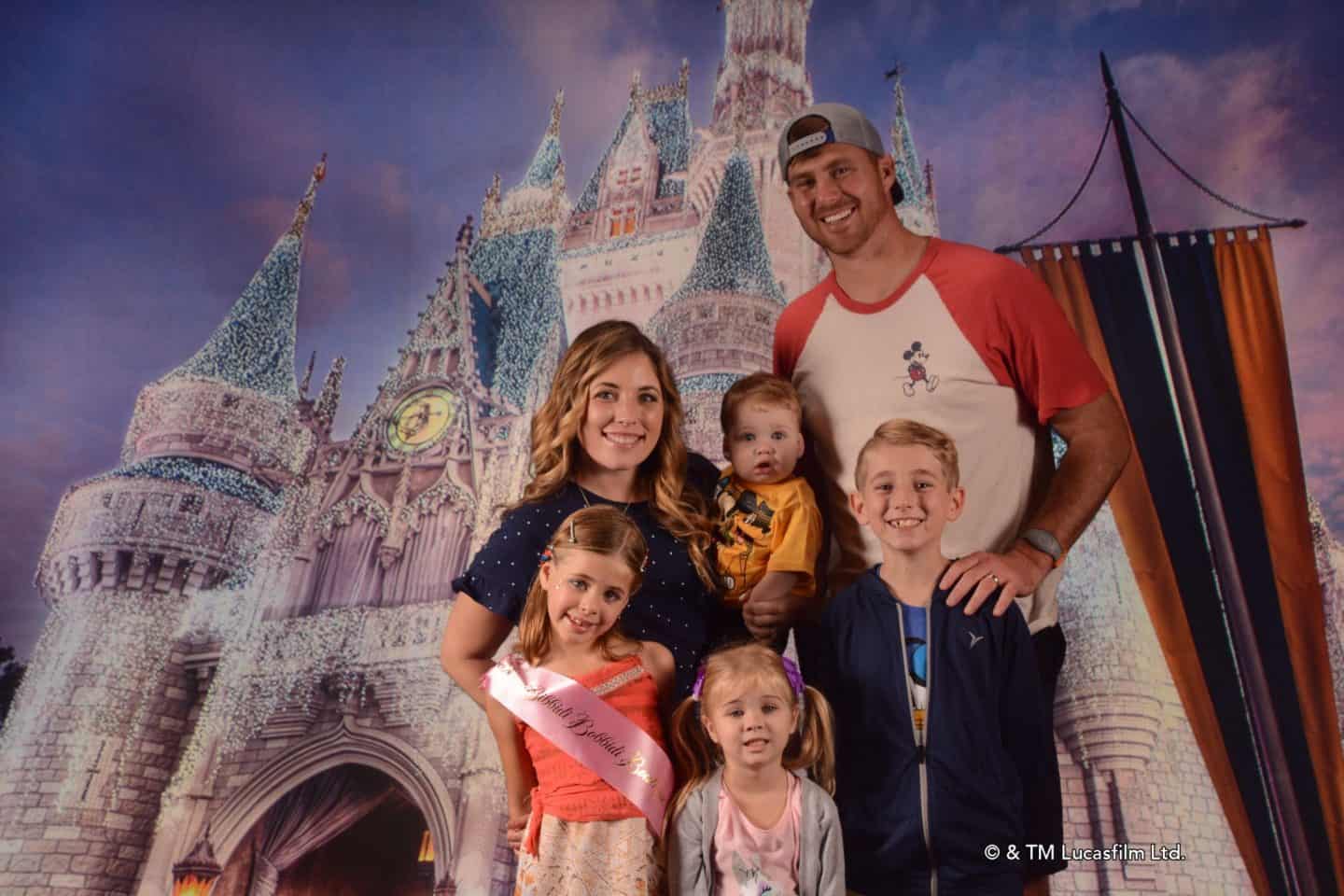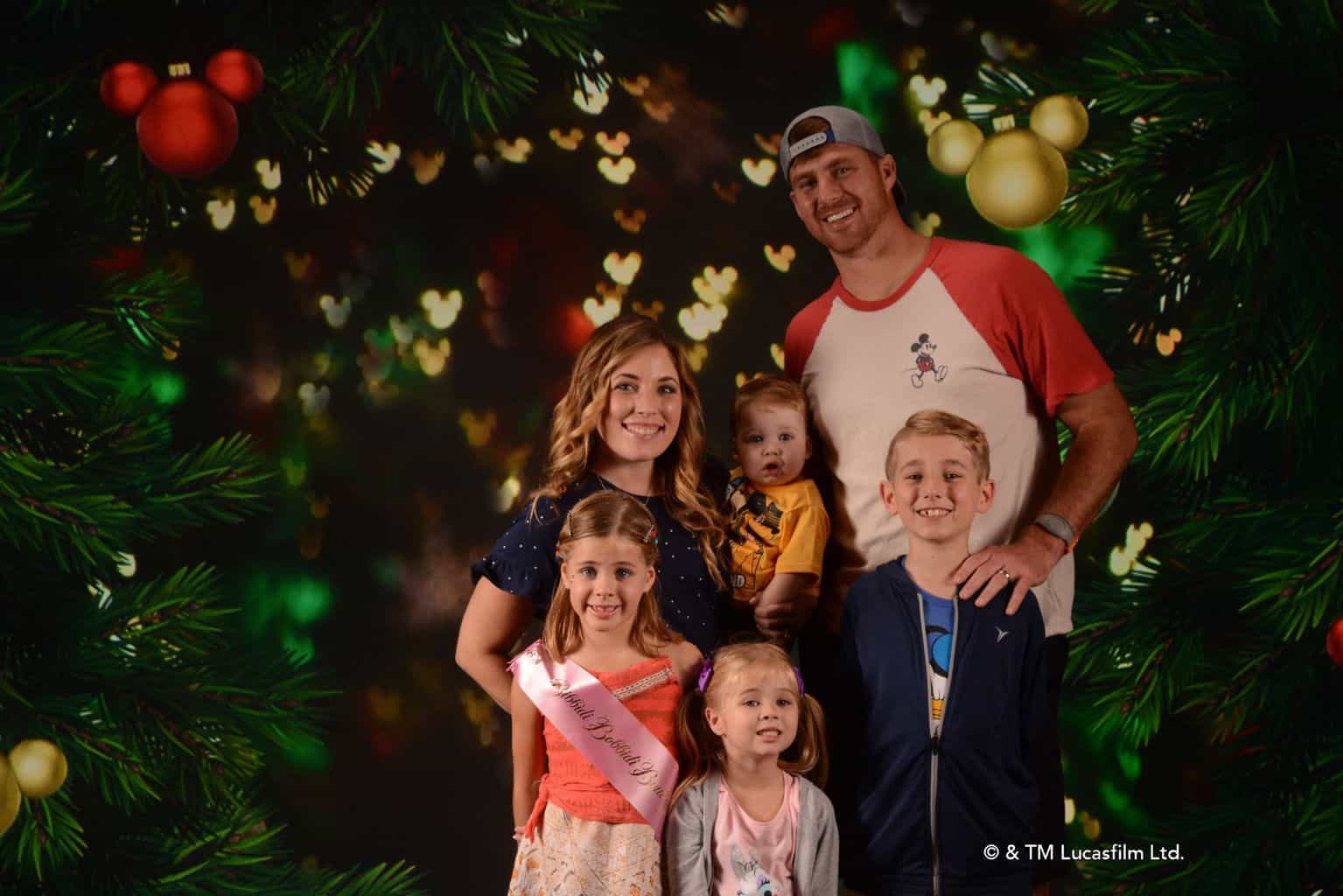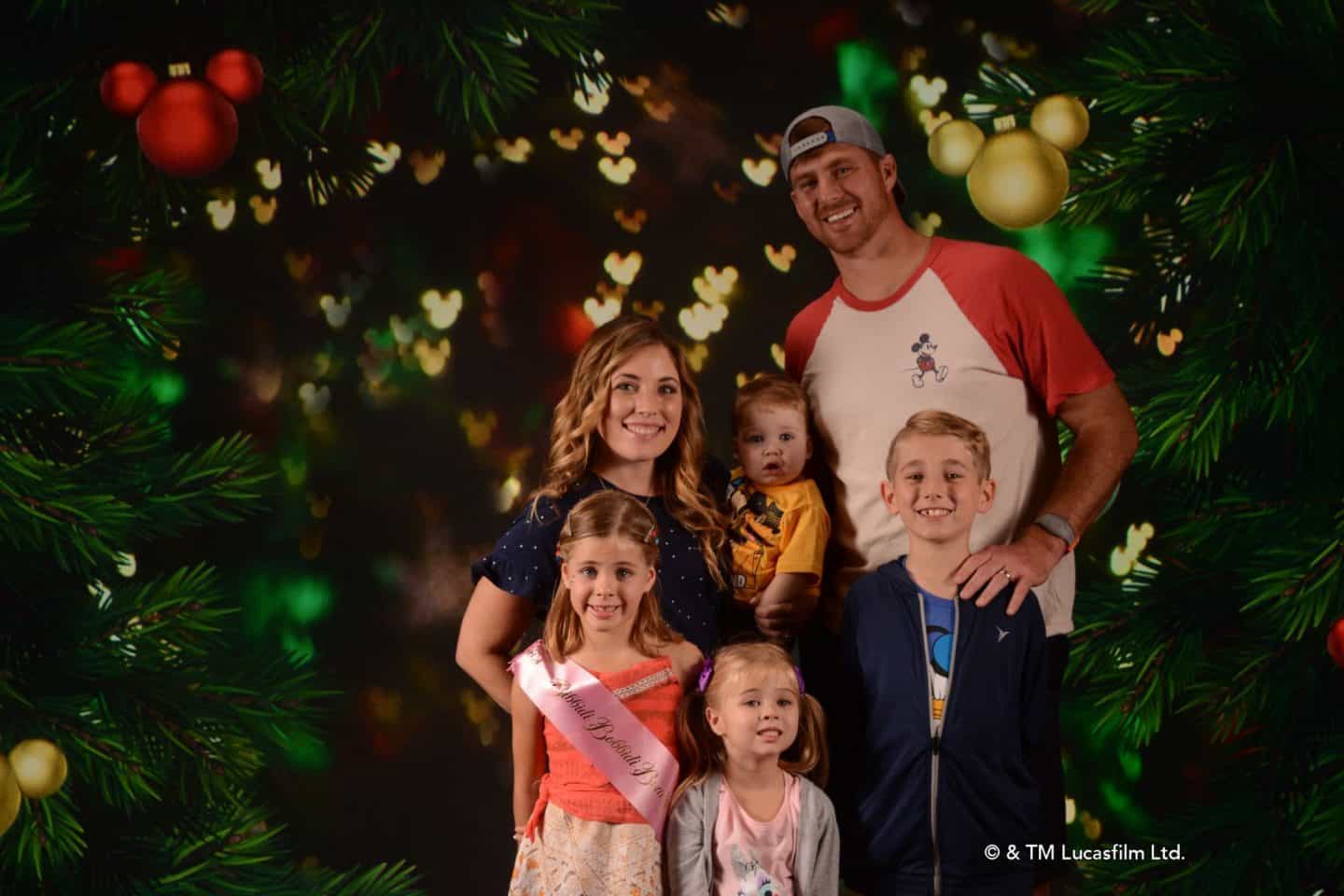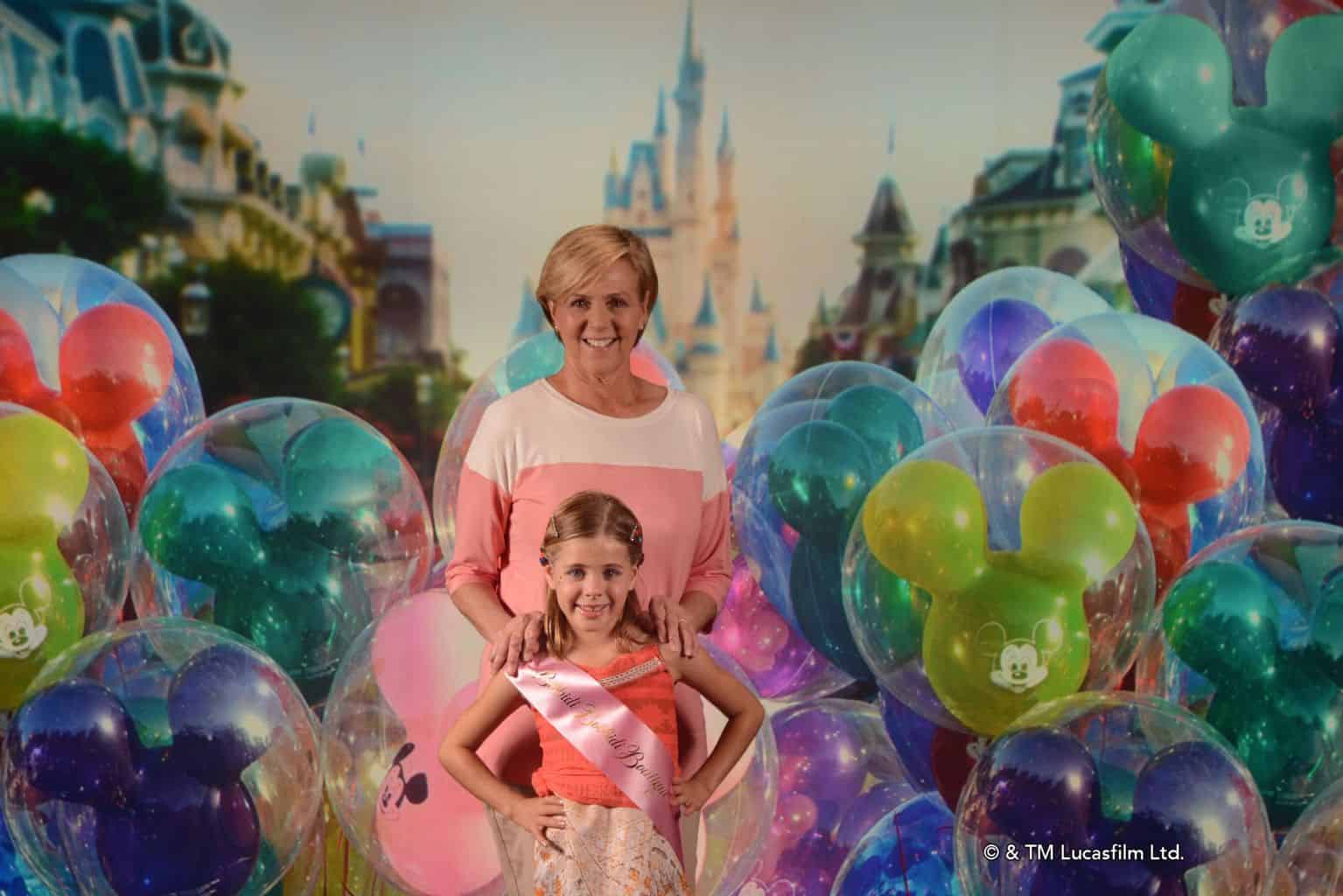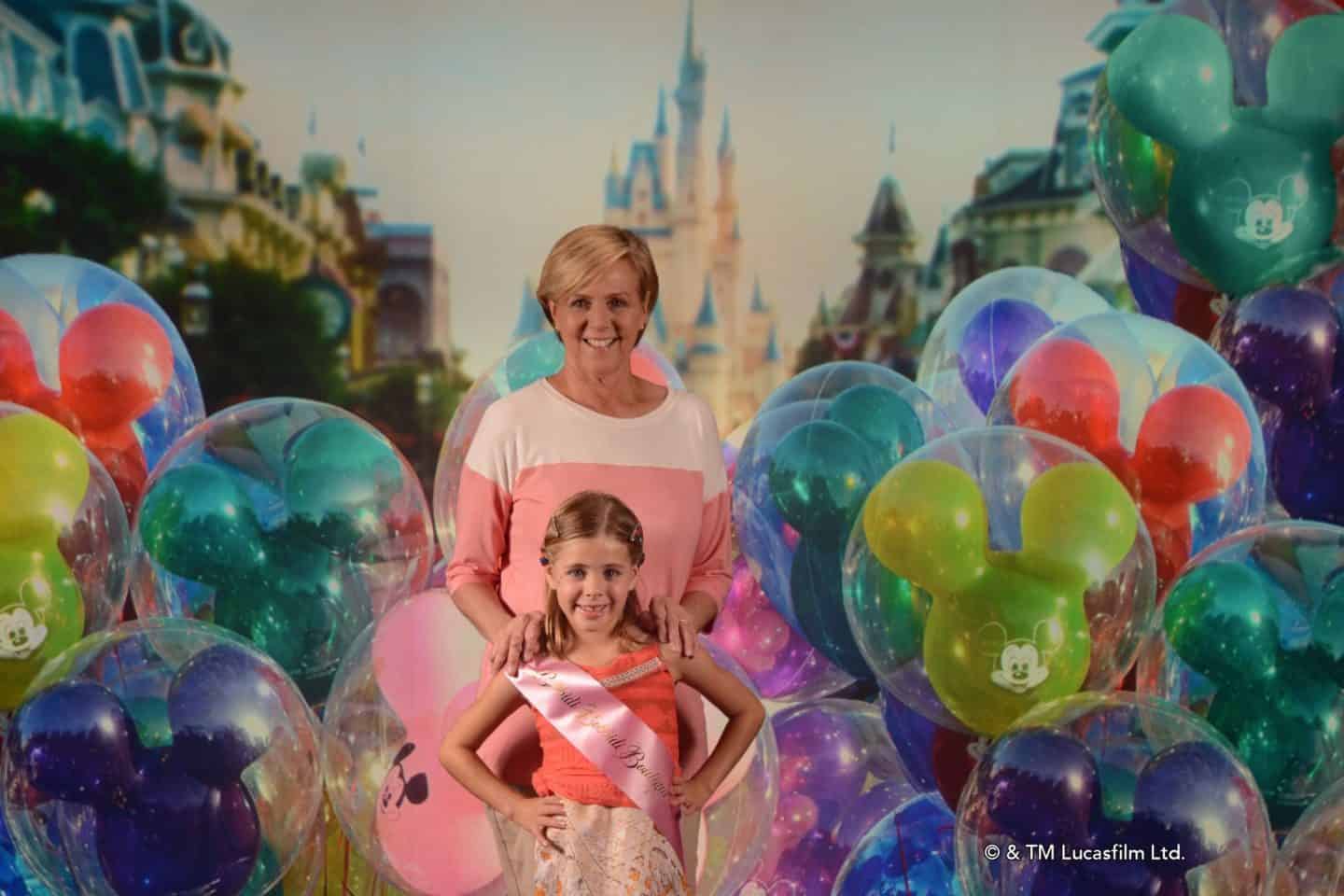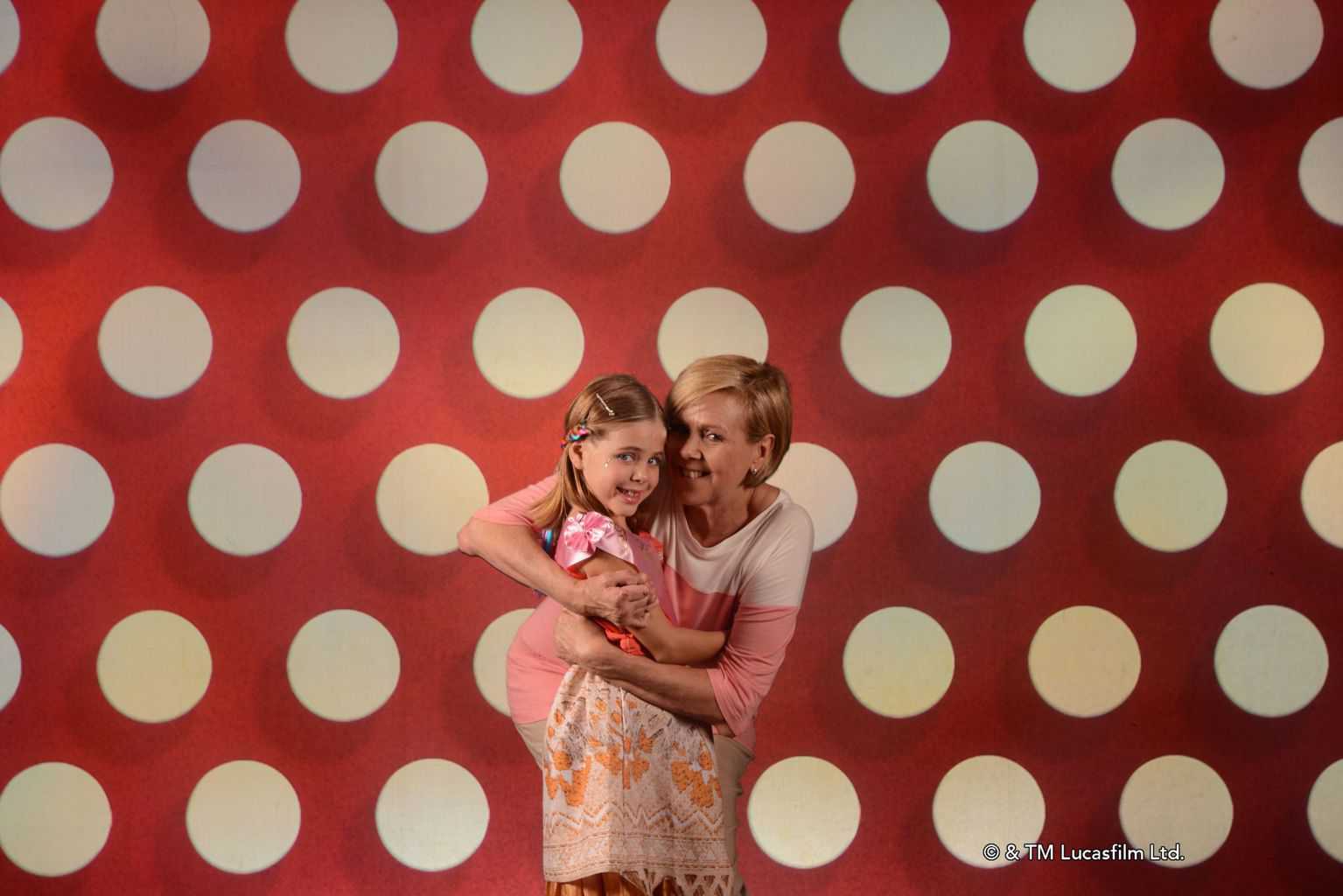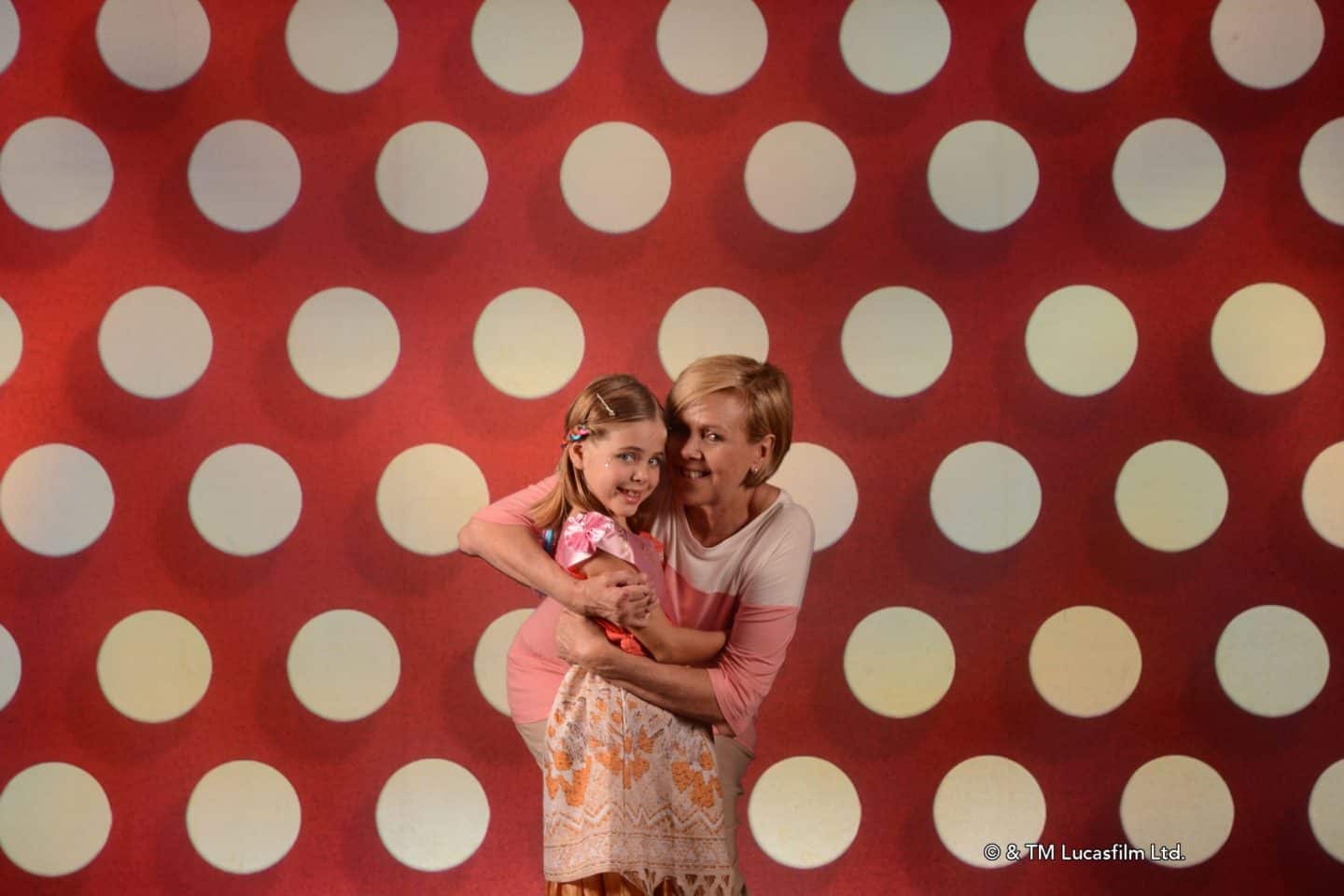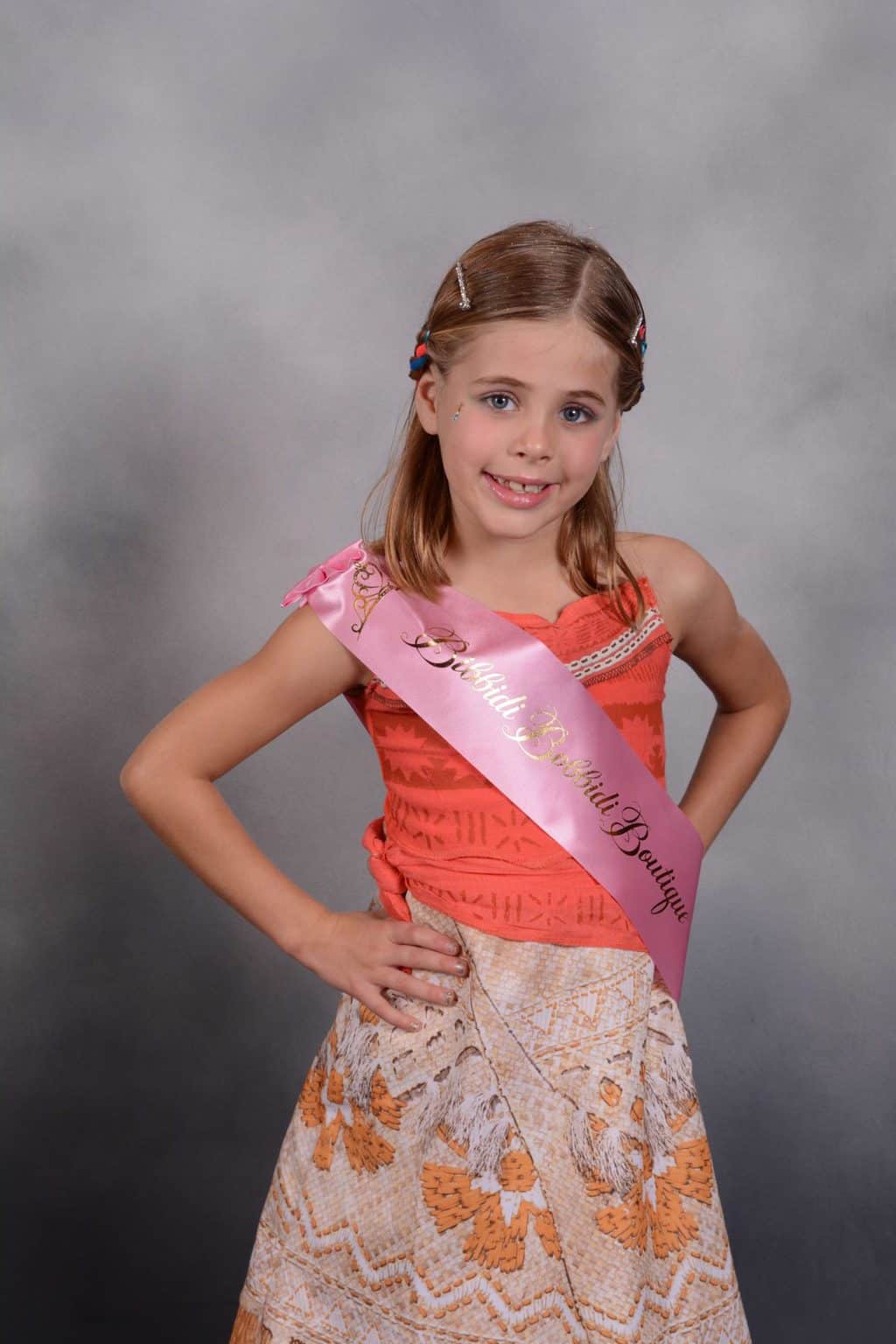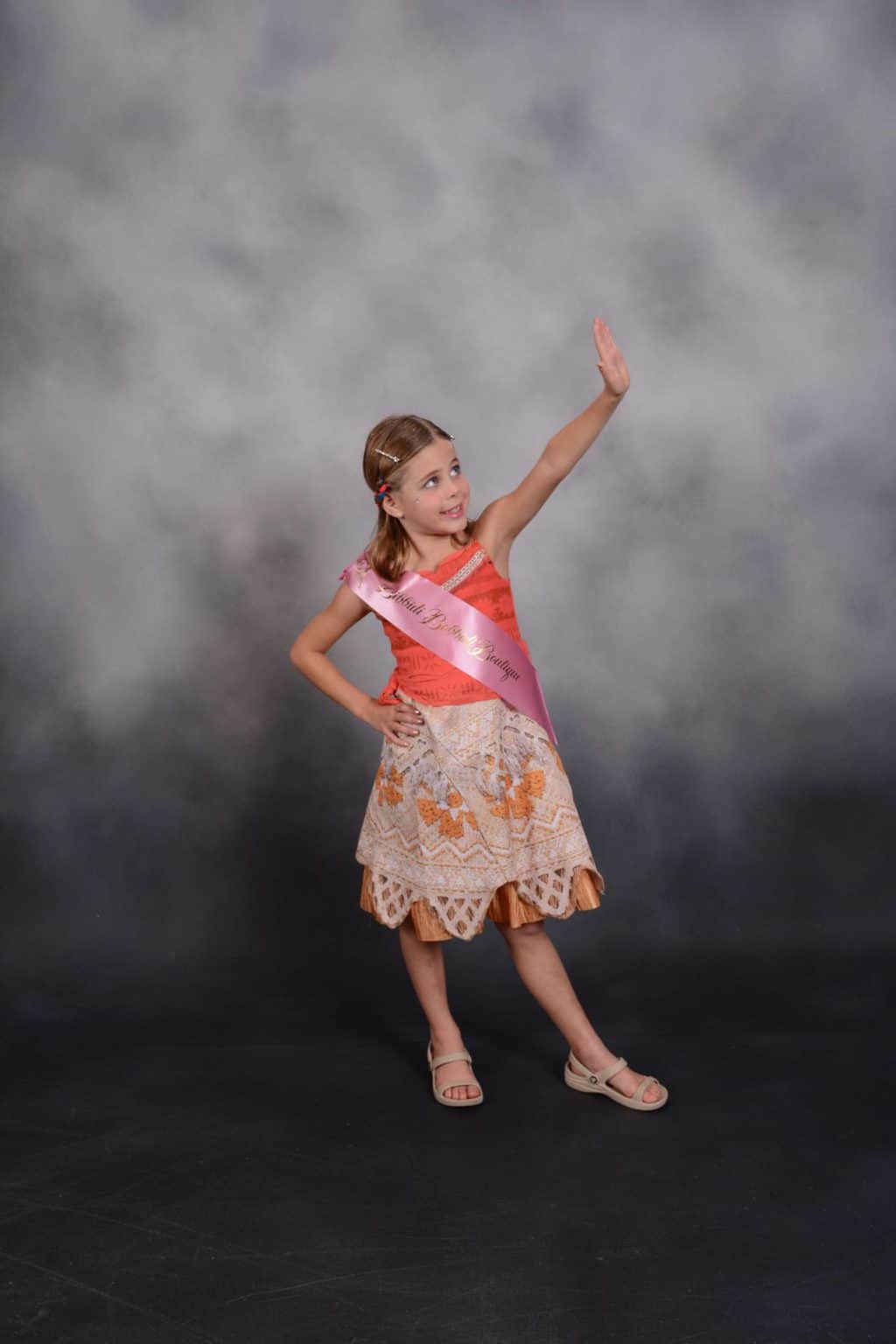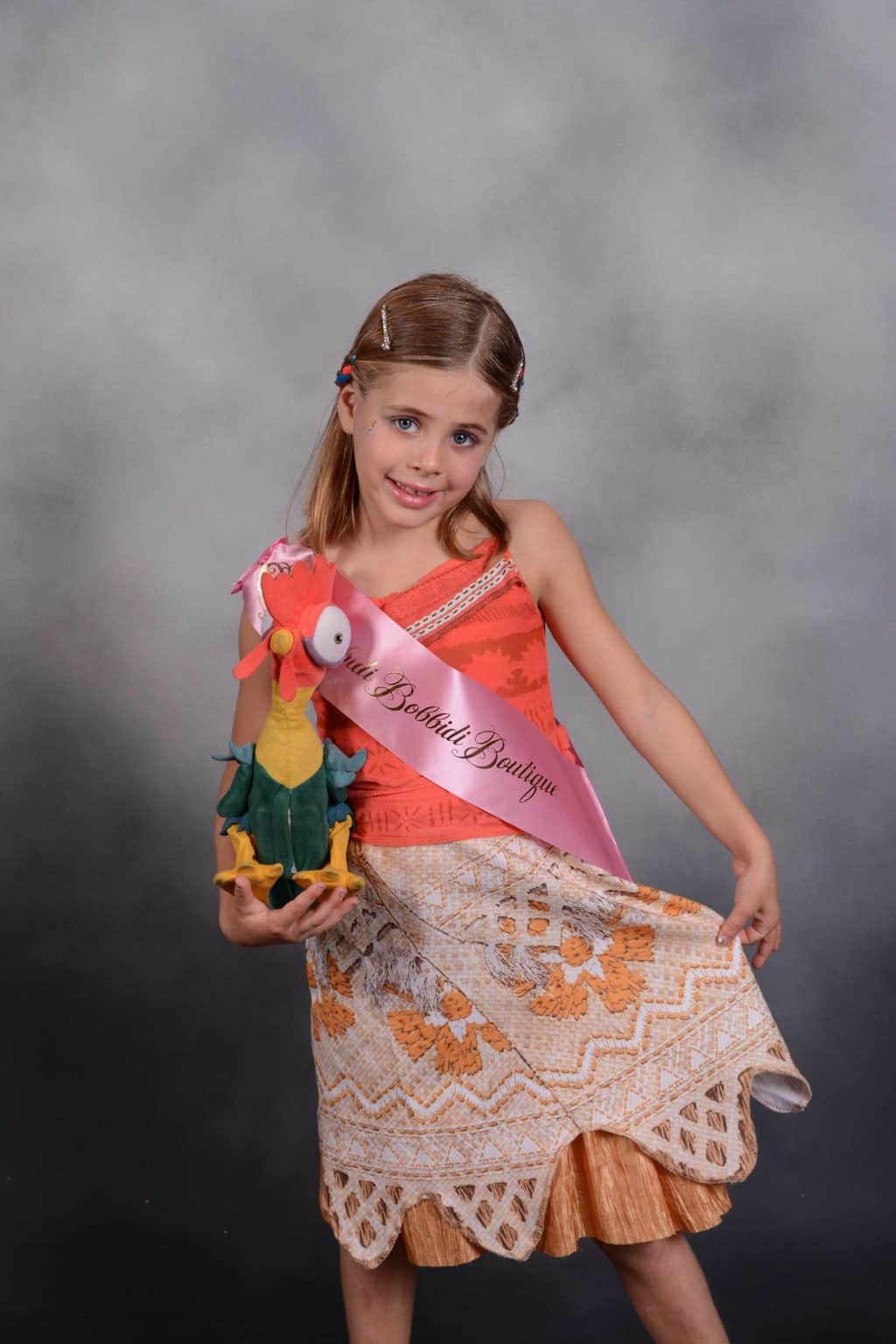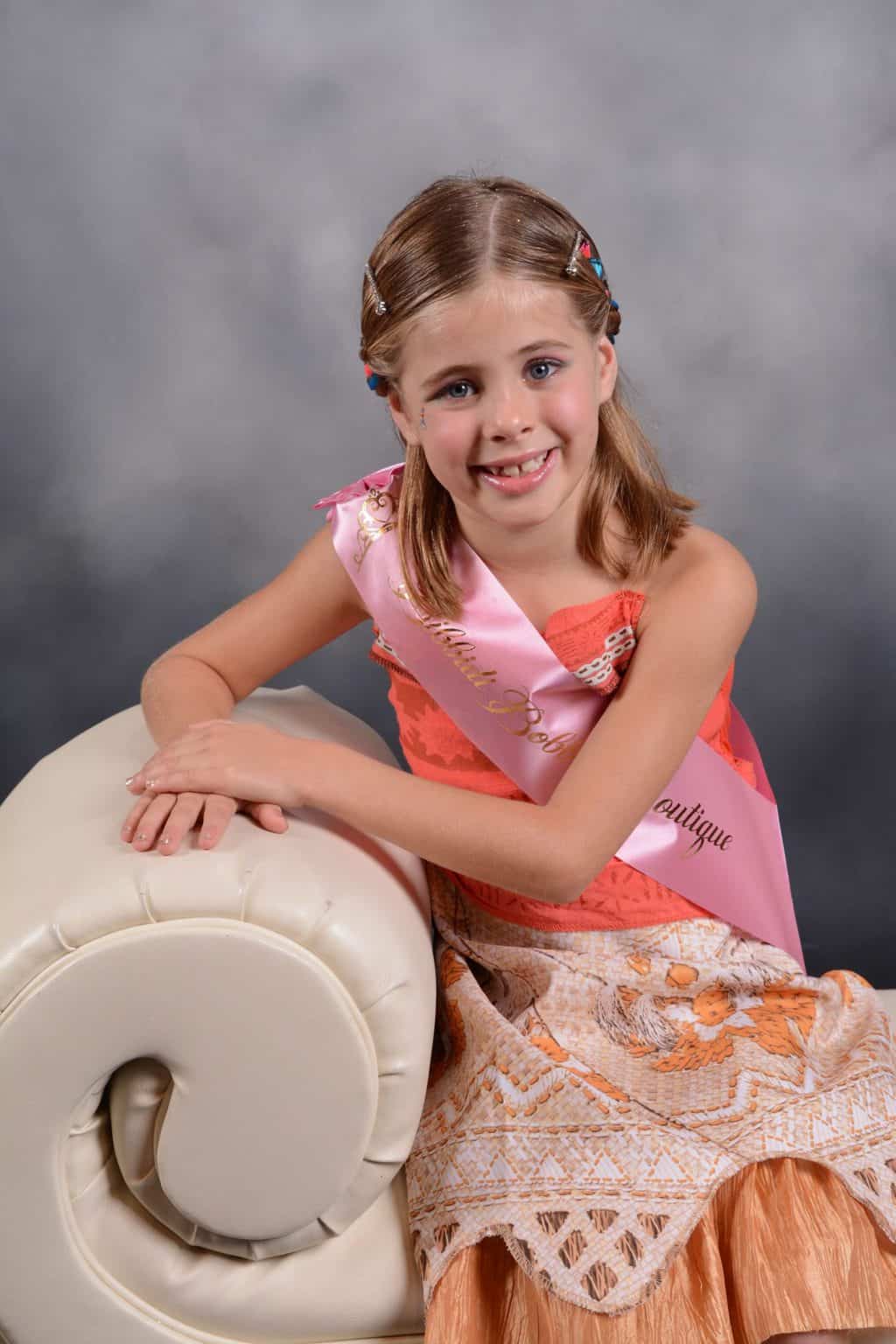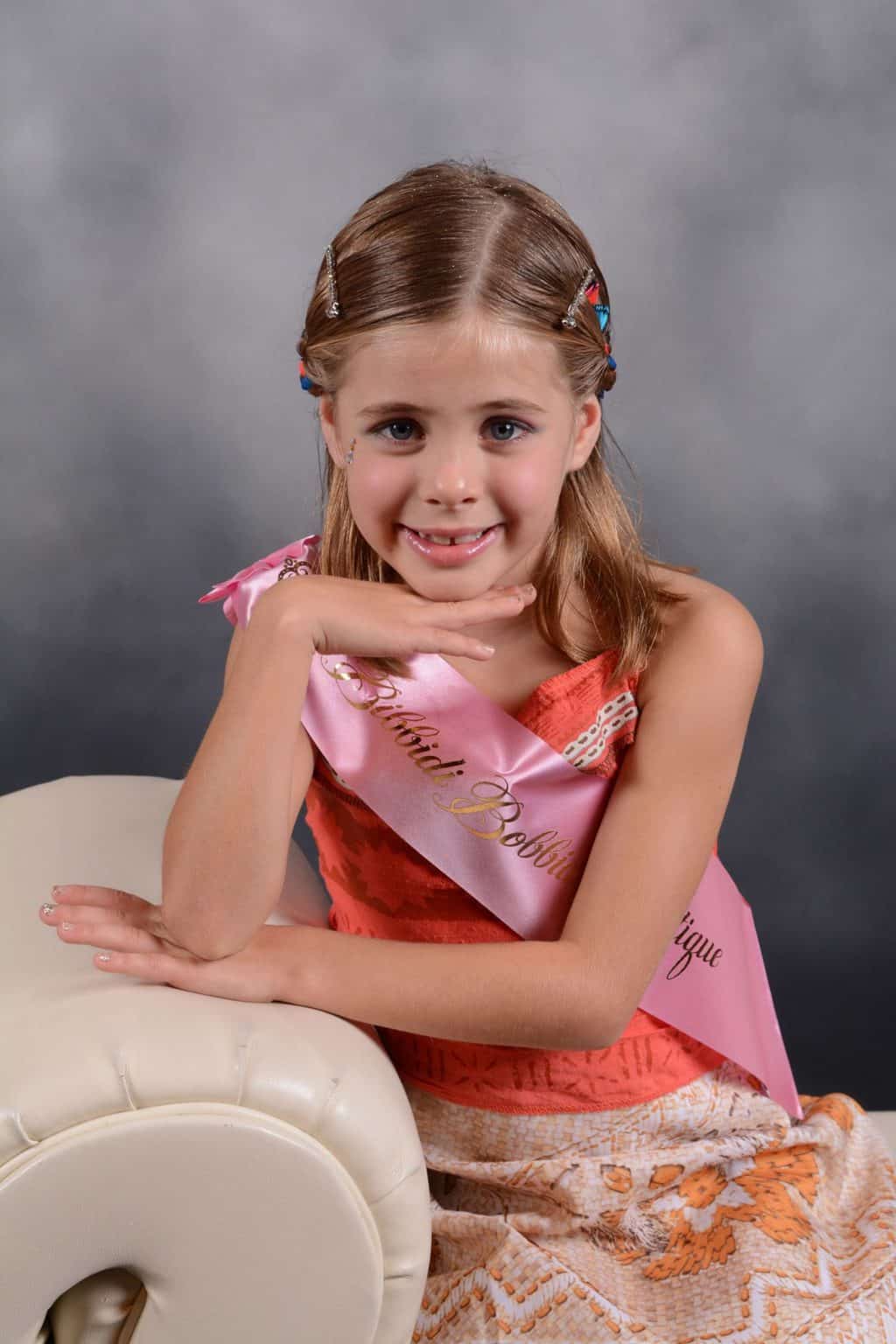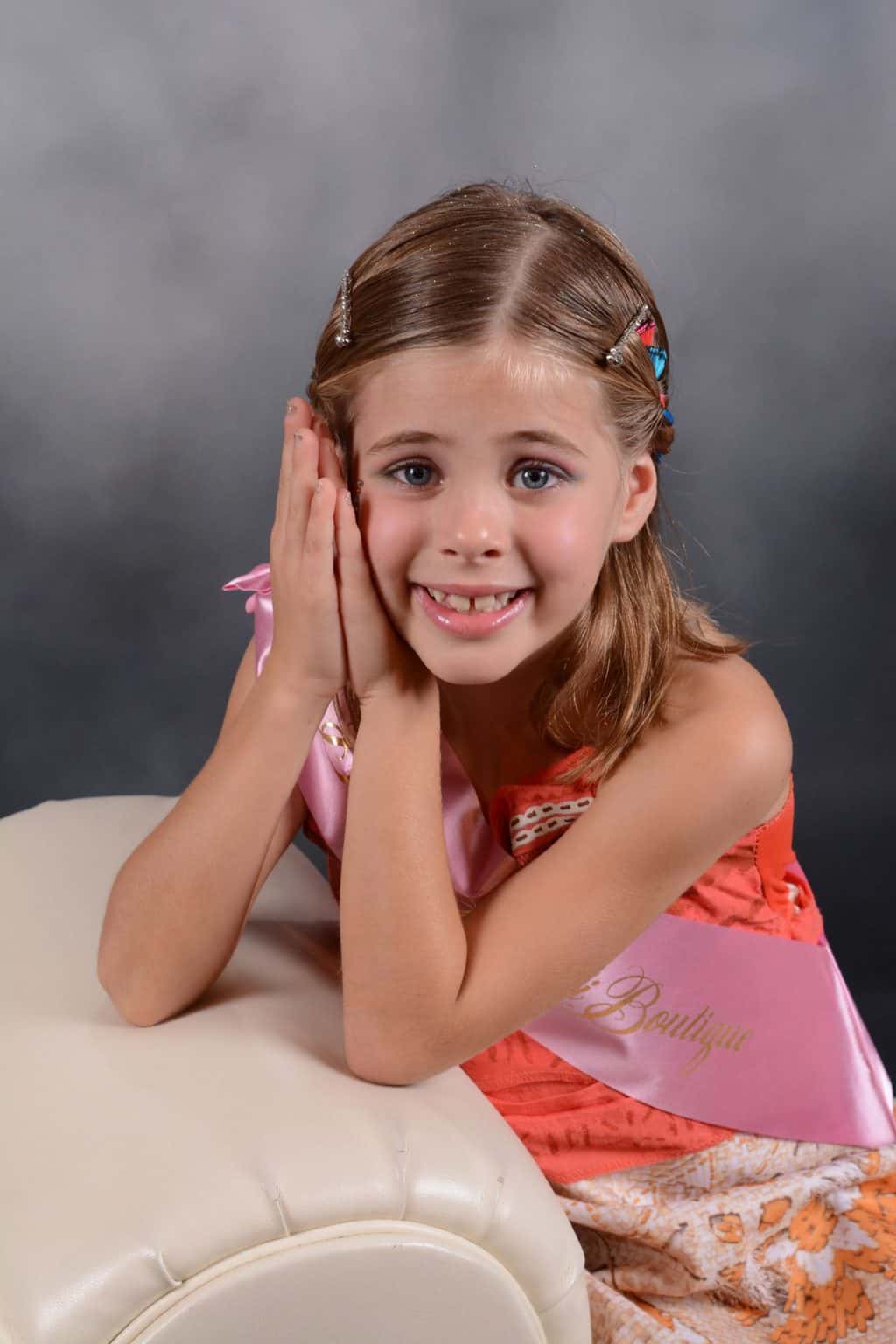 After the photos we headed back to the room for naps because we had a BIG night that evening! Last year we had planned Britt's birthday for Disney prior to getting matched with Mama E. Once matched we had to move Britt's Disney birthday celebration to October as Spear was originally due Nov 12th.
When we'd had Britt's birthday booked for over Thanksgiving last year I'd booked us reservations for Spirit of Aloha dinner show. I knew she'd be dressed like Moana for her makeover and I thought she'd LOVE the luau to go with her look! But when we rescheduled the trip they were already sold out for the show.
As soon as we decided to go to Disney for Thanksgiving I jumped on booking the show. I knew she'd be SO excited. Especially now that her new DREAM is to visit Hawaii! We can't make that happen right now but this is a pretty close representation of what Hawaii is like 😉
The Spirit of Aloha dinner show is located at the Polynesian Resort. BUT you don't need to go into the resort to check-in. You actually have to go pretty far from the lobby so it's best to look it up and really know where you need to be.
They recommended showing up 30 min prior and we had some bad traffic randomly which caused us to run late so we were all worried but it's WAY more causal than I was expecting. It's a check-in then hang out and wait situation until they call you to be seated.
There are three levels of seating (and pricing) and we went with the first tier and I'm SO glad we did! Def worth the added cost to have the seats we had!
We were given leis at check-in and able to wait in a beautiful area before being seated. It truly felt like we were in Hawaii! And I LOVED how THEMED everyone is in their attire. So many fun Hawaiian shirts!
This is my current favorite pic of Britt. She just is SO HAPPY!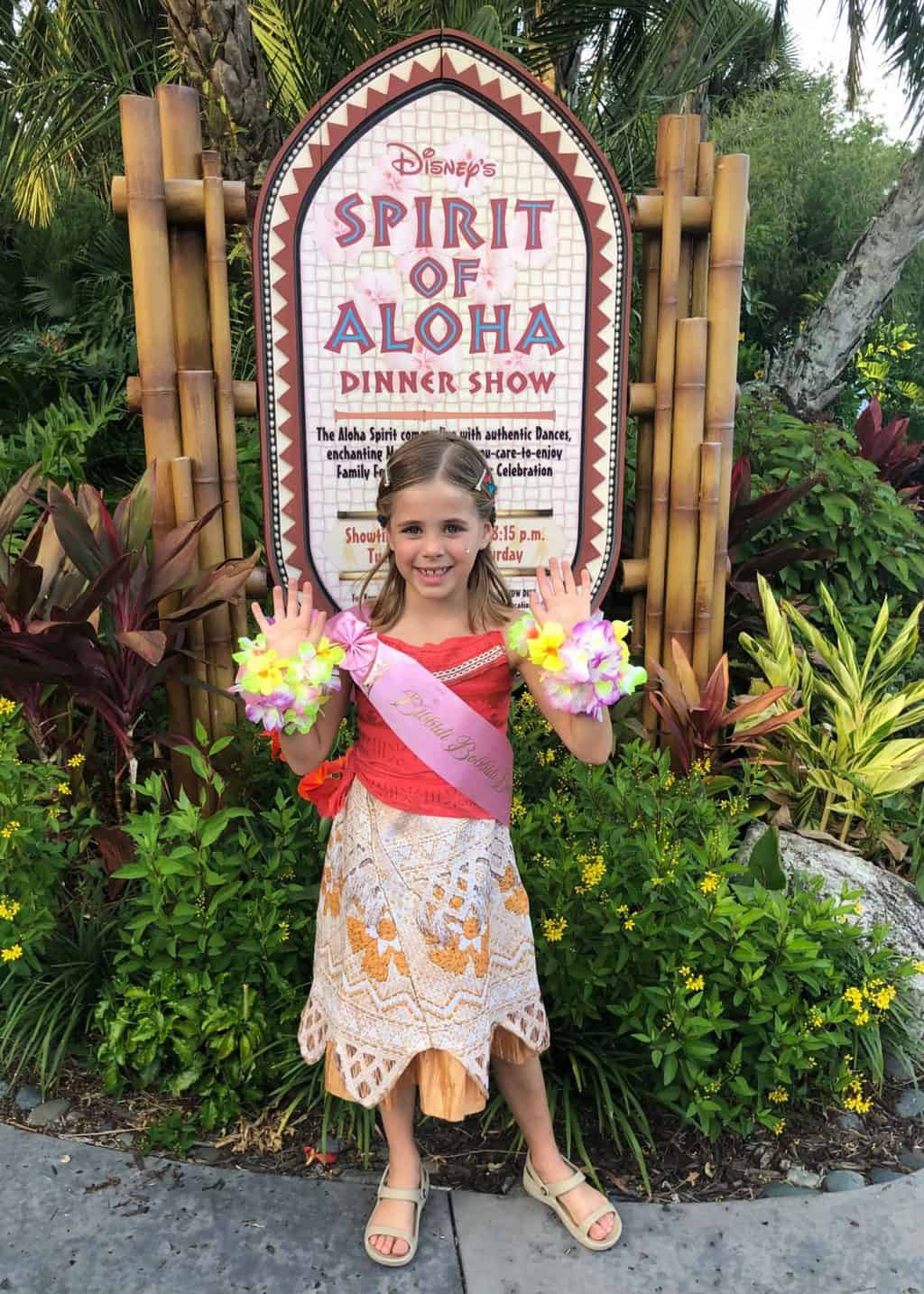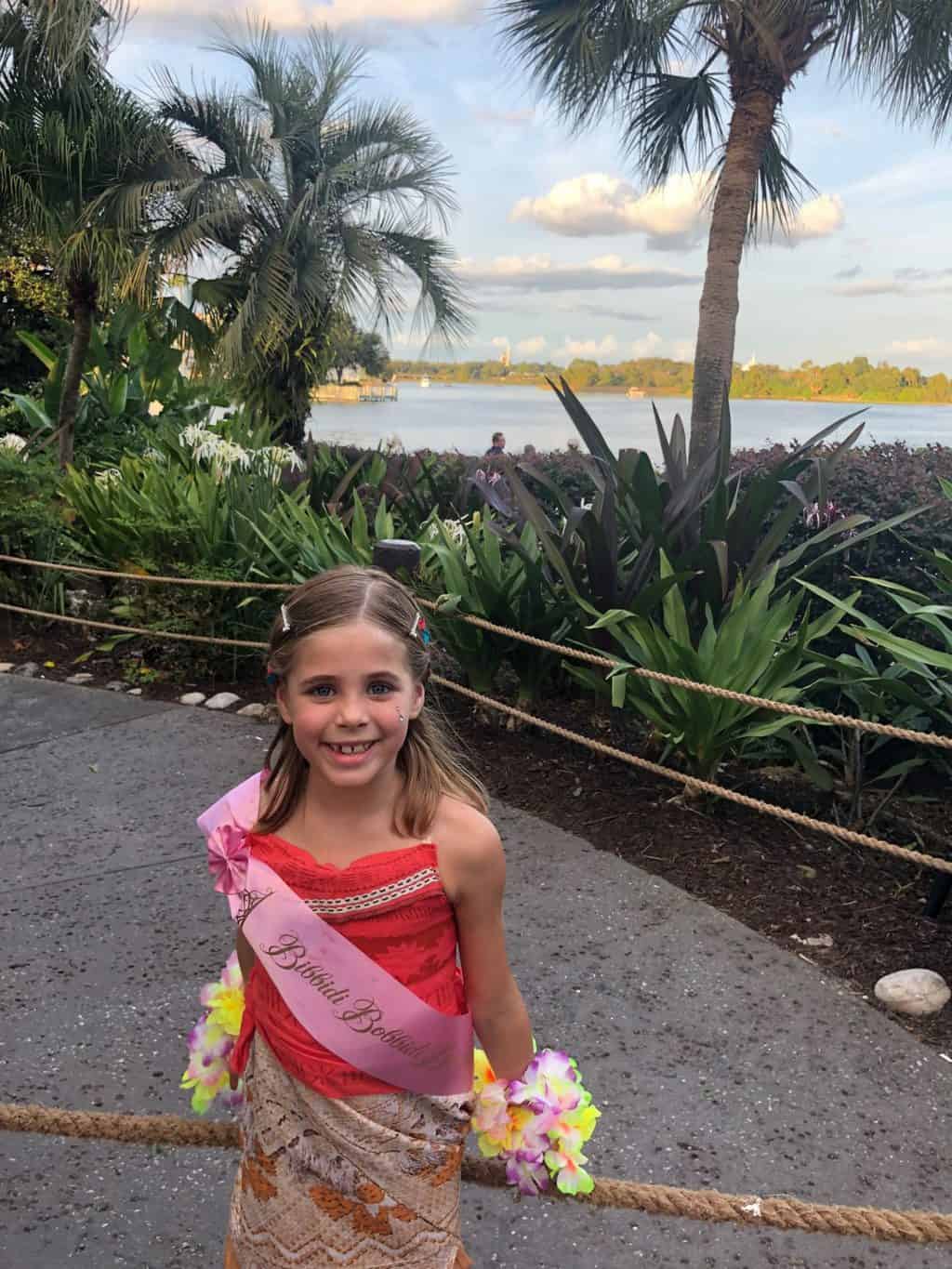 Just like Hawaii…except with a giant castle 😉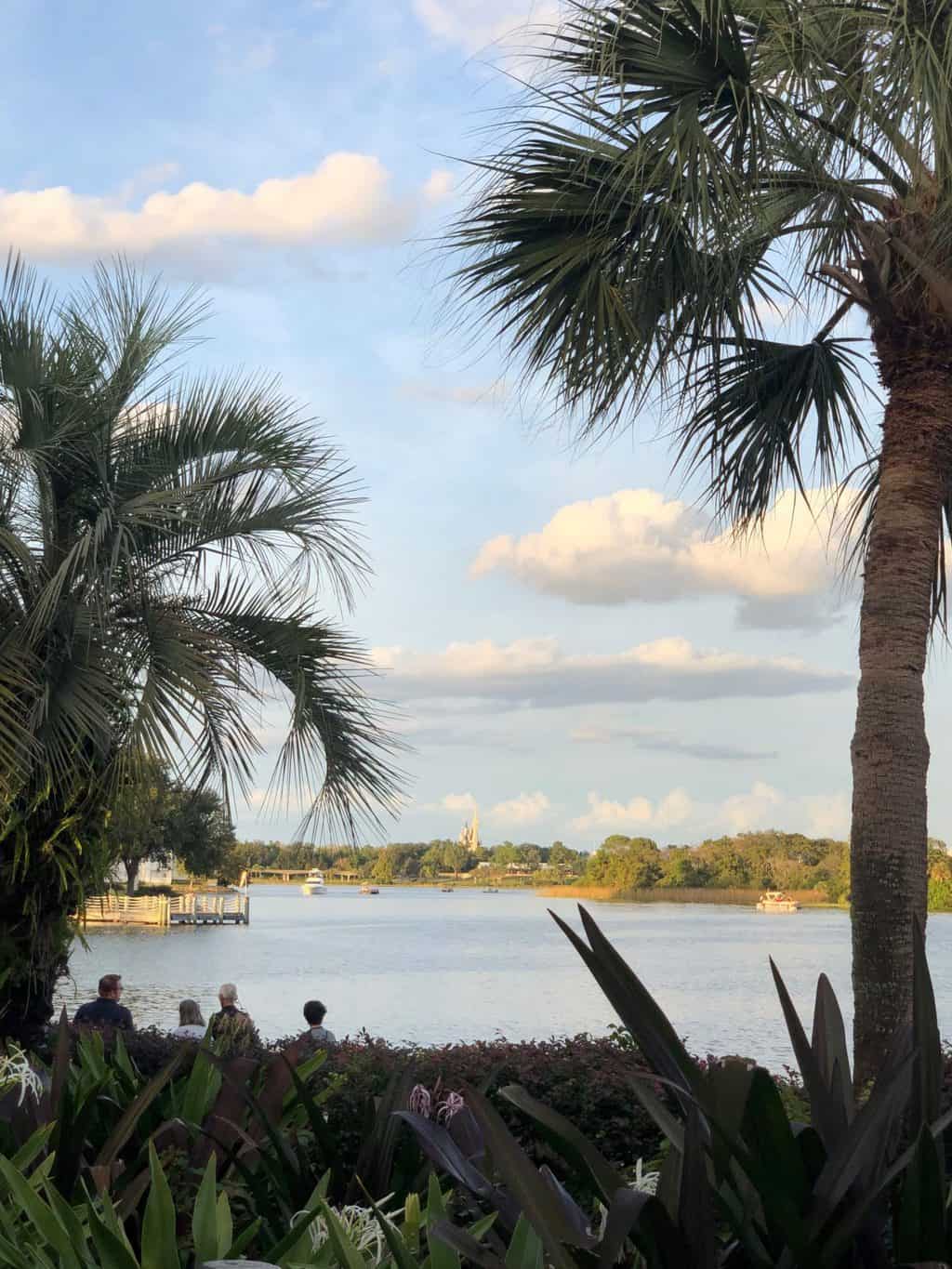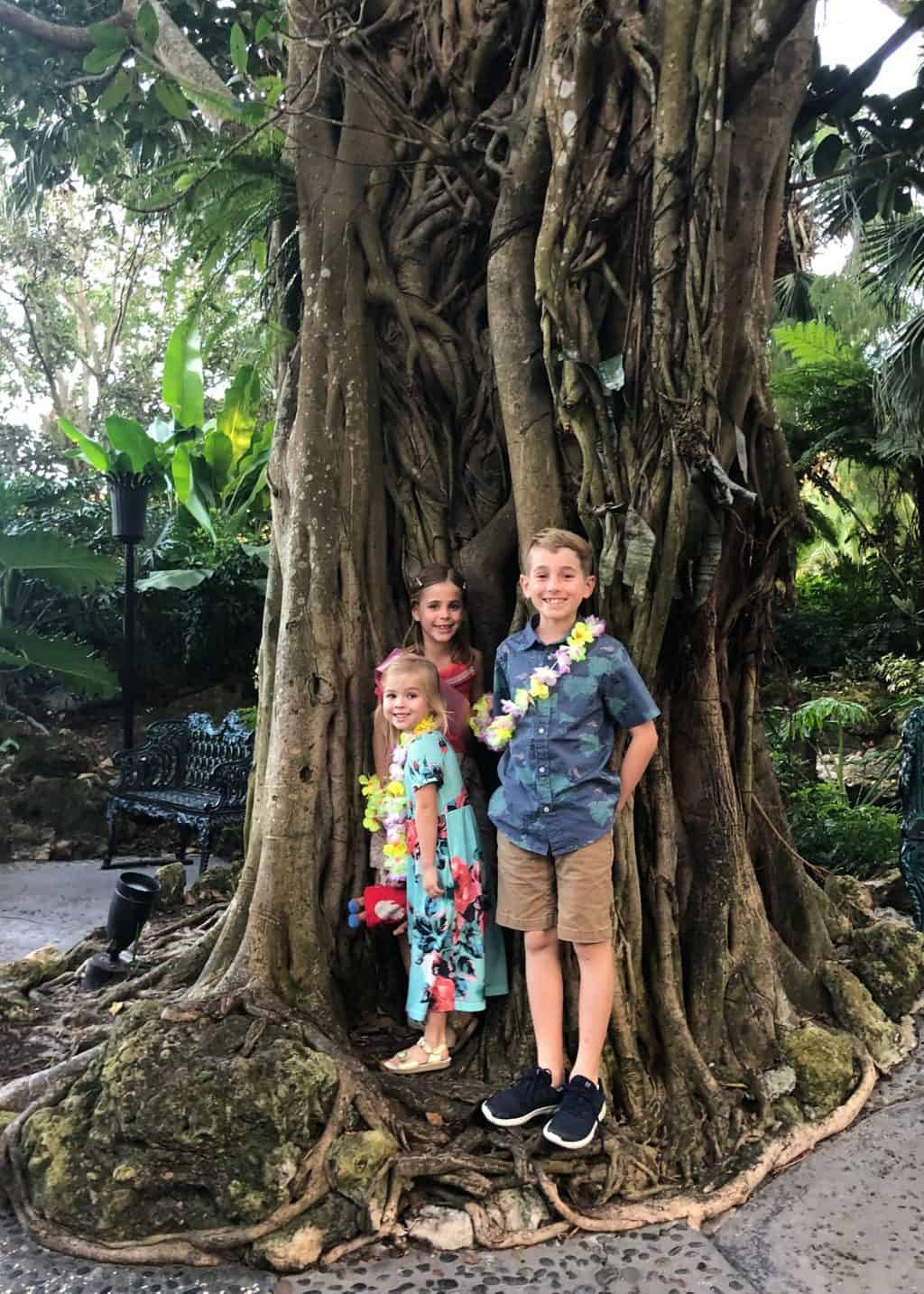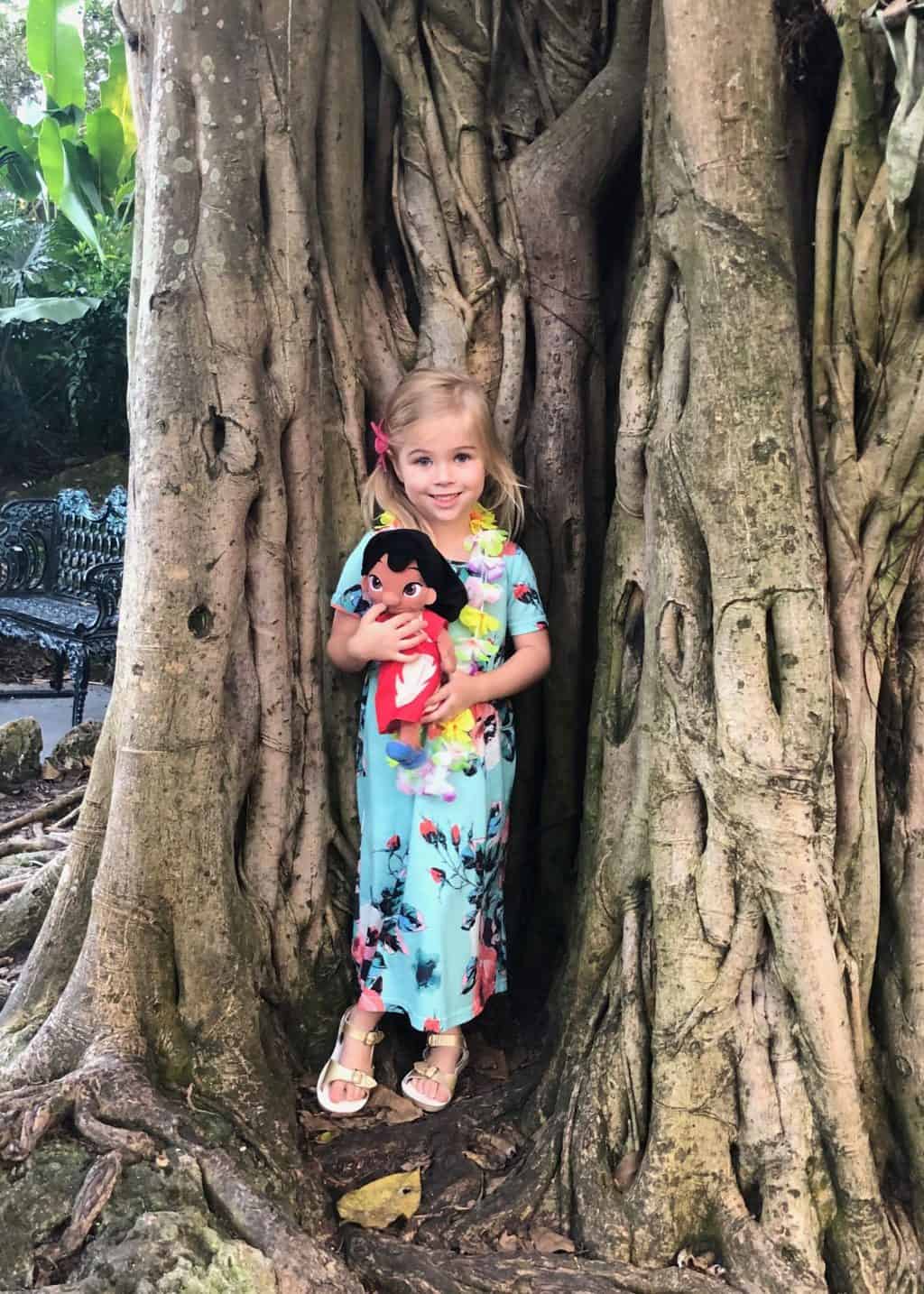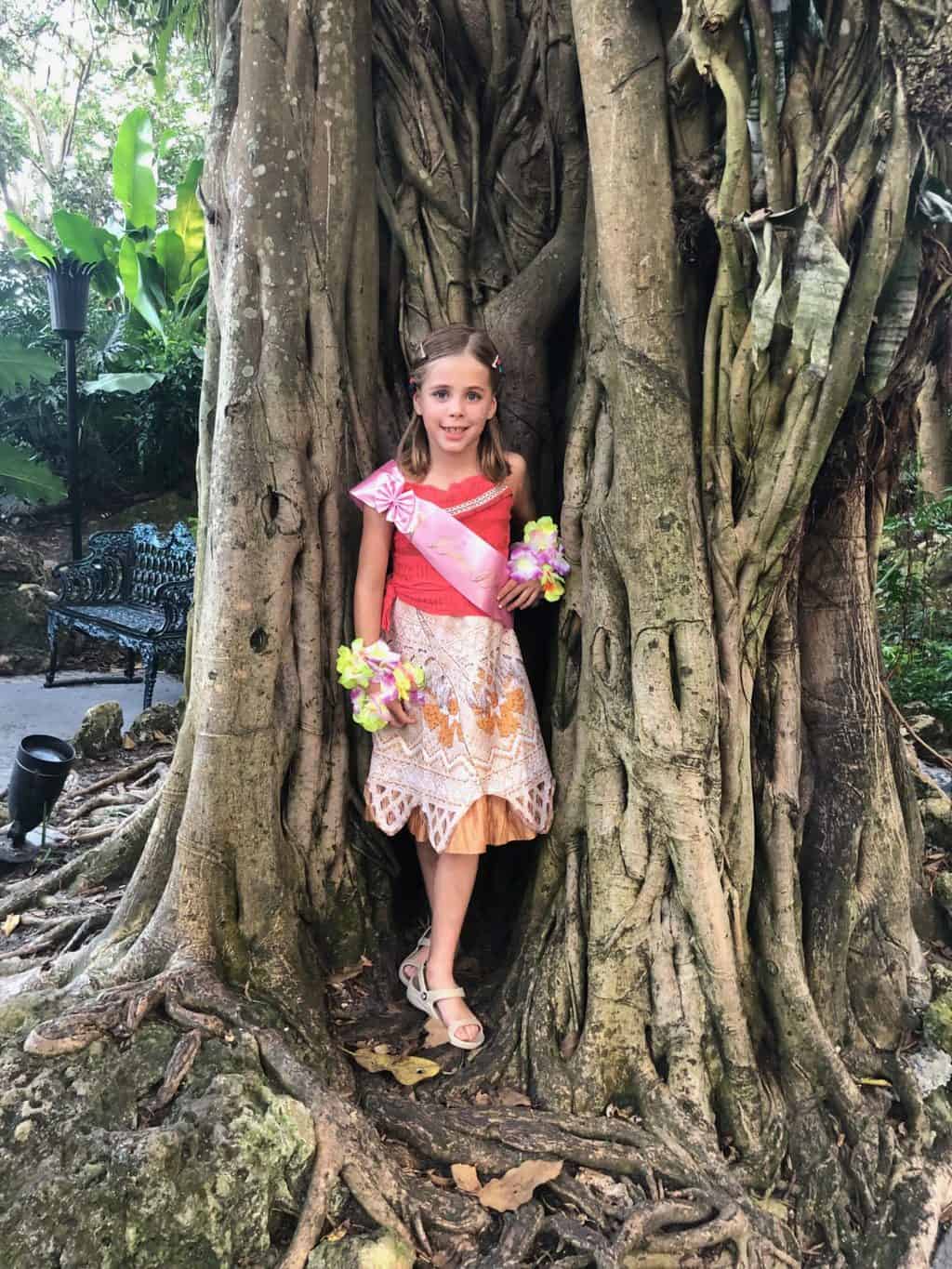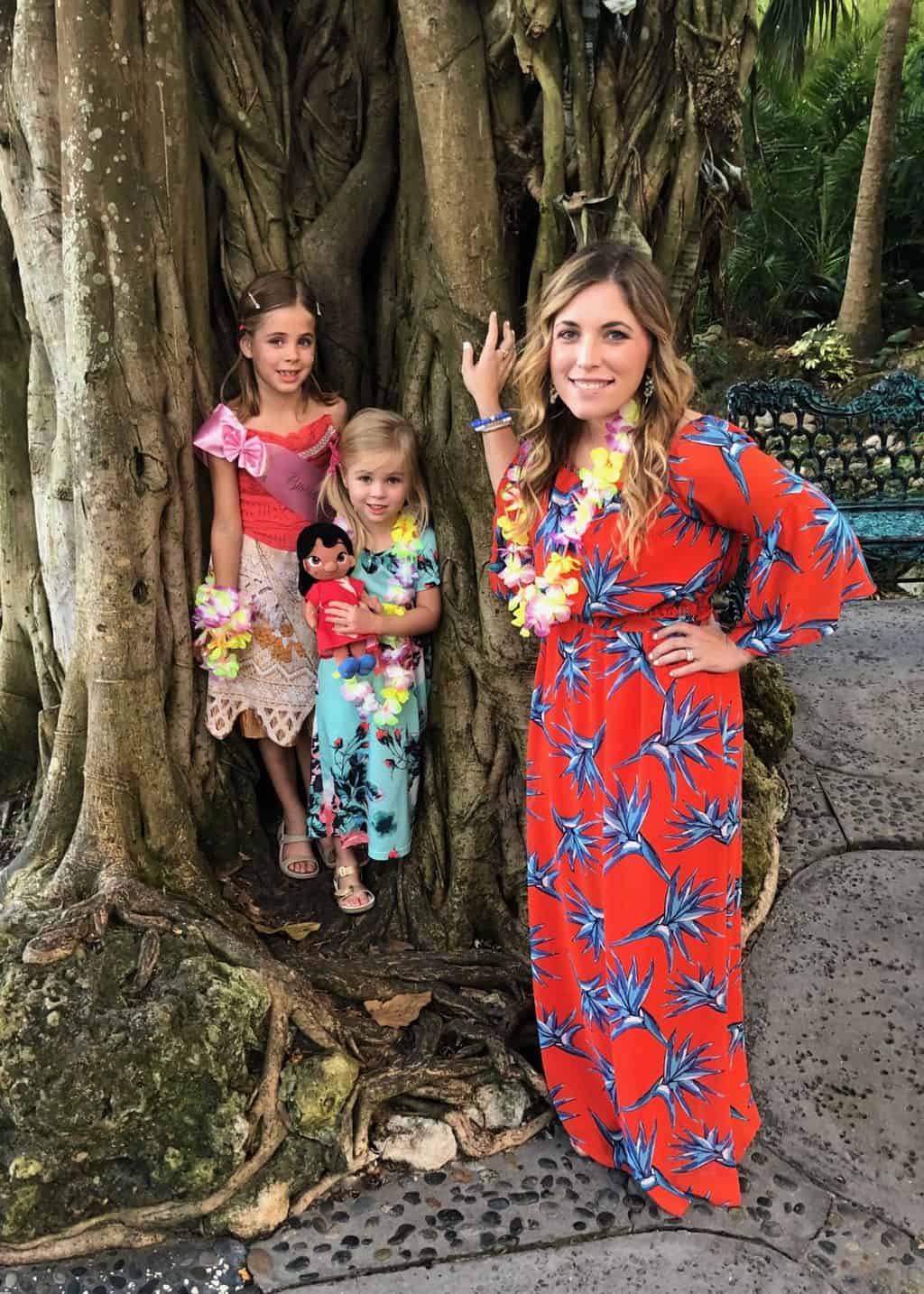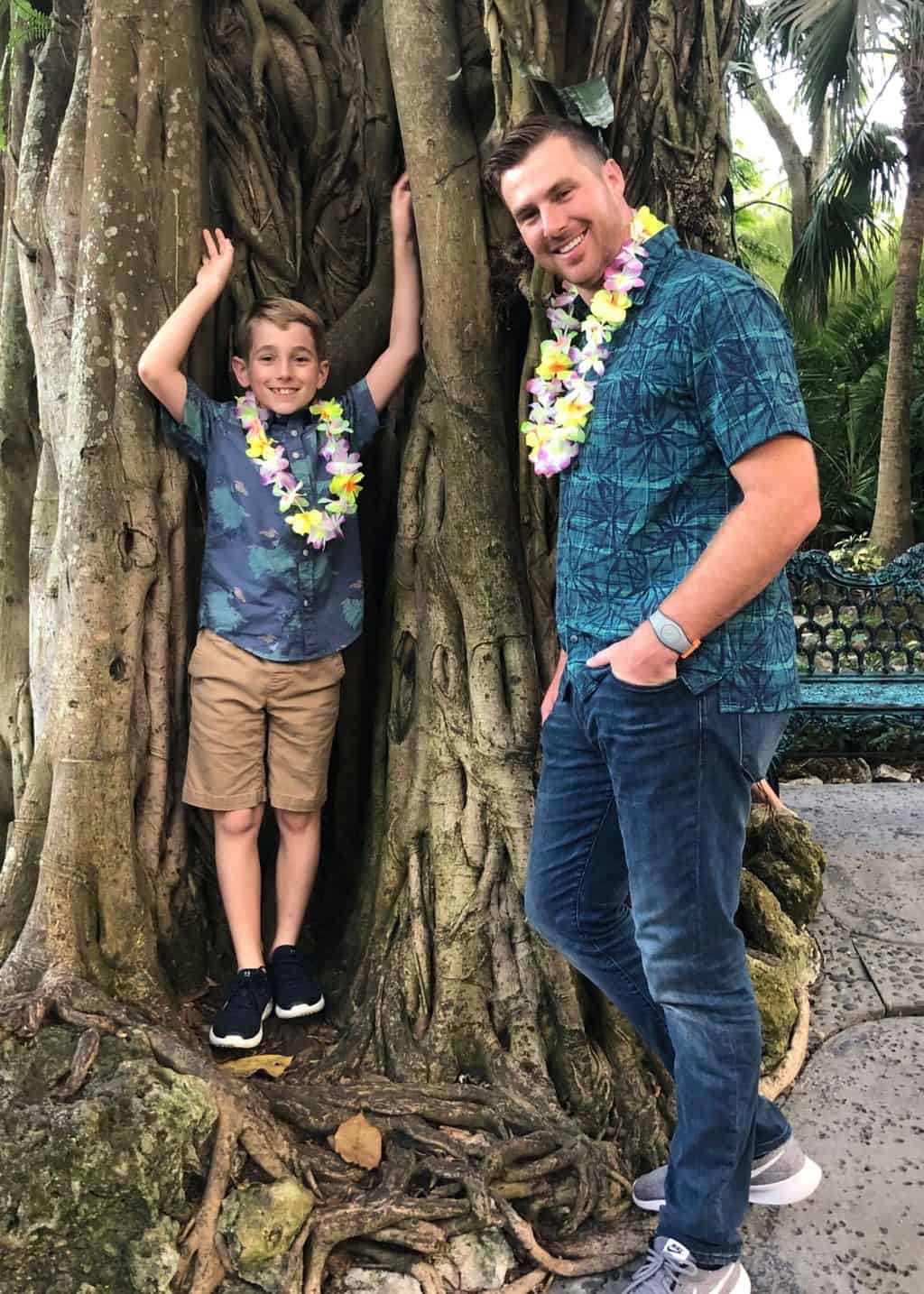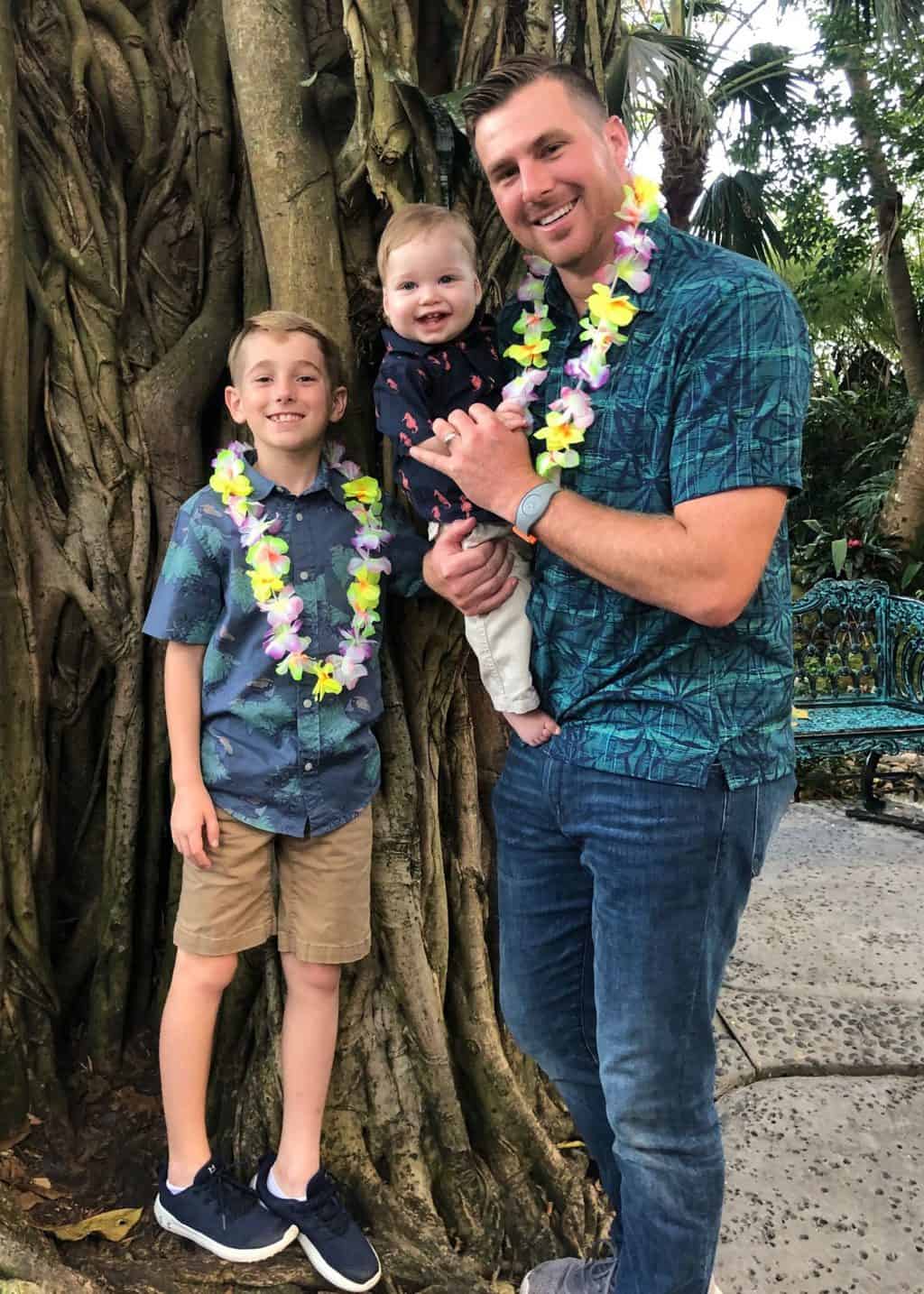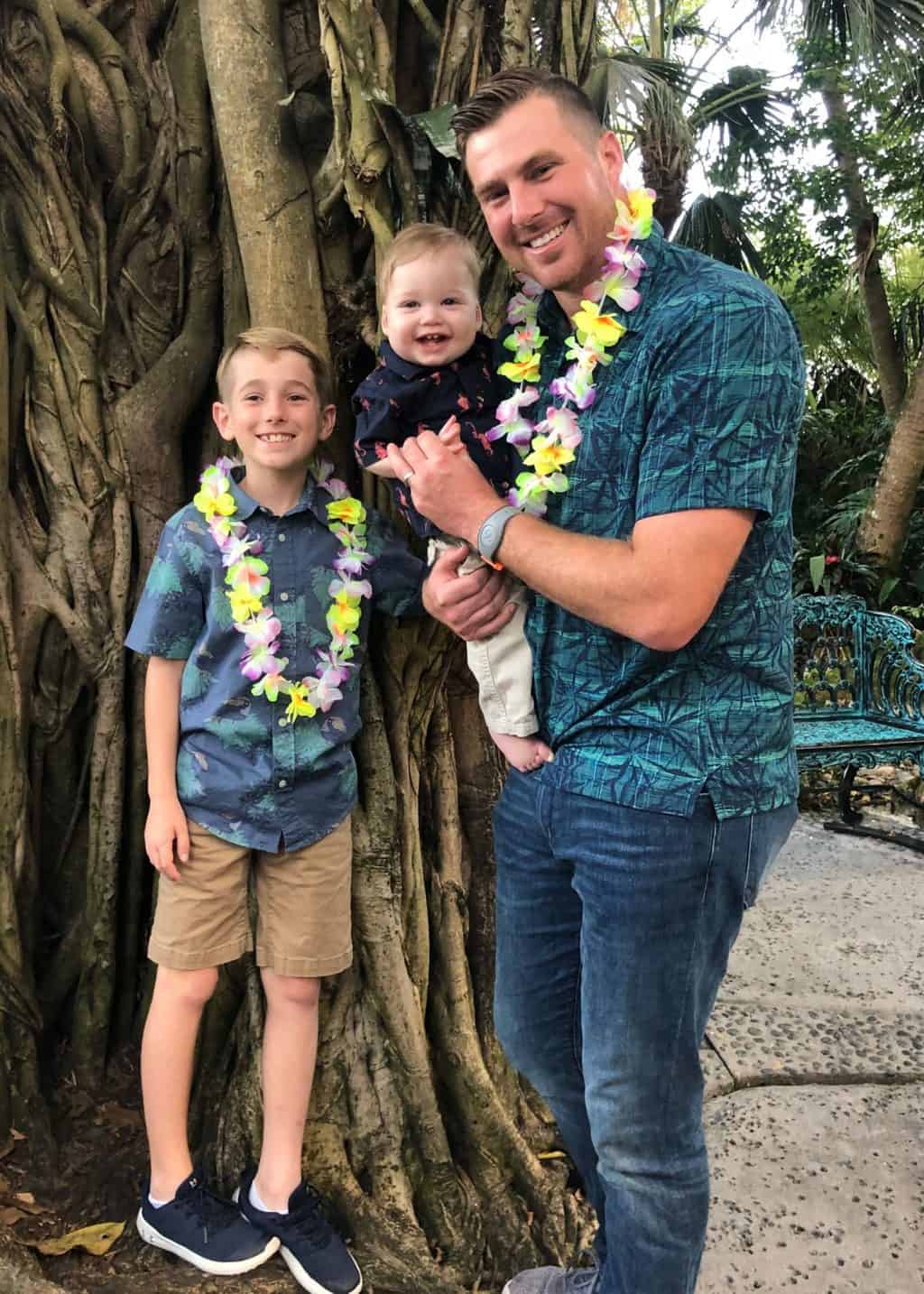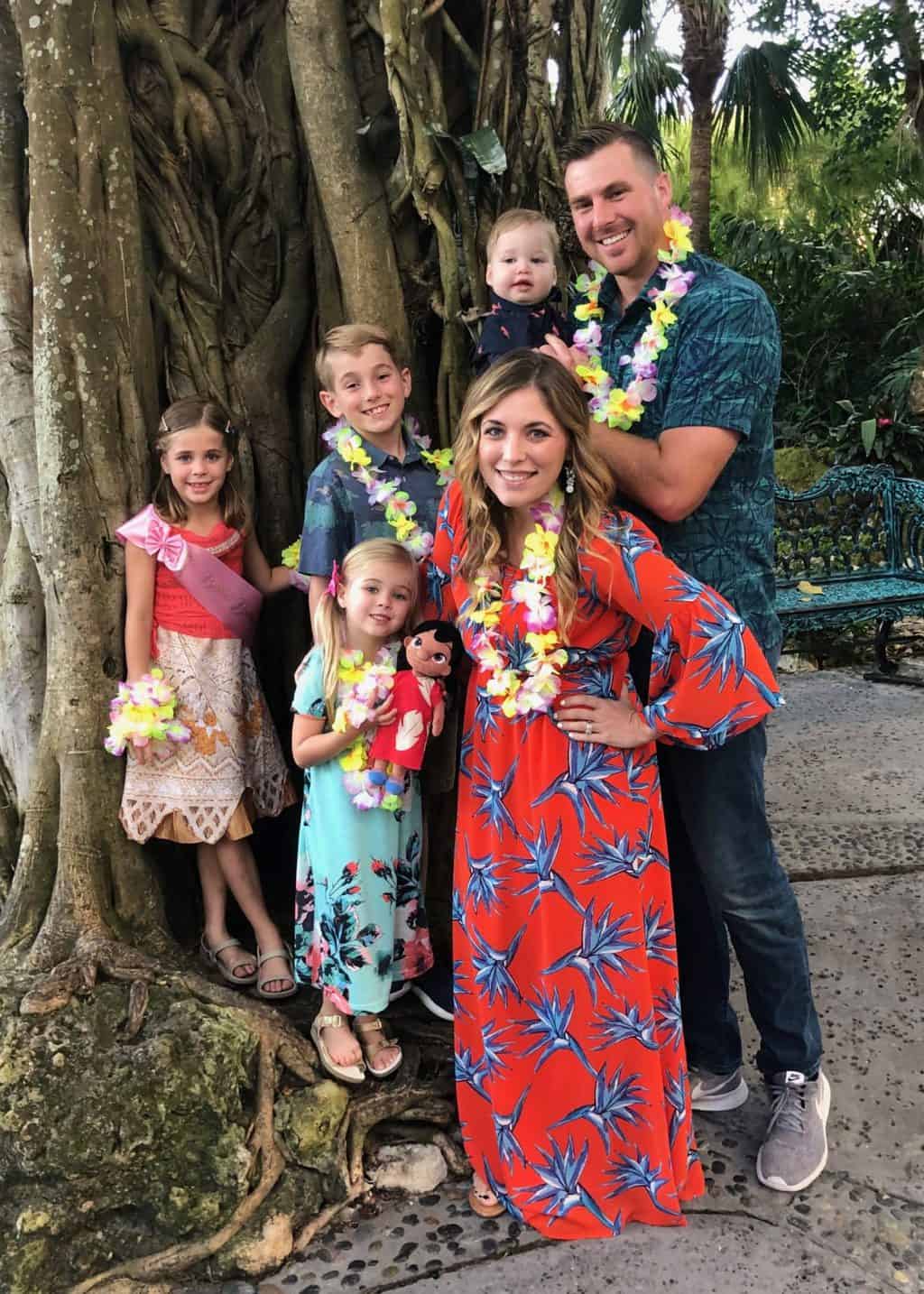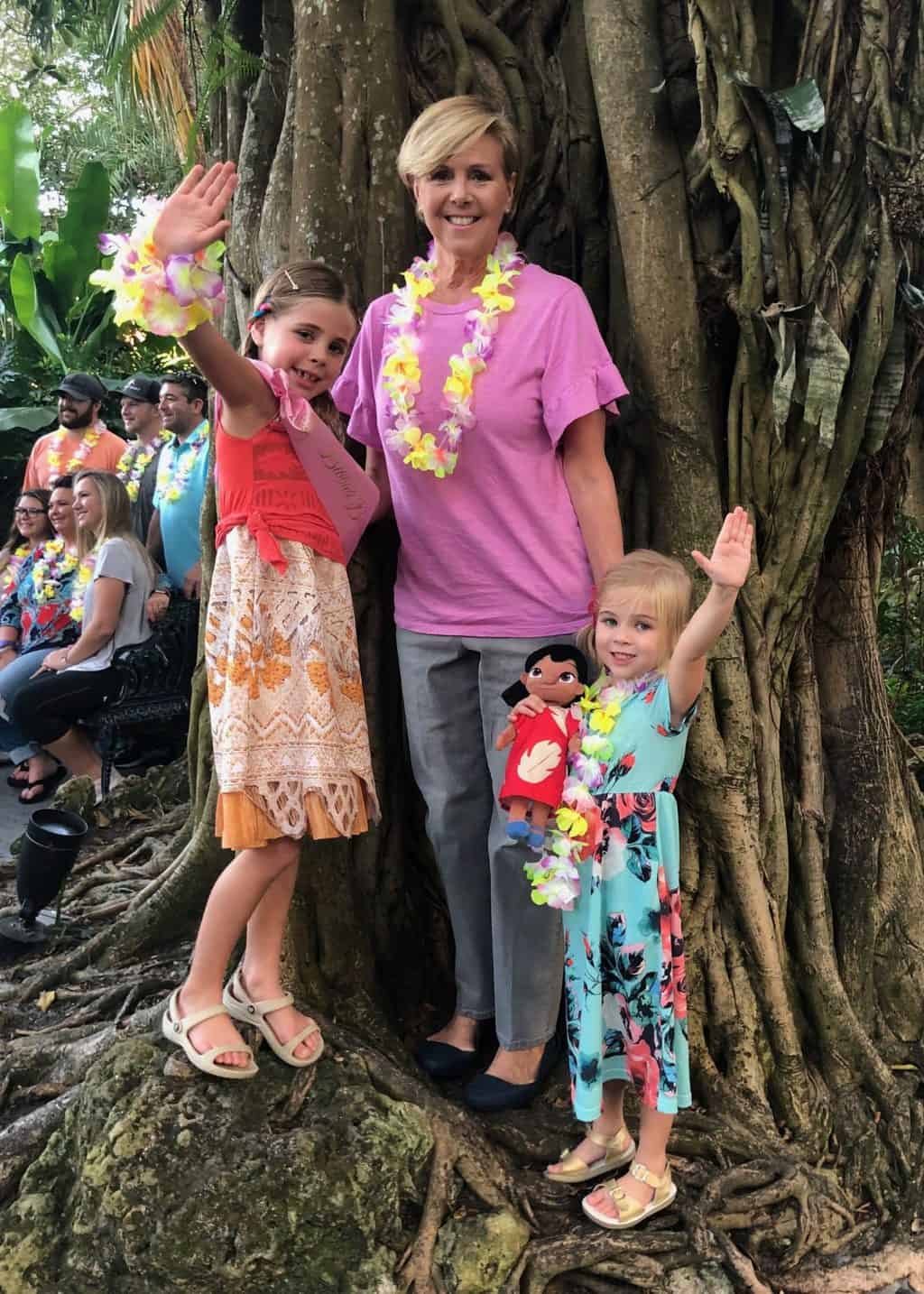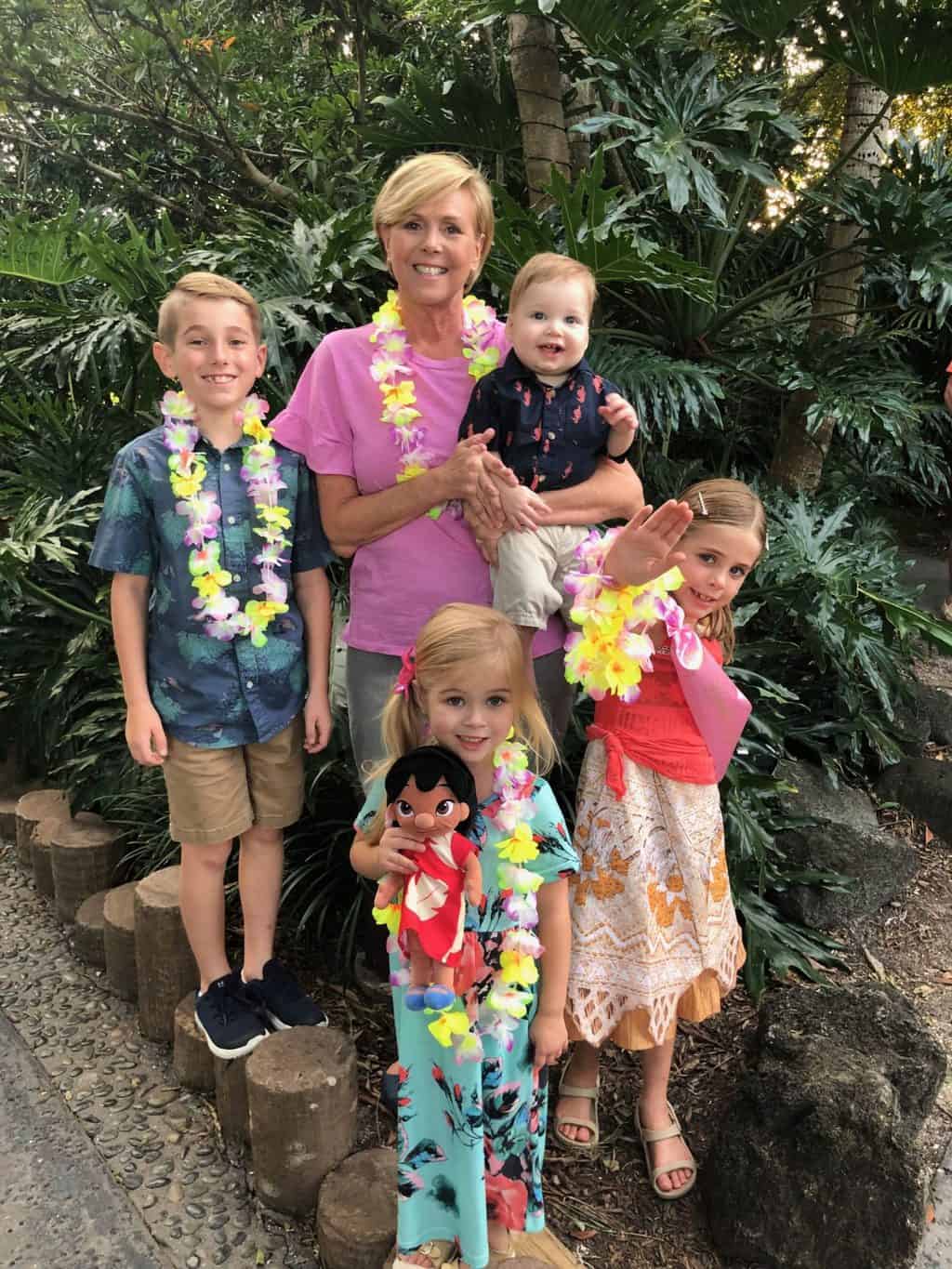 It's family style dining and all you care to enjoy. They also have kids menus that you're able to order so we went that route too and had TONS of food. The food isn't incredible. But neither is food at a legit luau either so our expectations were low. Anything outdoors when you're feeding tons of people is tricky to pull off!
It is important to note that this IS outdoors. We brought jackets and didn't regret having them!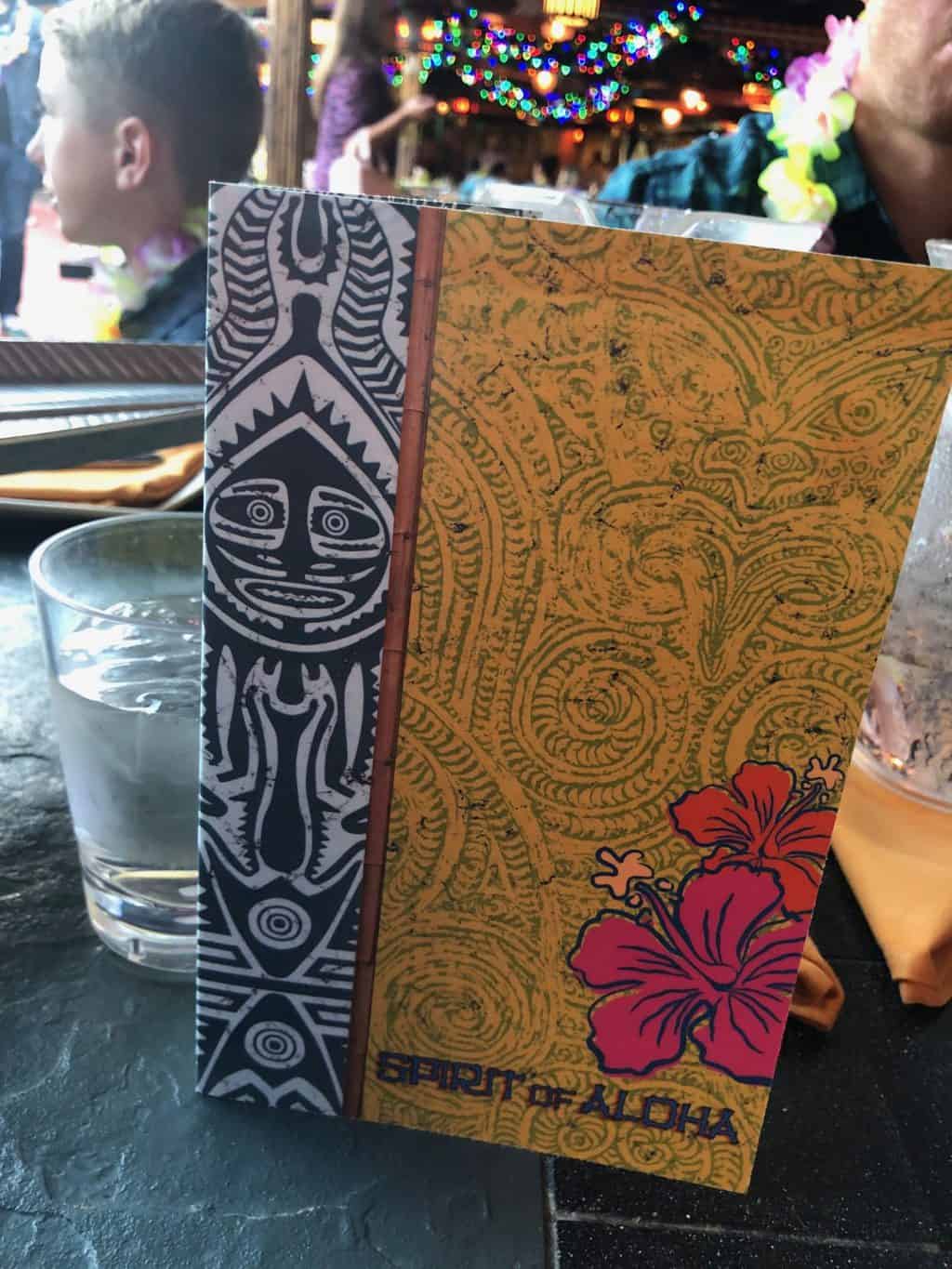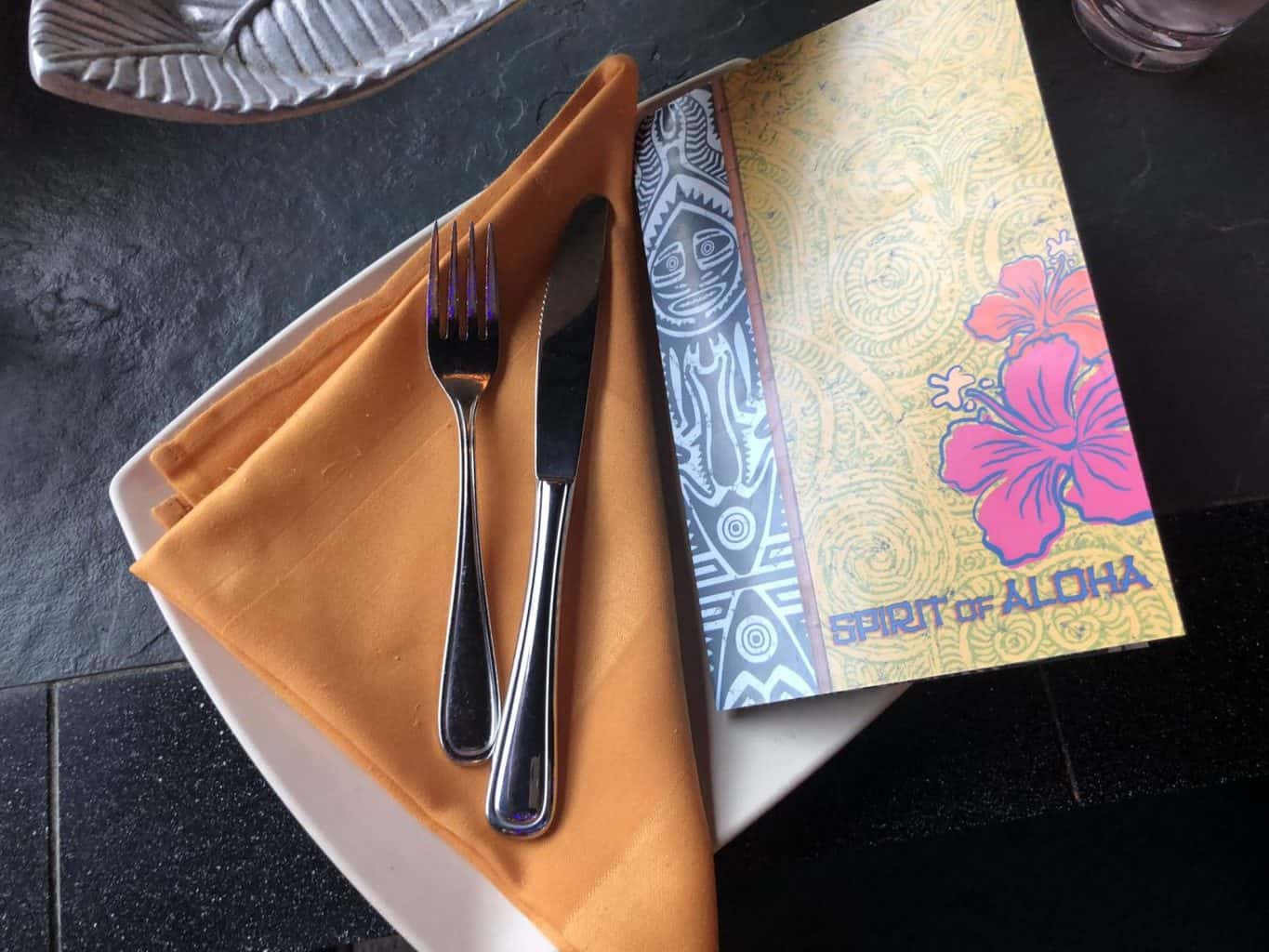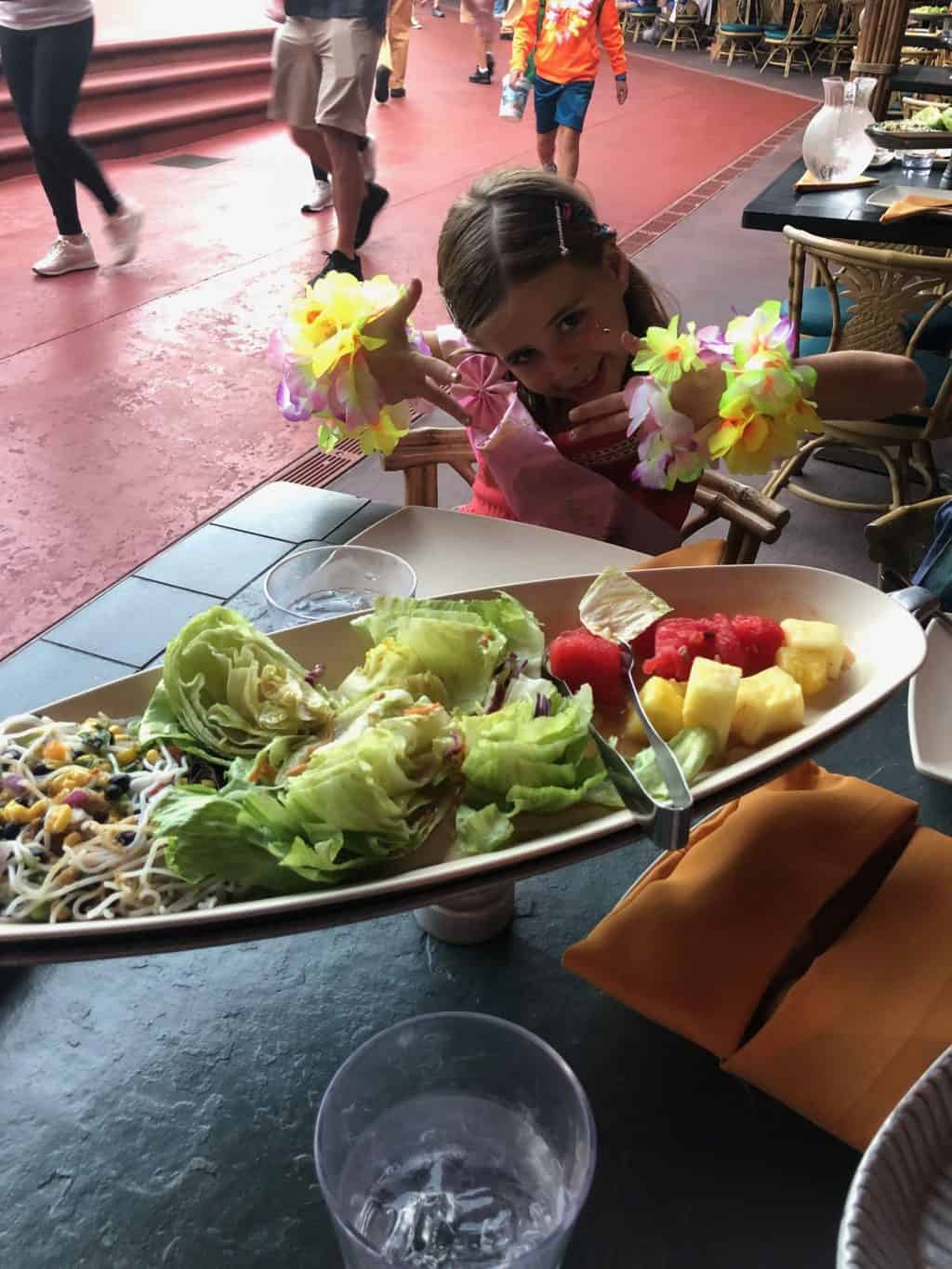 Menu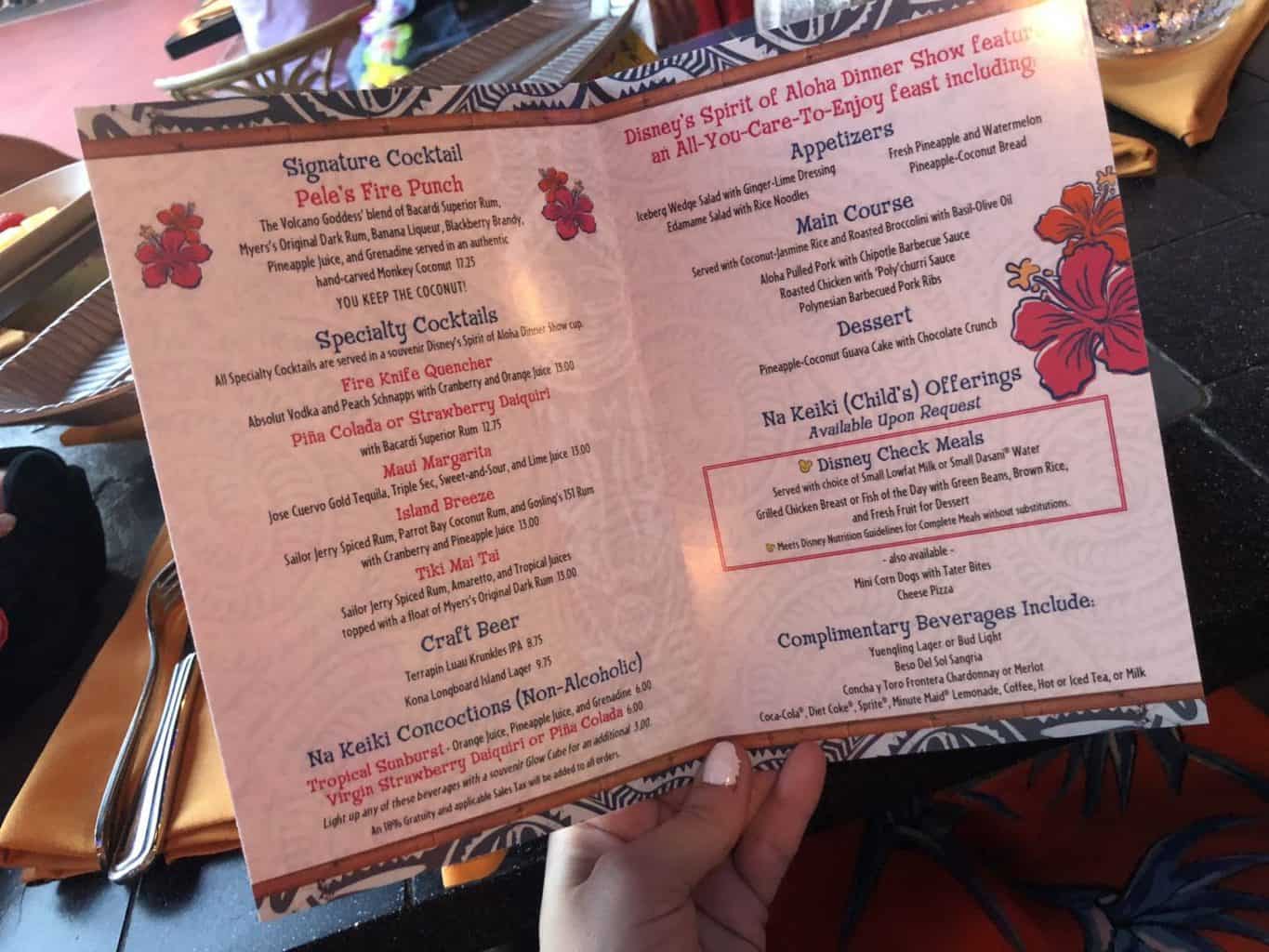 We went to the bathroom before the show started and Britt just couldn't stop staring at herself in the mirror 😉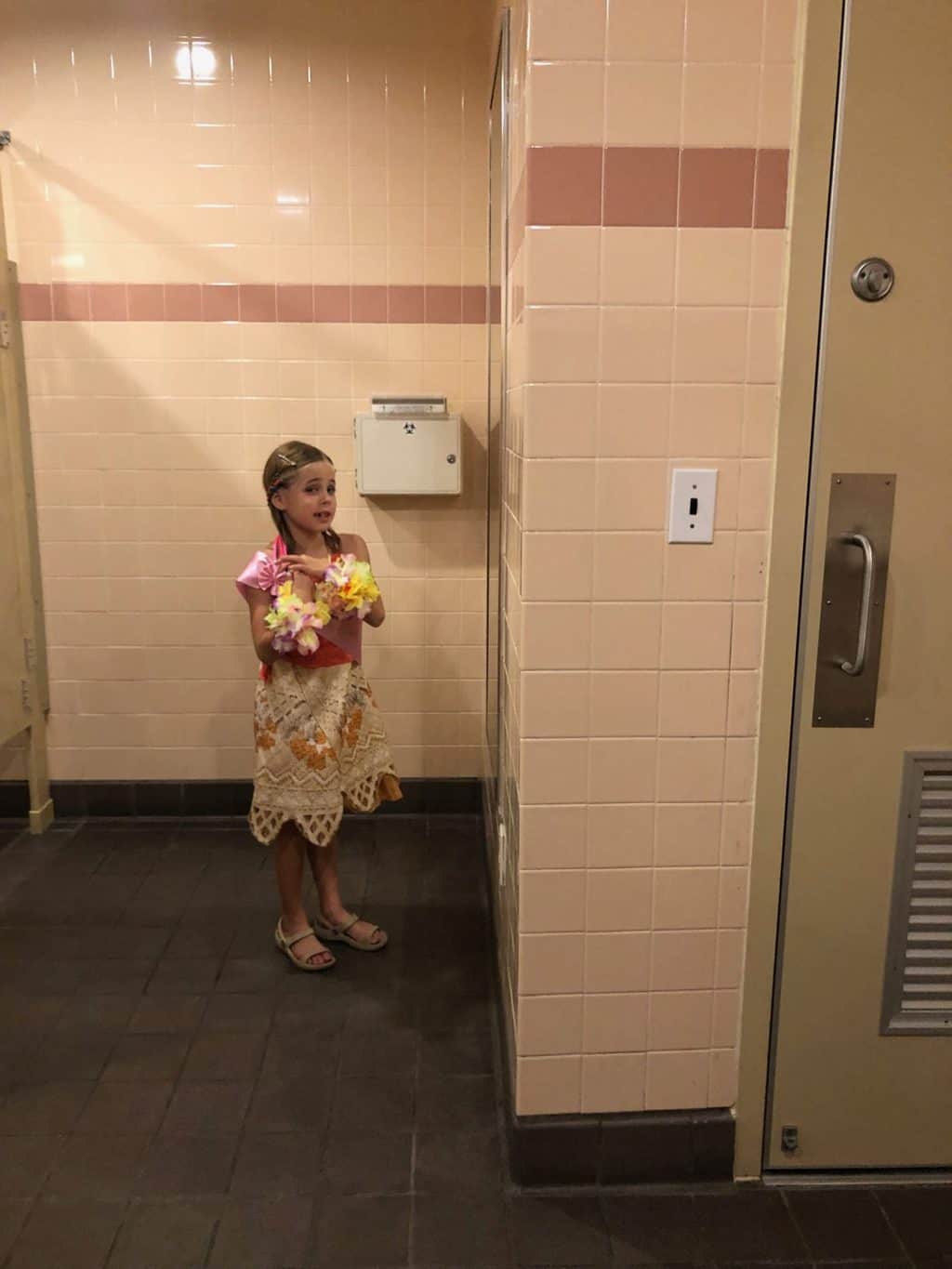 BFF SISTERS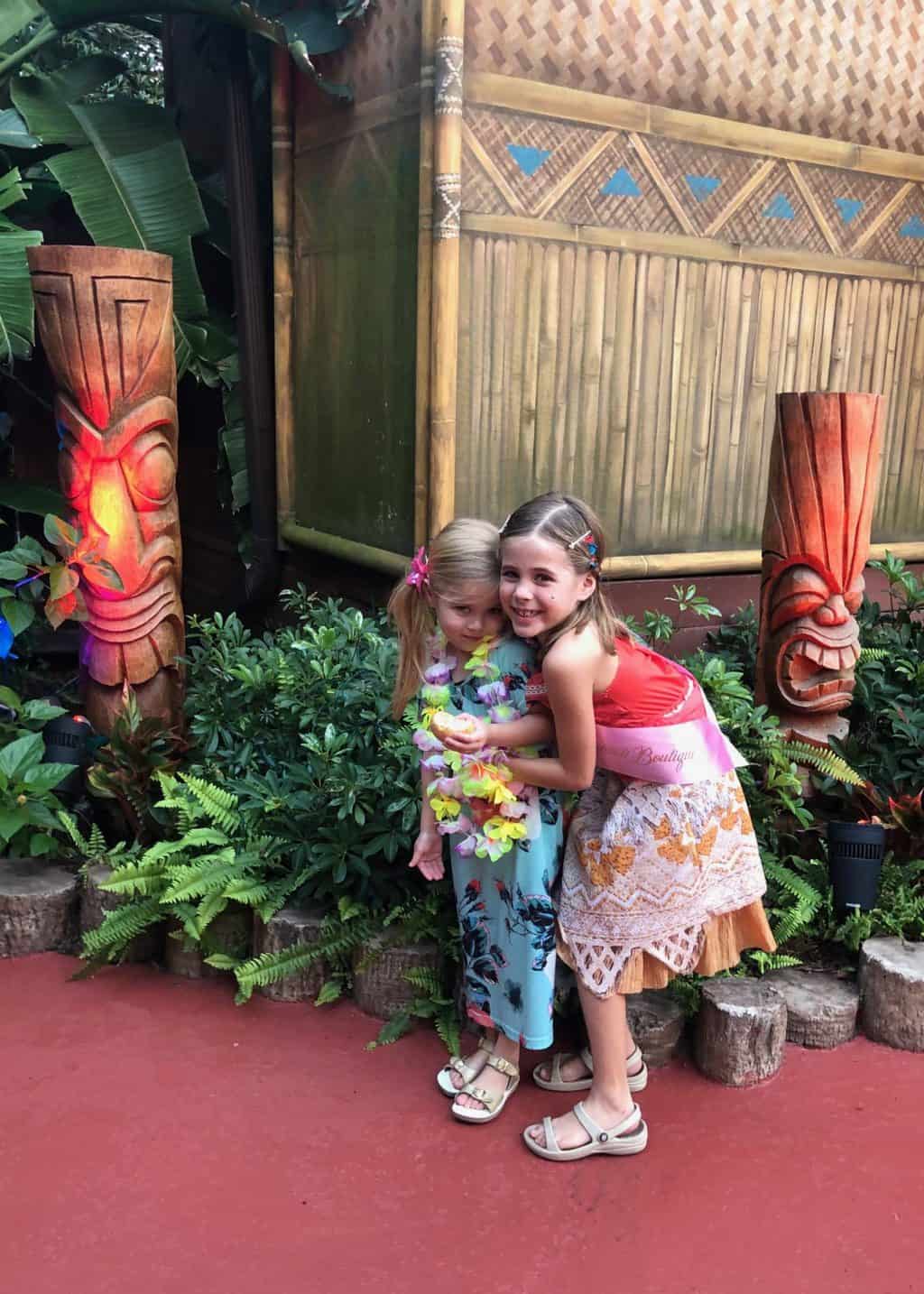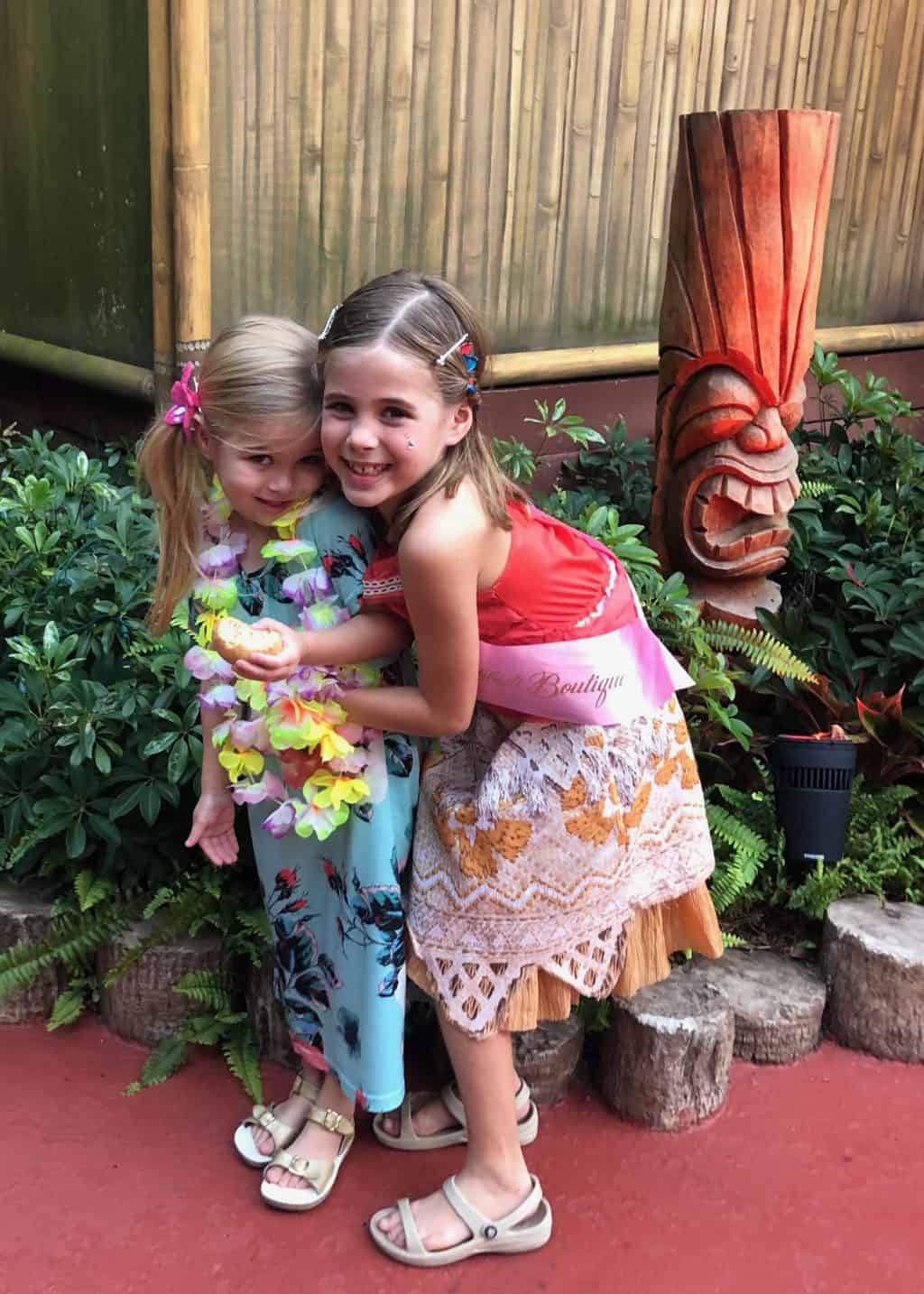 It was wonderful sitting right up front because while we waited for the show to get going we could let the kids dance a bit near our table and get out some energy! The girls LOVED it and felt like they were the stars of the show 😉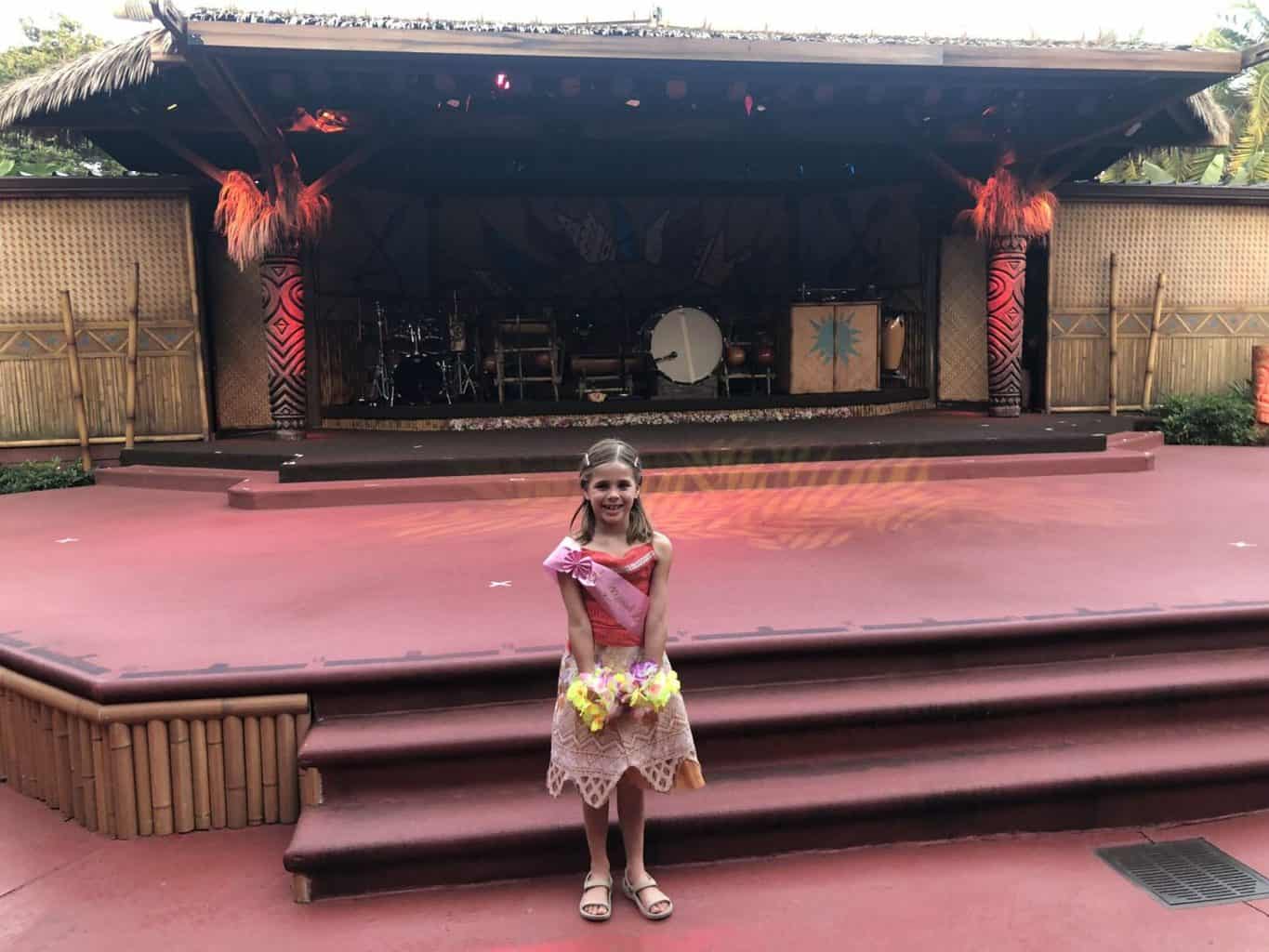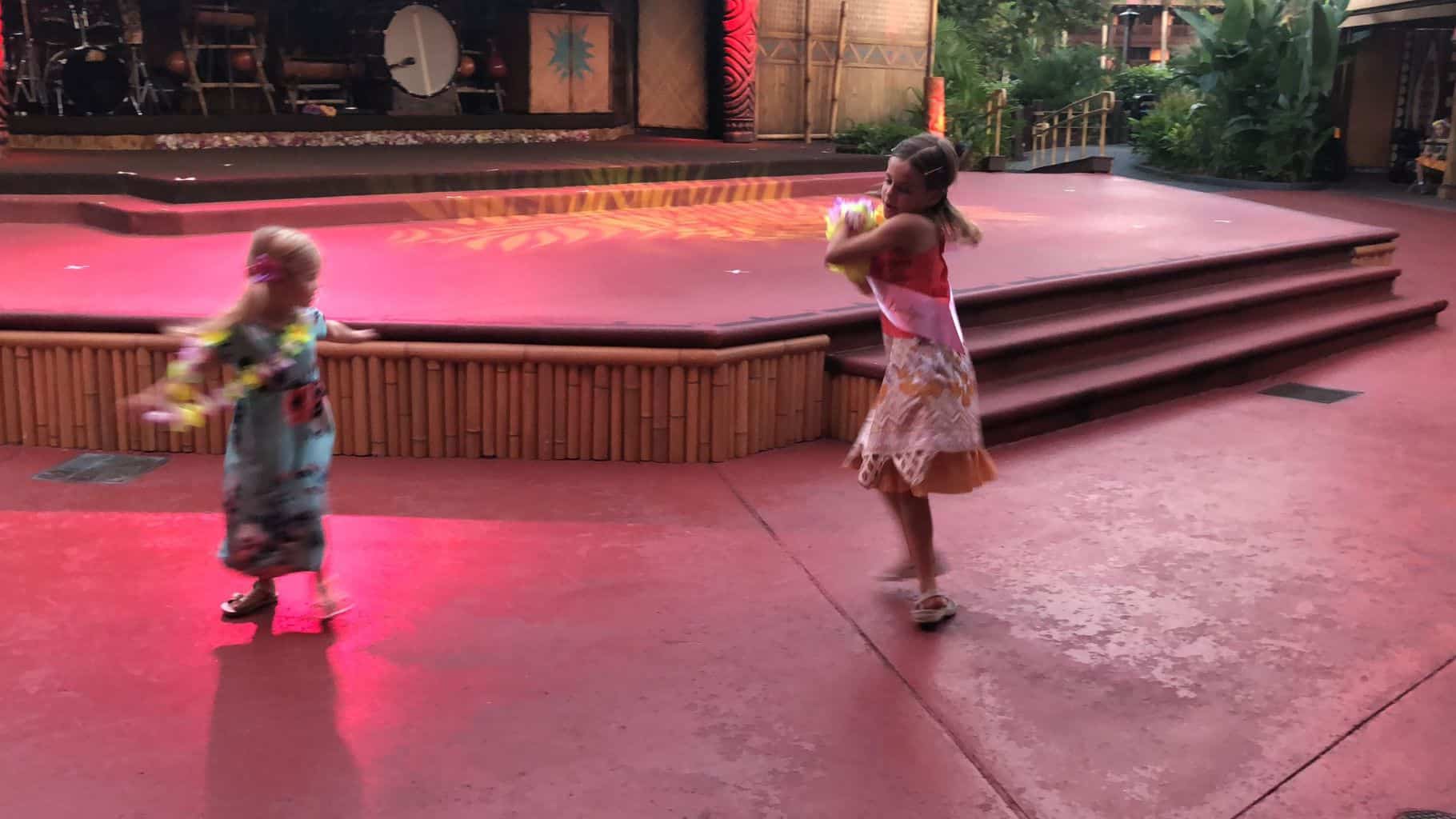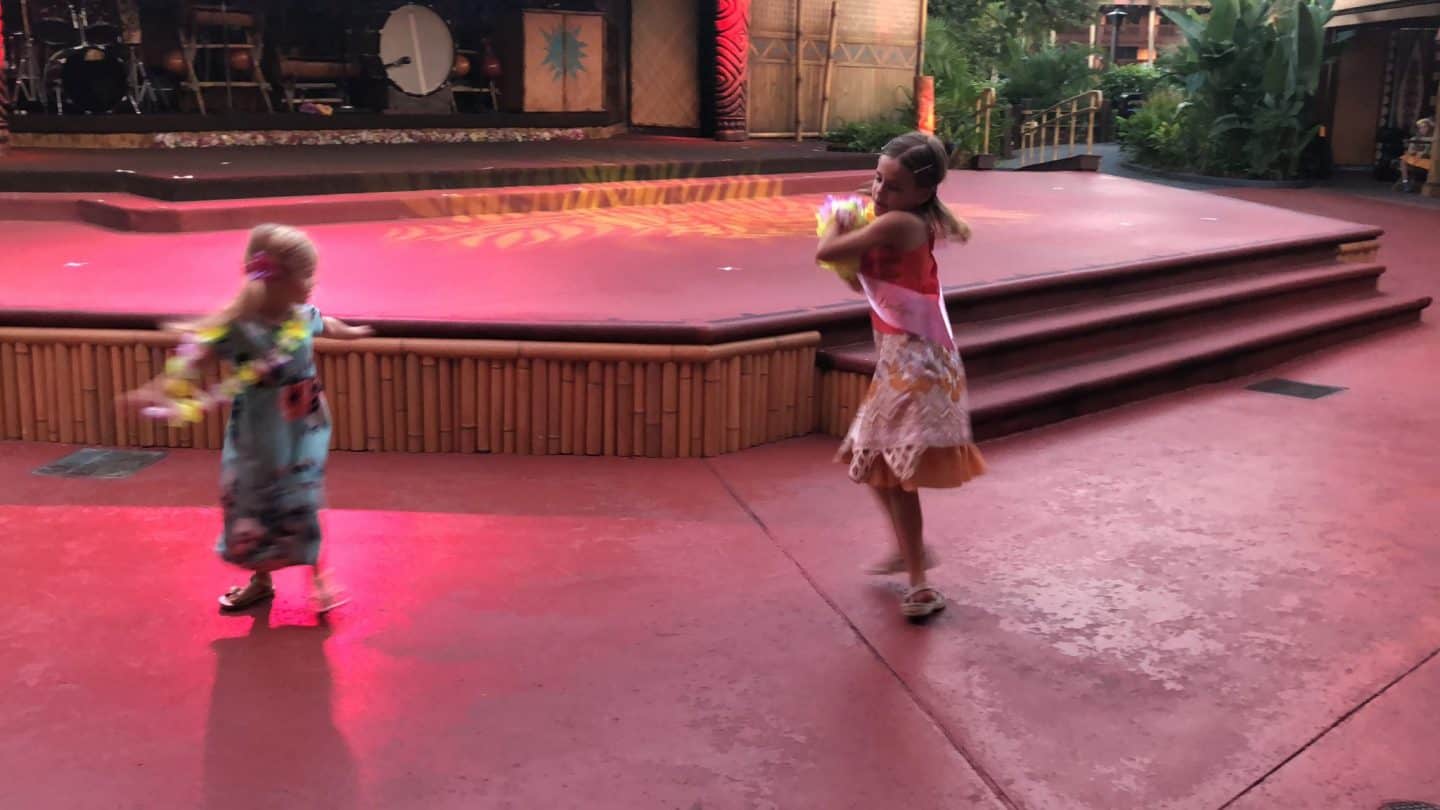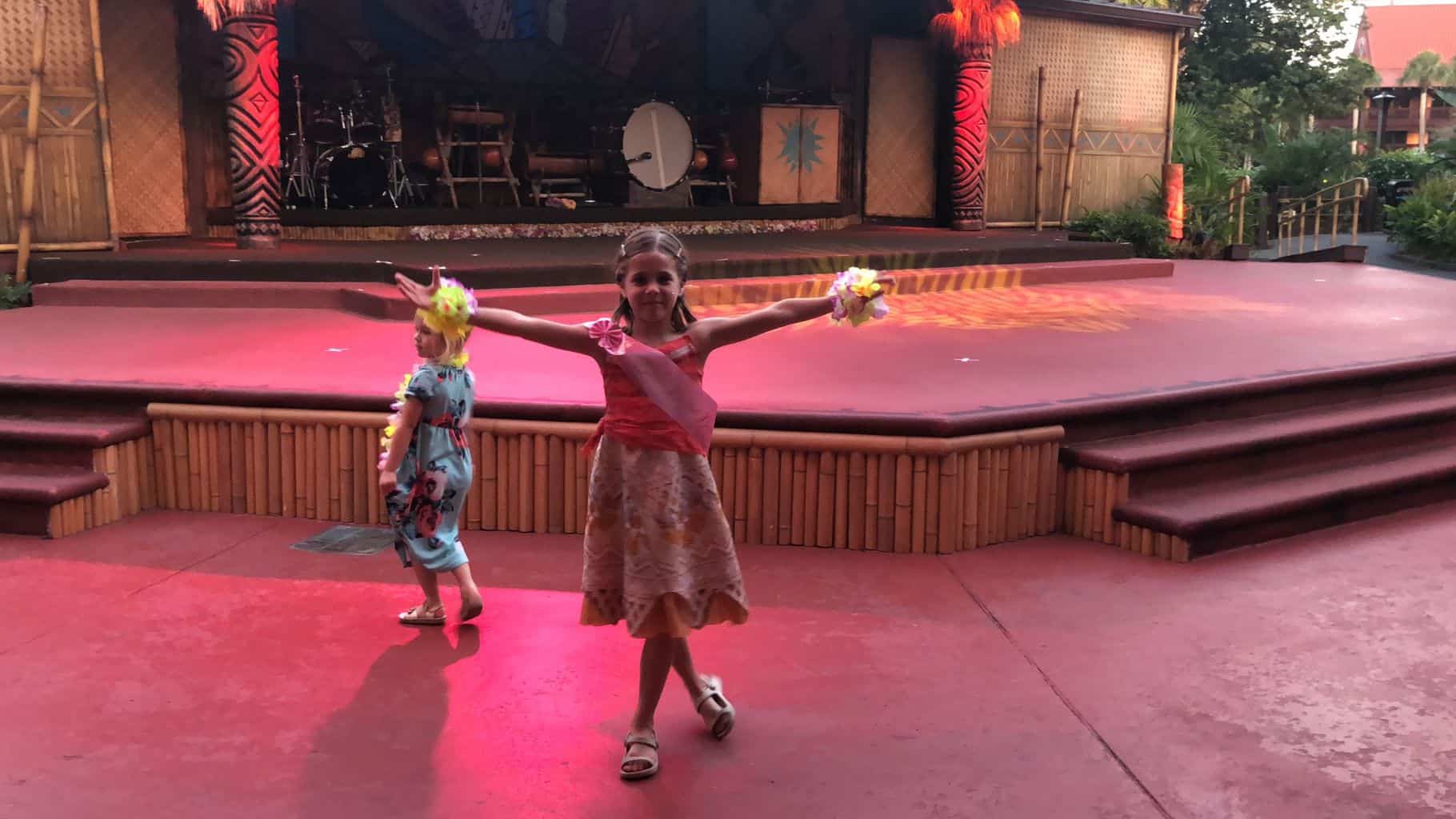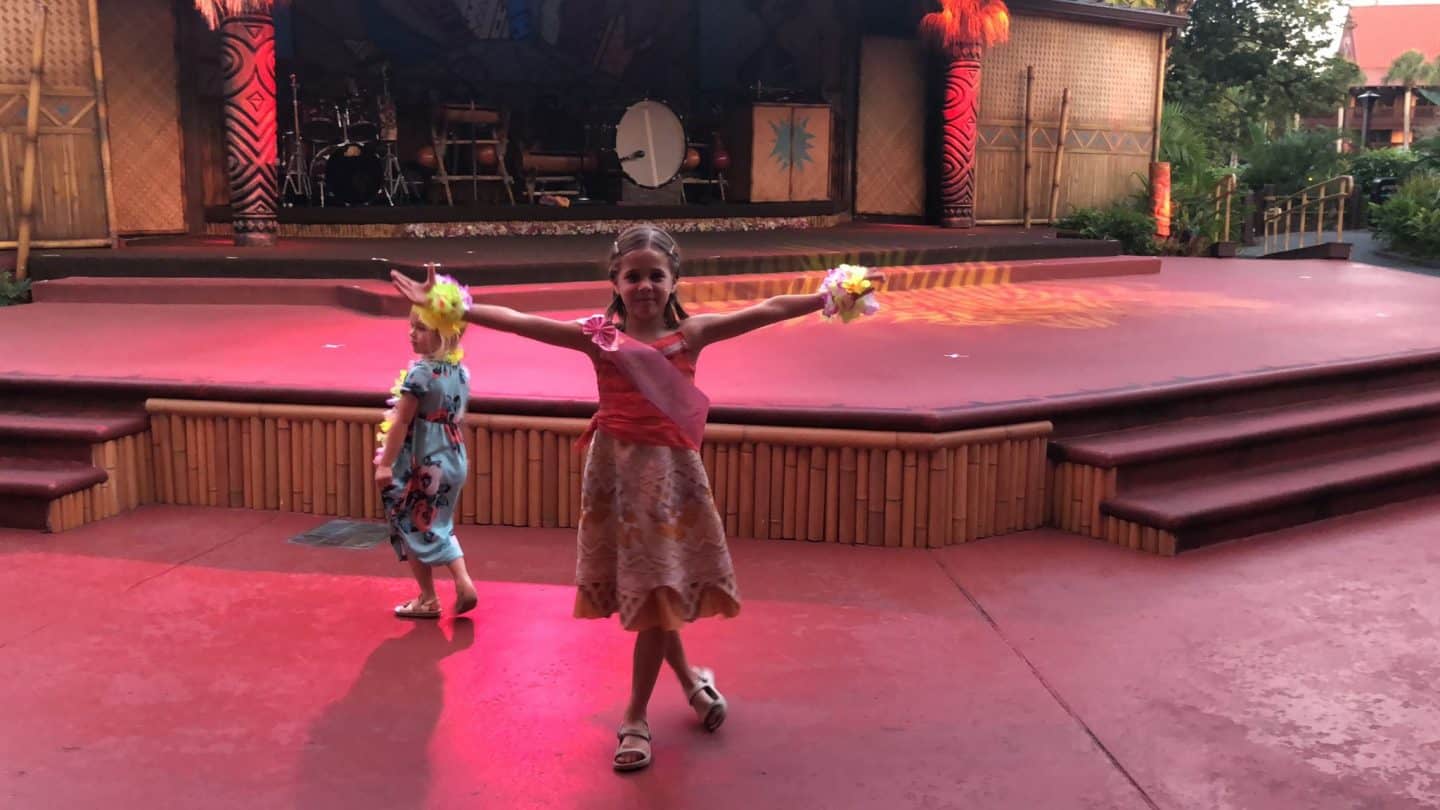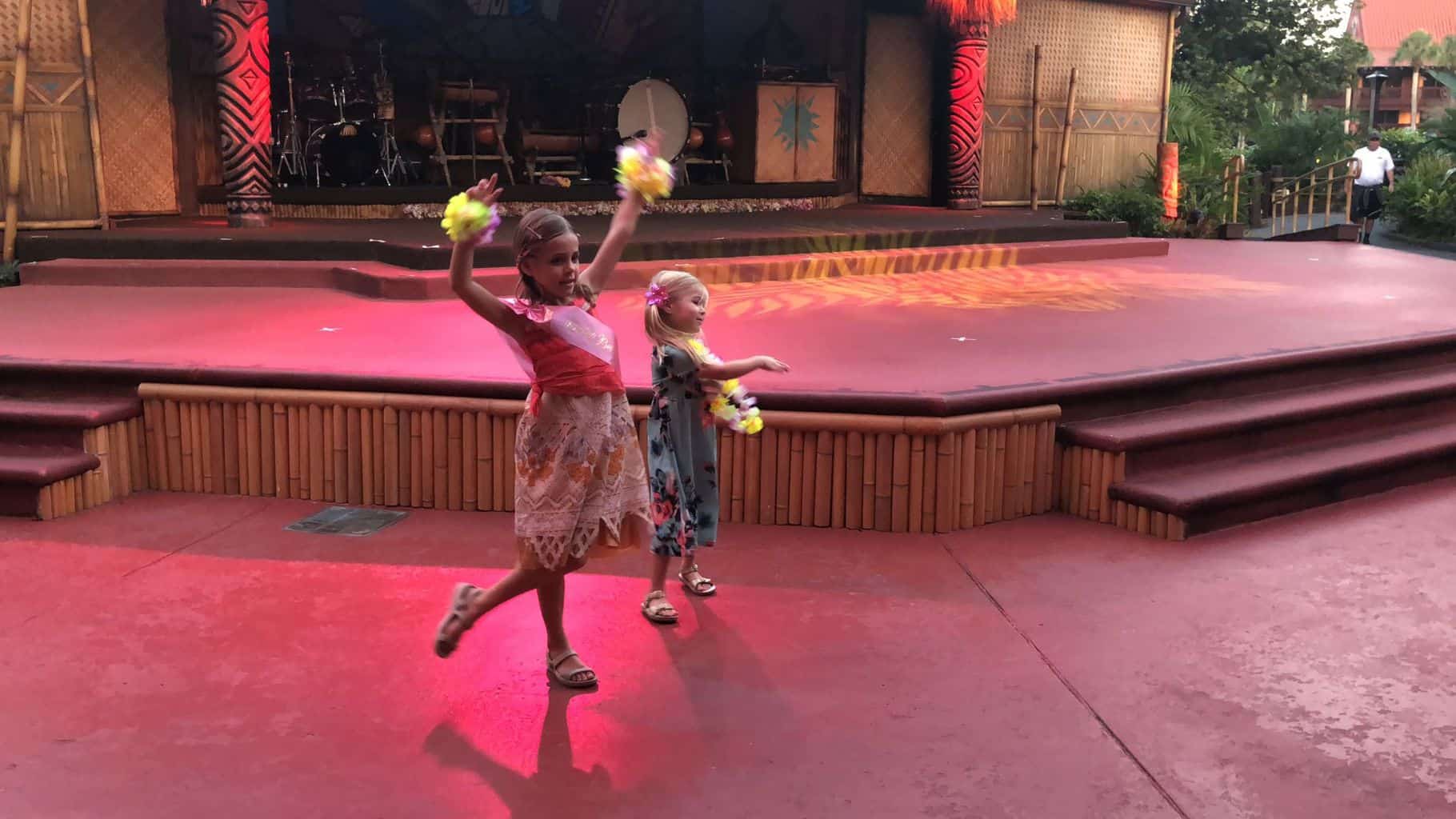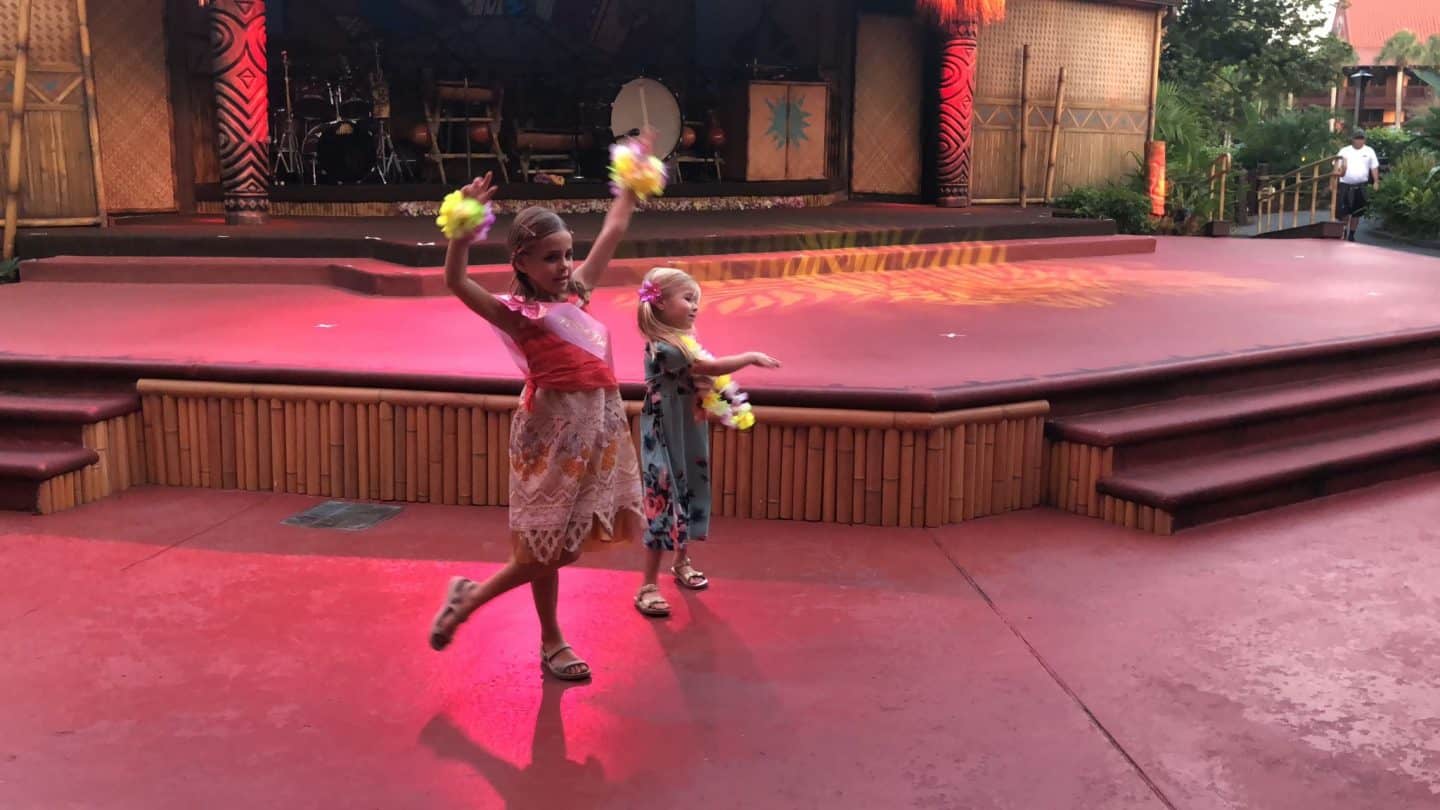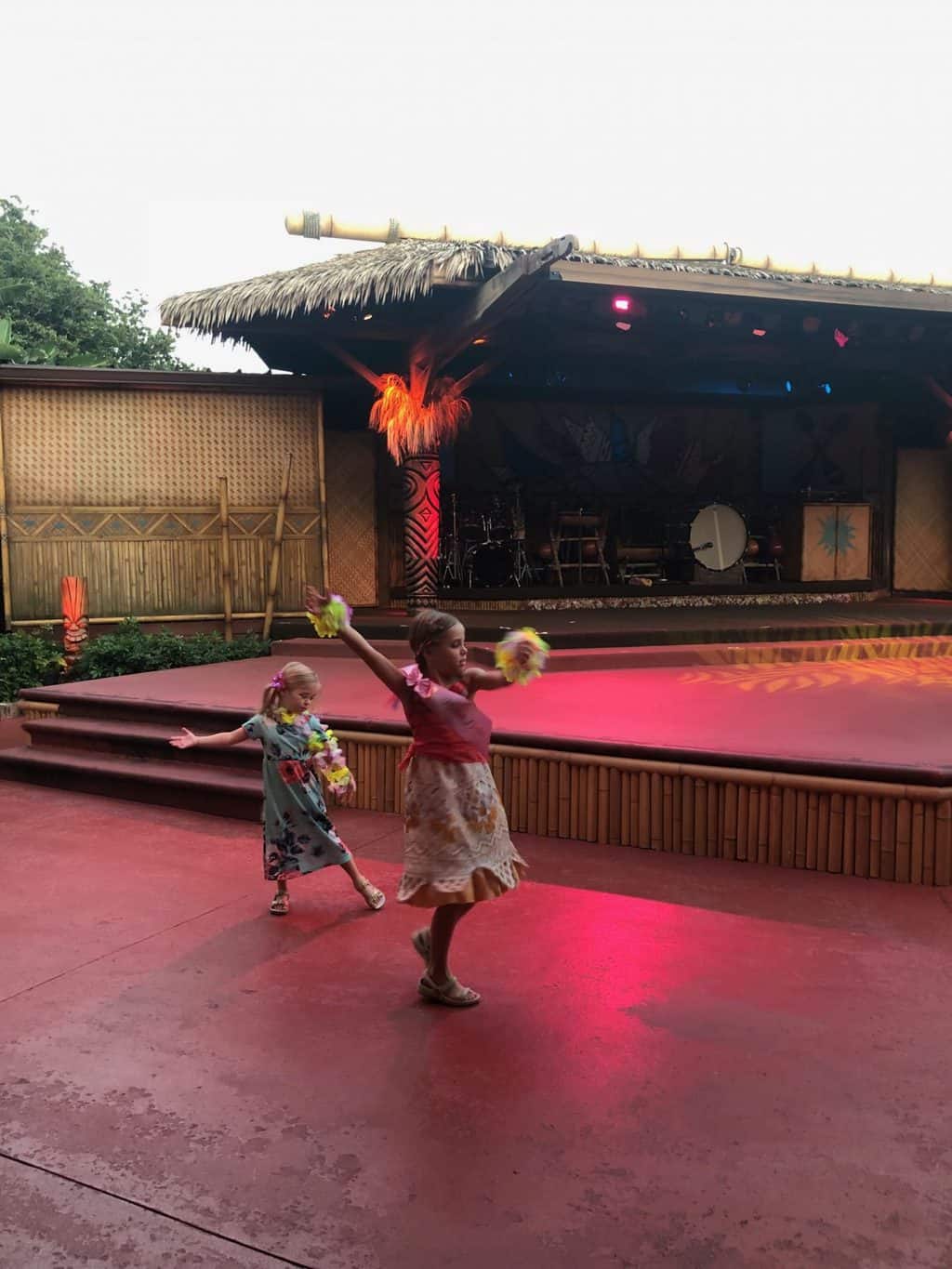 This guy loved Mommy dancing with him too!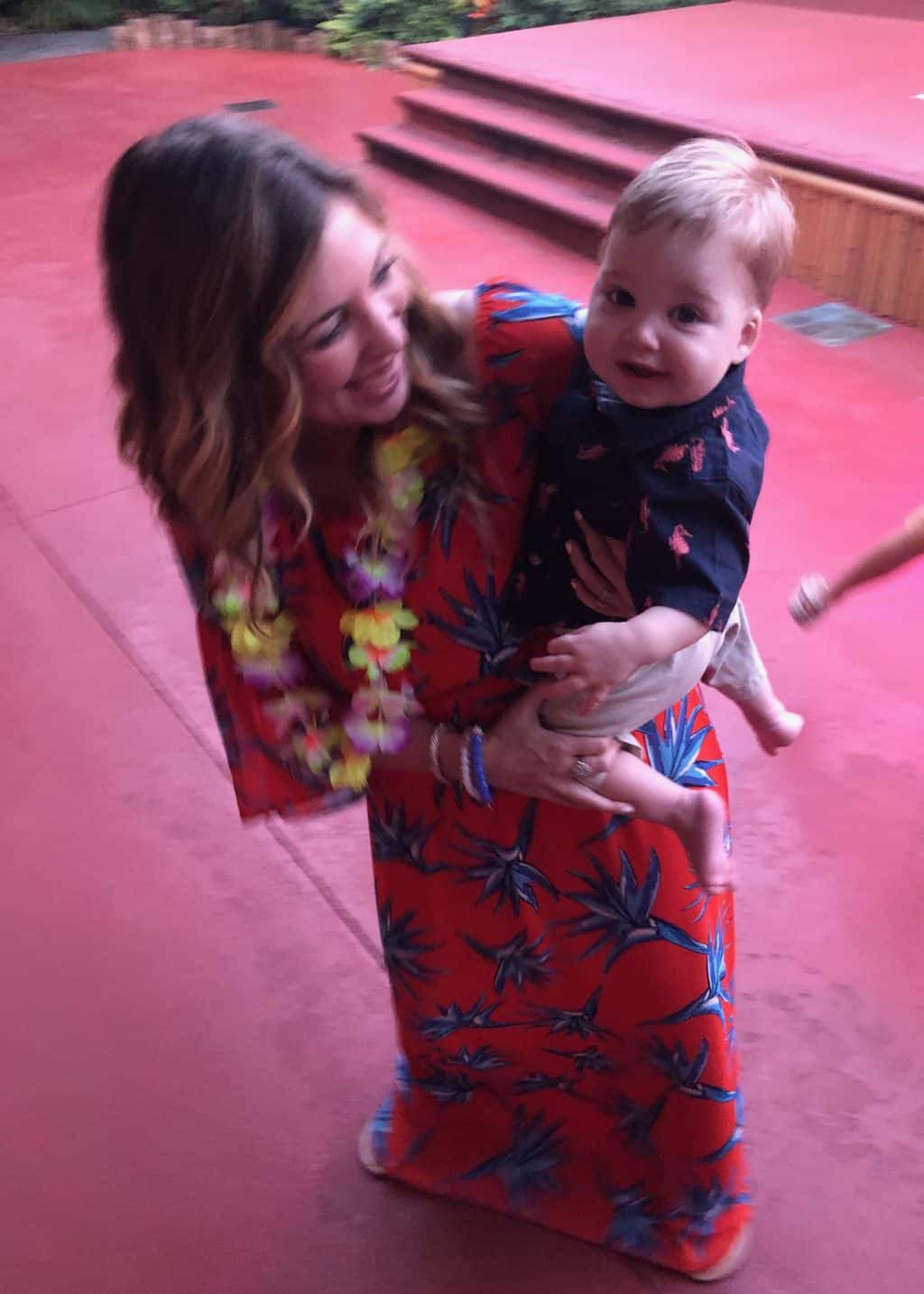 The show itself was a very typical luau type show. Zach and I just attended a luau back last October and truly the experience at Disney is VERY similar to the real life experience in Hawaii. It's really the best you can get without visiting Hawaii yourself! It was a little bit cheesy, and a vert loose storyline but the dances were SO fun and entertaining.
You can really get a feel for how wonderful our seats were!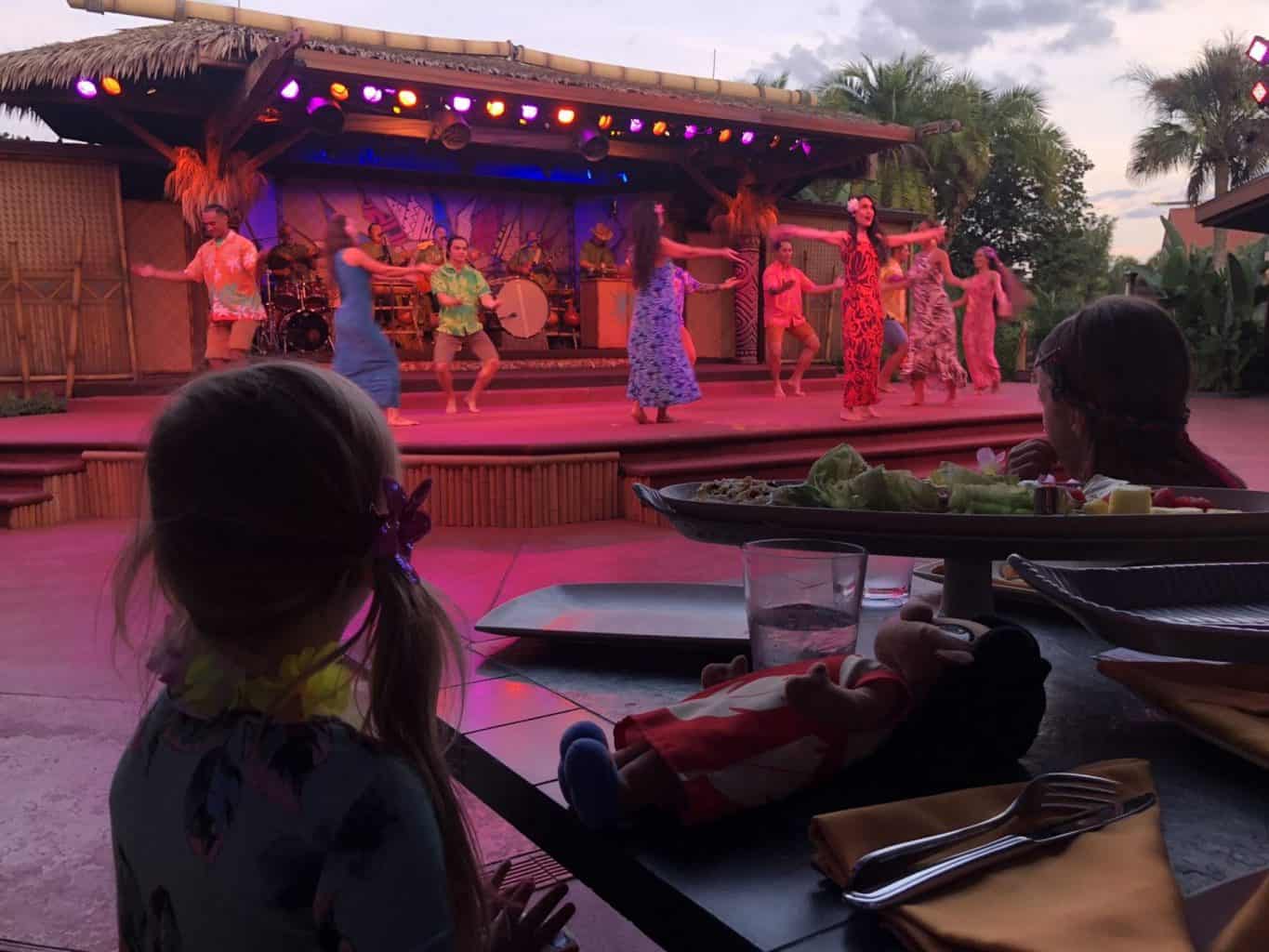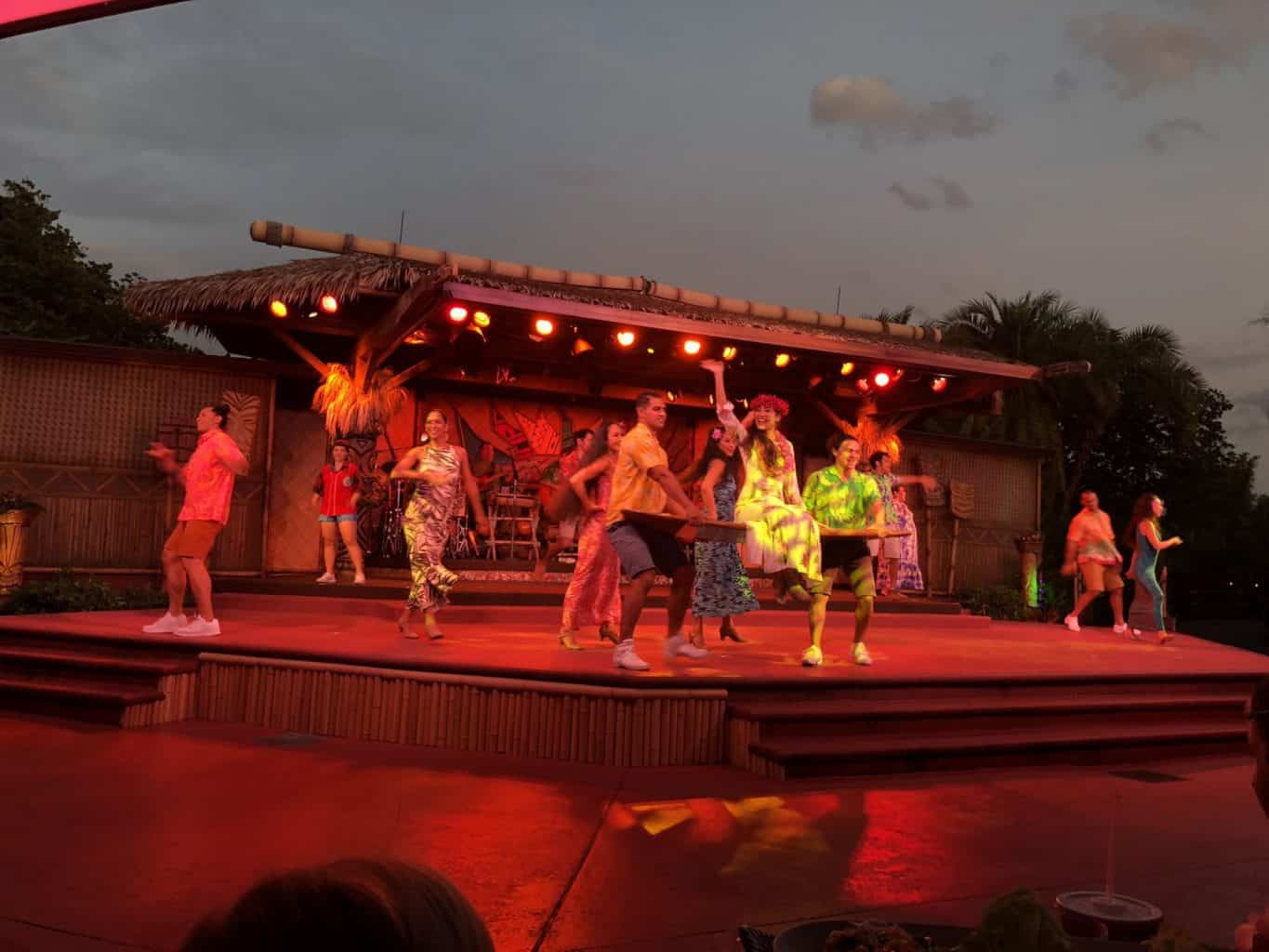 Y'all. Spear LOVED IT. I just loved sitting with him in my lap and watching him stare and stare at the performances. I loved looking beside me at Tess and seeing her joy. I loved looking across from me and seeing that Kye and Britt couldn't take their eyes off the stage. It was the first thing we've done as a family of 6 where EVERY SINGLE ONE OF US truly, truly ENJOYED it. Spear has been too young to really enjoy much of anything yet but he loved this. And I felt overwhelmed with joy and gratitude to have our complete family enjoying something together as a unit!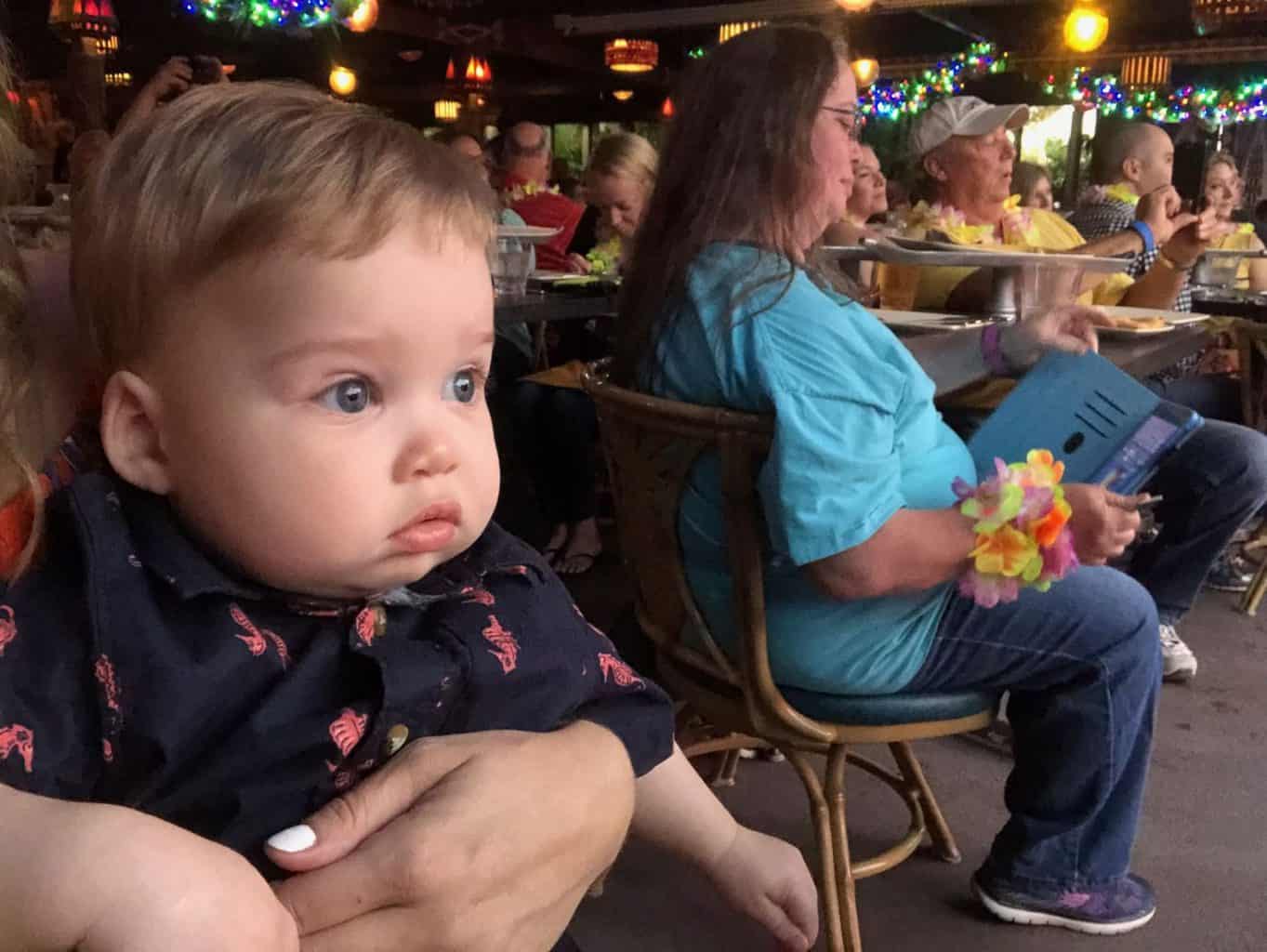 He also enjoyed the food 😉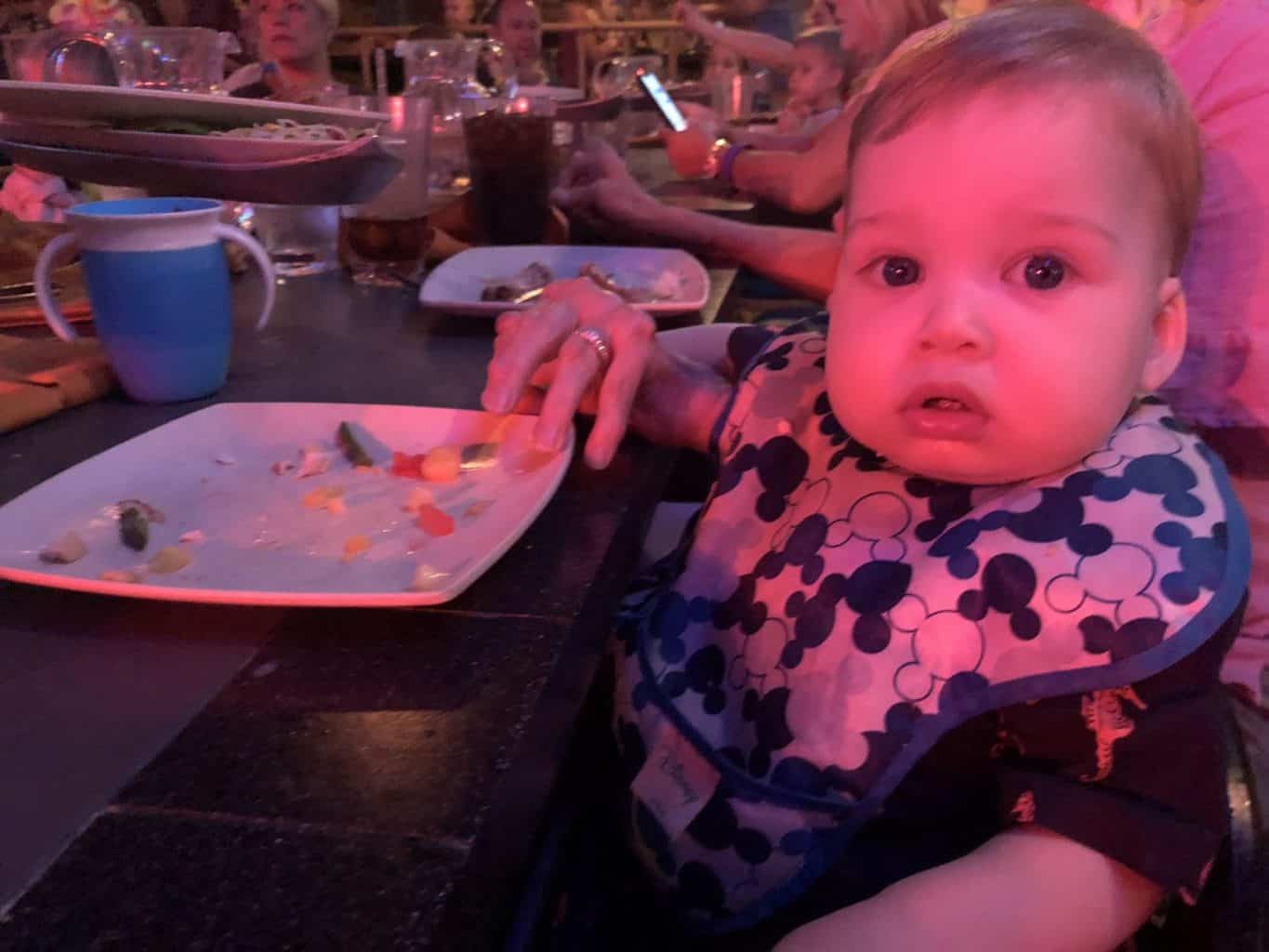 They had a few different interactive times during the show. They called all the kids up to learn to hula!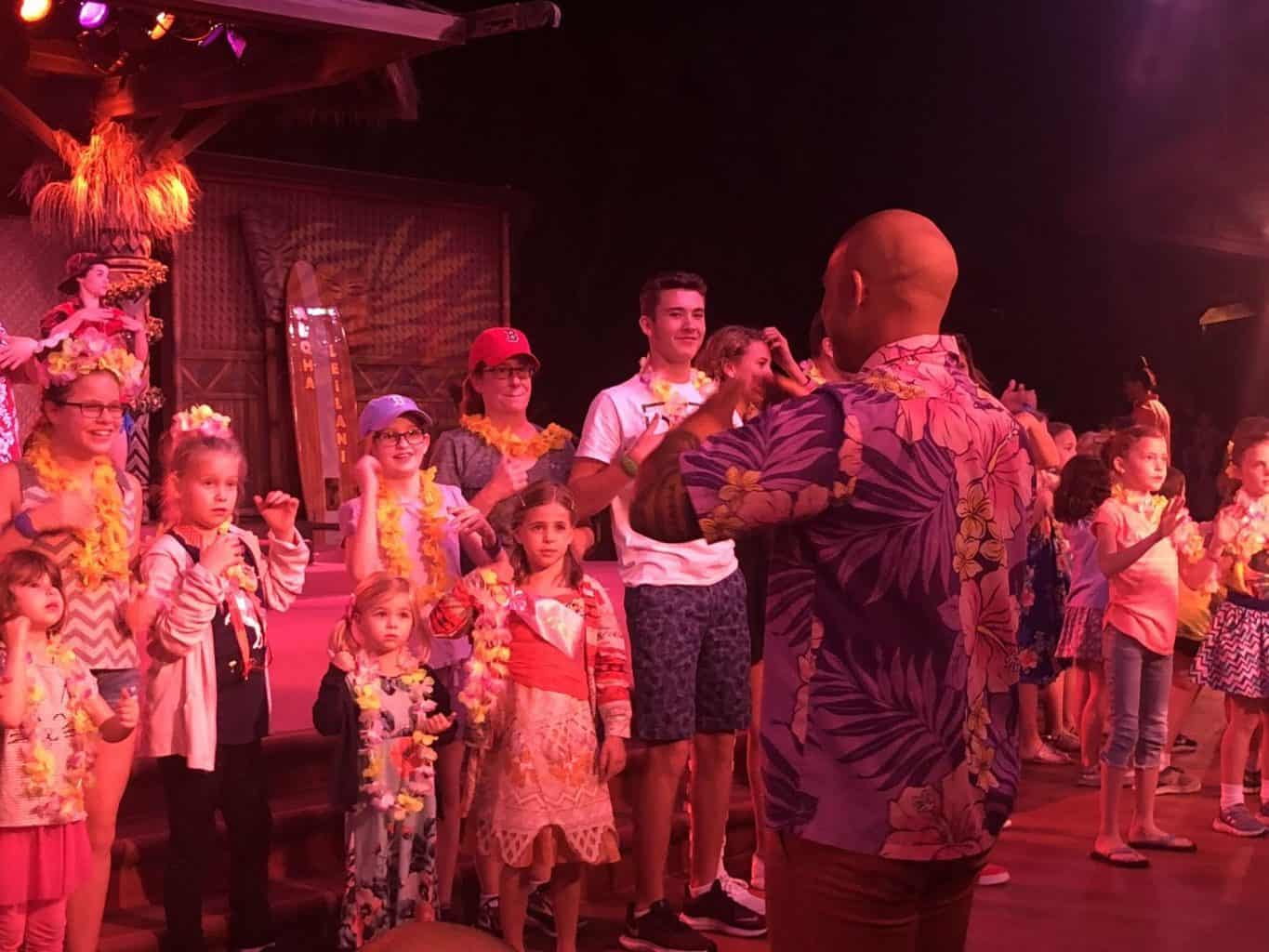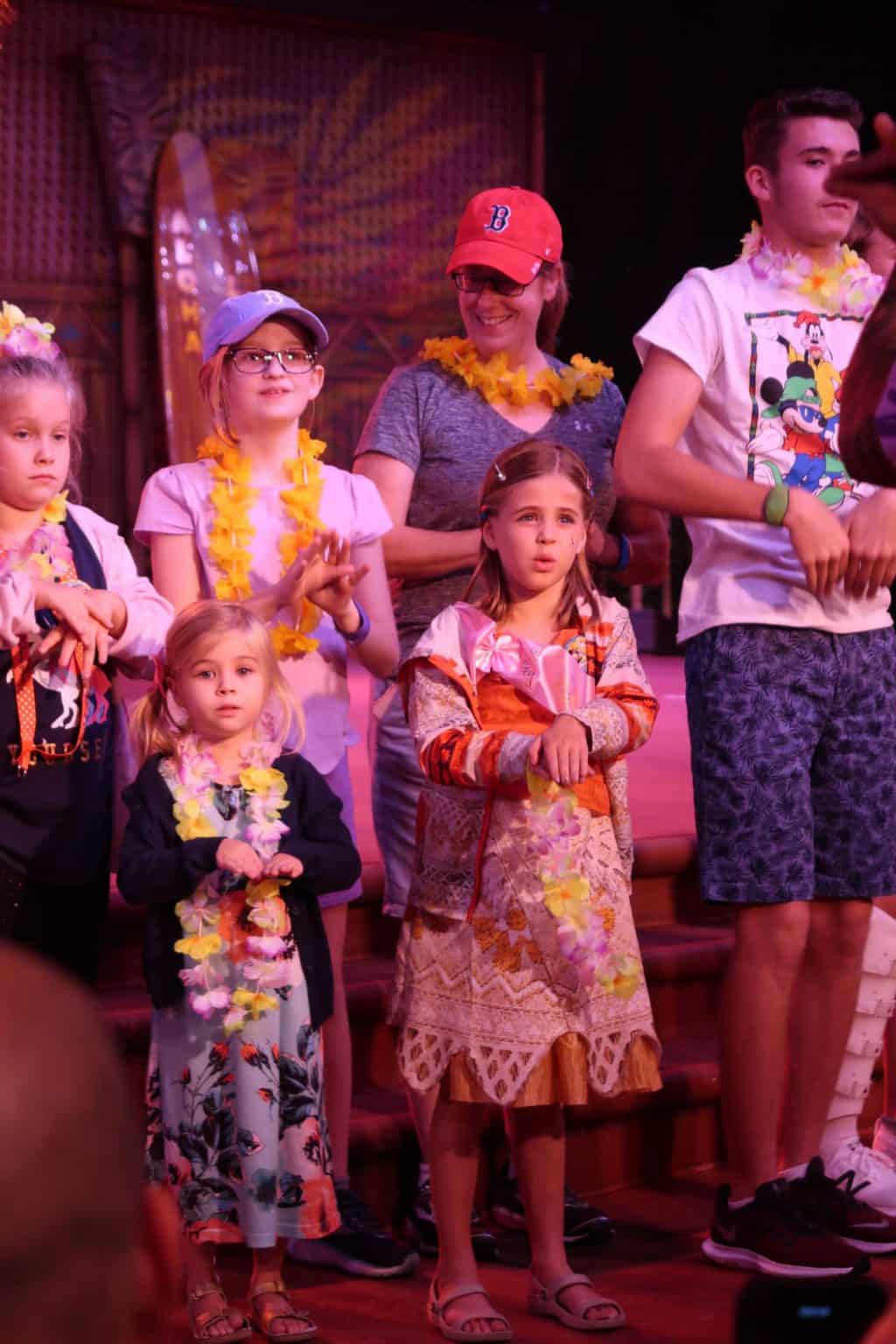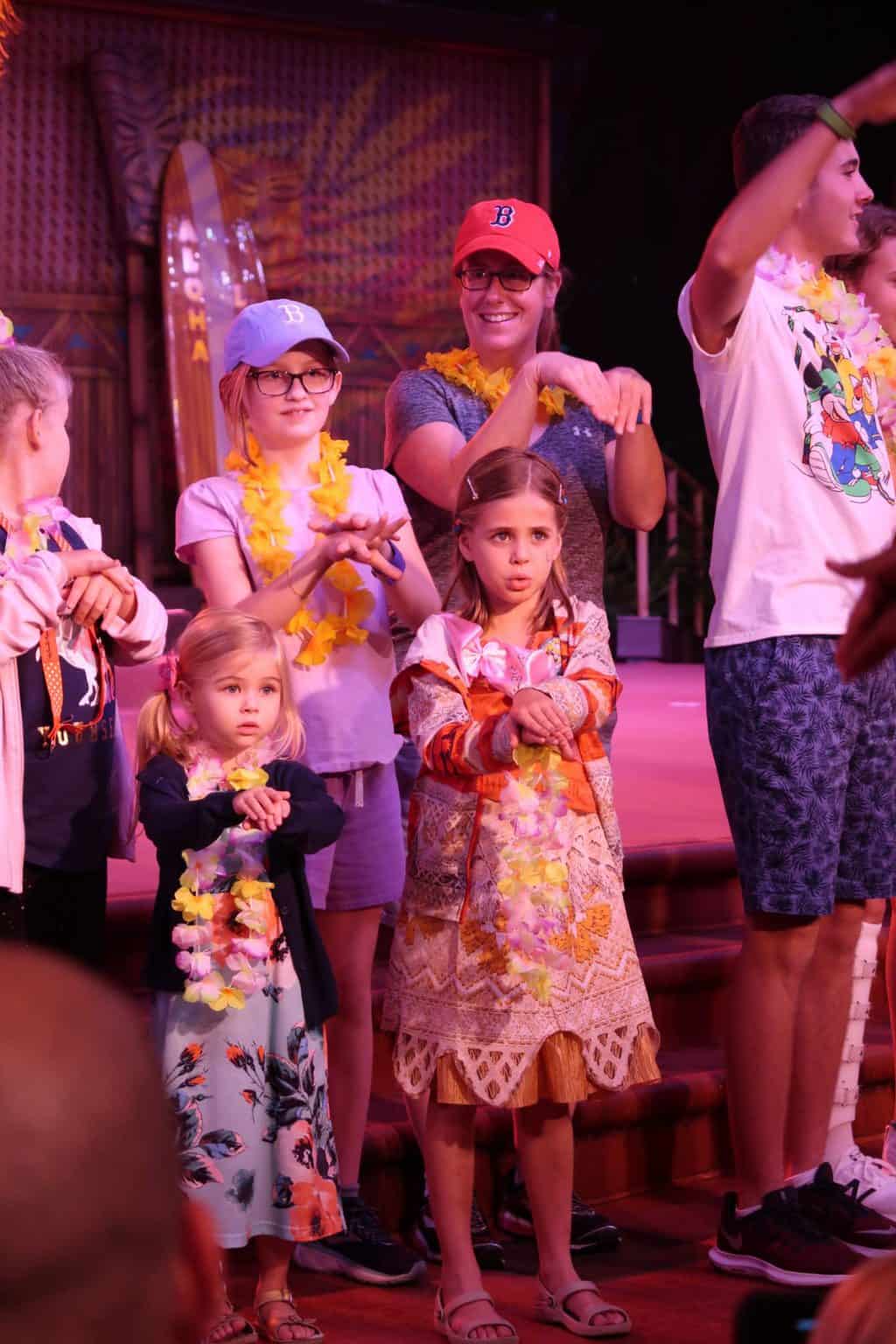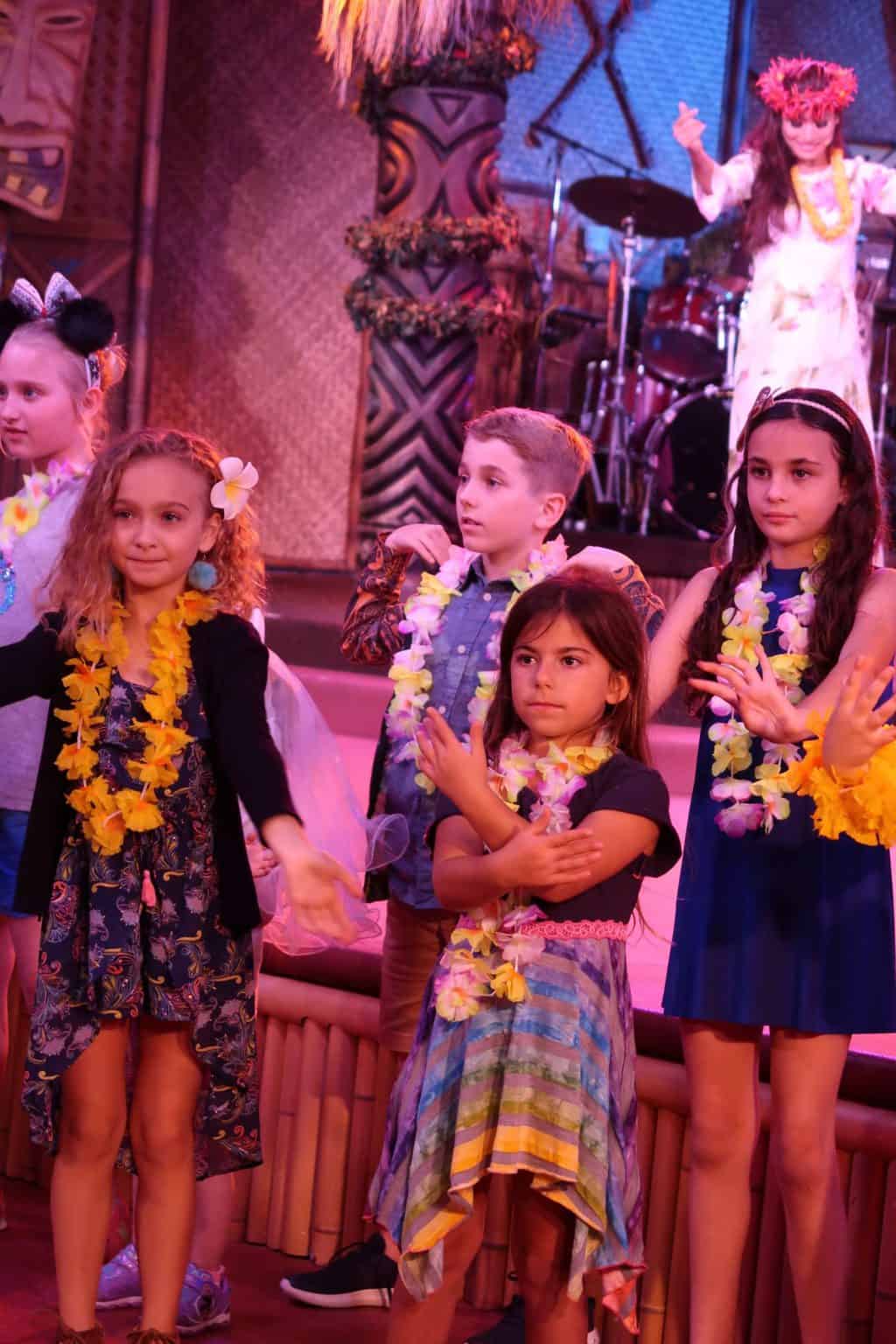 Kye was INTO IT. He was all about the entire show!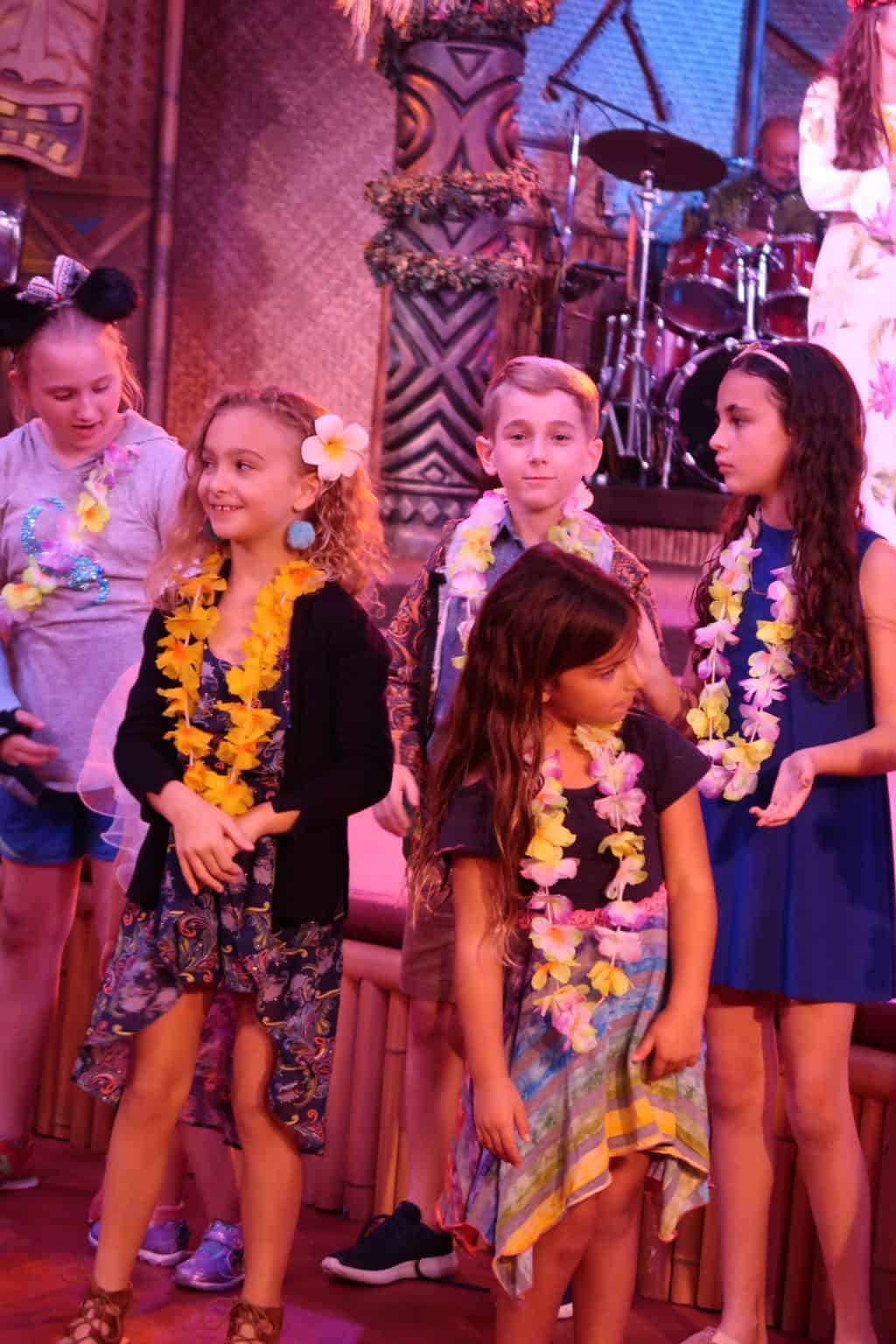 I got snuggles with Spear and with Tessie too!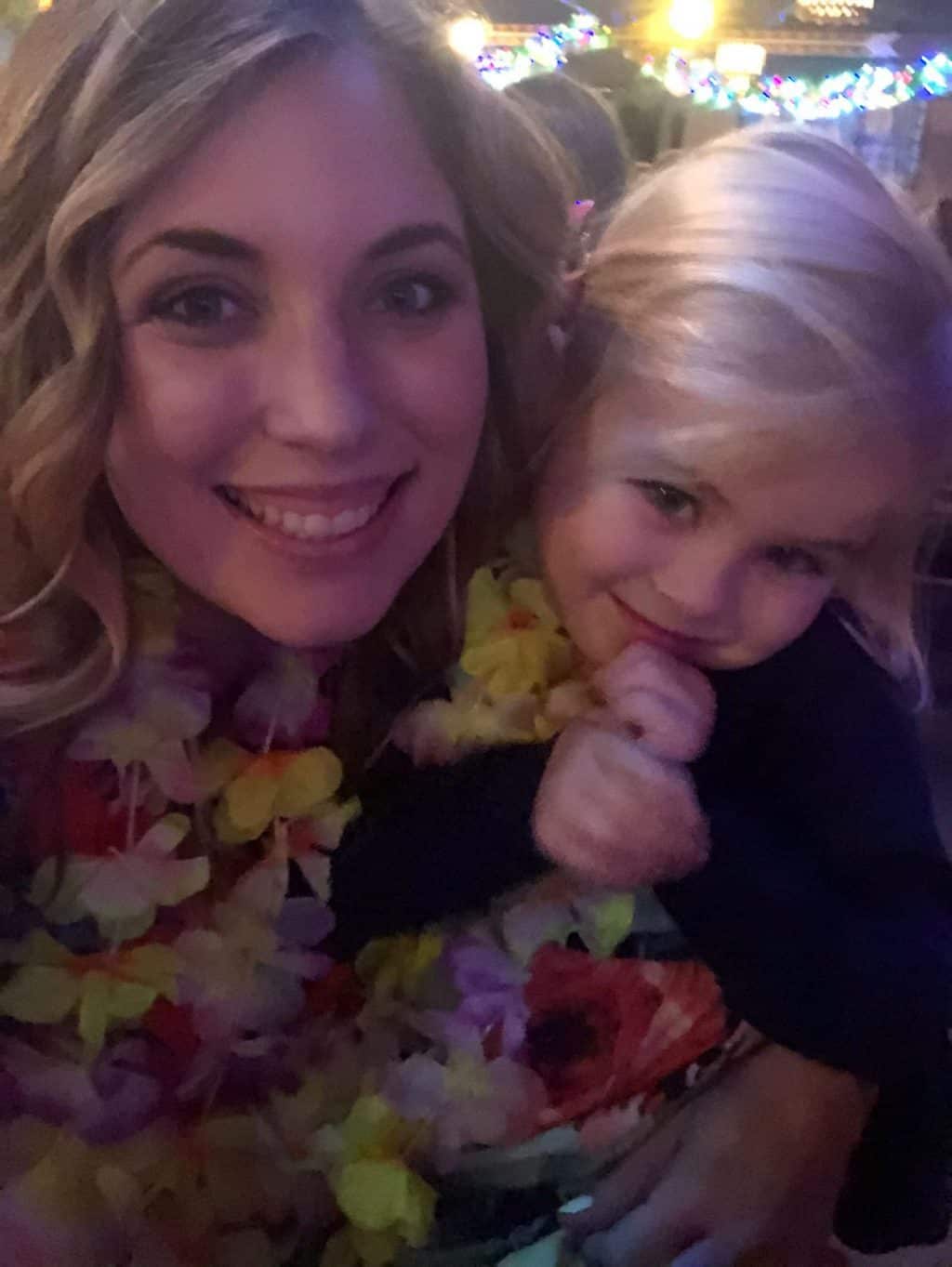 Tess was precious and kept doing all the hand motions throughout the show as she watched 🙂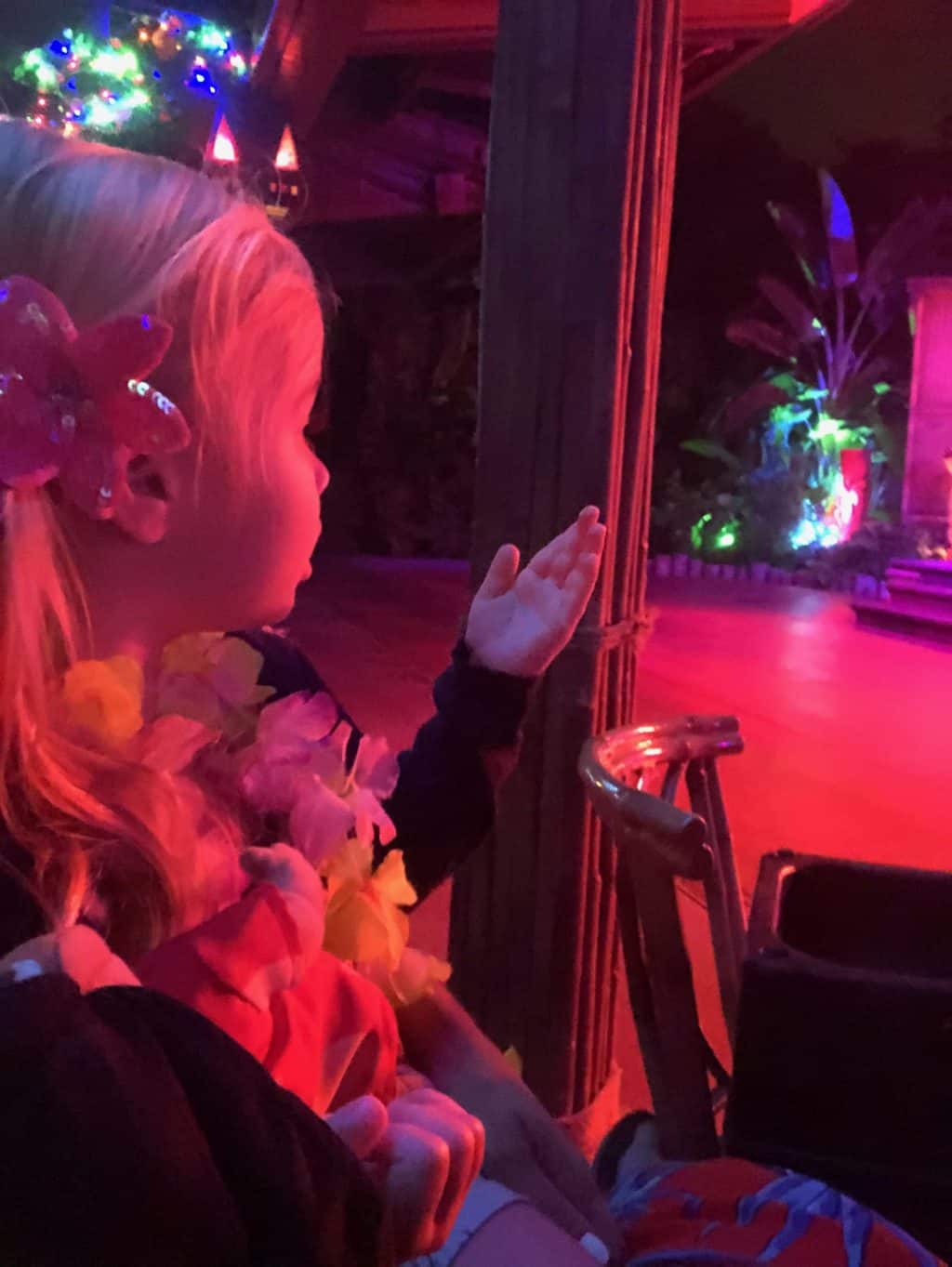 Britt got to go to the front with the birthday celebrations!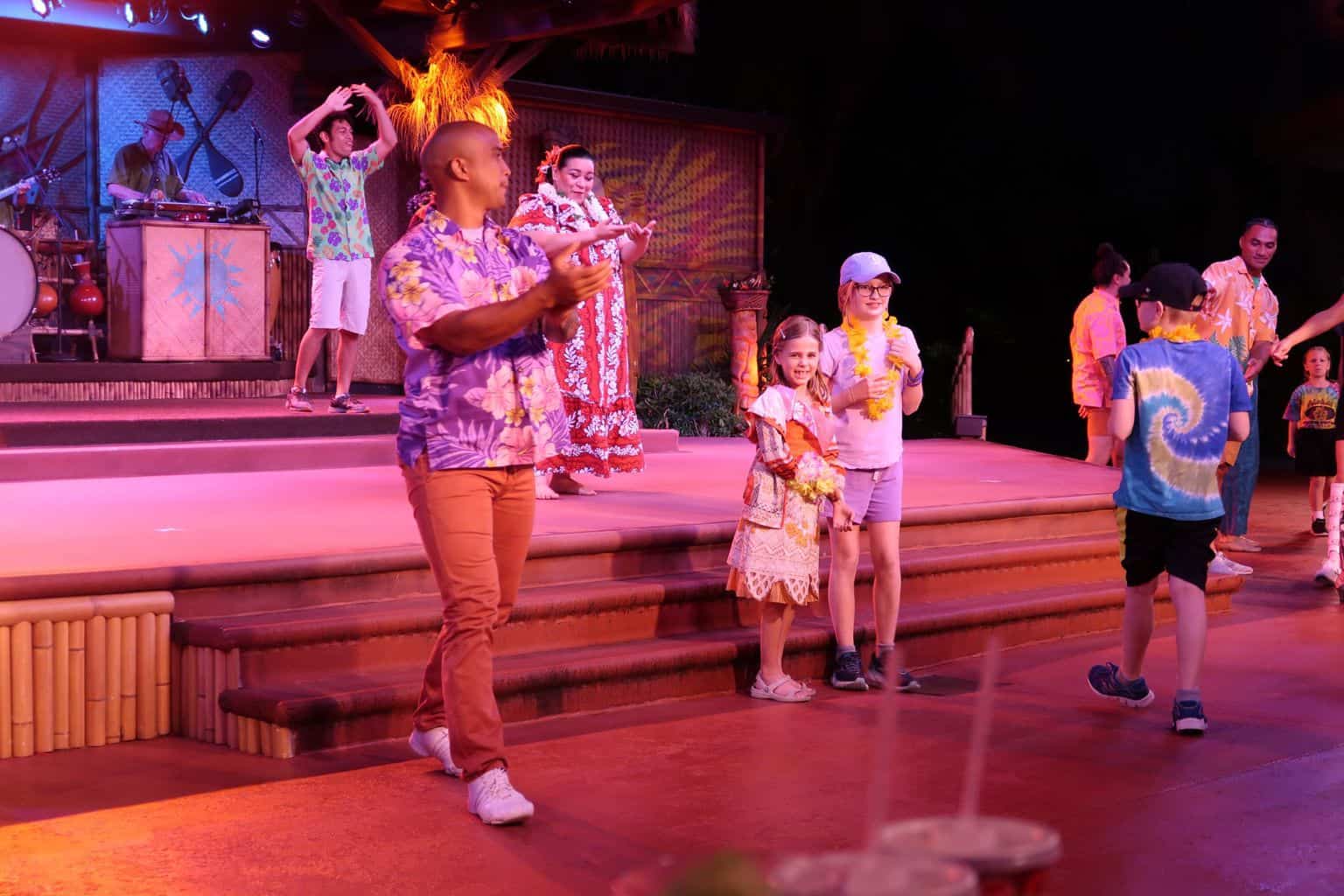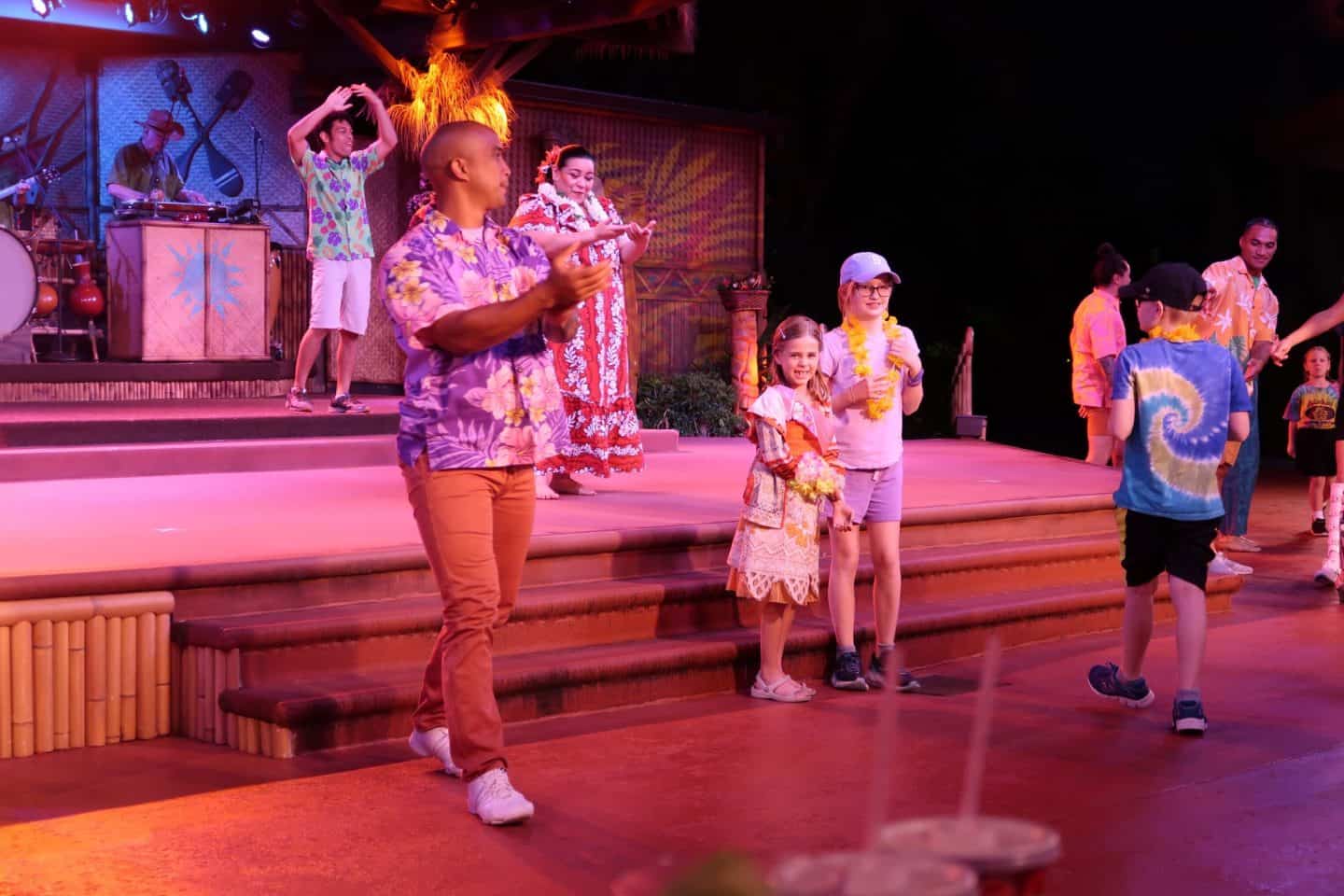 Tess's favorite part of the meal was…dessert 😉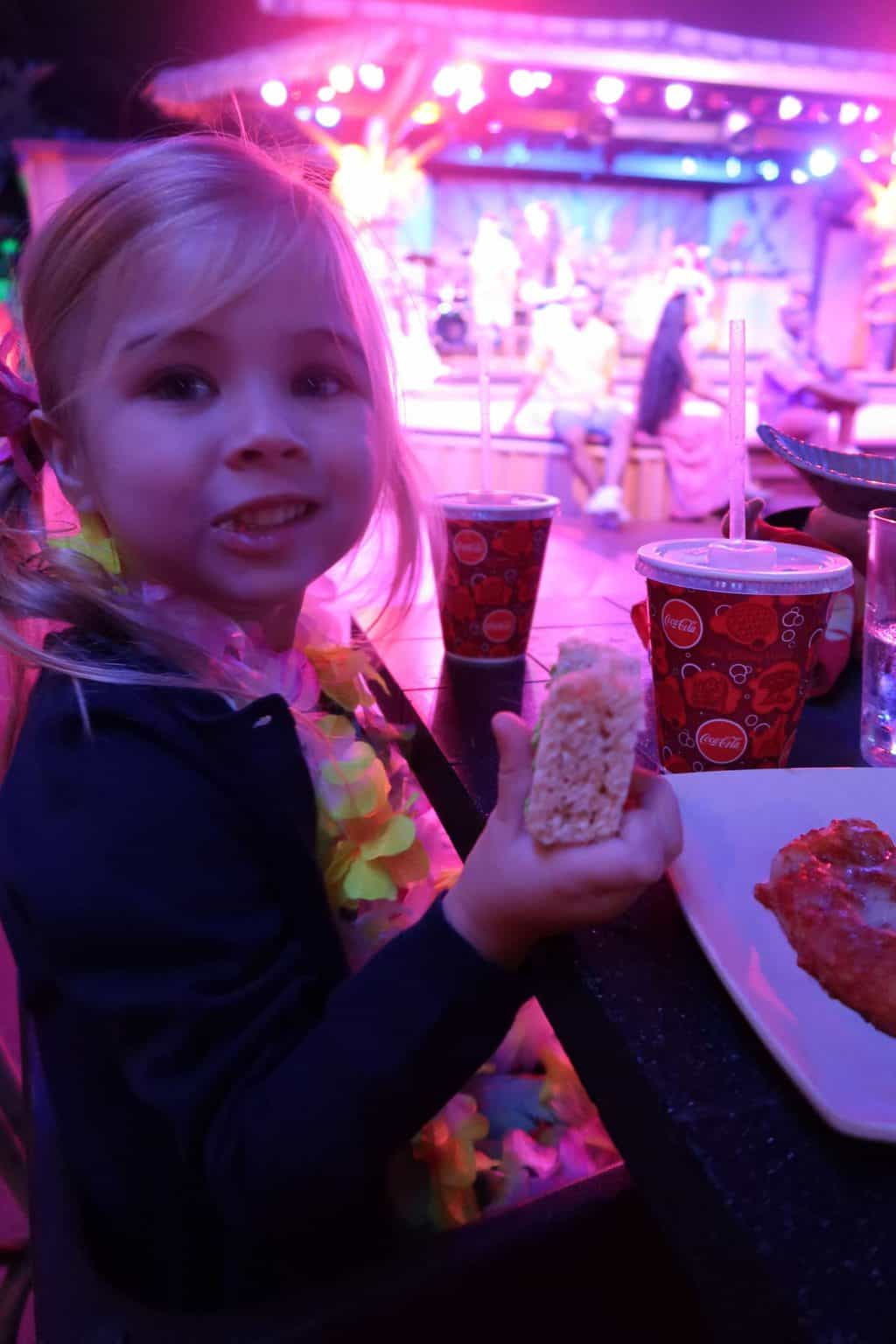 They asked for volunteers at one point in the show and went around choosing men to participate. Kye wanted to be part of the show SO BAD and was waving his arms like crazy and got so excited when they came to our table. They were wanting Zach but took both he and Kye since Kye had been so pumped.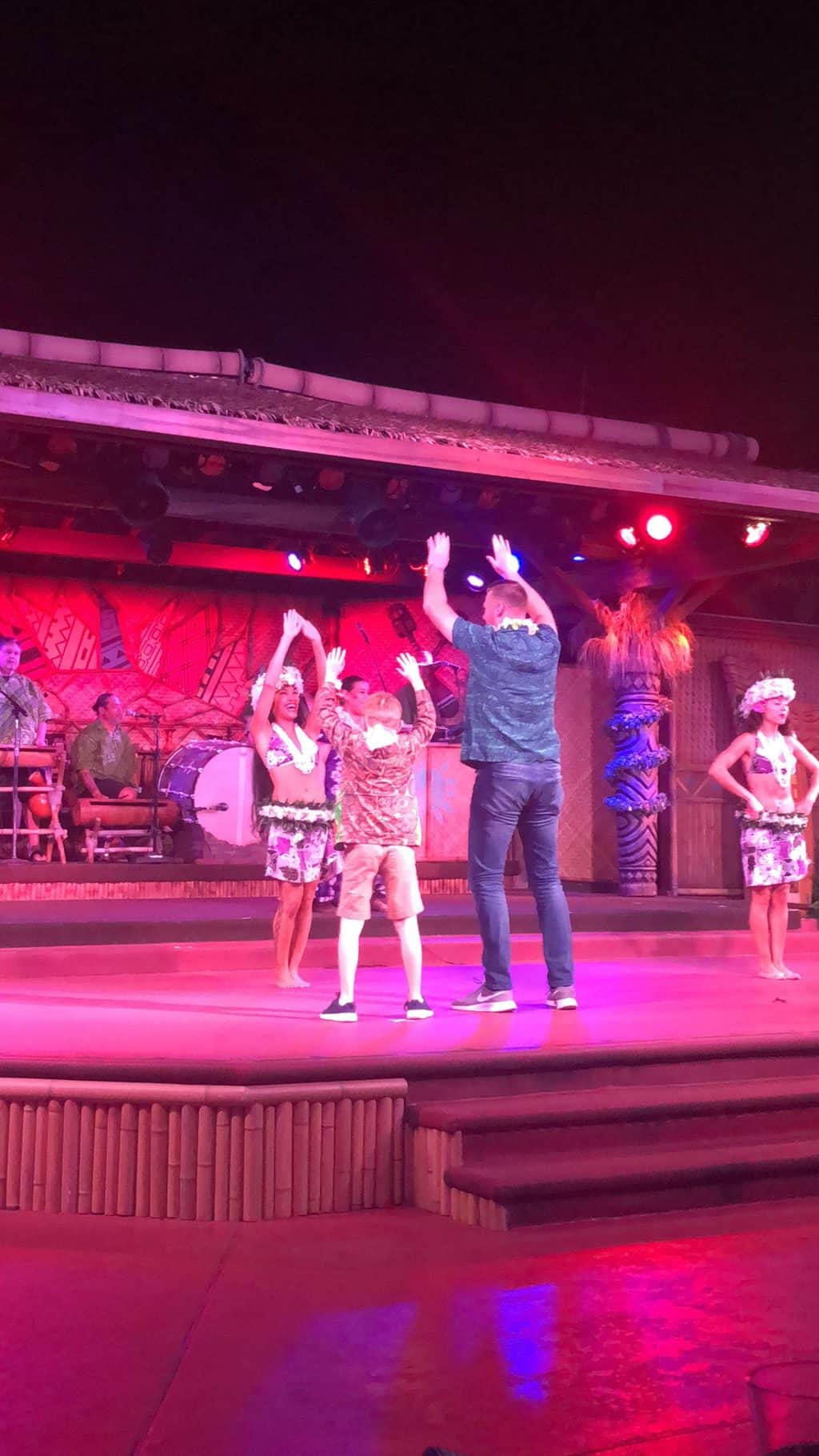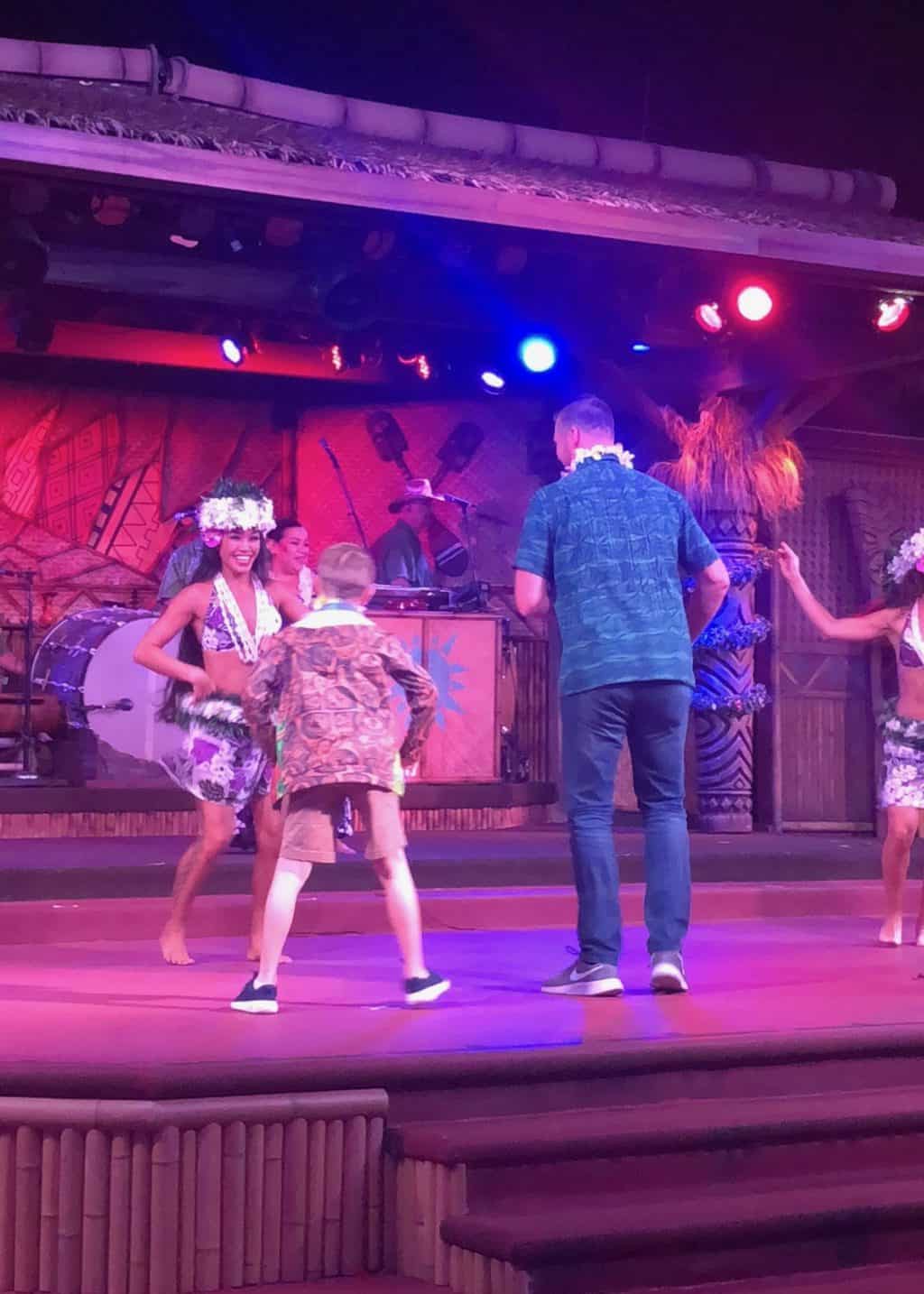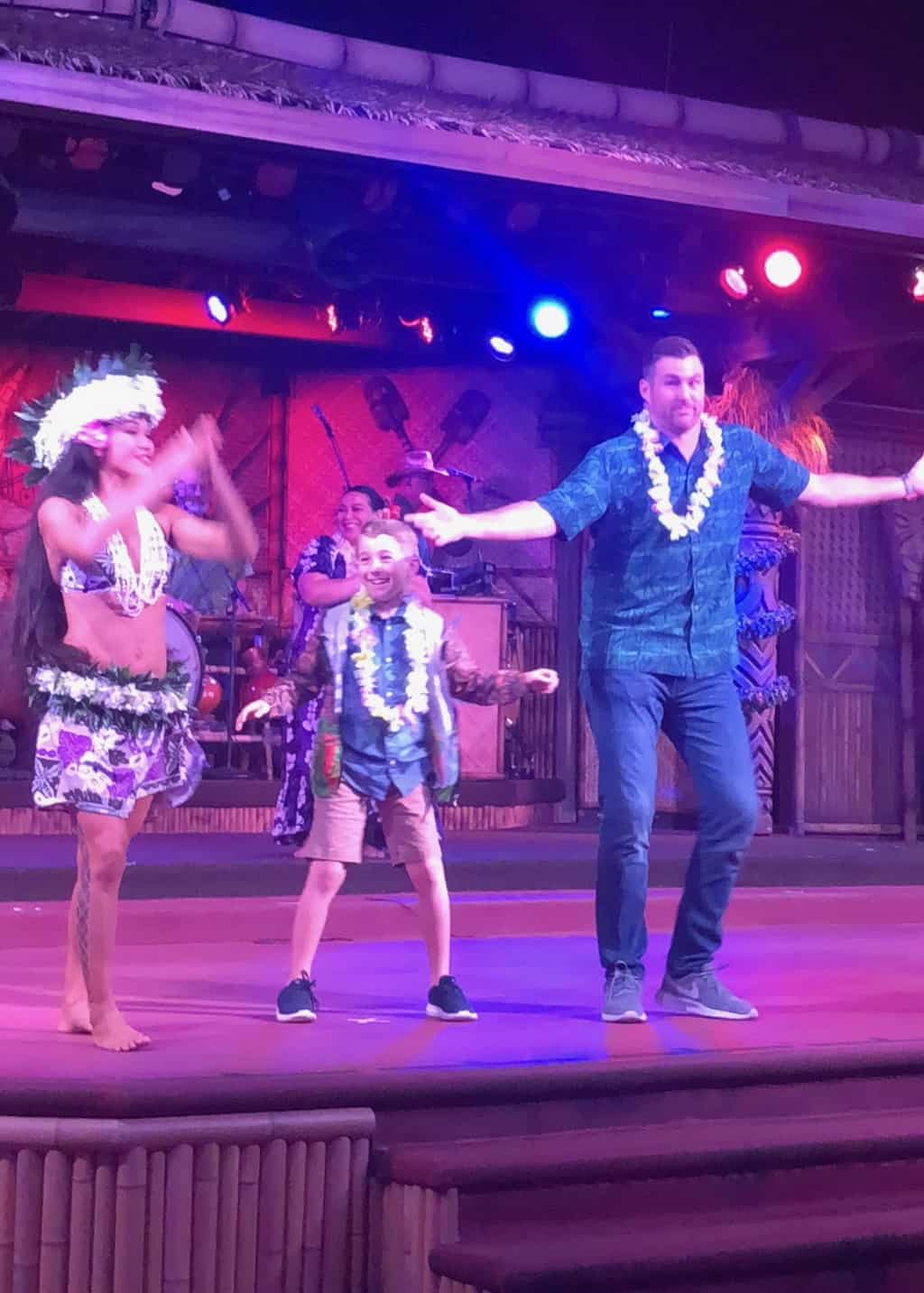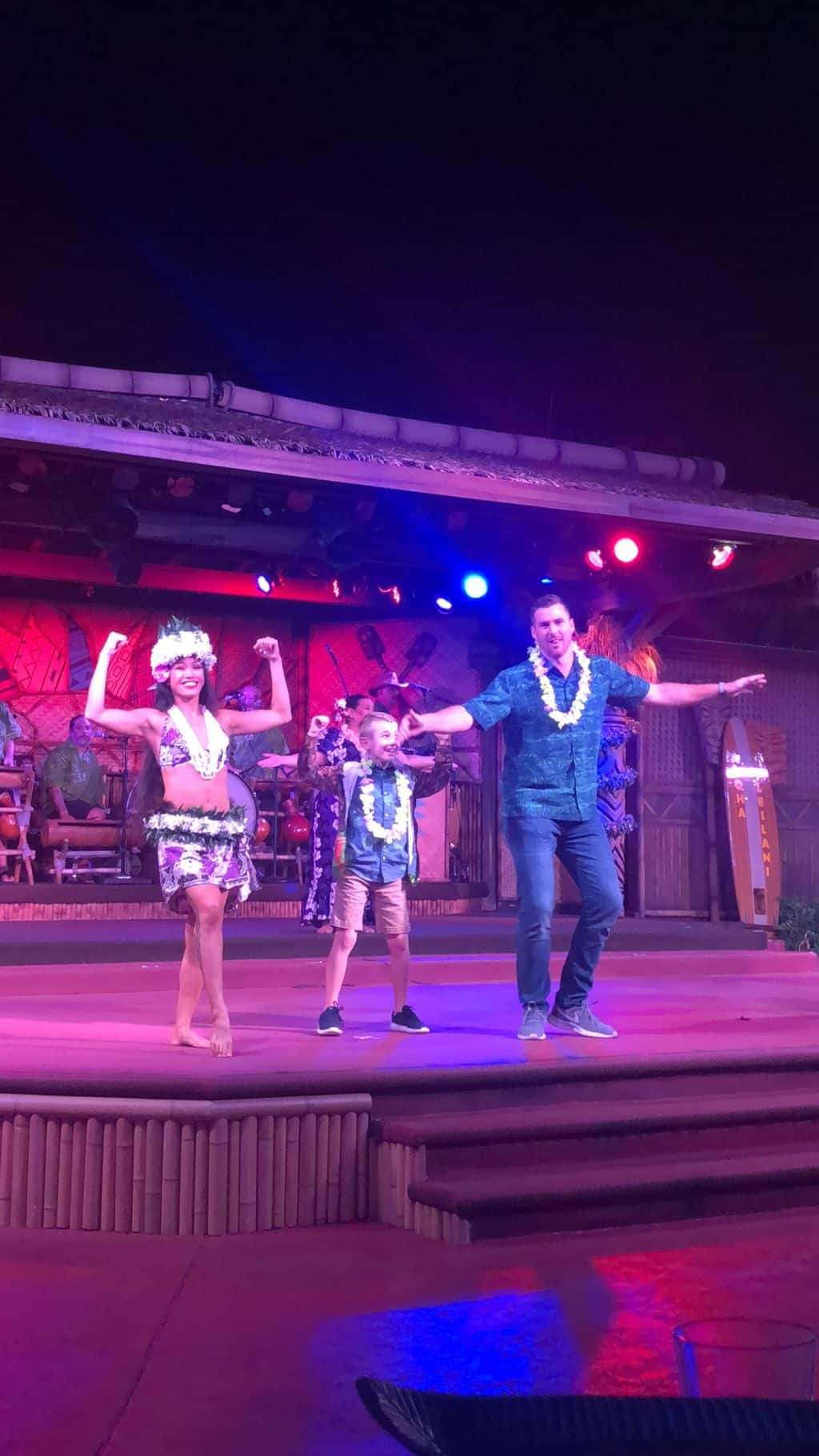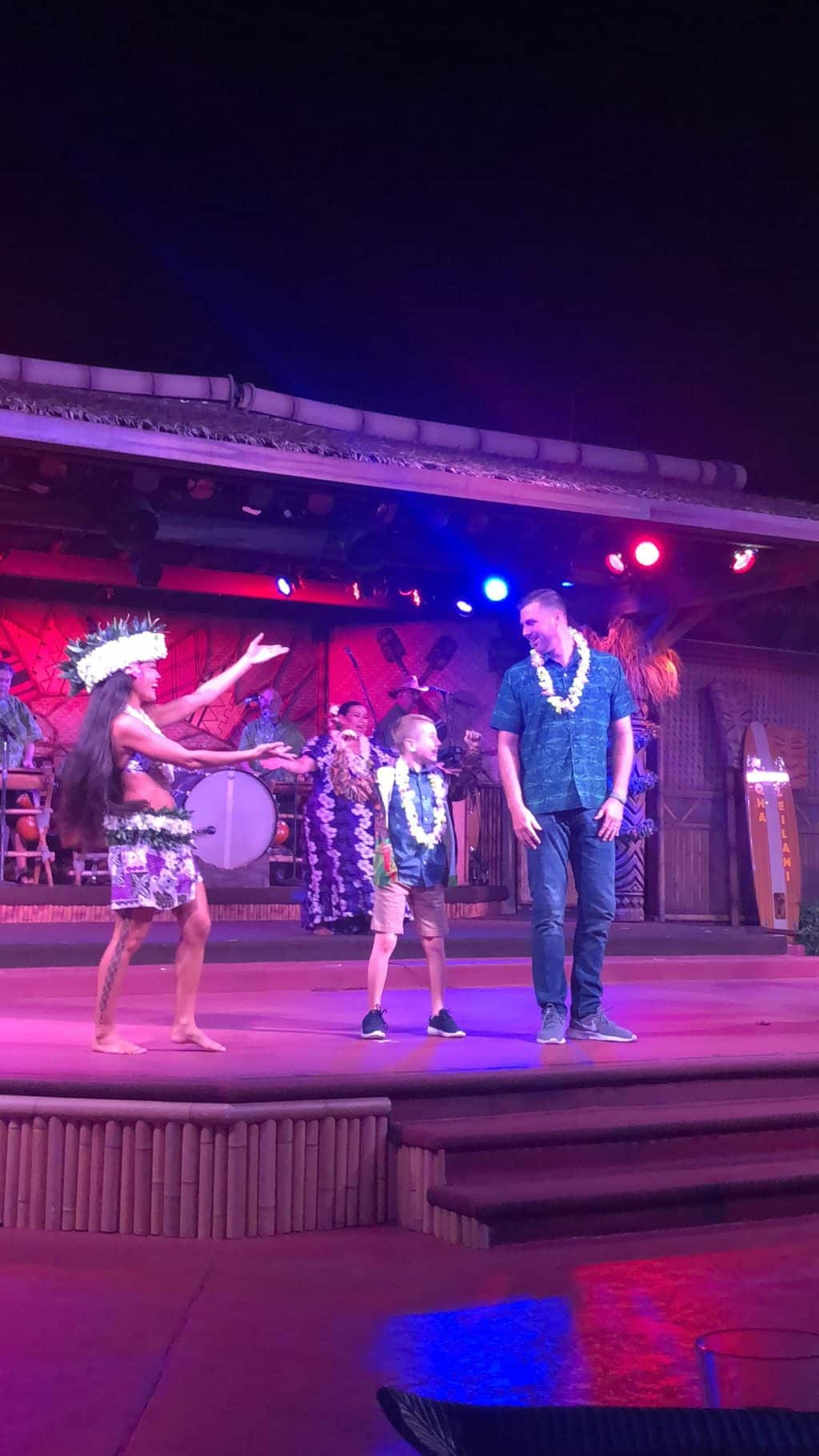 Tess also said that she really liked this guy haha she said he made her think of the Wocka Wocka guy from Muppet Babies haha I think she's gonna like the class clown 😉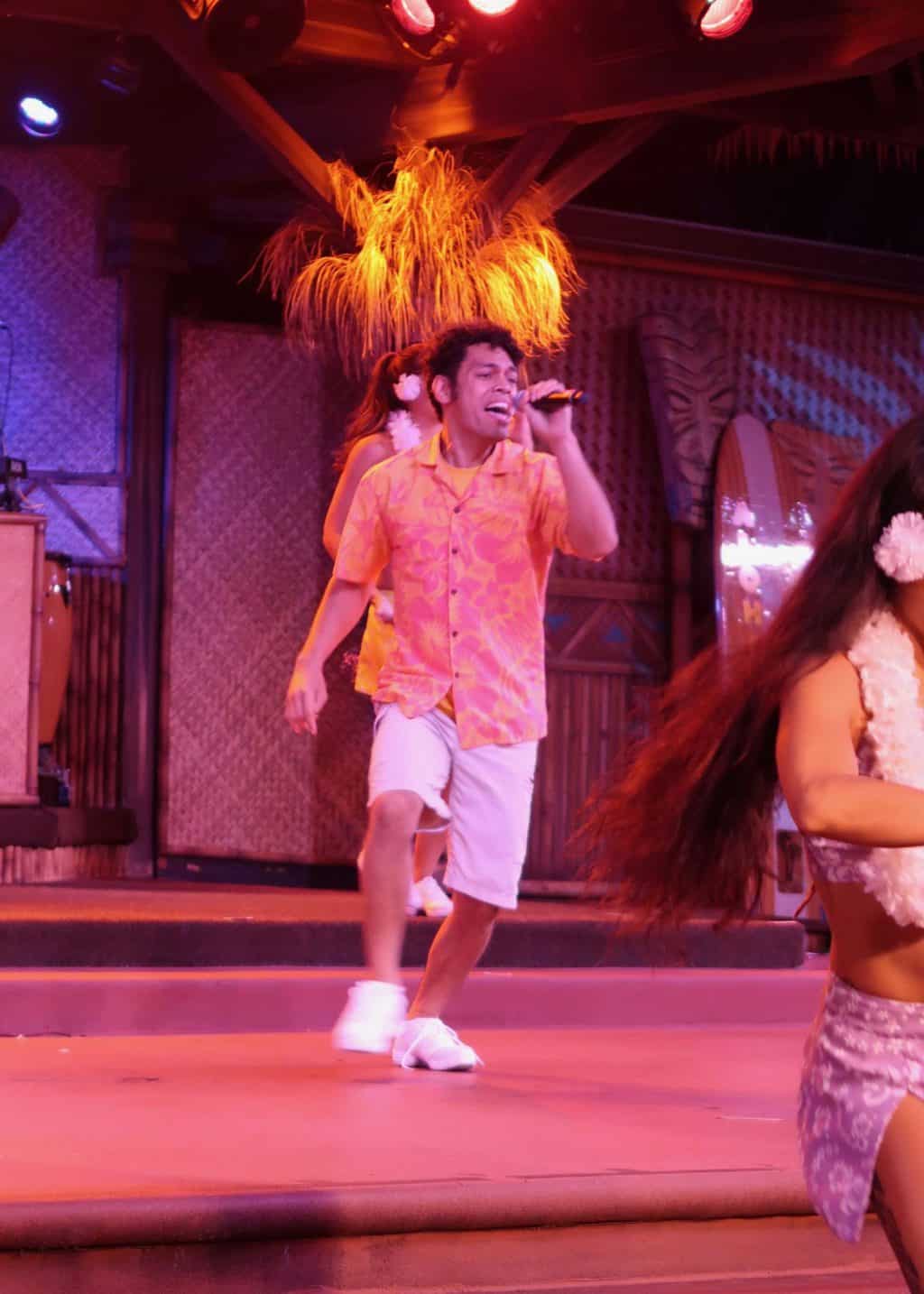 Two videos of the dancers: video 1 and video 2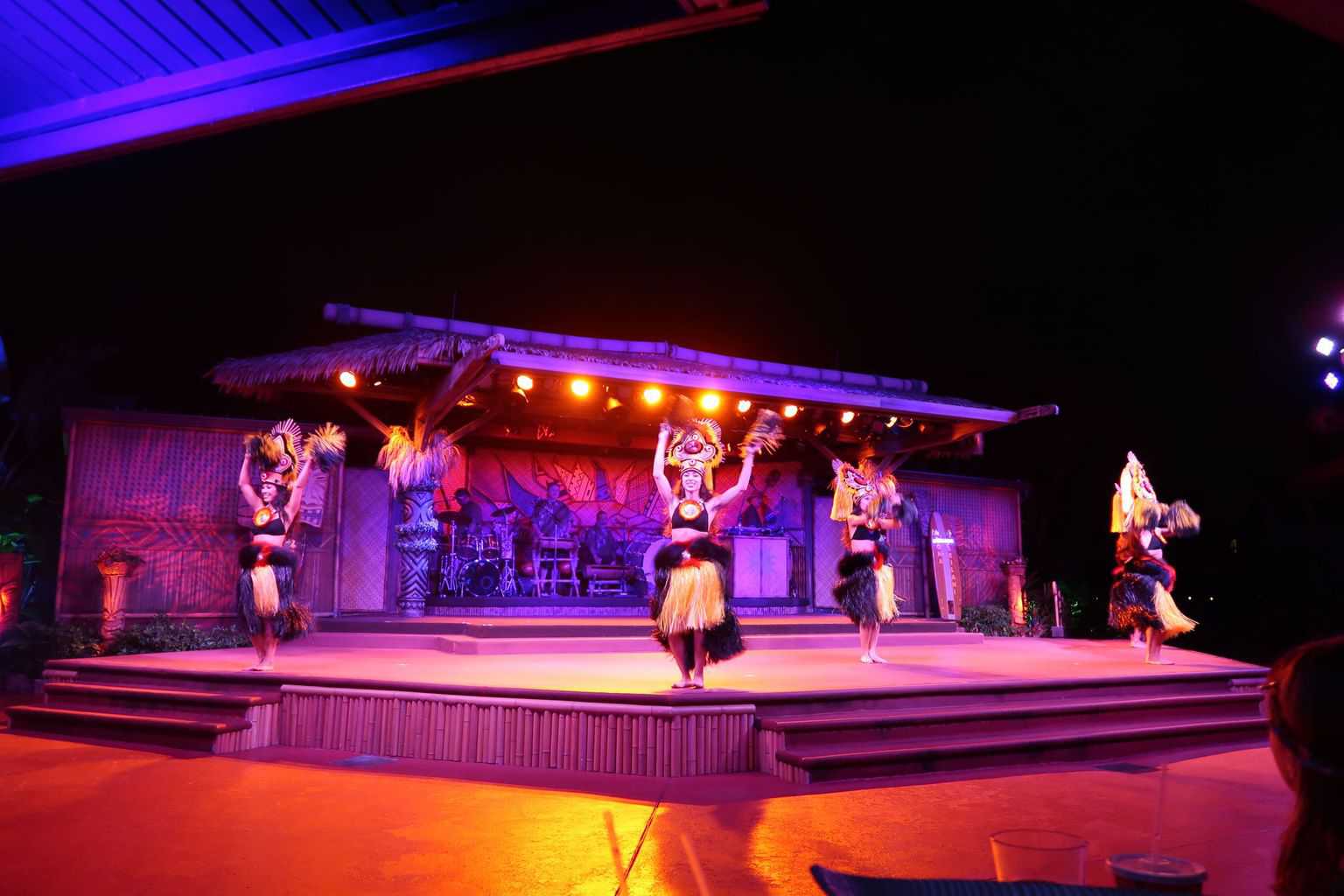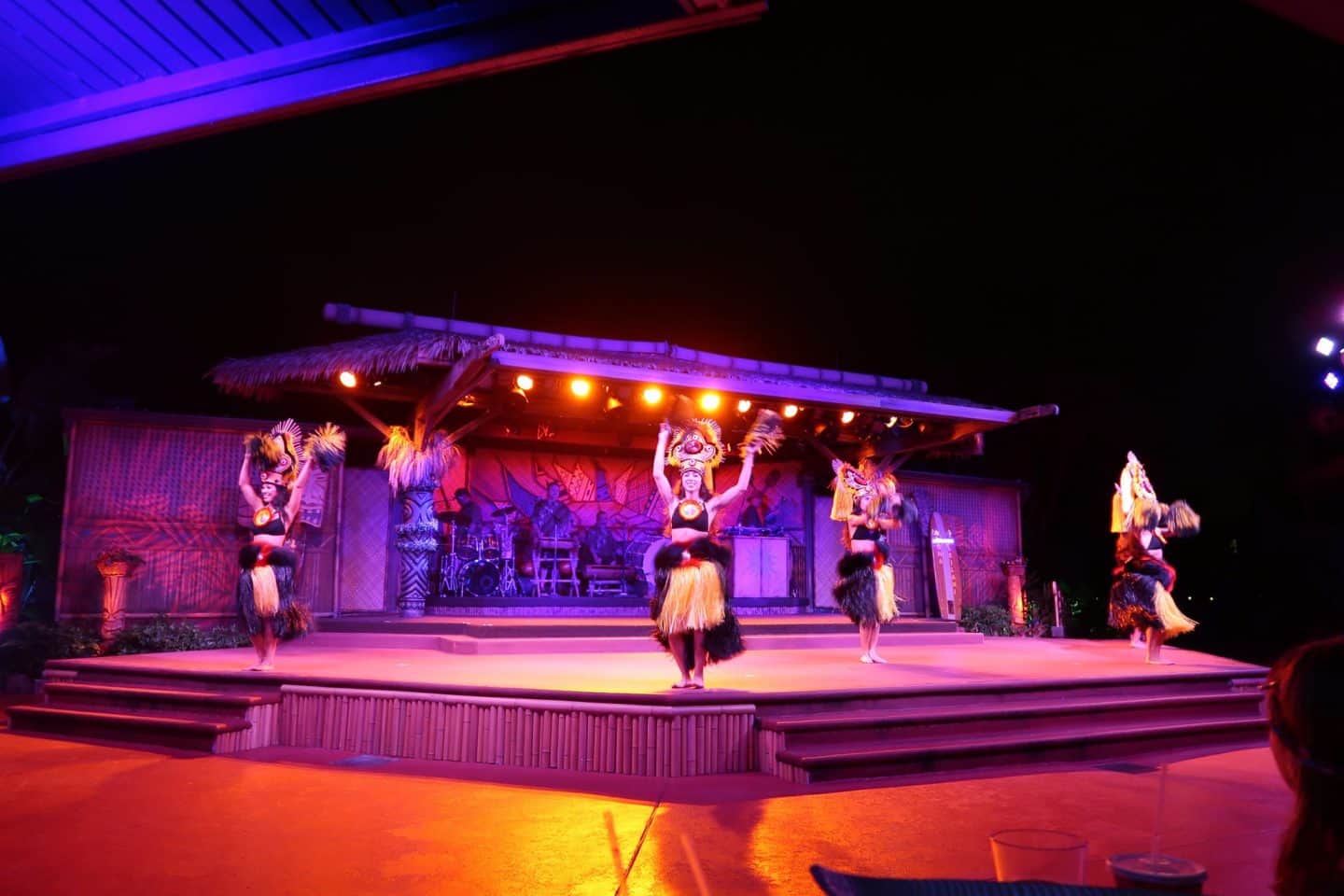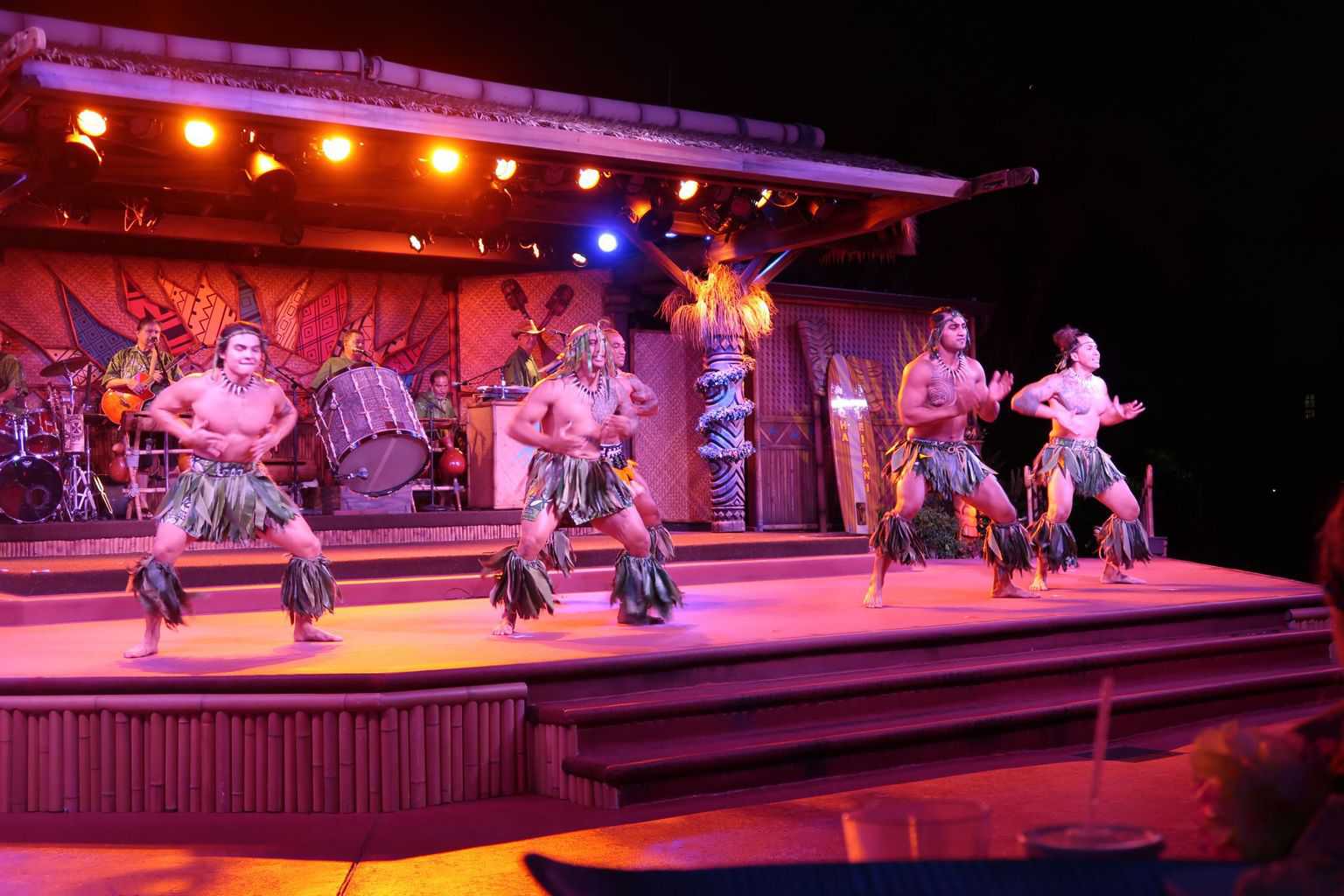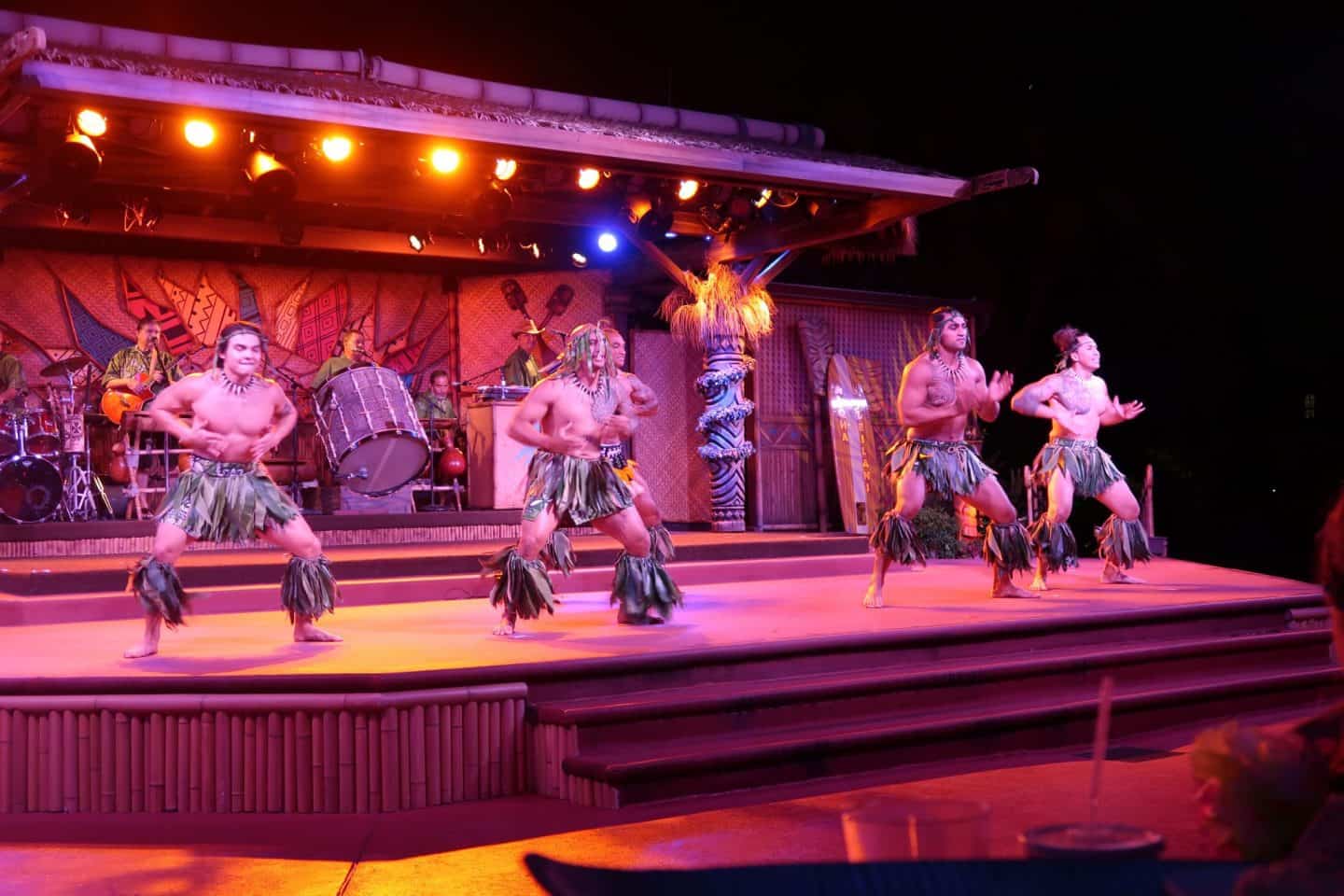 Seeing the kids enjoy the regular show so much I knew once the fire dancer came out that they'd FREAK OUT and I was right. They haven't ever seen anything like this before and they were AMAZED. We did have a big talk about how the guy is super well trained and that we never, ever try anything like that at home or play with fire EVER.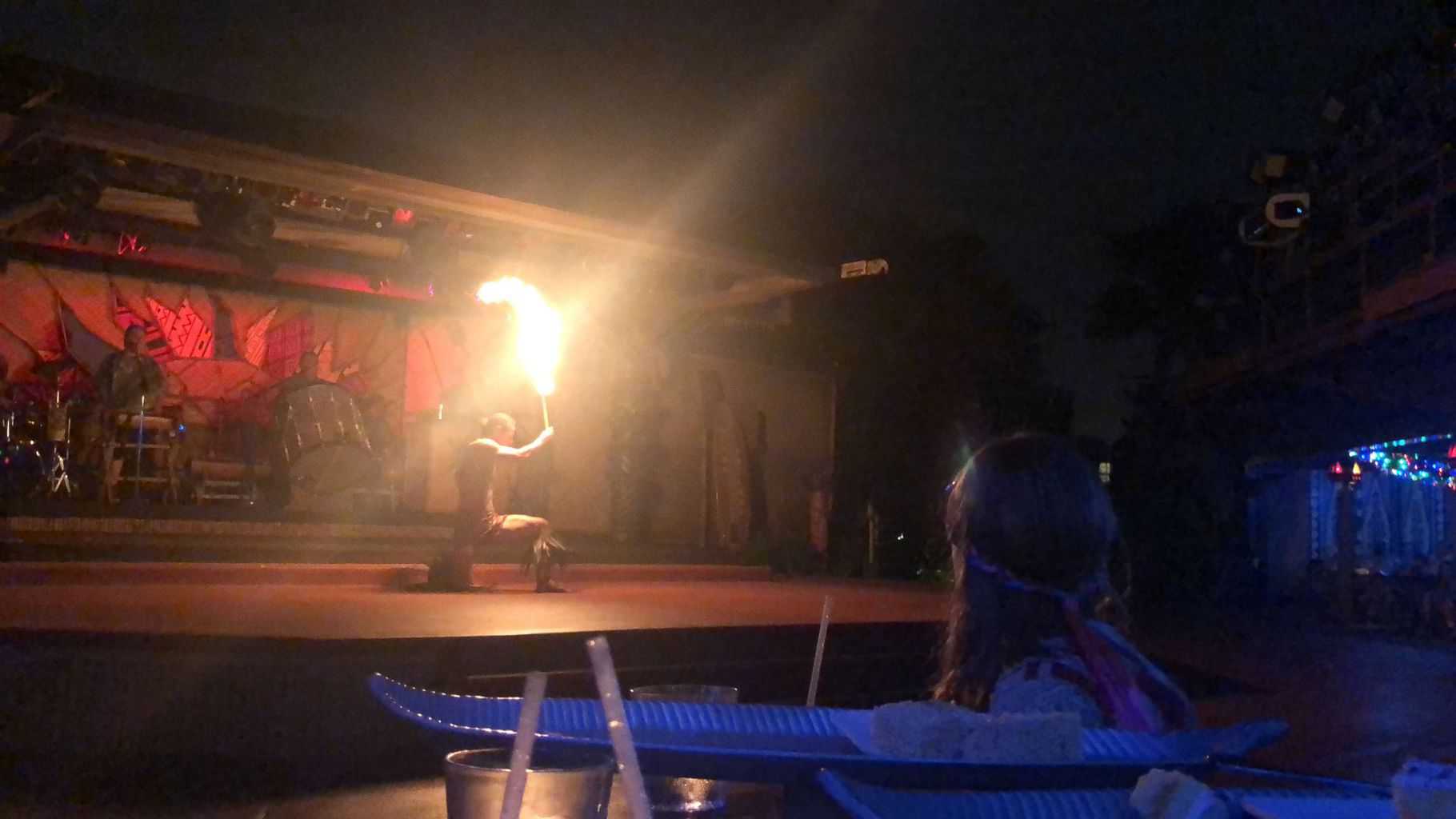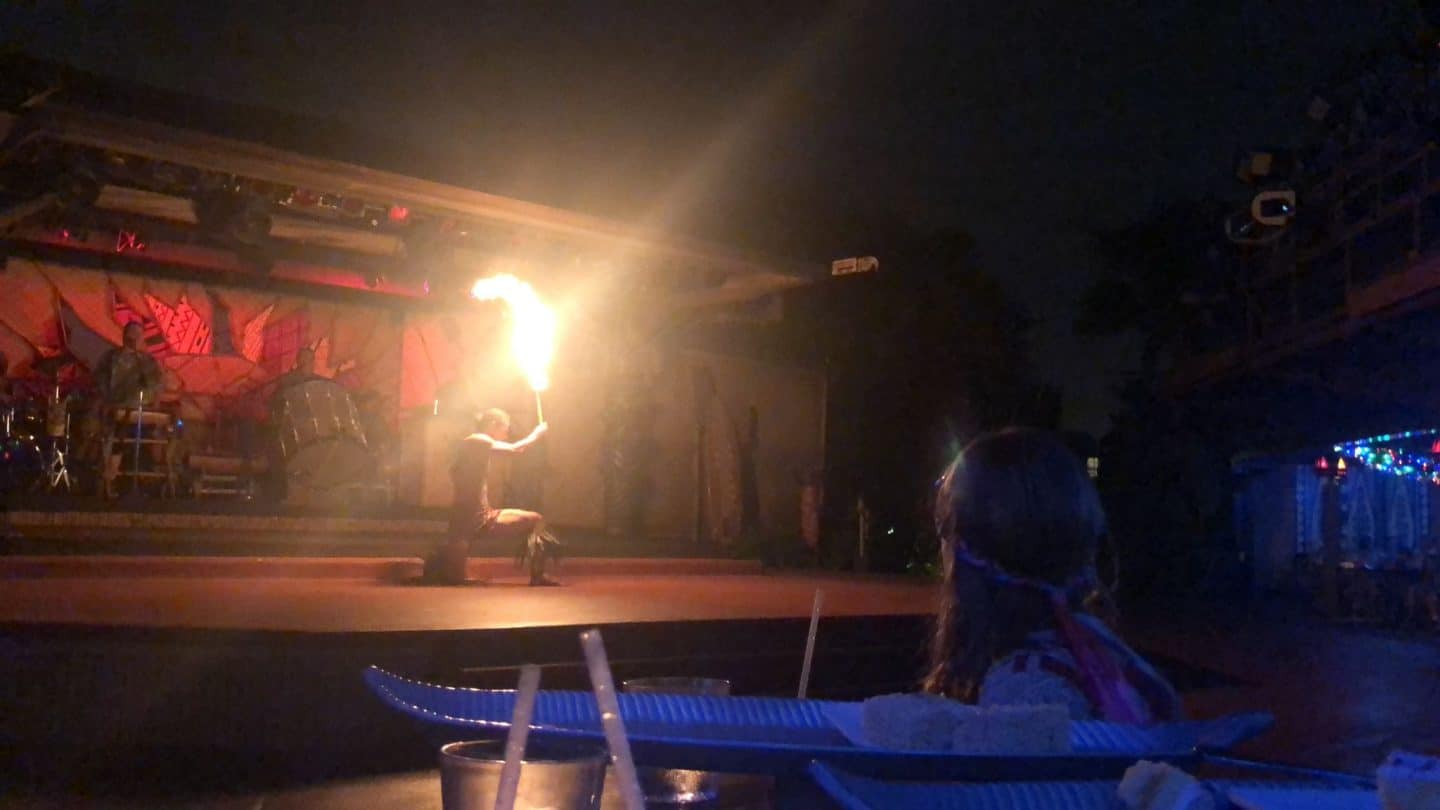 Fire dancer video 1 and video 2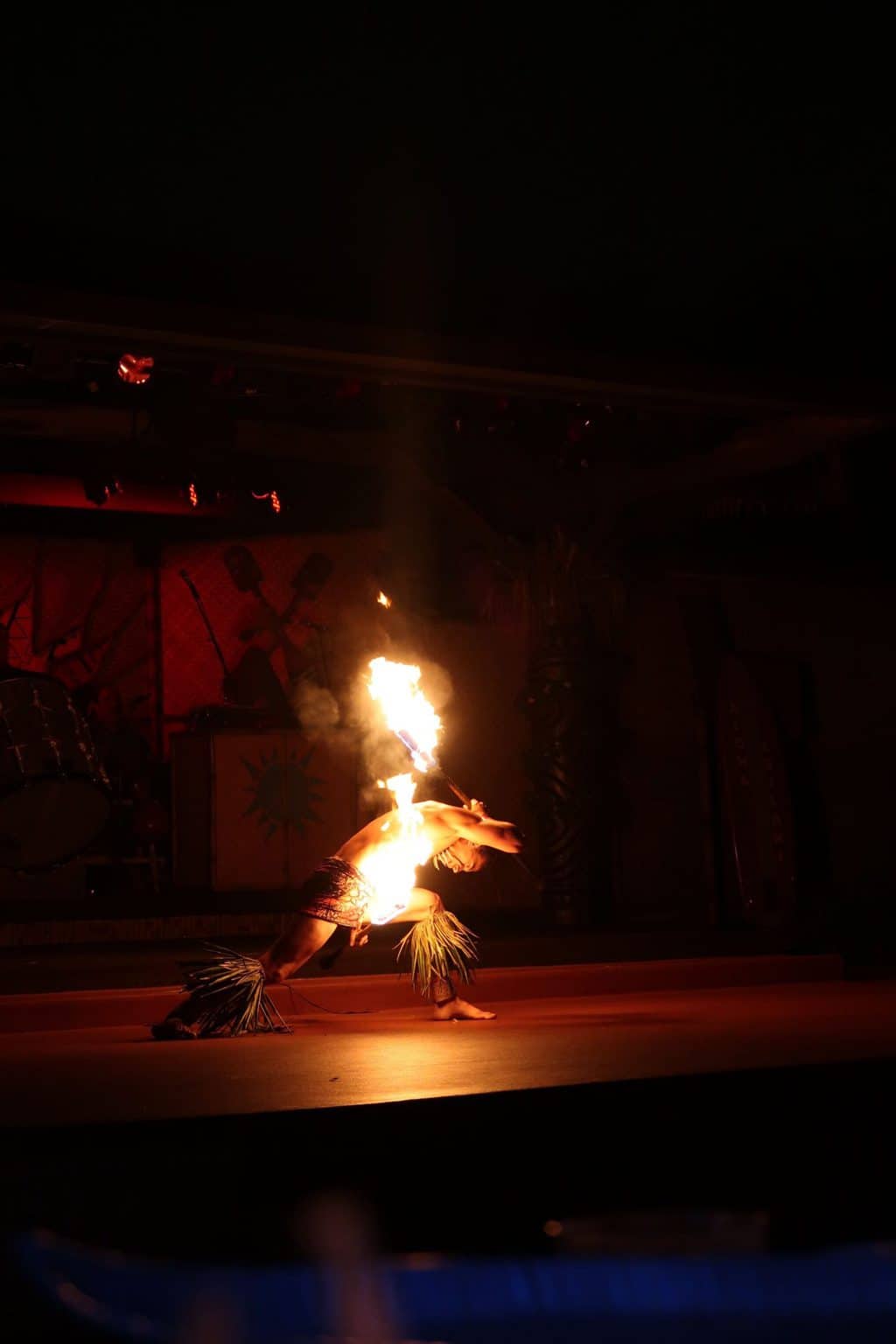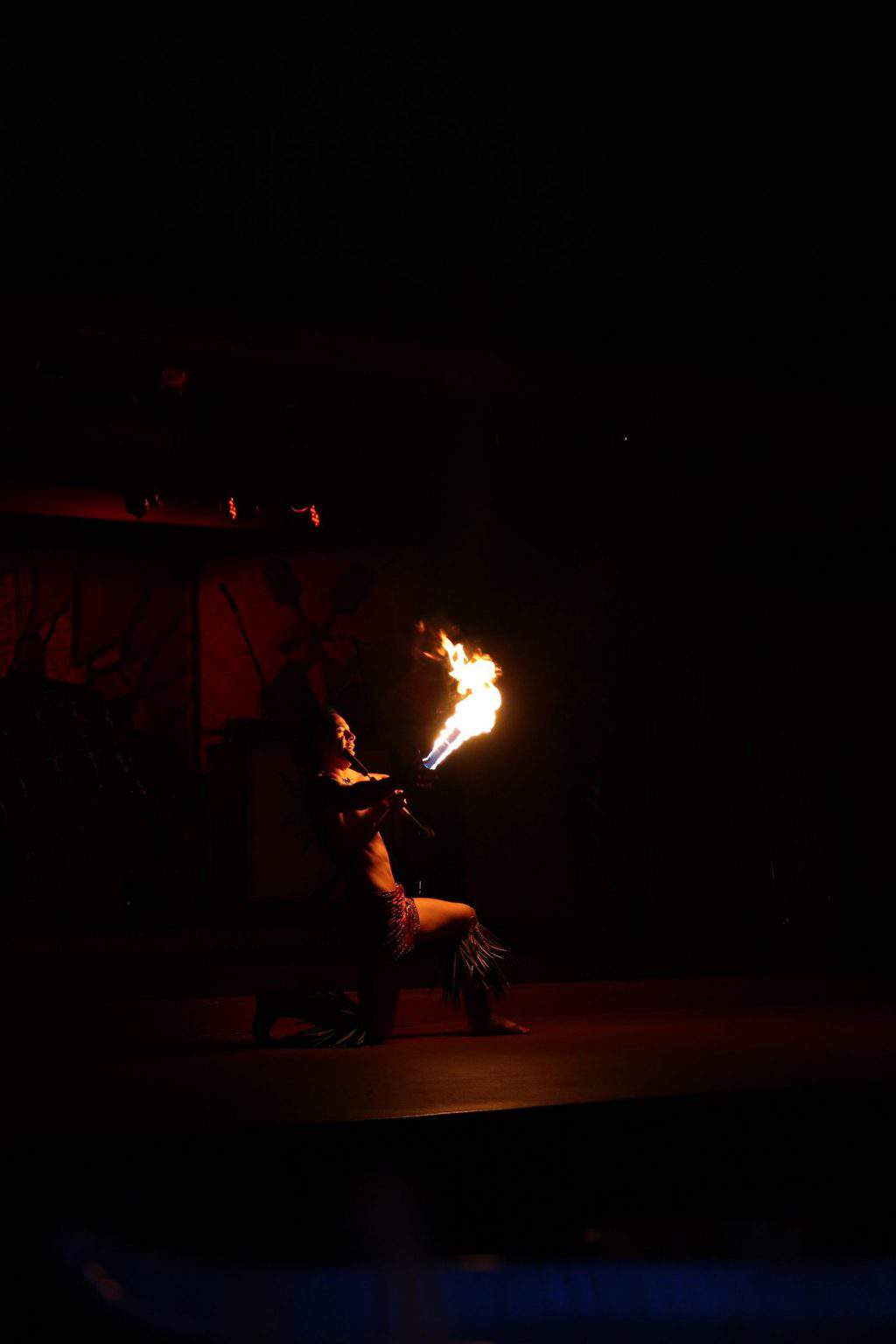 It was seriously SO FUN. I'm so thankful Mrs. Charlotte was there with us and got to experience all the joy of the kids during the show. We ALL seven just LOVED it. It's not something we'd do regularly but it's something we all agreed we would eagerly do again in the future. So. SO. Fun. It never got boring and was really well ran with the timing of things. Everything went super smoothly with transitioning into the different courses of the meal going along with the show's timing.
And truly it's perfect for ALL ages. Our 1 year old enjoyed it just as the 4, 7, and 9 year old did 🙂 Totally recommend!
It was such a fun day focused on Britt for her birthday! From her special breakfast to her special makeover to her super special surprise dinner. We had SUCH a fun-filled day as a family and Britt felt so extremely special and was the true birthday girl for the day!