Britt had her seventh birthday well-check up on February 20th. It annoys me SO MUCH that my kids yearly visits are so far from their birthdays but I'm working to get them back on track. Britt will actually have another well check this calendar year as I set up her 8-year visit for December 😉
It's tricky having so many kids on such a set routine when one child has an appointment during the school day. I'm so thankful these visits are considered an excused absence from school as there was just no way to get to the school to check her out, go to her dr visit, then get her back into school along with Spear having swim and Tess having school drop off and pick up too!
Britt loved having the morning off and I think it was good for her to get a glimpse into what I do each and every day while she's off at school! She loved walking Tess into her class that morning and she and I even got to go get a little Starbucks together before her appointment.
We waited 90 minutes yall for a literally 10-minute visit with her pediatrician. So. Annoying.
But I know it's just the nature of the beast because all my friends say it's the same way with their kids' doctors too!
I was thankful Britt did NOT have any shots this visit. She had a vision test which she did great for. Vision is something I'm always holding my breath about. I needed glasses in second grade and I just keep waiting for one of my kids to need them too. But so far we're still glasses-free around here – at least for now!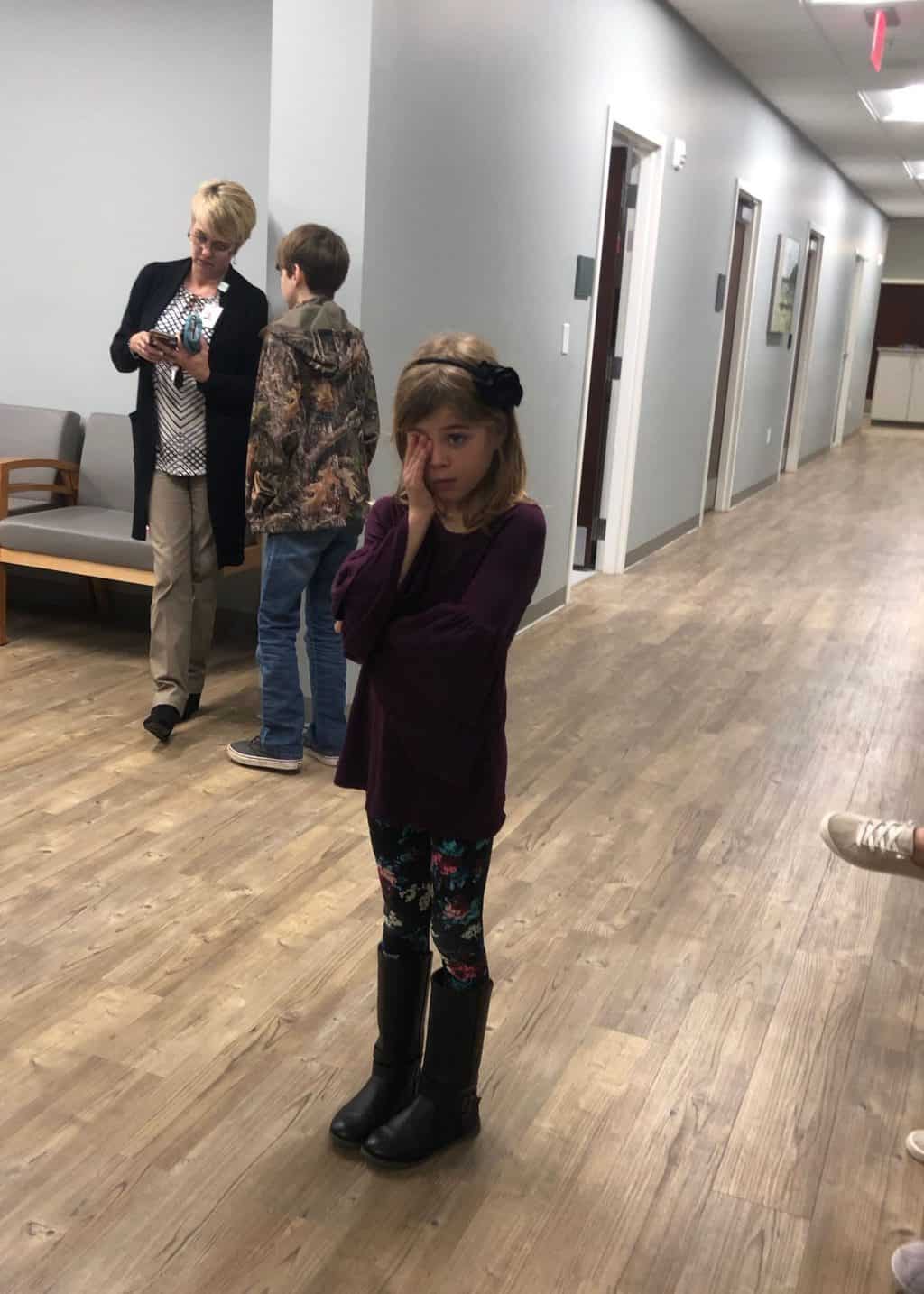 These forms #eyeroll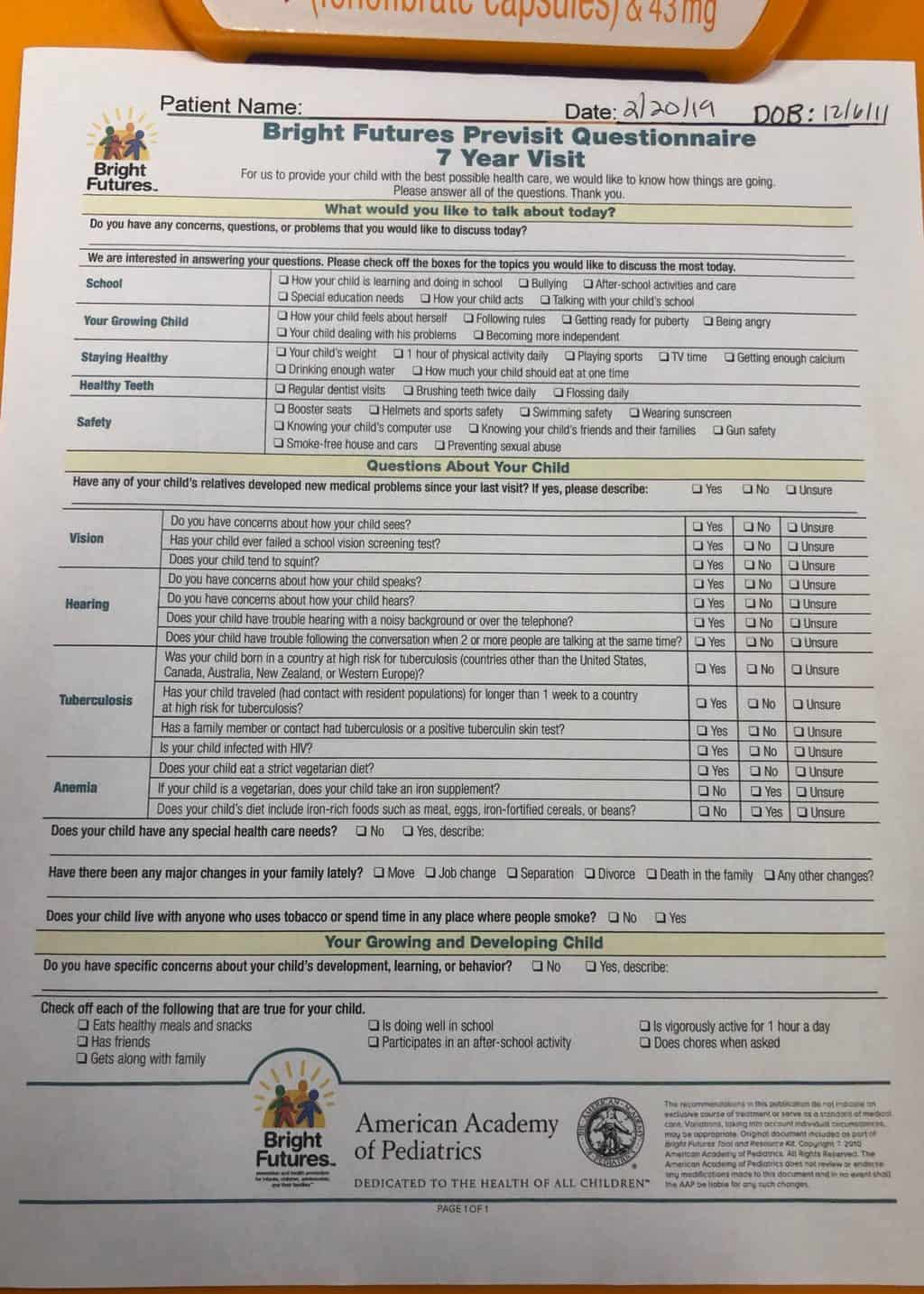 Britt did SO well being patient for her appointment. She waited for the entire 90 minutes without complaining – all the Disney lines have paid off in teaching patience 😉
At seven years old Britt is 49.25 inches tall (in the 75th percentile) and she weighs 50 pounds (50th percentile). Her 5 point harness car seat limit is 49 inches tall so it's officially time to transition her into a high back booster seat. Official big kid status!!!
To compare…at 6 years old Britt was 46.5 inches tall (75th percentile) and weighed 42.5 lbs (25th percentile). She's grown over the 2 inches they look for within a year and a good bit of weight as well…I know it's PURE MUSCLE from all the gymnastics!
Kye at his 7 year visit he was 48 inches tall (50th percentile), 50lbs 8 oz (50th percentile). Neat that Kye and Britt were the same weight, not surprised that Britt was taller but I know that gap is shortening the older Kye gets!
Here are the things we discussed during her visit:
Britt complains of headaches. I mentioned them last year at her well check and was adviced to just make sure she stays hydrated. Which we've been doing. They are sometimes pretty frequent and then other times she'll go weeks without complaining of one. She told the doctor that she feels them across her forehead and I told him she does tend to be sensitive to sounds when she has one. Migraines run in my family and he said that with the pain being across the forehead like that it def sounds like she's experiencing migraines. My brother would throw up when he had them and the doctor mentioned that as a possibility for Britt as well and said if that ever happens to call them and they can get her Zofran (Britt hasn't ever thrown up…I think she's like me and is a rare puker!). He said when she feels the headache to give her Motrin or Tylenol and with time we will see which helps her better.
We talked about her private area a bit. It's a common struggle with girls as they will wipe too hard and such. We use ointment as needed and also have the girls soak in baking soda baths. He said it's also good to use 3-4 oz of white vinegar in the bathtub for them to soak. He advised avoiding bubble baths and bath bombs (which the girls LOVE but agree they notice issues after having a bath bomb!).
We also discussed a few spots Britt has on her face. I thought they may have been light scarring from her molluscum but he said it looks more like dirt in the pores and that she probably sleeps on that side of her face so to use a gentle face wash for her. I purchased this and am having her wash her face each night!
It was a short visit (I mean long wait, but the visit itself was short ha!) and Britt did so well! I never, ever take having healthy children for granted and I'm so proud of my healthy growing girl!