Our school district always hosts Open Houses a couple of days prior to the first day of school. A chance to walk through the school, meet teachers and get ready for the transition ahead!
This school year was a BIG one for our crew. First up we had Kye's LAST middle school open house – our 8th grader!
It was def a different vibe feeling SO comfortable at the school and with the staff and having Kye feel that confidence that being an 8th grader brings.
Every single teacher we met mentioned knowing Kye from being on the morning announcements (Kye the News Guy!) and every single one of them were clearly excited to have him in their class.
We talked to all the kids in the car about how Kye has really done an incredible job of having such a wonderful reputation for our family and that we know the other kids will follow him and will continue on the reputation he's started!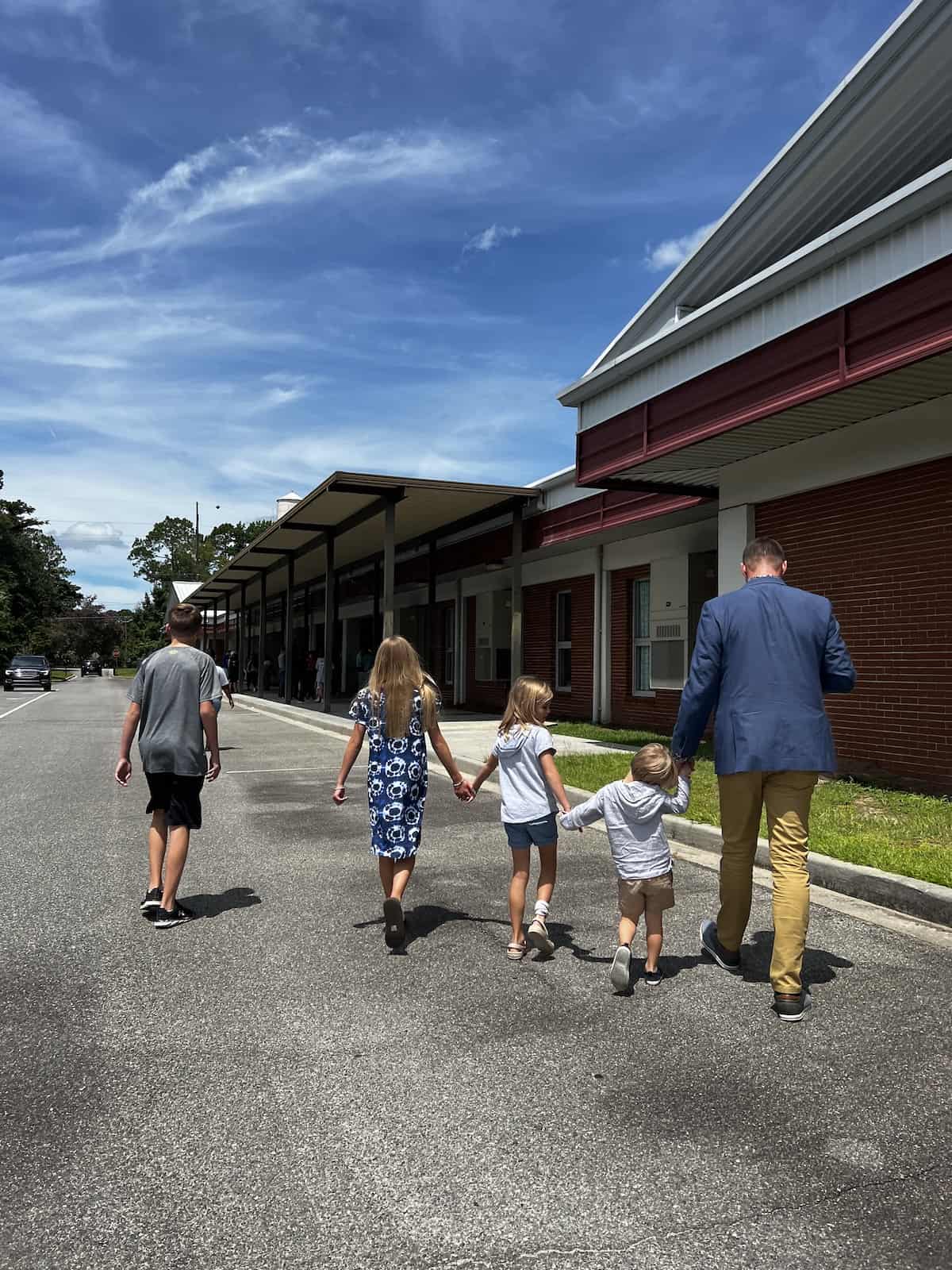 Next up we had the Elementary School Open House. And again – another "top dog" in the family with Britt entering 5th grade!
Tess also got to move upstairs as a third grader.
And we made the BIG decision to enroll Spear in the preschool for K-4!
Spear is our first kid to attend the public preschool but it was a decision that just made the most sense for us all. I knew he was ready. I knew he'd love the full day of school and all the activities (plus two times to go outside and play). I also knew he'd love getting to be at school with the girls.
With Britt entering 5th grade this was her only chance to ever be at school with Spear so we took it!
Typically the older kids all attended a half-day preschool program for K4 but Spear is so active and busy and I knew he'd LOVE having the all-day FUN!
He felt like such a big boy touring the school and I felt extra blessed that his teacher for the year was a good friend of mine from college. SUCH a "God thing" to have him in her class. I adore Ashley and knew he was in good hands.
Spear said "I want to go back to my old school" which broke my heart a little – I could tell he was a bit nervous. His behavior the rest of the day following Open House was ROUGH. I knew it's part of this transition and that change is hard for us ALL.
I knew he'd do great and would adjust and that it'd take time – at least he was super pumped about getting to ride the bus!
Tessie's new teacher was actually Kye's teacher in 5th grade so that helped her feel instantly comfortable as well. Tess is slightly nervous about 3rd grade (being upstairs, switching classes, getting legit grades for the first time) but not at all about the kids in her class. She said "I had 23 friends in my class last year and I will have 23 friends in my class this year too" (sweet girl is literally friends with EVERYONE!)
Britt's teacher wasn't at Open House and was actually going to miss the first couple days of school as well. Britt was nervous about that and about the fact that her best friend from the last two school years wasn't in her class. She knew it was a chance to meet new friends and I knew she'd do great!
I signed up to be Room Mom in Britt's class. With all the kids being in school for the first time I am hoping to be more involved in all of their classes but especially for Kye (whenever possible) and Britt since they've never gotten to have me involved ever! I think it's the most important for Britt at this tender age and an age where she still truly WANTS me as hands on as possible!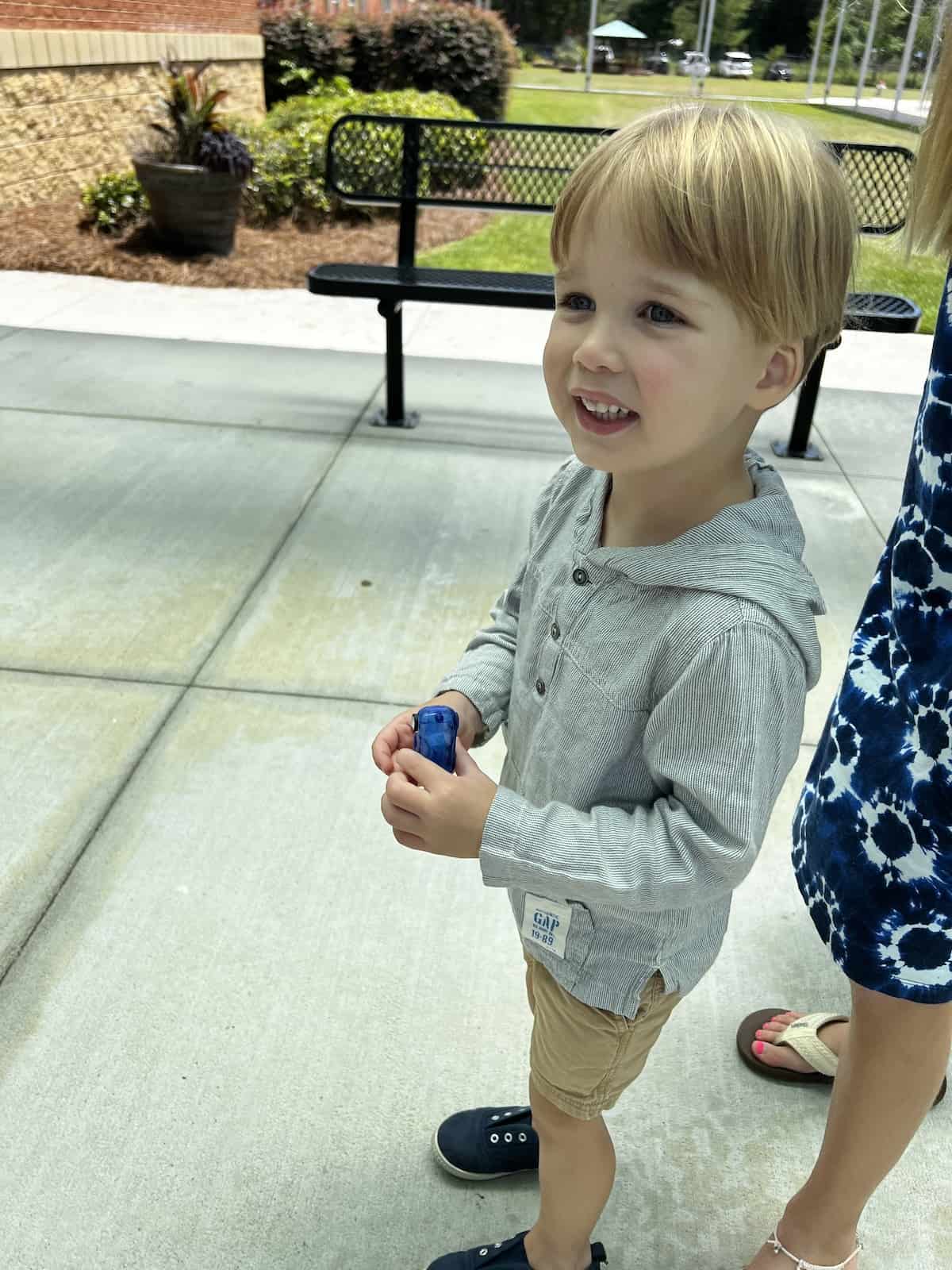 Zach was out of town for the last couple of days of summer leading up to the first day of school as he had his infusion in Atlanta for his MS. I slept terribly and had allll the big emotions with this huge milestone.
Going from spending the last 13 years with a kid (or two!) home at lunch time to now having all four going to school all day was a BIG transition for me!
I tucked all the kids in early and took myself melatonin and went to be EARLY!
Last first day of Middle School AND (hopefully!) last first day of school in our home!
8th Grade here he comes! It's insane that his first day of school shirt isn't too far from FITTING!!!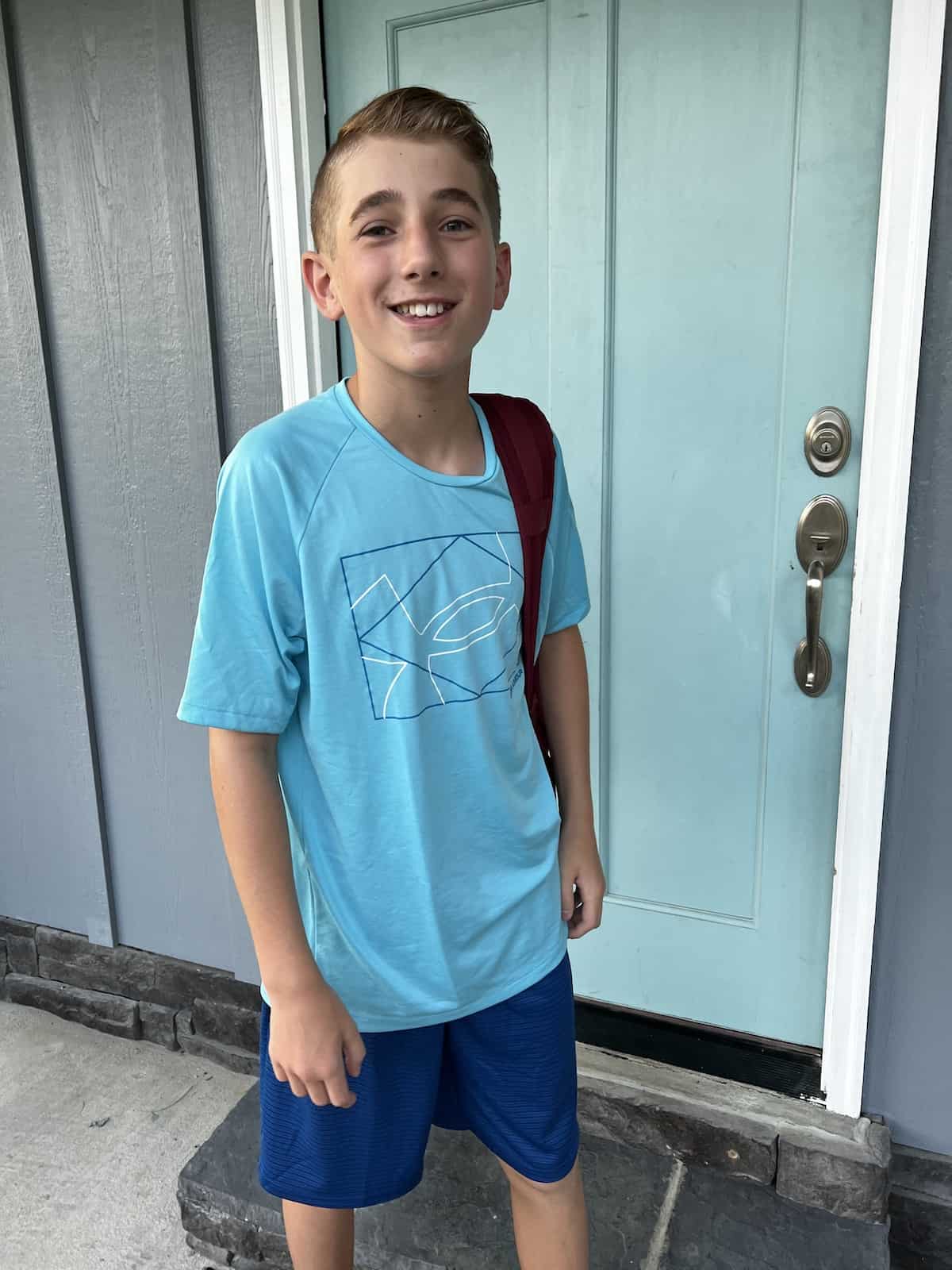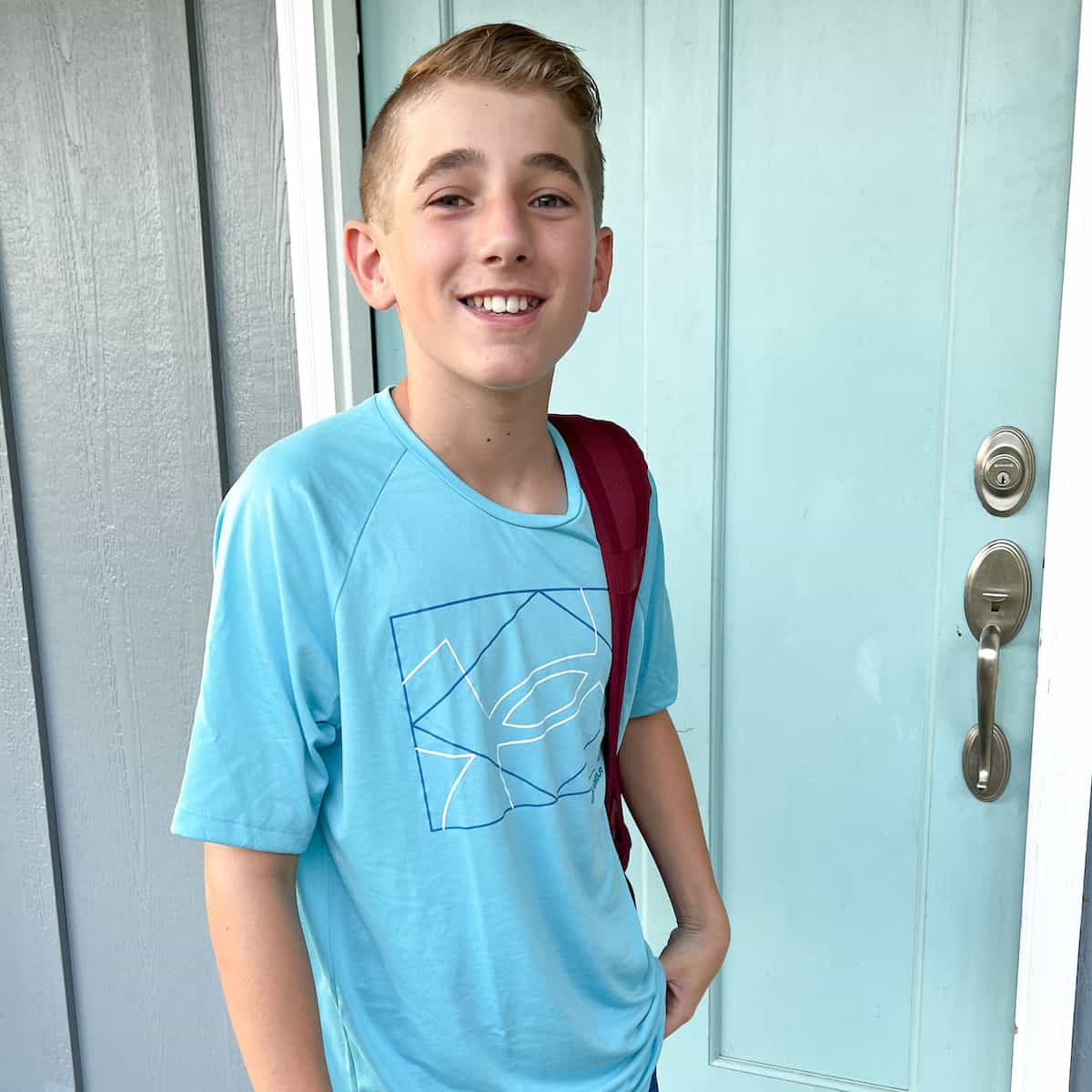 Britt was very specific in her look for the first day – she wanted to wear a t-shirt dress and have her hair in a bun. The bracelets she wears have slowly dwindled down but the shell necklace is still rolling strong!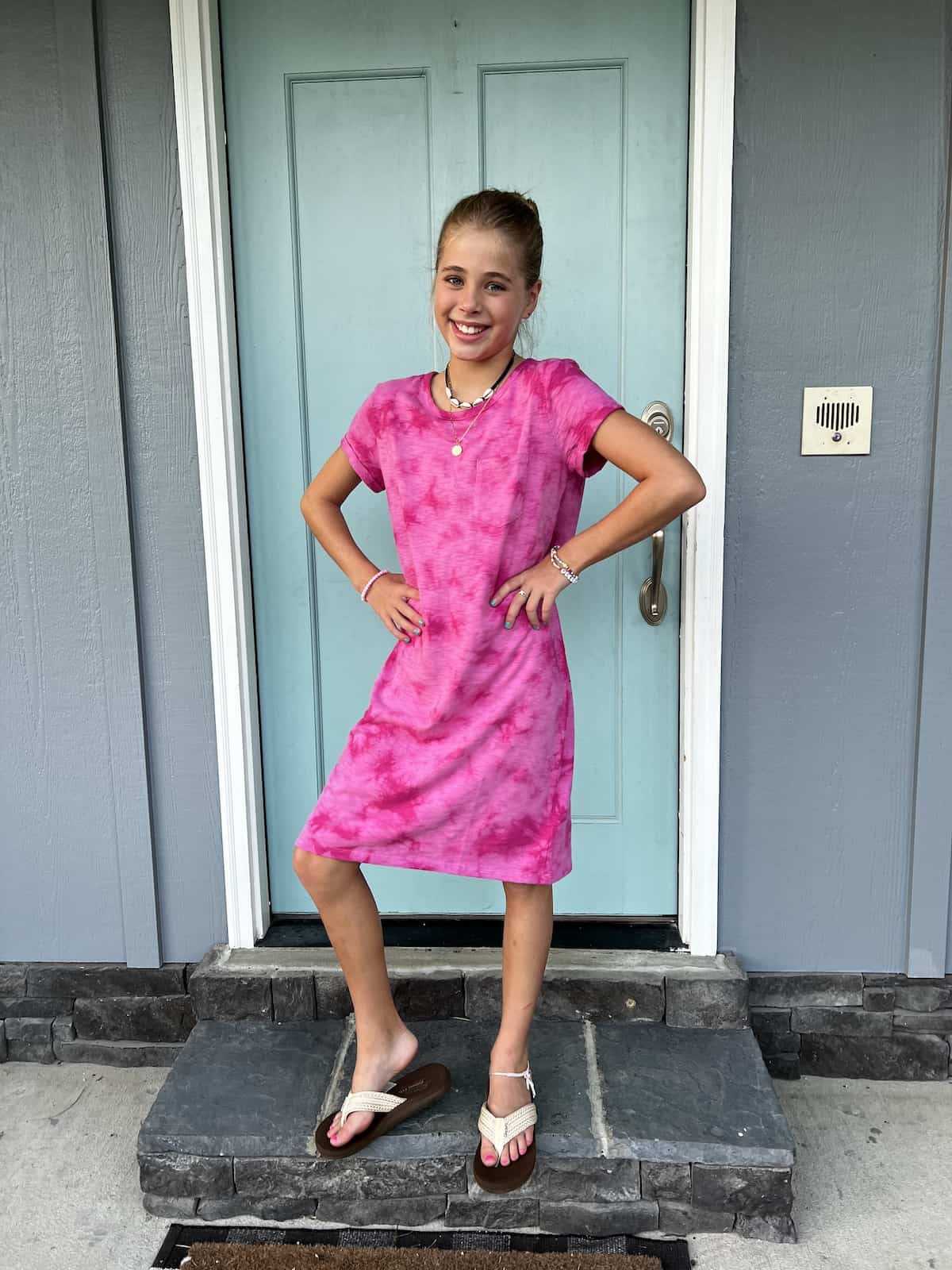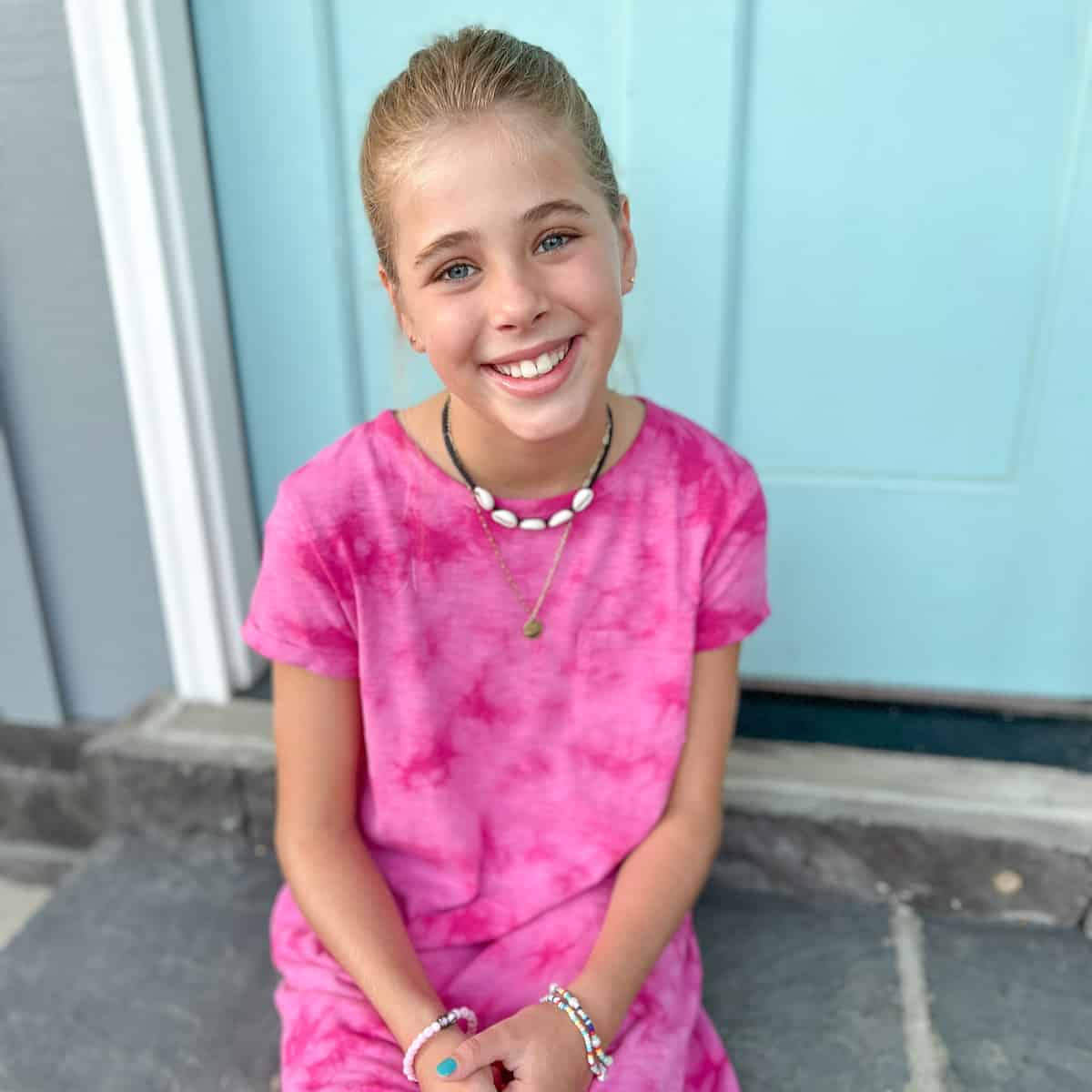 Tess is SO TESS! She chose and bought this dress at a kids sale the year prior and wanted to wear it for the first day along with sandals that were def a size too small already. And, of course, her beloved sweatband anklet 🙂 She looked beautiful and ready for her first day!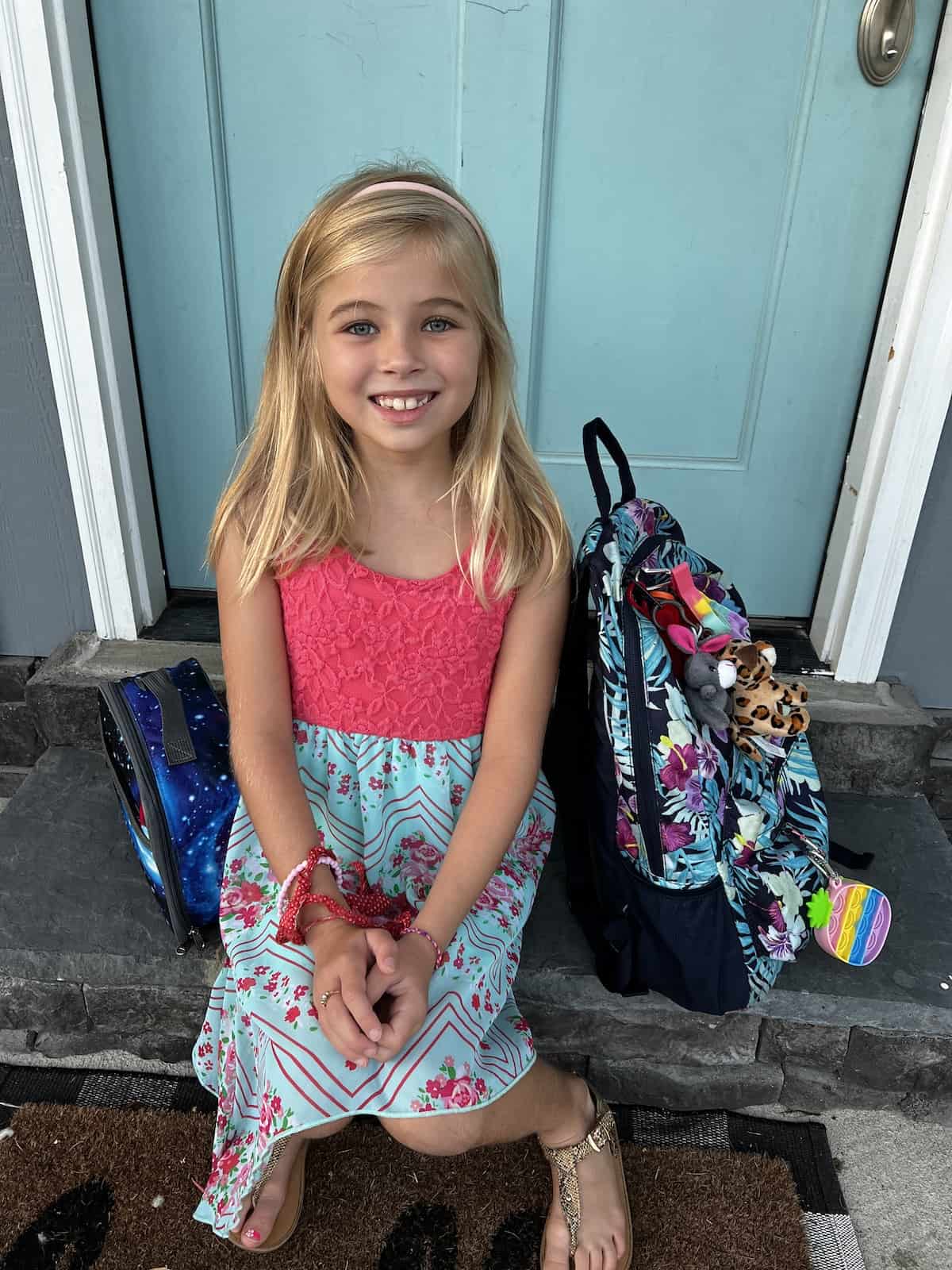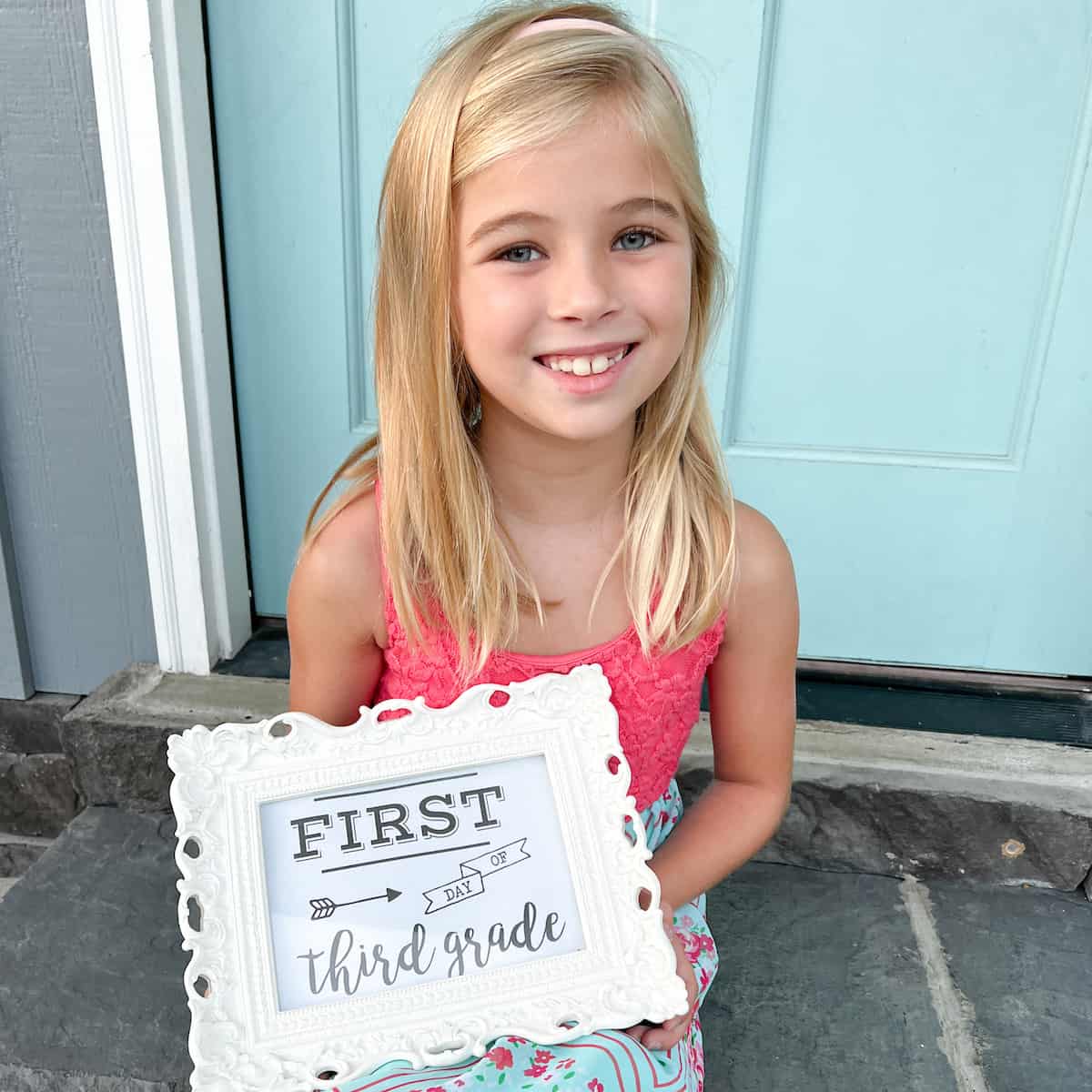 My baby isn't such a baby anymore!!! Look out elementary school HERE HE COMES!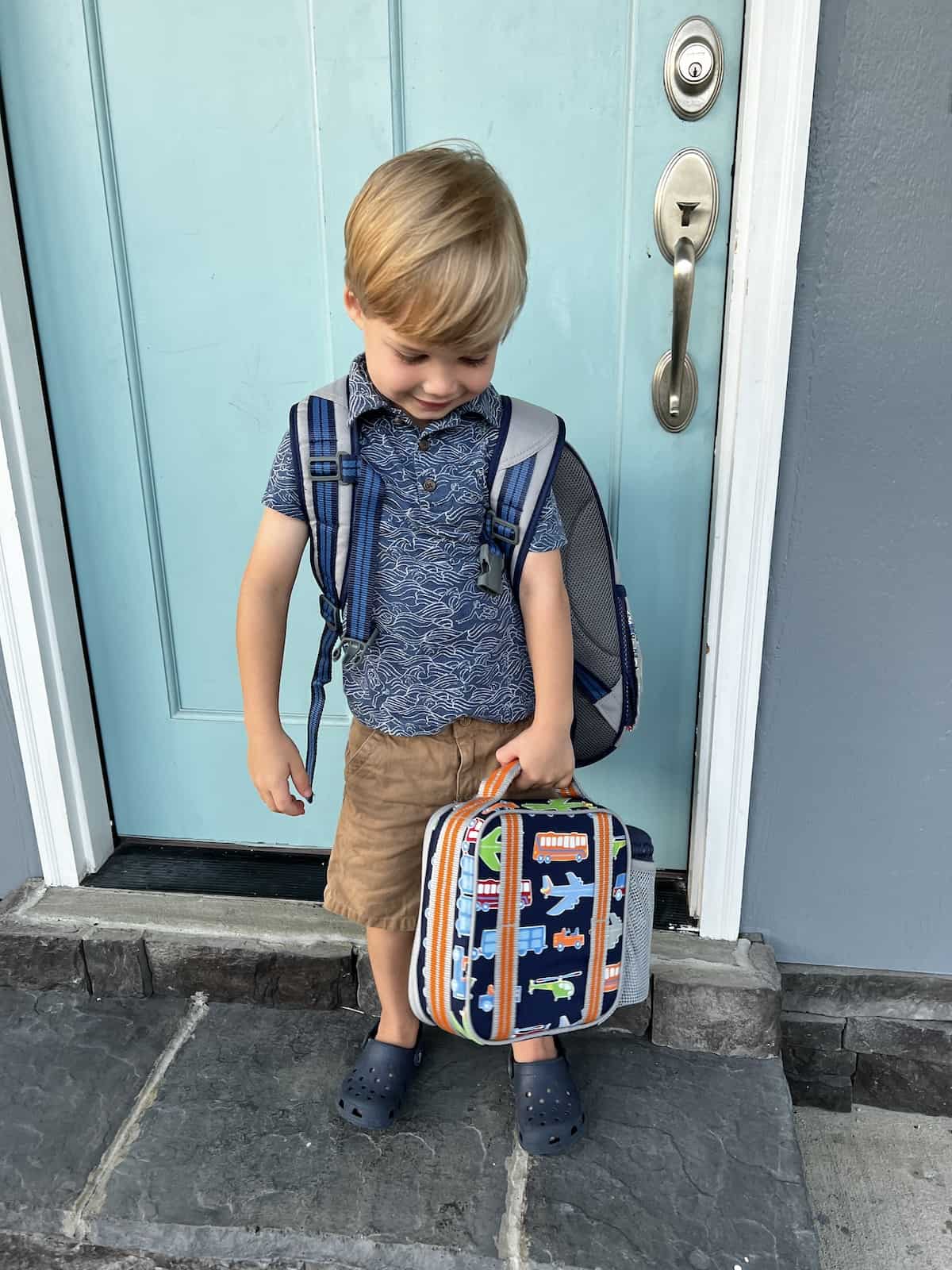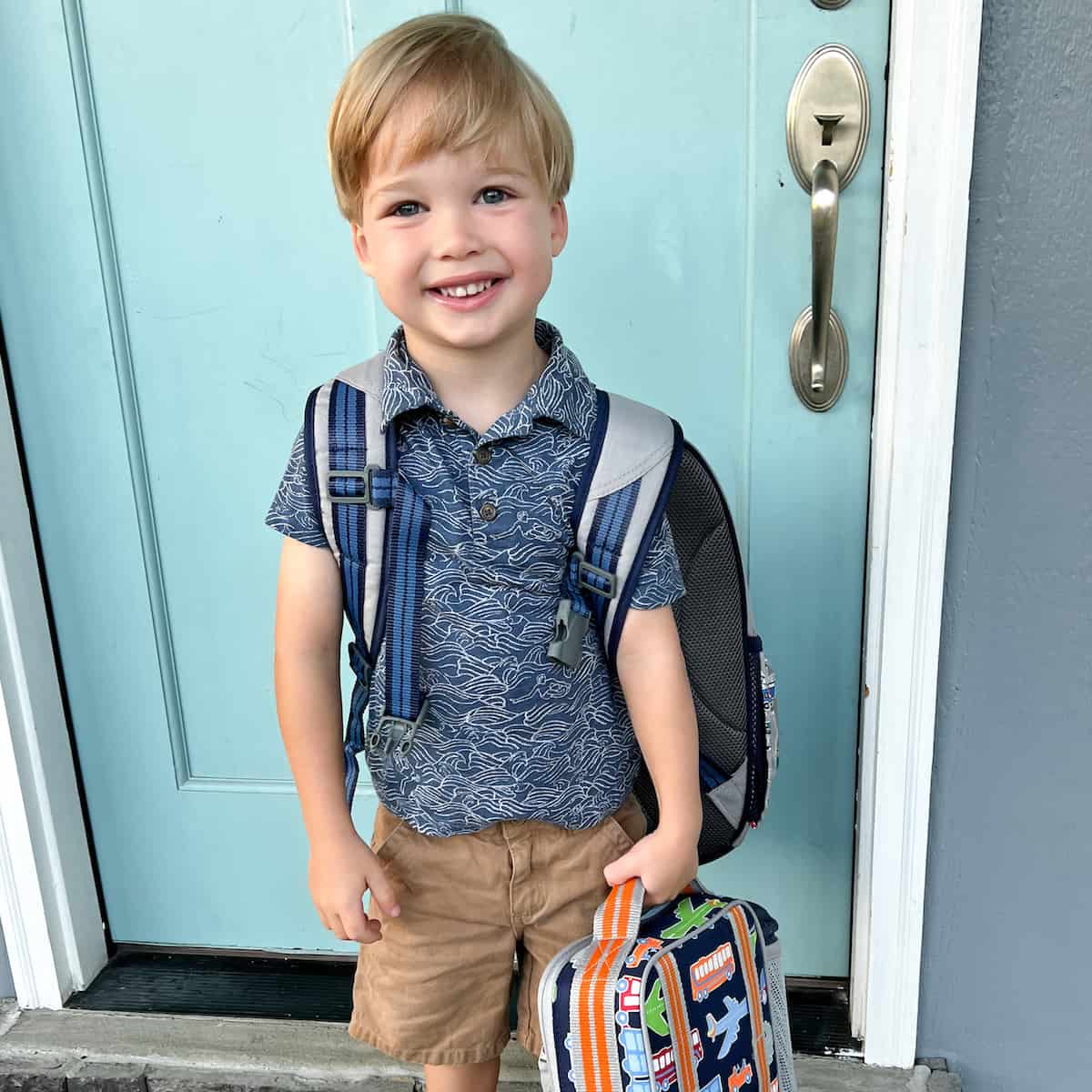 They were READY!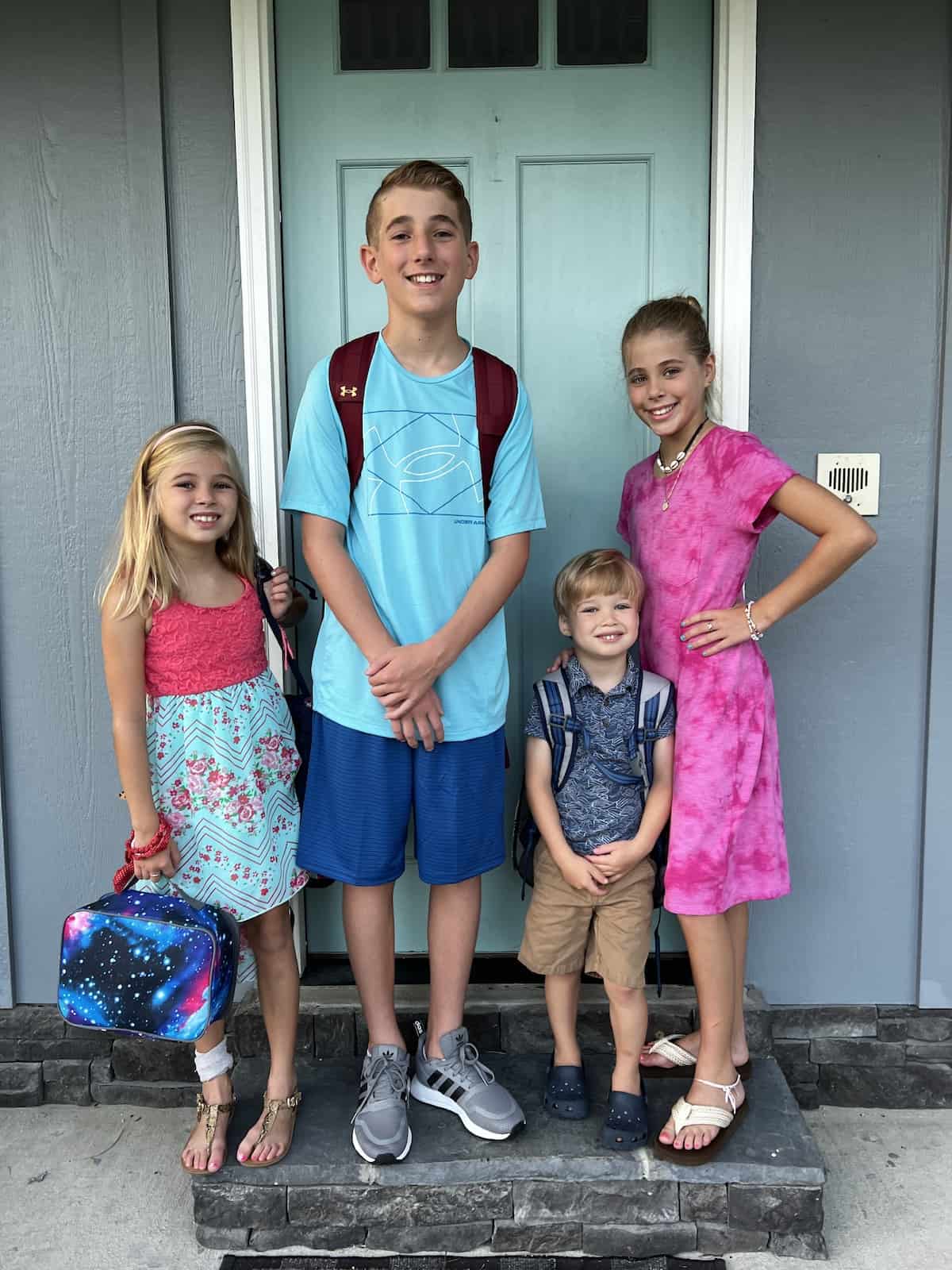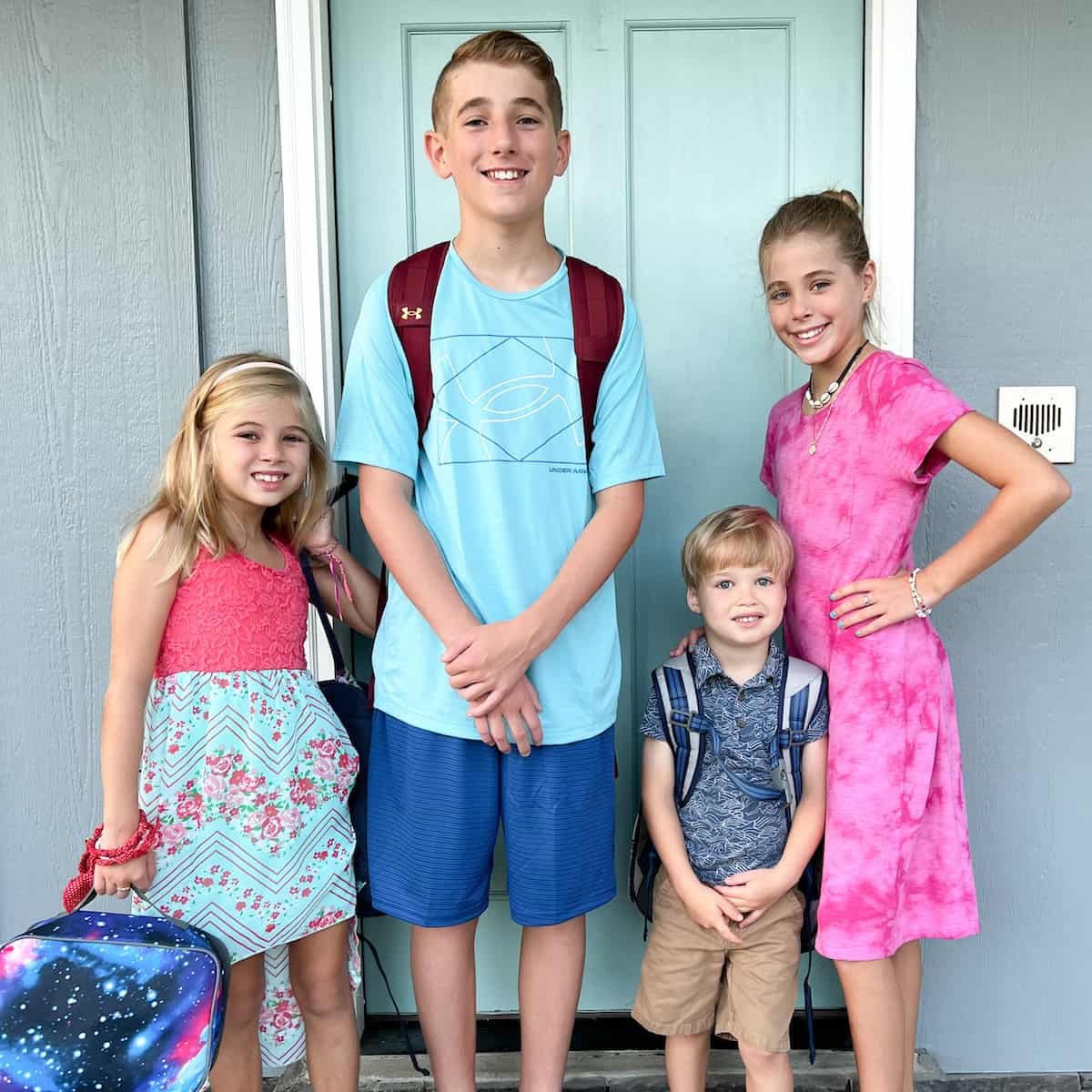 Just a little look back at all the first day of kindergarten pics over the years. Crazy that we're only one year away from Spear being in a shirt too!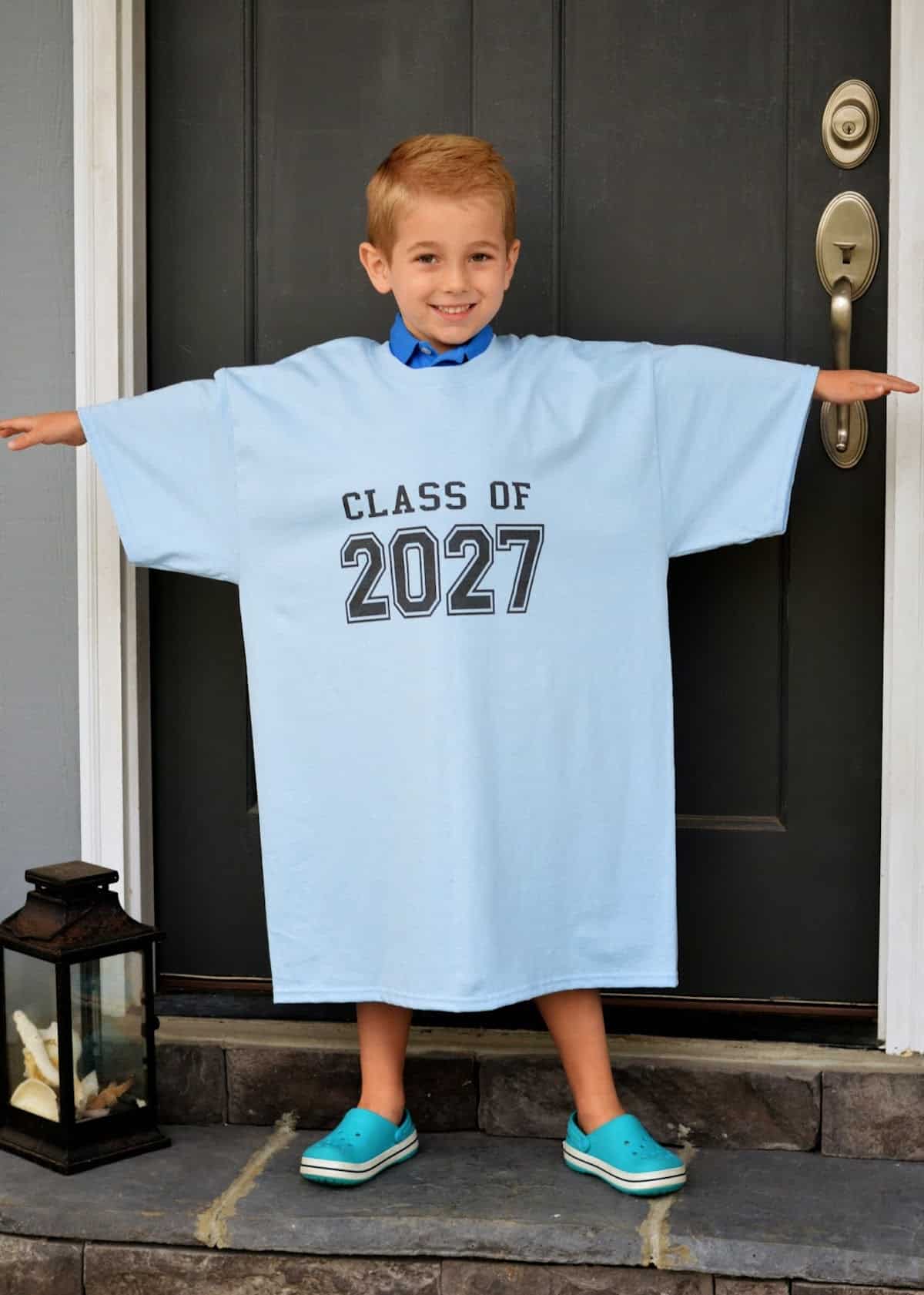 Not surprised that Kye said SEE YA and was outta the car quick 🙂 Didn't even look back this year!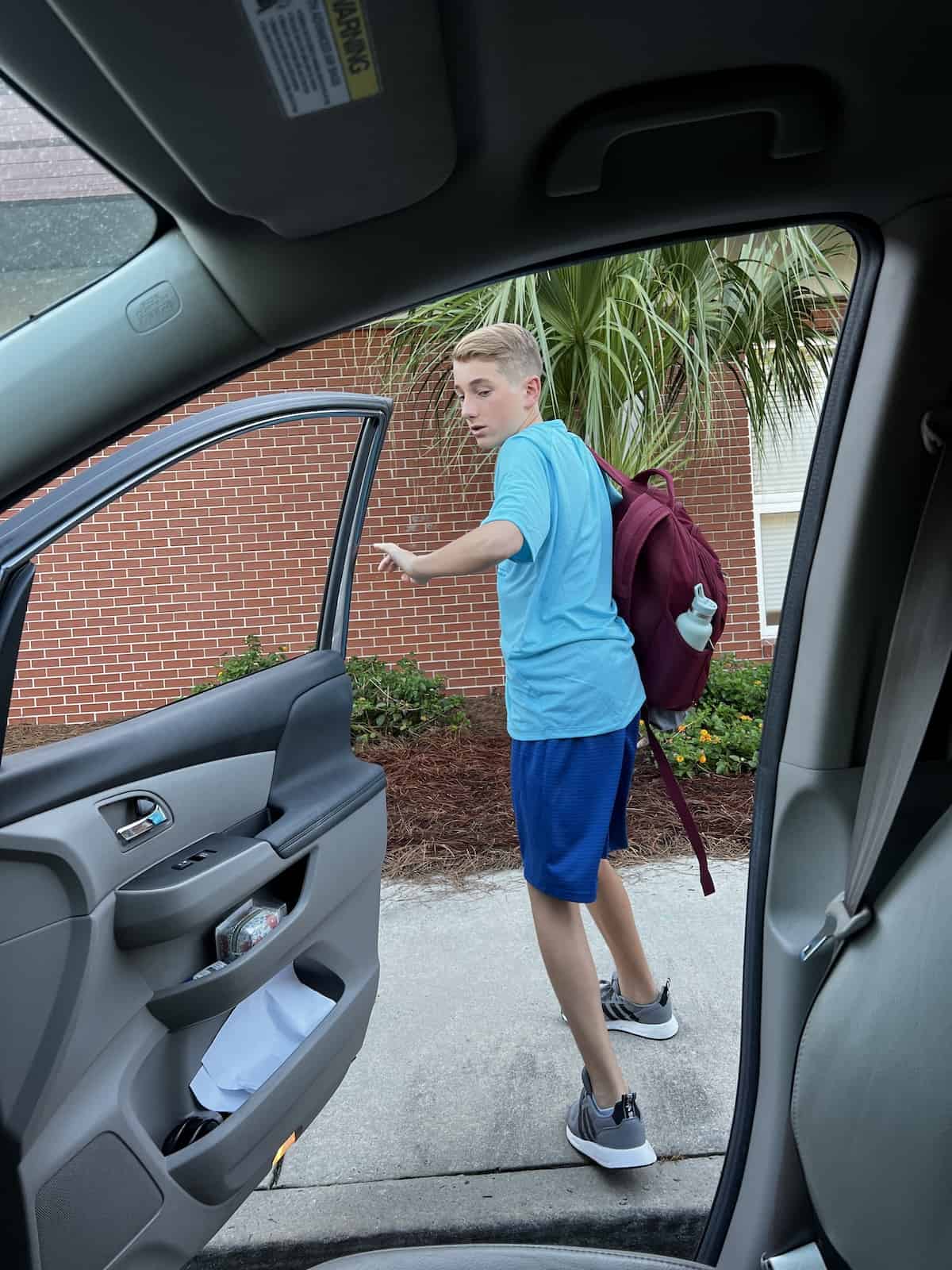 Thankful for girls who want alllll the pics 🙂 Our game plan was to drop Spear off FIRST. My hope was that having the girls with us would help make it easier for him.
But nope. He sobbed and clung to me and I basically had to toss him to the teacher and bolt!
Britt wanted to part ways at the entrance to her hallway. I never, ever push my kids about that sort of thing. I let them lead!
She KNOWS I'm always here for her and that I never, ever want to embarrass her. We said our goodbyes and she was off to 5th grade!
Tess did want me to walk her to her class and she got emotional right outside the door. She's my big feelings girl. It broke my heart bc she was trying so hard to wipe the tears away.
She looked up at me and said "I don't want to leave you Mommy/" I got her to her seat and she signaled to me, eyes filled with tears, that it was okay for me to go. Whew it's never easy on my mama heart and that walk to the car was a HEAVY one.
When I was a little girl I dreamed of living the stage of life that I'm in now and for some reason I ALWAYS pictured being the kinda mom who would have home made cookies waiting for the kids after school. I don't do homemade, and I only do them on the first day, but it's one of those "mom things" that is for ME more than the kids. I love sitting with the kids on the first day and hearing all the details of their days!
I had some feelings during the day but the headache I was rocking kept a lot of the emotions at bay because I was in too much pain to cry. I kept my plate clear for the day to just relax and do whatever my heart felt like doing.
I was so excited to greet the littles off the bus and I totally busted out crying as soon as Spear ran into my arms! For some reason that moment felt more real to me than dropping him off did!
Spear said "school is awesome." He bought school lunch on accident so he enjoyed the packed lunch as an after school snack 😉
Tess said she got all of her tears out at drop off and then had a great rest of the day! Britt said she didn't have ANYONE in her class from the year prior but that she already made 2 new friends.
Kye had a good first day and already left his water bottle at school haha
So blessed to get to be their mama. To get to enjoy each stage of their wonderful, amazing lives. To get to have a front row seat for all these incredible milestone moments!