Wow! I seriously cannot believe that 100 of you follow my blog! So exciting and such a big "blog milestone." I really, really appreciate everyone who reads my posts and especially those of you that comment. I know it sounds lame but this is my favorite hobby (yes, even more than laying out – imagine that!) and having people comment on my blog entries gives me the motivation to keep at it. It makes it more fun getting to know all of YOU too 🙂 I've made so many friends through the blog world and I'm excited for all the future ones to come!!!
I did a post last week about voting that would take place to see which Stella and Dot item I'd be giving away when I hit 100 followers. Guess what?!?! The results ended in a TIE. It was between the Avery Chains and Pearls Necklace and the Sunset Bangle. So I get to choose! And I've chosen…
Retails for $69!!!
I picked this piece for two reasons: 1) it just SCREAMS summer to me and 2) it seems like EVERY trunk show I host people say they "don't wear gold." Hello people – GOLD IS BACK in a HUGE way! I'm hoping that this giveaway will help motivate you all to try adding a little gold back into your jewelry wardrobe – I promise you'll love it 🙂
I feel bad that in the end I ended up picking the item to giveaway when I was hoping to let it be your decision since you're my readers sooooo I'm also throwing in a $25 gift certificate! That way YOU can order whatever you want!!!
In addition to my fabulous prizes a friend of mine from high school, Brandy, is throwing in some goodies as well. And it can benefit EVERYONE! She's just started with Mary Kay (who doesn't love their stuff? It's the best!) and is giving away to one of you….
Mary Kay After Sun Replenishing Gel
Both of these freebies (a retail value of $26!) are must-haves for your summer beach tote! Plus for ALL of my readers until April 30th YOU can get $15 off your Mary Kay purchase. Simply visit her personal Mary Kay website (which you can find HERE) and click the top right corner tab that says "MyMK." Register as her customer (and put the code EP04 after your last name so she knows you came from my site to give you the discount) and you get $15 off your order of $40 or more! In addition, you'll all get free shipping. Who doesn't love that?!?
Here's how to win this prize package valued at $120!!!!
This giveaway will run for ONE week and ends Wednesday April 20th at 11:00 PM EST. I will type up the list of entries in the order they are submitted and then use random.org to select a winner. I will post a blog entry announcing the winner so be sure to CONTACT ME within 72 hours to claim your prize or another winner will be chosen! This contest is only for US residents, sorry that international shipping is simply too expensive for me 🙁
You have 7 Lucky Ways to Enter!
1. Leave a Comment (You don't have to follow me to do this! Anyone who leaves a comment can win!) Sample Entry: "I hope I win this giveaway! Congrats on 100 followers!"
2. Follow me and leave a comment telling me you do! Sample Entry: "I'm a follower!"
3. Blog about this giveaway then leave a comment telling me you blogged about it and including a link to your blog entry! Sample Entry: "I blogged about it! www.emilyandzachparker.blogspot.com"
4. Post a link to this giveaway on your Facebook page then leave a comment telling me you gave me a Facebook shoutout. Sample Entry: "I facebooked it!"
5. Display my giveaway button on the sidebar of your blog (see this post on how to do it!) through the end of the giveaway period (4/20) then leave me a comment including a link to your blog where you displayed the button. Sample Entry "I'm displaying the button at www.emilyandzachparker.blogspot.com!" This will get you THREE entries!!!!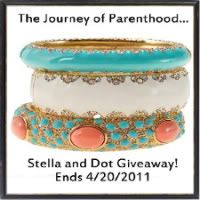 I TOTALLY want to see a picture of that bracelet on the winners wrist!!! Thank you ALL again for all the blog love and I hope this is an exciting prize for you all, you deserve it!